Looking to explore one of the city's most desirable neighborhoods to live in and picturesque brownstone neighborhoods? Check out our guide to all the amazing and fun Park Slope Instagram spots and Park Slope photography locations.
From parks to cafes and murals, we've got you covered.
Park Slope Photography Locations
Prospect Park
One of the best Park Slope Instagram spots and best Park Slope photography locations is Prospect Park, the Central Park of Brooklyn!
Full of trails, ponds, and historic buildings you can find some really beautiful photo locations in this giant urban green space.
One of our favorite Park Slope Instagram spots in Prospect Park is the gorgeous boathouse. This boathouse is popular for events like weddings, and there's a good reason why it's gorgeous!
Also, while you're here another one of the best Park Slope photography locations is the Brooklyn Botanic Gardens located inside Prospect Park! There's nothing prettier than a photo with flora and fauna, and Brooklyn Botanic Garden has no shortage of that as there are nearly 20,000 plants here as well as different pavilions and gardens.
Check out the outdoor Japanese Hill-and-Pond Garden, Cranford Rose Garden, Shakespeare Garden, Water Garden, and more. In the spring, between late April and early May, you don't want to miss the 200 cherry trees when they blossom annually.
See more of the best Prospect Park activities to enjoy in our full guide!
Grand Army Plaza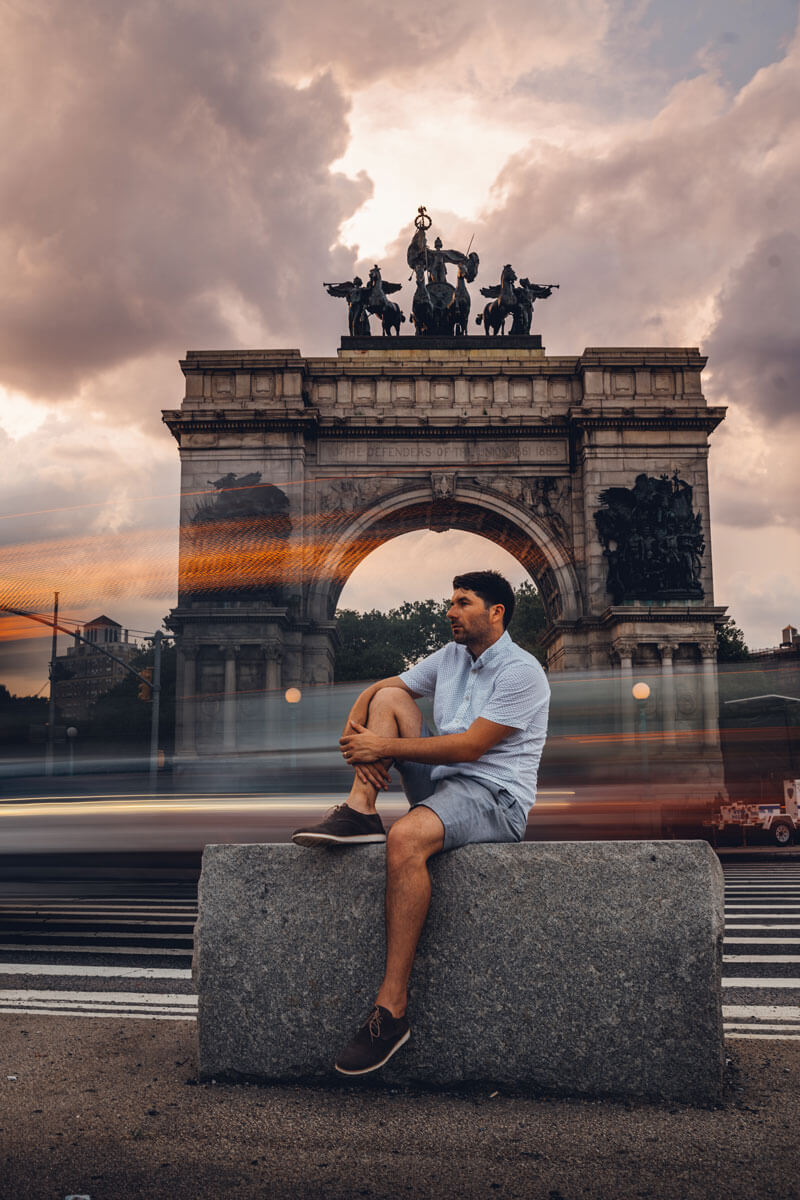 Another great Park Slope Instagram spot and photography location is the Grand Army Plaza located at the northern corner of Prospect Park. While this could be lumped into Prospect Park, we decided it was worthy of its own shout out.
The plaza is home to the grand Soldiers' and Sailors' Arch, statues, which has a similar look to the amazing Arc de Triomphe in Paris.
The plaza itself is a big traffic hub with lanes of cars going in every which direction. We recommend getting to the side where Prospect Park's main entrance is for a nice view of the Arch and out of traffic's way.
Watch out for traffic here though! There are cyclists, cars, and all sorts of traffic going on here. Be sure to make sure you're in a safe spot when you're at this Park Slope photography location.
Green-Wood Cemetery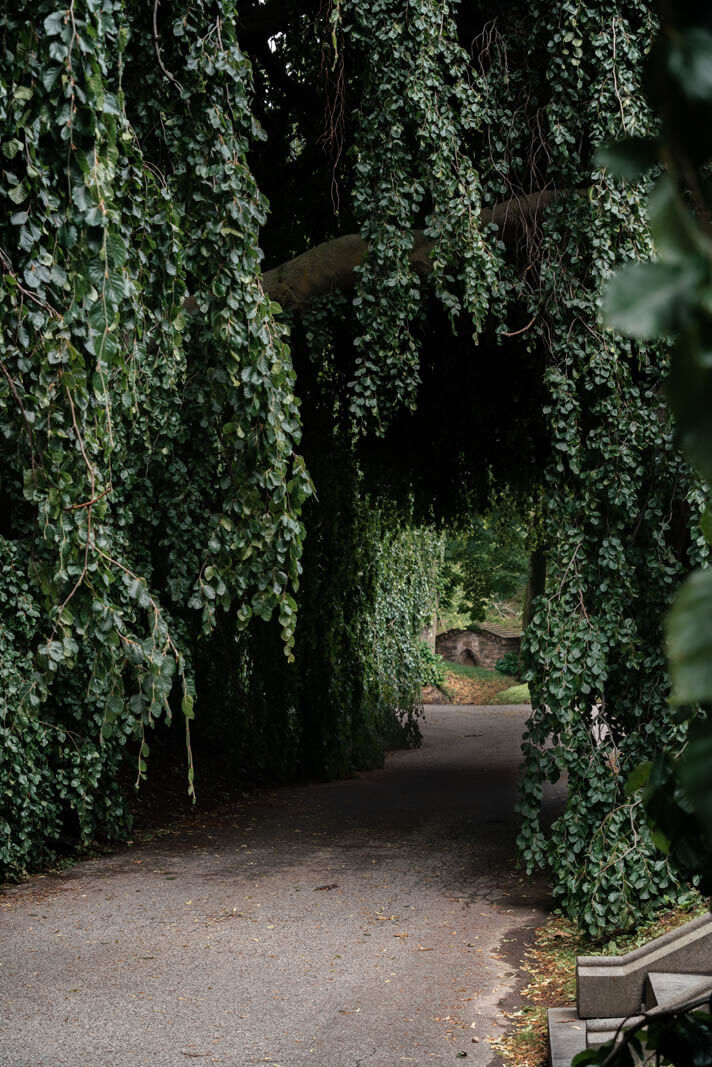 One of the most beautiful and spooky Park Slope photography locations is Green-Wood Cemetery. This also happens to be one of the more unusual green spaces in Brooklyn that people flock to.
This cemetery is giant, nearly 500-acres big and is listed as a National Register of Historic Places and a National Historic Landmark and home to gorgeous architecture including famous monuments, mausoleums, chapel, and gates.
Weave your way through the massive cemetery's winding pathways passing by gravestones of famous figures from war heroes to mobsters.
Believe it or not, Green-Wood cemetery was built in 1838 as a rural cemetery, little did they know that this area would soon become very much urban not too far later. The cemetery was built as there wasn't enough space for the remains of those whose lives were lost in the other New York City graveyards.
The graveyard became popular quickly and was often called Brooklyn's first public park as Prospect Park wasn't created yet. It became so popular that it inspired the creation to design Central Park, and then Prospect Park.
Wild Park Slope
View this post on Instagram
Another one of our favorite Park Slope Instagram spots is Wild Park Slope on 5th Avenue. This Park Slope photography location has a gorgeous sunflower mural by artist Jenna Morello with a cool light-up letters that say 'wild.'
Better yet, if you're wandering around Park Slope searching for great photo spots, this is a great place to stop and have lunch. This cafe serves up pasta, pizza, and other tasty bites. Or, check out our full guide to the best food in Park Slope for more options.
We encourage anyone who is using a business as a photo backdrop to support that business, even if it's just for a drink!
Note: In the warmer months there are tables out in front of the sunflower mural. If you're hoping to get the full wall in your photo without tables or people come in the winter for this Park Slope photography location!
Kos Kaffe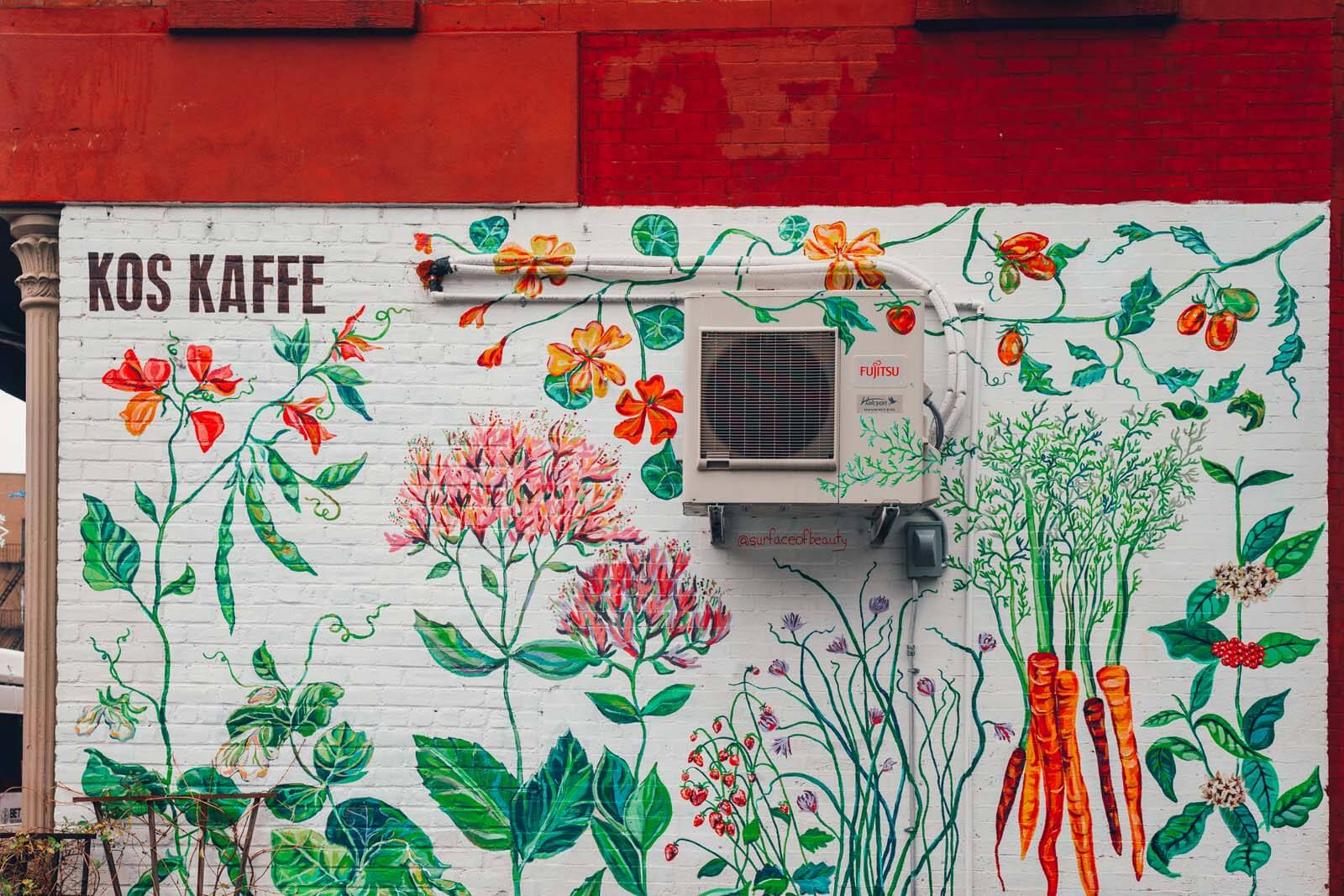 This Park Slope Instagram spot is more than a cool photo location, Kos Kaffe Roasting House is one of our favorite Park Slope cafes. This family-run Park Slope cafe prides itself on a being an inviting place for their community and neighborhood.
We are obsessed with the atmosphere here as well as the gorgeous flower mural on the side of the cafe by artist Natasha May Platt.
Even inside the cafe is a dreamy Park Slope photography location, we love the giant windows that look out onto 5th Avenue and vintage decor inside.
Just like we mentioned before, we like supporting the businesses we use as a photography backdrop. Kos Kaffee serves up homemade food alongside their fresh and flavorful coffee menu.
Read Next: Explore 5th Avenue in Park Slope Guide
Flower Mural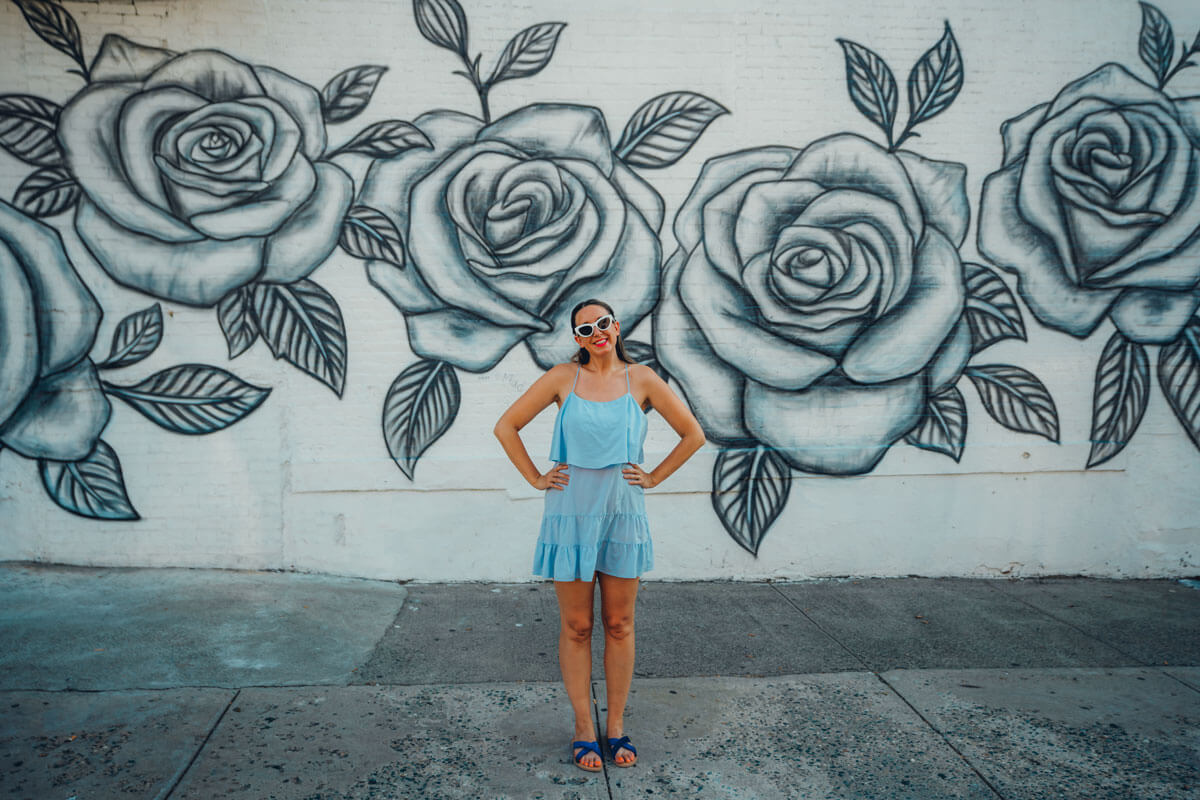 Another one of the best Park Slope Instagram spots is another gorgeous mural in this beautiful neighborhood. We love the white rose mural by artist Jenna Morrello, who also did the mural at Wild Park Slope, on the corner of 11th Street and 5th Avenue at Park Slope Laser Aesthetic Center.
This beautiful black and white mural is a great spot for you to show off a pop of color in your outfit or to take a really pretty black and white photo!
Cafe Regular du Nord
View this post on Instagram
This adorable Park Slope Instagram spot is also another one of our favorite cafes in the neighborhood. Cafe Regular Du Nord is an extremely adorable European and French-inspired Park Slope cafe with style.
Try one of their flaky, buttery croissants or pastries paired with a latte, cappuccino, or espresso (or any coffee you want) while you're here taking a photo inside their gorgeous, retro feeling cafe.
You can't help but fall in love with the eclectic decor and unique vibe going on in this small space.
Colson Patisserie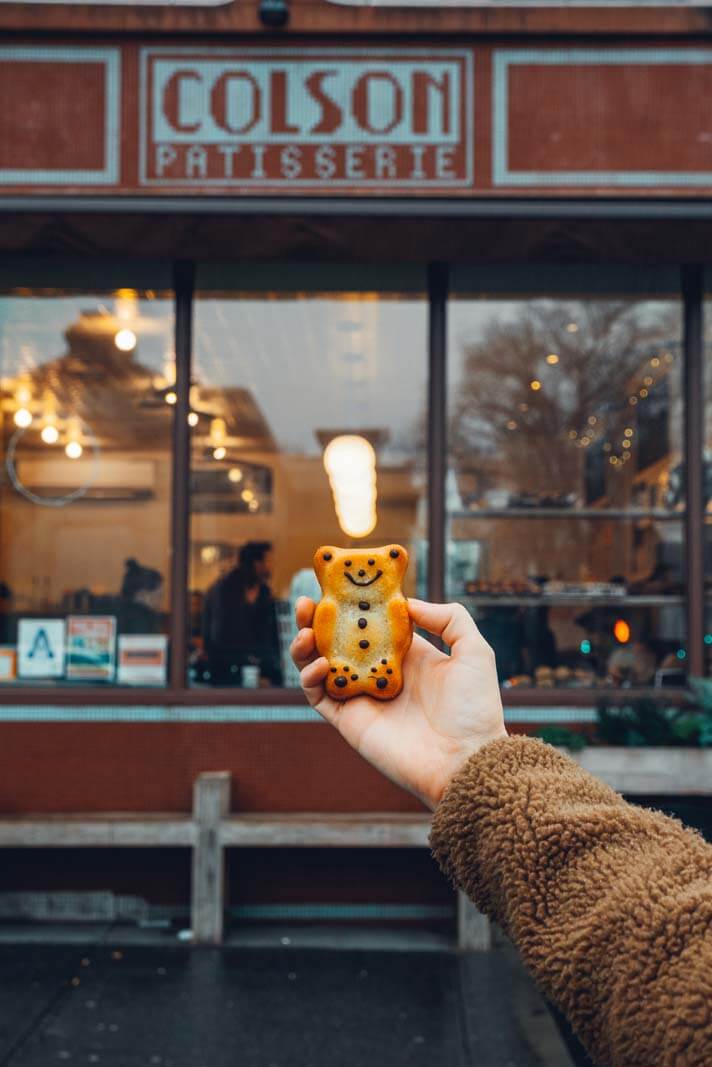 This is one of our personal favorite Park Slope Instagram spots and cafes. This pastry shop specializing in French pastries, Belgian waffles, and other baked goods with a cult following has the perfect Instagrammable treats including their cute teddy bear cakes.
This Belgian and French pastry shop also serves the finest drip coffee, espresso, and cold brew from Brooklyn Roasting Company, so you can fuel your day going from one Park Slope photography location or Brooklyn Instagram spots to the next.
Read Next: The Best Park Slope Brunch Spots
Park Slope Historic District & Brownstones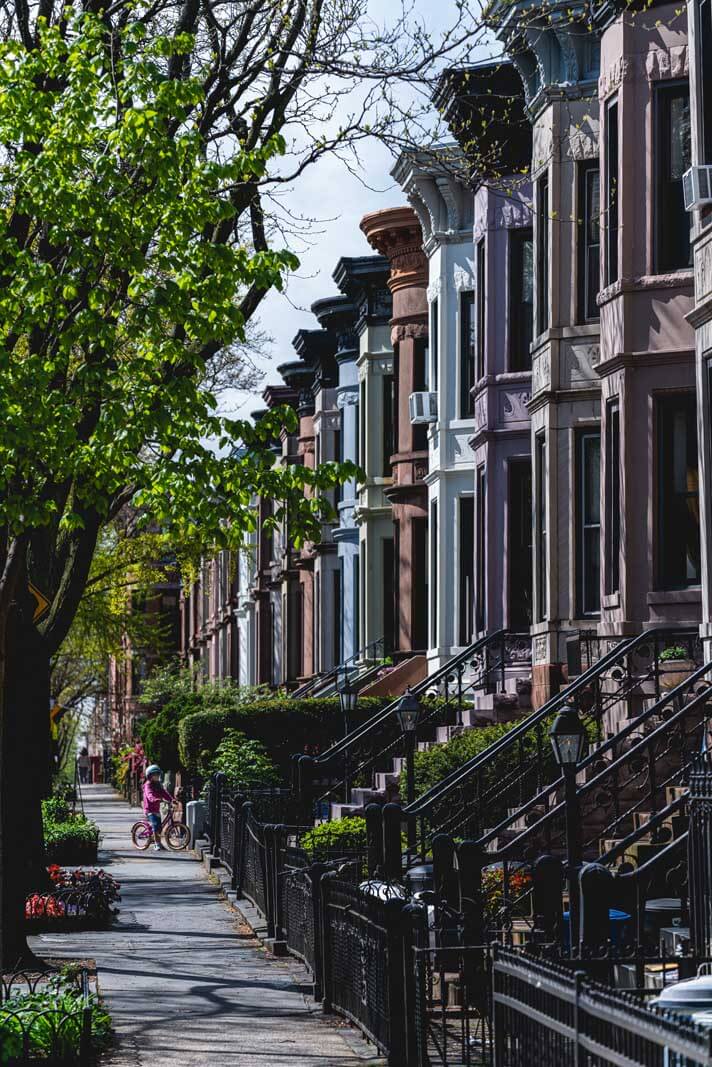 This neighborhood is famous for its manicured streets lined with the most magical brownstones the city has to offer. Our next Park Slope Instagram spot is the Park Slope Historic District.
This particular area of Park Slope is actually made up of over 2,500 buildings built between 1862 to around the early 1920s making up nearly 40 blocks of Park Slope.
The most famous area for this historic district and Park Slope photography location are the buildings and homes adjacent to Prospect Park.
Besides being an amazing photography location, this is also listed as a National Register of Historic Places and one of NYC's largest landmarked neighborhoods!
The Bagel Store – Permanently Closed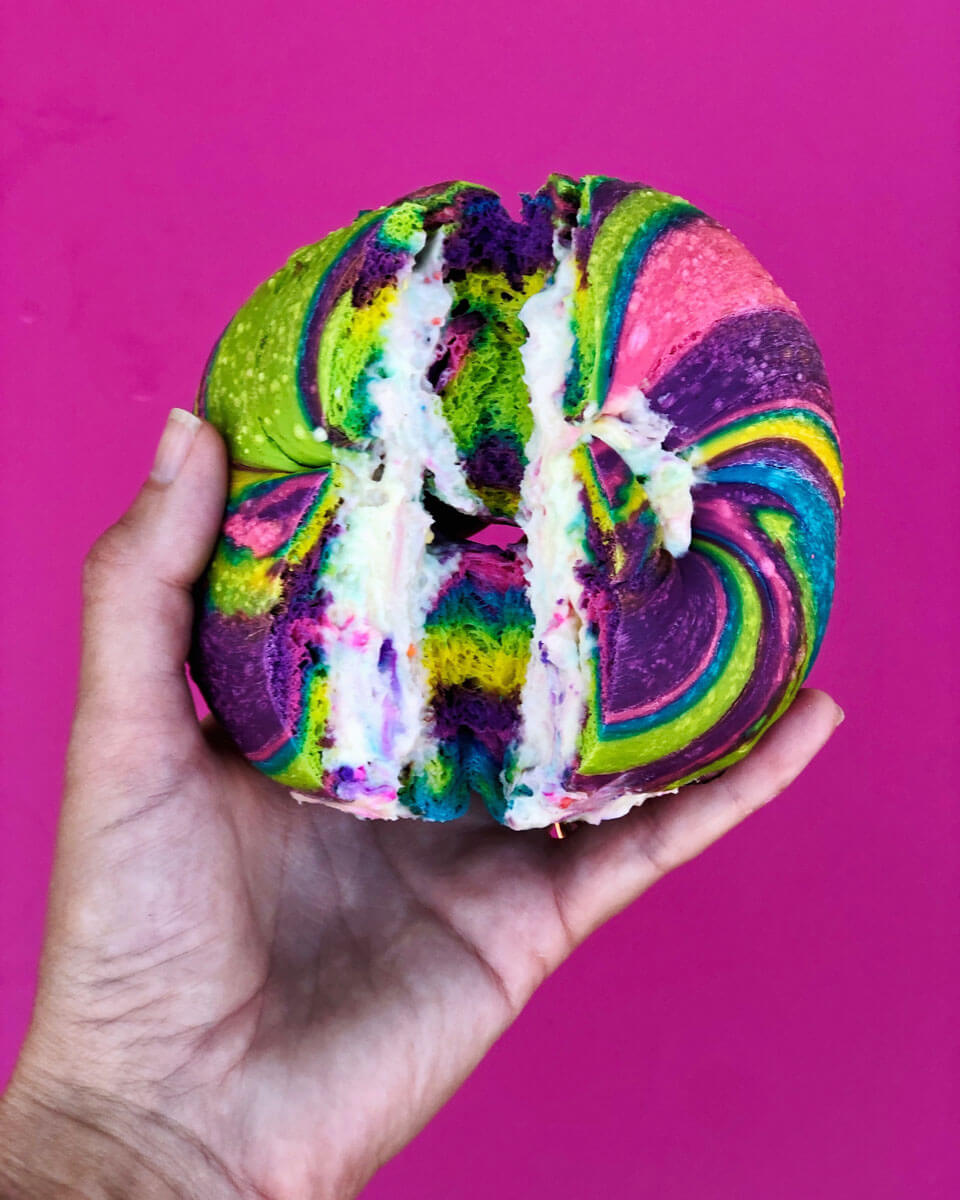 One of the best Park Slope Instagram spots and best NYC Instagram spots that took the internet by storm is The Bagel Store, home to the famous rainbow bagel with rainbow cream cheese!
Watch out during the holidays too, they do fun festive bagels too!! This is also one of the most famous and best bagels in Brooklyn!
---
Did we miss any fun Park Slope Instagram spots or Park Slope photography locations? Share them with us below in the comments. If you just liked this post, share the love below on Pinterest!
Read Next: What to Pack for Brooklyn Guide and Packing List!