Looking for how to spend 7 days in NYC and an itinerary? We've got you covered in this full NYC-local approved NYC itinerary for 7 days hitting up some of the most iconic spots in Manhattan (with a few hidden gems sprinkled in there) as well as visiting the all the boroughs!
This isn't your average week in NYC itinerary. This is a local's guide to some of the best spots in the city. If you're wanting to hit up more of the iconic attractions, customize your itinerary to include some of our picks for best NYC attractions and experiences! We get it, if it's your first time ever you might want to hit up those famous New York City in the movies and TV spots!
They say it takes 10 years to feel like a real New Yorker, but we here at Your Brooklyn Guide wager that we can get you there in a mere week in NYC. Take 7 days to explore every borough — see the must-visits and the hidden gems, the opening acts and the headliners, the roads both well- and less- traveled.
We promise you'll walk away knowing this dear old dirty town better than you did before, and already ready to return. And if we're really successful — maybe you'll pack ?3 bags, 2 bucks ? and one you to move here — and show someone new all the very best things about the concrete jungle where dreams are made of.
And obviously, feel free to customize your one week in New York City itinerary – these are all picks curated by a local but everyone's different. Feel free to use this 7 days in NYC itinerary as is or substitute a few of the activities and attractions!
Also, we have other itineraries on our site, ALL are completely different and focus on different areas of the city, use one of these to help customize your trip!
Be sure to check out our picks for best NYC hotels with a view if you want to elevate your trip with skyline views right from your bed! Or if you're on a budget, check out our guide to the best affordable NYC hotels under $200 a night with great locations!
Last but not least, if you're looking for something different, check out the most unique hotels in NYC! Having a quality or cool place to stay is a must during your 7 days in NYC.
And don't forget about the nightlife, if you still have the energy! Check out our guide to all the best things to do in NYC at night to add on to your itinerary!
Disclaimer: This guide to 7 days in New York City contains affiliate links.
New York City in 7 Days
Day 1 of 7 Days in NYC: Downtown Manhattan/Brooklyn Part 1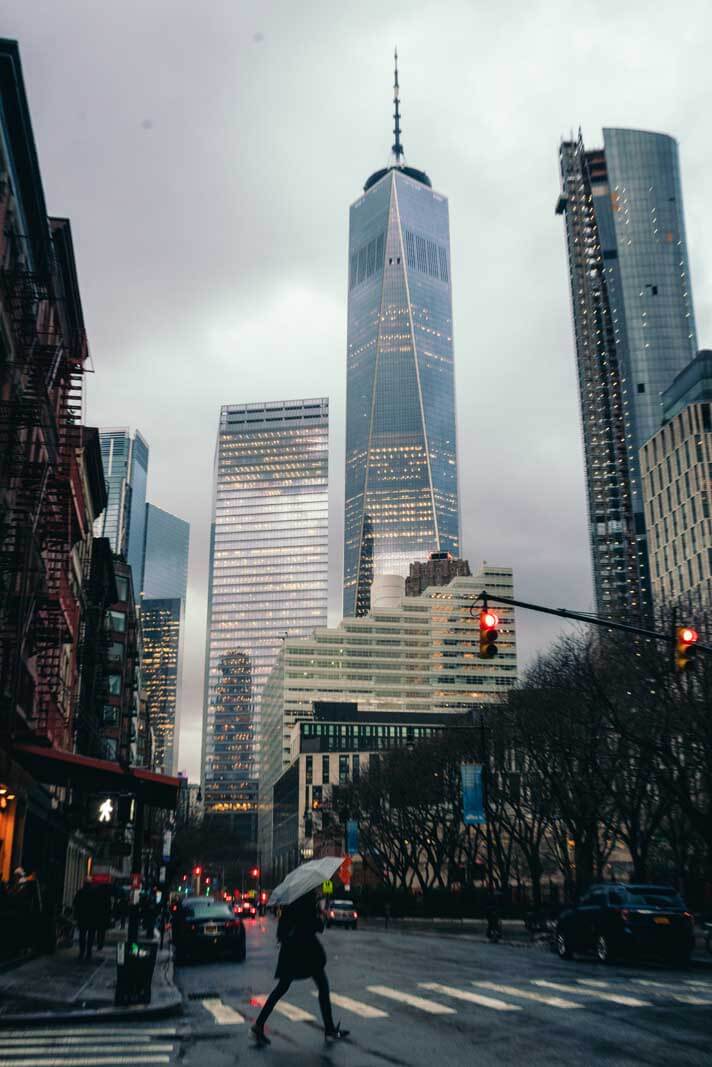 Breakfast at Bubby's
120 Hudson St, New York, NY
A relative newcomer to the NYC brunch scene (think: open for less than 50 years), Bubby's has already made its mark as a reliably tasty breakfast spot that knows what its customers want — a flight of pancakes (no really, they serve a flight of different flavored pancakes!). Try the aforementioned flapjacks or their House Smoked Salmon Bagel Plate ahead of your 7 days in NYC itinerary!
If you're wanting something savory, go for the hot chicken sandwich. You won't regret it.
Hook and Ladder Firehouse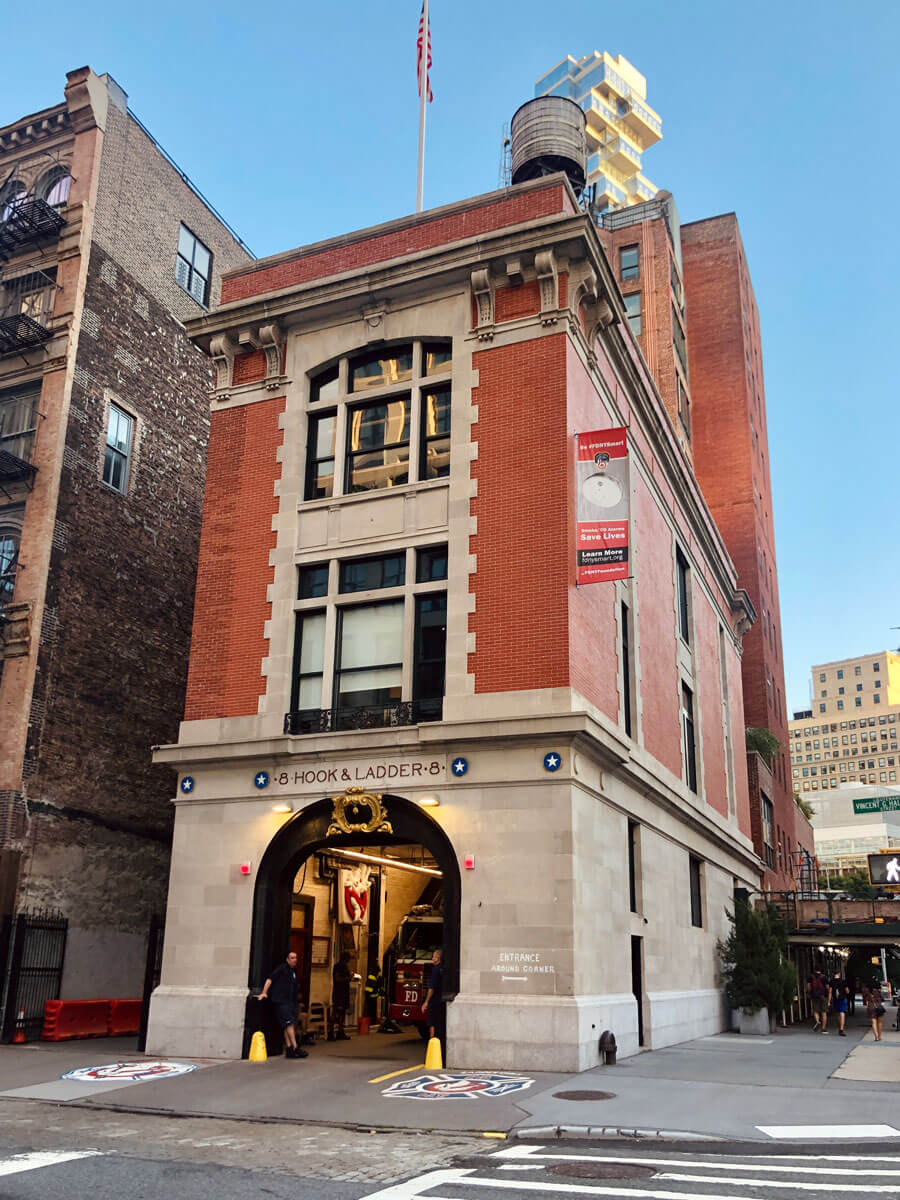 14 N Moore St, New York, NY
If I could, I would sing the theme song of Ghostbusters to you. But since we are constrained by the limits of digital text, just know that if you too would like to relive the 1984 classic, head over to the Hook and Ladder Firehouse in Tribeca. While still a working firehouse and not open to the public, it's still a great exterior photo opportunity during your 7 days in New York City. Who you gonna call!!
Psst…if you love filming locations check out our favorite filming locations in Brooklyn too.
September 11th Memorial and Museum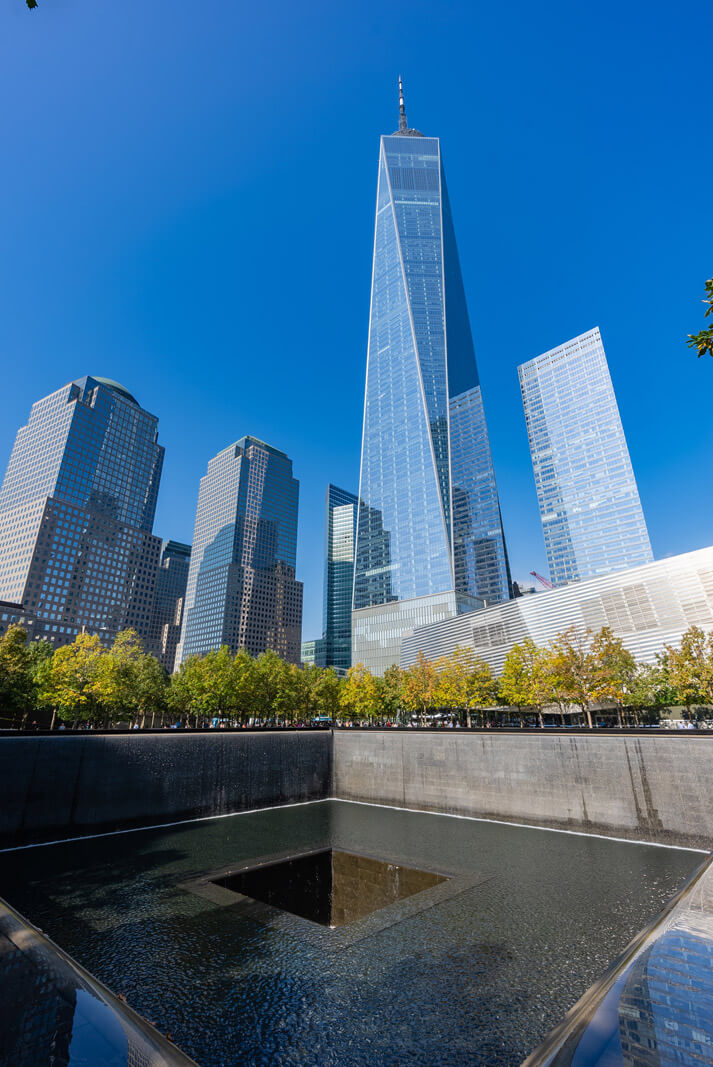 180 Greenwich St, New York, NY
A meticulously archived portrait of 9/11's impact over the course of 20 years, this moving memorial and museum are a worthy visit on your 7 days in NYC itinerary.
Make sure to purchase tickets in advance for entrance to the museum, and leave plenty of time to absorb the entire exhibit. The memorial is free and accessible without tickets, though it's worth noting that it can become quite crowded during the day — early morning is the best time for quiet reflection. Get your tickets in advance here.
African Burial Ground National Monument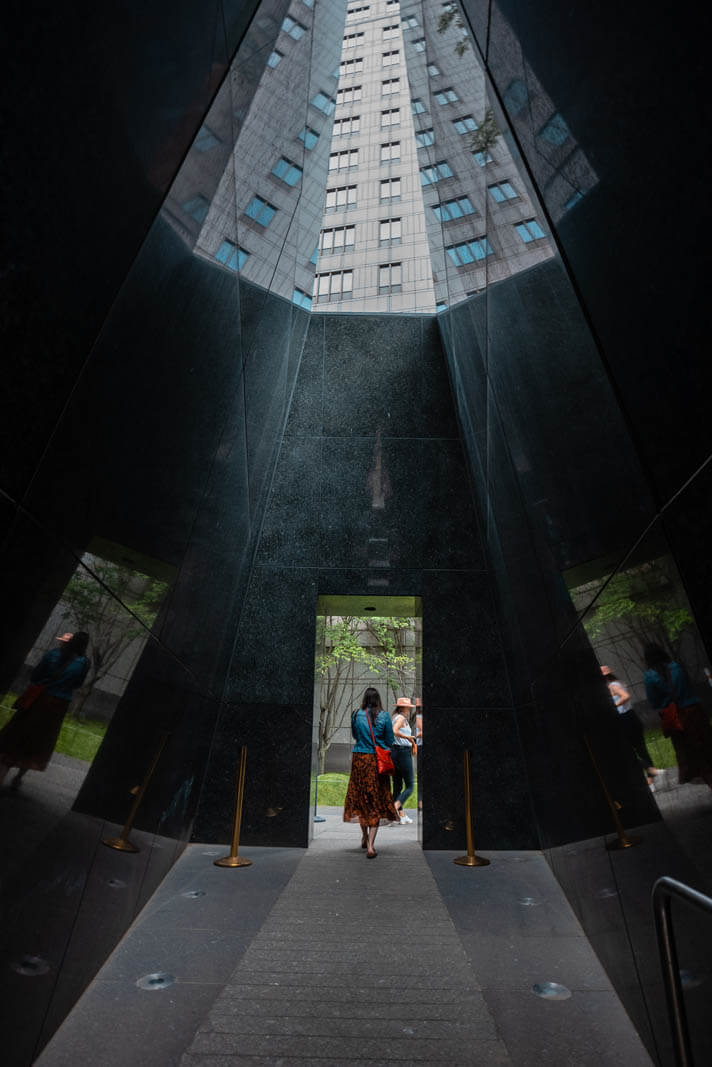 290 Broadway, New York, NY
This national monument near the September 11th Memorial and Museum is an important historical landmark, not just in NYC, but globally, as it's the largest known burial ground of enslaved and free Africans in North America. This is also one of the national monuments serviced by the National Parks in NYC. Visiting the site is free, though if you would like to book a guided Park Ranger tour, reservations are required.
Museum of Jewish Heritage
36 Battery Pl, New York, NY
Dedicated to the continued public education surrounding the events of the Holocaust and its lingering effects, the Museum of Jewish Heritage shines a light on the experience of survivors, the written testimonies of those who perished, and archival records of this dark period in humanity that still impacts us today. This museum also offers free admission on Thursdays from 4 pm to 8 pm.
Ferry to Governors Island or to Staten Island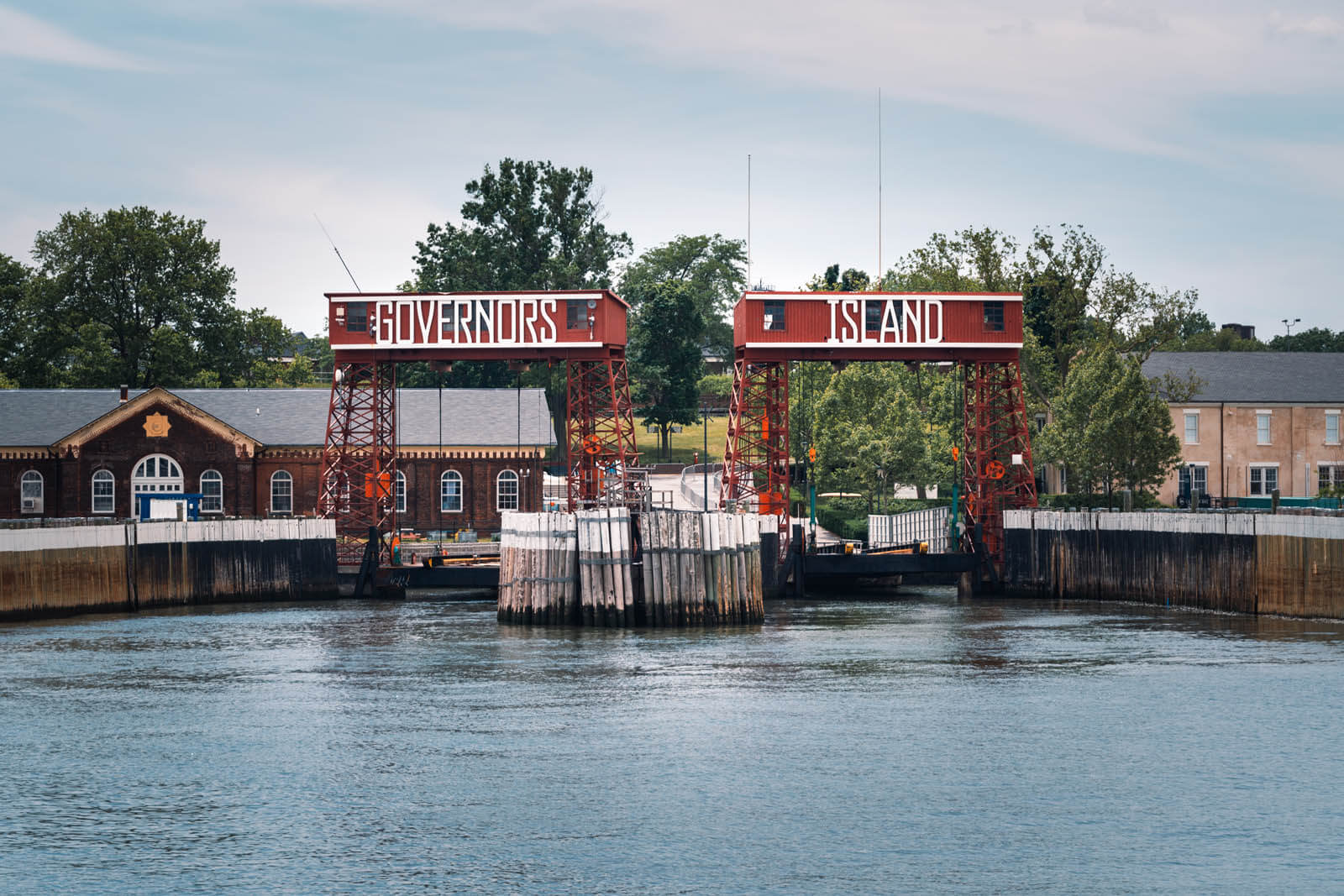 NYC is a harbor city, and it's only appropriate to try one of our many ferries while spending a week in New York. While downtown you have several options — two of our favorites are the Governors Island Ferry (taking you to the dialed-up city park filled with hammocks, bike rentals, food trucks, and even glamping!) and the Staten Island Ferry, which is, in our opinion, is one of the best views of the Statue of Liberty sans the charge!
If you do take the Staten Island Ferry, be sure to snag a Grandma slice from nearby A&S Pizza by the ferry terminal!
If you end up going to Governors Island – seriously one of the best spots in the city for views, check out our guide to all the best things to do on Governors Island. There's even a spa with outdoor pools overlooking the skyline!
Ferry to Ellis Island National Immigration Museum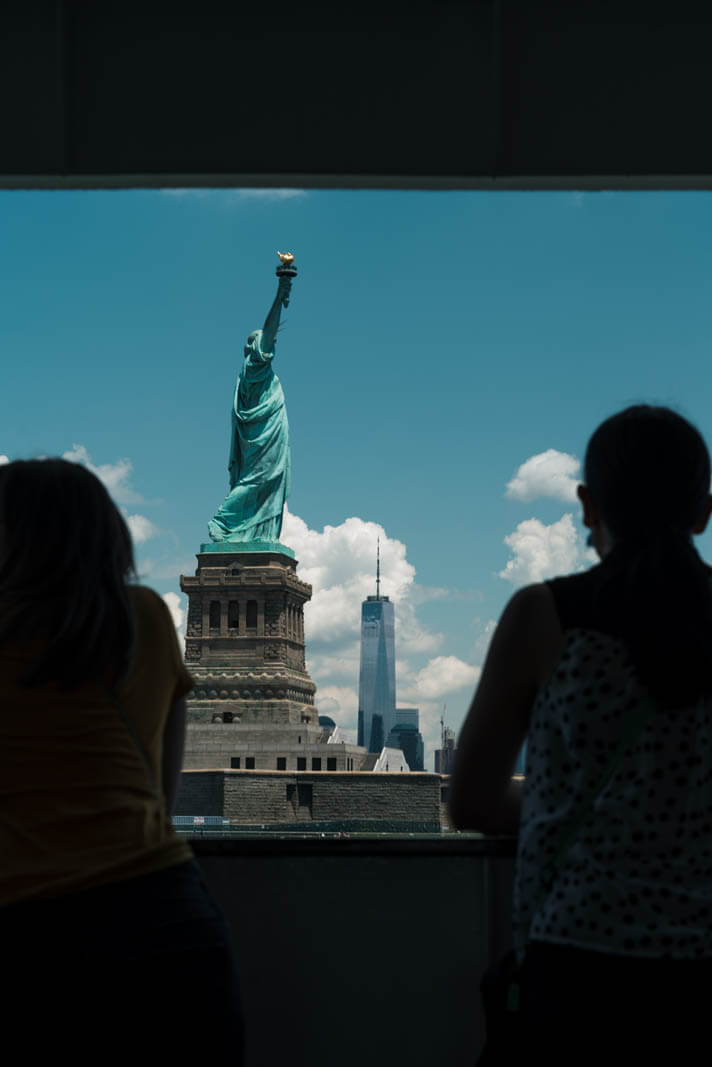 Another great ferry option is the boat to the Ellis Island National Immigration Museum, where you can interact with the extensive historical database detailing arrival records, photographs, and testimonies of those who passed through the center in its heyday. This ferry also stops at the Statue of Liberty National Park — a 2 for 1!
See our full guide to visiting the Statue of Liberty and for this one, get your tickets in advance here.
Walk Across the Brooklyn Bridge and Explore DUMBO
A week in New York City is not complete without a proper walk over the Brooklyn Bridge — take a stroll and enjoy views of the city skyline and the company of the over 30,000 pedestrians that travel over the bridge daily.
If crowds aren't your thing, consider making this the start of your journey, as early morning can be the best time to have the bridge (almost! You're never alone in New York!) to yourself.
Once you're on the other side, explore the cobblestone streets of DUMBO (Down Under the Manhattan Bridge Overpass).
The intersection of Washington and Water Street makes for an excellent (if popular!) photo op, it's always worth it to stroll Brooklyn Bridge Park (and the Squibb Park Bridge!), you can never go wrong at One Girl Cookie, and if you need a pizza break — both Grimaldi and Juliana's have you covered as two of the top pizza spots in Brooklyn.
For further shopping, try the Time Out Market, full of excellent pop-up shops and an underrated rooftop ideal for capturing photos of your one week itinerary in NYC.
Dinner at Cecconi's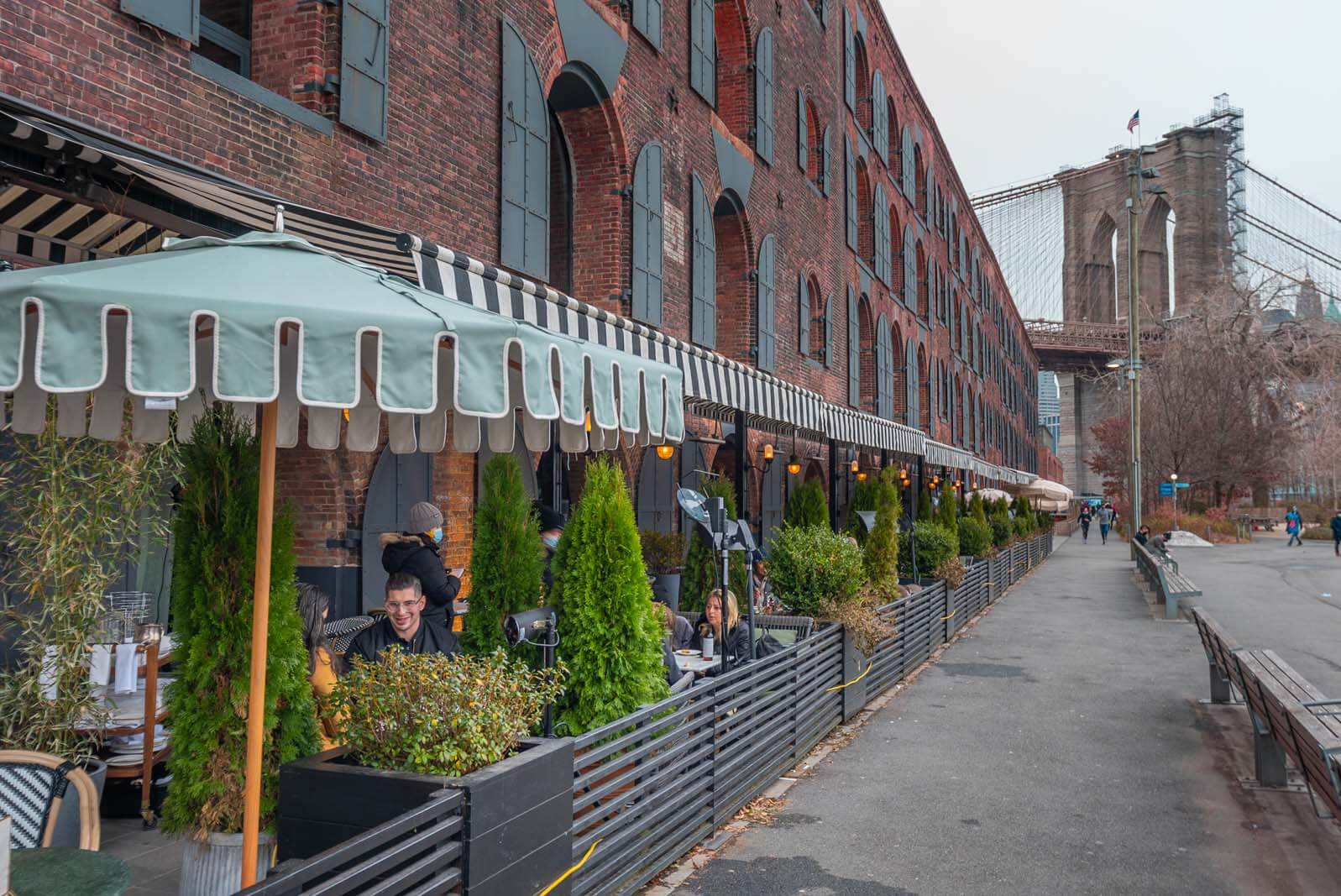 55 Water St, Brooklyn, NY
Can't get enough of those East River views? It really is one of the best views of the skyline from Brooklyn. Have a sunset dinner at Cecconi's, a waterfront restaurant in Empire Stores along Brooklyn Bridge Park that serves up high-quality Italian cuisine and a prolific wine selection in a stylish, luxe setting. Try the Branzino or the Bucatini Cacio e Pepe with a glass of prosecco. Try to get one of their outdoor tables, it's heated in the winter too. Perfection!
Day 2 of 7 Days in NYC: West Village/ Chelsea / NoMad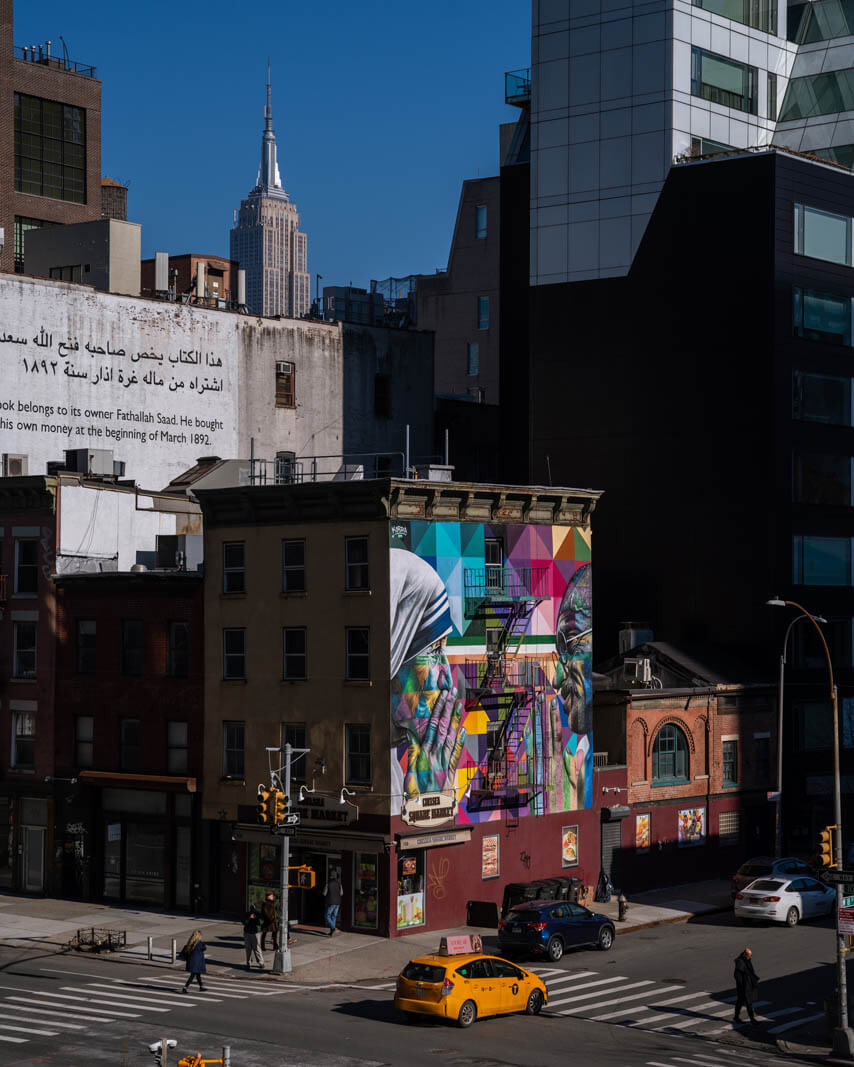 Breakfast at The Grey Dog
49 Carmine St, New York, NY
Is Grey Dog the fanciest brunch spot in New York? Absolutely not. But is it inexplicably cozy, tasty, and a place where you'll instantly feel like a regular? Yes it is! Grab an order of their consistently excellent French Toast (with maple butter, orange syrup, fresh mint, and berries) or their hearty Breakfast Bowl (with white bean hummus, avocado, sweet potato, broccoli, shiitake mushroom, Aleppo zucchini salad, poached egg, & toast points) with an iced coffee and enjoy the lively-yet-low-key atmosphere.
Stroll the Chelsea Art Galleries, the Highline, and Chelsea Market
Decorating? Appreciating? Make sure to wander through the West Village and over to the West 20s between 10th and 11th Avenue to enter Chelsea and browse its many galleries during your NYC one week itinerary for some truly unique and innovative art (you know you're getting sick of that black and white print from Bed, Bath, and Beyond!!).
After picking out a masterpiece for your living room, or some seriously cool installations at some of the great galleries down here, head back going in the direction of downtown via the Highline (the elevated NYC park constructed from a defunct elevated rail line!) to Chelsea Market, home to dozens of artisan shops and food stands. We love to visit Fat Witch Bakery for their NYC-based brownie gift boxes!
PS, Chelsea Market is housed in an old Nabisco Factory and was where to Oreo cookie was invented! If you like food and history, this area is packed with it so consider trying a food and history walking tour of the area where you can learn more!! Book here.
Whitney Museum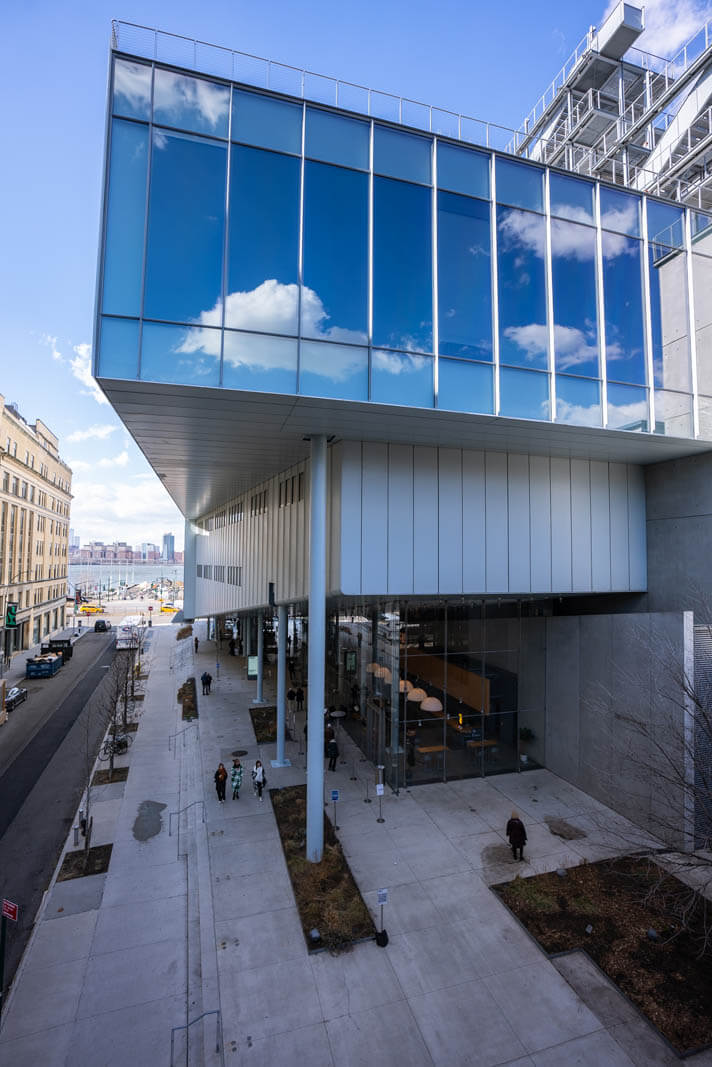 99 Gansevoort St, New York, NY
If you managed to escape the gallery scene without spending your life savings, head over to the Whitney Museum where, as far as I know, you cannot purchase anything (other than in the gift shop!!) and you will not be further tempted to do so. The Whitney is known for its exclusive and extensive collection of 20th-century contemporary American art and the building itself is a genuinely beautiful space to check out not to mention one of the best museums in NYC— a must on your 7 days in New York!
Lunch at the Standard Grill
848 Washington St, New York, NY
A neighborhood standard (sorry, had to), the chic flagship restaurant of the high-end meatpacking hotel is the perfect place to chow down on a really, truly, wonderful Burger or Lobster Roll and their transcendent shoestring fries. If you're feeling a midday cocktail, we recommend the Blind Tiger (Tequila, Amaro, House-Made Grenadine, Grapefruit, Lime) or the By the Barrel (The Standard Barrel Pick Ragtime Rye, Amontillado Sherry, Pineapple, Cacao, Lime).
See Sleep No More At McKittrick Hotel
530 W 27th St, New York, NY
Wander back towards uptown via your new best friend, The High Line, to the McKittrick Hotel, which, while not an actual working hotel, feels like stepping into a stylish, slightly eerie noir film.
One inside, check out their long-running innovative, immersive theatrical masterpiece, Sleep No More, a dance-focused retelling of Shakespeare's Macbeth that takes place throughout the entire hotel.
Another great cocktail option during a week in New York? Visit Gallow Green, the hotel's rooftop bar for curated beverages like the West Side Beekeeper (mezcal, watermelon, honey, citrus, fire tincture).
Madison Square Park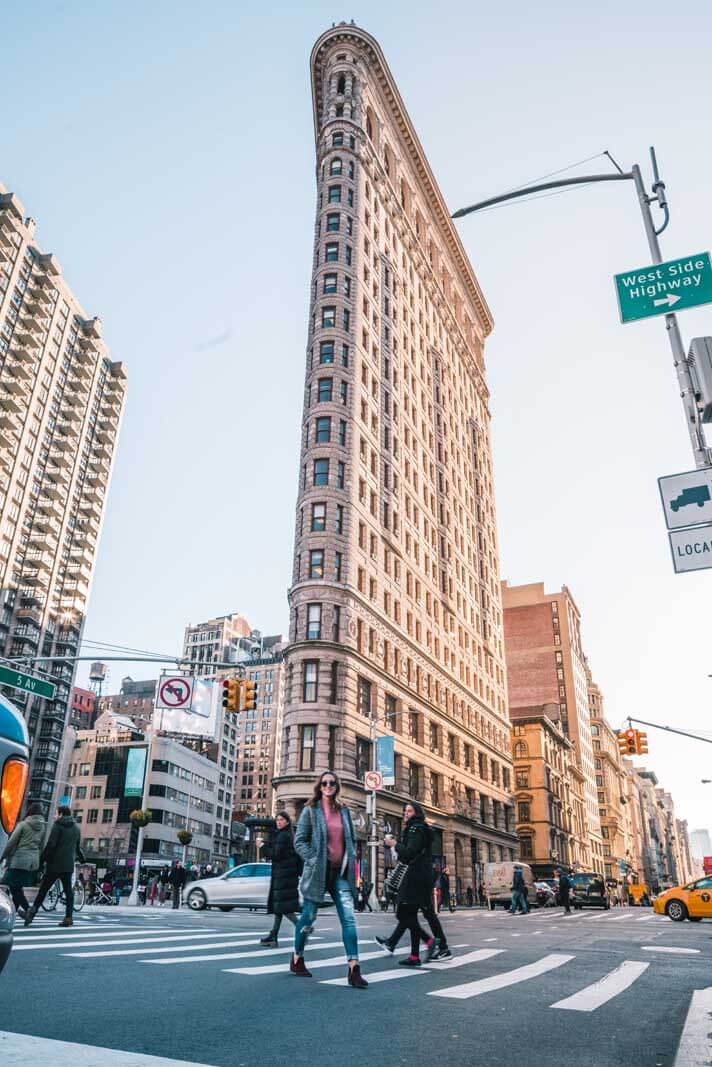 Located at the intersection of Broadway, 5th Avenue, and 23rd Street, Madison Square Park is the delightful, verdant crossroad of the Flatiron, NoMad, and Gramercy neighborhoods.
In addition to being the home of the (original!!) Shake Shack, Madison Square Park features a rotating program of extensive outdoor art installations and frequent community events to check out.
While you're there, be sure to visit some of the surrounding stores like Eataly (a multiplex Italian marketplace of delight), the Lego store (complete with expertly crafted gigantic Lego displays of New York's best attractions).
Dinner at Upland
345 Park Ave S, New York, NY
Upland gets a lot of hype — for good reason. The seasonally focused eatery is known for impeccably done pizzas, pasta, steak, and seafood. We recommend the Lobster Cavatelli (black trumpet mushrooms, english peas + carrots), the Roasted Beef Shortrib For Two, and the Seared Black Cod. Finish out the second day of your NYC one week itinerary amidst the soft lighting and superbly crafted food at Upland before you hit the hay.
Day 3 of 7 Days in NYC: Midtown
Breakfast at Penelope
159 Lexington Ave, New York, NY
Starting your day near the Empire State Building and not looking to hit up a Dunkin' Donuts (no hate, Dunkin's, but you are everywhere…America runs on, etc)? Try Penelope whereas their website so aptly states, they serve "Heartwarming comfort food just like your mom used to make, if your mom was spending her summers out in Montauk surfing, knitting, and eating lobster rolls." Coastal Grandmother alert!! Try the Nutella French Toast, or, if you had a few too many cocktails the night prior, the Penelope's Hangover Bowl (pastrami hash with red potato, sweet potato, red pepper, caramelized onion, pickled mustard seed, poached eggs, savory frisse, and hollandaise).
Empire State Building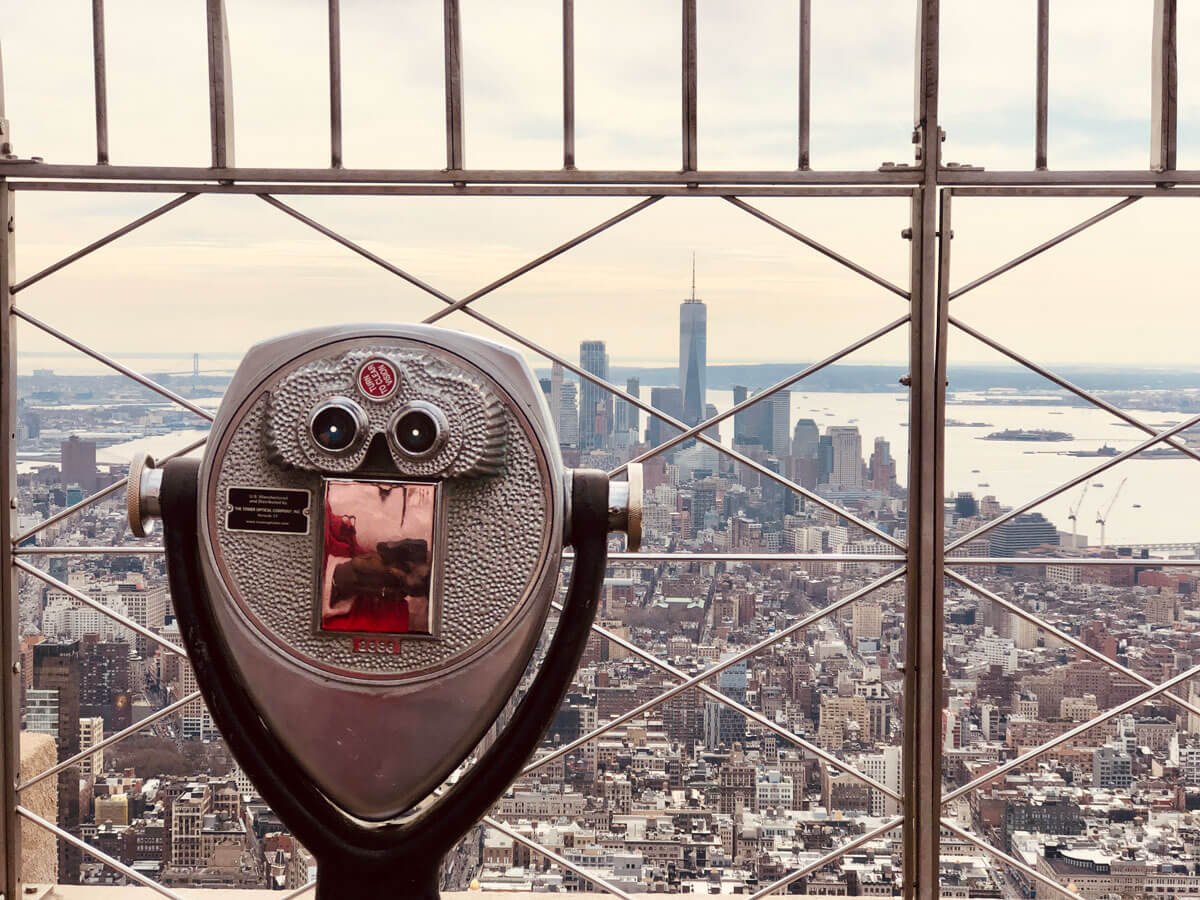 20 W 34th St, New York, NY
It's art deco, it's iconic, it's at the beginning or end of many of your favorite movies (Sleepless in Seattle anyone??), and it's the Empire State Building. Make sure your 7 days in New York City includes at least one trip to the famous Big Apple skyscraper and its excellent observatories at the 86th and 102nd floors.
Make sure to purchase tickets in advance for easy entry! It's worth noting that the Empire State Building is part of the CityPass or New York Pass program, offering you discounts by bundling the tickets to your favorite attractions together. If you're here for a week, it may be worth looking into! Book your tickets in advance here.
The New York Public Library — Main Branch
476 5th Ave, New York, NY
New York City in 7 days isn't complete without a visit to the city's incredible public library building (and yes, deep cut Sex and the City fans, this is where Carrie Bradshaw attempted to get married).
The Beaux-Arts structure, completed in 1911, not only contains over 2.5 volumes but also a great variety of historical exhibits that are free to tour, including countless treasures and the original Winnie the Pooh characters!
Bryant Park
Directly adjacent to the NYPL is Bryant Park, known colloquially as "New York's town square." This verdant Midtown park is a beloved community hub, home to outdoor movie screenings, concerts, juggling in the spring and summer, and an enchanting winter village for the holiday season. Whether it's ice skating weather or a perfect spring day pit stop, a week in New York isn't complete without a trip to the oasis of the Times Square area.
Lunch at Burger Joint inside the Parker New York
119 W 56th St, New York, NY
Psst, come here. Let me tell you a secret! The best burger in New York is hidden away in the middle of a Midtown hotel. And even if you know where to go (The Parker New York), it's almost too easy to wander past the offshoot where Burger Joint lives in all of its oddly dive bar-esque glory.
Get a burger "with the works", enjoy it in this strange windowless room, leave and wonder if you imagined it entirely. Another tip? They don't take reservations. Live in the moment for this one!
Central Park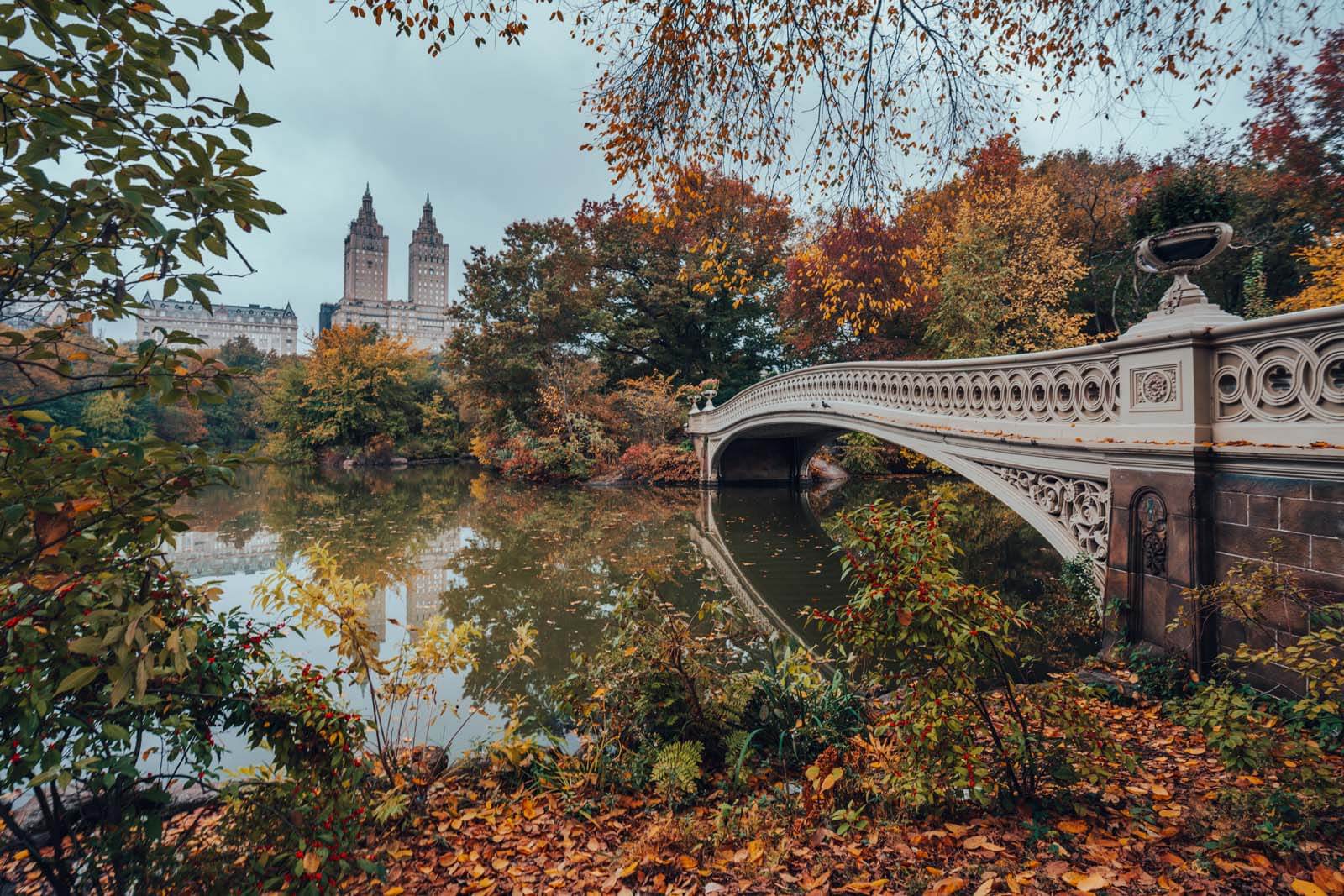 If you haven't already gathered, today is your outdoor park day!! A NYC one week itinerary needs some of the city's best (and completely free) green spaces. Caveat, if it's raining — move this to another day, there are plenty of indoor things to do in NYC on a rainy day.
Or if you're really an indoor cat, head to the shops at Columbus Circle, I won't be offended. Anyway, back to our crown jewel, Central Park.
There are so many options for enjoying and exploring Manhattan's most-beloved lawns — for the classics, walk the reservoir or lounge in Strawberry Fields. For a less well-known but equally beautiful area, check out the Conservatory Garden at East 105th Street for an incredibly landscaped floral menagerie. For a full day, walk the entire perimeter of the park (with stops to admire the scenery!).
Dinner at Café Fiorello
1900 Broadway, New York, NY
An old-school, glamorous Italian eatery, Café Fiorello is the place to grab dinner after a day exploring Midtown. Home to mouth-watering burratas, house-made pastas, and a truly top-notch signature lasagna, come hungry and leave plenty of time to savor the delicious fare (though it's worth noting that Café Fiorello is well-versed in timing out a pre-theater meal!). New York City in 7 days just wouldn't be as delicious without it!
Catch a Performance at Lincoln Center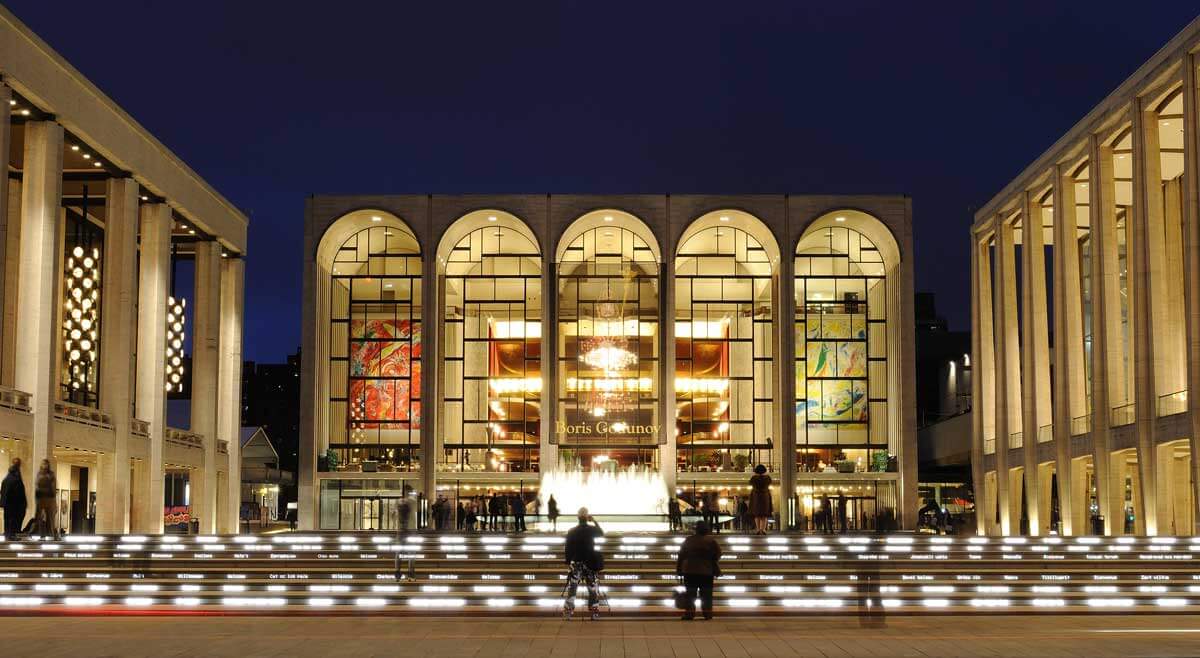 10 Columbus Circle
A spectacular complex boasting the New York City Ballet, the Metropolitan Opera, and a rotating program of Broadway shows, Lincoln Center is a beloved cultural center that you simply can't miss on your 7 days in NYC itinerary.
If you can't decide, check out all three box offices — there are usually same-day tickets available for all three institutions. And if you're here at Christmastime, be sure to check out the NYCB's Nutcracker, a holiday classic!
Day 4 of 7 Days in NYC: Uptown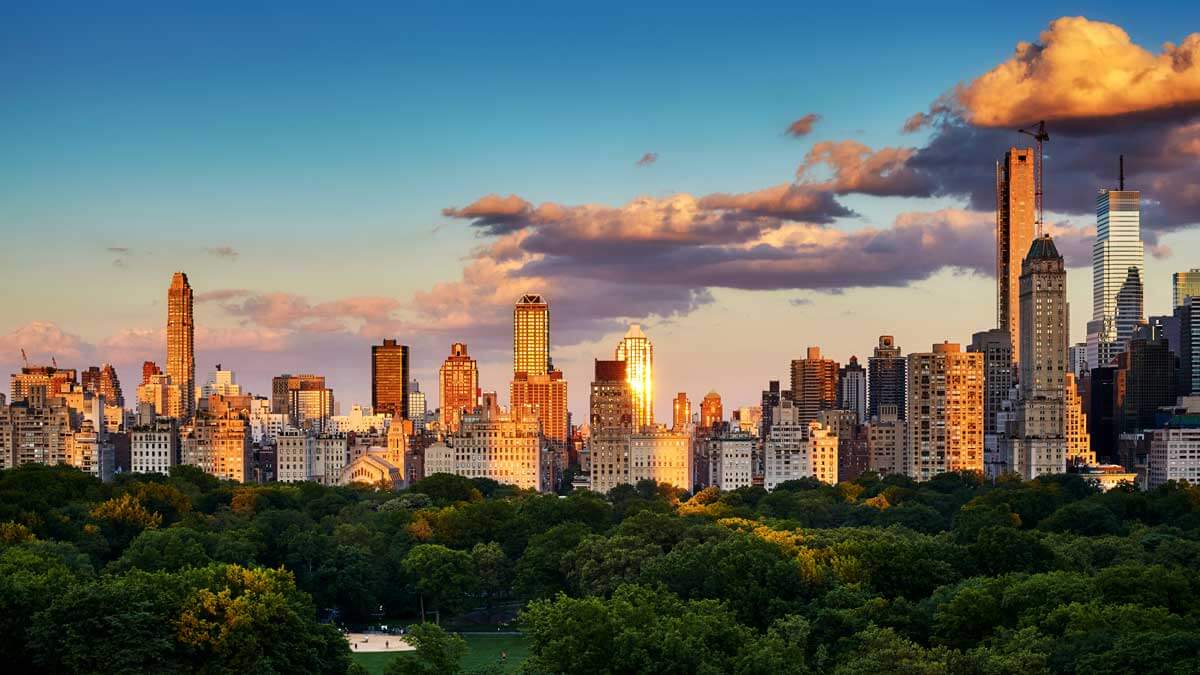 Breakfast at Lexington Candy Shop
1226 Lexington Ave, New York, NY
Open for nearly a century, the Lexington Candy Shop is the kind of place where the gruff-but-lovable New Yorker character was born. Order a perfectly cooked omelette and a proprietary, house-made egg cream and people-watch to your heart's delight.
The Metropolitan Museum of Art
1000 5th Ave, New York, NY
Just a few blocks over from the Lexington Candy Shop is New York's foremost cultural institution — the Metropolitan Museum of Art. Containing over 2 million (!) works across genre, geography, and many centuries, it's impossible to see everything during your 7 days in New York itinerary, but it's worth picking a section and checking it out. It's also worth it, if you are a Gossip Girl fan, sitting on the Met steps for a few photo ops. Xoxo!
Museum of the City of New York
1220 5th Ave, New York, NY
Slightly uptown from the Met is one of New York's hidden-gem museums, entirely dedicated to the past, present, and future of the city itself. Visit the Museum of the City of New York to see everything from a history of NYC hip-hop to the Blue Man Group to a historic retrospective on pandemics.
El Museo Del Barrio
1230 5th Ave, New York, NY
Directly adjacent to the Museum of the City of New York is El Museo Del Barrio, exploring New York's rich historic connection to the Latinx diaspora. Featuring paintings, sculptures, film screenings and live performances, a visit to El Museo is a must on your New York City in 7 days itinerary.
Lunch at Sant Ambroeus
1000 Madison Ave, New York, NY
A local favorite for 40 years, Sant Ambroeus is the chic, tasty Italian lunch spot of your Upper East Side fantasies. Try the Salmon Con Lenticchie (Faroe Islands salmon, beluga lentils, spring caponata, parsley-caper intingolo) or the Ossobuco Alla Milanese (traditional Milanese slow-braised veal shank, seared saffron risotto, bone marrow, gremolata).
Carl Schultz Park and Gracie Mansion
East End Ave. at 88th St.
Head east to check out the New York City Mayor's residence (yes, they can actually live there!), Gracie Mansion, and the adjoining Carl Schultz Park. If you'd like to book a tour of the mansion, make sure to reserve in advance as space is limited!
If you'd just like to check out the outside, do a walk by the Federal-style structure built in 1799 before strolling the gardens of the park and enjoying waterfront views of the East River.
City University of New York
160 Convent Ave, New York, NY
Inspired by the cool architecture and art of the Gracie Mansion? Head uptown to the City University of New York (CUNY)'s gorgeous campus for a quick stroll around its historic buildings.
Fun facts: CUNY was both the first free public institution of higher learning and is a frequent site of the fictional "Hudson University" on Law and Order! Bonus architecture move, walk along Convent Avenue to check out some incredibly beautiful brownstones!
Hamilton Grange National Memorial
414 W 141st St, New York, NY
It's quiet uptown, but not at this popular tourist attraction that was also founding father Alexander Hamilton's homestead. While tours are free and self-guided, we recommend booking in advance to ensure the time and the space to be in the room where it happens.
Dinner at ROKC
3452 Broadway, New York, NY
Down a set of stairs tucked beneath Broadway, ROKC – short for Ramen Oysters Kitchen and Cocktails — is a true hidden gem and a must on your 7 days in New York City. Try a Japanese whiskey matcha cocktail or an Earl Grey gin beverage before diving into their incredible Sapporo Ramen and a plate of fresh oysters.
Drinks at The Honey Well
3604 Broadway, New York, NY
Decorated to transport you to 1972, The Honey Well is the grooviest bar in West Harlem. Enjoy a Disco Inferno (Ten to One Rum, Abano Amaro, Mothers Milk Stout, Agave, Orange Oils, Torched Coco Butter and Cinnamon) and Cocktail Meatballs. Wear your best bell-bottoms!
Day 5 of 7 Days in NYC: Brooklyn
Breakfast/Brunch at Caffe De Martini
609 Vanderbilt Ave, Brooklyn, NY
A delightful Italian cafe and restaurant in the heart of Prospect Heights, Caffe De Martini is home to a lovely outdoor seating area for warm-weather dining (outside their incredibly beautiful exterior) and a cozy interior for when temperatures drop.
They've got classic espresso-based coffee drinks along with drip coffee as well as a menu of pastries, sandwiches, and artisanal focaccia.
Prospect Park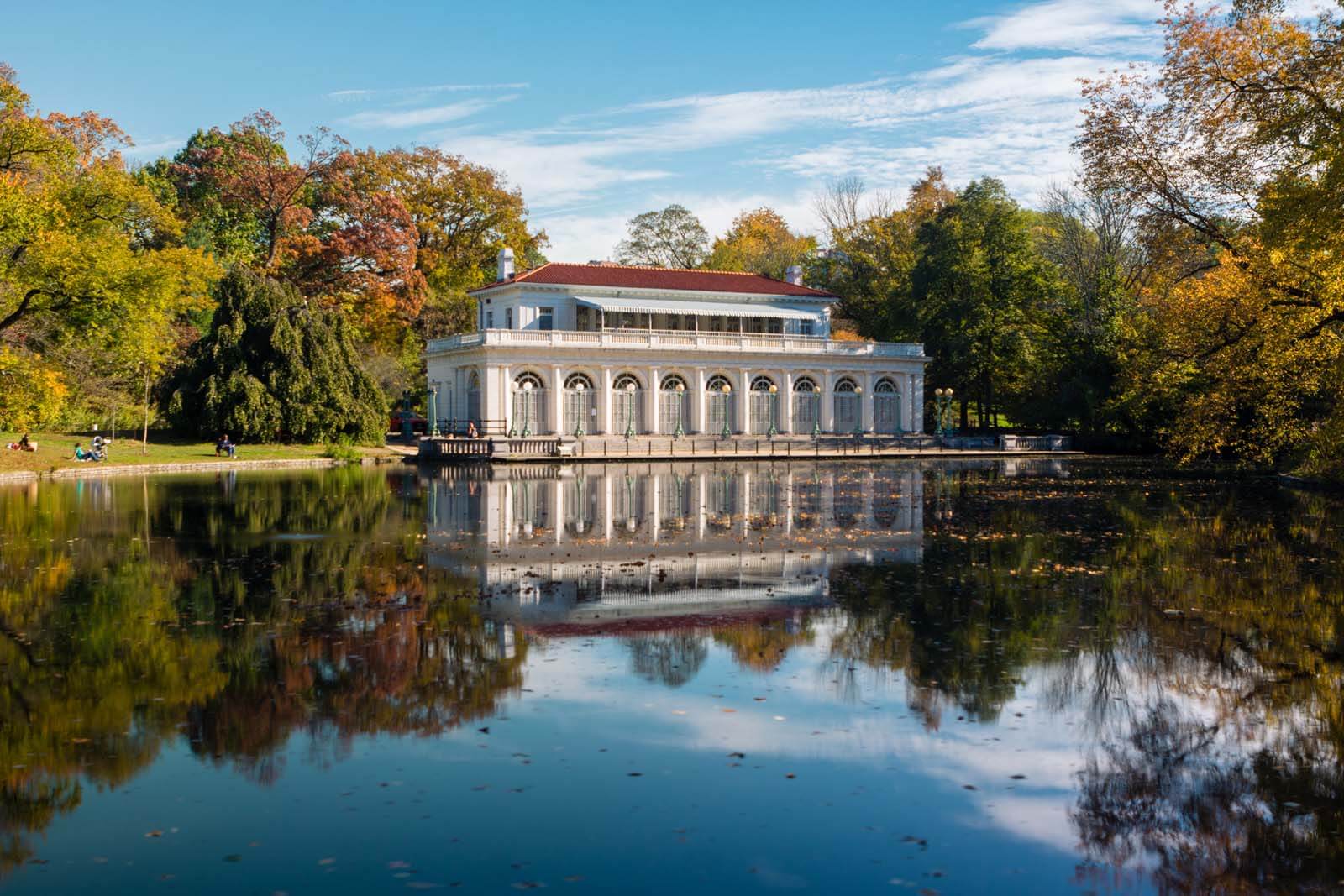 Another Frederick Law Olmstead masterpiece, Prospect Park is the sprawling central greenspace of the city's most populous borough.
Boating, ice skating, rollerblading, lawns, tennis, concerts and even horseback riding are available for a full day of fun during a week in New York and are just a few of the amazing things to do in Prospect Park.
We also recommend checking out the nearby year-round Grand Army Plaza Farmers market at the Northern end of the Park! On your way, be sure to walk through the beautifully restored Endale Arch.
Brooklyn Botanic Garden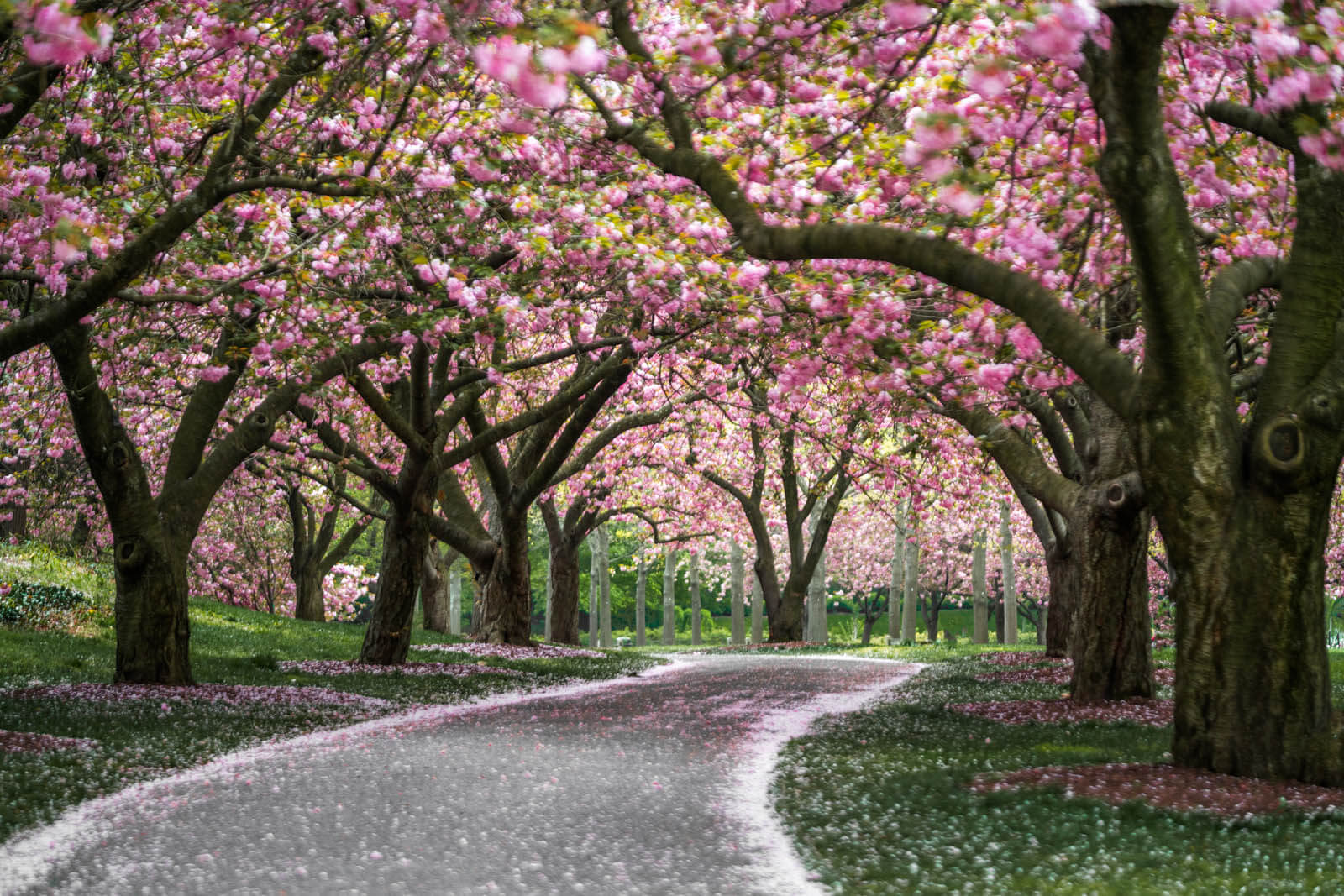 990 Washington Ave, Brooklyn, NY
Combine this with a visit to Prospect Park, but be warned, you can spend hours in Brooklyn's beautiful parks and greenspaces, the Brooklyn Botanic Garden is no different.
Another Prospect Park area gem is the show-stopping Brooklyn Botanic Garden, a 52-acre spread of immaculately designed landscapes and floral gardens.
If you're visiting New York City in 7 days during the springtime, be sure to check out the Cherry Blossom Festival, which rivals Tokyo's showcase!
Brooklyn Museum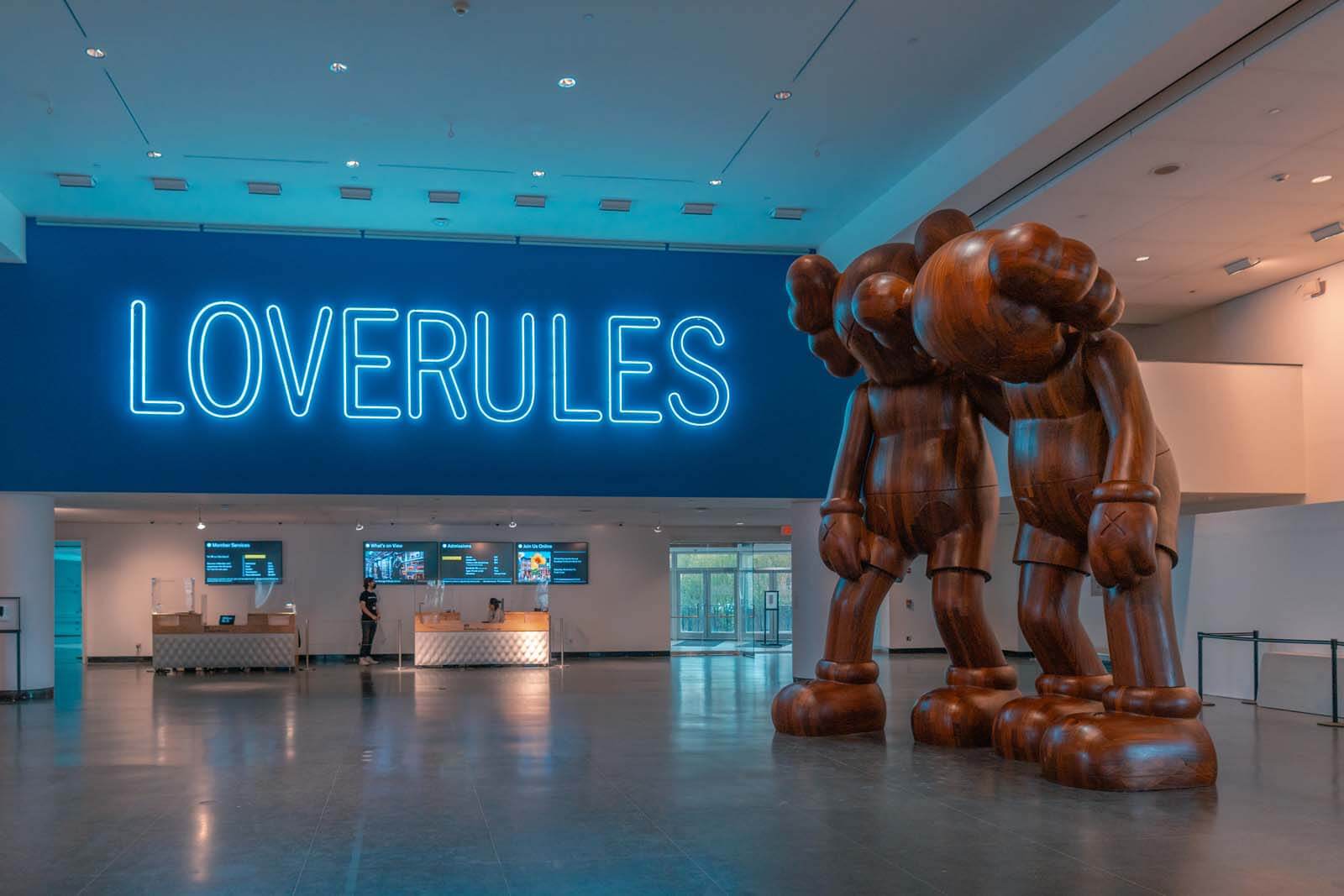 200 Eastern Pkwy, Brooklyn, NY
While you're near Prospect Park (or even before), be sure to stop by the Brooklyn Museum on your 7 days in New York City. The third largest museum in the city, this sprawling, stately building houses over half a million pieces spanning era and genre.
Keep an eye out for limited-time exhibits, which often require separate ticketing but are totally worth it (recent examples include an Andy Warhol retrospective and a homage to David Bowie's costumes).
Lunch at Pasta Louise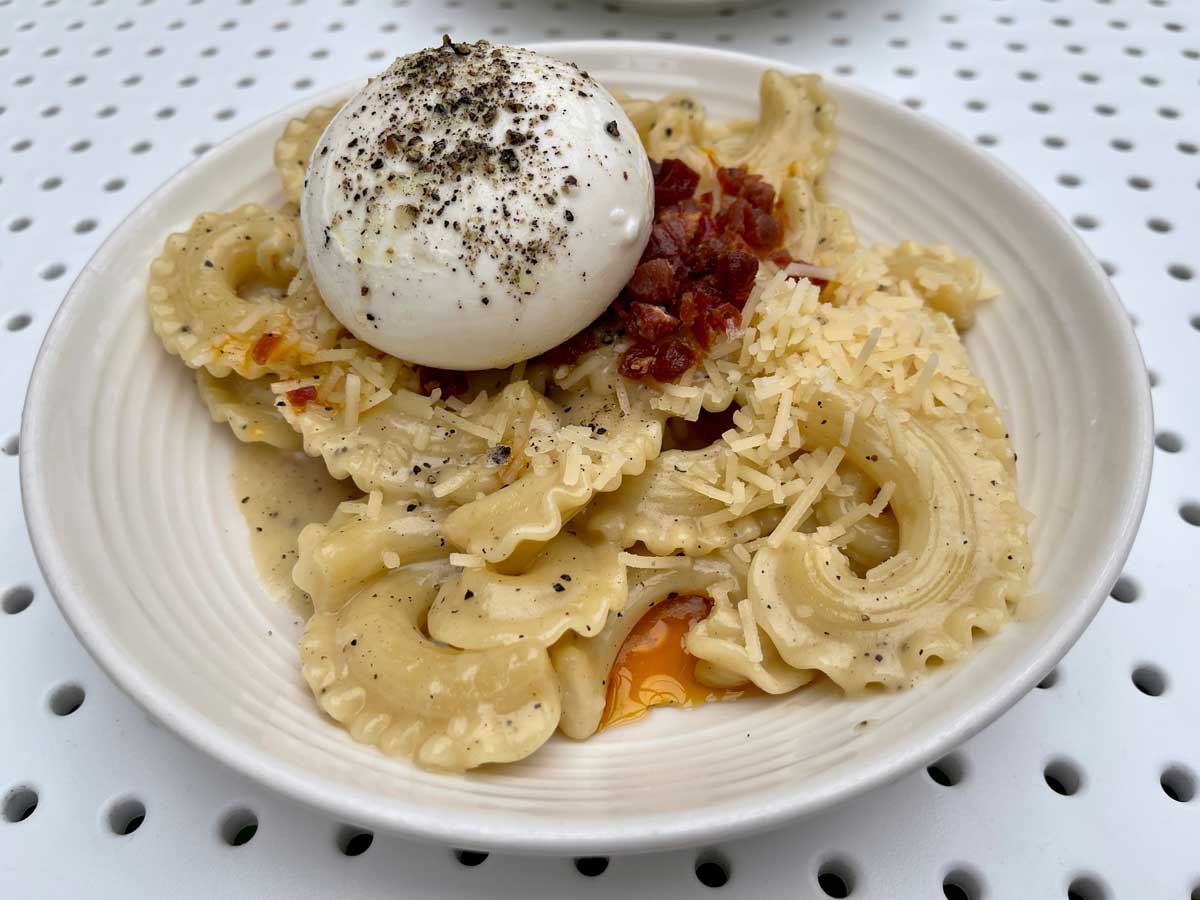 803 8th Ave, Brooklyn, NY
After all the exciting adventures in Brooklyn's most beautiful greenspaces, make your way to one of the best restaurants in Park Slope, the famous and desired brownstone neighborhood of Brooklyn.
Choose the fresh-made chef's pick for pasta of the day and the sauce you want, the cacio e pepe is a crowd pleaser. Top it off with anything you like from fresh made ricotta to a ball of burrata or other fun toppings like crispy prosciutto and breadcrumbs.
Explore Park Slope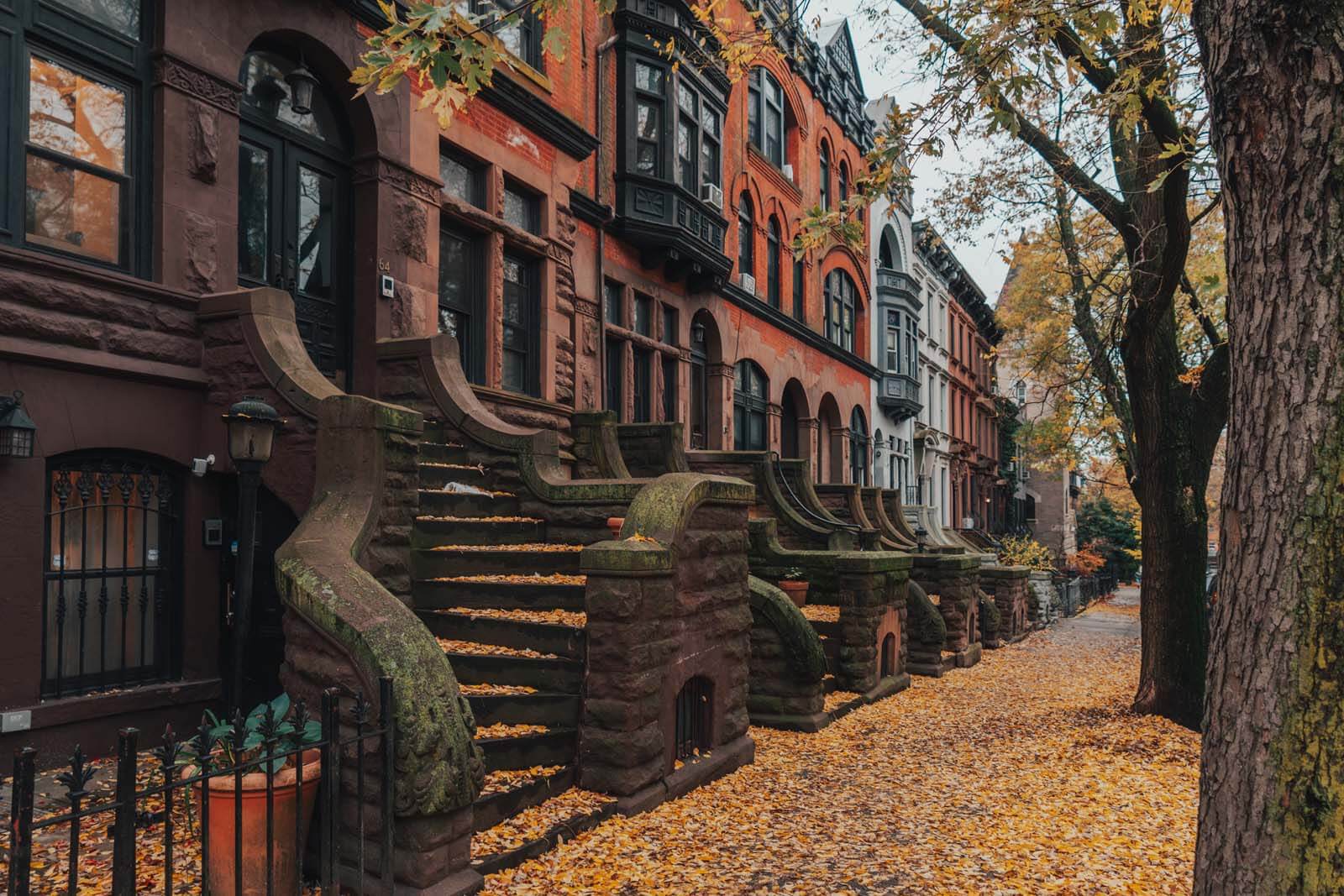 Looking to check out one of the most beautiful neighborhoods in Brooklyn? Take a gander through Park Slope after your delicious lunch. This brownstone-filled neighborhood is one of the largest historic district in the state of New York in terms of number of buildings as there are over 1,800 buildings from the late 19th to early 20th century that line these incredibly gorgeous streets including some of the most impressive brownstones and mansions you'll find in the city.
Any 7 days in NYC itinerary should absolutely include a serious shopping segment — head over to 5th Avenue (and 7th Avenue if you feel like doing more shopping) to browse some of the borough's best boutiques.
Be sure to also check out some of the other best things to do in Park Slope too!
Catch a game or concert at Barclays Center
620 Atlantic Ave, Brooklyn, NY
The mammoth Barclays Center is home to the Brooklyn Nets, but whether or not it's basketball season, it's worth a visit on your New York City in 7 days journey. Check the local calendar for concerts, special events, and of course, basketball games. Barclays is also known for its top-notch concession stands too!
Dinner Options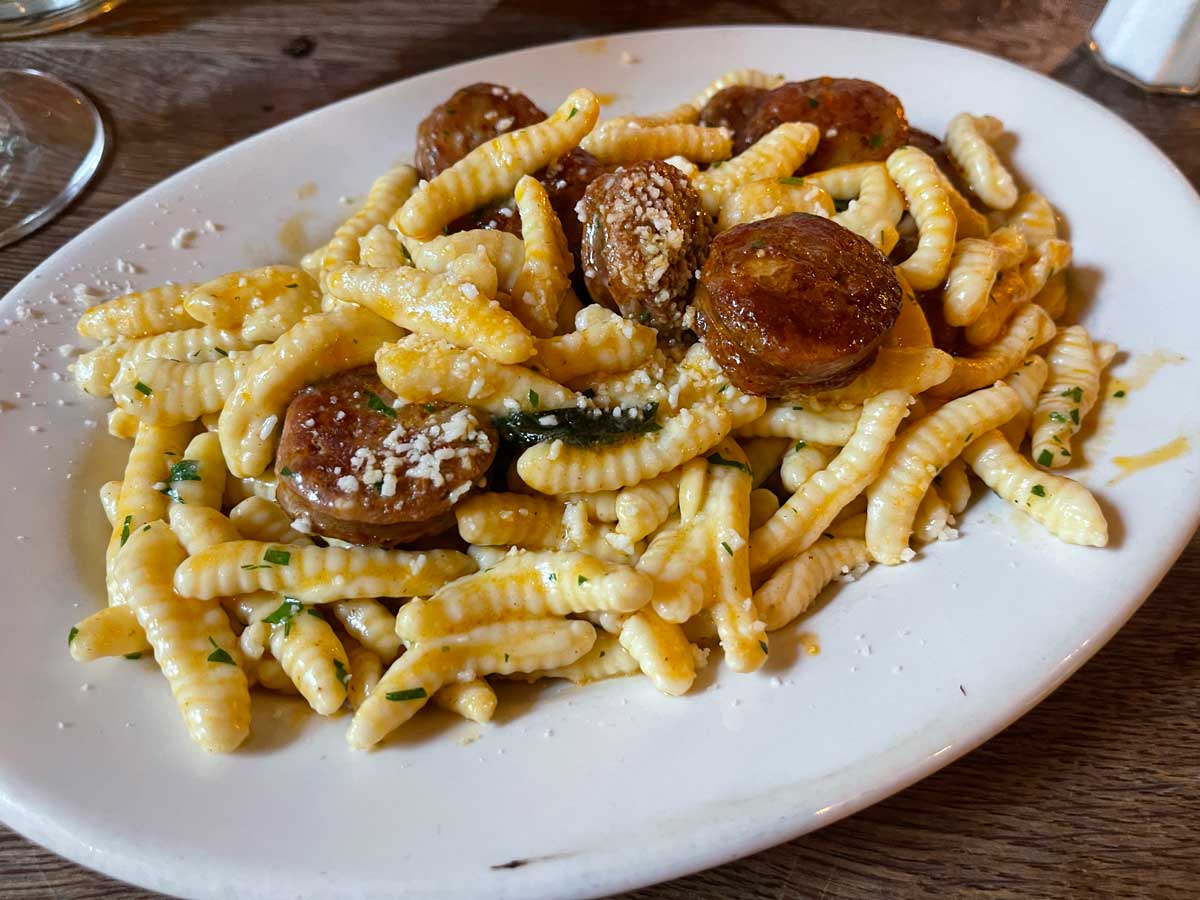 Pig Beach (480 Union St, Brooklyn, NY) in Gowanus is an excellent BBQ spot if you're looking for a more casual dining experience. New York City in 7 Days should include at least a few stops off the beaten path — why not head to Gowanus for a dinner experience that brings Nashville to NYC?
Pig Beach is an outdoor backyard party that brings Italian, French, Middle Eastern, Asian and American BBQ techniques to their menu. Try the Jerk Chicken Sandwich (or for vegetarians, the excellent Impossible burger with Pig Beach fixings!) and order a pitcher of beer for the crew.
Afterward, you can grab a drink at a few of the cool breweries in Brooklyn that are located in Gowanus!
Frankies 457 Spuntino (457 Court St, Brooklyn, NY) is hands-down one of the best restaurants in Carroll Gardens, a historic Italian neighborhood in Brooklyn. This neighborhood favorite for excellent wine, pasta, and antipasto. We love the Cavatelli with Hot Sausage and Sage Butter and Wagyu Bavette Steak! Enjoy your walk through this gorgeous neighborhood too, Court Street is full of great restaurants, bars, and shops.
Day 6 of 7 Days in NYC: Queens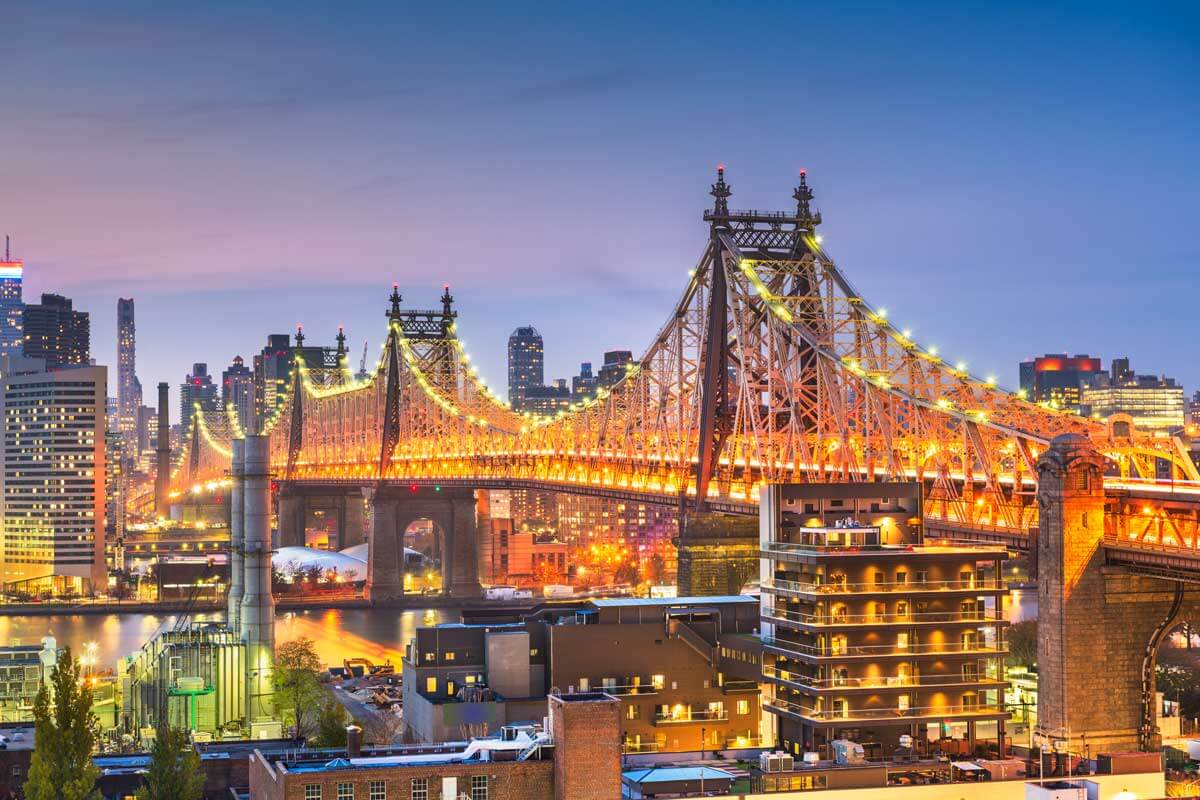 Court Square Diner
45-30 23rd St, Queens, NY
A week in New York absolutely must include a visit to an authentic New York diner (check out a few of our other favorites here!). Court Square Diner in Long Island City is a classic, serving visitors and locals alike since 1946. Be sure to try the Chocolate Chip Pancakes (if you're a late-riser, they're available all day!).
Explore Sunnyside Queens
Keep going on your 7 train, 7 days in NYC itinerary and check out one of the most idyllic neighborhoods in Queens, Sunnyside. Stroll through Sunnyside Gardens on Skillman and Barnett Avenues to check out the beautiful residential architecture or (on Saturdays), check out the Sunnyside Greenmarket!
Head to Flushing for Dim Sum at Shanghai You Garden
135-33 40th Rd, Queens, NY
Get back on the 7! It's time to head to Flushing, which is home to the city's largest Chinatown. There you'll find an incredible area of Pan Asian cuisines, including life-changing dim sum at Shanghai You Garden. We recommend the Sweet and Sour Ribs and the shrimp dumplings!
Catch a Mets Game at Citi Field
41 Seaver Way, Queens, NY
Yes, yes, the Yankees get more publicity but don't discount how much fun it is to spend an afternoon at Citi Field and see a Mets game on your New York City one week itinerary. Citi Field not only is home to the Mets (and some truly great concerts!) but also a robust concessions program, including Pat LaFreida Burgers, Jacob's Pickles, and Arancini Bros.
Catch a concert at Forest Hills Stadium
1 Tennis Pl, Forest Hills, NY
Another excellent activity on your New York City in 7 days trip is to catch a concert at the venerable Forest Hills Stadium. The first home of the US Open (now held at the Billie Jean King Tennis Center nearby), the venue has seen the likes of Frank Sinatra, Barbra Streisand, Dolly Parton, Mumford and Sons, and many more. A truly unique space, the outdoor stadium is optimized for acoustics and the ultimate summer concert evening.
Dinner at Aktrotiri in Astoria
45-07 Ditmars Blvd, Queens, NY
Capping off your Queens adventure during a week in New York is a trip to Astoria for truly transcendent Greek cuisine at Aktrotiri, an upscale, friendly eatery known for its impeccably done Mediterranean fare. Try the Moussaka, Branzino, and Lavraki (Branzino).
Day 7 of 7 Days in NYC: The Bronx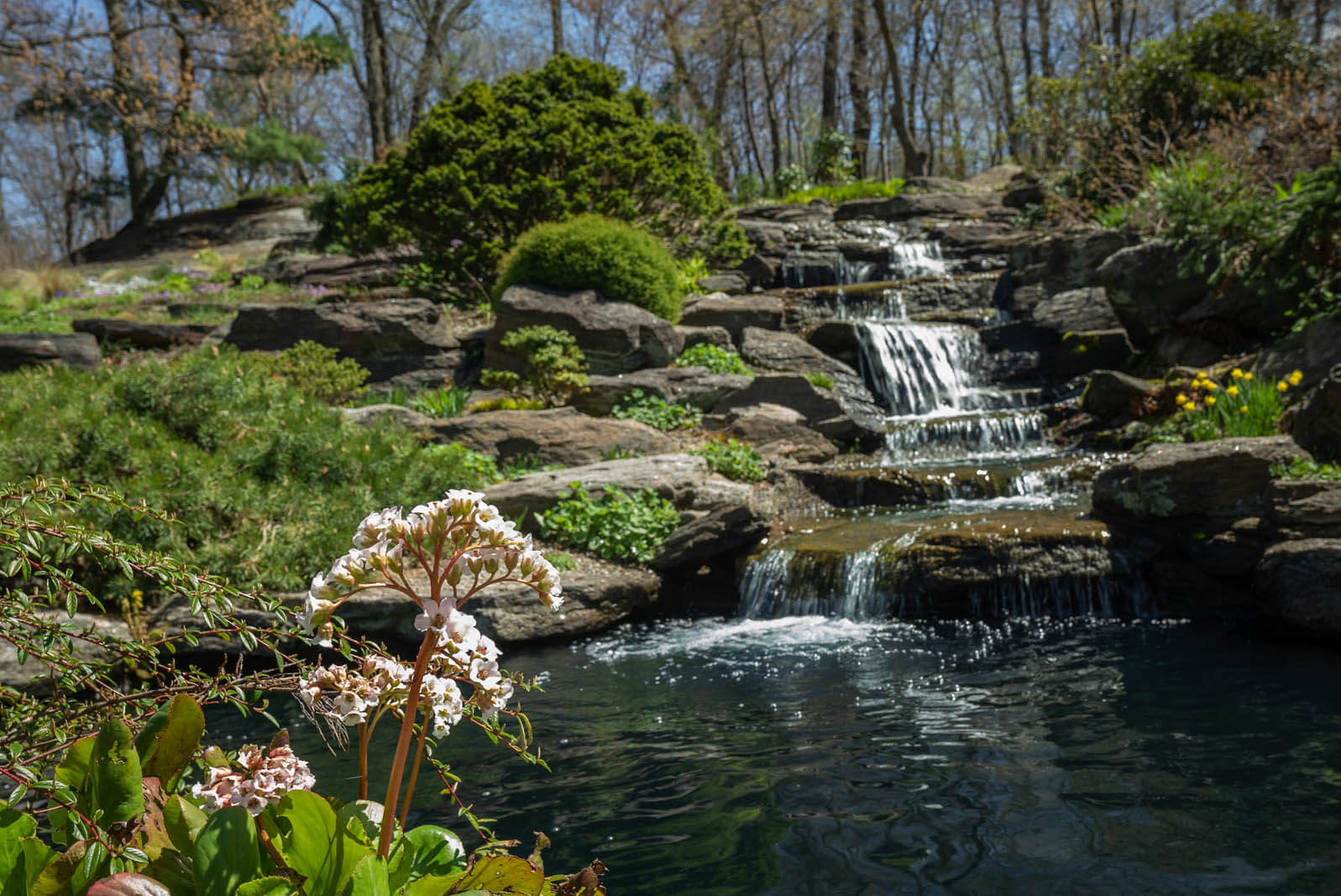 Breakfast at Liebman's Kosher Deli
552 W 235th St, Bronx, NY
Head up to the Riverdale neighborhood of the Bronx, where family-owned Liebman's Kosher Deli is the place to go for a Knish (yes, I would recommend them for breakfast!!) or a pastrami omelette. Don't forget to grab some chocolate babka, if you're around during the holidays, their signature Hanukkah latkes!
Walk around Wave Hill Public Gardens
4900 Independence Ave, Bronx, NY
Originally a tony private estate, the now public gardens of Wave Hill are spectacular to behold and one of the best-hidden gardens in NYC. Wander around the 28-acre grounds, gardens, beehives, pergolas, and vistas of the Hudson River and the Palisades on your New York City one week itinerary for unparalleled scenery Advance tickets are not required, though it does require paid entry.
Lunch at Hudson Garden Grill and tour the New York Botanical Gardens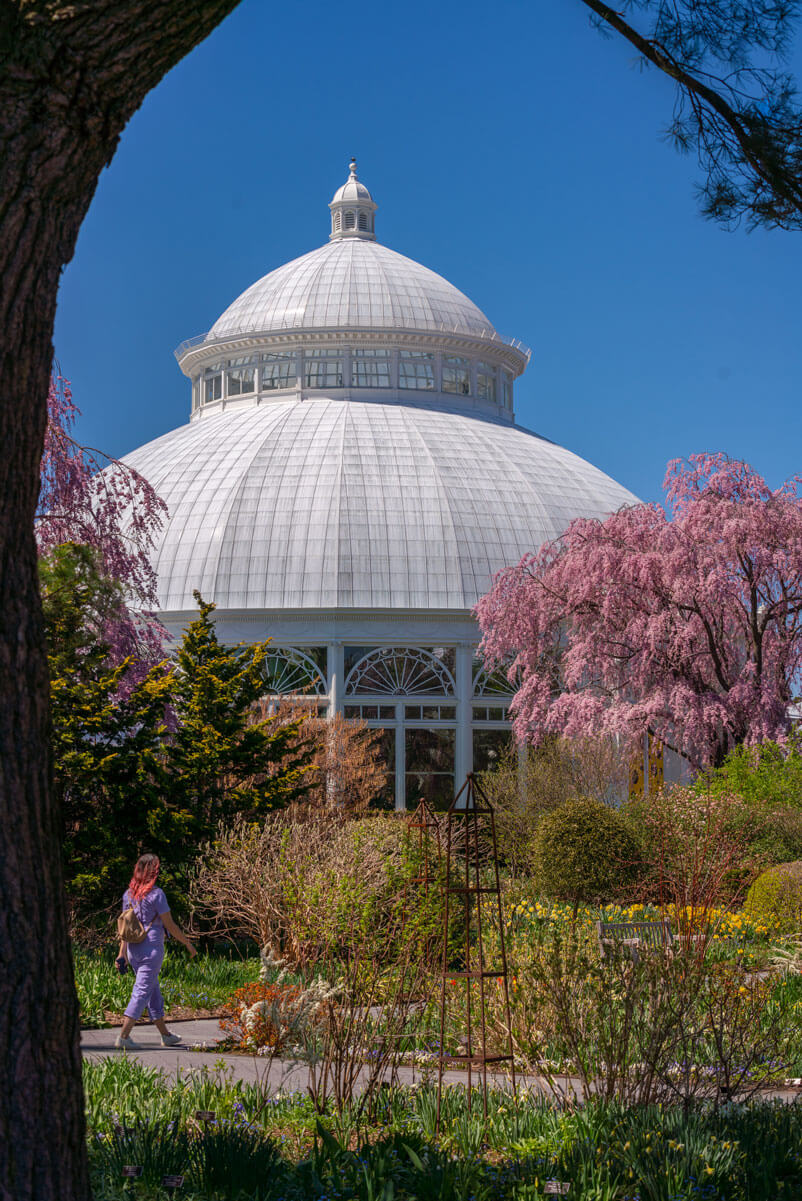 2900 Southern Blvd, Bronx, NY
Keeping with our floral theme, hop on over to the New York Botanical Gardens for a farm-to-table lunch at Hudson Garden Grill, located on the campus of the grounds. A seasonal rotating menu, you can expect to enjoy favorites like a Crispy Chicken Sandwich on Brioche with Horseradish Aioli, and Harvest Vegetable Quinotto.
Be sure to also stick around and explore the gorgeous gardens too!
Bronx Zoo
2300 Southern Blvd, Bronx, NY
A 256-acre preserve, the Bronx Zoo is an all-ages wildlife center home to a wide variety of animals, educational programming, and holiday events (including the seasonal Bronx Zoo holiday lights!). For those over 21, the Zoo also offers a yearly Brew at the Zoo beer festival every summer!
Bronx Museum of the Arts
1040 Grand Concourse, Bronx, NY
A cultural institution for over half a century, the Bronx Museum of the Arts is an excellent stop on the final lap of your New York City in 7 days itinerary. Focusing on 20th century and contemporary American artists (in particular focusing on the works of African American, Latinx, and Bronx-based artists), the museum has a permanent collection of over 2,000 items as well as frequently rotating exhibits and events.
Dinner on Arthur Avenue at Mario's
2432 Arthur Avenue Bronx NY
New York City in 7 days just isn't complete without a trip to Arthur Avenue, the Italian-food paradise of the Bronx. Run, don't walk to Mario's, a century-old family-run icon of the NYC food scene, serving up plates of generously sized, homemade pasta and Italian classics to locals and visitors alike. Don't leave without ordering the linguine with clam sauce!
More Than 7 Days in NYC?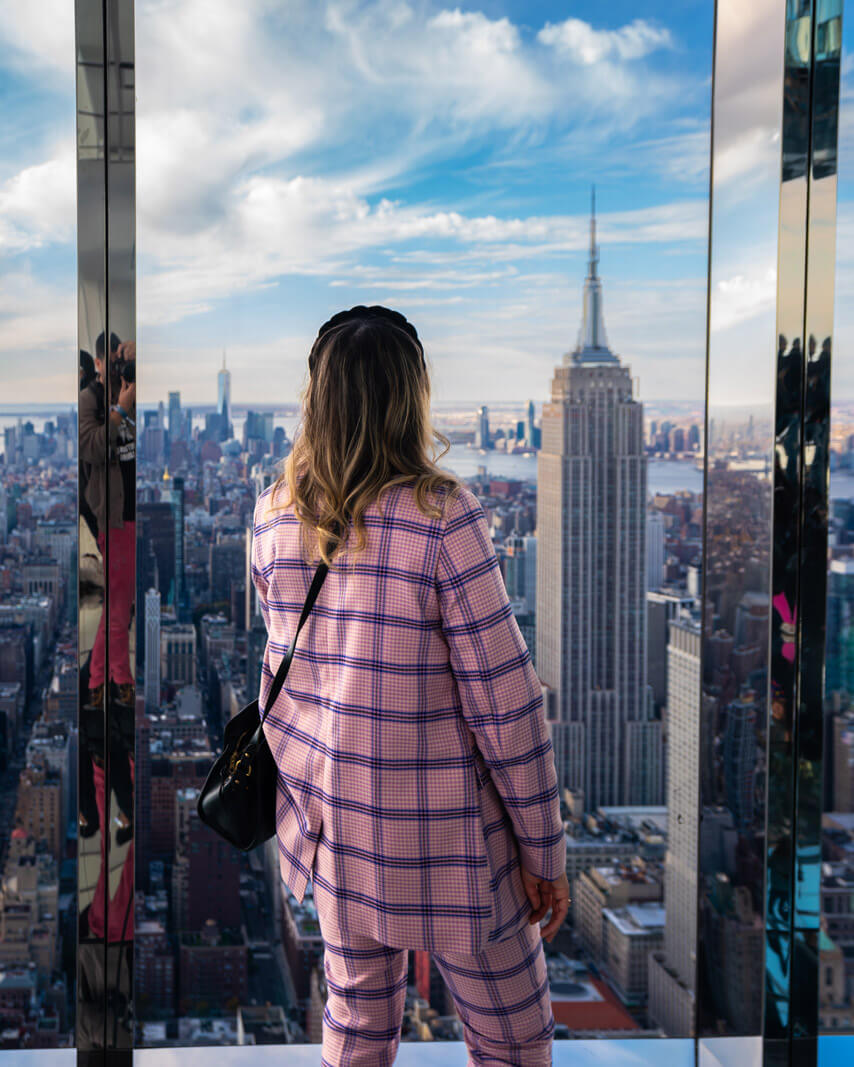 Do you have more than 7 days in NYC? Or maybe you're looking to swap out a few of your activities on your week in New York City itinerary! We got you!!
If you do have an extra day, we highly recommend checking out more of the best things to do in Brooklyn.
There are so many cool things to check out in Brooklyn (hey, this site is a bit biased) not to mention a really GREAT food scene! The best pizza comes from Brooklyn so be sure to check out our guide to the best pizza in Brooklyn to see which spot(s) you need it hit up!
Otherwise, we are going to recommend a few more of the best things to do in NYC that might already be on your radar!
NYC Tips & Tricks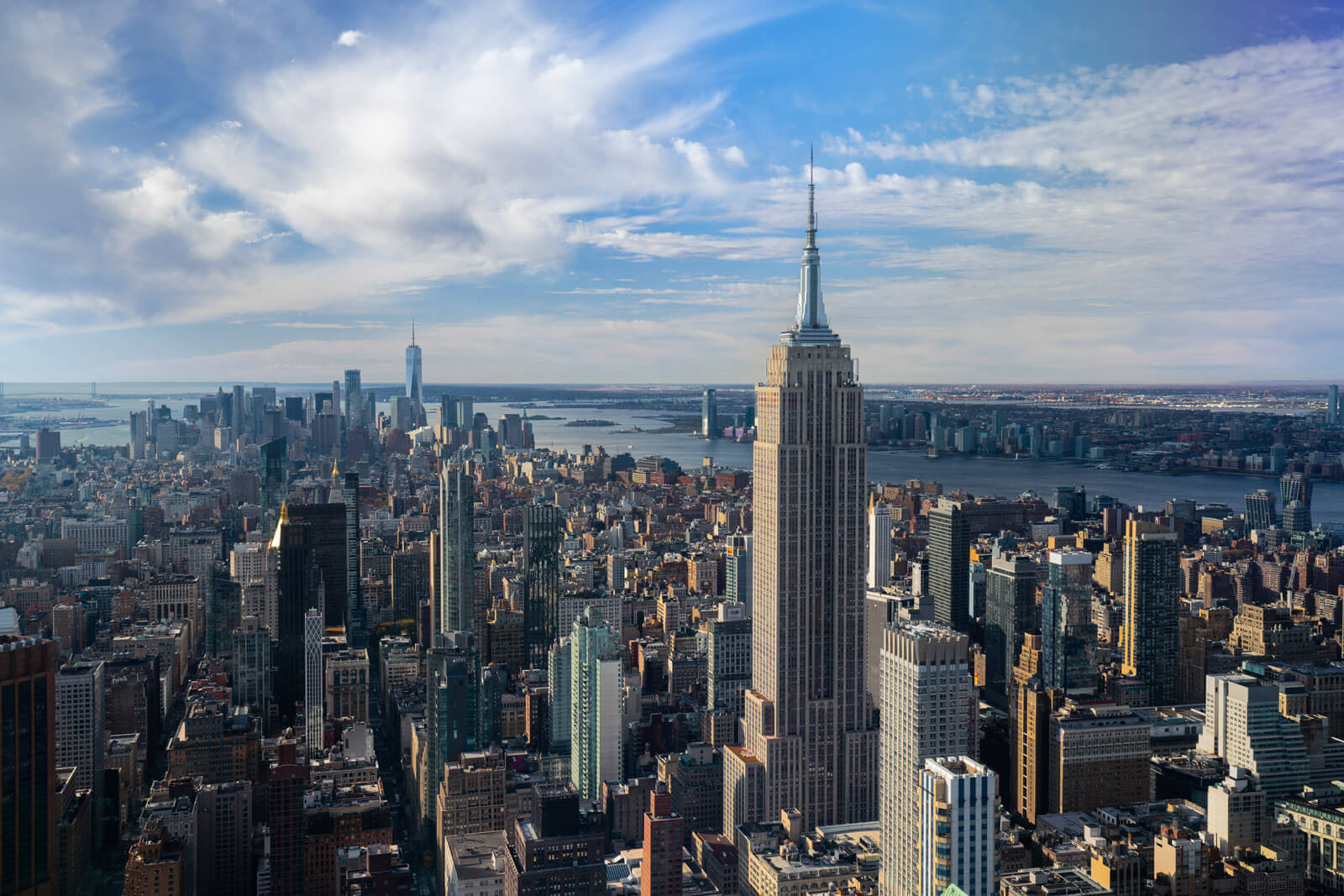 Planning a 7 days in New York itinerary or any trip here for that matter, as someone who isn't super familiar with the city requires you to brush up on some of the common scams, don't worry, we have an entire guide to the most common NYC scams and how to avoid them!
If you're on a shoestring budget, don't worry we have a guide to NYC on a budget as well with money-saving tips from cheap eats, stays, and free things to do in the city.
Also, if you're planning on hitting up many of the most famous attractions on your NYC trip consider getting an attraction pass that you pay a price upfront to get into attractions all over the city for free. By purchasing an attraction pass you can save anywhere from 35-45% on your attraction passes and saving you hundreds of dollars on your visit!
CityPASS offers a 3 attraction pass or a 6 attraction pass with over 12 city attractions to choose from including popular observatories like the Empire State Building, The Edge, Top of the Rock, 9/11 Memorial & Museum, Statue of Liberty & Ellis Island, the Guggenheim, and more!
Another great option is the New York Pass which you can purchase anywhere from a 1 Day Pass to a 10 Day Pass that gets you into over 100 attractions. Once you purchase your New York Pass you download the Go City app and use that to get up to 45% savings on popular attractions as well as a few hidden gem attractions ranging from the Empire State Building to the Museum of Ice Cream and many of the NYC experiences mentioned in this guide!
We also have a full breakdown of both of these sightseeing passes, check out our guide to CityPASS and New York Pass for more details and FAQ, something you'll really want if you're going to spend 7 days in NYC hitting up multiple attractions!
---
About Guest Author
Sarah Beling is a playwright, New Yorker, and passionate food enthusiast who is always looking for her next meal. You can find her in an NYC park, enjoying a chopped cheese sandwich and reading about NYC's best new places to eat.
---
Enjoyed this guide for how to spend 7 days in NYC itinerary? Bookmark for later or share with a friend!