Heading to Brooklyn and looking for some of the hidden gems in Brooklyn Heights? We've got you covered, if you've already been to and discovered all the other best things to do in Brooklyn Heights or are expanding to your day around DUMBO, we've got some great suggestions for you in America's first suburbs!
This guide will help you discover some of my personal favorite hidden gems in this creative and historically interesting neighborhood in Brooklyn that is full of beautiful architecture, amazing waterfront and skyline views of Manhattan from Brooklyn, and a great dining scene.
These may not be 'hidden' to locals, but for visitors or people not as familiar with the area, you may want to add a few of these interesting points of interest to your day of exploring! If we missed one of your favorite hidden gems, let us know in the comments below! We love when our readers get involved with sharing some of their favorite spots for others to enjoy!
And if you love finding lesser-known spots and landmarks with a fascinating backstory, check out the rest of our favorite hidden gems in Brooklyn!
The Fruit Streets
One of my favorite hidden gems in Brooklyn Heights with a fun backstory are the 'fruit streets' which include Pineapple Street, Orange Street, and Cranberry Street – all of which are fruit hence the cute nickname.
Besides being chock full of gorgeous architecture, including 684 pre-Civil War homes, there's a fun backstory to the fruit streets and how they were named. There are two popular theories.
The more dramatic and unlikely story is that Lady Middagh, whom Middagh Street is named after, was so annoyed that the streets were named after all the aristocratic families and found it to be a little too stuffy so her personal hobby was to replace the street signs with new ones and eventually the city got tired of replacing them and let her have her way.
However, there is a street named after her – so we aren't quite sure how accurate that story is, but never the less, it's still a fun tale to tell.
The other theory behind the names is more practical. It was said that the streets were named after what was commonly sold on them, cranberries, oranges, and pineapples.
However, there is an existing map from 1806 that shows that the street names were always named this. So we really aren't sure what the truth is, but we do love walking up and down these beautiful streets!
Oldest House in Brooklyn Heights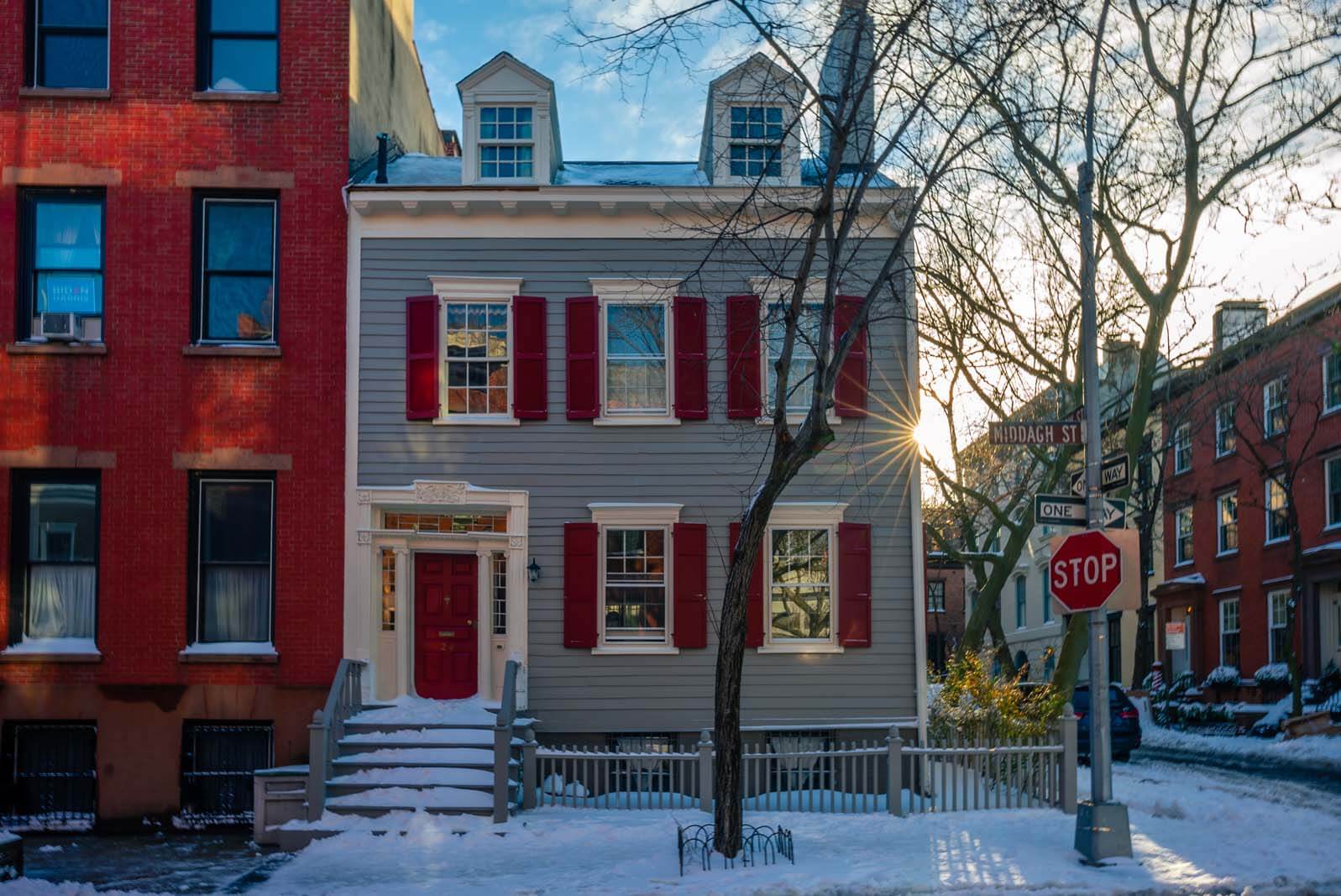 Located at 24 Middaugh Street, the street named after Lady Middaugh in the fun Fruit Street theory is home to the oldest house and a fun hidden gem in Brooklyn Heights. This federal-style wooden frame home was built in 1824, although some historians debate that the house was built between the 1790s and 1829.
This is one of the best surviving examples of wooden homes in the city, as they were not allowed in Brooklyn Heights after 1852, meaning when you walk around this neighborhood admiring the homes if you see any wooden homes, they are some of the oldest in the neighborhood and predate 1852.
The house was occupied by the same family from the 1950s to just recently when it sold for just under $7 million which included the main wooden house, courtyard with garden, and carriage house! Which is pretty far from being valued at $10,000 in 1875, which according to an inflation calculator is $250,000 today. Yikes.
Anyway, this is another one of those hidden gems for history and architecture lovers, check out this article by Brownstoner for more information on this house if you want to dig a bit deeper.
Truman Capote's House
Many creatives from poets to famous figures have called this neighborhood home throughout history, one of the most notable figures who lived here was Truman Capote at 70 Willow Street. For those unfamiliar, Capote was a famous novelist, playwright, short story writer, actor, and screenwriter.
Capote lived, or rented the basement from Oliver Smith the legendary theater designer, in this beautiful home located right off the scenic Brooklyn Heights Promenade. This is the same era and place when Capote found the inspiration to write both Breakfast at Tiffany's as well as in Cold Blood.
Moonstruck House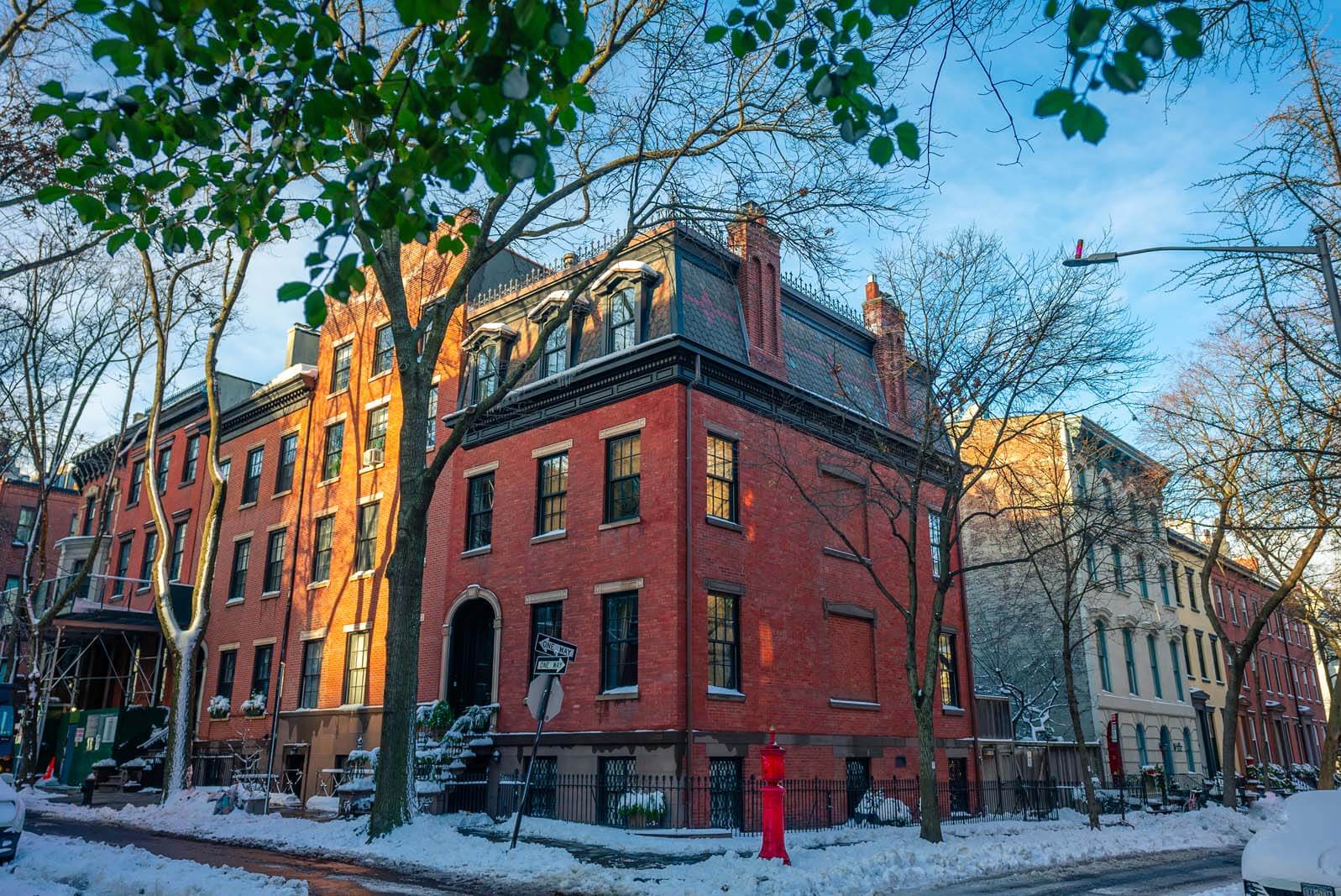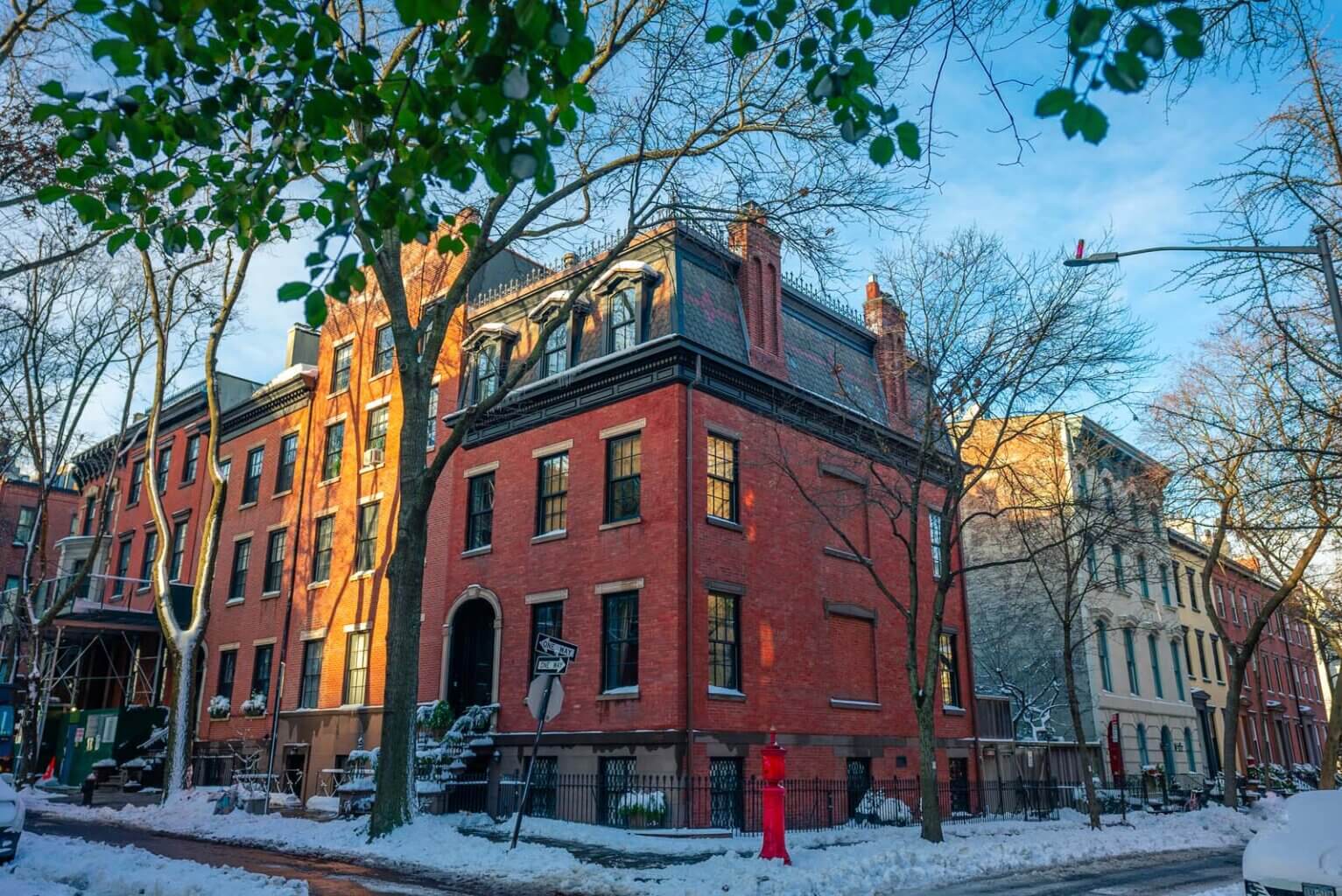 Calling all Cher fans, this next hidden gem in Brooklyn Heights is for you! One of our favorite filming locations in Brooklyn is the Moonstruck House on the corner of Cranberry and Willow Streets.
This house was one of the stars in the cult classic 1987 film featuring none other than the Goddess of Pop, Cher! This four-story federal-style brownstone from 1833 was her character's house in the movie set in Brooklyn.
Be sure to stop by on your stroll through the neighborhood and admire this beauty and famous movie star!
Hotel St George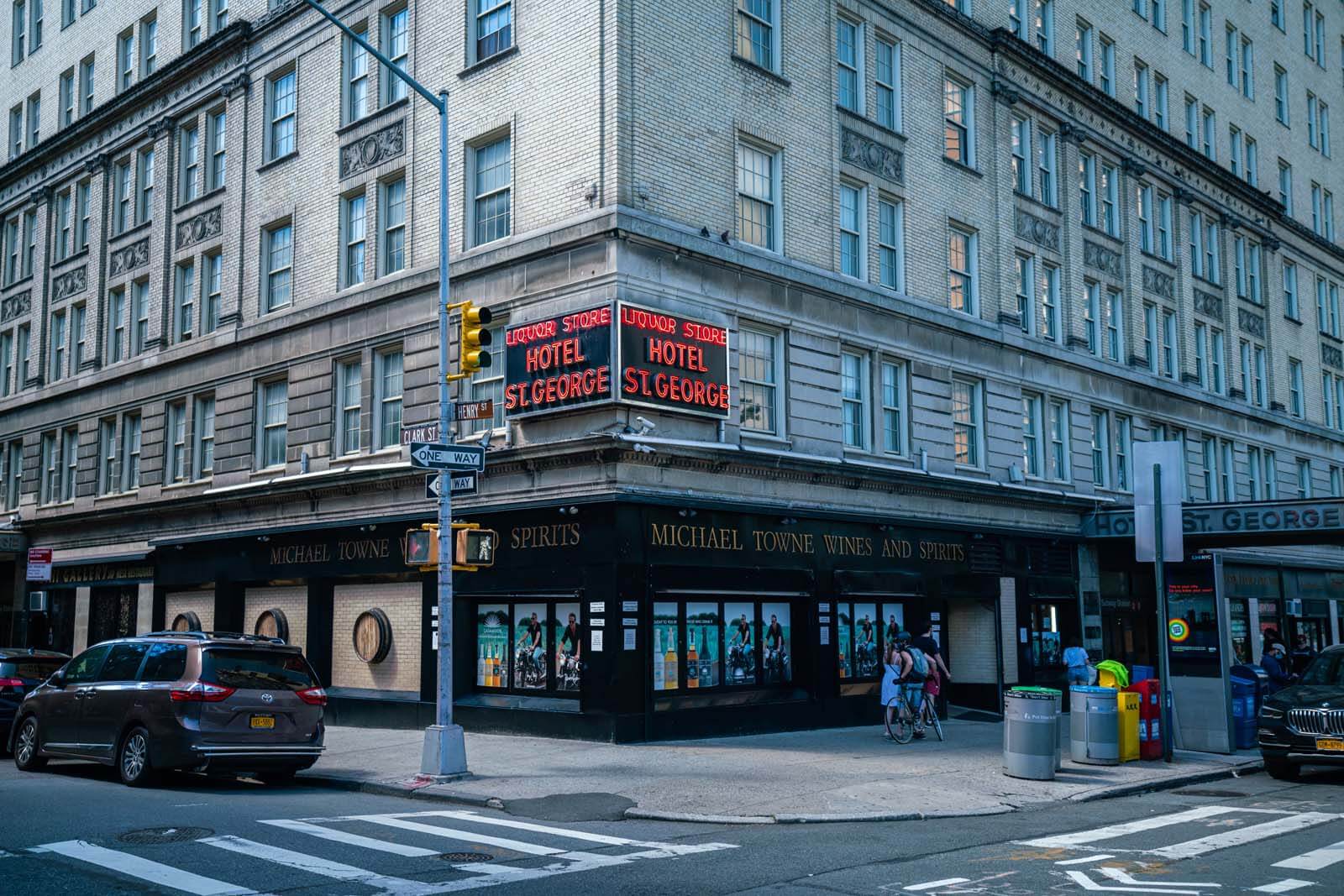 Another filming location and a fascinating hidden gem in Brooklyn Heights is the Hotel St. George. This hotel was once the largest hotel in NYC made up of 8 buildings constructed between 1885 and 1929.
This giant hotel also was a popular spot for long-term residents and famous guests like President Roosevelt, President Truman, Duke Ellington to name a few.
Hotel St. George quickly earned a reputation for being open to gay men and by the 1940s through the 1970s and many of its clientele were gay, you can learn more about the LGBTQ history here. This was one of the few hotels outside of Manhattan that were promoted as gay-friendly at the time.
Guests and long stay visitors would grace the halls and visit the famous Egyptian Nightclub or one of the 17 ballrooms in the hotel.
Sadly, much of the original buildings were destroyed in a devastating fire in 1995. The main facade of the building is unchanged though and protected under historic designation. Today, most of the building has been converted to apartments so you can live in the same halls as some of history's greatest artists, members of the gay community, and even presidents.
This was also a filming location for the Godfather, in the 1972 film the meeting between the two characters Luca Brasi and Virgil Sollozzo took place in the lobby bar here.
Plymouth Church
Another great historical hidden gem in Brooklyn Heights easy to pass up if you don't know the significance ahead of time is Plymouth Church on Orange Street. This church was a key player in New York City's underground railroad activity.
Plymouth Church was built only a few years before the American Civil War in 1847 and became known as the "Grand Central Depot" for the Underground Railroad.
Henry Ward Beecher was a leader in NYC during the Underground Railroad as he was a famous anti-slavery preacher at Plymouth Church who helped those escaping slavery to the north seeking refuge in the hidden and tunnel-like passages in the church's basement.
Sometimes the church does offer tours, so it's worth checking before your visit!
Love Lane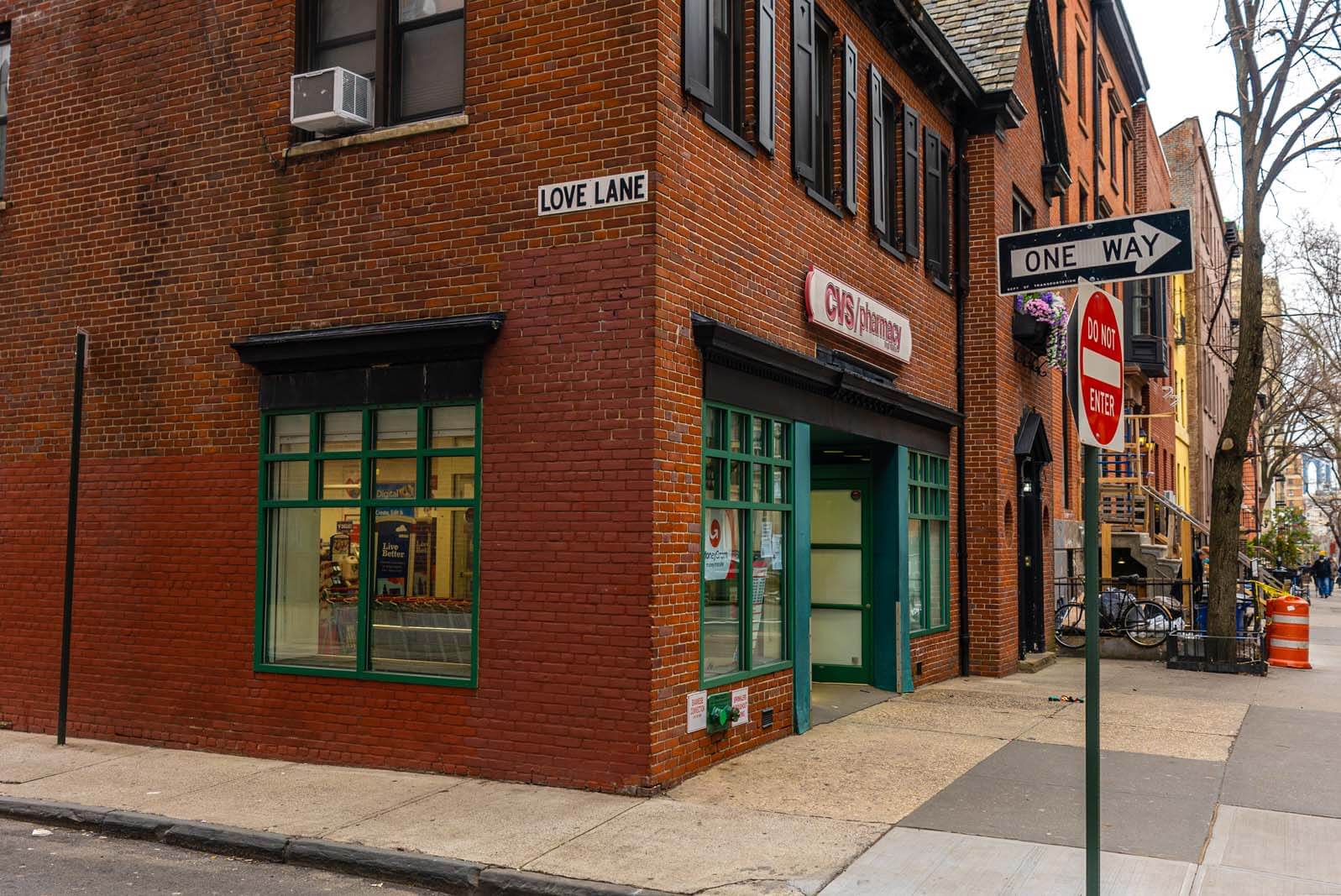 if you're looking for romantic hidden gems in Brooklyn Heights, this one is for you! Love Lane, the most romantic street in Brooklyn that connects Henry Street and Hicks Street.
Don't miss the adorable Love Lane sign on the side of the cutest CVS Pharmacy in the city and be sure to take a stroll and turn down College Place to see some of the cutest carriage houses on one of the quietest streets in the city too.
Speaking of carriage houses, those are some of our favorite hidden gems in the city too! These carriage houses are now some of the most coveted real estate in the city as they are rare. The former carriage houses are distinct because of their 'tall' door that would be able to fit a full carriage buggy and house the horses before automobiles and most of the carriage houses in NYC were built in the late 18th century.
College Place has a few of these notable carriage houses and if you are in love with these as much as I am, you can find more on Grace Court Alley off Hicks Street and Hunts Lane off of Henry Street too.
Back to Love Lane, this was a carriageway that was always considered a lane for romance and love. Dutch colonizers in the city used this Lover's Lane for romantic walks to the waterfront as quoted in an 1894 New York Times article.
It is also said that men would carve love poems on the wooden fencing around the homes here and park their carriages to make out with their dates too also furthering the love lore here.
Montero's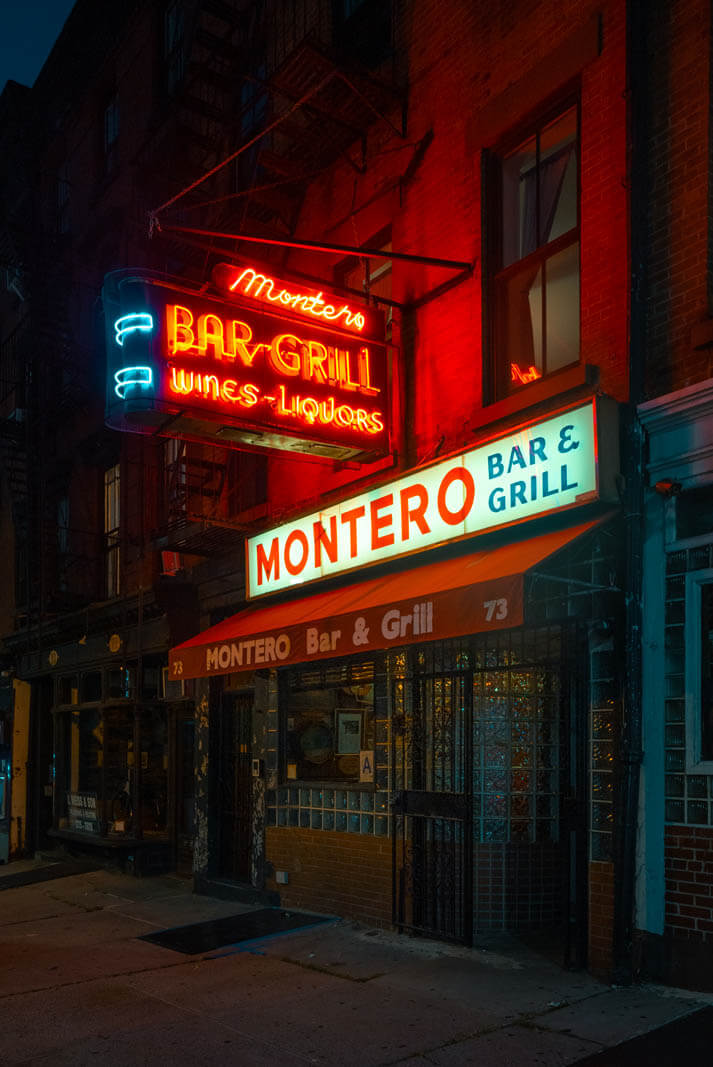 Another fun hidden gem in Brooklyn Heights is Montero's, a historic watering hole located on Atlantic Avenue. This bar has been open since 1939, although some debate it was actually 1945, and is still one of the best vintage bars in Brooklyn to have a drink.
This is one of the last remaining longshoremen bars in the city and has even been a photoshoot location for fashion model icon Twiggy.
But historically, this bar's patrons were the seafarers and longshoremen from around the world who would stop in Brooklyn Heights when this was a working waterfront. The sailors who'd come into the port here had a strong affection for the place, and as a gift would give Pilar Montero (the owner) little nautical-themed gifts that the sailors would carve, or make during their months at sea.
This is how the bar evolved into having a nautical theme as the owner would decorate the place with her gifts from her loyal patrons.
After sailors came and went Brooklynites came here for their dive bar appeal and a throwback to their humble roots as most places became overpriced fancy cocktails starting at $15. Here you could still grab a beer, or a cocktail without breaking the bank.
Sadly Pilar passed away in 2012 at the age of 90 but her son Pepe Montero runs the place continuing the tradition.
In 2016 Pepe Montero offered to put up the place for sale. On the condition that whoever buys, buys the entire block, with six other buildings and owners for a cool $56,000,000. Roughly seven million per building and three times the asking price!
The future is uncertain with this place so if you're nearby grab a drink while you can.
---
Be sure to also check out our favorite hidden gems in NYC while you're exploring some of these secret or lesser-known spots in the city!