Heading to Brooklyn and looking for some of the hidden gems in DUMBO? We've got you covered, if you've already been to and discovered all the other best things to do in DUMBO that are already popular, this guide will help you discover some of my personal favorite hidden gems in this beautiful, waterfront neighborhood that is popular among visitors who cross the Brooklyn Bridge or want to get some of the best views in the city from the Brooklyn Bridge Park.
These may not be 'hidden' to locals, but for visitors or people not as familiar with the area, you may want to add a few of these interesting points of interest to your day of exploring! If we missed one of your favorite hidden gems, let us know in the comments below! We love when our readers get involved with sharing some of their favorite spots for others to enjoy!
DUMBO Hidden Gems
Belgian Block Streets
DUMBO is historically a very industrial neighborhood and where you used to find many warehouses and shipping facilities due to its convenient location across the East River from Manhattan, as a matter of fact, this neighborhood has been a very crucial place to bring things in and out of the city for centuries as Fulton Ferry Landing was the first ferry service from Brooklyn to Manhattan since 1642!
This was once the neighborhood of working-class families, which is hard to believe as now its one of the most expensive and sought out after neighborhoods to live in the city with what we think is the best view in NYC with that waterfront front-row seat to the famous NYC city skyline and two of the prettiest bridges in the country.
Before this, you'd find warehouses, factories, importing facilities, and other industrial uses housed in the aesthetically beautiful brick buildings that look like old warehouses and make DUMBO such a beautiful neighborhood to explore and photograph.
But it's not only the cool, converted warehouse spaces where you can find traces of the industrious past here. One of our favorite hidden gems in DUMBO is the Belgian block streets and railroad ruins that remain on some of these brick lanes.
These railroad track ruins were where the Jay Street Connecting Railroad operated that had been laid into the brick streets.
There has been some controversy over the historic preservation of the Belgian block streets actually as there are, in some areas, layers of these streets exposed and causes bikers and pedestrians to occasionally fall, not to mention they are incompatible with American Disability Act accessibility laws.
Other places in Brooklyn you can find the rare remains of some Belgian block streets include neighboring Vinegar Hill as well as Red Hook, both of which were industrious neighborhoods where this style of street was common.
Vinegar Hill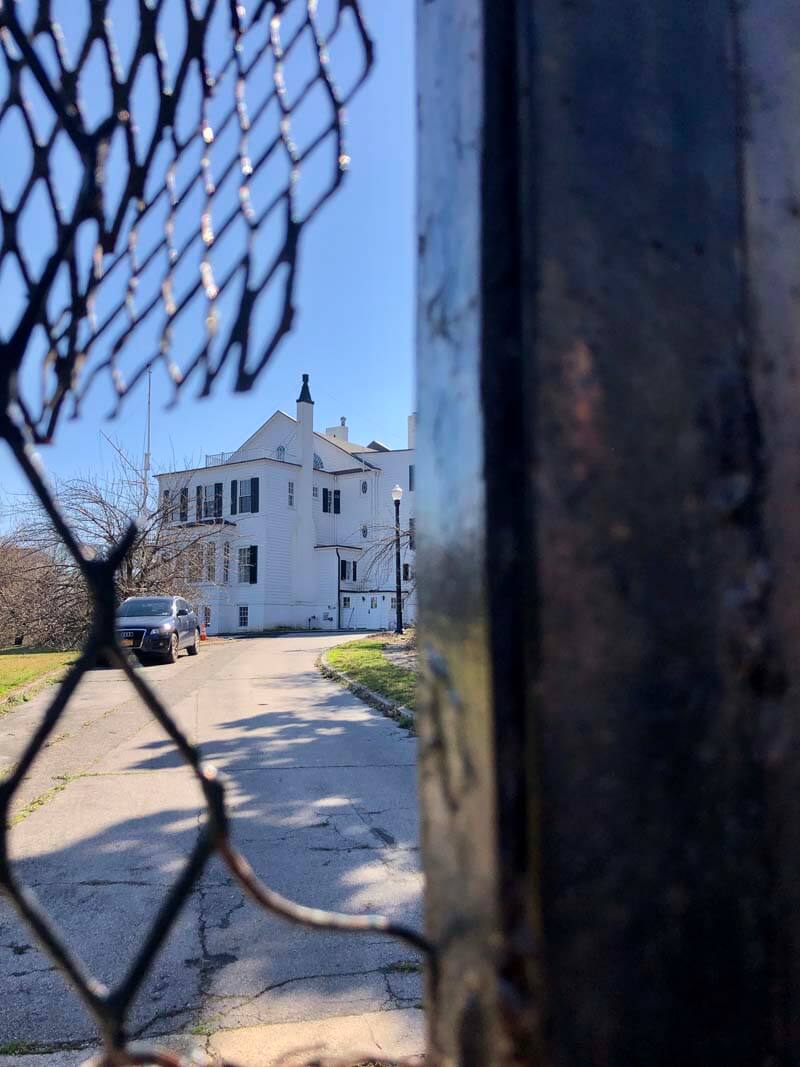 One of my favorite hidden gems in Brooklyn that's technically not in DUMBO, but close enough to mention its a small neighborhood that neighbors it. Vinegar Hill is actually one of the smallest neighborhoods in the city, and if you don't know about it, you probably wouldn't make it over here or if you did you wouldn't appreciate the history of this quaint spot, especially since a large portion of the waterfront of this neighborhood was snatched up by a ConEdison power plant and a giant ugly storage unit building.
It really is shocking to see both of this considering this prime, waterfront location overlooking Manhattan! But after years of fighting, locals were able to help get this neighborhood's historic preservation status in the 1990s to avoid large commercial developments like these.
The neighborhood, what's left of it, was built in the 18th century and was named after a fight in the Irish Rebellion, the 1798 Battle of Vinegar Hill, as a way to attract Irish immigrants to this area of the city making it an Irish working-class enclave for those who worked at the neighboring Brooklyn Navy Yard, the historic shipyard and industrial complex on the East River.
Here you can find more Belgian block streets and historic Greek Revival homes still intact and used as residences today in a neighborhood once known as one of the many "Irishtowns" of NYC.
The best route to walk is to start at Front Street at the Hudson Avenue intersection towards Plymouth Street towards the Federalist style Commandant's House (aka Quarters A) which served as the home for a high-ranking commander of Navy Yard through the iron gates. You won't be able to go into the Commandant's House, but its fun to peer through there as this was where the head of what was once America's largest warship production was located as well as the most notable resident being Commodore Matthew C. Perry.
After this, make your way to Front Street.
St Ann's Warehouse Courtyard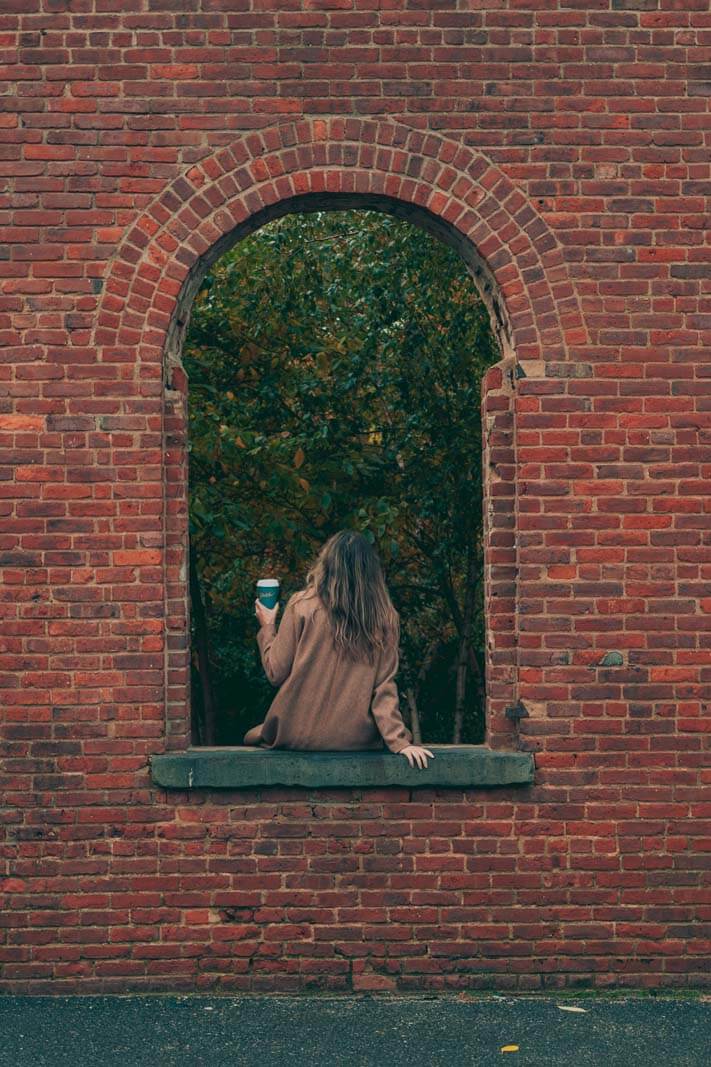 Another great hidden gem in DUMBO that most visitors walk past but don't realize you can go in and enjoy the peaceful and quiet gardens is at St. Ann's Warehouse. This is performing arts and avant-garde facility that has seen performances by legendary artists and musicians including David Bowie and Lou Reed among many others as well as theatrical performances in a former Tobacco Warehouse that can be found off of New Dock Street and Water Street next to Empire Stores and the Brooklyn Bridge.
You can spot St. Ann's, if you don't see the sign, by looking for the brick walls with giant, open windows you can literally sit in! Make sure you walk into the open-air landscaped garden and courtyard area where you immediately feel like things are a little quieter and a little more peaceful surrounded by greenery and a few benches where you can just take in a moment of peace in the city.
What makes this a hidden gem in DUMBO, and one of our favorite Instagram spots, is that even on the busiest of days with tourists, its easy to overlook this area even though its location is right next to the Brooklyn Bridge and people passing through Brooklyn Bridge Park.
DUMBO Walls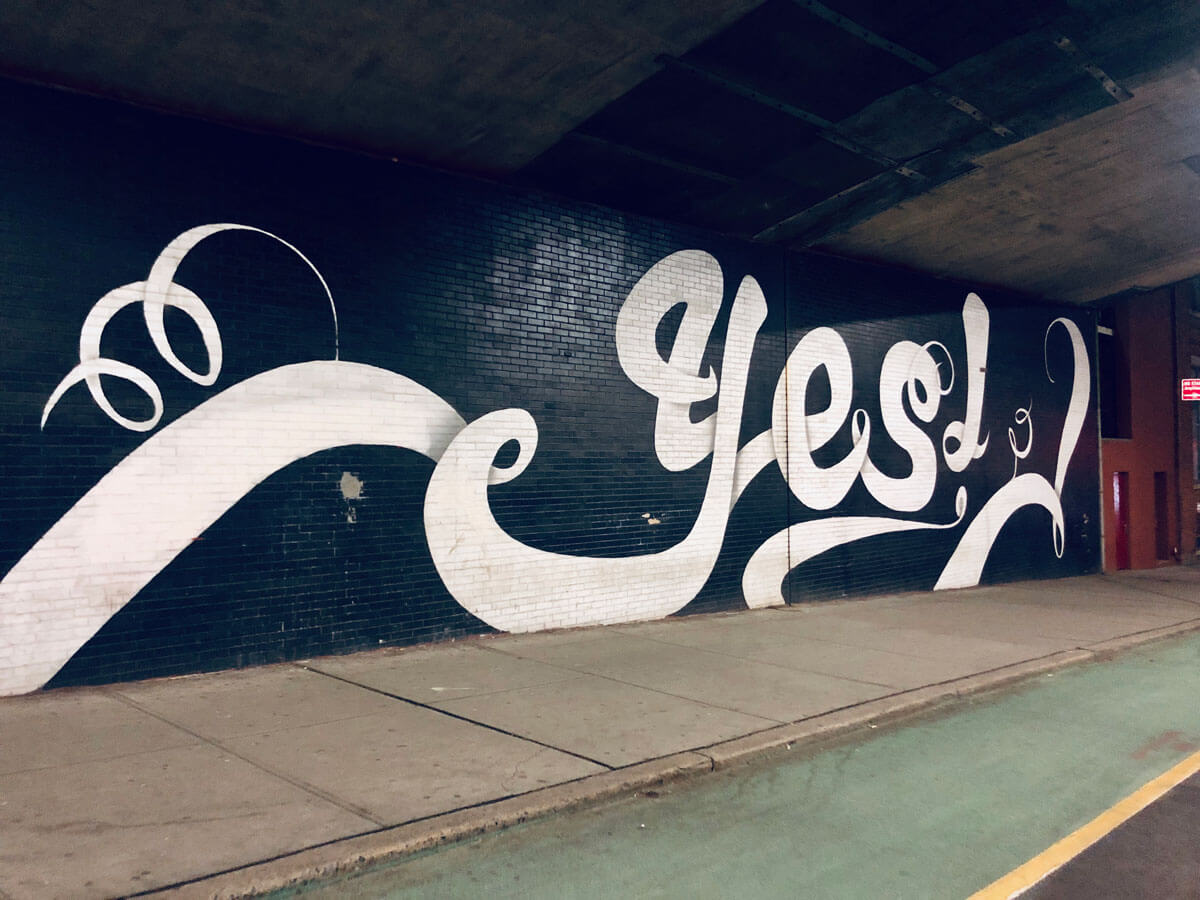 Another hidden gem in DUMBO are finding all the painted murals that make up the DUMBO Walls. While local residents complain about the noise, congestion, and pollution the Brooklyn-Queens Expressway (aka BQE) brings to their neighborhood, one way to try and make the not-so-aesthetic highway prettier was inviting artists to bring some color to the walls with murals with world-renowned artists like Eltono, MOMO, and Shepard Fairey to name a few.
Most of the murals can be found in DUMBO along York Street between Washington Street and Pearl Street.
Time Out Market Rooftop
The Time Out Market rooftop on its own is by no means a hidden gem as this is a very popular spot among visitors already as their rooftop offers some of the best views the city has to offer of the skyline and both the Brooklyn Bridge and Manhattan Bridge over the East River and the Brooklyn Bridge Park and Jane's Carousel below.
Most people who are visiting don't realize that you can actually access this area without going inside and waiting for the elevator in the crowded and buzzing first-floor dining hall of Time Out Market. This is where most people go and its always congested and a clusterf*ck.
Instead, when entering from the entrance on the side of Brooklyn Bridge Park, if you can walk up stairs, take the set of outdoor stairs before you enter Time Out. This will take you past the floors that house the West Elm offices, you'll notice all the awesome furniture and lack of people inside, up to the rooftop where you can go to the top floor of Time Out or you can continue to the other rooftop areas for photos.
My favorite spot for a photo is actually framing up a scene of the bridges and the skyline through the open brick windows. Enjoy one of the best rooftops in Brooklyn all to yourself if you plan right!
The Brooklyn Bridge Park Pilings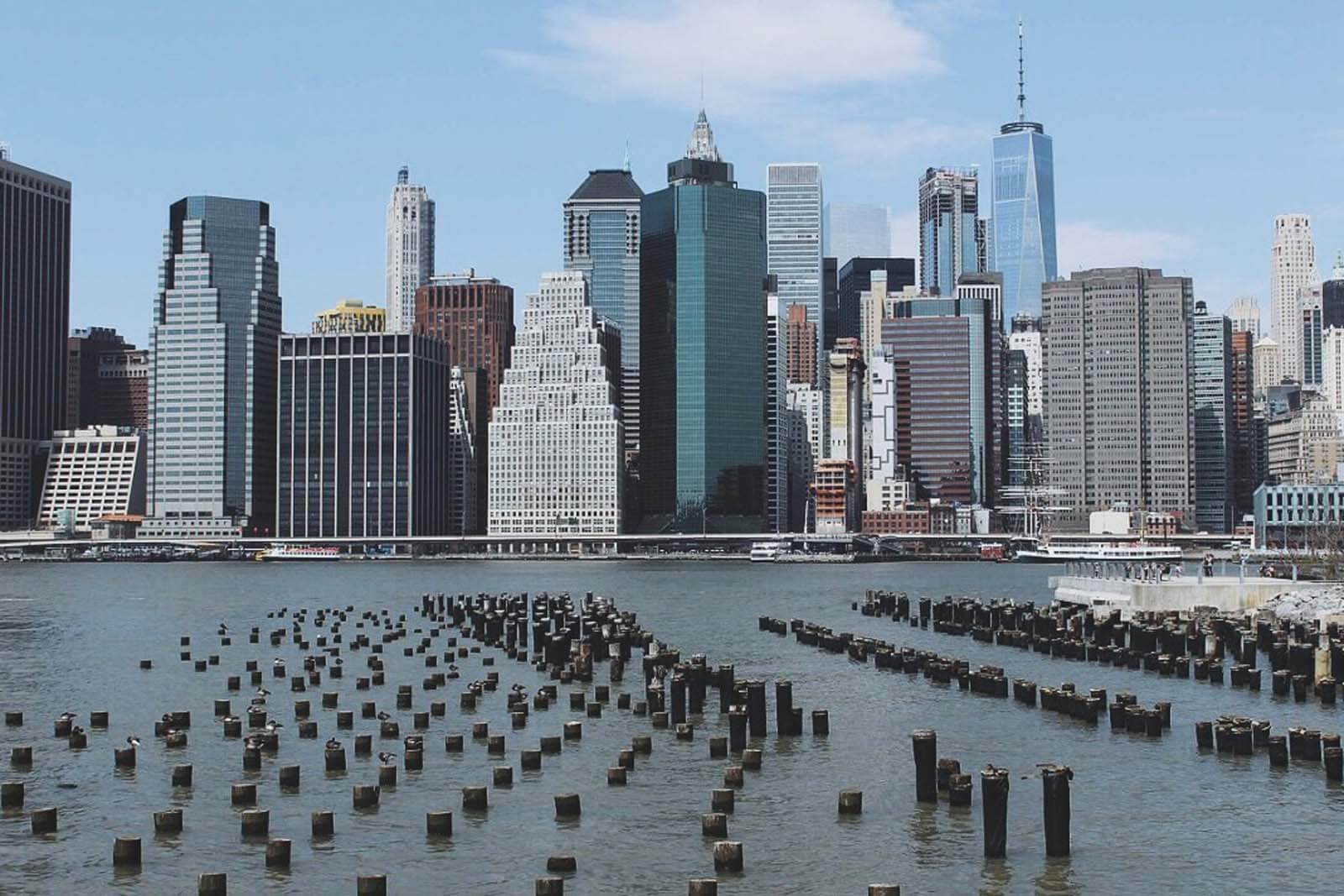 This hidden gem in DUMBO is actually a popular photography spot, particularly at dusk, among professional photographers because of the unique perspective it offers with the old wooden pilings in the foreground and Lower Manhattan and the skyline in the background.
You can find this exact spot between Pier 1 and Pier 2 at Brooklyn Bridge Park, which if you haven't planned it already, we recommend walking the 6 piers at Brooklyn Bridge Park too as each one offers something different from greenspaces and lawns, outdoor art installations, recreational facilities, and more great views.
See more of the best Manhattan views from Brooklyn.
Barge Music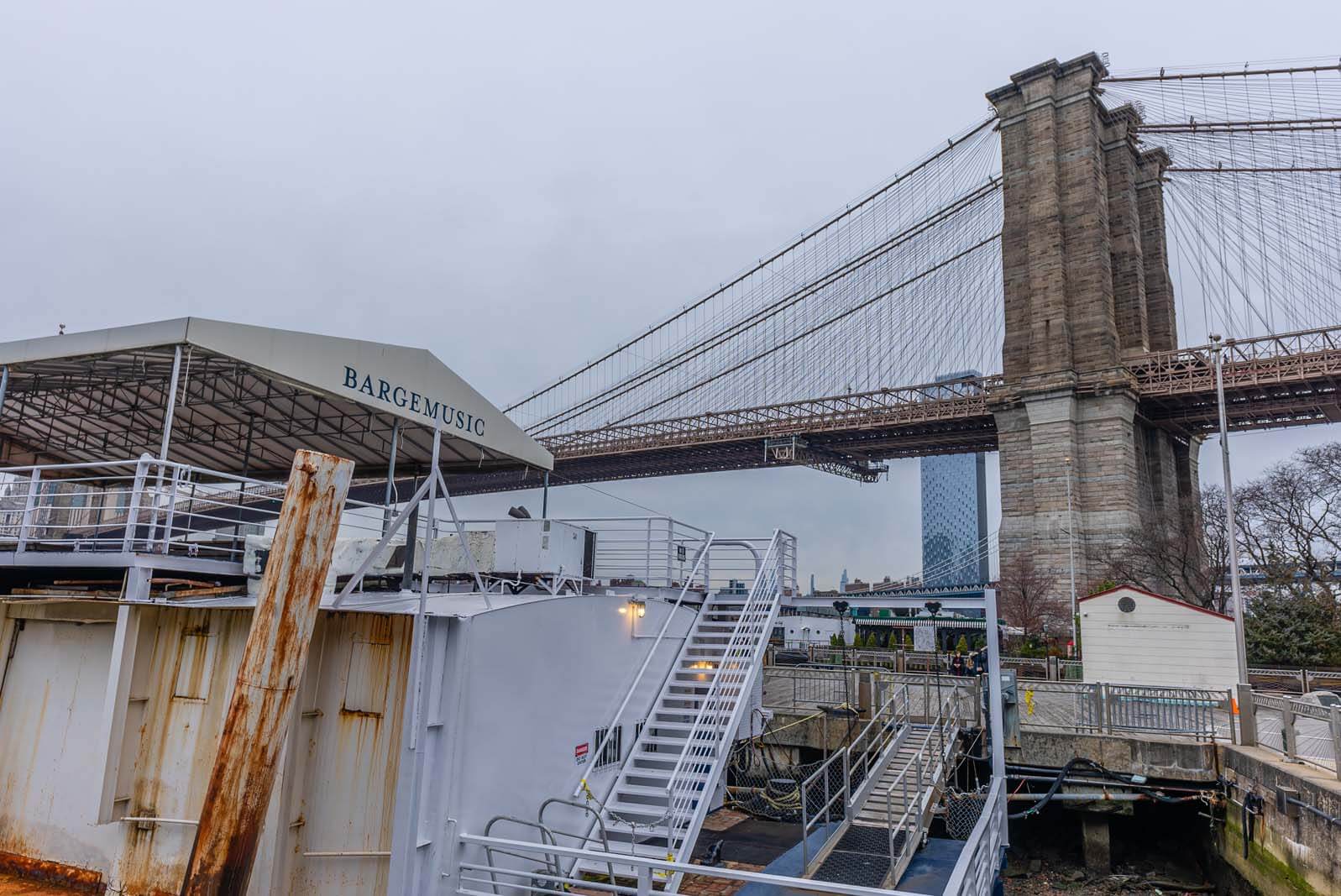 Located at Fulton Ferry Landing, this is another great hidden gem in DUMBO if you're a music fan! This is one of the more unique music venues in the city with its location being on a 100 ft converted coffee barge floating on the water.
Barge Music is a bit of a local cultural legend as it's been around since 1977. The former coffee barge itself actually dates back to 1899!
The founder of Barge Music wanted to make an intimate classical music venue and people have referred to this spot as a 'floating living room' with great acoustics. We recommend checking out their event calendar and planning a visit here.
If you feel like making it a fancy date night, you can snag a reservation at Riverside Cafe which is one of the best waterfront view restaurants in the city, but just note there is a dress code if you do plan on dining here. If you're looking for something more casual, check out Luke's Lobster and grab a bite to go to picnic in the park before heading to your small musical performance on this floating music venue.
Walk the Manhattan Bridge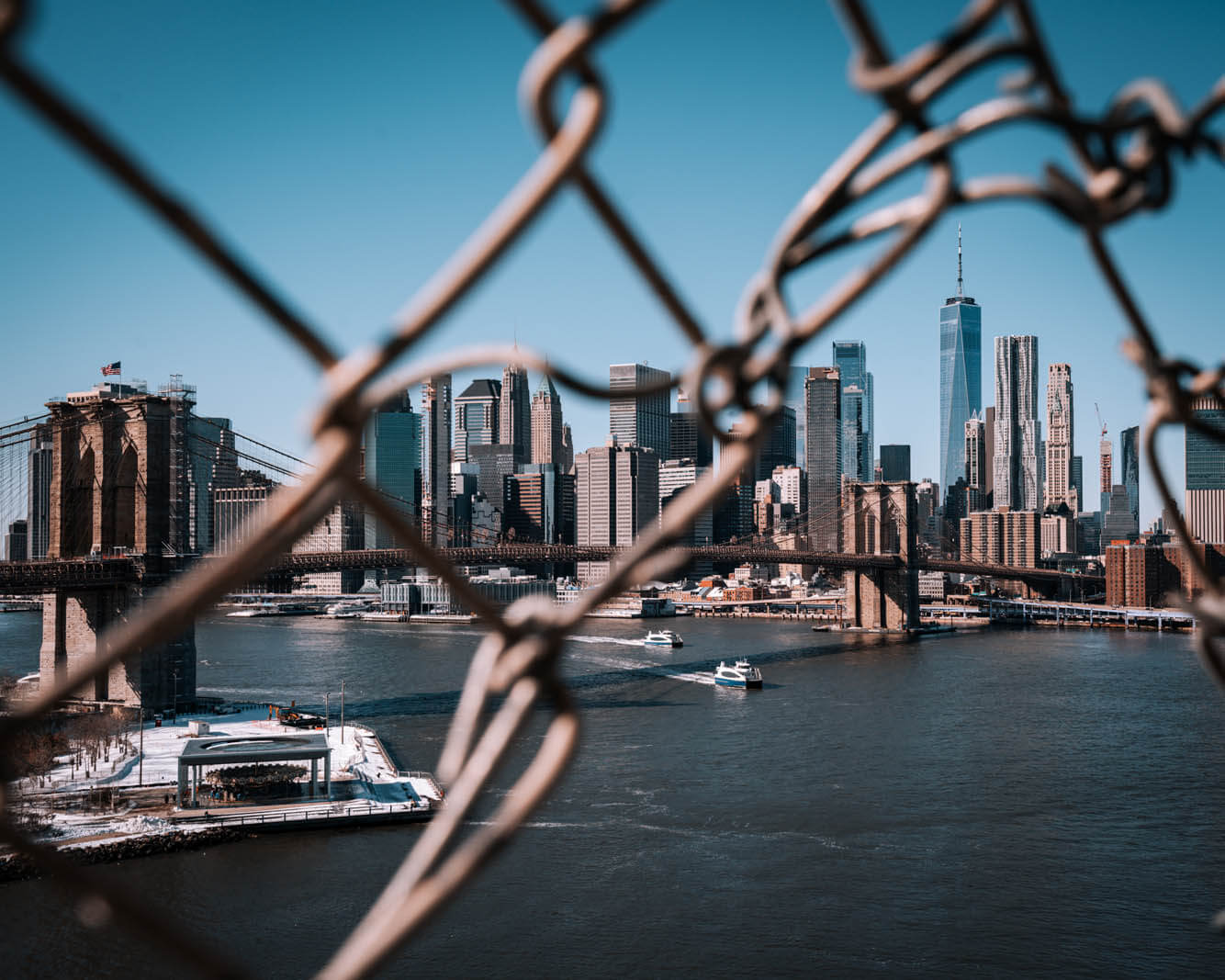 Everyone and their mother, brother, uncle, sister walk the Brooklyn Bridge when they visit NYC. And for a good reason, its still my favorite bridge in the city as its not only a historic landmark, but its a stunner to look at from every angle whether you're below it, on it, looking at it from a helicopter, and just anywhere – you get the idea.
If you've never walked the Brooklyn Bridge, you should. But what I will say is that if you're not a fan of crowds and you happen to be visiting on the weekend or during the peak tourist season, or even worse a holiday, expect crowds and it to take alot longer to cross as you dodge angry cyclists, people gawking at the beautiful surrounding (you should do this too – it's gorgeous), and people stopping to take photos.
It's chaotic, you get the idea. If crowds are not your thing and you want a cool bridge walk with great views then try the alternative of walking the Manhattan Bridge.
Instead of walking on the upper level of the bridge like on the Brooklyn Bridge, the Manhattan Bridge has a pedestrian walkway on the lower level. If you plan on doing this, be sure to read our guide on how to walk the Manhattan Bridge because there are a right way and a wrong way to do it because there are two separate designated areas, one for cyclists and one for pedestrians.
If you want to walk the Brooklyn Bridge, we get it, we do it whenever we get a chance. You can plan to have a more 'enjoyable' experience by planning around busy times. Go at less popular times like weekdays, early mornings, or rainy/cold weather days.
---
Be sure to also check out our favorite hidden gems in NYC while you're exploring some of these secret or lesser-known spots in the city!