August in NYC is a great time to enjoy the city because it's the tail end of summer and everything is open. But also, a lot of locals still flock to the Hamptons getting in their end-of-summer vacations at the beach giving the city to eager tourists and visitors to get their final summer vacations in too.
The only negative is that August in NYC is also one of the hottest and swampiest of months for weather.
For tourists, it can be one of the most expensive months for hotels unless you planned well in advance. If you spent a lot of your budget on accommodation, don't worry. There are plenty of opportunities for free things to do in NYC not to mention many of the best things to do in NYC in August are completely free to enjoy too as you'll learn further on in this guide.
If you had the good fortune to plan in advance you can still book hotels in advance while demand is low. Here's a great article for helping you plan New York City on a budget as you can find hotel deals and enjoy some of the best things to do in NYC from attractions, tours, and popular restaurants without the crowds.
This guide will cover some of the best things to do in New York City in August. From events and festivals like the U.S. Open, Restaurant Week, Smorgasburg, Queens Night Market, Afropunk, Celebrate Brooklyn, and all of our personal favorite thing to do in August in New York. Outdoor movies!
NEW YORK IN AUGUST WEATHER
NYC weather in August is typically as hot as it gets. The good news is the humidity tends to dip a bit down towards the end of the month so it doesn't SEEM as bad. But don't be fooled, NYC is a subtropical climate. So it's still more of a tropical heat instead a of dry desert type of heat. Oh, there are also hurricanes to worry about, or at the very least heavy rainfall.
The average temperature is 83F (29C) and on average there is about 7 days of rain during August. That rain is typically accompanied by thunderstorms. The rain typically comes in quick bursts instead of all day. Unless there's a hurricane.
Packing for New York weather in August is pretty straightforward. Bring summer clothing. A mix of shorts/skirts, and t-shirts, that are light and breathable. If you're planning on going to a pool or the beach then definitely bring some swimsuits. The good news about the heat is you'll be able to pack more and take up less room in your suitcase in case you want to bring some NYC trinkets with you back home.
THINGS TO DO IN NYC IN AUGUST
AUGUST FOOD EVENTS
One of our favorite things about living in NYC is that you can find cuisine from all over the world throughout the city, and can literally travel anywhere through the food through any one of the over 22,000 restaurants in the city. These are a few of the great food-themed events happening in NYC in August.
SMORGASBURG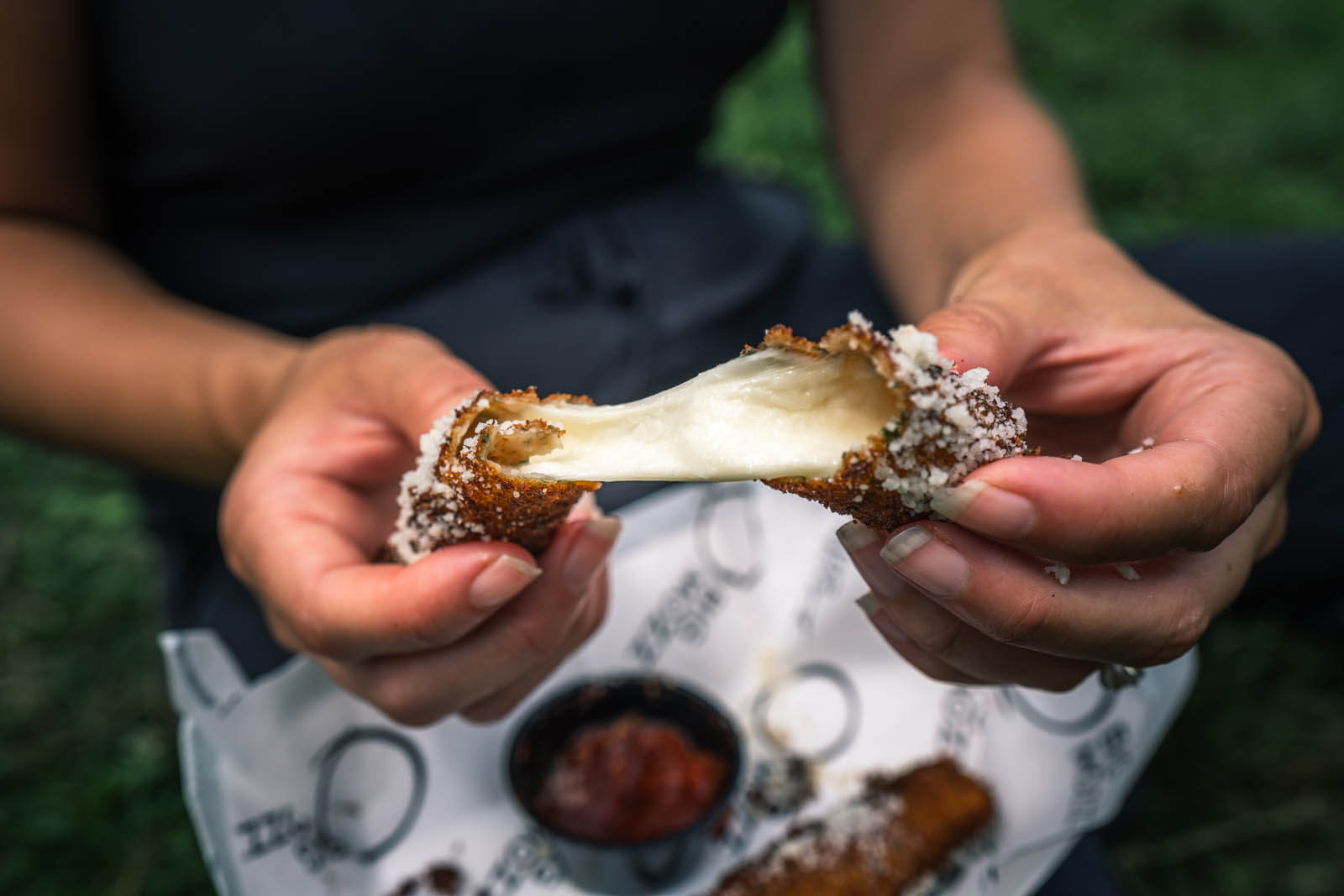 Kicking off this list is one of our favorite ongoing summer foodie events, Smorgasburg. Founded by Brooklyn Flea's Eric Demby and Jonathan Butler. This food bazaar features about 100 vendors from all over the five boroughs representing different cuisines from all over the globe. The event is best done with a few people so you can try multiple items and share!
With four locations, (Williamsburg, Prospect Park, Jersey City, and World Trade Center) it's more accessible to people all over the city than ever.
Smorgasburg events happen all summer long on the weekends from Fridays-Sundays (days vary by locations), you can find their dates and locations here and typically lasts from April and lasts until October.
NYC RESTAURANT WEEK
NYC Restaurant Week is a bi-annual event for the winter and summer. Celebrating all the best foods from all five boroughs. It's a way to promote the food from new spots, places you might only go on a special occasion, or some of the all-time favorite restaurants in the city.
From mid-July through mid-August, restaurant week (read month) offers seriously discounted set prix fixe menus. Allowing you to try some of the best restaurants in the cityat a discount. Just note that most participating restaurants don't offer weekend deals – it's best to check ahead as there are some exceptions.
NYCgo has an easy-to-navigate website showing all the participating restaurants and what days they have their NYC restaurant week menus.
QUEENS NIGHT MARKET
View this post on Instagram
Queens Night Market is one of the most highly anticipated foodie events from May through the end of August. This is a late-night food experience is one that won't break the bank and is incredibly fun. With over 50 vendors from all over the city take over the Flushing Meadows Corona Park and serve just about anything you can imagine.
There's a $5-$6 price cap on food orders to ensure you can try multiple things without spending a small fortune on a night out, , making it one of the most affordable and fun ways to eat in NYC in August.
Be sure to check out Artists Row for all kinds of fun booths featuring everything from local artists' work to vendors selling nostalgic and antique finds like baseball cards.
There's also live music from bands to DJ sets, so you have your own soundtrack while you find something delicious!
BRONX NIGHT MARKET
View this post on Instagram
Similar to the Queens Night Market, the Bronx Night Market is a monthly series that is held on the LAST SATURDAY of every month from April until November and from 1-7 pm.
Located at the Fordham Plaza, the Bronx night market aims to bring together local Bronx residents, tourists, and locals from all five boroughs who are hungry for the latest and greatest in the culinary world plus artisans and live music.
Some of the best food and libations with an open-air, family-friendly event with yard games, beer garden, live music, and programming.
BRIC CELEBRATE BROOKLYN! FESTIVAL
View this post on Instagram
Started in 1979 as a way to celebrate and bring Brooklyn together. Celebrate Brooklyn is a free summer-long experience, ending after the first week of August, featuring up-and-coming artists, concerts, multimedia events, learning skills, and many other fun activities.
These free experiences, many of which are concerts, take place at the Prospect Park bandshell (Lena Horne Bandshell) and have had large names like Phoebe Bridgers. While the event is free, be sure to RSVP and seats are a first come first serve basis. See a full schedule of events here.
SUMMER STREETS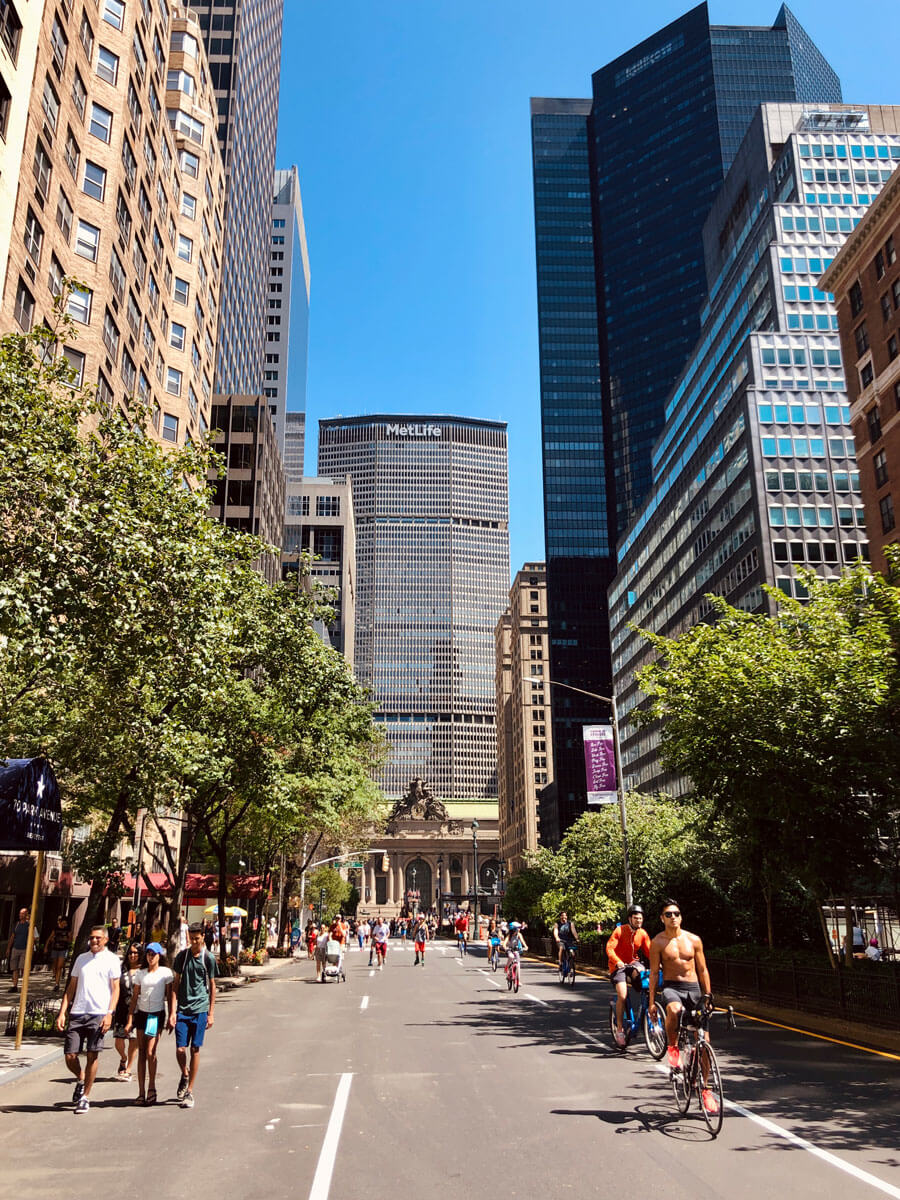 Calling all pedestrians, cyclists, and strollers! These are the days! Summer Streets is a multi-day (on Saturdays) annual CAR-FREE event held every August in NYC from 7 AM to 1 PM.
Each year, in Manhattan, between Brooklyn Bridge and Central Park, the streets are closed off to cars until just after lunch. If only this was year-round (says someone who doesn't have a car in NYC). Making way for the streets how they should be, for the people.
While most of the route is just being able to walk in the streets (it's especially awesome by Grand Central Terminal), you can find pop-up events, local artists selling goods, performances, and public art installations all along the route.
The goal is to promote activity, recreation, arts, culture, and fun. It's one of our favorite things to do each year and we LOVE IT! It's a long stretch, so feel free to pick up a Citibike rental along the way to do more exploring or start early enough and enjoy the full walk!
KAYAK AROUND THE BROOKLYN BRIDGE
View this post on Instagram
Want to get a little urban recreation? One of the best things to do in NYC in August is get on the water and kayak around one of the most iconic landmarks of the city, the Brooklyn Bridge on the East River!
This is a completely free activity and is available every Wednesday, Thursday, and Saturday through the end of August with registration (which we advise getting in advance as these reservations are in high demand and you can book up to 14 days in advance).
Be sure to get a reservation here and you can meet at their location at Brooklyn Bridge Park Boathouse Pier 2 (nearest address is 10 Montague St).
When you're done, enjoy some of the other cool things to do in Brooklyn Bridge Park or enjoy one of the best rooftops in DUMBO.
SUMMER STAGE
View this post on Instagram
One of the best things to do in NYC in August is Summer Stage, a free concert and entertainment series provided by the City Parks Foundation in all five boroughs.
Each year they transform the neighborhood parks of each borough into dynamic, vibrant centers of urban life through sports, arts, and community-building programs for all New Yorkers. They have everything from legendary jazz performers, indie bans, and other musicians, dancers, performances, and even movie screenings.
It's located in over a dozen parks around the city so there is guaranteed to be one near you, for a complete lineup and which park is having which performer read the full schedule here.
LINCOLN CENTER'S SUMMER IN THE CITY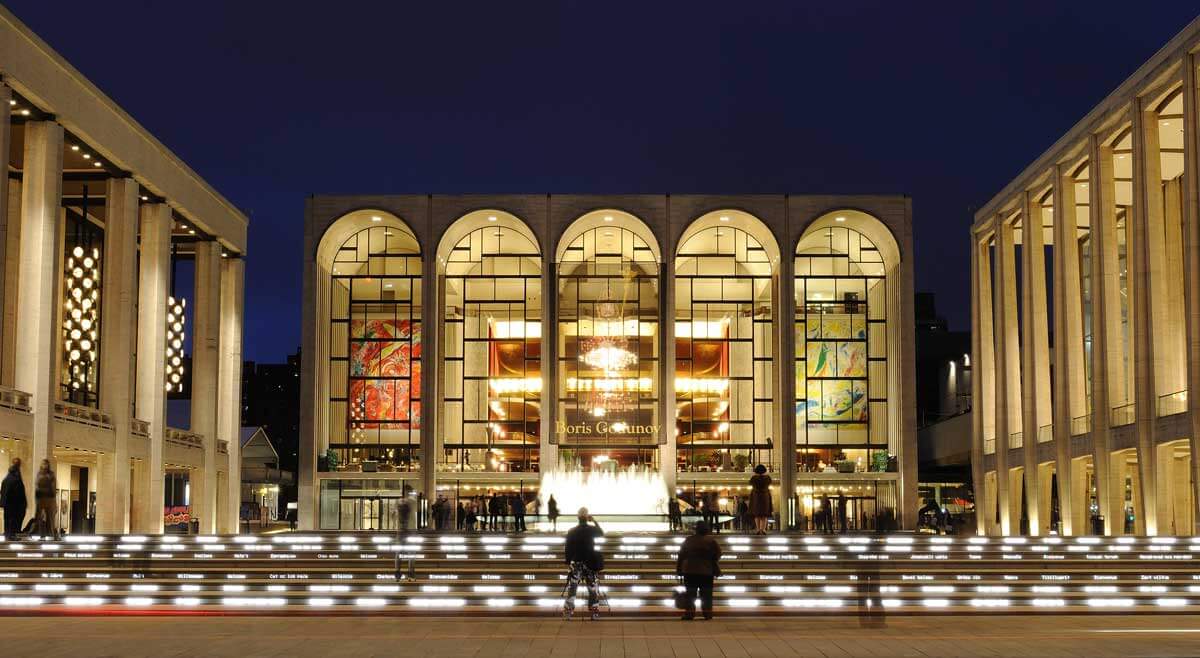 Summer for the City at the Lincoln Center programming runs from mid-May to mid-August with a full lineup of artists from around the world. The main goal of the Lincoln Center for this series is to use the power of the arts to heal and rejuvenate through a themed set of programming each summer.
Featuring musicians, dance performances, spoken word events, participation events, films, workshops, and more with hundreds of events featuring over a thousand artists! You can get a full lineup and calendar of events here.
GOOD MORNING AMERICA SUMMER CONCERTS
View this post on Instagram
This annual event, since 2008 and hosted by ABC's Good Morning America, holds concerts every Friday at Rumsey Playfield in Central Park from mid-July and ends the first week of September. The best thing about these shows are that they are all free, and all pretty early with doors opening at 6:00 am and the show ending at 9:00 am, it is a morning television show afterall.
This is one of those bucket list NYC experiences if you're used to tuning into GMA from home, and what's even better is that they have HUGE names perform, you'll want to request your FREE tickets in advance and see the lineup here.
If you are lucky enough to nab these free tickets, be sure to show up early to get a good spot!
SPORTING EVENTS
U.S. OPEN
The U.S. Open is the biggest annual tennis sporting event in the United States and the final Grand Slam of the year starting at the very tail end of August. Each year it takes place at the Billie Jean King National Tennis Center stadium in Queens. Bringing the best tennis players from around the world to NYC.
For an opportunity to witness some of the world's best tennis players, you can catch the qualifying matches for FREE. You can see any or all of the 16 qualifying matches that get played before the final and main matches begin. These take place at 11 AM.
Gates open at 10:00 am and are FREE and open to the public. NO TICKET IS REQUIRED. This is a great way to see tomorrow's stars front row and in person.
Once the qualifying rounds are complete, tickets begin at $35 and go into the thousands. You can get tickets for the U.S. Open on SeatGeek, a popular ticket search engine that makes finding tickets to sporting events, concerts, and many other live events in NYC quick and easy.
When you add our promo code BROOKLYNGUIDE to your SeatGeek account, you receive $20 off your first ticket purchase.
(We receive a small commission at no extra cost to you)
CATCH A BASEBALL GAME

If you're a baseball fan then you're in luck, you have two great choices for America's favorite pastime in NYC in August!
Baseball's most famous franchise, the Yankees, play at Yankees Stadium in the Bronx. Which is super accessible from anywhere in the city by subway as Yankee Stadium is an easy three-minute walk from the subway.
But for those who are into the Mets or also just like experiencing the different stadiums, you can also catch a game in Queens at the Citi Field Stadium.
If you plan your schedule right you could hit up one of the night markets in Queens or Bronx before/after a game too!
*The Queens Night Market is on Saturdays from 5 PM to midnight and The Bronx Night Market is the last Saturday of the month from 1 PM to 7 PM.
And if you really love baseball and want to check out a minor league team, consider catching a Brooklyn Cyclones game in Coney Island!
You can get tickets for the Yankees or Mets on SeatGeek, a popular ticket search engine that makes finding tickets to sporting events, concerts, and many other live events in NYC quick and easy.
When you add our promo code BROOKLYNGUIDE to your SeatGeek account, you receive $20 off your first ticket purchase.
(We receive a small commission at no extra cost to you)
NFL PRE-SEASON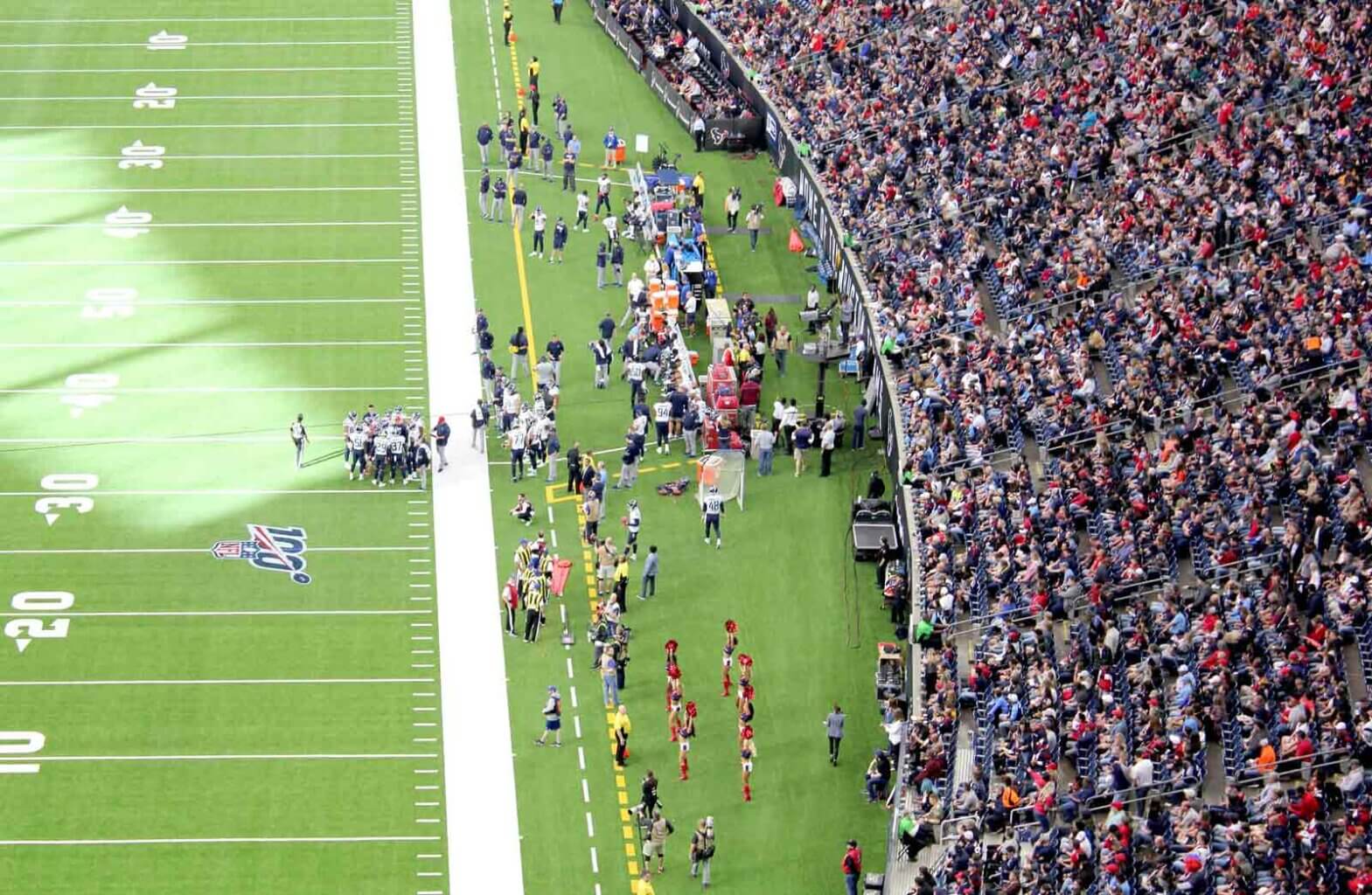 August in NYC doesn't just mean baseball, it also means the beginning of another sports season, football! One way to get football tickets at a discount and still be optimistic about possibly making the playoffs is by attending one of the preseason games, and what's awesome is that there are two NYC-area-based NFL teams, the New York Jets and New York Giants who both play at the MetLife Stadium in East Rutherford New Jersey which is really easy to access via the NJ Transit (connecting to the Frank R. Lautenberg Station at Secaucus Junction).
You can get tickets for the Jets or Giants on SeatGeek, a popular ticket search engine that makes finding tickets to sporting events, concerts, and many other live events in NYC quick and easy.
When you add our promo code BROOKLYNGUIDE to your SeatGeek account, you receive $20 off your first ticket purchase.
(We receive a small commission at no extra cost to you)
WNBA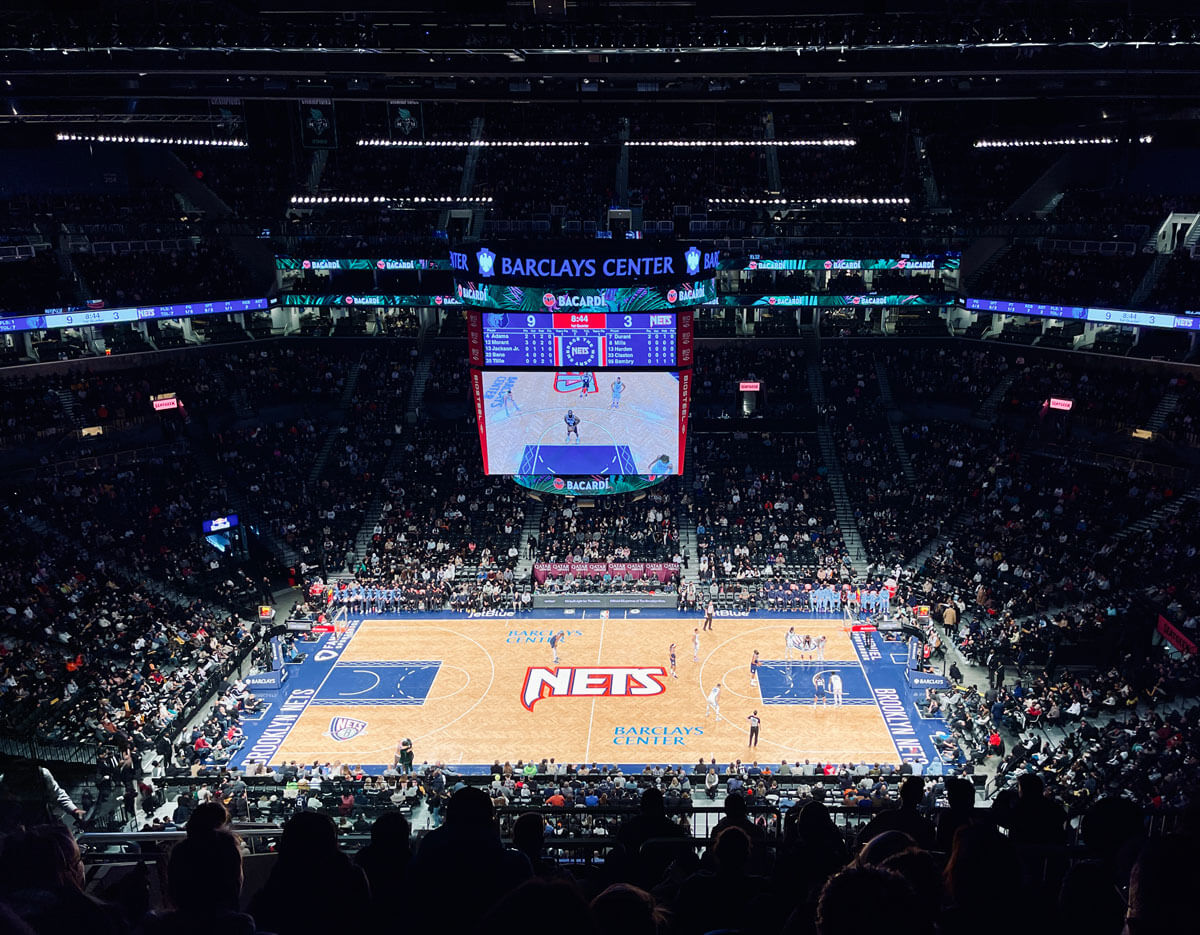 And while we're at it, another great sporting event and awesome thing to do in NYC in August is catch a New York Liberty game, our WNBA team! Watch the all-star and legend, Sabrina Ionescu perform at the Barclays Center in Downtown Brooklyn.
Support the WNBA and some world-class athletes while also checking out Barclays Center. Take advantage of all the cool Brooklyn neighborhoods nearby and be sure to grab a bite to eat at any of the amazing places to eat near Barclays.
You can get tickets for the New York Liberty on SeatGeek, a popular ticket search engine that makes finding tickets to sporting events, concerts, and many other live events in NYC quick and easy.
When you add our promo code BROOKLYNGUIDE to your SeatGeek account, you receive $20 off your first ticket purchase.
(We receive a small commission at no extra cost to you)
Save Money on the City's Best Attractions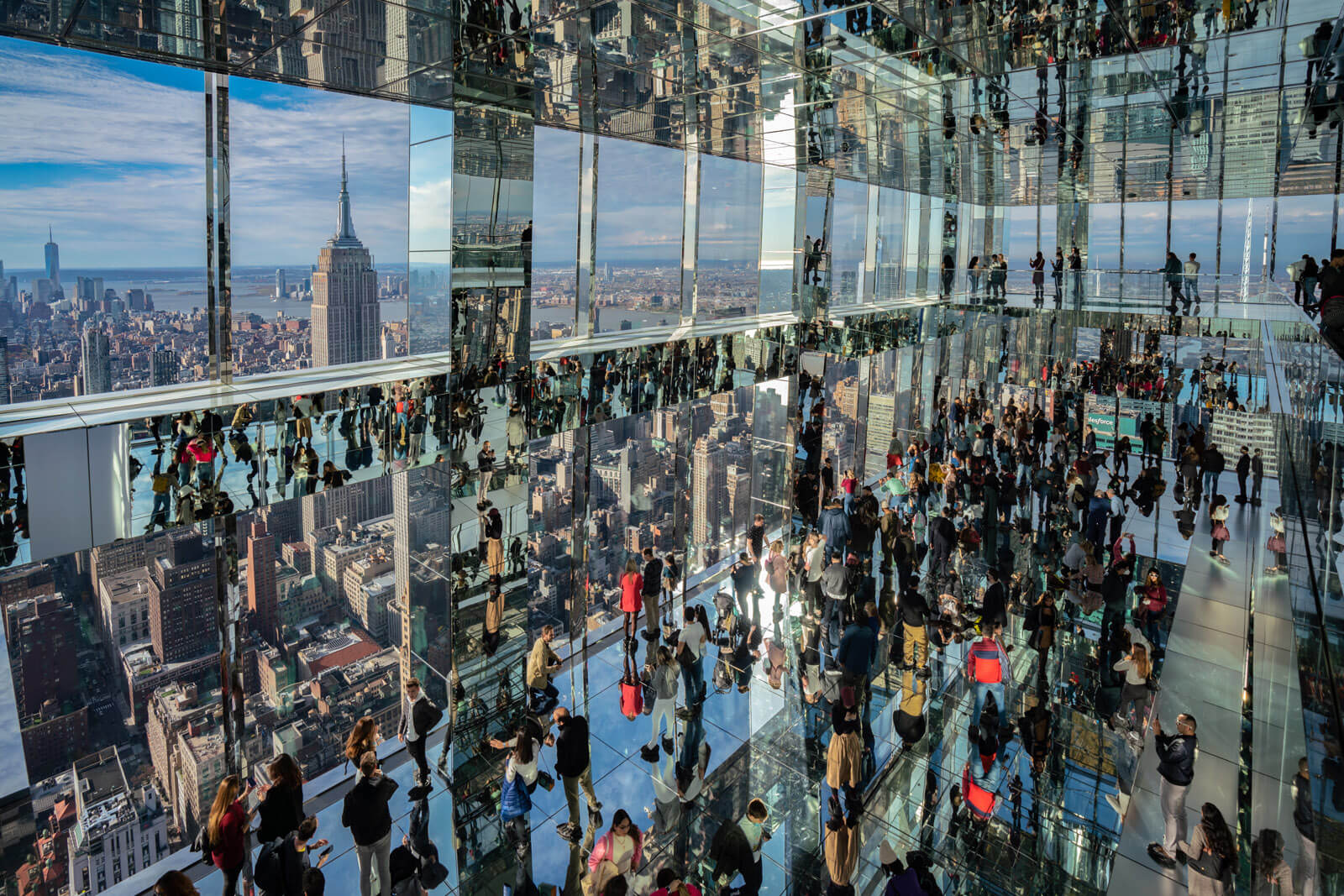 One of the best things to do in NYC in August is take advantage of the long summer days and check out some of the best NYC experiences and tours. Like the best observation decks in NYC to enjoy a break from the heat with beautifully air-conditioned interactive art exhibits.
We have a money-saving secret for you as these hot ticket items can ADD up and cost a fortune. If you're going to be visiting for a few days or just want to do some sightseeing in a few days consider the different money-saving attraction passes available in NYC. (PS these also work for many of the museums too).
These attraction passes are paid upfront for a one-time fee and on your trip, they get you into multiple different attractions for free meaning that you save some serious money overall. By purchasing an attraction pass you can save anywhere from 35-45% on your attraction and saving you hundreds of dollars on your visit!
CityPASS offers a 3 attraction pass or a 6 attraction pass with over 12 city attractions to choose from including popular observatories like the Empire State Building, The Edge, Top of the Rock, 9/11 Memorial & Museum, Statue of Liberty & Ellis Island, the Guggenheim, and more!
Another great option is the New York Pass which you can purchase anywhere from a 1 Day Pass to a 10 Day Pass that gets you into over 100 attractions. YES! This one is better if you want MORE options. Once you purchase your New York Pass you download the Go City app and use that to get up to 45% savings on popular attractions as well as a few hidden gem attractions ranging from the Empire State Building to museums and MANY more.
See our full breakdown of the New York Pass and our breakdown of the New York CityPASS to see if it's worth it for your visit to save hundreds of dollars on multiple attractions!
FUN OUTDOOR MOVIES IN AUGUST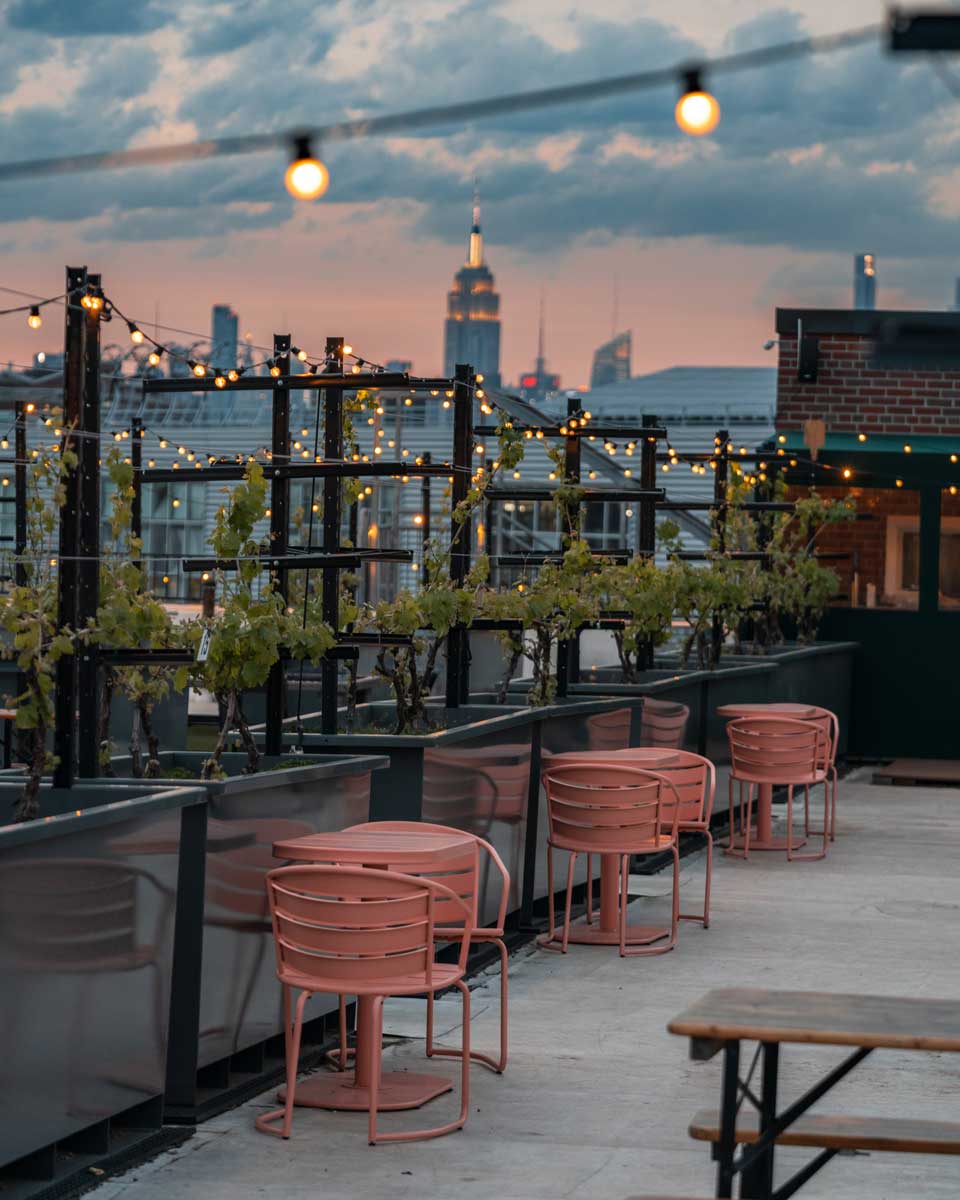 PIZZA & WINE MOVIE NIGHTS AT ROOFTOP REDS
What's better than sharing some pizza, wine, and a movie with a loved one or friends? Doing it on a roof with skyline views! Not to be confused with Rooftop Films, but Rooftop Reds, one of the best rooftop bars in Brooklyn, does a series during the late spring through fall in Brooklyn Navy Yard that offers some of our favorite views of the city along with a movie!
Rooftop Reds is actually the city's only rooftop vineyard, but there are a few wineries in Brooklyn so if you're a wino, be sure to check those out too and hit up all the different tasting rooms and wine bars.
Rooftop Reds partners with a vineyard in the Finger Lakes region in Upstate New York to bring wine country right here to the city. So while you're enjoying a movie, you can also enjoy a wine tasting or carafe made right here in the good ol' state of New York!
The programming starts in May and continues all summer. Check out the schedule and get tickets here.
BRYANT PARK MOVIE NIGHT
Since 2013, Bryant Park has been showing movies all summer long (through mid-August) each Monday night at 8 pm. The park officially opens for picnickers or people looking for the best seat. It's an iconic way to watch a movie, I mean it's not every day you get to see a movie in one of the best parks in NYC!
So bring a blanket, a picnic basket and have yourself a good time. Bryant Park has lots of local vendors for food and snacks and there's a Whole Foods nearby if you want to pick up a few picnic goodies. You can get the lineup to Bryant Parks movie schedule here.
PROSPECT PARK MOVIES UNDER THE STARS
Another one of the best things to do in NYC in August is watch free movies under the stars in Prospect Park on the Long Meadow! Each Wednesday night in August right after sundown you can catch one of their FREE movie nights! Bring a blanket, your friends, and your favorite snacks for this fun outdoor event!
Movies are free and open to the public on a first come first serve, it's highly recommended you reserve a spot in advance. You can find their lineup on their website.
BROOKLYN BRIDGE PARK MOVIES WITH A VIEW
Another one of the best outdoor movie nights you can find in NYC in August is at Brooklyn Bridge Park, complete with a view of the skyline!
Each Thursday night (through the end of August), you can catch their weekly movie starting at 8 PM. But you'll want to come early as you can grab a seat on the lawn (first come first serve basis) as early as 6 PM and there are food vendors associated with Smorgasburg along Pier 1 Promenade in Brooklyn Bridge Park as early as 5 PM.
This is a popular outdoor movie series, so it's encouraged to get there early to get a good seat. Check out their schedule here.
CONEY ISLAND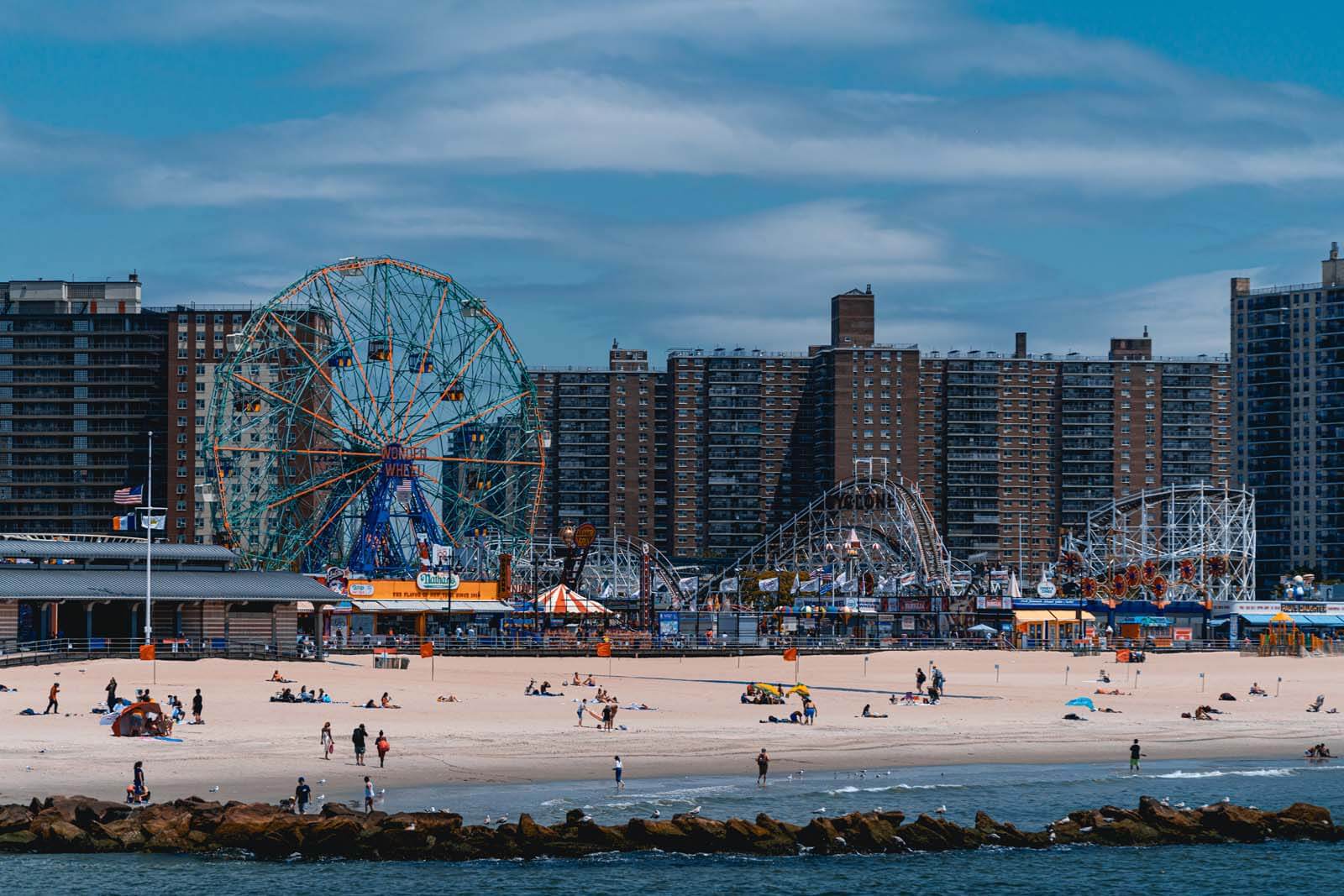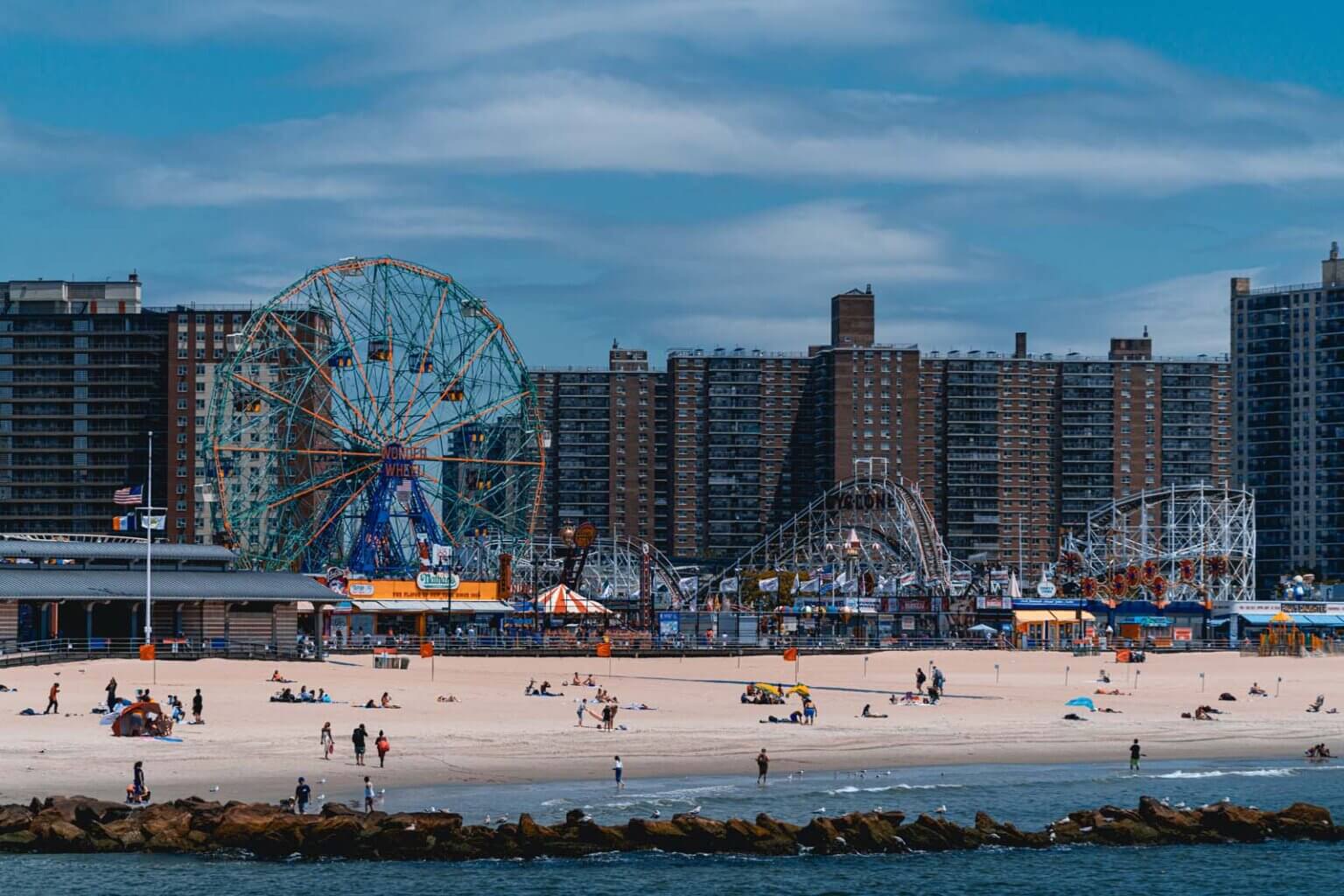 One of the best things to do in August in NYC (and all summer long) is to spend a day at Coney Island, one of the most beloved and historic amusement parks in the country. Whether you're going for the beach or amusement parks, or both this is a great place to check out in NYC.
There are so many cool things to do at Coney Island like riding the Wonder Wheel (which is over a century old), walk the famous Riegelman Boardwalk, eating a Nathan's hot dog, visiting the New York Aquarium, catch a Side Show, or just lounge at one of the best beaches in NYC.
If you're looking for more beaches though to beat the heat, consider taking a day trip to the Hamptons or check out more of our favorite Brooklyn beaches.
SUNSETS and (DATE NIGHTS) AT THE MET
View this post on Instagram
Each August in NYC, the Met opens up its rooftop with a music series of a rotating lineup of DJs and artists. Running until September 3rd it's a great way to get a unique view of the city and is free with museum admission.
In case you didn't know, the MET pays what you wish for residents of NY, NJ, and CT students with a valid id! We have more free museums in NYC like that too you might want to check out! Not all of them are for local residents either.
Date Nights are held every Friday and Saturday in the American Wing Café from 5-9 PM and feature live music and cocktails.
STARGAZE WITH AN ASTRONOMER ON THE HIGH LINE (FREE)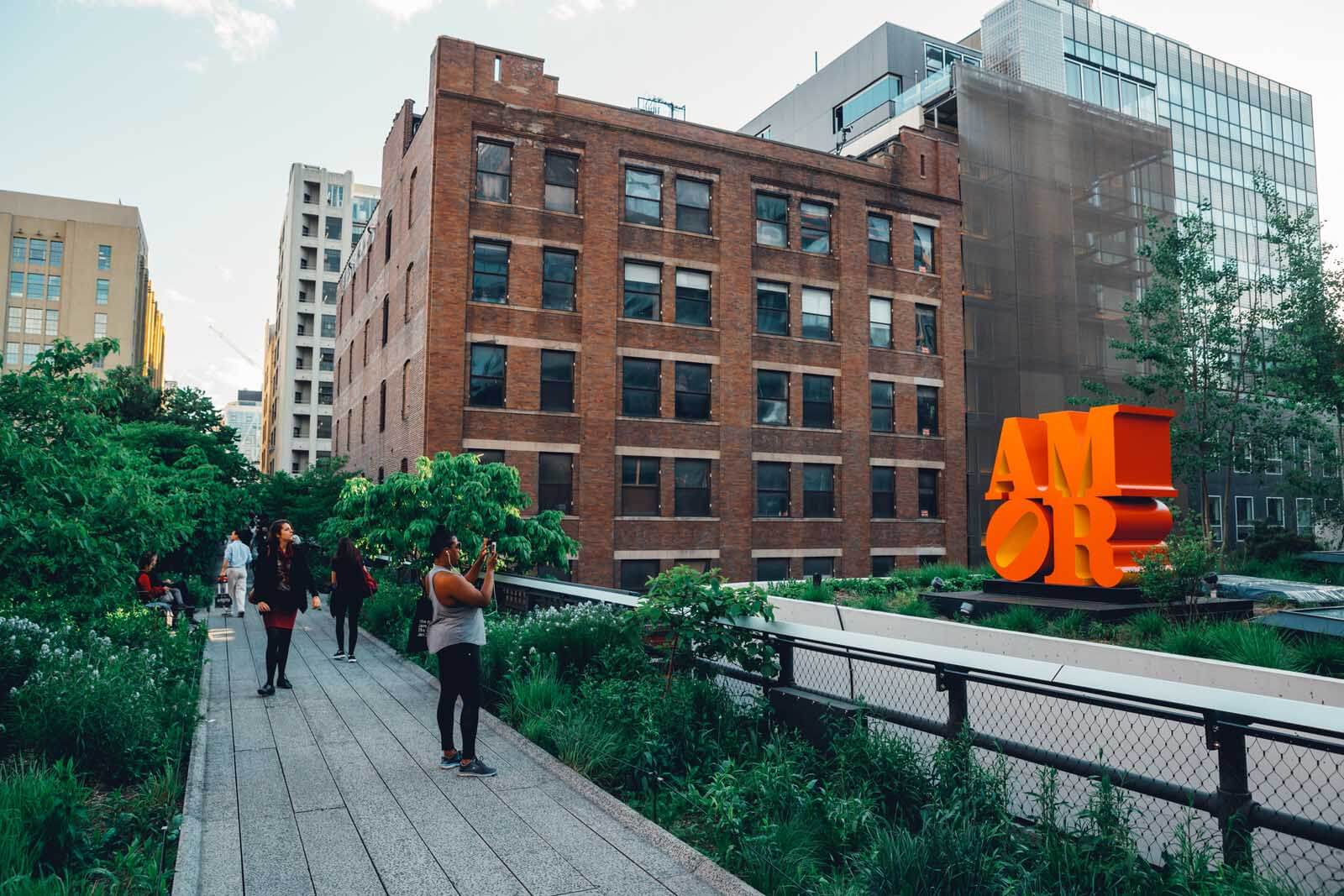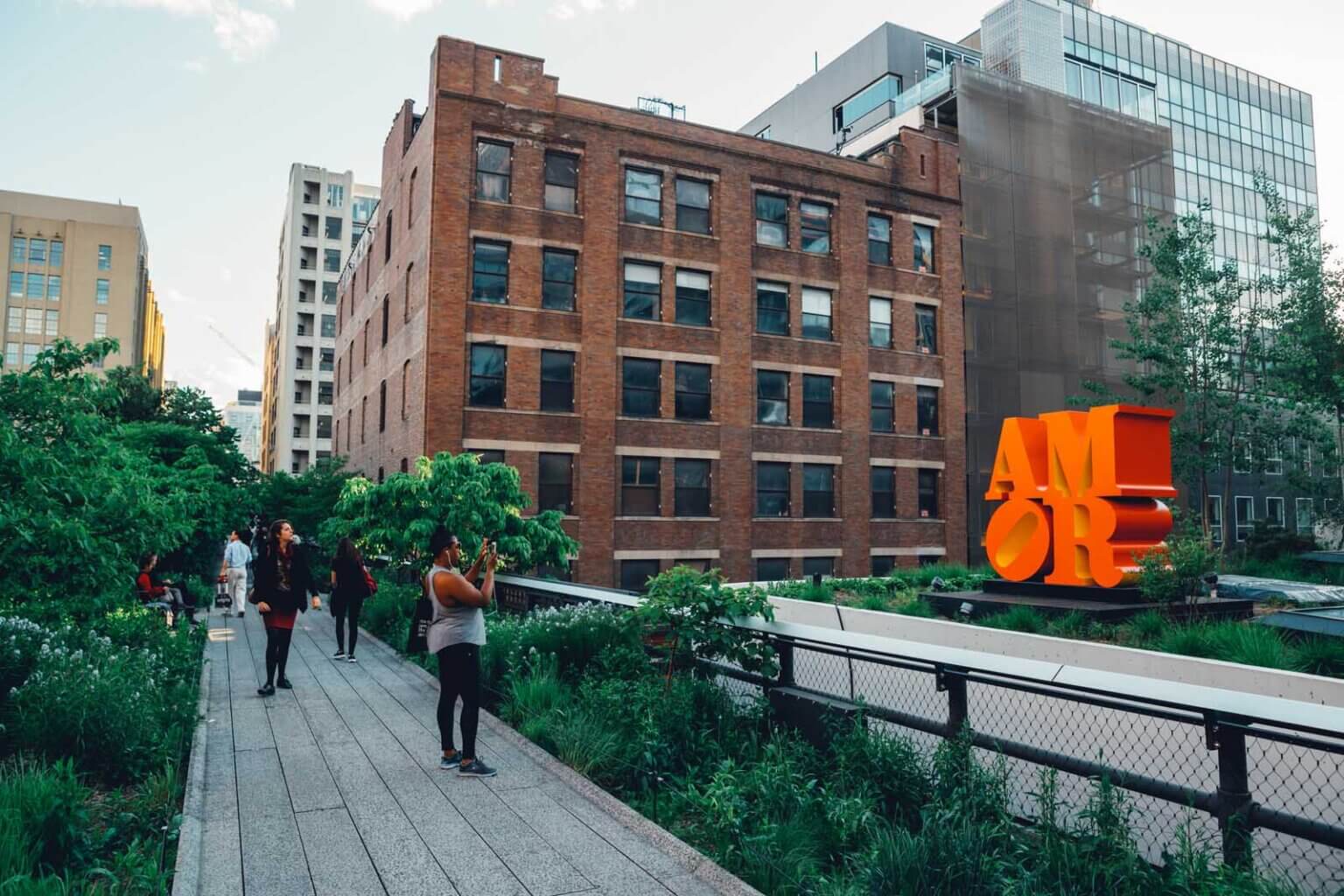 Every Tuesday of August in NYC, experts head to the High Line in Chelsea to gaze at the skies above. Using high-powered telescopes to check out the stars and talk to any and everyone who is interested. Some will even let you put your smartphone into the camera to take photos. It's really cool and absolutely free.
There is no charge for this activity, you can visit the High Line's website for more information. An alternative free activity at the High Line is to take a free High Line Tour, which they offer from May through August.
GOVERNORS ISLAND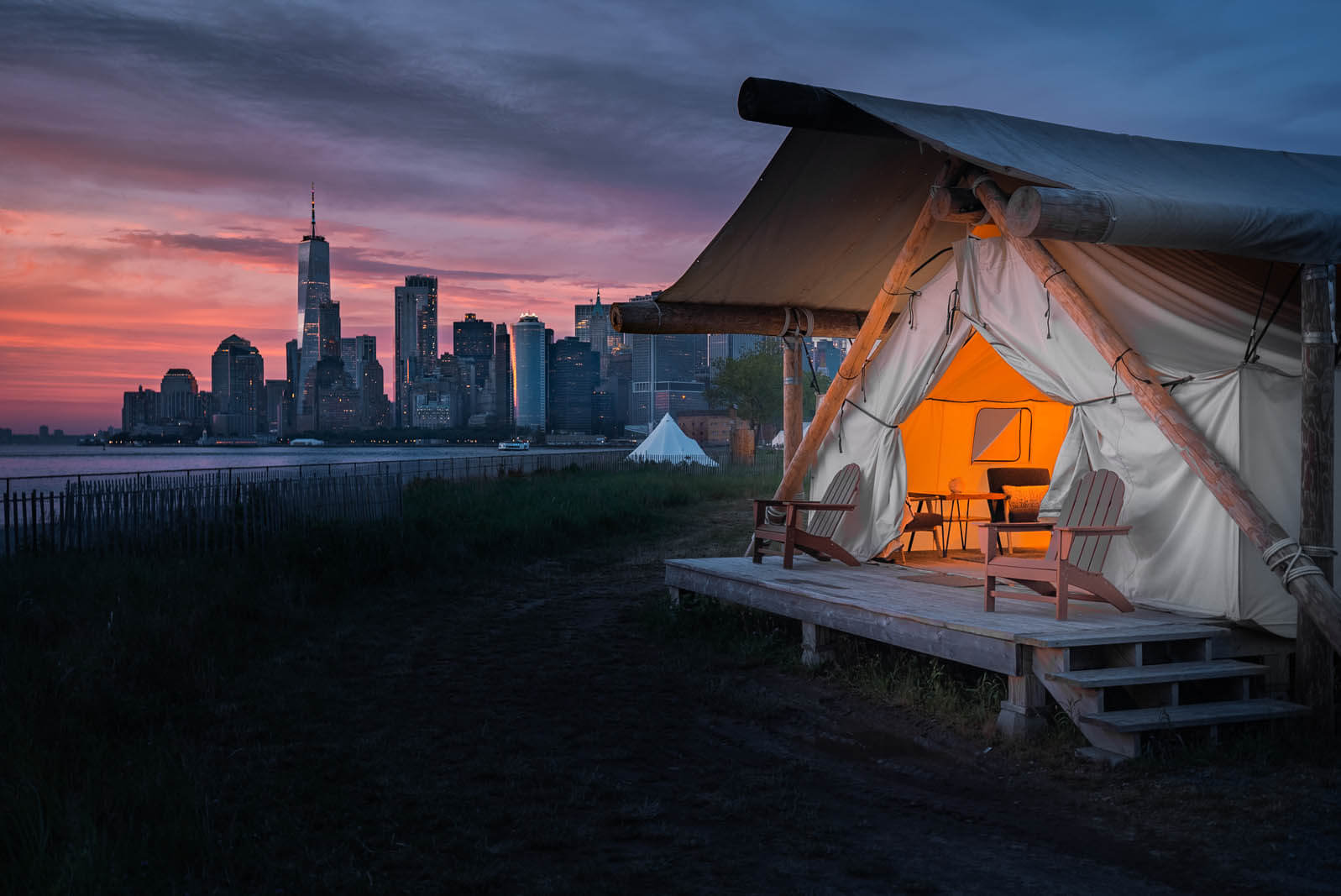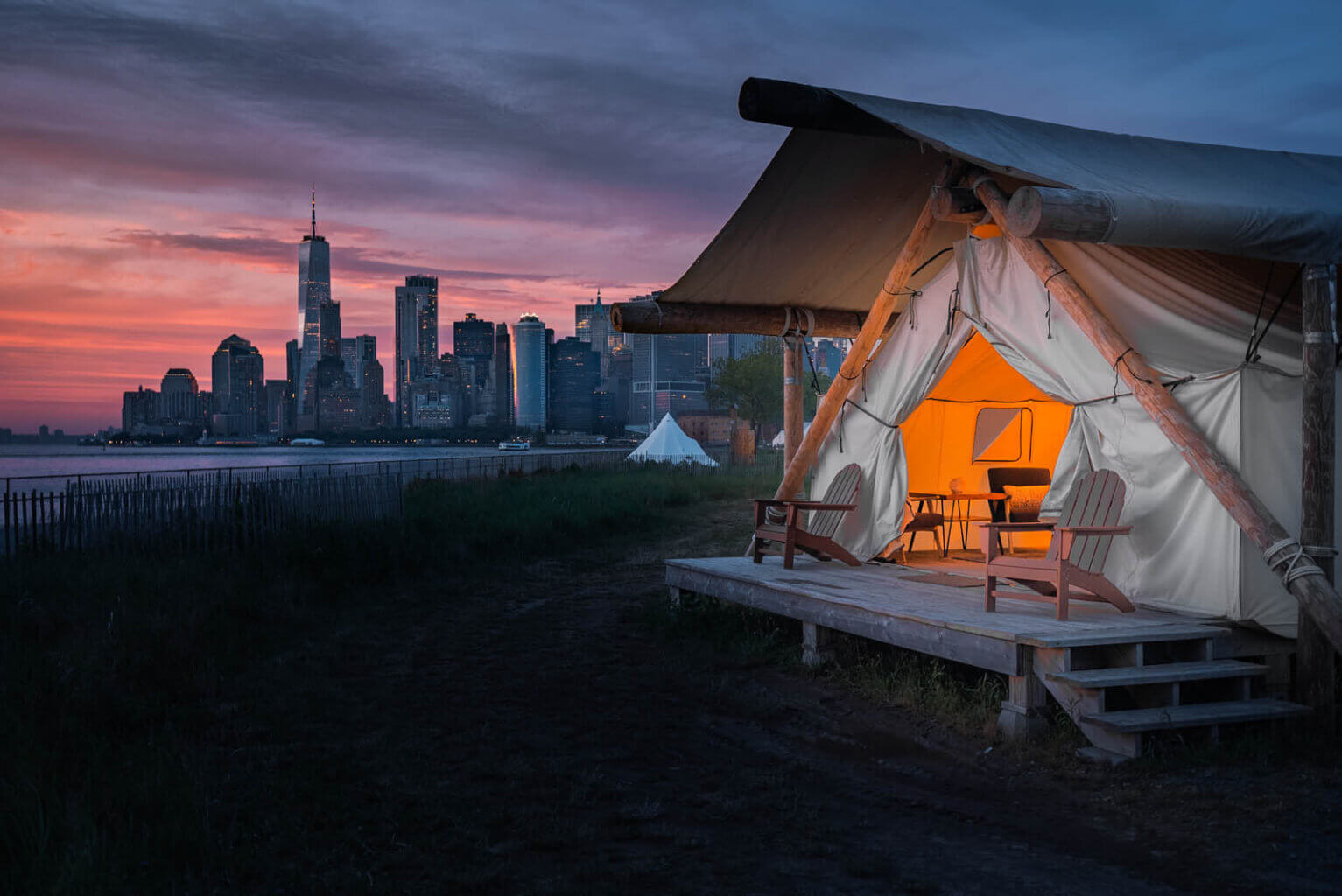 There's no doubt that one of our favorite places in the city is Governors Island. Now that Governor's Island is open year round and later hours and with more ferry options, it's possible to stay on the island even later in the evening and catch the sunset without worrying about making it back before all the ferries stop servicing for the day.
There are numerous great spots to watch the sunset from on Governor's Island. Our favorite is definitely from INSIDE the luxe Collective Retreats glamping site on Governors Island, which is well worth staying the. night for.
But if you're not looking for an overnight stay, you can check out the many different viewpoints, lawns, and even restaurants which are also awesome at sunset.
And we highly recommend coming earlier to enjoy the best things to do at Governors Island too, including a full on spa experience with heated outdoor pools with skyline views at QCNY Spa.
ROOFTOP RESTAURANTS & BARS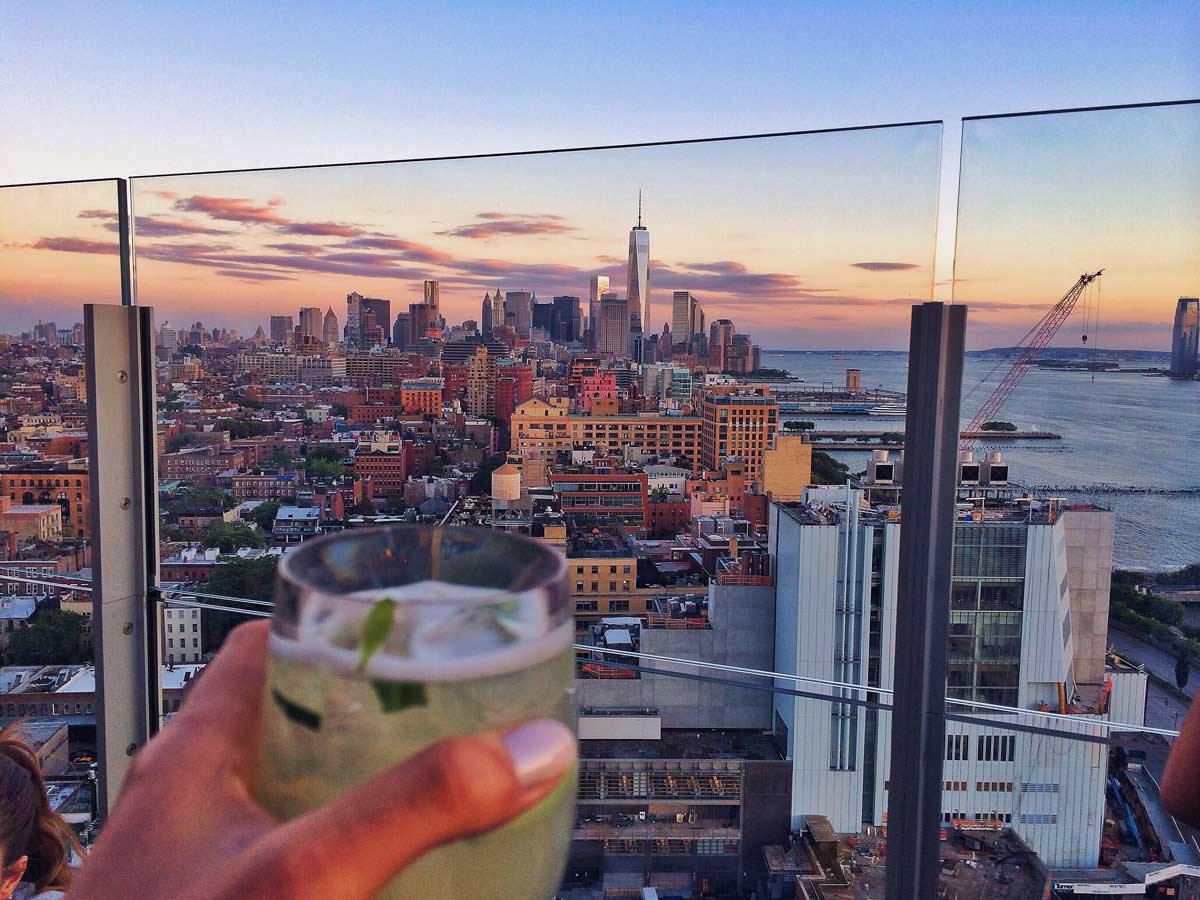 Celebrate the end of summer and the warmer months by checking out some of the best rooftop bars in NYC that offer stunning skyline views! There are tons of incredible rooftops from well-known spots that often are shared on Tiktok and Instagram to a few lesser-known rooftop bars that have great views without the higher cost and crowds.
---
We hope you enjoy all these amazing things to do in NYC in August. Let us know if we missed one of your favorite August in New York activities in the comments below.