Looking for the best bars in DUMBO, Brooklyn for a night out or just a casual cocktail or drink? We've got you covered in our guide to the best DUMBO bars and watering holes to check out.
Whether you're looking for a swanky lounge for a cocktail, a cool beer hangout, casual bar, or a drink with the epic views DUMBO has to offer we have you covered.
This is your one-stop shop for great drinks, good company, and views unlike any other.
Best DUMBO Bars
1. Randolph Beer DUMBO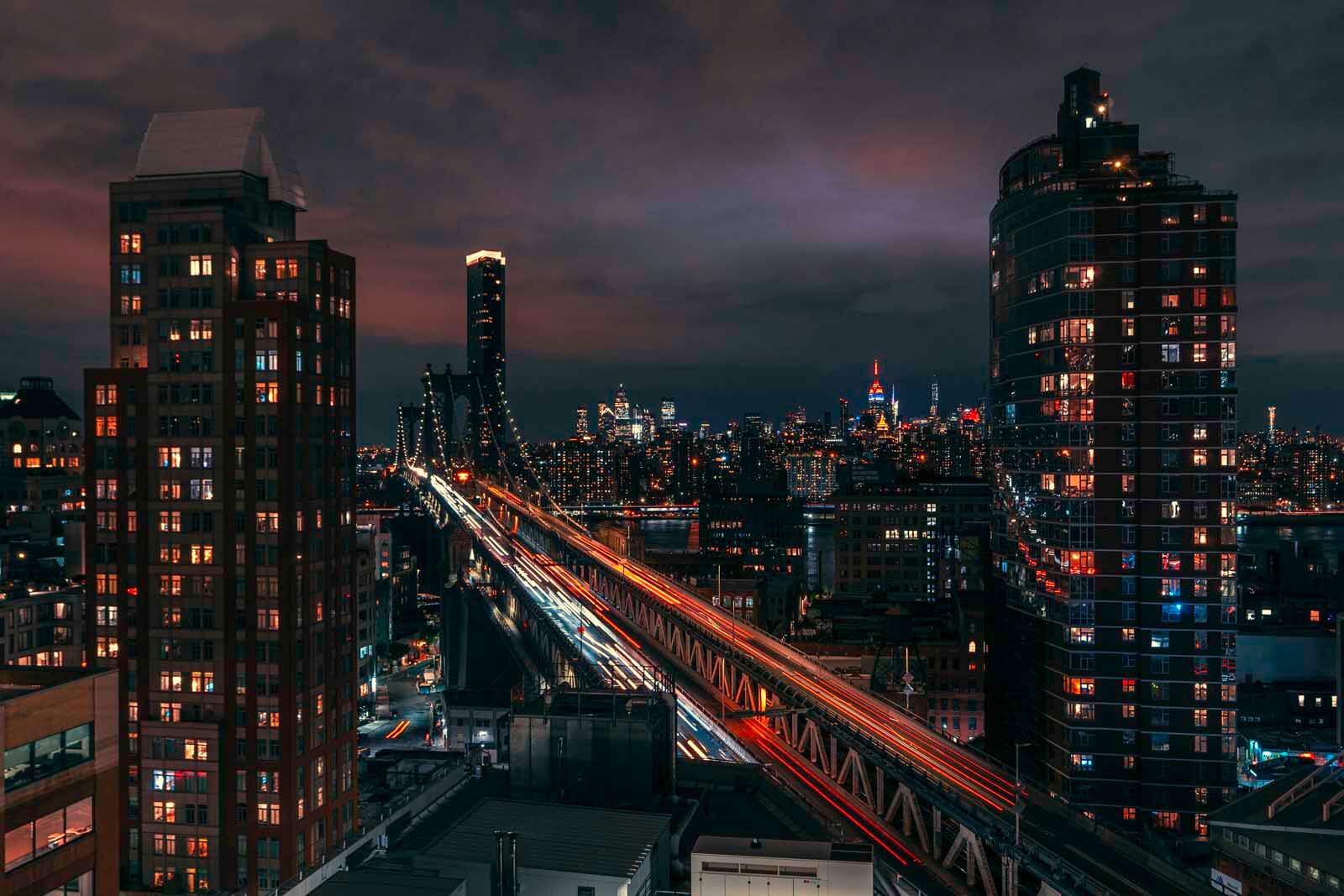 Address: 82 Prospect Street
If you're looking for the perfect night out with a significant other or a group of friends, look no further. Randolph Beer offers DUMBO's only self serve beer, skeeball, shuffleboard, and great eats for dinner and some of the best brunch in DUMBO!
While this is a great bar in DUMBO for beer lovers and aficionados, Randolph Beer does offer a great variety even if you're not a beer lover.
Randolph Beer also carries an extensive list of wine and spirits to pair with their delicious menu items ranging from healthy protein-packed quinoa and salad bowls to bar munchies. The atmosphere here is very welcoming and has a cool industrial but very modern and sleek look and vibe going on here.
This DUMBO bar also has a seasonal rooftop with incredible views of the skyline and Manhattan Bridge which is why we think it's one of the best rooftop bars in NYC! You'll need a reservation to enjoy this rooftop bar in DUMBO though, so be sure to plan ahead!
Read Next: Best Breweries in Brooklyn
2. Time Out Market New York Bar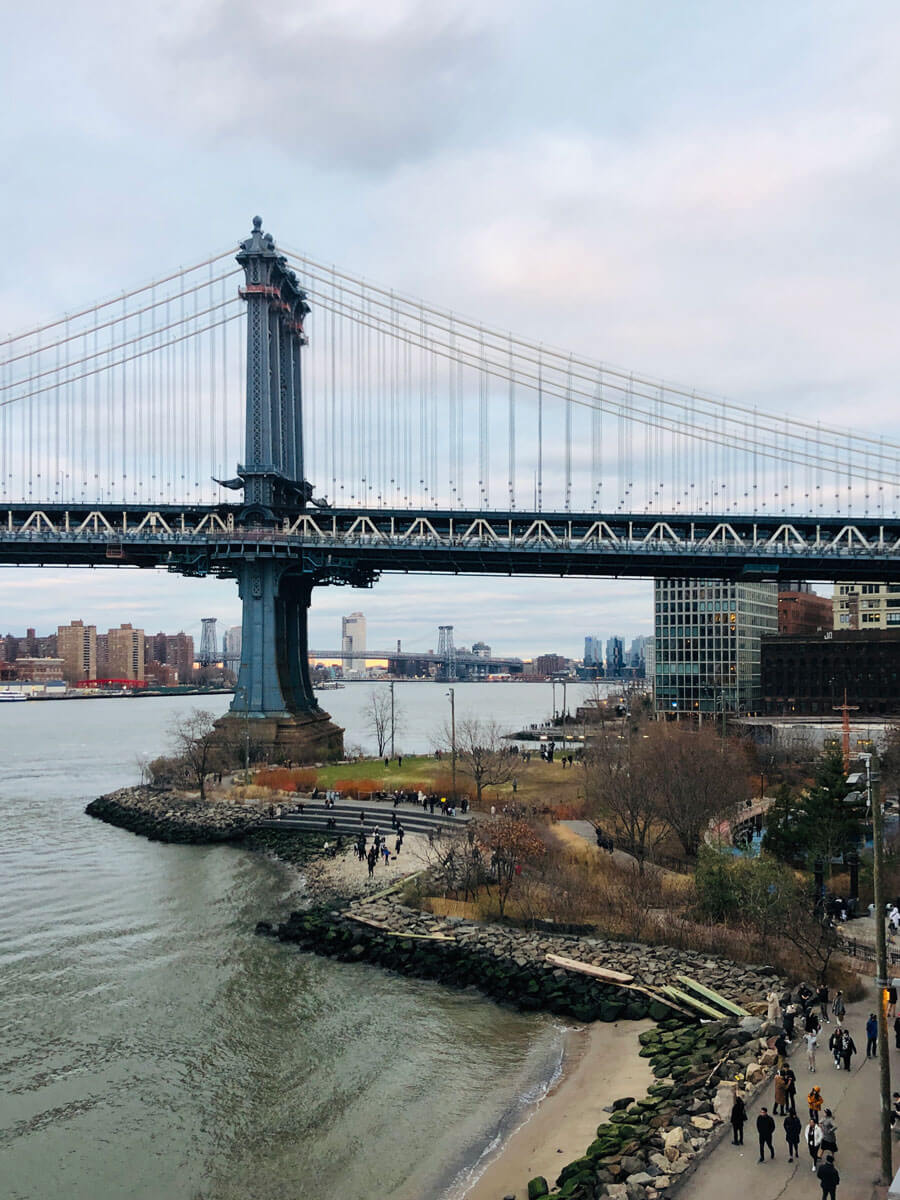 Address: 55 Water Street
The Time Out Market New York in DUMBO is undoubtedly one of our top picks for things to do in Brooklyn as well as DUMBO thanks to its prime location and has something for everyone here including one of the best views of Manhattan, the Brooklyn Bridge, and Manhattan Bridge.
Besides being a popular food hall with 21 different eateries to choose from. Time Out Market New York is one of the best DUMBO bars to check out.
There are actually a total of three bars in Time Out Market, but we urge you to go check out the breathtaking views at the rooftop bar, one of our top picks for best DUMBO Instagram spots too!
This DUMBO bar has windows overlooking Manhattan and the Brooklyn Bridge Park inside, and outside you can find some of the best views of the city. Pair some food made by top chefs with a refreshing cocktail and the Manhattan skyline.
In the winter, you can sit outside under the warmth of an igloo with this incredible setting. You can't beat this DUMBO bar as it comes with great food and drinks, entertainment, and views you just can't beat.
Read Next: Best Restaurants in DUMBO with a View
3. Gair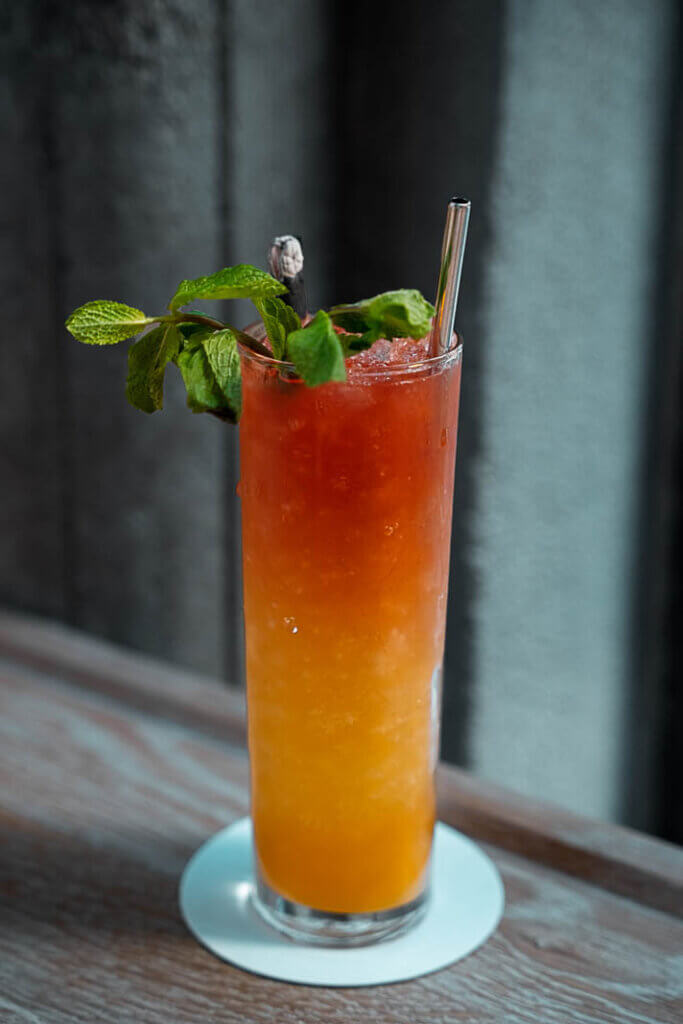 Address: 41 Washington Street
Located at the most photographed cross streets in Brooklyn at Washington Street and Water Street, you can't beat the location of this swanky cocktail bar in DUMBO. Gair is perfect for having a drink with friends, date night, or a post-sightseeing break around DUMBO, this bar has a curated selection of elevated cocktails featuring everything from mocktails, low-ABV options, to the hard stuff from their collection of independent distillers in their bar back.
They also have a rotating menu of small plates that are perfect for sharing. They do a great job offering plenty of vegetarian-friendly and even vegan-friendly options as well. During our visit the fresh whipped ricotta toast with rucola stole the show.
The mood and ambiance are just right here with options of sitting at their beautiful U-shaped bar, tables, or along the window where you can people watch taking photos at the famous Manhattan Bridge vantage point.
In our honest opinion, this neighborhood was missing an elevated cocktail bar like this so we are happy to see it!
4. Pilot at Pier 6
Address: Pier 6 Brooklyn Bridge Park (SEASONAL)
If you're visiting Brooklyn in the summer, make sure to check out Pilot, the historic and seasonal oyster bar that serves, "nautically inspired cocktails."
To enjoy this floating DUMBO bar you board a historic wooden schooner in the water for amazing views of the Manhattan skyline and some exquisite seafood.
Don't miss the opportunity on a beautiful day to soak in the sun and a couple of delicious cocktails.
Located at Pier 6 in Brooklyn Bridge Park, keep an eye out for when the Pilot will be loading crew members for the season.
Read Next: Best Brooklyn Instagram Spots
5. Harriet's Rooftop & Lounge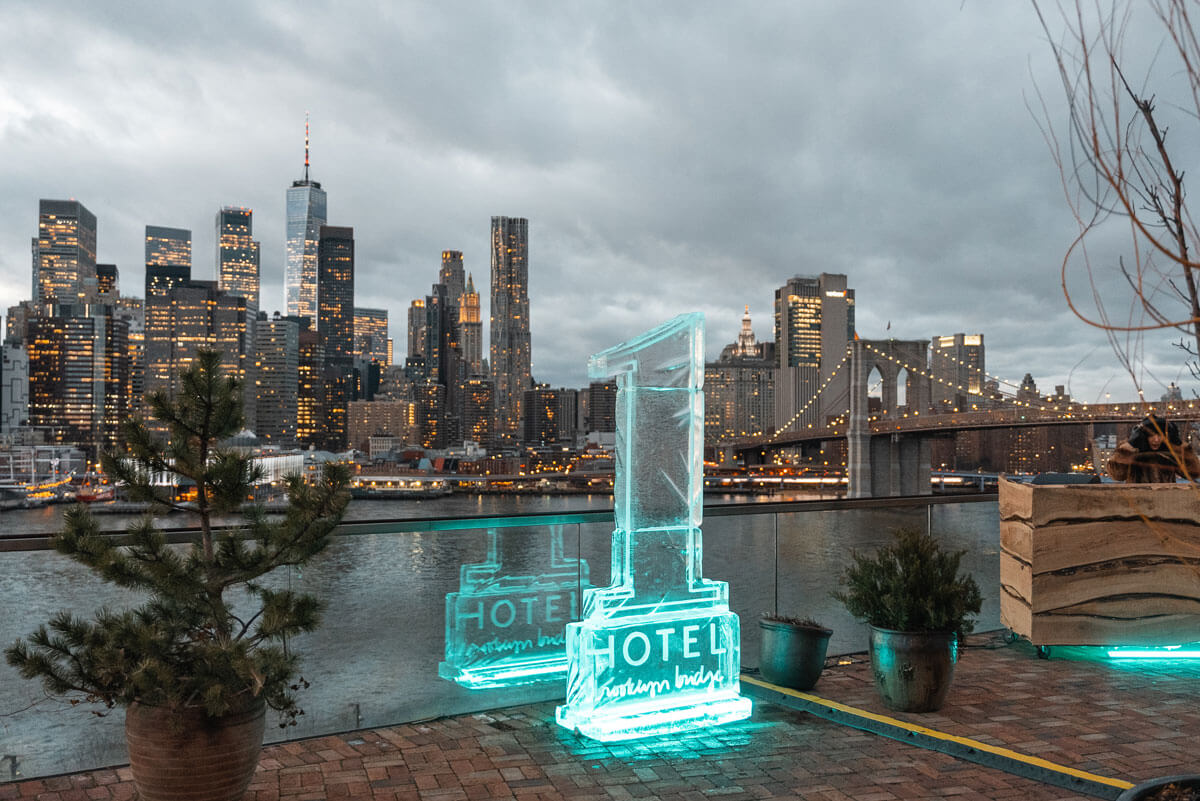 Address: 60 Furman Street
Picked as one of our picks for most amazing things to do in DUMBO, Harriet's Rooftop & Lounge is a spot you won't want to miss.
This DUMBO bar is located in 1 Hotel Brooklyn Bridge with stunning views of the Lower Manhattan skyline, Statue of Liberty, and Brooklyn Bridge. Harriet's ranks supreme in the area for one of the best rooftop bars in Brooklyn, as most of the rest are found further north in Brooklyn in Williamsburg.
What's nice is that Harriet's is perfect every season as they have a swanky and gorgeous indoor lounge in addition to their outdoor rooftop, which is also open year round. In the winter the outdoor rooftop deck transforms into a Polar Lounge complete with ice sculptures and cocktails served in glasses made out of ice.
If you're wanting to snag a table inside though, you'll want to make a reservation or hope you can snag a prime seat at the bar. They often have live music too at this sophisticated DUMBO/Brooklyn Heights bar.
6. 68 Jay Street Bar
Address: 68 Jay Street
This bar in DUMBO is definitely the perfect dive bar for a casual hang out spot for locals or people looking to grab a quick drink or a watering hole that's laid back.
Unlike the other DUMBO bars which are a perfectly curated experience with its ambiance, view, or impressive decor. 68 Jay Street Bar has a more hanging out in someone's house or basement bar vibe going on.
The atmosphere is very chill and the drinks are reasonably priced, something you don't find often in this popular and trendy neighborhood.
7. Olympia Wine Bar
Address: 54 Jay Street
Looking for a great DUMBO bar for wine lovers? Visit Olympia Wine Bar, a refined but still casual hangout serving tapas and small plates and offering a great wine selection.
This is a great place for a pre dinner or show glass of wine with friends, coworkers, a date, or even a business meeting. Compared to most NYC bars, this one is very laid back and good for conversation!
Choose from their extensive list of wine, bottled beer, and even cocktails.
A little fun fact, the name of this bar has local historic ties. Olympia was the name of the waterfront community east of the ferry landing known today as Fulton Ferry Landing in the 16th century.
See more of our favorite wine bars in Brooklyn too!
8. Evil Twin Brewing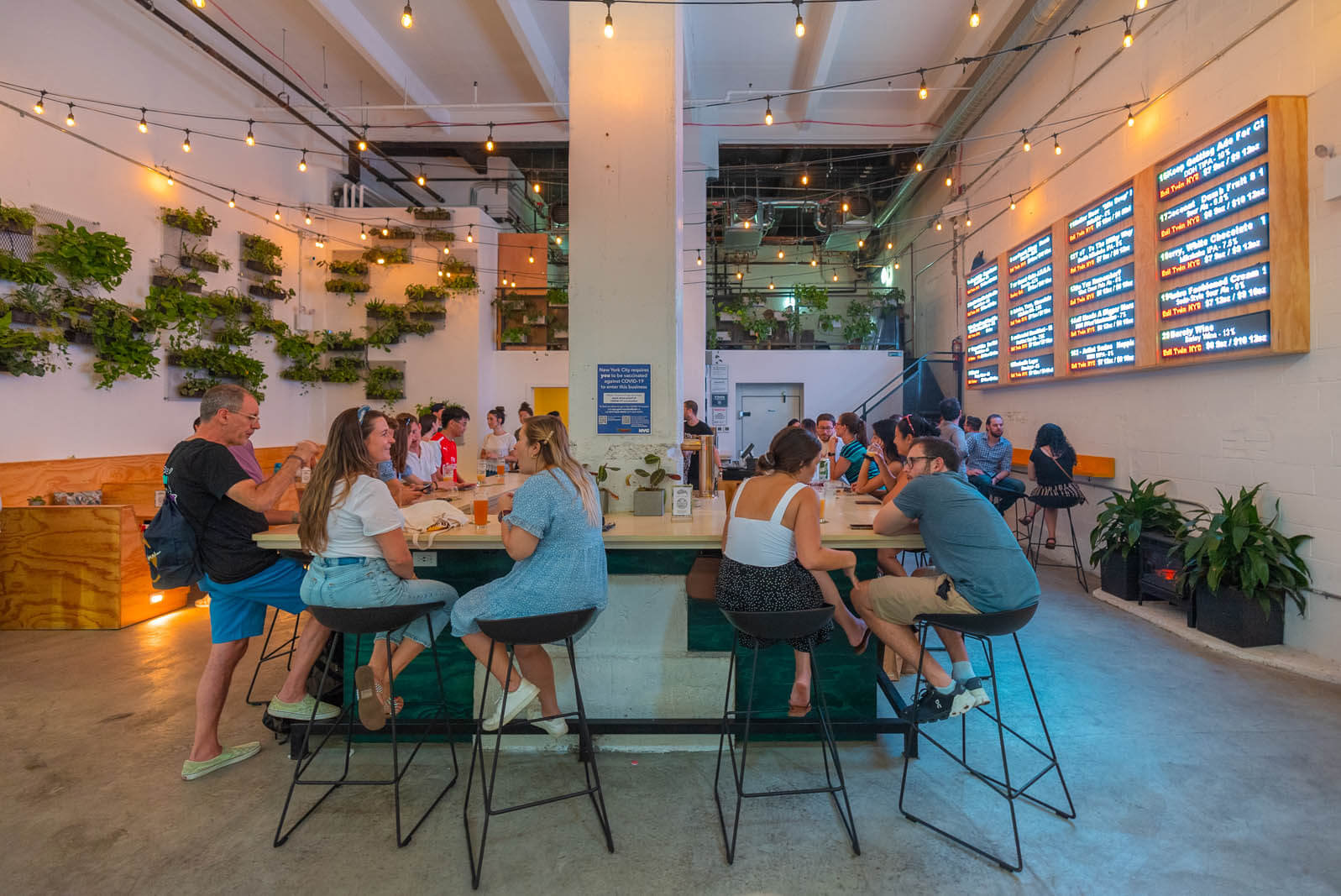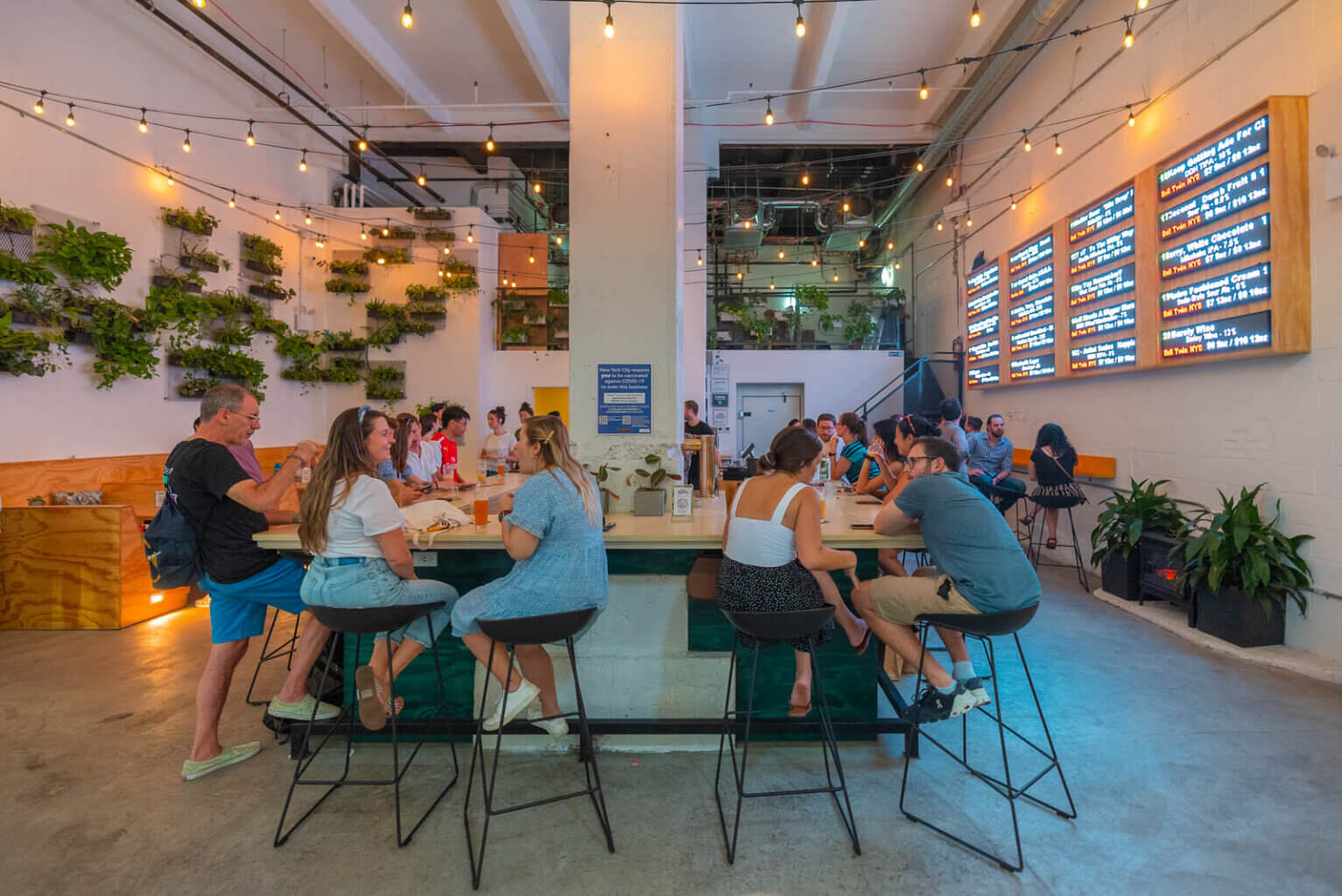 Address: 43 Main Street
One of the best bars in DUMBO for great beer (and a dynamite location) is Evil Twin Brewing on Main Street. This light and airy bohemian brewhouse serves up coffee in the mornings and by the afternoon you can enjoy their 20+ brews on draft and frozen cocktails.
We love trying their different beers on draft, sometimes they have some fun experimental options like a marshmallow IPA, which was insanely good. The taps are rotating, so each visit is different! They do a good job of having a range of all different types of beers for all our beer drinkers out there from lagers, sours, dark ales, and to the latest type of IPA to try.
And if there's something you love, they sell 4 packs you can take with you. The best part is that this spot is close to all the best things going on in DUMBO.
9. Dumbo Station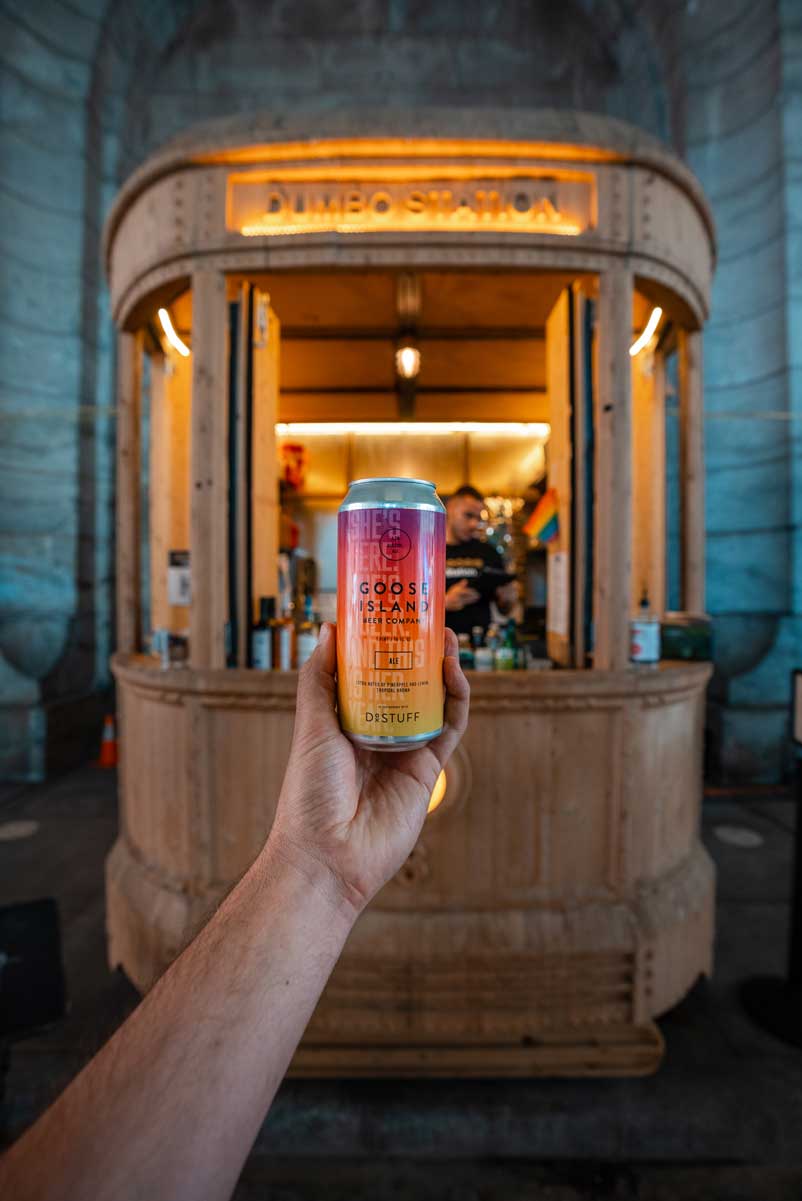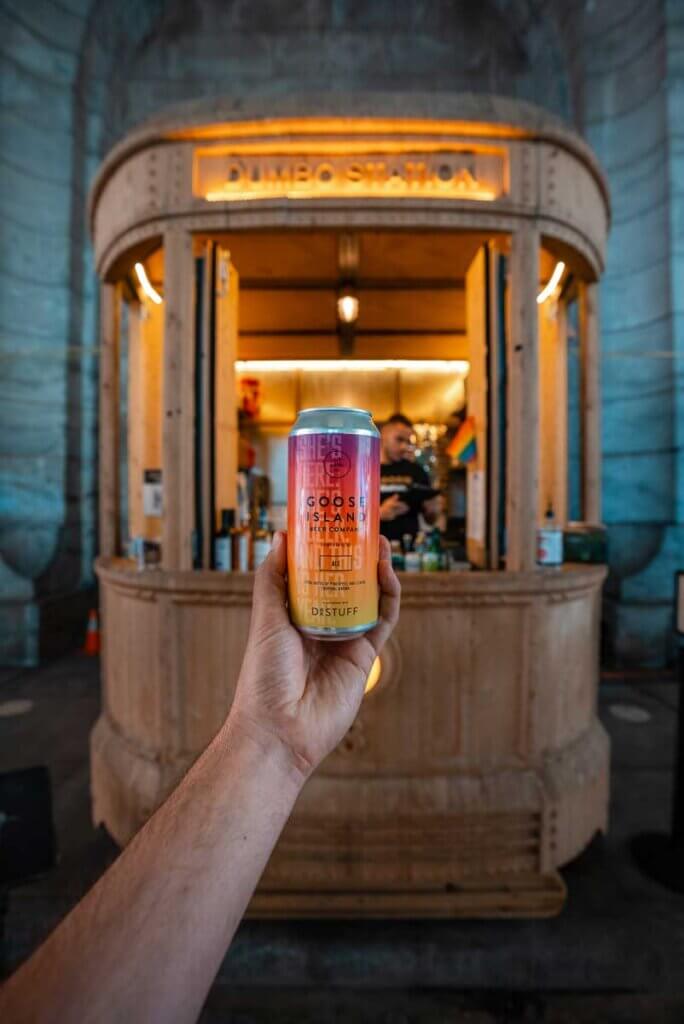 Address: 155 Water Street – SEASONAL
One of the best DUMBO bars can be found under the Manhattan Bridge! DUMBO Station is located at the DUMBO Archway hosts all kinds of fun events from live music to parties with the adorable kiosk, Dumbo Station, serving up wine and beer.
Better yet, you can get an iconic DUMBO photo down here too with the DUMBO light-up letters!
The only catch is that this bar in DUMBO is seasonal since it's outdoors. So if you're visiting in the warmer months, be sure to check out this unique DUMBO bar and event space.
10. Superfine
Address: 126 Front Street
Superfine is not only a bar in DUMBO, but one of the great options for dining in the neighborhood too. This Mediterranean restaurant set in a spacious warehouse-style building and is great if you have a group of people since they have room to spread out.
If you're hungry, enjoy their farm-to-table fare, they are one of the first organic bars and restaurants in the area and have been around for over two decades.
They regularly host events, live music, and even display local artwork. They also have happy hour Tuesdays through Fridays from 3 PM to 7 PM too, just keep in mind this bar in DUMBO is closed on Mondays.
---
Best Bars in DUMBO (Post Summary):
Randolph Beer
Time Out Market New York Bar
Gair
Pilot at Pier 6
Harriet's Rooftop
68 Jay Street Bar
Olympia Wine Bar
Evil Twin Brewing
Dumbo Station
Superfine
---
Did we miss any of the best DUMBO bars? Let us know in the comments below!