Looking for the best bars in DUMBO, Brooklyn for a night out or just a casual cocktail or drink? We've got you covered in our guide to the best DUMBO bars and watering holes to check out.
Whether you're looking for a swanky lounge for a cocktail, a cool beer hangout, casual bar, or a drink with the epic views DUMBO has to offer we have you covered.
This is your one-stop-shop for great drinks, good company, and views unlike any other.
Best DUMBO Bars
Read Next: Where to stay in DUMBO (Hotels & Airbnb Guide)
Randolph Beer DUMBO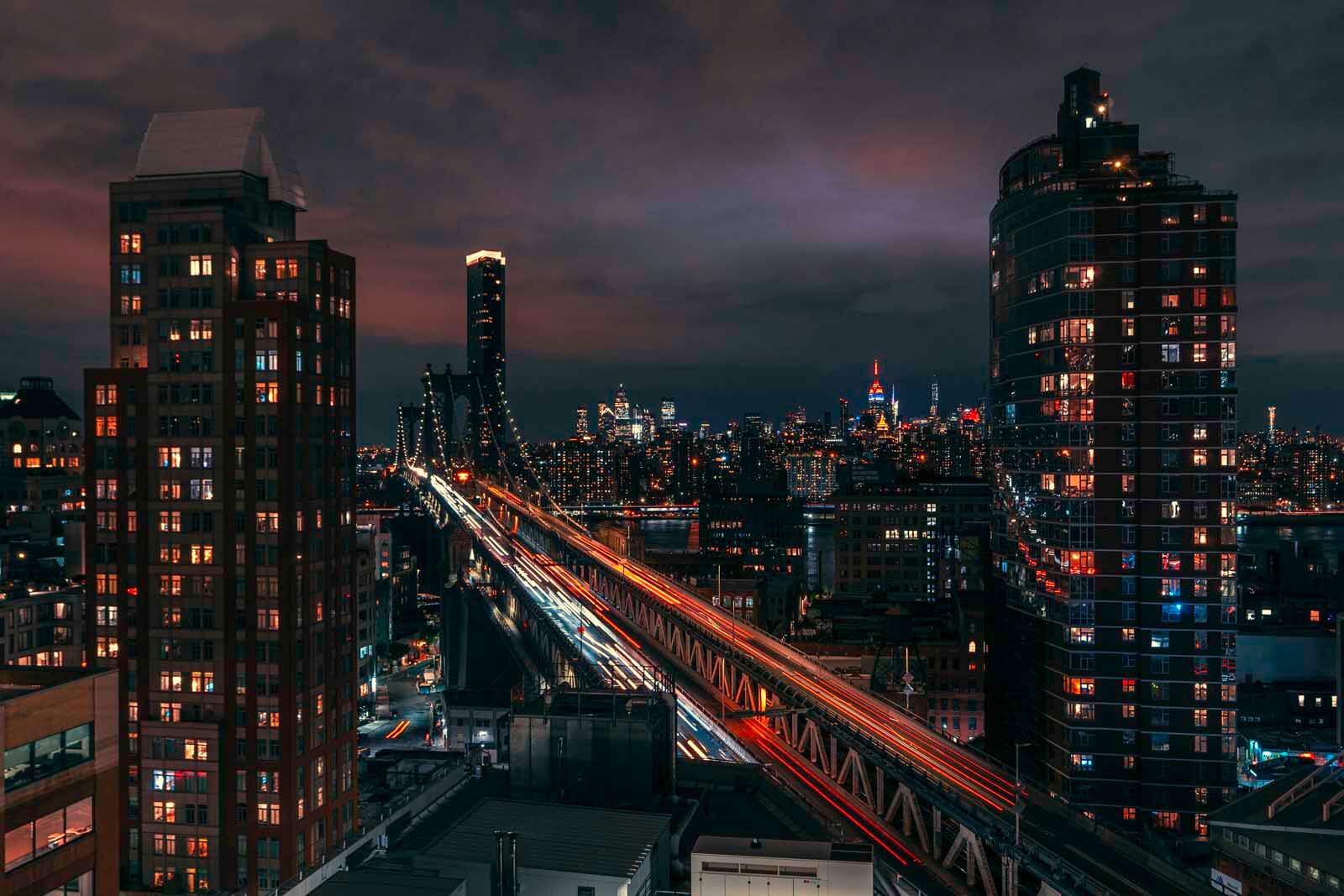 If you're looking for the perfect night out with a significant other or a group of friends, look no further. Randolph Beer offers DUMBO's only self serve beer, skeeball, shuffleboard, and great eats for dinner and some of the best brunch in DUMBO!
While this is a great bar in DUMBO for beer lovers and aficionados, Randolph Beer does offer a great variety even if you're not a beer lover.
Randolph Beer also carries an extensive list of wine and spirits to pair with their delicious menu items ranging from healthy protein-packed quinoa and salad bowls to bar munchies. The atmosphere here is very welcoming and has a cool industrial but very modern and sleek look and vibe going on here.
This DUMBO bar also has a rooftop with incredible views of the skyline and Manhattan Bridge which is why we think it's one of the best rooftop bars in NYC! You'll need a reservation to enjoy this rooftop bar in DUMBO though, so be sure to plan ahead!
Located at 82 Prospect St, Randolph Beer is open Monday-Thursday 11 AM-12 AM, Friday-Saturday 11 AM-1 AM, and Sunday 11 AM-9 PM.
Things to know about Randolph Beer DUMBO:
Brunch is served daily 11 AM-5 PM
Randolph Beer is completely cashless
They take some reservations, but the space is pretty big so you should be okay
They have a full menu at the bar
Read Next: Best Breweries in Brooklyn
Time Out Market New York Bar
The Time Out Market New York in DUMBO is undoubtedly one of our top picks for things to do in Brooklyn as well as DUMBO thanks to its prime location and has something for everyone here including one of the best views of Manhattan, the Brooklyn Bridge, and Manhattan Bridge.
Besides being a popular food hall with 21 different eateries to choose from. Time Out Market New York is one of the best DUMBO bars to check out.
There are actually a total of three bars in Time Out Market, but we urge you to go check out the breathtaking views at the rooftop bar, one of our top picks for best DUMBO Instagram spots too!
This DUMBO bar has windows overlooking Manhattan and the Brooklyn Bridge Park inside, and outside you can find some of the best views of the city. Pair some food made by top chefs with a refreshing cocktail and the Manhattan skyline.
In the winter, you can sit outside under the warmth of an igloo with this incredible setting. You can't beat this DUMBO bar as it comes with great food and drinks, entertainment, and views you just can't beat.
Time Out is located at Empire Stores, 55 Water St. The rooftop bar hours are Sunday-Thursday 12 PM-10 PM and Friday-Saturday 12 PM-11 PM.
Things to know about Time Out Market:
Gluten-free and vegan options widely available
Bars accept cash but eateries don't
Weather permitting, the rooftop is open year-round
Timeout Market Cards are offered and can be used as cash, which are refillable
Read Next: Best Restaurants in DUMBO with a View
Pilot at Pier 6
View this post on Instagram
If you're visiting Brooklyn in the summer, make sure to check out Pilot, the historical and seasonal oyster bar that serves, "nautically inspired cocktails."
To enjoy this floating DUMBO bar you board a historic wooden schooner in the water for amazing views of the Manhattan skyline and some exquisite seafood.
Don't miss the opportunity on a beautiful day to soak in the sun and a couple of delicious cocktails.
Located at Pier 6 in Brooklyn Bridge Park, keep an eye out for when the Pilot will be loading crew members for the season.
Read Next: Best Brooklyn Instagram Spots
Jack the Horse Tavern
PERMANENTLY CLOSED
Another fun DUMBO bar and one of our favorite restaurants in DUMBO is Jack the Horse Tavern inspired by Jack the Horse Lake in northern Minnesota.
Owners, Tim and Micki made their dreams come true by opening this friendly neighborhood tavern serving the community and visitors of DUMBO alike.
Dine in for brunch, dinner, drinks, or dessert at this clean and casual bar and restaurant.
The tavern is more upscale and a perfect place to bring a date, friend, or family for drinking, dining, or both. Their oysters and seafood are fan favorites.
This DUMBO bar is the perfect place to unwind after a day in the city. Find this spot at 66 Hicks St open Monday-Thursday 5:30 PM-10 PM, Friday-Saturday 5:30 PM-10:30 PM.
Sundays, brunch is served 11 AM-3 PM and dinner is 5 PM-9 PM.
DUMBO Happy Hour
Find yourself at the bar Monday-Friday 5:30 PM-7 PM for happy hour deals on drinks and light bites!
Harriet's Rooftop & Lounge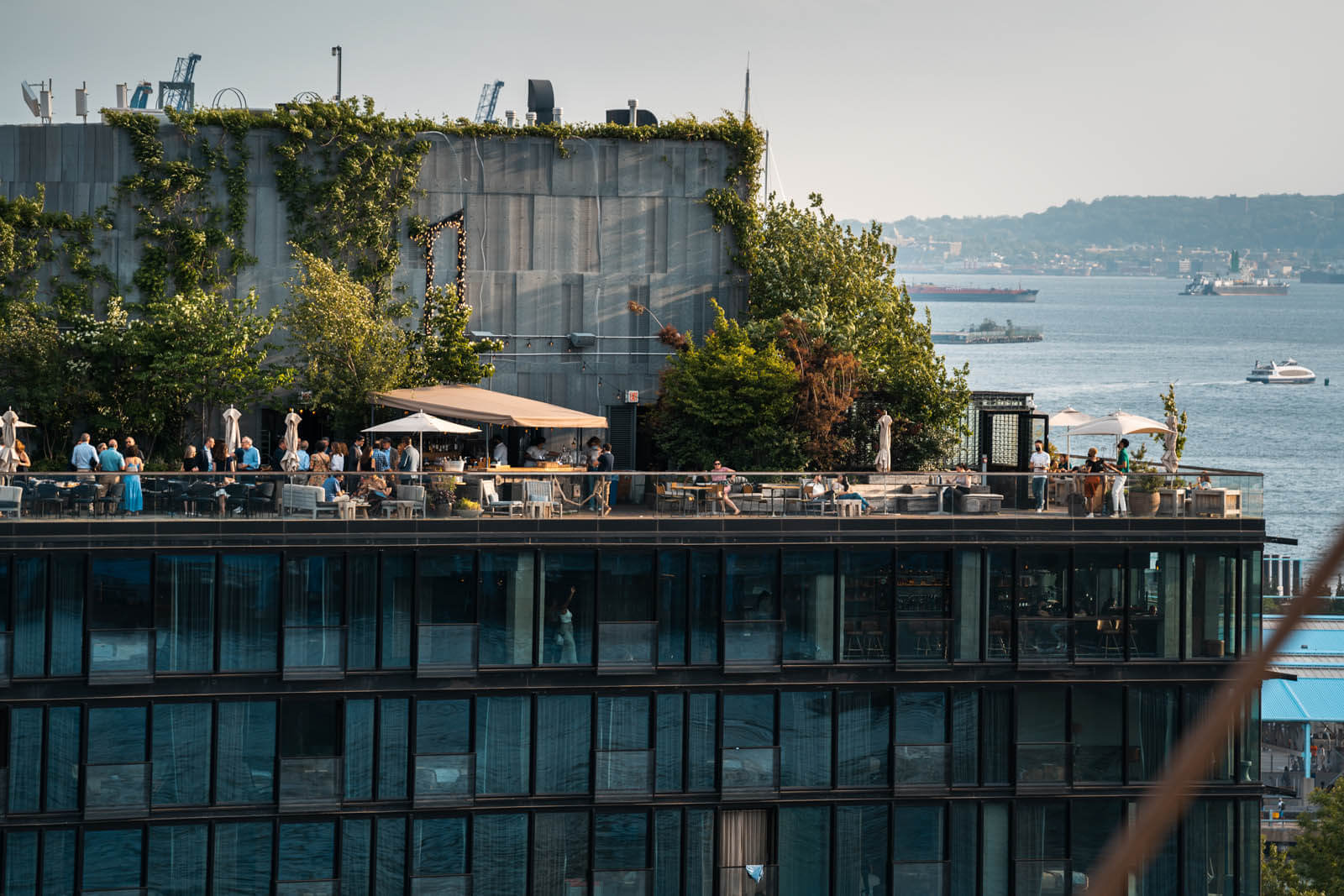 Picked as one of our picks for most amazing things to do in DUMBO, Harriet's Rooftop & Lounge is a spot you won't want to miss.
This DUMBO bar is located in 1 Hotel Brooklyn Bridge with stunning views of the cityscape, Statue of Liberty and bridges. It's one of our picks for best rooftop bars in Brooklyn!
Harriet's also includes an indoor lounge and an outdoor rooftop to enjoy on a beautiful Brooklyn day no matter the season. Choose from a long list of wine, beer, cocktails, or bottle service, and some delicious appetizers to pair it with.
Feel sophisticated and classy with your signature cocktail and spectacular views, but let loose with the live DJ!
Harriet's Lounge is open:
Monday-Wednesday 5 PM-12 AM
Thursday 5 PM-2 AM
Friday 2 PM-2 AM
Saturday 12 PM-2 AM
Sunday 12 PM-12 AM
68 Jay Street Bar
This bar in DUMBO is definitely the perfect dive bar for a casual hang out spot for locals or people looking to grab a quick drink or a watering hole that's laid back.
Unlike the other DUMBO bars which are a perfectly curated experience with its ambiance, view, or impressive decor. 68 Jay Street Bar has a more hanging out in someone's house or basement bar vibe going on.
The atmosphere is very chill and the drinks are reasonably priced, something you don't find often in this popular and trendy neighborhood.
Find this spot at 68 Jay St open every day at 2:30 PM.
DUMBO Happy Hour
Meet up with your coworkers at this DUMBO bar for their happy hour on Mondays through Fridays from 2:30 PM-7 PM for great drink specials, some are $5 or less.
Olympia Wine Bar
View this post on Instagram
Looking for a great DUMBO bar for wine lovers? Visit Olympia Wine Bar, a refined but still casual hangout serving tapas and small plates and offering a great wine selection.
This is a great place for a pre dinner or show glass of wine with friends, coworkers, a date, or even a business meeting. Compared to most NYC bars, this one is very laid back and good for conversation!
Choose from their extensive list of wine, bottled beer, and even cocktails.
A little fun fact, the name of this bar has local historic ties. Olympia was the name of the waterfront community east of the ferry landing known today as Fulton Ferry Landing in the 16th century.
Enjoy this bar in DUMBO at 54 Jay Street, open Monday-Saturday 4:30 PM-12 AM. Closed Sundays.
See more of our favorite wine bars in Brooklyn too!
DUMBO Happy Hour
Their happy hour offers $5 house wines!
Henry Street Ale House
If you're looking for a great beer and a good time, this is your place and DUMBO bar to check out. Henry Street Ale House has kept this neighborhood happy for 24 years with it's classic and delicious pub eats and all kinds of beer in this classic brewpub.
With an extremely laid back setting, this isn't the place to go if you're looking to find the most instagrammable bar in DUMBO, it's a place to come for a casual craft brew and not trying to be anything else but your neighborhood watering hole. You won't find Budlight or PBR on draft here, instead, you'll find a selection of 16 rotating craft brews.
Try to stop by this bar in DUMBO on Tuesday for Taco Tuesday and trivia night from 8 PM-10 PM!
Stop in at 62 Henry Street Monday-Thursday 12 PM-12 AM and Friday-Sunday 12 PM-Midnight or later.
DUMBO Happy Hour
Their happy hour menu is available from Mondays through Fridays from 3 PM-7 PM offering discounts on drafts.
Read Next: Best Instagram Spots in Brooklyn
Brooklyn Heights Wine Bar + Kitchen
View this post on Instagram
Another great wine bar in DUMBO is Brooklyn Heights Wine Bar & Kitchen. This wine bar is casual yet classy and perfect for a group or a glass for one.
Enjoy the giant windows that bring in the beautiful sunlight during the day on the corner of Henry St and Cranberry St. These big windows definitely add to the aesthetic of BHWB&K.
Dine in for all three meals of the day as they offer a full menu. Sip on a mimosa with brunch and check out their libations menu with lunch and dinner.
This establishment's mission is for their customers to, "simply relax and enjoy themselves." So do just that at BHWB&K when you are looking for bars in DUMBO that offer a great hang out spot for a drink, meal, or both.
Located at 50 Henry Street, opening hours are:
Monday-Thursday 12 PM-11 PM
Friday 12 PM-12 AM
Saturday 11 AM-12 AM
Sunday 11 AM-11 PM
Things to know about BHWB&K
Kitchen closes one hour before closing
They offer customized wine tastings for groups up to 50 people
DUMBO Happy Hour
You can find happy hour specials on Mondays through Thursdays from 3 PM to 7 PM with discounts on wine, beer, and more!
The Binc
View this post on Instagram
One of the coolest DUMBO bars to check out is The Binc and is technically in Brooklyn Heights, but close enough to all the best things to do in the area that we included it.
This dark speakeasy is just a few blocks away from the gorgeous waterfront views of the Manhattan skyline and is a perfect place to grab a late-night cocktail.
This DUMBO bar is full of different choices from beer, cocktails, or wine to pair with their amazing bites and small plates!
If you're with a group (or ready to get really wild on your own, we won't judge), order the Binc Bowl. A $55 concoction of light rum, Jamaican rum, Batavia arrack, vanilla-infused Aperol, lime, angostura bitters, strawberries, blueberries, and soda that serves 4-5 people.
Don't be afraid to stop in with your significant other for an intimate and romantic night. Nothing beats the dark and intimate atmosphere here paired with your drink of choice.
Plan a date at 60 Henry St, open Monday-Thursday 6 PM-2 AM and Friday-Sunday 5 PM-2 AM.
Things to know about The Binc
20% gratuity added to groups of 6 or more
They use organic and grass fed free-range meats
They do not take reservations for parties under 10
There's no password or special instructions to enjoy this speakeasy, just come on in!
DUMBO Happy Hour
Visit The Binc before 7:30 every day for their happy hour deals! Check out their Daiquiri, Mexican Mule, Vodka Southside, and much more on their menu!
Read Next: Best DUMBO Cafes to check out
---
Did we miss any of the best DUMBO bars? Let us know in the comments below!