Bars in Williamsburg are responsible for the popularity of Brooklyn's hip, hot, and happening drinking scene. In fact, this neighborhood is home to some of the coolest bars in New York City.
From elegant tap houses to dive bars and bustling beer gardens to honky-tonks, most of the bars in Williamsburg are worthy of your money, time (and yes, even a hangover).
So whether you're looking for a casual drink, date night, or a rowdy dance party, these top 15 bars in Williamsburg will have you covered. And while you're here, check out our picks for the best things to do in Williamsburg!
Cool Bars in Williamsburg
Westlight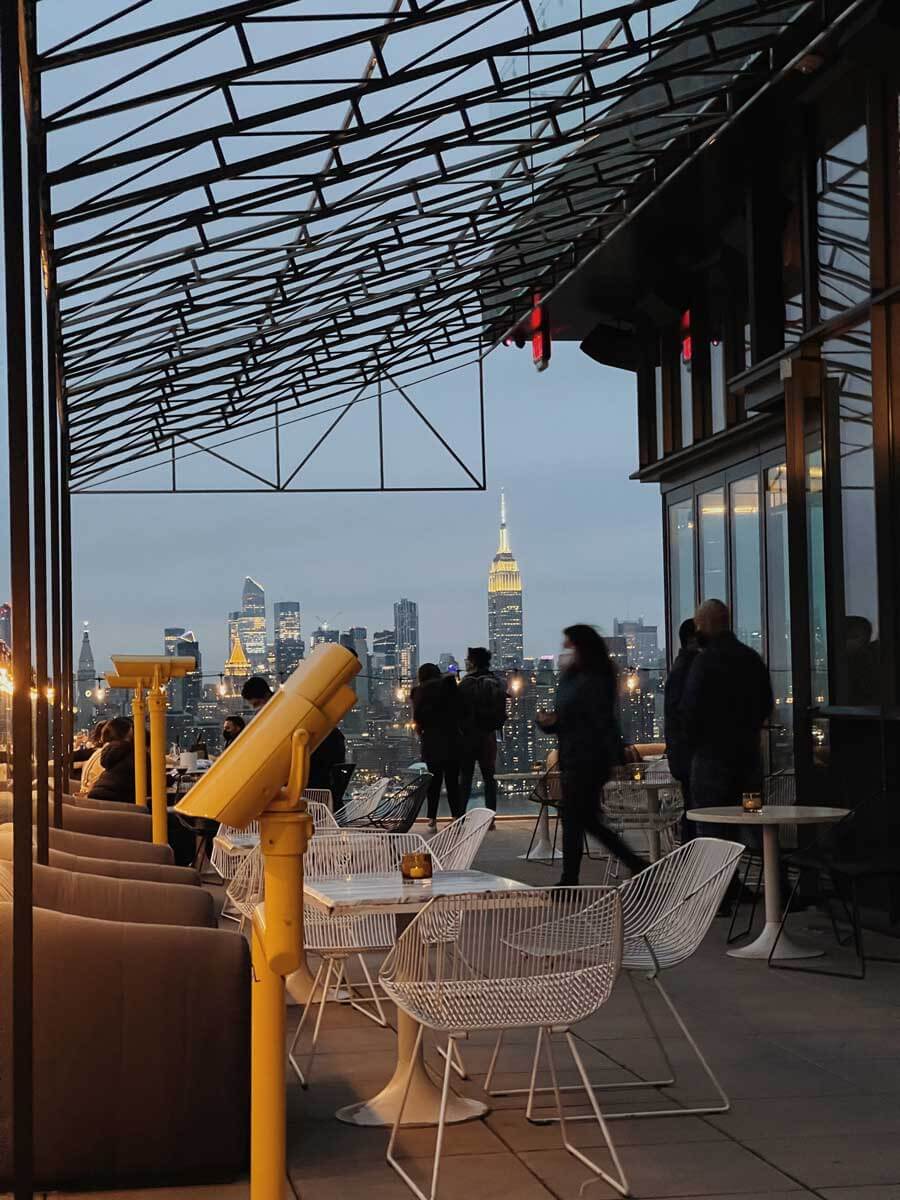 111 N 12th St 22nd floor
Looking for sweeping views of the Manhattan skyline? Go to Westlight, one of the best rooftop bars in NYC and rooftop bars in Williamsburg! Situated at the top of the glamorous William Vale Hotel, this is one of the best bars in Williamsburg with its stellar views from their stylish rooftop lounge and high-quality food and drinks.
If you can take your eyes off the stunning vistas including amazing views of the Empire State Building across the East River, one of the best Brooklyn views of Manhattan, you'll find a menu of small bites like curried cauliflower dip and the duck carnitas tacos.
But why not pair your yummy snacks with a classic cocktail or a Westlight original like the "New Kind of Kick" with scotch, lemon, and thyme, or the "Delores Royale," with mezcal, vodka, sherry, apricot, and lime? This is one of the bars in Williamsburg where you can expect a crowd of well-dressed people plus a line at peak times, so be sure to make a reservation.
See more amazing bars with views in our guide to the best rooftop bars in Brooklyn.
Radegast Hall and Biergarten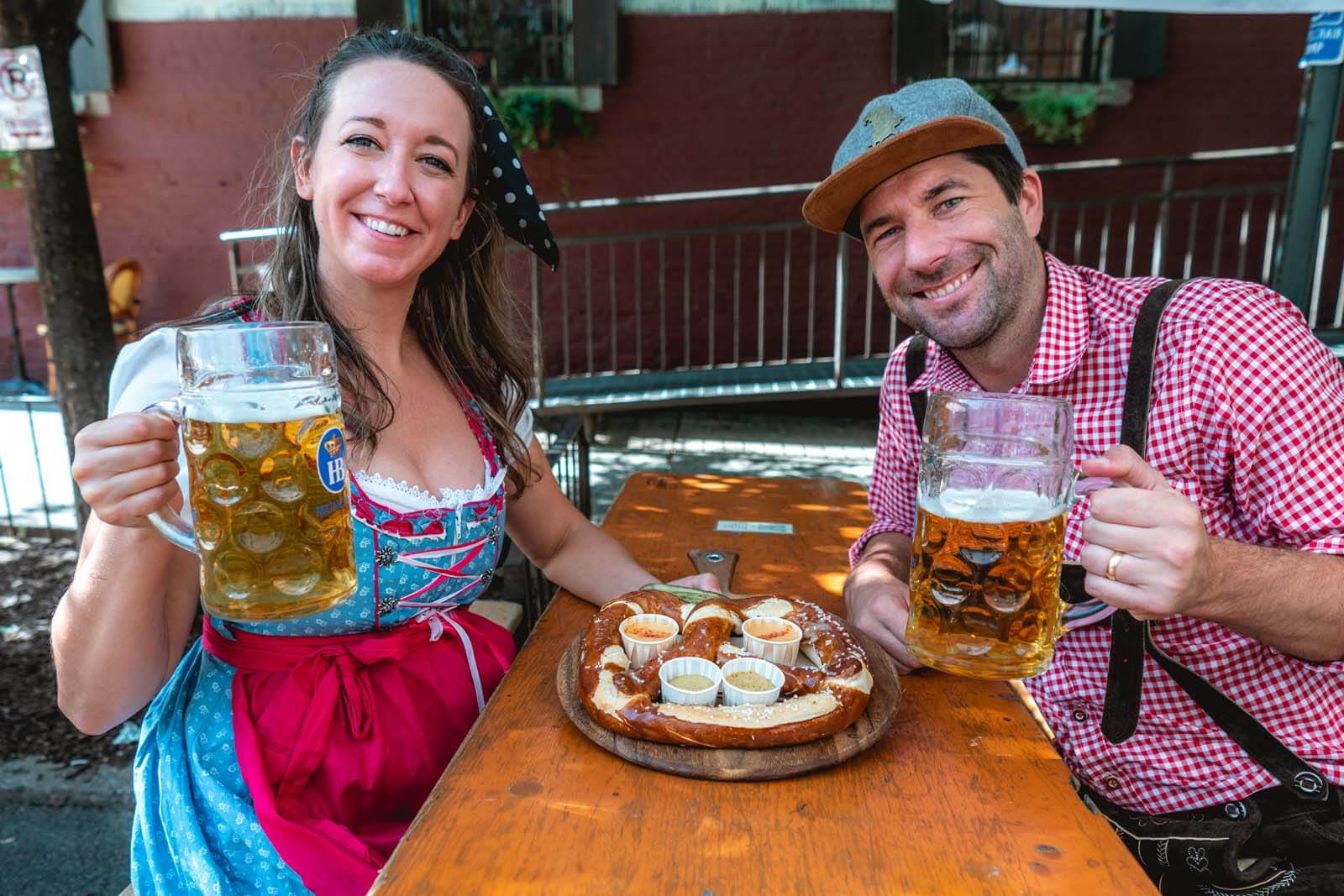 113 N 3rd St
Calling all beer lovers, of all the cool bars in Williamsburg, very few feel as vast or as authentic as Radegast beer hall and Biergarten.
This Austro-Hungarian beer hall is the go-to for young music-obsessed undergrads and 9-to-5ers alike. Created from the gutting of two warehouses, Radegast's massive space makes it a perfect pick for big group gatherings.
And just as the name suggests, beer reigns supreme with 22 drafts on tap and over 50 available by the bottle. A retractable roof in the garden keeps those steins clinking come rain or shine. And live music that keeps the hall buzzing all week long.
Don't forget to visit the grill counter at the back for some delicious bratwurst! This is also the best bar in Williamsburg (and in the whole city) to get a beer cocktail—the infamous ginger-spiked Shandy-Gaff!
If you're a fan of European beer check out our guide to the best German beer halls in Brooklyn!
Skinny Dennis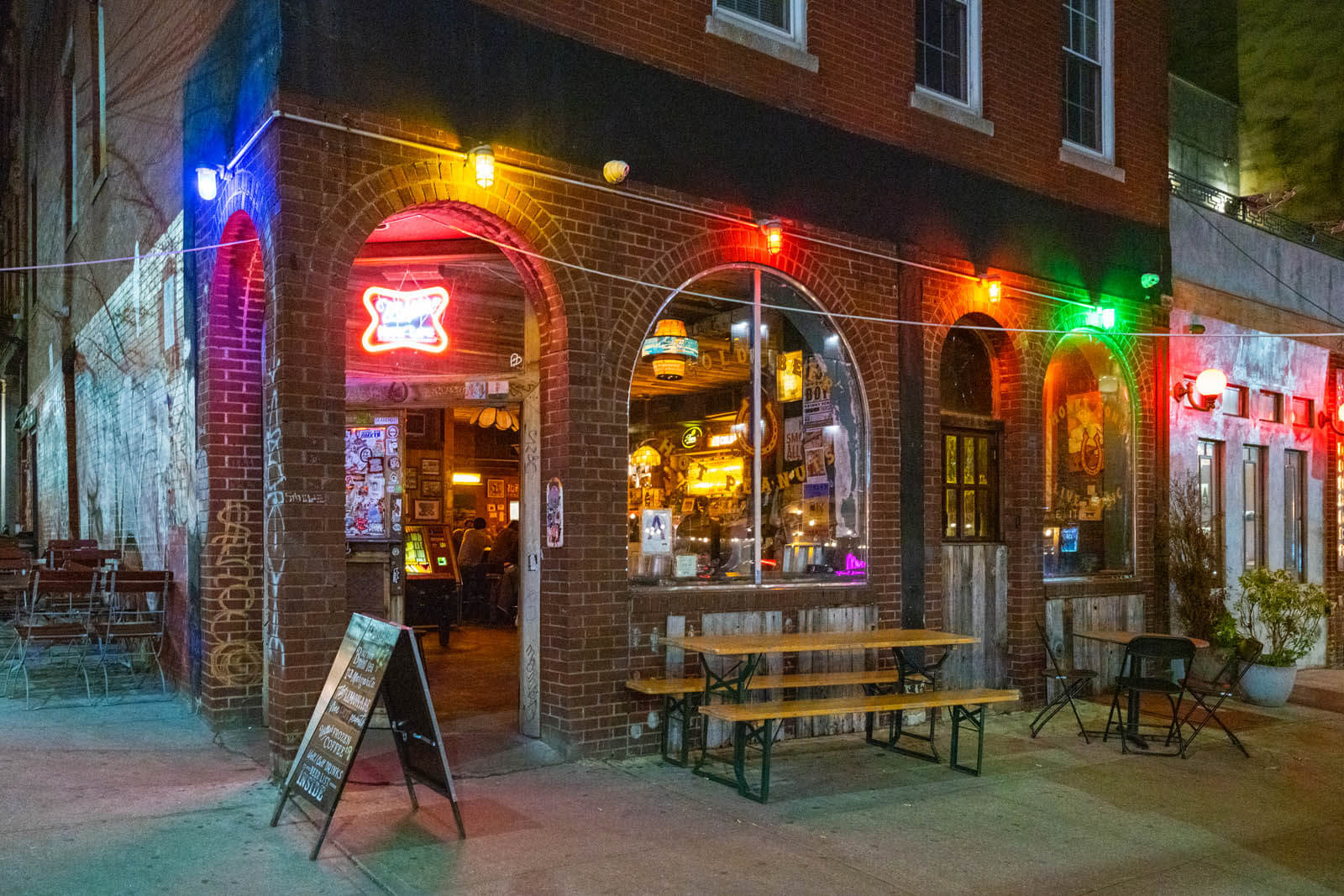 152 Metropolitan Ave
Why travel to Nashville in search of a honky-tonk experience when you can get it right here in Williamsburg? Named after country Skinny Dennis Sanchez, this lively spot offers a happy "hour" that runs from noon to 7 pm every day, 18 beers on draft, frozen cocktails served in those famous NYC Greek coffee cups and regular live music performances that'll have you entertained until the very last call.
Make sure you also take note of the little blue and white paper cups that people are sure to be holding. They contain a coffee-and-whiskey drink called Willie's Frozen Coffee. Go forth and order one!
Ba'sik
View this post on Instagram
323 Graham Ave
Sometimes the next best thing to Netflix and chill is enjoying a quiet night in a bar with friends. And although "basic" denotes a lack of intricacy, this bar is anything but.
Of all the bars in Williamsburg, Ba'sik isn't the place where you'll see people blackout or use the bathroom in pairs.
In fact, it's a smallish bar with a minimalist design that offers a great selection of bar food including a simple kale salad, chili dog, and delicious deviled duck egg. And if the weather is nice, you must be in the large backyard (with some big spray of course!).
Fresh Kills Bar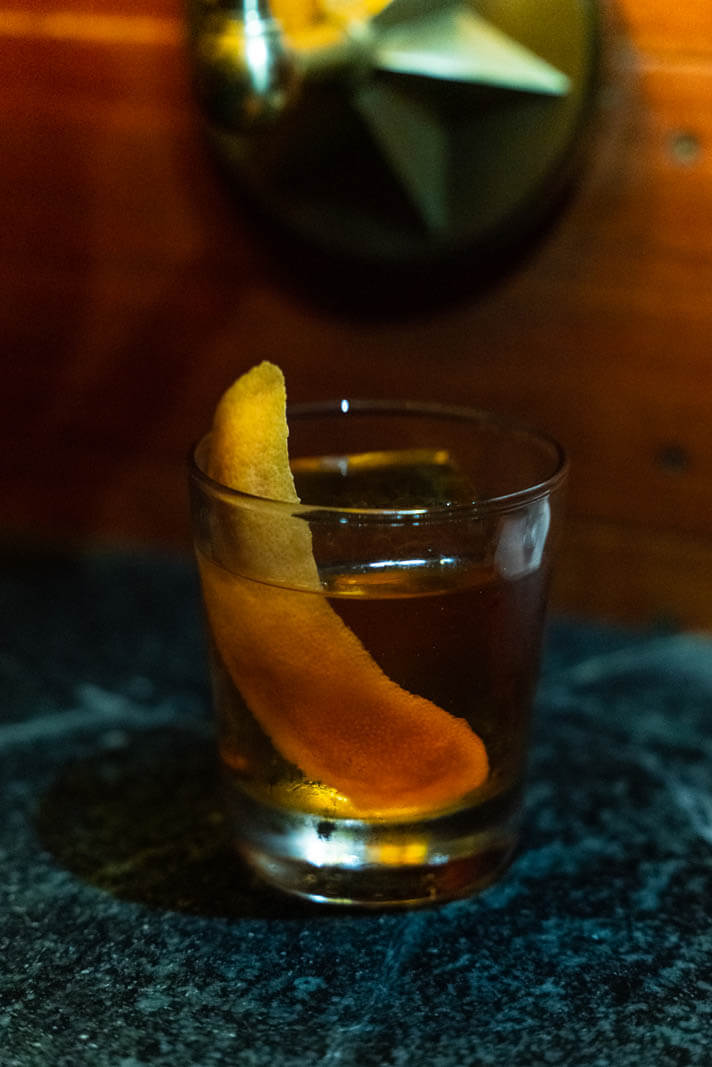 161 Grand St
Planning a date? With plenty of two-top tables and a few booths for those nights out with friends, this incredibly popular Williamsburg bar is the perfect place for you to go.
One of the coolest bars in Williamsburg, Fresh Kills Bar offers top-of-the-line cocktails served with hand-cut ice. Expect to sip classics like an Old Fashioned with a twist which actually tastes like freshly brewed iced coffee.
This unpretentious place gets crowded, but not in the packed-and-sweaty kinda way so you're always guaranteed a good time…and a late night!
The Commodore
View this post on Instagram
366 Metropolitan Ave
Strong drinks, delicious fried food, and an all-around vibrant atmosphere draw tons of fans to The Commodore—making it one of the best bars in Williamsburg.
Make sure you order the "oh-so-crispy" fried chicken and super-flaky biscuits with honey butter—both excellent complements to those delicious tropical drinks like piña coladas you'll be sipping all night long.
This Williamsburg bar offers a wealth of food and drink options for the already inebriated and those in search of that state – which is why it's also one of our picks for where to eat in Williamsburg too!
Night of Joy
View this post on Instagram
667 Lorimer St
This bar in Williamsburg offers you all the coziness (and borderline creepiness) of a 19th-century dream living room with its vaguely Victorian decor.
But if that's not your vibe, just head up to their rooftop for some laid-back boozing instead. The bar downstairs stocks French wine and beer, and upstairs you'll find a station that makes frozen margaritas exclusively.
With it's well-priced cocktails that feature herbs and house-infused spirits like beet and dill vodka plus classic rum lemonades and gin gimlets, Night of Joy is definitely one of the best bars in Williamsburg that promises you, well, a "night of joy."
Philomena's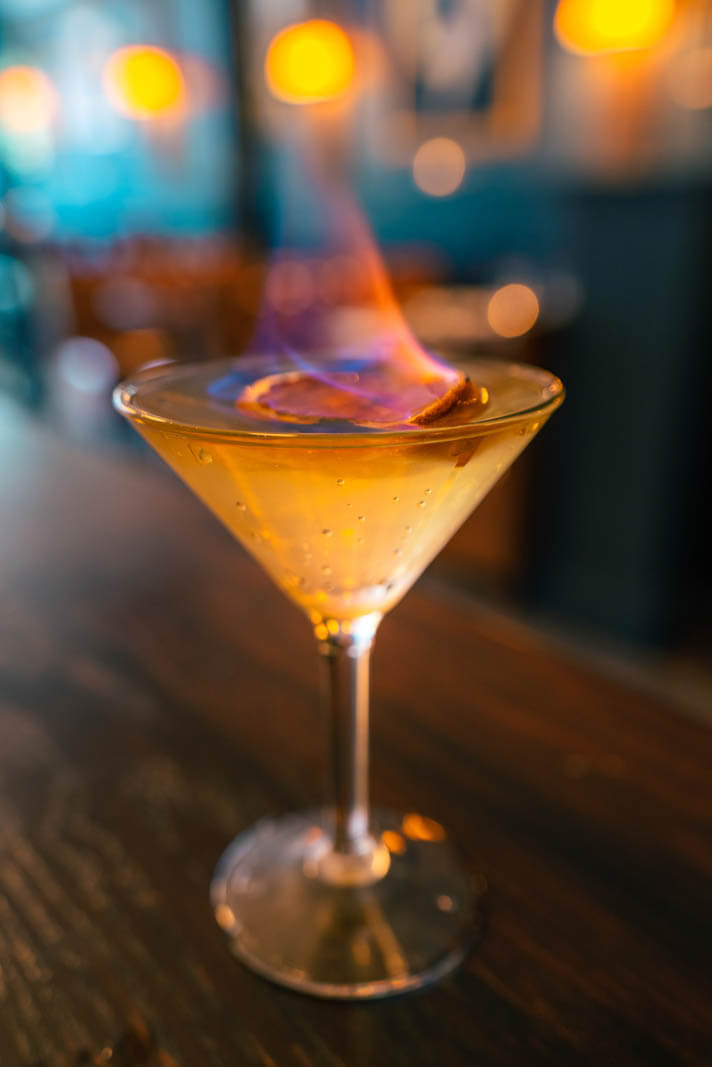 790 Grand Street
This East Williamsburg bar specializes in craft cocktails you won't find anywhere else in the city from flaming cocktails to drinks with infused ice cubes with ingredients like tajin and habanero.
The aesthetic of the bar is beautiful and the name of the bar pays tribute to the group of owners' great aunt who was an unmarried, single lady who knew how to host a party. All of the drinks pay homage to her 'regulars' at her parties including the owner's grandmother, Pat who when coming through immigration in the New York Harbor from Ireland was misunderstood as the name of Pet.
Enjoy light bar snacks paired with your cocktail of choice and enjoy the ambiance in this cozy, atmospheric cocktail den and one of Brooklyn's best bars.
Rocka Rolla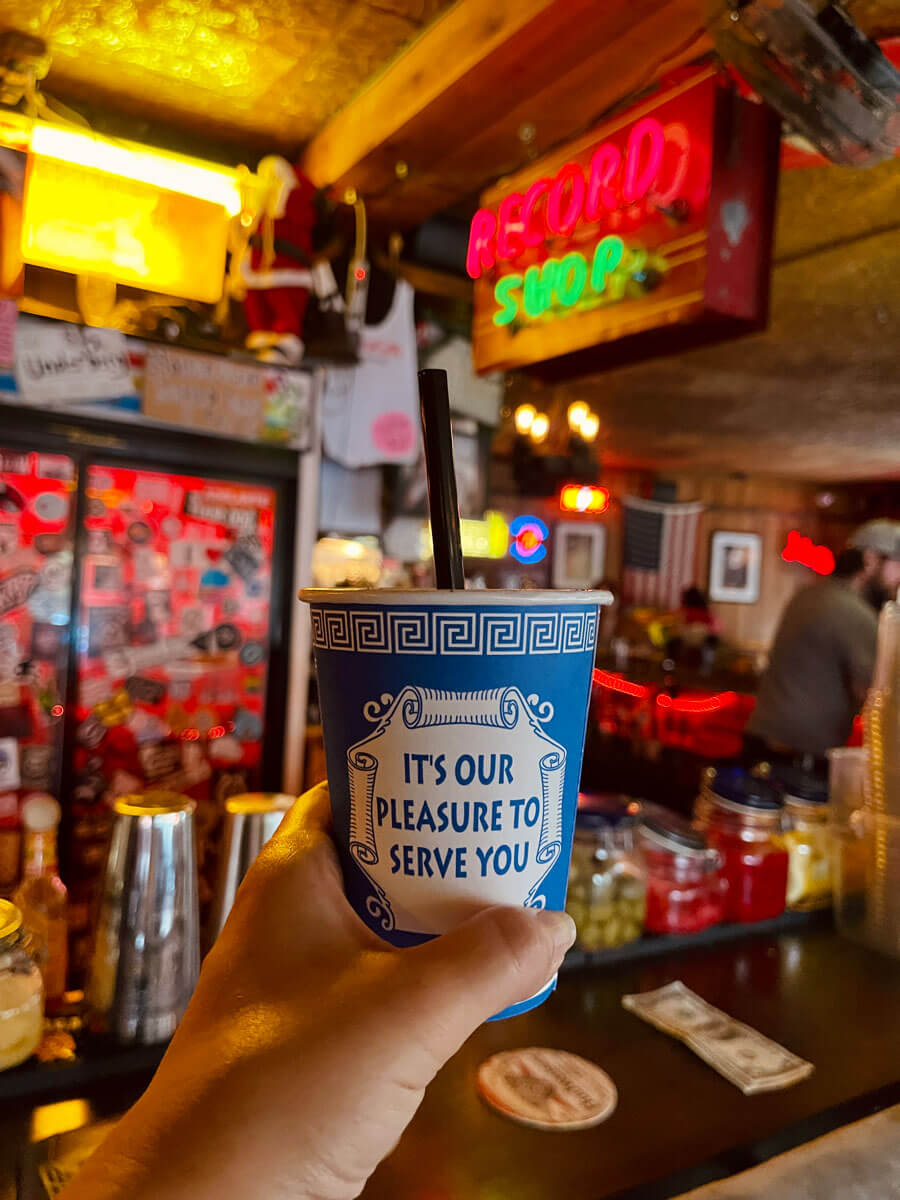 486 Metropolitan Ave
Like many Williamsburg bars, Rocka Rolla is a great spot to rock (and roll) all night long with a group of friends. Just a few steps from the Lorimer train station, this "divey Dad bar" has a large space that includes a pool table and large backyard where you can drink from giant beer goblets, sip on "The Coffee Thing," and kick back listening to old-school metal and rock tunes (think Judas Priest, KISS, and Motley Crue) blasting from the jukebox.
PS the frozen coffee cocktail is served in those classic Greek coffee cups! And while you're here check out the Birrialandia Taco Truck outside – you can thank us later!
Lucky Dog
View this post on Instagram
303 Bedford Ave
One of the few dog-friendly bars in Williamsburg, this drinking den gives you laid-back vibes and offers a great beer selection with twenty on-tap beers from Allagash and Ommegangin in a lovely brick-tiled courtyard where pooches can frolic off-leash.
The space inside is tiny, but a shuffleboard table and jukebox spinning the perfect mix of 80's, metal, and classic rock will be sure to provide you with that much sought-after comfort.
So whether you're a dog owner or a dog lover, this is a great place to get inebriated with canine company in tow.
Pokito
View this post on Instagram
155 S 4th St
One of the most underrated Williamsburg bars, this eclectic, electric pink artist-run spot creates tropical-infused Latin and Asian inspired drinks (think flavors such as kiwi and coconut milk).
The bright and playful kitschy decor adds vibrancy to the colorful and cozy space that extends even to the restroom. One of the best bars in Williamsburg, Pokito is "the place" to go if you want a drinking experience like no other.
Maison Premiere
View this post on Instagram
298 Bedford Ave
For a fancy cocktails-and-oysters kinda night in Williamsburg, Maison Premiere is where it's at. Equal parts Parisian café and New Orleans cocktail bar, this upscale spot is one of the many cool bars in Williamsburg that offers you everything your heart desires right from the largest Absinthe selection in New York City to the ample array of East and West Coast oysters.
Speaking of absinthe, the menu carries more than a dozen varieties of the anise-flavored spirit. We're talking slow-dripping ice water over a sugar cube!
Be sure to ask for a seat in the dreamy, ethereal garden if the weather is good otherwise the inside is insanely beautiful too. Of all the cool bars in Williamsburg, Maison Premiere is definitely worth a visit—or two.
Union Pool
View this post on Instagram
484 Union Ave
Is it a pool, you ask? Well, no. But it used to be a pool supply store that got converted into a bar twenty years ago. That's why this Williamsburg bar has tons of space—both inside and out—for you to explore.
In fact, Union Pool is the cornerstone of Brooklyn nightlife with its abundance of live music in three distinct spaces that offer three distinct vibes.
So whether you're looking to enjoy a low-key night at the bar, tasty tacos in the outdoor area, or want to get down (and dirty) in the dance area, there's something for everyone in this Williamsburg bar. And let's not forget, this spot even has a pinball machine and a black and white photo booth.
Also, they have those fun frozen cocktails served in our favorite classic greek coffee cups!
Black Flamingo
View this post on Instagram

168 Borinquen Pl
A vegan Mexican restaurant by day and a bar by night, Black Flamingo is one of the coolest bars in Williamsburg—hands down! Upstairs, you'll be served Latin-inspired, fully vegetarian small plates.
And downstairs, you'll experience a full-on dance party. Which means there are three ways to use this place: for dinner and drinks, strictly for dancing, or a combination of the two.
Get there before midnight if you don't want to pay a cover or wait in line, because crowds can't help flocking to this Williamsburg bar especially on weekends.
Looking for more vegan spots? Check out our guides to the best vegan restaurants in Brooklyn and the best vegan restaurants in NYC! And don't miss our guide to the best vegan bakeries in Brooklyn.
Hotel Delmano
View this post on Instagram
82 Berry St
When you're in need of a good drink and conversation, Hotel Delmano is the place to go. Slide into the long marble bar or one of the leather banquettes for craft cocktails like the ​​"Perro Y Gato" (made with tequila Blanco, mezcal, carrot jalapeño syrup, lemon, and cilantro) or the "Full Disclosure" made with St. Lucian rum, sweet vermouth, espresso bean-infused Campari, and walnut bitters.
You can also nibble on fresh items from their raw seafood bar. Everything from the excellent drinks to the dim and cozy speakeasy-ish atmosphere makes this Williamsburg bar an ideal date spot.
Spuyten Duyvil
359 Metropolitan Ave
Whether you consider yourself a beer aficionado or amateur, Spuyten Duyvil is the ultimate homey spot for all beer lovers. This bar in Williamsburg functions as a well-stocked waiting room for guests waiting out the hour-plus lag to dine at the Metropolitan's infamous steakhouse, St. Anselm. But oh, how time flies!
At Spuyten Duyvil you can expect to sample rare, well-curated vintages and off-the-wall, obscure beers plus nibble the delectable cheese and charcuterie selection.
But take note: it can get very crowded indoors, so if you're with a company you're better off in the outdoor area that's complete with trees and an ivy-covered fence that'll make you feel like you are out in nature.
Either way, Spuyten Duyvil (just like all the bars in Williamsburg), promises to give you those all-around good vibes.
East River Bar
97 S 6th St
Located just under the Williamsburg Bridge is one of the best bars in Williamsburg that gives you a bit of a dive bar feel yet they make way better drinks than your average divey spot plus an old school juke box. I was pretty surprised with the quality Negroni I got at this place, which at first I questioned whether or not this was the place to have a classic cocktail like this – but it was pretty darn good.
This laid-back bar also has a billiard table in the back and a great patio when the weather is nice. This is one of the few bars in Williamsburg that actually has pretty affordable drinks too.
Full Circle Bar
318 Grand St
I love a good bar with entertainment, which makes this one of my favorite bars in Williamsburg. Full Circle Bar, a bit tucked away and a great stop pre or post grabbing pizza at Emmy Squared, is a laidback bar with unlimited skee-ball play (and even a skee-ball league).
You'll want to check their current schedule, as it changes when the league is in full season, for when the unlimited skee-ball is for regular patrons. If you need a break from trying to beat your top score, there's an outdoor patio you can enjoy a nice cold refreshment whether it's a can of beer, frozen drink, or shot and beer combos!
---
Let us know if we missed any of your favorite cool bars in Williamsburg! And if you love bars, check out our guide to the best hidden bars in NYC! Or if you're more of a weekender, check out the best brunch in Williamsburg which has boozy bottomless brunch options!