Looking to check out the best Bay Ridge coffee shops? This guide has you covered! Hi, my name is Quinn and I am the creator of @quoffeequest on Instagram, a page dedicated to sharing my quest for the best cup of coffee in New York City with all my fellow coffee lovers!
I have had the pleasure of visiting several of the best coffee shops in Brooklyn along with cafés, bakeries, and beyond and am very excited to share some of my favorite Bay Ridge cafes with you to include on your Brooklyn visit if you're from out of town or recommend a new coffee shop in Bay Ridge to check out even if you're a local.
Here are my top picks for the 10 best coffee shops in Bay Ridge, in no particular order because each one of these cafes in Brooklyn is great! And while you're here, be sure to check out the best things to do in Bay Ridge.
Cafes in Bay Ridge to Check Out
1. PEP Bakehouse & Coffee Shop
Address: 9413 3rd Ave
PEP is such an adorable, little coffee shop in Bay Ridge, right beside Baya Bar on 3rd Avenue but another location can be found on 4th Avenue in Park Slope, see some of the best cafes in Park Slope if you do end up that way too.
I've passed this shop numerous times, but, one day, decided it was finally time to give it a try and I was pleasantly surprised. PEP is known for their iced coffee, so I ordered an iced dirty chai, which was a custom order and not technically on the menu and the barista nailed it – it was so delish!
PEP has a reputation for their baked goods too, hence the name, and famous for their daily baked croissant. In addition to those delicious croissants, they have a variety of bread, pastries, cakes, and other sweet treats like macaroons made right here in their bakeshop.
Their small cakes are almost too beautiful to eat and are great for photographing or gifting to someone! Their eclairs and macaroons are also some of the most beautiful little bites you can find here too.
Another reason I fell in love with this Bay Ridge cafe and bakeshop is that their prices are incredibly reasonable for the city. This coffee shop in Bay Ridge is perfect to grab and go, they do also offer a few tables and a pretty space.
2. Cocoa Grinder (Boca de Cielo)
Address: 8511 3rd Ave
Cocoa Grinder is a very well-known coffee shop in Bay Ridge, that now goes by Boca de Cielo which has several locations all over Brooklyn. This shop offers so much to its customers, coffee, smoothies, juices, sandwiches, breakfast bowls, wraps, salads, and more!
You can order for pick-up or dine-in at this lovely spot, so grab and go or stay awhile. I usually go for a cold beverage, but their hot caramel latte is top notch; I'm sure it'd be great iced as well.
They roast their own coffee beans that they source from a small farm in Chiapas, Mexico, and claim they have the best decaf cup around town.
If you're hungry and need a meal, there's a kitchen at this cafe serving up everything from burgers to protein shakes. I tried the chicken wrap, which I enjoyed and this is a popular brunch spot.
Their space at this cafe location is relatively big and there is no limit for the time you can spend, other than when they open and close, of course.
If you are a student or tend to do lots of online work, but want a change of scenery, this Bay Ridge coffee shop might be a great place for you. I have done my work here quite a few times. It is lit up by natural light and quiet – perfect productive work atmosphere.
3. Caffé Café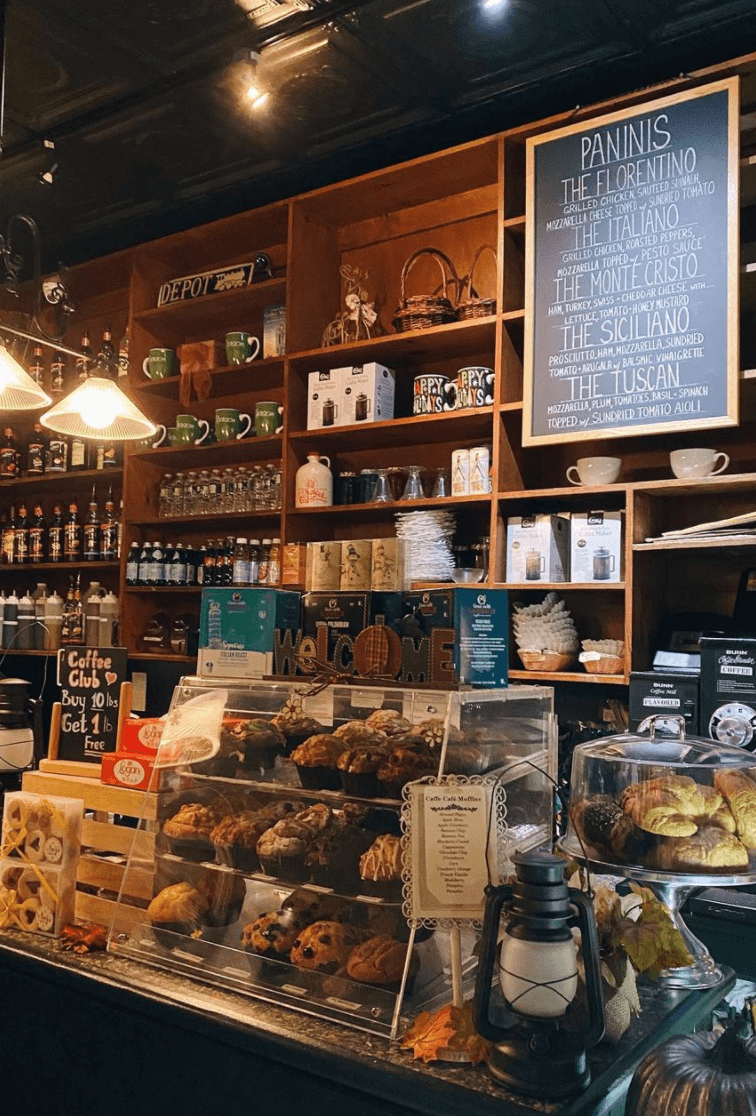 Address: 8401 3rd Ave
Caffé Café is a quaint, local coffee shop in Bay Ridge. It just oozes warm, cozy vibes to me. This spot is totally a neighborhood favorite.
The shop serves up all kinds of coffee, including French press, gourmet, and various daily brews, not to mention a variety of teas as well as their seasonal beverages. I've heard from one the employees that their Pumpkin Spice Latte during autumn is spectacular!
I personally like their French press coffee – add a little flavored syrup and milk of your choice. Caffé Café also serves up baked goods to have alongside a beverage whether you're looking for a small pastry to pair with your coffee or have a sweet tooth and want a full waffle with toppings or panini.
You can enjoy your treats in their nice outdoor seating too! This Bay Ridge cafe provides its customers with their Wi-Fi password, allowing for work to get done. This Bay Ridge coffee shop has been around forever, must be for a reason – check it out!
4. Cup of Joe Coffee Company
Address: 7407 5th Avenue
Another one of the best coffee shops in Bay Ridge is Cup of Joe's Coffee Company. Not only does it have some very delicious and specialty coffees, it also has some incredible pastries in all different varieties, including vegan and gluten-free. It also has ample space to work, including its amazing outdoor patio in the back!
You can't go wrong with the coffee here, especially all the different varieties they have for unique takes on your traditional coffee. If you want something classic, they have everything from cold brews to cappuccinos but if you like something a little different, they have everything from a Nutella latte to a cardamon oat latte.
Cup of Joe is open every day from early till mid-evening. The closing time hours vary so make sure you check the hours before visiting! They offer both indoor and outdoor seating.
5. Brooklyn Brew Café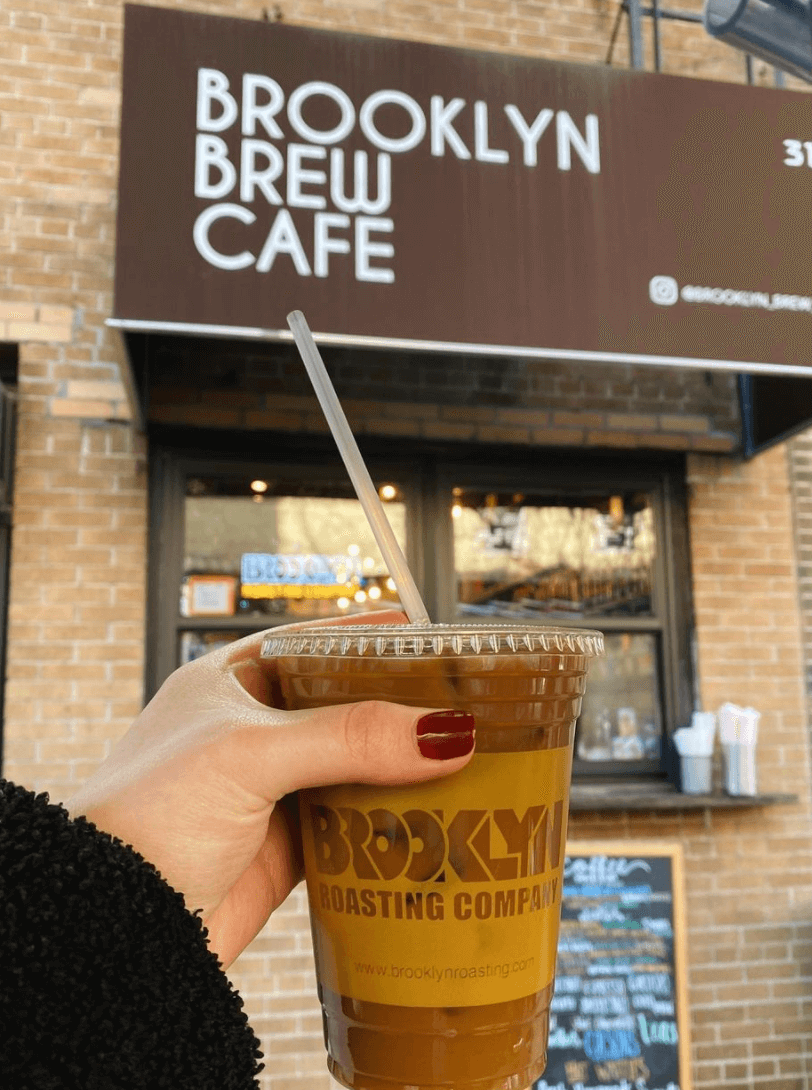 Address: 310 79th St
Brooklyn Brew Café is such a cute, little cafe in Bay Ridge and one of my favorites! This shop has outdoor seating right out front as well as some indoor seating.
I usually go with a cold brew, some simple syrup, and skim or oat milk, but they always post all about their crafty, specialty lattes and they look INCREDIBLE!
Next time I stop by, I just have to try their Biscoff latte – I'm sure it'll be fabulous! In addition to the drinks I just mentioned, they also serve a variety of other coffee drinks using Brooklyn Roasting Company coffee beans.
I feel that this spot is perfect for a quick stop! Their window service makes ordering your coffee super quick and easy.
If you're looking to grab a quick bite, they have a variety of grub on their menu, but their soups always look delicious and they also have a small selection of pastries from the popular Colson's Patisserie if you're just looking for a quick bite.
This is one of those small, Bay Ridge coffee shops that I love supporting and sharing with others to spread the love.
6. Clockface Coffee
Address: 275 74th St
Next up, another one of my favorite Bay Ridge cafes is Clockface, a sweet, little coffee shop serving up all types of coffee, from espresso to matcha lemonades to pink rose lattes, as well as some sweet treats, croissants, monkey bread, you name it!
This shop is so bright and colorful! There's a sign right out front that says "COFFEE" in white with a bright blue background, you can't miss it.
All of their drinks are made from Cafe Integral beans Nicaraguan coffee beans from a cafe in Nolita. Their bakery items come from some other great local spots in the city including Kimberly's Bitten Brooklyn, SerendipiTea, and Balthazar Bakery.
As for milks, if you are not into dairy, they have soy, almond, coconut, oat, and macadamia – such a variety! I also rarely see macadamia milk at coffee shops.
I got their cold brew with skim milk and a tad bit of a sugar, my go-to! This spot does not offer indoor seating but does have a bench for customers to sit on to enjoy whatever they purchased, so consider this a better grab-and-go coffee shop in Bay Ridge.
7. Coffee Rx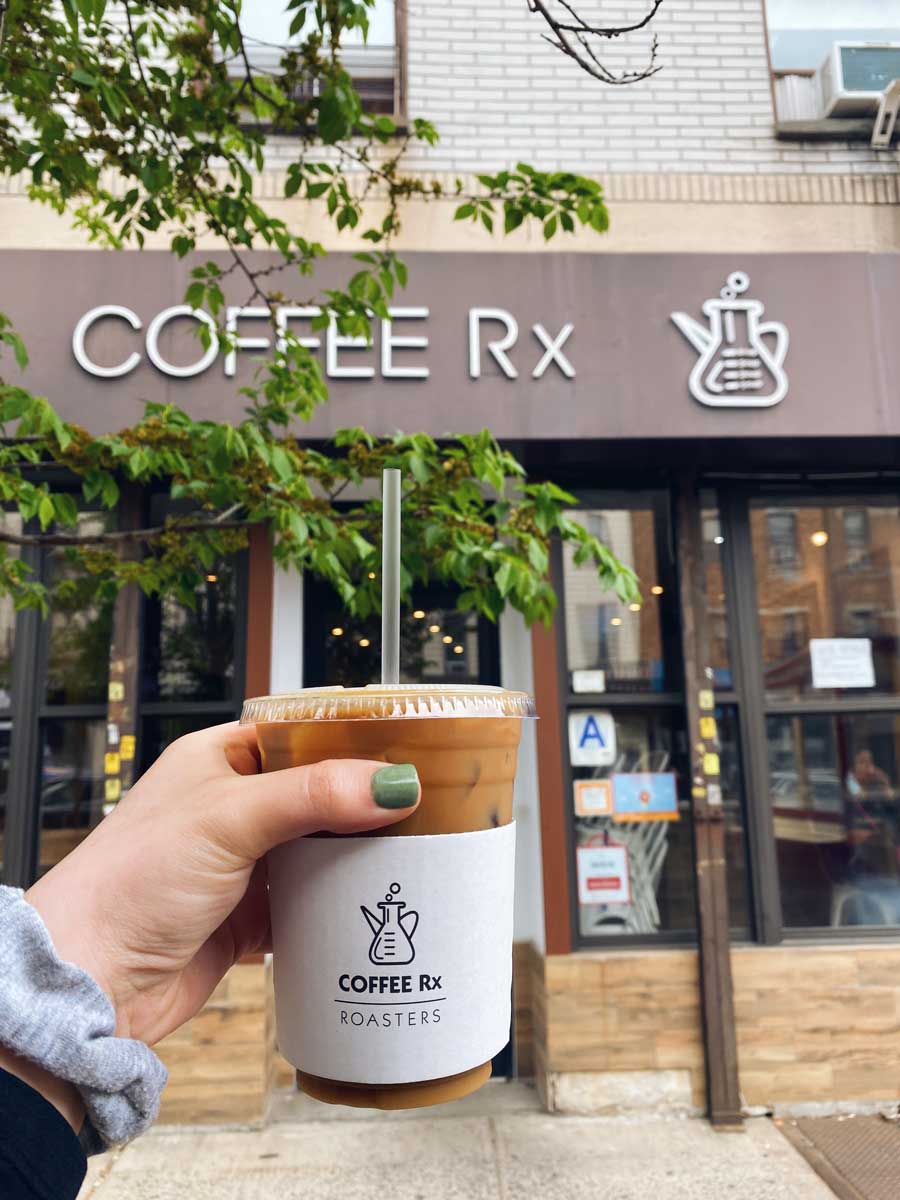 Address: 6903 3rd Ave
Coffee Rx was such a treat and a cafe in Bay Ridge I can't wait to head back to! This spot was so efficient in taking my order and handing me my drink plus they sell their own brand of coffee beans and teas to take home with you too!
I got a cold brew with vanilla flavored syrup and a splash of oat milk, SO GOOD and pretty strong! Their crafty specialty drinks, which include the Nutella Monster, Bumble-Bee Latte, Peppermint Mocha, and Maple Bourbon Latte, sound fabulous.
They also had a menu with quite a few wrap and "toasties" options This shop does offer both indoor and outdoor seating. The atmosphere inside was very calm, perfect for getting work done and being productive. The outdoor seating is so spacious and also seemed to have customers busy at work but was much less calm as it was outside on 3rd Ave. in Bay Ridge, where there is alot of city commotion.
I can definitely see myself spending an afternoon studying and sipping on a cold brew in this cafe in Bay Ridge.
8. Cream Coffee & Tea Shop
Address: 7210 3rd Ave
There's been alot of word on the street on this one as I've heard pretty great things about this Bay Ridge coffee shop, so I knew I had to try it out! This spot only has window service, so no seating.
This shop had various drinks options – coffee, bubble tea, and interesting concoctions I had never heard of before like cold brew topped with lemonade and nitro mango tea alongside some nibbles and noshes like fun flavors of macarons, donuts, and pastries.
Cream Coffee proudly uses Stumptown Coffee Roasters beans to create their range of beverages. I got their mocha, as is, which was super rich and creamy – perfect amount of strong coffee, chocolate, and milk.
I highly recommend this coffee shop in Bay Ridge for a quick, grab-and-go!
9. Matter
Address: 7604 3rd Ave
Matter is not only a coffee shop Bay Ridge, but also a bar. Once I pulled up to this place, I knew the vibes were incredible, because who doesn't love a space that offers the best of everything from coffee, cocktails, and cuisine!
The windows at the front of the shop go from ceiling to floor and opened up, making the small shop seem much bigger and is filled with natural light during the day.
Matter has both indoor and outdoor seating as well as a full kitchen menu of New American cuisine serving brunch, daytime food, and dinner. I've heard that their cocktails are great, so you have the option of pairing your meal with coffee or a cocktail at this Bay Ridge coffee shop!
I came earlier in the day so I was jus there for the coffee. I switched up my usual order and got an Americano with a tad bit of maple syrup for sweetener, which was super strong, but light because there was no milk in it.
Their hours are a bit tricky for when they are open and when they serve what menu, so it's best to call ahead to confirm during your visit.
10. Omonia Café
Address: 7612 3rd Ave
This is another one of those Bay Ridge cafes that also is a full-on restaurant too. Omonia Café is totally a neighborhood favorite, I've heard about this café in Bay Ridge via word of mouth from quite a few people.
The cafe part of this spot, which I will focus on since this is a guide all about cafes in Bay Ridge, offers classic European coffee drinks, pastries, and sweets ranging from full cakes to slices of cheesecake, cannoli, cream puffs, baklava, macarons, and more.
If you're looking for a full meal from their brasserie you will be rewarded with a range of options on the menu, I enjoyed a chicken wrap which I was very pleased with.
If you find yourself in Astoria, Queens they also have two locations there in addition to their Bay Ridge one.
Best Cafes in Bay Ridge (Post Summary):
PEP Bakehouse & Coffee Shop
Cocoa Grinder (Boca de Cielo)
Caffe Cafe
Cup of Joe Coffee Company
Brooklyn Brew Cafe
Clockface Coffee
Coffee Rx
Cream Coffee & Tea Shop
Matter
Omonia Cafe
---
Enjoyed this guide to all the best Bay Ridge coffee shops and cafes in Bay Ridge worth checking out on your visit? Let us know how your visit went in the comments below, or let us know if we missed one of your favorite Bay Ridge cafes!
Also, do you like bakeries? Check out the best bakeries in Brooklyn to pair with your coffee!