Our guide to the best bagels in Brooklyn is one of the most essential guides you need if you're unfamiliar with the famous bagels of New York! Bagels are one of the most
iconic foods to try in Brooklyn
as well as one of the city's most defining foods.
If you haven't had any bagels in Brooklyn yet, this guide is for you and if you have had bagels in Brooklyn, but didn't feel like it was the best one out there, this guide is also for you!
Here, we have compiled a list of some of the best bagels in Brooklyn scattered all across the borough, but before we get into that, what is so special about New York City bagels anyway?
You may or may not know that there is nothing like a NYC bagel. The moment you step outside of New York, you will not find anything like this masterpiece food item created here.
The longstanding myth about what makes these bagels so good and so different has always been the city's famous water. And you're probably like "What do you mean the water? It's just water," but NYC's water comes from Upstate New York and is considered some of the best drinking water in the world and that has always been what makes the bagels good, or the secret ingredient you might say.
Some argue that this has been debunked (I know you're like 'whaaaaaaaat') and the only reason that New York has the best bagels is because New York just does everything better, Period.
According to Spoon University, which I trust, the two key steps to making delicious NYC style bagels is slow fermentation and putting the bagels in boiling water before baking them, which really means that bagels of this quality can come from anywhere!
But they don't, you can only get these delicious bagels right here and we will dive into which spots offer the best bagels in Brooklyn.
From lox, cream cheeses, the classics, and even rainbow bagels in Brooklyn, these spots have it all. Let's find out which spots you'll add to your bagels in Brooklyn bucket list. And seriously, don't leave the city without trying one of these, they are literally one of the best things to do in Brooklyn.
And a bagel order without coffee is just nuts! So check out our guide to best cafes in Brooklyn if you're looking to pair your bagel with a cup of joe. While you're at it, check out our guide to best bagels in NYC too in case you find yourself exploring beyond Brooklyn.
Bagels in Brooklyn You HAVE to TRY!
Bagel Pub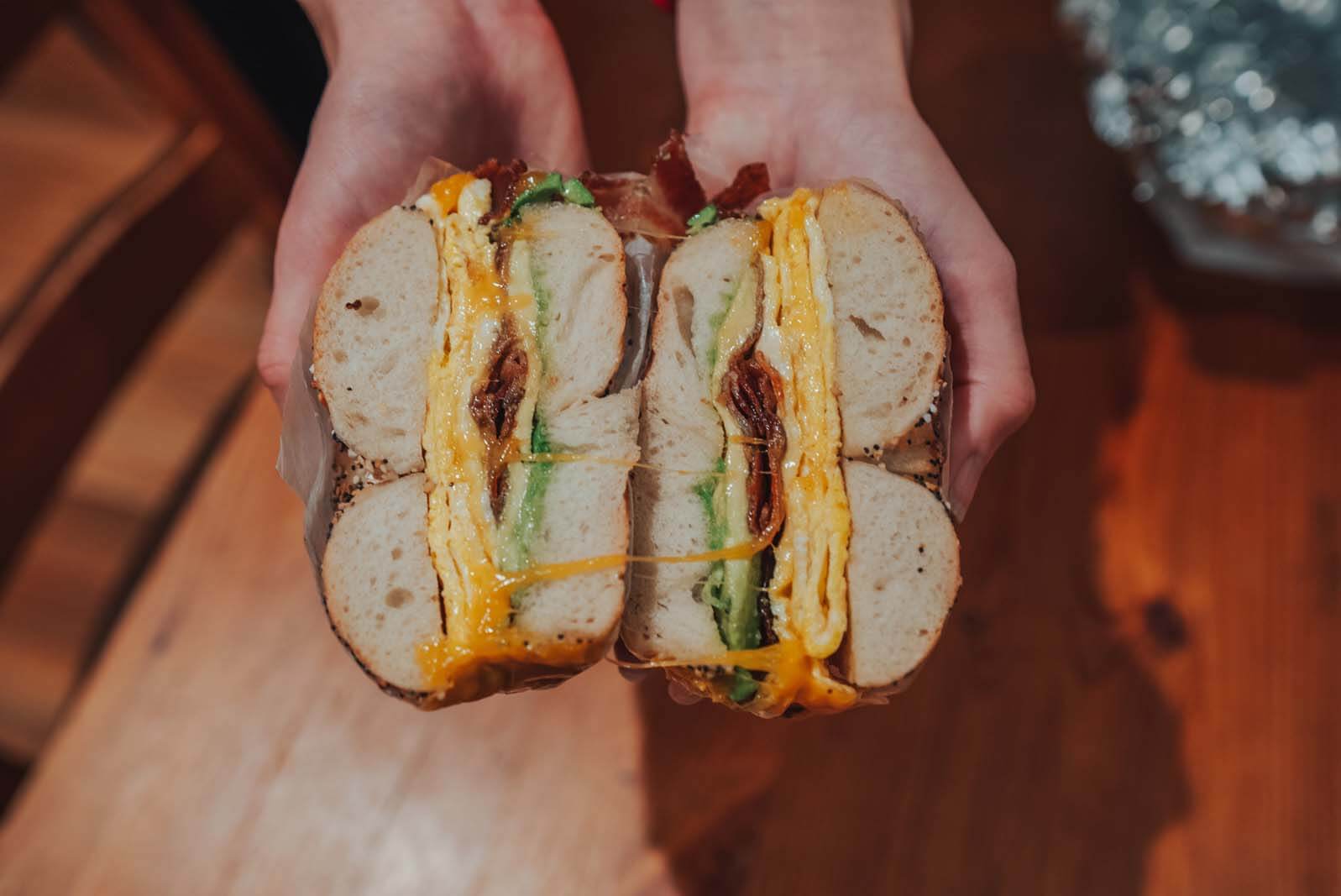 Park Slope & various locations
Coming out of the gate hot with Bagel Pub! Maybe we're biased, but this is our staff pick and favorite spot for bagels in Brooklyn.
Our personal favorite is the everything bagel but obviously, there's much more to Bagel Pub than that including their killer cold brew coffee!
If you're looking for the bagel sandwiches, the sausage and cheese is my absolute favorite here but the ABC sandwich seems to be an overall fan favorite. This is avocado, bacon, cheddar, and egg, and choose your favorite bagel to complete the deliciousness! It's also a great spot for lox, which is pretty popular among New Yorkers.
They have a wide variety of bagels, which are freshly baked on-site and 10+ cream cheese spreads to choose from. The staff here is always working hard and this bagel joint just feels like part of our routine now!
Aside from the baked goodness, customers can choose from a menu full of can't miss coffee drinks and smoothies.
This cafe is an awesome spot to catch up with friends or to just get away from the apartment. So you should absolutely try some of the best bagels in Brooklyn at Bagel Pub!
Currently, there are two locations in Park Slope, one off of 5th Avenue on 9th Street and one on 7th Avenue, a location in Crown Heights, and another in Sunset Park.
Shelsky's of Brooklyn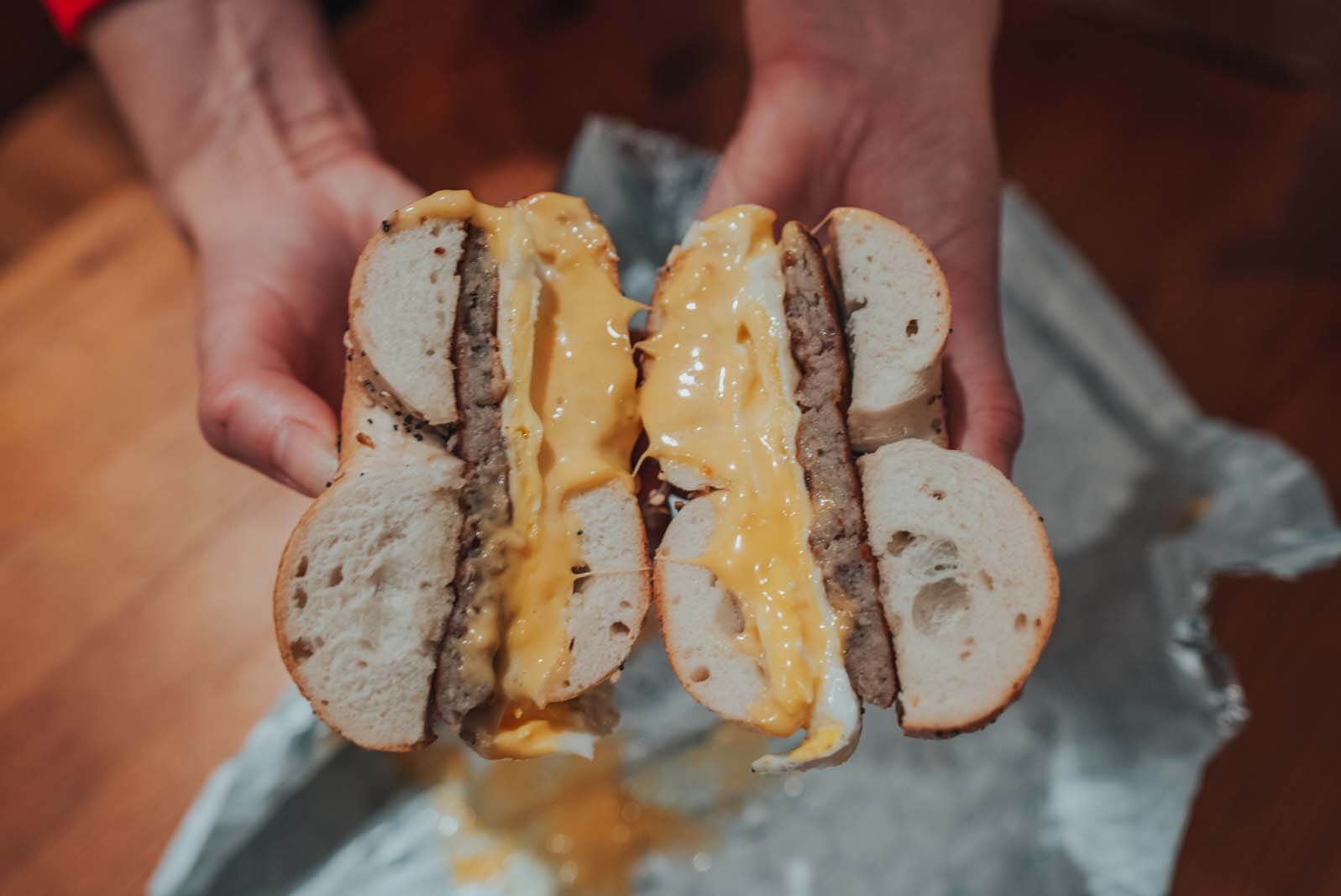 Cobble Hill & Park Slope
Next up is Shelsky's of Brooklyn. Shelsky's began in 2011 with the partnership of two Brooklyn food gurus, Peter Shelsky and Lewis Spada.
This delicatessen is most famous for a few items like their Kosher bagels, bagel sandwiches, and definitely their lox and smoked fish.
So if you're a seafood person and a bagel person, this place offers some of the best bagels in Brooklyn. Even if you're not into lox, there are other flavors of cream cheese and bagel sandwiches to try. We absolutely love the bagel sandwiches and definitely recommend checking out the chili chip cream cheese!
Keep in mind that their bagels are a bit on the smaller side compared to some other bagels in Brooklyn.
Shelsky's has two locations, the original is Shelsky's of Brooklyn Appetizing & Delicatessen in Cobble Hill, where you can get fish by the 1/4 pound, 1/2 pound, or by filet and you can also get delicious pastrami, corned beef, and a variety of appetizers here.
The second location Shelsky's Brooklyn Bagels in Park Slope, where you can get fresh New York bagels with a variety of flavored cream cheeses, breakfast sandwiches, and even lunch sandwiches with a wide selection of delicious deli meats and fish.
So if you're ever in the mood for some of the best bagels in Brooklyn, try them at Shelsky's!
Greenberg's Bagels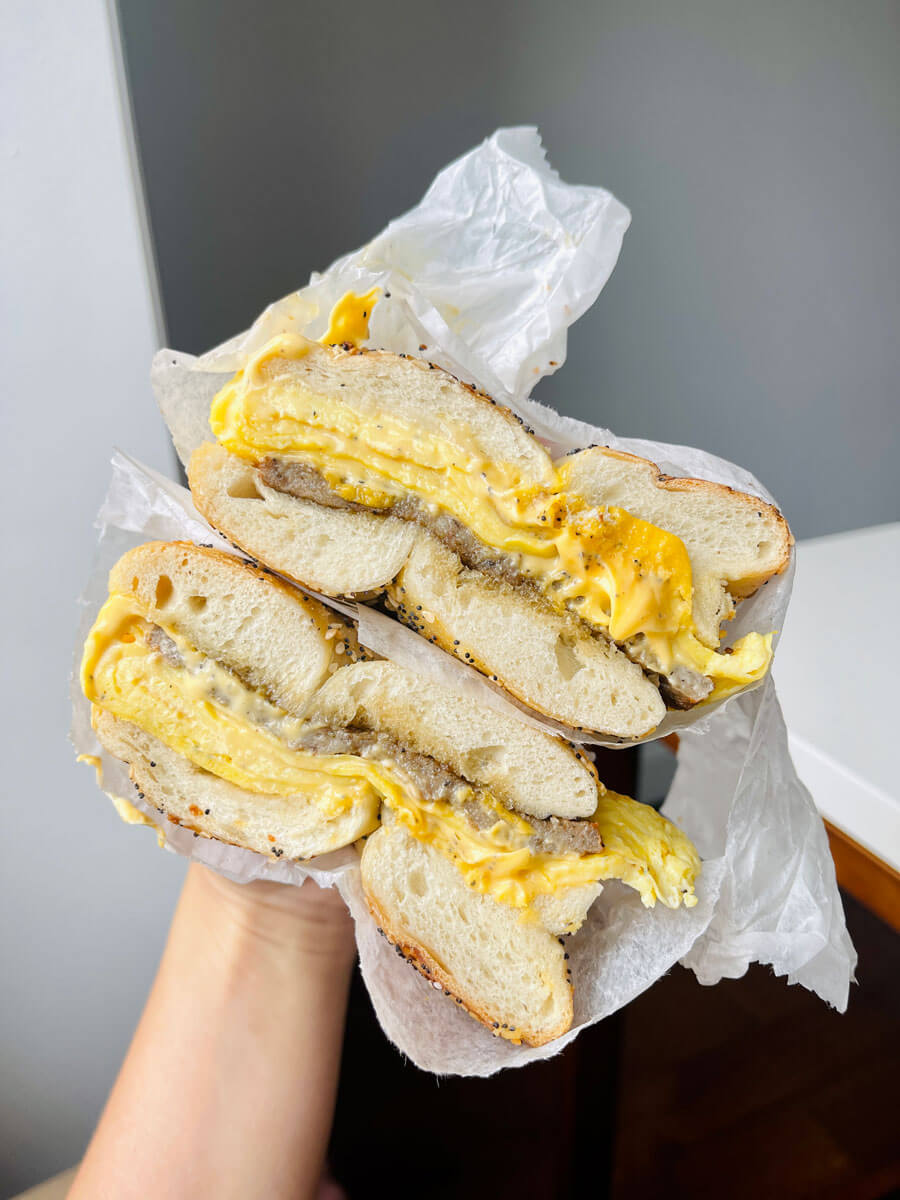 Bed-Stuy
Holy bagel heaven! You don't want to miss the hot and fresh bagels Greenberg's on Bedford Ave in Bed Stuy are pumping out on the daily. Hands down, one of the best bagels in Brooklyn whether you're looking for a classic bagel with flavored cream cheese or one of their mouthwatering hot bagel sandwiches.
My go-to is the S.E.C., aka sausage, egg, and cheese on an everything with Mike's Hot Honey.
They've got delivery and they have pick up. Just keep in mind you'll need to order on your phone regardless and pay attention to the window for your order – my bagel sat for a bit on my first visit as I wasn't sure what to do.
The Bagel Store – Permanently Closed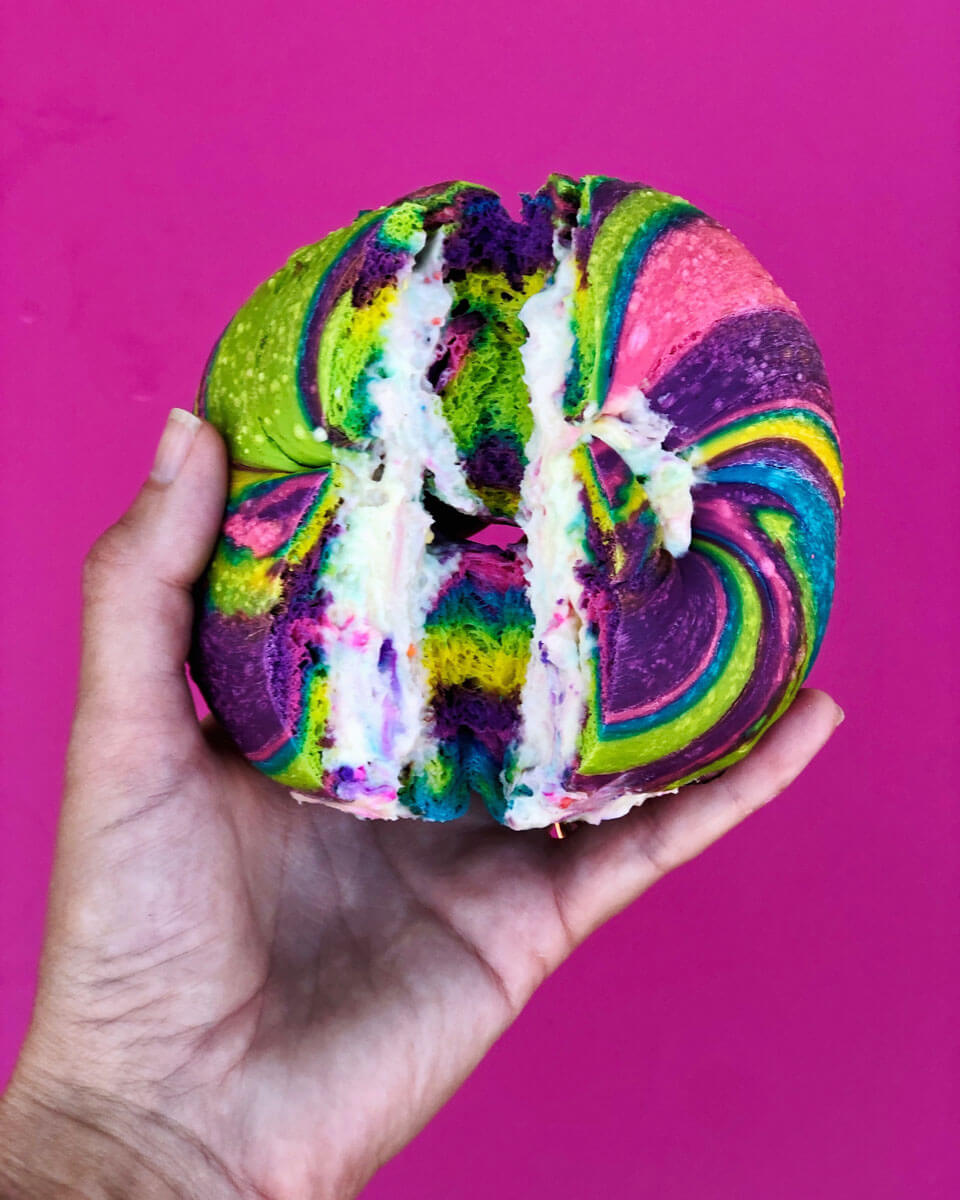 Park Slope
Do you remember those rainbow bagels in Brooklyn that took NYC and the Internet by storm? We most definitely do, they are one of the most famous Instagram spots in Brooklyn!
The Bagel Store actually refers to their bagels as, "The Bagel That Broke The Internet."
The main appeal to this rainbow bagel is how Instagram worthy it is. It tastes like a plain bagel, although New York bagels are just superior to all other bagels.
To spice up your rainbow bagel, add some of their popular Rainbowfetti cream cheese.
Wondering where to get this beautiful bite to eat? These rainbow bagels in Brooklyn can be found in the neighborhood of Park Slope. You should also check out their Instagram page to see their crazy and colorful bagel creations.
Bagelsmith
View this post on Instagram
Williamsburg
With two locations in Williamsburg, Bagelsmith has been deemed the, "Best Bagels in Town," and people will attest to that! Bagelsmith is another one of the awesome joints serving up some of the best bagels in Brooklyn.
What really separates this bagel shop from the others is that it is open 24 hours a day! Yes, you read that right, 24 hours! Whenever you have an early flight or you're working the nightshift, you can always count on Bagelsmith. This is awesome because most of our picks for best bagels in Brooklyn close in the afternoon or don't serve their bagels/breakfast menu past a certain time.
This shop has everything you could expect from a bagel joint/deli and more. From plain bagels, breakfast sandwiches, salads, cold cut sandwiches, muffins, sweets, vegan options, and a variety of coffee drinks and beverages, there is no shortage of options at Bagelsmith.
People tend to choose the egg and cheese or one of their specialties like smoked fish.
Bagelsmith, in my humble opinion, is not only one of the best bagels in Brooklyn, but in the city!
Smith St. Bagels
View this post on Instagram
Cobble Hill
This bagel joint has been serving up delicious bagels baked in house since 2008 and is known to have some of the best bagels in Brooklyn. And we just can't get enough!
They have fresh bagels and cream cheeses that they prepare in-store daily, which are our favorite kind of shops.
In addition to their variety of bagels, Smith St Bagels offers so many menu items, we just can't keep up. Although they have phenomenal breakfast sandwiches and omelets, they also serve burgers, wraps, quesadillas, salads, and more!
Try some of the unique cream cheeses like their apple spice flavor!
Some of the greatest features are the selection of gluten-free goods, the yummy baked treats, juices, and a plethora of espresso drinks.
Customers love this spot for the consistency. You can always count on Smith St Bagels to serve up some quality bagels and friendly service.
This is also one of the few shops where you can find rainbow bagels in Brooklyn!
La Bagel Delight
View this post on Instagram
Fort Greene, DUMBO, Cobble Hill, Park Slope
This is one of the OG spots to grab some bagels in Brooklyn. Since 1986, La Bagel Delight has been known as the "Breakfast Capital of Brooklyn."
If you're looking for something quick and filling, La Bagel Delight is the perfect pit stop.
Snag a cup of coffee and one of their can't miss bagels or bagel sandwiches with any of their specialty cream cheeses. Seems like every place with the best bagels in Brooklyn has some killer cream cheese, doesn't it?
La Bagel Delight has a few locations scattered around Brooklyn, which makes it really convenient. This is probably the place I go to most for bagels in Brooklyn strictly because it's so close to where I live. And it is dang good, which is a bonus.
La Bagel has a ton of sandwich options and hot foods, but I would recommend to go with the classic breakfast sandwiches and a coffee, that combo will never disappoint.
A lot of customers rave about the lox and the veggie cream cheese here.
This bagel shop also offers customers a chance to get one of those Instagram-worthy rainbow bagels in Brooklyn!
Lastly, don't be afraid to add on one of their delicious baked goods, they're irresistible.
Bagel World
View this post on Instagram
Park Slope & Fort Greene
Another awesome spot for bagels in Brooklyn is Bagel World in Park Slope and Fort Greene. Since opening their doors in 2003, they have been boiling and baking their own bagels fresh daily, which is the main reason customers really love Bagel World.
This is a lovely neighborhood spot that usually has a line waiting for the deliciousness and the atmosphere is just welcoming. Customers love the quick and friendly service, and most of all, they love the bagels.
They have a wide variety of can't miss options like their lox bagel sandwiches and it's even one of the places to snag rainbow bagels in Brooklyn.
One Yelper puts it this way, "Highly suggest this place to get rid of Sunday scaries or simply to cure a hangover from Saturday night."
We love these bagels so much they ended up on our list of favorite spots for brunch in Fort Greene!
Court Street Bagels
View this post on Instagram
Cobble Hill
Many New Yorkers claim Court Street Bagels is THE spot for bagels in Brooklyn, but that's for you to decide.
This spot is known to do a lot of things really well. Not only do they have a super friendly staff, they have an array of delicious go-to orders.
A must on your bagel bucket list is the classic bagel sandwiches like a bacon, egg, and cheese (toasted) or even their smoked salmon on a bagel, which is sometimes one of their daily specials.
This is also another one of the spots with a on of yummy cream cheese flavors!
To get some of the best bagels in Brooklyn here, make sure to have some cash on you, as this is a cash-only spot!
And don't forget to add a coffee to your order.
Montague Street Bagels
View this post on Instagram
Brooklyn Heights
So keep an eye out for this bagel spot because I think I've walked by it a million times in my life and almost never noticed it. We actually touch on that in our guide to the best things to do in Brooklyn Heights but take note, this is a great bagel spot in Brooklyn!
Other than serving up some of the best bagels in Brooklyn, Montague Street Bagels is parked in a beautiful location on Montague Street in Brooklyn Heights just blocks away from the gorgeous and famous viewpoint, the Brooklyn Promenade.
If you make all your decisions on where to eat based on Yelp reviews, this may not be your spot.
According to Yelp Montague Street Bagels is just average. But there's actually a huge pool of New Yorkers that swear by this spot. One review on Yelp claimed that the 3-star review almost turned him away but he ended up having the best bagel he's ever had in New York!
They offer some stellar classics like the bacon, egg, and cheese and they even hand roll and bake their bagels fresh daily, which is obviously key to creating some of the most iconic bagels in Brooklyn. They'll even do some custom creations for you if you just can't decide on one sandwich.
My favorite little aspect about Montague Street Bagels is the adorable outdoor patio they offer for their customers, which is great for people watching in Brooklyn.
Pio Bagel
View this post on Instagram
Downtown Brooklyn
This next shop for bagels in Brooklyn is super local to me, so I may be a little bias, but I love Pio Bagel.
Pio Bagel has only been open since 2014 on the corner of Lawrence Street, but I feel like it is a neighborhood staple. They are most known for their Latin twist on classic New York breakfast. It's a family-owned joint that has been perfecting their craft since 1994.
Downtown Brooklyn's neighborhood bagel spot used to be Sunny's Bagels on Dekalb Ave and I think some of us are still a little emotional about that sudden closure, but now a lot of us have transitioned to Pio Bagel, and it makes me wonder why we didn't give it a shot earlier.
Pio Bagel is a tiny corner shop with a huge menu and an incredible breakfast selection, but obviously we're zoning in on the bagels.
They have all kinds of bagel flavors which are all baked in store, some examples being Garlic, Egg, Jalapeño, Pumpernickel, and more. Furthermore, Pio Bagel offers mini bagels and a few gluten free bagel options!
This place has it all, it's even one of the spots to find rainbow bagels in Brooklyn! Known for its speedy and quality service, you won't want to miss Pio Bagel.
Bergen Bagels
View this post on Instagram
Prospect Heights
If you're looking for another place that bakes all their stuff in house, add this to your best bagels in Brooklyn bucket list! They even have a few other locations!
Since 2001 Bergen Bagels has been serving up customer service and "anything from sinful to healthy," as they like to put it.
Bergen has a wide variety of bagel flavors and if you're visiting on the weekend, try the blueberry! Otherwise, try any bagel and add one of their delicious cream cheese options. It sounds easy, but there are so many uniques choices, you'll definitely be stumped.
It also seems that the classic bacon, egg, and cheese or the sausage, egg and cheese are fan favorites and they're always great go-to options if you're trying some bagels in Brooklyn for the first time.
Bread and Spread
View this post on Instagram
DUMBO
Nothing is better than all-day breakfast sandwiches. Get to Bread and Spread for coffee, pastries, can't miss breakfast sandwiches, some of the best bagels in Brooklyn, and most of all an unbeatable location.
Unlike the other stops for bagels in Brooklyn, this is not a 'bagel shop,' but a bakery offering their savory sandwiches on all kinds of bread with of course the option for a bagel which is so good we had to include it here.
This DUMBO spot is tucked away in a tiny location but attracts loyal customers for its dedication to the community.
This is another one of the go-to spots for bagels in Brooklyn. Since 2014, Bread and Spread has been serving up what they call, "Best breakfast in town," and it's up to you to confirm that!
Not only are they known for their bagels and array of espresso/coffee drinks and their other styles of breads, but they also serve lunch and some light dinner options. Also, you can't miss their yummy spreads that are made from scratch!
Take a bagel sandwich and a coffee to-go and enjoy the views of the waterfront in DUMBO, one of the best views in Brooklyn.
Terrace Bagels
View this post on Instagram
Park Slope
Family-owned and established in 1991, Terrace Bagels offers some of the best bagels in Brooklyn. They have been making their own old-fashioned hand-rolled bagels since the beginning.
Terrace offers a wide variety of bagel flavors, which obviously makes the possibilities endless. On top of that, they have a long list of delicious spreads that you won't want to miss. Doesn't that seem to be the theme here?
Customers also rave about their mini bagels. All around Terrace is one of the spots for reliable bagels in Brooklyn. Snag any bagel and load some fancy cream cheese or go with a classic bagel breakfast sandwich, you will not regret it.
Bagel Boy
View this post on Instagram
Bayridge & various locations
This shop undoubtedly the best bagels in Bayridge, Brooklynites claim. Bagel Boy has been around since the 1980s and they even have a couple of different locations, but customers will say this location is their favorite.
This spot is typically always busy, so if you're feeling pressured on what to order, you can't go wrong with an everything or sesame bagel with one of the cream cheese options here. If you're a lox person, give that a try as well!
In addition to these options, people who are looking for rainbow bagels in Brooklyn can find them here!
Some will recommend ordering ahead online just to avoid the crowd, but sometimes the crowd is part of the full NYC bagel experience.
Definitely add Bagel Boy to your must-try bagels in Brooklyn!
Bagel Hole
View this post on Instagram
Park Slope
No surprise here, to have the best bagels in Brooklyn it's pretty mandatory to bake your own bagels on the premise, and Bagel Hole does exactly that!
And there's been a lot of bagel spots claiming to be #1, but Bagel Hole was actually rated the best in NYC by eats.com! Bagel Hole also likes to be referred to as "WORLD FAMOUS BAGEL HOLE."
Bagel Hole serves a handful of delicious items that they're known for. They offer lox spread that is made fresh in house, famous whitefish salad, and their fresh sliced Nova Lox, which they say is sliced "paper thin," and is the "perfect combination of old school tradition."
This spot has variety of fresh bagel flavors and a ton of cream cheese options to match.
Bagel Hole is parked in a beautiful area of Park Slope and can offer the best start to your day if you're in the area. A must on your bagels in Brooklyn bucket list!
Bialy: SOMETHING ELSE TO TRY!
Not quite a traditional bagel, bialy is a similar item (but remember NOT A BAGEL) that is baked (not boiled) and has a depression in the center instead of the regular hole in the middle. Sometimes the depression is filled with yummy and flavorful poppy seeds or cooked onions.
One of my close NYC foodie sources once referred to bialy as, "the bagel's ugly sister."
Bialy was created by Polish Jews and a lot of spots where you can snag bagels in Brooklyn also offer bialy!
So if this sounds interesting to you, there's a variety of spots in Brooklyn where you can give these a try!
---
Love fresh baked goods? You may love all the fresh baked bread suggestions on our guide to best Brooklyn bakeries too!
Liked this post on the best bagels in Brooklyn? Bookmark for later or share the love below on Pinterest!