Looking for the best bagels in NYC? This guide has you covered. I'll admit it – I didn't grow up in New York City.
And after many years of pretending to be a local (cue a 13-year old dressed in black and walking 3 feet in front of my parents as if I were an independent New York adult out on the town and not a suburban tween on vacation), once I finally moved here at 19, I had a lot to learn. It's How-ston St., not Hew-ston St. Avoid that empty subway car! And of course, accept no less than a real New York bagel.
But what is a "real" New York bagel? This is a concept that is passionately up for discussion amongst New Yorkers across boroughs. Some argue that it's the water, some argue that it's a cooking method of boiling dough ahead of baking, and some argue that regardless of cooking method, a good bagel should be externally crispy and bubbly, and internally chewy.
And the schisms are more profound from there – the "no toast" vs. "toasters", and the "savory" vs. "sweet" battles, to which New Yorkers are ready to defend their positions to the death. I once casually mentioned to my husband that I occasionally enjoy a Cinnamon Raisin bagel, and it was almost curtains for our marriage.
So how do you determine what your NYC Bagel Philosophy is? Are you toast or no toast? Savory or sweet? What is your desired level of chew? Do you accept flavored cream cheese into your life? There is only one way to find out, and that is to try as many bagels as you can.
Luckily, we're here to help and have amassed an extensive list of the best bagels in New York, ranging from well-loved Everything Bagels to the controversial but 'grammable Rainbow Bagel.
After all, in order to defend your personal bagel politics to other New Yorkers, you need to back up your position with extensive research. But at least that research is delicious!
Try all of the best bagels in NYC, determine your stances, and get ready to argue with other New Yorkers over them! And then finish arguing, declare a truce, and break bread over…bagels.
About the Guest Author
Sarah Beling is a playwright, New Yorker, and passionate food enthusiast who is always looking for her next meal. You can find her in an NYC park, enjoying a chopped cheese sandwich and reading about NYC's best new places to eat.
Best Bagels in New York
ABSOLUTE BAGELS
View this post on Instagram
2788 Broadway, Manhattan
If you only visit one bagel shop in NYC, make it Absolute Bagels. Known for robust weekend crowds of Upper West Siders, Columbia University students, and New Yorkers from across the boroughs, Absolute serves up phenomenal, hand-rolled, freshly-baked bagels with a wide variety of cream cheese flavors and classic breakfast sandwich fixings.
Absolute Bagels was recognized by Food and Wine Magazine as one of the 50 Best Bagels in America and just one trip will confirm the hype.
I recommend the unparalleled Everything bagel toasted with plain cream cheese (or butter!), and enjoy the simplicity of an absolutely (sorry, had to!) perfect breakfast. Note that Absolute is cash-only, but there are several nearby ATMs.
BEST BAGEL AND COFFEE
View this post on Instagram
225 W 35th St A, Manhattan
Sometimes you find yourself in Midtown, staring down a long bus or train trip ahead. I can tell you from experience that you should avoid questionable roadside rest stop food and instead take a bagel sandwich with you on your journey.
Head over to Best Bagel and Coffee, a small storefront near Penn Station specializing in chewy bagels baked on the premises. If you're gearing up for an early trip and need breakfast, snag a classic Bacon Egg and Cheese sandwich.
Heading out midday for lunch? Try a Roast Beef Classic (Roast Beef, Swiss, Caramelized Onion, Worcestershire Dressing) or one of the extensive Chicken Cutlet or Grilled Chicken sandwiches – there are two entire sections devoted to chicken-bagel-sandwich combos! So leave enough time in your trip to wheel that suitcase over to Best Bagel and Coffee for exactly what the name promises – the best bagel in New York.
RIVERDALE BAGELS
View this post on Instagram
5650 Riverdale Avenue, Bronx
Operating on Riverdale Avenue in the Bronx since 1992, Riverdale Bagels specializes in the aforementioned boiled-then-baked bagels that have delighted New Yorkers for almost thirty years.
Try a Pumpernickel Rye with scallion cream cheese (all cream cheese is made in house!) or a BLT on Whole Wheat before a stroll through expansive Van Cortlandt Park, which features hiking trails, sports fields, bocce courts, and horseback riding trails.
And if you're bringing friends, Riverdale Bagels offers catered platters!
ESS-A-BAGEL
View this post on Instagram
324 1st Avenue At 19th Street, Manhattan
Ess-a-Bagel is a well-loved bagel shop in NYC serving loyal customers for over forty years! Founded by Austrian bakers Florence and Gene Wilpon and Florence's brother Aaron Wenzelberg, Ess-a-Bagel has perfected the art of the hand-rolled bagel and lox sandwich.
Don't leave without ordering a Signature Favorite (slices of nova on a bagel with scallion cream cheese, freshly sliced tomato, and lettuce, onion and capers).
And on the less traditional side – if you're a 90s kid like me, you may be interested to know that Ess-a-Bagel also serves Pizza Bagels! Yes, I realize that you can make one in your toaster oven at home, but what a thrill to order a real live Pizza Bagel out in the world.
ZABAR'S
View this post on Instagram
2245 Broadway (at 80th Street), Manhattan
One of my favorite things about Zabar's (aside from its iconic appearance in NYC-centric film You've Got Mail) is their wide variety of gift baskets. In addition to offering Kosher bagels of all varieties, Zabar's also offers great bagel-themed baskets with their signature cream cheese, lox,cured meats, sweet rugelach, babka and coffee.
If you'd like to bring your New York experience home with you (or just be the hit of your next brunch!), snag a Zabar's gift basket and be sure to save the Zabar's mug for yourself.
COURT STREET BAGELS
View this post on Instagram
181 Court St, Brooklyn
Let's take a quick detour into what I like to call the Trader Joe's NYC Phenomenon. As one of the few NYC grocery stores without NYC grocery store pricing (and an innovative snack/frozen food program IMO), Trader Joe's draws massive crowds like no other grocery store in the city.
So if you decide to invest in a trip there, know that you likely won't be alone and it WILL take you longer than expected.
With that in mind, I highly recommend that you fuel up ahead of time with the best NYC bagels at Court Street Bagels, one of the best bagels in Brooklyn too!
Conveniently located a stone's throw from the downtown Brooklyn Trader Joe's, Court Street Bagels is the perfect place to carbo-load before you fight people for the last bag of Cauliflower Gnocchi.
Check out locally-focused bagel sandwiches like the Park Slope (Salsalito turkey, pepper jack cheese, roasted red peppers, lettuce and balsamic vinegar) or the Prospect Park (Mesquite smoked turkey, sun dried tomatoes and honey mustard or balsamic vinegar).
BAGEL PUB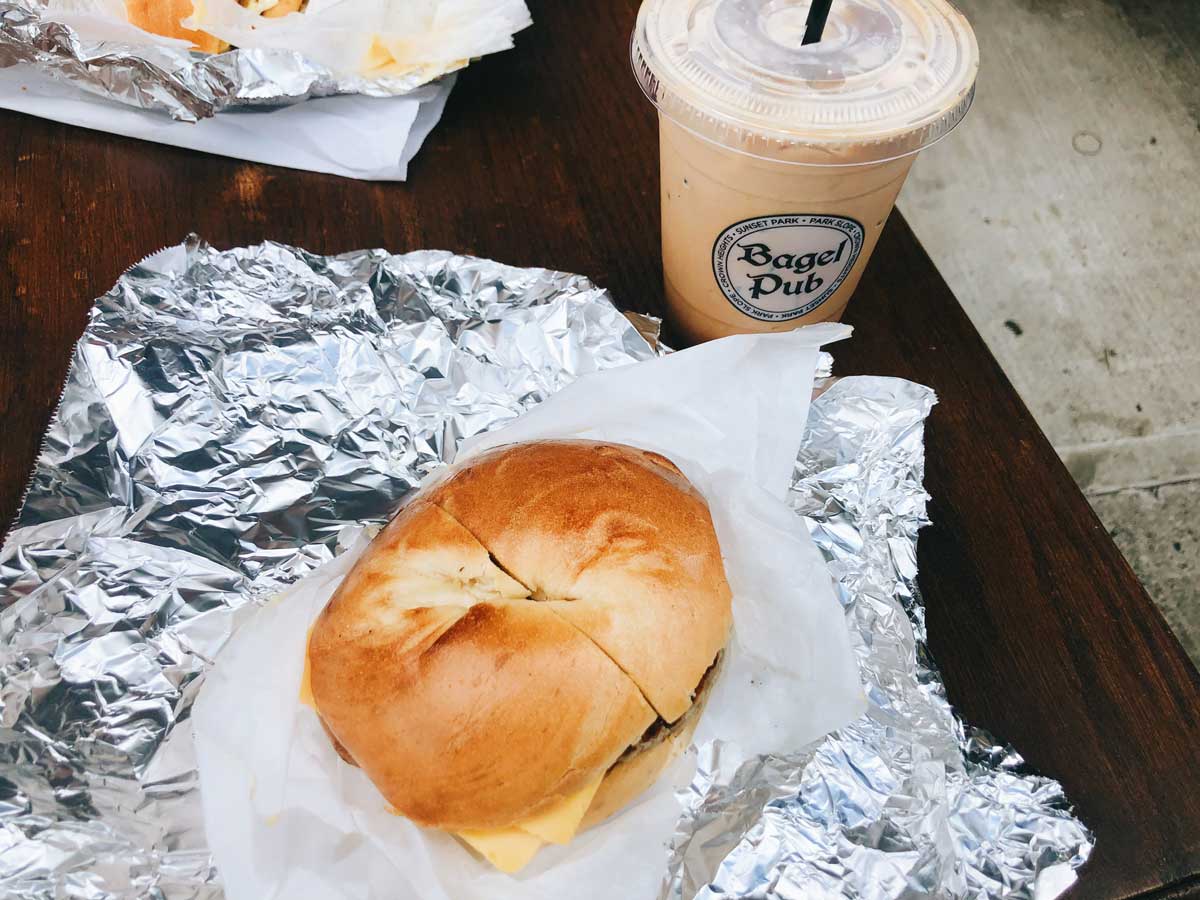 287 9th St, 57 7th Ave, & 313 36th St, Brooklyn
With several locations throughout Brooklyn, Bagel Pub specializes in the best NYC bagels that are hand rolled, kettle-boiled, and baked along with sandwiches and grill offerings.
I love that they offer omelette breakfast sandwiches, which pack even more tasty toppings into the classic egg sandwich. Try the Italian Omelette sandwich (Prosciutto di Tarna, Fresh Mozzarella) or the Greek Omelette (Feta cheese and tomatoes).
Add in a Honey Blue Smoothie (Blueberry, banana, low-fat vanilla yogurt and honey) and stroll through Prospect Park to the Brooklyn Museum (200 Eastern Pkwy, Brooklyn, NY 11238) for rotating art exhibits housed in a spectacular building.
Don't miss their amazing cream cheese flavors too! You can get more than one flavor if you ask!
RUSS AND DAUGHTERS
View this post on Instagram
Original location: 179 E Houston St, Manhattan
Cafe: 127 Orchard St, Manhattan
Brooklyn: 141 Flushing Ave
Russ and Daughters needs almost no introduction. Open for over 100 years, this fourth-generation family owned shop is integral to the fabric of the New York city food scene.
Founder Joel Russ made waves not only by establishing a successful appetizing store recognized by the National Register of Historic Places but by naming his daughters as business partners (a revolutionary move in 1935!).
Beloved by generations of New Yorkers for their traditional breads (bagels, challah, babka and the works), lox, herring, sandwiches, soups and even caviar (!), it's best to visit Russ and Daughters multiple times in order to try as much of the menu as possible.
But since we're here for the best bagels in New York, I would recommend starting with a classic, freshly-baked Everything bagel and lox cream cheese combo.
Make sure to save some room for dessert and take some homemade salted caramels, black and white cookies, and marble halvah with you!
MIKE'S BAGELS
View this post on Instagram
4003 Broadway, Manhattan
Located in Washington Heights, Mike's Bagels is a small but mighty storefront serving up hand-rolled, boiled-then-baked bagels, spreads, and sandwiches to delighted locals and staff at nearby New York Presbyterian Hospital. Mike's is often quite busy, but the quality of the bagels is worth the wait.
In addition to the standard but well-made bagel offerings (Plain, Sesame, Poppy, Cinnamon Raisin, Everything, Garlic, Onion, Whole Wheat, Pumpernickel, Salt, Egg, & Whole Wheat Everything), Mike's serves up some fantastic bagel sandwich combos like the Bronx Bully (roast beef, muenster cheese, lettuce, tomato, oil vinegar & mayo) and the Fire and Ice (blazing buffalo, chicken, monterey jack cheese, lettuce tomato & mayo). Check out Mike's before a trip to J. Hood Wright Park for a picnic overlooking the GWB and the Hudson!
THE BAGEL STORE – Permanently closed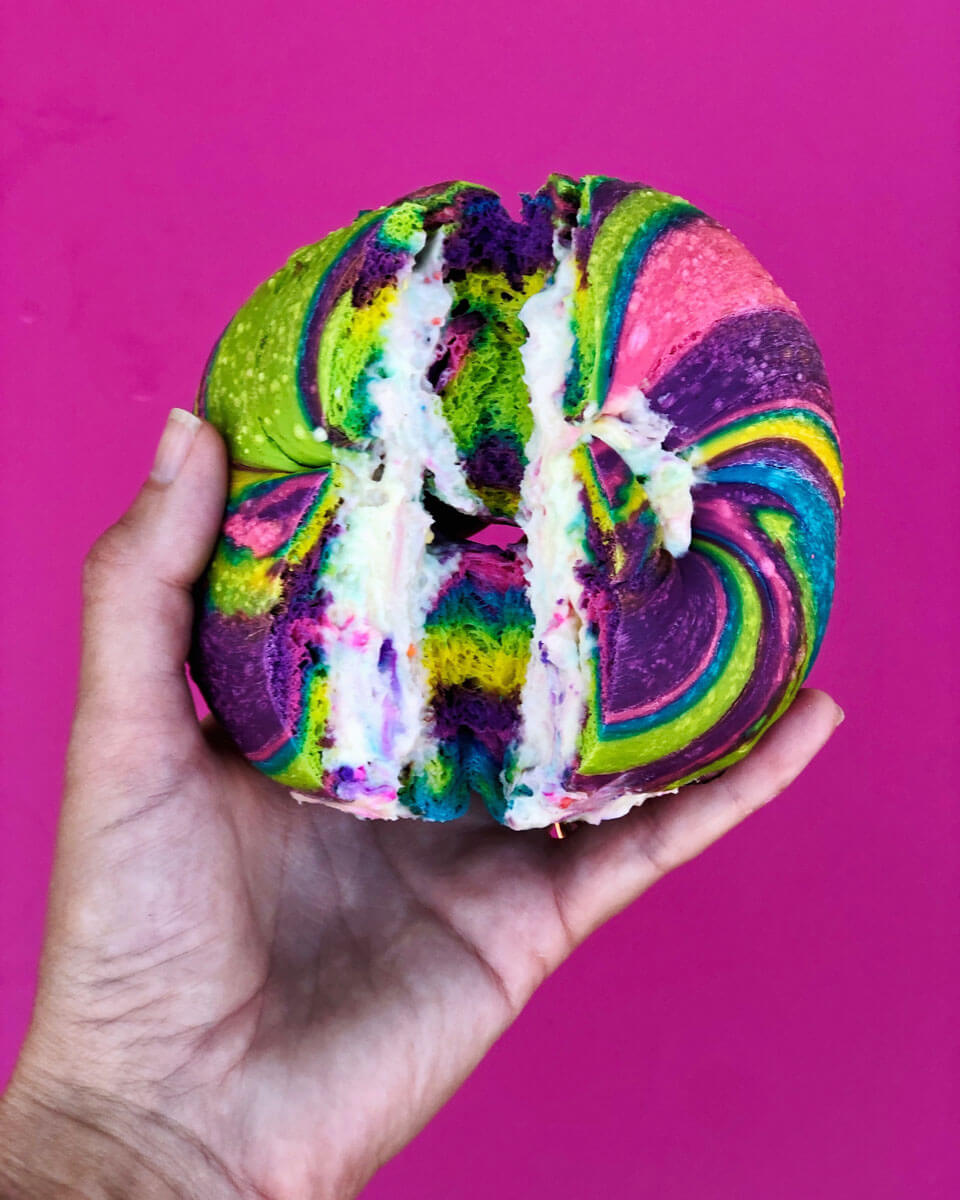 69 5th Ave, Brooklyn
While we try to avoid controversy here at Your Brooklyn Guide, I feel it is my responsibility to mention the oft-debated Rainbow Bagel. Originating at The Bagel Store, the Rainbow Bagel launched a thousand Instagram posts and just as many passionate arguments for and against it as one of the best bagels in NYC.
There is, however, only one way to find out for yourself where you stand. Order a Rainbow Bagel with plain cream cheese (best to keep it somewhat simple, for scientific taste-testing purposes), take some photos for posterity, and make your call.
Of course, regardless of your feelings on the Rainbow Bagel, The Bagel Store offers a robust selection of traditional bagels and sandwiches as well as some other notable creative combos.
As a diner breakfast fan, I recommend the Sweet Cheat Everyday (French Toast Bagel With Sausage ,Egg & Cheese With Maple Syrup).
TOMPKINS SQUARE BAGELS
View this post on Instagram
165 Avenue A & 184 2nd Ave, Manhattan
There's a long-standing discourse amongst New Yorkers over whether some iconic areas "aren't what they used to be". I'd venture that they aren't, but that the beauty of the city is its ever-changing sense of self. In that vein, Tompkins Square Park has seen many different eras, but all of them are unquestionably "New York".
Now before we get too philosophical, head over to nearby Tompkins Square Bagels, serving the best NYC bagels in the neighborhood. I recommend the Sourdough bagel with cream cheese or the specialty Chocolate Chip Bagel. In the spirit of evolution, Tompkins Square also serves gluten-free bagels!
LIE HOT BAGEL
View this post on Instagram
210-25 Horace Harding Expy, Queens
At the border of Queens and Long Island, on the fabled and traffic-laden Long Island Expressway is L.I.E. Hot Bagel. Flanked by a hot pink awning proudly advertising their bagels as HOT, LIE serves up some of the chewiest, perfectly balanced breakfast sandwiches in NYC and the Tri-State area.
Their Bacon, Egg, and Cheese sandwich is second to none. So the next time you're in traffic on the way to JFK or Eastern Long Island (and you will be), pull over and grab a superior breakfast sandwich to pass the time. Or, just head to LIE Hot Bagels and turn right back around! It's worth the trip alone.
MURRAY'S BAGELS
View this post on Instagram
500 Avenue of the Americas, Manhattan
We've addressed that New York is always changing, and even the most stalwart bagel shop in NYC is no exception. For its first 19 years of operation, Murray's Bagels had one hard and fast rule: no toasting. Don't even ask!
Priding themselves on impossibly soft and chewy hand-rolled, kettle-boiled bagels, Murray's remained confident that the quality of their offering surpassed the need to toast, and that doing so was a crutch unworthy of the best NYC bagels.
But in 2015, Murray's shocked the NYC Bagel Community with one tweet, declaring that while they still stand behind the quality of their bagels, they were ready to leave the option for their customers to enjoy a Murray's bagel any way they'd like.
Staunch defenders of the No-Toast Camp bristled as Toast-ers rejoiced, and the endless debate rolled on. As a diplomat and Libra, I have to tell you that I enjoy both toasted and untoasted Murray's Bagels, and it's all about the occasion/flavor/your personal bagel needs that day.
From an untoasted perspective, I recommend a Plain bagel with maple raisin walnut cream cheese, and if you're feeling toasty, try a Sesame-Bacon-Egg-Cheddar breakfast sandwich. Maybe I'm trying to keep the peace, but you can't go wrong!
GRAMERCY BAGELS
View this post on Instagram
3rd Ave, Manhattan
There are some aspects of New York living that can be tough. For instance, most of us will never see the inside of Gramercy Park, which requires a resident's key to enter (shakes first in Real Estate!!!). But that shouldn't stop you from exploring the vibrant Gramercy neighborhood, which boasts lively restaurants, other parks that are actually open to the public, and Gramercy Bagels.
Gramercy Bagels specializes in the definitively New York hand-rolled, kettle-boiled bagel that delivers a superior crunch and pillowy chewy eating experience. I recommend any of their flavor combinations but have a particular lunchtime affinity for a plain bagel with pesto chicken salad spread combination. Don't miss the best bagel shop in NYC, it's better than a key to Gramercy Park!
BAGELS ON THE SQUARE
View this post on Instagram
7 Carmine St, Manhattan
Open 24 hours a day, Bagels on the Square sits at a bustling crossroads in the Village ready to serve hungry New Yorkers who seek a bagel at all hours of the day or night.
Bagels on the Square offers a wide selection of well-made bagels and deli sandwiches, but I believe their strength lies in their flavored cream cheese program, which ranges from sweet (dutch apple, reminiscent of pie!) to savory (bacon horseradish, olive pimento for a kick!).
They also offer a robust selection of tofu-based cream cheese spreads to make your meal fully vegan. Check out Bagels on the Square after a night out enjoying stand up at the Comedy Cellar (117 MacDougal St, New York, NY 10012) or the Comedy Village Club (99 MacDougal St, New York, NY 10012)!
If you're a huge fan of comedy like we are, check out the best comedy shows in Brooklyn too! There are a lot of great venues here and you can save alot of money by checking out one of these indie venues!
BLACK SEED BAGELS
View this post on Instagram
Many locations – Manhattan & Brooklyn
James Beard award nominee and executive chef Dianna Daoheung brings a little bit of the Montreal-style of bagel preparation to New York at Black Seed Bagels. Beginning with a naturally leavened and fermented dough, the bagels are boiled in water with honey and baked in a wood-fired oven to maximize their uniquely dense, chewy-and-crispy flavor profile.
These ever-so-slightly sweet, distinctively-crunchy bagels make the perfect base for a sandwich (I particularly enjoy the Boca, comprised of eggs, Cabot cheddar cheese, avocados, and tomatoes on a bagel) they also are enjoyed well with a simple cream cheese spread or even your very own version of a PB&J (Multigrain bagel, almond butter, and jam)!
BROOKLYN BAGEL & COFFEE COMPANY
View this post on Instagram
Multiple Locations, Manhattan & Queens
Let's get this out of the way – Brooklyn Bagel & Coffee Company…does not have locations in Brooklyn. Yes, this is confusing. While you will find many-a similarly named bagel shop in NYC, Brooklyn Bagel & Coffee Company is singular in its quality bagels and spreads, and its commitment to navigational red herrings.
I truly can't hold it against them though, because their bagels are insanely delicious. Composed of only the highest-quality flour and baked fresh on the premises, Brooklyn Bagel & Coffee Company has mastered the crunchy-on-the-outside, chewy-on-the-inside bagel.
I recommend a classic Everything bagel with garlic and herb cream cheese (and yes, I always bring gum with me so I don't scare anyone after eating). It should be noted that they also offer gluten-free mini bagels (which truly hold up against my intense love for gluten-filled bagels!).
So double-check your Google Maps settings, and head to Brooklyn Bagel & Coffee Company (in Manhattan or Queens!) for a truly spectacular bite.
SHELSKY'S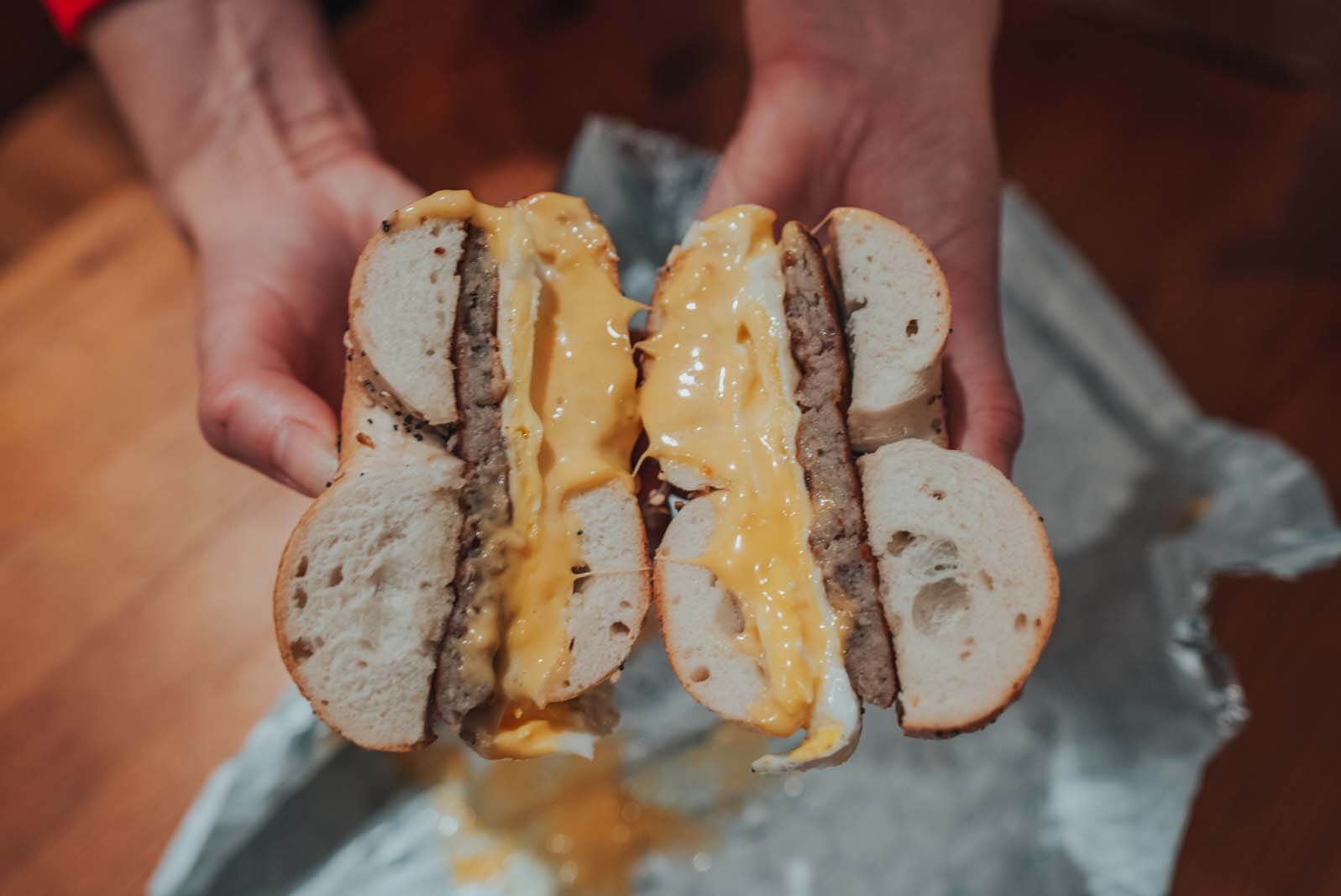 141 Court St & 453 4th Ave, Brooklyn
Lifelong New Yorker Peter Shelsky has combined his love of Eastern European Jewish cuisine and his experience working at some of New York's finest restaurants into appetizing power-player Shelsky's, which serves up some of the best bagels in NYC.
They've perfected not only the traditional bagel flavors like the Poppy Seed and Onion, but also creative flavors like the Sichuan Peppercorn bagel and classic appetizing spreads like whitefish salad, chicken salad, and chopped liver.
Check out Shelsky's before a walk over to Brooklyn Bridge Park and stare at the Manhattan waterfront with a truly perfect bagel along with one of the best skyline views of Manhattan from Brooklyn at their Court St location or drop into their Park Slope location for their insatiable bagel breakfast sandwiches.
H&H BAGELS
View this post on Instagram
1551 2nd Ave & 526 Columbus Ave, Manhattan (plus locations at JFK & LGA airports!)
What's more New York than a bagel shop with a scandal-filled memoir written about it? While H&H bagels has gone through many ups and downs in its lifetime, death, and rebirth, it's created an impact on New Yorkers for decades, and appeared frequently as a beacon of NYC culture on shows like Seinfeld.
But enough about the hoopla, what about the bagels?! I have to tell you, they are still quite good, chewy and well-balanced with a wide selection of toppings. So make like an iconic New York TV character and buy a baker's dozen to take to your next impromptu brunch!
SMITH STREET BAGELS
View this post on Instagram
202 Smith St, Brooklyn
Serving the Cobble Hill community for over a decade, Smith Street Bagels are easily some of the best bagels in New York. Each individual bagel flavor packs a punch, but I believe their strength lies in their breakfast sandwich offerings.
Be sure to try the Bacon Chorizo sandwich (Beef bacon, chorizo, cheddar cheese, and jalapeno cheddar cream cheese on a bagel) or the Sirloin steak breakfast sandwich (eggs, sirloin steak, American cheese, and caramelized onion).
After your trip to Smith Street head over to nearby independent bookstore Books Are Magic (225 Smith St, Brooklyn, NY 11231) which hosts frequent book signings and events and is one of the best bookstores in Brooklyn! Plus, exploring the best things to do in Carroll Gardens and the Cobble Hill area are always fun!
CHELSEA BAGEL AND CAFE
View this post on Instagram
139 W 14th St, Manhattan
There's something distinctly New York about wandering the long length of 14th Street. Sure, you could take the famous (or infamous?) M14 bus, but there's something magical about walking all the way over from Alphabet City and Avenue D to West Side Highway and the Highline.
It's a true cross-section of the city, and just about halfway through lies Chelsea Bagel and Cafe. An unassuming storefront belies hand-rolled, kettle-boiled, in-house baked bagels served with deli and grill classics made with care – I recommend the 3 Slices of Cheese sandwich on an Everything bagel (what's better than every kind of cheese?!).
Chelsea Bagel also offers an in-house juice bar, so you can hydrate before you continue on your crosstown adventure!
FRANKEL'S DELI
View this post on Instagram
631 Manhattan Ave, Brooklyn
On your search for the best bagels in NYC, do not skip Frankel's Deli in Greenpoint, Brooklyn. Family owned and operated by brothers Alex and Zach Frankel, Frankel's serves up a select offering of bagels, appetizers, cured meats, and some of the best sandwiches in Brooklyn that are carefully crafted with the expertise of two lifelong New Yorkers.
One great feature at Frankel's is their brunch kits, which feature combinations of assorted bagel flavors, cream cheese, salmon or whitefish and toppings. Order one to host an instant gathering while enjoying the best bagels in New York!
LEO'S
View this post on Instagram
3 Hanover Square, Manhattan
Open in the Financial District for over a decade, Leo's comes from Murray's Bagels founder Adam Pomerantz. His secondary bagel shop, named after Adam's Great Uncle Leo is just as tasty as his original iconic venture, serving up high-quality bagels and artisan breads.
I recommend a Cinnamon Raisin bagel with Nutella before hopping on the Staten Island Ferry for a fully free waterfront tour of the Statue of Liberty!
BERGEN BAGELS
View this post on Instagram
Many locations, the original: 473 Bergen St, Brooklyn
Bergen Bagels has created a successful mini-empire of the best NYC bagels with several outposts of delicious, pillowy bagels with the perfect amount of crunch. I recommend a plain or onion bagel toasted with feta pesto cream cheese or a garlic bagel with dill cream cheese for a savory delight.
Check out Bergen Bagels before a walk around nearby Clinton Hill's beautiful brownstones.
BAGELSMITH
View this post on Instagram
189 Bedford Ave & 566 Lorimer St, Brooklyn
Williamsburg is one of Brooklyn's liveliest neighborhoods, and it can be overwhelming to walk past Bedford Ave.'s many shops, bars, and restaurants.
But if you are in search of bagels, look no further than Bagelsmith, a delightful shop opened in 1977 and a frequent winner of the Brooklyn Nightlife Awards Best Late Night Food Spot .
Try a Sesame bagel with Jalapeño Cheddar cream cheese before checking picnicking in nearby McCarren Park!
---
Be sure to let us know where you think the best bagels in NYC are, and good luck on your NYC Bagel Odyssey!