Looking for the best bars in Brooklyn? You're in luck. Much like New York bagels, there is a Brooklyn bar for every taste. Low-key, dive bar that's cash only and has been open since the dawn of time? High-key, curated cocktail joint in a glamorous space worthy of a special occasion? A backyard patio with frozen drinks? Billiards? Bowling? Disco Balls? Brooklyn bars have got 'em all!
Whether you're looking for a place to meet a large group of friends for pitchers of beer, a spot to catch up with your best friend over ice-cold gin Martinis, or a cozy joint to enjoy a hot cocktail by the fireplace with your SO, New York's most populous and most party-friendly borough has got you covered!
Oh, and if you love nightlife check out our curated picks for best things to do in Brooklyn at night!
The Most Fun Bars in Brooklyn
Diamond Lil
179 Nassau St, Greenpoint
Named after an almost-mythic character of the early burlesque scene, visiting Diamond Lil's website is like time traveling to the inside of a TI-83 calculator.
We're happy to report that the actual bar is just as delightfully retro in real life, full of green leather booths, wood-paneled seating, funky wallpaper, and soft lighting that make it one of the best bars in Brooklyn for both catching up with friends and impressing a date.
Try the Chaplin (Bourbon, Ramazotti Amaro, Cointreau, Amontillado Sherry) or the hot Spiced Pear Toddy (Whiskey, spiced pear cordial, cinnamon, cloves) in the colder months.
Tuffet
286 Graham Ave, East Williamsburg
Can we all agree that there should be a separate brick on the food pyramid for "charcuterie"? If you're with us, head to Tuffet where, as they so aptly put it, "you can find a friendly bartender, solid tunes, and a cheese plate done right." This is one of several cool bars in Brooklyn that you can visit on a chill Monday afternoon or a Saturday night and walk away happy — the vibe is that good.
Come here when you want to debrief a break up with your best friend over a cheese plate and martinis or wine, also making it as one of our favorite wine bars in Brooklyn! Also, don't miss their gorgeous outdoor patio on a pretty day, on a chilly day try to get their highly coveted table next to the fireplace.
Broken Land
105 Franklin Street, Greenpoint
Picture it — summer Friday. Your laptop is shut down. You're planning to meet friends for a happy hour cocktail and the weather is simply too nice to eat inside. Skip the continually overstuffed Brooklyn bars of Dumbo and head to Broken Land, an unassuming Greenpoint watering hole with lovingly ramshackle furniture and a great back patio.
Order a round of frozen Aperol spritzes and toast to a summer of 4.5 day workweeks!
Zig Zag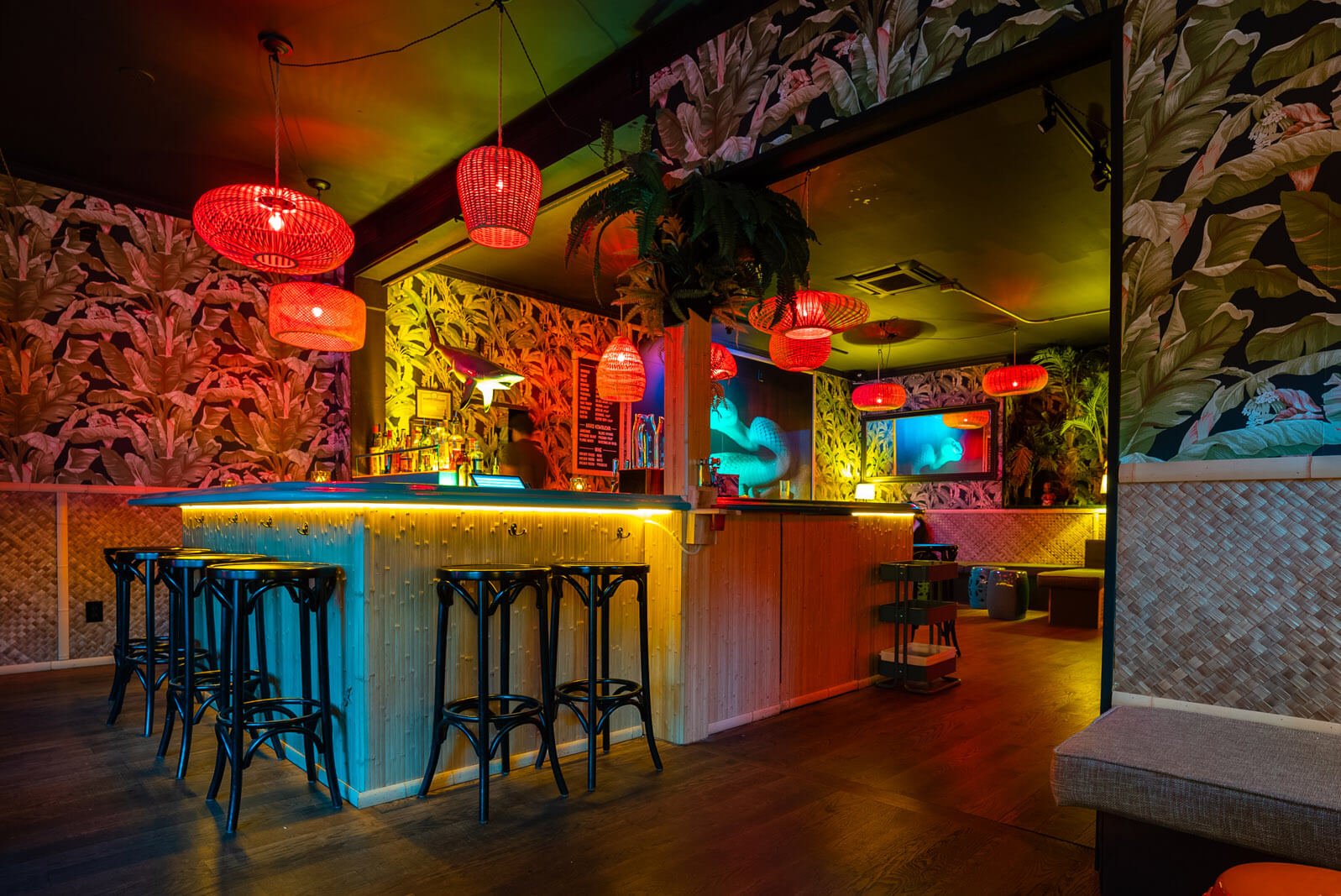 382 Marcus Garvey Blvd, Bed Stuy
If it's time for a vacation but you'd rather not brave JFK, be sure to try Zig Zag, one of the most popular bars in Brooklyn and "a tropical-themed bar in the middle of Bed Stuy."
Try some Juice Bomb IPA (on draft!), a Pink Flamingo (Mezcal, Tequila, Guava, Lime) or a Blue Hawaiian (Coconut Milk, Coconut Rum, Curaçao) and snack on incredible empanadas — and never worry about your checked bag fee.
You won't want to miss all of their cocktails that come in their fun cups either! From the waving kitty cup, skull cups, tiki head cups, sharks, pineapples, and more with their incredibly fun decor – this is one of those awesome Bed-Stuy bars to visit on the chilliest of days when you're dreaming of being somewhere warm!
PS if you love a good theme with your drinks, check out our full guide to the best NYC themed bars!
Doris
1088 Fulton St, Bed Stuy
Drink by the soft glow of the disco ball at Doris, a funky, friendly bar that's perfect for a low-key birthday celebration (you're turning 29 again!!) or romancing your Bumble date in the gentle ambiance of the patio string lights and subtle southwest decor.
But don't worry, if you're looking to dance the night away — there are also copious DJ nights to get your groove on, making Doris one of the most popular bars in Brooklyn for every kind of night out right on the edge of Bed-Stuy and Clinton Hill!
Pearl's Social and Billy Club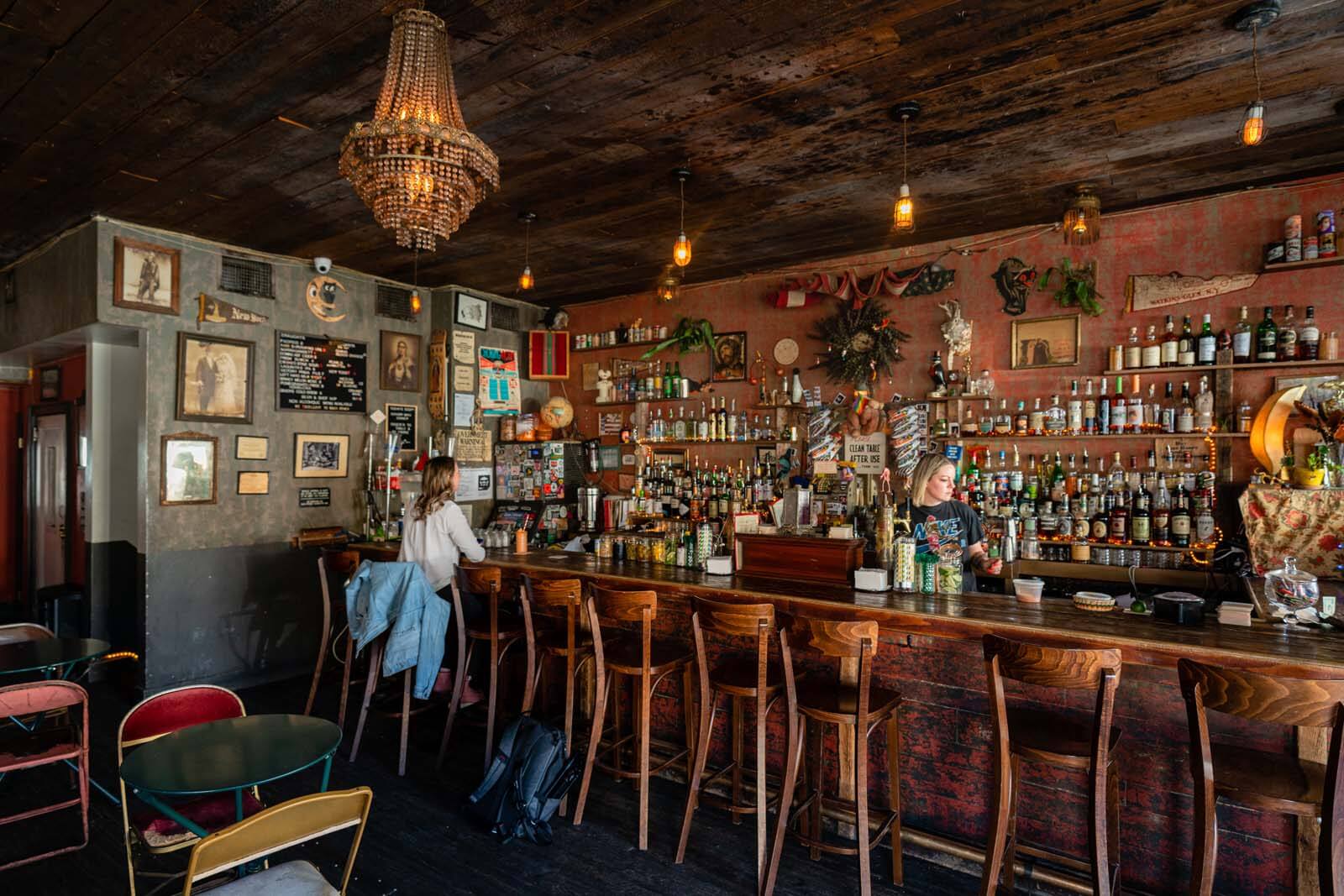 40 St Nicholas Ave, Bushwick
It's no secret some of the best bars in Brooklyn are located in Bushwick, heck, we have a whole round up of the awesome bars in Bushwick to check out. The folks at Pearl's truly understand New Yorkers, anointing their customers with a simple and very true real estate philosophy: "We believe that in NYC, our bars are our living rooms." When you need to escape your 250-square foot abode for a real NYC living room, come to Pearl's, one of the best bars in Brooklyn.
Visit the cozy, Bushwick watering hole for a round of Paper Planes (Old Overholt, Amaro Del Capo, Lemon, Contratto Red Bitter) with friends before getting wild at the House of Yes.
Franklin Park
766 Franklin Ave, Crown Heights
Looking for fun bars in Brooklyn where you can feel like you're hosting your own backyard BBQ without, you know, buying a house? Head over to Franklin Park, a friendly, laid-back joint whose spacious outdoor garden makes it one of the most popular bars in the nabe not to mention their aesthetically cool interiors too!
Try a Franklin Park Lemonade (Vodka, House Lemonade, Splash of Cranberry) or a Blood Orange IPA and order one of their signature burgers. And if you only have time for a snack, be sure to try some fries and some of their famous dips (we love the Truffle Ketchup)!
Altar
645 Sterling Place, Crown Heights
Altar is a seriously stunning cocktail lounge and bar in Brooklyn's Crown Heights neighborhood. They not only have a gorgeous bar and all the ambiance you need for a drink with friends or date night, but they have an expertly curated cocktail list by the team Fabiola Juarez and Arturo Leonar along with a selection of natural wines.
Bohemien Bar
97 Atlantic Avenue, Brooklyn Heights
Without a doubt, one of the prettiest bars in Brooklyn goes to Bohemien Bar in Brooklyn Heights on Atlantic Avenue. This ridiculously beautiful 'bohemian' style U-shaped bar is dripped with light and bright hues and tones.
Bohemien Bar gets packed on the weekends and one of the very good reasons why is their attention to detail with their sound system, they worked with a sound system designer to create a space with floor to ceiling speakers to ensure that sound travels where they intended it to, and that this sensory experience is a part of your time here.
Ok, so beyond the design and ambiance of the space, this beautiful bar in Brooklyn also have great cocktails, selection of wine and beer, as well as non-alcoholic drinks for non-drinking friends or those dry months.
C'mon Everybody
325 Franklin Ave, Bed Stuy
Founded in 2015, C'mon Everybody has quickly become a go-to spot on the queer nightlife scene and a must-visit among cool bars in Brooklyn. Part bar, part dance club, part performance venue, C'mon Everybody is home to incredible drag performers, cabarets, and lively dance nights, all served up with high-quality, bespoke cocktails that will put you in the mood to boogie!
You're going to want to pay attention to their upcoming events page too to not miss any of the lively action from fun shows to events taking place to plan your visit.
Weather Up
589 Vanderbilt Ave, Prospect Heights
One of the best bars in Brooklyn, Weather Up is a truly ideal date spot. Intimate, well-adorned with exposed brick, bronze fixtures, and subway tile, this softly-lit cocktail joint is exactly where you'd go in a romantic comedy set in New York. Order two Old Fashioneds and remember to reference this place as "the bar where we fell in love" in your vows.
And on a nice day or evening, enjoy their gorgeous outdoor garden patio space!
BierWax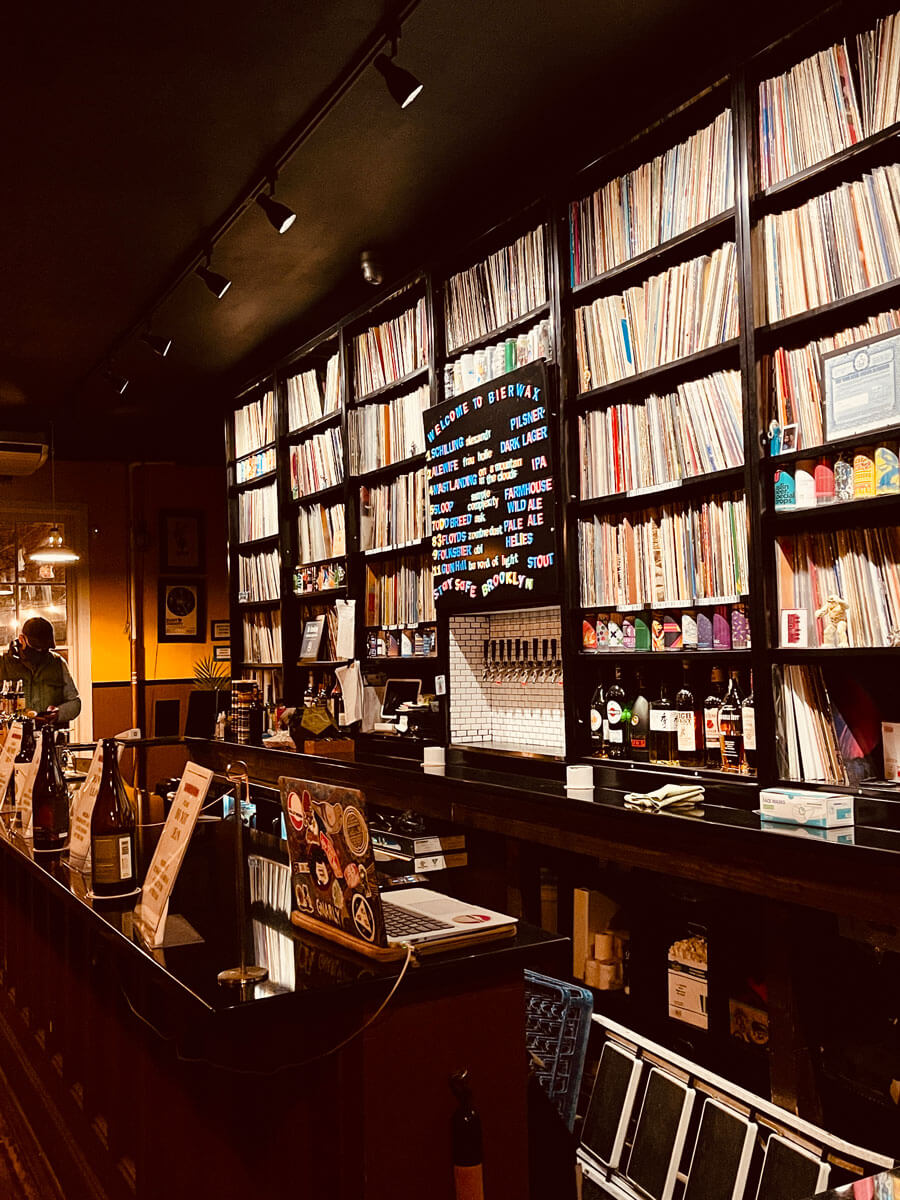 556 Vanderbilt Ave, Prospect Heights
Calling all High Fidelity fans! BierWax is your new second home. A gem among Brooklyn bars and one of our favorite spots in Prospect Heights, BierWax is known for its impressive collection of over 5,000 vinyl records and of course, a well-curated drink program.
As they put it, their recipe is "BierWax is malted grains, water, yeast, and hops mixed with a pinch of 45s, a cup of boom-bap, and a heaping tablespoon of funk." Take your favorite family member (who still remembers 45s!!) or your music industry friends here.
They have a great backyard space too which you should totally take advantage of on a nice day and they also have a rotating art gallery on display featuring different artists whose work you can purchase.
Talea Beer Co.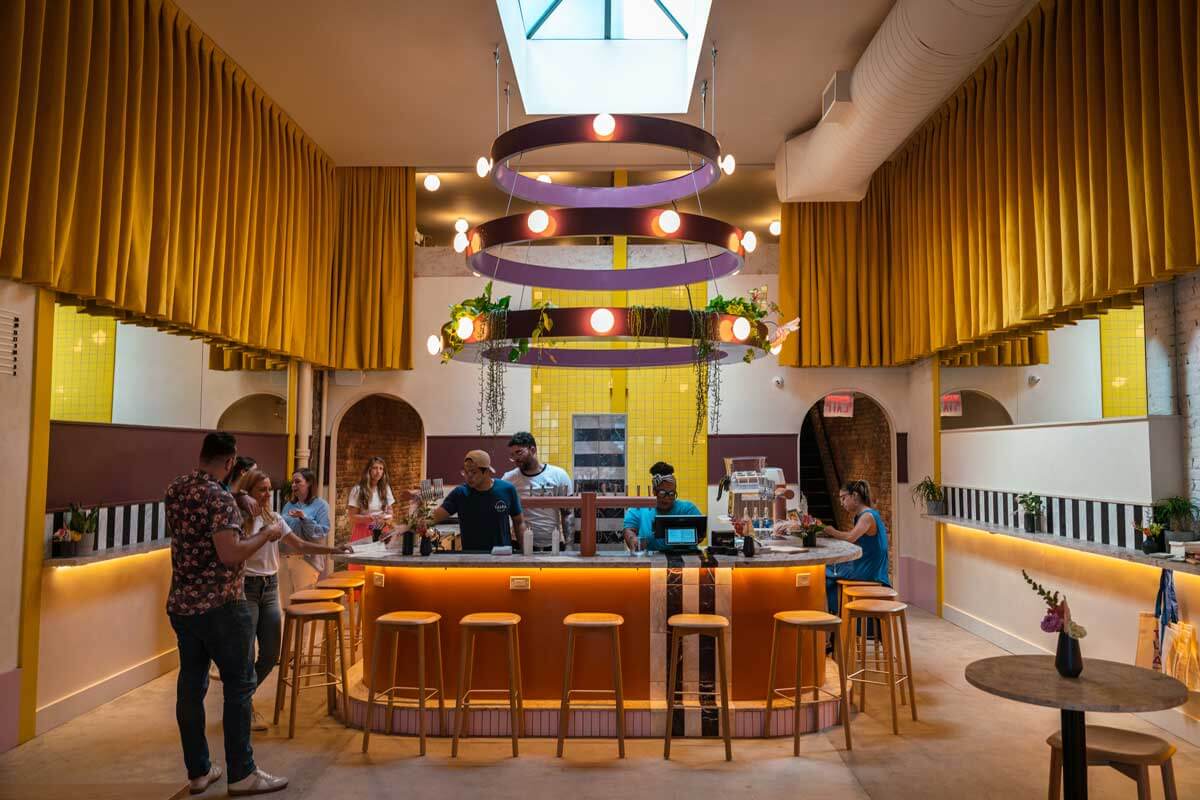 61 Bergen Street, Cobble Hill & 87 Richardson Street, Williamsburg
Calling all beer lovers, one of the best bars in Brooklyn for masterfully made brews is Talea Beer Co,. in Williamsburg and Cobble Hill.
This woman-owned craft brewery is shaking things up in the Brooklyn beer scene and are known for their artisanal sours and great hazy IPAs, when you're visiting be sure to try one of their signature flights for what tickles your fancy. Besides having great brews (that rotate) they have an incredibly stylish space.
The Williamsburg location is a much larger space with a light and airy ambiance whereas the Cobble Hill location is a more funky and colorful space. Both locations regularly host events, so be sure to check out their Instagram page for any upcoming activities or parties they are hosting!
Clover Club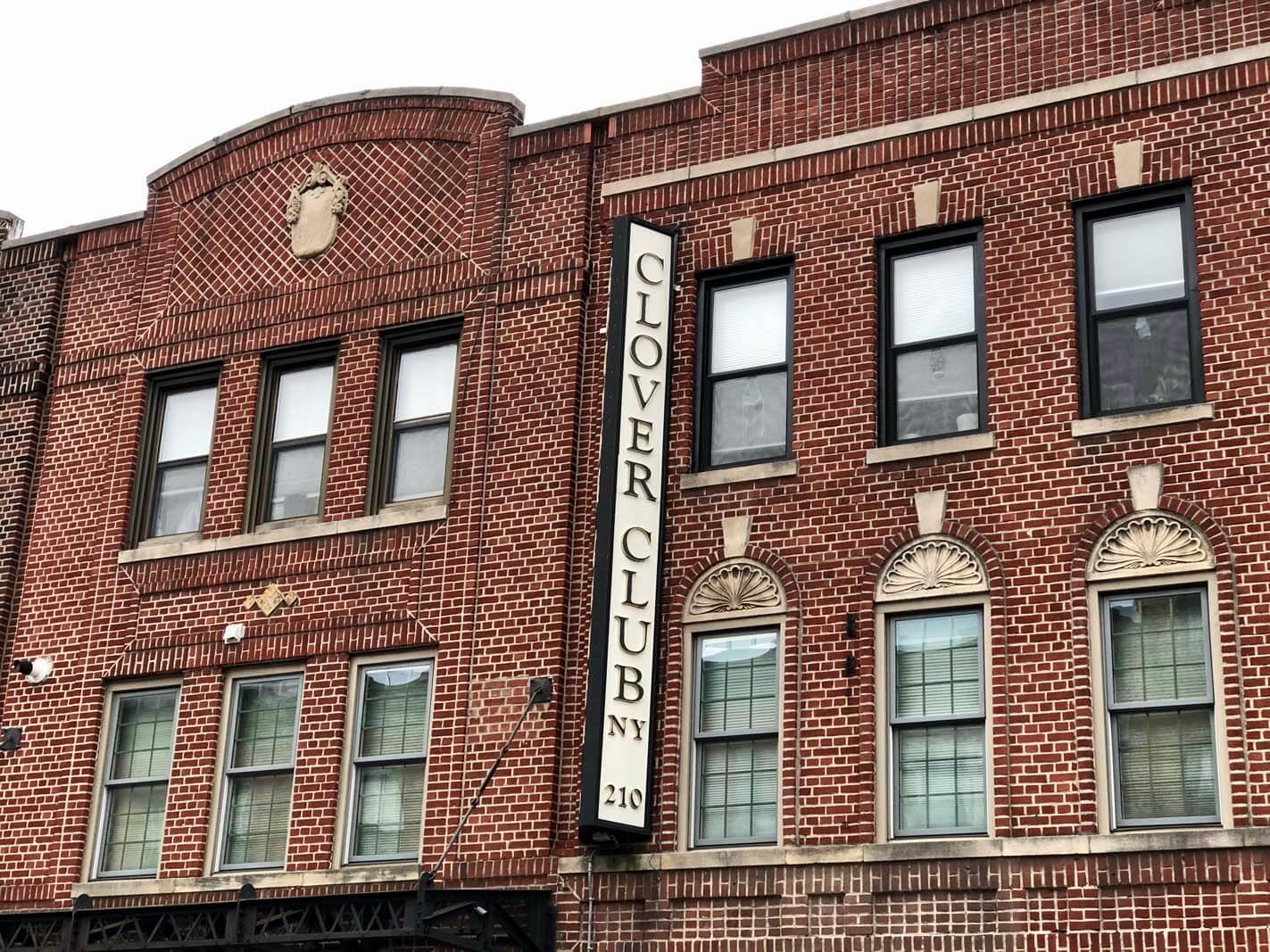 210 Smith St, Cobble Hill/Carroll Gardens
Now that we're returned to the Roaring 20s, why not visit Clover Club, one of the most popular bars in Brooklyn for an art deco, Jazz Age-vibe. Belly up to the bespoke, elevated bar at Clover Club for a Tommy Tightpants Tuxedo (Gin, amber vermouth, fino sherry, orange liqueur, orange bitters) or a Fireside Chat (Rémy 1738, Copalli Cacao, Antica Carpano, blueberry amaro, Angostura bitters) while snacking on a sausage and goat cheese crostini or some baked stuffed clams.
Eavesdrop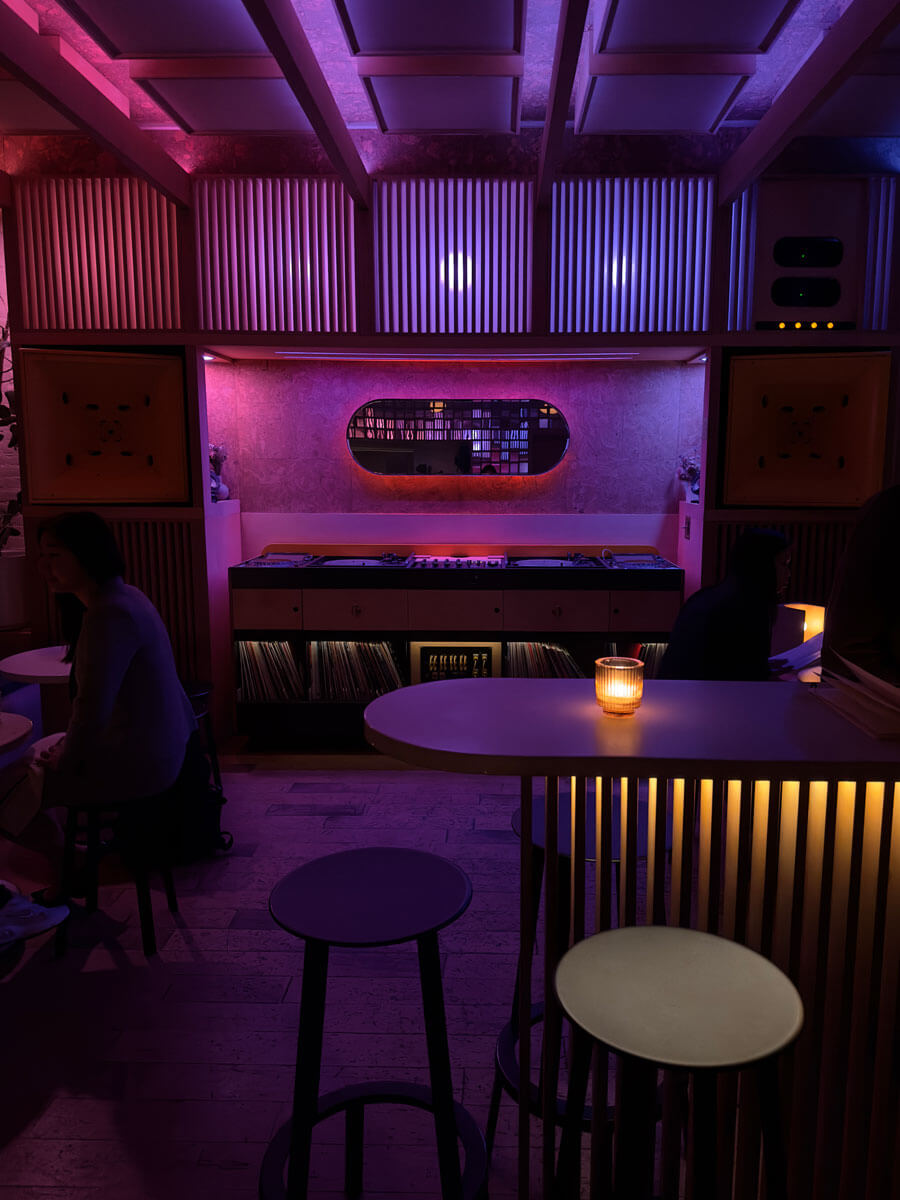 647 Manhattan Avenue, Greenpoint
One of the best bars in Brooklyn for ambiance, sound, and elevated cocktails is Eavesdrop in Greenpoint. This minimally, cool bar not only has a cool sound system solely playing vinyl as their bar soundtrack but they have moody color-changing lighting and beautiful blonde wood details throughout the space. The space was designed for sound and acoustics, and this might be the place you discover a random artist or genre of music you didn't even know existed.
Don't be surprised if there's a wait, it's worth getting on that waitlist. Afterall, there are a few other cool Brooklyn bars on Manhattan Avenue you can head to if you have to wait until your spot is ready.
Zombie Hut
273 Smith Street, Carroll Gardens
A spacious, stylish-yet-kitschy tiki bar, Zombie Hut is one of the most popular bars in Brooklyn and an oasis of relaxation in Carroll Gardens. This is the place to go for (strong!!) Mai Tais with friends on a summer's night — and if you're really feeling ambitious… try their tasty-yet-dangerous Scorpion Bowls (they warned you, it's 4 drinks in one!).
They've also got a great backyard for those warm summer nights or is the perfect place to pretend to be in a warm, tropical place in the dead of winter!
Sunny's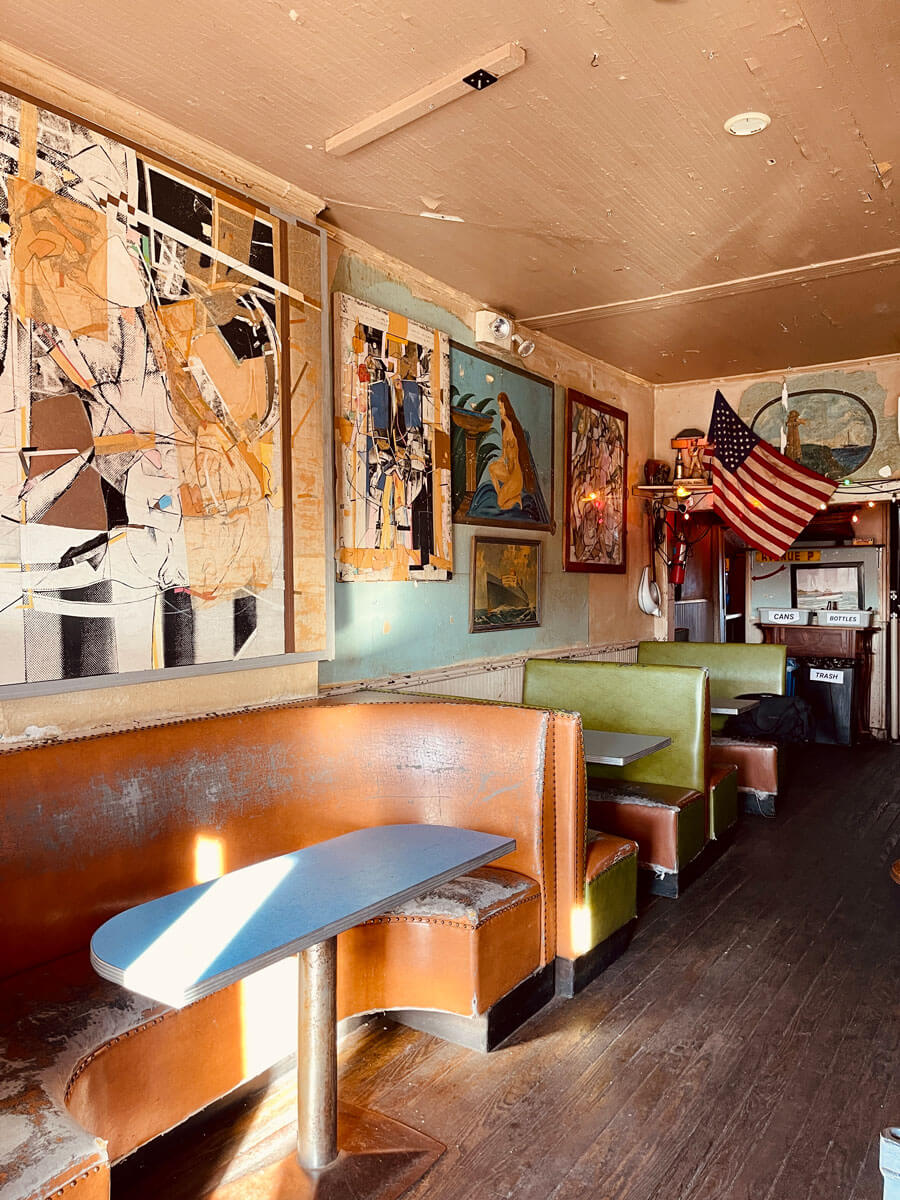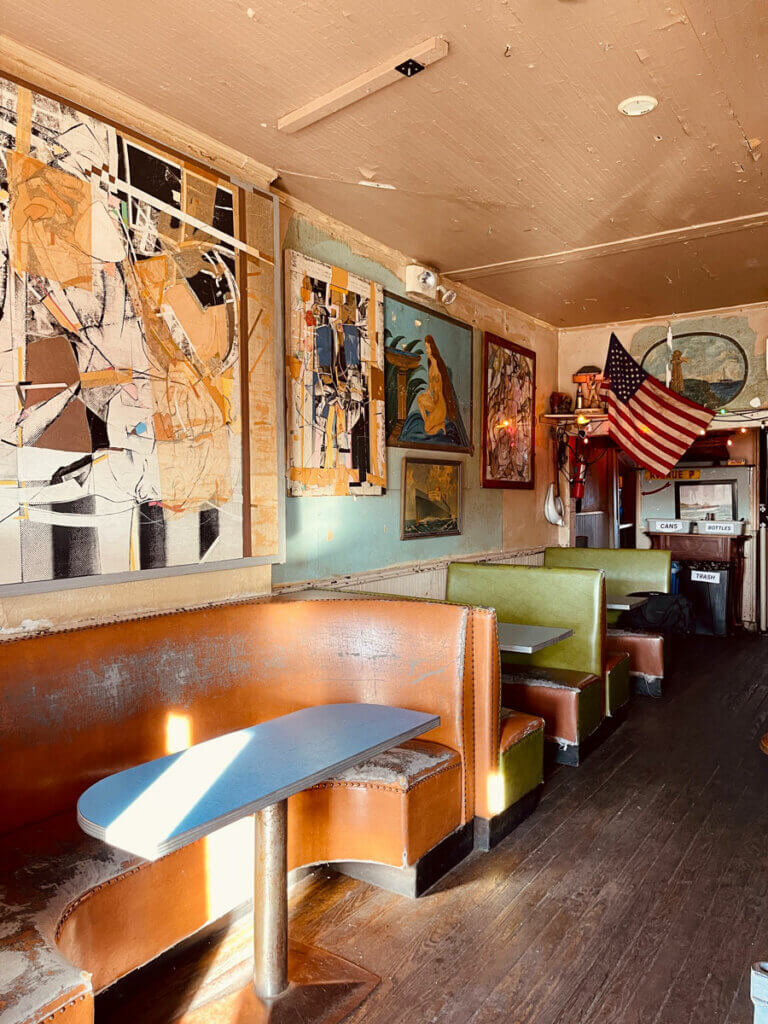 253 Conover St, Red Hook
Opened in the 1890s, Sunny's is one of the older Brooklyn bars and yet still one of the best. Known for their live music, lovingly ramshackle decor (we'd wager a guess that some of it is actually from the 1890s) and affordable cocktails, head here with friends after a day exploring Van Brunt Street or spending the day checking out all the awesome things to do in Red Hook, one of the best Brooklyn neighborhoods to explore on the weekend.
duck duck
153 Montrose Ave, East Williamsburg
If you know the 90s classic "Closing Time", you know that at some point, all bars sound out the dreaded "last call!". That being said, if you want to go somewhere where it almost never feels like "Closing Time", head to duck duck.
This Brooklyn bar is the place to be when you are just not ready to end the night and want to dance, drink, mix, and mingle with the most rowdy crowd in the borough.
This is a cash-only bar! They have an ATM though!
Lover's Rock
419 Tompkins Ave, Bed Stuy
One of the most fun bars in Brooklyn, Lover's Rock is a rum-themed reggae bar with fresh-squeezed juices and a patio — what more could you ask for on a summer's night? Show up ready to boogie the night away with legendary DJ sets from the best of the dancehall scene!
Not to mention they have one of the most inviting exteriors too!
Radegast Hall and Biergarten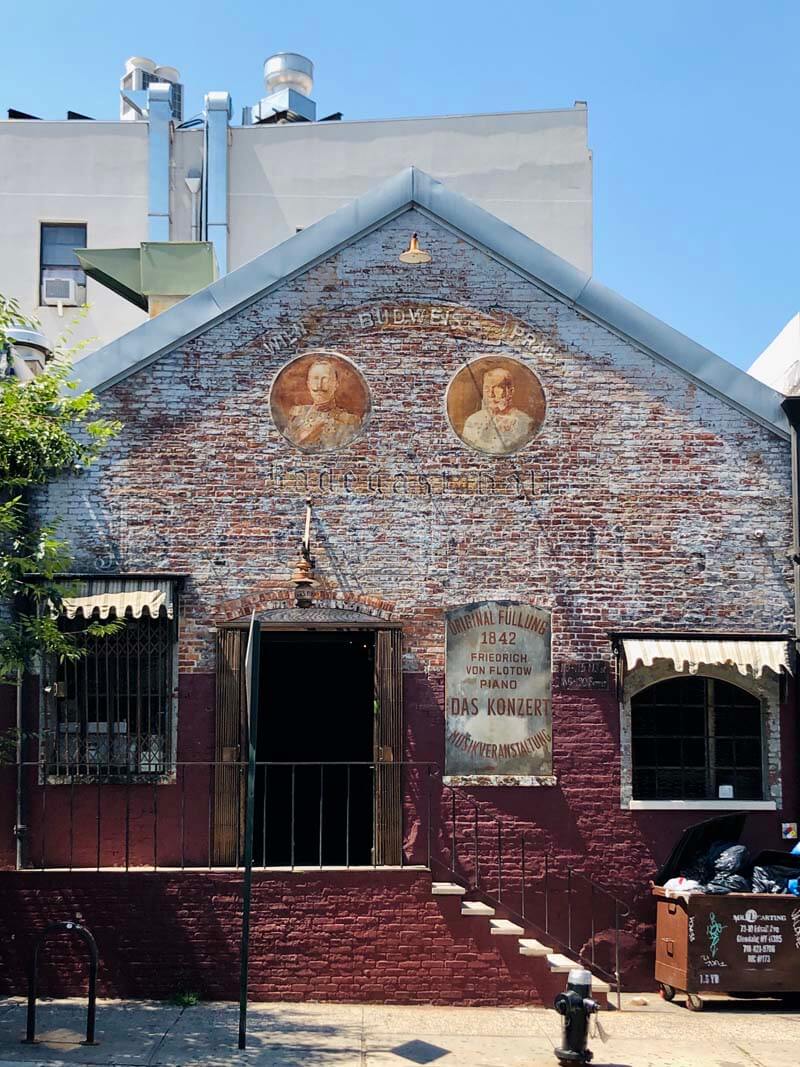 113 N 3rd St, Williamsburg
Trying to save money on airfare to Germany? Skip Oktoberfest and head to Radegast Hall, a jovial, joyful indoor-outdoor beer garden where the giant glass mugs are always full and the party never ends. Order pretzels for everyone and jam to the frequent live bands (the place has great acoustics!). In the wintertime, Radegast is one of the most popular bars in Brooklyn for its reputation as a cozy spot for your family or company holiday gathering, complete with trimmed trees and seasonal beverages!!
If you love German beer then you'll want to check out the best German Biergartens in Brooklyn!
Sycamore Bar and Flower Shop
1118 Cortelyou Rd, Flatbush
Ok, you've done all of the romantic, only-in-New-York type things — and your Hinge dates are getting suspicious (maybe your spiel about the moon over the Brooklyn Bridge is starting to sound a little too rehearsed).
Take them to Sycamore Bar and Flower Shop, a bar and floral store that not only has a full, robust beverage program but also a robust assortment of beautiful buds! Not to mention, Sycamore makes the "cool bars in Brooklyn" list for its regular trivia and game nights, tarot readings, and Drag bingo. I mean, what better opportunity is there to ask your date what their sign is?? Yes I'm a Leo moon,, why do you ask?!
Oh, and they have pretty darn good burgers too! Come early and be sure to explore the mansions of Victorian Flatbush too!
The Commodore
366 Metropolitan Ave, Williamsburg
Looking for Brooklyn bars that serve a bangin' brunch (one of the best spots for brunch in Williamsburg)? Look no further than The Commodore, the ideal place for a stay-all-day, leisurely-yet-lively day drinking session with your crew. Start with a round of Pimms Cups and biscuits, stay for top-notch Bloody Marys and bottomless coffee.
Their outdoor seating is also expansive and a great set-up at that with their retro-folding chairs and tables.
Philomena's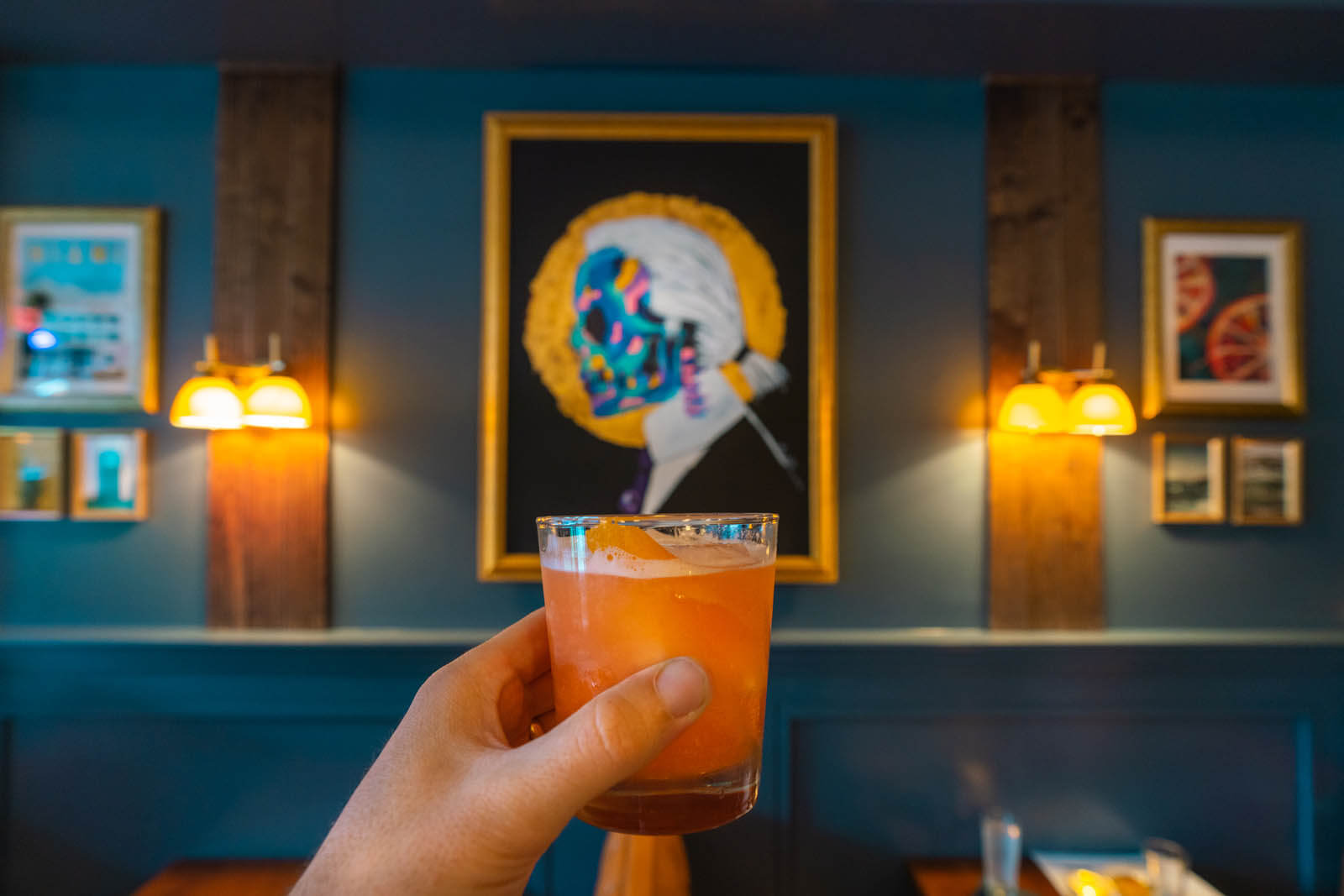 790 Grand St, Williamsburg
On your quest to drink at every one of the cool bars in Brooklyn, don't forget to grab a drink at Philomena's, an elevated-yet-casual joint where you should absolutely get their eponymous beverage (prosecco and watermelon rosé!! what a combo!).
Philomena's is also the kind of Brooklyn bar that you can take your parents to show them that there is Life Outside of Midtown Hotel Bars.
Besides having a seriously classy and cool interior, they serve up infused ice cubes that elevate their cocktail concoctions!
PonyBoy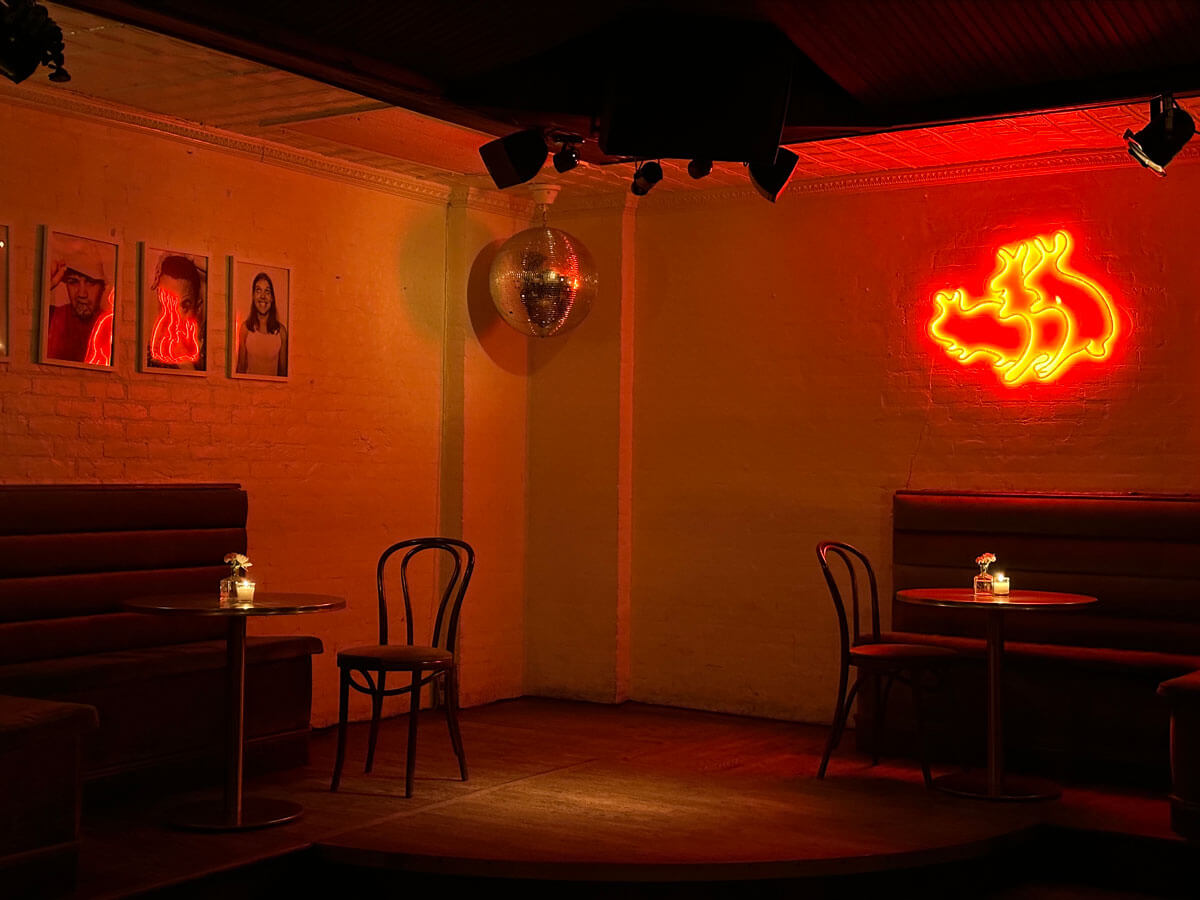 632 Manhattan Ave, Greenpoint
Another cool bar in Brooklyn on the bustling Manhattan Avenue in Greenpoint is PonyBoy, a lively cocktail bar that also has a kitchen if you're looking for a bite to eat. By late evening, think after 10 PM, the backroom with the disco ball, stage, and neon signs of a rabbit threesome turns into a full-blown dance party.
Their cocktails steal the show for menu items here, but the real draw to one of the coolest nightlife spots and bars in Brooklyn are the late-night dance parties and their regular events ranging from drag cabaret, comedy shows, to live music sets. You'll want to keep an eye on their Instagram if you want to see what fun upcoming events they have.
TØRST
615 Manhattan Ave, Greenpoint
Featuring 21 drafts and over 200 bottles, Torst is a bright, well-designed space that is one of the best bars in Brooklyn where you can also count on the food to be just as good as the brews. A constantly rotating menu, we recommend the Fried Chicken Sandwich (if it's on!) and a burger with Gruyere. Go here with your friend who wants something beyond bar popcorn.
Goldie's
195 Nassau Ave, Greenpoint
It's a truth universally known, that after a few beverages, most people want to sing. I'm sorry, it's just science! Make your gold-record dreams come true at Goldie's, a funky, retro bar that features frequent karaoke nights in a space filled with glittering silver curtains, neon palm trees, and a leopard print ceiling. Order a margarita and request to sing Last Dance!
Bearded Lady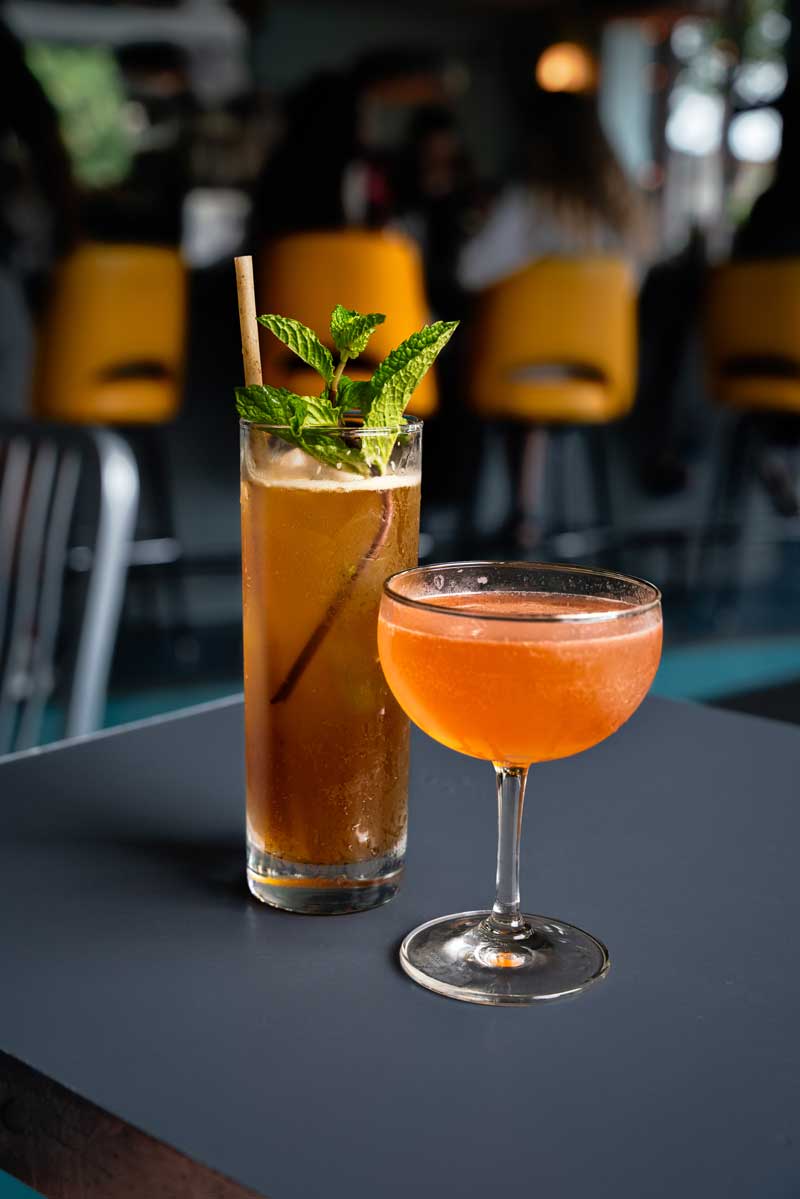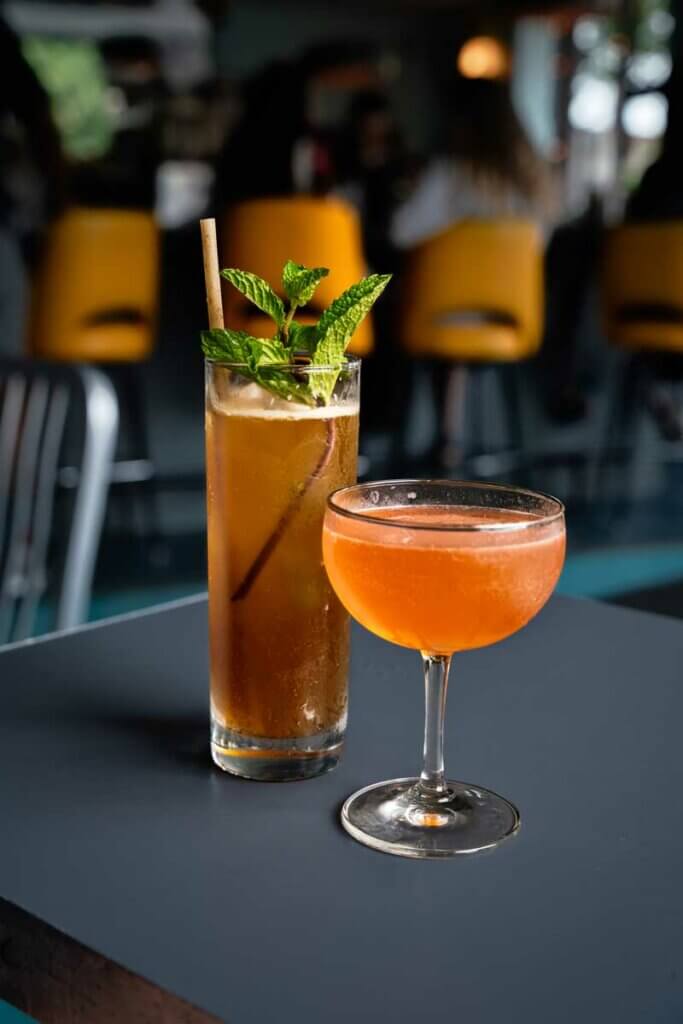 686A Washington Ave, Prospect Heights
Located on the edge of Prospect Heights and Crown Heights is one of my favorite bars in Brooklyn for cocktails. The interior has a retro 1950s-diner vibe to it with a really good menu of bites and creative cocktails.
During warmer weather, they open up the giant windows and it has a great breeze coming in and becomes the perfect people watching spot from this cheerful, colorful bar!
The Springs
224 Franklin St, Greenpoint
A trip to Palm Springs, sans airfare, The Springs is one of the most fun bars in Brooklyn and a direct ticket to the sun-soaked, pink and turquoise-hued Florida of the 1960s. Enjoy their colorful patio on a warm day and be sure to come and check out one of their burlesque shows they host!
Try the Lawn Flamingo (Mitcher's Bourbon, Hibiscus topped with Ginger) or the Purple Palm (Hiatus Tequila Blanco, Ume Plum Liquor and Agave) in one of their cozy booths or on the generous patio. At Christmastime, the Springs transforms into a kitschy winter wonderland that is not to be missed!
Westlight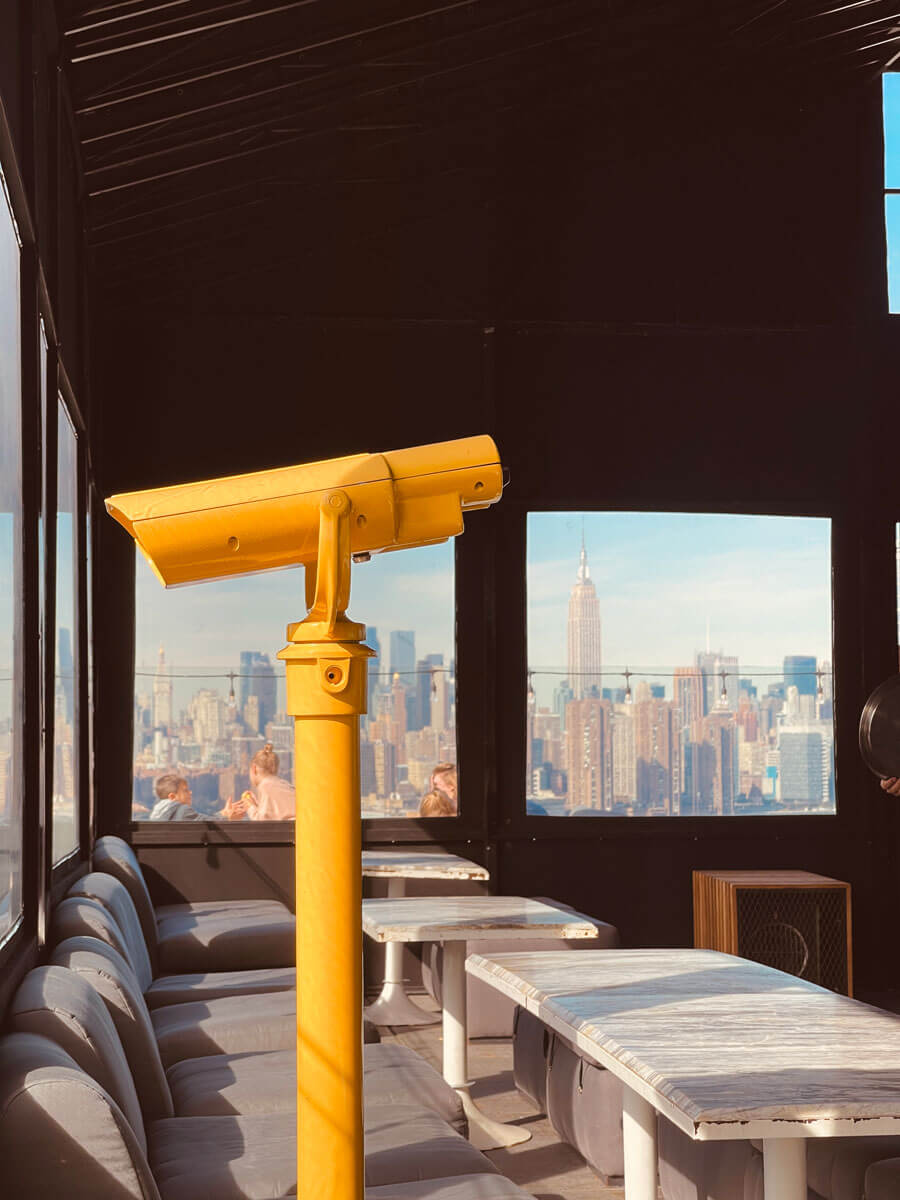 111 N 12th St, Williamsburg
In the category of Brooklyn bars with a view, Westlight cannot be beaten. This is one of the best rooftop bars in NYC at the William Vale Hotel boasts nearly 360 views of the city, including spectacular East River and Manhattan skyline vistas.
But Westlight isn't just a pretty picture — the bar's curated, top-notch cocktails are worth a trip on their own.
Try the Amber Glow (El Silencio Mezcal, Grand Marnier, Aperol, Orange, Thai Chili) or the Four Winds (Lost Irish Whiskey, Bardstown Fusion Bourbon, Chai, Black Walnut – perfect drink and excuse to celebrate World Whiskey Day if you ask me) as you take in the twinkling lights of the town.
Reservations are recommended!
Wonderville
1186 Broadway, Bed Stuy
Located on the edge of Bed Stuy on Broadway is one of the most fun bars in Brooklyn. This vintage arcade and bar has great happy hour deals plus unlimited free play on their fun collection of video games and arcade games.
Got a group of friends? Bring them! There are even video games here that can play up to 16 people! Don't worry there are plenty of options for single player, two players, three players, four players, etc.
Wonderville also hosts frequent events. From video game competitions, live music sets, open VHS nights where patrons can bring their own VHS tape to be played inside the bar.
Sunken Harbor Club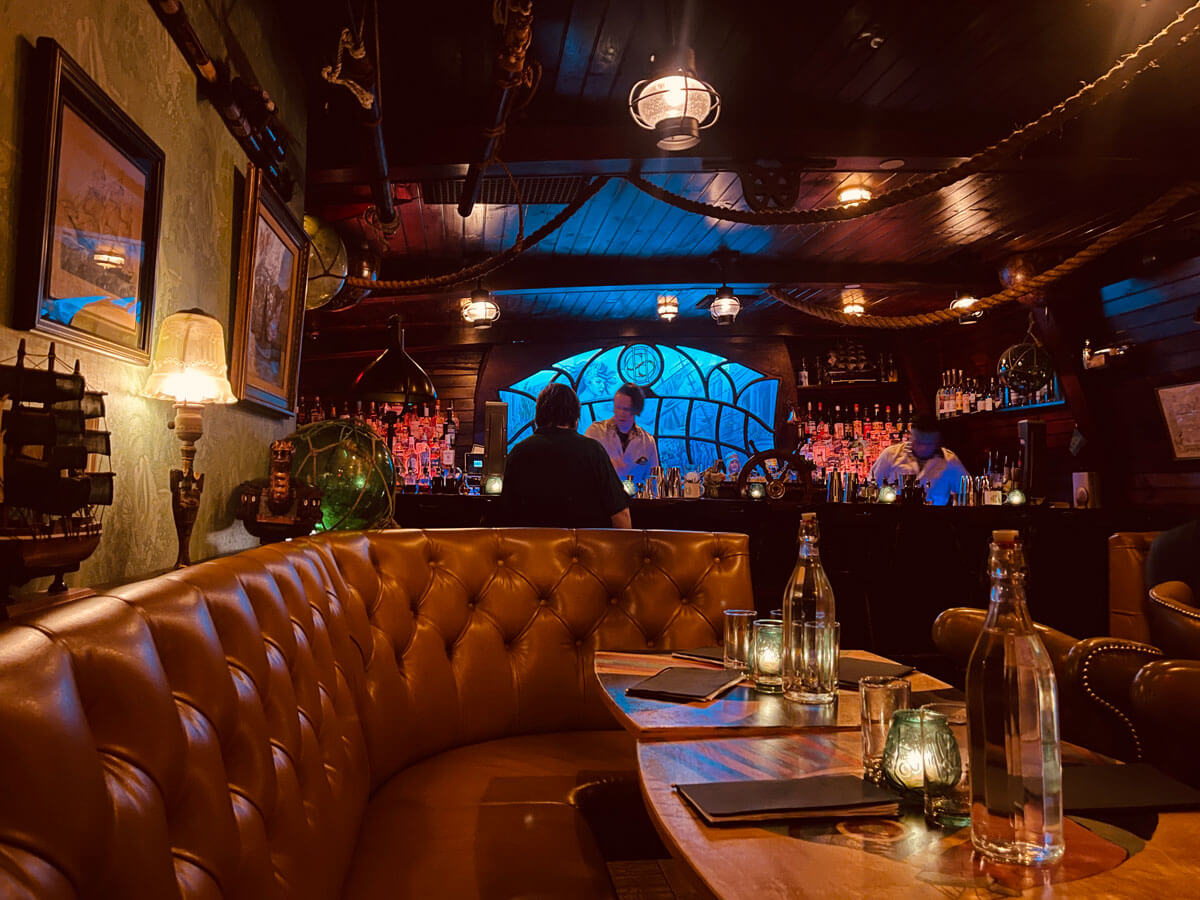 327 Fulton Street Floor 2, Downtown Brooklyn
One of the coolest themed bars in Brooklyn can be found in Downtown Brooklyn above the gorgeous, historic, fine dining establishment Gage & Tollner (also, one of the best restaurants in Downtown Brooklyn). This hidden intimate nautical bar in Brooklyn is an experience. The setting is dimly lit and makes you feel like you're in the bowels of an old pirate ship with ambient sounds of waves crashing.
The menu is an interesting one, starting with lighter cocktails and working your way to the strongest cocktails when you enter the 'Abyss' page. After a certain hour, the bartender will make an announcement when you enter the abyss and encourage patrons to order stiffer drinks!
If you order the El Diablo, be ready for some fanfare and the whole bar to look over at you. In fact, many of the cocktails have a fun element of surprise to them which makes this Brooklyn bar a really fun and unique experience for those looking for something a little different.
Fresh Kills Bar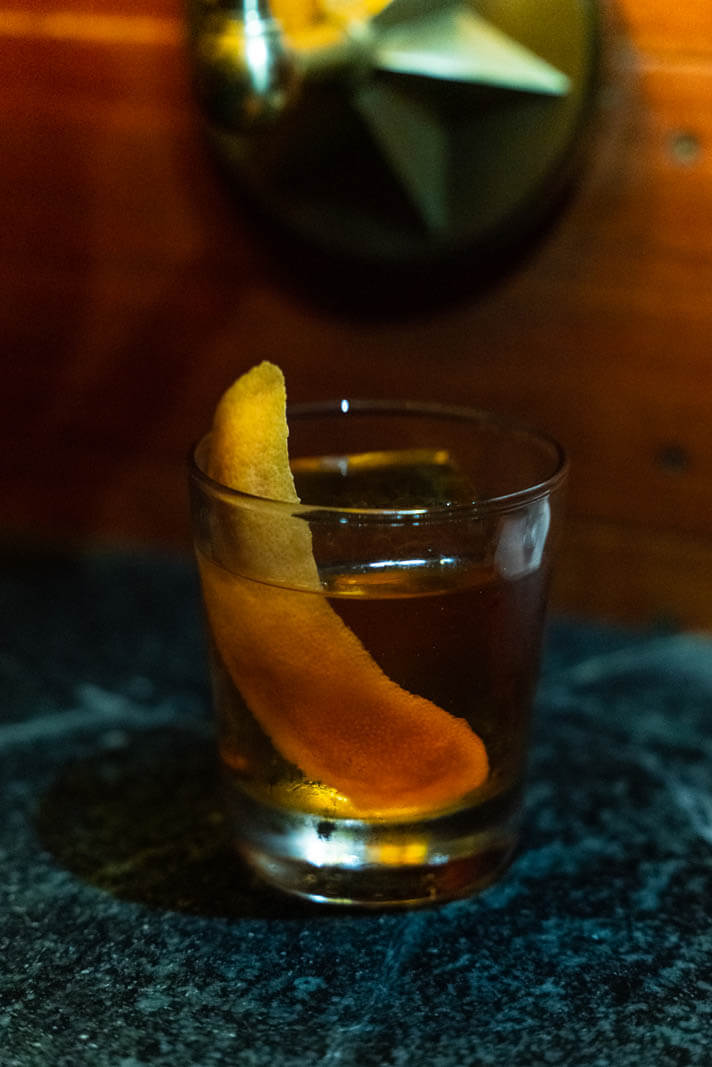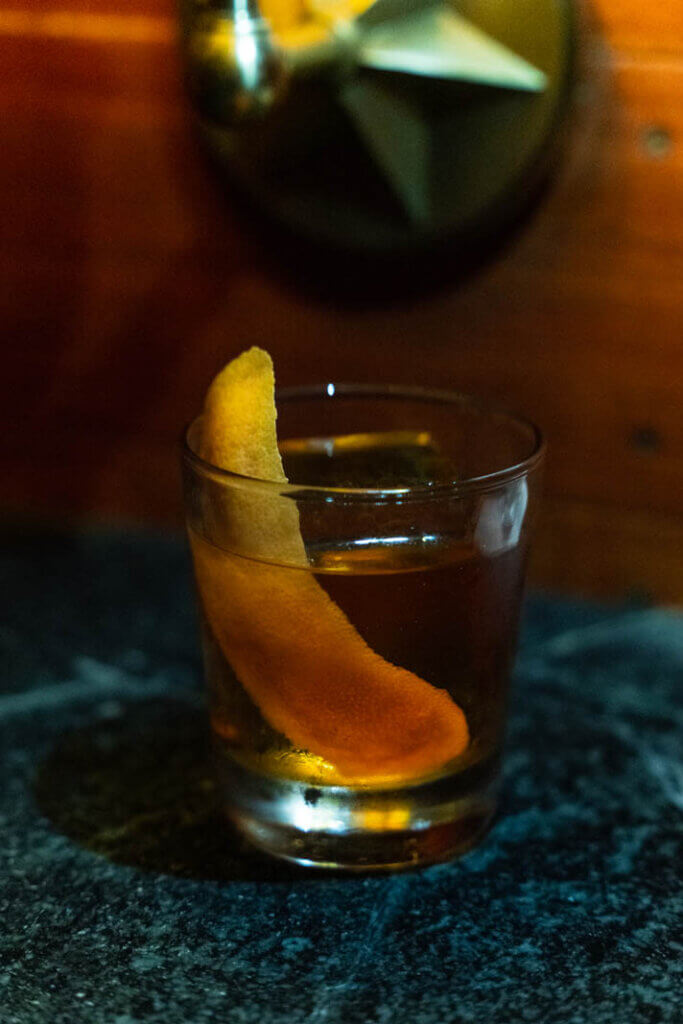 161 Grand Street, Williamsburg
Love cocktails? This is one of the BEST bars in Brooklyn for that. With plenty of two-top tables and a few booths for those nights out with friends, this incredibly popular Brooklyn bar in Williamsburg is the perfect place for you to go if you are looking to try something new.
Fresh Kills Bar offers top-of-the-line cocktails served with hand-cut ice. Expect to sip classics like an Old Fashioned with a twist which actually tastes like freshly brewed iced coffee or your server will ask you some questions about flavors or spirits you like and whip up something special just for you. That's my favorite thing to do here and what makes it a stand out cocktail bar in Brooklyn.
This unpretentious place gets crowded, but not in the packed-and-sweaty kinda way so you're always guaranteed a good time…and a late night!
Union Hall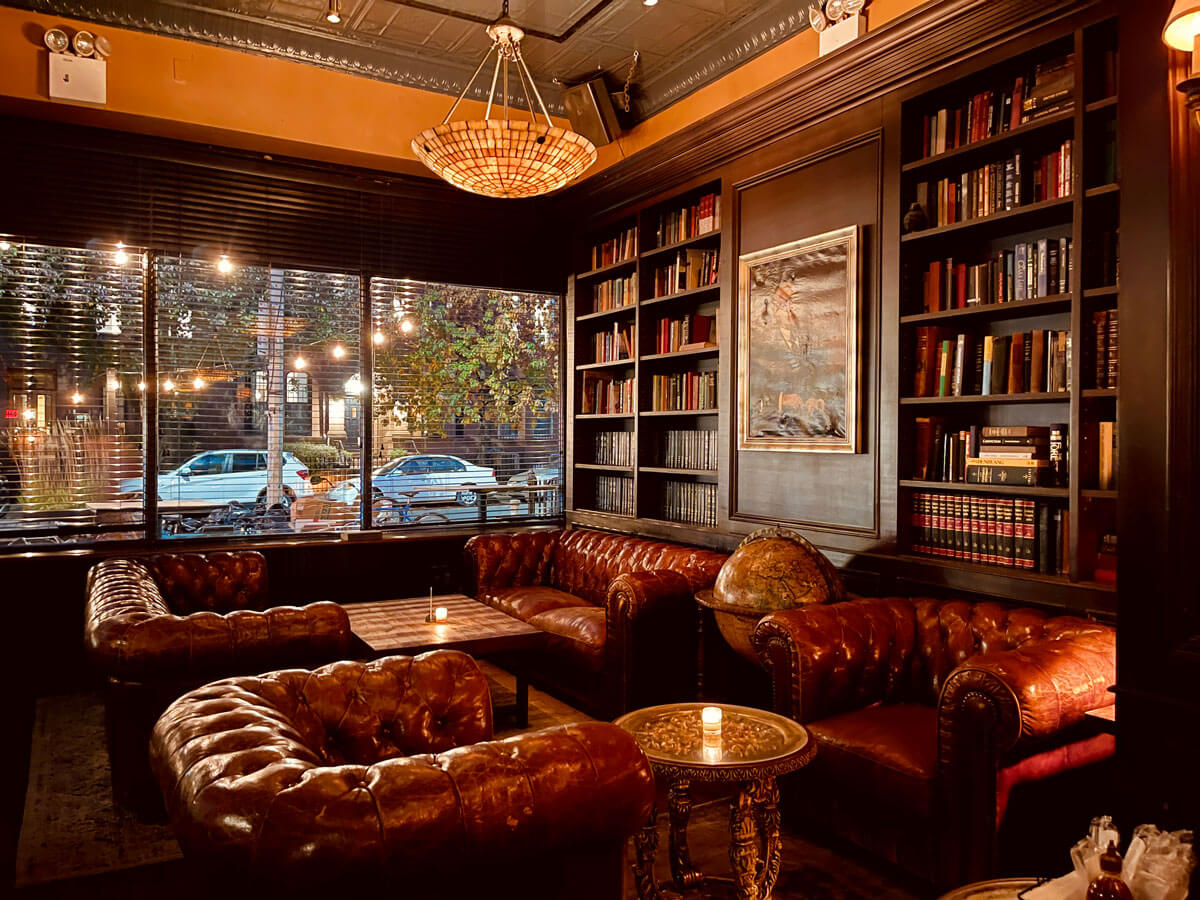 702 Union Ave, Park Slope
One of the best spots for nightlife and bars in Brooklyn goes to Union Hall in Park Slope. This library-esque space with leather couches, fireplaces, and bookshelves, doubles as an event space. You'll find bocce ball courts in the back and in the basement, you'll find regular events hosted in the intimate space that can seat 40-50 comfortably, heck there are even some pretty big names that show up here!
During the warmer season, there's an outdoor bar and area to also hang out.
Hungry? There's also food, be sure to check out their website for their latest events. And, if you want to throw your own party you can rent out the space.
Henry Public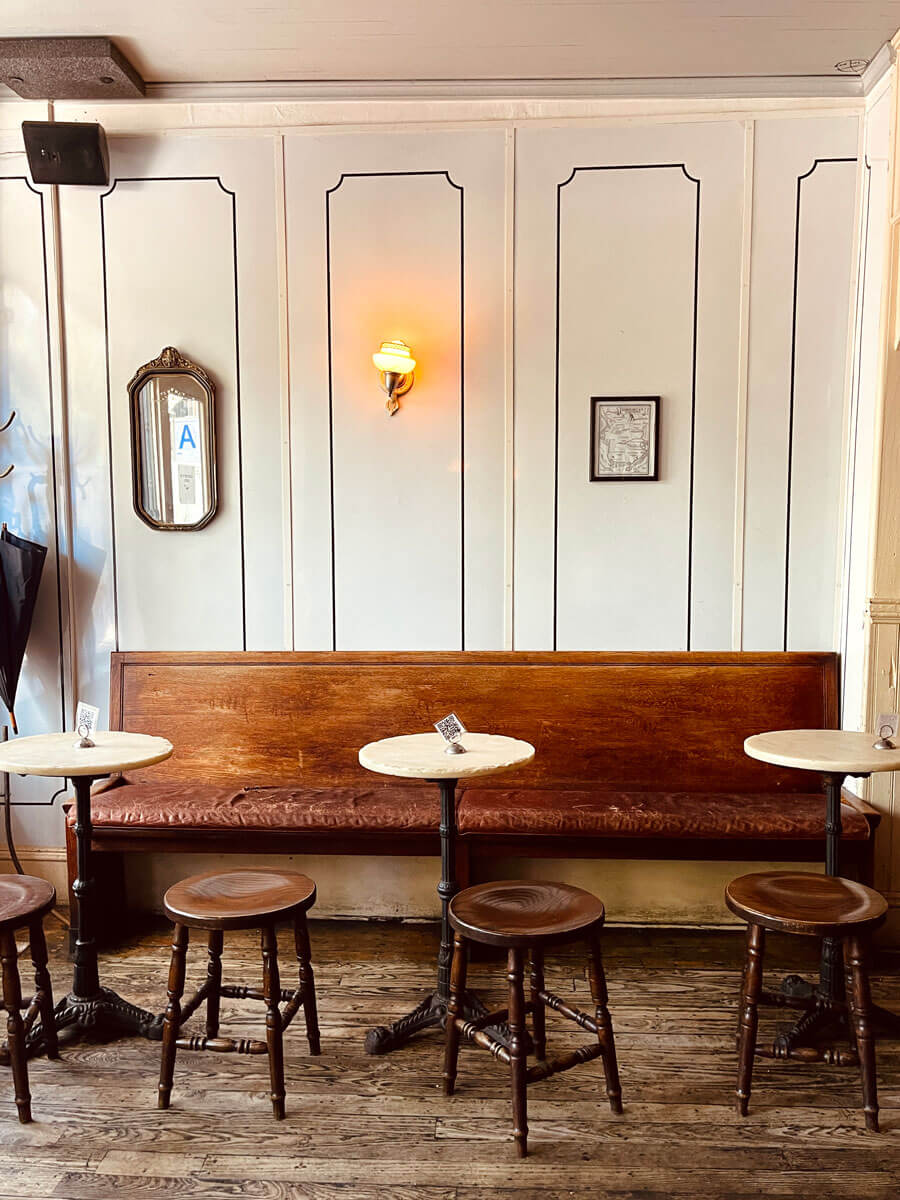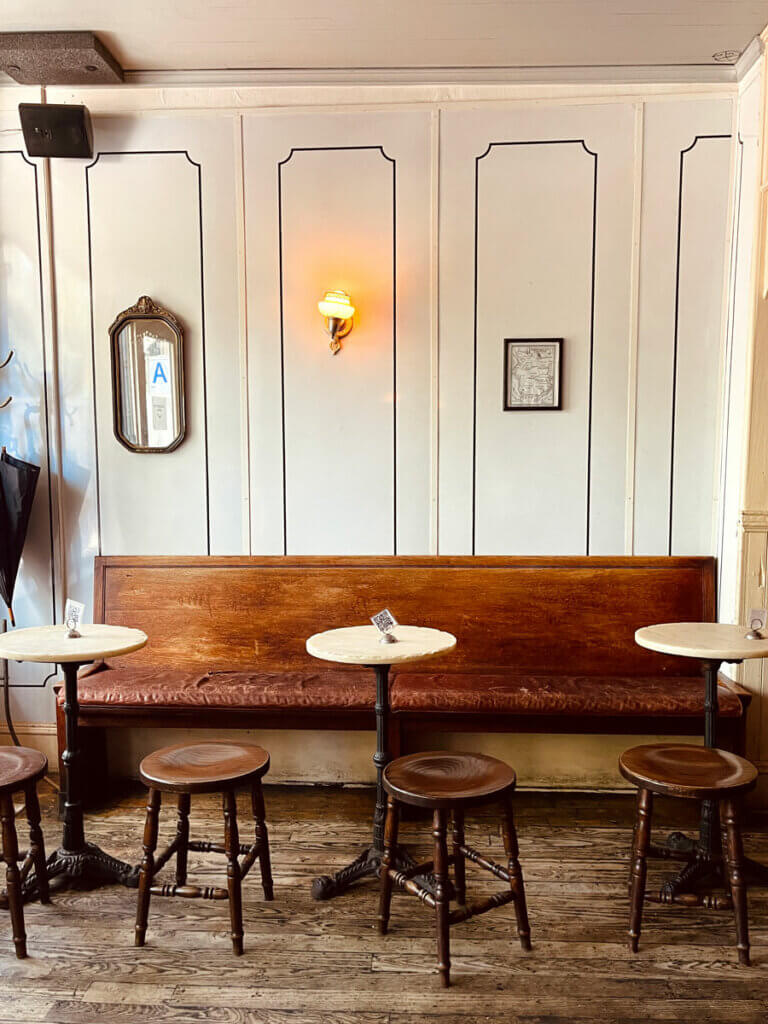 329 Henry Street, Cobble Hill
For more aesthetically beautiful bars in Brooklyn, look no further than Henry Public in Cobble Hill that's not only a late night spot for cocktails but also a sitdown restaurant during the day serving up traditional American-fare from sandwiches and other great options like grass-fed burgers and oysters.
This entire Brooklyn bar feels like an old-time NYC saloon and they are no stranger to live jazz music or being a boozy day drinking weekend brunch spot.
They also have a really beautiful outdoor set up, and while it's right off of Atlantic Avenue you wouldn't notice as this section of Henry Street is pretty quiet.
---
Best Bars in Brooklyn Map:
Best Brooklyn Bars (Post Summary);
Diamond Lil
Tuffet
Broken Land
Zig Zag
Doris
Pearl's Social and Billy Club
Altar
Bohemien Bar
C'Mon Everybody
Weather Up
BierWax
Talea Beer Co.
Clover Club
Eavesdrop
Zombie Hut
Sunny's
duck duck
Lover's Rock
Radegast Hall and Biergarten
Sycamore Bar and Flower Shop
The Commodore
Philomena's
PonyBoy
Tørst
Goldie's
Bearded Lady
The Springs
Westlight
Wonderville
Sunken Harbor Club
Fresh Kills Bar
Union Hall
Henry Public
---
About our Guest Author
Sarah Beling is a playwright, New Yorker, and passionate food enthusiast who is always looking for her next meal. You can find her in an NYC park, enjoying a chopped cheese sandwich and reading about NYC's best new places to eat.
---
Did we miss your pick for best bar in Brooklyn? Let us know in the comments below!