Looking for the best bars in Greenpoint, Brooklyn? We've got you covered. Nestled in traditional Polish roots while burgeoning a community of hip creatives, Greenpoint (a quiet little neighborhood in Brooklyn, New York City) abounds with quirky vintage shops, historic buildings, and an array of some of the hottest and most happening bars in the city.
From stunning waterfront views to secluded, breezy backyards, the buzzy and on-trend Greenpoint bars offer the perfect haven for sunny and sunset sips any day of the week.
So whether you're new to town, just visiting, or are simply looking to expand your list of go-to places in the city, here are 10 of the best bars in Greenpoint.
While you're in the neighborhood be sure to explore the best things to do in Greenpoint in between your sips and drinks! And if you're looking for a great meal, check out the best restaurants in Greenpoint too.
10 Awesome Greenpoint Bars
Tørst
Address: 615 Manhattan Ave
Of all the Greenpoint bars, Tørst is quite simply one of the borough's finest beer establishments. Boasting 21 impressive rotating drafts, over 200 bottles, and a stunning Scandinavian-inspired taproom, this Greenpoint cocktail bar also serves "elevated bar food."
Fun fact: Tørst means thirst—a fitting name for one of the best bars in Greenpoint. So if you're feeling a craft beer craving coming on, you now know where to go.
Not to mention, their menu here is top-notch including great bites like their fried chicken sandwich. Just another reason to love this spot and why it's on our round-up of best bars in Brooklyn too!
Little Rascal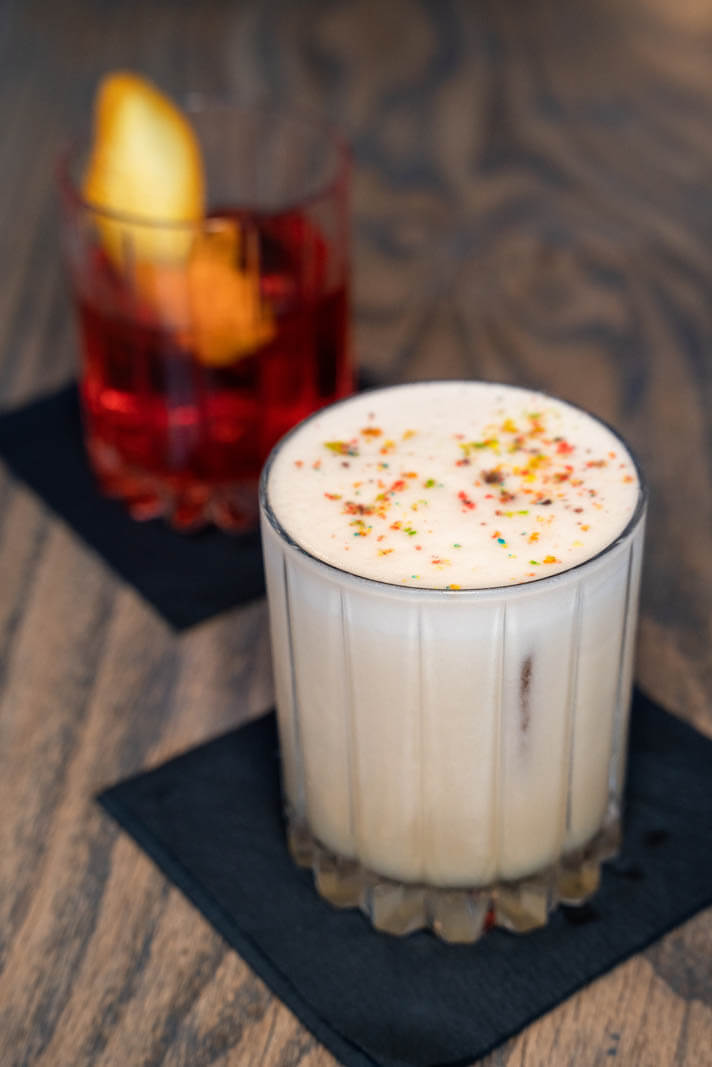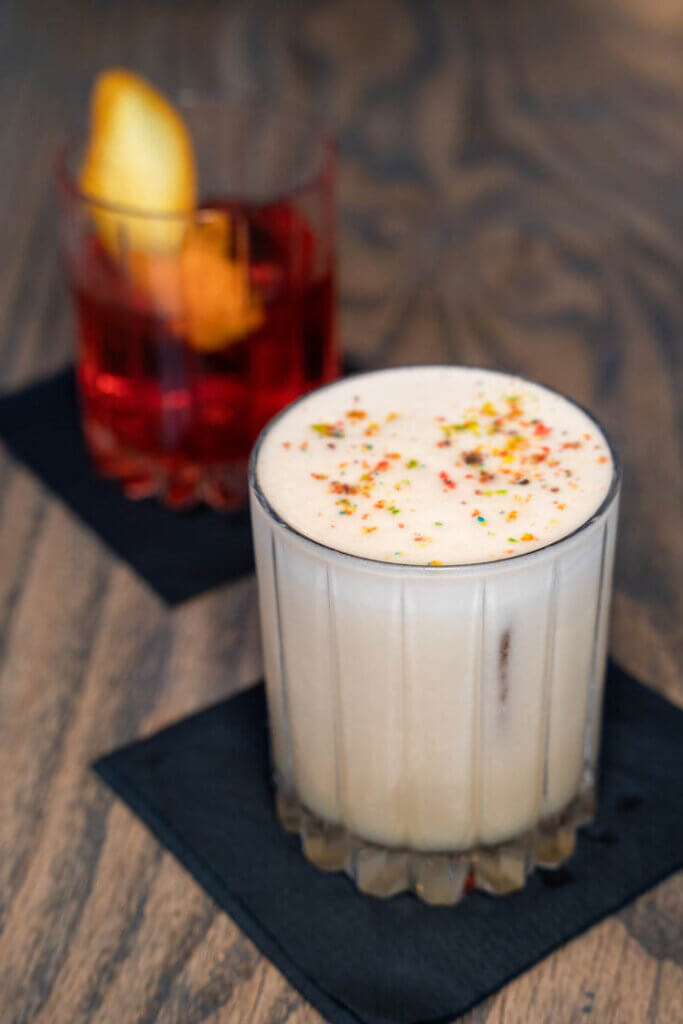 Address: 130 Franklin St
This avant-garde cocktail bar in Greenpoint brings inventive drinks from celebrated mixologist, Keith Larry. The bar itself is a second outpost to the Mediterranean restaurant in Nolita. The owners are from Adana, Turkey and you can find influences all throughout the bar from the Puppet Lightbox artwork above the bar by Turkish-based artist and puppeteer, Cengiz Ozek to the menu items like the Feta Phyllo Rolls and Halloumi Croquettes.
We recommend coming for the cocktails and trying a few light bites whether you're looking for a Greenpoint bar for your next hang out with your friends or date night.
All the cocktails are creative, but one not to be missed is the Cosmic Debris which is made with bourbon, fresh lemon, egg white, pistachio cream, fruity pebbles-infused sugarcane extract, and sprinkles of fruity pebbles on the frothy top.
Also, during nice weather you can take advantage of their backyard space.
Eavesdrop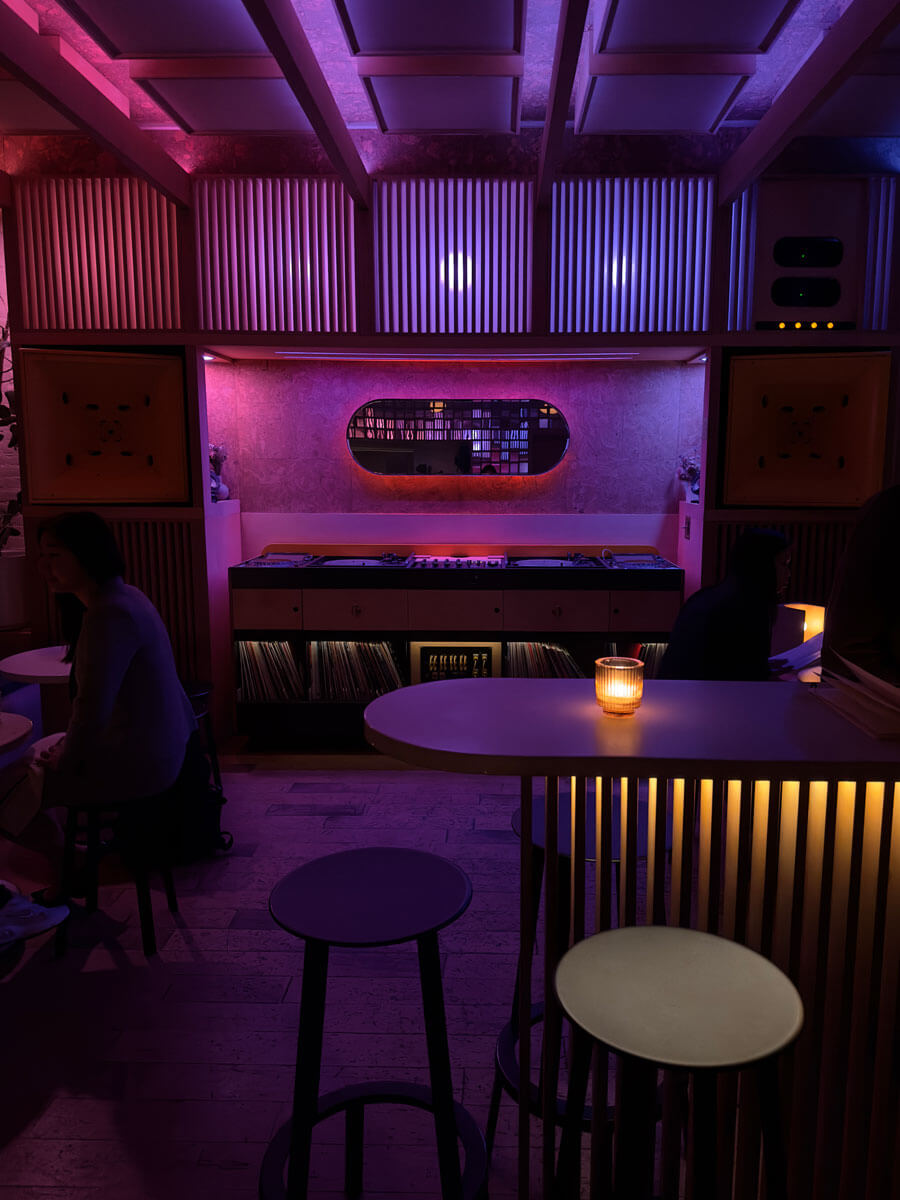 Address: 647 Manhattan Avenue
One of the best bars in Greenpoint (hands down) is Eavesdrop. This minimally, cool bar not only has a cool sound system solely playing vinyl as their bar soundtrack but they have moody color-changing lighting and beautiful blonde wood details throughout the space. The space was designed for sound and acoustics, and this might be the place you discover a random artist or genre of music you didn't even know existed.
Come to this Greenpoint bar for their cocktails and stay for the ambiance (and the food). Don't be surprised if there's a wait, it's worth getting on that waitlist. Afterall, there are a few other cool Greenpoint bars on Manhattan Avenue you can head to if you have to wait until your spot is ready.
PonyBoy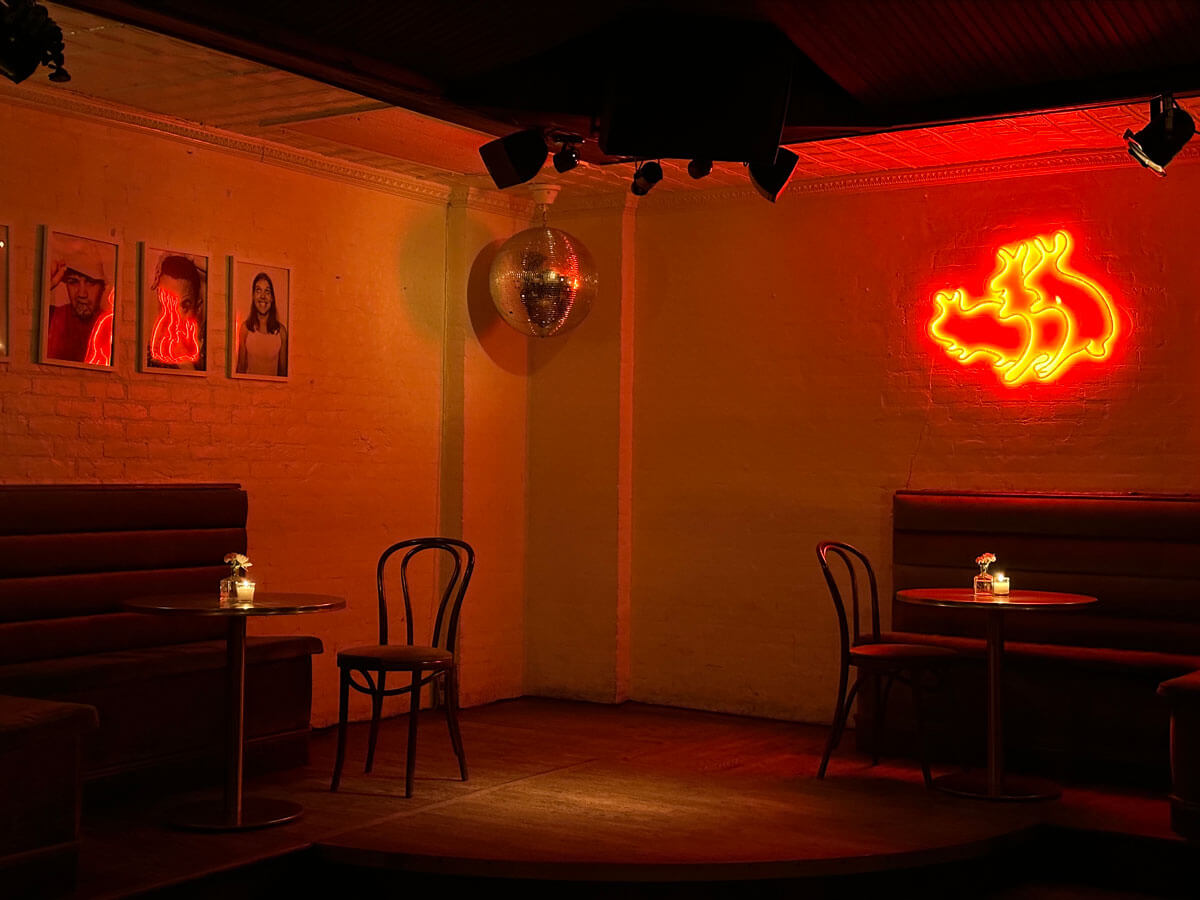 Address: 632 Manhattan Ave
Another cool bar in Greenpoint located on Manhattan Avenue is PonyBoy, a lively cocktail bar that also has a kitchen if you're looking for a bite to eat. By late evening, the backroom with the disco ball, stage, and neon signs of a rabbit threesome turns into a full dance party.
Their cocktails steal the show for menu items here, but the real draw to this bar in Greenpoint are the late night dance parties and their regular events ranging from drag cabaret, comedy shows, to live music sets. You'll want to keep an eye on their Instagram if you want to see what fun upcoming events they have.
Goldie's
Address: 195 Nassau Ave
This retro Vegas-themed Greenpoint bar offers a rare combination of upbeat fun and chill low-key vibes that makes it easy to hang around for hours. On weekdays, you can enjoy a $6 margarita at Happy Hour that goes until 8pm and more than a just handful of free goldfish (the snack, that is).
There are big tufted leather booths for a group, a pool table for making new friends, and even a u-shaped bar to satisfy your solo drinking needs. Of all the bars in Greenpoint, Goldie's is definitely worth a visit—or two.
The Hidden Pearl
Address: 621 Manhattan Ave
This Greenpoint cocktail bar that's, well kind of hidden, can be found behind a door at the back of a Japanese restaurant called Wanpaku. In here you'll find Japanese-inspired cocktails that are infused with ingredients like yuzu and miso served alongside a menu of small plates like fried baby octopus, pork buns, and tuna on crispy rice for when you get hungry.
Getting into The Hidden Pearl isn't as easy as finding the door though. This really is one of the best bars in Greenpoint, so be sure to call ahead and make a reservation.
Achilles Heel
Address: 180 West St
Away from all the hustle and bustle of Greenpoint's foot traffic, Achilles Heel almost feels like a locals-only spot. The cocktails here are meticulously crafted and served alongside a small, but excellent rotating food menu.
A great place for a Happy Hour, drinks and oysters, lovingly prepared off-cuts of meat, and even a nightcap, this is one of the bars in Greenpoint that's exquisite, well-worn, and just as comfortable to be in as a fine pair of walking shoes.
The Black Rabbit
Address: 91 Greenpoint Ave
One of the best bars in Greenpoint, The Black Rabbit isn't just a casual pub that pours out pints for a crowd. In fact, this Greenpoint cocktail bar has a lot more to offer: a big backyard, fireplace, and an always-packed trivia night.
So whether you're looking for a date spot, post-work happy hour, casual drinking, or even just a quick bite, this bar in Greenpoint is where you'll find it all—and more!
The Moonlight Mile
Address: 200 Franklin St
Attention all whiskey lovers! The Moonlight Mile is the perfect Greenpoint bar to satisfy all your whiskey whims and fancies. With over 200 different American whiskeys, a rotating cast of craft beers on tap, and over 12 innovative, handcrafted whiskey-based cocktails, there really is no better spot to indulge.
Not one for a whiskey or cocktail? Try out their delicious wines instead. There's something for everyone at this Greenpoint bar so don't miss out!
The Springs
Address: 224 Franklin St
Slushies in the sun? Check! Breakfast after yoga? Sure. Loaded fries at 1am? Why not! You'll find everything your heart desires at The Springs—a tropical paradise that's inspired by the retro oasis vibes of the Palm Springs in Southern California.
One of the best bars in Greenpoint, The Springs offers plenty of seating for dining and relaxing which makes it the perfect spot to chill, soak up the sun, enjoy a delicious cocktail, and decompress from city life. What more can you ask for?
---
Best Greenpoint Bars (Post Summary)
Tørst
Little Rascal
Eavesdrop
PonyBoy
Goldie's
The Hidden Pearl
Achilles Heel
The Black Rabbit
The Moonlight Mile
The Springs
---
Did we miss your favorite Greenpoint bars or Greenpoint cocktail bar? Let us know in the comments below and we will go check it out!