Check out the best breweries in Brooklyn and the best of the craft beer in Brooklyn scene. We have taste tested and approved the incredible artisanal brew scene here and we really need no excuse to go anywhere else in the city for great beer.
From experimental farmhouse-style ales, European style brew pubs, to some of the best IPAs you can find in the city, the beer scene in Brooklyn is out of this world.
What's even more interesting about the craft brew scene is that it wasn't until a couple of years ago when law changed that helped cause the resurgence of the almost lost and forgotten beer scene here in NYC.
In the late 1800s to early 1900s, Bushwick in Brooklyn was known as the beer capital of the Northeast with 14 different breweries within a 14 block area known as Brewer's Row and by the early 1900s, Bushwick and Brooklyn was responsible for 10% of the beer produced in the US thanks to the large German immigrant enclave here.
New York was a hop mecca until prohibition which pretty much killed the hop industry and the beer industry that was so successful. Only a few of the local breweries survived these hard years until recently when in 2014, there was a law that now allowed and legalized on-premise sales to breweries that caused the big Brooklyn beer and NYC beer boom.
That's when beer lovers, artists, and experts were finally able to bring their talents in craft brewing to the borough and create one of the best beer scenes in the country.
Pre 2014, it was hard to find a beer from Brooklyn that wasn't Brooklyn Brewery or Sixpoint who are the OG of beer making in the borough – and two incredible breweries in Brooklyn we recommend in this guide.
With over a dozen breweries, you can make an epic beer tasting and beer crawl journey through Brooklyn. See what some of our favorites are as well as what they're known for.
Read Next: Most Iconic Places to Eat in Brooklyn
The Best Craft Beer in Brooklyn Scene
Brooklyn Brewery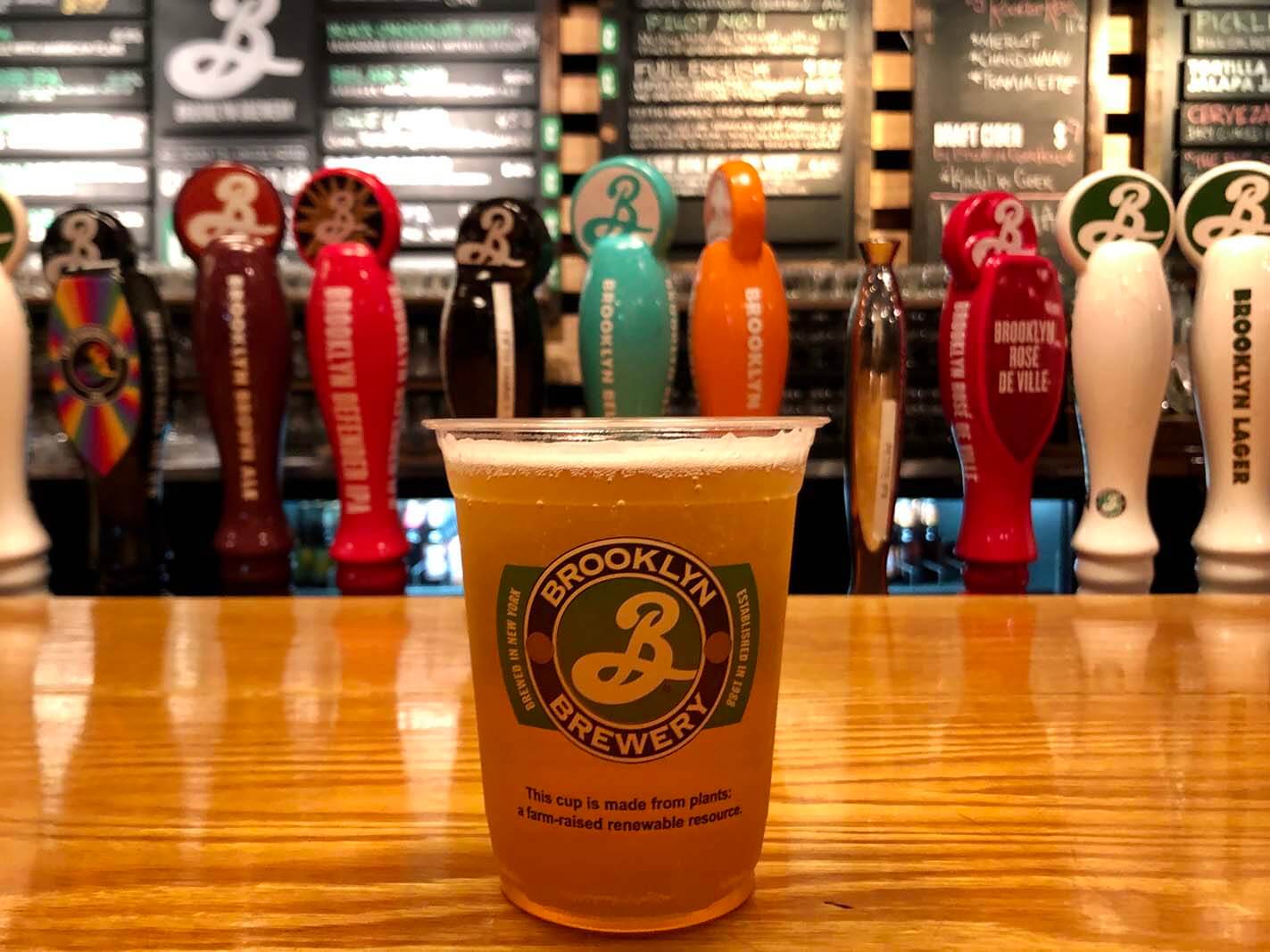 WILLIAMSBURG
Easily the most famous of the breweries in Brooklyn where you can find on draft all throughout the city and easily in stores outside of the city is the Brooklyn Brewery which is located in Williamsburg, Brooklyn.
Brooklyn Brewery was one of the first and one of New York's first post-prohibition craft breweries starting in 1988. This is also where the craft beer in Brooklyn trend started.
Their large brewery and tasting room is a great hangout space and a fun gathering spot for a drink with friends. There are vintage games here and plenty of space for small groups to gather. If you're lucky during your visit you will stop in when they are having one of their events or local artisan markets.
This is arguably one of the best breweries in Brooklyn for visitors because you can also join a 45 minute guided tour through the facility and learn about their beer-making process, most other breweries in Brooklyn don't have this. The tours are free on the weekends, but available every day of the week, which is why we include it in our favorite things to do in Brooklyn.
If you can't make it, don't worry you'll be able to try this Brooklyn beer easily all around the city during your visit or even possibly find it at home.
Brooklyn Beer They're Known For:
Their Brooklyn Lager is their most famous as well as their Defender IPA and Bell Air Sour. They also do a great selection of rotating taps and seasonal beers.
Read Next: Things to do in Williamsburg
Other Half Brewing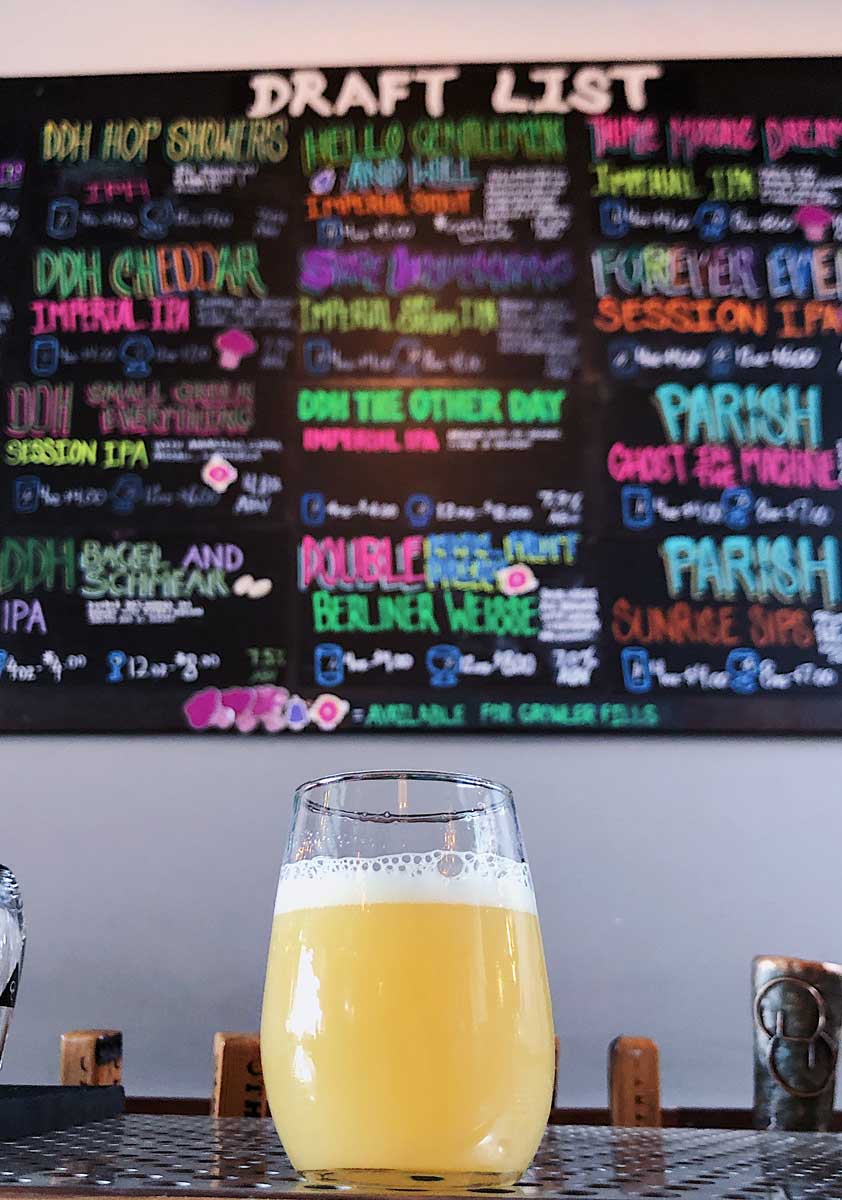 GOWANUS
If we only had to pick one, our current favorite of the best breweries in Brooklyn is the Other Half Brewing located in the industrial neighborhood of Gowanus. While in a location that's not so easy to get to for most New York City residents, we're lucky as its right in our YBG headquarter's backyard!
The Other Half Brewing has been around since 2014 and also has a location in Rochester in upstate New York. They've easily attracted a cult following with their fun beer collaborations with other brewers and their famous large and always rotating selection of incredible hazy, juicy, and dank IPAs.
Their brewery is a great warehouse open concept style space that fills up and even has a line on the weekends. Or, you can just buy growlers or 4 packs to go with their amazing artwork released with each brew they come up with.
Be warned, many of their Brooklyn beers have a higher ABV %, so a few of these can hit you bit harder than if you're just sipping on a lager or pilsner.
Brooklyn Beer They're Known For:
Other Half Brewing is famous for their hazy and cloudy IPAs dry-hopped with Mosaic, Citra, and other famous hop varieties. You can also always expect some fun experimental brews on tap when you're visiting that are always worth trying.
Read Next: Things to do in Gowanus
Talea Beer Co.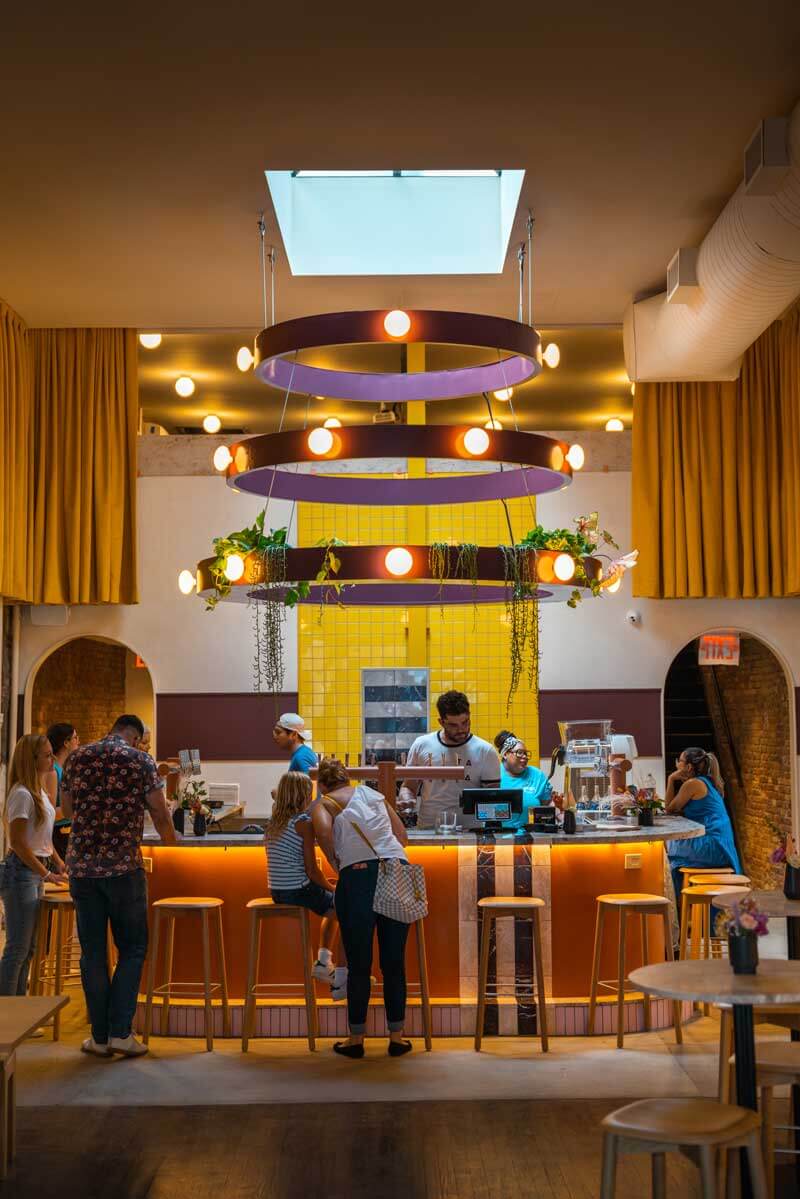 WILLIAMSBURG & COBBLE HILL
Another one of the best places for a beer in Brooklyn is Talea Beer Co. which has not one but two Brooklyn locations in Williamsburg by McCarren Park and off of Bergen Street in Cobble Hill near the border or Boerum Hill. This woman-owned craft brewery is shaking things up in the Brooklyn beer scene.
Known for their artisanal sours and great hazy IPAs, when you're visiting be sure to try one of their signature flights for what tickles your fancy. Besides having great brews (that rotate) they have an incredibly stylish space.
We especially love the Cobble Hill location as the interior feels like you're in a Camille Walala space (check her page and you'll see or go visit her giant mural at Industry City in Sunset Park.
What's even better is that their space actually opens earlier in the day and they serve coffee drinks and light bites making it the perfect hang out with your laptop and work throughout the day kind of space, meeting spot for work or pleasure, and of course date spot.
They also do yoga classes!!
Brooklyn Beer They're Known For:
You can find some quality sours here and really fun flavors that match the season! They also are known for their IPAs. If you're not sure what to try, check out one of their tasting flights.
Folksbier Brauerei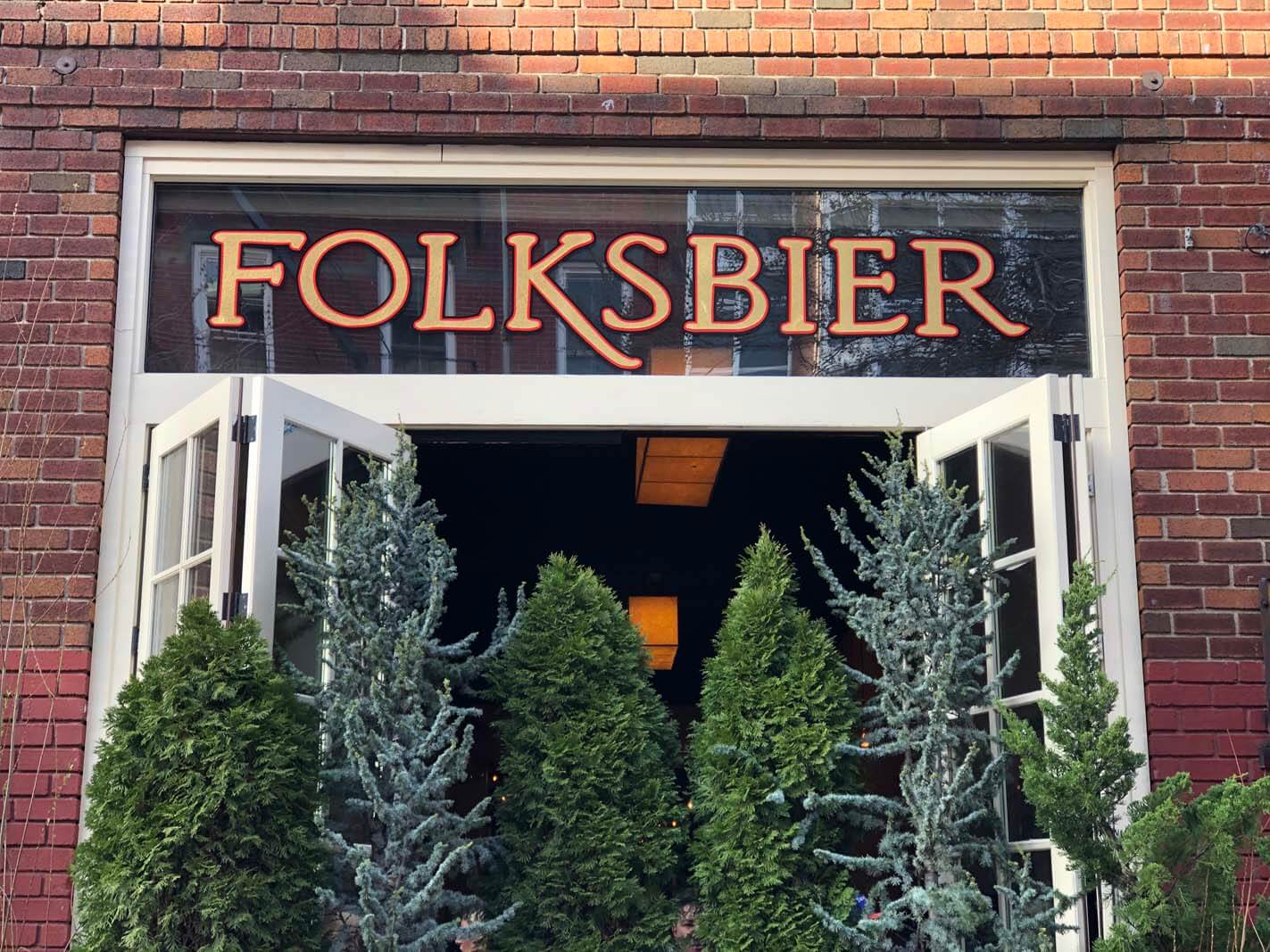 CARROLL GARDENS
Another one of the best breweries in Brooklyn that we accidentally stumbled upon while exploring the residential streets of the beautiful Carroll Gardens neighborhood. If we HAD to pick our top 3 favorite breweries in Brooklyn, Folksbier Brauerei would make the cut.
This traditional German-style brewery has a cool old-world charm to its tasting room serving up brews that combine modern brewing trends here in Brooklyn with the old school world and tradition of German-style brewing.
The tasting room space is a nice hangout spot and perfect for grabbing some beers with some friends. If you're hungry they do offer some small bites that you can pair with your Brooklyn brews like cheese and charcuterie as well as soft pretzels.
Having done extensive traditional beer touring of Germany and my fair share of the US craft brew scene, Folksbier Brauerei does do an excellent job marrying the two worlds, the old school traditions, style, and vibe of a Germany beer hall blended with a trendy warehouse/industrial tasting room that fits right in Brooklyn.
This is another one of those craft breweries in Brooklyn we love grabbing some extra to take home.
Brooklyn Beer They're Known For:
You can find some traditional German beer styles of lagers and ales here blended with some Brooklyn beer trends for some unique combinations. They are especially famous for their selection of sours and saisons, you can also find some great hazy IPAs here as well.
Five Boroughs Brewing Co.
SUNSET PARK
Another one of the more famous and best breweries in Brooklyn is located in Sunset Park in a former steel manufacturer and warehouse. Five Boroughs Brewing Co. fits right in with the trendy and exciting new additions to Industry City.
This giant taproom has become the premier hangout spot for gatherings with its large long tables and great natural light coming in perfect for coming in groups or mingling at the communal tables with your drinking neighbors on a busy afternoon.
The space is also kid-friendly with some toys hanging around.
Brooklyn Beer They're Known For:
Five Boroughs Brewing Co. has made a name for itsself in the craft brew scene here in Brooklyn for its pilsners and lagers, the perfect summer day beers. If you're a fan of juicy and hazy IPAs like we are, you can count on finding those here too.
Sixpoint Brewery

RED HOOK, GOWANUS TBD
Located in Red Hook, another one of the best breweries in Brooklyn to check out is Sixpoint Brewery. This craft beer in Brooklyn spot has been around the neighborhood since 2004 when it opened in its small garage space and claims to use a 'mad science' approach to their signature brews through their different techniques and ingredients they use to make their master brews.
Sixpoint has been around long enough to be considered one of the first in the craft beer in Brooklyn scene behind Brooklyn Brewery in Williamsburg of course.
Soon to be unveiled is their huge mega space taproom to open in the nearby neighborhood of Gowanus complete with a rooftop beer garden with epic views.
This is another one of those breweries you can taste from home by grabbing up a pack at your grocery store. Sixpoint is often easily found in New York state stores if you can't make it to the original or the new up-and-coming taproom.
Brooklyn Beer They're Known For:
Sixpoint is most famous for its innovative brews including Resin, Sweet Action, and Jammer. Resin has a higher ABV at 9.1% and is one of our favorites of their selection of IPAs.
Threes Brewing
View this post on Instagram
GOWANUS, PARK SLOPE
Another one of our favorite picks for best breweries in Brooklyn is Threes Brewing on the edge of Park Slope and Gowanus off of 4th Ave on Douglass Street.
Threes Brewing also offers a full bar in case you're trying to find a place that might also be suitable for non beer drinkers or someone looking for a cocktail.
In the mornings, you can enjoy a pick me up at their Ninth Street Espresso counter or hang around until the afternoon or evening when you can hang out at their full taproom with food offerings or just come in to grab some beer to go.
They're famous for their backyard in the warmer months, which can get very crowded, but they also have a really cool indoor bar which is perfect for the pre-dinner or post-dinner drink if you're out with friends, a date, or a business meet up.
Brooklyn Beer They're Known For:
Threes Brewing is known for their quality lagers and pilsners, those perfect day drinking beers as well as having a great, well-rounded offering of IPAs.
Read Next: Things to do in Park Slope
Strong Rope Brewery
View this post on Instagram
GOWANUS
Another one of the best spots for craft beer in Brooklyn is at Strong Rope Brewery in Gowanus. This family-run operation prides itself on its local grown hops and ingredients from New York State in their medley of brews from American to English inspired Brooklyn beers.
They actually pride themselves being the only brewery in New York City who uses solely locally sourced ingredients from New York state. Other breweries do use local ingredients, but not exclusively like Strong Rope.
Besides serving up their own brews in their intimate bar, they do offer a few guest taps. Pay attention to details including the wood the bar is made of, it was from a tree that was hit during Hurricane Sandy.
This is one of those more laid back types of environments where bringing your own food in to pair with your beer is allowed and encouraged.
Brooklyn Beer They're Known For:
You can find great stouts and english style ales by Strong Rope!
Circa Brewing Co.
DOWNTOWN BROOKLYN
Another fun and popular spot for craft beer in Brooklyn is Circa Brewing Co. in Downtown Brooklyn. This popular brewery in Brooklyn is also a pizza spot which brings in the crowds.
The brothers who run Circa Brewing Co. learned their beer making skills formerly at Sixpoint and the other brought their experience making pizza in Portland, Oregon skills to create the perfect combination of pizza and beer in one cool hangout.
You can bet that their brews pair well with their wood-fired pizzas but if you're looking for a cocktail, you can also get that here.
This is one of the best breweries in Brooklyn if you're looking for more than just a delicious brew, but amazing food to go with it.
Brooklyn Beer They're Known For:
Circa is known for the classics like pilsners and ales, their brown ale, Berliner Weisse, and NEIPA are the most popular pairing with their wood-fired pizza.
Transmitter Brewing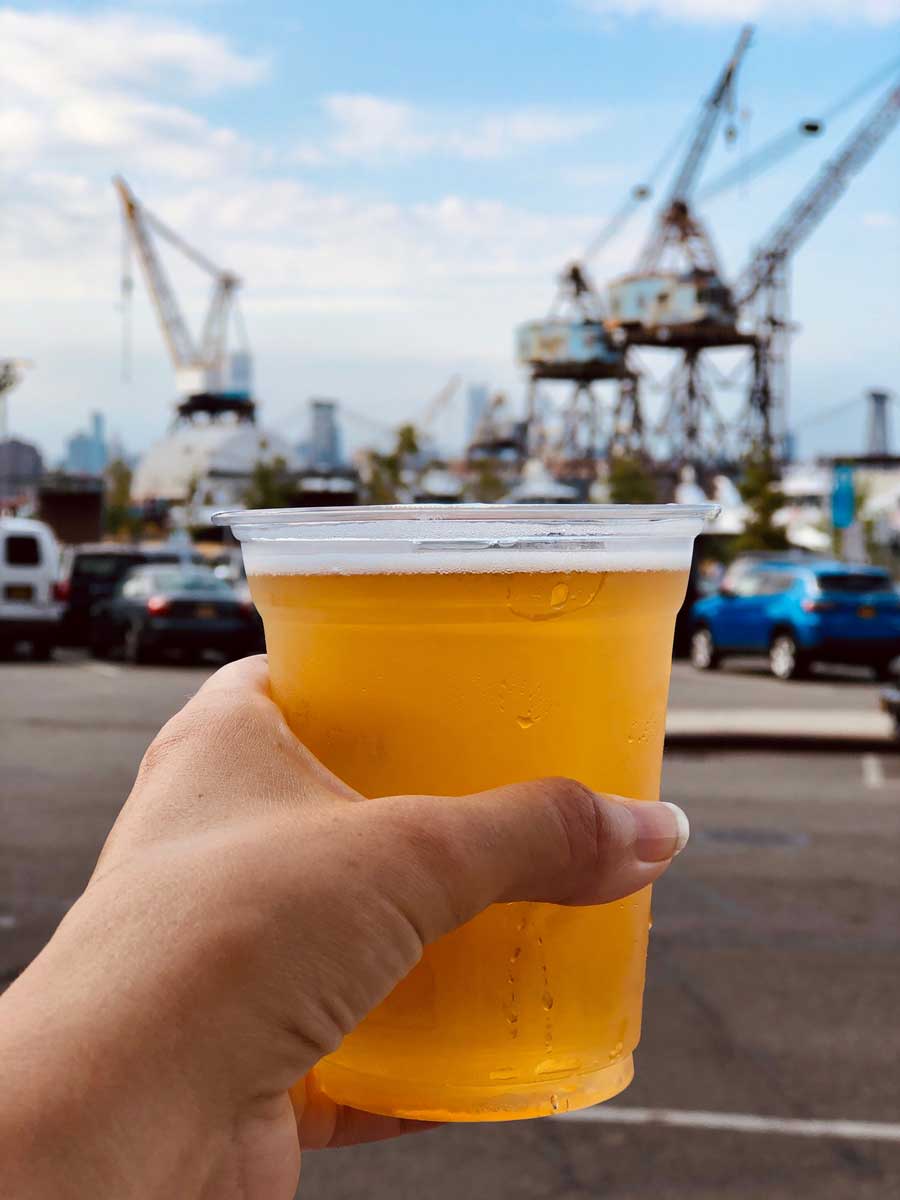 BROOKLYN NAVY YARD
Another one of the best breweries in Brooklyn to try it is Transmitter Brewing at Brooklyn Navy Yard. They pride themselves on their unique blends using farmhouse ingredients bringing a new take on traditional beers using the finest quality ingredients.
Originally born in Long Island, this brewery heavily focused on crafting Belgian and French style country ales using specialty style yeasts that they've made in house blended with some commercial yeasts.
You'll surely find unique flavors here through their craft beer in Brooklyn. Besides serving up their incredible farmhouse ales you can also find unique collaborations on draft when you visit and are always worth trying.
Brooklyn Beer They're Known For:
They're known for their farmhouse-style beers and ales, known well for their gose and saisons and always for their sours.
Kings County Brewers Collective
BUSHWICK
Another one of our favorite breweries in Brooklyn is located in the heart of Bushwick surrounded by the colorful murals of the Bushwick Collective – which is an open air gallery from artists who turned this industrial neighborhood of the city to the colorful creative hub it is today.
King County Brewers Collective, also known as KCBC for short, fits right in perfectly as three master brewers decided to come together, much like the artists in the area, to collaborate and create a collective of all their talents together and the result is amazing.
What makes this location even more special is that their location is on the original 'Brewer's Row' in Brooklyn where 10% of the US beer was brewed right here in the late 19th and early 20th centuries. The original brewery here closed its doors in 1976, but when the three owners collaborated and resurrected this historic brewing location in 2016.
Each of the three brewers brings their own signature style to the beers they make which means that you can find a well-rounded line up on draft at any given time.
Brooklyn Beer They're Known For:
You can really find something for everyone here from session IPAs to summer saisons, pilsners, to hoppy brown ales. With three master brewers who all specialize in different areas of expertise as well as rotating taps, its easy to find a few things to try each time.
Read Next: Best Things to do in Bushwick
Wild East Brewing Company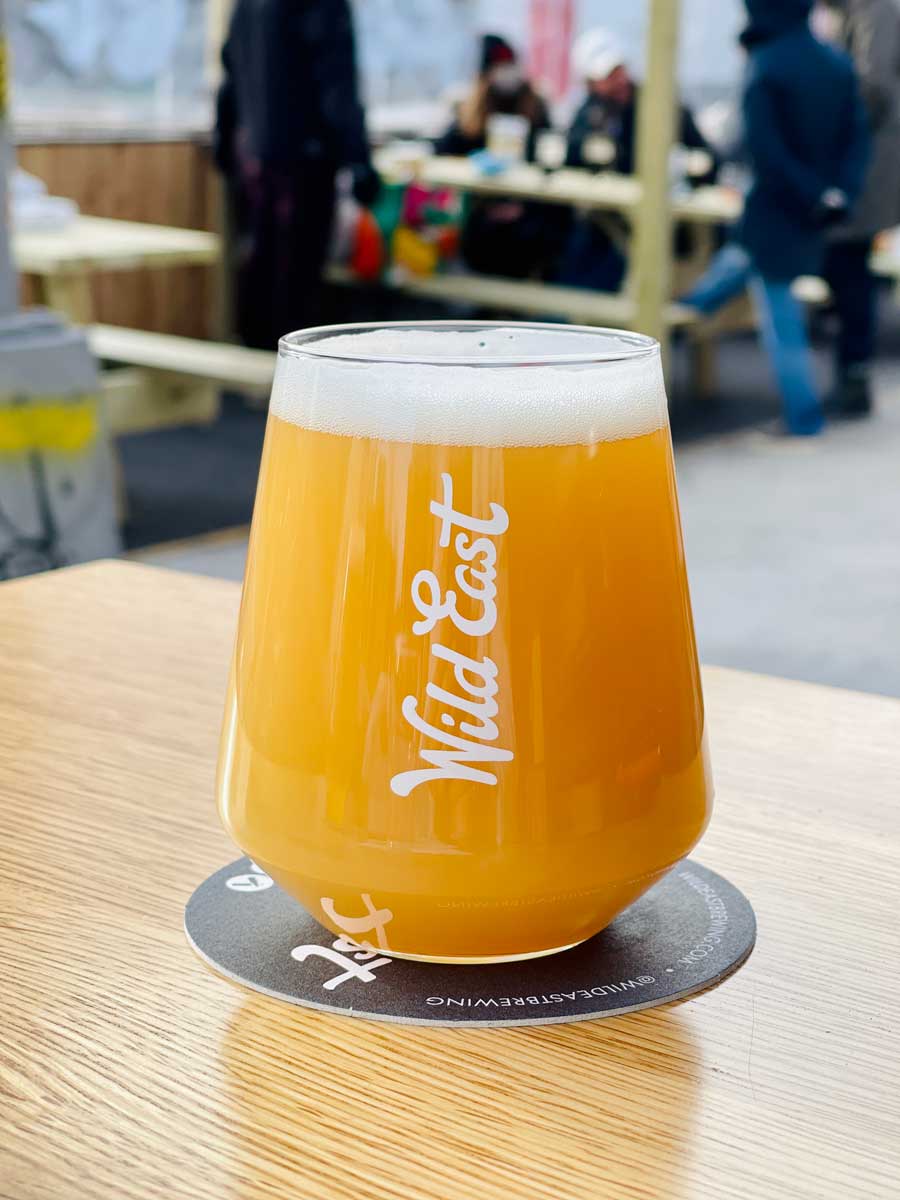 GOWANUS
Another one of the best breweries in Brooklyn located in Gowanus in just a short walking distance from both Strong Rope and Threes Brewing making for the most epic of beer crawls in Brooklyn.
Wild East Brewing Company specializes in experimenting with complex flavors you get from mix-fermentation beers like saisons, pale ales, and Berliner Weisse style farmhouse ales resulting in fun brews with fruity, acidic, and funky flavors to try.
If you're looking for other classics like Czech style pilsners or NEIPA they have that too. But if we're being honest here, you have to try some of the experimental and funky flavors they've become known for while you're visiting.
Brooklyn Beer They're Known For:
Farmhouse-style & mixed fermentation ales, unfiltered hazy IPAs & pilsners, barrel-aged sours, and other experimental creations by their master brewers!
Coney Island Brewery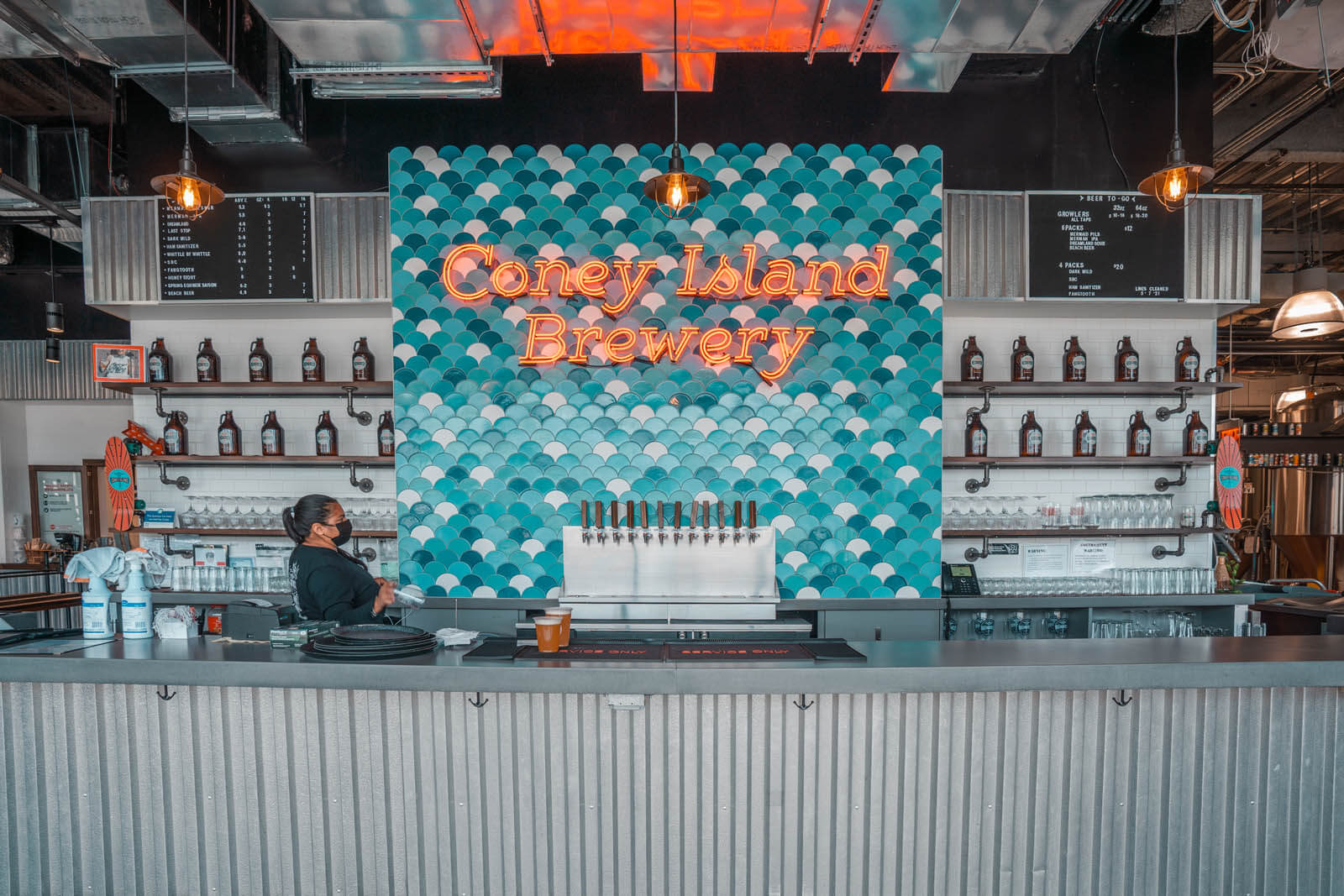 CONEY ISLAND
One of the coolest places to grab a craft beer in Brooklyn is at the iconic Coney Island at Coney Island Brewery. This is one of our favorite picks because of its location.
This is the perfect place to take a break during a visit to Coney Island with their spacious taproom.
This Brooklyn brewery was founded in 2007 and was inside the historic and original Coney Island USA's Freakatorium and was considered at that time, the smallest brewery in the world! Unfortunately, that location was destroyed during Hurricane Sandy and in 2015 they built a new brewery close to the original location.
Coney Island Brewery is one of the other few breweries in Brooklyn that you can take a tour through their facility, and they're free.
They also release really cool unique limited releases that are typically experimental with seasonal ingredients or flavors!
Brooklyn Beer They're Known For:
Their most famous beer is The Mermaid Pilsner and Mermaid IPA which you can find on draft all throughout the city and easily available in stores.
Read Next: Best Things to do at Coney Island
Grimm Artisanal Ales
View this post on Instagram
EAST WILLIAMSBURG
Another one of the best breweries in Brooklyn that has beer critics writing rave reviews is Grimm Artisanal Ales in East Williamsburg.
Opening their doors in 2013, the husband and wife duo who run this craft beer in Brooklyn hangout have accumulated a cult-like following for their sours and experimentation with fermentation.
Besides being an awesome brewery in Brooklyn, they have one of the most beautiful spaces to enjoy a beer in a brewery with plants and a more airy, light and bright take on the industrial look most breweries have around their spaces. They also serves tasty Middle Eastern food from the nearby restaurant Samesa.
I am officially obsessed with their packaging and labels as well.
What's awesome is that you can eaisly make a Brooklyn beer crawl combining a visit here to KCBC in Bushwick and Interboro Spirits & Ale nearby in East Williamsburg.
Brooklyn Beer They're Known For:
Grimm Artisanal Ales is especially known for their aromatic IPA style brews and their sours. They are most famous for their sours though using 25% of their space dedicated solely to creating sours.
Keg & Lantern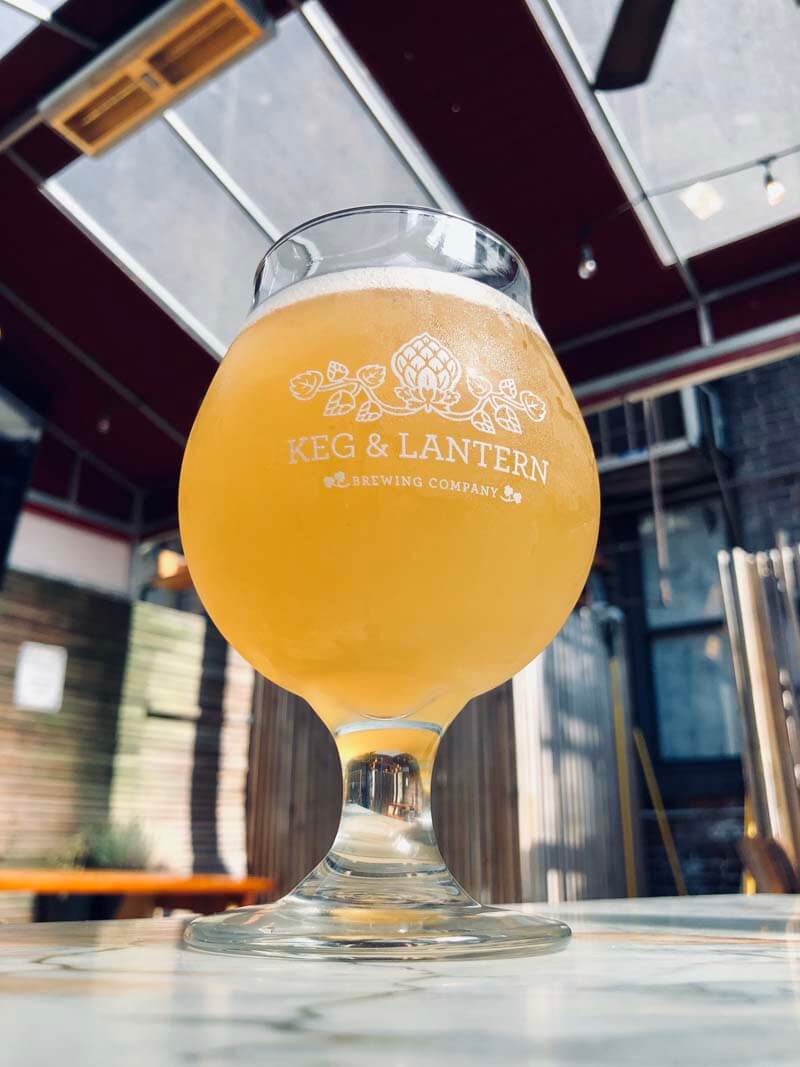 GREENPOINT
One of the best breweries in Brooklyn, if you're looking for a more traditional sports bar setting paired along with some delicious Brooklyn craft brews, is Keg & Lantern in Greenpoint.
This is the perfect place for beer and sports fans to mingle and hang out while pairing your craft brew with bar grub like chicken wings while watching your favorite sporting event on the tv.
They also have special happy hour deals making their craft brews a steal of a deal on weeknights.
Brooklyn Beer They're Known For:
They are known for their juicy Green Eyes IPA.
Greenpoint Beer & Ale Co.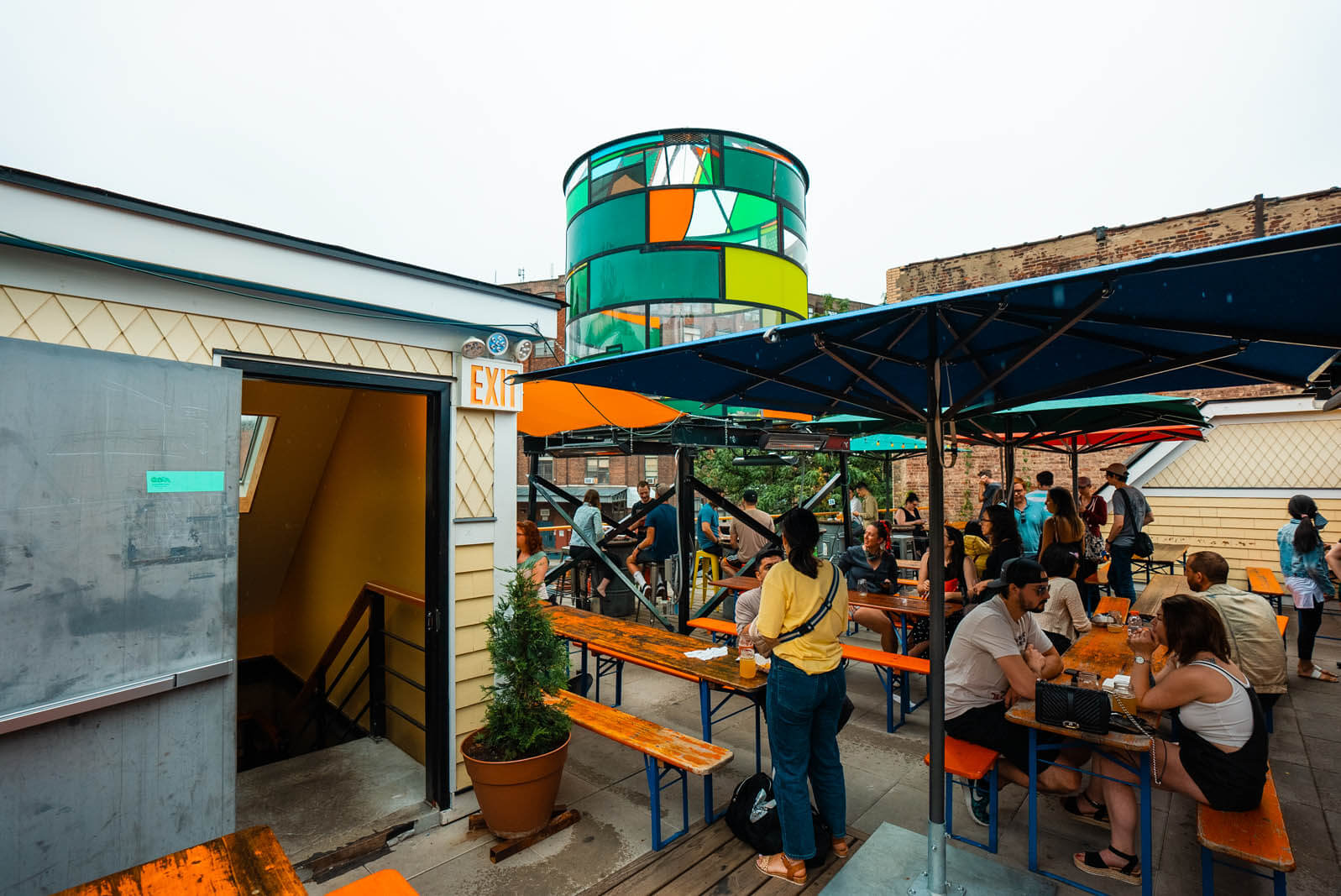 GREENPOINT
Located in Greenpoint, oh so close to Queens is Greenpoint Beer & Ale Co., another great craft beer spot in Brooklyn. In 2020, they've moved to their new location on Manhattan Avenue and Brooklyn beer fans couldn't have been more excited after waiting for their new location for over a year.
Their German-style brewpub serves up pub grub like soft pretzels, sausages, and burgers paired with their brews on draft from pilsners to ales.
Brooklyn Beer They're Known For:
Their German-style and Central European style brews as well as IPAs.
Read Next: Best Things to do in Greenpoint
Interboro Spirits & Ale
View this post on Instagram
EAST WILLIAMSBURG
Another one of the best breweries in Brooklyn in East Williamsburg is Interboro Spirits & Ale which offers more than craft brews but also spirits for those groups who have some beer lovers and mixed drink lovers. Your two worlds collide in this cool Brooklyn hangout spot that doubles as a brewery and distillery.
Besides having a great option and selection of drinks for anyone, you can also dine here with their meaty, cheesy menu of goodness.
Brooklyn Beer They're Known For:
Their hop-bomb IPAs have a good reputation as well as their pilsners. For the spirit drinkers, you need to try their Goodwin Hill gin.
Randolph Beer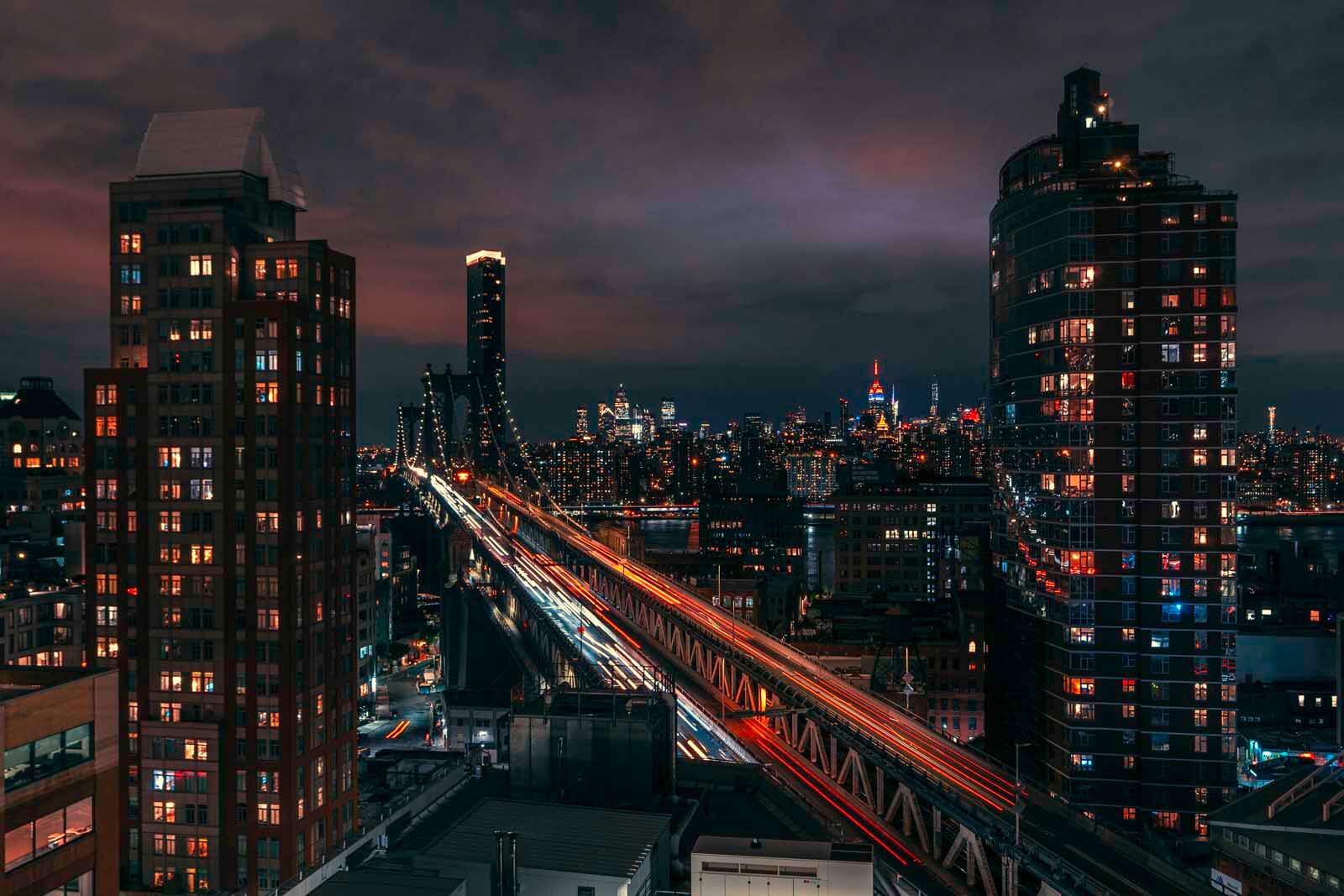 DUMBO, WILLIAMSBURG
One of our favorite breweries in Brooklyn to hang out is at either of the Randolph Beer locations in DUMBO or Williamsburg. Their large space features a few of their own beers on draft along with a curated selection of other fine craft brews including some of our favorite craft beers in Brooklyn like KCBC and a healthy, delicious menu that makes you feel like you're brunching all day every day.
They also have a third location in NYC in Nolita.
This brewpub is a pretty awesome choice if you're looking for good and healthy eats and some amazing beer selection on draft featuring mostly guest taps. And in the summer, make a reservation on their rooftop in DUMBO for some awesome views of the Manhattan Bridge, it's hands down one of our favorite rooftop bars in Brooklyn.
Brooklyn Beer They're Known For:
Every time we've been to Randolph Beer their featured homebrews were all light style lagers or sours.
Read Next: Things to do in DUMBO
Evil Twin Brewing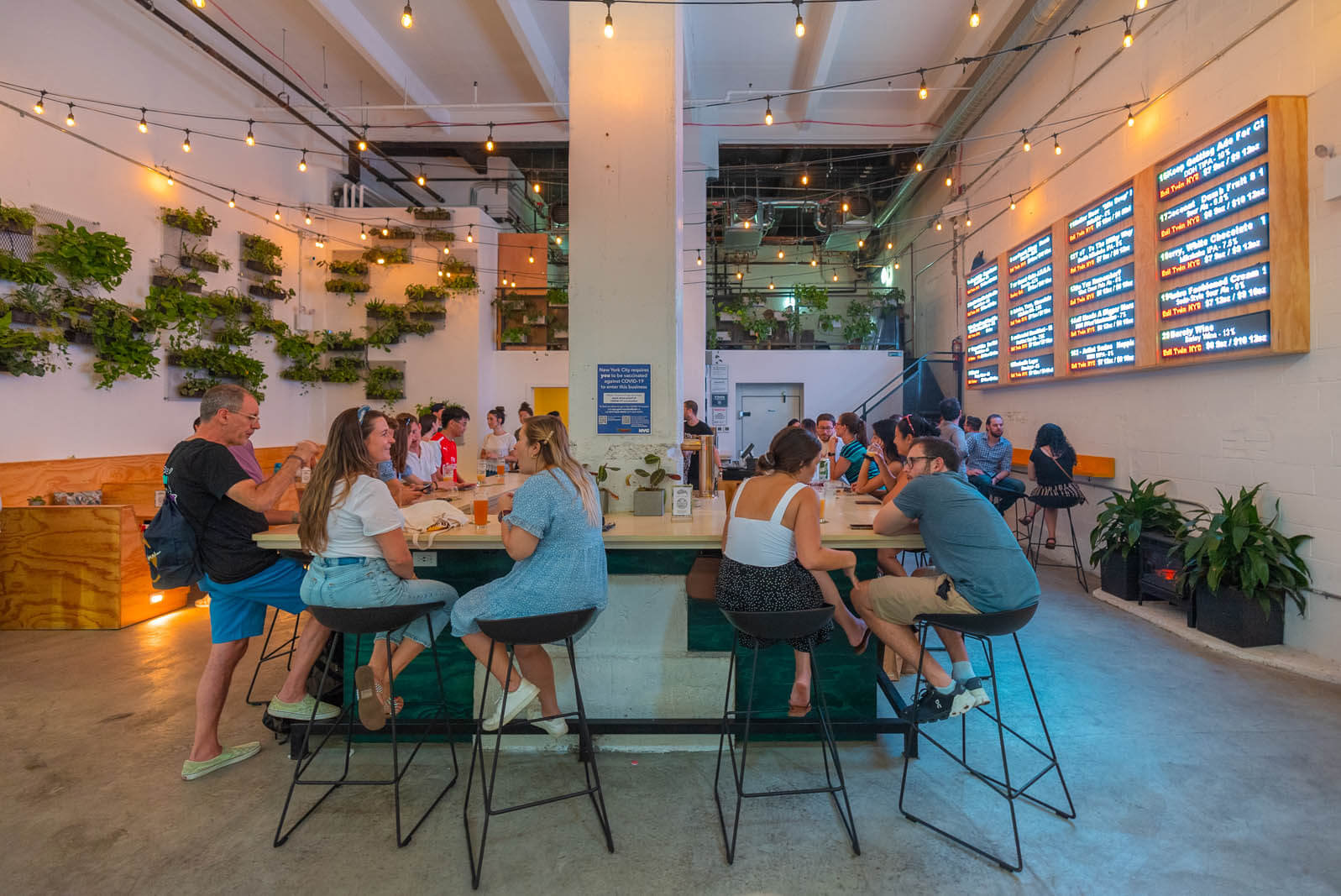 DUMBO
One of the best beer taprooms in Brooklyn and NYC is located on Main Street in DUMBO by Denmark based brewers. Evil Twin Brewing has another NY outpost in Ridgewood and their DUMBO location is open all day as they also have a cafe inside too for coffee in the am and ridiculously good beer for the afternoons.
Brooklyn Beer They're Known For:
Try their hazy and double IPAS, some of which they experiment with flavors like marshmallow (sounds odd but was very delicious!)
---
Liked this post on the best breweries in Brooklyn? Bookmark for later or share the love below on Pinterest! Cheers!