Looking for the best Christmas lights in NYC? You've come to the right place! We have put together this guide to Christmas lights in NYC to help you plan your visit to the city during the most magical time of year! No other place in the world compares to the lights, displays, and festivities around the winter holiday season during
December in NYC
.
We have selected the most famous New York Christmas lights to check out to build your own DIY NYC Christmas Lights tour along with suggested activities to do nearby! So get ready for an unforgettable time in the Big Apple during the holidays hitting up some of the best
things to do in NYC at Christmas
on this guide!
Many of these spots are near each other and easy to see in the same day, there are a few, however, like the Dyker Heights Christmas Lights and LuminoCity Festival that we recommend scheduling extra time in your visit/itinerary to fit into your visit because they are worth seeing and not on the main Manhattan New York Christmas Lights circuit!
New York Christmas Lights Guide
Hudson Yards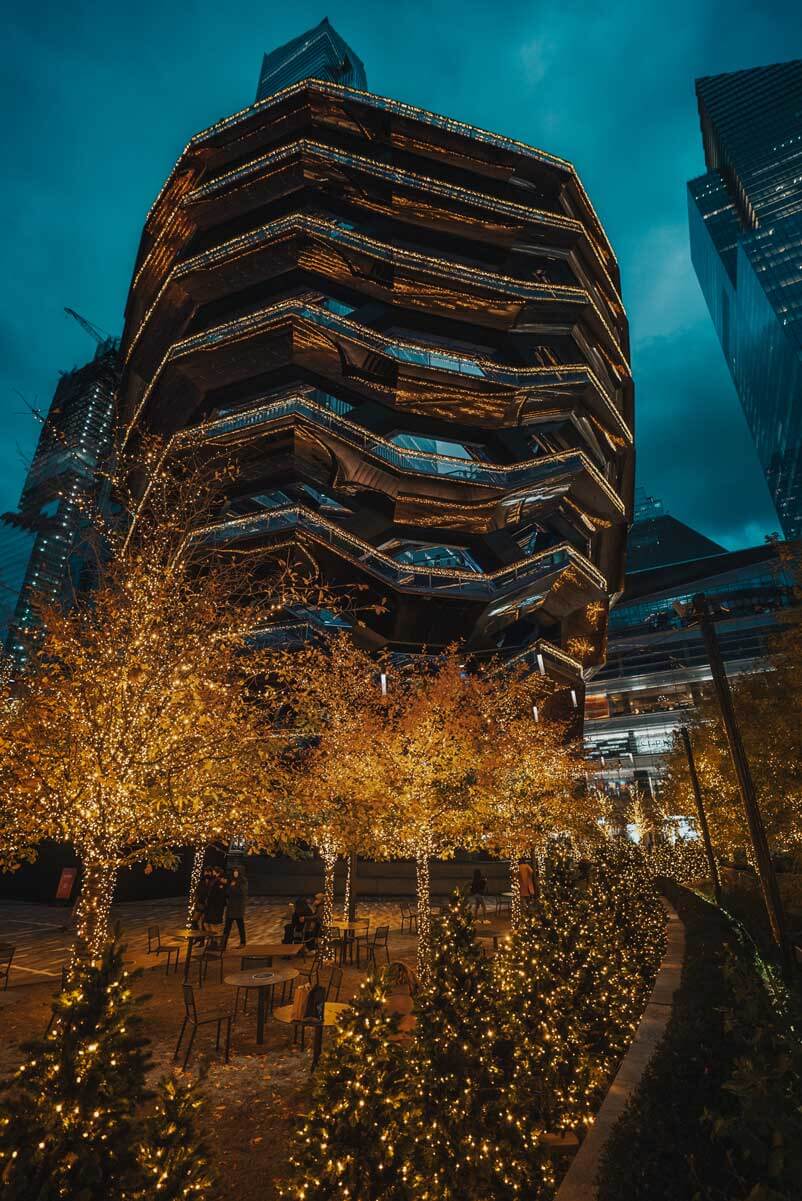 An absolute must-see on your DIY NYC Christmas lights tour is Hudson Yards! The holiday light display boasts over 2 million Christmas lights, as well as giant, glowing hot air balloons, making the entire complex shimmer and sparkle.
Visit the shops at Hudson Yards to get some holiday shopping done. If you want an unbeatable view of the Hudson Yards light display, visit the Vessel or The Edge Skydeck observation for sweeping views of the city, as well as the best seat in town for seeing the Hudson Yards Christmas lights.
Or, if you'd rather enjoy the twinkling lights from the ground, just saunter around the outdoor areas of Hudson Yards to take in the magnificently festive views! Don't forget to check out the displays in the mall too.
Rockefeller Center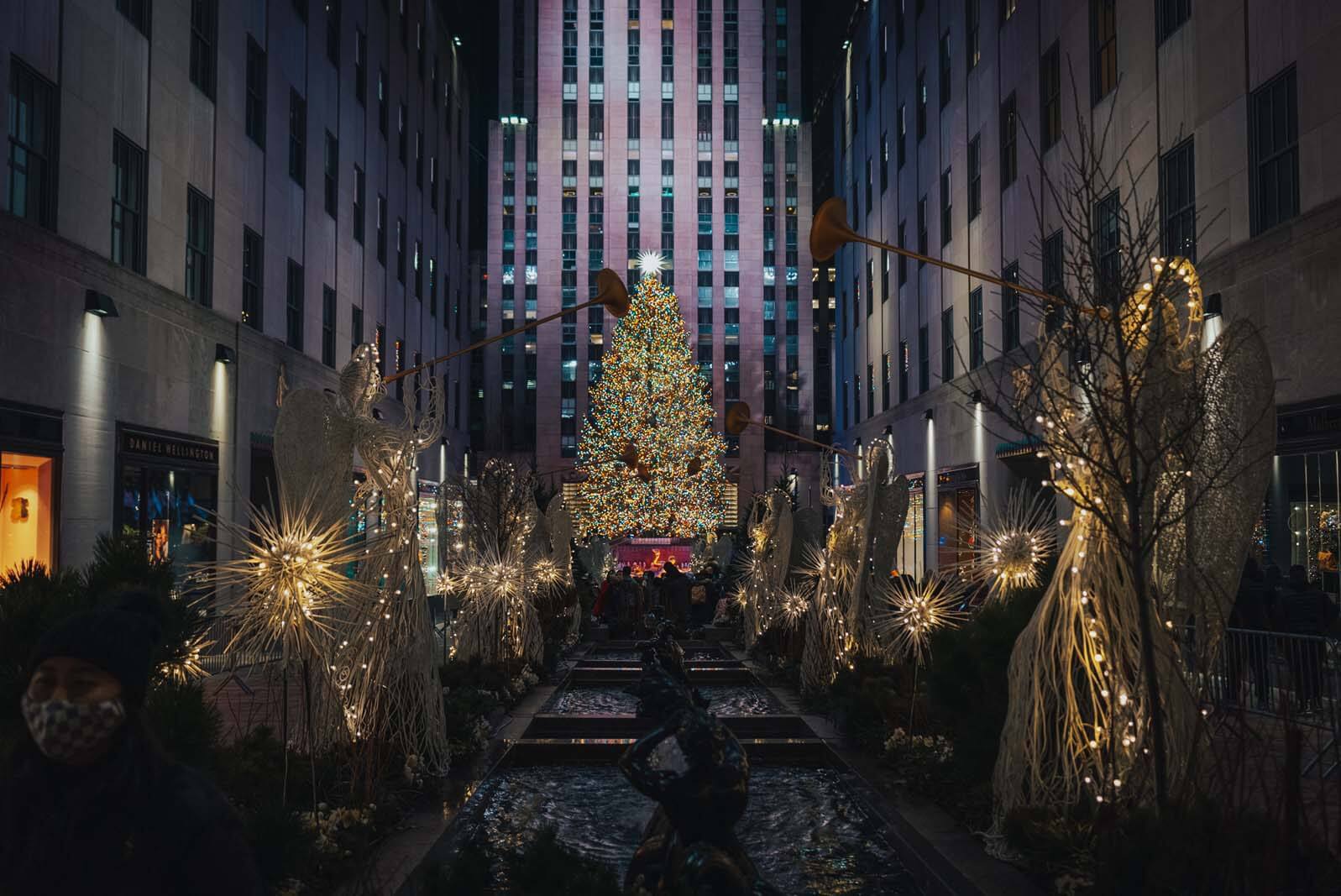 Possibly the most iconic displays of Christmas lights in NYC is at Rockefeller Center! The world-famous Rockefeller Christmas Tree has been a New York tradition since 1933 and is lit each year on the Wednesday following Thanksgiving in NYC.
The towering tree, some years upwards of 100 ft tall, sparkles with over 50,000 multi-colored Christmas lights and a stunning topper covered in 3 million Swarovski crystals!
A great way to see the lights at Rockefeller Center is to go ice skating! The breathtaking tree overlooks The Rink at Rockefeller Center, making for a glittering ice skating session!
If you'd rather catch a view of the tree off the ice, wander around the plaza and see the festive windows of the shops at Rockefeller Center. From the fun, glittering displays in Kate Spade New York's and Tiffany & Co.'s windows, to the festive and heartwarming scenes from the FAO Schwarz Rockefeller store, window shopping is a beloved New York City pastime – especially around the holidays!
While you're in the area, also check out Radio City Music Hall's iconic neon lights, the nearby larger-than-life Christmas bulbs, and maybe even snag tickets to the Rockettes' Christmas Spectacular!
Rockefeller Center is an absolute must-see on your DIY NYC Christmas lights tour! And if you want to do something extra special, reserve a wintery igloo from the City Winery at Rockefeller Center for one of the most magical Christmas bars in NYC with a view of the tree!
Department Stores Window Displays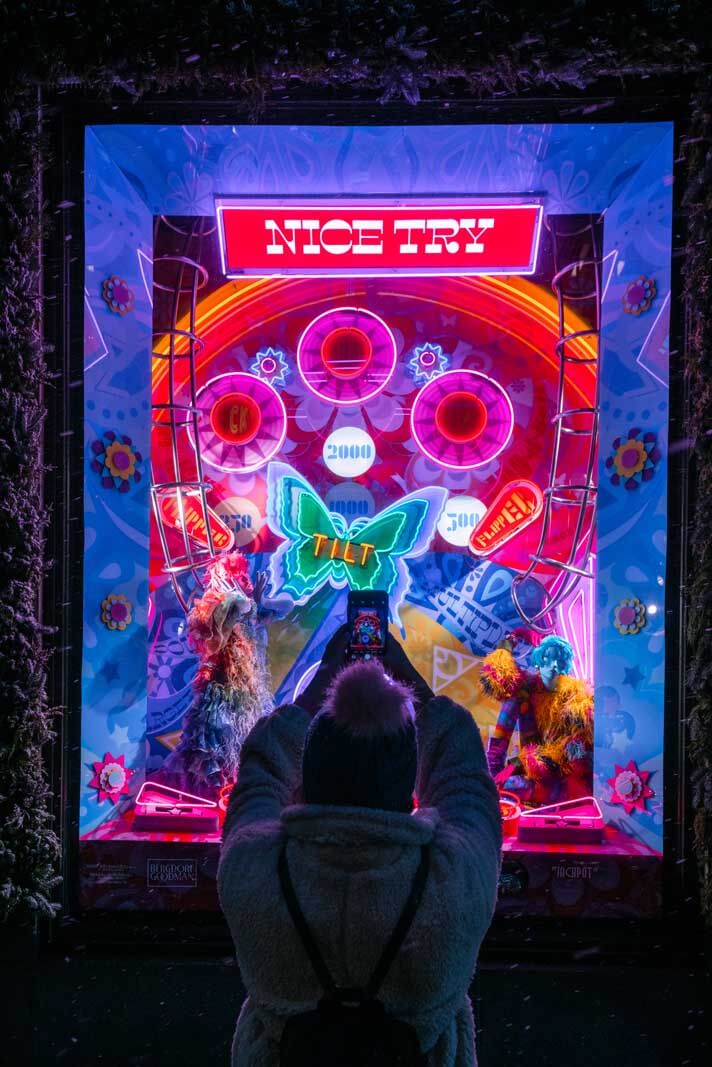 New York City is known for its department stores and luxury brand storefronts. During the holiday season, these legendary stores and shops show out with elaborate window displays and Christmas lights. What could be better on a chilly winter night than strolling through the streets of NYC, window shopping, and enjoying the festive sights of the city?
Your NYC Christmas Lights tour can take you down Fifth Avenue, past high-end stores with gorgeous and historic facades, decorated for the holidays. Notably, the Louis Vuitton, Tiffany's, and Cartier stores on Fifth Avenue extravagantly deck out their windows and storefronts each holiday season and while you're down here don't miss the lavish window displays at Bergdorf Goodman's!
Don't worry, we have an entire guide to the best holiday window displays in NYC so you can hit them all up on your visit!
Some of the best Christmas lights in NYC are on the outside of Saks Fifth Avenue! This iconic 10-story-tall light show is as dazzling and fabulous as the goodies inside the store. The Saks holiday light show is set to festive music and happens each night, every 10 minutes from 4:35 pm until 11:35 pm!
Make it a "Miracle on 34th Street" by visiting Macy's Herald Square location and checking out their amazing window displays! Or stop by Bloomingdale's 59th Street flagship store, or Bergdorf Goodman's on Fifth Avenue, and see their bright and stunning window displays!
Mosey down Fifth Avenue long enough and you'll arrive at Rockefeller Center, where you can check out the decorated windows of the shops at Rockefeller Center!
Once you've seen all the lights down Fifth Avenue, hop over to Park Avenue to see hundreds of fir trees illuminated in holiday style between 54th and 97th Streets!
Bryant Park Winter Village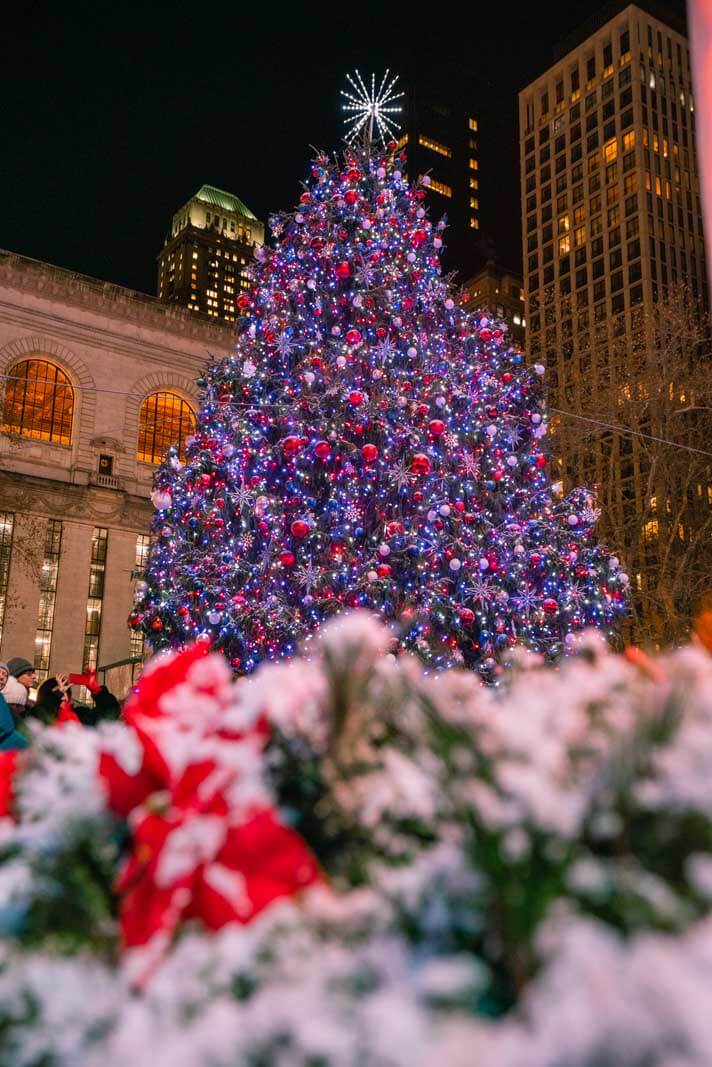 Visiting the Bryant Park Winter Village is like being transported to the North Pole! This Midtown destination is positively bursting with holiday cheer.
Besides the beautiful Christmas lights, you also get a stellar view of the Empire State Building and the Chrysler Building's twinkling lights. You can grab a hot apple cider or boozy hot chocolate at one of the Winter Village's amazing food and drink booths.
You can even reserve igloos to enjoy some good food and coziness with friends and family. Or, if you'd rather, get your cup of cheer to-go and peruse the amazing holiday market, filled with booths of local businesses and artisans, where you can pick up some one-of-a-kind holiday presents!
Besides the overall feeling of joy that comes from the charming Winter Village, it is also home to some of the best Christmas lights in NYC. See the twinkling lights and the gorgeous Christmas tree while enjoying the chill and thrill of ice skating at The Rink at Bryant Park!
Brookfield Place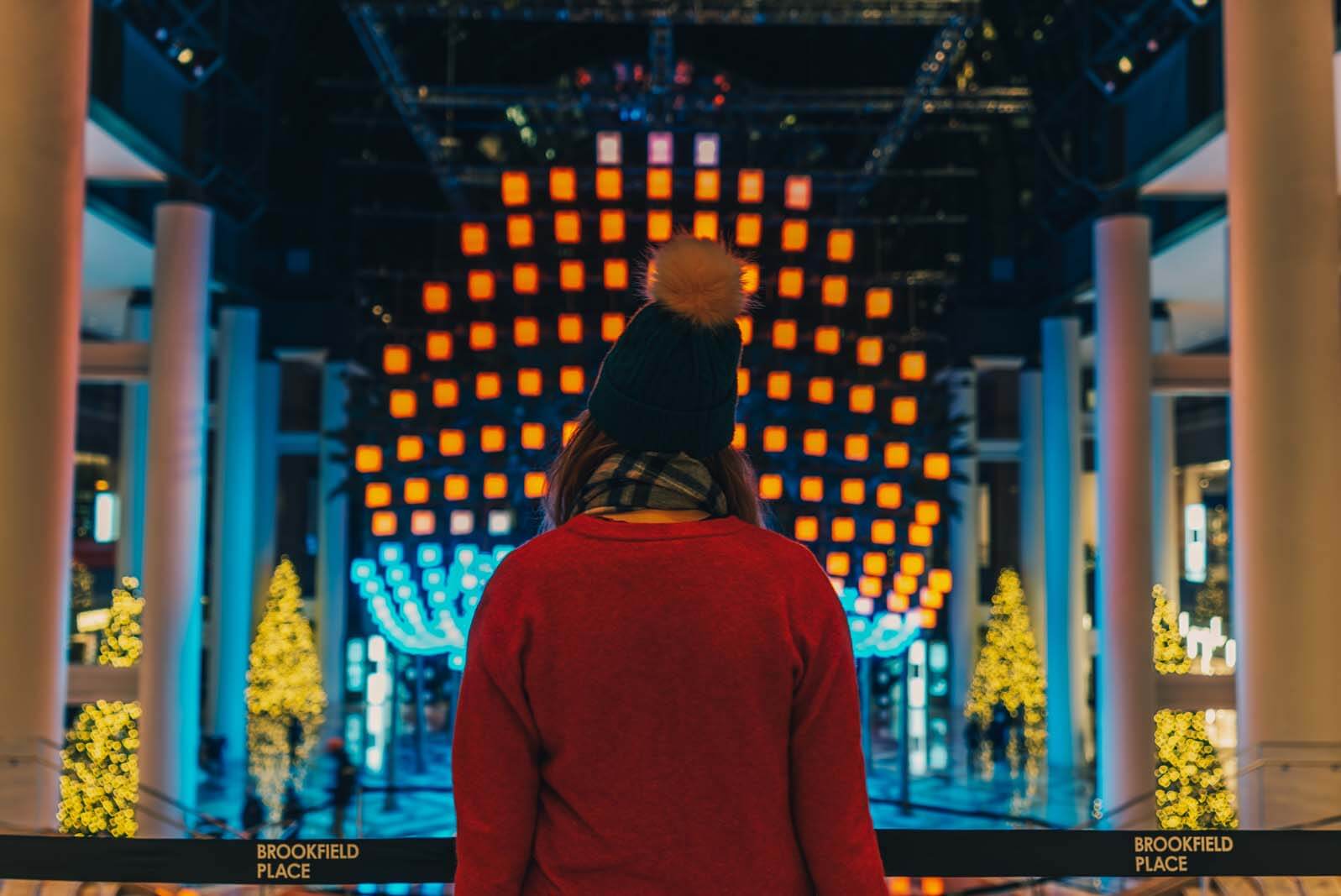 Located in Battery Park City, Brookfield Place is a towering complex in Lower Manhattan. During the holiday season, Brookfield Place transforms into a glowing paradise with its annual Luminaries installment!
Some of the most glorious and unique Christmas lights in NYC, Luminaries features 650 glowing lanterns, suspended from the ceiling of a 120-foot atrium in Brookfield Place. The lights in each lantern change color and intensity, creating a beautiful ballet of light and color.
Visit Luminaries each day during the holiday season from 8 am until 10 pm to see the lanterns' light show. The shows happen at the top of every hour, and are accompanied by songs that are festive favorites!
Once you've gotten to see the magical show that the Luminaries puts on, you can head farther downtown to Battery Park, hitch a ride on a ferry, and see the best Christmas lights of all – the New York City skyline at night.
Holiday Pop Up Bars
For a night out full of festive fun, check out some of New York's holiday pop-up bars – a great way to see some of the best Christmas lights in NYC and sip on amazing drinks!
A festive ambiance, twinkling Christmas lights, and holiday-themed cocktails make Miracle an annual pop-up that you won't want to miss. They have pop-up locations all over the world, with two right here in NYC. You can visit the Miracle pop-up at either of its East Village locations – one on 8th Street and one on 9th Street!
Perhaps one of the most famous destinations for seeing Christmas lights in NYC is Rolf's German restaurant. An absolute winter wonderland decked out in true German style, Rolf's at Christmastime is an Instagrammable dream! Grab a seasonal drink and enjoy the festivities at Rolf's in Gramercy Park!
For a change of pace on your DIY Christmas lights tour, head to the East Village and check out the Sippin' Santa pop-up at the Boilermaker! This tropical Christmas treat will have you feeling festive and beachy all at the same time!
New York Stock Exchange & WTC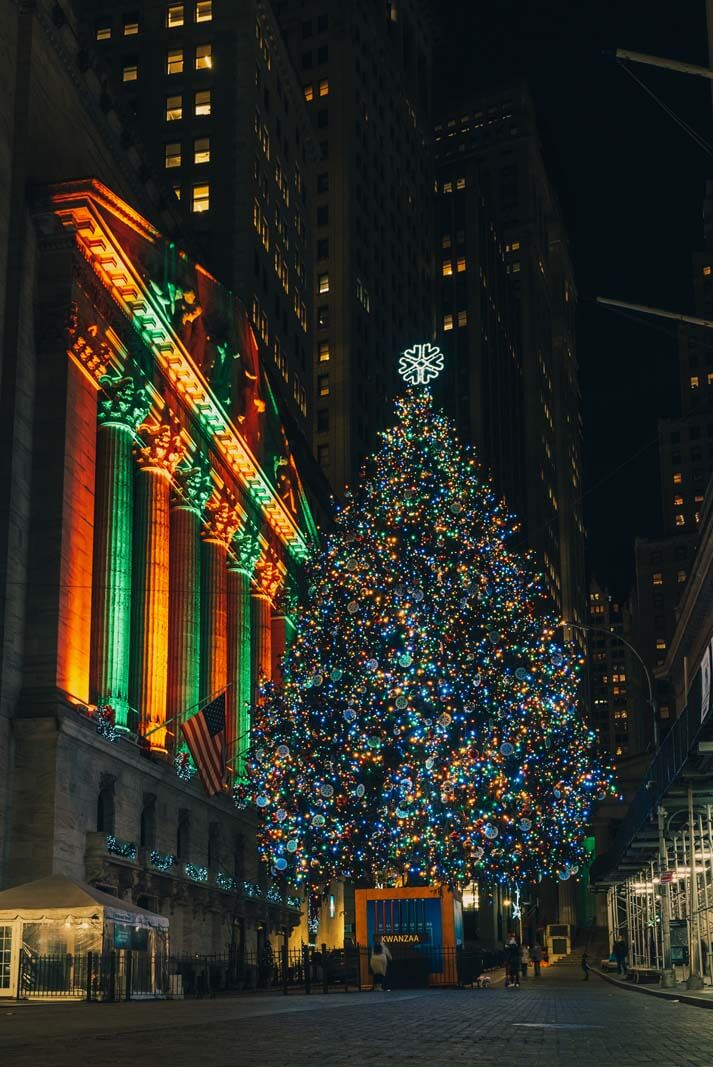 Another one of the best spots for Christmas Lights in New York City and another impressive Christmas Tree is at NYSE, or New York Stock Exchange and the holiday decorations around the World Trade Center.
The New York Stock Exchange has a green and red projection of lights illuminating this iconic NYC building along with a giant, twinkling Christmas tree as well as Hannukah and Kwanza decorations.
Just a short walk from here, at the World Trade Center you can check out the holiday illuminations inside as well as the base of One World Trade Center has a holiday light show.
Better yet, this is really close to Brookfield Place so you can see all three sites easily within a short walk.
Don't miss the whimsical igloo dining on Stone Street either after you have done your holiday light sightseeing! Route 66 Restaurant serves up their American fare menu items to patrons in their outdoor igloo tents on one of the oldest streets in the city!
Holiday Under the Stars at Columbus Circle
Another one of the best places to see some beautiful Christmas lights in New York while checking loved ones off your holiday gift list is at the Time Warner Center Shops at Columbus Circle.
One dozen, 14-foot twinkling stars are suspended from the stunning 150-foot ceiling, and they put on a dazzling show along to some classic Christmas tunes every 30 minutes, from 4 pm until 7 pm during the holiday season!
The spectacular show can be seen from every floor of the Time Warner Center Shops at Columbus Circle, meaning you won't even have to take a break from your Christmas shopping to see the show.
Once you've seen the lights and gotten some shopping done, you can hop over to Central Park for a winter stroll, or continue on your NYC Christmas lights tour to some of Midtown's sparkling spots!
GLOW at the New York Botanical Garden
If you've seen all of the Manhattan Christmas classics and are looking for a fun addition to your NYC Christmas lights tour, head up to the Bronx and check out GLOW at the New York Botanical Garden!
This new installation has showings on fourteen nights this holiday season, with timed tickets available between 5 pm to 10 pm each night of the show. Visitors will see thousands of lights illuminate the already-stunning Botanical Garden, for a magical experience of light and color. Wander through the world of plants and light, and enjoy amazing ice sculptures, dancers, and musicians for an amazingly festive night.
If you aren't able to visit during GLOW's fourteen-day run, you can still head to the New York Botanical Garden for their annual Holiday Train Show! Enjoy some of the best Christmas lights in NYC, awesome model trains, impressive replicas of NYC landmarks, and the natural beauty of the Botanical Garden all in one!
Bronx Zoo Holiday Lights
Another one of the best places to see Christmas lights in NYC also happens to be in the Bronx! You can visit the Bronx Zoo Holiday Lights during the holiday season to see depictions of creatures of land, sea, and sky, illuminated in dazzling and colorful lights!
This mystical world constructed of Christmas lights offers visitors the chance to embark on five different animal lantern safaris, as well as see ice carving demonstrations, enjoy festive treats like s'mores and hot cocoa, watch awesome wildlife shows, and interact with stilt walkers, and festive costumed characters!
The Bronx Zoo Holiday Lights is the perfect place to take the little ones to see some Christmas lights and learn about the amazing animals of Earth at the same time!
The zoo is open seven days a week, and the light display can be seen on Sunday through Thursday from 5 pm until 9 pm, and on Saturday and Sunday from 5 pm until 10 pm. Timed tickets must be purchased to visit the Bronx Zoo Holiday Lights, so plan ahead and take advantage of this amazing display of Christmas lights!
Dyker Heights in Brooklyn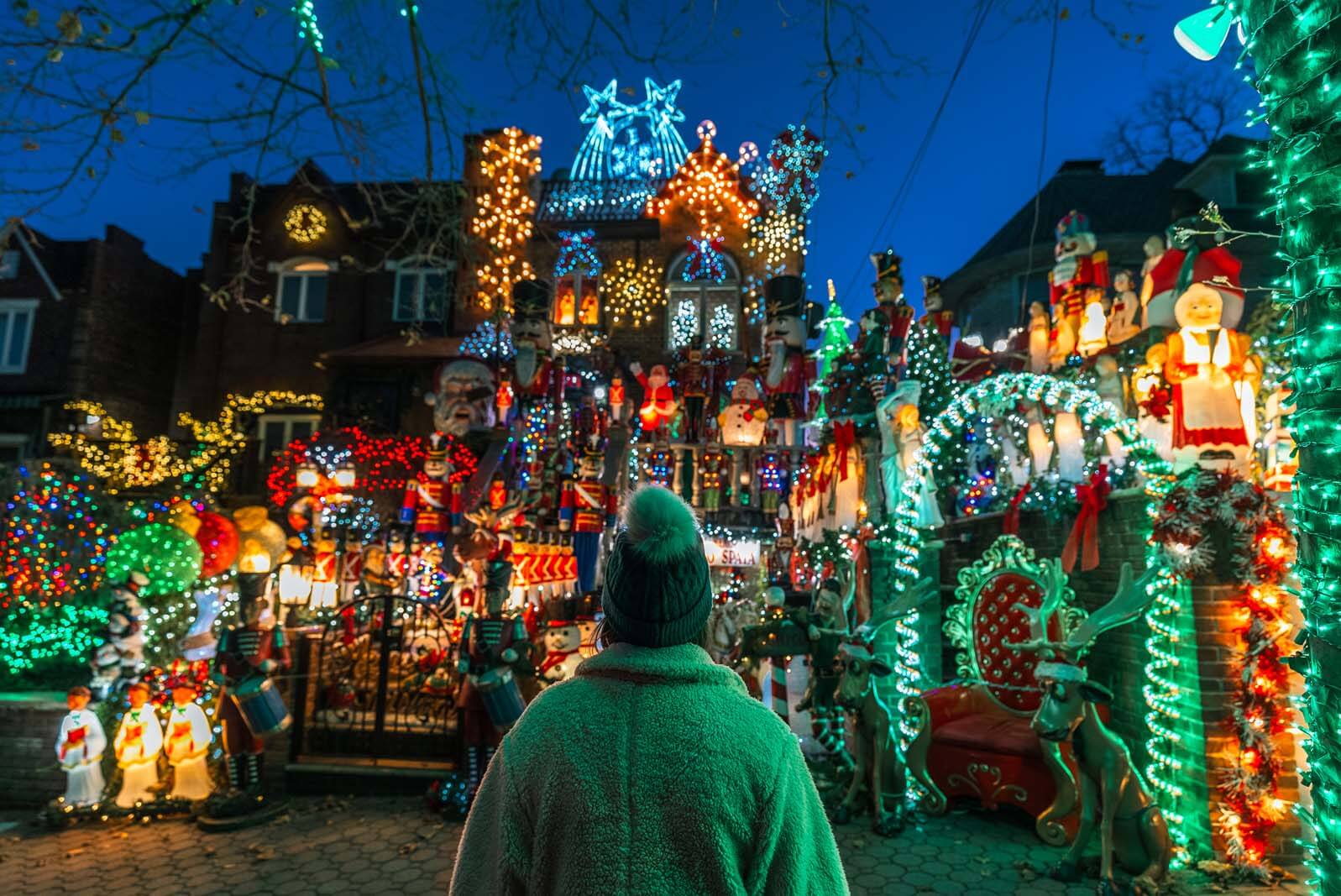 The residential lights in the Dyker Heights neighborhood of Brooklyn give the professional light displays of Midtown a run for their money!
Each year, around 250 Dyker Heights residents deck their halls to the max, supplying visitors with the ultimate DIY NYC Christmas lights tour. For over 30 years, inhabitants of Dyker Heights have created a winter wonderland, filling their yards with thousands of lights, decorations, and holiday cheer! From the day after Thanksgiving, up until New Years Day, Dyker Heights is one of the best places to see Christmas lights in NYC!
Typically, the most elaborate displays sit between 83rd and 86th Streets, and between 11th and 13th Avenues in Brooklyn. For more in-depth information on the best way to see these gorgeous lights, read our full guide for everything you need to know to plan your visit to the Dyker Heights Christmas lights.
Menorah in Brooklyn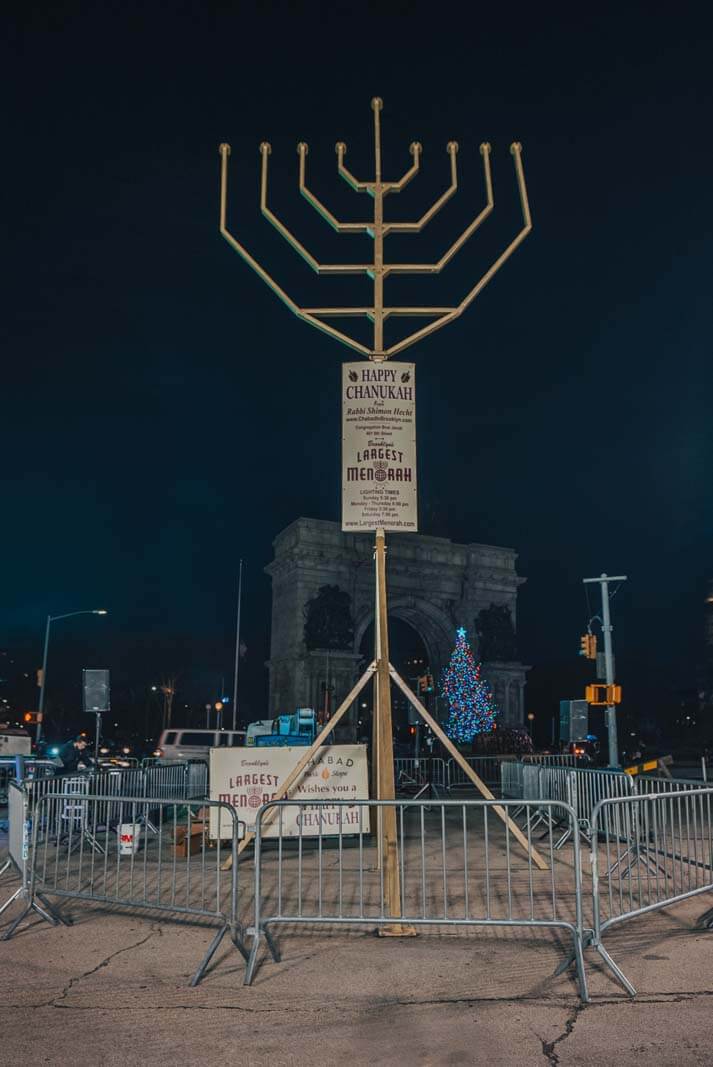 No list of holiday lights would be complete without a stop to celebrate the Festival of Lights itself! Celebrate the eight days of Hanukkah with a trip to see the world's largest menorah.
Located in Grand Army Plaza on the edge of Prospect Park in Brooklyn, the 32-foot menorah is a sight to see! With special musical performances, fun surprises for the kiddos, and hot and delicious latkes for all, visiting the menorah in Grand Army Plaza is the perfect way to celebrate Hanukkah and see some gorgeous lights!
Be sure to also check out our full guide to Hanukkah in NYC for more festivities happening around the city too.
Don't miss the Christmas tree at Grand Army Plaza either!!
LuminoCity Festival
If you're feeling adventurous, let your DIY NYC Christmas lights tour take you up to Randall's Island Park to see the acres'-wide light art installation, the LuminoCity Festival!
This immersive art installation features beautiful and artistic illuminated sculptures, for a unique and breathtaking experience. This magical landscape is bursting with colorful light, and is the perfect experience for the whole family. You must purchase tickets in advance for the LuminoCity Festival, with the events running from 4 pm until 10 pm each night.
Truly one of the most spectacular and eccentric Christmas light displays in New York, the LuminoCity Festival is a must-see during the holiday season!
Industry City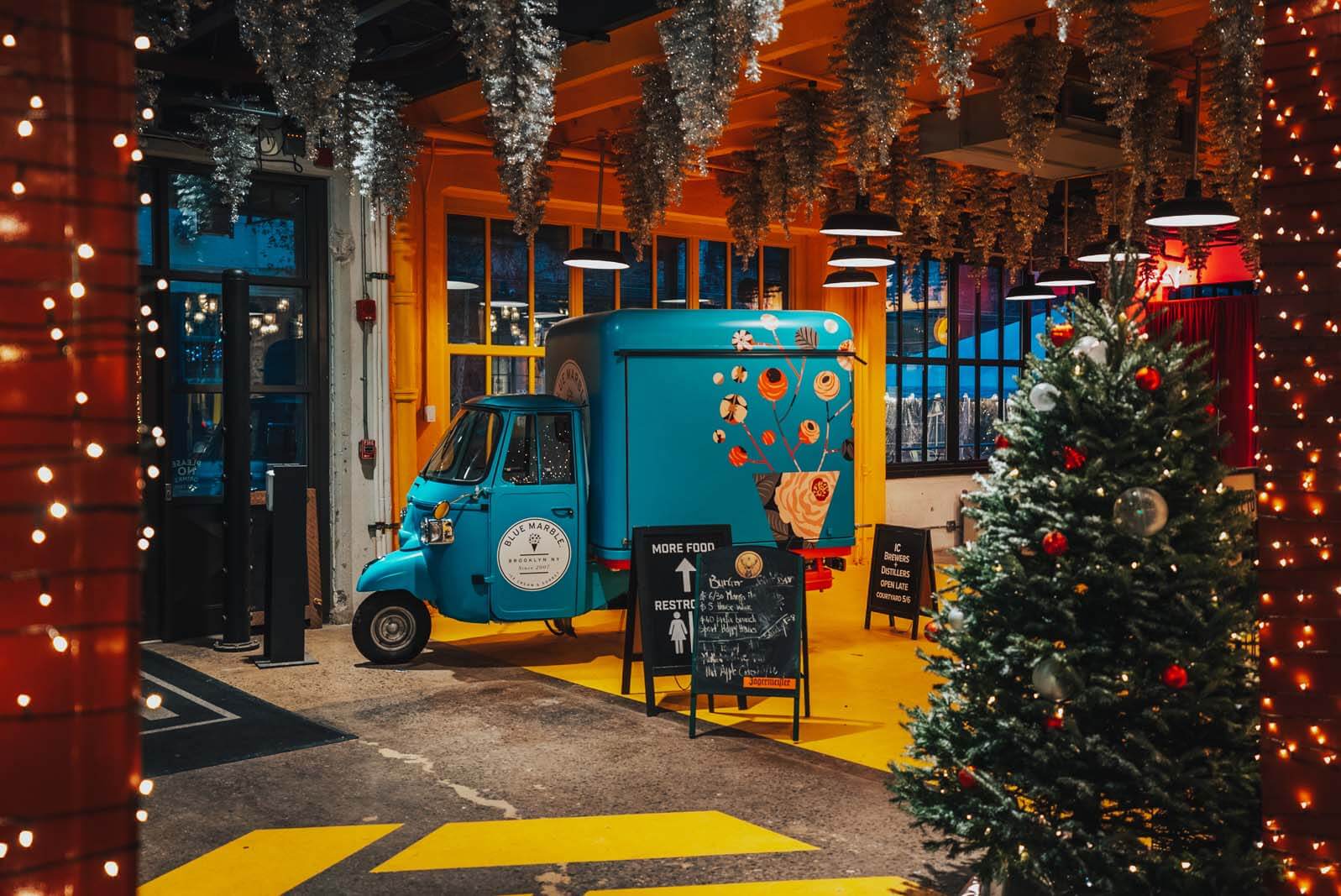 Another one of the best places for Christmas lights in NYC and decor is in Sunset Park, Brooklyn at Industry City. This former industrial and warehouse complex gets decked out not only for the winter holidays but for every holiday!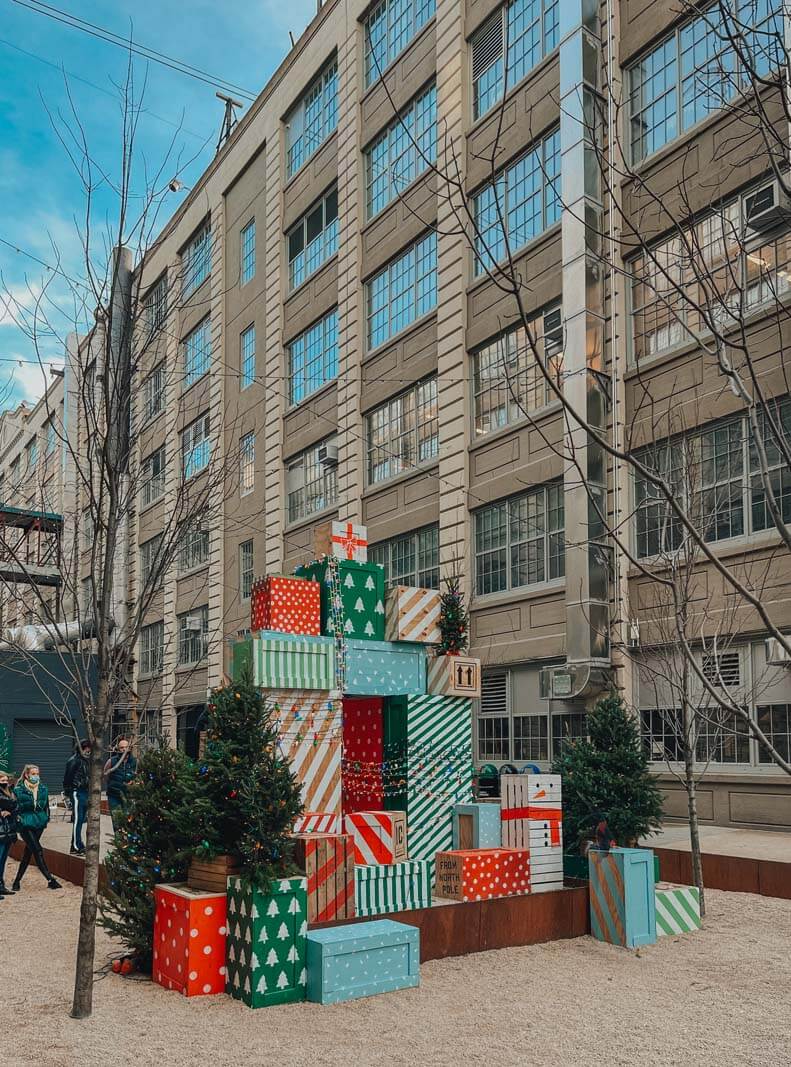 Be sure to come and check out their holiday displays, ice skating rink, artisanal shops, and amazing dining scene!
Washington Square Park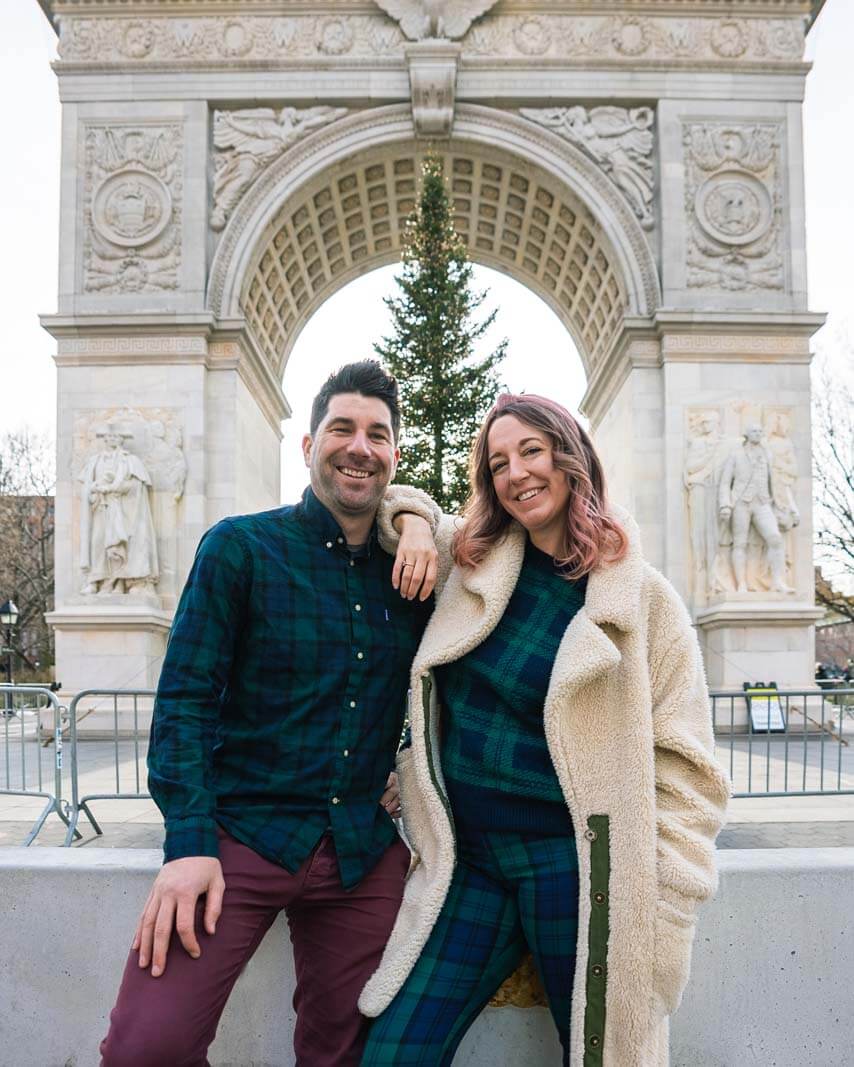 Located in Greenwich Village, Washington Square Park is not only one of the most popular and famous parks in NYC, but it has one of the most photogenic Christmas trees in New York City under the famous arch!
Each year on Christmas Eve, the holiday tradition is for carolers to sing under the tree. So if you happen to be here on December 24th, this is a fun activity you can enjoy too!
Radio City Music Hall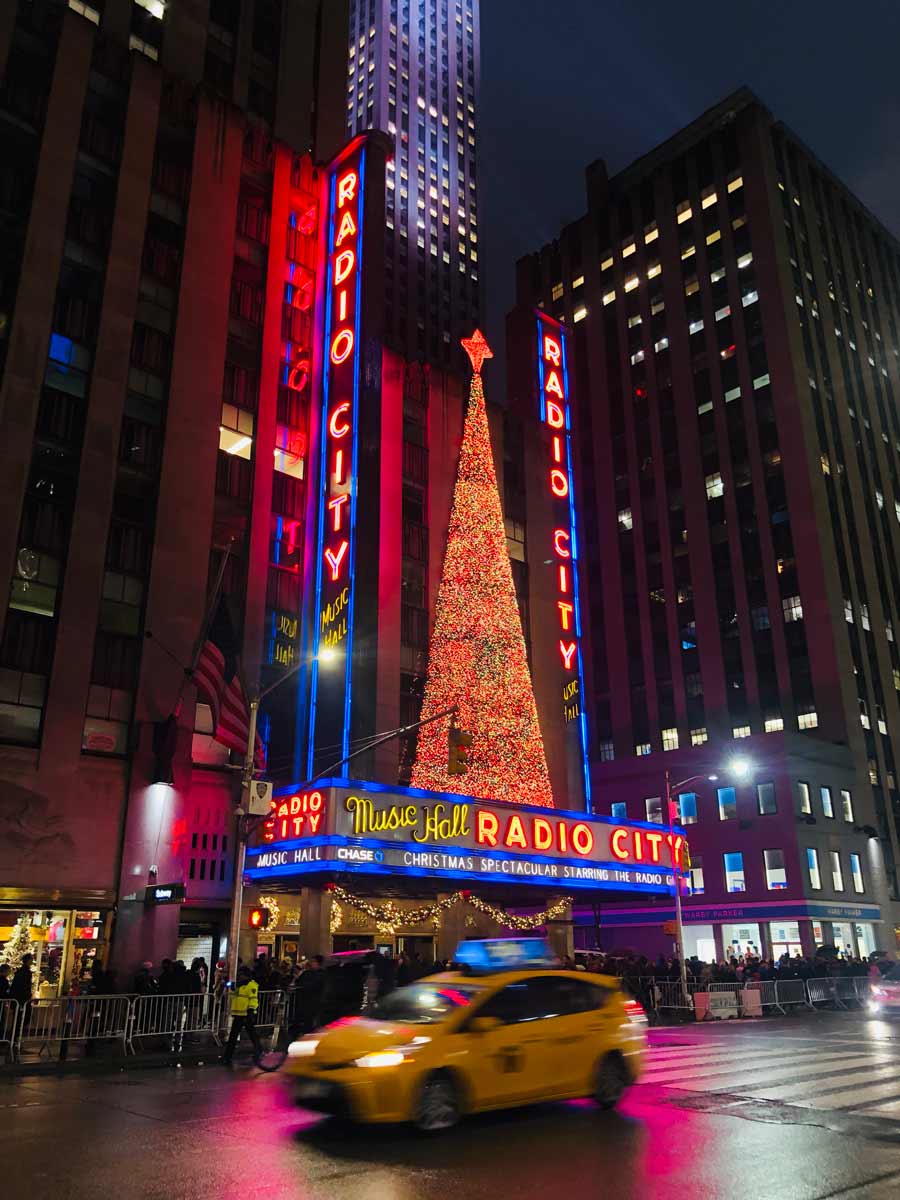 One of the most iconic stops on any DIY NYC Christmas lights tour is stopping at Radio City Music Hall along 6th Avenue, just a short walk from all the best department store window displays and the infamous Rockefeller Christmas Tree.
One of the best holiday traditions too is enjoying the live performance inside Radio City too! The famous Christmas Spectacular starring the Rockettes!
Avenue of the Americas: 6th Avenue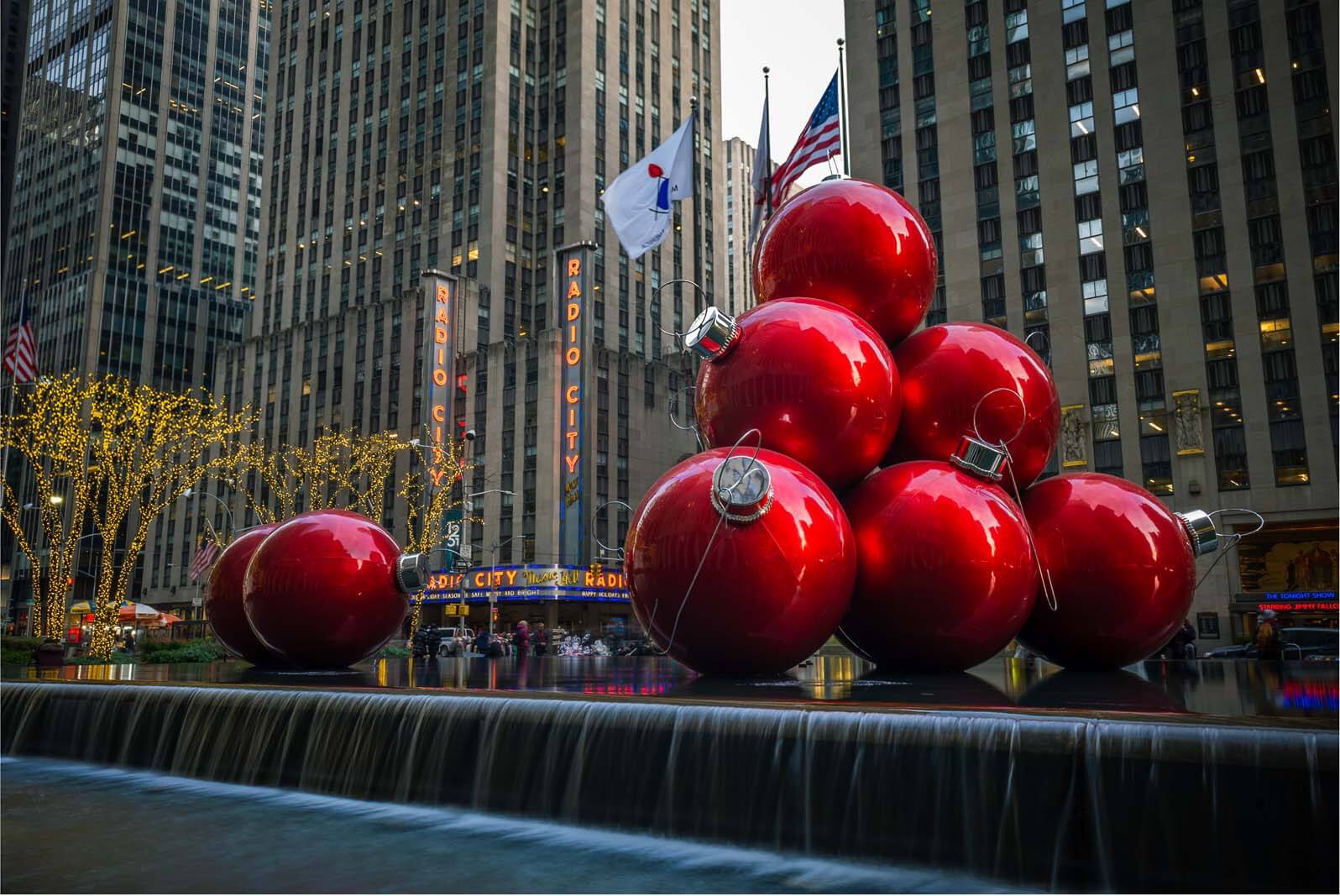 Directly across from Radio City Music Hall on the Avenue of the Americas, aka 6th Avenue are not to be missed NYC Christmas lights and decorations, the giant oversized candy cane forest, Christmas bulbs, and giant Christmas lights!
These are a really fun photo spot too!
Lotte New York Palace Tree
One of the most photogenic Christmas Trees in New York City and a must on your NYC Christmas lights tour is the stunning tree at Lotte New York Palace.
This luxury hotel gets all decked out for Christmas and is one of the most popular Christmas trees in NYC for photographers and Instagrammers! With that being said, if you want to get the perfect photo here you may want to come early in the morning or during a weekday not so close to Christmas!
Lightscape at Brooklyn Botanic Garden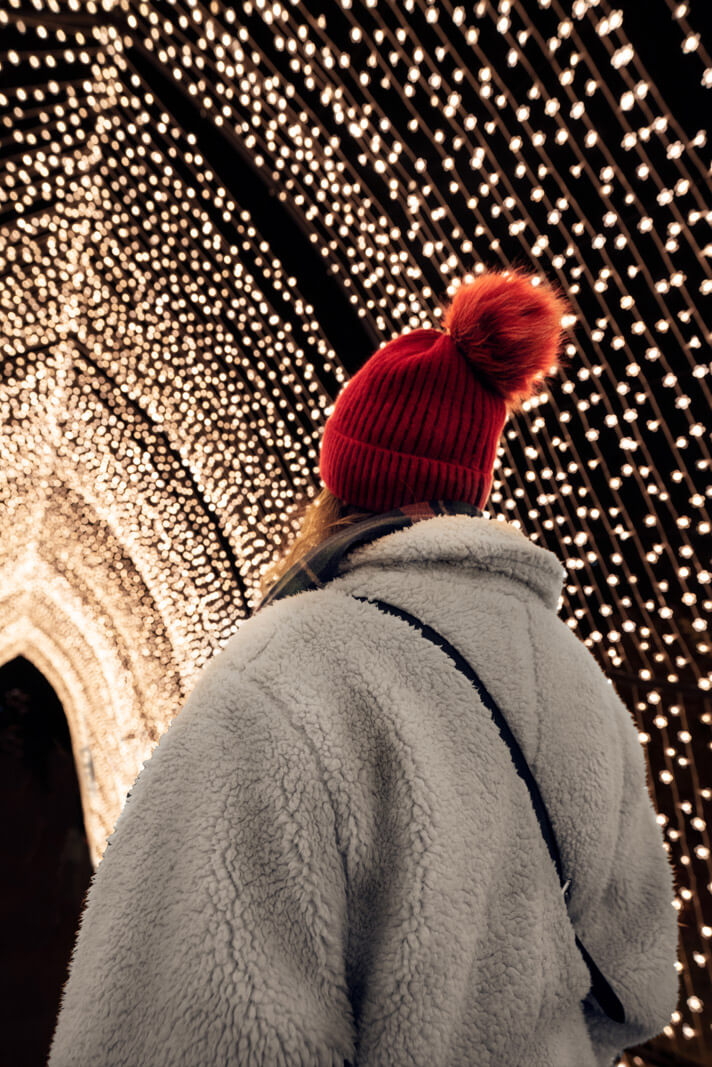 One of the best holiday light displays in NYC located in Brooklyn from late November (typically Thanksgiving week) through early January is Lightscape, where Brooklyn Botanic Garden transforms into a winter illuminary garden with over one million lights on display for their seasonal, after-dark spectacular.
Walkthrough the path to one light installation after another featuring different artists, poetry written in light, and synched to music in this mesmerizing experience.
You will want to secure your tickets in advance for your timed entry on Brooklyn Botanic's website, see our full visitors guide to Brooklyn Botanic Garden too for more tips to plan your visit.
---
Liked this guide to the best Christmas Lights in NYC and our suggested DIY NYC Christmas Lights tour? Bookmark for later or share the love below on Pinterest!