Looking for the best coffee in NYC? We got you.
Yes, yes, Seattle and the Pacific Northwest may be the coffee capital of the country, but something about hanging out in a quaint cafe just feels Extremely New York. Whether you're taking advantage of your company's new remote work policy (cubicle lighting sucks!!), catching up over cappuccinos with your favorite gossip, going on a romantic first date, buying yourself a midday treat (you deserve it!) or writing the next Great American Novel — the coolest coffee shops in NYC are where you should be! 
We've got chic cafes, funky cafes, cheery cafes, and secret-garden-esque cafes — anywhere and everywhere you'd want to pull up and order a warm latte on a chilly morning and read a book. And not only are these picks some of the prettiest cafes in NYC — they're some of the most well-regarded spots for high-quality java, pastries, and brunch food! So come ready to caffeinate and follow along for the best cafes in New York!
Best Coffee Shops in New York City
Felix Roasting Company
Address: 450 Park Ave South, 2 Astor Place, & 525 Greenwich Street 
Let's start out strong, shall we? Stepping into the doors at any Felix Roasting Company — one of the prettiest cafes in NYC —  is like taking a veritable paid vacation.
Sumptuous, velvety turquoise late 19th-century aesthetic furniture greets you at every turn, with intricate luxurious wood paneling and show-stopping decor to boot. And oh, the coffee? It's meticulously selected and brewed to perfection by Felix's well-honed baristas. Bring a date here if you want to seal the deal.
Variety Coffee
Address: Many locations, original: 386 Graham Avenue, Brooklyn
What is the essence of a Brooklyn coffee shop? Somewhere that feels unfussy yet chic, communal but also chill enough for a long solo day of work. Variety hits the mark on all fronts — their brews are sourced seasonally and roasted daily in Brooklyn, because as the team at Variety puts it, "we f**** love coffee."
Though the popular brand has now expanded city-wide, even reaching as far from Williamsburg as the Upper East Side, its very Brooklyn-esque independent spirit makes it one of the best coffee shops in NYC.
Cafe Kitsuné
Address: 550 Hudson Street & 112 Bond Street, Brooklyn
Want to feel like a fashion girly for the day? Head straight to one of Maison Kitsuné's glossy cafes, where macarons and Croque-Monsieur abound — along with, of course, European style-espresso. Take a picture of your hot chocolate matcha as you sip and relax in one of the best cafes in NYC. 
St Kilda Coffee
Address: 328 W44th Street & 213 8th Avenue
If GenZ could dream up a coffee shop, St Kilda would appear. As chock-full of precision-brewed drip coffee and oat milk matcha lattes as it is funky, shoppable merch, the Australian shop (with locations both in Chelsea and Midtown) is a calm, soothing space that feels like the inside of a particularly stylish "plant-parent" house and certainly qualifies as one of the coolest coffee shops in NYC.
Devoción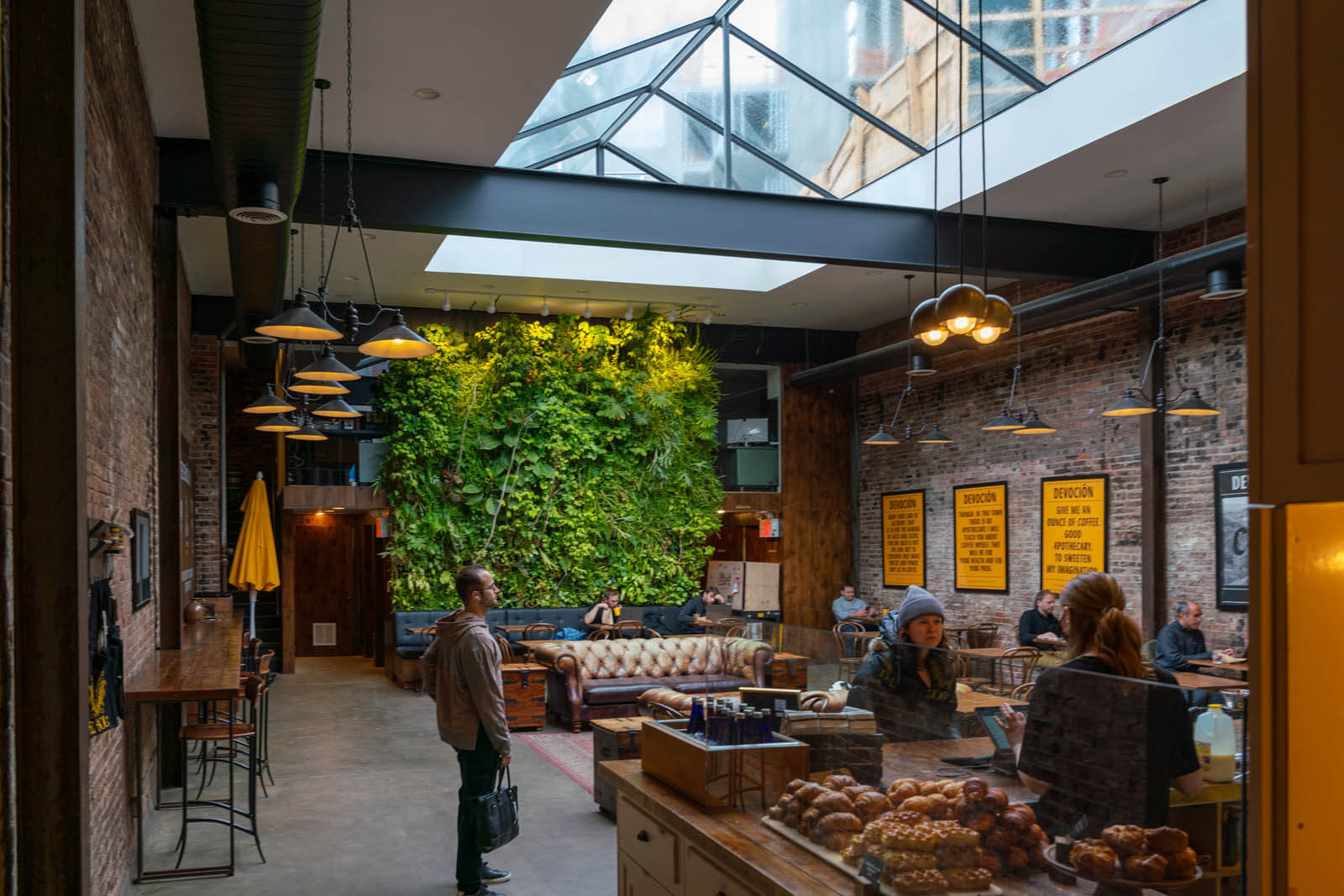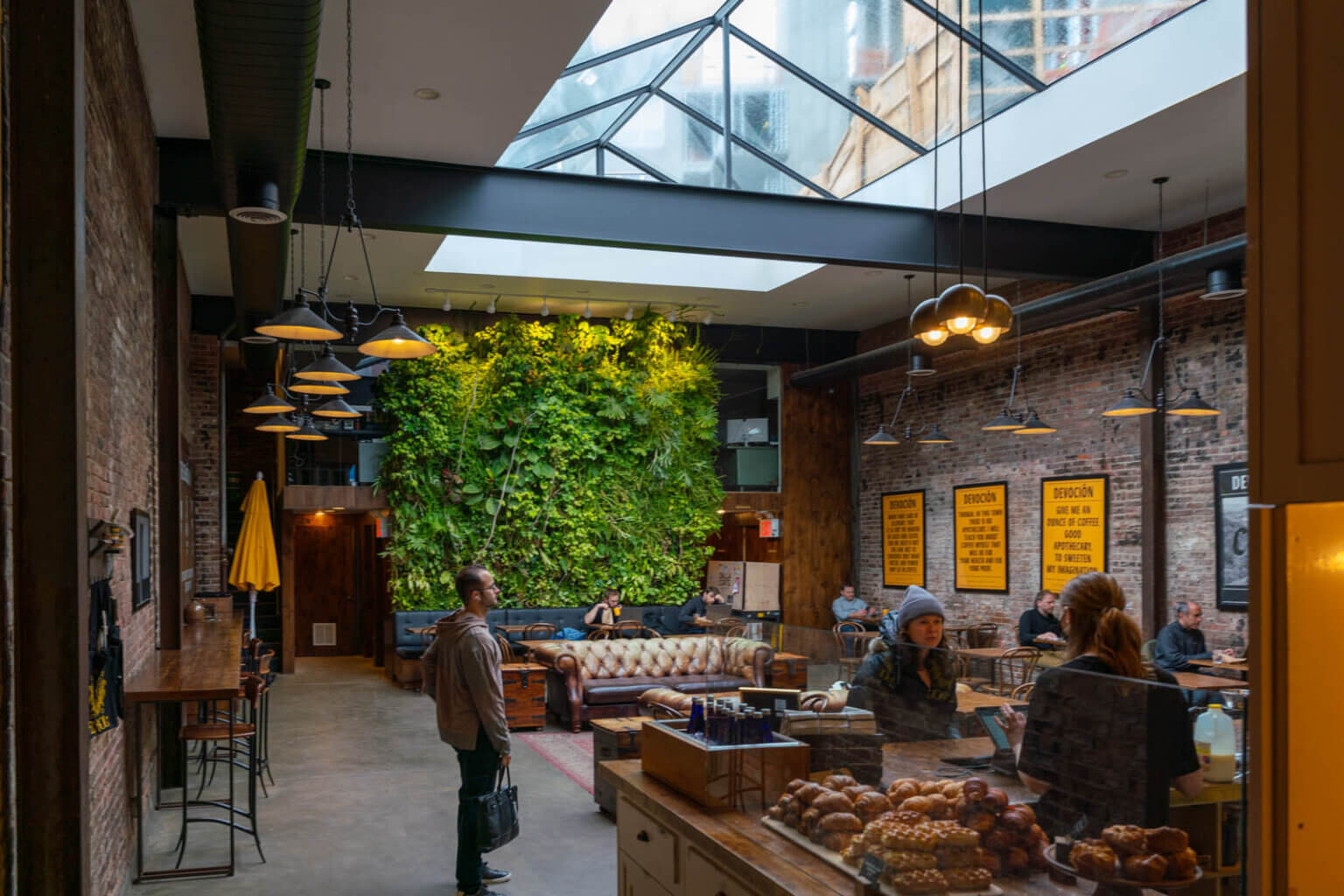 Address: 24 E20th Street, 69 Grand Street, 276 Livingston Street, Brooklyn, & 105 York Street, Brooklyn
Speaking of plants, enjoy the finest Colombian coffee (sourced directly from Bogotá and brewed in Brooklyn) at the garden-living-room-like atmosphere at Devoción, a New York-based brand that's truly devoted to the freshest and best coffee in NYC. Bonus? The sprawling, high-ceilinged cafes around town make you forget that you're in square-footage-starved NYC. 
Maman
Address: Many locations, original: 239 Centre Street
Hit French bakery and cafe Maman's flagship is located on a small block in Soho known as "Little Paris" — and while you may not be completely convinced that you're in Europe, Maman will nearly get you there. Try the perfectly spiced Chai Latte and a housemade Chocolate Croissant and enjoy them both in the beautiful backyard garden space, undoubtedly one of the prettiest cafes in NYC. 
Butler Bakeshop
Address: 177 Lafayette Street, 40 Water Street, Brooklyn, & 95 S 5th Street, Brooklyn
Walking around the scenic neighborhoods of DUMBO, Soho, or Williamsburg? If you're in need of a snack, make sure to stop by Butler Bakeshop, one of the best cafes in NYC for everything from breakfast sandwiches to grain bowls. We recommend the "Everything Cruffin" (Croissant Dough Meets Muffin Mold, with Everything Bagel Seasoning & a Chive Cream Cheese)! 
Coffee Project NYC
Address: 239 E 5th St, 155 7th Ave, 401 W 53rd St, 208 W 13th St, 78 Rockwell Pl, Brooklyn, & 21-10 51st Ave, Queens
Woman and LGBTQ-owned Coffee Project is a community-focused company where careful selection, precise brewing and cheery, stylish spaces make for the perfect coworking spot or coffee date.
Coffee Project is also the only Specialty Coffee Association-certified brand in the state, making it a true pioneer and certainly one of the best coffee shops in New York City. 
Daily Provisions
Address: 103 E19th Street, 440 W33rd Street, 375 Amsterdam Avenue, 29 Bedford Street 
Come for the legendary maple cruller, stay for the coffee! Daily Provisions is as equally known for its top-notch beverages as it is for its critically-acclaimed pastries, all served in a soothing blue setting. We love the Chicken Milanese sandwich for lunch, or an Everything Croissant to go — the mouth-watering pastries are what makes Daily Provisions one of the best cafes in NYC. 
La Cabra
Address: 152 2nd Avenue
Denmark-based La Cabra boasts both their own much-loved, in-house brew as well as croissants and cardamom buns that hardened New Yorkers regularly line up for. While its popularity may not make it a super relaxing place to hang out, the quality of La Cabra's food and drink certainly qualify it as one of the best coffee shops in New York City. 
The Chai Spot
Address: 156 Mott Street
Inspired by their intercultural relationship, founders Khalida and David set out to make the Chai Spot a place where the world comes together to enjoy conversation, cultural collaboration, and of course, chai. Head to Little Italy to relax in The Chai Spot's intricately decorated cozy space that is absolutely one of the prettiest cafes in NYC. 
Konditori
Address: 187 5th Avenue, Brooklyn & 114 Smith Street, Brooklyn
Swedish coffee shop Konditori is named after the "Traditional Swedish gathering place to enjoy warm drinks, fine baked goods and confections" and sure does deliver! The Arabic and Central- American blended brews as well as finely-honed Espresso make Konditori the place for some of the best coffee in NYC. 
Abraço
Address: 81 E 7th Street
A veritable East Village institution, counter coffee shop Abraço is a bohemian dream. Not only can you snag a perfect drip coffee or Americano, but you can also enjoy the shop's curated cocktail list.
We recommend their signature drink — a blend of Bourbon, their own coffee brand, Liqueur, Amaro, and Orange Bitters that cements Abraço as one of the coolest coffee shops in NYC!
Forever Coffee
Address: 2263 Broadway & 714 W 181st Street
Are you looking for your "forever" coffee shop? Look no further than Forever Coffee, a cheery, bright-pink branded duo of uptown cafes that not only serve up extremely popular cold brews and matcha lattes, but decadent brioche breakfast sandwiches and homemade cookies. Stop here for a pit stop and walk away happier — according to locals, it's some of the best coffee in NYC! 
Buunni Coffee
Address: 213 Pinehurst Avenue, 4211 Broadway, & 4961 Broadway
Spending the day near the Cloisters or beautiful Inwood Hill Park? Make sure to stop by Buunni Coffee, a popular cafe known for their proprietary Ethiopian-flavored brews as well as frequent community events, from poetry readings to open-mic nights! Buunni's larger Broadway location is also an excellent coworking spot with plentiful space and WiFi, making it one of the coolest coffee shops in NYC.
White Noise Coffee Co.
Address: 829 11th Avenue, 41-02 162nd St, Queens, & 57 Smith St, Brooklyn
Known for their delicate latte art and precision brewed blends, White Noise Coffee Co is one of the best cafes in NYC for a calming break or productive remote work afternoon. We recommend the Matcha Latte as well as their house-made espresso soft serve!
Sullivan Street Bakery
Address: 103 Sullivan Street, 236 9th Avenue, & 533 W 47th Street
Yes, Sullivan Street Bakery is a cafe founded by an American. But visit Jim Lahey's bakery and coffee shop once and you'll swear you were transported to Italy. We recommend the house-made focaccia, bombolini and cappuccino at one of the best cafes in NYC!
MUD
Address: 307 E 9th Street
Mud calls itself "New York's original street coffee", and we'd be inclined to agree! Known for its signature "Mudtrucker" blend as well as the ubiquitous orange cups, stop by Mud before a stroll around the East Village if you're looking for one of the best coffee shops in New York City!
Cafe Grumpy
Address: Many locations, original: 193 Meserole Avenue
Yes, Hannah Horvath from GIRLS made Café Grumpy famous, but don't let that stop you! This woman-owned brand is one of the best coffee shops in New York City for studying, working, reading and catching up with non-Hannah Horvath types. Also, you can't beat the merch! 
Ninth Street Espresso
Address: 700 E 9th Street, 341 E 10th Street, 333 Douglas Street, Brooklyn, & 45-12 38th Street, Queens
Early pioneers in the world of espresso, the aptly-named cafe is also a go-to for the best coffee in NYC. Long after the New York Times named their tiny, Alphabet City flagship one of the Big Apple's best, the veteran barista brand is still proudly serving their popular espresso as well as danishes, cookies and other coffee-complimentary treats. 
Think Coffee
Address: Many Locations
Look, it's not particularly fancy, but Think Coffee is still one of the best coffee shops in New York City. It's a great, low-key place to study, hang out and catch up with friends that isn't pretentious and crucially, isn't Starbucks (the brand donates proceeds of each coffee purchase to farming community-focused projects). I used to basically live at the Mercer Street location in college, where I spent the $7/an hour I made washing athletic laundry at the school gym buying Think's pastries and their surprisingly tasty sandwiches. 
Shakespeare & Co
Address: 2020 Broadway
One of the coolest coffee shops in NYC is also conveniently a bookstore! Head to the Upper West Side to Shakespeare & Co to pick out a staff-selected read and a damn good hot chocolate, all served up in a sunny, very Nora Ephron-esque space. 
Velvette Brew
Address: 279 5th Avenue, Brooklyn
This friendly, low-key cafe has some of the best coffee in NYC and is the perfect place to grab a matcha lemonade, a flat white or the Signature Velvette (espresso-infused vanilla, foamy milk brown sugar)  before wandering around Park Slope's many shops! 
The Grey Dog
Multiple locations: original 242 W 16th Street
All hail the Grey Dog!! Need bottomless coffee (yes, in this economy!)? Need a Michigan sandwich? Need a cocktail? You can have it all at The Grey Dog, one of the best coffee shops in New York City that doubles as a diner and date night spot. This is the place to go for plentiful portions (you'll have leftovers!) and a friendly ambiance!
Saltwater Coffee
Address: 345 E12th Street & 126 Waverly Place
Coffee in a can?! Yes ma'am! Bookending the East and West Village is an Australian coffee cafe Saltwater, a bright, friendly spot where you can take a break and snag a matcha croissant before strolling the streets with a canned cold brew. 
Sound intriguing? Let's grab a cuppa! 
---
Best Cafes in NYC Summary:
Felix Roasting Company
Variety Coffee
Cafe Kitsuné
St Kilda Coffee
Devoción
Maman
Butler Bakeshop
Coffee Project NYC
Daily Provisions
La Cabra
The Chai Spot
Konditori
Abraço
Forever Coffee
Buunni Coffee
White Noise Coffee Co. 
Sullivan Street Bakery
MUD
Cafe Grumpy
Ninth Street Espresso
Think Coffee
Shakespeare & Co
Velvette Brew
The Grey Dog
Saltwater Coffee
---
About the Author:
Sarah Beling is a playwright, New Yorker, and passionate food enthusiast who is always looking for her next meal. You can find her in an NYC park, enjoying a chopped cheese sandwich and reading about NYC's best new places to eat.