Looking for the Greenpoint vintage stores? We've got you covered! Greenpoint has great shopping and is in close proximity to all the best thrift stores in Williamsburg too making both neighborhoods a great place to spend a day hunting down vintage finds with plenty of food, drink, and other entertainment options to enjoy as well not to mention waterfront views of the skyline from both areas too.
Whether you're wanting to spend a little time vintage shopping before meeting up with friends or you just want to shop for some affordable or one-of-a-kind pieces of clothing to household nick-nacks—the following Greenpoint vintage stores are where it's at.
There are tons of great places to find quality second-hand items, rare finds, and unique pieces to choose from as well so you can plan a whole trip around it if you really wanted to!
While you're here, be sure to explore the best things to do in Greenpoint too or if you need a cocktail break check out the best Greenpoint bars to take a shopping break at! And if you're a fan of vintage treasure hunting, check out our guide to the best thrift stores in NYC. Happy shopping!
About the Author
Eric Garner is a Brooklyn-based writer who was raised down south who loves talking about film, TV, hip-hop, and fashion.
Greenpoint Thrift Stores & Vintage Stores
Thrift Lab
View this post on Instagram
37 Greenpoint Ave
If you're looking for some great summer wear, look no further than Thrift Lab—one of the many Greenpoint vintage stores on this list that is sure to keep you coming back for more.
This shop sports some of the most vibrant and brightly colored vintage clothing you'll find in any of the Greenpoint thrift stores. Not only do they have lively clothing, but the accessories (such as hats and jewelry) are equally as eye-catching.
This store is only open on Saturdays and Sundays only and sometimes closed on particular weekends—so be sure to check out their Instagram page to stay in the loop.
Dobbin Street Vintage Co-op
View this post on Instagram
39 Norman Ave
Dobbin Street Vintage Co-op is a vintage store in Greenpoint that features some of the most aesthetically pleasing furniture in the city.
They have two locations—one in Williamsburg and one in Greenpoint. Dobbin sells vintage furniture, clothing, and even plants. The store is overall great to look at, giving off strong 80s and Los Angeles vibes.
All the items here are top-notch and carefully selected. The ceramic and plant collections are particularly impressive. The prices here are surprisingly good, so give this place a visit and prepare yourself for some great deals!
Beacon's Closet
View this post on Instagram
74 Guernsey St
Next, we have what is considered to not only be one of the best Greenpoint thrift stores, but one of the best Brooklyn thrift stores period—Beacon's Closet.
This shop has 4 different locations. There are 3 in Brooklyn (Greenpoint, Bushwick, Park Slope), one in Greenwich Village. This thrift store, more than any other, sets a great atmosphere for you to search through their large selection of men's and women's fashion.
The selection here is wide and the store offers some of the best collection of coats and jackets of any of the Greenpoint vintage stores. They also do a pretty good job at keeping a mix of both lower and higher-end clothing.
While this store is pretty affordable, some of the higher-end clothing can be a bit pricey. But you do get what you pay for and much of the proceeds go to worthy non-profit organizations (Coalition for the homeless, Center for Racial Justice in Education, American Society for Suicide Prevention, etc.)
Beacon also allows you to bring in any unwanted clothing and sell it to the store as long as it's something they are looking for. Give the store a call to find out what styles their currently buying!
Dream Fishing Tackle
673 Manhattan Ave
One of the absolute BEST vintage stores in Greenpoint when it comes to all things furniture is this Greenpoint outpost with an unassuming name!
Filled floor to ceiling and wall to wall with super 90s vintage home furnishings from couches to chairs and all the accent pieces of furniture and home accessories.
Follow their IG for updates, but for the ultimate experience, you'll have to stop in. If you see something on their feed though, act fast as they typically do not last long.
Awoke Vintage
View this post on Instagram
688 Manhattan Ave
Looking for a great gift for a loved one? Awoke Vintage is the perfect vintage store in Greenpoint to find just that. Awoke sells a variety of nice vintage clothing and accessories. All of which being color-coordinated.
This Greenpoint vintage shop is particularly great for Levi enthusiasts. Awoke is one of the few Greenpoint thrift stores that prioritizes having a wide selection of Levi jeans.
And as mentioned before, this store is great for gift ideas. Awoke is home to many vintage collectibles and records (ps check out our guide to best record stores in Brooklyn for vinyl lovers). Be sure to check out their Instagram page to see posts of their upcoming sales!
Mirth Vintage
606 Manhattan Ave
If I could describe Mirth Vintage in one word—that word would be slick. Out of all the Greenpoint vintage stores, this one definitely feels the dressiest and most refined.
They specialize in vintage women's clothing (20th century through the 2000s). This store is small and compact and is one of the few vintage shops that prioritize quality over quantity.
Mirth puts great effort into finding clothing that's not only trendy but timeless as well. This shop is a must for lovers of black and cream-colored dress wear. New arrivals are posted periodically to both their main site and Instagram page, so be sure to check there for updates.
Dusty Rose Vintage (Dusty Friends Pop Up)
595 Manhattan Ave
Like Mirth, Dusty Rose Vintage feels compact and focused. And similar to Thrift Lab, Dusty focuses on the unique and eye-catching.
Dusty is also pretty great as far as variety goes; but what really stands out about their selection of clothing, furniture and accessories, is that everything feels so specific and meant for someone.
While the furniture takes center stage, the clothing they do offer is both high in quality and condition. Also, their prices are surprisingly affordable given that it's a New York City shop. If you're in the neighborhood, Dusty Rose Vintage is highly recommended.
FENG SWAY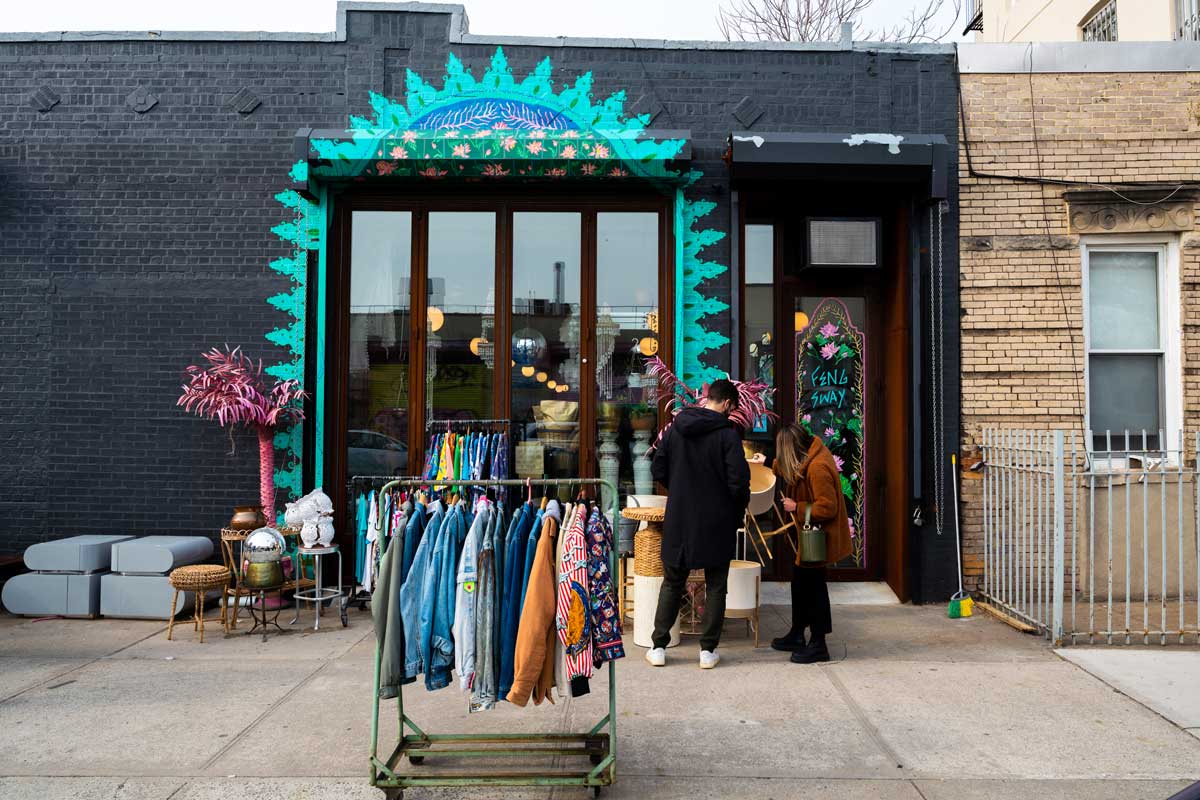 41 Norman Ave
Another vintage store in Greenpoint that's perfect for finding gifts for loved ones is FENG SWAY. This hidden gem in Brooklyn stays true to its name—as its arrangements are some of the most aesthetically pleasing in the neighborhood. FENG offers all kinds of plants, gifts, and home décor. All of which feel very carefully selected and picked.
All the greenery makes for an overall beautiful look and welcoming vibe. The prices here are pretty great and because of their unique selection of antiques and collectibles, FENG SWAY is great for finding a neat gift for a loved one. Check out their Instagram page to see what they have in stock!
Parachute Brooklyn
View this post on Instagram
151 Norman Ave
Now to switch things up a bit, we have a Greenpoint vintage shop that operates mostly as a children's clothing store—Parachute Brooklyn.
Parachute has an excellent selection of children's vintage and modern fashion. And something not commonly seen in Greenpoint thrift stores—Parachute has a selection of good brands at extremely affordable prices.
Also, not only do they sell children's clothes—but they have a good collection of toys too. So, kids have something to keep themselves occupied while parents can go shop.
Parachute also gives you the opportunity to sell any of your unwanted clothing as long as it's in season. To see what's in season and what their new arrivals are, be sure to visit their Instagram page.
Tired Thrift
10 Bedford Ave
Our next pick for the best Greenpoint vintage stores is ripe for nostalgia—Tired Thrift. Don't let the name fool you. Tired thrift is full of energy. They offer a selection of carefully curated 90s and 2000s vintage clothing and accessories.
Their selection is dependably stylish and picked by people who have a true knowledge of fashion and attention to detail. That combined with the fact that their clothing is remarkably affordable, makes Tired Thrift the least tired vintage store in Greenpoint!
Tired Thrift also offers styling rentals priced at 20% of the fee. Send them an email or message them on their Instagram page for more details.
Seven Wonders Collective
View this post on Instagram
37 Norman Ave / 170 Franklin St
Seven Wonders Collective seems to be the perfect marriage between retro and modern. They combine contemporary with a 70s aesthetic.
Seven Wonders has three different locations, one location in Williamsburg and two in Greenpoint (Not very far from each other, in fact).
This unique vintage shop in Greenpoint offers vintage clothing and accessories that are both high in quality and class. They have a really great selection of sweaters and dresses.
The colors and patterns you'll find here are awe-inspiring. As far as Greenpoint vintage stores go, this one is on the pricier side—but it's worth it. Without a doubt, Seven Wonders Collective will have you obsessed long after your first visit!
Lara Koleji
View this post on Instagram
117a Nassau Ave
Lara Koleji is a small vintage store in Greenpoint that sells clothes, jewelry, and accessories—but what they lack in size they makes up for with its distinctive and eccentric pieces.
From their oversized coats to their artsy jewelry and handcrafted accessories—Lara really separates itself from the rest of the pack. Some of the fashion found here is the same type that you'd imagine seeing celebrities, rock stars, and models wearing.
They are only open on Saturdays and Sundays. For any other day of the week, they are available by appointment only. You can send Lara Koleji a message on their Instagram page to schedule an appointment.
Copper+Plaid
View this post on Instagram
655 Manhattan Ave
Need some not-so-new, but awesome furniture? Copper+Plaid is a must-visit. Copper sells a mix of mid-century and modern-day furnishing.
Their gorgeous-looking space provides the perfect setting to check out their well-crafted furniture. Copper+Plaid has some of the most polished and clean furniture in the city. And their furniture isn't the only impressive thing about them.
They also offer many different kinds of decor such as cacti, pottery, and paintings. Some of the items here will have you feeling as if you're living well above your means.
Even though the quality for the furniture is high, money shouldn't be too much of a worry. As with many Greenpoint thrift stores on this list, Copper has pretty reasonable prices. They also offer delivery services within the city.
And like Lara Koleji this shop is open on Saturdays and Sundays only. You can schedule an appointment for other days of the week by messaging Copper+Plaid on their Instagram page.