Looking for the best neighborhoods in Brooklyn to check out? Whether you're a first-time visitor looking to step into Brooklyn (even if briefly – but I urge you to book as much time as you can for Brooklyn sightseeing) or a seasoned Brooklyn visitor, I've got you.
In no particular order, from some of the most famous neighborhoods in Brooklyn to visit to more 'local's only' areas of Brooklyn to check out. We will break down what each of these sections of Brooklyn are known for along with a few highlights as well as supplemental guides to help you decide which are the best parts of Brooklyn for you to check out!
I mention a few of these Brooklyn neighborhoods to explore if you're short on time. While, due to the nature of this entire website, highly encourage you to spend more time in Brooklyn, we realize that some people might be only popping over for their first time from a classic NYC stay. I give recommendations for those readers too – but PLEASE give yourself time to spend days exploring the best things to do in Brooklyn. There's really SO much and with a fraction of the crowds of Manhattan. Not to mention, I think the best pizza in NYC is in Brooklyn (I might get some passionate comments for saying that) along with a side of New York most tourists don't venture out to see.
So even if I only get some folks to try out even a half day in Brooklyn, I can confidently assume you'll be back for more as there's so much to love about this borough.
And for the seasoned Brooklyn travelers – I've got those recommendations for you too! There are so many cool areas and sections of Brooklyn, you can always find something new to check out! It would be impossible to include every single Brooklyn neighborhood without writing an entire encyclopedia – so without further ado, here are the best areas to explore in Brooklyn, curated by someone who freaking LOVES this city!
Best Areas of Brooklyn to Check Out
Williamsburg
Probably the most well-known of 'coolest neighborhoods in Brooklyn' due to its high concentration of hipster culture, artists, and ubiquitous amounts of places to dine, drink, and entertainment, Williamsburg is no doubt one of the most fun areas in Brooklyn to explore and a great introductory neighborhood if you're short on time during your NYC trip and want to explore not too far out of the city for some borough action.
With confidence, I'd say Williamsburg is more for the twenty somethings and thirty somethings who are looking for the cool vintage shops in Williamsburg, trendy restaurants and bars, aesthetically pleasing cafes, along with being in a very hip neighborhood with entertainment options ranging from rooftop bars with city views, art galleries and pop-up shows, waterfront parks with Midtown views, and bars that double as music venues, arcades, bowling alleys, and even skeeball. Oh, and I almost forgot to mention all the Williamsburg street art!
There's so much to do around here, I recommend checking out our Brooklyn neighborhood guides to Williamsburg to help refine what you're looking to do/see/eat/drink!
DUMBO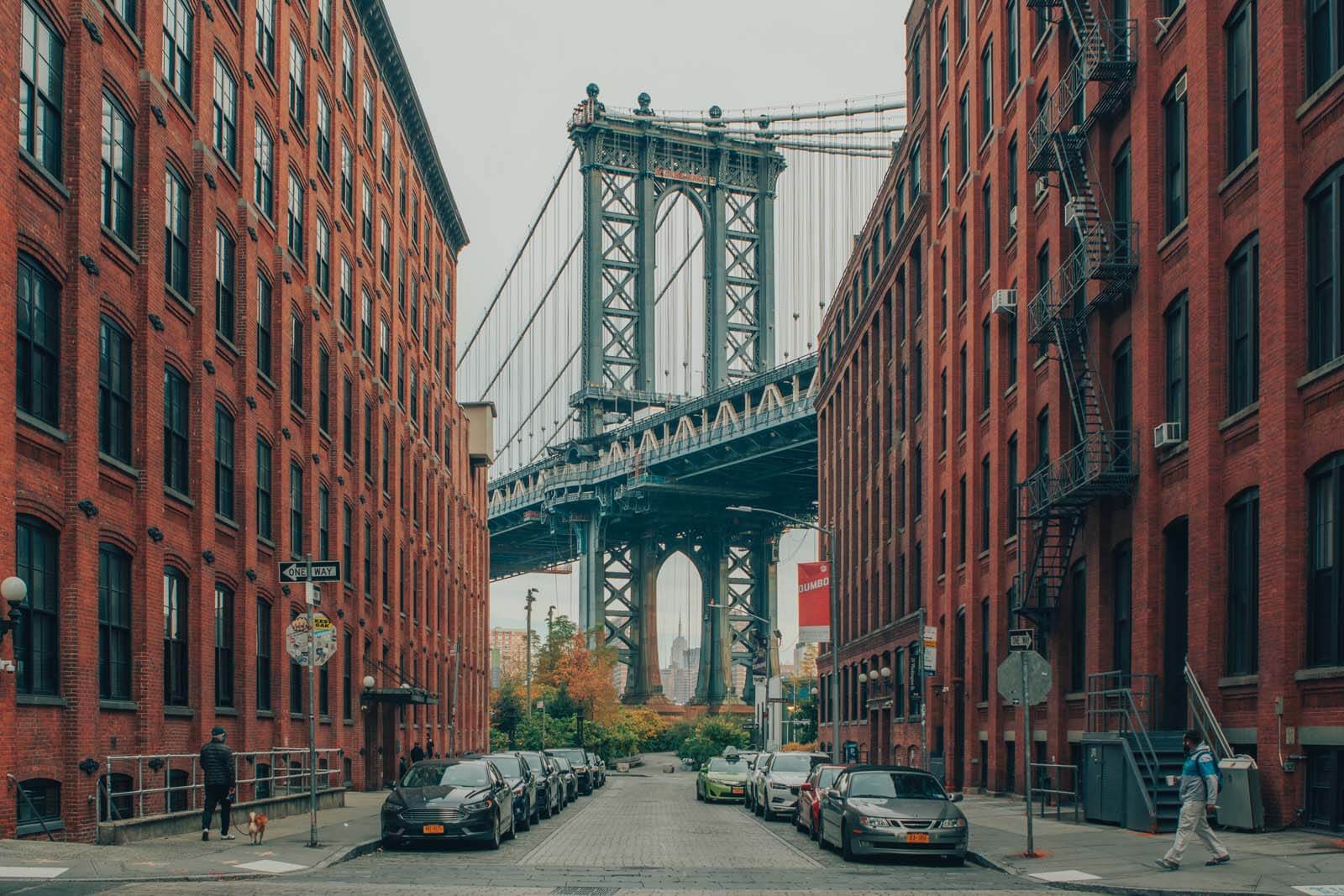 Ok, so now that we got one of the two most popular areas in Brooklyn to visit, I am going to continue on to the next Brooklyn hot spot, DUMBO. Located directly across the East River from Lower Manhattan with some of the best views the city has to offer from Brooklyn Bridge Park between the Manhattan Bridge and Brooklyn Bridge views of the city.
Not to mention, DUMBO is easily recognizable as it's been portrayed in film and tv and often used as establishing shots for Brooklyn or NYC because of the views from here are that insane.
Glimpses of the industrial past here can be seen, the warehouse-style buildings have all been converted into luxury housing for the wealthy, trendy restaurants, shops, and even galleries.
This is a really easy neighborhood to visit from Manhattan as those who do the iconic Brooklyn Bridge walk get dumped off over here in Brooklyn – which is the best way to check out this area in Brooklyn if you've only got around a half a day to enjoy over here on your NYC itinerary.
If it's your first time, a couple of musts include the famous photo spot of the Empire State Building framed inside the Manhattan Bridge from the intersection of Washington & Water Streets (prep yourself for crowds all wanting a selfie here), visiting the roof at Time Out Market New York for unbelievable views, and having pizza at Juliana's or their rival, Grimaldi's. There's always a debate at who's is better and there's some serious pizza drama between the two!
There's so much to do around here, I recommend checking out our Brooklyn neighborhood guides to DUMBO to help refine what you're looking to do/see/eat/drink!
Greenpoint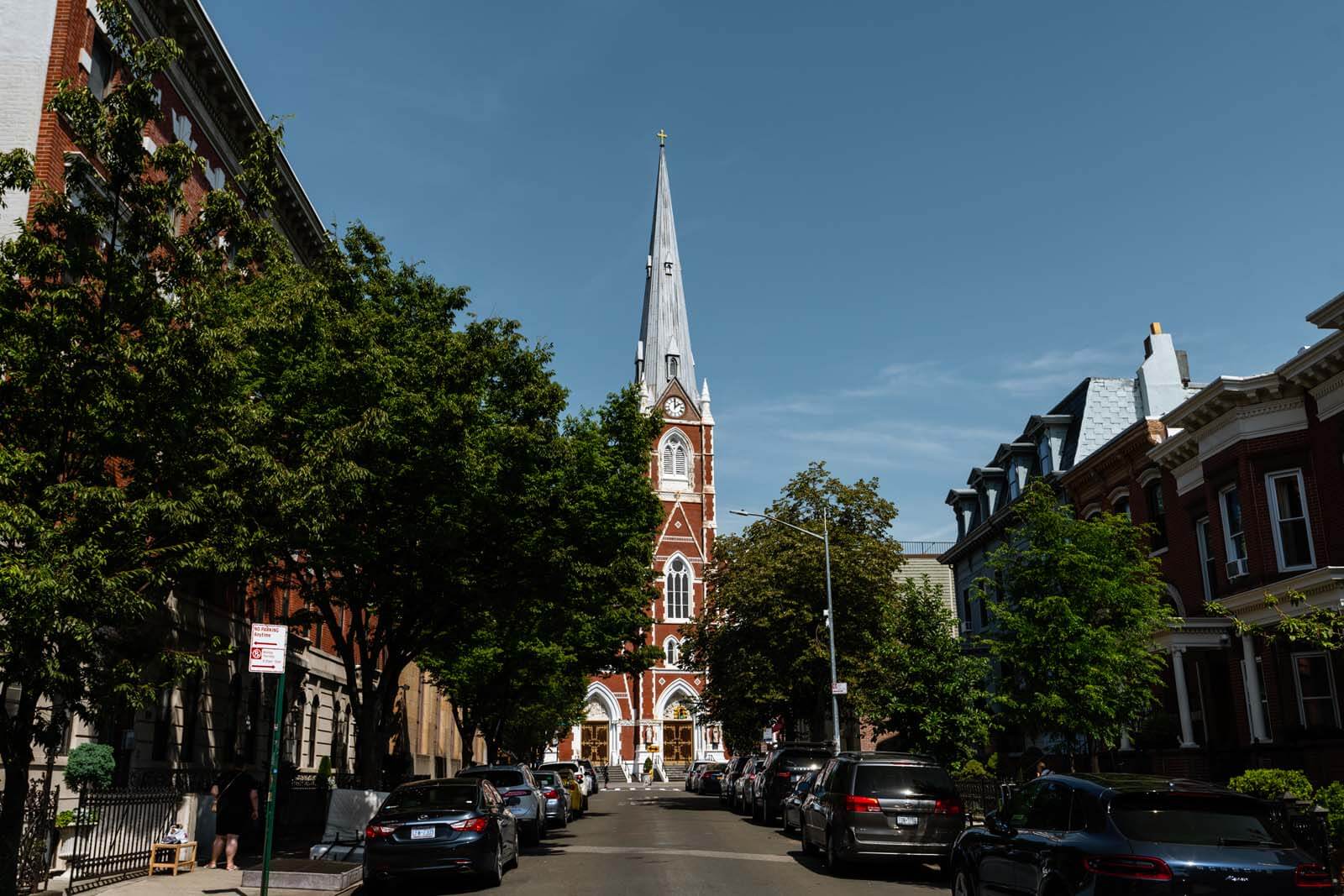 Another north Brooklyn area to explore, often combined with a visit to Williamsburg for visitors is the northern most neighborhood in the borough before entering Long Island City in Queens.
This section of Brooklyn is known for its Polish community where you'll find no shortage of Polish eateries over here among other great things to do and see from great restaurants, fun bars, waterfront spaces and parks with great Midtown skyline views (I love this view of the Empire State Building), art galleries, vintage shopping, cool cafes, and more!
I personally feel like Greenpoint has everything that Williamsburg has to offer sans the crowds and is best explored by foot. Whether you're looking for shopping, dining, drinking, or entertainment – you can find it here.
There's so much to do around here, I recommend checking out our Brooklyn neighborhood guides to Greenpoint to help refine what you're looking to do/see/eat/drink!
Brooklyn Heights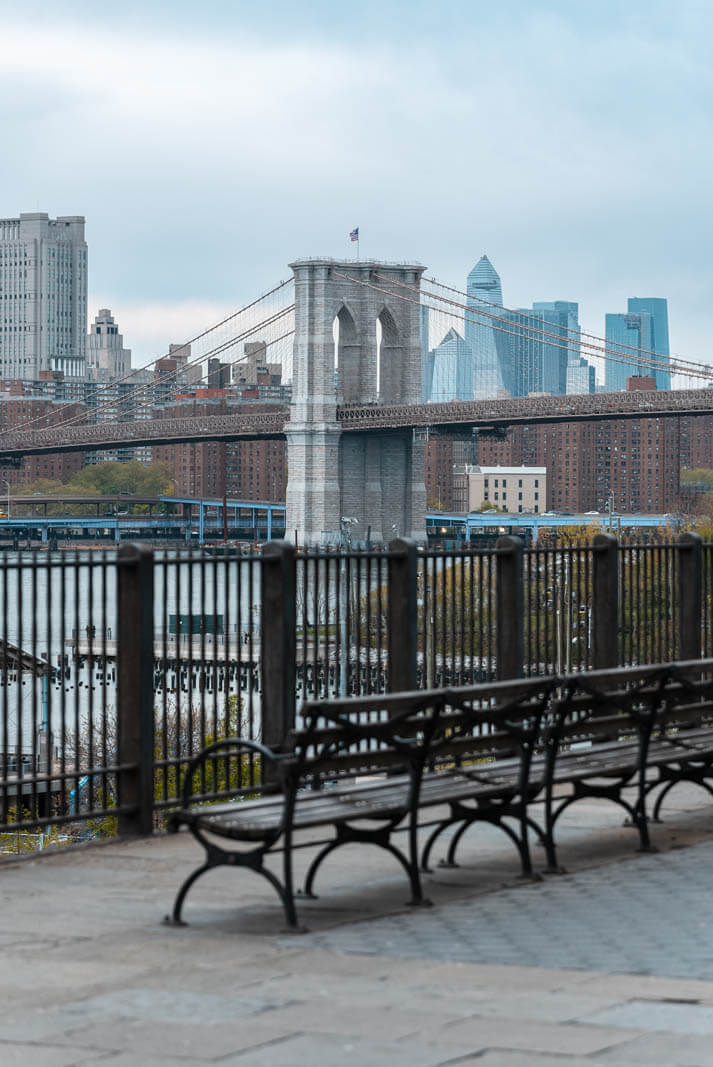 Seriously, one of the best parts of Brooklyn is that you have popular neighborhoods that can get VERY crowded with visitors (ahem, DUMBO) then just a few blocks away you have more quiet spots with all the same perks of visiting that popular Brooklyn neighborhood.
That's what Brooklyn Heights is! Located just a few minutes walk from DUMBO, you have one of the most beautiful neighborhoods in Brooklyn, no, in the city. This very affluent neighborhood is actually one of the first suburbs of NYC full of mansions, historic landmarks, a storied past, and of course some incredible views, especially from the Brooklyn Heights Promenade where you get views of the Statue of Liberty, Lower Manhattan skyline, and one of my favorite views of the Brooklyn Bridge. My favorite thing to do is grab a coffee or drink from a market and park myself on one of the many benches on the Promenade.
This area of Brooklyn to this day still attracts wealth, with a high concentration of celebrities who live in this neighborhood from Matt Damon, Adam Driver, to John Krasinski and Emily Blunt to name a few.
This is a quiet place to take a stroll for architecture lovers, be sure to walk up and down the Fruit Streets (Cranberry, Pineapple, and Orange) as well as the tucked away alleys like Hunts Lane, Grace Court Alley, and Lovers Lane for some of the hidden architectural gems of this gorgeous Brooklyn neighborhood.
Be sure to check out our guide to best things to do in Brooklyn Heights for more ideas of what to do, see, eat, and the historic landmarks and hidden gems that fill this neighborhood!
Bushwick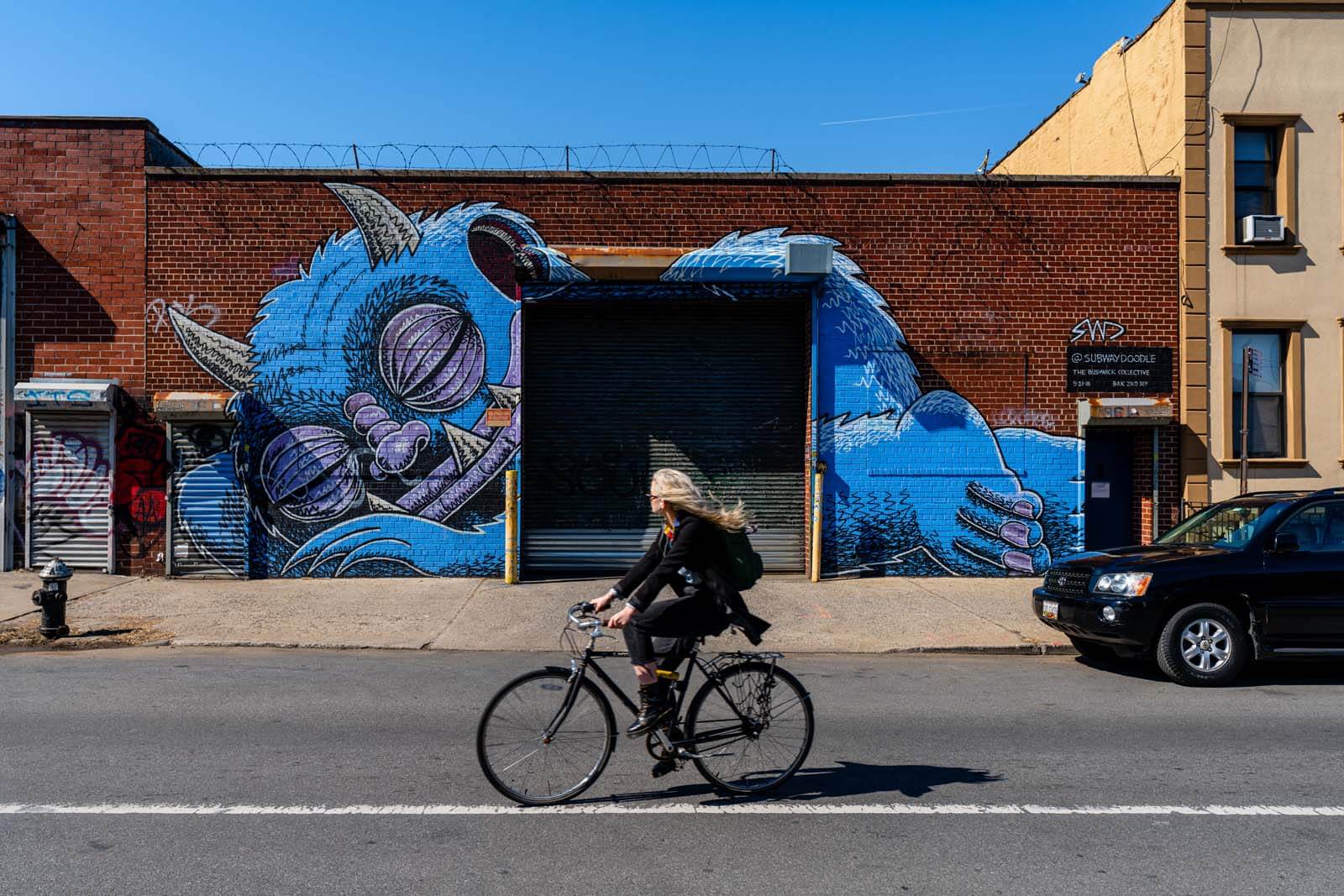 One of the best neighborhoods in Brooklyn for nightlife and street art is Bushwick. This neighborhood attracts a younger, party-focused crowd for their nightclubs like the legendary House of Yes as well as its proximity to East Williamsburg nightlife like 3 Dollar Bill, a popular gay bar and nightclub.
Besides being a great nightlife spot with many awesome bars, Bushwick is one of the coolest neighborhoods in Brooklyn for street art thanks to the open-air art gallery covering all the walls and businesses in the neighborhood known as the Bushwick Collective. Not to mention there are several galleries and an overall artsy vibe to this entire neighborhood.
Bushwick has historically been an enclave of Hispanic communities, so you can expect to find some great places to eat influencing the communities that have generationally been tied to this neighborhood – my personal favorite are some of the best tacos in Brooklyn found at Tortilleria Mexicanas Los Hermanos.
This is more of an area in Brooklyn to come towards the latter half of the day, unless you're just coming to grab a coffee at a cafe and walk around the Bushwick Collective or pop in a few of the galleries. If you come too early many of the restaurants and bars aren't open yet as this really is a nightlife hub.
Be sure to check out all of our Bushwick Brooklyn neighborhood guides:
Park Slope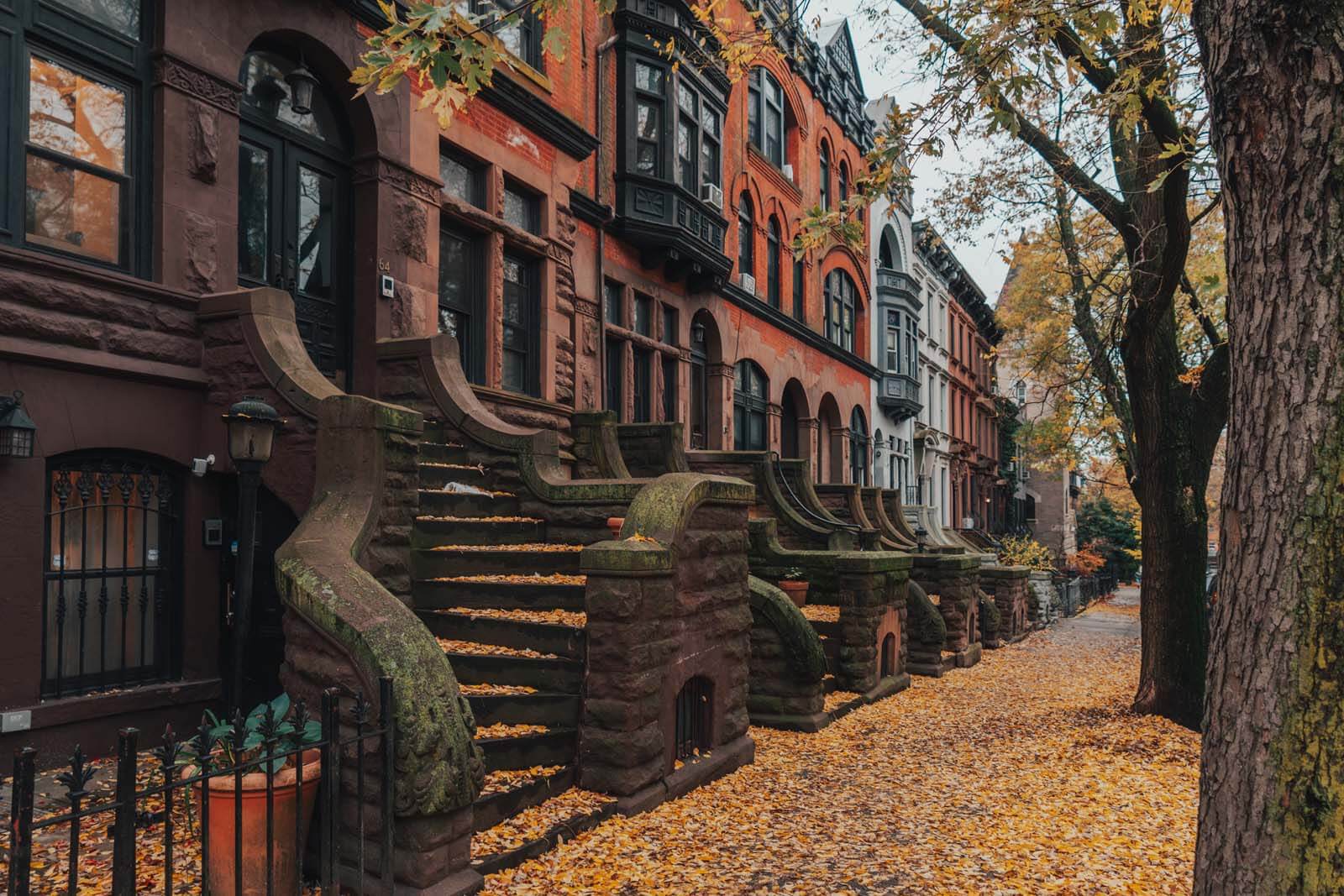 If you want to understand why this is one of the most desirable places to live for families in the city, then you'll want to spend a day exploring Park Slope, one of the most beautiful brownstone Brooklyn neighborhoods to explore. Park Slope is home to one of the largest designated historic districts in the state of New York in terms of number of buildings, a 40-block district with 1,802 contributing buildings.
Take some time to walk along Prospect Park West where you'll spot the stunning mansions and homes that line Prospect Park and then make your way down the brownstone lined streets to both 5th and 7th Avenues, the two main thoroughfares where you can fund an abundance of independent boutiques, cozy cafes, bars, and several great dining options whether you're coming for brunch, lunch, or dinner with everything from grab and go options to take up to Prospect Park to intimate restaurants and options with beautiful garden dining.
The architecture alone along the tree-lined streets whether you're looking at the brownstones or several beautiful churches in this very picturesque area of Brooklyn.
Park Slope is one of the best neighborhoods in Brooklyn to explore with so much to do, see, and eat – so be sure to check out our guides all around this area.
Crown Heights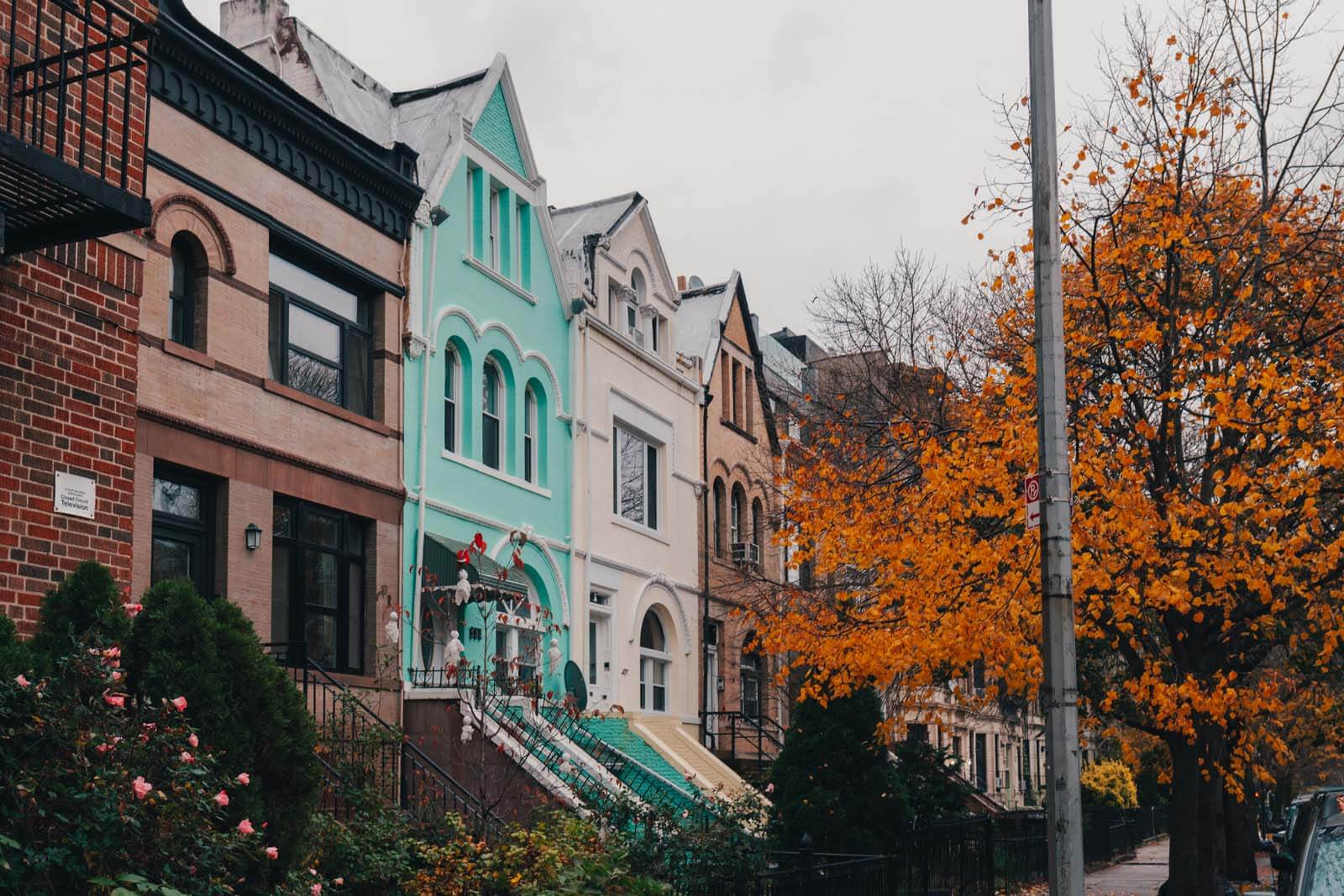 Another one of the best neighborhoods in Brooklyn to explore for anyone who enjoys beautiful architecture, cultural sites, and great eateries should make their way to Crown Heights – a perfect addition pre or post visiting Brooklyn Botanic Garden and the Brooklyn Museum too.
Crown Heights is historically a Jewish and West Indian neighborhood, as gentrification does its thing the neighborhood has become popular among those who were seeking more affordable housing. With that being said, if you're looking to get away from crowded neighborhoods and want to shop in some great boutiques, find some nice cafes, enjoy great food representing cuisine from all over the globe, plus the beautiful architecture – this is a great area of Brooklyn for you!
Within the historic cultural sites, besides taking a casual stroll through the Crown Heights North Historic District, which is compromised of over 1,000 buildings in all types of architecture including Italianate, Queen Anne, Romanesque Revival, and Colonial Revival to name a few, you can visit some of the best museums in Brooklyn like the Brooklyn Children's Museum and the Jewish Children's Museum.
Another cultural site to check out is the Weeksville Heritage Center, which is dedicated to one of the first free Black communities in the 19th century.
If you're the foodie wanting to really taste your way through this area of Brooklyn, Crown Height's main thoroughfare with most of its cafes, places to eat, and drink can be found up and down Franklin Avenue.
Be sure to check out all of our tips for exploring Crown Heights, one of the best parts of Brooklyn if you're looking to have a more local experience.
Carroll Gardens & BoCoCa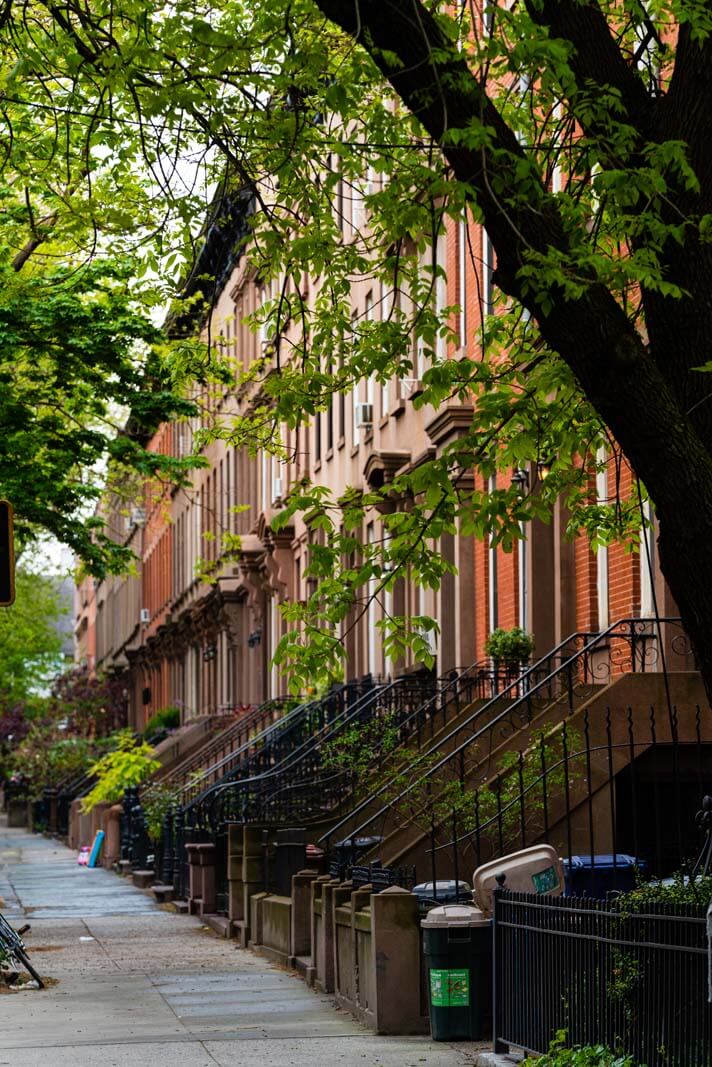 Anytime anyone comes to visit us, I always am asked to take them to the best parts of Brooklyn. One area of Brooklyn I always take guests is Carroll Gardens and the BoCoCa neighborhoods. I actually hate using that term but BoCoCa stands for Boerum Hill + Cobble Hill + Carroll Gardens, which are neighboring neighborhoods with some crossover like a venn diagram in their delineation – so I often lump them together myself – but I do hate the sound of that as it's so ugly and these Brooklyn neighborhoods are so opposite of ugly.
These neighborhoods are known for their beautiful brownstone homes, and the name Carroll Gardens is partly to reflect the large gardens in front of the brownstones in the Carroll Gardens Historic District area, which is pretty rare real estate to have in New York City. (the other connection to the name Carroll Gardens has to do with Charles Carroll, one of the only Catholic signers of the Declaration of Independence).
Carroll Gardens is known for its Italian American community and you can find some of the best red-sauce Italian restaurants in Brooklyn here plus Italian bakeries (hello Court Pastry Shop, Monteleone's, Caputo's & Mazzola) along with other great restaurants, shops, and bars along both Court Street and Smith Street.
Cobble Hill is more residential and another area where some of the wealthiest in Brooklyn reside in the beautiful brownstone mansions and charming tree-lined lanes. Boerum Hill is very similar but offers a few more restaurants, cultural spaces, and cafes to check out.
This area in Brooklyn is also one of our top suggestions for beautiful walks in Brooklyn. Whether you're looking for old-school Italian spots (I love the old butcher shops and signage along Smith Street), cool boutiques dotted along Court Street, or pretty streets to walk down and admire the architecture – this Brooklyn neighborhood has it.
Because we do lump a few Brooklyn neighborhoods into this area (mainly because they are really easy to visit altogether) be sure to read our guides on the area to help you pick what to do and see here.
Red Hook & Columbia Street Waterfront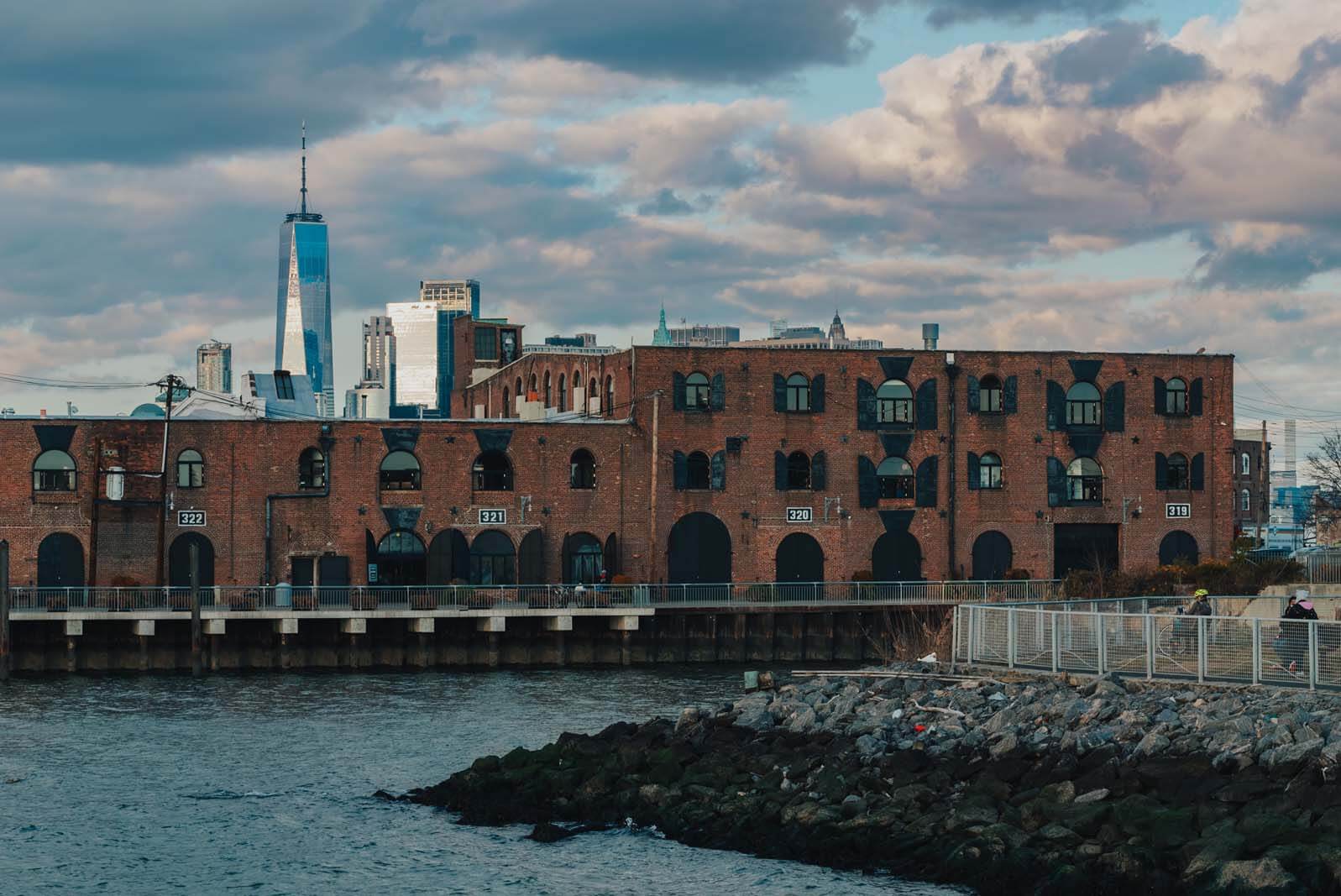 One of the best areas in Brooklyn to explore if you're up for a bit of an adventure is Red Hook and Columbia Street Waterfront District. Red Hook is what's considered 'South Brooklyn,' and is pretty closed off to the rest of the city when it comes to public transportation as there are no subway stops near here – the closest subway being in Carroll Gardens/Gowanus.
But, you can take the NYC ferry here, Citibike, or bus. The more and more I visited Red Hook myself, the more and more I appreciated this part of Brooklyn. There's an incredible art scene here with many independent galleries and community spaces like Pioneer Works not to mention a great foodie scene with great seafood restaurants like the Brooklyn Crab and Brooklyn Lobster Pound to other great places to grab a bite to eat and drink, especially on the weekends. Oh, and don't forget the Steve's Authentic Key Lime Pie which is worth the trek over here alone!
The other 'thing' that Red Hook is known for is being the location of the city's IKEA store. Yep. And if you're in Lower Manhattan, you can actually take the IKEA ferry over to Red Hook as one way to get here!
This is a great weekend spot to take a stroll and plan a meal around. Be sure to walk up and down Van Brunt St, the main thoroughfare dotted with many of the best places to eat, drink, and shop in the neighborhood that runs into Columbia Street Waterfront District – a micro-neighborhood I included with Red Hook since they are so close.
Columbia Street Waterfront District is a tiny pocket-sized neighborhood with pretty rowhouses and more options for dining, shopping, and peeping at all the pretty architecture Brooklyn has to offer. And once you've made it here, if you want to keep exploring you can easily continue on to Brooklyn Heights – which is easier to access the subway from at the end of your day.
Be sure to explore our guides on these Brooklyn neighborhoods to help you plan your visit.
Gowanus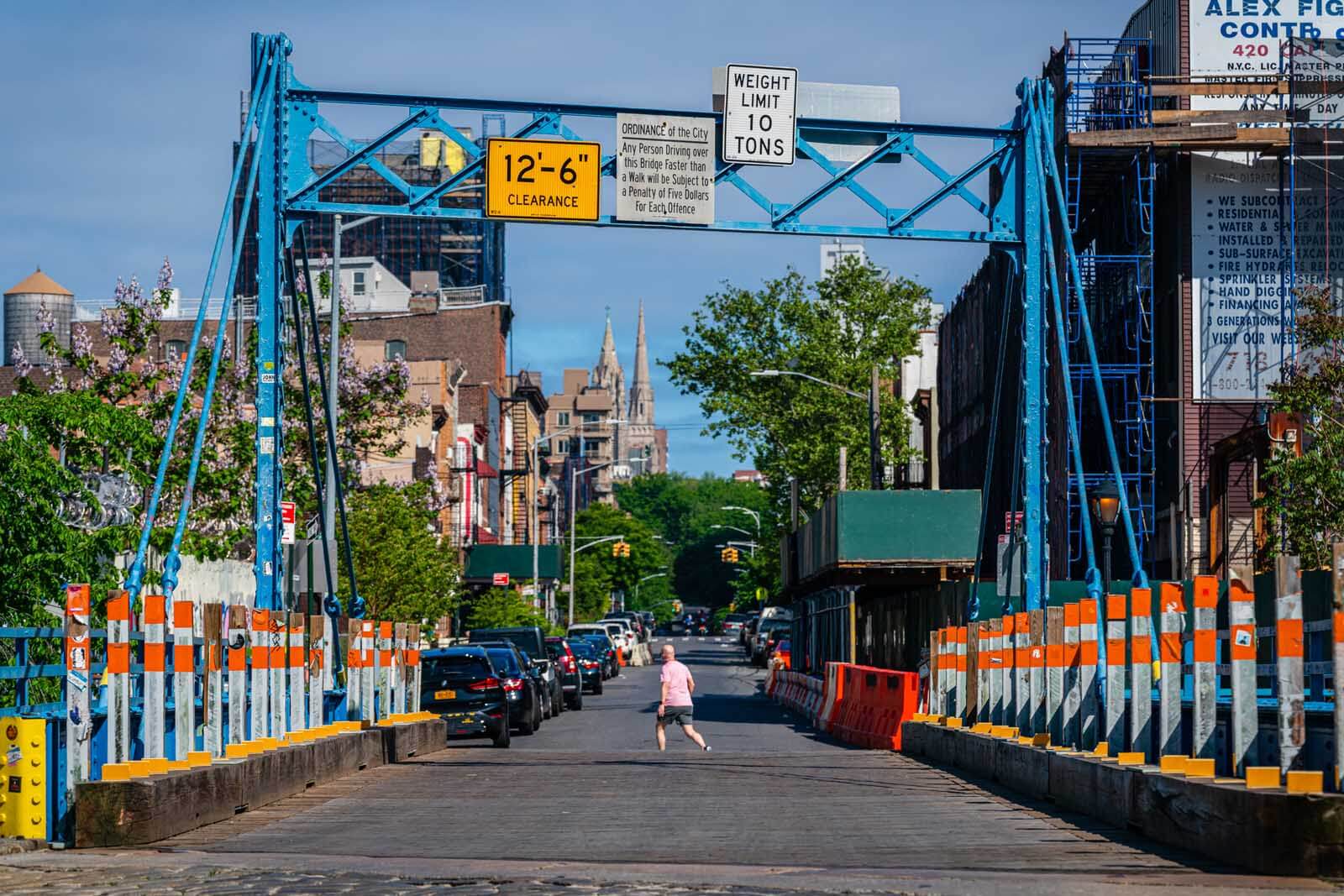 Gowanus is another area of Brooklyn you won't find many tourists at. This grungy-industrial neighborhood with a very polluted canal (the EPA has been cleaning since 2010 and still has a long way to go) isn't as pleasing on the eye as other Brooklyn neighborhoods featured in this guide, but Gowanus does have some pretty cool offerings including multiple Brooklyn breweries, art galleries, awesome places to eat and drink, and great spots for weekend hangs.
This neighborhood has been becoming more and more popular among creatives who've moved here and base out of here. Some predict it's going to be the next Williamsburg and hipster hangout.
While a local knows that there's a lot to do here, some of the things like underground or independent comedy shows that take place here weekly, many of them free of charge (like Cuba Libre), or outdoor rooftop movie screenings are hard to find out unless you know where to look.
You'll find places to eat scattered along 4th and 3rd Avenues and spots like Union Street have a cluster of restaurants, bars, and things do surrounding it on and on nearby blocks.
For entertainment, you have fun options like Kick Axe Throwing, Royal Palm Shuffleboards, The Bell House, and fun weekend hangout spots like Pig Beach which serves up good bbq too (just down the street from Dinosaur Bar-B-Que, another great spot). Or if you need to relax, there's even a spa here at Citywell Spa.
Check out our guides to exploring Gowanus to help you plan your visit – if you're not familiar you're going to need that extra bit of guidance, but trust us, there are some cool things happening around here!
Fort Greene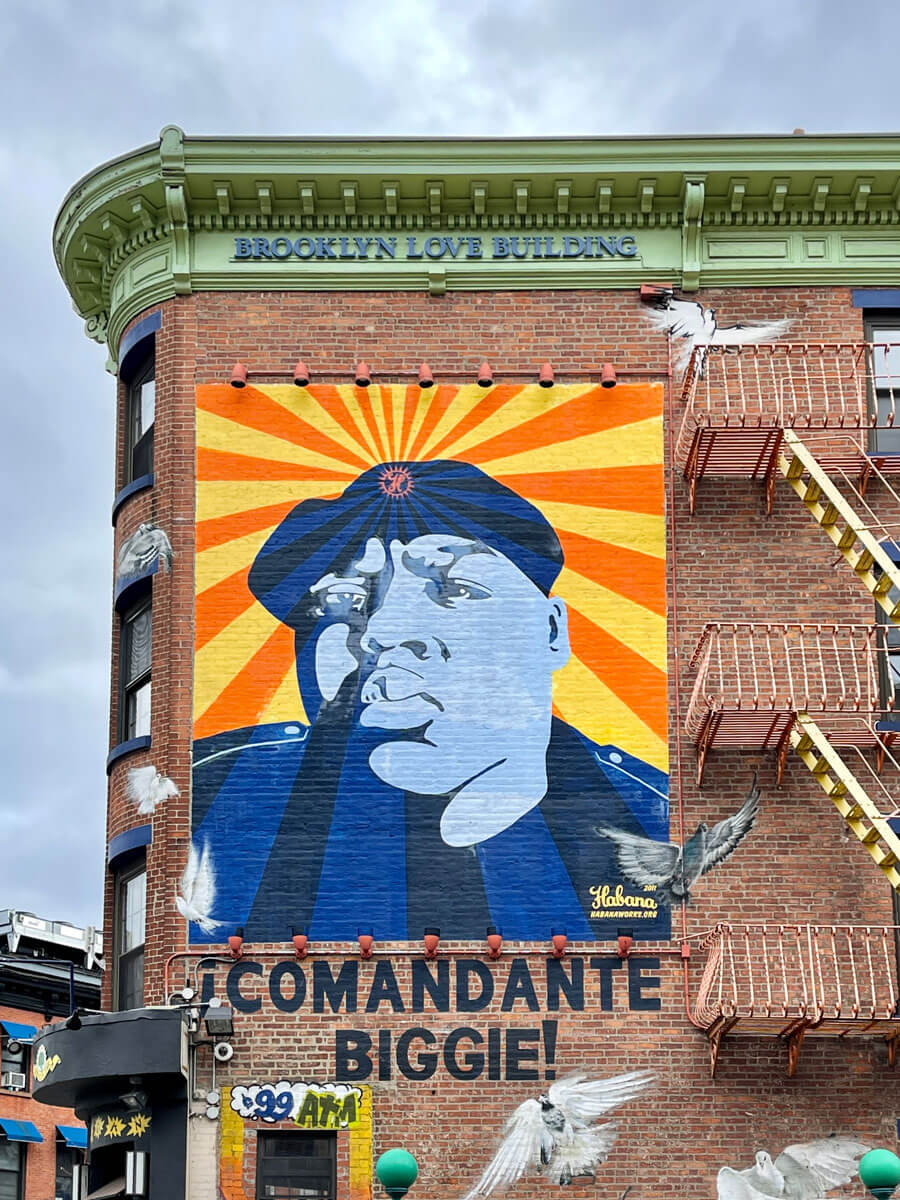 Another one of the coolest neighborhoods in Brooklyn to explore (and live in) is Fort Greene, which is ideal if you're not going 'deep' into Brooklyn due to its close proximity to Downtown Brooklyn and DUMBO. This area of Brooklyn has a great balance of everything you want out of a neighborhood: a great foodie scene, gorgeous brownstone-lined streets, Fort Greene Park (one of the best parks in Brooklyn), and a few cool independent shops.
This is where you can also find entertainment – whether you're wanting to catch a game or concert at Barclays, a cultural performance at BAM (Brooklyn Academy of Music), or check out MoCADA. Or swing by to take peep at the exterior Spike Lee's film studio at 40 Acres and a Mule Filmworks.
You have a nice mix of the area being not too young (although Pratt Institute resides right around here) but also not being to quiet or too 'old' yet there's always something to do or going on here, plus as I already mentioned, a great foodie scene.
If you're into historic sites, you can check out the Prison Ship Martyr's Monument in Fort Greene Park, a crypt located on the staircase of the park serving as a centerpiece that you can't miss towering over Fort Greene. The memorial was built in honor of the 11,500 American prisoners that perished while aboard the British prison ships during the Revolutionary War and are laid to rest in the tomb.
For more ideas and more in-depth guides for this area in Brooklyn, check out our guides:
Clinton Hill
Clinton Hill is another one of the best neighborhoods in Brooklyn to check out if you're looking for a more quiet neighborhood, it's one of the best parts of Brooklyn to live in if you ask me, sandwiched between Fort Greene and Bedford-Stuyvesant.
There are a few great places to eat, spots that the typical tourist wouldn't know about so if you're visiting and want to have a local vibe, this is a great place to enjoy that and often it's not as competitive to get into a few of the restaurants around here as other high traffic spots in the city. Pratt Institute is here, so you can find nice cafes around and that younger crowd.
If you like to just stroll and enjoy brownstone and architecture peeping, this is another great section of Brooklyn for that. The closer to Fulton Street you get, you'll be in Notorious B.I.G's old neighborhood where he grew up and eventually got discovered before going on to be The King of New York. You'll find many murals along Fulton dedicated to Biggie and if you're a fan of him you might want to check out all the Brooklyn Biggie Smalls landmarks including his childhood home. (there are actually a few notable artists and celebrities from this Brooklyn neighborhood!).
You won't need a whole day for Clinton Hill, but you can surely add on a few of the other coolest neighborhoods in Brooklyn to explore around here including Fort Greene, Bed-Stuy, and Crown Heights.
Check out our guides to Clinton Hill to help you plan your visit to this area of Brooklyn:
Sunset Park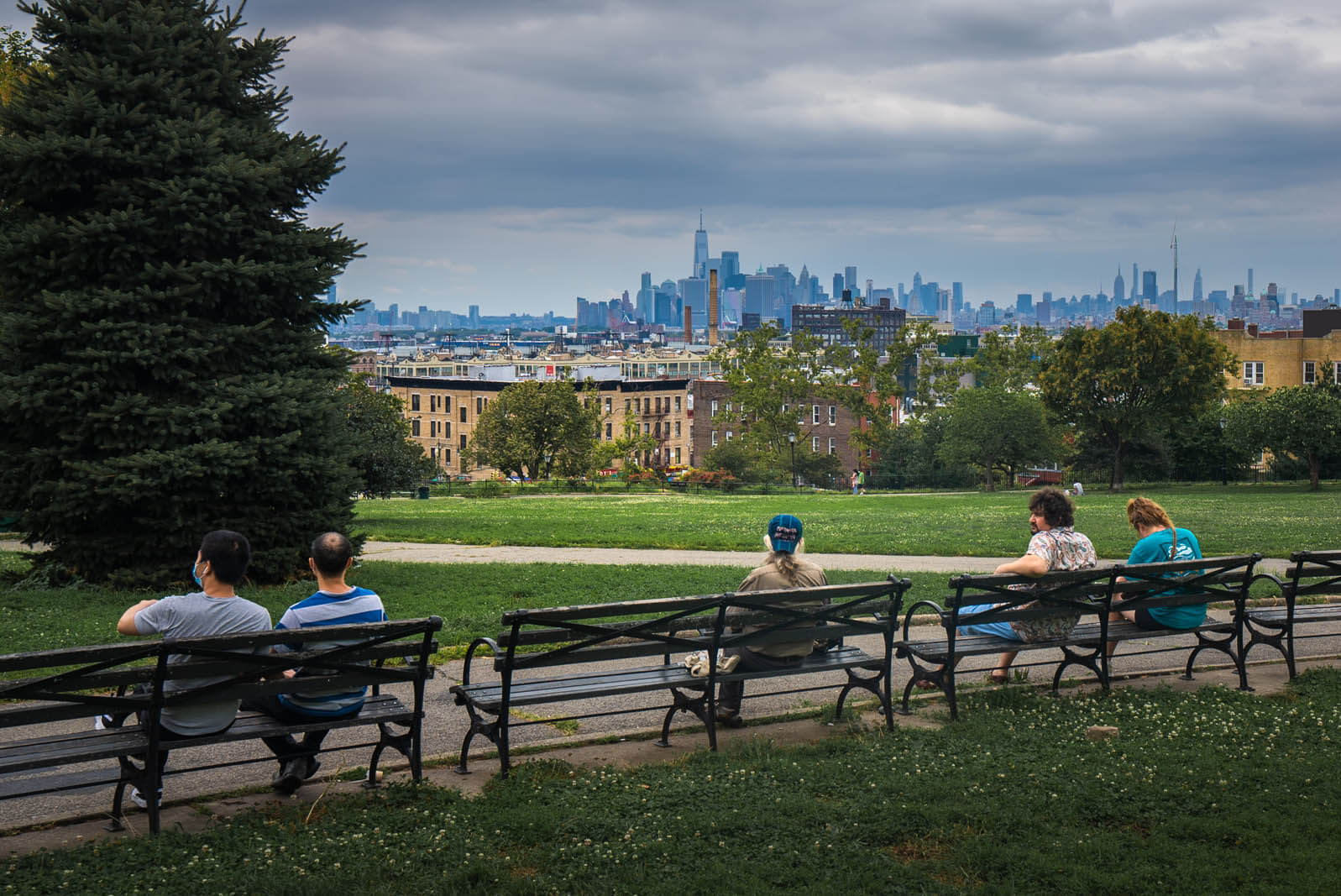 One of the best hidden treasures of Brooklyn neighborhoods to explore is Sunset Park. This is another spot a lot of visitors to the city might not make it to and you'll mostly find locals. Sunset Park is home to Brooklyn's unofficial Chinatown and also a Latin American enclave – so yes, the food is also excellent over here.
From the elevated Sunset Park, the park in Sunset Park you have fantastic views of the NYC skyline from a distance as well as the Statue of Liberty in New York Harbor. If you're visiting around lunch, go grab the best bahn mi in the city (one of the best sandwiches in Brooklyn) from Ba Xuyên and walk it over to the park where you can find a great bench with a view.
You also don't want to miss Green-Wood Cemetery, one of my personal favorite places in the city. This hauntingly beautiful cemetery is home to some famous notable figures of the country and New York City's past (and not so terribly distant past like the final resting place for artist Jean-Michel Basquiat). Beyond the tombstones, which are beautiful, the cemetery is a Level III arboretum with ancient and rare trees, sweeping views of the Lower Manhattan skyline, views of Lady Liberty, and endless trails not to mention a beautiful Neo-Gothic gate at the main entrance.
As a matter of fact, Green-Wood Cemetery is what inspired the construction of Central Park and Prospect Park as New Yorkers were using this beautiful graveyard as a park in the Victorian era. Let me just say, I get it. Every season is gorgeous here too.
And if you're into creative spaces full of entertainment, food, and drink options – check out Industry City. This indoor/outdoor space is full of murals from artists all over the world, events, many great restaurants, places to drink including a brewery/sake tasting rooms/distillery, the only Japan Village in the city, and an arcade plus so much more. This is even an excellent spot to visit in the winter as they have heated outdoor dining and a cool ice rink too!
Flatbush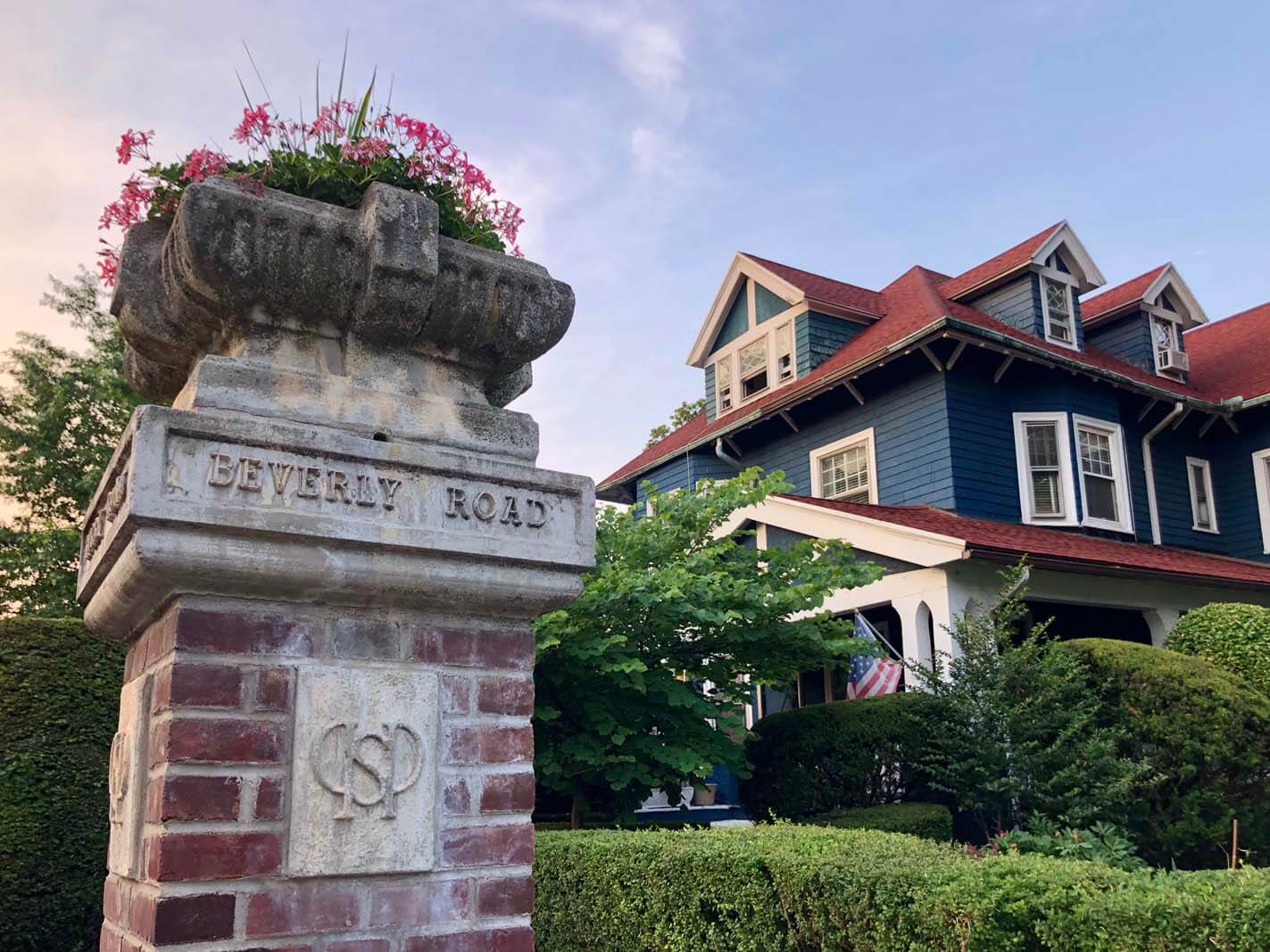 If you're wanting to continue exploring in the lesser traveled areas by visitors to the city, Brooklyn neighborhood of Flatbush which is home to Prospect Lefferts Gardens, Little Caribbean, and Victorian Flatbush.
These areas of Brooklyn have it going on from being culturally diverse with fantastic food options, famous for its gorgeous architecture and mansions, and proximity to hanging out at Prospect Park plus the Prospect Park Zoo, you can easily spend an entire day or afternoon over here.
Be sure to pop in the shops in Prospect Lefferts Gardens aka PLG, like Awesome Brooklyn (& their home store too just down the street) and GranRU Market. If you need a nice refreshing drink, stop by Hibiscus Brew to sip on while you walk around. Save your appetite for Little Caribbean, where you can find some great picks here from Fanny the Traveler.
After you eat, take a walk through the historic homes of Victorian Flatbush, one of the oldest areas of the city home to stunning mansions and historic district. If you're into history, you'll want to check out other Flatbush historic sites like Erasmus Hall High School (now closed) which was funded by famous Founding Father rivals Hamilton and Burr and the alma matter to celebrities like Barbara Streisand and Neil Diamond to name a few. Not to mention a church dating back to the 17th century and the Dutch colonization days.
There's a lot to be seen and do around here, you'll want to bring comfortable walking shoes and be sure to check out our guides for exploring this area in Brooklyn.
Bed-Stuy
Bedford Stuyvesant, aka Bed-Stuy, is large area in Brooklyn and neighborhood that many tourists don't make their way to and has more of a locals only feel but has a ton of great restaurants, bars, and is the heartbeat of the Brooklyn hip hop and music scene as famous artists like Jay-Z, Aaliyah, Big Daddy Kane, Fabolous, Talib Kweli, Lil Kim, Yasin Bey (Mos Def), and Ol Dirty Bastard are from to name a few.
This Brooklyn neighborhood is teeming with architecture – for those who enjoy that as much as I do, as this area of Brooklyn has the largest collection (around 8,800 buildings) of intact and untampered with Victorian architecture and homes in the country. Much like other parts of Brooklyn, Bed-Stuy is no stranger to heavy gentrification over the recent years.
As mentioned, there is a plethora of great food options representing different global cuisines along with great bars and nightlife, however, because of the sheer size of this neighborhood, some of these options are more spread out than others, but you only get so many meals in a day so we recommend planning out where you want to eat and go beforehand.
And if you want to see this section of Brooklyn's historic district, head to Stuyvesant Heights Historic District which has 577 contributing homes that were built in the 30-year time period of 1870-1900 covering 17 blocks. But to be honest, this whole neighborhood is full of gorgeous residential architecture and impressive buildings.
As mentioned, you'll want to plan your visit beforehand so you don't miss some of the best of this Brooklyn neighborhood and what is has to offer. See our guides to help you plan your visit:
Coney Island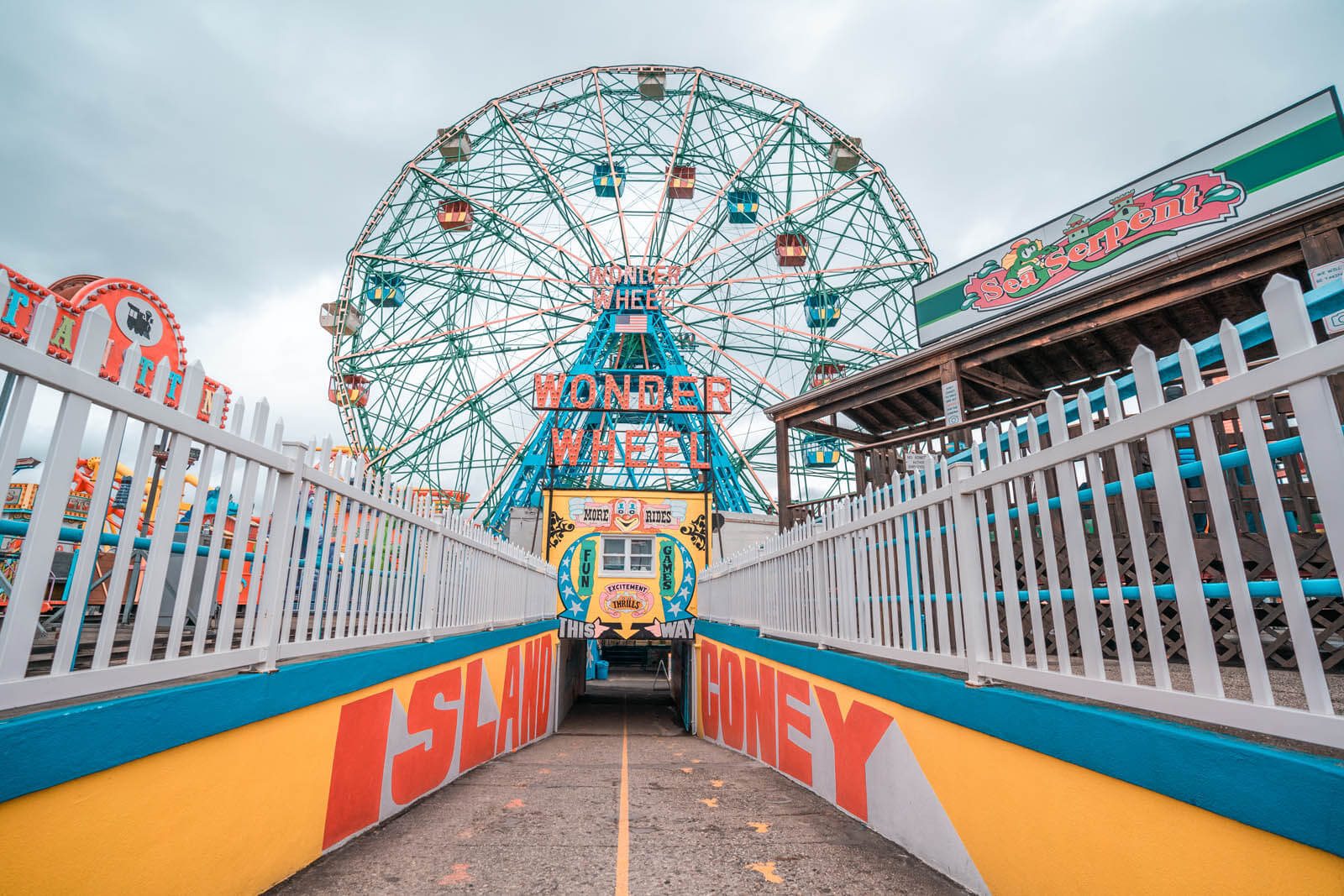 Where do I even start? I LOVE Coney Island! I know this is touristy, kitschy, and a bit of a mission to get to – but it's worth it. If you love historic places, one of America's first amusement parks that's packed with over a century-old storied past, and fun attractions even to this day – you have to make a visit!
Of course you need to walk down the famous Riegelmann's Boardwalk, the 2.7 mile historic boardwalk (that goes all the way to Brighton Beach, aka Little Odessa and worth stopping by if you have time) that's over 100 years old overlooking all the best sites, entertainment, and Coney Island Beach!
Save room for one of Nathan's Famous hot dogs, and if you're here on July 4th, you can check out the annual Nathan's Famous Hot Dog Eating Contest! Speaking of events, there's an annual Mermaid Parade too and Polar Plunge in the winter.
Check out the historic rides and landmarks at Luna Park and Deno's Wonder Wheel Park including the Wonder Wheel itself. For something extra special, make your way to the New York Aquarium, which is really cool, where you can get up close to marine life including a shark-filled tunnel you can walk through.
The amusement parks are open only though around Memorial Day to the end of October, but you can enjoy other Coney Island attractions off season like the aquarium, walk the boardwalk without the summer crowds, ice skate, and still enjoy one of Nathan's Famous dogs.
To plan your visit to this thrilling Brooklyn neighborhood, check out our guides to help you plan your visit!
---
It's hard to say which are the best neighborhoods in Brooklyn to visit, because there are so many and areas of Brooklyn that I probably should have included (and may as I edit and update this piece) but this guide gives you a good starting point plus resources to help you plan your visit!
If I missed one of your favorite areas of Brooklyn to visit let me know in the comments below!