Looking for the best pizza in Brooklyn to try? We have compiled the best Brooklyn pizza that you must try. Tasted tested and approved.
While it's probably impossible to fit all of these famous pizza in Brooklyn spots on your trip if you're a visitor (let's be honest it's even hard for locals) don't let that stop you from planning to visit one of these best Brooklyn pizza joints even if you only tick one off at a time on your Brooklyn pizza bucket list (we've included the address and neighborhood for each one so it's easy to plan!).
NYC and pizza are two peas in a pod thanks to the city's rich history with Italian immigrants. The city has the oldest pizzeria in the country as well as what we argue the best pizza you can find in the nation! (Take that Chicago…)
Besides pizza being woven into the fabric of the city's history, NYC and Brooklyn make some of the best pizza out there because of two other secret weapons; our city's famous water is a secret ingredient for any bread-related products, and the styles of ovens used to cook the pizzas from coal ovens, wood fire, and deck ovens to name a few!
As the saying goes, pizza was invented in Italy but perfected in NYC.
We have carefully narrowed down the list to some of the best pizza places in Brooklyn to dine-in or grab a slice, plus what they're known for! We've also included whether or not these pizzerias have gluten-free or vegan options on their menus.
Without further ado, here are all the famous Brooklyn pizza restaurants! Be sure to check out our guide to the most places to eat in Brooklyn too!
Also, if you're looking for the perfect pizza caption or just love pizza quotes, we have a whole guide dedicated to them plus the best pizza in NYC.
Brooklyn's BEST Pizza
Luigi's Pizza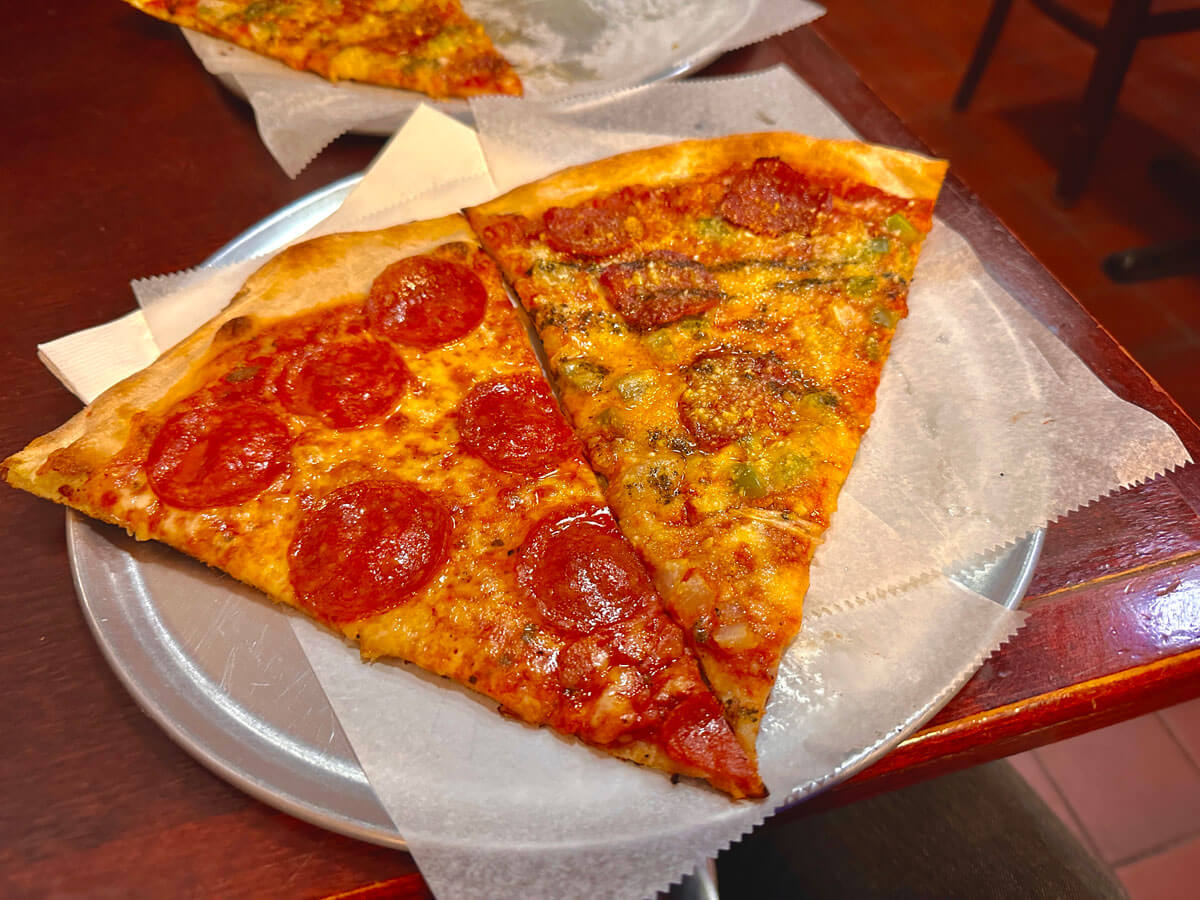 Address: 686 5th Avenue, South Slope
If you've ever heard of Stool Presendiente or more formally known as the "one bite" man, you've heard of Luigi's Pizza. If you've ever seen Big Daddy, the classic movie starring Adam Sandler, you've also heard of Luigi's Pizza because that is the pizzeria from the movie.
Both of these reasons alone don't make for great pizza but they are added bonuses to promote some of the best pizza in Brooklyn (and in the city).
The classic slices shine here but they also have my absolute favorite slice of Sicilian around. Each time you go in, you will be given one of the best pizza slices in the city and most often from the chef and owner himself.
The pizzeria has been in the family for decades and has continued to withstand the test of time and remain one of the best slice shops around. Better yet, as costs of food around the city seem to increase, Luigi's somehow keeps their prices low and the quality high.
Luigi's offers take away and outdoor dining. There is no indoor dining available and they are cash only.
Grimaldi's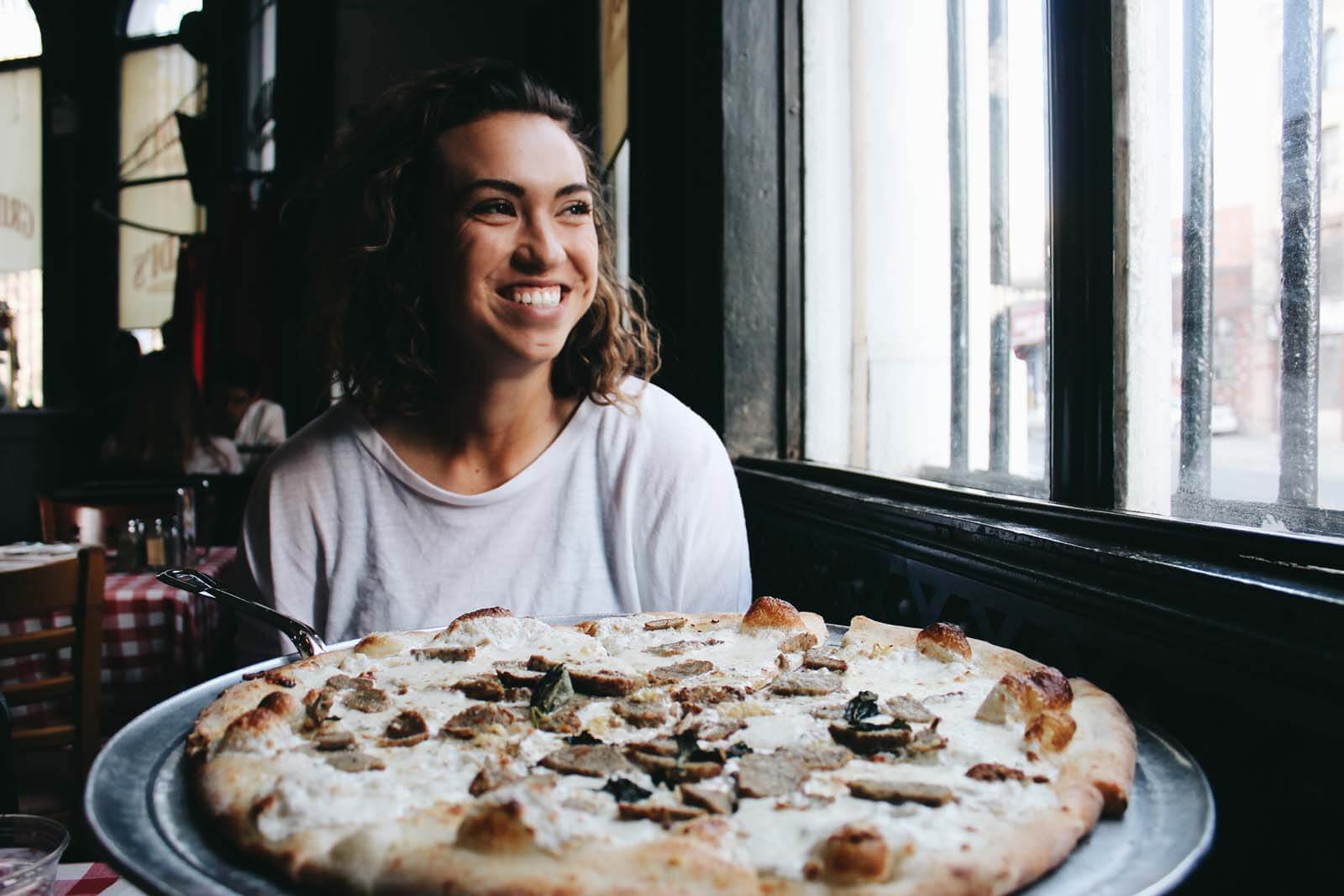 Address: 1 Front Street, DUMBO
If you didn't already know, Grimaldi's is home to arguably some of the best pizza in Brooklyn and even the entire country.
Grimaldi's is easily some of the most famous pizza in Brooklyn and if you're struggling to decide where to grab your next meal, this is always a great go-to.
Grimaldi's has been serving up the best pizza in town since 1990 when it was founded by Patsy Grimaldi using over 100 years of pizza-making tradition. This spot uses a coal oven, one of the few places left that still cook pizza using a coal oven since being outlawed in the city.
Grimaldi's has a number of specialty pies and you can even build your own. Some of the most popular are the Margherita, Garden Pesto, and Prosciutto Arugula. Whatever you go with, it will not disappoint.
Keep in mind that there is usually a line waiting to be seated outside since Grimaldi's is a popular pick for New Yorkers and tourists. Pizza by the slice is not available here.
For more on Grimaldi's and its history, check out our full guide on the Best Pizza in DUMBO!
Grimaldi's has Gluten-Free crust available, the Garden Pizza with no cheese is Vegan.
Juliana's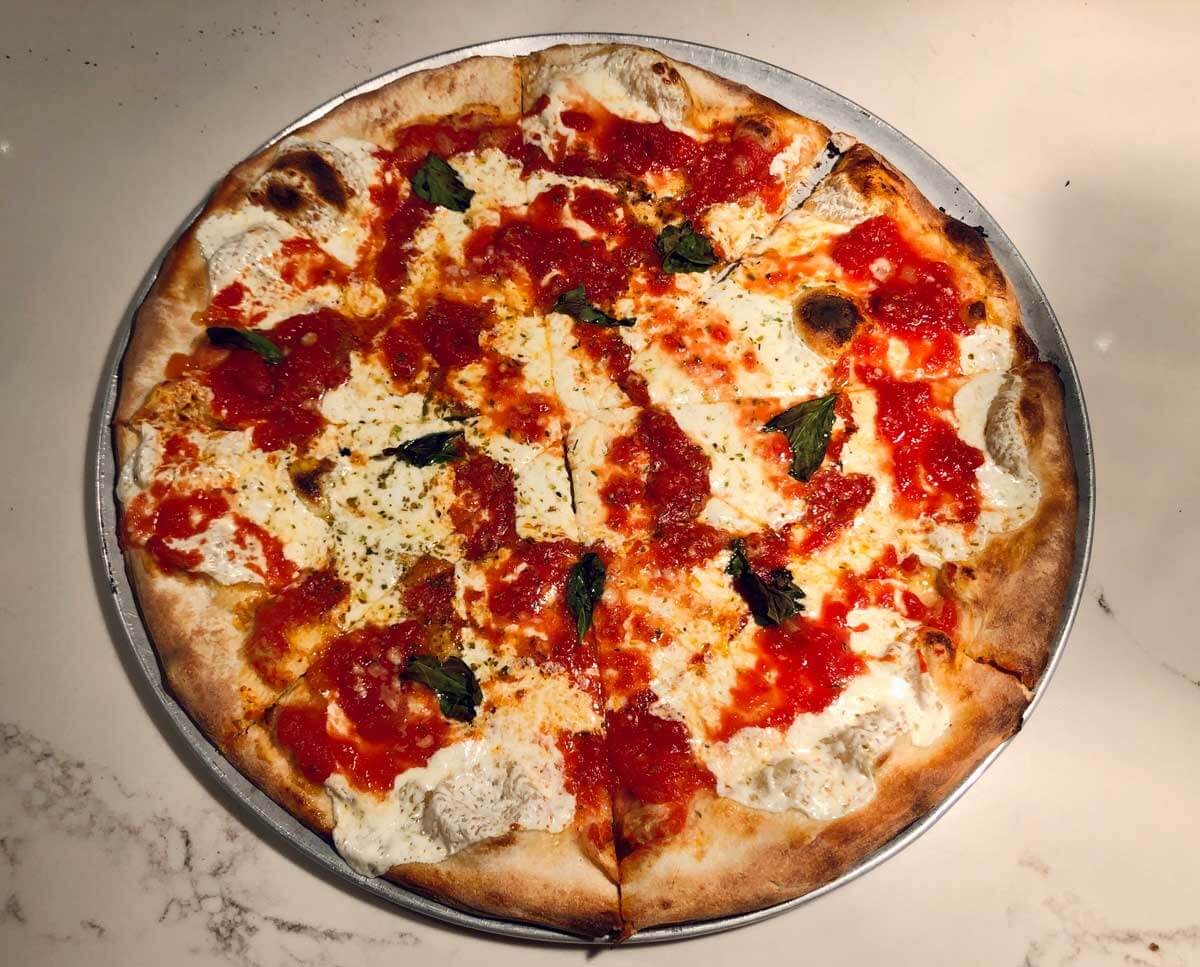 Address: 19 Old Fulton Street, DUMBO
Next is the famous rival of Grimaldi's. Juliana's is the next Brooklyn's best pizza hot spot and it's actually right next door to Grimaldi's and was actually founded by the same man, Patsy Grimaldi!
I think it's incredibly impressive that the same guy opened both pizzerias and ended up setting the bar pretty high for other pizza joints in NYC. Not to mention the location is pretty tough to beat. See our best DUMBO restaurants with a view to see what I mean.
In the late 90s, Patsy Grimaldi ditched the coal-fired ovens and sold the Grimaldi name and pizzeria, he wanted to retire, or so he thought. This all changed in 2012.
Grimaldi changed his mind and came out of retirement, threw on the old oven mits and opened Juliana's right next door to Grimaldi's.
You may think these two pizzerias are similar since they were both opened by the same pizza guru, but they definitely have their differences.
If you choose a classic pie, which are Margherita, Marina, and White, you only get to pick two toppings and if you choose a specialty pie, there are no changes or substitutions. Needless to say, choose wisely.
Juliana's, like Grimaldi's, usually has a line out the door since there are no reservations, so plan ahead!
So plan your next visit to check out this famous pizza in Brooklyn. You'll have to decide which team you're on, team Juliana's or team Grimaldi's!
None of Juliana's menu items are certified vegan or vegetarian, but there are a few choices one could make to customize their order to avoid animal and dairy products.
Roberta's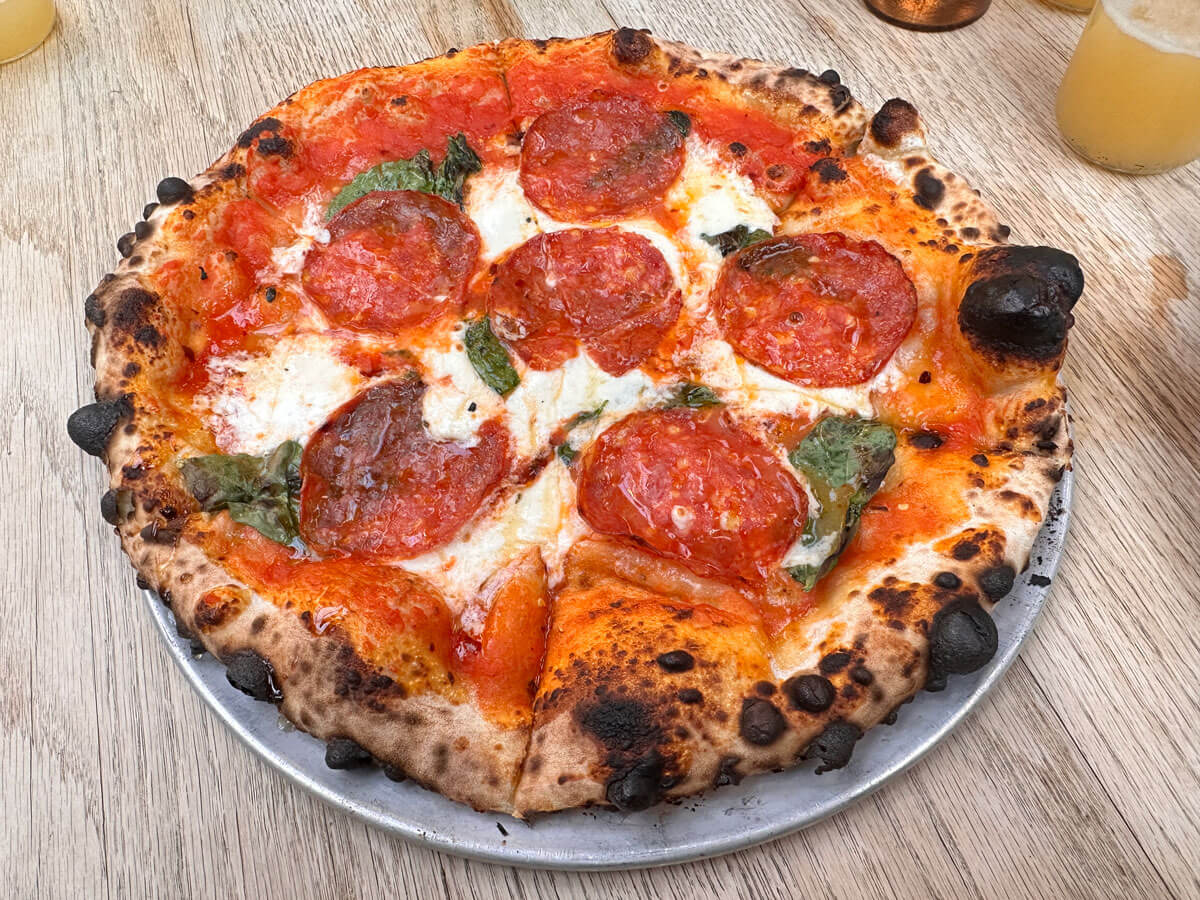 Address: 261 Moore Street, Bushwick & 6 Grand Street, Williamsburg
Next up on the best Brooklyn pizza spots to try is Roberta's. This one is a little different considering it has basically put Bushwick on the map to tourists who didn't normally venture out to this part of Brooklyn when they opened and took the pizza world by storm.
Luckily for you, we've made a guide to all the best things to do in Bushwick to help make an entire day out of your trip to this pizza joint whose popularity has reached across the country, and now there are locations in Williamsburg and Manhattan as well as Los Angeles and Nashville too.
Best known for its wood-fired pizza or 'za as they like to call it, you won't want to waste another moment not dining at Roberta's, even Beyonce has been spotted here!
They have a long list of mouthwatering pies, the hard part is deciding which one you want! Go classic with the Margherita or choose something a little out there like the Bee Sting. This popular pie comes with mozzarella, tomato, sopressata, chili, basil, and honey.
This pie should be on everyone's to do list of must-try pizzas in Brooklyn.
Like our other famous pizza in Brooklyn spots, there is usually a wait or long line here. We recommend trying to get here earlier in the day to best secure a table without a super long wait!
Random Fact: This famous pizza in Brooklyn spot was also accused of being a part of the debunked alt-right pizzagate conspiracy theory. This Brooklyn pizza restaurant received threatening phone calls and more as a result.
Lucali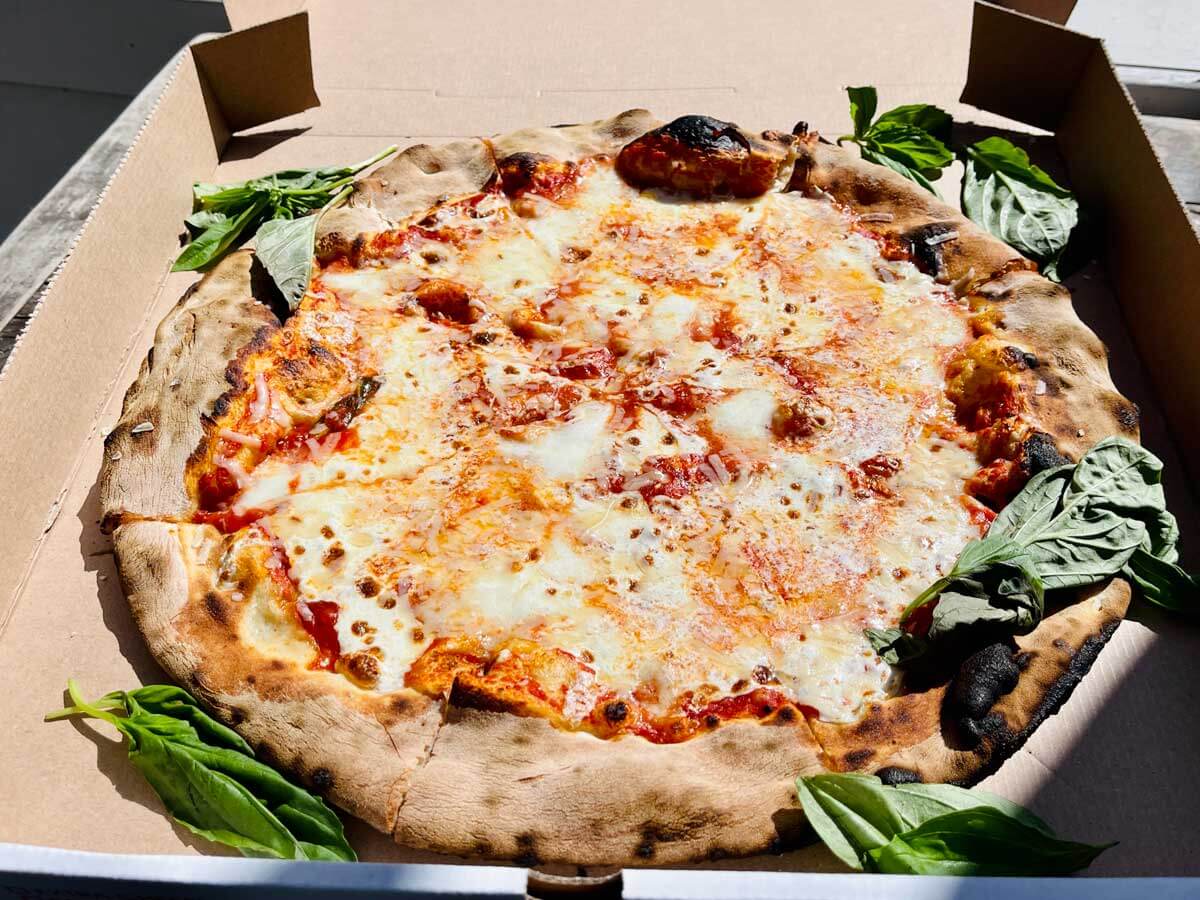 Address: 575 Henry Street, Carroll Gardens
Lucali Brooklyn is apparently rated #1 in all of New York City and featured on the Netflix series, Ugly Delicious with celebrity chef David Chang.
Their menu is really short and sweet. They keep it simple by offering large pizzas and both small and large calzones. Each of these savory pies are perfectly baked in a wood-and-gas-fired oven.
Get a plain pie or build your own with a few toppings, just keep in mind each additional topping is an extra charge.
Lucali is a popular date night spot and it's a lot fancier than your typical New York pizza spot on a corner somewhere. They do not take reservations and the wait is typically pretty long, sometimes with a line down the residential block. But have patience! It is well worth it.
This spot has been featured in a number of big-name news outlets like New York Times, Vimeo, Vogue, New York Eater, and so many more including being a hotspot for celebrity sightings like Beyonce and Jay-Z are regulars.
Lucali is definitely a stop to make along your journey to try all the best pizza places in Brooklyn. Check out the best things to do in Carroll Gardens for more ideas.
Just down the street in Carroll Gardens, Mark Iacono brought us another pizza delight here in Brooklyn with his slice shop, Baby Luc's (387 Court St) swing by for one of their specialty Sicilian squares. Just note, they don't open until 2 PM so it's more of a late lunch or quick dinner spot.
Tip: Lucali is only open for dinner, people get in line as early as 3:30 pm to get their name in for 5 pm seating. If you're that dedicated, you may want to do the same! Or you can order a pie to go and eat at a park nearby.
Joe's Pizza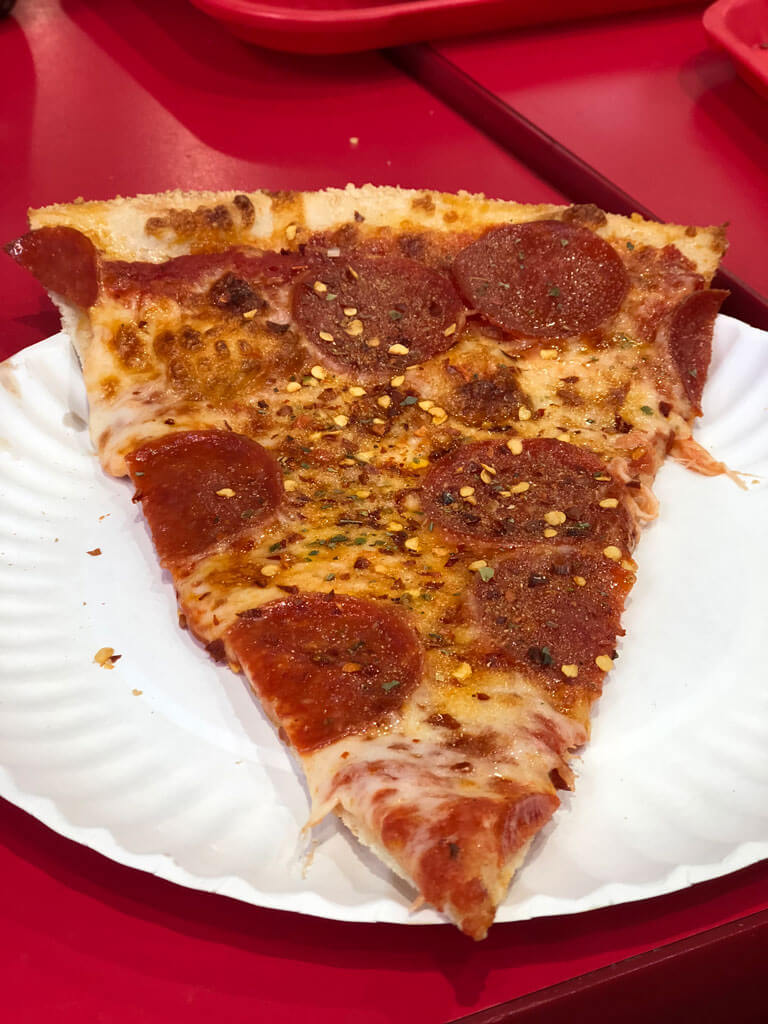 Address: 216 Bedford Ave, Williamsburg
Another famous pizza spot in the city and some of the best pizza in Brooklyn is Joe's Pizza located in Williamsburg. This pizza spot actually was born in Greenwich Village in Manhattan, but since it's so good and there's a Williamsburg location and we had to include it!
Famous for being a late night spot where you come and grab one of the best slices of pizza in NYC, this famous pizza place in Brooklyn is no stranger to visits from celebrities with testimonials as best pizza in the city by actor Ben Affleck and actor Kevin Bacon's choice for a last meal!
They really aren't messing around, their pizza is legit. This pizza spot dates back to 1975 by an Italian immigrant from Naples known as Joe Pozzuoli. Since opening, this spot has won several accolades and been featured in many 'best pizza lists' not only in the city but also in the WORLD! Joe's Pizza was one of GQ's, "Best 25 Pizzas on Earth."
If that buzz doesn't get you in the door of this best pizza in Brooklyn spot, we aren't sure what will! Grab a slice any time of the day or get the whole pie!
Dellarocco's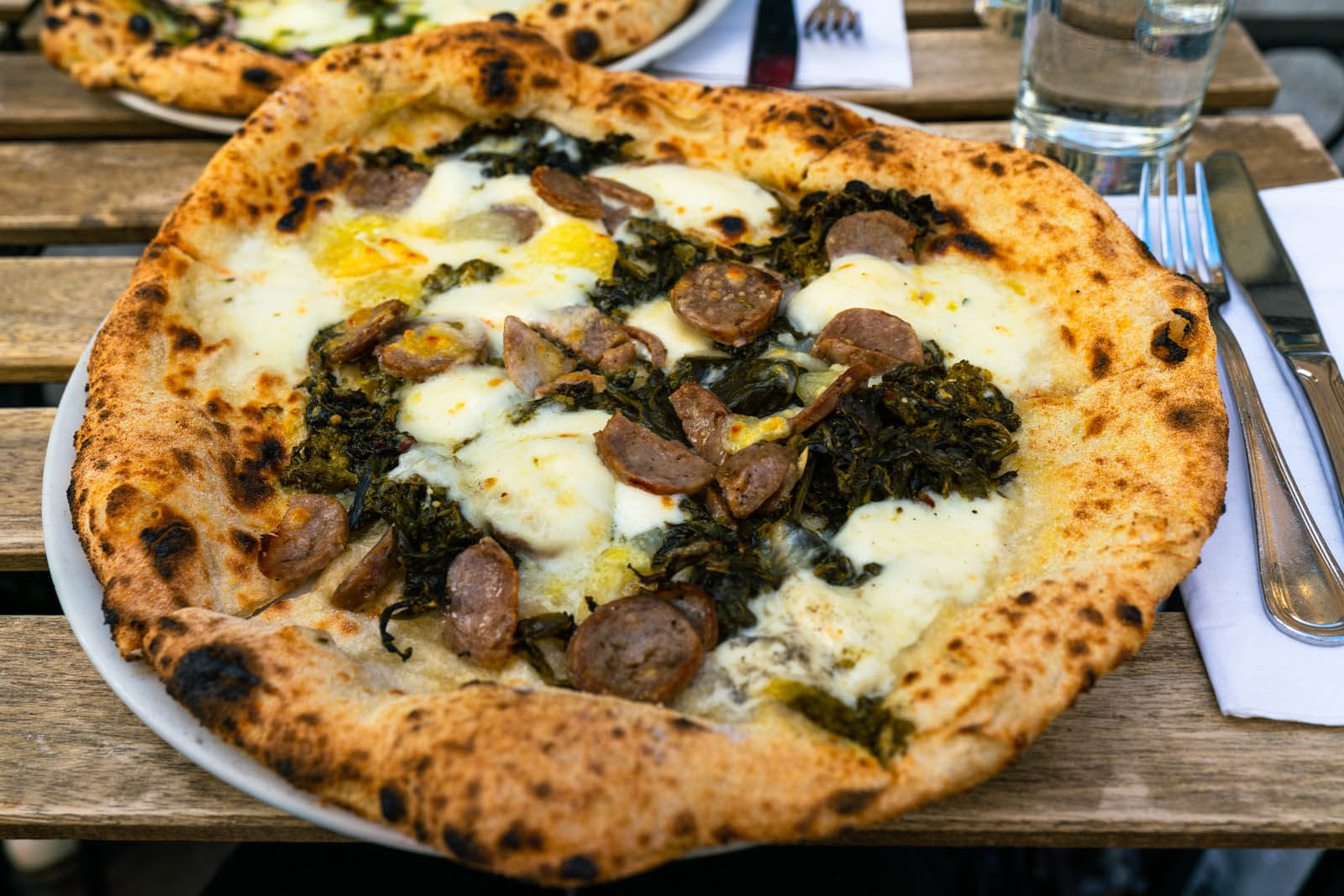 Address: 214 Hicks Street, Brooklyn Heights
One of the best pizzas in Brooklyn can be found at Dellarocco's in the quiet neighborhood of Brooklyn Heights. This pizzeria serves up Neapolitan-style wood-fired pizzas with a great range of both red and white pizzas to choose from.
We both got our own white pizza and our friends both got red pizzas, we were all impressed and don't understand how it's not on more NYC pizza round-ups.
Even though this Brooklyn pizza spot has won awards, I still feel like this spot is a little under the radar and easier to nab a table at than some of the others mentioned on this list.
Dellarocco's also has menu items that are Vegan and Gluten-Free.
Saraghina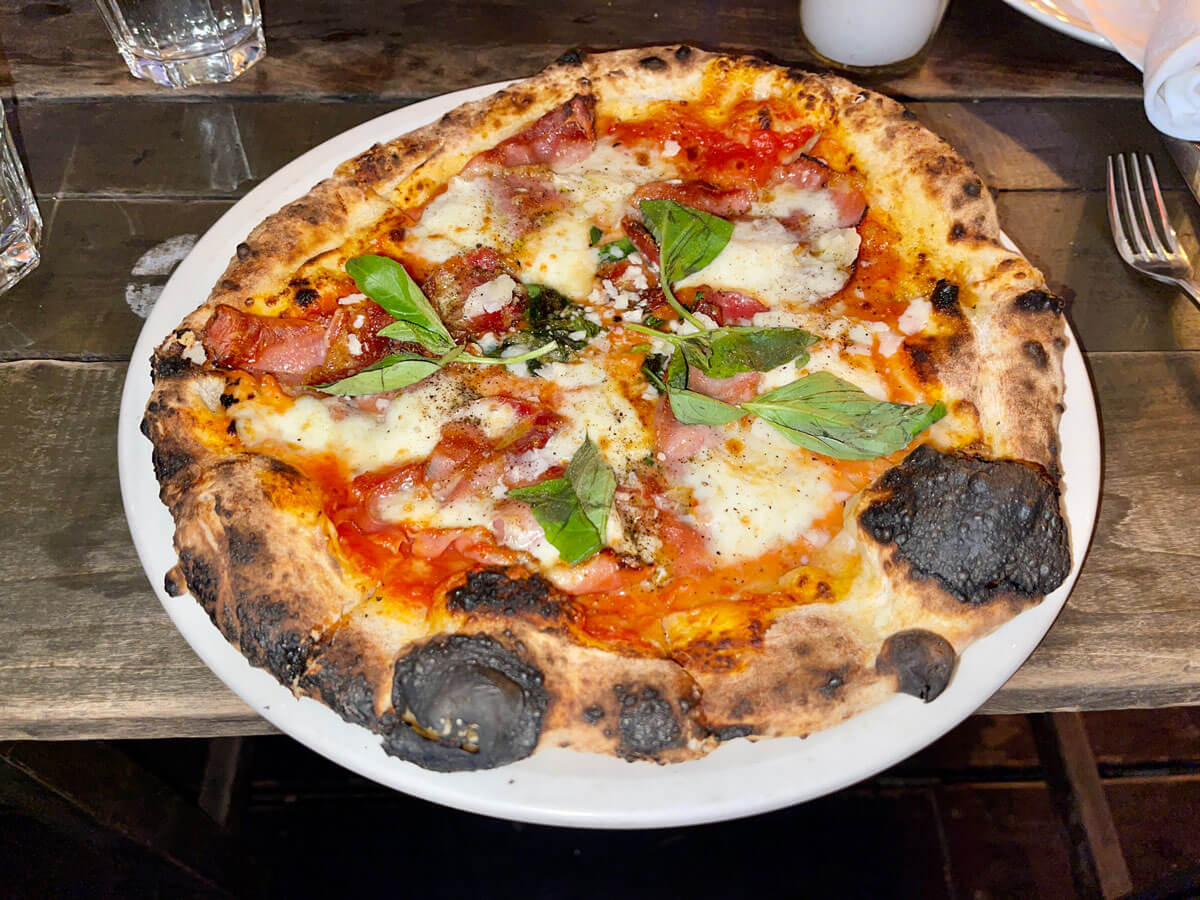 Address: 350 Lewis Ave, Bed Stuy
Saraghina is a Bed Stuy mainstay and worth the travel time it takes you to get here. This reservation-free spot is one that's worth the wait. Beyond serving some of the best pizza in Brooklyn, they have an impressive wine list and other fresh-made Italian fares also worthy of sampling or sharing with the table. But first thing first, you have to come for their Neapolitan-style pizzas.
They have all the classic pizzas including Margherita and bufula, both of which are highly recommended. They also always have rotating specialty pizzas that change with each season.
For white pizza, the funghi & tartufo is also amazing. As far as appetizers go, make sure you order the fresh baked focaccia & whipped ricotta and a salad.
Saraghina is by far one of the best restaurants in Bed Stuy, the indoor aesthetics are great but the best spot is in the backyard on the patio. Dinner gets busy quickly but if you can, I definitely recommend sitting outside. They do have cocktails you can order while you wait!
F&F Pizzeria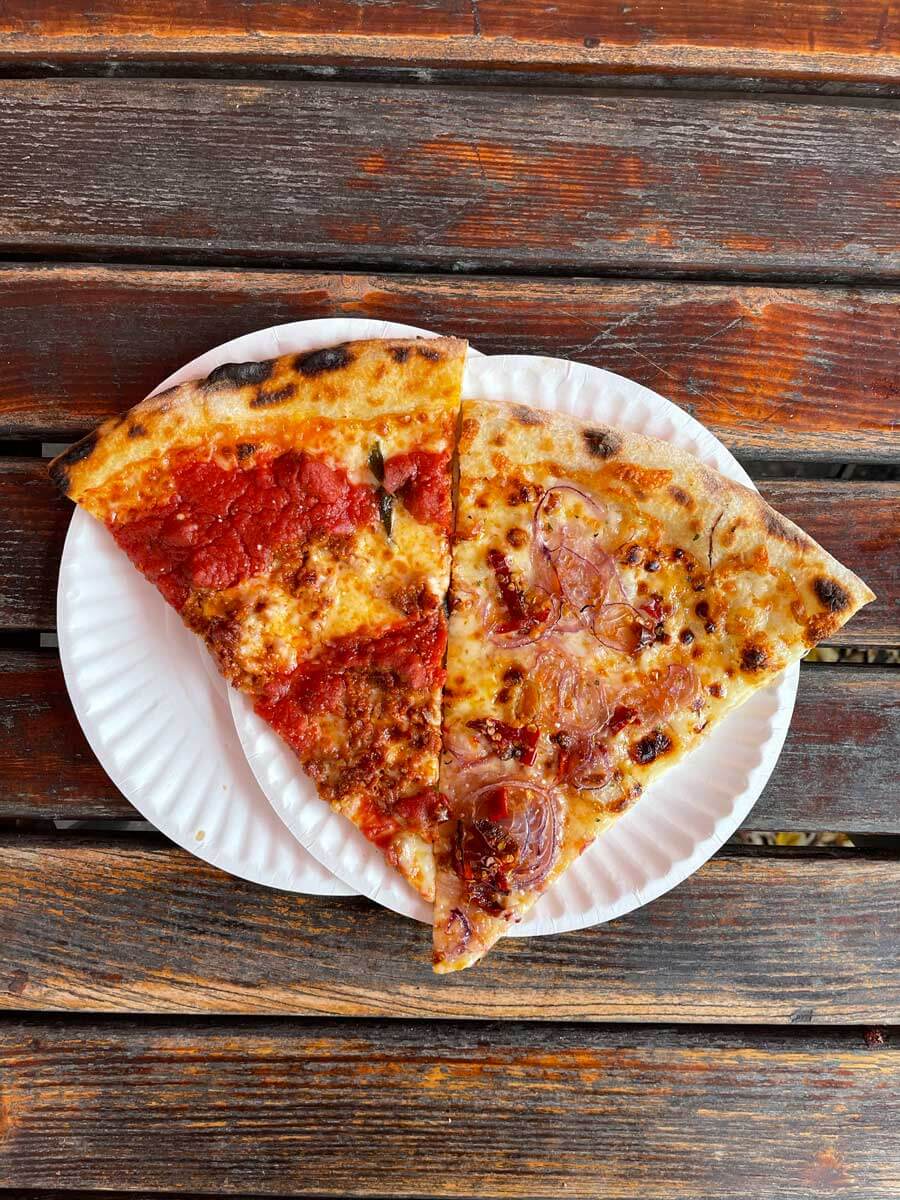 Address: 459 Court Street, Carroll Gardens
What was once a garage, has been revamped into one of the best pizza places in Brooklyn in the Italian-rich neighborhood of Carroll Gardens it comes to no surprise. Named F&F after the two who started the joint, Frank Falcinelli and Frank Castronovo.
The pizzeria is wedged in between their two other establishments, Frank's Wine Bar and Frankie's 457, two of the best restaurants in Carroll Gardens and Frankie's 457 is also one of the best old-school red sauce Italian restaurants in Brooklyn.
Though they weren't experts on the pizza craft, they had some help from Chris Bianco, who is one of the best pizza makers in the country, and Chad Robertson of Tartine Bakery.
F&F also likes to keep it simple, serving up pies only. They offer a lot of combos beyond the Regular pie and Sicilian square pie, like the Mushroom, Sweet Fennel Sausage & Broccoli Rabe, and a few more!
The best thing about F&F is that you don't have to empty your wallet to get a taste, this is one of the unbelievable Brooklyn pizza restaurants that offer slices for pick up! But there is no pre-ordering, it's first come-first served here at F&F, so don't waste any time! They also have a sit-down restaurant area too, so take your pick.
F&F takes the pizza making process seriously, they ferment their dough for about two or three days, they import their delicious tomatoes from California, and they also use a Swedish electric oven. Sounds pretty fancy to me.
This famous pizza in Brooklyn is a must on your pizza tour. They have a gorgeous outdoor seating area that will make you feel like you escaped the city. I'm already planning my trip!
F&F Pizza offers Vegan options for pizza on their full restaurant menu.
Totonno's Pizzeria Napolitano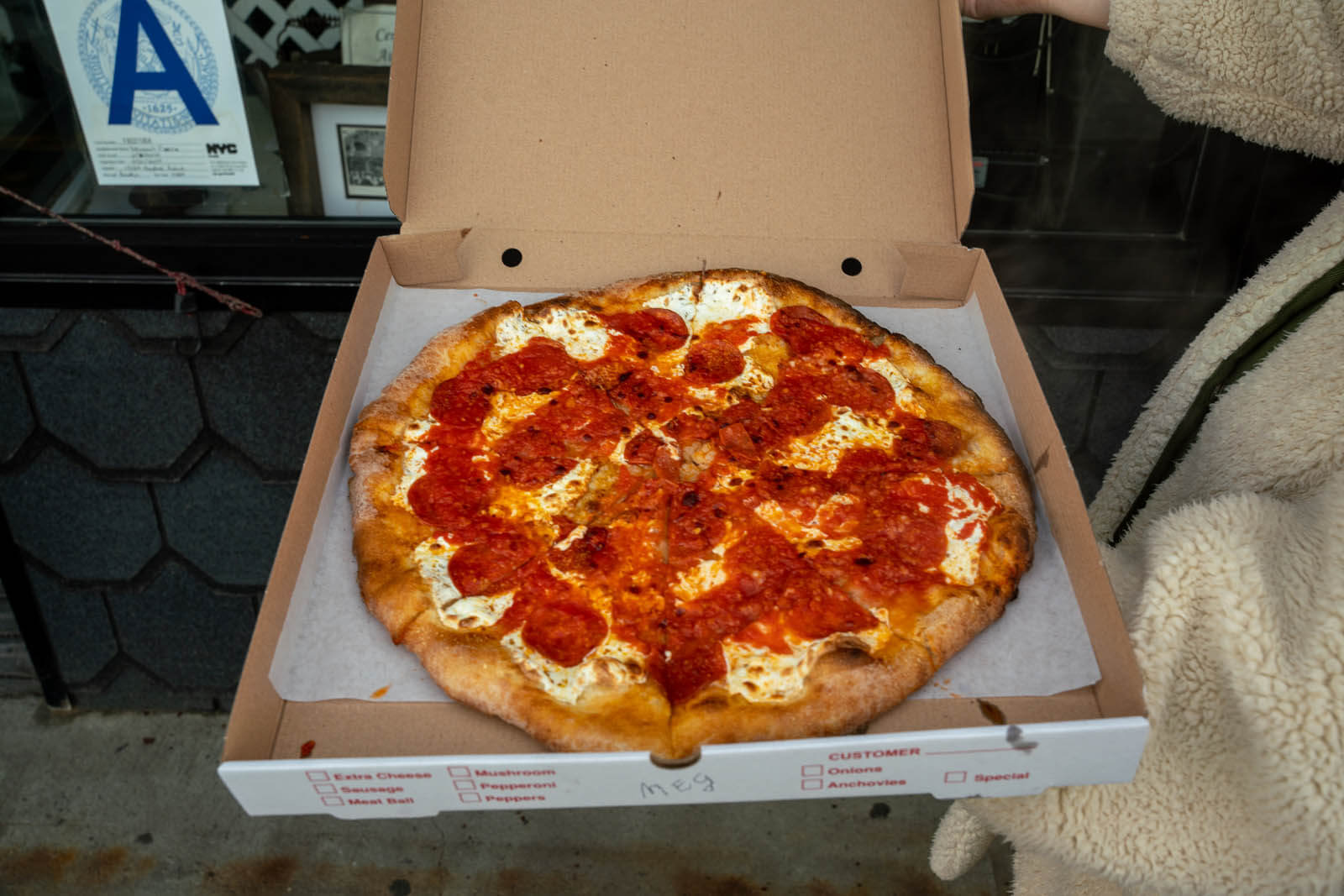 Address: 1524 Neptune Ave, Coney Island
Another famous pizza in Brooklyn spot that has been ranked as New York City's #1 pizza and Food Network's #1 pizza in America is Totonno's of Coney Island, which was also featured on that same episode of Ugly Delicious with David Chang! And after a few years hiatus, they are finally reopened and we can all rejoice!
Totonno's has been in the pizza game for nearly 100 years, opening up back in 1924, which makes it one of the most classic and must-try pies in all of New York City.
It's also a family-owned joint and has been since the beginning, which makes it the oldest family-operated pizzeria in America and possibly across the globe.
Totonno's likes to keep the pizza menu simple, and that's how New Yorkers like it anyway. They got the Traditional Margherita, Neapolitan (red pie, no cheese), Bianca (white pie, no sauce), and a little half-and-half action with the Margherita/Bianca Combo. All are prepared in their coal-fired brick oven.
Dine in or take your pizza to go for a picnic on the beach. However you choose to eat Totonno's, you will not be disappointed.
Keep in mind this is one of the Brooklyn pizza restaurants that is cash-only. Additionally, Totonno's is only open Thursday-Sunday and is currently take out only.
While you're in the area, make sure to check out our full guide to all the best things to do at Coney Island!
Table 87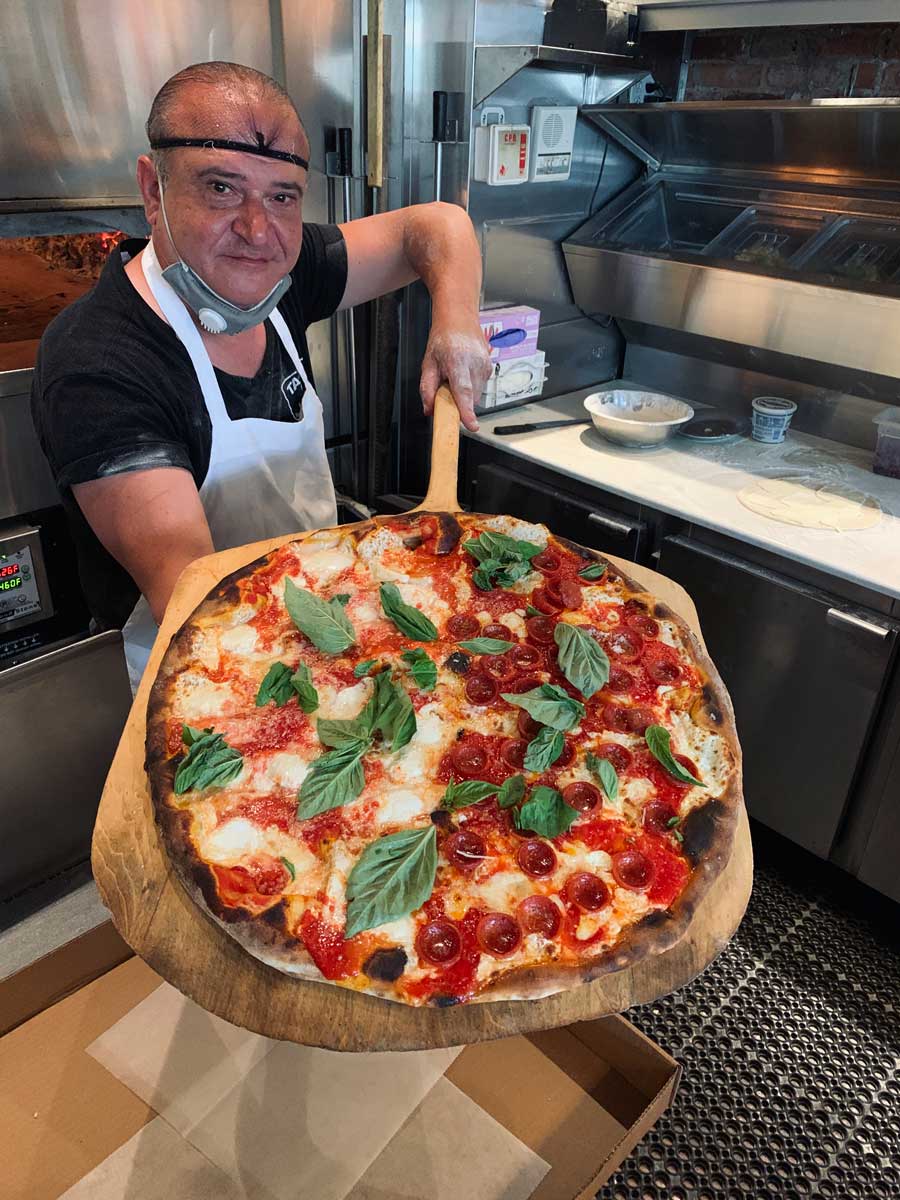 Address: 87 Atlantic Avenue Brooklyn Heights, 473 3rd Ave Gowanus, 238 36th Street Industry City in Sunset Park
With three locations in different neighborhoods of Brooklyn, this will be one of the easiest Brooklyn pizza restaurants to add to your pizza tour. Although they have some pop-up locations at Barclays Center and Coney Island, we recommend you dine in for the authentic Table 87 coal oven experience.
Since opening up in 2012, Table 87 is the first pizzeria in Brooklyn to offer coal oven pizza by the slice.
Come with friends and come hungry. Their large pizzas are generously large compared to most other Brooklyn pizza spots. Complete with the finest ingredients including San Marzano tomatoes and topped with fresh basil fresh out of the coal oven.
In the summer months, Table 87 in Gowanus also does outdoor movies using a projector on the Smith & 9th Street subway platform above!
Also, if you're a fan of SharkTank, the owner of Table 87 sold his idea for the coal oven pizza experience at home with their frozen pizzas you can buy at the store and bake at home! It's not quite the same, but its the next best thing if you aren't near one of their locations!
The location at Industry City in Sunset Park closes at 6 PM though as it's in the food court and everything in it closes early.
Speedy Romeo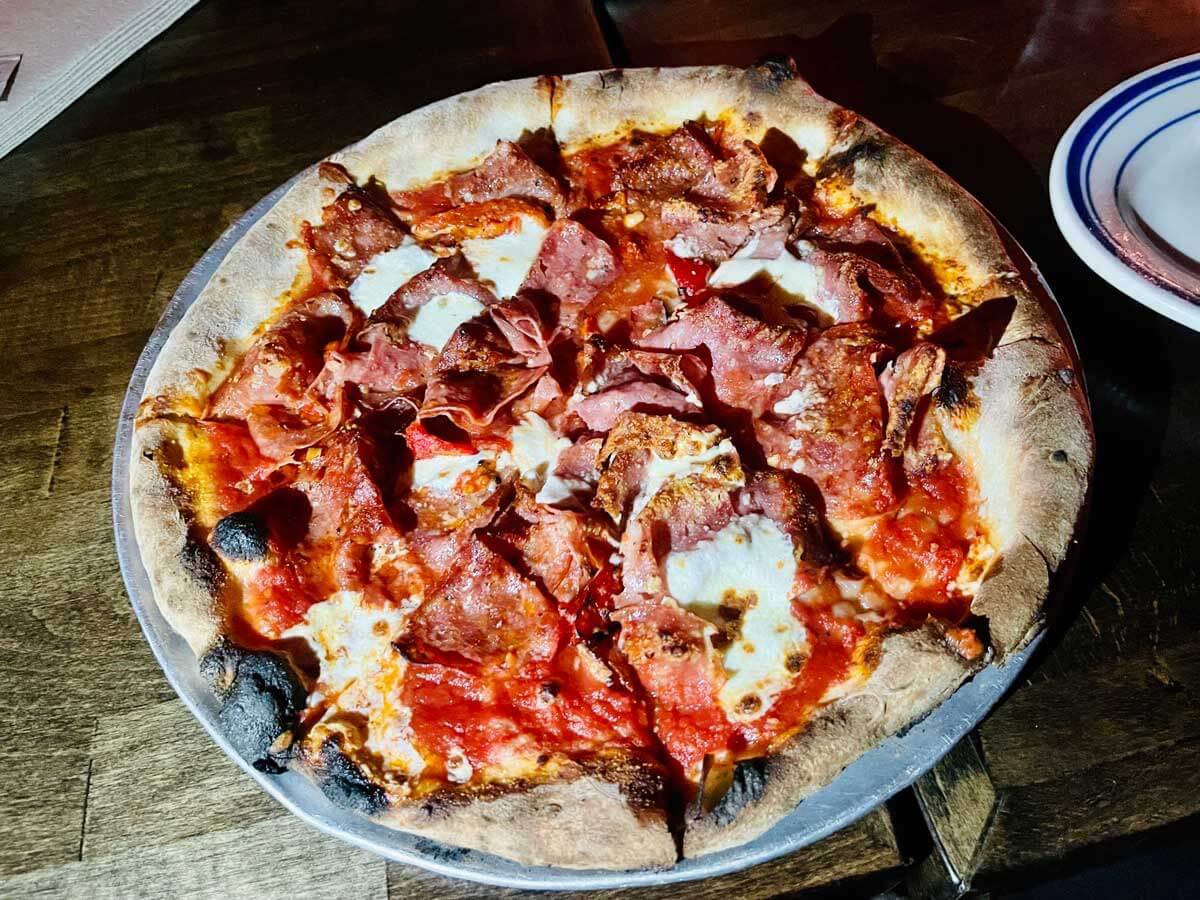 Address: 376 Classon Avenue, Clinton Hill
Speedy Romeo is one of the most intriguing Brooklyn pizza restaurants because of the way they prepare their entire menu.
What used to be an auto body shop, is now the Speedy Romeo restaurant. During this transformation, they decided to not include any gas lines within the restaurant. Leaving them to cook with only wood flames, absolutely no ovens or stoves of any sort are found here!
From amazing entrees to salads and other delicious items on the menu, the pizza is what we're really here for!
Speedy Romeo offers a plethora of mouthwatering pizza options that will leave you indecisive.
First, we have the classics like Margherita and white pies and then we have combinations you won't want to miss:
The Saint Louie— San Marzano sauce, pepperoni, Italian sausage, provel & pickled chilis
The King Salami— San Marzano sauce, hot & sweet sopressata, finocchiona, roasted red peppers
The Dangerfield— Béchamel, pork & veal meatballs, ricotta, provel, & garlic chips
& more!
Speedy Romeo's absolutely has some of Brooklyn's best pizza. The restaurant has an awesome vintage feel and even better food, which is why it's also one of our favorite restaurants in Clinton Hill.
Speedy Romeo's has gluten-free and vegan options.
Di Fara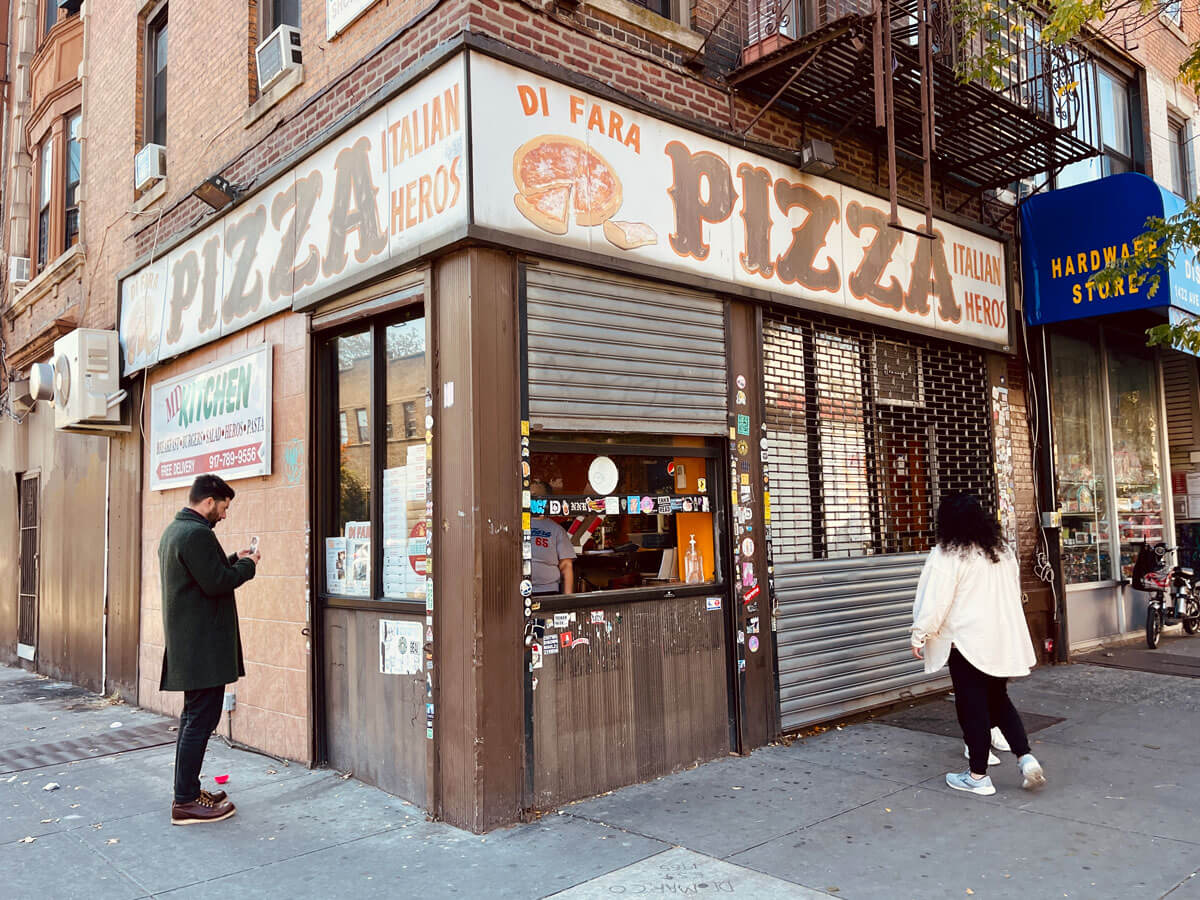 Address: 1424 Avenue J, Midwood
If you look to Barstool to help you choose your next pizza spot, look no further. Di Fara was given one of the top scores ever by Barstool's Dave Portnoy, a 9.4/10. And if that's not enough to get you to try Di Fara, keep reading as this is not only one of the most famous places for pizza in Brooklyn but all of NYC.
Di Fara opened up in 1965 in the neighborhood of Midwood. It's also well known for its high cost (although I feel like Williamsburg slice shops are comparable) and often even higher wait time.
Sometimes you can expect to wait over an hour to get your food, but that's the price we pay for the best Brooklyn pizza. But if you go on a weekday you may luck out.
Be ready to eat your pizza on the sidewalk as there is no counter or anywhere to sit.
Here you can get both by the slice and entire pies at Di Fara, featuring quality ingredients. They offer regular pies, square pies, white pies, and then some specialty pies.
One is the Classic Pie, which is much more than just sauce and cheese. It actually includes sausage, pepper, mushroom, and onion. Then the Chaos Pie, which includes sausage, meatballs, tomatoes, wild onions, and fresh garlic.
So if you're looking for a true New York slice and don't mind spending the time or money, get to Di Fara! It's legendary and always highly recommended on foodie guides for the best pizza in Brooklyn and one of the most famous pizzas in Brooklyn to try!
Paulie Gee's & Paulie Gee's Slice Shop
Address: Paulie Gee's: 60 Greenpoint Avenue & Paulie Gee's Slice Shop 110 Franklin Street, both Greenpoint
Paulie Gee's is the secret vault full of pizza that you've been searching for all your life. Although people rave about the taste of this Brooklyn pizza restaurant, I am incredibly impressed with the amount of pies they have, especially if you're the type of restaurant enthusiast who loves a long list of options.
Plus, they have a more casual 'slice shop' just down the street perfect if you're looking for a more grab and go option vs sit down. Although they do have seating here that does feel like an old-school pizza parlor from decades past.
All of these wood-fired pizzas are topped with a unique array of toppings, which are all locally sourced. Paulie Gee's comes up with some insane combinations that we would've never thought of, but they're to die for!
First and foremost, you order the best pizza around: the Hellboy. It's a pie with fresh mozzarella, Italian tomatoes, Berkshire sopressata piccante, Parmigiano-Reggiano, and Mike's Hot Honey. They have one without honey but please don't order it. Order the Hellboy. The hot honey is everything.
Paulie Gee's has something for everyone. They have a full vegan pizza menu and even a secret pizza menu. So make sure to do your research before deciding to go try this famous pizza in Brooklyn. This is without a doubt one of the best restaurants in Greenpoint, a neighborhood that's no stranger to good food.
After your pizza, be sure to explore the neighborhood, we have a guide to the best things to do in Greenpoint!
Paulie Gee's offers Vegan pizzas.
L&B Spumoni Gardens
Address: 2725 86th Street, Bensonhurst/Gravesend
L&B Spumoni Gardens opened up in 1939 in the neighborhood of Gravesend, Brooklyn. They have been family owned and operated through four generations now and L&B is also home to some of Brooklyn's best pizza as well as one of the borough's sexiest slices.
They're most famous for their thick Sicilian square slices, which is when the cheese is placed on the dough first then covered with the delicious sweet and tangy sauce.
Visitors come from all over to try this famous pizza in Brooklyn spot even though it is quite the hike from Manhattan and even some other parts of Brooklyn. Clearly, it must be worth it!
Additionally, L&B uses a deck oven for their delicious pizzas, which is an oven used usually for bread making.
You can get delicious pizza by the slice here in both the Sicilian style and classic style pizzas. And they have a dining room and a large outdoor seating area, so there's plenty of space for all you pizza lovers.
Once you're done with your pizza, don't be afraid to add on their famous Spumoni, which is basically ice cream or their Italian ice for dessert.
Their website says a DUMBO location will be coming soon, so keep an eye out for this pizza gem in one of our favorite neighborhoods! I don't know about you, but I'm absolutely adding Spumoni Gardens to my Brooklyn pizza restaurants bucket list.
Emily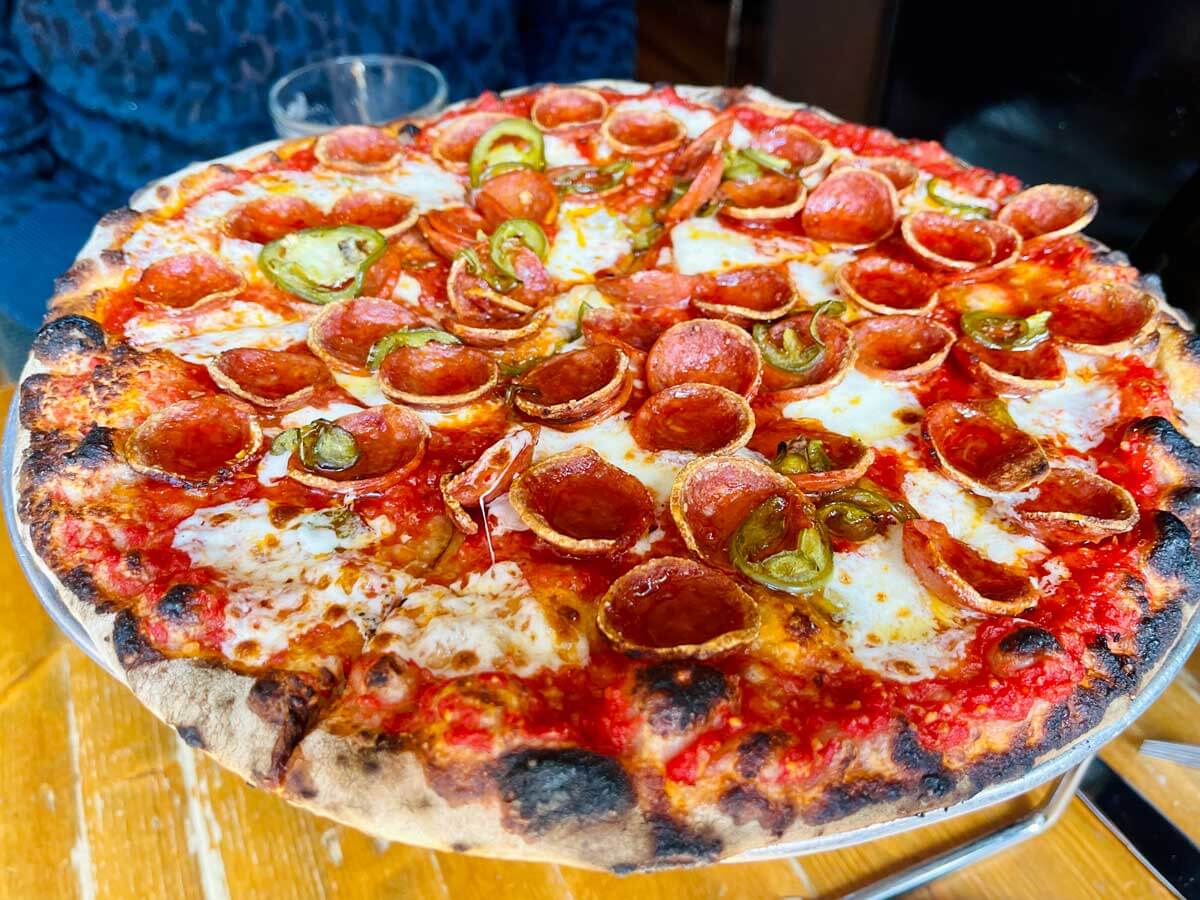 Address: 919 Fulton Street, Clinton Hill
What began as two young people in love with a passion for eating delicious pies together is now one of the famous Brooklyn pizza restaurants.
Matt and Emily (the restaurant namesake) finally opened their own pizza joint in Clinton Hill, Brooklyn after Matt spent some time learning the craft at Sottocasa, their neighborhood pizzeria.
Their menu changes with the seasons and whenever they can, they use locally sourced ingredients. Emily has a long list of delicious food options, especially the pizza menu separated by reds and whites.
The pies at Emily are very non-traditional, delicious thin crust all prepared in their wood-fired oven.
Some iconic pizzas to try at this joint are:
Colony— sauce, mozz, pepperoni, pickled chili, and honey
Emily— mozz, pistachio, truffle sottocenere, and honey
Applejack— mozz, pecorino, pickled jalapeno, onion, apple, and chili crisp=
They are also known for their Emmy Burger, which has limited availability every night and you also cannot modify this item.
The reason that Emily is one of the best pizza places in Brooklyn is because when you walk in, you feel at home. It's a small little restaurant with Matt in the kitchen and Emily making her rounds to different customers.
Emily is a wonderful neighborhood pizzeria worthy of a stop on your DIY Brooklyn pizza restaurant tour. And if you like Detroit style pizza, continue on as these are the same folks behind Emmy Squared (another pick on this guide with locations nationwide).
Emily has gluten-free options!
Giuseppina's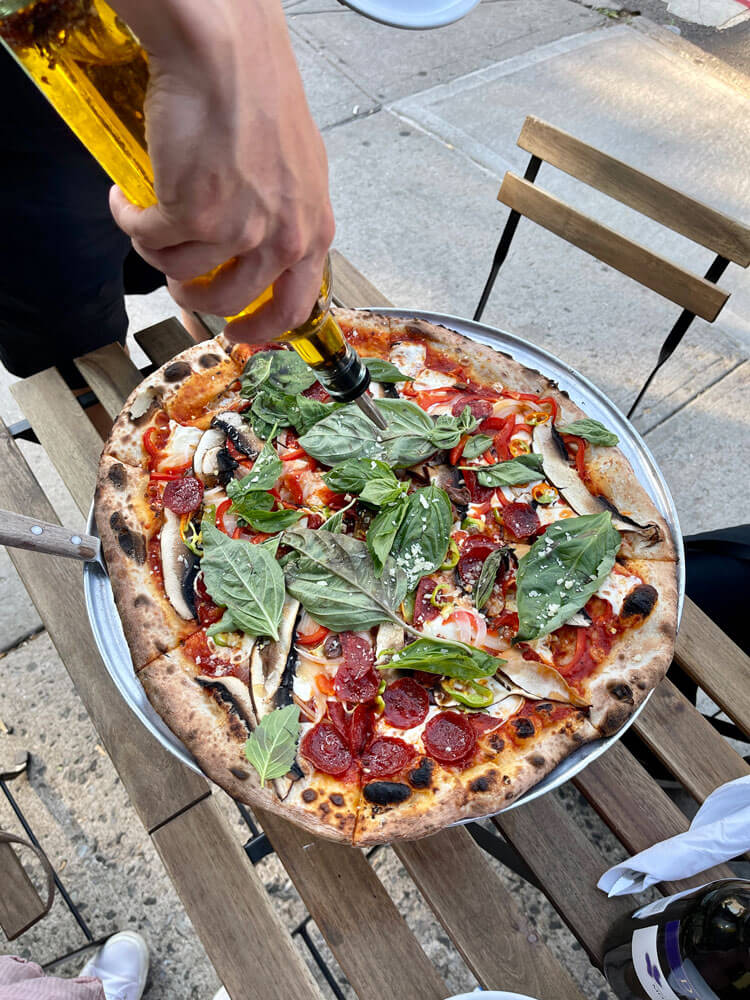 Address: 691 6th Avenue, South Slope
Established in 2011, Giuseppina's of South Slope was created by the brother of the creator of the famous Lucali restaurant, yet some aren't afraid to claim Giuseppina's as the best pizza in Brooklyn.
Although there's some debate about that and Giuseppina's seems to be living in the shadows of Lucali, it does pretty well standing on its own.
Order the classics like the plain or white pies, go for a specialty pie, or order one of their delicious calzones.
And don't forget the dessert calzone at the end of your meal!
Unwind and take the edge off at Giuseppina's, one of the best Brooklyn pizza restaurants. There's nothing better than a cozy restaurant that offers mouthwatering pies, beer, wine, and more.
Be sure to bring cash to pay for your meal!
Ignazio's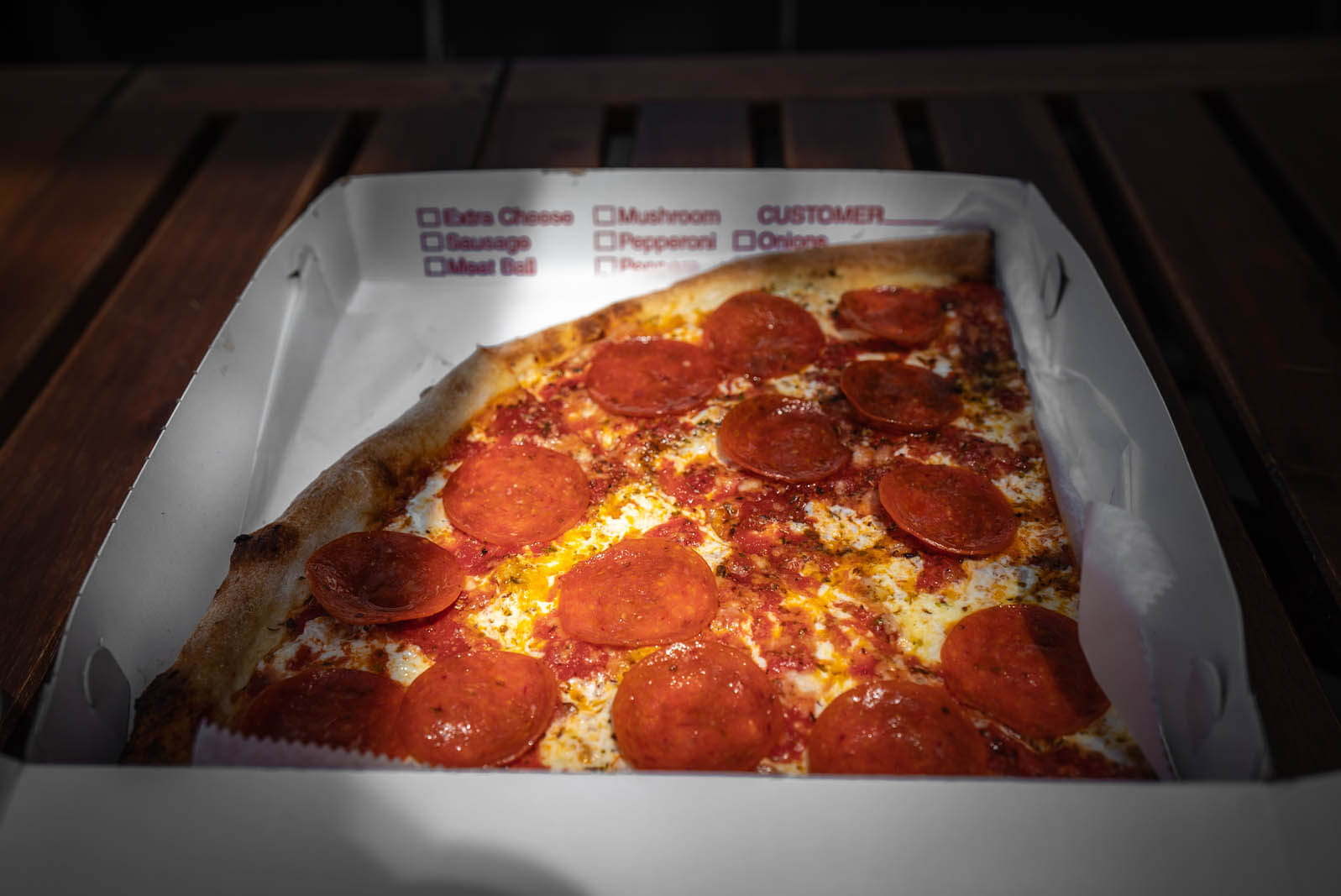 Address: 4 Water Street, DUMBO
Another highly rated Barstool pick is Ignazio's. This pizza joint was rated an 8.7/10 by pizza connoisseur, Dave Portnoy, which is the highest score out of the three famous DUMBO pizza spots (Grimaldi's, Juliana's, & Ignazio's).
Just down the street from Juliana's and Grimaldi's is another one of the best Brooklyn pizza spots, Ignazio's.
Check out Ignazio's for a variety of reasons! Not only is it one of my favorite DUMBO pizza spots, but it's also on the list of best restaurants in DUMBO with a view, since it's located directly below the Brooklyn Bridge.
When it comes to pizza, create your own from their long list of delicious toppings, or check out their specialty pies and calzones.
You can order anything from plain, which is called The Pizza on their menu to a Tex-Mex pie, which is cheddar cheese, salsa, jalapeños, black olives, avocados, onions, cilantro, and a drizzled honey crust!
If that doesn't hit the spot, there are many more pies to give a shot. Try their pineapple and ham, the bacon, avocado, and tomato pie, or the Siciliana. A Sicilian slice is square-shaped and thick if you want to compare to L&B's Sicilian!
Beyond those, there are many more choices, like the veggie, shrimp, white clam, or the white pizza, which is my personal favorite!
Perfectly located under the Brooklyn Bridge, Ignazio's is a beautiful spot for a date night with some of Brooklyn's best pizza.
After your pizza, be sure to explore the neighborhood, we have a guide to the best things to do in DUMBO!
Ignazio's offers gluten-free on request.
Motorino
Address: 139 Broadway, Williamsburg
What started as a little pizza joint in Brooklyn back in 2008, is now serving up delicious New York style pies across the globe.
Motorino offers an incredible variety of red and white pies and is one of the best pizza places in Brooklyn to venture off from your typical plain pie.
Many rave about the Soppressata Piccante, which is a red pie packed with fior di latte, which is a certain type of mozz, spicy soppressata, chili flakes, oregano, pecorino, and olive oil.
Although that's one amazing pie, there are many more worth trying.
This spot has kind of a fancy feel, which is perfect for date night in Brooklyn or get some for take out. Regardless, Motorino is one of the OG best Brooklyn pizza spots you won't want to miss.
After your pizza, be sure to explore the neighborhood, we have a guide to the best things to do in Williamsburg!
Motorino has a Vegan menu.
Barboncino
Address: 781 Franklin Avenue, Crown Heights
This spot for pizza in Brooklyn located on the buzzing Franklin Avenue in Crown Heights offers a menu of mouthwatering Neapolitan wood-fire pies. They also have appetizers, salads, and a drink menu complete with beer, wine, and cocktails to pair with your pizza, not to mention one of the best restaurants in Crown Heights – and this neighborhood is stacked with great places to eat.
The owners of Barboncino are no strangers to some of the best Brooklyn pizza spots as they were once involved with Pauli Gee's.
We tried a few brick-oven pies and were rather impressed, if you like a little heat and sweetness we recommend getting a side order of Mike's Hot Honey, another local Brooklyn biz. They also have brunch pizza too if you're looking to spice things up on the weekend.
Emmy Squared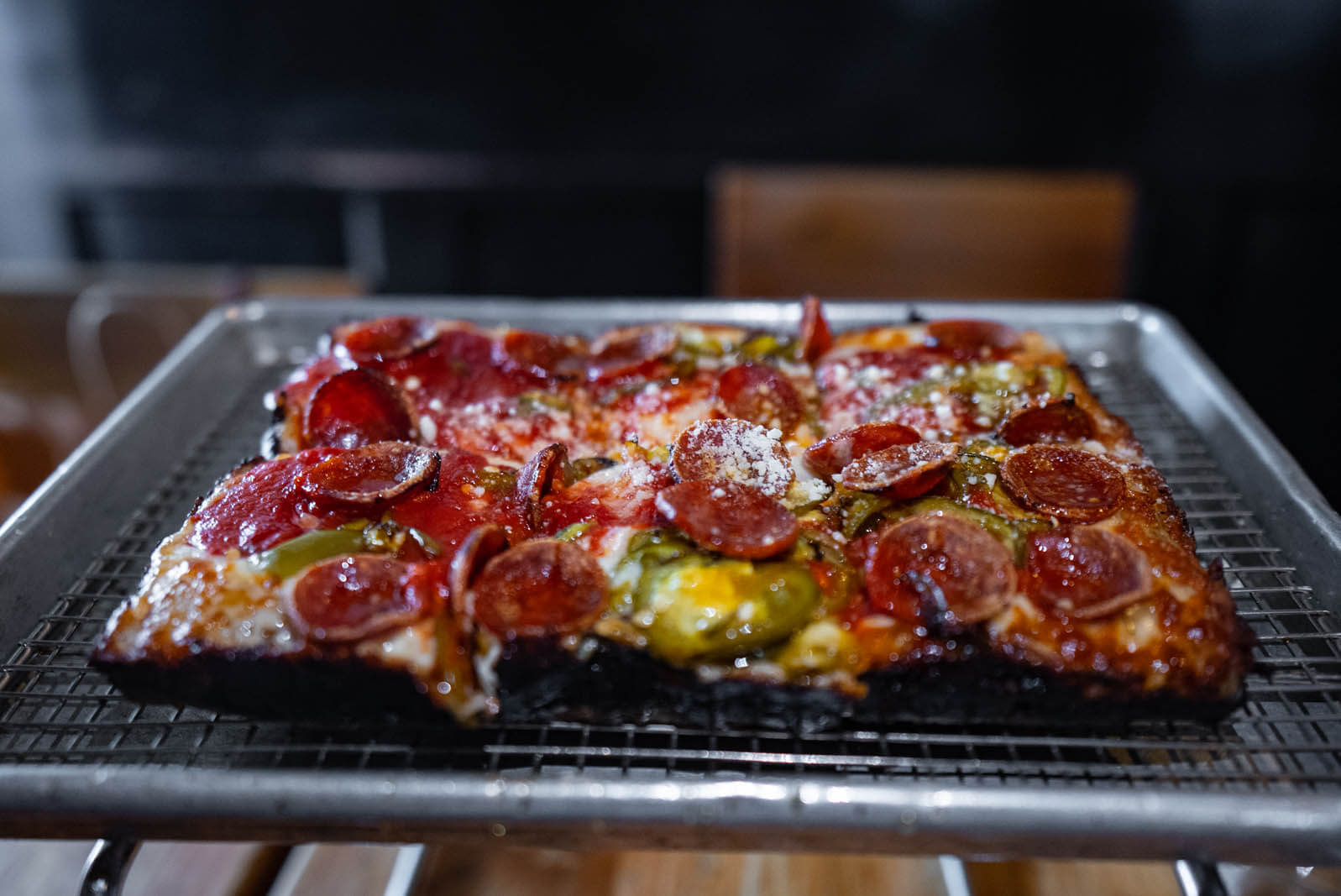 Address: 364 Grand Street, Williamsburg & 315 5th Avenue, Park Slope
Emmy Squared is a genuine sensation – in a few short years they've expanded to locations nationwide, but they are indeed a local franchise founded in New York by the same folks behind Emily. Known widely and always busy (be sure to make a reservation, be prepared to wait, or opt for takeout!), Emmy Squared specializes in Detroit-style pizza with a crunchy, "frico" surrounded crust topped with impossibly savory and rich sauce and toppings.
The Colony2 is heaven, with pepperoni, pickled jalapeno, and hot honey. This combination is a medley of tasty flavors for the buds.
Another worthwhile choice is to get the best of Emmy Squared and try their Cheesy Garlic sticks for a little pizza flavor and then follow up with their famous pretzel bun and special sauce burger. Who says you can't have it all??
Also, this is the very first location!
L'Industrie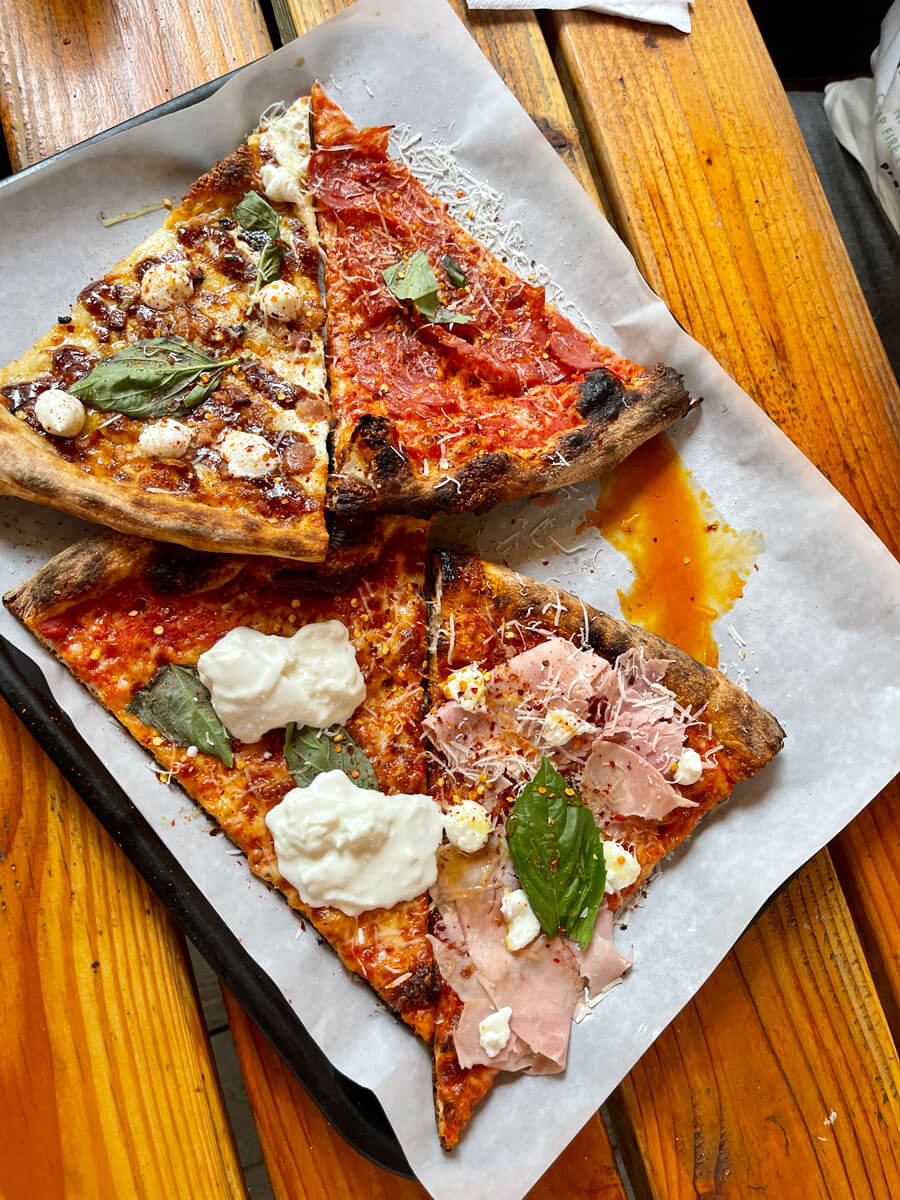 Address: 254 S 2nd Street, Williamsburg
Hands down, one of the best slices of pizza in the city and best pizza in Brooklyn is at L'Industrie in Williamsburg. This popular slice shop (you can get the whole pies too).
Be sure to try the burrata for one of the most perfect slices of pizza in the city. This is one of their most popular slices and it a classic featuring just a few ingredients done right, tomato sauce, mozzarella, and burrata.
For meat eaters you'll want to try the pepperoni or spicy salami. Or spring for the New Yorker which has pepperoni, salami, mozzarella, ricotta, and tomato sauce.
For something a little different opt for the fig and bacon slice which perfectly combines salty and sweet flavors. You really can't go wrong here. This is one of the best quality cheap eats in the city.
Brooklyn DOP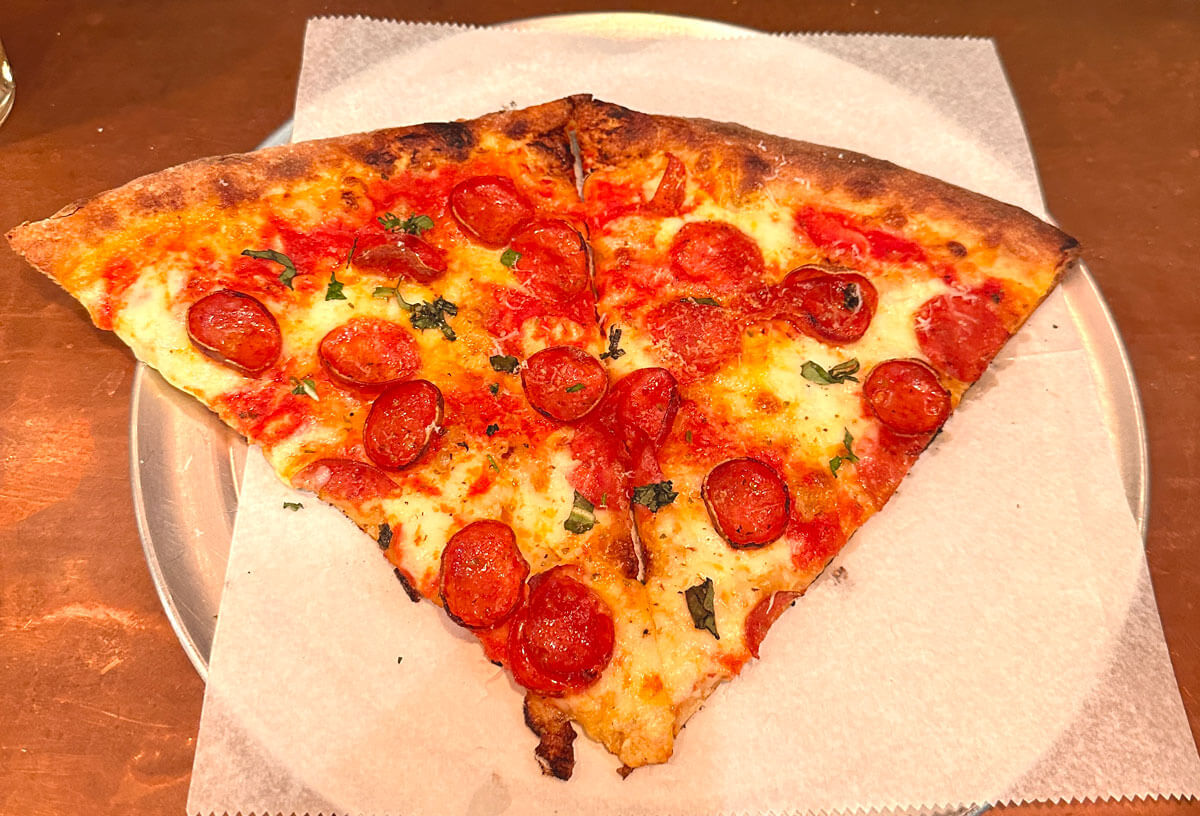 Address: 237 5th Avenue, Park Slope
Another awesome slice shop in Park Slope and definitely deserving as one of the best Brooklyn pizza spots is Brooklyn DOP.
DOP stands for "Denominazione di Origine Protetta," an Italian certification that guarantees a food product's authenticity and origin. In terms of pizza, DOP signifies that specific ingredients, like tomatoes or cheese, adhere to traditional methods and come from a designated region, maintaining the pizza's quality and heritage.
That means, this pizza shop imports all of its ingredients from Italy and you can taste the quality. The pizza here is best fresh from the oven, you can buy a whole pie or try it by the slice.
---
Best Brooklyn Pizza Spots (Post Summary):
Luigi's Pizza
Grimaldi's
Juliana's
Roberta's
Lucali
Joe's Pizza
Dellarocco's
Saraghina
F&F Pizzeria
Totonno's Pizzeria Napolitano
Table 87
Speedy Romeo
Di Fara
Paulie Gee's & Paulie Gee's Slice Shop
L&B Spumoni Gardens
Emily
Giuseppina's
Ignazio's
Motorino
Barboncino
Emmy Squared
L'Industrie
Brooklyn DOP
Best Brooklyn Pizza MAP:
---
Liked this guide to the best pizza in Brooklyn and all of Brooklyn's best pizza? Bookmark for later or share the love below on Pinterest. Missing your pick for best pizza places in Brooklyn? Let us know in the comments below and we will go put it to the test!