Looking for the best pizza in Manhattan? I've got you covered in this foodie's guide to Manhattan's best pizza as I've tasted my way through the city covering mouthwatering pizza in guides like the best pizza slice in NYC and the best pizza in NYC!
Headed to Brooklyn? No worries, there's a guide to the best pizza in Brooklyn and we even have a collection of the best pizza quotes or captions for your posts while eating your way through the city.
It must be acknowledged that phenomenal pizza can be found in all five boroughs of New York City. But let's say that you're only in town for a day. You step off of the bus or train in Midtown, ready to take on Manhattan. You immediately burst into song, belting out "New York, New York! A helluva town!"
Just kidding.
Well, you're free to burst into songs about New York, but what I will strongly suggest is that if you have just one day to spare in Manhattan, you go get some pizza.
The best pizza places in Manhattan are spread throughout the city, so no matter where you roam, you're bound to find a truly excellent pie or slice.
Now if you have more than one day to spare in Manhattan, I suggest that you try them all! It would be an ambitious task, but I have faith in you. You are, after all, here to take on Manhattan, and therefore should try Manhattan's best pizza.
Load up a Metrocard (or just tap your card these days), call some friends, mentally prepare yourself to feast, and head to any and all of the below for a meal that may make you want to relocate here permanently.
We've organized this list by neighborhood, and have made sure to note restaurants that offer vegetarian, vegan, and gluten-free options.
Now get out there, and report back to me what your favorite pizza places in Manhattan are – the borough's finest pies await you!
About the Guest Author
Sarah Beling is a playwright, New Yorker, and passionate food enthusiast who is always looking for her next meal. You can find her in an NYC park, enjoying a chopped cheese sandwich and reading about NYC's best new places to eat.
BEST PIZZA PLACES IN MANHATTAN
MIDTOWN
NY PIZZA SUPREMA
View this post on Instagram
413 8th Ave
Ok, so let's say you really do take the Amtrak to New York City for a day. You step off of the train and are immediately ready for pizza. Where should you go?! Less than a stone's throw from Penn Station lies some of Manhattan's best pizza, ensconced in an unassuming storefront.
Opened in 1964, NY Pizza Suprema specializes in both a very highly regarded cheese slice and inventive specialty pies like the Pizza Al Pastor (thin crust topped with premium Grande Mozzarella, sliced fresh pineapple, spicy pork meat, sliced red onions, fresh cilantro and finished with a delicious verde sauce).
A unique facet of NY Pizza Suprema's menu is their use of three distinct tomato sauces: one for their regular cheese pizza, one for their Marinara and Upside Down Pizza (which consists of Grande Mozzarella, deep-dish square crust, mozzarella, homemade cooked onion based sauce, finished with imported Pecorino Romano cheese and imported EVOO from Italy with a tossing of fresh basil), and one for their fresh Mozzarella (also homemade!) and basil pie.
And best of all, many of NY Pizza Suprema's cornerstone menu items can be made vegan.
So make your very first stop for the best pizza in Manhattan at NY Pizza Suprema. And if you're in a real rush, you can always hop right back on the Amtrak, pizza in hand. Now that's takeout!
Note: NY Pizza Suprema offers extensive vegan and vegetarian options.
UPSIDE PIZZA
View this post on Instagram
598 8th Ave & 51 Spring St (Nolita)
Rocking a sporty 90s vibe, Upside Pizza's claim to fame is their use of the Montague Hearth Bake brick oven, unique in its fully-lined walls that promise to deliver the best Manhattan pizza. Combine this with responsibly sourced ingredients and you have yourself a hidden treasure amongst the Pret-a-Mangers and Paneras of 8th ave.
I recommend the Fuzzy Dunlop (House-made Berkshire Sausage seasoned with secret spice blend, house pickled peppers) and a slice of the Upside Don (special homemade sauce, whole milk mozzarella, homemade breadcrumbs, EVOO, Parmigiano-Reggiano and a 72-hour naturally fermented sourdough) before heading to a game or concert at Madison Square Garden.
And if you want my recommendation there, let me tell you about my friend Billy Joel!! I am an unapologetic Billy Joel stan and will posit that eating true New York pizza will put you in the mood to hear New York State of Mind.
Note: Upside Pizza offers vegetarian menu options.
CORNER SLICE
View this post on Instagram
600 11th Ave at 45th St
It's a familiar scenario. You're traveling to New York, you're with a group, and no one can agree on one place to eat. Enter one of Manhattan's best new trends – the bespoke food hall.
Composed of hyper-local pop-ups and outposts of New York culinary favorites, the food hall is the perfect place to find an authentic New York food experience that fits everyone's needs. One such food hall is the Gotham West Market, located west of Times Square on 45th street and 11th Ave.
There you'll find a variety of excellent choices, but the pizza standout here is Corner Slice, a new-to-the-game joint where well-made Sicilian slices and pies are served with classic bottled sodas in a lively, cafeteria-style setting.
Your friend who had their heart set on ramen can enjoy the neighboring Ivan Ramen and your favorite pescatarian can chow down on seafood snacks from Seamore's all while you dine on a slice of the excellent Mushroom pizza (whole 72-hour dough, roasted mushrooms, fresh mozzarella, tomato sauce, Sicilian oregano, shaved pecorino). Everyone wins!
Note: Corner Slice offers both vegetarian and gluten-free options.
EAST VILLAGE / LOWER EAST SIDE
MOTORINO PIZZA
View this post on Instagram
349 East 12th St (& UWS location at 510 Columbus Ave)
Motorino Pizza is a true Neapolitan-style treasure, serving up some of the best pizza in Manhattan in flavors ranging from classics like the Sopressata Piccante Red Pizza (tomato sauce, fior di latte mozzarella, soppressata, e.v. olive oil, chili flakes, sea salt, oregano) to the bold and imaginative – like the Vegan Cremini and Sausage pizza (vegan cheese, vegan "Blackbird" fennel-garlic sausage, olives, thyme, garlic, e.v. olive oil, sea salt (no tomato sauce).
For the especially adventurous, try the Colatura Di Alici, where the crust is cooked, but there is no sauce and toppings are raw (buffalo mozzarella, red onion, cherry tomatoes, white anchovies, chili flakes, gaeta olives, e.v. olive oil, parsley, sea salt).
For a chill afternoon enjoying pizza in some of Manhattan's quintessential parks, head to Tompkins Square Park near the East Village location, or Central Park near the Upper West Side location!
Note: Motorino offers vegetarian and vegan menu options.
LI'L FRANKIE'S
View this post on Instagram
19 1st Ave
Li'l Frankies is the perfect place to have your birthday dinner. A lively, charming atmosphere with creative cocktails (try the Li'l Frankie's Margarita composed of tequila, Aperol, and lime), pitchers of beer, and a vibrant selection of wines, Li'l Frankies also serves up some of Manhattan's best pizza.
Share some Nonna Pizzas (baby meatballs, green peas, mozzarella, Parmigiano), the Goat Cheese (also topped with roasted peppers, roasted eggplant, arugula) and some classic Margherita pies with your best friends as you toast to another year. Li'l Frankie's also offers private dining spaces, which truly makes it an ideal place to plan your party.
Note: Li'l Frankies offers vegetarian menu options.
TWO BOOTS
View this post on Instagram
42 Avenue A. (& West Village location at 101 7th Ave)
Two Boots was founded in New York, but its soul belongs to New Orleans. Named after the shapes of Italy and Louisiana, this Cajun-inspired, off-beat pizza joint has been open for over thirty years.
Taking inspiration from their founders, (two independent filmmakers), Two Boots names their pizzas after the essential film and TV characters as well as bands and musicians like The Meg (named after Meg White of The White Stripes and featuring provolone, Parmigiano, ricotta, mozzarella, roasted garlic & oregano). Make sure to also try the My Brilliant Vegan Friend pizza (vegan sausage, broccoli rabe, hot cherry peppers & Daiya non-dairy cheese) or one of their many other vegan and vegetarian options that make for some of the best pizza in Manhattan.
Note: Two Boots offers significant vegan, vegetarian, and gluten-free options.
ARTICHOKE BASILLE'S PIZZA
View this post on Instagram
Many locations, original: 321 E 14th St
Artichoke Basille's Pizza is famous for their massive slices, their creative topping combos, and the truly epic lines that New Yorkers are willing to wait in for Manhattan's best pizza.
While you're waiting in line you'll have plenty of time to a) make friends with other pizza connoisseurs and b) decide which of Artichoke's unique flavors you'd like to try (spoiler alert, you can't go wrong!).
If you must try only one, of course, it's the Artichoke slice itself (Artichoke Hearts, Spinach, Cream Sauce, Mozzarella, and Pecorino Romano Cheese) – one slice is rich enough to satisfy even the hungriest New Yorker. I additionally recommend the square Vodka slice or even your classic Margherita – the quality of Artichoke's is such that every one of their flavors feels like a standout.
While you're in the neighborhood, check out the East Village Thrift Shop (186 2nd Ave, New York, NY 10003) or L Train Vintage (204 1st Avenue, New York, NY 10009) for additional local treasures – which also happens to be a Manhattan location of one of our favorite Brooklyn thrift stores!
Note: Artichoke does offer vegetarian options.
SPEEDY ROMEO
View this post on Instagram
63 Clinton St
Named after co-founder Todd Feldman's champion race horse, Speedy Romeo is a Lower East side gem and known for some of the best pizza in Manhattan.
Speedy Romeo is home to true Neapolitan pies with soft-yet-crispy crusts and offers super-creative flavors that dazzle like the St. Louie pizza (Tomato, Hot Soppressata, Sweet Italian Sausage, Provel, Pickled Chilis) and the Paul's Boutique pizza (Dijon Bech, Pastrami, Fontina, Smoked Kraut, Everything Crust, 1000 Island Dressing).
There are also family-meal catering packages available, and this would make an ideal option for hosting a large event without needing to cook!
Note: Speedy Romeo offers vegetarian options.
EMMY SQUARED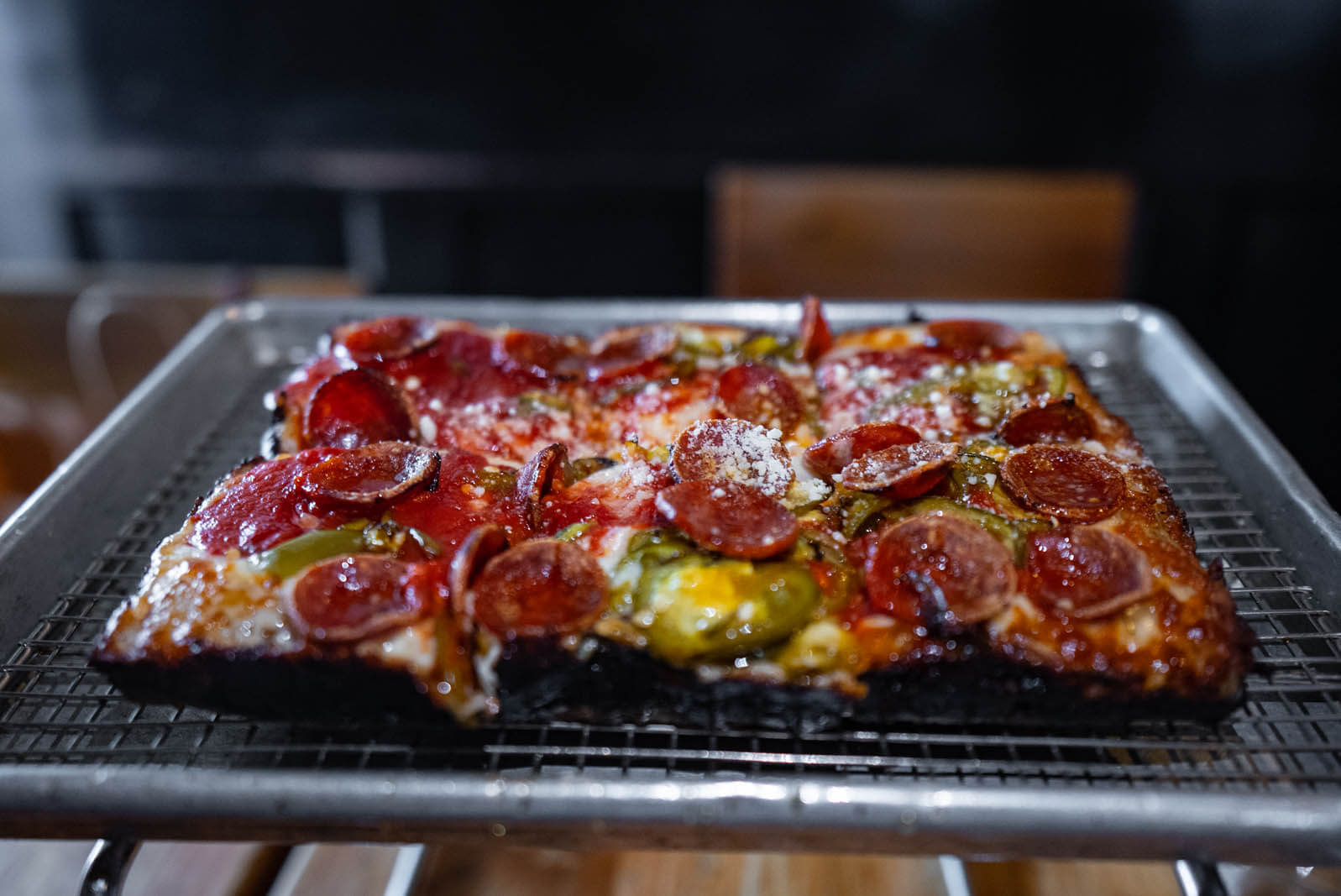 83 1st Ave (& UES Location 1426 3rd Ave)
Emmy Squared is a genuine sensation – in a few short years they've expanded to locations nationwide, but they are indeed a local franchise founded in New York. Known widely and always busy (be sure to make a reservation, be prepared to wait, or opt for takeout!), Emmy Squared specializes in Detroit-style pizza with a crunchy, "frico" surrounded crust topped with impossibly savory and rich sauce and toppings.
I frequently dream about their Vodka pie, enjoyed best with an impossibly crunchy and fresh Caesar salad consisting of Little Gem lettuce, anchovy-caesar, and sprizolina.
Another worthwhile choice is to get the best of Emmy Squared and try their Cheesy Garlic sticks for a little pizza flavor and then follow up with their famous pretzel bun and special sauce burger. Who says you can't have it all??
Note: Emmy Squared offers vegetarian and gluten-free options.
CHELSEA/FLATIRON
TAPPO
View this post on Instagram
49 West 24th St
Are you in search of the crispiest, crunchiest pizza crust possible, loaded with fresh toppings and served with refreshing cocktails and ice-cold beer? Then look no further than Tappo, a reliably tasty spot in Chelsea for the best Manhattan pizza.
Tappo has perfected their super-thin crust pies with densely-packed toppings like the Chickpotle pie (Marinara sauce & cheese, shredded chicken, housemade chipotle sauce, sautéed onions, fresh pineapple, cilantro) or the Tres Fuegos (Spicy marinara sauce, manchego cheese, sautéed shrimp, and spicy chorizo, cilantro). On the veggie side of things, Tappo has a fantastic variety of vegetable forward pies, like the Giardino (Marinara sauce & cheese, broccoli, fresh tomatoes, sweet red onions, roasted garlic, spinach) or El Greco (Marinara sauce & cheese, green bell peppers, feta cheese, fresh tomatoes, sweet red onions, kalamata olives).
Tappo is conveniently located near a plethora of fitness studios. Why not try out a hot yoga class at BODE (182 5th Ave, New York, NY 10010) and then reward yourself with a freshly baked pie and a beverage? Seems like a good balance to me…
Note: Tappo offers vegetarian options.
Filaga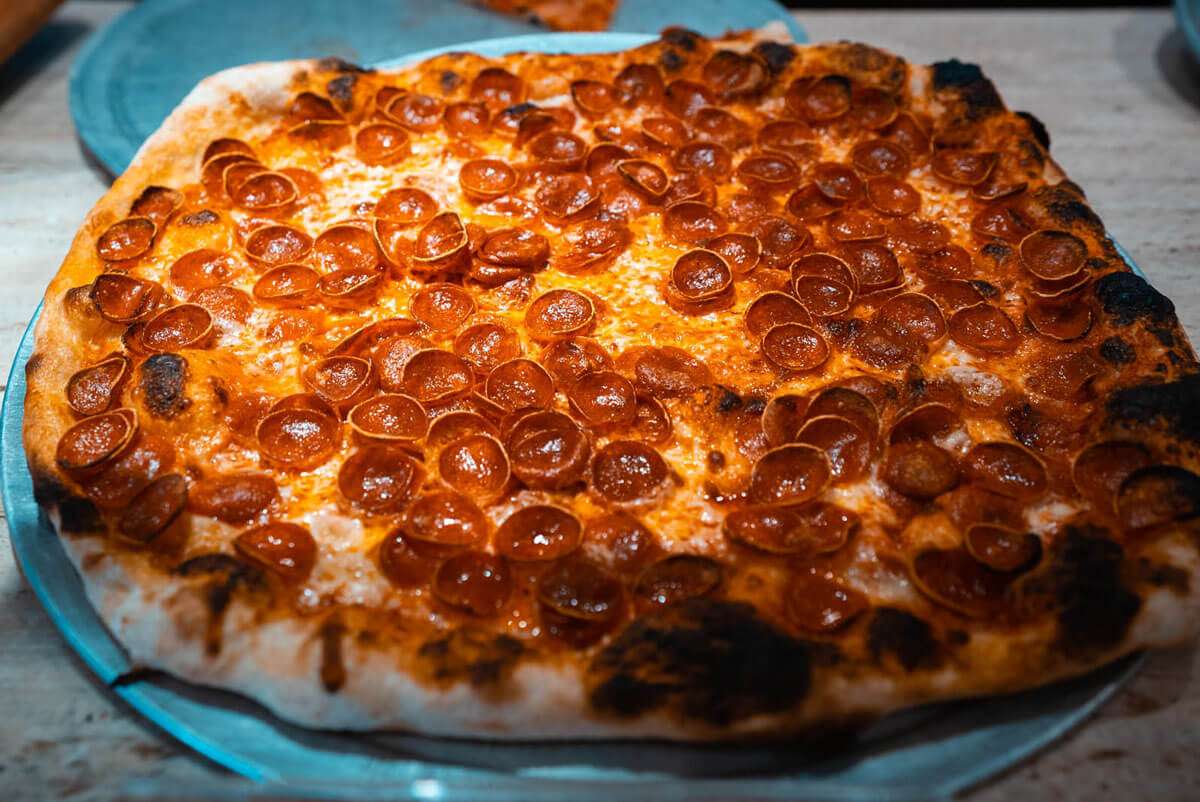 75 9th Ave (Chelsea Market)
For more Sicilian bliss and the best pizza in Manhattan head on over to Chelsea Market where you can find mouthwatering pies at Filaga. Treat yourself to this savory heaven with either a classic Diavola as photographed above, margherita, crudo, or funghi misti pizzas – although their menu is much more extensive than this.
They use a 96 maturation process that makes their crust light and crunchy topped with fine quality ingredients imported from the motherland, Italy.
Order by the slice or whole pizza, it's up to you since you're in one of the best foodie spots in Manhattan you might want to save some room for dessert or tasting your way through the market.
NOLITA
RUBIROSA
View this post on Instagram
235 Mulberry St
Tucked away on charming Mulberry Street in Nolita, Rubirosa is a family-owned operation run by A.J. Pappalardo. Inspired by his own father's legendary Staten Island pizzeria, Joe's and Pat's, A.J. modified his family's 57-year-old recipe to create a new dynasty of the best Manhattan pizza.
Chief among these is the Tie-Dye pizza, which is a transcendent blend of vodka sauce, tomato sauce, pesto, and fresh mozzarella.
As an indecisive Libra, this sauce combo is my platonic ideal. But truly you can't go wrong at Rubirosa, where the flavorful pies are accompanied by a fantastic selection of charcuterie and homemade pasta.
In an extremely thoughtful feature, Rubirosa offers their desserts to-go, so fear not about chowing down and taking home your last course at one of the finest pizza places in Manhattan!
Note: Rubirosa offers vegetarian, vegan, and gluten-free menu options.
UNION SQUARE
RIBALTA
View this post on Instagram
48 E 12th St
Co-founders Rosario Procino and Pasquale Cozzolino are dedicated to traditional Neapolitan cooking techniques and ingredients, importing their ingredients like their Buffalo-milk Mozzarella from Campania and only using flour mixes certified by Italian flour mill Le 5 Stagioni.
This attention to detail is evident in their delicious pizzas, including flavors like the eponymous Ribalta (Mozzarella, Italian Sausage, Broccoli Rabe) and the unique Zuccine (Zucchine Purea, Burrata Cheese and Speck).
For added adventure, Ribalta offers group cooking classes with Chef Cozzolino, and boisterous Italian soccer match viewing parties! It's hard not to root for Italia while enjoying Manhattan's best pizza, so grab a jersey and some friends and start cheering!
LINCOLN CENTER/COLUMBUS CIRCLE
CAFE FIORELLO
View this post on Instagram
1900 Broadway
When you want to celebrate a special occasion, catch a fine meal before a show at Lincoln Center, or your family is in town, head to Cafe Fiorello. A sit-down restaurant with a full offering of classic Italian fare, it would be easy to miss that they house some of the best pizza in Manhattan.
Be sure to try the unapologetically New York-flavored Nova Smoked Salmon pizza with crème fraiche and red onion, or truly go all-out and order a Specialita Whole Lobster pie (also topped with peppers, zucchini, and burrata mozzarella). Yes, you can get a whole lobster on a pizza here. This is New York City, and we do it all!!
Note: Cafe Fiorello offers vegetarian menu options.
FINANCIAL DISTRICT
ADRIENNE'S PIZZABAR
View this post on Instagram
54 Stone St
Settled on a cobblestone block plucked from another era, Adrienne's is a downtown treat making the list of the best pizza places in Manhattan for its pillowy tray-style and traditional round pies that are well-balanced in crunch, melt, and umami flavors. I recommend splitting a Half-Red-Half-White square pie.
Head to Adrienne's before or after a trip to Governors' Island, one of New York's most unique outdoor parks (ferry located at 10 South Street, May-October only). The ferry is a short walk away and it's a great way to celebrate a day exploring Manhattan (and its archipelagos!).
Note: Adrienne's does offer some vegetarian options.
THE VILLAGE
BLEECKER STREET PIZZA
View this post on Instagram
69 Seventh Avenue South
When I think about pizza places in Manhattan that I hope will never close, I immediately think of Bleecker Street Pizza in the West Village. Bleecker Street Pizza has been voted Best Pizza in New York by the Food Network for 3 years in a row, but it's been a favorite for New Yorkers since it opened in 2004.
Bleecker Street Pizza offers quality-made pies and slices with a proprietary tomato sauce featuring Parmigiano Reggiano cheese imported direct from Italy.
In addition to their classic cheese and pepperoni pies, I recommend checking out the White Pie, which features ricotta and mozzarella with fresh basil.
Head to Bleecker Street Pizza before or after an evening spent enjoying cabaret at The Duplex NYC, Manhattan's legendary piano bar (61 Christopher St, New York, NY 10014).
Note: Bleecker Street pizza offers vegetarian options.
JOHN'S
View this post on Instagram
278 Bleecker St
Open for close to an entire century, John's is a must-go when exploring the best pizza places in Manhattan. Johns is known for their strict no-slices policy, their celebrity customers (be sure to look for some familiar faces in photos and autographs carved into their walls!), and their grade-A quality pies. J
ohn's does not take reservations, but they do mention that "the wait is minimal" as New Yorkers gobble up their hot pizza as quickly as possible.
I recommend trying a pie topped with crumbled sausage, green peppers, and garlic. I also recommend buying one of their t-shirts or a beanie as a way to try out the latest trend in New York-specific fashion, Zizmorcore.
Note: John's offers vegetarian options. John's used to be cash only but now accepts debit and credit cards as well as Apple and Google Pay.
JOE'S PIZZA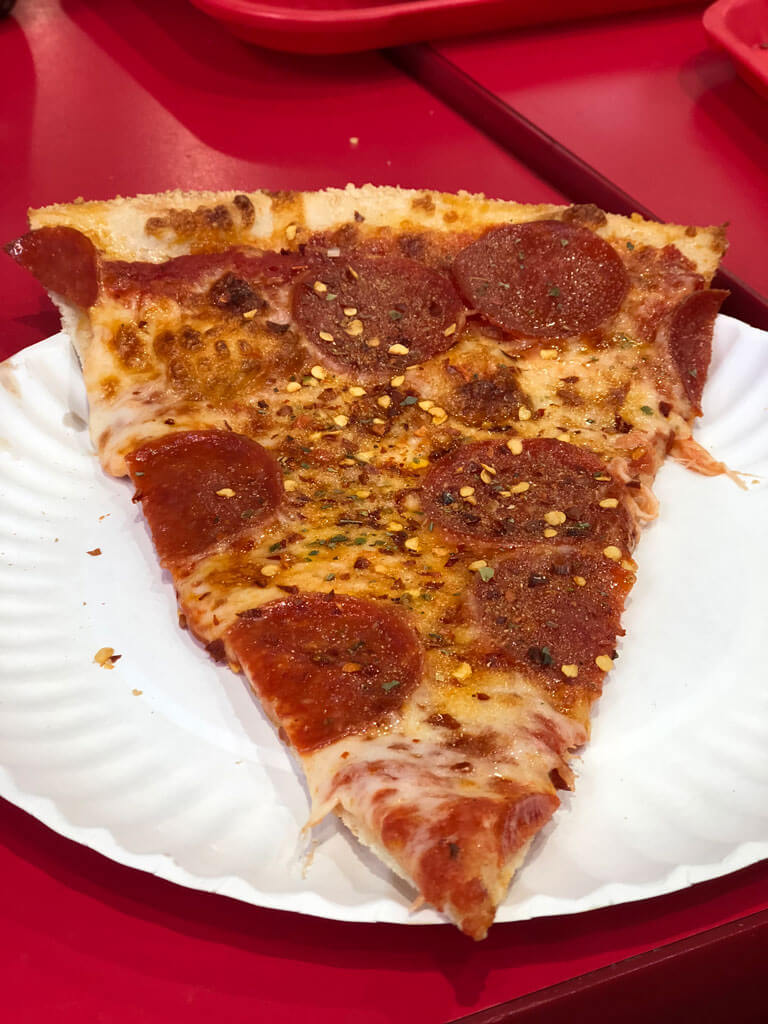 Multiple locations, original: 7 Carmine Street
Under no circumstances should you leave New York without visiting Joe's at least once. Holding court in the Village for over forty years, Joe's stands by a time-tested and straightforward offering of classic flavors with the option to add toppings of your choice.
Joe's proudly touts their many "best-of" pizza accolades, and I have to say, they are not overstating the praise. Grab some friends and share some pepperoni pies, large salads, old-school sodas, and enjoy some of the best Manhattan pizza before heading to Blue Note Jazz Club (131 W 3rd St, New York, NY 10012) for a banner evening of live music that you won't soon forget!
Note: Joe's offers vegetarian options
UPPER WEST SIDE/HARLEM/MORNINGSIDE HEIGHTS
FUMO
View this post on Instagram
UWS 2791 Broadway & Harlem 1600 Amsterdam Ave
Both FUMO outposts are the ideal pizza places in Manhattan to take a special date or to catch up with good friends. Located on the Upper West Side and in Harlem, FUMO offers a wide selection of pies (including significant vegetarian, vegan, and gluten-free options) as well as pasta, salads, and Italian bar snacks.
I recommend trying the Bianche Buffalo pizza (Louisiana-style chicken, Blue Cheese, and Mozzarella) for a piquant, savory pie.
If you head to the Harlem location, be sure to walk by nearby City College (160 Convent Ave, New York, NY 10031), a beautiful campus and one of the filming sites of the fictional "Hudson University" on Law and Order: SVU!
Note: FUMO offers vegan, vegetarian, and gluten-free options.
MAMA'S PIZZERIA (AND MAMA'S TOO)
View this post on Instagram
Mama's: 941 Amsterdam Ave. & Mama's Too: 2750 Broadway
Mama's and Mama's Too are some of the best pizza places in Manhattan AND located within a quick stroll of each other, which is ideal when one or both are crowded with hungry Upper West Siders!
Both locations feature traditional flavors as well as frequently updated combinations like the 18th Avenue (Fennel Sausage, In-house roasted peppers, Aged mozzarella, Whipped ricotta) — make sure to watch their Instagram for exclusive promos of their upcoming special flavors and Shake Shack collaborations, which sell out in a flash!
Head to Mama's or Mama's Too before checking out Morningside Heights bookseller Book Culture (536 West 112th St. NY NY 10025 and 2915 Broadway NY NY 10025) which also features two equally excellent locations!
Note: Mama's and Mama's Too have vegetarian and gluten-free options.
CHEESY PIZZA
View this post on Instagram
2640 Broadway
I almost walked by Cheesy Pizza without a second glance. It does, after all, have a fairly vague name and a plain storefront. But one day before a babysitting shift I had time to kill, and wandered into what I now consider to be one of the most underrated pizza places in Manhattan.
Cheesy Pizza may look like a run-of-the-mill slice joint, but their slices are consistently tasty and full of hearty toppings, such as on the Mediterranean Pie (Spinach, feta and mozzarella cheese & sauce) or the loaded Cheesy Pizza Supreme (Fresh vegetables and zesty meat toppings, sausage, pepperoni, meatballs, onions, mushrooms, broccoli, sauce, and mozzarella cheese).
So when you're out and about on the Upper West Side, don't skip out on one of the best pizza places in Manhattan ahead straight towards the sign marked, "Cheesy".
Note: Cheesy Pizza offers vegetarian and gluten-free options.
WASHINGTON HEIGHTS
FRESCO'S PIZZERIA
View this post on Instagram
804 W 187th St
One of the most underrated places for pizza in Manhattan is at Fort Tryon Park. Located off of the A train at 190th Street, it boasts world-class views of the Hudson River, lush landscapes, and the Met Cloisters Museum (99 Margaret Corbin Dr, New York, NY 10040), a world-class collection of art collected from religious institutions throughout the world.
Once you've finished exploring this acres-wide oasis, it's time to head to one of the best pizza places in Manhattan – Fresco's.
Fresco's unassuming storefront belies a truly superior pizza experience, with tenderly crafted slices and pies like the Fig and Goat Cheese (Fresh figs, goat cheese and mozzarella topped with arugula, Tuscan olive oil and pecans), a pie which tastes reminiscent of being in Italy itself.
While you're at Fresco's, I also recommend trying their garlic knots and the Asparago salad (Grilled asparagus, arugula and cherry tomato topped with shaved Parmigiano-Reggiano cheese and lemon olive oil dressing) for the perfect getaway without ever leaving Manhattan.
Note: Fresco's offers vegetarian options.
THE UPTOWN GARRISON
View this post on Instagram
821 W 181st St
Listen, dating is hard, but I have a foolproof plan to make it (slightly) easier. And that plan is to head to The Uptown Garrison for an evening of festive cocktails, flattering lighting, and of course, some of the best pizza in Manhattan.
Located in Washington Heights on a block that overlooks sunset on the Hudson, The Uptown Garrison is a friendly local joint that specializes in wood-fired pies with fresh, seasonal toppings like the Italian Sausage pie (red sauce, crumbled house-made Italian sausage, sliced onion, mozzarella) or the Eggplant (red sauce, garlic, chilli purée, fried eggplant, basil, parsley).
Pair one of these amazing Manhattan pizzas with the Hoti Hoti cocktail (dark rums, falernum, red vermouth, grapefruit, lime, absinthe) and you'll be having a great time, regardless of how you feel about your date.
But hopefully (!) they appreciate great pizza as much as you do and you find an instant connection!!! Or, you get a pie to take home to your roommates as you regale another dating horror story. Either way, you were fed well!!
Note: The Uptown Garrison offers vegetarian and gluten-free options.
KORONET PIZZA
View this post on Instagram
Morningside Heights: 2848 Broadway, Washington Heights: 4087 Broadway, & UES 1110 Lexington Ave
So maybe you're in town for a short while, and you need a souvenir from your travels – then head over to Koronet Pizza for a slice worth writing home about. Koronet serves up the best Manhattan pizza slices that are also to scale with New York attitudes, which is to say – they're oversized.
But don't be fooled, Koronet is not just a gimmick – their pizza is well-crafted, crunchy, savory, and balanced. I recommend their Spinach slice (Fresh vegetables and zesty meat toppings. Sausage, pepperoni, meatballs, onions, mushrooms, broccoli, sauce, and mozzarella cheese).
Stop by Koronet, take a photo with one of their gigantic slices for the archives, and then settle in to enjoy one of the city's quintessential pizza places.
Note: Koronet offers vegetarian options.
HAMILTON HEIGHTS
BONO TRATTORIA
View this post on Instagram
3658 Broadway
Wandering uptown and seeking the best pizza places in Manhattan? Make sure to stop by Hamilton Heights's Bono Trattoria.
Surrounded by a host of other well-loved spots on Broadway in the 140s/150s, Bono Trattoria is known for their Neapolitan pies with traditional Italian flavor combinations like the Pugliese (Broccoli rabe, 'Nduja sausage, tomato, mozzarella) or the Bufala (pesto, mozzarella di bufala, pancetta, cherry tomato, basil).
Bono Trattoria also features a robust selection of entrees (the brick oven roasted Branzino is a delight!), wine, and beer to complete your meal! Check out Bono after a day at Riverbank State Park (679 Riverside Dr, New York, NY 10031), an NYC hub where you can rollerskate, run, bike, and garden!
Note: Bono offers vegetarian options.
UPPER EAST SIDE/ EAST HARLEM
SAN MATTEO PIZZA ESPRESSO BAR
View this post on Instagram
1739 2nd Avenue
Would you like to visit the Amalfi Coast, but lack the time for an international trip? Then look no further than San Matteo Pizza Espresso Bar, which brings the Amalfi Coast to the Upper East Side and serves up some of Manhattan's best pizza.
San Matteo offers fantastic Neapolitan style pies like the Diavolo Pizza (Tomato sauce, fresh basil, homemade mozzarella, spicy soppressata, and Parmigiano Reggiano) and the Paesana Pizza (Tomato sauce, homemade mozzarella, eggplant cubes, and fresh basil).
Pair your pies with a wide selection of wines from Campania, a tiramisu, and an espresso for a well-rounded dinner that truly feels like a vacation.
Note: San Matteo offers vegetarian options.
PATSY'S PIZZERIA
View this post on Instagram
Multiple locations, original in Harlem: 2287 1st Ave
You've probably seen Patsy's restaurants pop up across the boroughs and into the greater Tri-State area, but it's essential to head over to East Harlem and pay homage to where it all began as this is one of the most legendary pizzerias in the city and one of the oldest.
Churning out coal-fired pizzas since 1933, Patsy's hasn't changed their methods, and they don't need to with a fiercely loyal New York customer base that has been flocking there for decades.
I love the Patsy's Alla Vodka (creamy vodka sauce, grated mozzarella, no tomato sauce) — if you're reading this list closely, you will notice A LOT of vodka slice recommendations, but to me it is truly the perfect flavor of pizza! And Patsy's makes one of the best versions.
Note: Patsy's offers vegetarian options.
---
That's it, my hungry friends – go forth and seek out the best pizza places in Manhattan, try everything, and come away a seasoned New Yorker who can recommend a slice with confidence!
If we missed your favorite pizza in Manhattan let us know, we are always down to try new places!