Looking for the best pizza slice in NYC? Sometimes you just need a slice and not a whole pie, that's where this guide has got you covered. We break down all the top spots for the best pizza slice in NYC.
The quality of NYC pizza is such that it's totally possible to eat an entire pie without blinking. However, you may occasionally be under the constraints of time (or eager to avoid the need for a post-pizza nap), and this is where your strategy should be focused on: slices.
An NYC pizza slice (or two! or three!) is a perfect meal for a late-night post-drink snack, lunch on the go, or anytime really. Enjoy a slice walking down the street, grab a slice with a friend before a movie (who needs $80 popcorn), or even scarf down a slice from around the corner of your dinner restaurant as a first course before the meal (sometimes the wait is long)!! Not to mention, this is one of the best cheap eats in New York City.
Just don't eat a slice of pizza with a fork. Then we would be legally required to excommunicate you from New York.
Luckily, we have searched far and wide to bring you a roundup of places that make the absolute best slice in NYC. We've noted whether each spot offers vegetarian, vegan, and/or gluten-free options.
Oh, and we've included a map with all the locations so you can see what's near you while you're exploring the Big Apple!
And while trying one slice at a time is great, who says that you can't spend a marathon day sampling all of the best pizza slices in NYC – bring some friends on this adventure and catch 'em all! Let us know what you find to be the best pizza slice in New York!
Not all pizzerias offer pizza by the slice in NYC, if you're looking for an entire pizza our picks for the best pizza in NYC are a bit different, so be sure to check those out too! Happy eating!
Top Spots for Best Slice of Pizza in NYC
Luigi's Pizza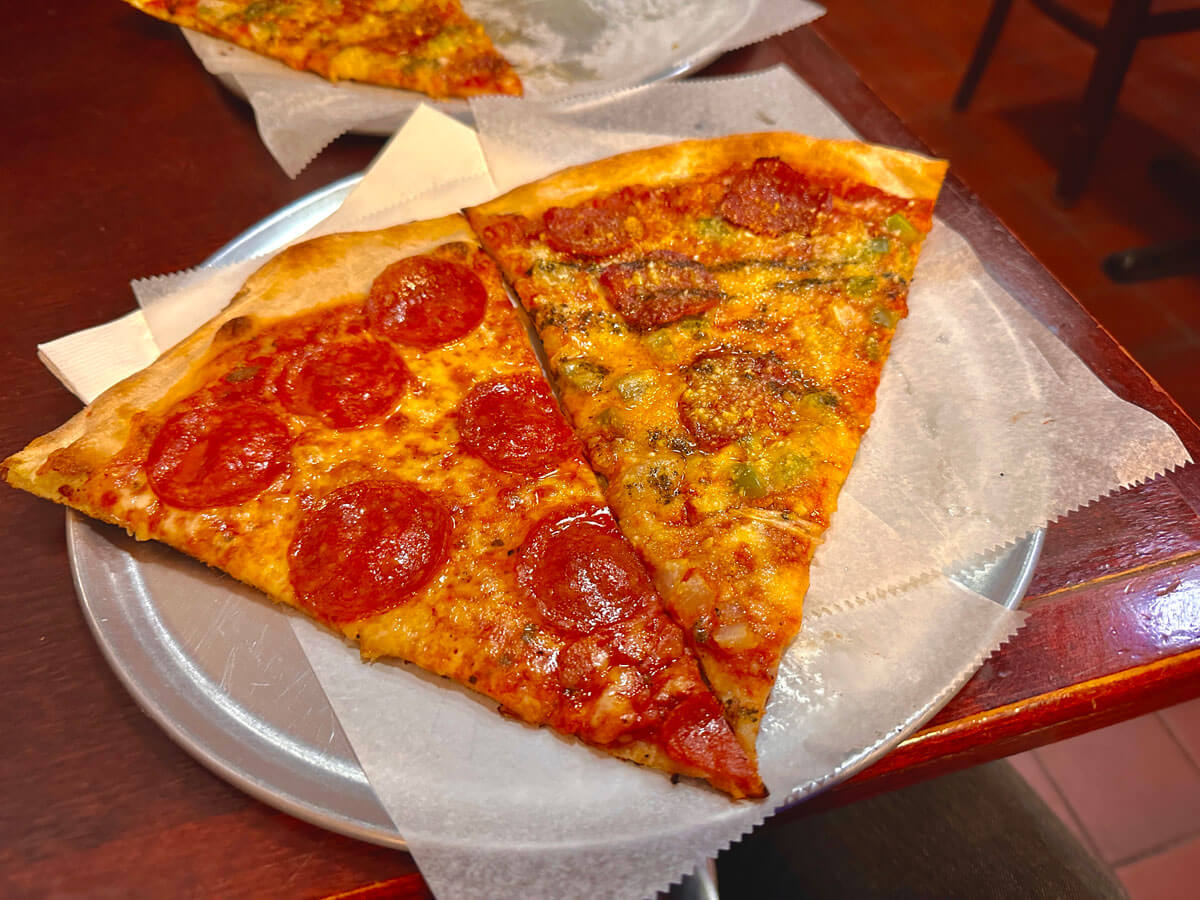 Address: 686 5th Avenue, Brooklyn
A Park Slope staple that not only has a VERY high rating on Bar Stool Sports but also starred in Adam Sandler's movie Big Daddy. Beyond its media attention, this neighborhood favorite has been serving up reliably delicious slices since 1973 without insane markups (and inflation) around the city.
From slices to squares (and whole pies) at reasonable prices, you can't go wrong here. This old-school feeling Italian pizza joint has been passed down generations, the owner himself is likely to be the one to serve you your slice.
Their slices are thin and foldable, but substantial and topped with the finest toppings of your choice. If you're looking for something a bit heartier try a square slice from one of their Grandma's pies.
Corner Slice
Address: 600 11th Ave at 45th St, Manhattan
You may have seen that episode of "The Office" where Michael Scott roams Times Square and advertises Sbarro as true NYC slice of pizza. When you find yourself in Midtown, don't be Michael Scott.
Make your way westward to 11th ave. for what many consider the best pizza slice in NYC.
Corner Slice (located in the Gotham West food hall) is known for delicately balanced slices of crispy-chewy Sicilian pizza with top-notch ingredients. Order a slice and soda combo of a Margherita and an Abita Root Beer for the best NYC pizza slice.
So next time you're in Midtown, take the stroll over to Corner Slice and enjoy a (real) NYC pizza joint.
Note: Corner Slice offers both vegetarian and gluten-free options.
Bleecker Street Pizza
Address: 69 Seventh Avenue South, Manhattan
Open for almost twenty years, Bleecker Street is a Greenwich Village stalwart for the best slice in NYC, and is beloved by both longtime city dwellers and students (Bleecker Street Pizza is convenient to both NYU and The New School).
I recommend a classic cheese slice – Bleecker Street boasts the best NYC pizza slice composed of their proprietary sauce and imported Parmesan Reggiano cheese with a crispy crust.
Snag one of the best slices in NYC on the way to a movie at the IFC (323 6th Ave, New York, NY 10014) or after a rousing evening of singing show tunes at Marie's Crisis Café (59 Grove St, New York, NY 10014).
Note: Bleecker Street pizza offers vegetarian options.
Scarr's Pizza
Address: 22 Orchard Street, Manhattan
The Lower East Side's Scarr's Pizza delivers a pitch-perfect throwback to the 70s with their retro-styled décor, serving up the best pizza slice NYC has in a nostalgic setting. Order slices served on classic red trays and beers poured into quintessential glass mugs while you take in an ambiance removed from time, space, and the internet.
Try a slice of the DJ Clark Kent (chicken sausage, garlic, tomato sauce, cheese blend, pecorino romano) and visit the Essex Street Art Gallery (55 Hester St, New York, NY 10002) for a perfect day on the LES.
Note: Scarr's Pizza offers vegan and vegetarian options.
Fresco's Pizzeria
Address: 804 W 187th Street, Manhattan
Fresco's may not be widely known outside of Upper Manhattan, but it should be. This Washington Heights gem is a fantastic spot to grab the best pizza slice in New York. Slices and pies that are baked with care, quality ingredients, and friendly neighborhood service make Fresco's a can't-miss stop – take the A train to the 181st Street stop and stroll through bucolic Hudson Heights to find the best Vodka or BBQ slice in town.
Continue your way uptown to Fort Tryon Park to enjoy blooming gardens and sunset on the Hudson – a perfect date night or catch-up activity! 
Note: Fresco's offers vegetarian options.
Two Boots
Address: 42 Avenue A. & 101 7th Ave. S., (Manhattan) & 284 5th Ave & 558 Driggs Ave. (Brooklyn)
Two Boots (named after the shapes of both Louisiana and Italy) is a Cajun-influenced, creative pizzeria founded by two indie filmmakers in 1987, serving up the best pizza slice in New York.
Naming their flavors after famous TV and movie characters as well as musicians, Two Boots delivers slices in homage to everyone from Animal Collective to The Dude.
Try slices of the Mel Cooley (sun-dried tomatoes, roasted peppers & basil pesto on a white pie) and The Meg (provolone, parmigiano, ricotta, mozzarella, roasted garlic & oregano), throw in some stellar garlic knots, and bask in the inventive flavor and vibe of Two Boots.
Note: Two Boots offers significant vegan, vegetarian, and gluten-free options.
Mama's Pizzeria & Mama's Too
Address: 941 Amsterdam Ave. & 2750 Broadway, Manhattan
Mama's and Mama's Too are on the Upper West Side within blocks of each other, which makes it increasingly tempting to visit both in one day for the best NYC pizza slice. Try a Meat Lover's slice at Mama's (Sausage, Meatballs, Pepperoni, Bacon & Ham) followed by a Cacio e Pepe slice from Mama's Too (Whipped marscapone, aged mozzarella, Pecorino Romano, parmigianno reggiano, cracked black pepper).
Shake Shack and Mama's Too also frequently collaborate on special edition sandwiches that are worth pairing with their excellent slices. Be sure to check out their social media for announcements!
A quick note that slices are only available in-store at Mama's and Mama's Too, so spend a day roaming the American Museum of Natural History (200 Central Park West, New York, NY 10024) and then head up to Mama's (and Mama's Too!) to experience the best of the Upper West Side.
Note: Mama's and Mama's Too have vegetarian and gluten-free options.
Cheesy Pizza
Address: 2640 Broadway
Like all New Yorkers, Cheesy Pizza keeps it real and no-nonsense. They are a pizza restaurant. Their pizza is cheesy. But lest you walk by their modest storefront without giving it a second glance, Cheesy Pizza is not. To. Be. Missed. Their pizza is cheesy, and they serve up the best pizza slice in NYC.
Cheesy Pizza offers classic topping combos, fun flavor profiles like the Philly Steak slice (Green peppers, onions, mozzarella cheese, and American cheese, no sauce), and Greek-inspired slices like the Mediterranean (Spinach, feta, mozzarella) as well as falafel and gyros. There is something for everyone!
So take their word for it, and check out Cheesy Pizza – they're telling you the truth!!
Note: Cheesy Pizza offers vegetarian and gluten-free options.
Koronet Pizza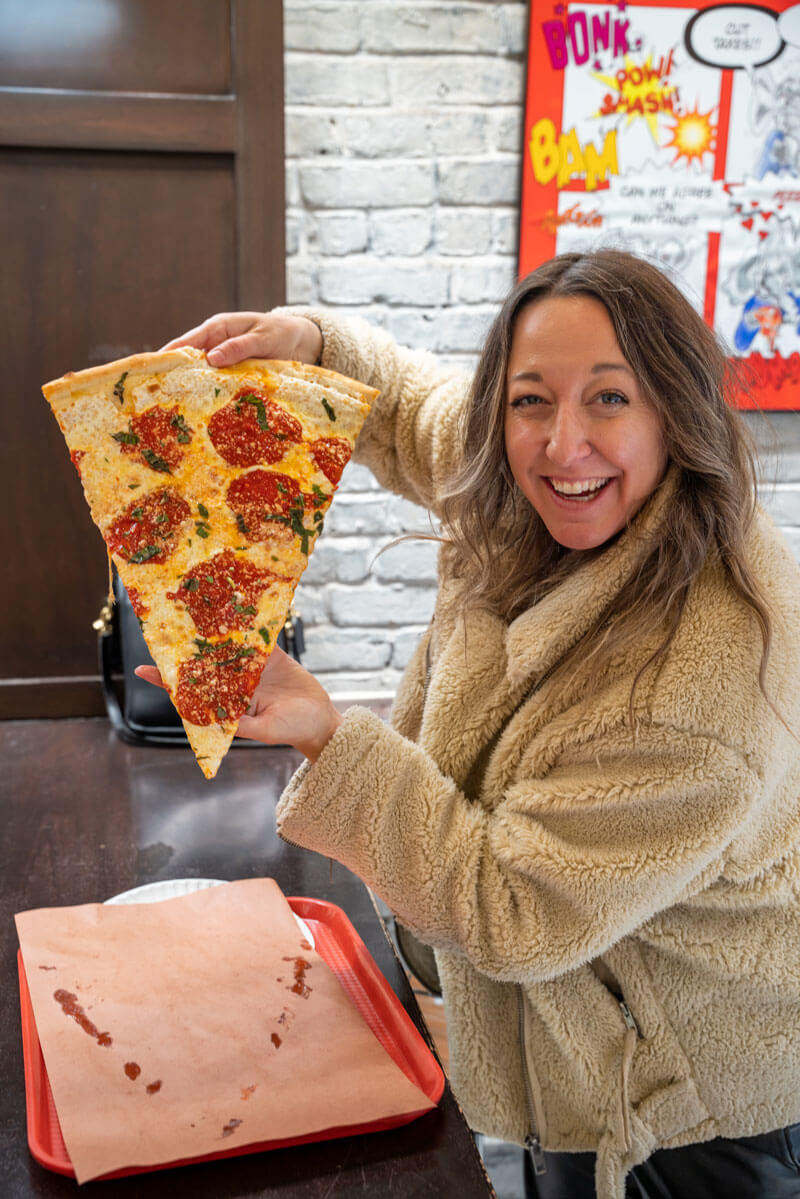 Address: 2848 Broadway, 4087 Broadway, & 1110 Lexington Ave (Manhattan)
Let's say you seek not only the best slice in NYC, but also the best slice in NYC for your money. The buck stops at Koronet Pizza, where you can not only find a tasty slice, but a slice that is easily the size of your arm (check out their Instagram for proof!).
And we'd be remiss not to mention that Koronet's slices are not just dollar slice quality – they are priceless, perfectly baked, crispy-melting gems.
With this kind of math, you can buy one slice (try the Spinach Ricotta or the Broccoli!) that is the size of three slices, thus saving you money for…more slices. This is budgeting for the pizza connoisseur, my friends.
Note: Koronet offers vegetarian options.
L&B Spumoni Gardens
Address: 2725 86th St, Brooklyn
For the best pizza slice in NYC, look no further than L&B Spumoni Gardens. A Gravesend institution, visitors travel from all over the world for unparalleled slices of Scilian pizza that have been perfected since they opened in the 1930s.
Take a trip to L&B to order some square slices and some "round slices" (otherwise known as a classic pizza slice), an Arugula Salad, and take heart knowing that you made the pilgrimage to the best pizza slice NYC offers.
An insider's tip: L&B Spumoni Gardens is walk-in only, so make sure you leave time to wait or plan to eat on the early or late side, this is one of the most famous spots for pizza in Brooklyn too!
Note: L&B Spumoni Gardens offers vegetarian options.
NY Pizza Suprema
Address: 413 8th Ave., Manhattan
The Penn Station/Madison Square Garden area is both incredibly convenient (easy transit to and from Long Island and New Jersey! Concerts and sports!) and incredibly overwhelming (did I just walk in circles by the Amtrak track for 6 hours in search of Krispy Kreme?).
Avoid getting permanently lost in the tunnel between the LIRR platforms with nothing to sustain you and head upstairs to the 8th Avenue and 31st Street exit to NY Pizza Suprema, where you'll find the best slice in NYC.
Family run since 1964, NY Pizza Suprema began by solely offering plain cheese slices, but has since expanded to include specialty toppings, pies, and a wide selection of vegetarian and vegan flavors, including the Vegan Alfredo (macadamia alfredo truffle sauce, vegan mozzarella cheese, spinach, and sauteed sliced onions).
So brave the maze of Penn Station and pick up a best NYC pizza slice of the classic and vegan variety!
Note: NY Pizza Suprema offers extensive vegan and vegetarian options.
Underground Pizza
Address: 3 Hanover Square, Manhattan
Whether you work on Wall Street or just want to visit the Charging Bull statue, Underground Pizza is a worthwhile neighborhood haunt for some of the best pizza slices in NYC.
Invest your hard-earned cash in unique specialty slices like the Bacon Jalapeno, Anchovy, or Bruschetta while you roam the Financial District, or grab some 'za before hopping on the Governor's Island Ferry to one of NYC's best public outdoor spaces!
Note: Underground Pizza offers vegetarian options.
Best Pizza
Address: 33 Havemeyer St, Brooklyn
Any list of "bests" would be remiss not to include Best Pizza. Located in Williamsburg since 2010, Best Pizza is run by Bensonhurst, Brooklyn native Frank Pinello, who learned the secrets of pizza making from his Sicilian grandmother's kitchen.
Frequently making ranked lists for best pizza slice in New York from Time Out NY, Bon Appetit, The Infatuation, Grub Street, and CNN Travel, Best Pizza offers perfectly cooked classic slices with funky sides like spicy mixed pickles. Take the L train to Bedford Ave. and explore a neighborhood favorite!
Note: Best Pizza offers vegetarian and gluten-free options.
Unregular Pizza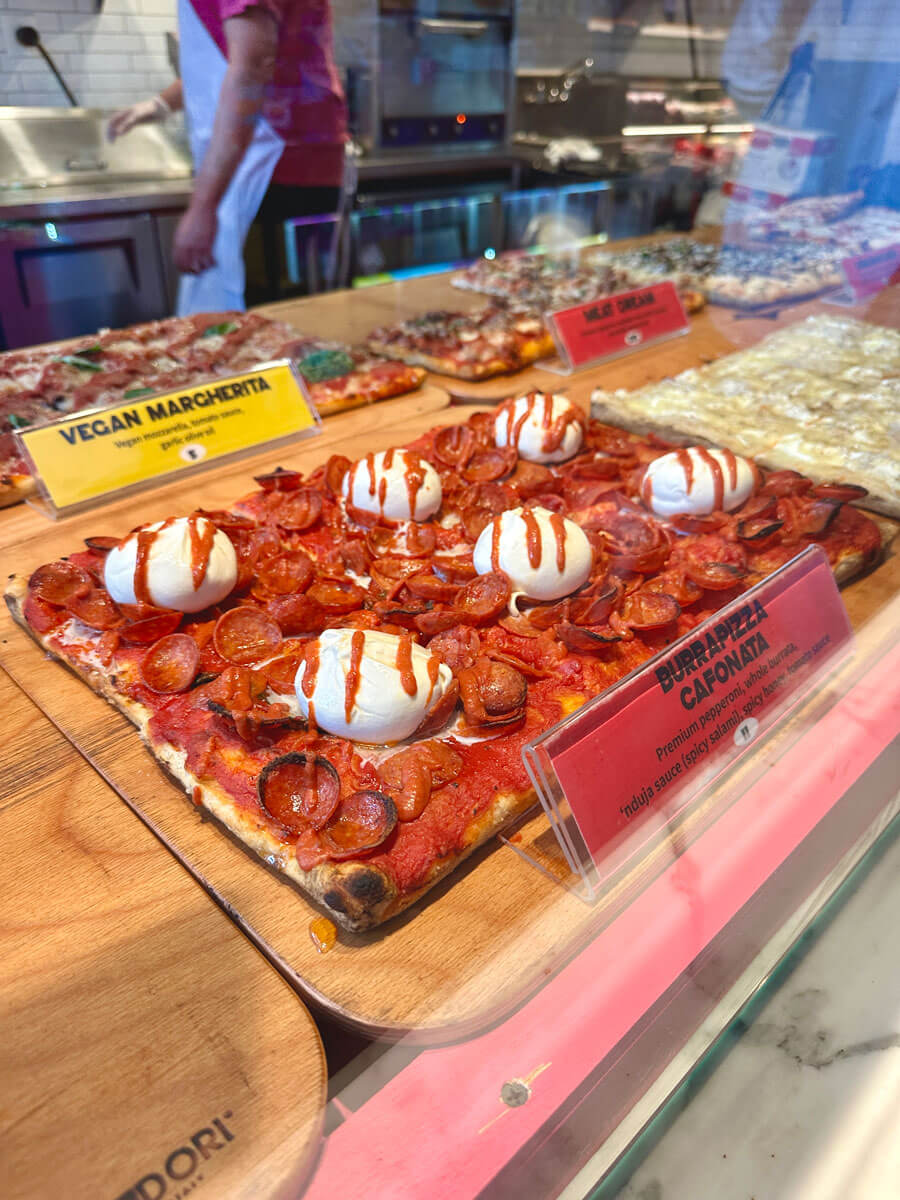 Address: 135 4th Avenue & 88 Essex Street (Essex Market) Manhattan
Unregular Pizza prides itself on truly unique slices, the crown jewel of which are is square Burrata series: the Burrapizza Pugliese (Broccoli rabe sauce, cherry tomato confit, whole burrata, sundried tomato sauce, orecchiette crunch), the Burrapizza Amatriciana (Spicy tomato sauce, guanciale, whole burrata, cacio and pepe sauce, bucatini crunch), and the Burrapizza Cafonata (Tomato sauce, all-natural pepperoni, house hot honey, whole burrata, 'nduja sauce).
Yes, these slices are listed at $11-12, which is a bit steeper than the average NYC price, but the inclusion of an entire burrata on each slice makes eating one unregular slice as satisfying as 2 or 3 regular slices.
In addition to the Burrata slices, Unregular serves up classic "round" slices in delicious combinations like Bufala Chicken and Eggplant Parmesan (Parmesan Plus).
For a great afternoon, head to The Strand Bookstore (828 Broadway, New York, NY 10003) to browse your favorite new fiction before heading to Unregular for the best pizza slice NYC has to offer. Or if you're at the Essex Market location be sure to take a stroll around some of the best things to do on the Lower East Side.
Note: Unregular Pizza offers vegan and vegetarian options.
Filaga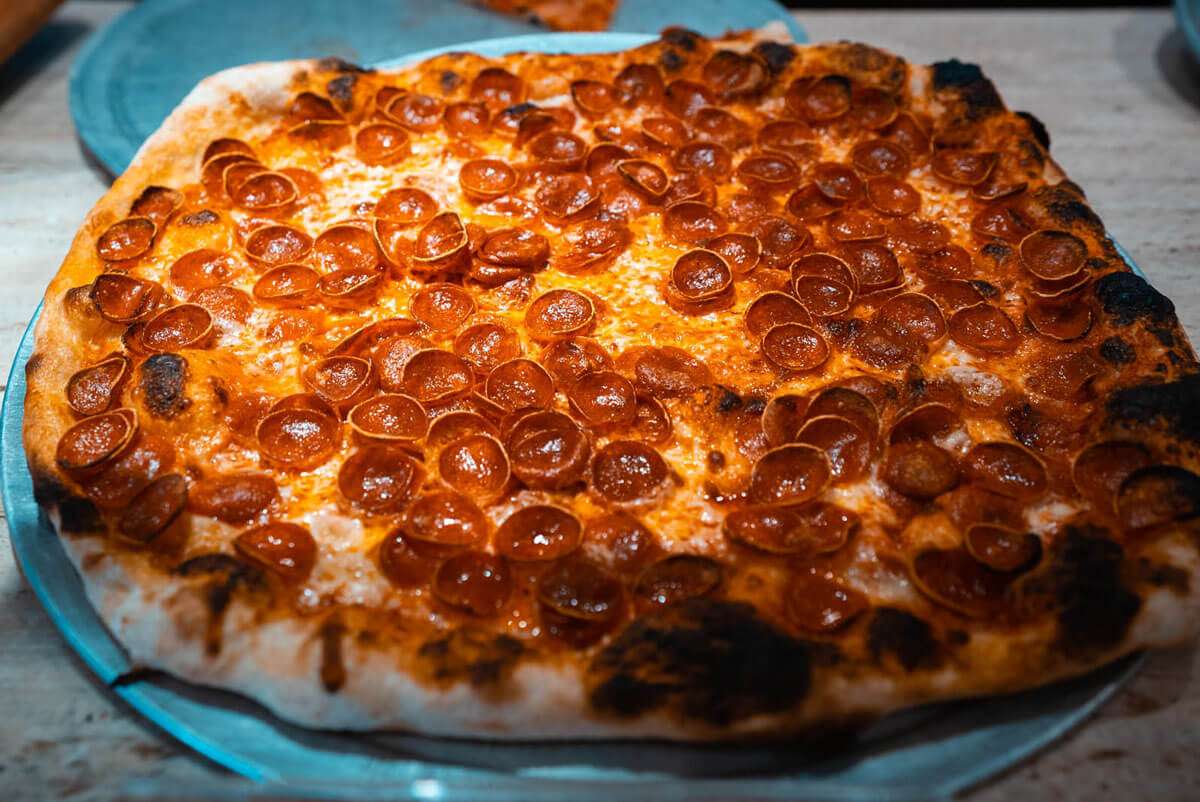 Address: 75 9th Ave, Manhattan (Chelsea Market)
Yes, you are in New York City. But do you ever just…want to go to a mall? Maybe it's my suburban mall-rat past, but sometimes I just crave an indoor shopping center to mosey through, unhurried, as I frequently stop for snacks.
Luckily, Chelsea Market exists. Now hear me out – yes, Chelsea Market does have some national brand stores like your local mall, but it is also home to a wide variety of independent artisan shops, and even more importantly – hidden culinary gems!
This is where Filaga comes in – owned by a Sicilian gentleman named Vincenzo known only by his first name, Filaga honors traditional pizza making techniques and high quality, carefully sourced ingredients that make up the best pizza slice in New York. I recommend the San Gennaro (Italian Sausage, Bell Peppers, Mozzarella).
So skip the Times Square souvenir shops, and head down to Chelsea Market for unique shopping and truly singular pizza slices.
Note: Filaga Pizza offers vegan and vegetarian options
For more pizza, check out our guide to the best pizza in Manhattan!
Joe and Sal's Pizzeria
Address: 842 Franklin Ave. & 353 Myrtle Ave, Brooklyn
Joe and Sal's Pizzeria opened their first Crown Heights, Brooklyn location in 2016, but you could easily believe that they've been here forever. With intense customer loyalty to their flavorful slices, Joe and Sal's has quickly developed a cult following amongst discerning New Yorkers as a go-to spot for the best pizza slice in New York.
I dream about the Pesto Burrata and Nonna flavors, but you truly can't go wrong with a slice from Joe and Sal's (or their Buffalo garlic knots!!).
Pick one up before heading to the Brooklyn Botanic Garden (990 Washington Ave, Brooklyn, NY 11225) or Prospect Park for a beautiful Brooklyn summer evening.
Note: Joe and Sal's offers vegan and vegetarian options
Sliced By Harlem Pizza Co.
Address: 1215 Amsterdam Ave, Manhattan
Located between Morningside Heights and Harlem, Sliced by Harlem Pizza Co. is a tasty neighborhood slice joint offering extensive vegetarian flavor combinations, as well as cauliflower gluten-free crusts!
A popular choice among healthcare workers from nearby hospitals and Columbia students, snag a classic cheese slice on cauliflower crust with an old-fashioned soda and wander the beautiful campus architecture and nearby Morningside Park.
Note: Sliced by Harlem Pizza Co. offers vegetarian and gluten-free options.
Table 87
Address: 473 3rd Avenue, 87 Atlantic Avenue, & 238 36th Street (Industry City Food Court) all in Brooklyn
One place to find the best pizza slice in New York that's also one of the best places for pizza in NYC is from the coal oven kitchens at Table 87. With three locations in Brooklyn including Gowanus, Brooklyn Heights, and Industry City you can get a slice or an entire pizza of their mouthwatering coal oven Italian eatery!
Going back home and out of NYC? Table 87 made a famous appearance on Shark Tank where they successfully funded the expansion of their business by selling the first coal oven frozen pizza! You can get these bad boys delivered at home bringing the best slice in NYC to your home wherever you live.
Artichoke Basille's Pizza
Address: Address: 321 E 14th Street (original), 111 MacDougal Street, 114 10th Avenue, 1410 Broadway (Manhattan) & 59 5th Avenue, 9102 4th Avenue, 18 Wyckoff Avenue (Brooklyn)
Let's get this out of the way – you should absolutely wait in line at Artichoke (and day or night, there will be a line!) for their signature Artichoke slice.
But by no means should you ignore the rest of the repertoire – from the vodka slice to the Staten Island (meatballs, ricotta, onion, and ricotta cheese) to the Crab (Crab Sauce, Fresh Mozzarella With a Surimi Stuffing), Artichoke is known far and wide for the best pizza slice in NYC.
Back in my youth, I prided myself on convincing guys I met at bars in the East Village to buy me slices from Artichoke, but it's more likely that they loved Artichoke than that they loved me. Hindsight is 20/20, friends!!!
PS: They sell their best slices in NYC on GoldBelly so you can send some pizza home or to someone you love! Complete your card or gift message with one of the best pizza quotes too!
Joe's Pizza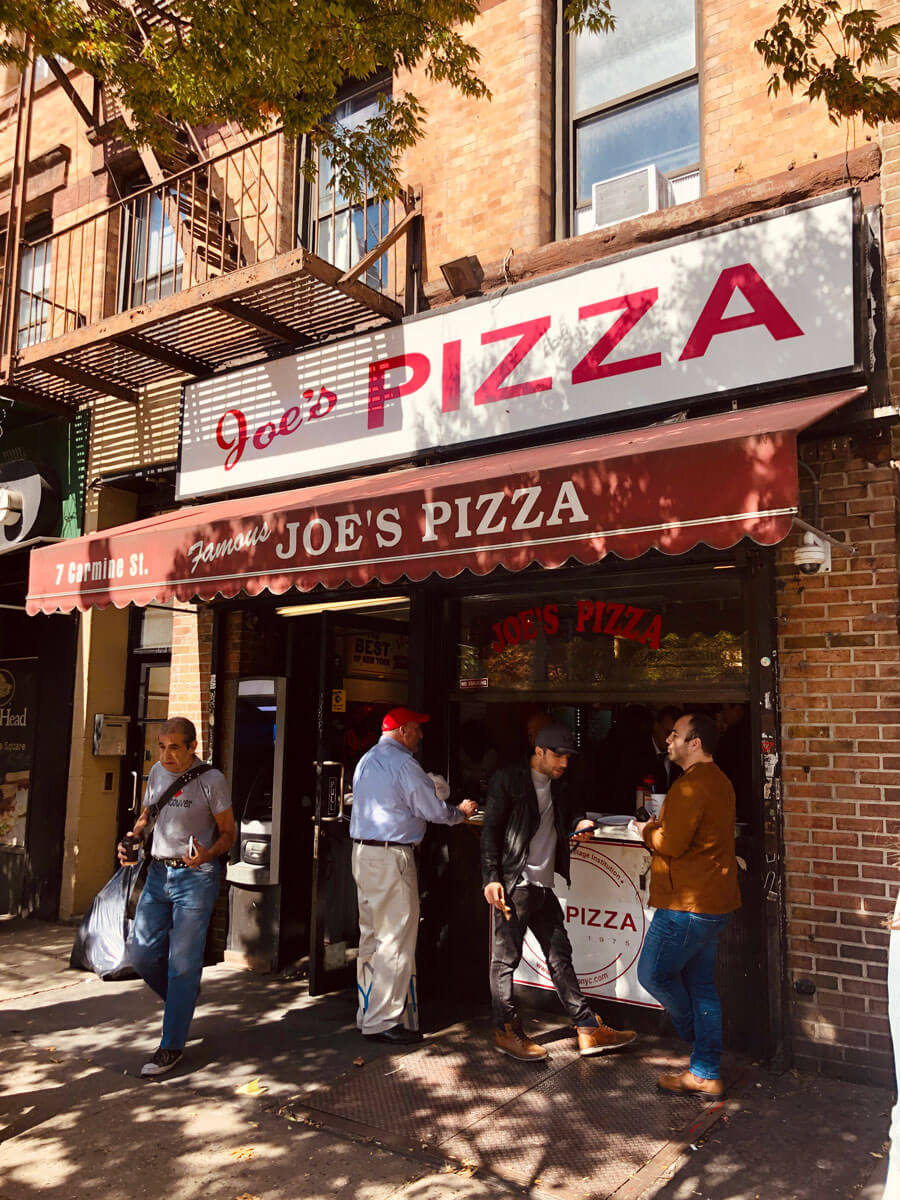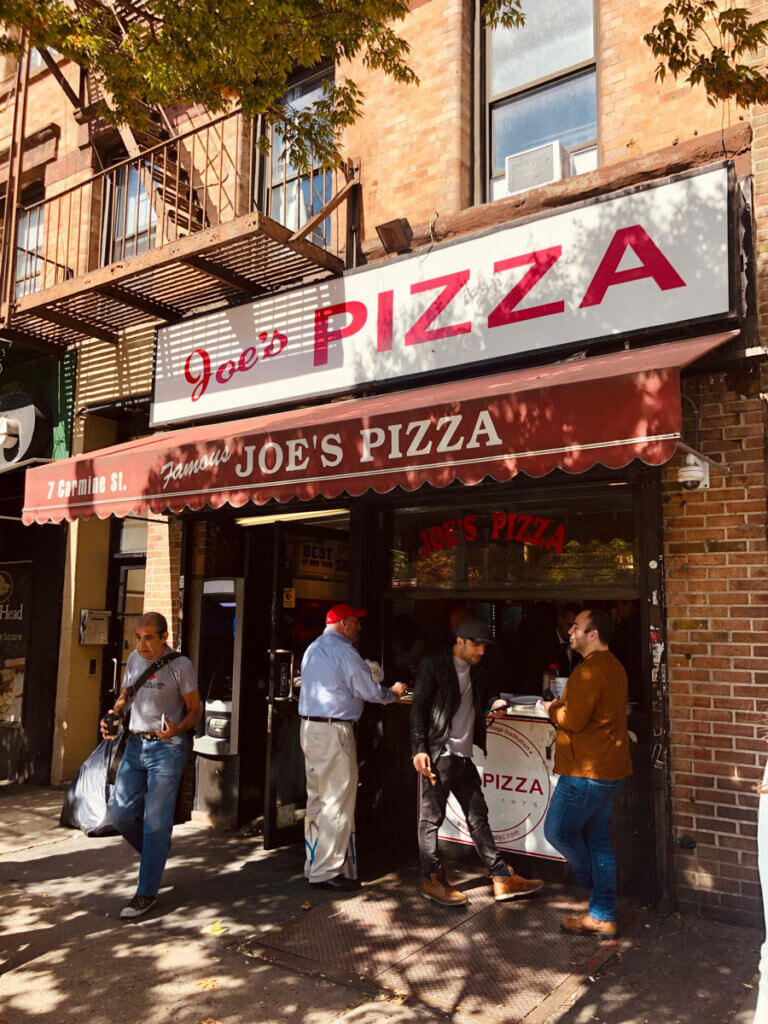 Address: (original) 7 Carmine Street , 150 E 14th Street, 1435 Broadway, 124 Fulton Street (Manhattan) & 216 Bedford Avenue (Brooklyn)
Since 1975 Joe's has operated with a simple ethos: well-made pizza stands the test of time and trends. Crowned the "Best Pizza in New York" by New York Magazine and one of the 25 "Best Pizzas on Earth" by GQ Magazine, Joe's has attracted customers for over forty-five years who seek the best pizza slice NYC has to offer.
Well aware that they have the best pizza slice in New York (and maybe, the world!), Joe's offerings are simple – plain cheese, fresh mozzarella, and Sicilian square slices are available plain or with toppings.
Grab a slice and soda, and take in what many consider to be the ultimate pizza – straightforward, balanced, savory, that will continue to delight New Yorkers for years to come.
Note: Joe's offers vegetarian options for their best NYC slice!
Full Moon Pizza
Address: 600 East 187th Street, Bronx
If you're looking for the best pizza slice in New York, The Bronx's Arthur Avenue is an absolute must-go. Full Moon Pizza is famous city-wide for supremely savory pizza in specialty flavors (The Buffalo, Capricciosa, Chicken Parmigiana, Eggplant Parmigiana, White, GrandMa, Veggie, Grilled Veggie, and Margherita are all available as slices!). 
To round out your day, head to the New York Botanical Garden (2900 Southern Blvd, Bronx, NY 10458) for limited edition sculpture exhibits and lush year-round gardens before wandering over to Arthur Avenue for the best pizza slices NYC has to offer.
Note: Full Moon Pizza offers vegetarian options.
Emilio's of Morris Park
Address: 1051 Morris Park Ave., Bronx
Emilio's is a Bronx neighborhood favorite, located in Morris Park in a bright, tomato mural-covered storefront. Emilio's offers traditional toppings but also prides itself on unique and experimental flavors like the Cheeseburger pizza (Prime Choice ground beef, special sauce, pickles, onions, and melted American cheese, reminiscent of Bronx delicacy the Chopped Cheese sandwich). Try a Cheeseburger and a Mac and Cheese slice for a comfort food feast!
Although some New Yorkers feel pretty passionate about experimental toppings like this, you be the judge, we aren't judging you for getting crazy toppings!
While you're in the area, make a stop at NYC institution The Bronx Zoo (2300 Southern Blvd, Bronx, NY 10460) and then head over to Emilio's for a truly delightful day enjoying the best NYC pizza slice with local flare.
Note: Emilio's offers vegetarian and gluten-free options.
Napoli Pizza & Pasta
Address: 33-02 35th Ave, Queens
Astoria, Queens is home to some of NYC's finest cuisine, and Napoli Pizza and Pasta is no exception. Napoli has been serving up Neapolitan oven-baked pies and slices since 2010, specializing in flavors like the Primavera Pizza (Mozzarella cheese, broccoli, tomato, peppers, olives, and tomato sauce) and the Napoli Specialty Pizza (Meatballs, Italian sausage, pepperoni, onions, peppers, and broccoli).
While you're at Napoli, be sure to try their high-quality seafood offerings such as their popular Shrimp Parmigiana or Fried Calamari to accompany the best pizza slice in NYC.
Spend an afternoon in Astoria delving into the history of film and TV at the nearby Museum of the Moving Image (36-01 35th Ave, Queens, NY 11106) before heading to Napoli for a first-rate slice.
Note: Napoli offers vegetarian options. 
Dino's Pizzeria
Address: 30-01 Broadway, Queens
Dino's is well-known as Astoria's first Italian pizza restaurant – opened in 1958 as Angelo's, Dino's is still family-owned and home to the best slice in NYC.
They are famous for their family-friendly vibe (the restaurant is owned and operated by the grandchildren of founders Antonio and Maddalena Carusone) and their time-tested recipes have been passed down through generations.
Be sure to try their Sicilian slice with mushrooms, onions, and peppers or a regular slice with extra cheese for a no-fail, classic meal.
Dino's dishes are prepared fresh daily and they never use frozen food or microwaves. To complete your day out, head to Dino's after you visit the illustrious Astoria Bookshop (31-29 31st St, Astoria, NY 11106). Read your new books with a slice in hand!
Note: Dino's offers vegetarian options.
Centre Pizza
Address: 254-25 Horace Harding Expy, Queens
Centre Pizza sneaks into NYC city limits in Queens by a mere strip mall parking lot and a nearby highway. It isn't the most scenic of locations, but this low-key setting is the site of the very best NYC pizza slice.
Ravioli and Chicken Marsala specialty slices are just some of the top-notch offerings from Centre Pizza, but you also can't go wrong with their plain cheese, which loyal Centre Pizza customers have been flocking to for generations. 
Start your own family tradition of visiting this time-tested and dependable spot for no-frills, truly excellent slices!
Note: Centre Pizza offers vegetarian and gluten-free options.
F&F Pizzeria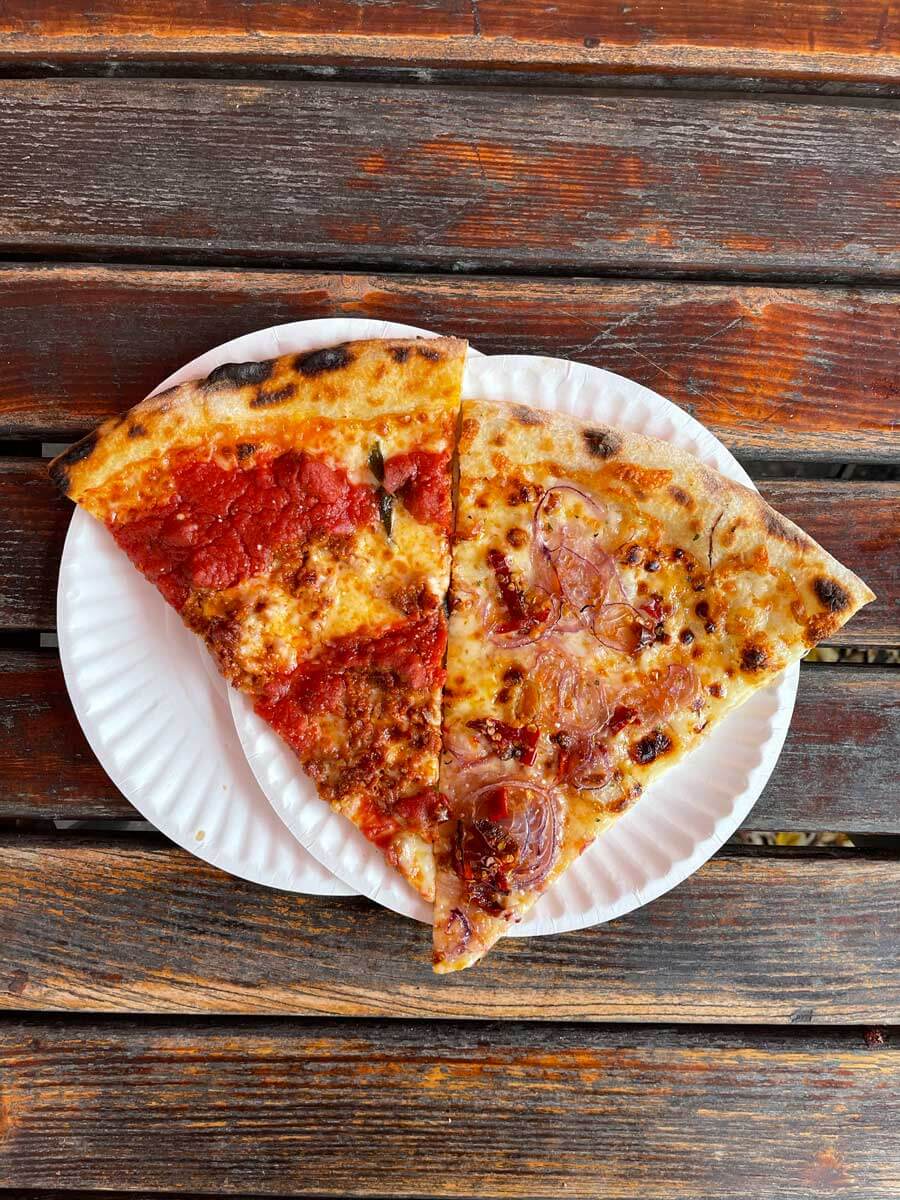 Address: 459 Court St., Brooklyn
Hands down one of the best pizza slices in NYC is one of the best hidden gems in Brooklyn located in the gorgeous neighborhood of Carroll Gardens on Court Street.
F&F Pizzeria sells delicious slices in their display window using herbs and seasonings you don't always find on slices around NYC like sage, oyster mushrooms, orange blossom honey, hot sausage, and ricotta among many other delectable combinations available by the slice.
F&F Pizzeria is run by the same owners as the wildly popular Italian eateries Frankies 457 Spuntino and Frank's Wine Bar, so you know it's good when it's associated with one of the best restaurants in Carroll Gardens!
Paulie Gee's Slice Shop
110 Franklin St, Brooklyn
Beyond being one of the best places for pizza in the city, Paulie Gee's in Greenpoint also has a slice shop just a few minutes away serving up some of the best slices of pizza in New York City!
If you're familiar with Paulie Gee's, one of the best restaurants in Greenpoint that's also serving up some of the most famous pizza in the city, they've got Neopolitan pizza on lockdown also with a few great square options.
This casual, grab-and-go place also has an old-school pizza restaurant vibe. Feel free to take away or sit down at one of their booths or pair with a local brew on draft at their bar.
Try a classic Neapolitan slice – if you are a fan of Mike's Hot Honey opt for the Hellboy with fresh mozzarella, Italian tomatoes, Berkshire sopressata piccante, Parmigiano-Reggiano, and Mike's Hot Honey. They have one without honey but do yourself a favor and try with the hot honey!!
They also have the Freddy Prince, their mouthwatering Sicilian slice that is filling on its own. Believe it or not, it's not named after Freddie Prinze Jr., but it is the slice in NYC that's got everyone talking. Try it with the pepperoni if you want those extra flavors.
L'Industrie Pizza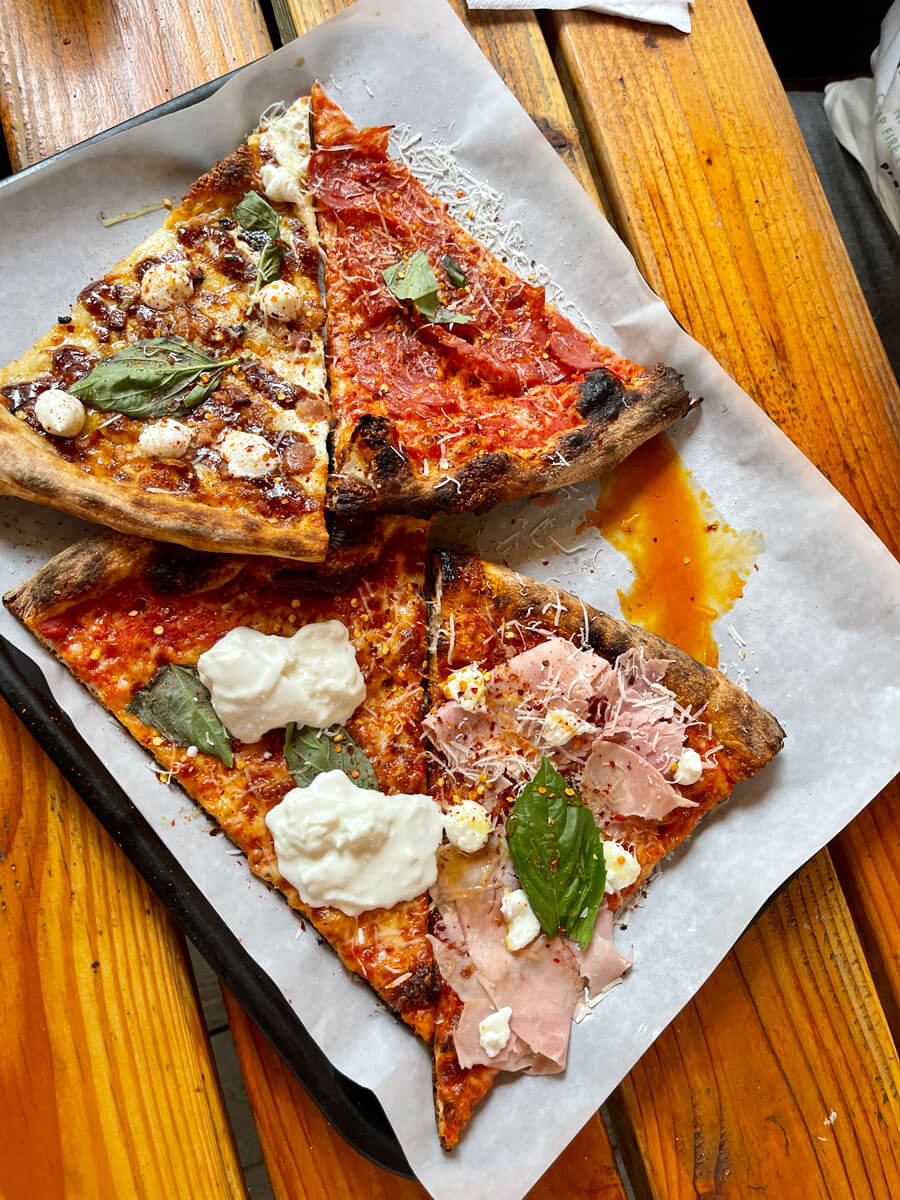 254 S 2nd St, Brooklyn
Hands down, one of the best places for a slice of pizza in NYC is L'Industrie in Williamsburg, Brooklyn. While you can get whole pies here too, it's the slices that steal the show. Ranging anywhere from $3.5-$6 a slice (with premium slice options topped with burrata), this is one of the best quality cheap eats in the city.
Be sure to try the burrata for one of the most perfect slices of pizza you'll ever try. This is one of their most popular slices and it is a classic featuring just a few ingredients done right, tomato sauce, mozzarella, and burrata.
For meat eaters, you'll want to try the pepperoni or spicy salami. Or spring for the New Yorker which has pepperoni, salami, mozzarella, ricotta, and tomato sauce.
For something a little different opt for the fig and bacon slice which perfectly combines salty and sweet flavors. You really can't go wrong here. 
Di Fara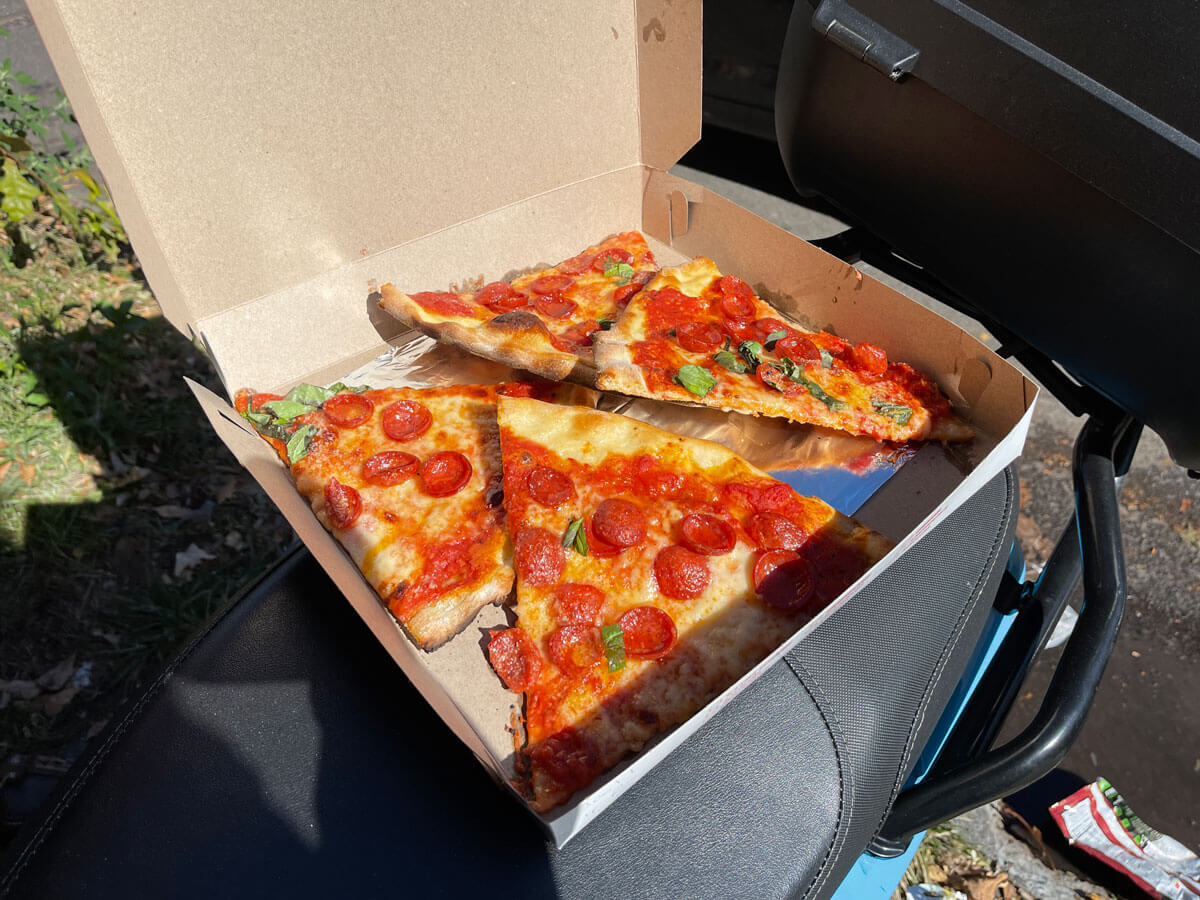 Address: 1424 Avenue J, Brooklyn & 108 South Street, Manhattan
If you look to Barstool to help you choose the best pizza slice in NYC, look no further. Di Fara was given one of the top scores ever by the Presidente himself, a 9.4/10.
Also considered one of the spots for the best pizza in Brooklyn, Di Fara opened up in 1965 in the neighborhood of Midwood. It also has a reputation for being a higher price per slice and often a long wait. If I am being honest though, the slice prices here are on par with some Williamsburg slice shops (like Fini Pizza).  
They also now have a second location in South Street Seaport for those who don't want to travel all the way to Midwood.
Here you can get both by the slice and entire pies at Di Fara, featuring quality ingredients. They offer regular pies, square pies, white pies, and then some specialty pies. The slices are a bit smaller, so depending on your hunger status you may want to order more.
So if you're looking for a true New York slice and don't mind spending the time or money, get to Di Fara! It's legendary and always highly recommended on foodie guides!
Brooklyn DOP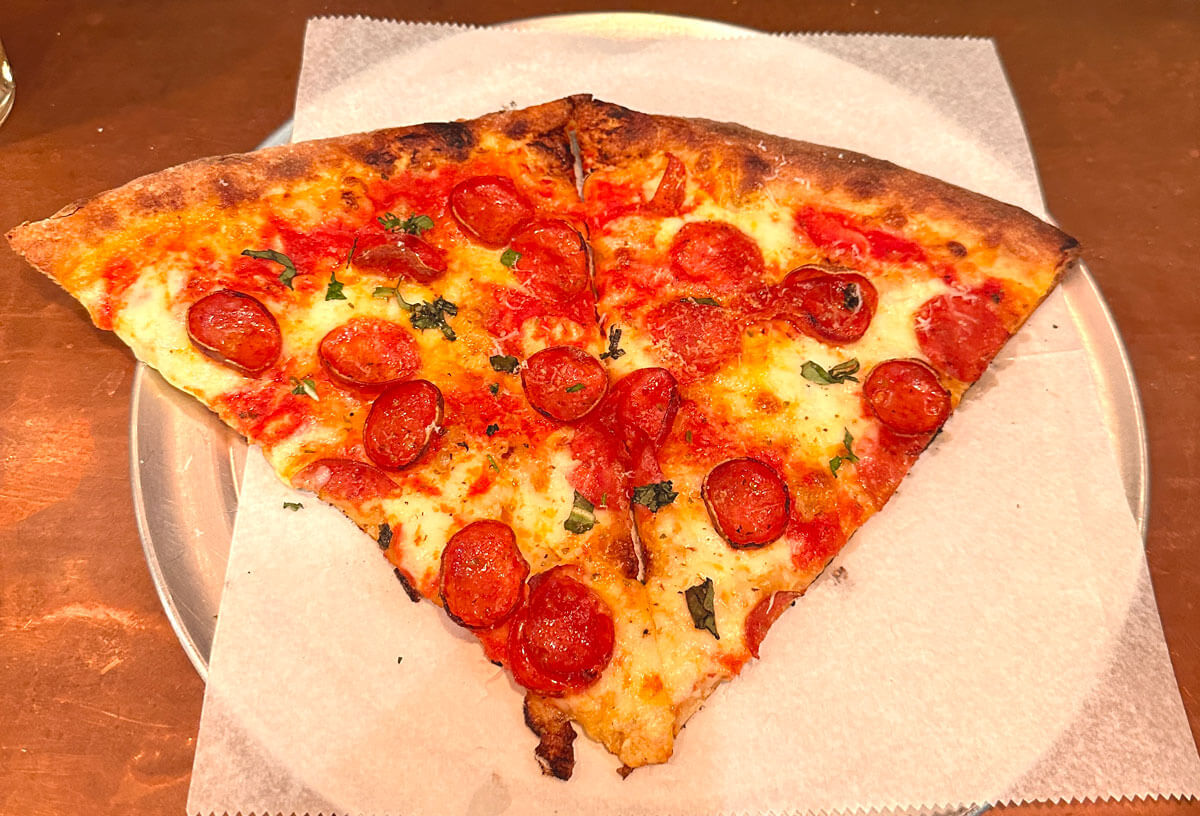 Address: 237 5th Avenue, Brooklyn
Another awesome slice shop in Brooklyn in the pretty neighborhood of Park Slope and definitely deserving as one of the best shops for an NYC pizza slice is Brooklyn DOP.
DOP stands for "Denominazione di Origine Protetta," an Italian certification that guarantees a food product's authenticity and origin. In terms of pizza, DOP signifies that specific ingredients, like tomatoes or cheese, adhere to traditional methods and come from a designated region, maintaining the pizza's quality and heritage.
That means, this pizza shop imports all of its ingredients from Italy and you can taste the quality. The pizza here is best fresh from the oven, you can buy a whole pie or try it by the slice.
---
Did we miss your favorite pick for best pizza slice in NYC? Let us know your best pizza slice in NYC and we will go check it out! After all, there is no shortage of pizza in the city!
Also, eating pizza slices is one of the most affordable ways to dine in the city! If you're looking for more money saving tips be sure to check out our guide to New York City on a budget!
Best NYC Pizza Slice (Post Summary):
Luigi's Pizza
Corner Slice
Bleecker Street Pizza
Scarr's Pizza
Fresco's Pizzeria
Two Boots
Mama's Pizzeria & Mama's Too
Cheesy Pizza
Koronet Pizza
L&B Spumoni Gardens
NY Pizza Suprema
Underground Pizza
Best Pizza
Unregular Pizza
Filaga
Joe & Sal's Pizzeria
Sliced By Harlem Pizza Co.
Table 87
Artichoke Basille's Pizza
Joe's Pizza
Full Moon Pizza
Emilio's of Morris Park
Napoli Pizza and Pasta
Dino's Pizzeria
Centre Pizza
F&F Pizzeria
Paulie Gee's Slice Shop
L'Industrie Pizza
Di Fara
Brooklyn DOP
---
Best Pizza Slice in New York Map:
---
About the Guest Author
Sarah Beling is a playwright, New Yorker, and passionate food enthusiast who is always looking for her next meal. You can find her in an NYC park, enjoying a chopped cheese sandwich and reading about NYC's best new places to eat.