Looking for where to find the best sandwiches in Brooklyn? Look no further, this guide to the best sandwich shops in Brooklyn has got you covered! This city is known for good sandwiches from classic delicatessens to specialty shops, we have curated a list of some of the best foodie finds in Brooklyn!
Don't miss our suggestions for what to try at each Brooklyn sandwich shop too, but all of these places have menus full of delicious items!
Amazing Brooklyn Sandwich Shops & What to Try
Mekelburg's
Clinton Hill & Williamsburg
Restaurant critic Pete Wells once described Mekelburg's porchetta sandwich one of the top ten meals he'd had in NYC that year—which is high praise coming from a man whose job is to eat the finest luxuries New York has to offer.
The delicate crunch of the crisped porchetta paired with the sharp flavor profiles of broccoli rabe and parmesan cheese unify to create a unique experience other sandwich shops can't quite match.
Other respected food publishers like bon appetit have highlighted this restaurant's sandwiches as can't-miss eats in the area. This is a sandwich shop in Brooklyn you shouldn't miss out on! If pork isn't your ideal sandwich protein, their meatball sandwich reminiscent of fresh lasagna is a second popular choice.
Also, this sandwich shop in Brooklyn also has a small grocery store where you can find artisanal products to bring back to your kitchen or pack an impromptu picnic, the Williamsburg location is directly across from Domino Park, one of the best picnic spots in Brooklyn with city views!
Ends Meat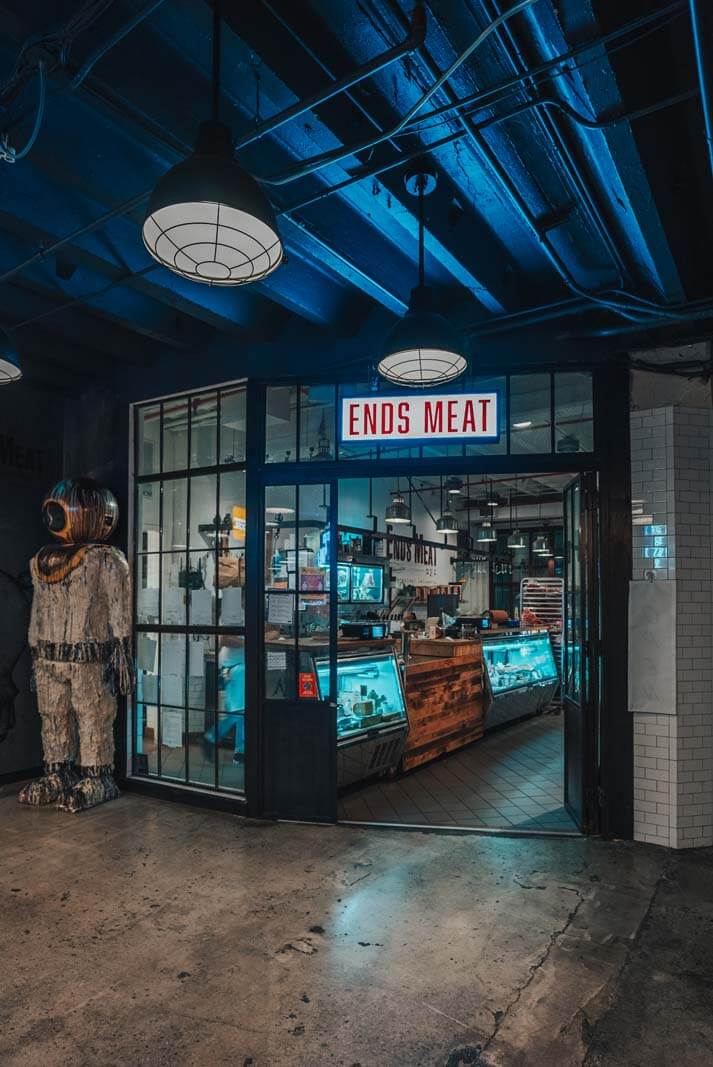 Sunset Park
Friday night charcuterie nights just got doubly delicious. This classic salumeria and Brooklyn sandwich shop offers fresh local meat packages you can feel good about, sourced from agriculturists who care.
If you're not quite ready to splurge on designing the most delectable meat & cheese board you've ever made, this butcher is an excellent lunch option for exploring their many fine meats in the form of sandwiches.
Sandwich fillings at this Brooklyn sandwich shop are simple and classic, allowing meat to shine as the sandwich's star ingredients.
Try the Bacon & Pate Sandwich. Stuffed with kimchi, cilantro, pork, and Italian Mortadella, it's a customer favorite for good reason.
Roll N Roaster
View this post on Instagram
Sheepshead Bay
Roll N Roaster is nothing short of a Brooklyn landmark. Boasting media mentions galore, this restaurant specializes in the art of crafting the perfect roast beef sandwich.
Most fortunate enough to try it would agree this Brooklyn sandwich shop has succeeded. Imagine slow-roasted beef prepared to your precise and preferred level of doneness, then slathered in pan gravy and tucked into a soft bun. Now imagine it with fresh cheddar and you've got Roll N Roaster's beloved roast beef sandwich.
Court Street Grocers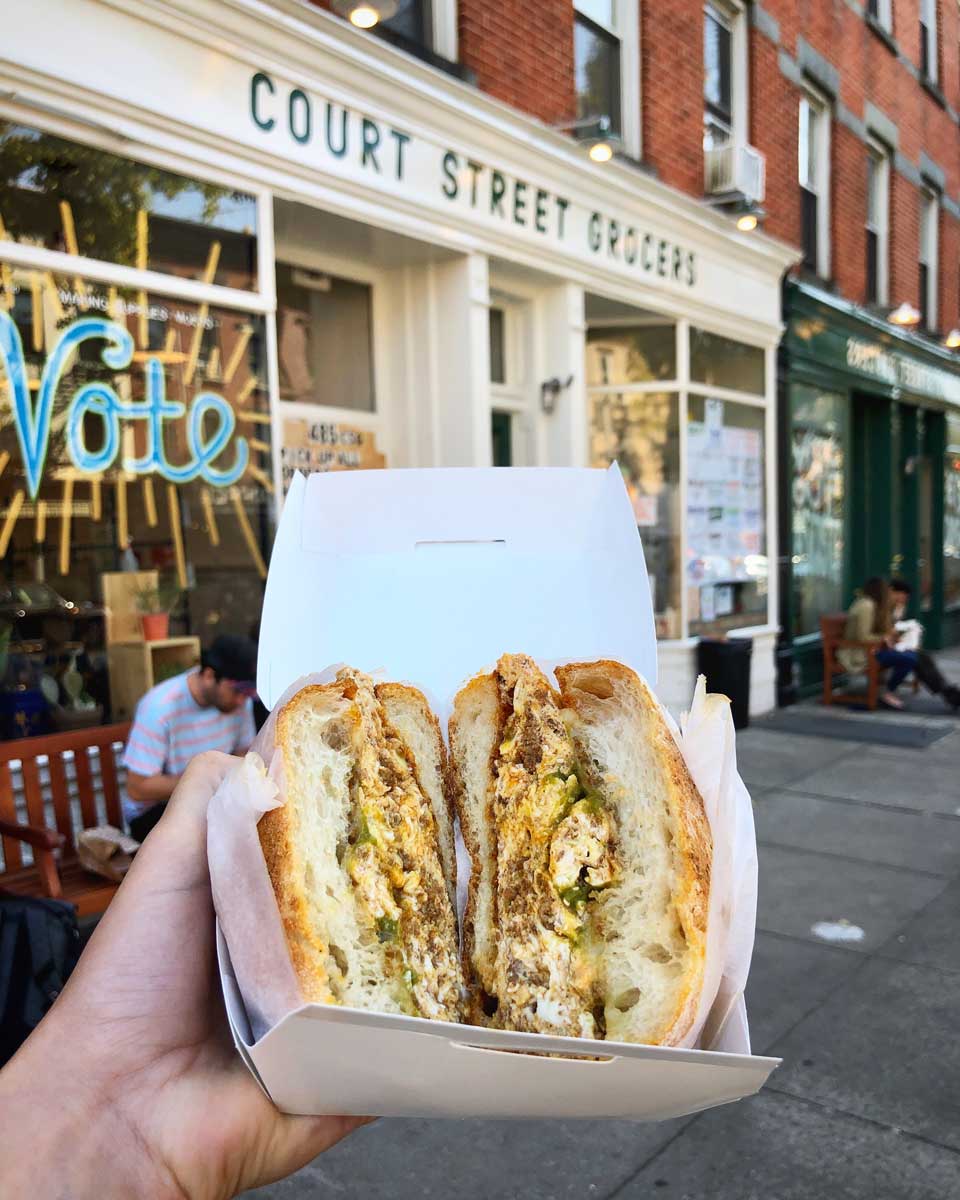 Carroll Gardens, Williamsburg, Red Hook, & Midtown
With four bustling locations throughout NYC, this popular sandwich shop in Brooklyn and joint is a local favorite. Sandwich lovers form long lines to get their hands on both traditional and unique sandwich combinations night and day. We can say without a doubt that Court Street Grocers sells some of the best sandwiches in Brooklyn.
If you're stopping by for breakfast or brunch in Carroll Gardens, order the B+C (eggs, chorizo, salsa verde, cheddar, and arugula) or the feisty-flavored V-Roopy (roasted rutabaga, arugula, and horseradish mayonnaise). Sandwiches full of confit pork shoulder, anchovies, and roasted cauliflower accented with coleslaw mean sandwich experiences you won't find at any old sandwich shop.
Court Street Grocers also packages their impressive sauces and condiments for purchase. After noting how well they complement just about any sandwich they're smothered on, you'll be keen to take a tube or two home from this sandwich shop in Brooklyn for experimenting.
Winner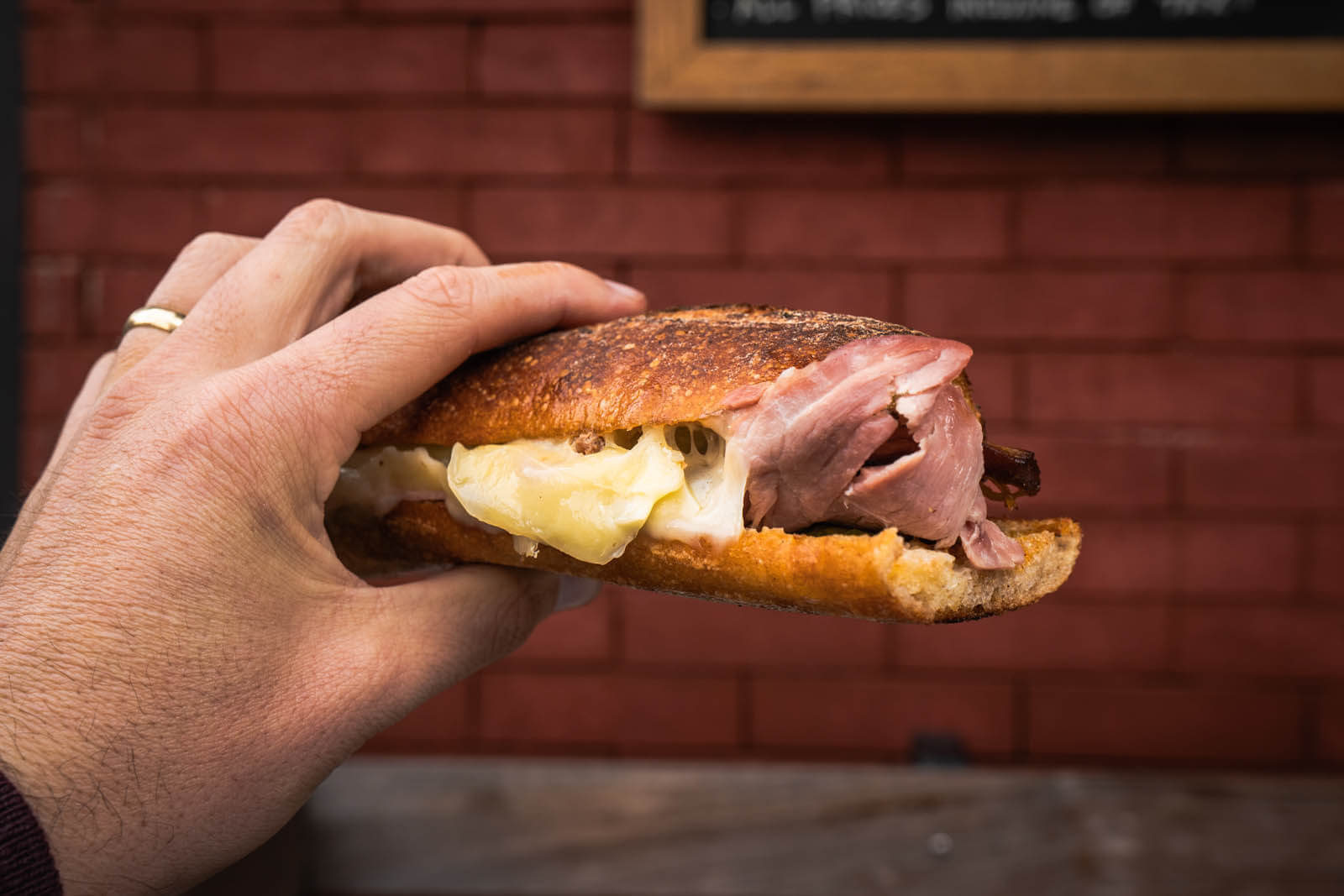 Park Slope
This humble but ambient Park Slope bakery and sandwich shop developed a reputation as having some of the best sandwiches in Brooklyn within months of opening.
Its most popular freshly baked bread offerings typically sell out in an hour, so you'll want to stop by early. Winner maintains a schedule letting customers know exactly when their favorite breads will be ready for purchase so you can secure a place in line. Do your tastebuds a favor and grab a loaf of the black sesame sourdough.
Of course, perfect bread often means perfect sandwiches, and Winner offers a wide variety of classics to satisfy the hungriest omnivores and vegetarians. Their Veggie Italian carries soft, fresh mozzarella with the perfect intensity of salted cream, and the Cubano, full of braised pork and swiss, is one of the best you'll ever have.
Now Winner has a Michelin Bib Gourmand status and is one of our favorite Park Slope restaurants.
Defonte's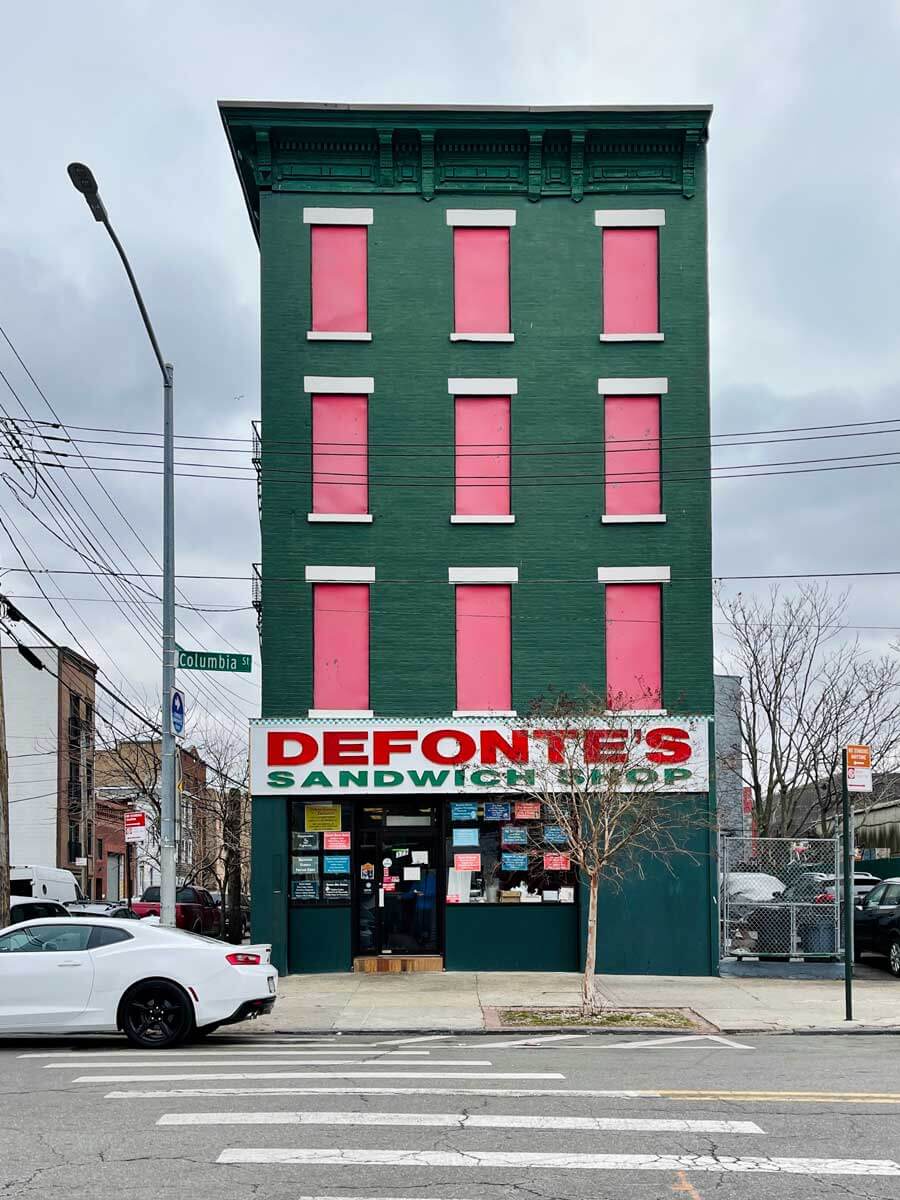 Red Hook
Three generations of Italians later, this NYC sandwich shop remains legendary in the NYC eats community even after 100 years of business. While their pasta dishes and classic salads are also notably tasty, it's Defonte's old school Italian deli combinations that earned the community's admiration.
Customers report that the deli's Golden Boy (chicken, fresh mozzarella, and flavorful prosciutto smothered in vodka sauce) is so scrumptious it's hard to accept you're not dreaming—definitely one of the best sandwiches in Brooklyn.
Portions are huge. Sandwiches are excellent. Customer service is impeccable. Stopping by Defonte's is a no-brainer. But be sure to preface your visit with a trip to the ATM. Defonte's is a cash only business!
Ba Xuyên
Sunset Park
You won't find better grilled pork banh mi in New York City, and you definitely won't find it at the fabulous price point of $6.00! While you're enjoying these traditionally prepared Vietnamese sandwiches of grilled pork and deli hams with the spicy kick of fresh jalapenos, pair it with an avocado shake.
This simple dessert (sinh tố bơ) blends avocados with ice, rice milk, and sweetened condensed milk for a delightful and refreshing sandwich follow-up. Ba Xuyen offers these rice milk, frozen shakes in a variety of flavors: durian, papaya, jackfruit, lychee, strawberry, and taro.
Bread & Spread
View this post on Instagram
DUMBO
Upgrade your breakfast sandwich at Bread & Spread, a quaint little sandwich shop many locals describe as the best Brooklyn sandwich shop they've ever walked into. Classic egg and cheese sandwiches come on fresh ciabatta buns with a crisp, satisfying crust and layers of tomato, arugula, and other flavorful ingredients.
When the morning hours evolve into lunchtime, Bread & Spread remains an amazing mealtime spot—especially for travelers looking for a bite to eat before venturing out to sightsee near the Brooklyn Bridge.
Their most popular sandwiches are the Porchetta Sandwich, a flavorful blast of porchetta accented by peppercorn jam, and their Beef Short Rib Sandwich, where sweet blueberry jam offsets the sharp tang of arugula.
Brooklyn Hero Shop
Fort Greene
Located on Vanderbilt Ave, near Dekalb is one of the best sandwich shops in Brooklyn if you're looking for an extensive selection of hot heros, paninis, and salads along with their Italian pantry items. Whether you're looking for a breakfast stop, lunch, or dinner – this spot will not disappoint.
The flavors of Brooklyn Hero Shop are thanks to Vito Randazzo of Graziella's Restaurant nearby and a few of his best employees.
If you're new, it's going to be tough to choose what to get. You can't go wrong with the hot and cheesy chicken parmesan hero or the porchetta and rabe hero. They've got great outdoor seating, otherwise, this is one of those easy spots to grab to go.
The Wheelhouse
View this post on Instagram
Bushwick
Live music, tasty sandwiches, and unique cocktails make for a beautiful afternoon over at Bushwick's The Wheelhouse. It's difficult to pinpoint this Sandwich shop in Brooklyn's signature offering, as customer opinion on their most scrumptious sandwich is well-distributed between the Braised Beef Short Rib Sandwich and the Panavia Tornado (grilled pancetta with pesto and cheese drizzled in the balsamic glaze), but this venue is well known for their grilled cheese offerings.
Try their Classic Grilled Cheese for a traditional experience—aged cheddar on pressed sourdough—or summon your inner sandwich artist and order from their 'Build Your Own Grilled Cheese' menu. Customers select their ideal bread, cheeses, veggies, and proteins to create their idea of perfection.
Ferdinando's Focacceria
View this post on Instagram
Carroll Gardens
For over 100 years, this Sicilian shop has served the community with delectable dishes that bring the magic of southern Italian cooking directly to Brooklyn communities at an affordable cost.
Ferninando's hasn't abandoned its original ambiance and old school decor, so once inside, customers feel that they've waltzed into an era past, immediately understanding they're moments away from eating something made with love and intention.
And it's true—Ferdinando's Focacceria's sandwiches do taste like they came directly from the cozy kitchen of a Sicilian grandmother and her timeless family recipe books.
Favorites include some of the best sandwiches in Brooklyn: the Panelle Special (fried chickpea squares topped with ricotta) and the Vastedda (veal with ricotta and locatelli cheese).
Mile End Deli
View this post on Instagram
Boerum Hill
Mile End Deli was founded by culinary entrepreneurs on a mission: honor their dear grandmother's legacy by keeping her recipes alive and thriving. What better way to do that than by opening a restaurant for the entire public to enjoy the masterpieces she crafted in her kitchen?
This Jewish delicatessen is well known for their smoked meats, which customers can order on the go in the form of delicious sandwiches.
Considering this Canadian-style venue's claim to fame, it's unsurprising that the Smoked Meats Sandwich is their most popular menu item. With perfectly seasoned meats offering just the right amount of salted savoriness and soft rye with a crisp crust, it's the star of this Jewish deli.
And if you've yet to experience the miracle that is poutine, Mile End Deli is the place to try it!
Jimmy's Famous Heros
View this post on Instagram
Sheepshead Bay
There's a reason this Brooklyn sandwich shop has been a staple sandwich stop in the Brooklyn foodie scene. Their sandwiches are overflowing with meat—(but of course, not without disregarding the ideal meat to bread ratio, which we all know can make or break a sandwich.)
Favorite menu items include their chicken cutlet sandwich, which sees crispy flayed and fried layers of chicken breast topped with fresh, sweet tomatoes, a generous layer of lettuce, and all the condiments you could ever want.
Ask them to load your sandwich with the works, and you'll receive a flavorful combination of oil, vinegar, and a range of Italian spices atop your sandwich.
Russo's
View this post on Instagram

Park Slope
This cozy, charming Italian sandwich shop in Brooklyn—and specialty grocery shop—claims the best fresh mozzarella in New York City. (It's melt-in-your-mouth delicious and fresh as can be, but we may have to give this title to Casa Della Mozzarella in the Bronx or Caputo's Fine Foods in Carroll Gardens!)
There are two Park Slope locations with robust sandwich menus highlighting traditional Italian meats and cheese: prosciutto, capicola, sopressata, and creamy mozzarella.
If grub like the First Avenue sandwich with its tried-and-true mix of prosciutto, mozzarella, and sundried tomatoes absolutely captivates you, Russo's sells most of the same sandwiches, sauces, and other condiments it uses in its sandwich shop, so you can attempt replication at home!
Anthony & Son Panini Shoppe
View this post on Instagram
Williamsburg
Chicken cutlet sandwiches are popular favorites at Italian delis, and this continues to ring true at Anthony and Sons. If you stop by this Brooklyn sandwich shop, order the Mario Special for a real treat!
This hot and toasty sandwich features thick and flavorful chicken cutlets framed with spinach, avocado, cheese, bacon, and red onion. And if that wasn't enough to suggest a true flavor bomb, these fillings are bathed in a spicy chipotle sauce.
Anthony & Son describes itself as a classic shop combining "old school taste with new school flavor", and we think you'll most definitely agree.
Sanpanino
View this post on Instagram
Boerum Hill
Another Italian speciality shop! Seeing a trend here? NYC loves sandwiches boasting conventional Italian flavors, and I'm sure all can agree there is little that can satisfy the soul more than the remarkably simple but delicious texture of fresh mozzarella paired with prosciutto, (or roasted eggplant and sun-dried tomatoes for the vegetarians out there).
Speaking of prosciutto, Sanpanino's Speck Melt Sandwich offers a common but lesser seen twist on prosciutto—at least among NYC's Italian delis. Speck is the prosciutto we all know and love, but smoked until it's brimming with a hint of woody earthiness and subtle sweetness.
At Sanpaninos, you can experience it layered under fontina cheese and arugula dressed in a humble mixture of olive oil and black pepper. It's one of the best sandwiches in Brooklyn!
Frankel's
View this post on Instagram
Greenpoint
When the weather is just right and the sun is shining, you might find yourself sauntering over to McCarren Park for an afternoon of rejuvenation, your favorite novel, and some people-watching. And you might want to grab a sandwich to enjoy while you're there.
Enter Frankel's. Being just a short two-minute walk from Greenpoint's beautiful McCarren Park, one of the most beautiful parks in Brooklyn.
This Jewish delicatessen with its nostalgic, no-frills ambiance is a lovely stop for a hearty lunch. To say customers love the Hot Pastrami Sandwich is an understatement.
And if you want to say they love this dish, then you might also say customers would sacrifice a limb to get their hands on the Hot Pastrami Reuben: thin-sliced hot pastrami with melted swiss cheese, sauerkraut, and Russian dressing piled thick between warm rye.
Not to mention they also have some of the best bagels in NYC!
Hanco's
View this post on Instagram
Park Slope & Cobble Hill
Pho, salads, bubble teas, vermicelli, and banh mi—these are the Vietnamese eats awaiting you at this sandwich shop in Brooklyn. Their banh mi sandwiches are served on toasted baguettes dressed in a modest layer of mayonnaise and butter.
Lunch hour lines are long here for good reason; you'll want to call ahead if you're on the move to avoid a lengthy wait. While the Classic Banh Mi Sandwich of pâté, Vietnamese pork, and chicken is a typical go-to order, another popular choice is the Grilled Pork Banh Mi Sandwich.
All banh hi are topped with julienned carrots, cucumbers, radish, and a healthy pinch of cilantro to tie these scrumptious flavors together.
David's Brisket House & Deli
Bed-Stuy
With New York City being such a competitive location for conventional Jewish delis, only the best survive. And David's Brisket House 7 Deli has been surviving for 70 years.
With tender and delicately seasoned meat that practically melts on the tongue like butter, the Pastrami Reuben is a common choice for hungry Brooklyn residents.
As the establishment's name suggests, this deli specializes in brisket. Their brisket rivals their pastrami in both moist tenderness and juicy flavorness. Thankfully, customers never have to choose between these prime offerings when craving both, as David's sells a Pastrami & Brisket Sandwich on rye with melted cheese and simple spice.
Early
View this post on Instagram
Greenpoint
A self-described coffee and sandwich shop, EARLY Brooklyn serves a wide variety of conventional and unique sandwich fillings. They serve coffee from everyone's favorite local Brooklyn coffee shop—Partners—alongside sandwiches suitable for both breakfast and lunchtime.
The Kwa'son is a breakfast croissant sandwich stuffed with goat cheese, avocado, buttery and moist scrambled eggs, chives, and a sprinkle of red chili flakes for a pleasant, spicy kick.
If you stroll into EARLY Brooklyn later in the day, savory meals like the Zappie Sandwich (sheets of cheddar and fontina cheese over assorted toasted mushrooms and sweet, caramelized onions on a baguette) and the Chichi (chipotle chicken, fontina, arugula, pickled onions, and mayonnaise) await you!
Molto Stretto
View this post on Instagram
Downtown Brooklyn
This West Coast Brooklyn sandwich shop hails from Los Angeles, where it's much loved by locals. How does it compare to previously existing NYC favorite sandwich shops? Let's just say it looks like Molto Stretto is here to stay.
Each sandwich is absolutely massive, come here hungry. These meals are easily split between two and come served on fresh sandwich bread with a perfectly textured, moist inside and a thin but crunchy crust.
Bestsellers include the turkey pesto sandwich, where fresh ingredients and a particularly generous serving of basily goodness make put this classic among the best sandwiches in Brooklyn, and the Spicy Salami Sandwich, where spicy and savory meets the sweetness of a light honey drizzle.
Paneantico
View this post on Instagram
Bay Ridge
Paneantico is well-known for its expansive assortment of hot and savory delicacies for the lunch hour crowd and flavorful desserts for your sweet tooth, but they are most famous for their delicious sandwiches.
Despite an unassuming storefront, this cafe provides the community with a restful brunch spot and hearty sandwiches full of prosciutto, smoked cheeses, and roasted portobello.
The B6 Hero Sandwich is an NYC foodie favorite. It comprises thin-sliced, warm pastrami, mozzarella, red onions, tomatoes, and lettuce. Paneantico serves a humble but tasty balsamic vinaigrette on the side, but you'll want to pour as much as you can between the many layers of meat for the optimal Paneantico experience.
Lioni Italian Heroes
View this post on Instagram
Bensonhurst & Sunset Park
Have you ever seen a sandwich menu with over 150 options, each entry more appetizing than the previous? It sounds insane, but that's exactly what Lioni Italian Heroes offers its loyal and growing customer base.
With mozzarella Zagat dubbed the creamiest in the area, which you can order deep fried, Lioni has dozens of subs emphasizing the delicate flavorful profile of this star ingredient.
Sandwiches here are named after famous politicians, actors, and athletes hailing from the great NYC. Try scanning the menu for an icon you admire and surprise yourself!
The Alyssa Milano Sandwich is a fun selection locals and tourists alike crave. Picture soft Italian bread packed with imported prosciutto di parma, freshly fried chicken cutlets, a basil spread, and Lioni's creamy mozzarella—that's the Alyssa Milano.
Warning. These heroes aren't small and can easily provide two to three meals. You'll remember the first time you bit into a Lioni sandwich for the rest of your life and likely regard it as one of the best sandwiches in Brooklyn.
Federoff's Roast Pork
View this post on Instagram
Williamsburg
With Fedoroff's Roast Pork in town, New York residents never have to make the commute to Philadelphia to enjoy an authentic Philly cheesesteak ever again. The salty—(and let's be honest, totally artificial-tasting)—goodness of cheez wiz and caramelized onions seeping through layers of sliced beef can be found in New York's very own Williamsburg.
In addition to Cheesesteaks, Federoff offers classic Italian hoagies stuffed with traditional meats like sopressata, and an amazing Roast Pork Sandwich with broccoli rabe and sharp provolone cheese.
Eastern District
View this post on Instagram
Greenpoint & Park Slope
This specialty grocer provides Greenpoint residents with all the craft beer and luxury cheeses they could ever hope for, along with an assortment of other locally sourced gourmet ingredients.
As you explore their local and global goods, pick up a filling sandwich—all of which showcase the retailer's fine offerings. The Turkey and Bacon Jam Sandwich is a top menu item. Along with its namesake ingredients, it features smoked gouda on a warm Ciabatta bun.
For a breakfast delicacy, try their Smoked Salmon Sandwich. Full of fresh lox, capers, thin-sliced onions, and a generous spread of creamy goat cheese, it guarantees a fabulous start to any morning.
---
Did we miss your favorite sandwich shop in Brooklyn? Let us know in the comments below and we will go check it out!
If you enjoyed this guide to the best sandwiches in Brooklyn consider bookmarking this page or sharing this post on Pinterest below! Happy eating!