Looking for an epic spa day in NYC? We've got you. There is absolutely no shortage of incredible wellness and spas in New York City. From affordable spa days where you can lounge around hopping from one steam room and sauna to another starting as little as $50 for a day pass ranging to some of the best luxury spas in NYC at some of the most world-renowned and award-winning spa facilities and centers across the globe right here in New York.
We break down the best places for a spa day in NYC along with what each place is known for and the range of amenities they offer guests.
Keep in mind that unless otherwise noted, almost every single one of these best spas in New York are either ages 18+ and up. You'll need to bring your own bathing suit, although if you forget many of these places sell them as well and a few of these spas require you to bring your own sandals.
It's best to check the guidelines and what to know about your visit at each of their individual websites including how early you need to arrive before your treatment or spa day.
Best Spas in NYC
QCNY
Address: 112 Andes Road, Governors Island
Let's start off this guide with my favorite pick for the best spas in NYC. Located on Governors Island, QCNY Spa was introduced to this exciting location the same year that Governors Island opened year-round to visitors from the luxury Italian wellness group QC who has incredible spa locations all over the Italian Alps and in Europe.
What's great about QCNY is that when you book your admission there's actually no time limits on how long you can stay, although there is no re-entry. Weekdays are slightly cheaper than weekends and they are open on holidays with slightly adjusted hours.
They have specials for birthdays too, so if someone you know is celebrating their birthday soon take advantage of their deal.
There is a restaurant on site with a limited food selection for guests along with drinks in the lounge area. This comes in handy if you plan on staying for a longer stay.
The spa features multiple New York-themed saunas including fall in Central Park, a skyline sauna, and even treatments you can use in specific saunas like face masks complimentary to guests. There are also multiple steam rooms, some infused with aromas, and multiple relaxation rooms.
My personal favorite feature is the heated outdoor pools that are open year-round with the most incredible skyline views in New York City. There are actually two sections of these outdoor pools and there are different areas you can soak and relax including an area where you can listen to classical music underwater.
You can plan your day also around visiting the best things to do on Governors Island too. The ferry has extended hours and routes to accommodate to guests of the spa too. Just know, if you stay later in the evening, the regular Governors Island ferry service isn't operating and instead, you'll have to take the NY ferry, so it's best to ask the front desk when the next ferry departure is and which ferry spot on Governors Island it will be departing from.
Great Jones Spa
View this post on Instagram
Address: 29 Great Jones Street, NoHo
Located in NoHo, this New York spa is a great place to unwind and take a break from the hustle and bustle of Manhattan. Soak away your aches and pains in the Water Lounge (available to guests who book any treatment of $100 or more) which features a 3-story waterfall, jacuzzi, and cold plunge pool. Take advantage of Great Jones' detox circuit featuring a steam room with chakra lights and a sauna before taking a dip in the cooler waters of the plunge pool.
Another reason why this is one of the best spa days in NYC are for other unique features too, including a river rock sauna made with river stones that help you sweat out toxins along with the aromas of eucalyptus in the steam room.
Be sure to take a look at their treatment menu too so you can book a massage, facial, body treatment, or other services like manicures. They recommend coming in two hours before your treatment so you can enjoy their Water Lounge and spa amenities.
Things to Know: They don't do bookings online, so you'll have to call and make your reservation or booking. They also accommodate to groups up to 10 people if you're looking for a special way to celebrate something with friends.
Bathhouse
View this post on Instagram
Address: 103 N. 10th St, Williamsburg
If you're looking for a chic, urban oasis and one of the best spas in NYC for massages, exfoliations, and scrubs, look no further than Bathhouse in Williamsburg, Brooklyn. Soak in the communal pools and take full advantage of all the wellness amenities for one of the best luxury spas in NYC.
Set in a former 1930s factory building basement, this spa has the mood and ambiance that will immediately put you at ease as you pass through backlit halls and plant-filled space to the pools, saunas, steam rooms, and relaxation areas. There's also a full-service restaurant on site too.
Book one of their treatments like a massage or scrub and have access to all of Bathhouse's amenities including dry and tropical saunas. What's nice is that you can either book a day pass or a treatment and then have access to all the incredible wellness and relaxation areas, saunas, steam rooms, and pools. You can stay as long as you like, but there's no re-entry.
What's awesome is even though this spa is luxury, it's also a pretty affordable spa day in NYC with day passes ranging from $45-70 depending on what day and time you choose.
World Spa
View this post on Instagram
Address: 1571 McDonald Avenue, Midwood
Located in Midwood, Brooklyn, World Spa is one of the most unique luxury spas in NYC! Grab an unlimited day pass or a 4-hour pass and enjoy relaxing in the different themed spas and baths from cultures all over the world right here in the city. Better yet, they even offer guided spa journeys whether you're here by yourself, in a group, or as a romantic couple experience.
You really get to experience the world of different bathing cultures here including Finnish saunas, Himalayan salt therapy, Japanese onsens, Moroccan and Turkish hammams, and authentic banyas to name a few of the diverse offerings here. There are also special rooms like the Snow Room where you can go to get the cooling down part of your wellness cycle here.
Enjoy all the amenities included in your day pass or upgrade and book a specialized treatment from facials to massages, they also have a very unique zero-gravity theatre room experience that's a multi-sensory way to relax.
There's also a great restaurant on site so you can really take advantage of that day pass. If you find yourself hooked, you may be tempted by one of their quarterly or annual memberships. Even though this is a newer facility, it's without a doubt taking the city by storm and is one of the best spas in the city.
Mermaid Spa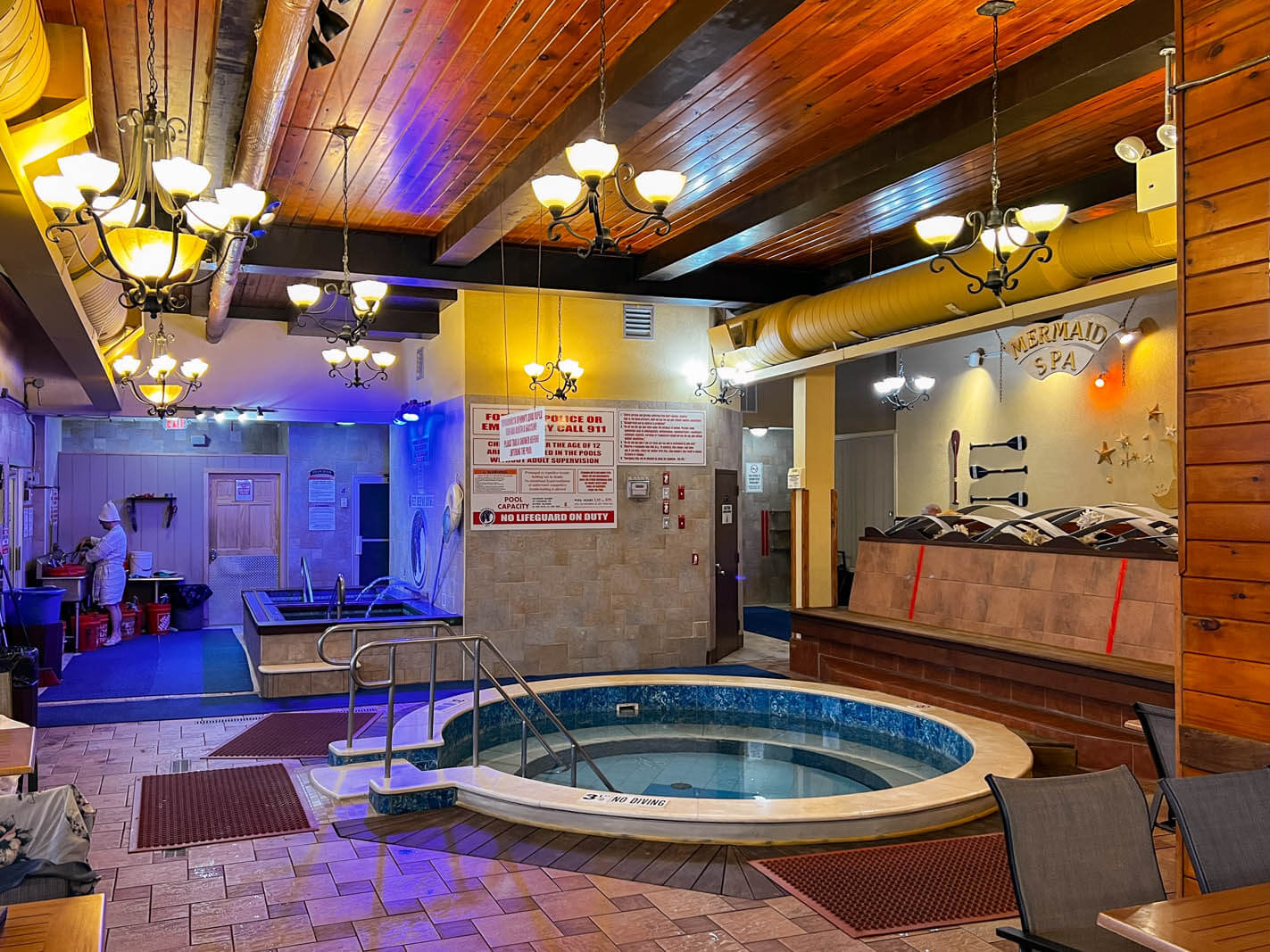 Address: 3703 Mermaid Avenue, Coney Island
One of my favorite ways to spend my birthday in New York is to book a spa day in NYC. This past year I got to do exactly that at Mermaid Spa in Coney Island at the SeaGate area of Brooklyn. Mermaid Spa is a Ukrainian and Russian-style bathhouse, something this area is very well known for as Brighton Beach is an enclave for Russian, Ukrainian, and Georgian communities here in the city.
This is one of the best spas in New York if you're looking for an authentic banya. You can book a 4 hour slot which start at $50 on weekdays, making this also one of the best affordable spas in NYC too.
Enjoy three Russian-style steam rooms, a dry sauna, a Turkish bath, cold pools, a jacuzzi, and relaxation areas where you can order food and drinks. They also offer traditional platza services and massages.
While other spas in New York have different policies on sandal or slipper wearing inside steam rooms, keep in mind that you must bring your own sandals to Mermaid Spa and they are required to be worn inside the saunas and steam rooms here. If you forget your own sandals, don't worry they sell some at the front desk.
Aire Ancient Baths
View this post on Instagram
Address: 88 Franklin Street, TriBeCa
Aire Ancient Baths is hands down one of the best luxury spas in NYC. Located in the Lower Manhattan neighborhood of Tribeca, Aire Ancient Baths is part of an international chain of spas.
Set in a former 19th-century textile factory, AIRE features treatments and relaxing spaces featuring ancient bathing traditions of Ottoman, Greek, and Roman bathhouses.
Melt away the stress of everyday life at this unique day spa in NYC where the AIRE Experience includes their thermal tour of different temperature baths by candlelight with pleasant aromas of orange blossom. Book a treatment like a massage or ritual to add to your relaxation session.
Unlike other spas in New York, at AIRE Ancient Baths you have to book an experience to be able to enjoy their thermal tour and saunas. There are various experiences whether you're solo, coming as a couple, or in a group. With your experience, you'll have time to go through the baths, steam room, and lounge in the rest area.
If you book an AIRE Experience that combines a thermal tour with a massage or body ritual treatment, your thermal tour time will be included in the total duration of the AIRE Experience you choose. Keep in mind that this spa day in NYC doesn't allow unlimited stay, you will have to leave once your time is up.
Spa Castle
View this post on Instagram
Address: 131-10 11th Ave, College Point
One of the largest spas in New York is Spa Castle in Queens, this spa really is a destination in and of itself. This is an ultimate spa day in New York too where general admission gives you access all day to their wellness facilities. And unlike the other spas in NYC mentioned, this spa actually welcomes clientele of all ages and is family-friendly.
And better yet, this is an affordable spa in NYC too with day passes starting at $50 for adults and $30 for children on weekdays and just slightly higher on weekends.
For guests wanting to use the day pass via general admission, you'll have access to all of their indoor and outdoor pools, whirlpool bath, saunas, hot tubs, steam rooms, healing zones, and public lounge spaces for relaxation. There are co-ed spaces and then the changing rooms have more baths and areas you can relax.
What's even better is that the outdoor pools are heated and open year-round, rain or shine. So if you're looking for a way to escape the cold but still enjoy winter, you can do so by soaking in a warm pool outdoors.
You can upgrade your experience by booking spa services and treatments ranging from massages to reflexology and hydrotherapy. You can also enjoy onsite dining. And if you just didn't have enough or you want to stay until they close at midnight, you can even stay at their hotel, One Boutique Hotel, which they offer a complimentary shuttle to and from the spa.
The Spa by Equinox
View this post on Instagram
35 Hudson Yards, Hudson Yards
Located at Hudson Yards, The Spa by Equinox is one of the best luxury spas in NYC, where you can also stay at the Equinox Hotel New York, one of the best NYC hotels with a view.
What makes this spa in New York unique are their integrated circuit treatments that follow 5 different circuits to achieve inner and outer body treatments and well-being.
The first one being beauty, which is where you can book your facials and body treatments, followed by performance healing which includes acupuncture and massage options, the temperature therapy circuit includes infrared saunas and cryotherapy, their nutrition circuit includes superfoods that are targeted to your 'inner body', and the final being brain health circuit which involves sleep therapy.
This spa encourages you to choose your circuit treatments and if you choose to pick an 'add on' or 'amplifier'. If you're not sure where to start you can speak to a consultant to help you plan your ultimate spa day in NYC.
If you're an Equinox club member or hotel guest, you can also take advantage of both their indoor and outdoor pool. The outdoor pool is extremely special as it's heated and kept at 84 degrees in the winter and overlooks the Vessel, the giant honeycomb-shaped structure in Hudson Yards. Club members and hotel guests can also take advantage of the barrel saunas, SoulCycle classes, and the Equinox Club Gym.
For those looking to enjoy treatments, you can get packages that bundle options together and get slight discounts, for example, the High-Performance Package includes an IV treatment, massage, facial, and cryotherapy chamber session.
City Well
View this post on Instagram
Address: 496 President Street, Gowanus
One of the best hidden gems of the spas in New York can be found in the residential area of Gowanus in Brooklyn. City Well has a small feel to it, but has all the things you need out of a spa day in NYC on a more intimate level. By appointment only, this spa offers services like massages and body treatments or you can book a hydrotherapy session (from 90-120 minutes) where you can take advantage of their backyard spa where you go through the wellness ritual of hot and cold elements with access to their rain showers, soaking tub, sauna, and aromatherapy steam room.
Spaces are limited at this spa, but they do allow private small groups to book sessions here ranging from 2 to 7 people. When you book a hydrotherapy session you can also add add-ons to your experience.
One thing to be aware of, since this is a smaller spa in NYC if you book a massage you don't have access to the steam rooms or saunas and hydrotherapy areas unless you add that on for an extra fee. So if you're wanting to take full advantage of their facilities, be sure to add that on when you book.
Shibui Spa
View this post on Instagram
Address: 377 Greenwich St, TriBeCa
Located in the Greenwich Hotel in TriBeCa is another one of the best luxury spas in NYC. Shibui Spa is a Japanese-inspired onsen offering treatments like massages, a beautiful pool, and spa facilities.
Guests of the hotel have access to the pool and spa facilities, and non-guests who book a treatment or massage get an additional 60 minutes of time to enjoy the spa facilities and the pool.
Some of the amenities at Shibui Spa include a heated swimming pool, relaxation areas, steam and rain showers, and a traditional Japanese soaking tub.
They offer a variety of massages, seasonal body treatments, body scrubs, facials, and add-ons like dry brushing. You can book onsen ritual packages too that include massages too.
Oasis Day Spa
Address: 1 Park Avenue, Kips Bay
Voted one of the best spa days in NYC by New York Magazine, Oasis Day Spa in Kips Bay. This is more of a spa that offers packages with treatments, perfect for a day of pampering yourself. They have individual services for body treatments, massages, facials, and other services, but what Oasis Day Spa is best known for are their bundled packages.
Ranging anywhere from one to three hours and full of services and options to choose from. For example, the Total Body Wellness Package offers a 30-minute body scrub, a 60-minute body wrap, a 90-minute Swedish massage, a 60-minute facial, and eye treatment.
If you're short on time though they have shorter options like the Oasis Express package which includes a 30-minute Swedish massage and a 30-minute facial.
If you find yourself in Westchester, they also have a location there too!
Spa at Mandarin Oriental
View this post on Instagram
Address: 80 Columbus Circle, Central Park West
Another one of the best luxury spas in NYC can be found at the Mandarin Oriental New York. The Spa at Mandarin Oriental is known for its personalized treatments and wellness programs, this spa offers many unique massages, including a prenatal massage for those expecting, which many spas don't offer, stone massages, and aromatherapy massages to name a few.
They also have several treatment options available including targeted massages and rituals including a jet lag treatment for those who just got done traveling across multiple time zones.
They have some great add-ons to your treatments and other services including a dozen different facial treatments to choose from.
For those who book a treatment or massage, you have access to the spa's thermal experiences including heat and water. They also have an epic indoor lap pool that overlooks the Hudson River too.
The Peninsula Spa
View this post on Instagram
700 5th Ave, Midtown
Located at The Peninsula Hotel in Midtown is another one of the best luxury spas in NYC for a spa day. This NYC spa is a Forbes 5-star rated wellness facility featuring 3 levels and 35,000 square footage of space to revitalize and relax your entire body and mind.
There are 12 treatment rooms, a relaxation lounge, tea lounge, and changing rooms that have steam rooms infused with aromatherapy, saunas, ice-cold showers, and an extensive list of services ranging from massages, body and skin treatments, to various therapies practiced all over the world.
There's also a fitness facility, indoor glass-enclosed pool, and sun terrace that offers sweeping views of the city skyline! You can also get your hair or nails done here too with a specialist.
Choose from pampering yourself for hours or if you're short on time you can choose a shorter treatment. Just make sure you stick around and enjoy all the awesome amenities here for one of the best spa days in NYC.
---
There you have it, the absolute best spas in NYC, enjoy your pampering in these urban oasis options.