Looking for the best thrift stores in NYC? Or how about any of the amazing vintage shops in NYC? There's no better way to find unique pieces for your closet or home than by sifting through the selection all the incredible vintage and second-hand finds you can find in the city.
While we could easily list the best thrift stores in New York, this guide to the best vintage clothing stories and best thrift stores in NYC is organized by neighborhood so you can plan a few stops in each of these areas that are hotbeds for one of a kind vintage pieces.
In between your vintage shopping in NYC, each of these neighborhoods are some of the most stylish in the city full of restaurants, cafes, bars, and other options that you can easily take a shopping break if needed or stop and grab a bite to eat to refuel yourself for more thrifting in NYC.
Here are the best neighborhoods for thrifting and vintage shopping in NYC plus a few of the best spots to check out in each of these neighborhoods!
About the Author
Eric Garner is a Brooklyn-based writer who was raised down south who loves talking about film, TV, hip-hop, and fashion.
Neighborhoods for the Best Vintage Stores in NYC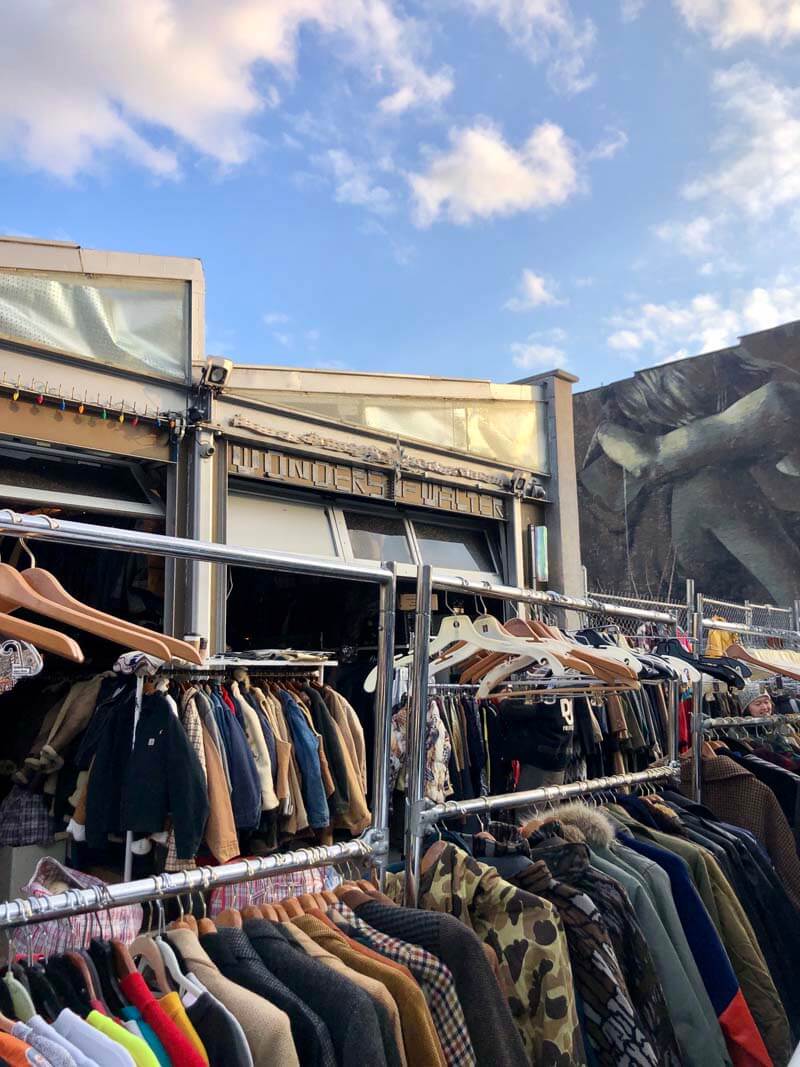 Chelsea
There's a lot to love about Chelsea. Being home to hundreds of art galleries, this west side neighborhood has become the epicenter for the city's art scene. And if art isn't your thing, there are plenty of other attractions as well like Chelsea Market (food and shopping mall), The High Line (elevated park), and The Rubin Museum of Art.
But one other great thing about Chelsea is that it features some of the best thrift stores in NYC.
On the high-end side of vintage shops in NYC, there's Housing Works (On 143 W 17th St) with their unique brands of clothing and furniture that also sells vintage and second-hand finds for a cause with proceeds going towards advocating for social justice issues including fighting homelessness in the city and helping those who are diagnosed with AIDS.
Then there's Buffalo Exchange and Crossroads Trading Co. (Both on West 26th St) which both offer a huge variety of trendy and affordable men's and women's fashion that are more well-known nationwide.
Another unique vintage shop in NYC located in Chelsea is City Opera Thrift Shop (513 W 26th St.) that's packed with treasures from clothing to furniture and profits go towards the NYC Opera located next to the entrance and exit of the Highline.
The Buis New York (510 West 21st St) offers a curated collection of designer vintage pieces paying homage to New York fashion through the 1980s and 1990s. You can often spot them at Brooklyn Flea and Chelsea Flea on the weekends. If you want to shop in person, you need to schedule a personalized appointment on their site.
Compared to many vintage shops in NYC, Chelsea has some of the most aesthetically pleasing. You'll find some of the cleanest and highest quality used items in these Chelsea shops than any other vintage clothing stores in NYC!
East Village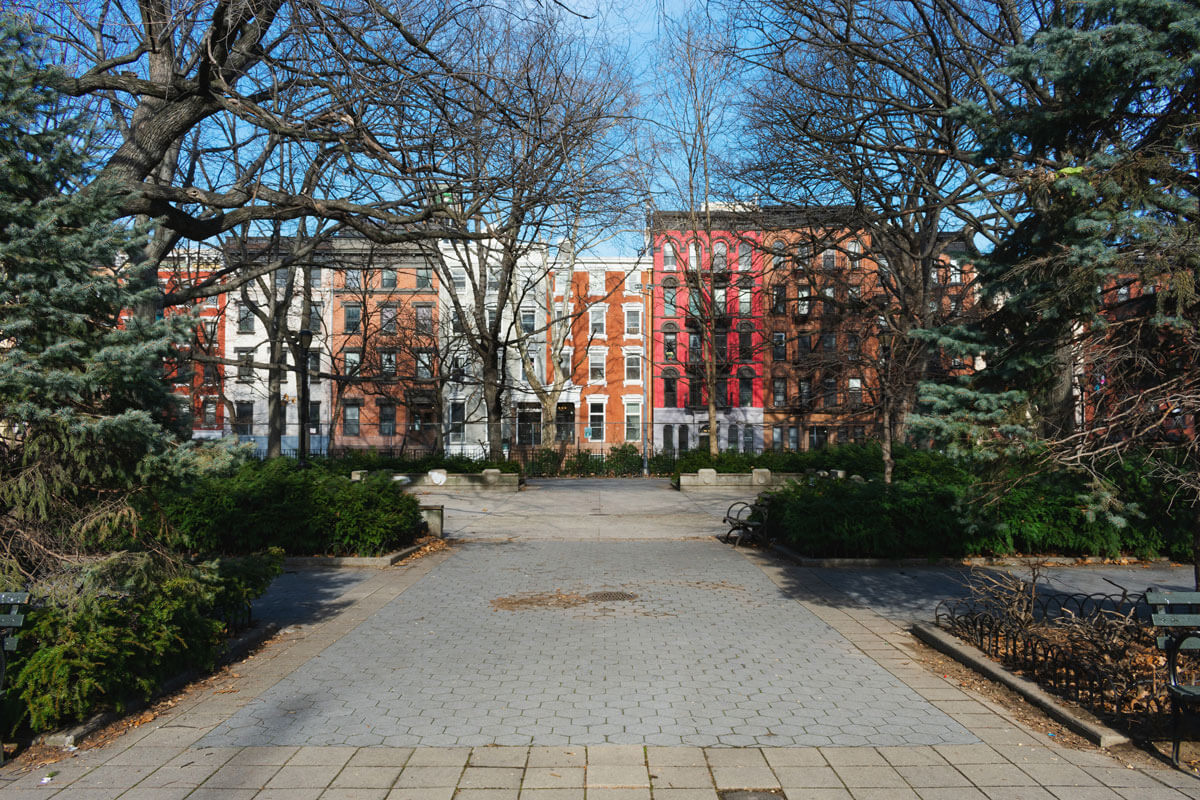 One of the more eclectic parts of the city—East Village is best known for its cultural and ethnic diversity as well as its wide selection of restaurants like the legendary deli Katz's Delicatessen. However, as far as vintage shops in NYC go—East Village does not disappoint either.
If you're into vintage tees and varsity jackets, Metropolis Vintage (803 Broadway) is must visit—if not to buy, then to at least see their impressive stash. Metropolis has some of the rarest and unique finds out of any vintage stores in NYC.
Also, shops like Cure Thrift Shop (91 East 3rd Ave) and East Village Vintage Collection (545 East 12th St) sell a lot of vintage collectible items for one's closet and home. They have a slew of affordable products like vintage vinyl records, knick-knacks and home decor. While some of the items at these stores may seem pricey in comparison to other vintage stores in NYC, you're not going to find many of these collectible items anywhere else.
The East Village is literally packed full of vintage shops in NYC. East 9th Street between 1st and 2nd Avenues are literally lined with around a dozen thrift and vintage shops. Some of the best ones on this block are the vintage designer finds at Cloak & Dagger, vintage women's clothing and accessories at Cobblestones, or vintage women's fashion and finds and contemporary home decor at DUO NYC to name just a few.
Lower East Side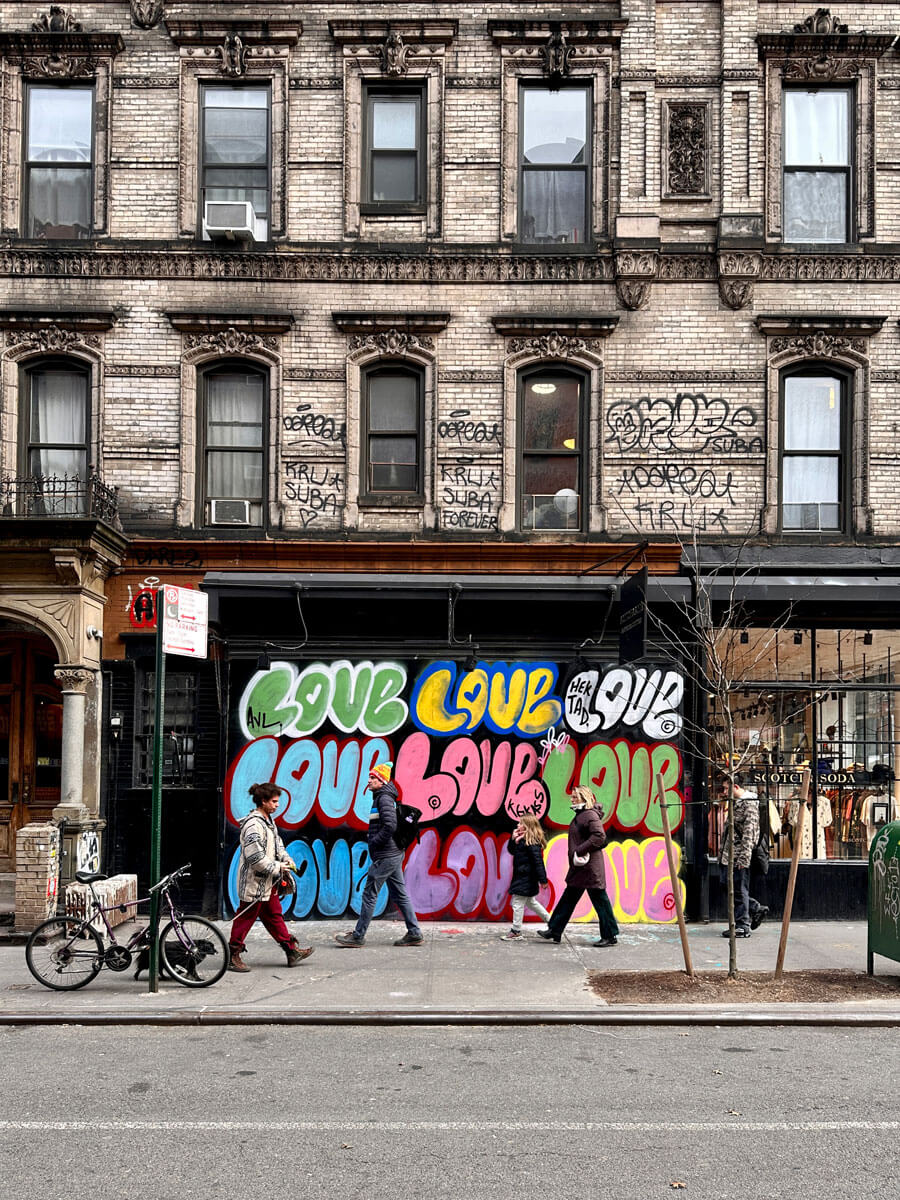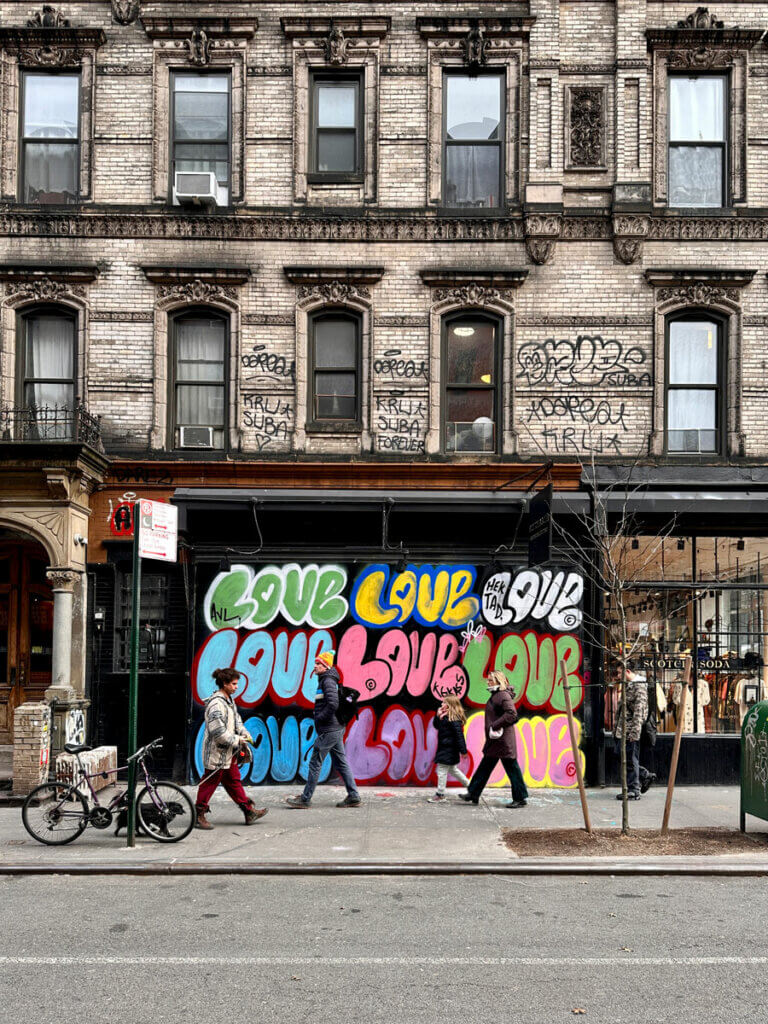 The Lower East Side (Also known as LES) is a favorite for many New Yorkers, both young and old. This area has the perfect balance of modern and vintage as well as the plethora of activities to do in LES (Essex Market, the Market Line, and the great Tenement Museum) makes Lower East Side the quintessential New York experience.
That said, what is the New York experience without its thrift shops? It doesn't take that long of a search to find out that Lower Eastside is home to many of the best thrift stores in NYC.
L Train Vintage (204 1st Ave) is a sanctuary for all your denim needs. Their racks are filled with denim jackets and jeans as well as other trendy fashion and is one of our favorite thrift stores in Brooklyn too with a few locations around the city.
Also, shops like AuH2O (84 East 7th St) and LAAMS (74 Orchid St) will have you coming back for more with their carefully curated vintage clothing. LAAMS particularly separates itself from the pack with its excellent collection of art and books, making it one of the best thrift stores in New York.
The Quality Mending Co. (329 Bowery) offers some of the finest vintage shopping in NYC for menswear including a really great collection of vintage tees.
The popular sustainable clothing brand Reformation has a unique location in the LES offering not only their sustainable line of clothing but they offer a collection of vintage pieces at their 156 Ludlow St location.
Another great vintage shop in NYC over in this neck of the woods is Edith Machinist (104 Rivington St) which has a great selection of designer women's clothing, handbags, shoes, and accessories with a really great collection of jewelry and leather accessories.
Lara Koleji (70 Orchard St) is a great small shop open on the weekends selling vintage finds for women from clothing to accessories to the occasional home goods.
Although Lower East Side has a lot to offer, do not forget to check out these awesome vintage shops in NYC which are just a few of the several in the area. If you want to hit up a few around the same block, head to Ludlow St between Houston and Delancey.
Greenwich Village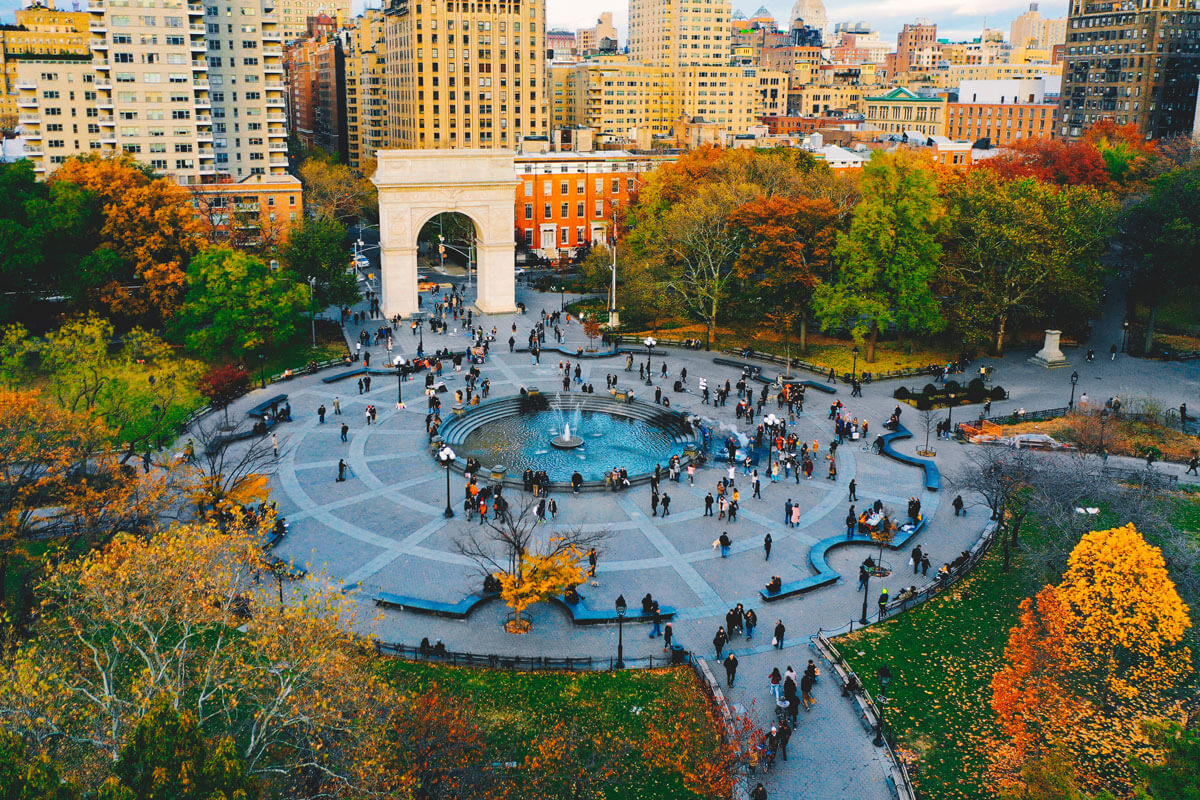 Greenwich Village is possibly the most visually stunning NYC neighborhood with its always well-kept streets and brownstone buildings. Greenwich Village is also home to Washington Square Park, one of the best-known parks in New York City for its events, activities, and entertainment. Those two things alone make this neighborhood a great one to walk through.
Not to mention you should check out all the cool things to do in Greenwich Village while you're here too.
However, while you walk through the neighborhood; there some great options for thrift shops in NYC that are highly recommended.
Beacon's Closet (10 West 13th St), which has three other locations in Brooklyn, has some of the most unique vintage clothing out of any vintage clothing stores in NYC. And if Beacon isn't eclectic enough for you, definitely check out Reminiscence (74 5th Ave) for some interesting costumes and gag gifts.
Hamlet's Vintage (146 West 4th St) offers a cool, curated collection of vintage finds from the 1940s through around the 1980s-1990s for both men's and women's fashion. They particularly have a great selection of men's vintage finds.
2nd Street NoHo (712 Broadway) is another great vintage store in NYC carrying a carefully curated collection of vintage finds from namesake brands and designer labels for both men and women. This popular Japanese-owned vintage shop in NYC also buys vintage pieces too.
Greenpoint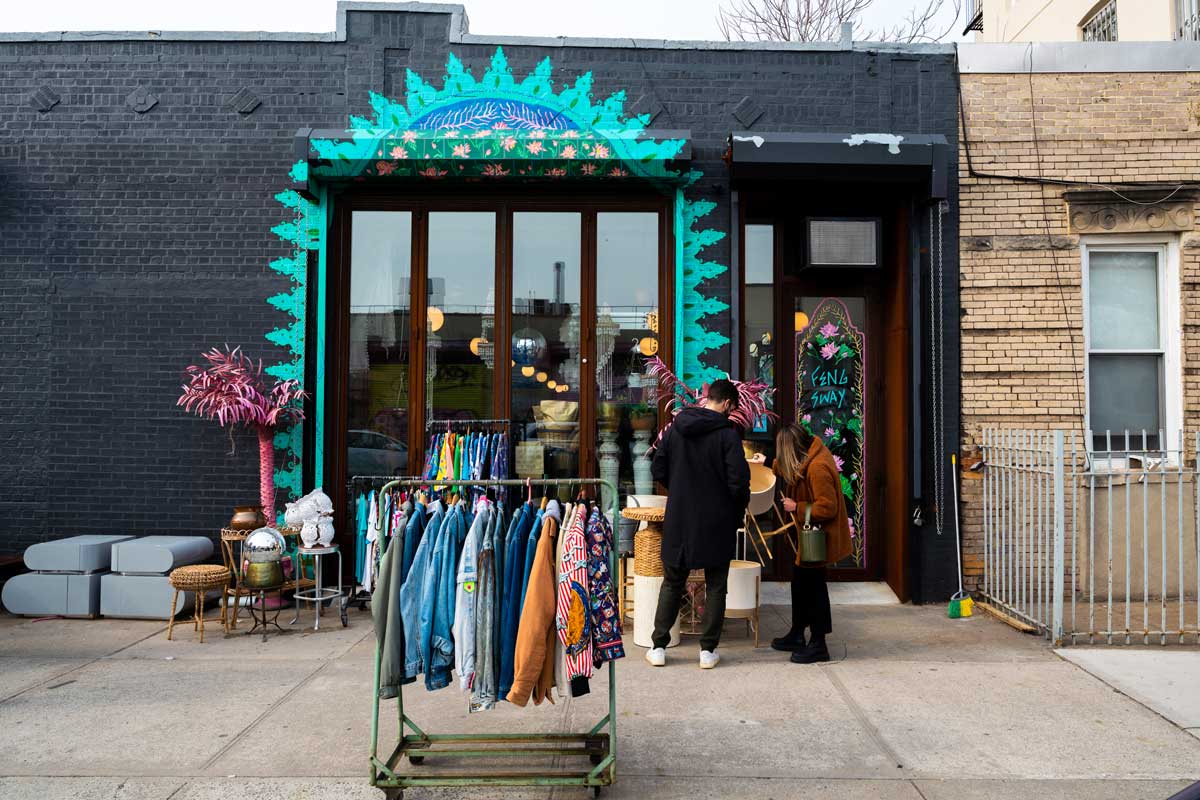 Greenpoint (Sometimes called Little Poland) is definitely one of the least talked about and quite possibly the most underrated neighborhood in the city located across the East River in Brooklyn.
Out of all the neighborhoods on this list, Greenpoint definitely feels the most distinct and there are tons of great thrift and vintage stores in Greenpoint worth checking out.
Almost to the point of feeling like it's its own little town with its own variety of diners, boutiques, and shops (Peter Pan and Pastry Shop being a good place to check out but see our full neighborhood guide to Greenpoint for more ideas). Greenpoint also offers some of the best thrift stores in New York that tend to play by their own rules.
While many vintage stores in NYC focus on size and quantity, Mirth Vintage (606 Manhattan) and Dusty Rose Vintage (595 Manhattan Ave) are two very compact and well-curated thrift shops in NYC. These spots are two of the best thrift stores in New York as far as sheer focus. Mirth carries some very dressy women's clothing. Dusty Rose on the other hand, focuses more on variety with its collection of clothing, furniture and accessories.
And if Dusty didn't have the home décor you wanted, check FENG SWAY (41 Norman Ave) where you'll find more décor as well as some beautiful plants.
Awoke Vintage (16 Bedford Ave) is probably one of the most popular vintage spots you can find in Brooklyn with three locations with always a solid collection of vintage finds this is a great thrift store in NYC for beginners as there's usually something for everyone here and is a less intimidating thrifting experience all around especially popular for their denim selection.
Bushwick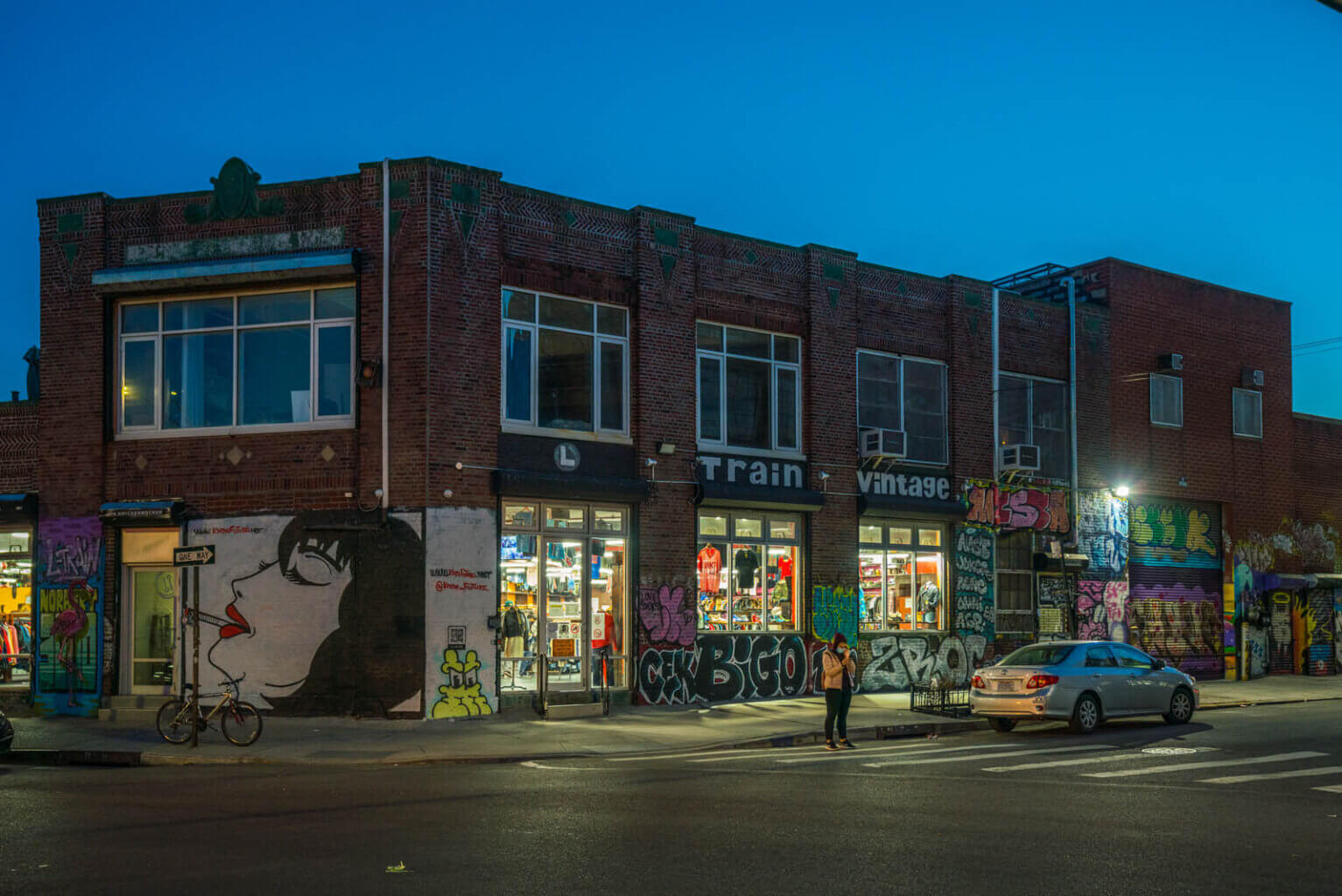 Bushwick rivals Williamsburg as being one of the trendiest and hippest parts of the city for 20 and 30 somethings. Clubs like Bossa Nova Civic Club and Jupiter Disco (A sci-fi themed bar) in particular are must-visits for newcomers.
Bushwick's distinctive street art is also something to experience, as it is a visual representation of the neighborhood's rebellious nature at the Bushwick Collective. And one other thing that represents the neighborhood's nature pretty well—are the best thrift shops in Bushwick.
Bushwick features some of the best thrift stores in New York, so we recommend planning a day of shopping and perhaps tying it into an evening of enjoying some of the city's best nightlife too (as long as you have a place to keep your new vintage finds while you party!).
28 Scott Vintage (108 Thames St) is a very inspired vintage shop that sells some of the most eye-popping clothing and home décor that you'll find anywhere.
Another Unique spot to visit is GGs Social Trade (1339 Dekalb Ave) which acts as both a gallery and vintage clothing store. Also, definitely be sure to check out GGs $ 5 dollar trunk for some steals.
You can also find another L Train Vintage (1377 Dekalb Ave) which was already mentioned before and for one of the most unique thrift stores in NYC check out Flamingo's Vintage Pound (1444 Dekalb Ave) who sells vintage clothing by the pound! Shoes range around $6.99 per pound and clothing ranges from $9.99-$12.99 per pound.
Williamsburg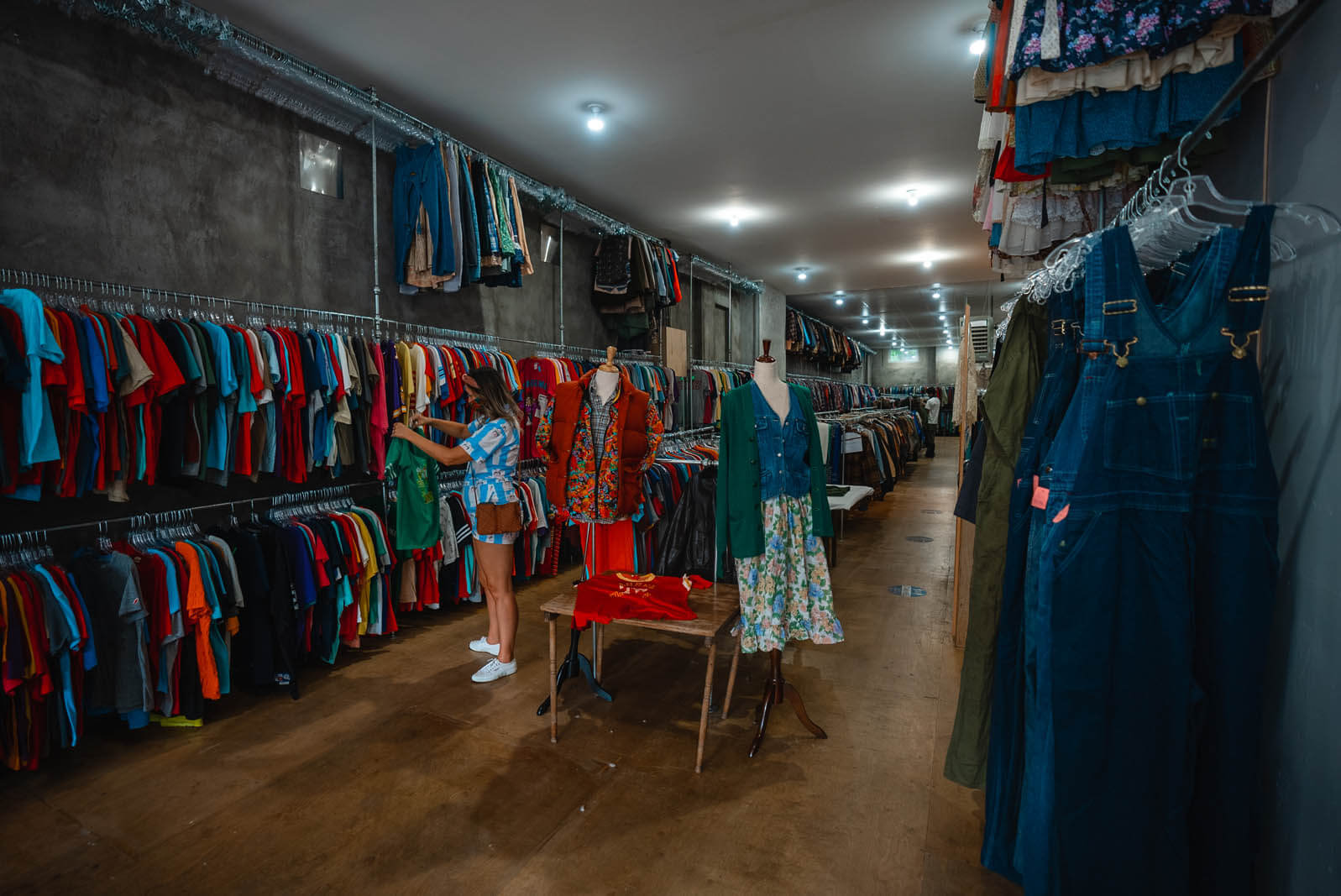 Next, we have the capital of New York's hipster scene—Williamsburg. Arguably the trendiest neighborhood in all the five boroughs, Williamsburg sets itself apart with its high-octane nightlife and excellent selection of live music venues such as National Sawdust (80 N 6th St) & Knitting Factory (361 Metropolitan Ave).
Still, hands down—Williamsburg is particularly well known for having some of the trendiest vintage clothing stores in NYC.
One of the common themes among Williamsburg vintage shops, that separate them from other vintage stores in NYC, is that they typically deliver with the quality of their items without sacrificing the quantity. A store like 10 ft. Single by Stella Dallas (281 N 6th Street & 285 N 6th Street) is two stores right next to one another. One (281 N 6th Street ) focusing on older fashion men and women's clothing, while the other (285 N 6th Street) features more modern attire.
If that's not good enough, there's also Beacon's Closet (74 Guernsey St) and Cross Roads Trading Co. (135 N 7th St) which are both larger than their Manhattan locations. With the increase in size also comes an increase in selection for some of the most unique pieces of clothing that you'll ever see.
Wonders of Walter (135 Berry St) is unlike any other thrift store in NYC as it's a street thrift shop run out of a garage with racks of cool and hard-to-find vintage pieces from old-school graphic tees, retro snowsuits in the winter, and your occasional designer find.
There's also a handful of vintage stores in NYC along Grand Street between Wythe Ave and Roebling Street, so if you're trying to hit up a few in one go, that's a great area to do that! Also if you head to the Mini Mall on Bedford you can find Awoke Vintage, Rugged Road, and Ecdysis –all of which are great vintage and thrift spots.
Another one of the best vintage stores in NYC that can be found in Williamsburg is Plus BKLYN specializes in women's plus size vintage clothing ranging from size 14-30.
Given that you'll be getting a lot of bang for your buck, you really can't go wrong with Williamsburg thrift shops.
Noho
Short for North Houston, Noho is known for being one of the most luxurious parts of the city. With its countless cafes, juice bars, and restaurants, this trendy residential neighborhood gives you a lot of ground to cover.
And while you're exploring that ground, you might as well check out its thrift shops as Noho is another area with some of the best thrift stores in NYC.
Stores like 2nd Street Noho (712 Broadway) and Dear: Rivington (37 Great Jones Street) may be on the pricier side, but their carefully picked designer and avant-garde clothing will prove too tempting to pass up along with their elegant home furnishings.
Noho's Buffalo Exchange (714 Broadway) on the other hand, is not only more affordable than most vintage clothing stores in NYC—but it's also extremely clean and well organized. Digging through this Buffalo Exchange is a very easy and pleasant experience.
If you're looking for some of the best thrift stores in New York, don't forget to stop by Noho!
West Village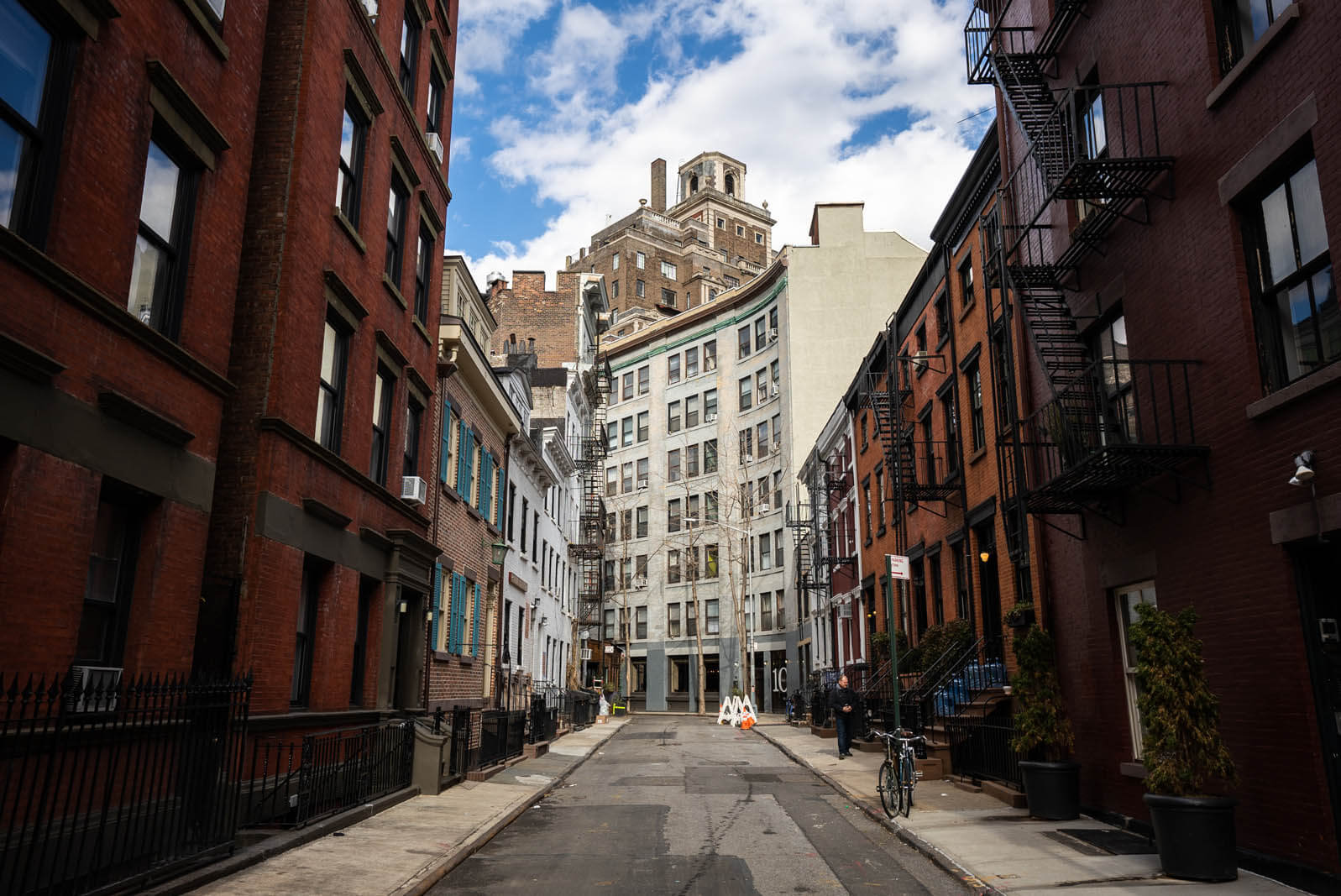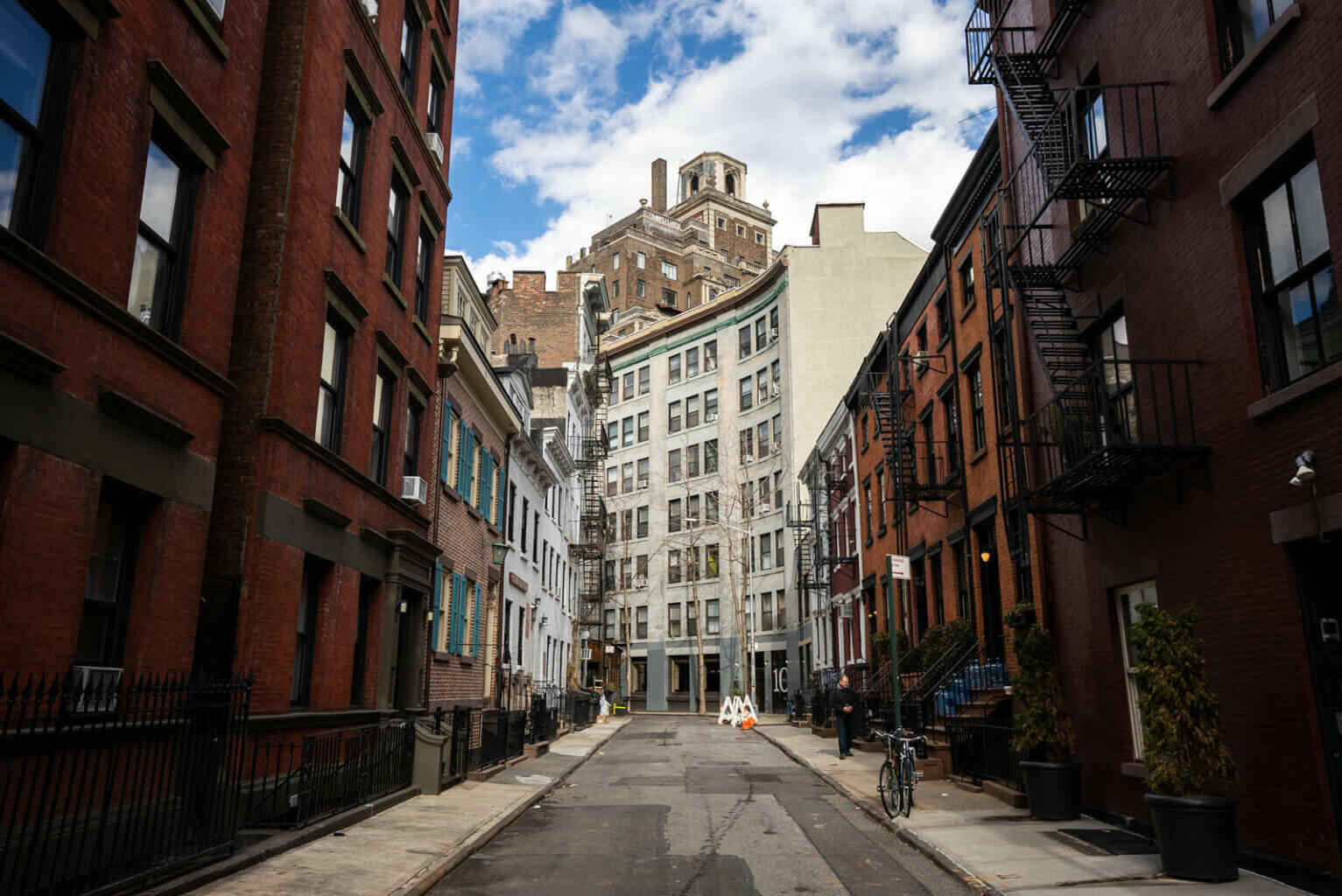 Often called "The Village", West Village is well known for its cafés, book shops, historical landmarks, & old fashion diners. Due to that, this west side neighborhood attracts a lot of attention from tourists. Who can blame them?
This is easily one of the most walkable neighborhoods in New York City. However, if the best thrift stores in New York are what you seek, West Village has you covered in that area too.
While a lot of vintage shops in NYC have a particular focus, Housing Works Thrift Shops – West Village (245 West 10th Street) offers just about everything you could want. They sell clothing, accessories and other home items.
Hamlet's Vintage (146 West 4th Street) is one of the bigger vintage clothing stores in NYC already mentioned earlier, selling some very interesting vintage fashion from as far back as the 1940s.
Finally, Madame Matovu (240 West 10th Street) presents you with some well-curated apparel and accessories with personality and charm that will keep you coming back for more. While this neighborhood may be crowded, don't let that stop you from experiencing West Village's great shops!
Gramercy
Concluding this list, we have a much more quiet and peaceful neighborhood—Gramercy. This area gives off a very suburban vibe and offers a much-needed break from those exhausted from the hustle and bustle that most of the city is known for.
With the exception of the beautiful Gramercy Park, there are less tourist attractions compared to other Manhattan neighborhoods. However, what it lacks in tourist appeal it makes up for in its residential tranquility and also its thrift shops. Gramercy has some of the best thrift stores in NYC and all of which are within short walks of one another.
Housing Works Thrift Shops – Gramercy (157 East 23rd Street) has a lot of cute merchandise both contemporary and retro or vintage. While that's not a new concept for vintage stores in NYC, this Housing Works sets itself apart with its sense of nostalgia and often has great furniture finds in excellent condition.
Lastly, Vintage Thrift Shop (286 Third Ave) stays true to its name with some of its vintage clothing and goods dating back as far as the 1940s. These thrift shops combined with the neighborhood's peaceful atmosphere, make Gramercy well worth the trip!
---
Found this guide to the best thrift stores in NYC helpful? Bookmark for later or if we missed your favorite vintage clothing store in NYC or favorite vintage shop in NYC let us know in the comments below! We are always looking for more fun finds.