When is the Best Time to Visit NYC? Anytime!!! I'm sorry, but as a Truly Diplomatic Libra™, I'm contractually obligated to tell you that there are benefits to every season in New York City.
In fact, I would argue that New York's seasons are exactly what make it a great place to visit, and to live — not feeling a particular kind of weather? You'll have other options soon enough!
Are you an "indoor cat"? Winter in New York City is full of seasonal shows, exhibits, and pop-up bars that are completely climate-controlled.
Visiting New York City on a tight budget? Summer offers a myriad of free outdoor activities.
Determined to get a once-in-a-lifetime photo op? Spring and Fall are some of the city's most *aesthetic* seasons from fall foliage in New York City to cherry blossoms in New York City.
The best time of year to visit New York City is exactly when you arrive — and then mix it up and come back again for an entirely new experience! Be sure to also visit all of our essential NYC travel tips too!
Visiting New York in Winter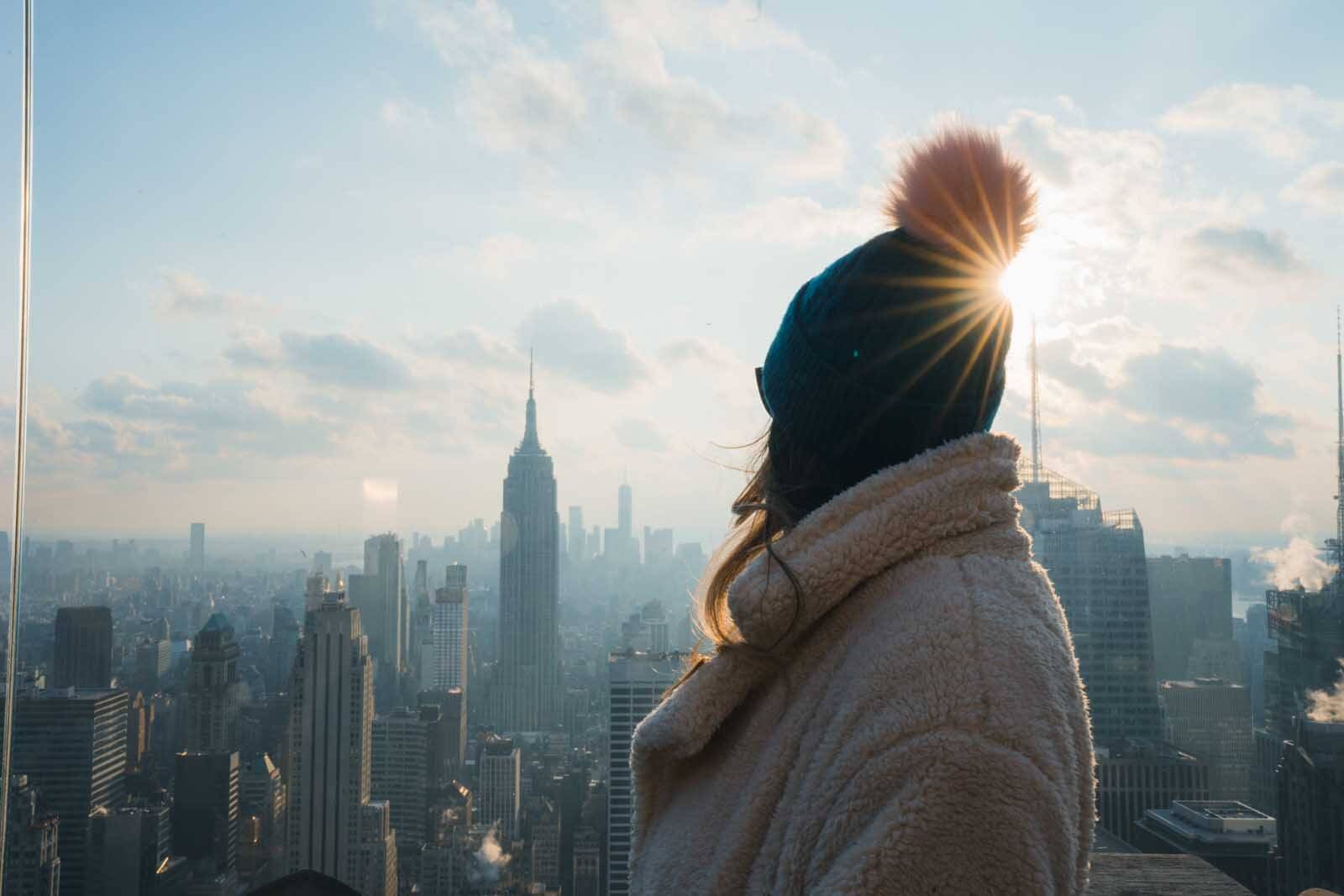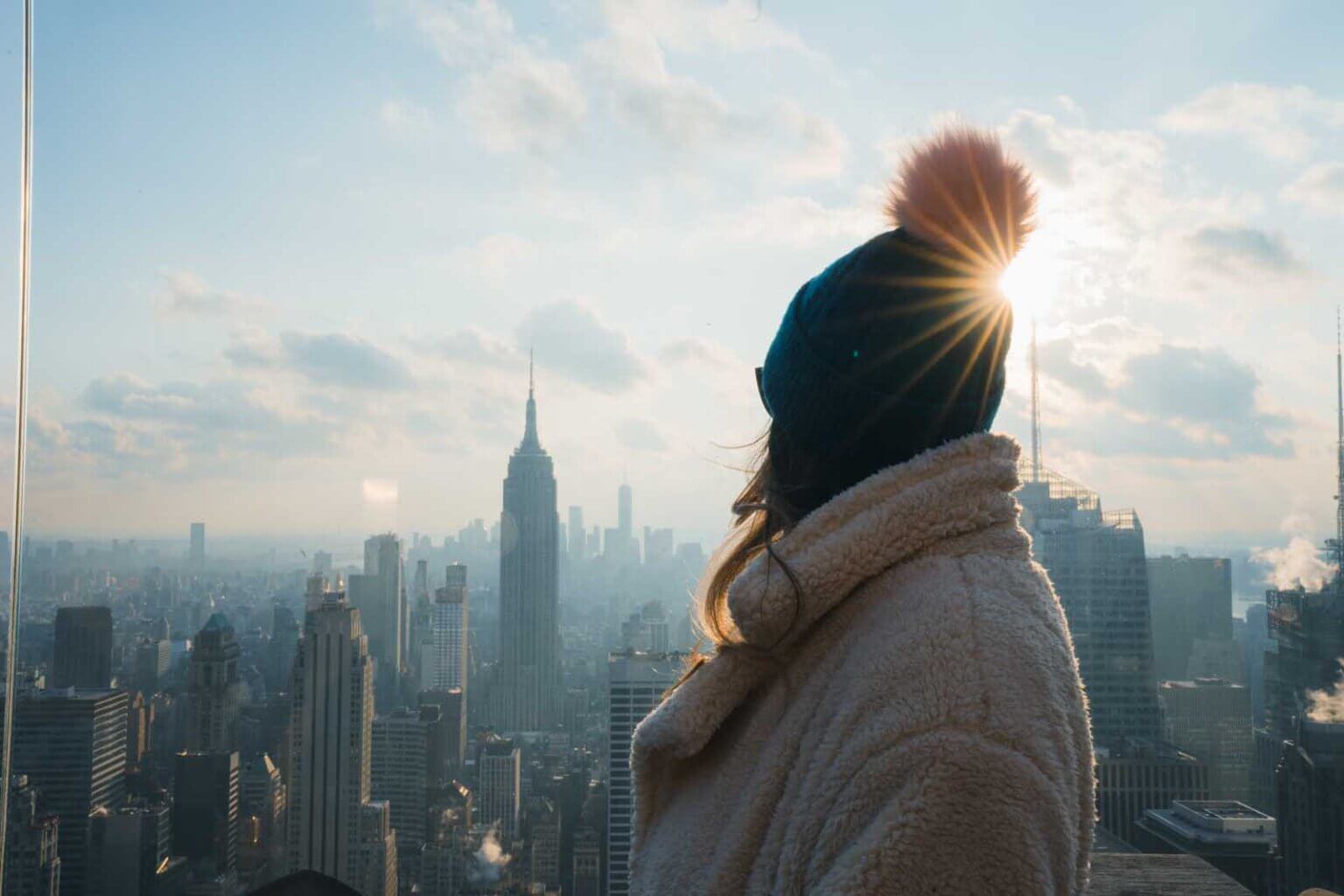 NYC Winter: Weather
New York City's winter weather over the last few years has been…unpredictable, to say the least, thanks to climate change. That said, the city still generally experiences the typical tenets of winter — freezing temperatures, snow, high winds — at least a few times between December and March.
We of course recommend checking the weather close to your trip to pack for unseasonably warm (or cold!) temperatures, but typically you can expect a range between 30 and 50 degrees Fahrenheit during the winter.
The Pros and Cons of Visiting NYC in Winter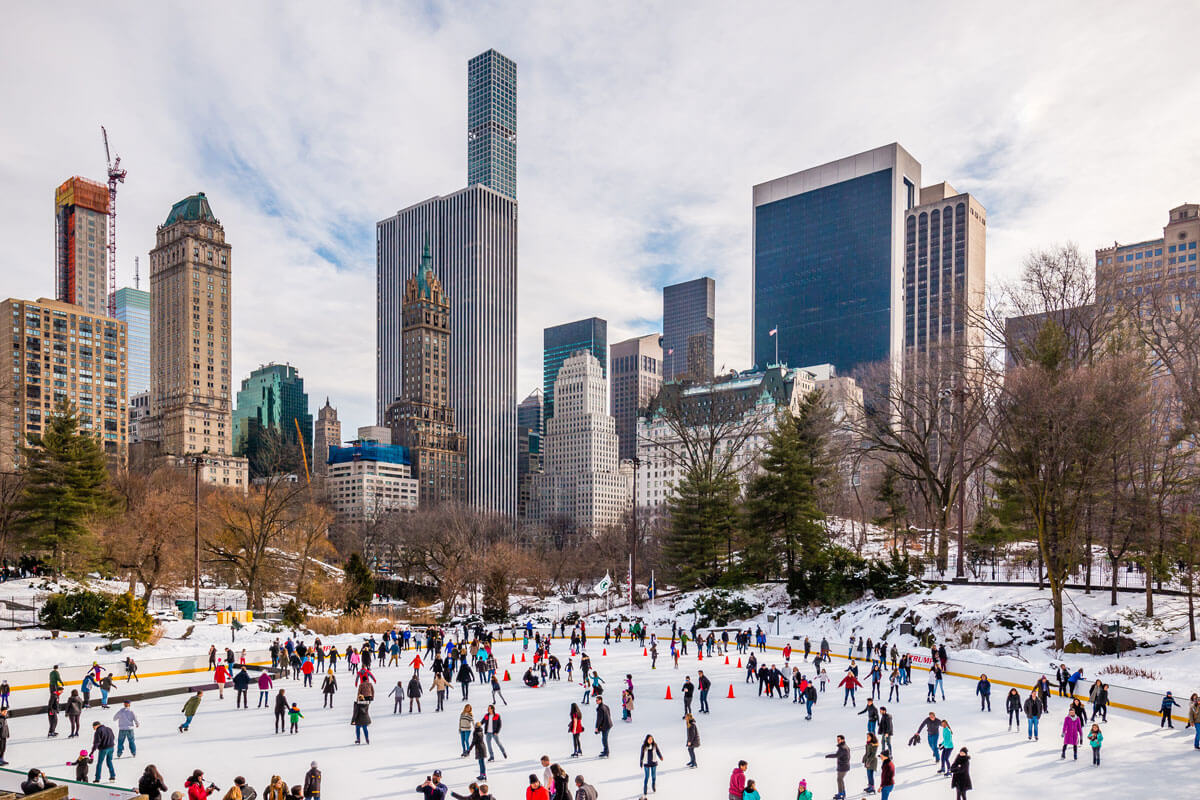 Here at Your Brooklyn Guide, we believe honesty is the best policy. If you're a snowbird at heart, New York winters may not be for you. The Big Apple is decidedly a walking city, and if the thought of bundling up and shuffling through the winter chill doesn't appeal to you, then perhaps winter is not the best time to visit New York City.
Additionally, if you are trying to save a buck, visiting the city around the winter holidays can be quite expensive — hotels, shows and even restaurants know it's a popular time of year and charge accordingly.
But while all of the above is true, we also believe that winter is still the best time to travel to New York City for a romantic, cinematic Big Apple experience.
Yes, it can be cold! But between the magic of the winter holidays, where twinkly lights and a festive spirit blanket the air and the laid-back, low-key joy of the early months of the year, visiting New York City in the winter is great, and not just for those who hate sweating.
Book during the holidays to experience some of New York's most beloved winter traditions! And book after the holidays for deeply discounted deals and cozy, hidden gems with fewer crowds! And if we are being honest, Christmas in NYC is nothing short of magic and if you are ringing in the new year, New Year's in NYC is also an exciting time to be here!
10 Best Things about Visiting NYC in Winter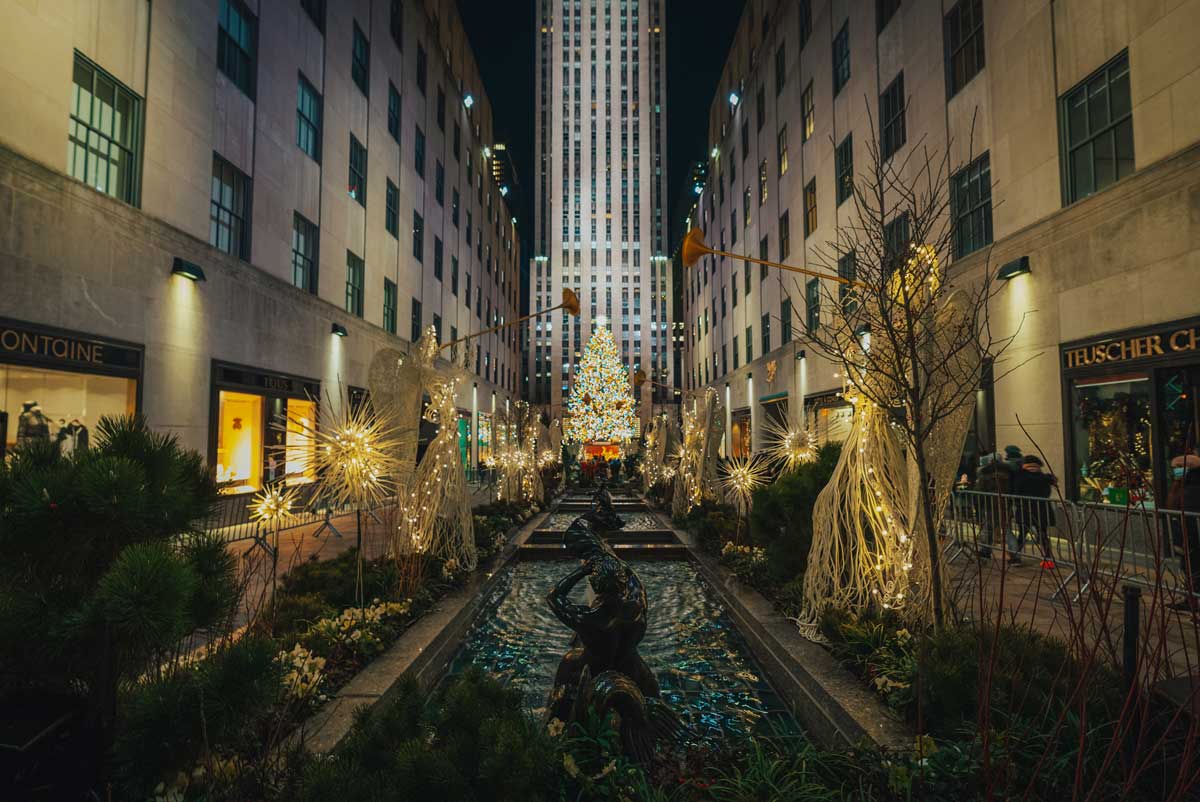 Ice skating in New York City! P

lease note that I am a notoriously terrible skater and I still love visiting the city's many stunning outdoor rinks! Stop by for skyline views, great music, and an all-ages activity that you'll always remember.

Seasonal lights! Many of the city's museums, parks,

and public spaces host yearly holiday and non-denominational light displays to brighten up the winter months. Check out the

Best Christmas Lights in NYC

as well as our comprehensive holiday and non-denominational

Holiday Winter Guide

for more!

Holiday window displays!

Winter is the best time to visit New York City to appreciate the incredible artistry of Big Apple department store window designers, who work all year to create intricate, conceptual works of art that only last through the winter! Bonus: it doesn't cost anything to window shop!

Romantic date spots!

Maybe it's the cold temperatures making us blush, but winter is the best time of year to visit New York City if you're looking for truly romantic date spots. Cute coffee shops, stylish speakeasies, and indie movie houses to duck into after grabbing a hot chocolate — New York in the winter has them all!

Lunar New Year!

Home to some of America's largest and most vibrant Asian American communities, January (or February, depending on when the holiday falls) is the best month to visit New York City to enjoy Lunar New Year festivities. Head to Flushing, Queens for top-notch holiday dim-sum or to Chinatown in Manhattan for the annual Lunar New Year Parade!

Holiday (and seasonal) pop-up bars and restaurants!

When is the best time to visit NYC for a little flair with your fare? Winter! There are many, many bars and restaurants around the five boroughs that dress up as après-ski lounges, cabin resorts, snow globes, and even Santa's workshop for the winter.

Seasonal markets!

Winter is the best time of the year to visit New York City for shopping, period. Between flagship brand stores and boutiques displaying their newest wares for the holiday shopping season and pop-up markets from hyper-local independent vendors, there's something for everyone on your list (including yourself!!).

Valentine's Day!

There's a reason so many rom-coms are set in New York City — and no, it's not just a perfect setting to have people literally chase each other around town. Valentine's Day in NYC is full of opportunities to make a romantic memory, or sing your sorrows out at karaoke. Your choice!!

Independent bookstores!

Too cold to go outside? We've got a solution. Spend a day browsing the stacks of the city's many indie bookstores! From specialty shops to staff-curated stores, it's time to reenact

You've Got Mail

. Minus the stalking.

Museums!

Winter is the best time to travel to New York City and its many, many top-notch museums. Wander around one of the Big Apple's many cultural institutions for a warm and educational activity!
Visiting New York in Spring
NYC in Spring: Weather
Many people contend that spring is the best time of year to visit New York City — because as they say in Miss Congeniality, "all you need is a light jacket!" That said, spring temperatures do vary quite a bit in New York, ranging between 45-70 degrees Fahrenheit, so check the forecast accordingly before you leave.
We recommend bringing layers, as temperatures can also change drastically throughout the day!
The Pros and Cons of Visiting NYC in Spring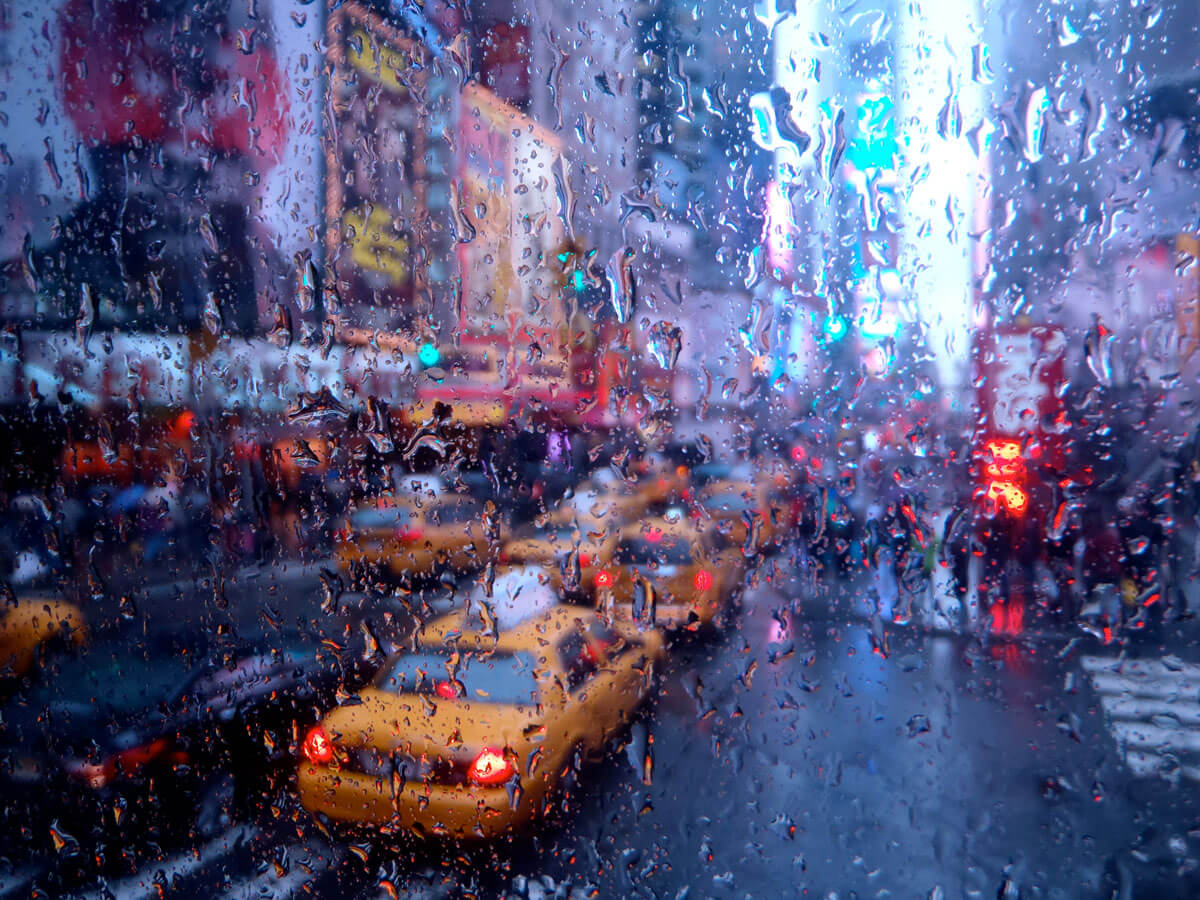 The con? April showers really do bring May flowers. Spring in New York can be quite rainy, so pack an umbrella and/or make yourself content with the cinematic nature of a rainy day in NYC.
Additionally, early spring can still be a bit chilly, so if you're determined to spend time outdoors, we suggest visiting later in the season. But when spring hits New York City, we can't recommend it enough — there is an unparalleled energy in the air that adds new life to everything you do!
People behave as though it's happy hour all day, and we're here for it! Head to a farmer's market! Grab a drink outside! Browse a thrift shop sidewalk sale. The day's possibilities feel endless.
10 Best Things about Visiting NYC in Spring
The flowers!

Thanks to the hard work of the city's Parks Department and local advocacy groups, New York really does bloom in the spring. From sidewalk planters full of tulips to the

cherry blossoms

in the Brooklyn Botanic Gardens and beyond, spring is a treasure trove of natural beauty in the concrete jungle.
Macy's Flower Show!

While we're talking flowers, let's single out the annual Macy's Flower Show as a reason that spring is a contender for the best time to travel to New York City. This themed showcase features thousands of floral displays and natural artistry.

St. Patrick's Day!

New York City has a longstanding Irish cultural legacy, and it's one of the best places to celebrate St. Patrick's Day in the US! Check out the annual parade, grab a pint at one of the city's many pubs, visit the historic St. Patrick's Cathedral, or catch a show at the Irish Arts Center.

The Easter Bonnet Parade!

Full of creative headwear, the annual holiday parade is a fun excuse to dress up or watch other people dress up in creative versions of their Easter finest.

Earth Day!

There are many events citywide dedicated to keeping the streets clean, showing that spring is the best time to visit New York City for the eco-friendly!

4/20!

Ye olde Mary Jane is now legal in New York City, and the Big Apple shows up accordingly on the unofficial holiday. Stop by one of the city's newly legalized dispensaries to support a local business and…relax. Just make sure that if you choose to partake, you're doing so in a legally sanctioned spot!

Governors Island! Easily accessible by ferry, Governors Island offers a plethora of outdoor activities perfect for a nice spring day. Enjoy bike rentals, hammocks, food trucks, concerts, one fo the most dreamiest spa days in NYC is here, and even glamping at New York's very own "staycation" park!
The Parks!!

May is the best month to go to New York City and its many incredible parks. From biggies like Central Park and Prospect Park to hidden gems like Fort Tryon Park, spring is the ideal time to enjoy urban blooms.

Sightseeing Boat Tours!

A mild spring day is the perfect occasion to take a sightseeing boat cruise around New York, where you can enjoy skyline views and a soft breeze without sunburns.

The Statue of Liberty and Ellis Island!

Explore New York's rich cultural history with a trip to Ellis Island and the Statue of Liberty. Spring is the best time of year to visit New York City — and when it comes to these two popular attractions, you'll find a pleasant ferry ride and fewer crowds than in the summer.
Visiting New York in Summer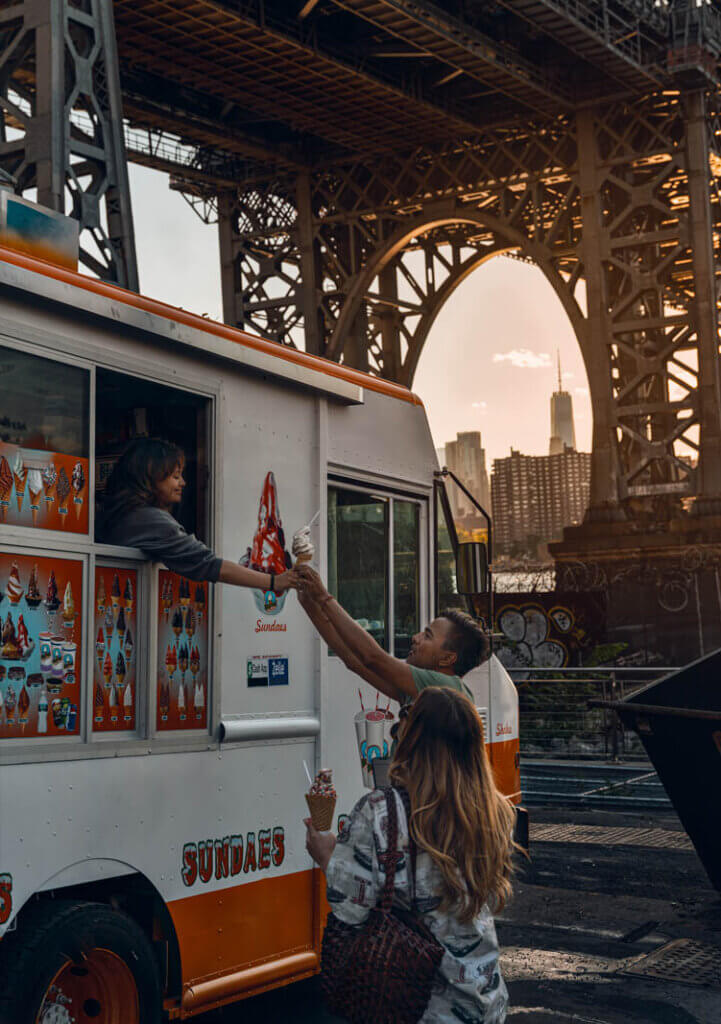 NYC in Summer: Weather
Hot town, summer in the city! Take those lyrics seriously, because New York in the summer is…really hot these days. Temperatures generally range between 65 and 90 degrees Fahrenheit, with wildly varying degrees of humidity and precipitation.
We recommend bringing layers to accommodate very warm temperatures outside and on the subway platforms in contrast to intense air conditioning in subway cars and inside (most!) buildings. If you need help from a local, check out our NYC summer packing list full of suggestions by people who live in it!
The Pros and Cons of Visiting NYC in Summer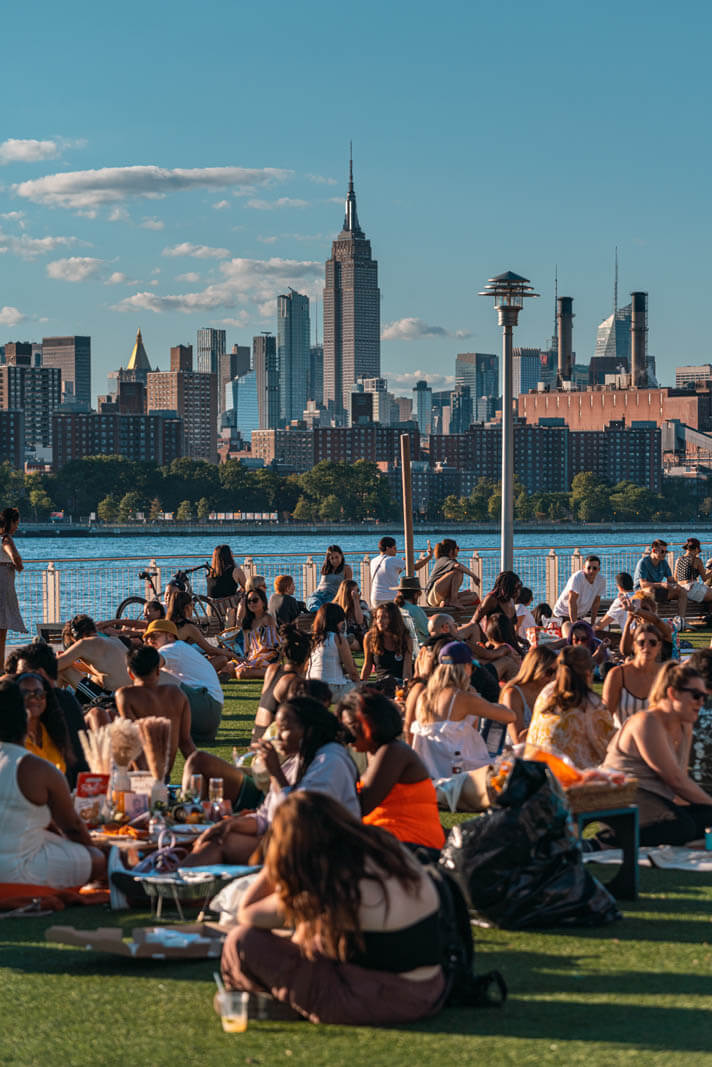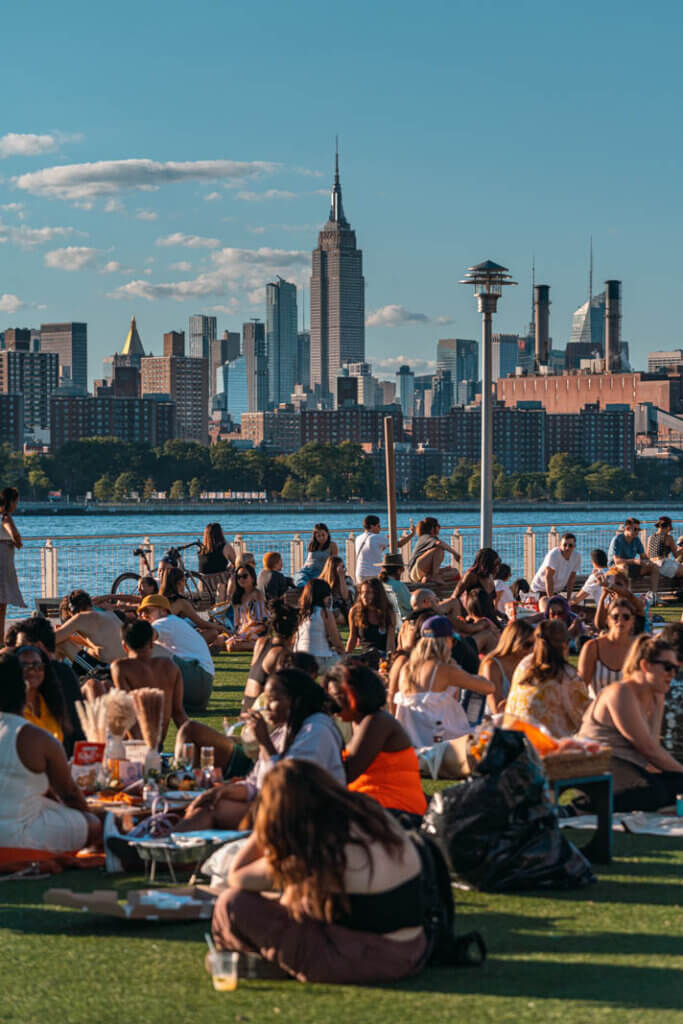 Many argue that the best time to visit New York City is summer for the free entertainment alone — and there is plenty of it! Free concerts, free movie screenings, free food festivals, free theater — New York in the summer is the go-to place to be if you want to have champagne fun on a beer budget!
That being said, as referenced in our weather update — it can get really, really hot over the summer (and humid) and popular attractions can get crowded. If sweating isn't your scene, consider visiting during another season.
But! Hear us out. Everyone is sweaty in the summer, so it's kind of like the great equalizer plus there are tons of cool things to do in NYC in summer!
10 Best Things about Visiting NYC in Summer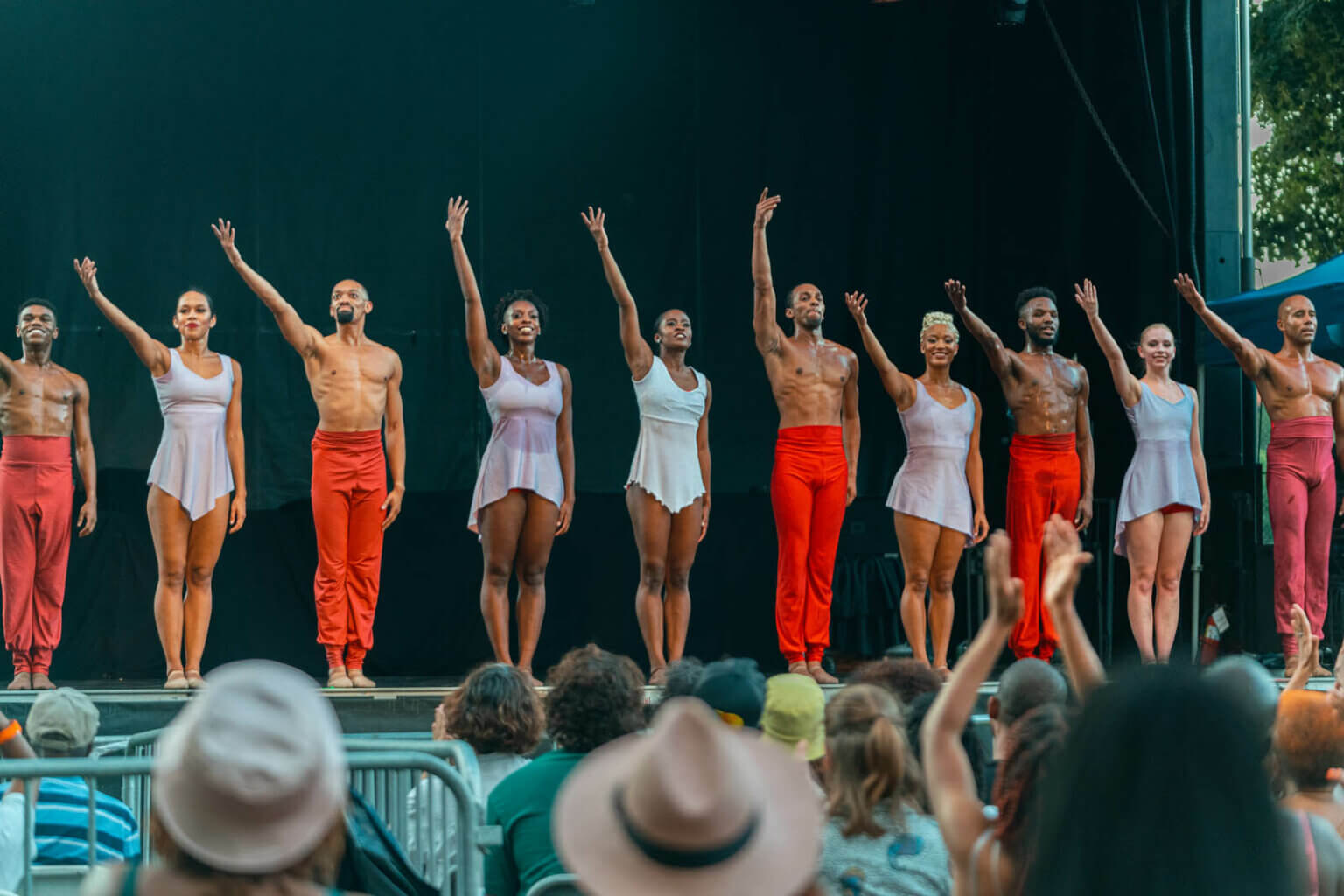 Outdoor concerts!

Summer in New York is outdoor concert season! Check out the Summerstage concert series in Central Park, the Celebrate Brooklyn series in Prospect Park, the Bryant Park Picnic Performance series, and more!

Outdoor movies! While it's always nice to escape the heat in an air-conditioned cinema (and you still can!), once the sun goes down there's something really pleasant about sitting under the stars/city lights and catching a flick. Check out weekly screenings in Bryant Park (free!), the Rooftop Cinema Club, Brooklyn Bridge Park, the Skyline Drive-in (you don't have to drive!), and more (check the NYC Parks website for updates)!
Outdoor theater! The best time to travel to New York City for free theater is undoubtedly summer. Check out the longtime Shakespeare in the Park, Classical Theatre of Harlem, Molière in the Park,

and more for free and affordable outdoor performances from the city's best artists.

Food festivals!

New York is chock-full of food festivals in the summer. From the weekly Smorgasbord and monthly Night Markets in Queens, Manhattan and the Bronx, you can try cuisine from around the world in the span of an afternoon or evening, making summer the best time to travel to New York City for foodies.

Boating!

When is the best time to visit NYC as a kayaker? Summer! You can paddle for free at the Brooklyn Bridge Boathouse, Manhattan Community Boathouse, and Downtown Boathouse. You can also rent paddle boats in Central Park for a fee!

Pride Month Celebrations!

Celebrate the Big Apple's important legacy in the LGBTQIA+ community during June, the best month to go to New York City for all things Pride. Enjoy the annual Pride parade through Manhattan, multiple-borough festivals and concerts, and month-long bar and restaurant celebrations honoring the queer community!

Coney Island!

In many ways, visiting

Coney Island feels like stepping into a time machine. It's carnival-esque, it's eclectic and the mood is always celebratory. Head to the Luna Park amusement complex, ride the famous Wonder Wheel ferris wheel, and of course, grab a hotdog at Nathan's.

And each year in June there's the annual Mermaid Parade too!
The 4th of July! Speaking of Coney Island, July is the best month to go to New York City to catch the famous Nathant's Hot Dog Eating Competition as well as the 4th of July celebrations, citywide. Check out the annual fireworks, many a BBQ bar party (we recommend Hometown Barbecue or Brooklyn Crab), and parades and concerts around the city.
Ice Cream!

Yes, you can get ice cream anywhere. But have you truly lived until you've tried Mister Softee or a street cart piragua? We think not. In addition to the classics, we love the scoops at Van Leeuwen, The Big Gay Ice Cream Shop, Sugar Hill Creamery, Chinatown Ice Cream Factory and Eddie's Sweet Shop.

Rooftop Bar Season!

Summer is the best time to visit New York City and its absolutely stellar rooftop bar scene. Catch a

superb New York City sunset

from one of the city's many sky-high

rooftop restaurants, bars

and lounges perfect for taking a souvenir photo op and enjoying a curated cocktail.
Visiting New York in Fall
NYC in Fall: Weather
It's PERFECT! Ok, I'll admit that fall weather is my platonic ideal, but I will say that fall in New York is particularly lovely. Temperatures generally range between 45-70 degrees Fahrenheit with lower humidity.
The Pros and Cons of Visiting NYC in Fall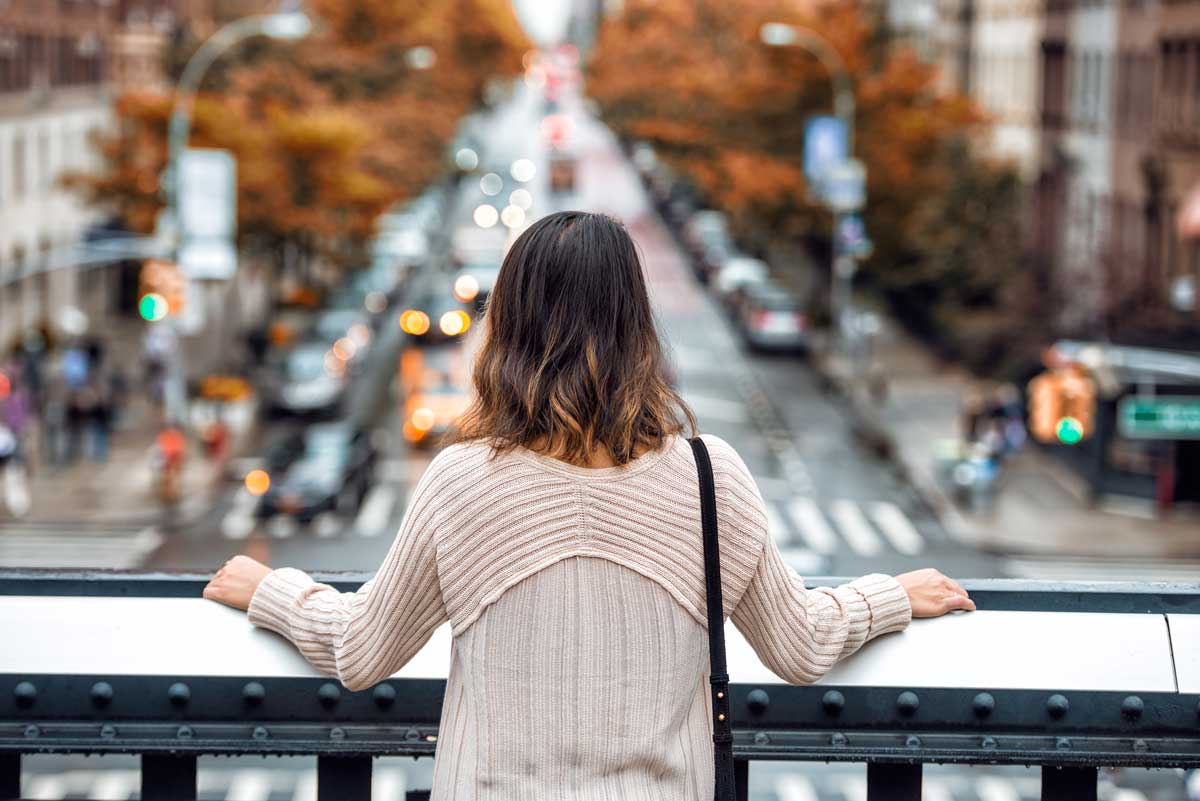 The biggest con about New York City in the fall is that fall is so damn short. In theory, fall should run from September 22 through December 21 — but both summer and winter temperatures manage to creep in on either side and sometimes even in the middle.
That said, October is the best month to go to New York City for fall weather — it's generally very mild and pleasant without being too hot or cold. On the pro side, visiting New York City in the fall is to inhabit Nora Ephron's New York — sweaters, falling leaves, fun coffee shops and a built-in romantic atmosphere. It has to be you, New York!
Be sure to see our full packing guide for visiting New York in the fall!
10 Best Things about Visiting NYC in Fall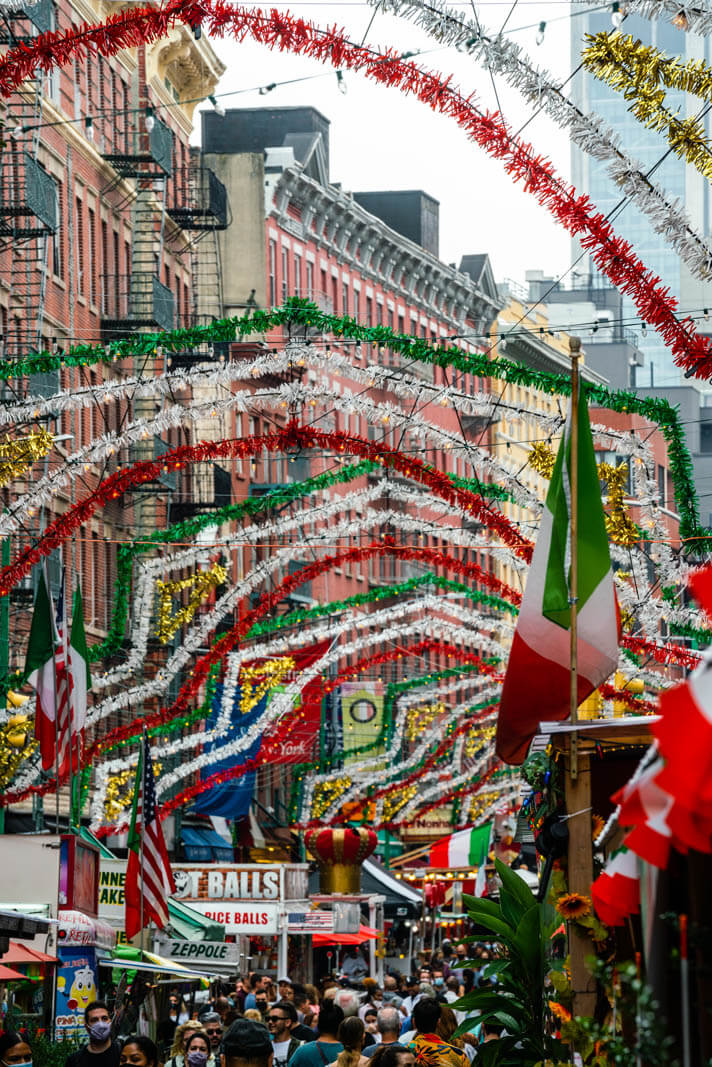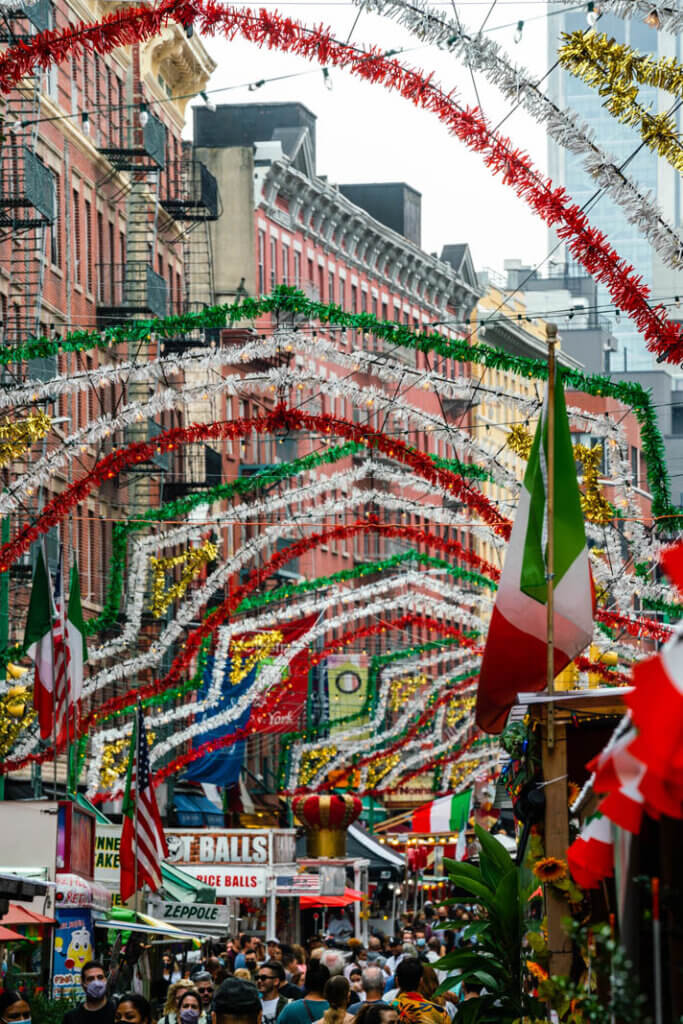 Fall foliage! No, you're not in Vermont. But take a walk through one of New York City's parks — Central Park, Prospect Park, Riverside Park, and more — and you'll find show-stopping fall foliage blanketing the concrete streets is one of the best things to do in New York City in fall.
The Feast of San Gennaro Festival/Little Italy!

The San Gennaro Festival branches summer to fall in New York City, but since it occurs after Labor Day we're adding it in! Stop by the Little Italy neighborhood of Manhattan for a vibrant street festival and abundant treats like zeppoles and cannolis. And while you're there, make sure to stop into a classic Little Italy red sauce joint for a bottle of red wine and perfect al dente spaghetti!

Arthur Avenue/ NYBG

! Speaking of fall foliage and delicious Italian food, head uptown to the New York Botanical Garden in the Bronx to enjoy their acres of fall foliage and seasonal florals (there are often giant, and we mean giant, pumpkins!) before heading over to the Arthur Avenue section of the Bronx for a traditional Italian-American feast.

Halloween! The best month to go to New York City for a good costume parade is undoubtedly October. Halloween in New York City is a multi-day affair, featuring an annual parade in Greenwich Village as well as multitudes of Halloween-adjacent events. Forgot a costume? You're more than fine. Pick one up at a classic Halloween Spirit store, make your own from the city's many fabric and theatrical costuming supply stores, or just dress up as a New Yorker and wear all black.
Historic Bars!

When temperatures cool, why not head to one of the city's many historic and famous bars for a hot toddy or a pint? From Hamilton/Burr meeting places to haunted hotspots, the best time of year to visit New York City for a historic happy hour is fall.

See a show on Broadway!

Visit the lights of Broadway and go see a longstanding classic or a brand new work that will be the next big hit. We also recommend spending a fall evening at Lincoln Center to see the New York City Ballet or the Metropolitan Opera!

And if you're wondering what to wear, we cover that on our Broadway dress code etiquette!
Coffee shops!

New York City is a coffee shop paradise — stop into a plethora of local java joints for a fresh-brewed coffee, perfect hot chocolate or a viral pastry (we'll wait in line for Cronuts!).

Bagels!

There is something genuinely soothing about strolling the streets of New York City with a bagel and coffee/tea in hand. Check out our guide to

the best bagels in NYC

and find your personal favorite.

Pizza!

If we don't recommend a pizza tour to you at least once, are we really New Yorkers? The best time to travel to New York City for a pizza tour is the fall — it's never too hot to enjoy a slice!

The Macy's Thanksgiving Day Parade

!

Closing out the fall season is the vaunted Macy's Thanksgiving Day Parade. Get into the holiday season spirit and potentially make an appearance on TV to close out your trip!
---
When is the best time to visit New York overall?
The best time to visit New York City overall is fall between September through early November for the most comfortable weather. Although, arguably the city does offer something special and unique each season of the year.
What's the best month to visit New York City?
The best month to visit New York City is October for weather, although May is a great month to visit New York City as the weather is comfortable and the spring blooms make the city extra special. December is also a special month to visit New York City because of all the holiday festivities happening around the city.
What are the busiest months to visit New York City?
The busiest months in New York City are the summer months of June, July, and August when people take their summer vacations. The other most busy month to visit New York City is December because of all the winter holidays.
What time of year is the cheapest to visit New York City?
The cheapest time of year to visit New York City is January, February, and the first half of March after the peak holiday season and before spring break. You can often find cheaper hotel deals and even specials around the city to promote visitation like deals on Broadway and NYC Restaurant Week.
---
Need More Help Planning Your Visit to NYC?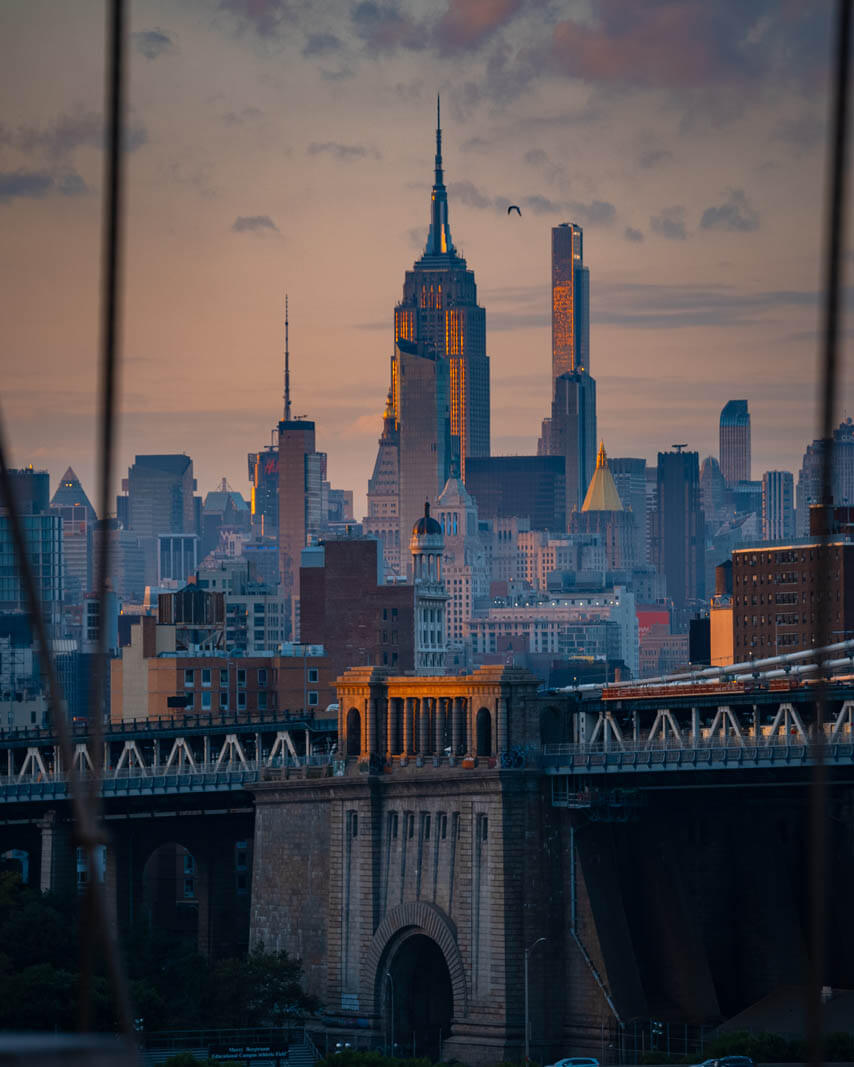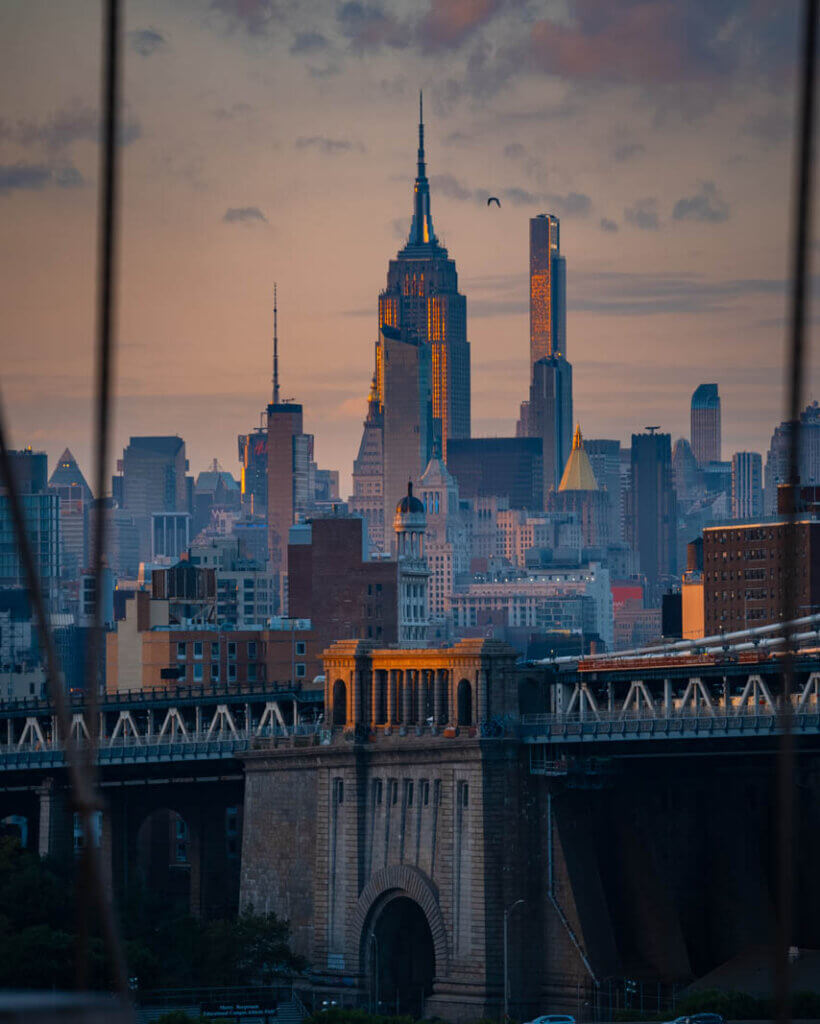 Need more help planning your visit to New York City? We got you! Check out all of our helpful New York City planning guides!
---
About Guest Author
Sarah Beling is a playwright, New Yorker, and passionate food enthusiast who is always looking for her next meal. You can find her in an NYC park, enjoying a chopped cheese sandwich and reading about NYC's best new places to eat.
---
Found this guide for the best time to visit NYC helpful? Bookmark for later or share with a friend!