Curtain up! Light the lights! You're headed to a Broadway show!!! You bought your tickets, you've listened to the cast recording non-stop, but…what is the Broadway dress code? What should you wear?!
Packing for a trip to New York City can be stressful enough, but if you add a few performances into the mix, it can throw you for a loop. If you're wondering what to wear to a Broadway show, we've got you covered. And while we're at it, we've got all the details not only on the dress code for Broadway shows, but also everything you need to know about theatre etiquette and what to expect on your first trip to the shining lights of the Main Stem. Places!
And if you are still wondering how to get tickets, check out our guide to how to see a show on Broadway which covers how to get discounted tickets, tips, and also some of the best shows to see if you're still undecided.
Broadway's Traditional Dress Code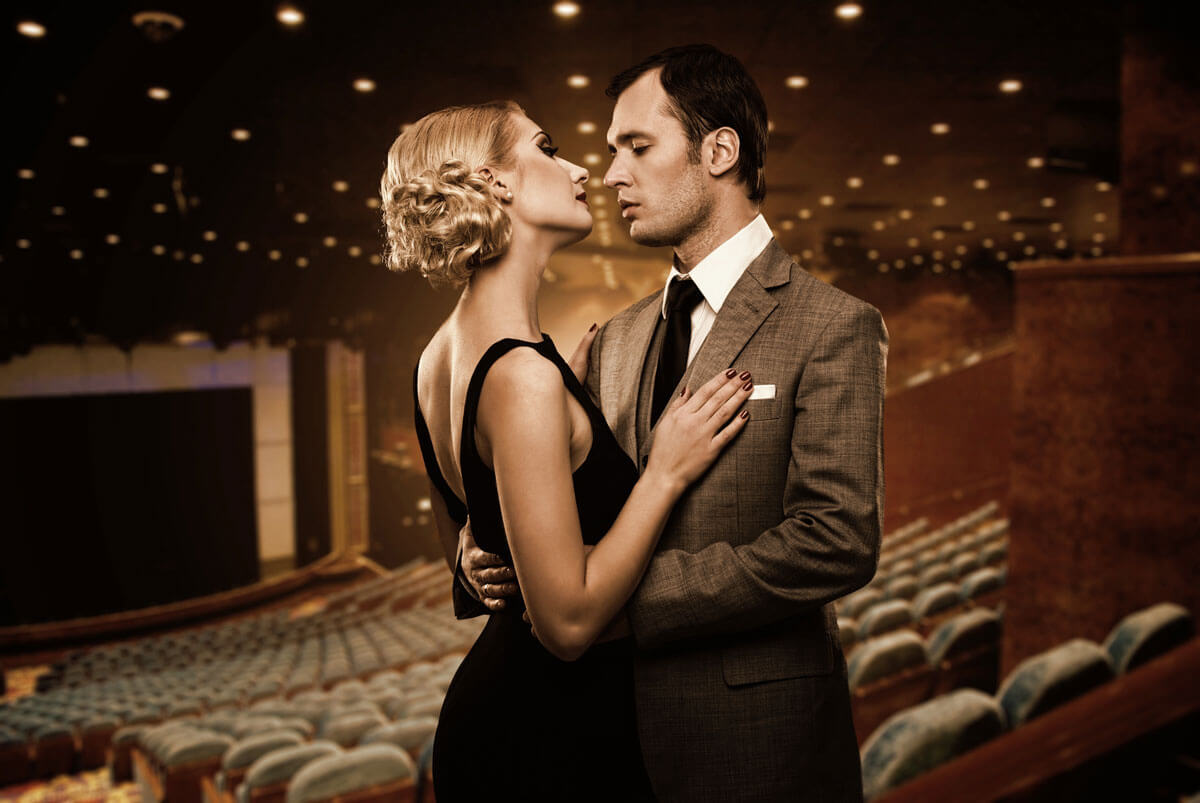 When many people think of Broadway dress code, they imagine black-tie attire and old-school long gown glamor reminiscent of a scene from Mad Men. Audiences in the "Golden Age" of Broadway (from approximately 1943-1965) generally wore semi-formal attire for matinees (skirts and day dresses, suits) and full formal attire for evening performances (long dresses, tuxedos) as their Broadway dress code.
And while there are still remnants of this tradition for specific occasions (opening night performances, fundraising benefits, the Tony Awards), the dress code for Broadway shows has largely morphed to fit with today's significantly more flexible styles.
Today's Broadway Dress Code
Today, there are no official rules regarding attire for Broadway shows, other than to adhere to the general societal standards of decency (aka: please don't attend a Broadway show naked, even if it's a production of Hair). In a nod to the understanding that Broadway should be accessible to everyone, not just those that can afford a formal outfit, many show websites have started to officially state that there is no Broadway dress code for performances.
Most modern audiences don a solid mix of casual, business casual, and "date-night"-style attire — and if you'd still like to dress up, you may feel a bit out of place in full formal attire. That being said, there's nothing wrong with glamming up to mark the occasion — it's really about what you feel comfortable sporting as a dress code for Broadway shows!
Here at your Brooklyn Guide, our recommendations for what to wear to a Broadway show rely most heavily on the time of year and weather.
New York City is a fickle mistress of many temperatures, and the inside of most theaters do not always match the expected interior climate. In the summer, we recommend sporting layers to brave both the blazing heat of New York's sidewalks and the frigid cold of Broadway theater air conditioning.
When you're working up your own dress code for Broadway shows, you can't go wrong with a jean jacket layered over a dress or pants/shirt combination! In the winter where you're likely traveling with a hefty jacket, we recommend a light sweater to stay comfortable and to utilize the theater's coat check (ask the box office and ushers for its location!) to store your outer layer during the performance.
When it comes to accessories, there is one major theatre etiquette rule for how to dress for a Broadway show — if you're wearing a hat, make sure to remove it when you sit down.
After all, it's only fair to your fellow theatergoers not to block the view with an extraneous obstacle! And if you're looking to store your hat somewhere, we recommend bringing a small to medium sized bag — Broadway seats and aisles are notoriously tiny and you won't be able to fit a substantial purse or backpack comfortably in front of you.
Craving a cocktail to go with that production of Cats? You can now enjoy wine, beer, and mixed drinks in branded to-go cups at most Broadway theaters. That being said, a word of warning when you're wondering what to wear to a Broadway show— Broadway bartenders serve a generous pour and to-go cups do not always sport the most airtight seals…so if you're a red wine or whiskey drinker, this may not be the best time to rock your crisp white Oxford or favorite ivory cable knit sweater as part of your Broadway dress code.
General Broadway Theatre Etiquette
If you've never been to a Broadway show, the thought of theatre etiquette can be daunting — but it really all comes down to the basic best practices of any public performance.
Step one? Be on time. While most theaters have an approximately 5-minute or so grace period after the curtain time where they are still in the process of seating patrons, it's by no means guaranteed!
Make sure to budget time to get to the theater, wait in the security lines (all Broadway theaters have a TSA-style metal detector and bag check), visit the bar or snack area, and use the restroom if you need it before the performance begins (ushers can always direct you to the nearest restroom).
Remember that outside beverages are not allowed in the theater, so if you stopped for coffee beforehand, finish your latte outside or risk having to pour it out!
Here are the closest subway lines to most Broadway theaters:
50th Street Station (C & E lines)
42nd St/Times Square Station (1, 2, 3, 7, N, Q, R, S lines)
49th Street Station (N, Q, R, W lines)
42nd Street –Bryant Park Station (7, B, D, F, M lines)
50th Street/Broadway Station (1, 2 lines during late nights)
50th Street Station (1 line)
Once you sit down, please, please, please turn off your phone (or at least set it to airplane and turn off all alarms). Look, we get it. It's a really easy thing to forget. But there's nothing worse than watching an actor go through a particularly moving or dramatic moment only to be interrupted by the jarring sounds of someone's Calypso ringtone — it really breaks up the mood at Death of a Salesman, ya know?
In most cases, the house manager will make an announcement asking everyone to silence their cellphones and remind the audience that the taking of photos and videos are strictly prohibited. And yes, while the more than occasional Broadway bootleg has made it on to Tiktok…don't do it. Live in the moment!
There are, of course, very rare exceptions, where a production encourages photos at a certain moment (sometimes a curtain call reprise!). In this case, follow the lead of the theater's instructions and only turn your phone on when asked!
When it comes to theatre etiquette during the performance itself, there are a few nuances. A theater isn't a library, and there should certainly be no expectation that audiences remain silently reverent to the proceedings. The best advice we can give is to go with the flow of the show — seeing a big boisterous musical where the actors encourage audience participation and there are lots of big, brassy moments? There will be clear opportunities to clap, cheer, laugh and respond to the action on stage.
Seeing an intimate, dark drama? Here too there may be a point where the audience, transfixed, gasps. Theatre etiquette is all about respect for your fellow theatergoers and the company of the show. Theater is a human experience and response is encouraged, as long as it doesn't prevent the actors from performing or fellow audience members from savoring the experience as well.
Seeing a two-act show and need to go? You have two options, my friends. Book it to the restroom as soon as the lights come up, or hang tight until the curtain comes down. Broadway theaters are infamous for their lack of adequate restroom stalls and have long lines to go with them. While the (amazing!) restroom ushers are great about getting large groups of people through the line, it may be easier to go before the show.
When you're booking a ticket, note that most seats are small, and depending on your height and size, you may find it more comfortable to book an aisle seat. And while we're discussing getting in and out of your seat, be warned — there is very little space to shuffle past other patrons when getting to your assigned seat, and your row-mates are likely to have to stand or move to let you in.
As a courtesy to them, try to make one trip to the bar, snack vendor or restroom so that they only need to stand up once!
And if you're sightseeing all day with a DLSR camera in your bag, you might want to schedule in a stop at your hotel as some theaters won't allow those types of cameras in. It's best to check the specific theater's website you're planning on attending to see their policy on this and other prohibited items you may accidentally have.
After the Show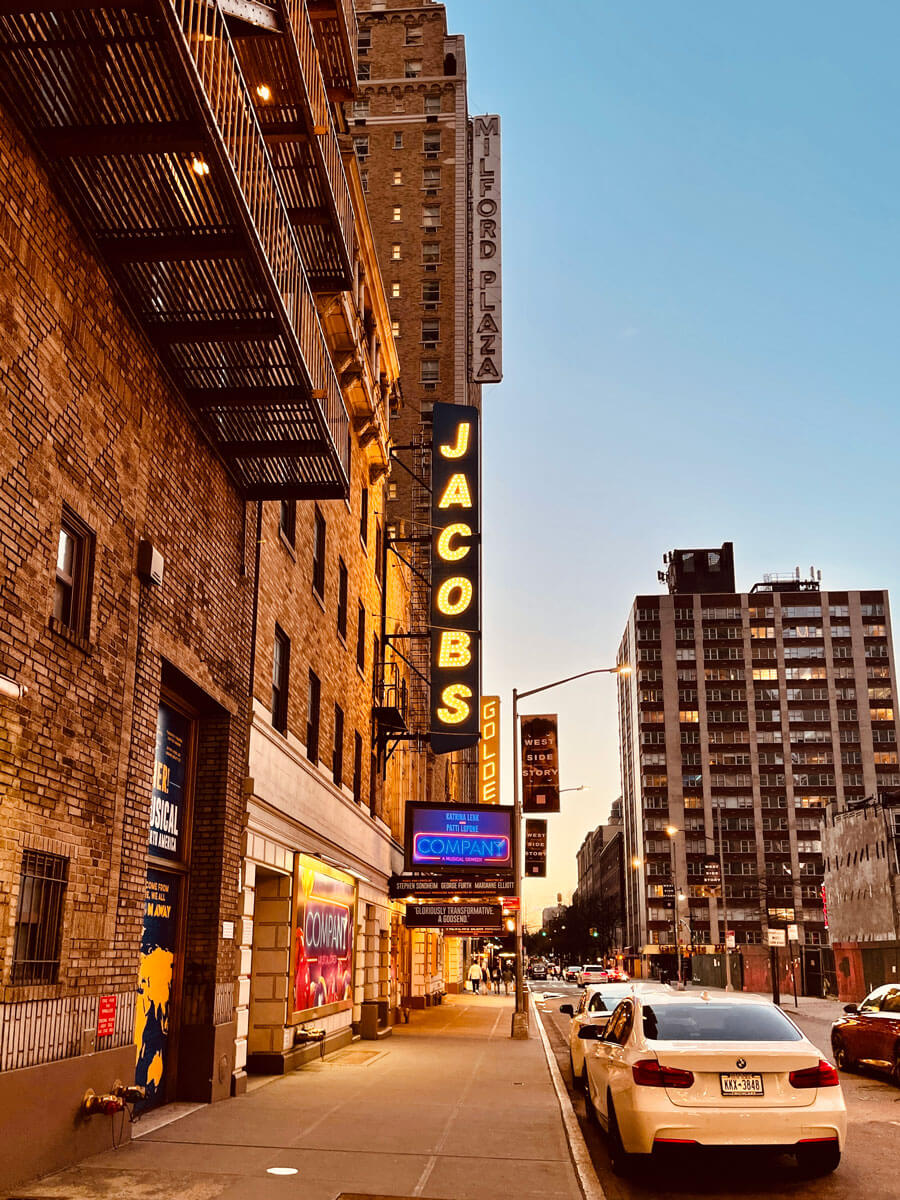 After the show, you may be inspired to wait by the stage door to see if your favorite actor from the show will appear to sign autographs. While some actors still choose to stay after the show and greet fans, many theaters and actors skip the practice due to ongoing health and safety concerns and as an effort to avoid other illnesses that could take them out of the show.
It should never be an expectation that an actor will stay — after all, they've just poured their heart and soul out onto the stage for you, and that's a gift in itself!
Want to support the artists you just saw? Many actors and creative technicians will list their social media or upcoming projects in the program. Follow them, share their content, purchase their albums or other artworks and attend future performances!
Miscellaneous Advice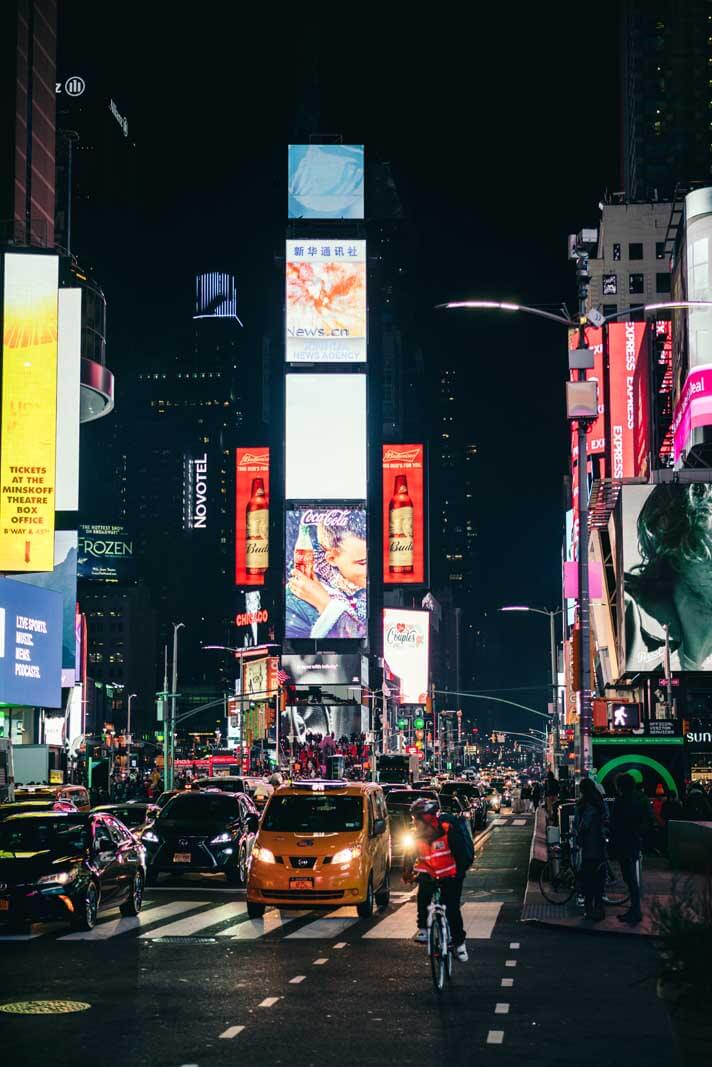 Still looking for a ticket? Check out our guide on how to snag the best deals and discounts on Broadway!
Have time to spare? Here are fun things to do In Times Square and the surrounding Theater District area!
Seeing a show around the holiday season? Read here for the best things to do in NYC at Christmas (many of them are near the Theater District!).
Now that you know what to wear to a Broadway show and how to ensure the best possible viewing experience, we hope you have an award-winning time!
---
About Guest Author
Sarah Beling is a playwright, New Yorker, and passionate food enthusiast who is always looking for her next meal. You can find her in an NYC park, enjoying a chopped cheese sandwich and reading about NYC's best new places to eat.