Looking for some great Indie Brooklyn art galleries to check out in addition to the great Brooklyn museums available? We've got you covered with these great independent galleries in Brooklyn to check out all across the borough.
"Indie art," which means "independent art," are artworks produced by artists who are not dependent on the commercial market in the art world. Although they could be bought and placed at galleries for exhibitions.
Indie art galleries could be owned by non-profit organizations or individuals; a common goal is to show support and promote the artwork and culture of different artists worldwide.
If visiting brilliant and exquisite indie art or participating in indie artworks in Brooklyn is on your bucket list, here are our picks for some of the coolest indie Brooklyn art galleries to check out.
Independent Art Galleries In Brooklyn
Leroy's Place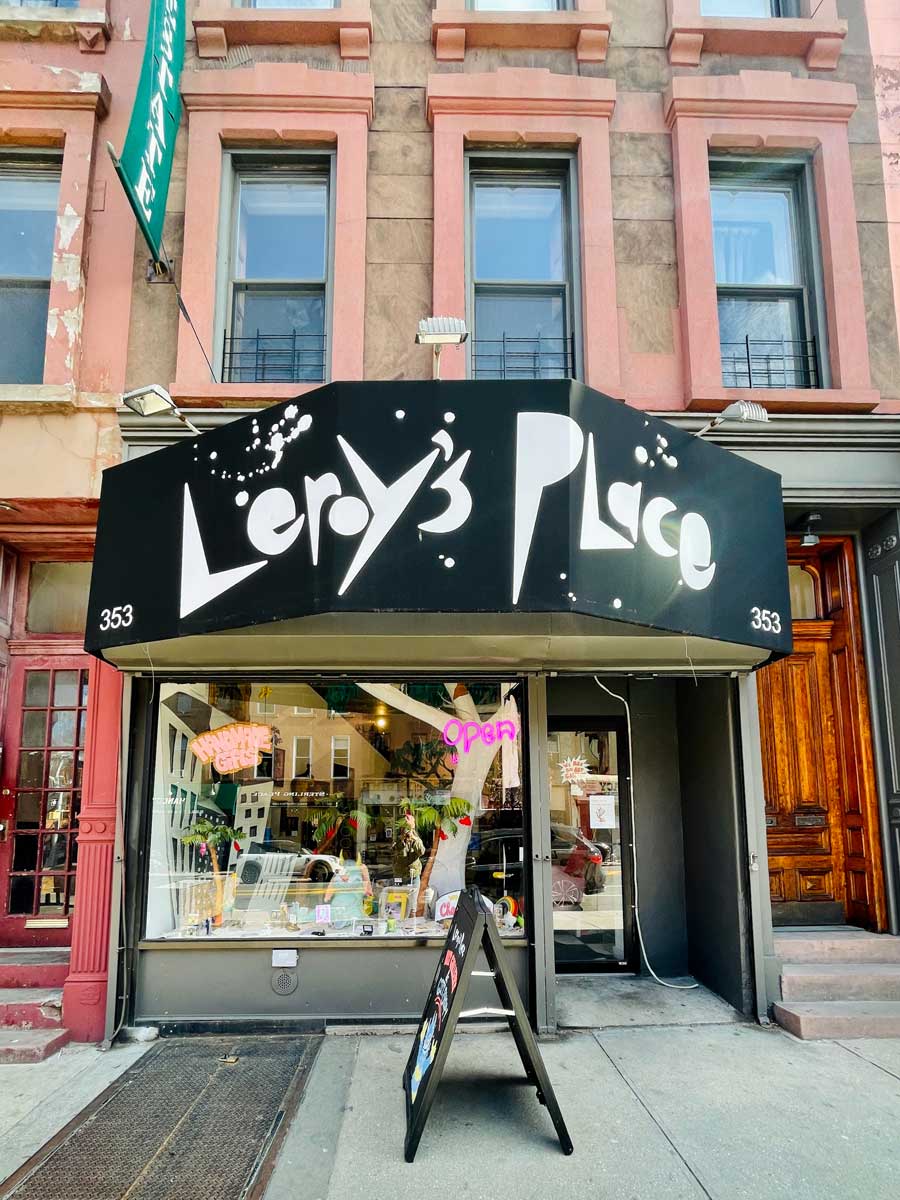 Park Slope (353 7th Avenue)
Tucked away in an unassuming Park Slope location, Leroy's Place epitomizes handmade gifts and original arts. From enjoying the brick-and-mortar monster gallery in 3D to the secret courtyard at Leroy's, this Brooklyn art gallery can be rented for whatever mini occasion and is fun to stop in anytime they are open.
Inside you'll be taken away to the whimsical world of Leroy's Place with walls covered in classic paintings with monsters, giant puppets, and other fun, colorful art that makes children and those who are young at heart smile.
They are typically open Wednesdays through Sundays from noon to 7 pm, double-check their hours before your visit.
Invisible Dog Art Center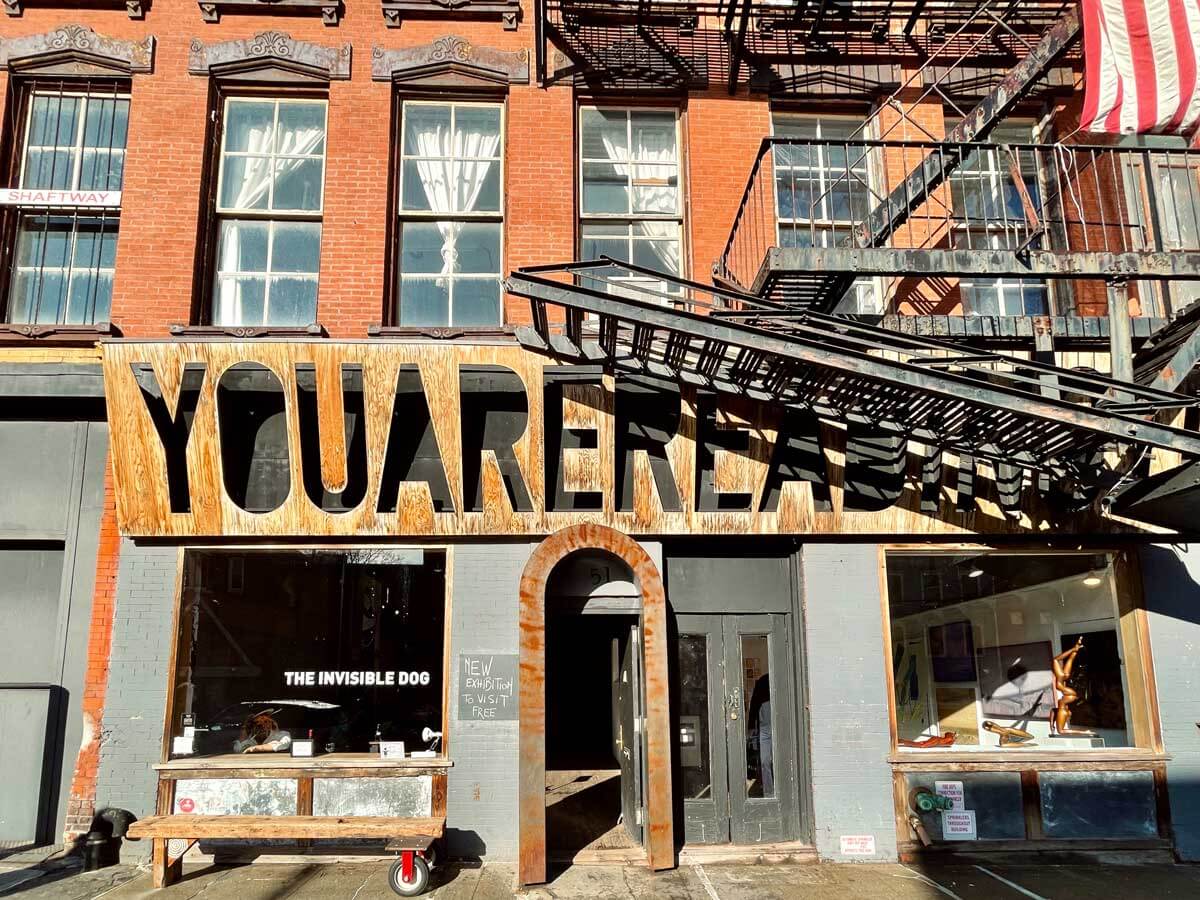 Boerum Hill (51 Bergen St)
In 2009, Lucien Zayan established the Invisible Dog Art Center, a museum and fun independent art gallery in Brooklyn located in Boerum Hill, Brooklyn. The museum was named The Invisible Dog Center because the building was formerly an invisible dog company that produced the famous 'invisible dog gag' that was popularly sold at Disney theme parks outside of the Haunted Mansion ride.
If you're unfamiliar, the invisible dog leashes look like you're walking an invisible dog when you hold the leash. There was even a public stunt where hundreds of these leashes were handed out to people in the neighborhood and you could see tons of 'invisible dogs' walking around the streets in Brooklyn.
The building has exhibits by curators from all over the world visitors can enjoy, occasional visual arts performances and public events, a pop-up shop, and artist studios making it one of the best spaces and Brooklyn art galleries to check out if you appreciate art or are an artist yourself!
Pioneer Works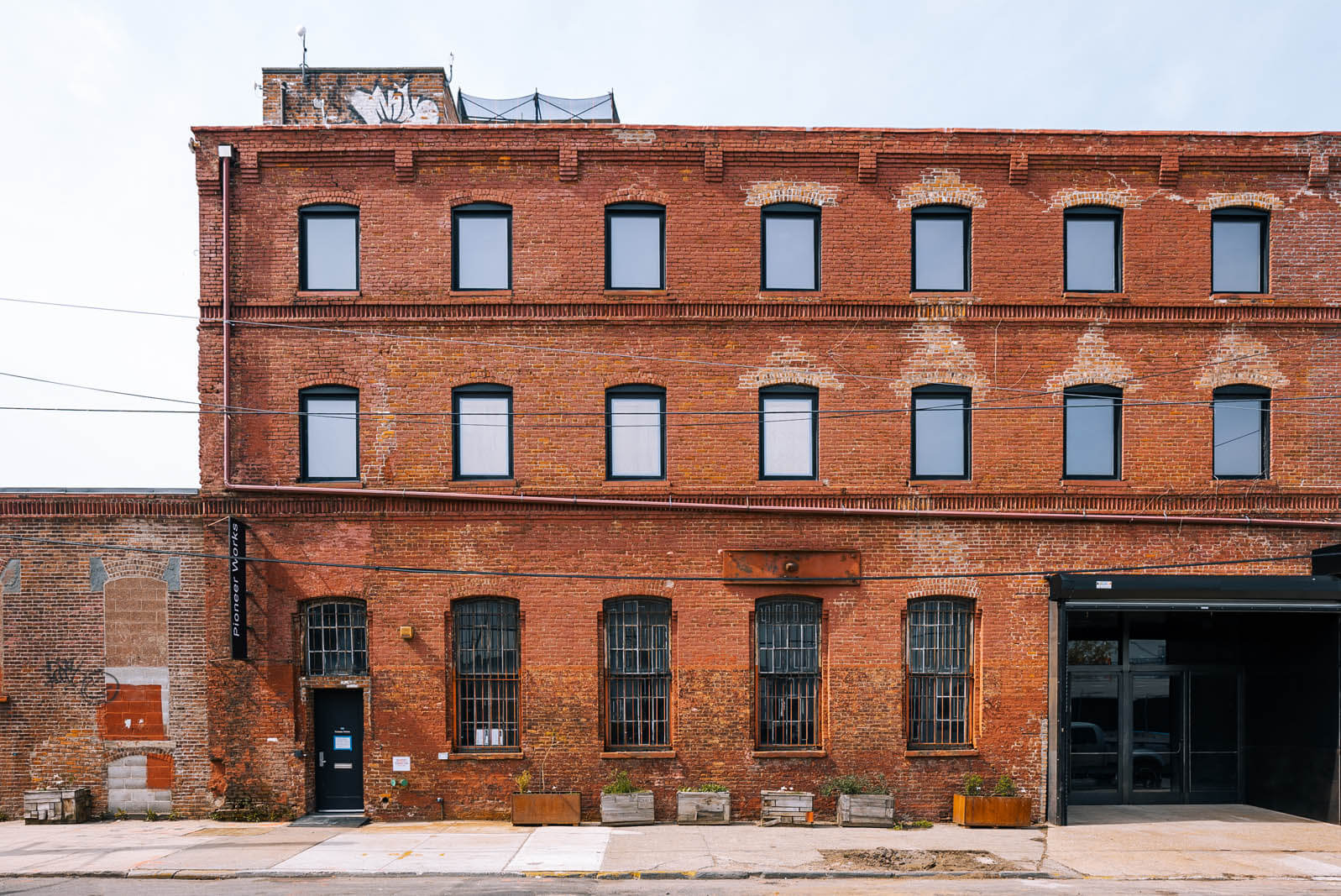 Red Hook (159 Pioneer St)
Next up on our indie Brooklyn galleries worth exploring takes us to Red Hook. Pioneer Works, a non-profit organization that supports creativity and deep-thinkers, is a three-story building dating back to 1866, to be precise, and was opened as an artist-run cultural center in 2012.
This space named itself to pay homage to the former factory that used to be housed in the same building, Pioneer Iron Works who made iron products including railroad tracks dating back to as early as 1866.
Artist Dustin Yellin, the founder of Pioneer Works, envisioned an environment free to the public and home to free and deep thinkers, creatives, and even scientists.
When visiting you'll find a really cool, collaborative urban artistic space-occupying this historic building making it one of my personal favorite indie galleries in Brooklyn to visit, not to mention all the cool things to do in Red Hook before or after your visit.
This cultural institution runs as a not-for-profit center focusing on the arts and sciences celebrating radical and free-thinking artists to have space and resources to create.
Visitors can come and explore the various exhibits by the different artists who are members here or even participate in a class and explore your own creativity! Better yet, Pioneer Works has no admission making it one of the best free things to do in Brooklyn!
Visit their site before your visit, this Brooklyn art gallery is currently closed on Mondays & Tuesdays.
A.I.R. Gallery
DUMBO (155 Plymouth St)
Welcome, to the first all-female art gallery created in 1972 when only male artists had their works shown at commercial galleries. This is one of the Brooklyn art galleries that has a fascinated and important history linked to the inequality in the art world.
A.I.R. Gallery is a non-profit and self-underwritten organization aimed at providing opportunities for women to express their diversity and unique talents with exhibits featuring hundreds of works from women, transgender, and non-binary artists each year.
Each visit to this gallery in Brooklyn is different as there are always rotating exhibits and different programming and events that take place here. Be sure to swing by while you're exploring all the best things to do in DUMBO.
Greenpoint Terminal Gallery
Greenpoint (67 West St., #320)
Located in Greenpoint, this Brooklyn art gallery has been around since 2013 when artist, Brian Willmont opened its doors. Located in a former and historic building, where American Manufacturing Corporation Rope Factory was once housed right on the East River waterfront, this art gallery in Brooklyn offers exhibits featuring the works of different contemporary artists across all mediums.
Be sure to pop into this indie art gallery in Brooklyn as the exhibits are constantly rotating featuring a mix of well known artists as well as up-and-coming budding artists!
Minus Space
DUMBO (16 Main St)
DUMBO is full of great independent Brooklyn art galleries including Minus Space, located on Main Street. Minus Space offers curated exhibits that focus past, present, and future through reductive and concept-based art on an international level.
For those unfamiliar with reductive art, according to Minus Space's website their definition includes, "Reductive art is generally characterized by its use of plainspoken materials, monochromatic or limited color, geometry and pattern, repetition and seriality, precise craftsmanship, and intellectual rigor. Reductive art is inclusive and pluralistic in its approach, including geographic location, age, gender, medium, artistic strategy, and content of work."
This is another gallery in Brooklyn that features not only well-known and established artists in the scene but also emerging or up-and-coming artists who have yet to be recognized for their talent and vision from all over the world. You may even witness experimental exhibits and artwork here too.
Auguste Garufi
Red Hook (610 Smith St)
Another cool indie art gallery in Brooklyn to check out is August Garufi, a New York-based artist who invites visitors to stop in his working studio on Smith Street where he creates in daily to browse his current works on display that tie in his love of poetry into his mixed forms of art through film, canvas, and installations.
This is a one-man artist studio by Garufi who likes to embody serenity, calmness, and natural peace within his work. With each piece sharing and telling unique stories, you can never get bored at his exhibition. Most of his exhibitions since 2000- till date have been solo works.
Look North Inuit Art Gallery
Red Hook (275 Conover St)
Another great independent Brooklyn gallery located in Red Hook is the Look North Inuit Art Gallery by Jim Clark and founded in 2006.
This gallery's focus is dedicated to promoting Inuit and Arctic Culture through art with a display of authentic contemporary sculptures, paintings, etchings, and prints from both well-known artists and up-and-coming creatives from over 30 Inuit communities in Canada's Arctic region.
Clark spent 25 years on research and commercial vessels through Arctic landscapes and getting to know and appreciate the communities he visited cultures and artwork, which is the mission and goal to share with the Red Hook community as well as New York City. He also has another location in Vermont.
Collections at Look North can be viewed only by appointments and scheduled exhibits, although specific openings are done at this Brooklyn gallery.
ESPO's Art World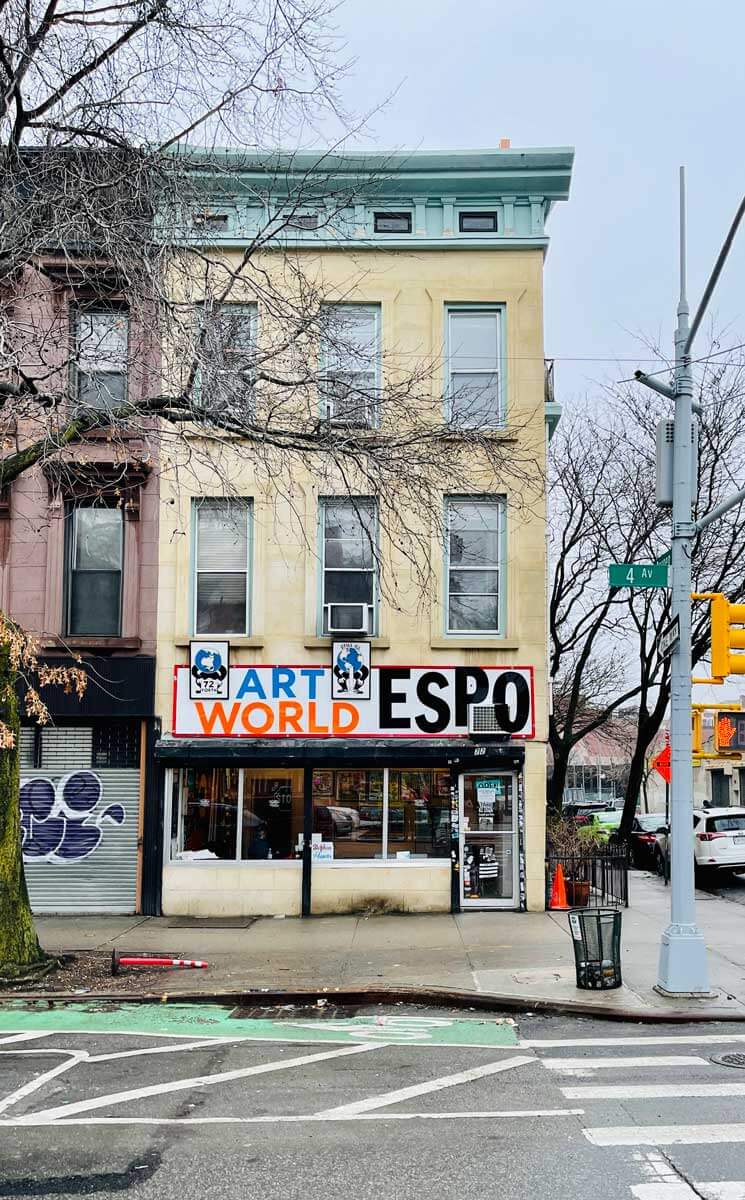 Boerum Hill (72 4th Ave)
One of my personal favorite independent art galleries in Brooklyn to check out from time to time is ESPO's Art World in Boerum Hill and Downtown Brooklyn.
ESPO stands for Exterior Surface Painting Outreach, and it is run by Stephen Powers, the contemporary artist, and muralist who works from this studio space as well.
Early in his career, he was known as a graffiti artist, however, for the past two decades, he has made a name for himself as an established muralist and sign painter.
Besides his work on display here, much of which is for sale, Powers's work can be seen all over the world including the exterior of Warby Parker in Williamsburg and the signage at Eldorado Auto Skooter at Coney Island.
Calico
Greenpoint (67 West St., #203)
Another one of the most interesting independent galleries in Brooklyn is Calico, located in Greenpoint and founded by Brooklyn-based artist, Scott Chasse in 2012. Calico is a small exhibit space whose philosophy revolves around nurturing a local art scene community.
To get this art gallery in Brooklyn from a dream to reality, Chasse personally financed the entire first year of the gallery and successfully crowd-funded the gallery on Indiegogo after with support from the local art community that he aims to curate the space for.
This artist-run space in Greenpoint Terminal Warehouse tries to create a space without the commercial pressure that is accessible for all.
Calico offers solo exhibitions, annual work sales, themed group exhibitions, collaborative events, and so much more. Selected art pieces are put up for sale from ceramics to sculptures, textiles, print, illustrations, and original paintings.
Klompching Gallery
DUMBO (89 Water St)
Another amazing independent Brooklyn art gallery in DUMBO is Klompching Gallery located on Water Street. This Brooklyn gallery features rotating exhibits of contemporary fine art photography and has been around since 2007. Artists whose work get featured here include both established and up-and-coming creatives.
The gallery is always changing with a solid reputation in the contemporary photography art scene as well as being critically acclaimed by many publications. This gallery in Brooklyn is open Wednesdays through Sundays.
Kentler International Drawing Space
Red Hook (353 Van Brunt St)
Since 1990, Kentler International Drawing Space opened its non-profit organization and gallery for visitors showcasing contemporary drawings and works done on paper by under-recognized and talented, emerging artists to the public in their creative space.
The works on display feature nearly 300 of both US-based artists as well as works by international artists in their showroom and gallery as well as offer different programming from 5 rounds of exhibits annually to events founded by two artists, Florence Neal and Scott Pfaffman.
You can find this cool indie Brooklyn gallery in Red Hook in a little storefront space on Van Brunt St; and is open for visitation Fridays through Sundays 12-5, but if you want to see their Flatfiles exhibit, you'll need to schedule an appointment to visit.
This is one of the many art galleries in Brooklyn that is also free to the public. But note that the gallery is closed between exhibits, so be sure to check in advance before planning your visit.
C l e a r i n g
Bushwick (396 Johnson Ave)
One of the coolest indie Brooklyn art galleries located in Bushwick is C L E A R I N G, a contemporary art gallery branch of a Belgian-based gallery in the city of Brussels that features contemporary work by up-and-coming/emerging artists.
Both public and private exhibitions are held at C L E A R I N G to help the artist by exhibition and production. The New York, Brooklyn art gallery opened its doors in 2011, which the Brussels location only opeing a year after in 2012, with a goal of showcasing only emerging art.
This is a great gallery in Brooklyn to check out if you love to check out artists on the rise!
Transmitter & Microscope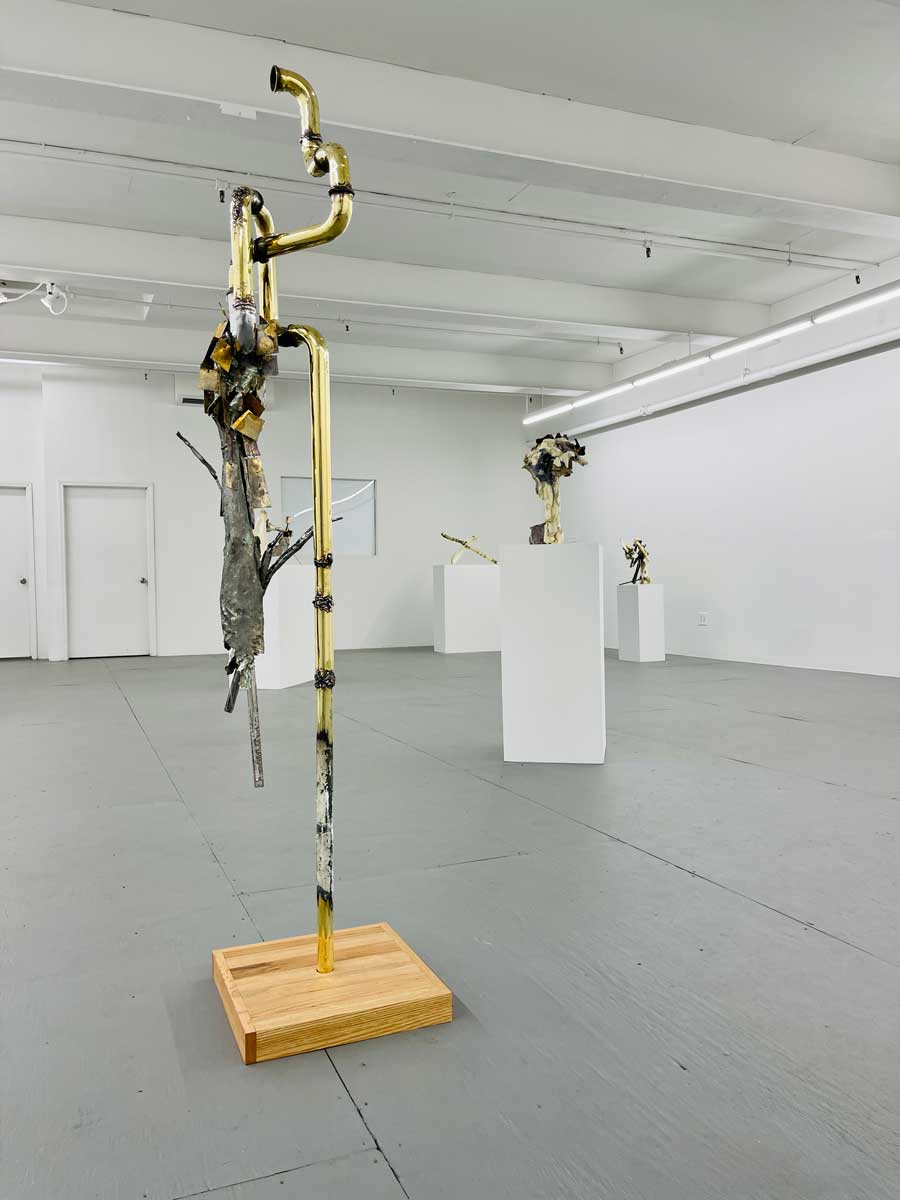 Bushwick (1329 Willoughby Ave)
This Bushwick warehouse houses not one but two indie galleries in Brooklyn showcasing contemporary art. Microscope showcases a curated selection of installations and performances that revolve around time in some way through sound, film, performance art, and other forms of mixed media.
This exhibit is always rotating, so no two visits are the same. They even once, which made news, hosted a performance artist give live birth in this Brooklyn art gallery.
Transmitter, which is located in the same former industrious warehouse, features collaboratively curated exhibits that are typically mixed forms of art and experimental with rotating exhibits meaning you should stop in anytime you're in Bushwick to see what's happening here.
Both of these galleries in Brooklyn ask that you schedule a visit or contact before you visit at this time/
---
Did we miss one of your personal favorite independent Brooklyn art galleries? Let us know in the comments below, we are always looking for new exhibits and creative spaces to check out!