Who's ready for some fun things to do in Brooklyn in winter? Some people think winter is one of the worst times to travel or visit somewhere, but we disagree! One of the best things about Brooklyn in winter, and this goes for all of the best NYC attractions as well, is that you can get many of the popular spots all to yourself not to mention special activities that only happen during the winter months!
So bundle up and enjoy these best things to do in Brooklyn in winter from finding the city's best comfort food, chasing festive holiday decorations and activities, taking advantage of all the amazing indoor activities to do in Brooklyn, and of course doing some of the most popular attractions like walking the Brooklyn Bridge with NO CROWDS!
Check out our picks for the best of Brooklyn in winter! Also, check out our guide to the best things to do in NYC in winter for more ideas! Also, if you're looking for something a little more romantic, check out our winter date ideas in NYC too for more options!
Best of Brooklyn in Winter
ICE SKATING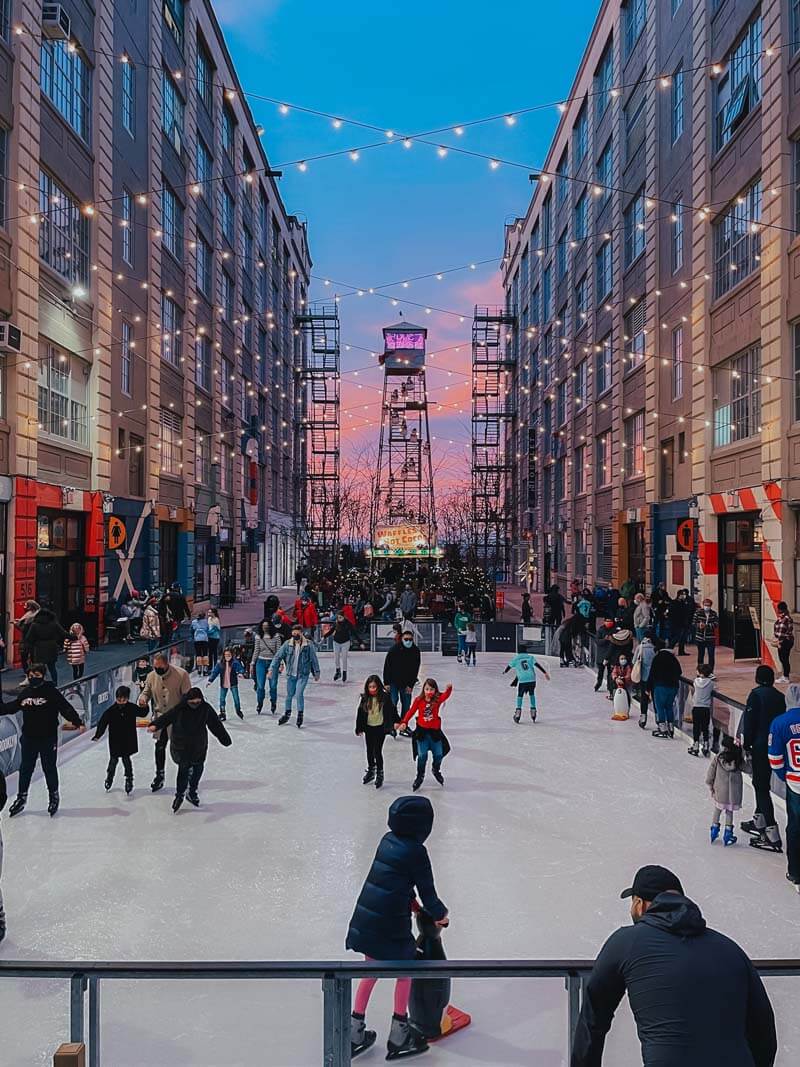 One of the best ways to enjoy the crisp air of winter in Brooklyn is by embracing the chill and hitting the rink for some ice skating! With several locations to choose from, ice skating is the perfect winter pastime for the whole family.
If you're looking to take in some breathtaking views while you skate, check out Rooftop Winterland Park at Pier 17! This rink offers a stunning view of the Manhattan skyline and the Brooklyn Bridge.
If you've got the kiddos with you, or are just looking for a little extra excitement, head to the Aviator Sports and Events Center where you can enjoy year-round ice skating! In addition to just skating, this spot offers ice bumper cars on the weekend – for an extra special day on the ice!
To skate with the locals, head down to Coney Island for ice skating at the Abe Stark Skating Arena! This rink is perfect for a fun and less busy winter day in Brooklyn.
For the ice skating veterans, bring your own skates and slice the ice during open skate at the Barclays Center! You'll need to double-check open skate times before you go, and they don't offer skate rentals, but it's well worth it to get to glide through winter in Brooklyn on one of the most famous rinks in the city!
Pretend you're an Islanders' goalie or a world-class figure skater for a day!
If you're around Prospect Park, hop over to the LeFrak Center at Lakeside where there is both a covered and an outdoor ice skating rink! See our full guide for more information on ice skating in Prospect Park.
Ice skating is a quintessential winter in Brooklyn activity – so grab your pals, lace up your skates, and hit the rink for a winter to remember!
Be sure to read our entire guide to all the best ice skating in Brooklyn for more ideas! This is also a great spot for a date! Be sure to read more of our favorite date ideas in NYC for more inspiration!
ANNUAL POLAR BEAR PLUNGE at CONEY ISLAND
If you're an adventurous soul looking for things to do in Brooklyn in Winter, consider taking a trip down to Coney Island for the annual Polar Bear Plunge!
Each New Years Day, thousands of bold bathers take a freezing cold dip in the waters of Coney Island. The Coney Island Polar Bear Club is the oldest winter bathing organization in the nation, and each year they host the Coney Island Polar Bear Plunge.
Although you have to be a member of the club to partake in the club's weekly winter wades, everyone is invited to ring in the new year with a splash!
Meet up at the Coney Island Boardwalk at Stillwell Ave. on January 1st to join in the freezing cold fun! For more information of the Polar Bear Plunge, you can contact the Polar Bear Club here!
For a story you'll tell for years to come, and a feeling that is truly unparalleled, take the plunge and join the Polar Bear Club for a frigid dip this winter!
See our full guide to all the best Coney Island winter activities!
MUSEUMS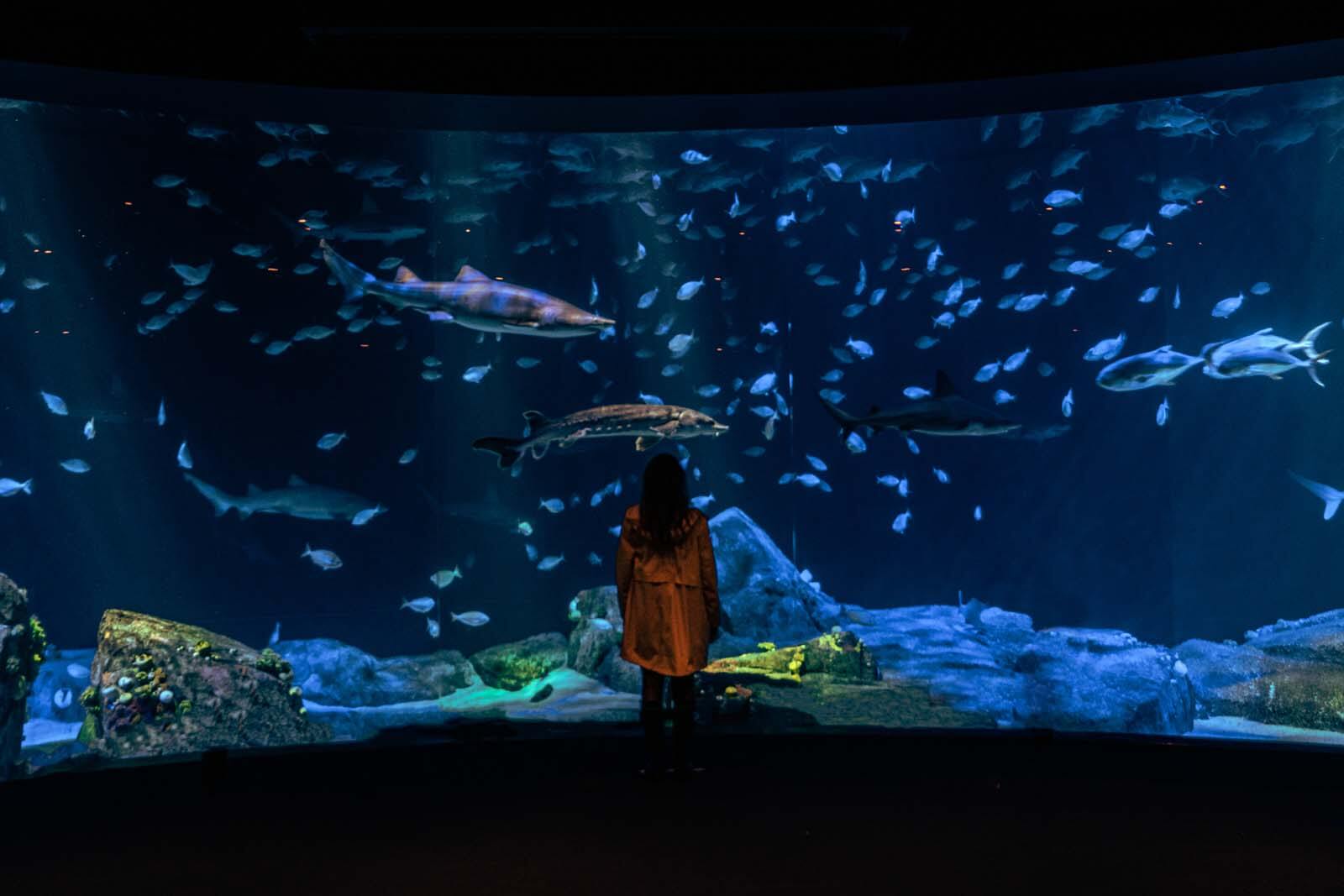 Brooklyn is a hub for culture, art, and history. If you're looking to take some heated refuge during the cold winter in Brooklyn, consider taking in some culture at one of the amazing museums in Brooklyn!
The Brooklyn Museum in Prospect Heights is the 3rd largest museum in the city when it comes to size and a wonderful place to view some truly incredible works of art. The Brooklyn Museum is also located near the Brooklyn Botanic Garden and Prospect Park, so you can make a whole winter day of it!
If you want to learn more about the history of Brooklyn, check out the Brooklyn Historical Society! With its main location in Brooklyn Heights and an additional location in DUMBO, you can visit whichever is most convenient for you and your winter crew.
The Brooklyn Historical Society offers visitors a look into Brooklyn's rich 400-year history. In the hustle and bustle of everyday life in the city, it can be easy to forget about Brooklyn's roots – visiting the Brooklyn Historical Society is a wonderful opportunity to slow down and reconnect with the city's past.
If winter has you dreaming of warmer days, go under the sea at the New York Aquarium in Coney Island! With over 266 species of marine life, you can immerse yourself in the diverse and colorful world of the ocean, all while contributing to the aquarium's mission of wildlife conservation – making this trip a win for all species involved!
While you're down in Coney Island, you can also pay a visit to the Coney Island Museum! Take a stroll along the boardwalk, or just enjoy Coney Island without its characteristic summer crowds!
It's always a good time to learn about history, but around the holidays is an especially great time to connect with ancestors, heritage, and tradition! The Jewish Children's Museum in Crown Heights is an educational and immersive museum that is informative and engaging for children of all backgrounds and faiths! Kids will have fun with the museum's interactive exhibits – and the adults tagging along will be sure to learn something too!
HOLIDAY FESTIVITIES
Of course, one of the best things about winter is getting to be festive and celebrate the holidays! All of New York City is absolutely magical during the holidays, and Brooklyn is certainly no exception.
To make your holidays bright, check out the Dyker Heights famous Christmas lights! Since the 1980s, the residential neighborhood of Dyker Heights lights up the day after Thanksgiving and keeps burning through New Years Eve.
Each evening during the holiday season, you can stroll through the neighborhood from dusk until around 10 pm to take in all of the glowy cheer. Be sure to read our full guide for more information on visiting the Dyker Heights Christmas lights displays this winter.
If you're looking to celebrate Hanukkah in a big way, visit the Menorah lighting at the Brooklyn Grand Army Plaza! At the very top of Prospect Park, at the Brooklyn Grand Army Plaza, you can see the illumination of a 30-foot-high Menorah, be sure to also check out our full guide to Hanukkah in NYC for more festivities happening around the city too.
Each night during Hanukkah, around 6 pm on most nights, 3:30 pm on Fridays, and 7 pm on Saturdays, head to the plaza for the candle lightings. Also, be on the lookout for a fun kickoff on the first night of Hanukkah and special treats and events each night prior to the lighting.
No matter what holiday you observe, Brooklyn in the winter is truly a sight to behold. So take advantage of the festivities and enjoy the holidays in Brooklyn!
LIGHTSCAPE AT BROOKLYN BOTANIC GARDEN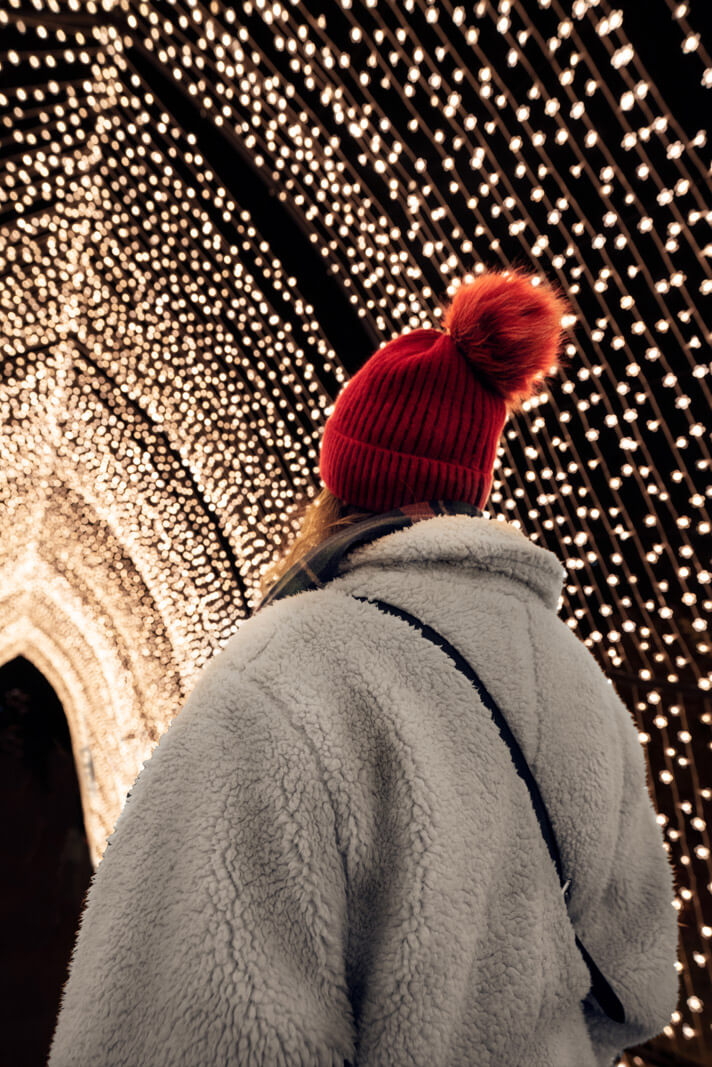 During the winter months of November through early January in the holiday season, Brooklyn Botanic Garden transforms into a winter illuminary garden with over one million lights on display for their seasonal, after-dark spectacular.
Walkthrough the path to one light installation after another featuring different artists, poetry written in light, and synched to music in this mesmerizing experience.
You will want to secure your tickets in advance for your timed entry on Brooklyn Botanic's website, see our full visitors guide to Brooklyn Botanic Garden too for more tips to plan your visit.
WALK THE BRIDGES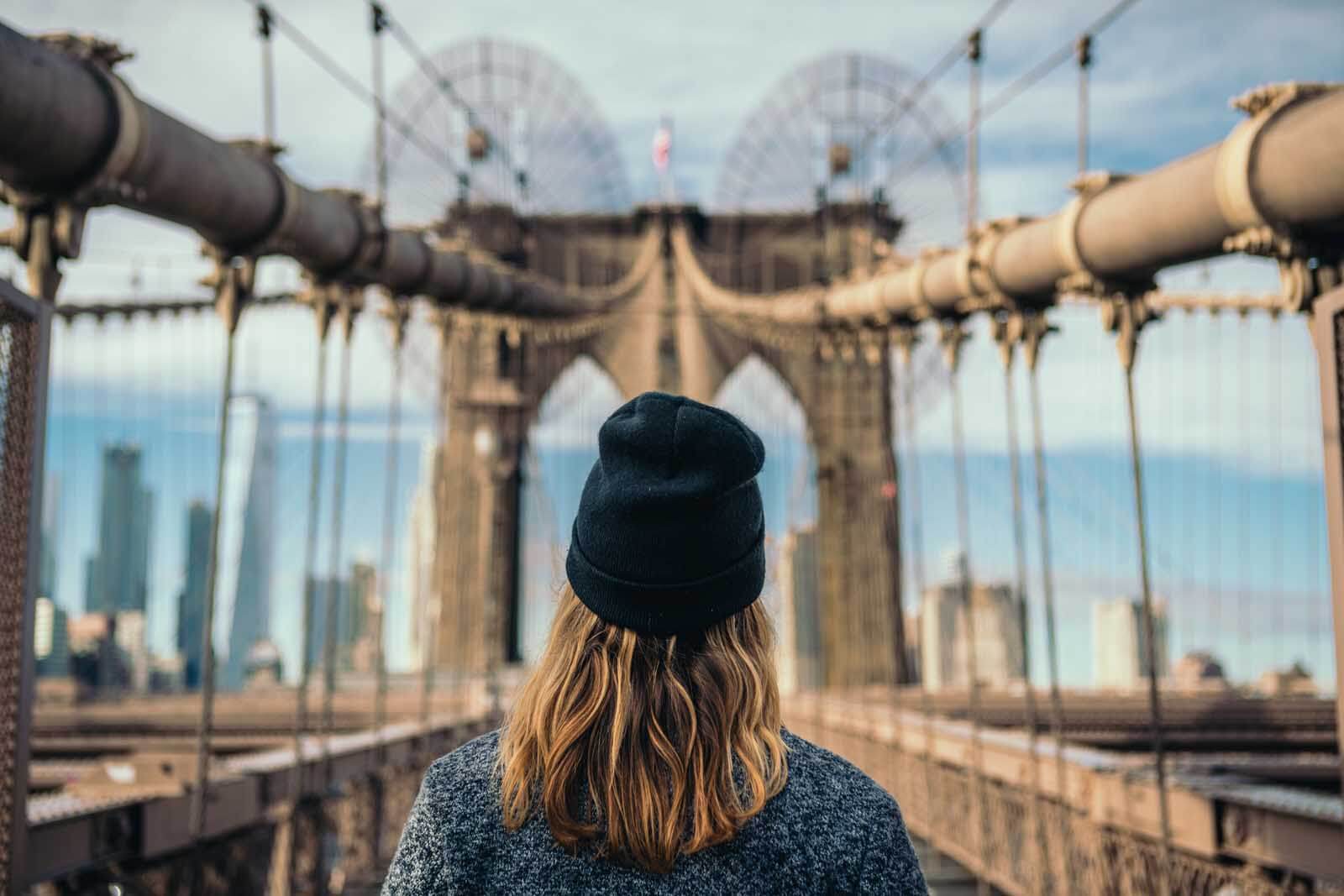 There are plenty of organized events and things to do in Brooklyn in winter, but one of the best free pleasures is taking a bridge walk! With the invigorating cool air, beautiful foliage in the early winter, holiday lights in mid-winter, and the glistening snow of late winter, walking one of Brooklyn's magnificent bridges is a great way to get some fresh air, take in the breathtaking sights of the city, and spend quality time with those you love.
Of course, the most famous (and most Instagrammed) is the Brooklyn Bridge. While the Brooklyn Bridge can get crowded, winter is an excellent time to plan your stroll. Since there are fewer crowds on cold, cloudy, windy, and snowy days, winter provides ample opportunity for a more peaceful walk!
Although holidays are always busy, heading out on a weekday is a great way to beat the crowds on the bridge. Be sure to read our guide for walking the Brooklyn Bridge for more tips on how to get the most out of your voyage.
Another option for a wintery walk is the Williamsburg Bridge! Overall, this bridge is less crowded than the Brooklyn Bridge, but if you want to be sure to miss the rush, follow the same guidelines as with the Brooklyn Bridge – plan around the weather, avoid holidays if possible, and try to go on a weekday. Read our entire guide for everything you need to know about the Williamsburg Bridge walk before you go!
Most people don't consider trekking across the Manhattan Bridge, but it's actually a great option for a bridge walk! The Manhattan Bridge Pedestrian Walkway is only for pedestrians, making this the only bridge walk that is free of cyclists. Although not quite as scenic as the Brooklyn and Williamsburg Bridges, the Manhattan Bridge is an equally great choice for a wintry stroll and you get a great glimpse of the Brooklyn Bridge form here!
Choose a bridge that best fits your plans, or make it your winter mission to walk all three! You'll snap some stunning pictures and enjoy a refreshing walk with a view!
ENJOY THE FOOD SCENE
No list is complete without mentioning food! New York City is known worldwide for its food scene, and munching on some comfort food and sipping hot cocoa is one of the best ways to celebrate winter in Brooklyn!
There are tons of options for incredible heated outdoor dining in Brooklyn that will keep you warm even on the coldest of days! Also, be sure to see our survival guide to outdoor dining in NYC this winter for everything you need to stay warm and cozy!
You know that winter has blown in when Jacques Torres's hot chocolate starts flowing! The DUMBO storefront is the original location and is perfectly situated on Water Street (you know, for after you've worked up an appetite crossing the Manhattan Bridge). Chef Jacques Torres is known for his delectable chocolate treats, including his hot chocolate! What better way to warm up than with a steamy cup of cocoa?
If you've still got an appetite after your cup (or two) of cocoa, never fear! Brooklyn is truly a culinary Mecca, and there is no shortage of comfort food and seasonal treats around the Borough.
For some of the best comfort food in the city, check out 191 Knickerbocker – and don't forget to try the Swedish meatballs! Although it's never a bad time for pasta, cozying up with a nice red sauce in the winter is unbeatable. For an equally cozy and delicious Italian meal, check out Felice Pasta Bar!
There are few things better than a crackling fire, snuggling under a blanket, and sipping delectable wine with loved ones. Luckily, Black Mountain Wine House in Gowanus can help you accomplish all of this! With an impressive wine list and delicious plates to share, a fireplace, and an Adirondack cabin vibe you can have the ultimate unwind and catch-up at Black Mountain Wine House!
For more great food recommendations check out our guide to Time Out Market in DUMBO and the most iconic places to eat in Brooklyn!
WINTER SPORTS AT BARCLAYS
If you're the Sporty Spice of your group, or just hoping to add some organized excitement to your winter in Brooklyn, consider attending a sports game at the Barclays Center!
If you're a basketball fan, consider grabbing tickets to a Brooklyn Nets game this winter! What better way to get in from the cold, spend some quality time with friends, and get to show some city pride, than a basketball game? The Nets' season typically starts in October and runs through the winter.
If hockey is more your speed, hit a New York Islanders' at the Barclays Center! Bundle up and enjoy the excitement of hockey and the camaraderie of the fans'! For more information of the Islanders' season and Barclays Center tickets, click here!
Winter sports are a great way to get pumped and show some spirit during the colder months and perfect for any sports loving fans!
ENJOY THE DRINKING SCENE
I grew up in Ohio, and one of the best winter activities when it's so cold it feels miserable is enjoy the local bar and drinking scene. I still feel that way years later and think its a great way to warm up from the inside during the Brooklyn winter with a delicious drink from one of the borough's many breweries!
Cuddle up with a seasonal brew and clink glasses with loved ones to celebrate the season!
Brookyln's namesake drink slinger, Brooklyn Brewery, serves up seasonal beers, including a tasty winter lager, in its Williamsburg digs. Their large tasting room makes it the perfect spot to thaw out from the cold and sip on a brew with friends.
Although Brooklyn Brewery may be the most readily recognized of the Brooklyn beer spots, there are plenty of breweries to choose from during your winter in Brooklyn!
No matter which brew you choose to sip, Brooklyn is known for its hip and happening beer scene, making a brewery tour an absolute must for your winter in Brooklyn!
Not to mention, Brooklyn also has a great German beer hall scene! Check out our guide to the best German beer halls in Brooklyn.
---
Did we miss any of your favorite Brooklyn in winter activities? Let us know in the comments below!
PSST…don't know what to wear in the cold? Check out our full guide for what to wear in NYC in winter to help you stay warm on your fun city adventures!
Found this post on the best things to do in Brooklyn in winter helpful? Bookmark for later or share the love below on Pinterest!