Without a doubt, the Brooklyn street art scene is some of the best in the city. The borough is teeming with local artists who create on the walls around the city and there are always other domestic and international street artists that get invited to come paint Brooklyn murals as well as attracting artists who want to leave or tag their work by leaving behind new Brooklyn graffiti when they visit.
The nature of street art is temporary, so instead of trying to name every single mural in Brooklyn I like, since that is without a doubt something that will change over time, I am going to provide some of the best places to visit to see some of the best street art in Brooklyn from neighborhoods to specific spots that are decked out with murals.
Best street art in Brooklyn
Bushwick Collective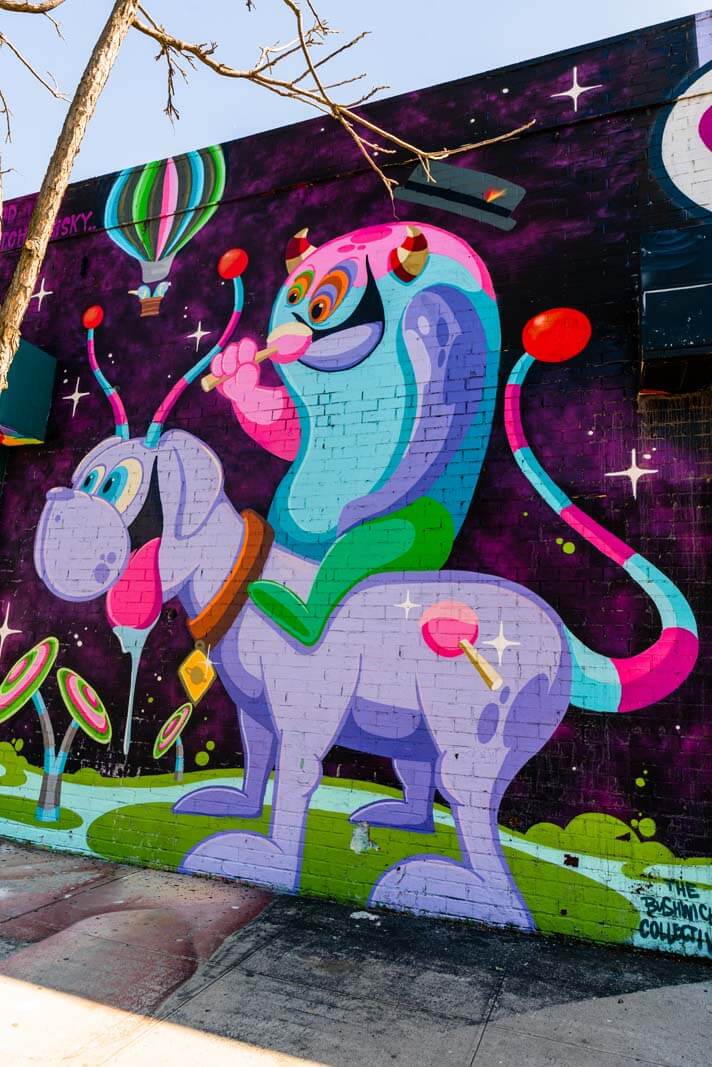 When people think of Brooklyn street art, the Bushwick Collective is one of the first things to come to mind since this neighborhood is home to a living, breathing open-air gallery featuring street art in Brooklyn from artists all over the world.
This official 'collective' started in 2011 by a local, Joe Ficalora who used street art to help heal and deal with the passing of both of his parents and also transform the neighborhood of Bushwick with colorful, meaningful street art.
Since 2012, every June the Bushwick Collective hosts their annual Block Party which is when all of the new murals in Brooklyn pop up that are a part of the official collective. Some murals get covered and some remain around year after year, basically, they have to have nearby walls and buildings donated to use as a blank canvas.
Most of the Brooklyn graffiti and murals associated with the official collective can be found along Troutman Street between Irving Avenue and Cypress Avenue, there are more along Starr Street too. But we recommend following our complete guide to exploring the Bushwick Collective street art on your own to make sure you don't miss anything, plus recommendations of what to do in Bushwick nearby!
More Street Art around Bushwick
Even though Bushwick is home to the Bushwick Collective, there are actually quite a few Brooklyn street art and murals that are in the neighborhood not officially a part of the collective.
We recommend exploring the neighborhood, it's hard to find a blank wall around here that isn't filled with Brooklyn graffiti or more murals. But if you're not sure where to start, walk towards Maria Hernandez Park. This 7-acre municipal park is located between Knickerbocker Avenue from the southwest to Irving Avenue on the northeast, and Starr Street from the northwest to Suydam Street on the southeast.
You can spot more murals by foot walking along Knickerbocker Avenue towards East Williamsburg.
Additionally, there are more notable murals that can be found around the Bushwick/East Williamsburg border, near the L subway line's stop at Morgan Avenue.
Also, many businesses including bars and restaurants even adapted to the nature of street art that's popular in this neighborhood, many are colorful with their own murals on their individual businesses!
One really fun and colorful stop in Bushwick where you can enjoy the bright, colorful murals is the House of Yes, one of the best things to do in Brooklyn if you love nightlife and considered one of the best nightclubs in the world!
Williamsburg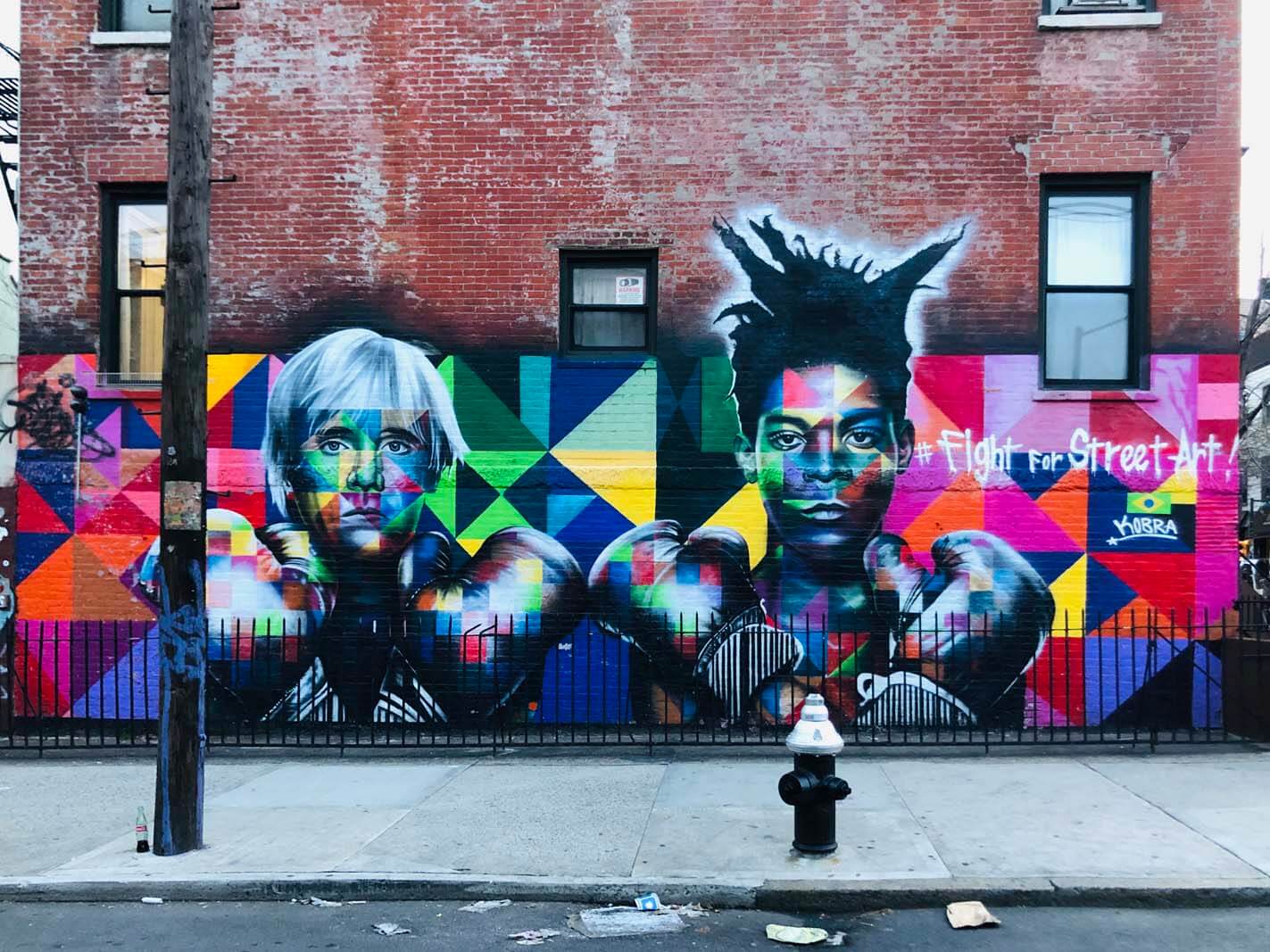 Another one of the best places to spot Brooklyn street art is in the trendy, popular neighborhood of Williamsburg. There are tons of amazing things to do in Williamsburg from dining to vintage shopping and amazing NYC skyline views from Brooklyn, along with hunting down all the Williamsburg street art and murals!
If you don't have alot of time, walking along Bedford Avenue, the central vein in the neighborhood dotted along with shops, eateries, and bars for spotting many Brooklyn murals easily on the cross streets.
Williamsburg is probably still the trendiest neighborhood in the borough and one of the most trendy in the entire city. You'll notice not only are there Brooklyn murals by some of the biggest artists in the street art world like Kobra, Brolga, Jason Naylor, and even JR, but many of the businesses and billboards here even have street art – the Dunkin' Donuts here even has a cool mural covering the entire building. (Honestly, that's probably the only way that a Dunkin' Donuts could even fit into a neighborhood like Williamsburg).
Dunkin' Donuts isn't the only business either, Warby Parker is covered in murals, Tom's footwear store has a cool mural by It's a Living and all the advertisements and billboards are even sort of cool to look at.
DUMBO Walls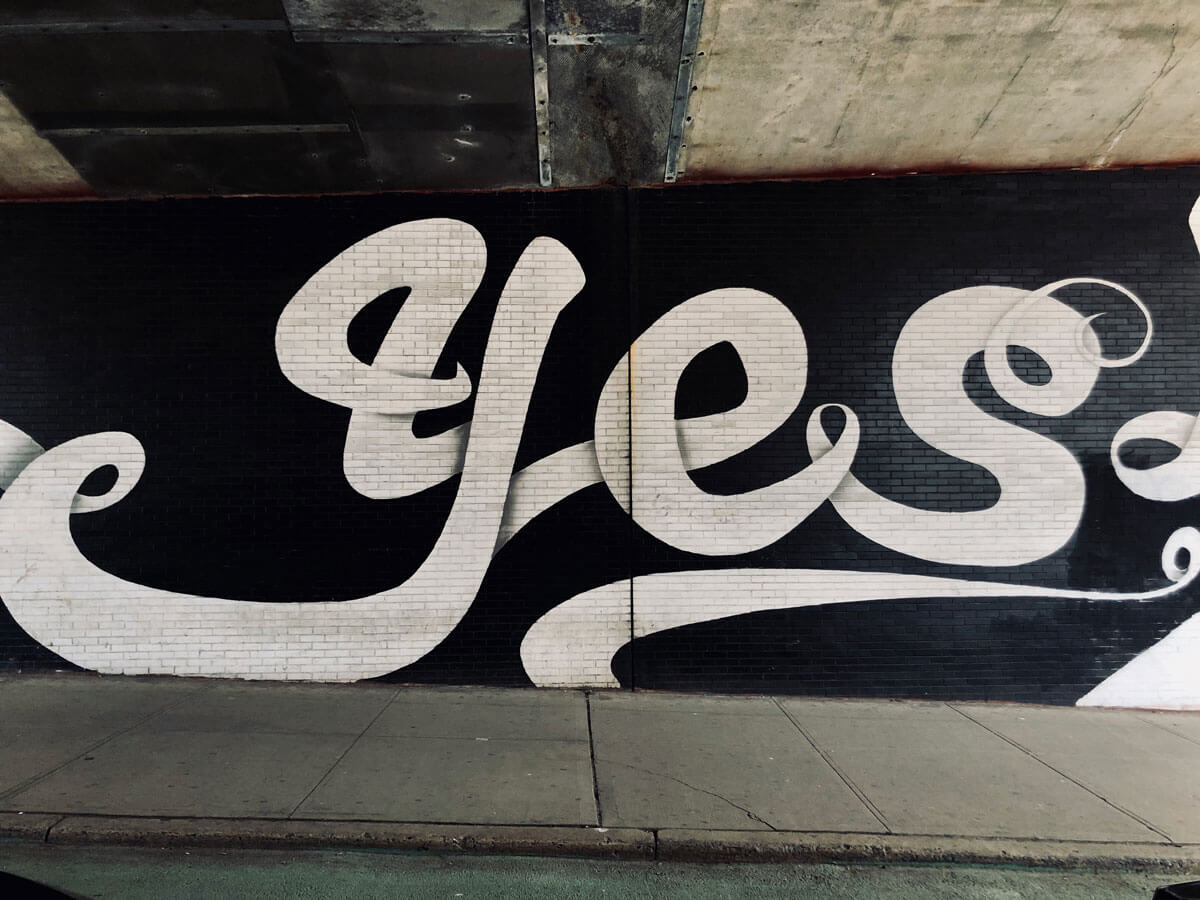 Another popular area to visit in general is the beautiful waterfront neighborhood of DUMBO conveniently located between both the Manhattan Bridge and Brooklyn Bridge right on the East River waterfront overlooking the Manhattan skyline. While there are plenty of amazing things to do in DUMBO, most people don't realize that there are actually quite a few great murals in Brooklyn located here too.
Since 2012, 8 global artists like Eltono, MOMO, CAM, Faith47, Shepard Fairey, Yuko Shizimu decorated four blocks along the Brooklyn-Queens Expressway (BQE) with Brooklyn murals showcasing the various points of entry to the neighborhood from the BQE.
The easiest DUMBO walls or Brooklyn street art to see here in DUMBO is to check out the YES murals just outside of the York Street Subway station, then you can walk from here to the others.
Industry City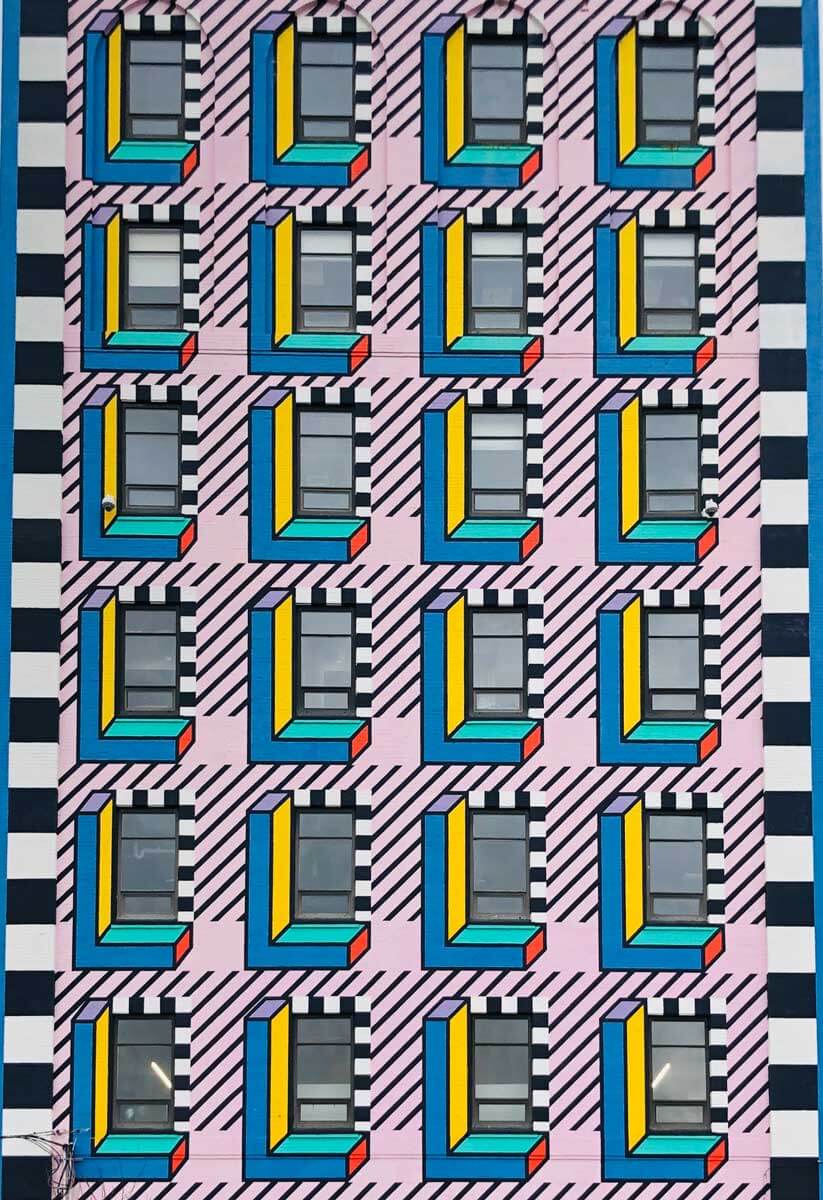 One of my absolute favorite places to go not only for Brooklyn murals but for food, drinks, and shopping is Industry City in the neighborhood of Sunset Park. This former abandoned industrial complex has been converted into a creative and lifestyle haven.
The multi-building complex has courtyards to hang out it in with seasonal events and festivities, artists workshops and stores, a food court, full on restaurants, a co-working hub, breweries, sake bars, distilleries, tons of open-air spaces, and even a Japanese grocery store and "Japan Village," home to a Japanese food court and restaurant.
Ok, now that you know all the reasons that attract me to this place, Industry City also has tons of cool murals in Brooklyn from local to international artists.
My absolute favorite mural here is actually easy to miss if you don't know to look for it, it's by London-based artist Camille Walala, photographed above.
You can find the entire directory to their Brooklyn murals here, but it's best explored by just coming and seeing it yourself as I feel like they are always adding something each time we visit.
The entire set of Brooklyn street art here is under the project name of the "Collision Project," but beyond this, they often have other random art installations that change throughout the seasons for holiday festivities from Halloween, to Christmas, and Valentine's Day even and the whole space is just so creative with tons of great food options that if you're looking for Brooklyn street art, this has that and so much more.
Biggie Murals in Clinton Hill & Bed Stuy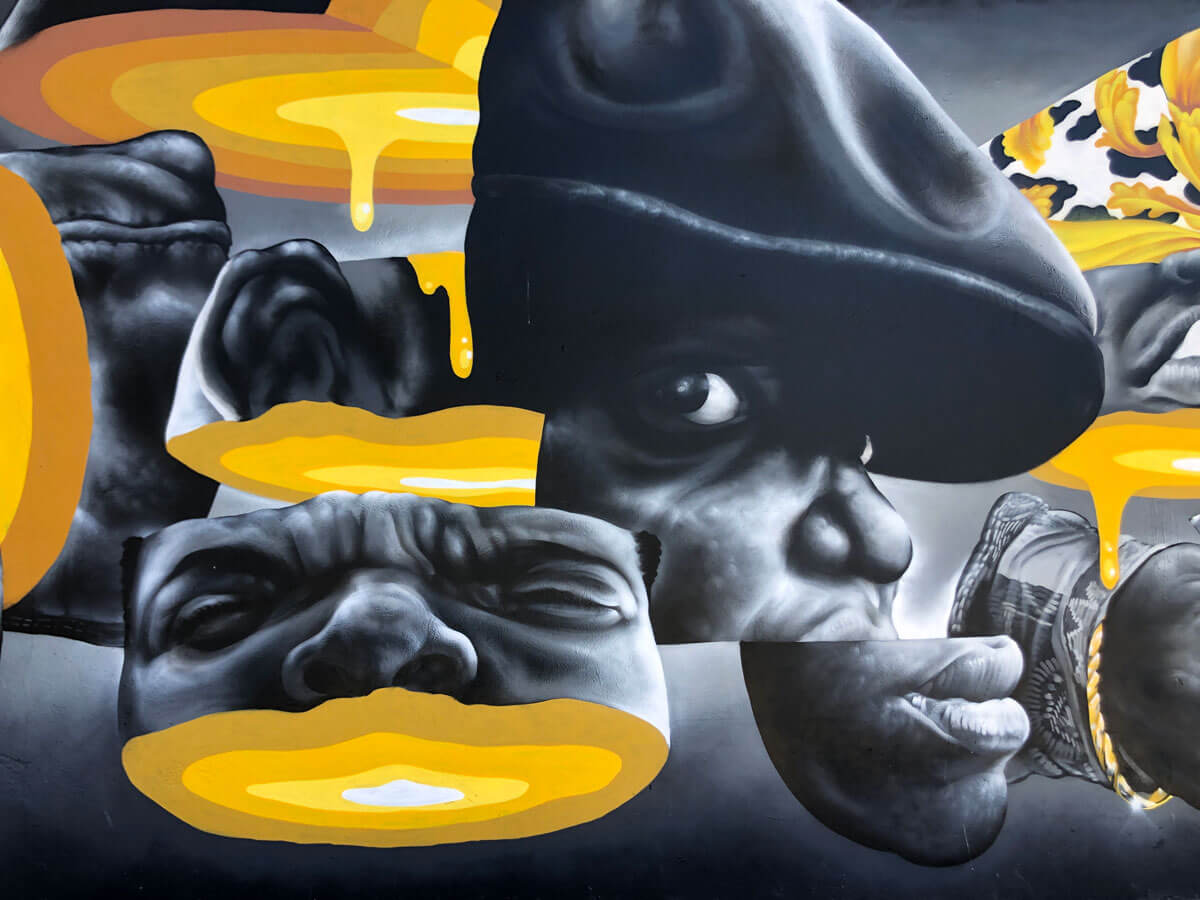 If you're a Notorious B.I.G. fan then you're going to love the Brooklyn street art around Clinton Hill, Bed Stuy, and Fort Greene. These three neighborhoods are all within walking distance from one another, and if you want to continue down the landmarks from the former "King of New York," from his lifetime of growing up here and fame until his tragic end, we have an entire guide dedicated to Notorious B.I.G. Brooklyn landmarks.
But if you're just here for the Brooklyn street art, I get it, you can find 3 of the Biggie Smalls murals on Fulton St, the most famous one at Bedford & Quincy in Bed-Stuy, and one in Fort Greene at the Brooklyn Love Building at Habana Outpost.
Also, be sure to check out the Brooklyn murals of Biggie Smalls at the Bushwick Collective too!
Prospect Heights & Crown Heights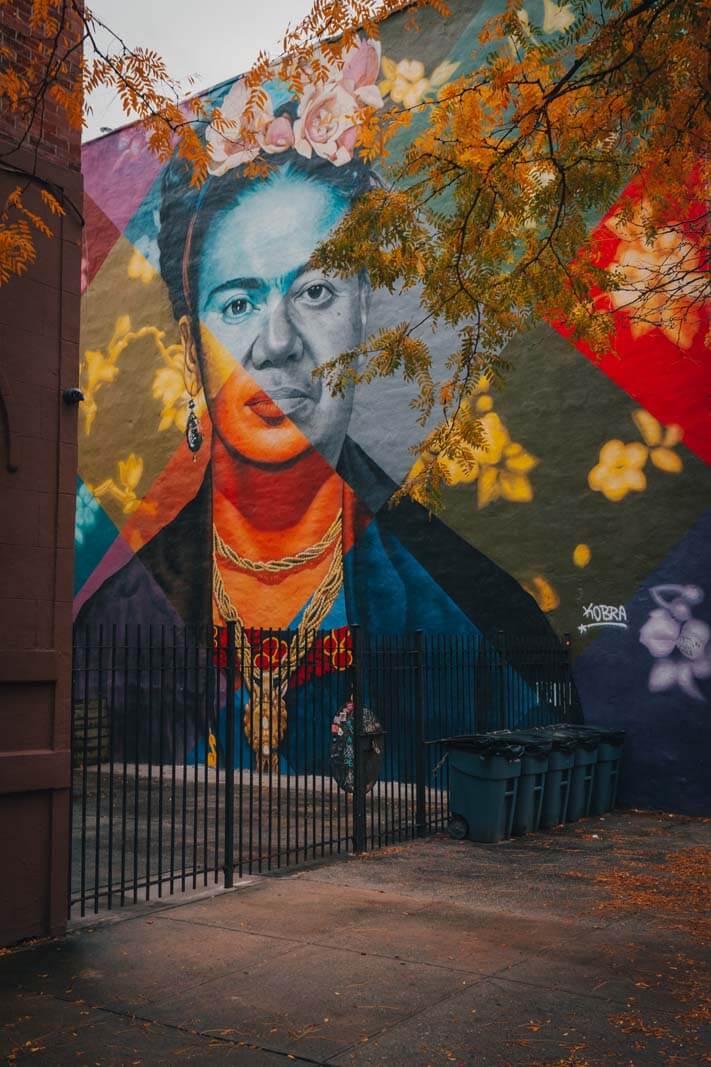 I'll preface this spot to find Brooklyn street art to say don't expect too much other than one of my favorite Eduardo Kobra, a famous Brazilian artist known for his colorful murals has one called Frida & Diego on Prospect Place between Underhill Ave and Washington Ave.
This is a mural that combines both Frida Kahlo and Diego Rivera as one, as they were life partners and both artists. This is a part of 18 murals Kobra did around NYC in 2018, with two other Brooklyn murals in Williamsburg! His style is distinct vibrant colors and prismatic kaleidoscope designs.
If you continue walking through Prospect Heights, head to Elijah Stroud Middle School on Sterling Place and Classon Ave to appreciate a school that embraces colorful street art and murals!
Continue to Crown Heights and you'll be surprised with a mural here and there on the streets off of Franklin Ave.
---
Found this guide to the best places to find Brooklyn street art, Brooklyn murals, and Brooklyn graffiti helpful? Bookmark for later or share the love below on Pinterest!