Tis' the season of love in the city and you might be wondering what to do for your Brooklyn Valentine's Day (or anytime you're wanting to give a special romantic gift) this season.
Have an unforgettable Valentine's Day in Brooklyn by getting your sweetie a cool local gift all while showing your love to our local businesses! Also, if you're looking for more ideas, check out our winter date ideas in NYC and romantic things to do in NYC for more fun and unique date ideas around the city.
And we have a full guide to celebrating Valentine's Day in NYC too for more ideas!
Valentine's Day Brooklyn Gift Ideas
Brooklyn Chocolate
Probably the most classic romantic gift is a box of great chocolates. Make your Brooklyn Valentine's Day extra sweet by getting chocolate from one of our local chocolatiers.
Not Just Chocolate on 5th Avenue in Park Slope offers some of the most unique chocolate designs ever creating edible art that is almost too beautiful to eat! This family-run Brooklyn chocolatier uses the finest quality chocolates to make their chocolate sculptures like detailed pets, cars, toys, you name it.
Jacques Torres in DUMBO is also another favorite and a great Brooklyn Valentine's Day gift idea from their premade Valentine's Day boxes of chocolate to their romantic date night bundle and their classic bon bons. This is also one of our picks for best things to do in DUMBO, and you might recognize the name from the Netflix Series Nailed It!
At Industry City you can find one of the only chocolate factories in NYC where you can watch the chocolates being made through the window! Li-lac Chocolates has been a staple to Brooklyn and NYC since the 1920s and offers one of the largest ranges of specialty chocolates to choose from. They also have great holiday-themed chocolate sculptures for every holiday.
If you're lover also enjoys chocolate on another level, you can gift a chocolate experience by booking one of their behind-the-scenes chocolate factory tours!
The Chocolate Room in Cobble Hill is famous for their chocolate cake thanks to the legendary Oprah herself, but other than being a famous dessert spot this is also a place you can pick up a box of Brooklyn Valentine's Day chocolates or customize your gift picking from their delicious and interesting flavors of truffles and other delicious confections.
Raaka Chocolate is one of the few chocolate factories left in the city located in the industrial neighborhood of Red Hook. Raaka does offer an opportunity to visit the factory at their store where they sell the unroasted chocolates they make from bean to bar right here in this spot. They specialize in chocolate bars in a variety of flavors as well as quality baking chocolate to create something sweet at home.
Another great candy store and a place to gift a Valentine's Day in Brooklyn-themed gift is at JoMart Chocolates in Marine Park. From chocolate bars to hand-dipped chocolates, you can find the perfect gift here for anyone with a sweet tooth.
Other Sweet Gifts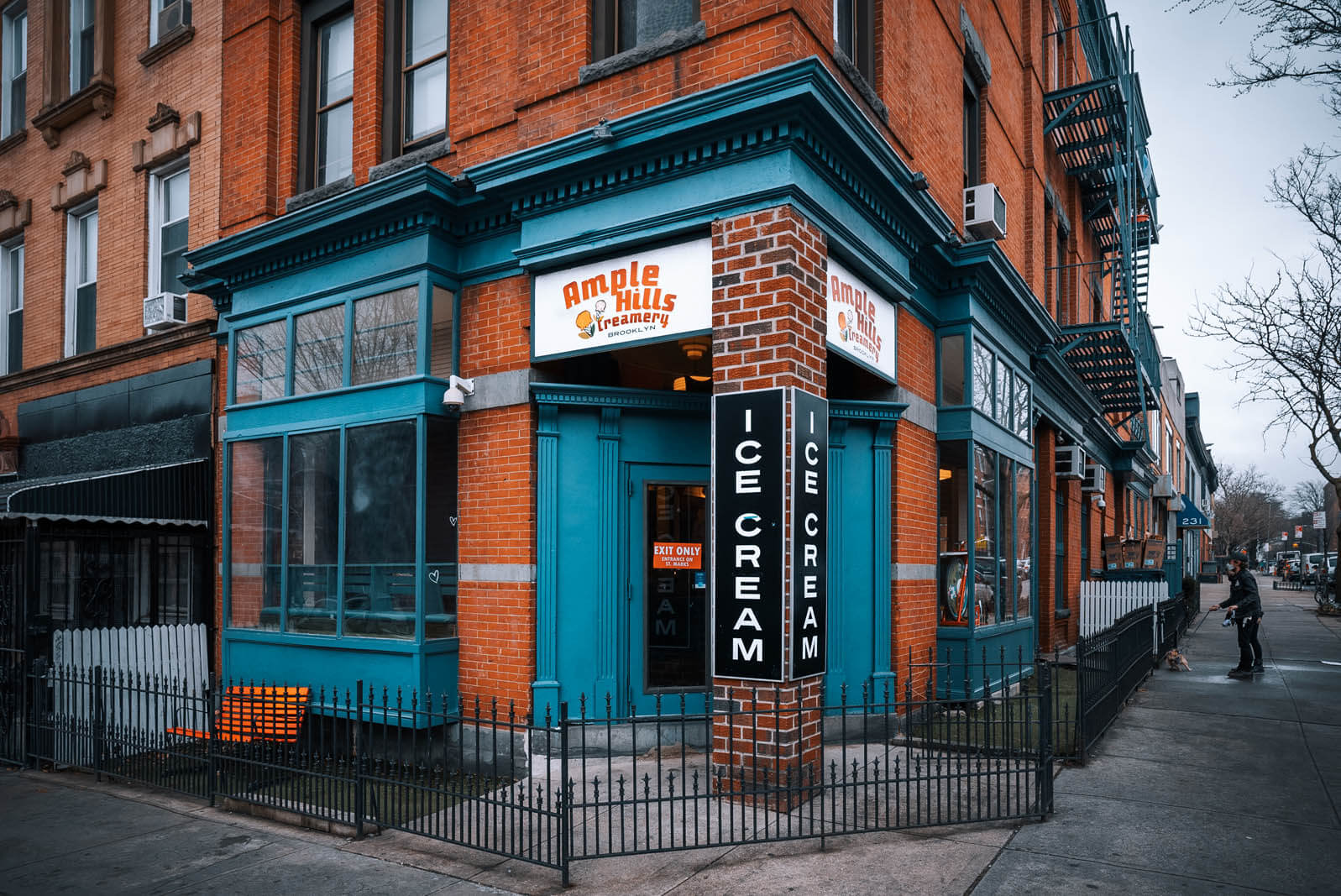 Maybe your significant other loves sweets but not chocolates, luckily your Brooklyn Valentine's Day is not ruined as there are many other amazing bakeries and sweet shops that make great gifts!
One Girl Cookies has multiple locations throughout the city making it a really great place to pick up a Valentine's Day in Brooklyn gift! Known for their beautifully decorated cookies, pastries, and cakes – there's always something exciting to offer here. Also, if you want something customized, they offer that too!
Brandon's Donuts on Court Street in Carroll Gardens! Grab a box of their designer DIY donuts to show your love this Valentine's and customize your box of classic donuts here with their different toppings! Or check out more of the best donuts in Brooklyn if your sweetie likes their sweets!
Another alternative to a fun sweet treat for your honey this season of love are the legendary pies from Four & Twenty Blackbirds in Gowanus.
Or if you're craving sweets that remind you of a tropical getaway head to Red Hook for Steve's Authentic Key Lime Pie which has you guessed it — key lime pies made from freshly squeezed key limes!
And another favorite will always be Ample Hills Creamery ice cream with locations ALL over Brooklyn plus the option to ship pints of their famous ice cream nationwide!
Boozy Gifts
Bust loose this year on Valentine's Day in Brooklyn and give the gift of booze! Here are a few locally sourced ideas for fun boozy gifts to get love drunk this Valentine's Day!
Bad n Boozy is a local company that offers premade boozy cocktails, gummy bears, jello shots, and more! Not only do their drinks sound good, but they come in fun packaging and are basically adult Capri Suns!
Be sure to pay a visit to Kings County Distilling in Brooklyn Navy Yard, the oldest distillery in BK, for locally made whiskey, whiskey tasting flights, and other boozy gifts perfect for your Brooklyn Valentine's Day!
There's no better gift than wine on Valentine's Day! Pop open a bottle of celebratory bubbles or a nice red. There are tons of great little wine shops throughout the city, support your local neighborhood wine spot and if you're looking to gift something special along with the bottle of wine, consider planning a 'pre-date' for wine tasting on Rooftop Reds in Navy Yard, the only vineyard in the city overlooking the East River views and one of the best rooftop bars in Brooklyn!
I say pre-date because they are closed for the winter season and re-open in March. So why not give the gift of a future date?
But if you're craving to go wine tasting sooner than later we can't recommend enough booking a tasting at The Red Hook Winery located on the waterfront in Red Hook. They offer generous tasting flights with a snack and are steps away from Steve's Authentic Key Lime Pie and all the cool things to do in Red Hook.
There's also plenty of great wine bars in Brooklyn that are perfect for a cozy date night and cool speakeasies and hidden bars in NYC worth checking out too!
My personal favorite date night drink spots on an extra chilly February night can be found in Bed-Stuy cozied up next to the real fireplace at Dynaco or escaping the cold hitting up the coolest tropical bar in the city at Zig Zag.
We didn't forget beer lovers! There are so many amazing breweries in Brooklyn, give the gift of a great craft beer to that beer lover in your life.
Bouquet of Flowers
A classic, this Brooklyn Valentine's Day give the gift of a fresh floral arrangement! Or if you are with a plant lover we have some great plant shops in Brooklyn as well!
Sycamore Bar & Flower Shop in Ditmas Park is not only a fun date spot but also a great place to grab a pretty bouquet of flowers! They offer drinks accompanied by a menu of farm-to-table comfort food, their burgers and fried chicken sandwiches are divine!
Rosehip Social in Bushwick is the star of a Netflix Series, The Big Flower Fight and also where you can find gorgeous floral designs.
Stems Brooklyn in Williamsburg offers gorgeous plants and floral designs all while being eco-conscious!
If you're looking for indoor or even outdoor plants for that green thumb in your life and something that will last longer than a bouquet, check out Natty Gardenin Prospect Heights who is a full nursery selling landscaping supplies for your urban garden or oasis as well as indoor plants!
Unique Gifts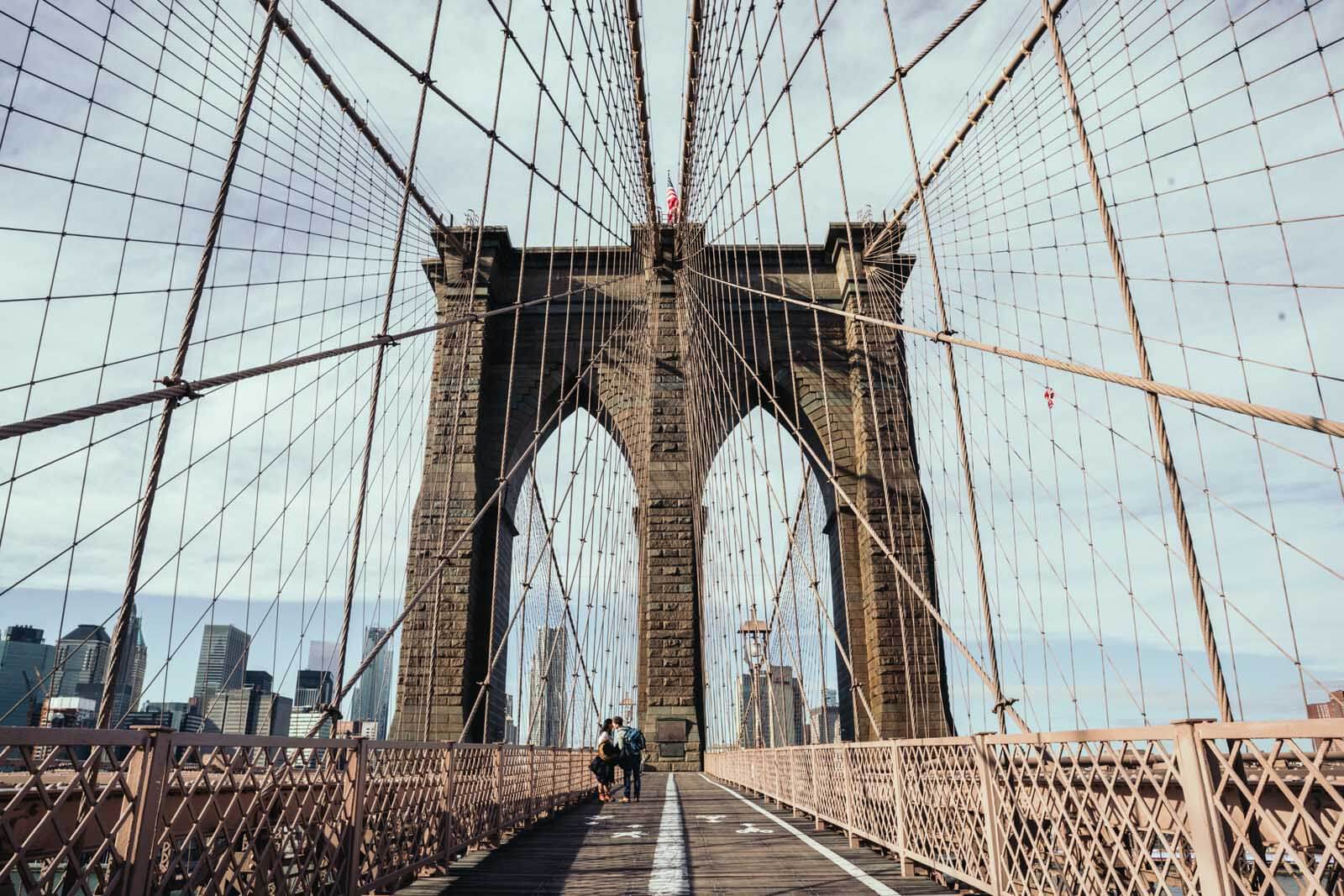 There's nothing like finding the perfect thoughtful gift or trinket that matches the personality of the person your hoping to get a gift for! Luckily there are plenty of amazing local independent gift shops that will help you gift the perfect Brooklyn Valentine's Day gift!
Park Delicatessen in Crown Heights has great Valentine themed gifts from fun chocolates with great branding and packaging (you might want to grab some for yourself), small trinkets, and great cards!
If you're looking for a unique Valentine check out Windsor Place Antiques in Windsor Terrace who has a selection of vintage Valentine's, some of which already have been signed by previous Valentine's with a fun love note!
Annie's Blue Ribbon General Store in Park Slope is also always a hit around any holiday. Not only do they carry fun Valentine's but they also have tons of great gifts for anyone!
Micòl Ceramics at Industry City in Sunset Park has some of the most gorgeous pottery I've ever seen! The artist also incorporates photographs into her work and can even make customized gifts. If you're hoping to grab some of her popular items like the Kamala Harris mug, you will want to pre-order as she has been having a hard time keeping those in stock due to their popularity!
Give the gift of reading this Valentine's Day in Brooklyn from many of our independent bookshops! Most of our bookstores not only have a great collection of books but also small gifts too!
I am a huge candle lover and know that this also happens to be a popular Valentine's Day gift especially if you're trying to create a little ambiance. Check out some local candle makers including Brooklyn Candle Studio, Queer Candle Co., and Lierre Et 'Dor.
Fun Date Spots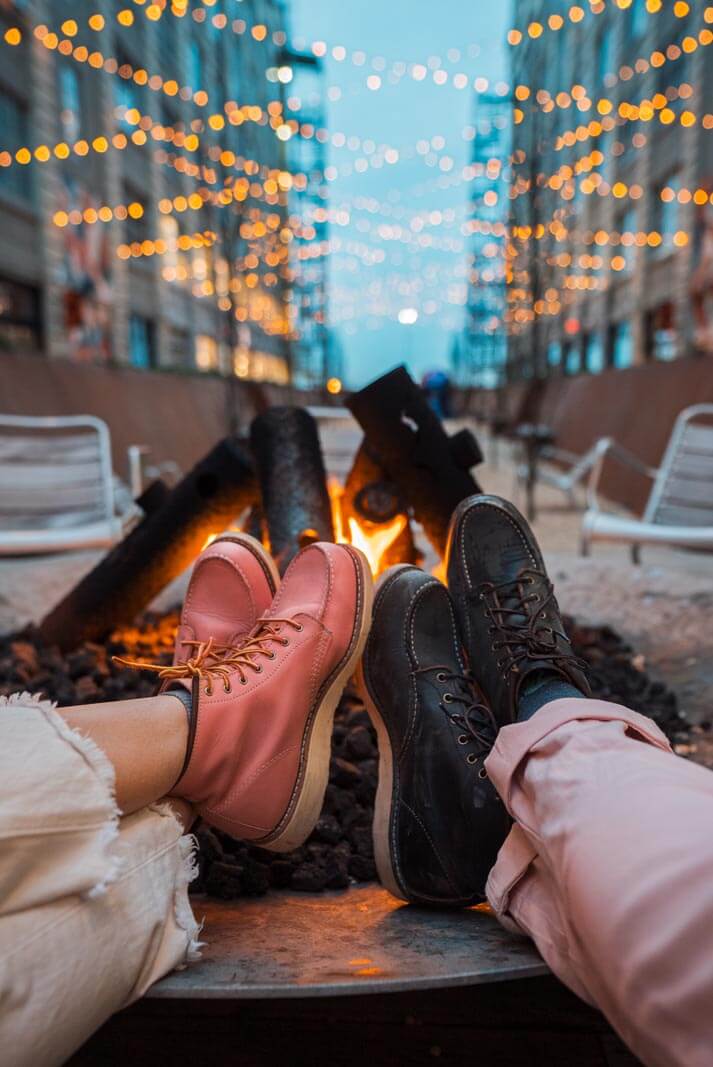 Sometimes material objects just aren't the answer! This Brooklyn Valentine's Day give the gift of an experience by planning a romantic outing! See our best date ideas in NYC for more ideas too!
Industry City in Sunset Park is one of the best Valentine's Day in Brooklyn spots! They have a fun heart art installation for photos, Li-lac Chocolates, places to grab a drink and cozy up outdoors next to a fire pit or heater, and plenty of places to grab a bite to eat!
There are literally tons of amazing places with heated outdoor dining in Brooklyn to set up a romantic date.
Pasta Louise in Park Slope has an amazing setup and you don't want to miss the fun pink display and seating at Guevara's in Clinton Hill which is a great brunch spot.
Or enjoy dinner and a show at either Nitehawk Cinema location at either Prospect Park West or Williamsburg or if you have a car cozy up together at the Skyline Drive-In in Greenpoint with a backdrop of the NYC city skyline! Also, check out some of our favorite movie theaters in Brooklyn for more ideas – we've got the best ones in the city, but we may be biased!
Another fun experience to do with your lover is ice skating! Be sure to check out our guide to all the best ice skating in Brooklyn, but my personal favorite is Lakeside in Prospect Park because the rink is the largest and you get to plan a romantic stroll through the park together before or after. Also, the restaurant here has a pretty decent beer selection you can enjoy a drink afterward – or before if you need a little liquid courage before ice skating in Prospect Park!
Speaking of Prospect Park, you can grab a romantic brunch or Prospect Park picnic basket from Krupa Grocery on Prospect Park West! Be sure to see our survival guide to dining outdoors in NYC this winter so you can plan a comfortable picnic in Brooklyn!