Headed to NYC and looking for how to spend a Brooklyn weekend or 36 hours in Brooklyn? We've got you covered in this ultimate Brooklyn itinerary put together to show off some of the best highlights this borough has to offer! Brooklyn has some of the city's best sites along with the best views of the NYC city skyline!
This Brooklyn itinerary will cover not only some of the most popular highlights, best Brooklyn neighborhoods, and attractions this part of the city has to offer but also some places and suggestions most visitors don't have on their radar! Curated by a local, enjoy this weekend to 36 hours in Brooklyn itinerary.
Depending on when you arrive and are planning on departing, you may have to adjust this Brooklyn itinerary and switch up the days to make it fit your specific schedule. And if you only have time to spend a day in Brooklyn, you can use this itinerary too!
Just a disclaimer, this Brooklyn itinerary features a lot of walking! Be sure to wear really comfortable shoes as you'll be getting a lot of steps in. If you want to cut down on the walking and save time you can also opt to use Citibike rentals which you can find all over the city or use public transportation options.
Be sure to check out our guide to what to pack for Brooklyn too before your trip as well as our other suggestions for how to spend 3 days in NYC or 4 days in NYC to customize and personalize your trip!
Weekend in Brooklyn Itinerary
This first day of your Brooklyn weekend and Brooklyn itinerary will take you through the popular, waterfront neighborhood of DUMBO where you will get to experience one of the top, iconic landmarks in the city, the Brooklyn Bridge, explore the historic neighborhood of Brooklyn Heights, and continue to the beautiful neighborhoods of Cobble Hill, Boerum Hill, and Carroll Gardens before ending your day either in Gowanus or coming back to DUMBO for dinner with stunning views!
Brooklyn Weekend: Day 1
Early Morning at the Brooklyn Bridge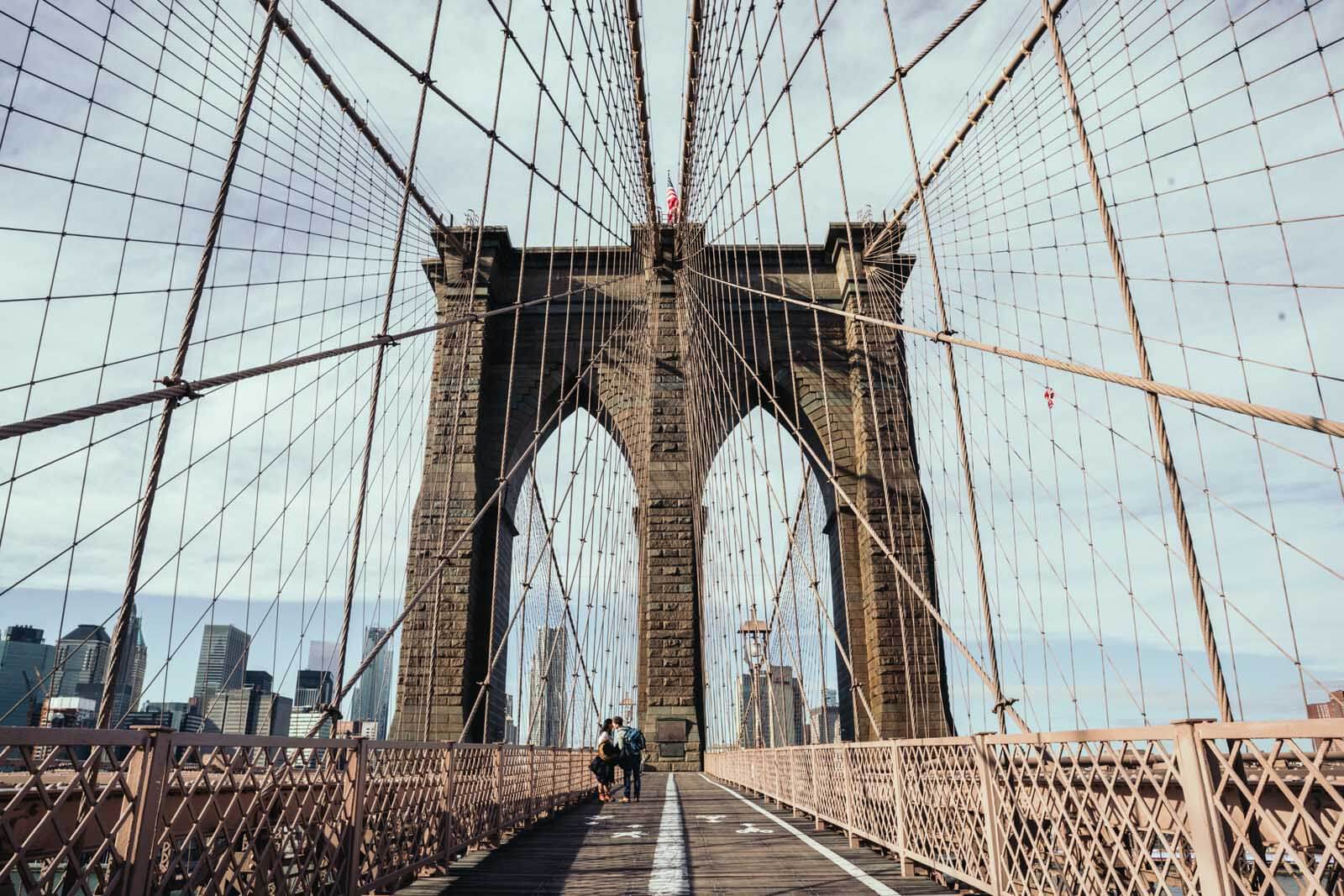 One of the most iconic things to do in Brooklyn that has to be added to any Brooklyn itinerary is a visit to the Brooklyn Bridge. This also can be one of the busiest experiences you'll have during your weekend in Brooklyn too as this is a very popular and high trafficked time to visit. However, even in the peak season, there are tricks to still experiencing the Brooklyn Bridge without the intense crowds.
If you're a natural early riser, I can't recommend enough to get at the Brooklyn Bridge at sunrise. This is one of the best times to get photos as there are very few if any people on the bridge at this hour and you get to watch the city wake up.
The best way to experience is to walk the Brooklyn Bridge. I prefer starting in Brooklyn and walking towards Manhattan so you get the best skyline views. You can walk halfway and turn back to continue your Brooklyn itinerary, or if you walk the entire bridge you can hang out in Lower Manhattan for a little bit before returning and enjoying the rest of what Brooklyn has to offer.
The Seaport District is a popular spot to hang out as well as Chinatown is a great place to visit if you want to get a little Manhattan in. But, if you want to see everything we recommend this weekend or 36 hours in Brooklyn itinerary, we recommend going halfway and turning back.
Brush up on your history before coming and read our favorite facts about the Brooklyn Bridge.
Breakfast in DUMBO
If you only have 36 hours in Brooklyn, you don't want to miss all the amazing things to do in DUMBO. This popular waterfront neighborhood has the best views of NYC and the skyline, in my opinion of course and there are plenty of options to spend some time here shopping, dining, and drinking!
Since you only have a weekend in Brooklyn, I am going to recommend grabbing a quick breakfast here and continue along so you can fit as much in as possible.
If you want to spend more time here, we recommend referring to our other guides and adjusting your Brooklyn itinerary accordingly.
For a quick breakfast, you can hit up and of the cafes in DUMBO for a quick-to-go breakfast. We personally love Butler because their coffee is great and they have some nice, light breakfast options that are great to take away. Once you have your pretty coffee cup and light breakfast, take it to the waterfront of Brooklyn Bridge Park.
Sit on the steps next to Jane's Carousel so you have the best view between the Brooklyn Bridge and Manhattan Bridge of the NYC city skyline, one of my favorite places for New York skyline views in Brooklyn.
This is a great photo spot as well and from here you can either continue walking around, if you want that iconic Brooklyn Instagram spot, head to Washington St and Front St for the view of the Manhattan Bridge with the Empire State Building framed up perfectly in the base of the bridge making it one of my favorite views of the Empire State Building and NYC!
Another option for great views and more photo opportunities is at Empire Stores, the giant brick warehouse building that houses Time Out Market, West Elm, and other shops. Using the outdoor entrance facing the East River, you can climb the outdoor stairs up to the top deck where you get another great vantage point and view.
Brooklyn Heights Promenade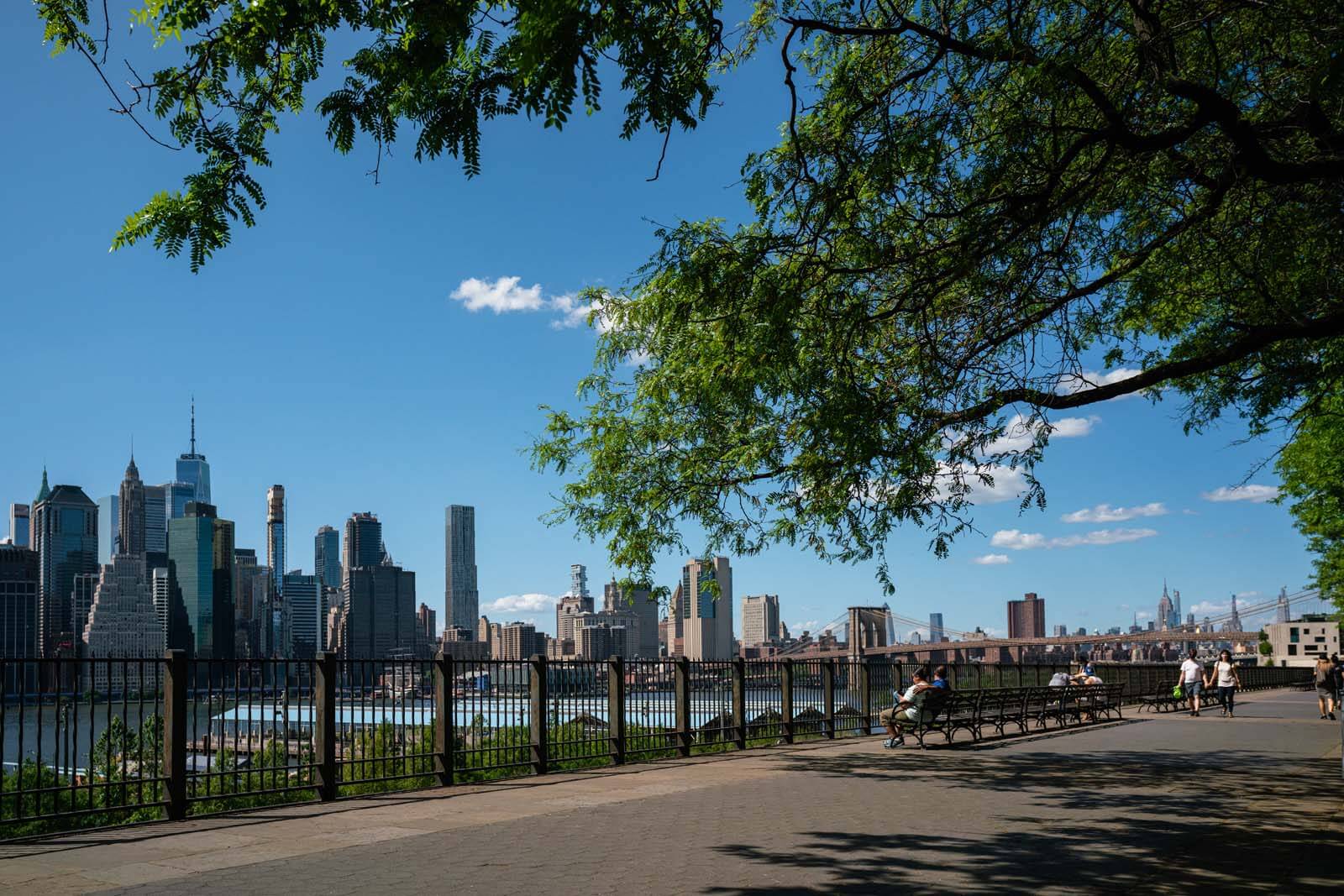 After your light breakfast, we recommend heading towards Brooklyn Heights for your next stop for your weekend/36 hours in Brooklyn. The most scenic way is by continuing along the Brooklyn Bridge Park waterline towards the piers. Walk along the pathway and eventually you'll be able to go up the walkway towards Squibb Park.
Once you make it up here, you'll be overlooking the Brooklyn Bridge Park beneath you and you can access the Brooklyn Heights Promenade which wins for another one of my favorite views of NYC. You not only get to see Lower Manhattan and the Brooklyn Bridge from here but you also have views of Governor's Island (a great recommendation if you have extra time and are visiting in the summer) as well as the Statue of Liberty.
There are gorgeous mansions to one side, views on the others, and tons of benches to take a quick rest if you need it from walking around. If you're a fan of architecture and history, you might want to alter your Brooklyn itinerary to include some of the best things to do in Brooklyn Heights and we recommend reading up on some of the interesting hidden gems in Brooklyn Heights too!
If you're hoping to do some museums on your weekend in Brooklyn, you should definitely check out the New York Transit Museum that's dedicated to the history of transportation in the city and has historic trains you can visit and ride!
Lunch in Brooklyn Heights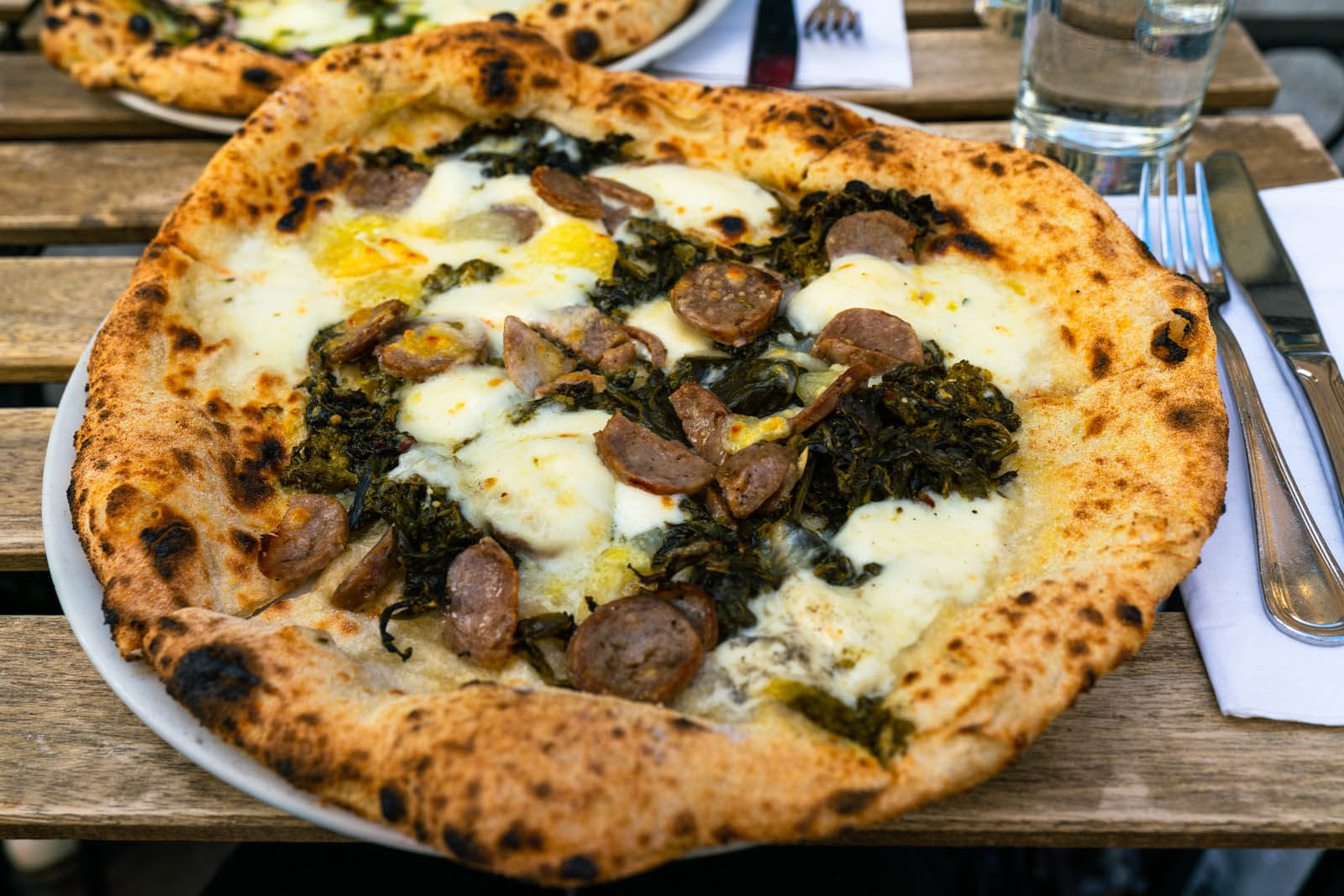 By now you've worked up an appetite! There are some great food options in this neighborhood. You can either choose to hang out in the residential area of Brooklyn Heights and try one of the best places for pizza in Brooklyn at Dellarocco's who has a vegan-friendly menu for anyone with dietary restrictions.
For more options, head to Atlantic Avenue where there are tons of restaurants to choose from along with shopping options in case you were hoping to do some of that on your weekend in Brooklyn itinerary.
Wander Through BoCoCa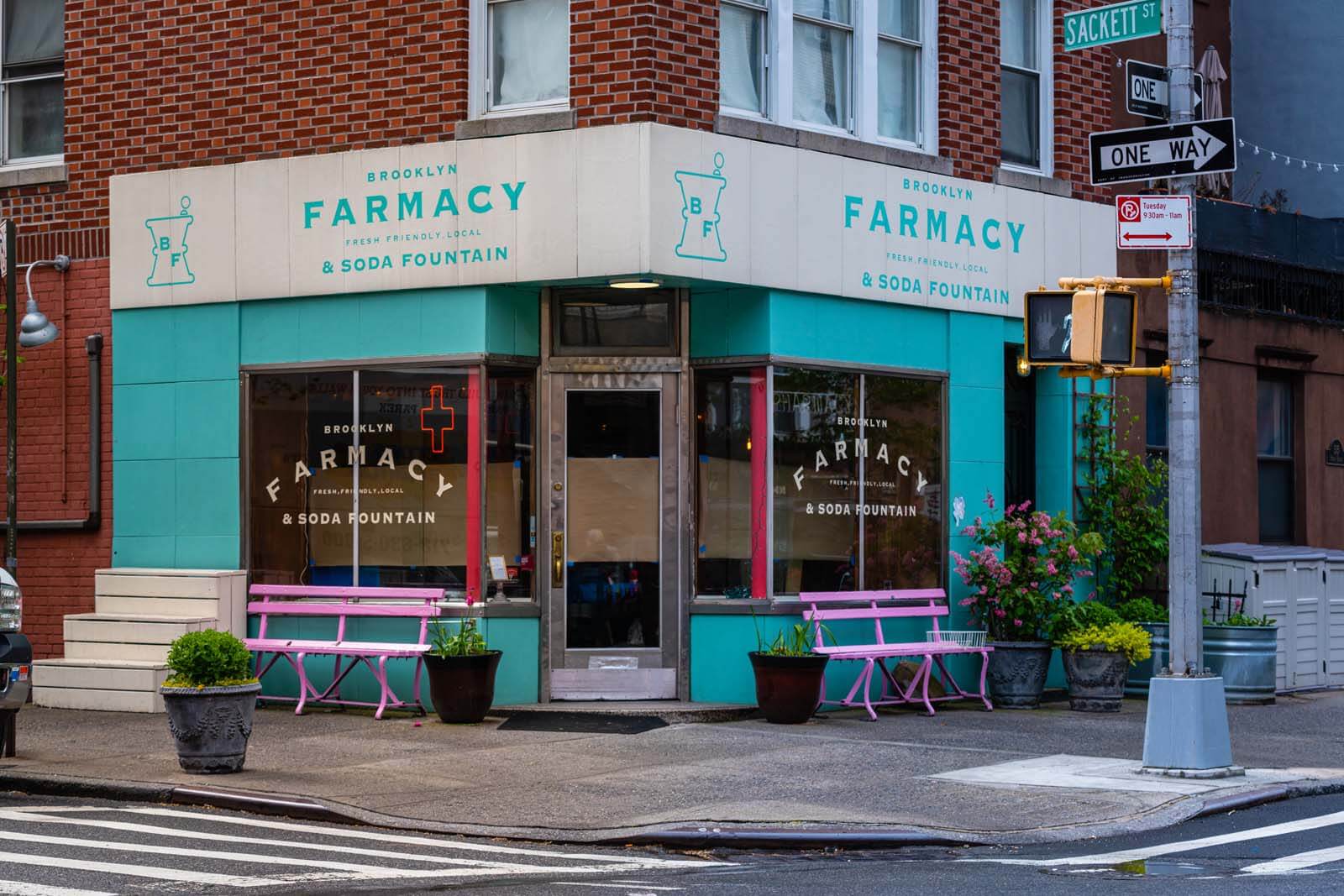 After lunch, we recommend heading to the area known as BoCoCa, the name groups the neighborhoods of Boerum Hill, Cobble Hill, and Carroll Gardens. It's the ugliest name to refer to these gorgeous neighborhoods, but it's shorter and saves time!
This is your quintessential "Brooklyn neighborhood' walk because you have two main streets with loads of shops, sit-down restaurants, bakeries, delis, bodegas, and everything New York plus all the beautiful brownstones. My first visit to Carroll Gardens made me fall in love with this neighborhood and want to move here!
Check out our guide to all the best things to do in Carroll Gardens and the BoCoCa area to personalize your Brooklyn itinerary. We recommend walking down either Smith Street or Court Street, then you have the options to randomly go up and down intersecting streets to explore or stay on these main veins that run through these neighborhoods with all of their options.
I like both Smith Street and Court Street, if you only have time for one I prefer Court Street, but it's a tough call! This is also a great opportunity to get a sweet treat too! We recommend getting the famous egg cream from Brooklyn Farmacy and Soda Fountain or checking out some of the best ice cream in Brooklyn at Van Leeuwen.
If you need a walking break, Cobble Hill Park is one of my favorite small parks surrounded by gorgeous homes, if you're further in the neighborhood Carroll Park is another park where you can rest your dogs before continuing on this weekend in Brooklyn itinerary.
And if you haven't had lunch yet, be sure to check out the best restaurants in Carroll Gardens as this is one of the best foodie neighborhoods in the city, especially for Italian and red-sauce joints!
Afternoon Happy Hour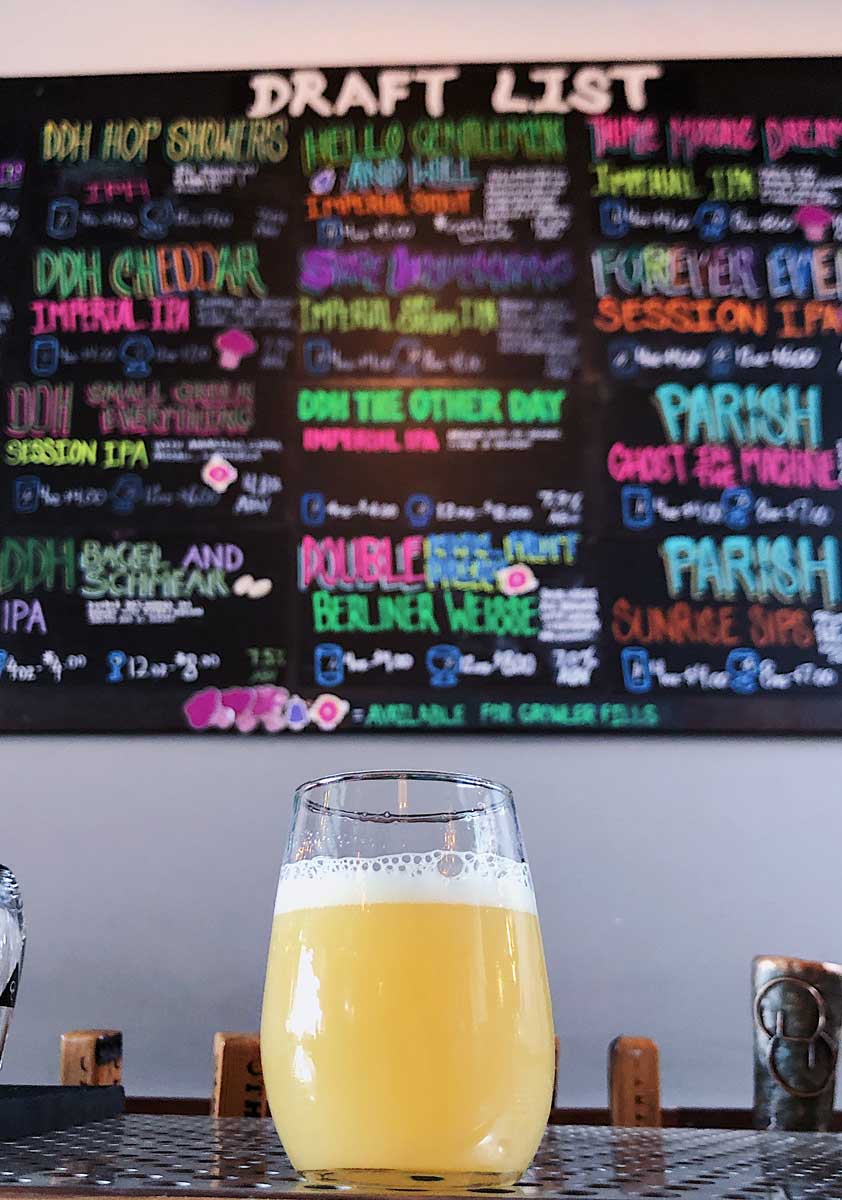 After walking all day, you deserve a refreshment! Along Court Street and Smith Street, you'll have tons of options for a place to sit down and grab a drink, but if you fancy yourself one of the best breweries in Brooklyn head to Other Half Brewing who always has a rotating tap selection and a GREAT selection of hazy IPAs if you're into those as much as I am!
This brewery has a bit of a cult-like following and is a popular weekend hangout spot with locals.
If you're more into wine, you can head to Black Mountain Wine House on Union Street which is a quaint, Adirondack-inspired wine bar. If you're looking for a good cocktail bar check out Travel Bar on Court Street or the historic Clover Club on Smith Street.
Back to DUMBO for Dinner
You can either hang around and have dinner in the Carroll Gardens area, or we recommend heading back to DUMBO via the subway (you'll be next to a few subway stops this entire route through BoCoCa so you should be less than a 5-10 minute walk from a subway stop the entire way).
Whether you're getting back in time for a beautiful Brooklyn sunset or not, we recommend grabbing a bite to eat in DUMBO for dinner so you can now see the city go from day to full-on night mode, this is also a great time for photos.
If you're wanting to eat somewhere casual or try a few different things, head to the Time Out Market food hall. You can grab food then head up to the upper floor and dine with view or grab your food to go and find another waterfront spot along the Brooklyn Bridge Park.
If you're looking for a great sit down option we recommend Cecconi's at Empire Stores who has outdoor seating with Brooklyn Bridge and city views (photographed above).
If you're looking to splurge and feel a little fancy, dress to the nines and make a reservation at the Riverside Cafe which is right on the waterfront under the Brooklyn Bridge and is a popular romantic and date spot for couples. Men are required to wear a suit jacket if you do want to dine here.
After dinner, do a little moonlight walk or grab a drink at Randolph Beer who has one of the best rooftop bars in DUMBO. This is also a great option for a casual dinner as well! Or if Barge Music has a show, check out this unique floating live music venue under the Brooklyn Bridge!
Stay out and continue or head back to where you're staying to rest up for the rest of your weekend or 36 hours in Brooklyn itinerary!
Brooklyn Weekend: Day 2
This second day of your 36 hours in Brooklyn or weekend in Brooklyn itinerary will take you to one of the most popular and eventful neighborhoods in the city in Williamsburg to eat, dine, and explore. Then your next stop will be the colorful neighborhood of Bushwick where you can end your day with nightlife or head back to Williamsburg for dinner or drinks with a view to end your day.
Morning in Williamsburg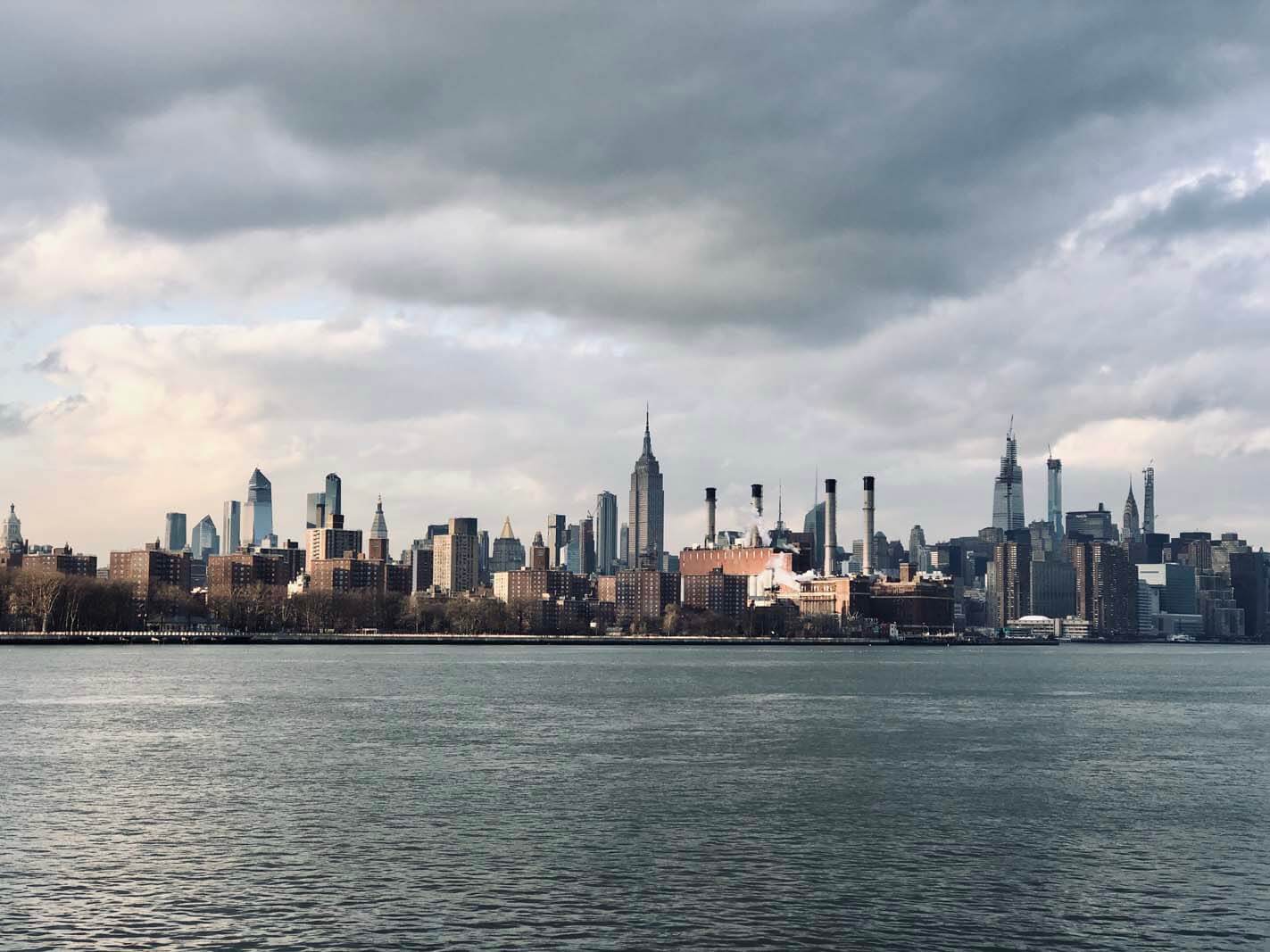 One of the most popular neighborhoods to explore and a must add to any Brooklyn itinerary is the hip, waterfront neighborhood of Williamsburg. We recommend heading here mid-morning to enjoy a light morning snack and coffee at any of the best cafes in Williamsburg.
One of the most popular cafes in Brooklyn to check out is Devocion which has small pastries and great coffee in the heart of Williamsburg. Don't fill too much though because we want to brunch or enjoy a good lunch in this after a little morning exploring.
Once you get your coffee, head to the waterfront at Domino Park where you are rewarded with one of the best skyline views of the city across the East River. Domino Park also is one of the most interesting parks in Brooklyn because it's built on the site of the former Domino Sugar Refinery and the ruins and buildings left over from those industrious days are all a part of this urban greenspace and park.
If you're not super hungry yet, I recommend continuing exploring the best things to do in Williamsburg by foot or do a DIY Williamsburg street art walking tour to build up your appetite for brunch or lunch!
Brunch or Lunch in Williamsburg
Now that you've done a healthy amount of exploring through Williamsburg on your Brooklyn weekend or 36 hours in Brooklyn, you've built up an appetite and you couldn't be in a better place for a nice brunch or lunch before continuing on your Brooklyn itinerary!
There are actually so many options that you probably want to plan ahead and if you are visiting on a Saturday or Sunday make sure to secure a seat at some of these popular brunch spots with a reservation.
For one of the most aesthetic spots and popular brunch spots check out Carthage Must Be Destroyed in East Williamsburg, for Southern comfort food like fried chicken check out Pies 'n' Thighs, for a cool modern, American restaurant with a cool 'diner' setting check out Diner which has a retro railway dining car as its interior, and one of the coolest diners in Brooklyn!
If you fell in love with Domino Park and want to take advantage of that epic, waterfront view you can head to Mekelburg's and grab picnic goodies or get one of their savory meals to go, I HIGHLY recommend the porchetta sandwich!
After you get a bite to eat, we are going to recommend continuing to explore Williamsburg by checking out the best shopping and best thrift shopping in Williamsburg before moving on to our next neighborhood in our Brooklyn weekend itinerary!
Explore the Bushwick Collective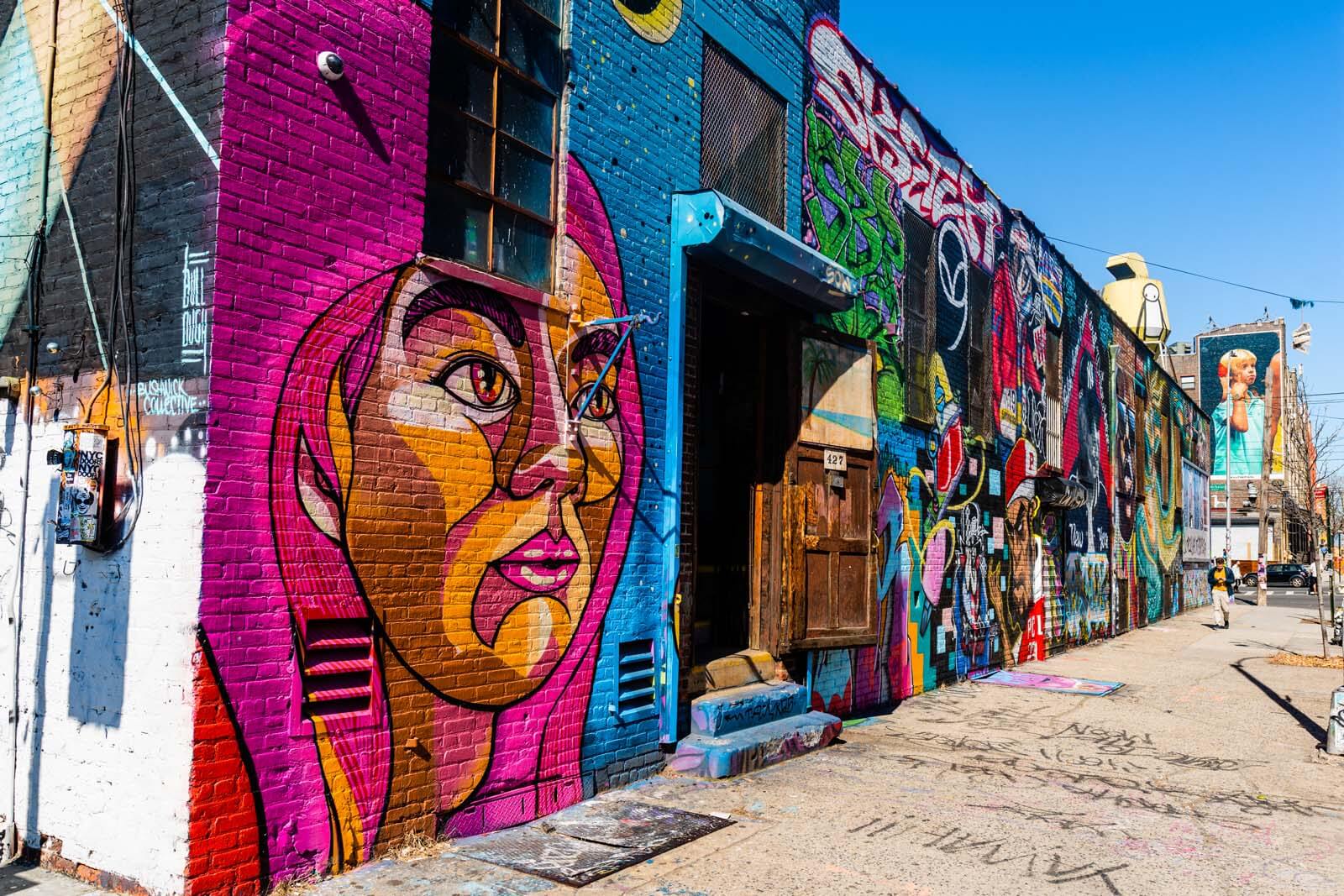 Next up on your 36 hours in Brooklyn or Brooklyn weekend, we recommend heading over to the colorful and lively neighborhood of Bushwick. There are alot of great things to do in Bushwick, but the most famous are the colorful walls that make up the Bushwick Collective, an outdoor, open-air street art gallery.
The Bushwick Collective offers around 100 blocks of colorful mural after mural and is one of the best spots for street art in Brooklyn featuring artists from all over the world who come out and add murals each June during their Block Party festival and celebration.
Spend some time exploring Bushwick and the murals here by foot, there are more options for thrifting including L Train Vintage, which is one of the best thrift stores in Brooklyn.
Dinner and Nightlife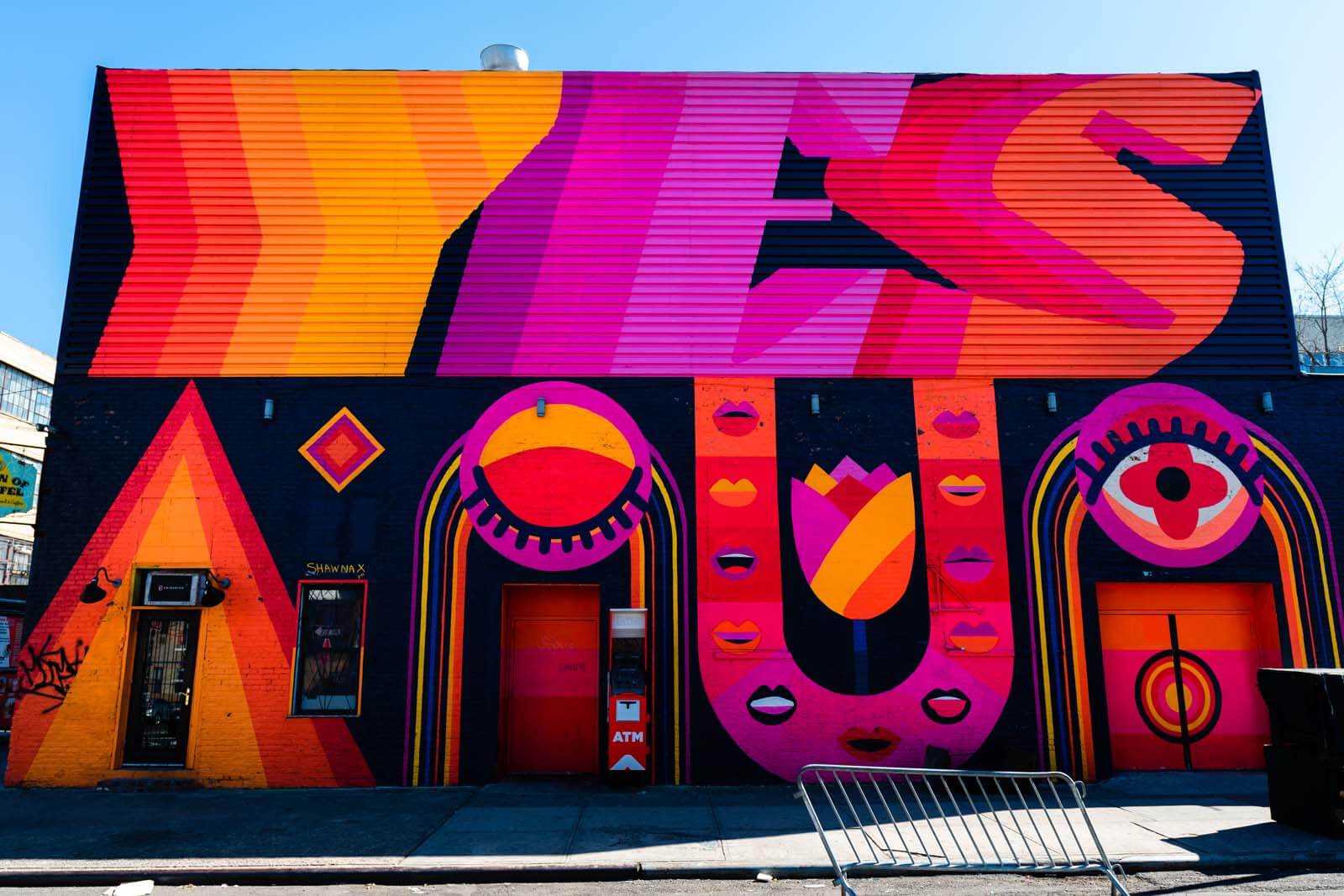 After getting tons of steps in on your weekend Brooklyn itinerary, we recommend grabbing dinner to fuel you through the evening if you decide to partake in the nightlife scene. Since everyone varies with their level of nightlife they like to partake in, I am going to give a few options!
For those looking to go clubbing, we recommend sticking around Bushwick for dinner perhaps getting in line and waiting for the famous Roberta's pizza or since Bushwick is a historically Hispanic neighborhood we recommend trying out one of the many delicious eateries that represent the influences of the communities who historically called Bushwick home here in Brooklyn.
For a quick, but delicious meal try the incredible tacos and fresh tortillas from Tortilleria Mexicanas Los Hermanos or La Isla who serves up Puerto Rican cuisine.
For nightlife there are several great bars and KCBC Brewing for casual drinks or if you plan on staying out all night check out the legendary House of Yes nightclub.
Alternatively, if you're looking for something more casual for your nightlife you can head back to Williamsburg to hit up breweries like the Brooklyn Brewery or check out the great rooftop bars in Williamsburg that offer incredible views!
Alternatively, you could explore an entirely new neighborhood that also has great nightlife and bars by checking out the best things to do in Greenpoint.
Brooklyn Weekend: Day 3
On the final day of your Brooklyn itinerary, and perhaps you will only have a few hours if you're only doing 36 hours in Brooklyn, but this itinerary takes you to iconic Brooklyn museums, Prospect Park, the historic and beautiful neighborhood of Park Slope, and to the neighborhood of Sunset Park for dinner, shopping, and entertainment at Industry City.
Bagels for Breakfast
You can't come for a Brooklyn weekend without having pizza (which we've already covered on this Brooklyn itinerary) and a classic New York bagel! We are sending you to one of the best bagels in Brooklyn, well at least my very favorite, to Bagel Pub in Park Slope. (Also, one of the best bagels in NYC too!)
There are two locations in Park Slope, I recommend picking the one on 7th Avenue so that you can easily head off to your other activities picked out for this final day on your Brooklyn itinerary.
Brooklyn Museum or Brooklyn Botanic Garden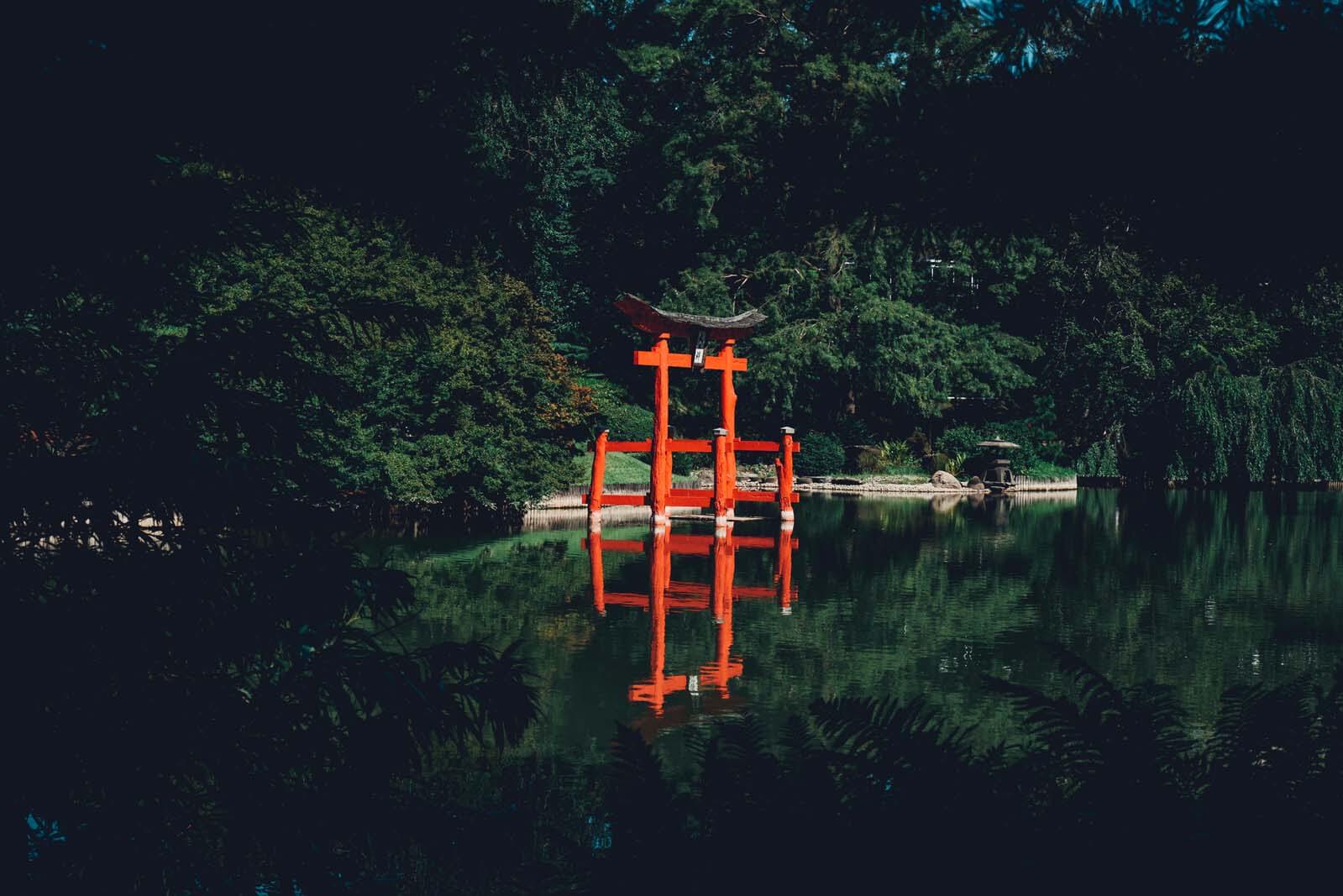 Next up on your final day of your Brooklyn itinerary, we are going to recommend checking out one of the most famous museums in Brooklyn, the Brooklyn Museum which has over 1.5 million works of art and artifacts and is the third-largest museum in NYC! There are always interesting rotating exhibits to check out along with their permanent collection.
Located next to the Brooklyn Museum is another great option, the Brooklyn Botanic Garden offers something special each season and is nothing short of magical during the spring where they hold the cherry blossom festival in Brooklyn here.
If you plan accordingly, you most definitely can fit both of these options in your Brooklyn weekend, or you can choose one and have a thorough visit.
Lunch in Park Slope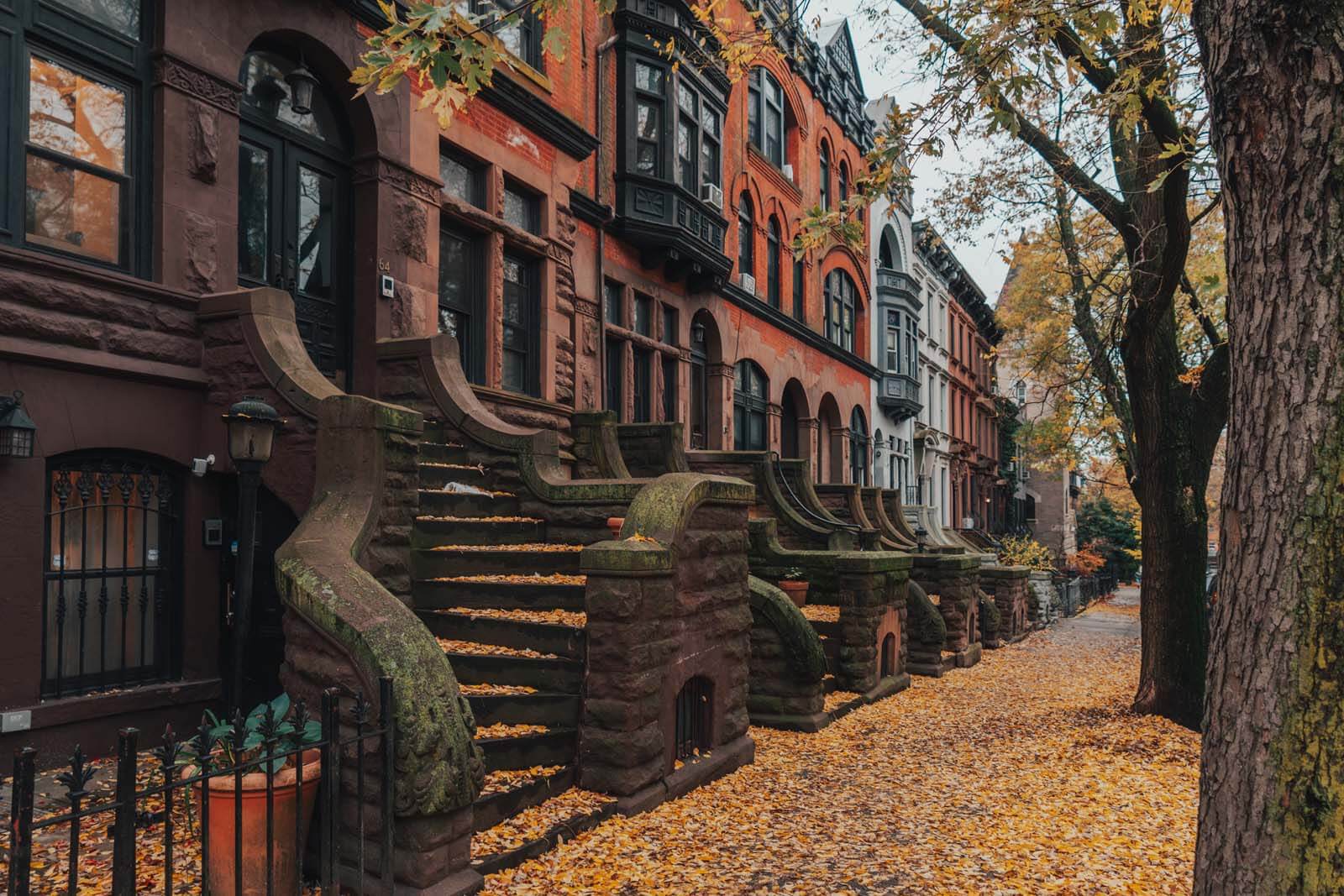 After hitting up the Brooklyn Museum and/or the Brooklyn Botanic Garden you'll have built up an appetite. Head past Grand Army Plaza passing Prospect Park and enter the neighborhood known for its historic collection of brownstone homes in Park Slope.
If your hunger can't handle the 30-minute walk, grab a CitiBike or hop on the subway to save time. There are plenty of things to do in Park Slope to fill up your afternoon, but first you need to eat!
Try Pasta Louise for fresh pasta and great Italian fare or Miriam for fresh Mediterranean and Middle Eastern cuisine, Miti Miti is a great option for Latin American cuisine, or if you don't want to head to a sit-down restaurant, head over to Windsor Terrace where you can pick up a Prospect Park picnic basket at Krupa Grocery and head back to a grassy, green lawn in the park on a gorgeous day.
After you eat, you can either head over to enjoy all the best things to do in Prospect Park for more outdoor exploring in the sister park to Central Park in Manhattan created by the same architects and designers Frederick Law Olmstead and Calvert Vaux.
Or, use this time to explore the beautiful streets of brownstone homes and hidden gems in Park Slope. If you're looking to do some shopping, you'll want to head to 5th Avenue or 7th Avenue which are dotted with all kinds of boutiques in Brooklyn, gift stores, and other cool indie shops like record stores, and more vintage and consignment stores.
Park Slope is one of the most desirable neighborhoods to live in the city and is one of the most expansive collections of rowhouses and brown stones built between the late 19th and early 20th centuries which makes it one of the best neighborhoods for photography and a casual walking day during your weekend in Brooklyn.
Afternoon and Dinner at Industry City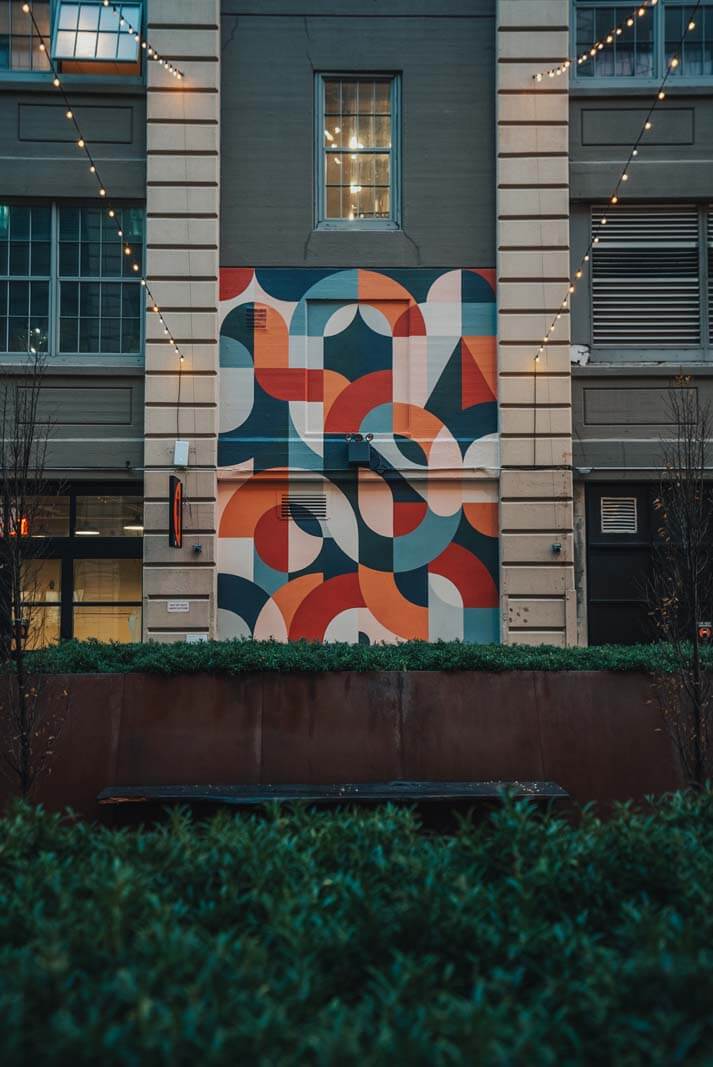 To end your Brooklyn weekend and Brooklyn itinerary, we recommend finishing your day at Industry City in Sunset Park. You'll want to either subway or take a Citibike here if you're running low on time and energy, or if you're up for walking you can get from Park Slope to Sunset Park by foot passing the famous Green-Wood Cemetery.
Industry City is a former industrial complex of warehouses and shipping centers that has been transformed into a lifestyle and creative entertainment space offering venues to hang out inside and outside including cool outdoor spaces with art installations and often live music in the courtyards between the buildings.
There are several dining and drinking options, murals from artists all over the world, and shopping. Some artists and creatives even have their studios and workspaces here along with their storefronts so you can shop and see right where the artists work.
There are always seasonal offerings here from activities, events, and even the decorations change to be festive making it a really fun place to visit again and again because there's always something new to offer or happening here.
While there is an abundance of dining options, I am a huge fan of the different offerings in the Japan Village which has several Japanese cuisine vendors and a Japanese market. Before deciding what to eat, make sure you browse the complex as there is another food hall and many other restaurants to choose from and a great way to end your Brooklyn weekend.
Where to Stay in Brooklyn
For the purposes of this Brooklyn itinerary and depending on if you do a 3 day Brooklyn weekend or just 36 hours in Brooklyn, we recommend staying in the neighborhoods of DUMBO, Williamsburg, or Downtown Brooklyn based on the activities we selected.
Here are a few options, but we recommend checking out our entire guide to where to stay in Brooklyn by neighborhood and budget for more options.
1 Hotel Brooklyn Bridge
This is a great luxury option for your Brooklyn weekend looking to stay right by the waterfront with easy access to everything we recommended in DUMBO, Brooklyn Heights, BoCoCa, and easy access to East River ferry which will take you to Williamsburg quickly.
1 Hotel Brooklyn Bridge is also home to Harriet's Rooftop & Lounge, one of the most popular rooftop bars and restaurants in NYC and guests can access the rooftop pool as well.
This 5-star hotel comes equipped with a bar/lounge, room service, complimentary wifi, and industrial-chic rooms. Also, 1 Hotel is also home to one of the best spots for brunch in DUMBO.
You can choose rooms that have views of the Brooklyn Bridge, DUMBO, Statue of Liberty, or the NYC skyline.
Book Now on Booking.com | Compare Prices for Later on Hotels.com | See Rates on Expedia.com
The Hoxton
A stylish, boutique hotel that is a great place to stay during your 36 hours in Brooklyn and Brooklyn itinerary is the Hoxton in Williamsburg. This is another hotel that has an amazing rooftop bar in Brooklyn with amazing city views as well as a pool.
Located in a former factory building, this screams Brooklyn industrial revival. You can find individually designed industrial-chic rooms with gorgeous brass and concrete details with en suite bathrooms. Choose between rooms with views of Manhattan or rooms with views of Brooklyn.
They off complimentary breakfast bags and there are 3 restaurants and bars located on the property, one being located on the outdoor terrace with city views.
Book Now on Booking.com | Compare Prices for Later on Hotels.com | See Rates on Expedia.com
Sheraton Hotel Brooklyn
Also located on Duffield St, this is another great place for a base during your Brooklyn weekend if you're looking for a nice spot in Downtown Brooklyn. This Sheraton property is a 4-star hotel and includes spa services, a Mexican American restaurant, rooftop bar and lounge with views of downtown, indoor pool, a coffee shop, fitness centers, a pool, to name a few of the amenities on site.
The hotel is conveniently located less than a 2-minute walk from Hoyt Street Subway Station making it easy to get around the city as well as around a 15-minute walk to Barclay's Center.
The rooms are modern and offer work areas with ergonomic chairs for our business travelers. You can upgrade to a suite with a separate living room area and club room upgrades provide access to the lounge and complimentary breakfast, day snacks, and evening appetizers.
Book Now on Booking.com | Compare Prices for Later on Hotels.com | See Rates on Expedia.com
See our full guide for more amazing NYC hotels with a view to help you plan your stay!
---
Liked this guide to how to spend a Brooklyn weekend and Brooklyn itinerary helpful? Bookmark for later or share the love below on Pinterest!