Looking for the best brunch in Bed Stuy? You're at the right place. Bed Stuy or Bedford Stuyvesant is one of my favorite neighborhoods in Brooklyn for brunch. Every type and style of food is accounted for in Bed Stuy from Mexican to Cuban to Nigerian to casual to sit down to fancy.
They also have my hands down my favorite bagel shop in the world, delicious coffee, and amazing parks. The neighborhood is huge and there is so much good food in this area, you definitely need to spend more than a day here.
Whether you are a Bed Stuy local or just visiting, this guide will provide you with all the best restaurants in Bed Stuy. And while you're here be sure to check out the best things to do in Bed Stuy.
Amazing Bed Stuy Brunch Spots
Greenberg's Bagels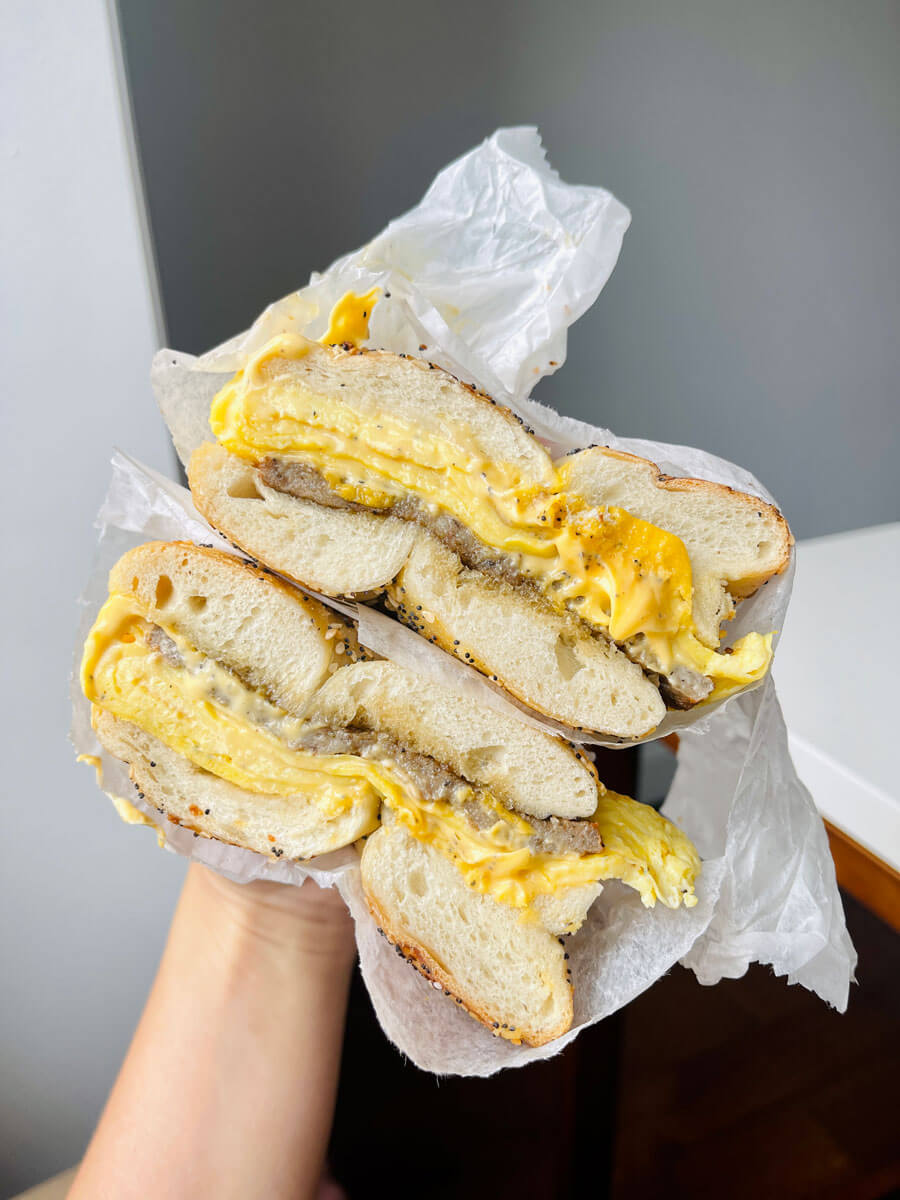 Address: 1065 Bedford Avenue 
I have to start this guide with Greenberg's Bagels because not only is it one of the best places and Bed Stuy brunch spots, it is one of the best bagels in Brooklyn, let alone bagels I've ever had.
When I lived in Bed Stuy, I'm not exaggerating by saying that I went here at least 2x a week and had a standing bagel order every Saturday. Needless to say, add this to your list immediately of casual Bed Stuy brunch spots.
There is nothing on the menu that you will be disappointed with but I can't help but always end up ordering the bacon, egg, and cheese (B.E.C sandwich) on an everything bagel. It is seriously so good. So good in fact, the cheese pulls apart creating the perfect bite (and the perfect photo opp), the sausage is great too.
The cream cheese and grape jelly combo on a plain bagel is also one of my favorites as well as the classic cinnamon raisin with butter (trust me, it's so simple but so delicious).
They are also known for adding a hash brown to your bagel sandwich with ketchup or Mike's hot honey, all of which I also recommend.
They also partner with Balthazar so they have some delicious monkey bread and croissants. In addition, they do regular collaborations with other businesses to make some great sandwiches! Make sure you go out of your way to visit Greenberg's. I promise you will be very happy.
Greenberg's has very limited indoor counter seating but has ample outdoor space. It does get very packed on Saturday and Sunday mornings around mid-morning so plan ahead!
Fan Fan Doughnuts
Address: 448 Lafayette Avenue 
I was so sad when Dough went out of business in this location and then Fan Fan Doughnuts opened and I forgot why I was sad. When Fan Fan first opened the line was always down the block. There is still a consistent line on the weekends but it moves fast and is worth the wait making this one of the best brunches in Bed Stuy, and one of the best spots for donuts in Brooklyn!
There isn't a bad doughnut on the menu but some of my favorites that are consistently on the menu are the Mexican cinnamon-sugar, choc-choc (valrhona chocolate glaze), the Danny boy, guava & cheese and the vanilla glaze. They also have a beyond incredible sticky bun and braided glaze. They rotate specials on a regular basis, which should also not be missed.
Fan Fan Doughnuts does not have indoor or outdoor seating so plan on taking your delicious doughnuts to go. There are some benches around the area and parks not too far away but most of the time I can't wait to eat them so I just eat them as I walk home. 
Ursula Brooklyn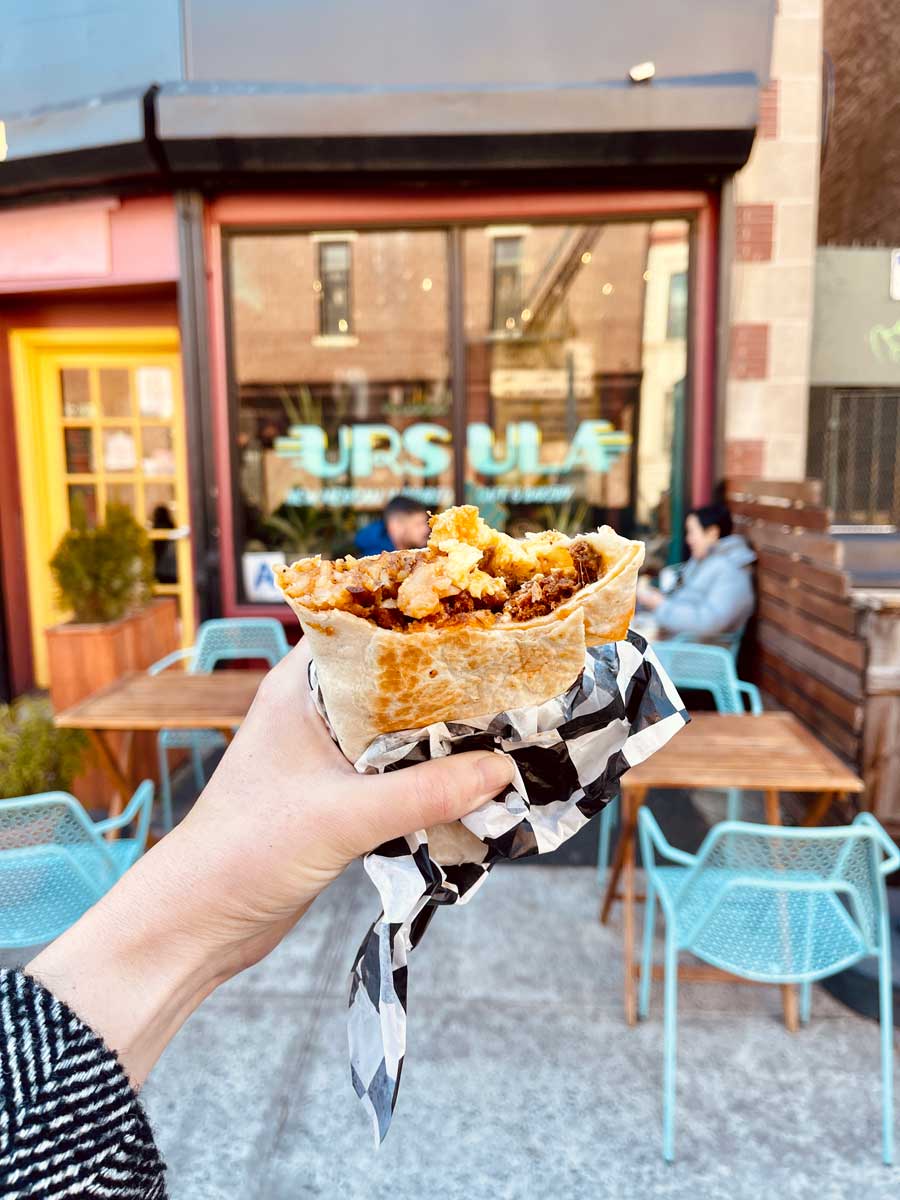 Address: 387A Nostrand Ave
While there are places in Brooklyn for breakfast burritos, no one does them like Ursula Brooklyn. Originally opened in Crown Heights, it has since moved to Bed-Stuy and is home to some of the best brunch in Bed-Stuy. Expect a wait on the weekends but it is worth every minute.
Influenced by New Mexican, Ursula keeps the menu simple by offering chorizo, bacon, vegan, and vegetarian breakfast burritos, all of which come with either red or green New Mexican chile but do yourself a favor and ask for "Christmas," which is a combination of both. With that, add a side of chili for a seriously delicious Bed-Stuy brunch.
While they do breakfast burritos the best, they also offer more "lunch" style brunch items including a delicious stuffed sopapilla with pork or beef or the and chili fried chicken or green chili cheeseburger.
There is limited outdoor seating so try to get there early to grab a spot. Herbert Von King park isn't far if you want to enjoy outdoors.
Reservations are not accepted and Ursula is open daily for breakfast and lunch. If you don't want to risk waiting for your incredible brunch, call ahead for pick up.
Winona's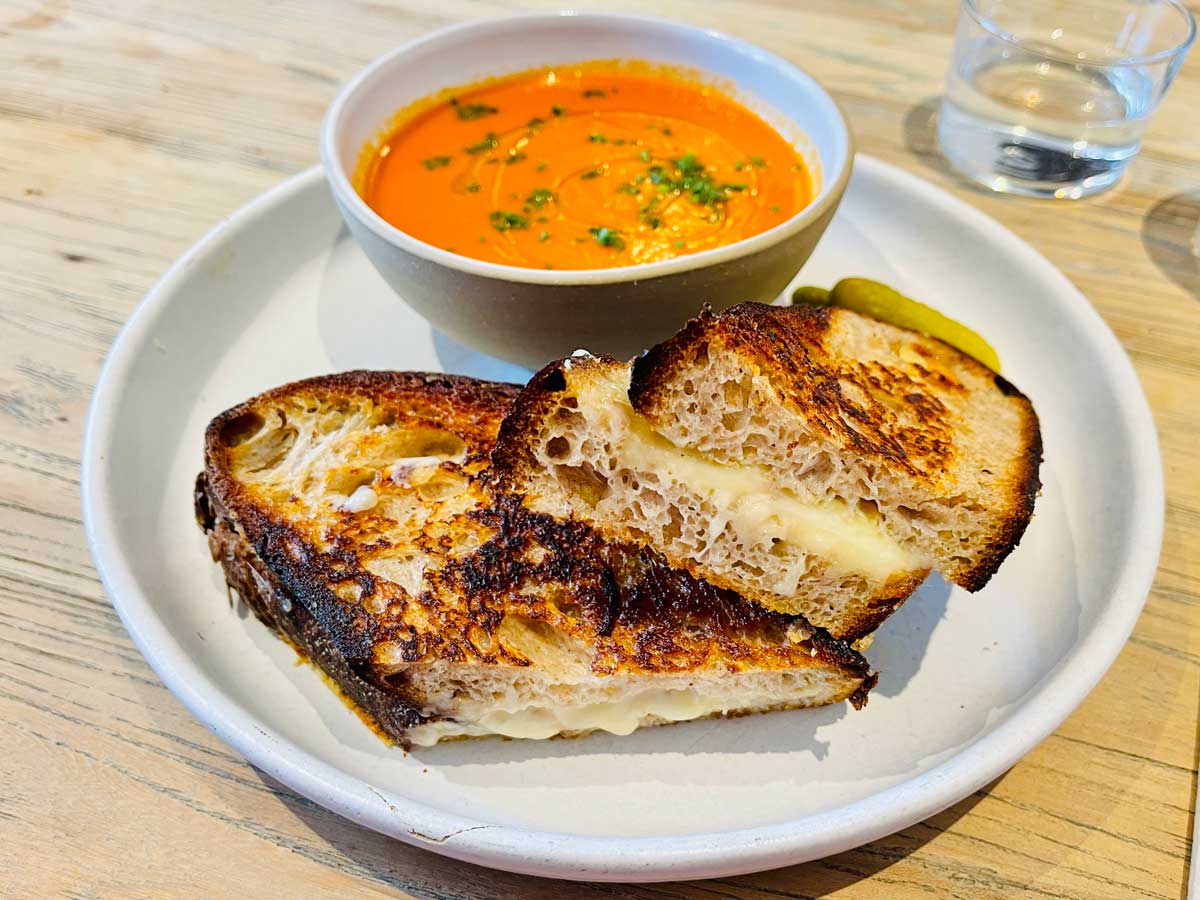 Address: 676 Flushing Avenue 
Winona's one of my new favorite places and one of the best places for brunch in Bed Stuy. They offer breakfast daily, brunch on the weekends, and lunch and dinner every day. The interiors are minimalistic and simplistic in the best way and they have a beautiful bar at the front with a larger space in the back that is equally inviting. 
While it is more of a "lunch" item, the grilled cheese and soup is incredible. The cheese is perfectly melted on delicious sourdough bread. The chicken sandwich and endive salad should also be ordered so come with friends so items can be shared.
Winona's accepts reservations and has both indoor and outdoor seating. It is also a great space to grab a coffee and pastry to go, which I plan to do quite often.
Pilar Cuban Eatery
Address: 397 Greene Avenue 
Pilar Cuban Eatery was also one of my picks for best restaurants in Bed Stuy (make sure you also check out that guide if you are looking for dinner and lunch options).
They have plenty of egg dishes on the menu, all of which are very delicious but the best item on the menu is the Cuban sandwich. It truly cannot be beat and is incredible any time of day.
Pilar also runs a bakery right next door where you can pick up amazing pastries, coffee, anything guava and delicious flan to go or you can dine inside. The space is small but they do have a few indoor tables.
Pilar accepts reservations and has one of the best brunches in Bed Stuy. Brunch is offered on the weekends and they have lunch and dinner every day with both indoor and outdoor dining offered.
Stonefruit Espresso + Kitchen 
Address: 1058 Bedford Avenue 
Stonefruit Espresso and Kitchen is just as delicious as it is aesthetically pleasing, which can sometimes be hard to come by. They are open every day from early till late and have some of my favorite brunch in Bed Stuy. Plus, the space is plant-filled and the natural light in the space is perfect on a sunny day. If you can, snag the booth by the window and you'll never want to leave. 
Their matcha latte with oat milk is one of my favorite matcha lattes around. They also have a delicious lavender latte, which is the perfect amount of sweetness in every sip.
For food, anything goes but their standouts are their bowls, whether it is the yogurt bowl, the seasonal bowl or the monk bowl, you will be very satisfied (and full but not too full) from all of them.
Stonefruit has both indoor and outdoor seating. They do not accept reservations but there are usually tables available outdoors and if not, it travels well to go. They also have the cutest shop next door that is perfect for gifts, home decor, and picking up a make-your-own bouquet, so make sure you definitely check this out.
This is also one of our picks for the best cafes in Bed Stuy too!
For All Things Good 
Address: 43 Franklin Avenue 
For All Things Good is one of the best places for brunch in Bed Stuy, if not one of the best places for brunch in New York. In fact, it is so good they have expanded to open a second location in Williamsburg because it is just that good and should be added to your list of brunch places immediately. 
You have to order the tetelas. All are beyond delicious but my favorite one is the chihuahua cheese and salsa verde. The salsa verde is so good so make sure you ask for an extra side or be adventurous and try all three of their salsas. The quesadillas are also amazing and should not be missed. As I always say, come with friends and share so you can try some of everything.
For drinks, the mezcal is delicious and tastes so fresh so make sure you get a cocktail that incorporates it. For non-alcoholic drinks, their horchata is some of the best I've ever had. In fact, there was a while there where I went at least 3x a week just for that.
They have outdoor sidewalk dining which is lovely but they do not accept reservations. They also sell the tortillas, which I highly recommend purchasing to take some home with you. The tortillas are so good that they step up even your most basic cheese quesadilla game.
Corto 
Address: 260 Halsey Street
Corto has one of the best patio gardens, which is why I was instantly drawn to try this place. I was even more pleasantly surprised that they had delicious food to go with it, making it one of the best spots for brunch in Bed Stuy.
The space is small and it seems like everyone somehow found out about this place overnight because it is always packed so get there early so you can snag a table outside.
The coffee is delicious (and very reasonably priced). As far as food goes, the focaccias are my favorite thing on the menu and something you should definitely order. If you're with friends, order a few to share. They have both vegetarian and vegan options available and also have some options for antipasti to start.
Corto offers both indoor and outdoor seating but does not accept reservations.
Saraghina Pizzeria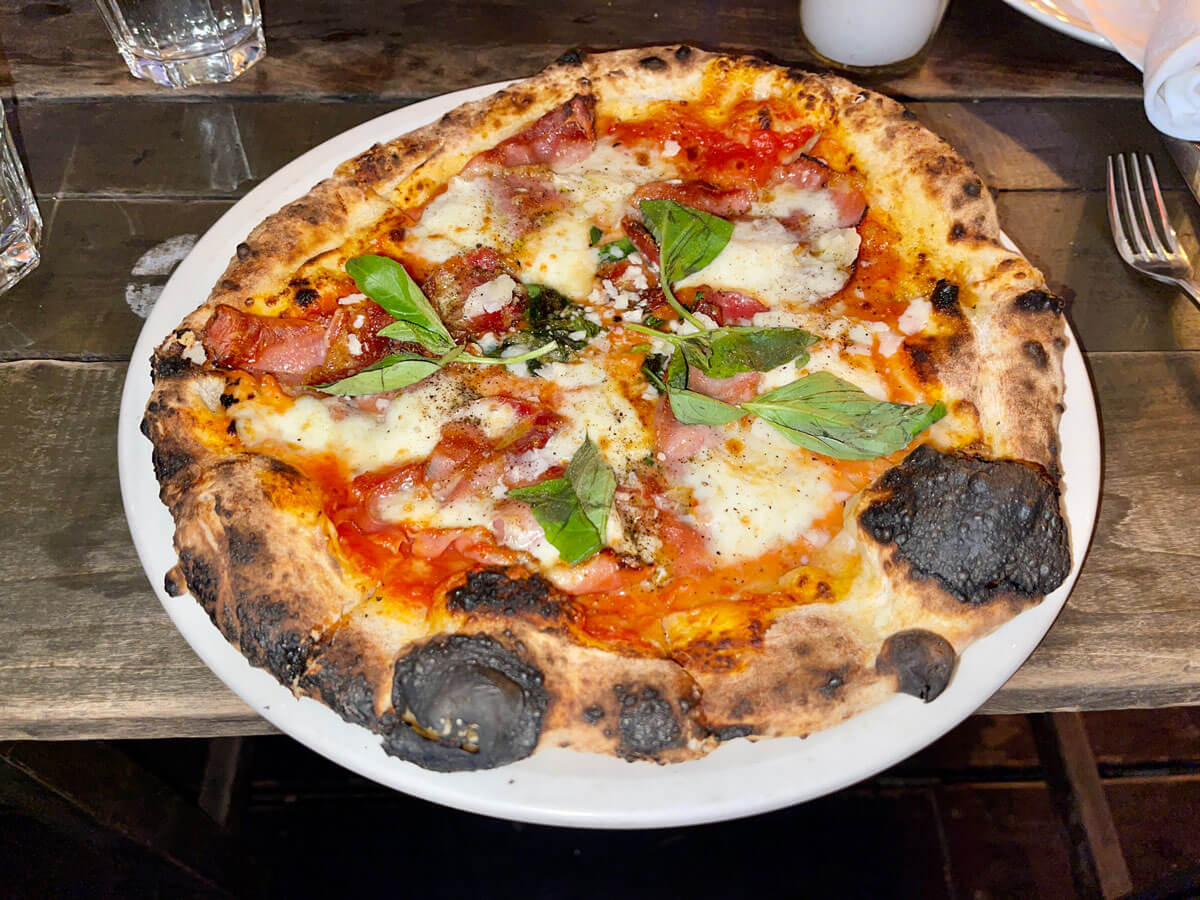 Address: 350 Lewis Avenue 
If you read my other guide about Bed Stuy or read anything about the best restaurants in Brooklyn or the best pizza in Brooklyn for that matter, I'm sure you've already heard of Saraghina, and for good reason. This is one of the best spots for brunch in Bed Stuy. 
The spicy brunch pizza is the star at Saraghina. Covered in tomato Sauce, mozzarella, hot coppa, N'Duja, pickled fresnos and egg, you will leave very happy and perhaps even with some leftovers for later. Other standout items include the blueberry and buttermilk pancakes, and the omelet of the day. They also have some delicious pastries, which are always my favorite way to start brunch.
Saraghina is by far one of the best restaurants in Bed Stuy and always the one place I can get my friends from Manhattan to travel to, so you know it has to be great. The indoor aesthetics are great but the best spot is in the backyard on the patio and while they don't accept reservations, this is definitely a place that is worth the wait.
Golda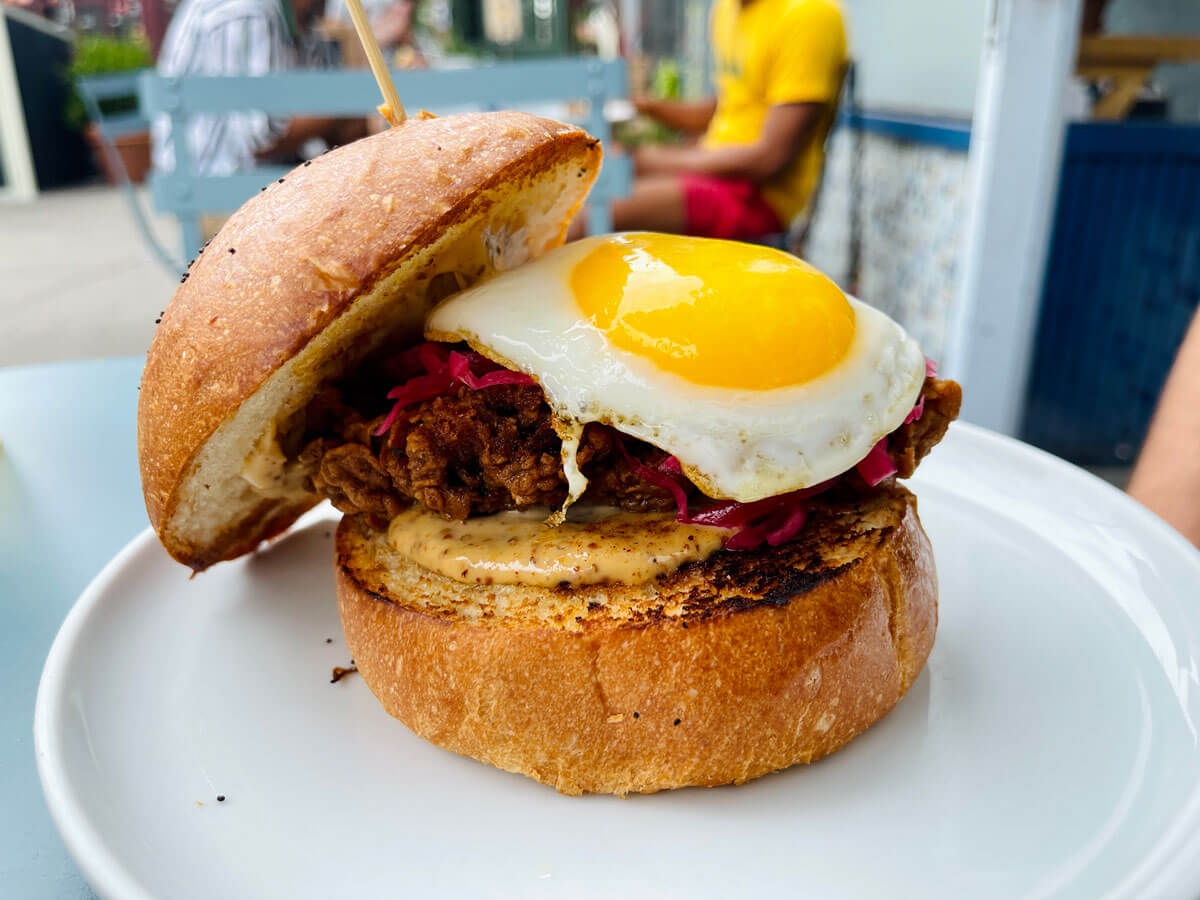 Address: 504 Franklin Avenue
Golda is a place that consistently ranks as one of my favorite breakfast sandwiches in all of New York and consistently ranks as one of the most aesthetically pleasing restaurants making this one of the best places for brunch in Bed Stuy. 
Golda is known for their signature egg & cheese sandwich and it is seriously delicious and should definitely be a part of your brunch order. Make sure you add avocado to make it even better. Their pancakes, breakfast plate and labneth parfait are also great items to accompany some of their delicious coffee or matcha, making for one of the perfect meals. Also, you can't go wrong with their fried chicken sandwich with fried egg either.
Golda accepts reservations via phone and has a small space for indoor seating. They also have outdoor seating out front or you can take it to go.
Baron's 
Address: 564 Dekalb Avenue 
I'll never forget Baron's because it was one of the first places I ate in Bed Stuy without even realizing I was in Bed Stuy. I came over to look at an apartment around the corner and had worked all day and forgotten to eat (very rare occurrence) and there was Baron's, which the realtor had pointed out had been featured in some TV show, making it all the more desirable. Turns out, it really is a great place to eat and one of the best Bed Stuy brunch spots.
The restaurant is beautiful on the inside with colorful stained glass on the back wall and bookshelves, feeling more like someone's living room than a restaurant.
For brunch, stick with the bottomless, prix fixe menu and you won't be disappointed. You can choose from bloody mary, mimosa, bellini or screw driver for your beverage and several different options for entrees depending on your mood.
I, of course, tend to lean towards the breakfast sandwich every time but I also love their french toast and with bottomless, prix fixe brunch, you really can't go wrong.
Baron's accepts reservations and has brunch on the weekends. They have both indoor and outdoor dining.
Nagle's Bagels
Address: 378 Tompkins Avenue
I know I started this article at Greenberg's Bagels #1 fan club member but Nagle's is also a very delicious bagel spot. The two are also on completely opposite sides of the neighborhood so feel like both should be included depending on what part of Bed Stuy you are in.
Nagle's is your classic bagel shop that has the everything bagel egg sandwiches, lox, whitefish and the New Yorker. They also have some very creative ones, which is what makes me want to keep coming back.
Make sure you try the Blue Velvet that comes with blueberry cream cheese, applewood smoked bacon, goat cheese, tomato and arugula. I know, it sounds like a lot but it is so good and the perfect combination of salty sweet.
Another solid choice is the Egg and Cheese Plus that is your classic egg sandwich but some chili jam is added (you could also add chipotle mayo or ketchup but the chili jam is by far the best).
Nagle's has very limited indoor seating (small counter space) and some outdoor tables. There are benches around and you aren't far from Herbert Von King if you want to take your bagel (and coffee) to go.
Chilo's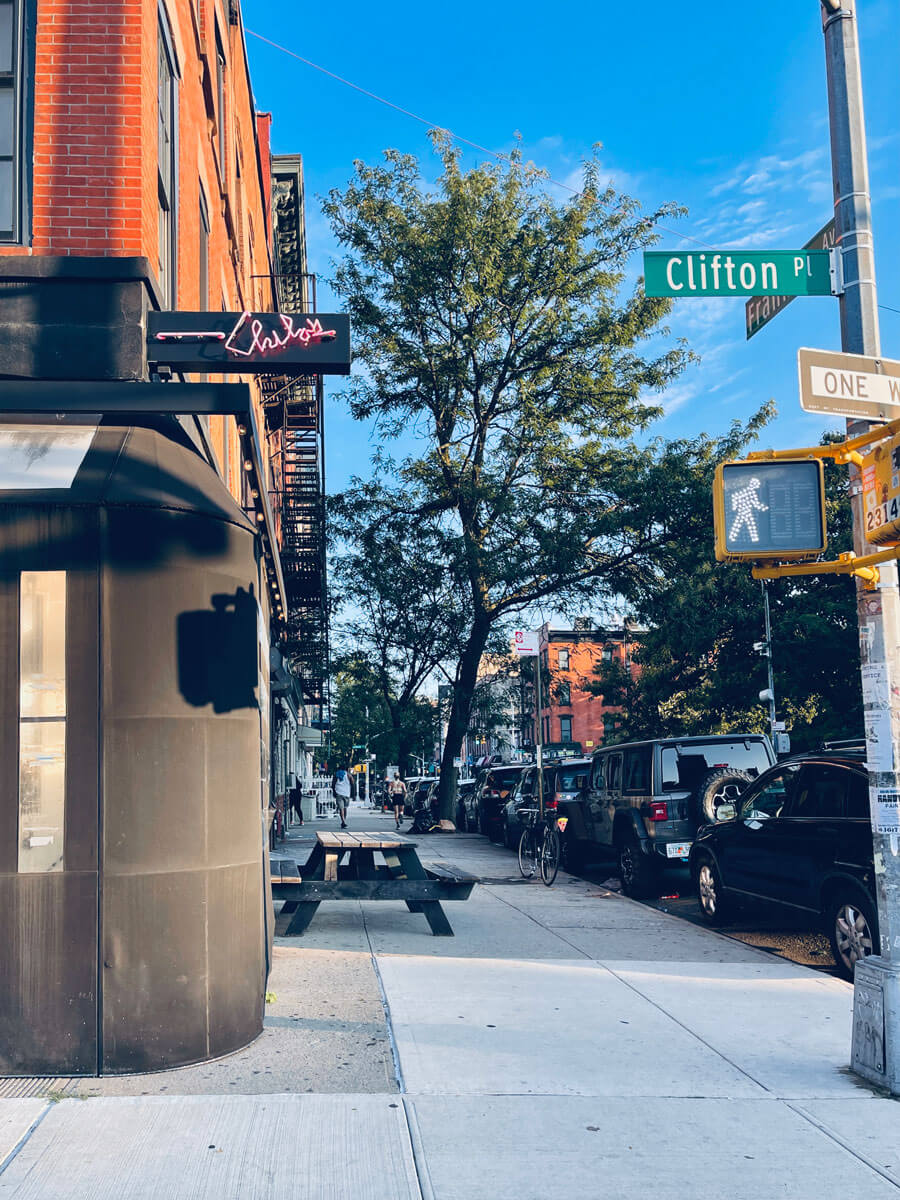 Address: 323 Franklin Avenue 
Chilo's is an unassuming taco truck on the corner. So unassuming in fact, that when the gates are closed, it is easy to walk right past and not notice it is there, which is unfortunate because it has some of the best brunch in Bed Stuy. 
The breakfast tacos are my favorite tacos on the menu but you can order any of the tacos during brunch time, in which case you should also include a couple mahi mahi tacos as well.
Make sure you save room for the tostado and tortas as well. As far as tostados go, the avocado is my favorite on the menu (and completely vegetarian). For tortas, order the alambres torta. Chilo's also has some delicious margaritas and guacamole and is the perfect place to spend a weekend morning.
Chilo's has outdoor seating and some covered "indoor" (but really it's still mostly outdoor) seating. They do not accept reservations.
Warude 
Address: 385 Tompkins Avenue 
Warude is and exciting combination of tacos and Japanese bowls. They also have delicious coffee, a cool, minimalist and low-key vibe and some of the best brunch in Bed Stuy. They also serve their breakfast tacos all day long which is a win in my book. 
For brunch, you obviously order breakfast tacos but in this case, they are more like breakfast burritos. The first time I went to Warude I ordered three tacos thinking they were more street size and they are not. My recommendation now is to start with one so you can also add a few other sides and then go back for another if you're so inclined.
My favorite is the basic taco with egg, cheese and home-fried potatoes. You can also add stuff on including beans, mushrooms, spinach, tomato, etc., which are all delicious additions.
For sides, obviously, order the guacamole but their chips and salsa should be on your table as well.
Warude has limited indoor dining but has a few tables outside. Reservations are not accepted but usually it is a short wait if tables are not available. It is also very close to Herbert Von King park if you feel like taking your tacos to go!
Brown Butter Craft Bar & Kitchen
Address: 413 Tompkins Avenue 
Look no further for the best biscuit because it is at Brown Butter Craft Bar & Kitchen. Their focus is biscuits and they do biscuits very, very well. They also have entrees and larger dishes, which I'm sure are just as amazing but I can't stay away from biscuits or biscuit sandwiches every time I come here. 
If I haven't convinced you yet, here is what you should order. The biscuit and jam is simple, classic and delightful but if you want some protein, the biscuit sandwich with scrambled eggs and cheese is incredible. They also have biscuits with honey and biscuits with hot honey. Really, no matter what your preference, you can't go wrong.
Brown Butter Craft Bar & Kitchen is open every day and has some of the best brunch in Bed Stuy. They have outdoor seating and very limited indoor dining but you can carry out and walk over to Herbert Von King to enjoy your delicious brunch.
Chez Oskar
Address: 310 Malcolm X Blvd 
Chez Oskar is a quaint little bistro located in the heart of Bed Stuy. They often have live music, have a great happy hour and is one of the best Bed Stuy brunch spots. Focusing on French cuisine and family-friendly vibes, this is definitely a place that should be added to your list. 
Brunch is one of my favorite meals at Chez Oskar and for good reason. They have several great brunch cocktails to choose from and the food is divine. There's a breakfast sandwich so you already know that is one of my go-tos but their toast on sourdough is also incredible. If you're feeling hungrier than toast, the steak frites and any of the burgers are also a very solid choice.
Chez Oskar is open every day and offers brunch on Saturday and Sundays. They have both indoor and outdoor dining but they do not accept reservations.
---
Best Places for Brunch in Bed Stuy (Post Summary):
Greenberg's Bagels
Fan Fan Doughnuts
Ursula Brooklyn
Winona's
Pilar Cuban Eatery
Stonefruit Espresso + Kitchen
For All Things Good
Corto
Saraghina Pizzeria
Golda
Baron's
Nagle's Bagels
Chilo's
Warude
Brown Butter Craft Bar + Kitchen
Chez Oskar
---
About Our Guest Author 
Molly Royce – Originally from Oklahoma, I moved to NYC for grad school and have had a hard time wanting to leave ever since. There really is no better borough than Brooklyn where I live with my boyfriend and our black lab, Frankie. There's no greater city in the world and I can't wait to share my love of the city, eating, and drinking with all of you.