Looking for the best brunch in Carroll Gardens? I got you. This bucolic neighborhood is not only a foodie paradise where you can find some of the best old-school red sauce Italian joints in the city and a sprawling array of other great options, but Carroll Gardens is also one of the prettiest neighborhoods in Brooklyn to wander through enjoying the pretty brownstone and tree-lined streets with their large gardens and pretty as a postcard scenes.
Not to mention, there are plenty of amazing things to do in Carroll Gardens and the surrounding neighborhoods of Cobble Hill and Boerum Hill that you could spend an entire afternoon pre or post-brunch in Carroll Gardens moseying around the independent shops, bakeries, and streets taking in this quieter yet not bored neighborhood of Brooklyn.
Whether you are a Carroll Gardens local or just visiting, this guide will provide you with all the best places for brunch in Carroll Gardens.
Amazing Carroll Gardens Brunch Spots
Big Tiny 
Address: 244 Smith Street
Big Tiny is the ultimate neighborhood gem and is definitely one of the best places for brunch in Carroll Gardens. Located on an unassuming corner in Carroll Gardens, I passed this place way to often before visiting (and I think the neighborhood locals like it that way). 
For food, don't miss the croque monsieur or madame. It is delicious and if you've read any of my other guides you know how much I love a good one. The spicy baked eggs are also a delicious savory options and since you also know if you've read my other guides you know that no brunch is complete without the sweet option and at Big Tiny that is the brioche french toast.
The burger is also on the menu and it should not be missed.
Big Tiny is open for brunch on the weekends and open for dinner every night but Monday. They accept reservations but only over the phone. Both indoor and outdoor seating are available and it really is just up to your mood for the evening which one might be better. Outdoor is covered with string lights and indoor feels like a Parisian bistro so really it is a win win situation at this incredible Carroll Gardens brunch spot.
Buttermilk Channel 
Address: 524 Court Street
If you've read my article about the best restaurants in Carroll Gardens, you've heard about how amazing the fried chicken is at Buttermilk Channel. I also mentioned the brunch items, which are equally delicious (don't worry the fried chicken is also on the brunch menu and is in sandwich form on homemade bread) so make sure that Buttermilk Channel is at the top of your list for brunch in Carroll Gardens. 
In addition to the fried chicken sandwich, definitely order the buttermilk pancakes. They are some of my favorites in Brooklyn. The biscuit is also incredible as well as the cheddar waffle, house-made pickles and any of the scrambles.
Brunch at Buttermilk Channel is served Saturday and Sunday and while they take reservations through Resy, they aren't super easy to get so I recommend setting a notify or booking as soon as the reservations are released. They have both indoor and outdoor dining.
If you're looking for more amazing spots for brunch in Brooklyn by the same folks behind Buttermilk Channel, check out French Louie in Boerum Hill too!
East One Coffee Roasters 
Address: 384 Court Street
East One Coffee Roasters is not only one of my favorite coffee shops in Carroll Gardens but they also have some of the best brunch in Carroll Gardens. The space is large with both indoor and outdoor dining and they even offer alcohol in addition to their delicious coffee selection. They serve breakfast all day and even have kids options, which makes sense as it is in Carroll Gardens. 
As far as the food goes, all of it is delicious but my favorites are the berries and toast, malted pancakes and Danish breakfast. They also have incredible sandwiches and bowls if you're more in the mood for lunch items.
All of the coffee is amazing but make sure you try their honey latte that is made with local raw honey from the Catskills. The coffee is roasted in house so it is always fresh and always delicious. They also have cocktails, as I mentioned above, tea, fresh juice and kombucha.
Local Roots Market and Cafe 
Address: 398 Court Street
Local Roots Market and Cafe is all about sustainable living and serves farm-fresh ingredients and locally grown food in a bright, airy, calming space right in the middle of the hustle and bustle of Court Street. The goods come straight from local farms and purveyors and the cafe turns that into delicious food with a Chinese spin. 
There are so many amazing things to try and I recommend coming back over and over to try them all but some of the best things are the frittata, the fan tuan rice roll and the scallion pancake cheese melt.
The space is something to be desired with its Instagram worthy backyard and colorful inside interiors. It is open Wednesday through Monday, early morning to early evening and the menu is consistently delicious. They also offer a subscription service where you can pick up local goods to take home and have local produce throughout the restaurant that you can also take home with you after you enjoy your delicious meal.
Santo Brúklin 
Address: 548 Court Street
Santo Bruklin might have one of the best aesthetically pleasing vibes in Carroll Gardens if not all of New York. The food is Brazilian and the decor matches with colorful cocktails, tiled tables and a long wooden table outdoors. They accept reservations and have both indoor and outdoor seating. The outside is the best in the warm weather with the tiled tables and string lights but indoor also has a nice, airy vibe. 
The food is some of my favorite Brazilian around but make sure you get at least one order of the pao de quiejo. It is amazing cheese bread that is served with a side of ground, spicy 'njudga and it is delicious. They also have all the classical brunch dishes but add a Brazilian twist, making this one of my favorite places for brunch in Carroll Gardens.
Gersi 
Address: 316 Court Street
Another staple Italian restaurant in the Carroll Garden neighborhood is Gersi. It is also some of the best Italian at a very affordable price with most dishes costing less than $20 a piece. The only downside is that Gersi is cash only. They do accept reservations though and are open Saturdays and Sundays for some of the best brunch in Carroll Gardens.
Gersi is your classic red sauce spot restaurant and the vibe fits that old-school Italian style. The inside is one long wooden table and they have a great outdoor patio. The food is excellent, especially for the price, and they have an expansive selection of wine and great cocktail list.
Obviously Italian is key at Gersi but their classic brunch dishes also shine including the pancakes, french toast and egg dishes but my favorites are the chicken parmesan sandwich (their red sauce is some of my favorite in Brooklyn), the penne pomodoro and the spaghetti al limone. They also have delicious brunch sides to add to any entree.
Alma
Address: 187 Columbia Street
Alma has some of the best views in Brooklyn with a great rooftop that has windows surrounding for amazing Manhattan skyline views. They have indoor dining on two levels but the third level is dedicated solely to outdoor, rooftop dining, which is where you want to be. 
The food is Mexican fare and the salsa is authentic, which is sometimes hard to find in New York. To be fair, I'm a harsh judge being from the South where the Mexican food is some of the best but Alma meets that standard.
The chilaquiles, vegetarian breakfast burrito, and chips and guacamole are my other favorite menu items but while I haven't tried them yet, I see a lot of fajitas being ordered and they look top notch.
Alma accepts reservations and is one of the best brunches in Carroll Gardens. Plus, everyone loves a good rooftop.
Bar Bruno 
Address: 520 Henry Street
Bar Bruno keeps it simple with their website motto: "The idea behind Bar Bruno is very simple; every neighborhood needs a place to meet, hangout and be able to enjoy simple delicious cooking at moderate prices." They live up to this motto making this one a great place for Carroll Gardens brunch. 
Mexican food is king at Bar Bruno and so you can expect to order several delicious margaritas to go with your brunch entree. As far as entree choices go, don't skip the chilaquiles verdes, huevos rancheros and breakfast burrito. The fish tacos and grilled corn appetizers are also delightful.
Bar Bruno has both indoor and dining. They do not accept reservations but the space is decently sized and you often don't have to wait too long for a table.
Court Street Grocers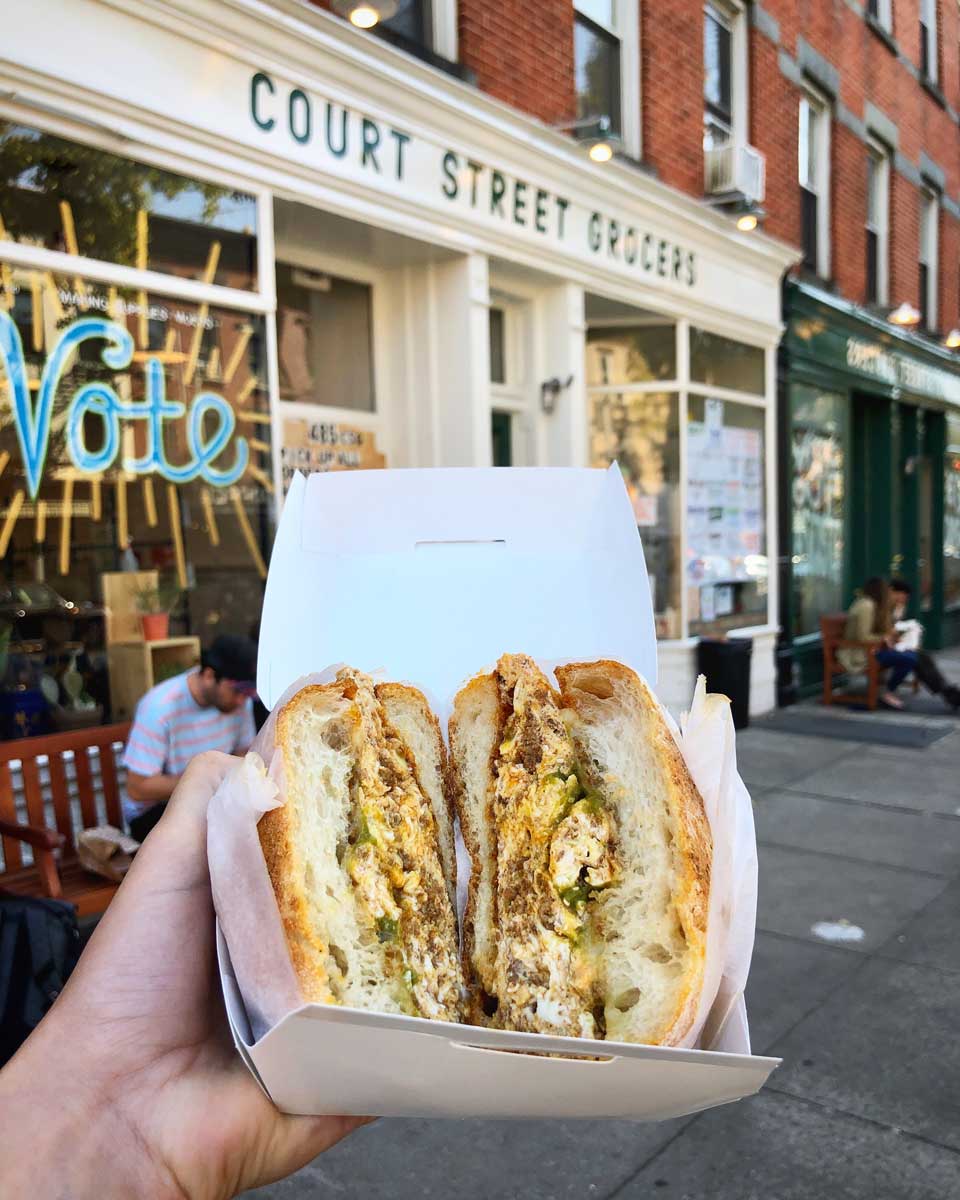 Address: 485 Court Street
In my opinion, making a good sandwich makes you a truly phenomenal restaurant. Court Street Grocers is a truly phenomenal restaurant and one of the best sandwich shops in Brooklyn. Open early morning to early evening, these are some of my favorite sandwiches in the country and one of the best brunches in Carroll Gardens. 
Court Street Grocers is a niche grocery store with specialty items but that is not the reason that you come. The deli is straight in the back but usually, the line is out the door so you won't have trouble finding it. The sandwiches are very reasonably priced and they focus on two most important things for any sandwich – the bread and the meat. The bread comes from places all over the city, including Balthazar, and the meat is curated in-house.
With all that being said, there really isn't a bad sandwich on the menu but some of my favorites include the B&C breakfast sandwich, the patty melt, the turkish delight, the jawn and the uncle chucky.
There are a couple tables out front but for the most part, grab your delicious sandwich to go and head to a nearby park to enjoy.
Cafe Luluc 
Address: 214 Smith Street
Technically Cafe Luluc might be in the land between Carroll Gardens and Cobble Hill but it's so good I'm considering it here so you don't miss out on the best brunch in Carroll Gardens. They have both indoor and outdoor dining and don't accept credit cards or reservations but I promise they are worth the wait to try some of their delicious brunch. 
The pancakes with mixed fruits & Black Bear maple syrup are the greatest thing on the menu, maybe the greatest pancakes in Brooklyn (yes, I know I said this about Buttermilk Bakery above but I love pancakes and these are definitely up there as some of the best pancakes in NYC). All of Cafe Luluc's egg dishes are also amazing but their quiche is my favorite egg option. If you need something healthy, they also have delicious salads and fresh fruit bowls that you can add to your meal. 
The ambiance is lovely as well, transporting you immediately to a bistro in Paris. The outside is covered with wicker chairs and tiny tables while the inside feels like a garden. Needless to say, you will be very happy with your plate of pancakes wherever you sit.
Mazzola Bakery
Address: 192 Union Street
Mazzola Bakery is by far one of the best Italian bakeries in New York (since 1928) and that is saying a lot since there are a lot to compete with, plus one of our favorite bakeries in Brooklyn. It is takeout only but close to several of the outdoor spaces in Carroll Gardens so perfect to grab your pastries to go. 
The lard bread at Mazzola Bakery is incredible and you should order multiple loaves to take with you, they are best fresh out of the oven but are also great for warming back up.
They also have delicious muffins, bagels, croissants and other baked goods. Their iced coffee is also great and the perfect addition to your carb-filled to-go brunch, which is always the best kind of brunch in my opinion. 
Since this is more of a take-out brunch option, on a beautiful day grab your food and walk a few blocks to Carroll Park or Cobble Hill Park to enjoy your eats.
Poppy's 
Address: 243 Degraw Street
Another place that is on the line between Carroll Gardens and Cobble Hill that has to be included as one of the best spots for brunch in Carroll Gardens. I originally wanted to visit Poppy's because that is what I called my grandfather but was so happy that the food was also some of the best. I was also so happy to hear that the namesake comes from the owner calling her grandfather Poppy as well! 
Poppy's is a very cute, small cafe. They only have outdoor dining but there are plenty of places to sit. It's a good place to come for coffee and pastries in the morning or a delicious sandwich around lunchtime.
They also have great, freshly brewed iced tea and the cutest merchandise and little general store inside with great gifts. Catering is also an option and they always have amazing specials around the holidays for all your holiday food needs. I just recently read they opened a second location that is primarily going to be used as a space for corporate events, gatherings, and weddings and it looks incredible!
All of the pastries are some of the best in Brooklyn but my favorite is the buttermilk biscuit and lemon poppy semolina loaf. They also have a delicious chocolate cookie! As far as savory goes, the chicken cutlet sandwich and the vegetable frittata are must orders as well as the milk bread egg sandwich on the weekends.
Poppy's is open every day but Monday. They do not accept reservations but there are usually open seats outside or it is always good to go.
Emma's Torch 
Address: 345 Smith Street
Emma's Torch is one of the best spots to support and is one of the best places to brunch in Carroll Gardens. 
They operate as a social enterprise with the incredible mission "to empower refugees, asylees, and survivors of human trafficking through culinary education," making this all the more reason to support them. Not to mention they have amazing food. They actually train refugees through a culinary program and help them with job placement and all of the staff in the kitchen here are refugees.
Their brunch menu has some great baked items as well as incredible breakfast sandwiches and other staples like avocado toast.
They offer both indoor and outdoor seating.
Nili
Address: 360 Smith Street
Nili is a delicious coffee and brunch spot located right on the corner of Smith and 2nd (conveniently located right by the exit from the G and F trains at Carroll Street making this the perfect place to stop) and comes from the owners of Miss Ada one of the best restaurants in Fort Greene. If you're familiar with Miss Ada, you can stop reading here because you already know that you need to go for brunch because Nili is one of the best places for brunch in Carroll Gardens. 
The space is very aesthetically pleasing with a vibe similar to that of Miss Ada. I stop here often and every time I go, I am more impressed. The pastries melt in your mouth and the breakfast entrees have all the Miss Ada Mediterranean vibes. Don't skip the chocolate babka, banana bread or croissants (both almond and chocolate) as far as pastries go.
The best part? The ricotta from Miss Ada is served here so go ahead and make sure that is included in your order. For more sizable meals, the sabich and bacon, egg and cheese could also win awards.
Nili has indoor seating and outdoor dining. They also conveniently have a window inside the Carroll Street station towards the Smith street exit so make sure you stop here next time you are on the Brooklyn G or F train but once you stop, you won't be able to resist stopping every time.
Brandon's Donuts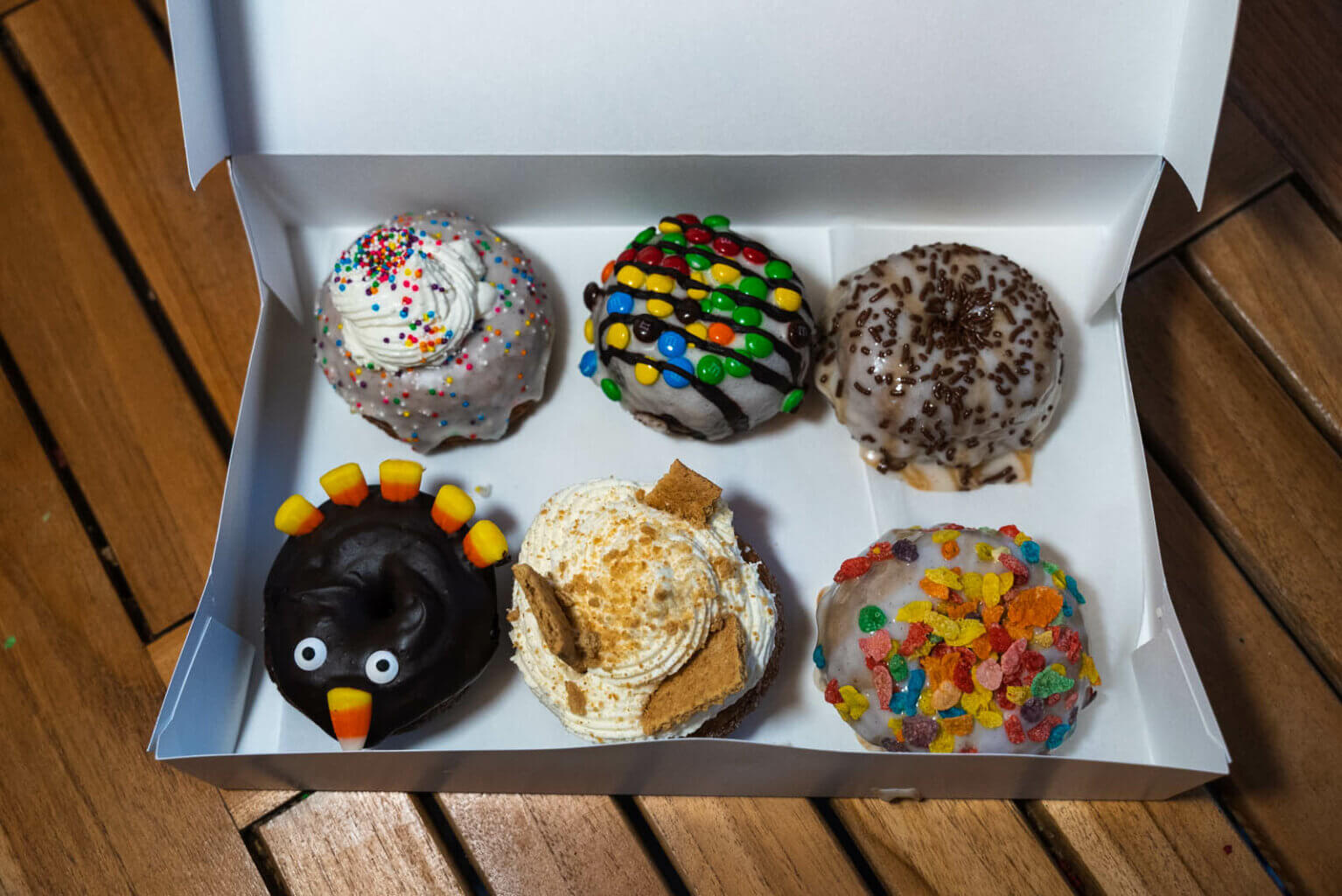 Address: 451 Court Street
Does it get more brunch than donuts? I personally think they should be on every brunch menu because they are such a delightful treat but I also don't think we should limit it to brunch because really they can be a snack or dessert as well, not to mention one of the best donuts in Brooklyn.
Brandon's Donuts is the first I've seen that allows you to customize your donut. It's like the donut shop of the froyo area, allowing you to choose your base, icing, and flavors. They have classic glazed, chocolate, red velvet and cinnamon sugar and then allow you to add all the toppings and drizzle you desire (it does cost extra but worth it). 
Their menu includes a few of the most popular creations that you can order as well. My favorite is the classic chocolate glaze with sprinkles but the cinnamon sugar is also amazing.
While most donut places open early, it's good to know beforehand that Brandon's Donuts has late hours for a donut shop, they open at 11 am. So be sure to plan around their opening time if you plan on stopping in.
---
Best Brunch Spots in Carroll Gardens (Post Summary):
Big Tiny
Buttermilk Channel
East One Coffee Roasters
Local Roots Market and Cafe
Santo Bruklin
Gersi
Alma
Bar Bruno
Court Street Grocers
Cafe Luluc
Mazzola Bakery
Poppy's
Emma's Torch
Nili
Brandon's Donuts
---
About Our Guest Author
Molly Royce – Originally from Oklahoma, I moved to NYC for grad school and have had a hard time wanting to leave ever since. There really is no better borough than Brooklyn where I live with my boyfriend and our black lab, Frankie. There's no greater city in the world and I can't wait to share my love of the city, eating, and drinking with all of you.
---
Don't see your favorite spot for brunch in Carroll Gardens on here? Let us know in the comments below!