Looking for the best brunch in Clinton Hill? This guide has you covered, Clinton Hill is one of the best Brooklyn neighborhoods to enjoy a weekend brunch. The neighborhood has so much charm and beauty and it is the perfect mix of young people, families, local shops, parks and brownstones. Not to mention they have some of the best restaurants and bars in the city.
Whether you are a local or just visiting, Clinton Hill is a true foodie destination and this guide will provide you with all the best spots for brunch in Clinton Hill.
Clinton Hill Brunch Spots
Sisters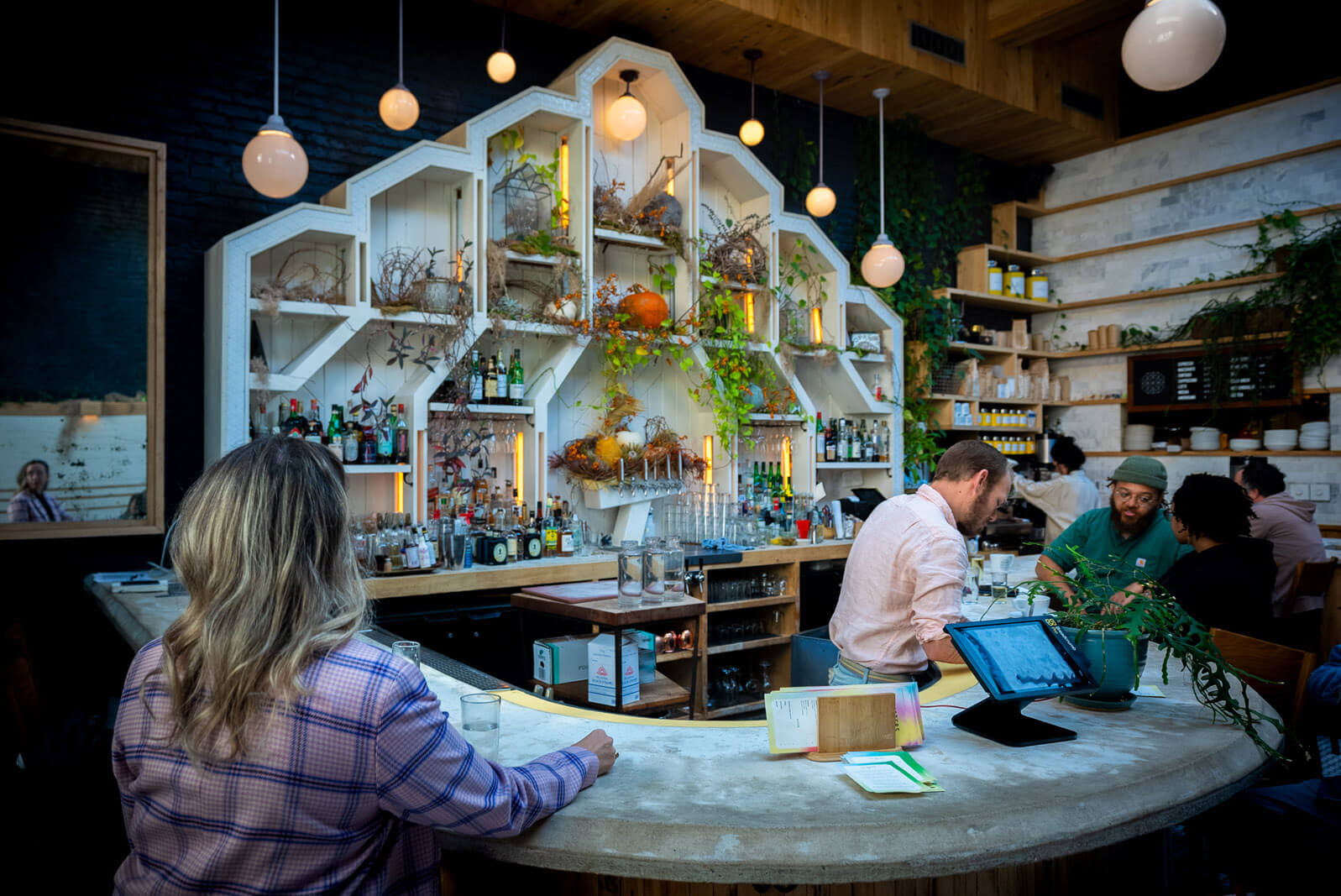 Address: 900 Fulton Street
Sisters is genuinely one of the most beautiful restaurants I've ever been to. Incredible natural light, plants, and the most aesthetically pleasing bar make this one of the best places to eat in Clinton Hill. Even the front of the building has had me stopping to take photos of the facade because it's just that beautiful. 
While the interior at Sisters can't be beat, that is not even why I'm starting this list with Sisters. The fried chicken sandwich is the best thing on the menu and you should definitely order it. The egg sandwich is another solid option if you're feeling more brunchy. Other standout items include the burger, fried pickles and kale caesar salad.
Reservations can be made for indoor and outdoor seating (sit inside) through Resy. And this is without a doubt one of the most beautiful brunch spots in Brooklyn! So you need to see this place for yourself!
Peck's 
Address: 455A Myrtle Avenue
Looking for one of the best breakfast sandwiches in Brooklyn? Peck's is your answer. They have some of my favorite breakfast sandwiches, all with very unique toppings, and all equally delicious. Not to mention they also have an incredible outdoor space for warm weather months where you can enjoy your sandwich with a cup of coffee al fresco. This is also one of our favorite Clinton Hill cafes too.
Like noted above, you really can do no wrong but the best breakfast option by far is the Golden One sandwich. I love anything with green chili on it and this sandwich adds the perfect amount and it has the best flavor. Other standouts include the Leo and the New Mexican breakfast sandwiches.
In addition to sandwiches, they also have incredible pastries served daily. Do yourself a favor and order a few to go because it is going to be very hard to choose which one!
Mekelburg's
Address: 293 Grand Avenue
Mekelburg's is just a great experience all around. There are two locations, one in Clinton Hill and one in Williamsburg, but the best is the Clinton Hill location. They have a great long bar area where you can sit and chat with the very knowledgeable bartenders about all the beers on draft (many of which are also sold in the store) and will always recommend their favorite entrees, making this one of the best places to brunch in Clinton Hill. 
Brunch is served on the weekends and they have all the classics from a classic egg plate to a very delicious breakfast burrito but the star of the show is the chocolate babka french toast. It is seriously amazing. So amazing in fact that I find myself planning my trips over to Clinton Hill around said french toast.
They serve alcohol and in addition to the bar seating, they have plenty of outdoor dining. They don't accept reservations and the outdoors fills up pretty quickly on a nice day so plan accordingly. The best part? When you're done brunching, you can head inside and grab all your essentials for a nice day at the park (wine, cheese, beer, bread).
Otway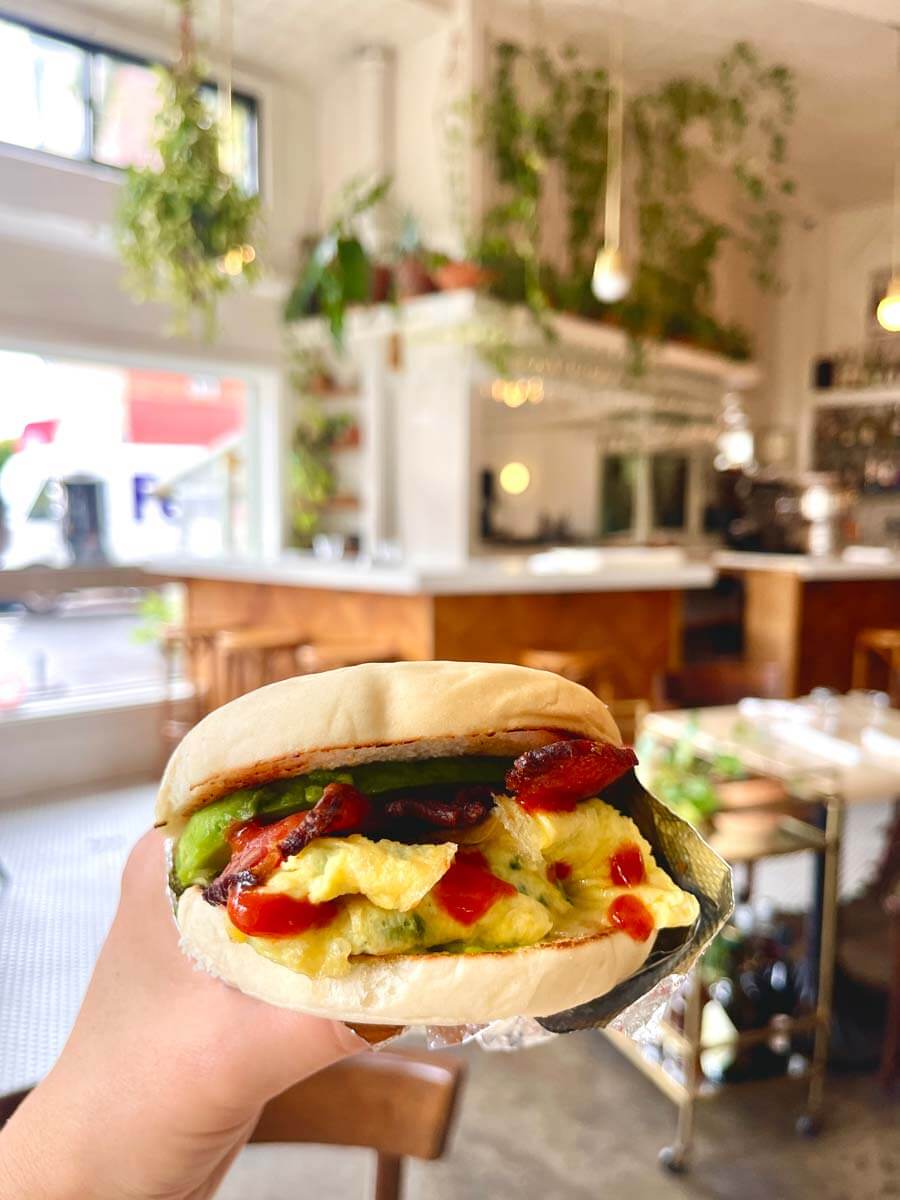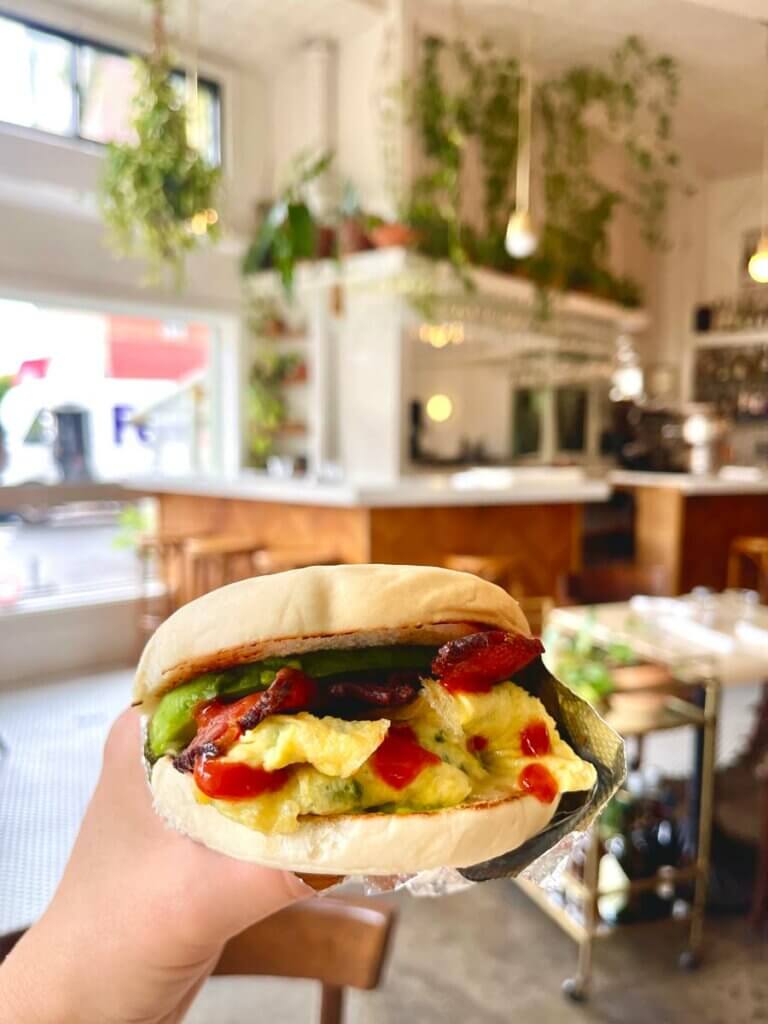 Address: 930 Fulton Street 
Otway is such a beautifully designed restaurant it keeps me always wanting to go back. There are plants everywhere, both indoors and out, with beautiful long booths and a long bar at the front with plenty of bar stools. 
They serve breakfast and brunch every day of the week with a wide variety of entrees plus very delicious pastries. My motto is always order some pastries for the table because usually the pastries are the best part. In Otway's case, everything is the best part.
The soft scramble is an outstanding savory choice followed very closely by their unique take on a Croque monsieur with blackberry jam, the perfect sweet and savory combo.
They have both indoor and outdoor seating. In addition, they have some of the best prices on natural wine and cocktails in the neighborhood.
Clementine Bakery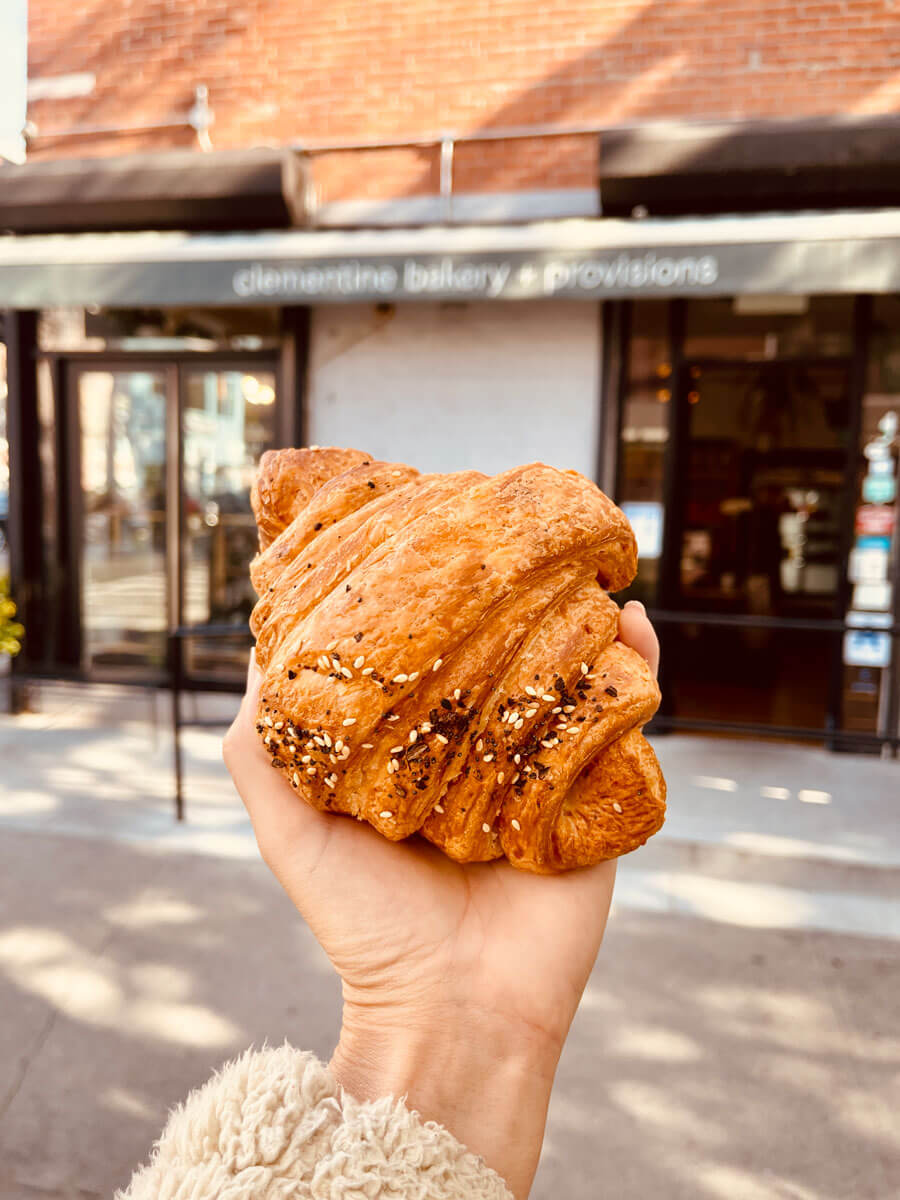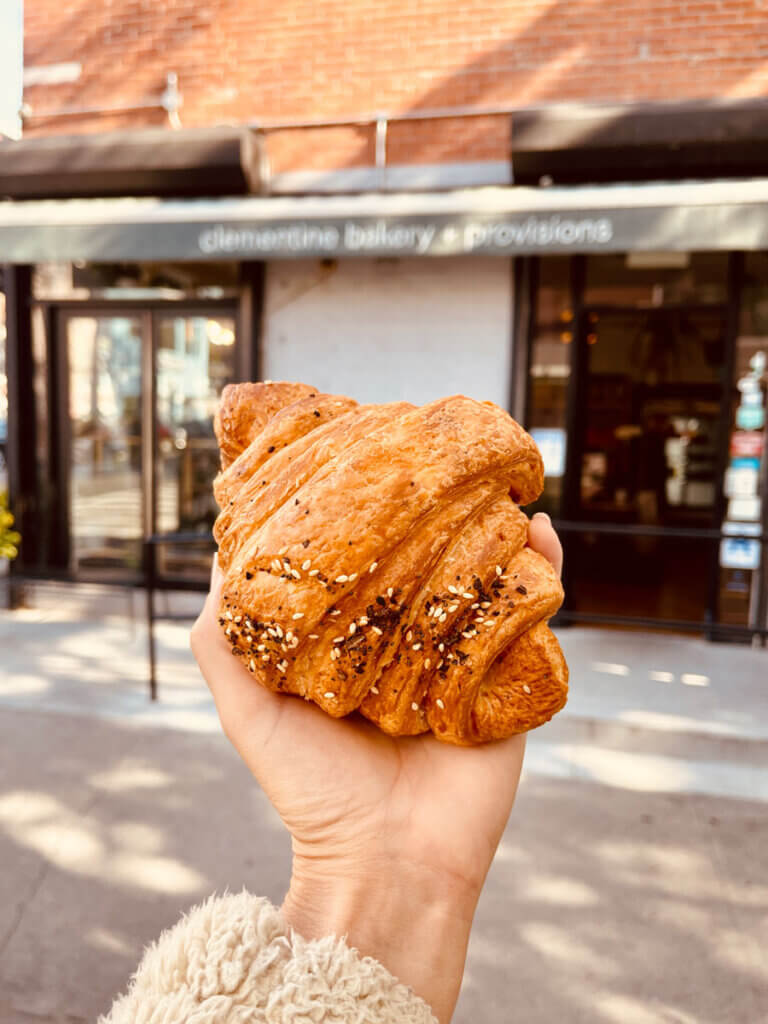 Address: 395 Classon Avenue
If you love cinnamon rolls, pause your reading on this article (and bookmark to come back to later of course) because this place has the world's greatest cinnamon roll. Seriously, the best. The perfect combination of everything that makes a cinnamon roll amazing. They make them regularly and no matter what time of day, they always still seem to be warm, making them even that more incredible.
As you can tell, Clementine Bakery is one of my favorite brunch spots in Clinton Hill but not just for the cinnamon roll alone. They also have one of my favorite iced matchas, incredible coffees, and delicious avocado toasts and breakfast sandwiches. They also have a ton of vegan items and great outdoor seating. 
They don't accept reservations but have plenty of outdoor seating that usually you can find a spot pretty easily. In addition to being mostly vegan, they also have a ton of gluten-free options! 
Also, see more of our picks for best vegan bakeries in Brooklyn!
Petee's Cafe
Address: 505 Myrtle Ave
Petee's Cafe is one of my favorite bakeries in all of NYC, not just Clinton Hill. They have some of the best pastries and the absolute best pie around making this a great spot for brunch in Clinton Hill. The vibes are perfect – imagine bright walls and display cases showing off all the deliciousness in an old-school, diner-like vibe. 
Obviously, you come here for the pie but everything else on the menu is also delicious. My favorite (next to the pie) is the biscuit with jam. They also have incredible croissants, biscuit sandwiches, quiche and savory sandwiches. You can also get pie by the slice or order a whole pie, which is great for any special occasion!
They have limited indoor and outdoor dining but there is also great public seating across the street if this is full!
Aita 
Address: 132 Greene Avenue
If you've read any of my other guides (including best restaurants in Clinton Hill), you know I'm a sucker for good ambiance. I'm even a bigger sucker for restaurants placed on charming corners right in the middle of the neighborhood with good ambiance and even better food. Aita is one of those places, making this one of the best spots for brunch in Clinton Hill. 
Not only do they have very interesting brunch cocktails, but they also have one of my favorite brunch menus in the city. I always love to have something sweet to share with the table (but don't get me wrong I still order this when I'm dining solo), and Aita does sweet buttermilk pancakes very well. Follow that with the crab cake benedict or the salmon hash and you have the perfect meal.
Aita has both indoor and outdoor dining, the outdoor dining being warm and cozy for any time of year. The indoor is small and charming with a long wooden communal table, lots of candles and a beautiful bar, so you really can't go wrong with either option. They accept reservations for both indoor and outdoor dining and have both weekend brunch and dinner every day.
Speedy Romeo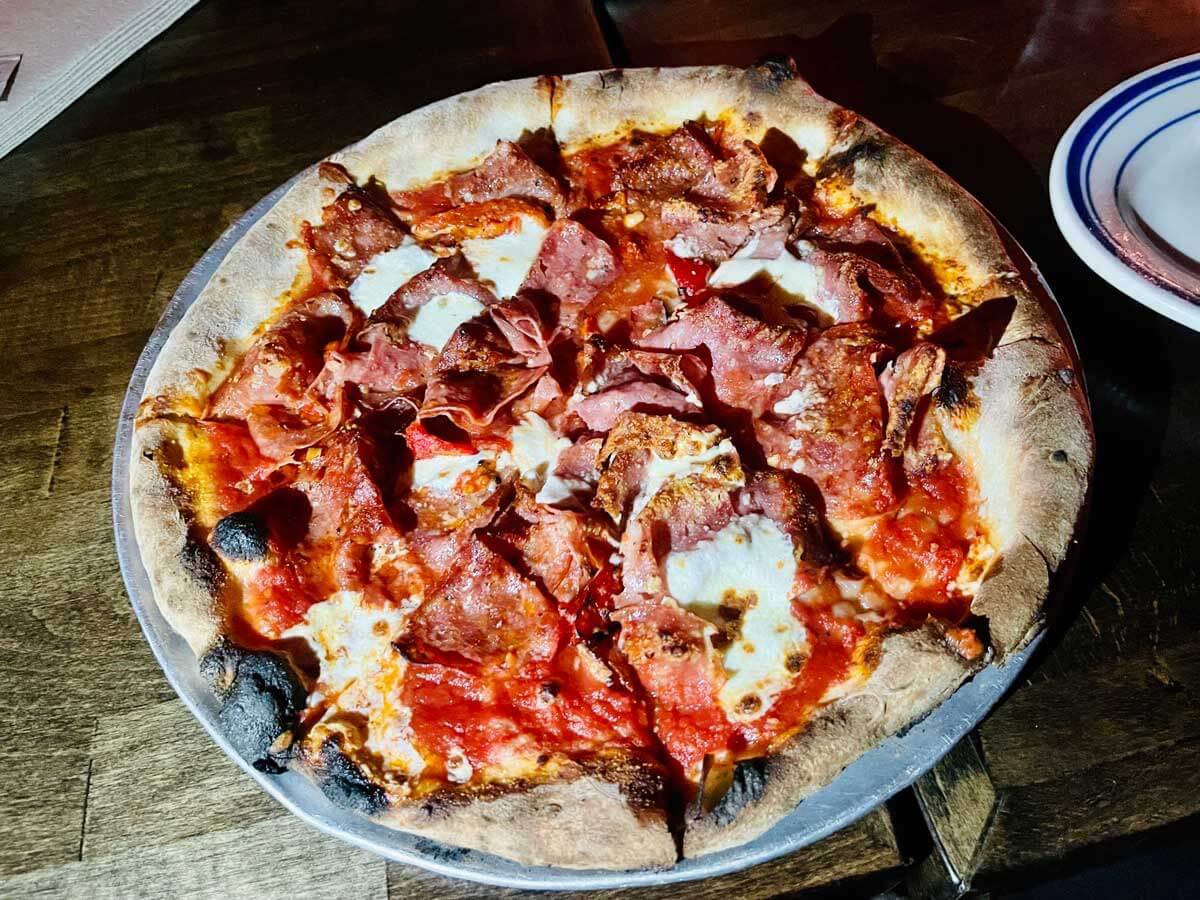 Address: 376 Classon Avenue
I used to live around the corner from Speedy Romeo which was both a blessing and a curse. A blessing because it is some of my favorite pizza in New York but a curse for my bank account. Speedy Romeo is Neapolitan, St. Louis style pizzeria and it is seriously delicious. They also have one of the best caesar salads I have ever had as well as some amazing wings and an incredible burger.
While pizza may not be your "typical" brunch food, Speedy Romeo is so good it doesn't even matter if it defies a standard brunch. There truly isn't a bad pizza on the menu (trust me, I've tried them all) but Saint Louie is the best of the best. It gets its namesake from STL, substituting the typical mozzarella for provel cheese. Make sure to ask for an extra side of peppers for the pizza and just to have on your table.
Speedy Romeo offers both indoor and outdoor dining and they accept reservations. Move it to the top of your hit list, make a reservation, bring friends and order one of everything as this is one of the best places for pizza in Brooklyn!
Guevara's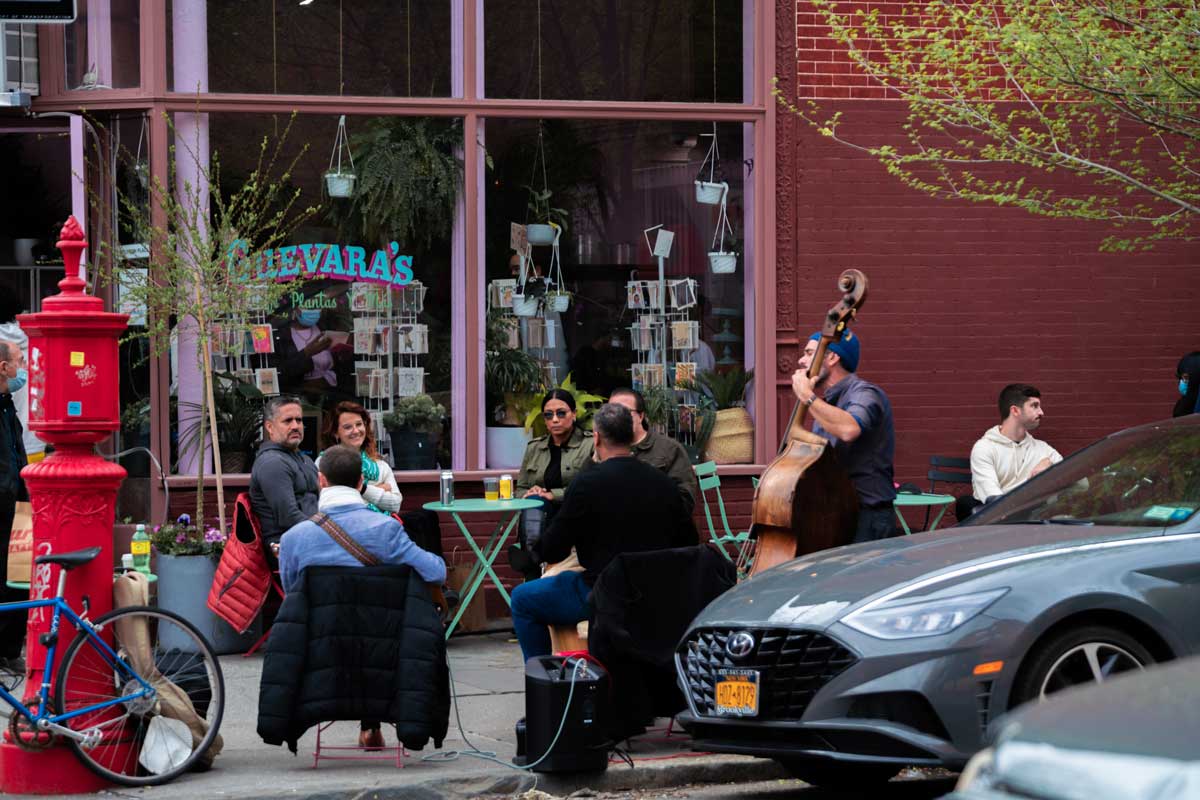 Address: 39 Clifton Place
Guevara's is from the same people behind Mekelburg's and is a totally vegan restaurant that has some of the best breakfast sandwiches and pastries in Clinton Hill. It's so good that it just opened up a second location in Williamsburg. Not to mention, they have one of the best and most colorful outdoor structures and the inside is filled with plants, homemade cards and what resembles a really fancy, upscale bodega. 
The coffee and matcha are great. They also have a great vegan donut and other pastries that rotate daily but the best thing is the Cuban torta, which you've probably seen circling around Instagram because it is also one of the most beautiful looking sandwiches I've ever seen. It's completely meatless topped with red cabbage, avocado, tomato, eggplant, and jalapeno.
Get here early because the line tends to get long anytime after 10 AM on the weekends, although it does move quickly.
Prima Brooklyn
Address: 147 Greene Avenue
Just like so many other places in the neighborhood, Prima is sandwiched in between a couple of brownstones so unless you're looking, you might pass by. Make sure you don't pass by. Make sure you stop, order coffee and enjoy one of the best brunches in Clinton Hill. 
Breakfast and brunch are served daily and they have a special, and now permanent pop-up dinner on Wednesdays – Sundays. For breakfast and brunch pastries and sandwiches are the go to as well as a delicious cup of coffee.
They have both indoor and outdoor dining, with both a front and back patio. The back patio is the place to be on warm weather days or grab a spot by the window upfront to people watch.
Emily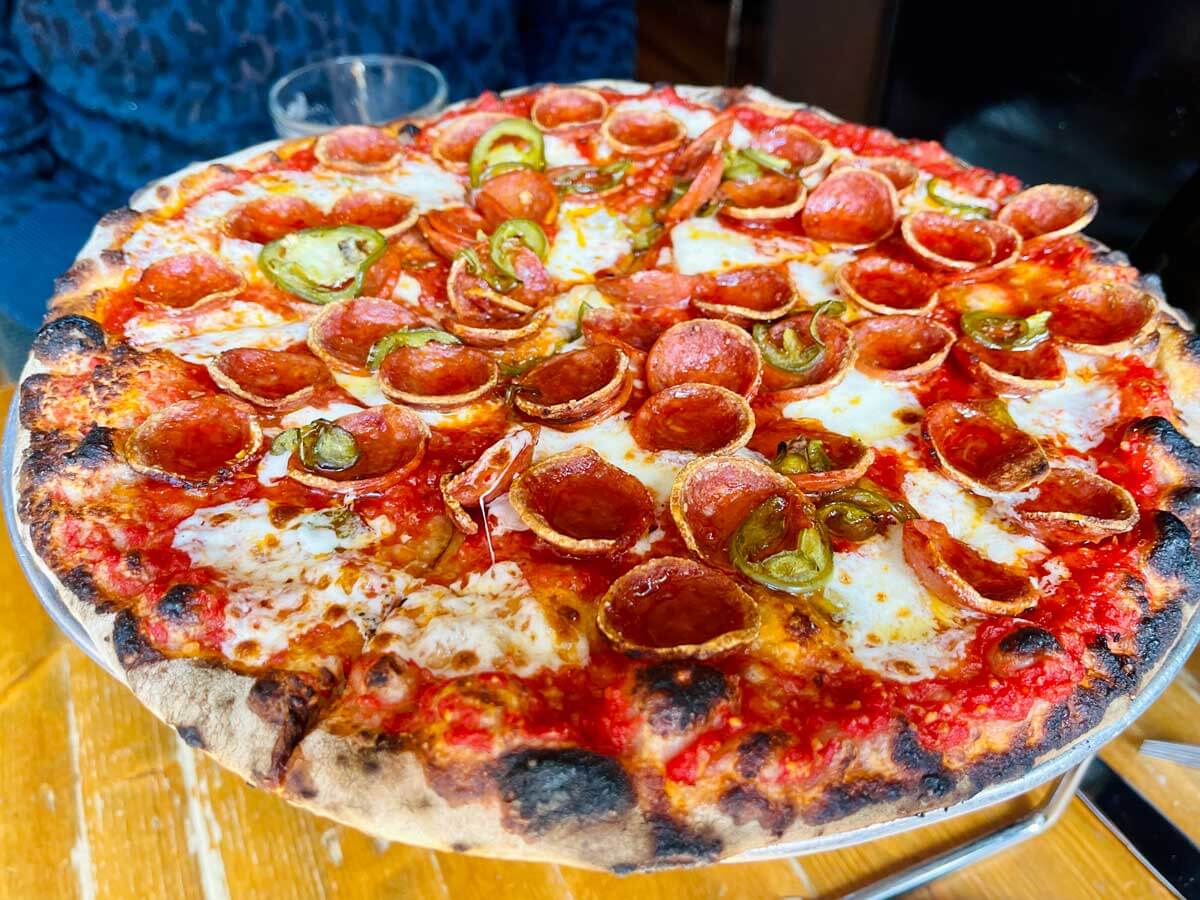 Address: 919 Fulton Street
Just like at Speedy Romeos, Emily may not be your standard brunch fare but this guide is based in Brooklyn so pizza counts. At Emily, you go for the pizza but quickly discover that Emily can do so much more. The space is minimal, but in the best way and they accept reservations for both indoor and outdoor dining. 
The pizza is amazing with a variety of red sauce, white sauce and pink sauce pizzas. The colony is the best for red sauce (nothing better than honey on pizza), the Emily is the perfect combination of white sauce, honey, and pistachios and for pink sauce pizzas, do not skip the famous original Dan's.
As mentioned above, Emily does more than pizza well. Enter the Emmy burger, one of the best burgers in the city. Still not sure what the Emmy sauce consists of but with the combination of the caramelized onions, Grafton cheddar, and pretzel bun, this burger seriously cannot be beaten. Bring friends and come hungry for one of the best brunches in Clinton Hill.
Mike's Coffee Shop 
Address: 328 Dekalb Avenue
Just like a sandwich shop, every neighborhood should also have a great diner. The minute you walk into Mike's Coffee Shop you feel like you are transported back to the 1950s. It has the typical diner feel complete with solo diners drinking endless cups of coffee and reading the New York Times cover to cover, along with delicious food, including the greasy pancakes and classic American egg plate.
The menu is full of your stereotypical diner food but also has delicious chicken and waffles and a corned beef hash. Everything is very affordable and the coffee is great (and your coffee cup is always full).
Reservations are not accepted and this place gets extremely busy during the weekend. They have some limited outdoor dining and are cash only.
And if you're a fan of these old-school spots, check out our guide to the best diners in Brooklyn for more retro and classic establishments worth checking out!
Brooklyn Public House
Address: 247 Dekalb Avenue
Brooklyn Public House has some of the coziest vibes and some of the best bar food. With a long wooden bar, super cozy window booths, multiple beers on tap, and one of the best brunches in Clinton Hill and Fort Greene, Brooklyn Public House is one of the best brunches in the neighborhood for both locals and visitors alike. 
Brooklyn Public House is your typical pub fare but it is so delicious that you want to keep coming back. The staff makes you feel like a regular the minute you walk in, which is why I kept going back. Their standard egg plate is my favorite thing on the brunch menu to go alongside one of my favorite bloody marys in the city.
They don't take reservations and brunch can get pretty packed, especially on game days. They have a few tables outdoors but the best spots are either in the window booth or at the bar.
Golda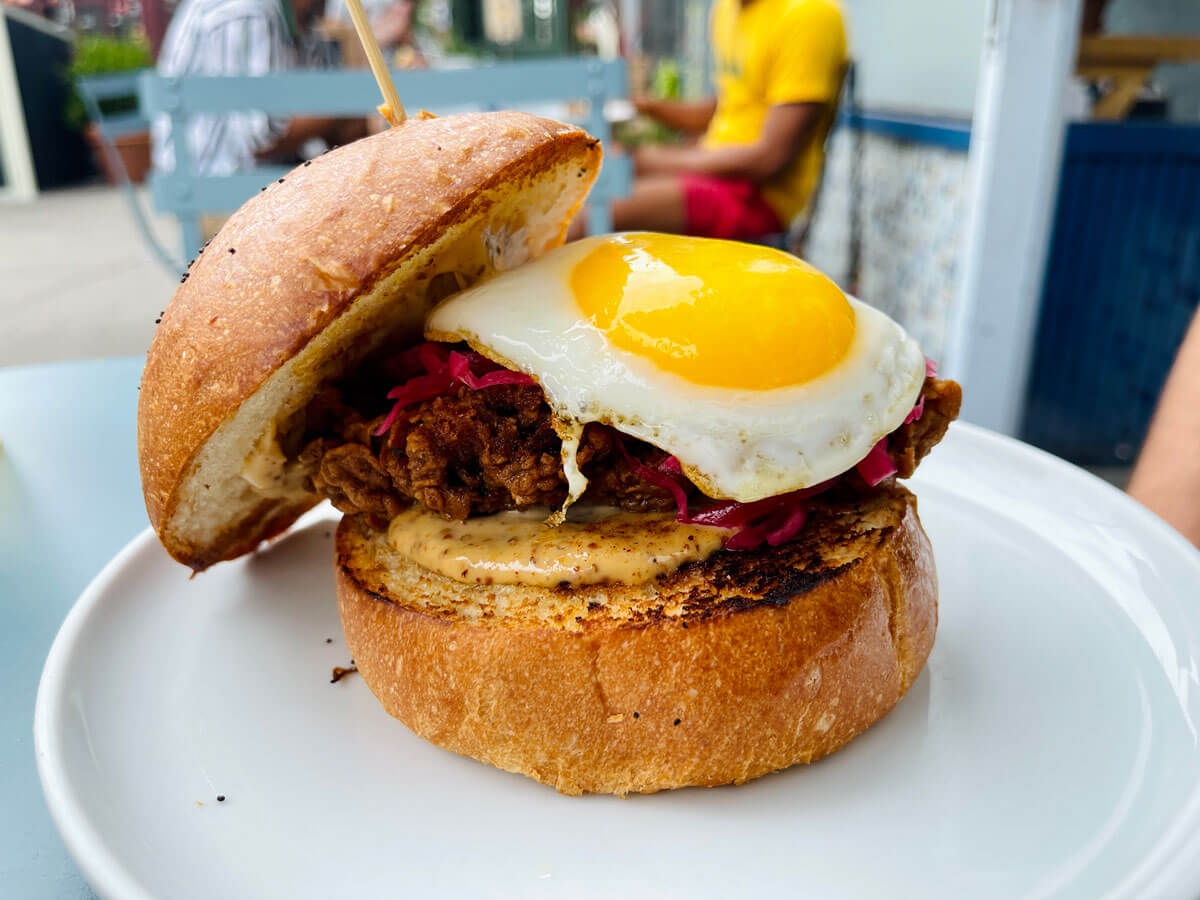 Address: 504 Franklin Avenue
Golda is a place that consistently ranks as one of my favorite breakfast sandwiches in all of New York and consistently ranks as one of the most aesthetically pleasing restaurants in all of New York. 
Located right off the Franklin Avenue C train stop, this is the perfect place to stop on your way to work or coming from work and is the perfect middle point between Clinton Hill, Crown Heights, and Bed-Stuy.
Like I said, you come for their signature egg & cheese sandwich. It is seriously delicious. You can add avocado and you truly have the best sandwich you will ever eat. In addition, they also have an incredible parfit, some pancakes, and smashed avocado toast.
They accept reservations via phone and have a small space for indoor seating. They also have outdoor seating out front.
Choice Brooklyn 
Address: 318 Lafayette Avenue
Every time I walk by Choice Brooklyn, there is always a line, which is my indication that this spot is worth waiting for. It's a very cute corner space on Lafayette and very accessible from all parts of Clinton Hill. They have delicious coffee and have great outdoor space to sit and enjoy your brunch. 
Just like I've mentioned before, I love to start my brunch with some pastries and Choice has some delicious ones to start with. They change daily but you can never go wrong with their chocolate croissant. I tend to follow that with my favorite breakfast sandwich on their menu, the ham, spinach and swiss croissant and a side of cheddar grits. Their blueberry pancakes are also amazing.
They have both indoor and outdoor seating. Reservations are not accepted but the line tends to move quickly.
---
Best Brunch Spots in Clinton Hill (Post Summary):
Sisters
Peck's
Mekelburg's
Otway
Clementine Bakery
Petee's Cafe
Aita
Speedy Romeo 
Guevara's
Prima Brooklyn
Emily
Mike's Coffee Shop
Brooklyn Public House
Golda
Choice Brooklyn
---
About Our Guest Author
Molly Royce – Originally from Oklahoma, I moved to NYC for grad school and have had a hard time wanting to leave ever since. There really is no better borough than Brooklyn where I live with my boyfriend and our black lab, Frankie. There's no greater city in the world and I can't wait to share my love of the city, eating, and drinking with all of you.
---
Don't see your favorite Clinton Hill brunch spot on here? Let us know in the comments below, we will check them out!