Looking for some of the best places to brunch in Fort Greene? Fort Greene really is a neighborhood that has it all from Fort Greene Park, one of the best parks in Brooklyn, to some of the best brownstones in the city to amazing restaurants and delicious cocktail bars. From crowd pleasers to the newcomers to old classics, Fort Greene brunch has it all.
Whether you are a local or just coming for vacation, Fort Greene is a true foodie destination and this guide will help you narrow down all the best places for everyone's favorite meal.
Top Places for Brunch in Fort Greene
Saraghina Caffe
Address: 195 Dekalb Avenue
Saraghina serves some of the best pizza in Bed Stuy so of course it makes sense that they would expand that delicious to another neighborhood. In this case, they happened to land in Fort Greene, one of the most beautiful neighborhoods in all of Brooklyn that also offers some of the best places for brunch in the city and Saraghina Caffe is definitely one of them. 
The breakfast/brunch at Saraghina is rooted in Italian, specifically Milanese. The coffee is delicious, the pastries are out of this world and the ricotta pancakes cannot be missed. For something more traditional and to help with that savory spot make sure you order the cafe breakfast served with prosciutto and whipped parmigiano. They also have incredible cocktails including spritzes but make sure you honor the true Milanese way and order it with campari, not aperol.
Saraghina Caffe is open every day from early till late with a small break in between lunch and dinner so make sure you check the hours before visiting. They offer both indoor and outdoor dining and reservations are available. They serve breakfast daily starting at 8 am, another highlight for one of the best places for brunch in Fort Greene.
Miss Ada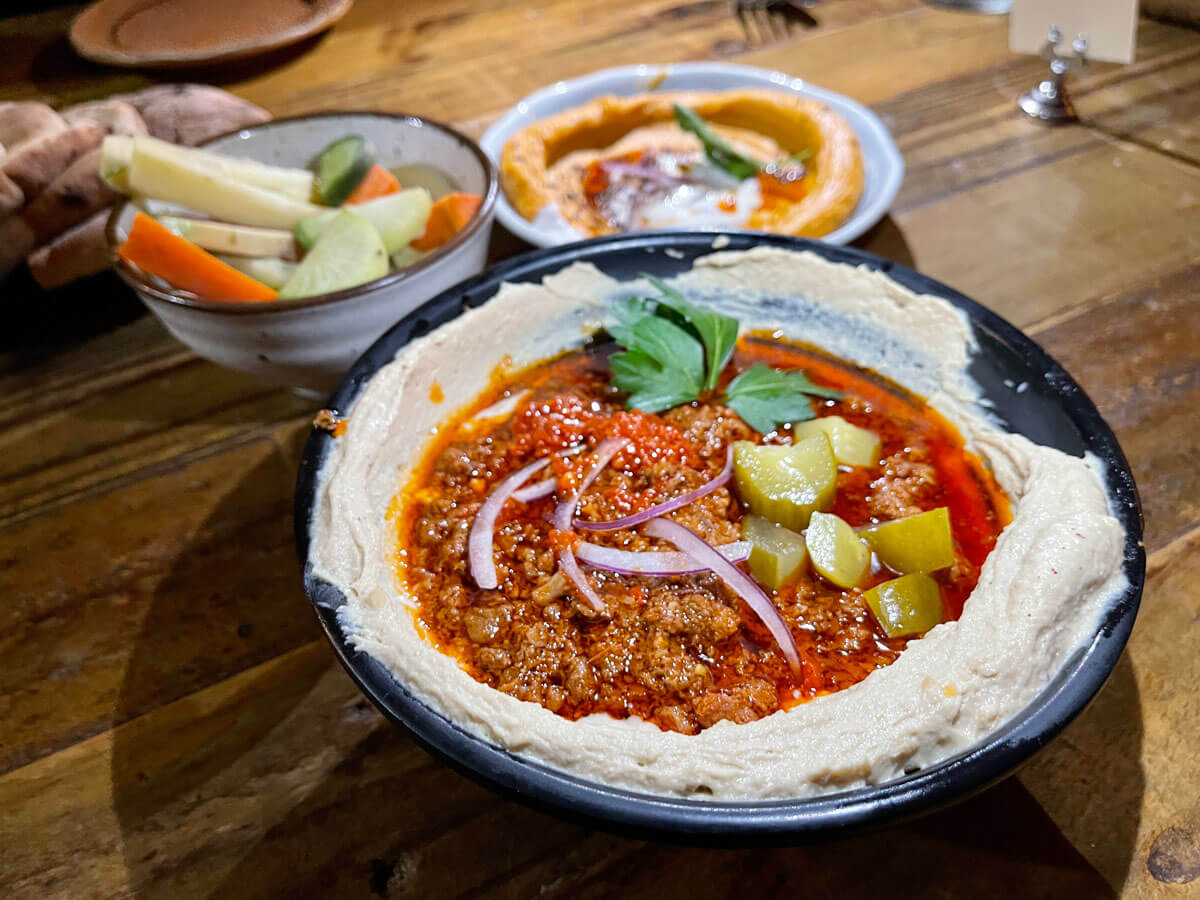 Address: 184 Dekalb Avenue
Miss Ada has some of the best Mediterranean food I've had in all of New York. They also have one of my favorite patios in all of Brooklyn, and that is saying a lot. Ivy-covered and well-shaded, Miss Ada is the perfect spot to enjoy some of the best brunch in Fort Greene. 
Order all the dips. Order two orders of the whipped ricotta. You already know if you've read my other guides I'm recommending something sweet and in this case, the french toast is a must. For savory options, the shakshuka is out of this world.
Miss Ada is open every day except Monday for dinner and brunch on the weekends. They take a small break between brunch and dinner service so make sure you check the hours before you visit. Both indoor and outdoor reservations are available and while you will be very happy with both, when the weather is nice try to be seated on the back patio. Reservations are definitely recommended and I recommend setting a notify as they fill up quickly for this incredible brunch restaurant in Fort Greene.
Bagel World 
Address: 223 Dekalb Avenue
You can't start off a New York breakfast and brunch guide without including bagels, the perfect on-the-go and quick brunch spot. Bagel World instantly became one of my favorites because they have blueberry bagels, which is few and far between in the New York world, not to mention they have some of the best bagels in Brooklyn in general.
Bagel World has all the classic choices as well and they have an amazing BEC (bacon, egg, cheese) that goes great with an everything bagel.
In addition to bagels, this Fort Greene breakfast spot has omelets, griddle platters, and salads and sandwiches for lunch. There is limited seating inside and they have outdoor dining as well.
Walter's
Address: 166 Dekalb Avenue
Walter's tops the list not only for the best brunch in Fort Greene but also one of my picks for best brunch in Brooklyn, yep! It's that good!. In addition to brunch, they have lunch and dinner during the week. The whole restaurant is something to be desired, with a beautiful bar and a white, airy feel the minute you enter the restaurant. Added bonus is they have a ton of outdoor seating and accept reservations. 
For brunch, there is nothing better than a classic bacon, egg, and cheese and Walter's has such a great one. The sandwiches are also not to be missed and they have an amazing raw bar. They also have great and classic brunch cocktails and a good wine menu, which make that solo bar spot even more appealing.
Olea 
Address: 171 Lafayette Avenue
Olea is your classic neighborhood spot set right in the middle of Lafayette Ave. Sandwiched between brownstones, this is the perfect place for brunch in Fort Greene.
They have ample amounts of outdoor seating thanks to street dining and are now taking reservations. The indoor has a great Mediterranean feel giving it all the best vibes.
Their brunch dishes are classics with a Mediterranean flair including delicious French toast and your classic egg plate. While classics are amazing, the eggs in purgatory are the best thing on the menu. They also offer their dips and tapas on the brunch menu and I always recommend several of these no matter what the time of day.
Olea also serves lunch and dinner during the week. Reservations are recommended because this place gets very busy during happy hour and brunch times, especially on those perfect spring Brooklyn days.
Imani Caribbean Kitchen and Bar
Address: 271 Adelphi Street
Every time I walk by Imani on a nice day, I wish I was there. It is the ultimate "party brunch" without the crazy party. Everyone looks like they are having the best time, laughing with friends and listening to Reggae music, while enjoying endless rounds of rum punch. Imani accepts reservations through Resy and also serves dinner during the week, but brunch is where Imani is best. 
Everything on the menu is delicious and a perfect mix of Caribbean flavors. The sweet plantain porridge is the best thing to start with and there is nothing better than the jerk chicken hash as your main course. They also have something called the mimosa experience, which combines champagne with all sorts of juices, if rum punch isn't something you're craving.
Colonia Verde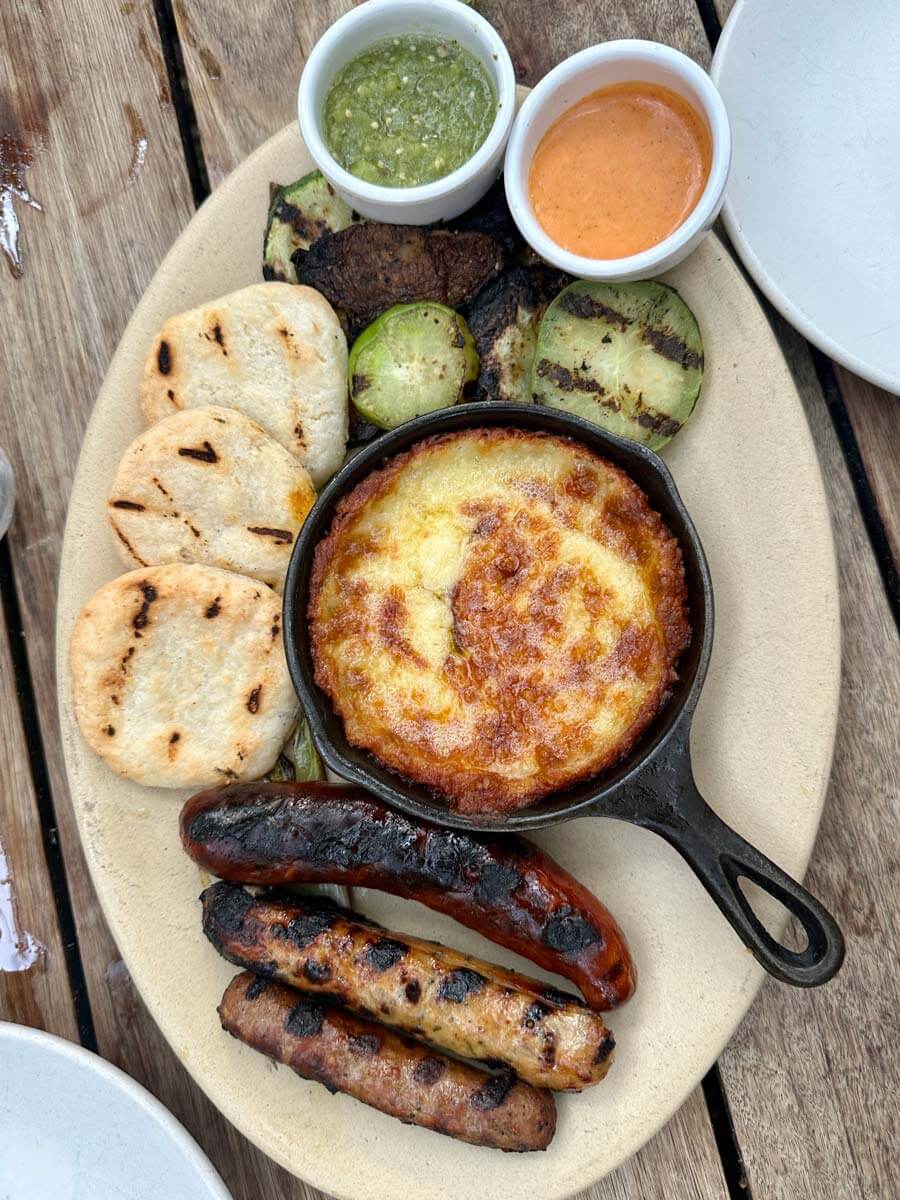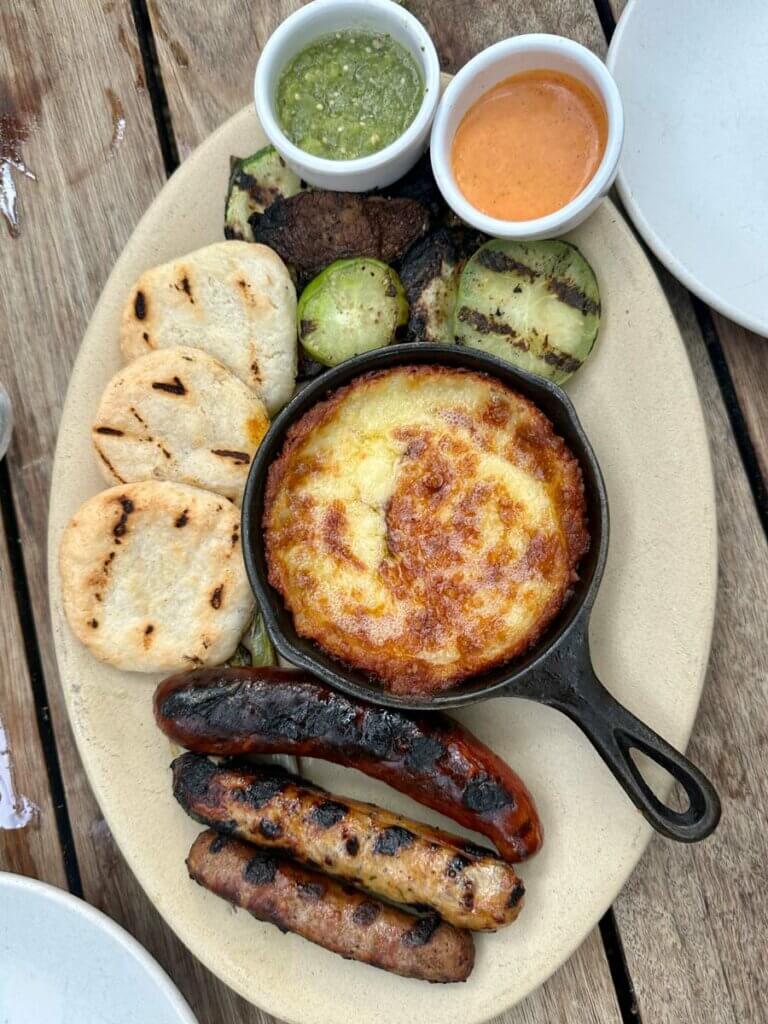 Address: 219 Dekalb Avenue
Run by a husband and wife team, this Fort Greene restaurant combines all my favorite things in one: great food, great space, and great cocktails.
They accept reservations and have both indoor and outdoor seating. They are open for weekend brunch and lunch and dinner during the week and while I'm usually one to always say outdoor dining, Colonia Verde has some serious indoor vibes, making this the perfect brunch in Fort Greene regardless of the season. 
Colonia Verde is Latin American food and their brunch is a true reflection of that. They also have great specialty cocktails, which make a great addition to every meal.
Dino 
Address: 222 Dekalb Avenue
Dino is a place I have visited over and over again and each time I am equally as impressed. It is your go-to neighborhood, casual but not too casual, Italian restaurant.
Their back patio is an oasis, covered in trees and white tables. You feel like you're in someone's (very affordable) backyard and one of the best brunches in Fort Greene.
They accept reservations, have both indoor and outdoor dining and I will say the worst part about moving out of this neighborhood is not being able to go here once a week. Everything on the menu is delicious but my two favorites on the brunch menu are the ricotta pancakes (some of the best pancakes ever) and the chicken parmesan sandwich. They also have delicious pasta on the brunch menu, as well as your typical brunch dishes.
Cafe Paulette 
Address: 1 South Elliott Place
Cafe Paulette is located right across from Fort Greene Park and the sidewalk and interior dining immediately makes you feel like you are transported to a cafe in Paris, making this one of the best places for breakfast in Fort Greene.
They accept reservations and have both indoor and outdoor dining, as well as a smaller bistro next door, Petite Paulette.
They are open every day for breakfast starting at 10 AM and have all the traditional French classics including eggs benedict, eggs Florentine, and croque monsieur, all of which are amazing. They also have great coffee, wine and cocktails, making this the perfect spot for brunch in the neighborhood.
Las Santas
Address: 572 Fulton Street
There are so many restaurants in New York that offer bottomless brunch but then the food is just very eh. Las Santas is not that. It offers delicious entrees and a great bottomless option with the purchase of a brunch entree. 
The interior has great vibes and they have plenty of outdoor seating, as well as indoor options. The brunch crowd is great and reservations are recommended. In addition to brunch, Las Santas also has a great happy hour and dinner during the week.
Baba Cool Cafe
Address: 64 Lafayette Avenue, Suite B
Baba Cool Cafe is seriously delicious food that is set up as an all-day cafe with bowls, toasts, salads, sandwiches, coffee, wine, and delicious cocktails.
Conveniently located right by the G and C train, this is a great place to grab a quick bite to or from work or a great space if you just need to get out of your apartment for a little bit. They offer both indoor and outdoor seating and their outdoor seating is especially inviting with string lights and white tables.
You really can't go wrong with any of their menu options but my go to is one of their salads or bowls. They also have a side of just about anything you can imagine that you can add to your meal and have great pastries and desserts, which you feel less guilty about indulging in because you just ate such a healthy meal!
This just happens to be one of our favorite Fort Greene coffee shops too!
Endswell 
Address: 773 Fulton Street
Endswell is another one of my favorite brunch spots in Fort Greene and I'm not alone with this. It seems everyone in the neighborhood lines up for Endswell weekend brunch. Good news is that they take reservations and have both indoor and outdoor seating. 
Everything about Endswell has a community feel from the space to the food to the perfectly crafted cocktails. You can tell that the owners and chef put a lot of thought to provide that space for both Fort Greene locals and visitors alike.
Everything on the brunch menu is delicious but I recommend the crepes (sweet, vegetarian and savory) and the croque monsieur. The shakshuka is also amazing and, as I mentioned above, do not skip out on the cocktails.
Bittersweet 
Address: 180 Dekalb Avenue
Bittersweet is truly the idyllic neighborhood coffee shop and Fort Greene shows that, forming a line daily down the sidewalk for some of the best coffee and not only breakfast in Fort Greene, but some of the best in all of New York IMO.
The indoor space is tiny and there are only a couple seats out front so plan on grabbing your coffee and breakfast to go and heading to Fort Greene Park, which is only a few blocks down.
I have truly never had a bad item on the menu from their daily selection of pastries to their sandwiches but the best thing hands down is the hangover helper, hungover or otherwise. It is a delicious combination of crusty baguette, salty serrano ham, nutty manchego cheese, fried sage and a sliced hardboiled egg. Pair this with a cup of coffee, some off-leash dogs at Fort Greene Park and you have your perfect Fort Greene breakfast.
Evelina 
Address: 211 Dekalb Avenue
Evelina is another favorite brunch in Fort Greene and one of my favorite restaurants in Fort Greene. The inside is very aesthetically pleasing and they have ample outdoor seating (with heaters!) making this the perfect place to spend your weekday breakfast or weekend brunch. They accept reservations through Resy and also have lunch and dinner during the week and dinner on the weekends. 
Like every restaurant on this guide, there isn't anything I've tried that has made me not want to immediately return and eat again but the standouts at Evelina include the biscuits and jam, the breakfast sandwich and the spicy eggs in purgatory.
For brunch, make sure you order any (or all) of the pastries, the spicy eggs in purgatory or the burger. They also have a breakfast croissant, which is similar to the breakfast sandwich.
Tacombi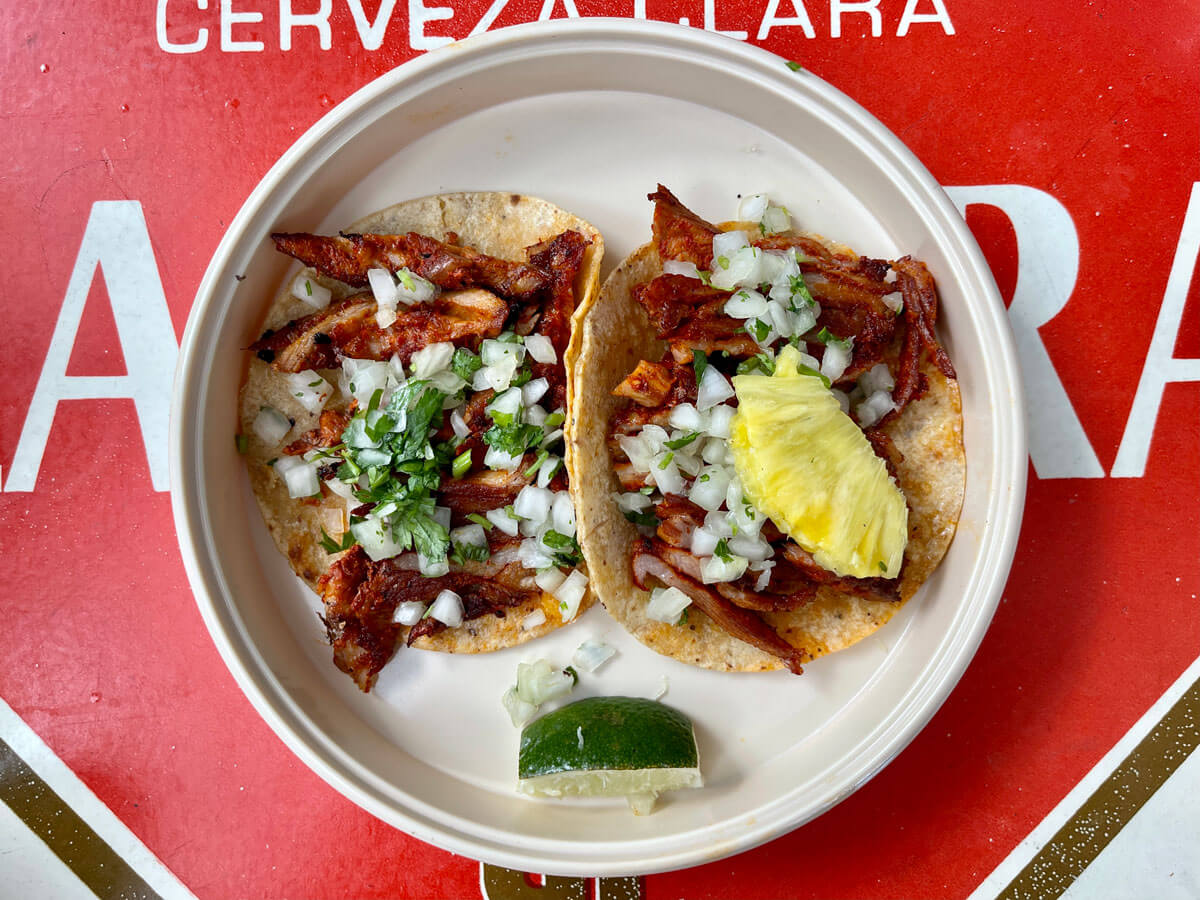 Address: 25 Lafayette Avenue
While Tacombi might not offer your standard brunch fare, it would be a shame to not include them on the list for some of the best brunch in Fort Greene. Their tacos give Oaxacan vibes and their guacamole is some of the best in the city not to mention they serve up some of the best tacos in Brooklyn.
While there are multiple locations around the city, the Fort Greene location has ample indoor and outdoor space and accepts reservations.
If you can, come with friends and order one of everything, starters included. They also have delicious cocktails, quesadillas, and burritos. Plus, the vibe is colorful and fun so no matter the season, you feel like you are immediately transported to somewhere warm and by the water.
---
Best Spots for Brunch in Fort Greene (Post Summary):
Saraghina Caffe
Miss Ada
Bagel World
Walter's
Olea
Imani Caribbean Kitchen and Bar
Colonia Verde
Dino
Cafe Paulette
Las Santas
Baba Cool Cafe
Endswell
Bittersweet
Evelina
Tacombi
---
About Our Guest Author
Molly Royce – Originally from Oklahoma, I moved to NYC for grad school and have had a hard time wanting to leave ever since. There really is no better borough than Brooklyn where I live with my boyfriend and our black lab, Frankie. There's no greater city in the world and I can't wait to share my love of the city, eating, and drinking with all of you. 
---
Did we miss your favorite Fort Greene brunch spot or breakfast in Fort Greene? Let us know in the comments below!