Looking for the best cafes in Bed Stuy to check out? This guide has got you! From the best coffee in Bed Stuy to breaking down each of these cafes and coffee shops for those looking for a great place to grab a bite to eat and to get your caffeine fix whether you're on the go, looking for a place to work for a bit, or a great meeting place with a friend or business meet up – we got you.
Spoiler alert, there are tons of great places to eat in Bed Stuy and many of these cafes are no different. So next coffee date or work day – this guide will help you where to enjoy your next cup of joe at. And while you're here be sure to check out the best things to do in Bed Stuy.
Bed Stuy Coffee Shops to Check Out
Stonefruit Espresso + Kitchen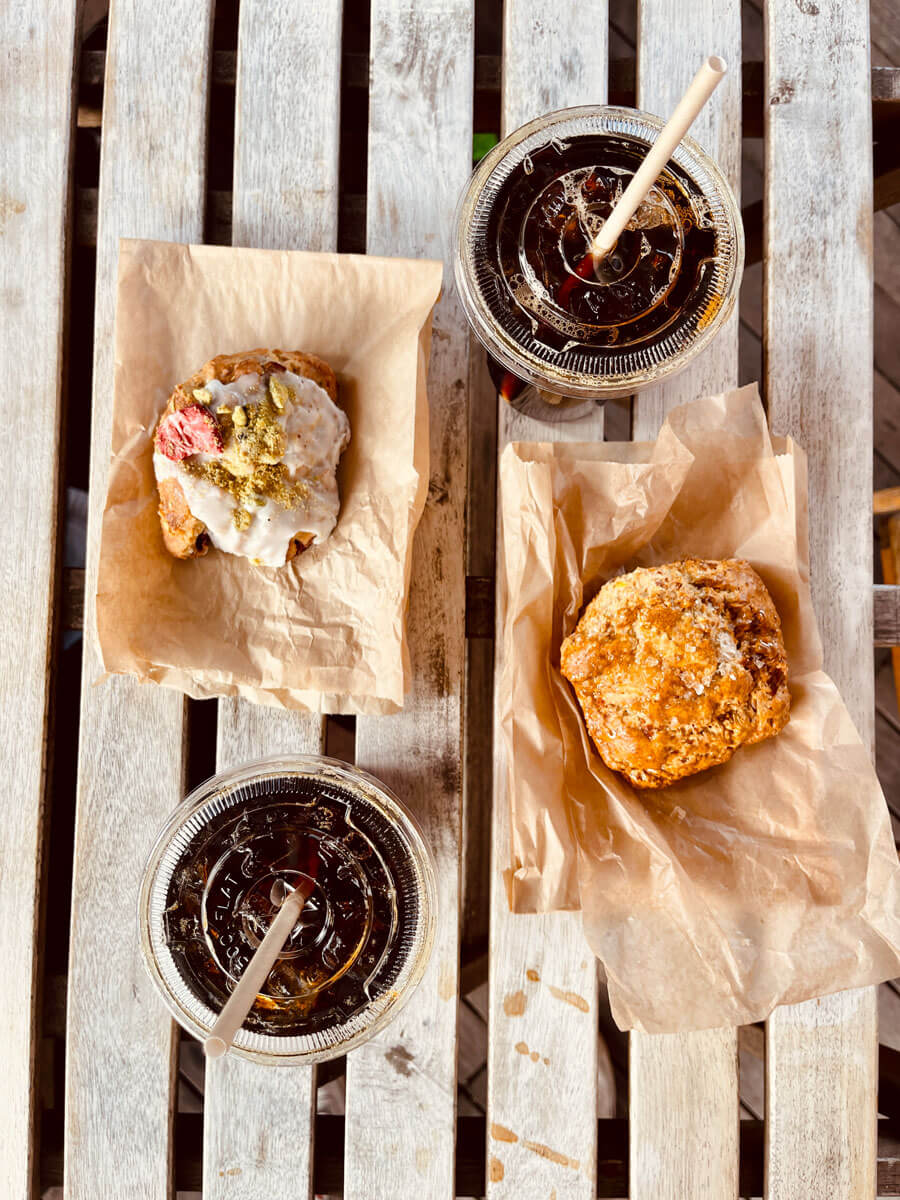 Address: 1058 Bedford Ave
This woman-owned Bed Stuy coffee shop offers patrons a variety of different healthy bowls and delectable pastries in addition to their coffee drinks.
Stonefruit Espresso is best known for their breakfast all-day options as well as their wholesome farm-to-table lunches. Their Monk Bowl in particular is both a standout and fan favorite!
Offering beverages from Counter Culture coffee and Bellocq tea, Stonefruit serves a wide variety of espresso drinks, specialty lattes and organic teas.
Thanks to the great seating and open space, this café is good for anything really. Whether you want to work or just hang out for a minute or two. But because of the all-day breakfast options, this health-conscious café is a really great choice for brunches with friends.
If you're looking for the best café in Bed-Stuy to pick up some healthy grub on the weekend, Stonefruit Espresso is a sure thing! This is also one of our favorite spots for brunch in Bed Stuy too!
Playground Coffee Shop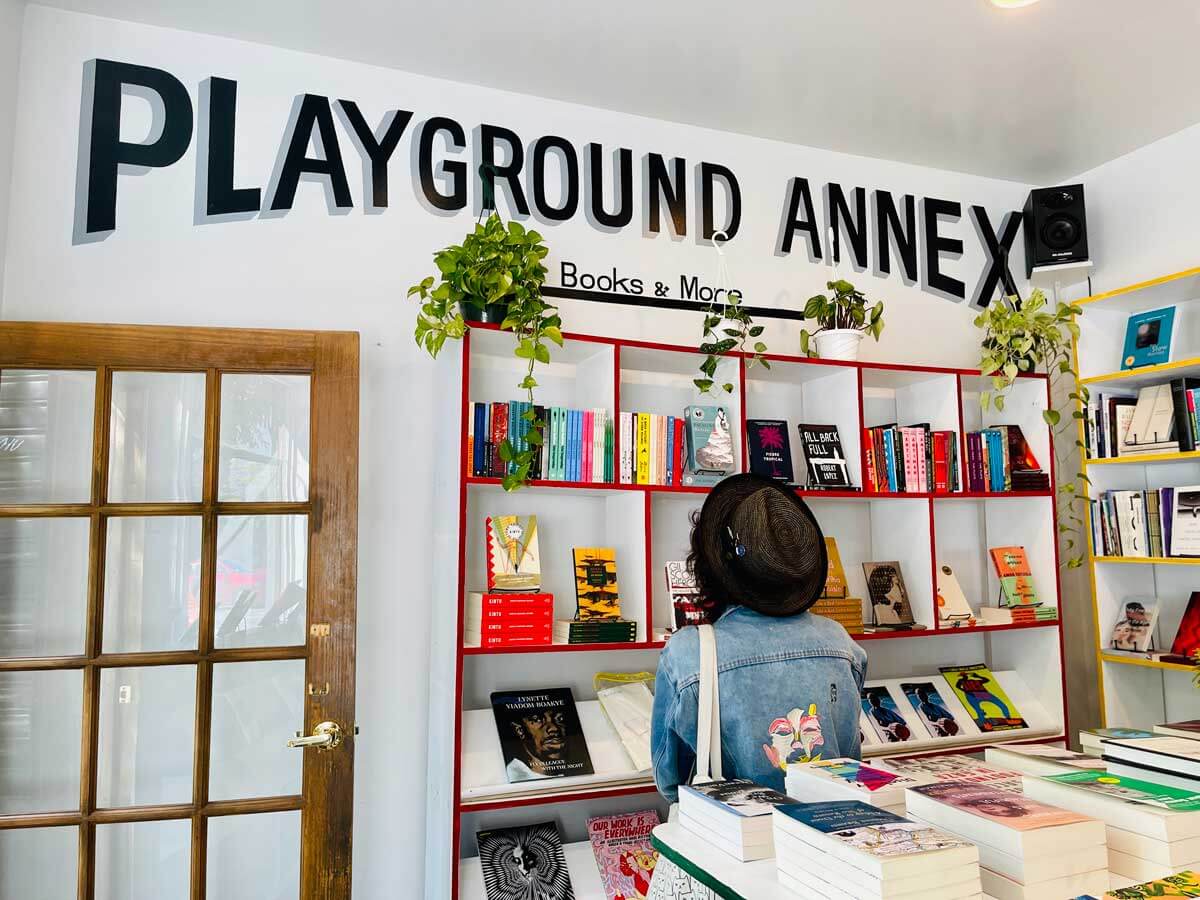 Address: 1114 Bedford Ave
This community-focused Bed Stuy coffee shop not only serves great caffeine – it also serves as a safe space for programs trying to make a difference including Playground Youth. Playground is an organization dedicated to improving food equity and spreading awareness about fresh and healthy produce to those who need it.
Also located in the café, Playground Annex is a neat little bookshop (one of our favorite independent bookshops in Brooklyn I might add) designed to support the Bed-Stuy area by offering books from Black, brown and Latinx authors as well as an available space for events and hangouts.
That being said, Playground is still a coffee shop – and using their La Marzocco espresso machine for their drinks, they deliver some good cappuccinos, mochas, and lattes. They also serve some pretty good ginger and Earl Grey tea.
With its minimalistic design, this café plays it really low-key and serves a great spot whether you want to socialize or stay to yourself and get some work done!
Cafe Calaca
Address: 505 Franklin Ave
Cafe Calaca is best known for its outstanding Latin food like their empanadas, chilaquiles, and breakfast burritos. While they do have some great breakfast dishes, it should be noted that Calaca tends to start cooking later in the morning (around 10 AM) – so you may want to time your visit according to when their cook is in the house.
Outside of the great food, Cafe Calaca also offers some of the best tea and coffee in Bed Stuy, serving drinks from local retailers like Brooklyn Tea and Variety Coffee. Specialty drinks like their Spicy Mocha and Coconut Maple Latte are real crowd pleasers and help distinguish Calaca from other Bed-Stuy coffee shops. Or try one of their fun drinks like rose water matcha latte or fruity tea drinks.
Thanks to their nice backyard space, this cafe is the perfect spot to bring your dog and sip some tasty coffee in Bed-Stuy. So, if you're looking for good cafes in Bed-Stuy for you and your pup to enjoy, check out Cafe Calaca!
Golda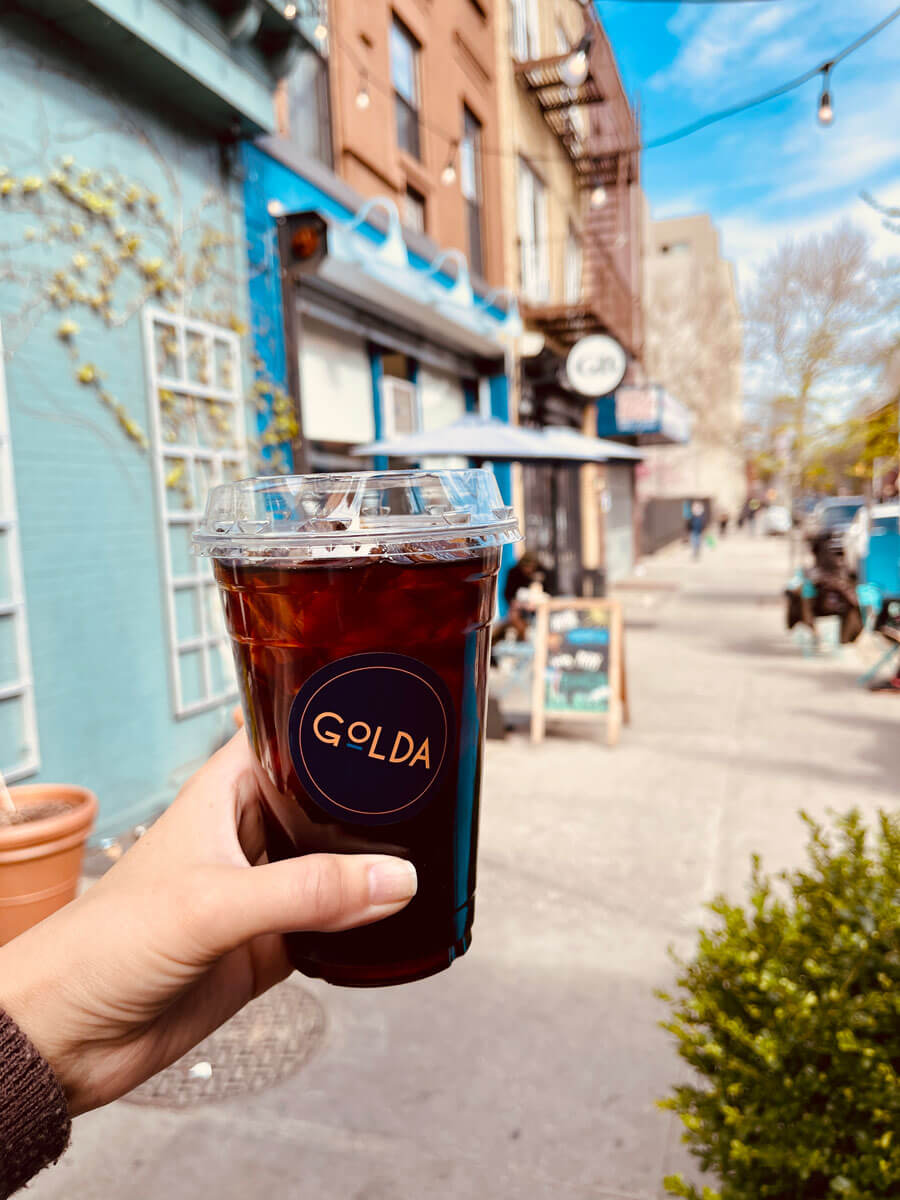 Address: 504 Franklin Ave
Golda delivers what is arguably some of the best breakfast sandwiches in the city. Their fried chicken sandwiches in particular are legendary. Complete with a fried egg on top, it will have you coming back again and again for coffee and their amazing treats. And if sandwiches aren't your thing, their Breakfast Plate and Lebneh Parfait are just as tasty as well as some great pastry options.
Golda is a restaurant and coffee shop in one. With a La Marzocco espresso machine by its side, and beans from Abbotsford Road Coffee – this Bed-Stuy coffee shop satisfies in both the caffeine and cooking department.
Every day they deliver high-quality delicious coffee and matcha drinks that will go so perfectly with whatever your meal of choice may be and this spot is especially popular on the weekends.
On top of the great food, Golda is one of the most elegant-looking cafes in Bed-Stuy. Golda's space is a smaller one, but the intimate and cozy atmosphere makes for a perfect backdrop for coffee dates! They offer wine and cocktails too, making it good for brunches and dates alike. They also have some seating on the sidewalk outside right along Franklin Ave.
Brooklyn Kettle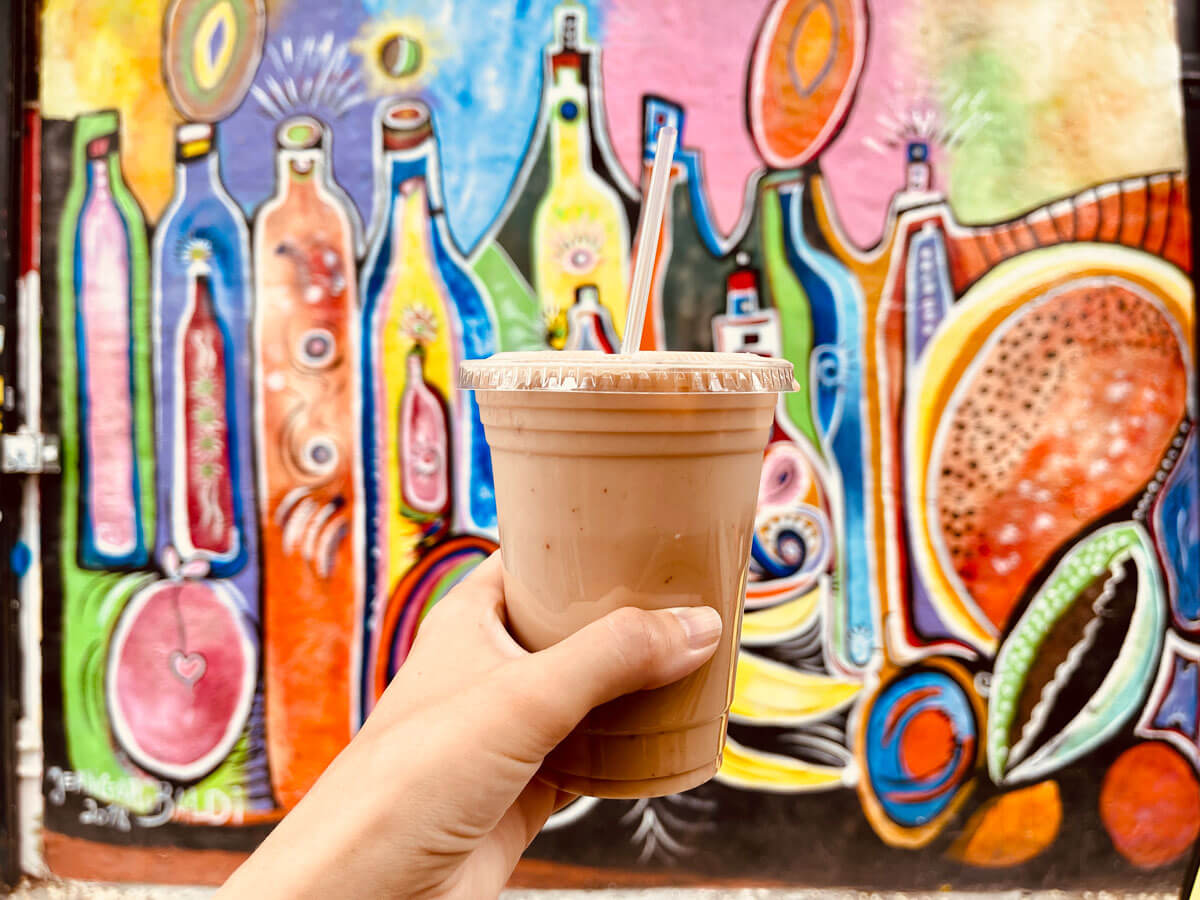 Address: 385 Tompkins Ave
Sustainability is what's on this Brooklyn cafe's mind and it isn't afraid to say so. With the combined forces of itself and the Narativ House – Brooklyn Kettle offers patrons a space to learn more about sustainability and the integrity of fair trade products.
Using a La Marzocco espresso machine and some of the best farm-to-table coffee beans (La Colombe Coffee Roasters) around, Brooklyn Kettle offers some great iced and hot coffee and tea beverages. And as far as food goes, they serve a small selection of pastries like their chocolate or almond croissants.
This is one of the smaller cafes in Bed Stuy and does not have a whole lot of seating – but they do have a nice outdoor bench to enjoy your coffee. Due to the limited seating, Kettle does work better as a grab-and-go spot.
But don't sleep on all the cool fair-trade products they sell in the cafe too. While you're waiting, browse all the cool products, you might even find a thoughtful gift for someone (or yourself).
With its pro-active approach and modern design, Brooklyn Kettle is a great cafe in Bed-Stuy for those looking to have productive conversations and who care about the community!
Brooklyn Kolache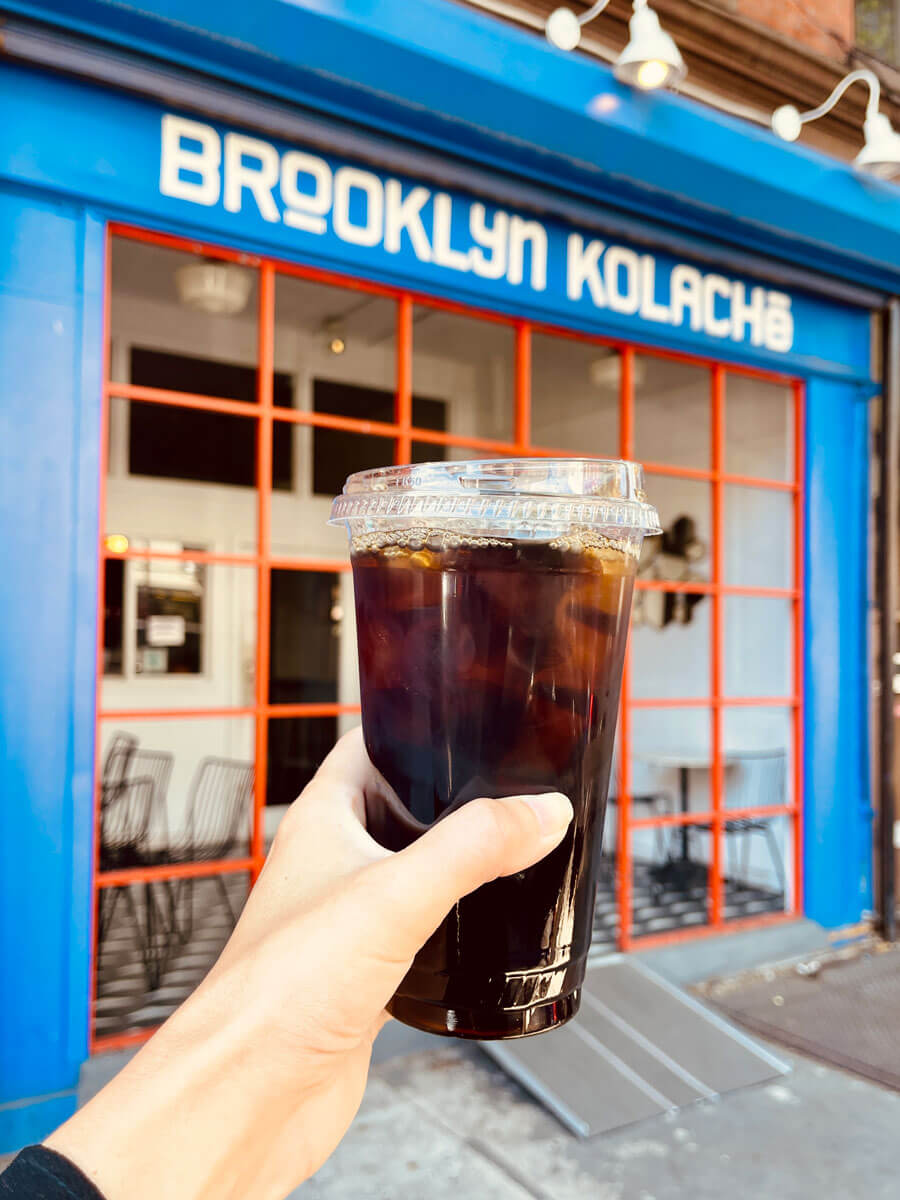 Address: 520 DeKalb Ave
This Bed Stuy cafe is one of a kind in Brooklyn because not only do they have great coffee drinks but their specialty item they make from scratch in-house are Texas-style kolaches (as well as other tasty baked goods).
What's a kolache you might ask? The kolache is a Central European, specifically Czech, pastry that's doughy and typically has a fruity filling that were brought to Texas by a wave of European immigration in the 19th century. Kolaches are also found in areas that have Czech enclaves, but the Texas-style kolache is legendary, which sometimes have savory fillings too.
They've got kolaches and coffee made with beans from local Brooklyn roaster, Kitten Coffee as well as tea drinks from Harney & Sons. There's some seating and an aesthetically pleasing entrance worthy of making a trip for – especially to try one of their signature Texas-style kolaches that you can't find just anywhere in the city.
Coffee Uplifts People CUP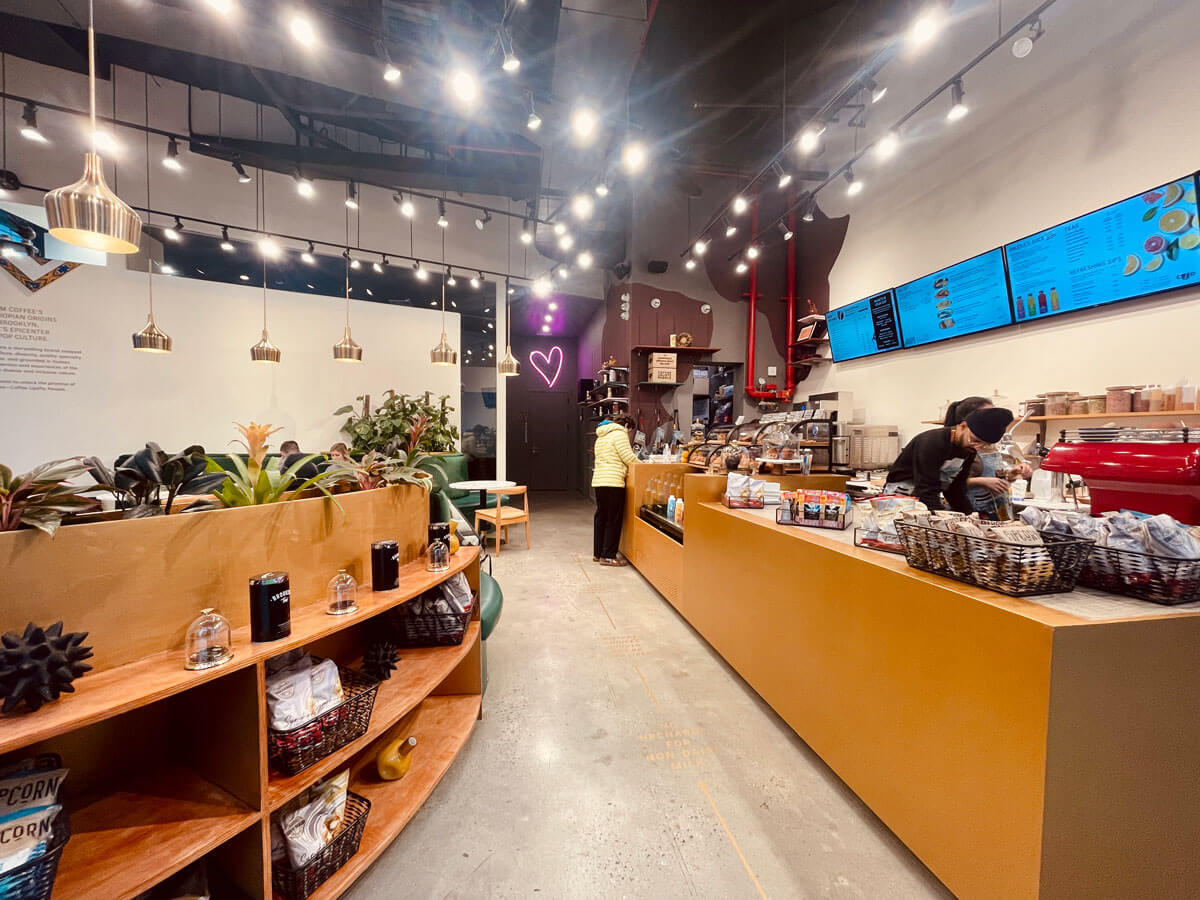 Address: 329 Gates Ave
Co-Founded by Angela Yee, of Breakfast Club morning show fame, Coffee Uplifts People CUP is dedicated to sustainability and consciousness. As referenced in the Bed-Stuy coffee shop's name, this cafe seeks to revolutionize the coffee industry by being crystal clear about where the coffee is coming from (including producers, importers, & roasters).
CUP puts a great deal of effort into carefully sourcing their coffee bean production – which is completely organic and is also offered in every Whole Foods location in the city.
Another crucial part of their mission statement is delivering some of the best coffee in Bed Stuy – as well as a tasty selection of baked goods. They offer top-notch a variety of different espresso drinks, but their cold brew is particularly raved about among locals.
The coffee shop is one of the best-looking and well-lit cafes in Bed Stuy, uplifting one's spirits before the coffee even touches their lips. And thanks to the big, nice space and seating – Coffee Uplifts People CUP is a great place to come in if you're looking to a getaway from the busy city life for an hour or two. Perfect for meetings or bringing your laptop for a bit.
CUP also has a subscription service if you want to have an assortment of different coffee flavors delivered to your home. They also do limited-release collaborations, so visit their website to find out more!
Brooklyn Perk Coffee
Address: 450 Nostrand Ave
This Black-owned Bed Stuy coffee shop is known for supporting others not just because it offers high-quality coffee in Bed Stuy, but also because it serves products from reliable brands like Javamelts, Barr Necessities, King David Tacos, and Brooklyn Roasting Company (for their coffee beans).
Using their fresh products, Brooklyn Perk offers many different teas, brewed, and espresso drinks – with their London Fog being a standout. Outside of coffee, Perk also offers pastries and food including gluten-free cookies from Barr Necessities and King David Tacos.
Even though Brooklyn Perk has multiple locations (and more on the way), the Nostrand Ave location in particular is a great space for working. This shop is also known for hosting workshops and live music events not to mention ample space for you to sit back and work (plus a cool coffee mural and artwork hanging on the walls). You can find out more about what's happening next at this cafe by checking the latest events posted on their IG page.
Odd Fox Coffee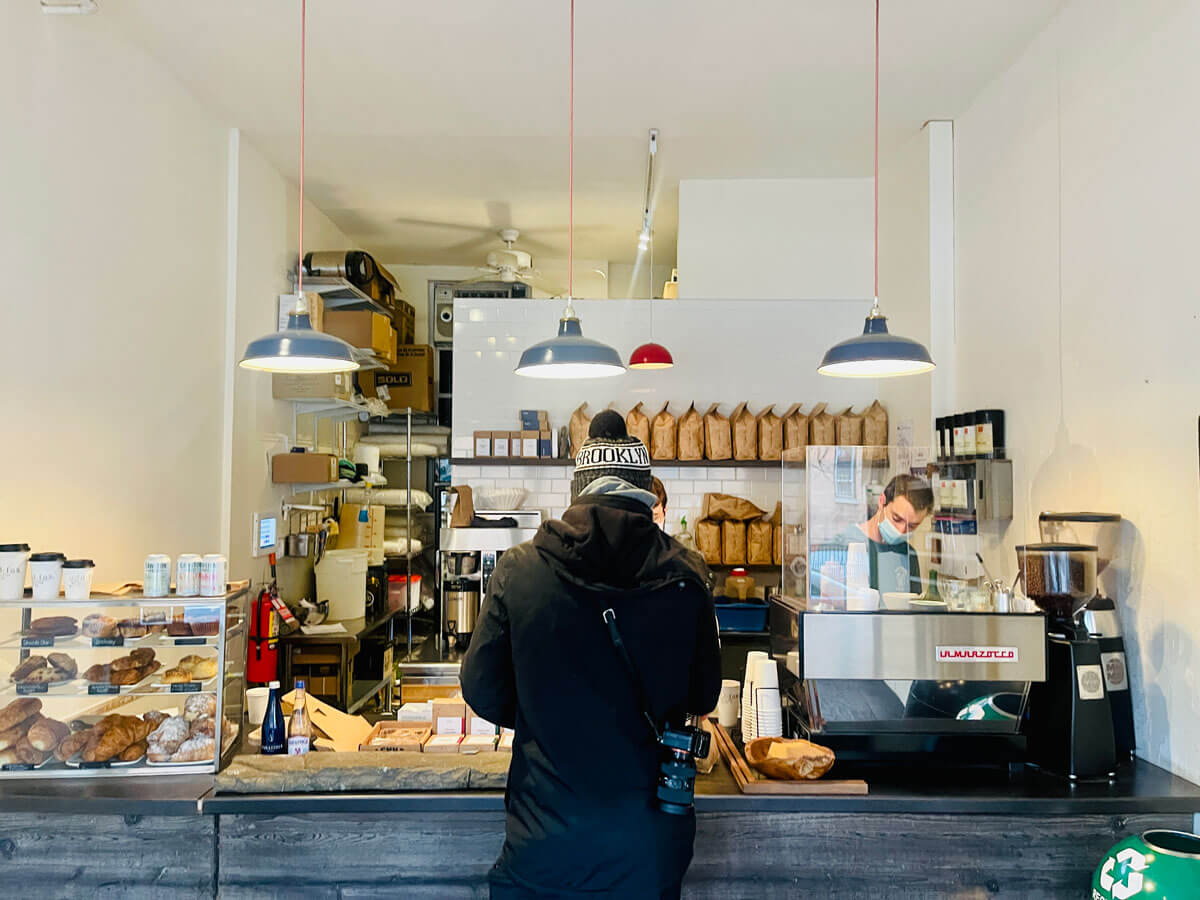 Address: 525A Throop Ave
Odd Fox Coffee is a queer-owned business and a neighborhood favorite due to its consistently tasty selection of coffee drinks and amazing croissants. They've also managed to stand out from the crowd by offering cool merchandise like T-shirts and bags.
Serving products from local operations like Parlor Coffee and In Pursuit of Tea, Odd Fox's selection of espresso and iced drinks are both delicious and reliable. Fox also enthusiastically and proudly serves baked pastries from Greenpoint bakery Ovenly.
The seating here is limited, but because they open relatively early (7 AM) this is the perfect coffee shop to visit if you need a cup of coffee before an early morning shift at work. Odd Fox has a Greenpoint location as well, so feel free to show that shop some love too!
Trash Island
Address: 616 Halsey St
Using beans from Partners Coffee Roasters, Trash Island has become a hot spot for not only the morning crowd. Even though this cafe in Bed Stuy focuses on coffee, tea, and sandwiches (And even some beer), the real draw would have to be their "variations drinks" – which put a fun spin on well-known coffee drinks.
Such drinks include their Hot Honey Latte, Trifecta, T.I. Latte, and Masala Chai. Using their handy dandy La Marzocco espresso machine, Trash offers some of the most inventive coffee in Bed Stuy.
Another portion of their menu worth mentioning is their "Bites", which include small foods like their empanadas, pastelitos, and medianoche.
The staff here is also great with some of the friendliest baristas around. Because they're not doing indoor seating at the moment, Trash isn't the best place to come in and work – but thanks to the funky 80s aesthetic and laid-back atmosphere, it's still a cool place to drop in and chill for a second or two.
With great vibes and some of the most creative coffee in Bed Stuy, Trash Island is anything but trash! A perfect hang-out spot morning, noon, or afternoon (until 5 PM).
Corto
Address: 260 Halsey St
Corto is one of the most highly rated cafes in Bed Stuy and is best known for having some of the best sandwiches of the Bed Stuy coffee shops! Corto provides lucky patrons with various focaccia sandwiches (including their "Vegan special" for vegans and vegetarians). They also offer other food options like breakfast pastries and salads.
As far as beverages go, this Italian coffee bar offers mostly espresso-based drinks (including their drip coffee and iced coffee too) — but they also sell tasty soft drinks (Aranciata, Limonata, Gassosa) as well as some Italian wine and beers.
This peaceful and ambient shop has a seating area in the backyard, making it a perfect shop to visit whether you want to come in and work or chat with locals.
Corto is a cute spot with a lot to offer, so if you're looking for a cafe in Bed Stuy to drink and hang at — this is a nice place to be!
Milk and Pull 
Address: 348 Malcolm X Blvd
Another one of the best cafes in Bed Stuy is Milk and Pull. Not only do they have some of the best coffee, they also have an incredible blueberry iced tea and some delicious food including toasts, pastries and sandwiches. Not to mention not only is the space great to work but they also have plants all over to make it feel more like home.
Milk and Pull is open every day from early till early evening. There is ample working space indoors and they have some of the best coffee in Bed Stuy!
Best Cafes in Bed Stuy (Post Summary):
Stonefruit Espresso + Kitchen
Playground Coffee Shop
Cafe Calaca
Golda
Brooklyn Kettle
Brooklyn Kolache
Coffee Uplifts People CUP
Brooklyn Perk Coffee
Odd Fox Coffee
Trash Island
Corto
Milk and Pull
---
About the Author
Eric Garner is a Brooklyn-based writer who was raised down South who loves talking about film, TV, hip-hop, and fashion.
---
Did we miss your favorite Bed Stuy coffee shops? Let us know in the comments below!