Looking for the best cafes in Bushwick to check out? This guide has got you! From the best coffee in Bushwick to breaking down each of these cafes and coffee shops. Whether you're on the go, looking for a place to work for a bit, or a great meeting place with a friend or business meet up – we got you.
So next coffee date or work day – this guide will help you where to enjoy your next cup of caffeine at. And while you're here be sure to check out the best things to do in Bushwick.
And while you're here, don't miss checking out all the cool murals of the Bushwick Collective!
Bushwick Coffee Shops to Check Out
Variety Coffee Roasters
Address: 146 Wykoff Ave
One of the best Bushwick coffee shops (a popular cafe around Brooklyn and NYC) is Variety Coffee Roasters. This coffee lovers spot has been offering Brooklyn locals delicious cold brews and chai lattes since 2014 when they opened their first location in Williamsburg.
Roasting their own beans fresh daily, Variety's options change from season to season as many of their flavors are influenced by what's in season in the different coffee bean growing regions they source their beans from.
Not only do they serve great coffee, but great food and pastries as well with menu options like their ham and cheese croissants and blueberry muffins.
With a plethora of tables to choose from and numerous outlets to charge electronics with, Variety serves as one of the best cafes in Bushwick to get work done. While there's plenty of seating, be sure to arrive earlier if possible to increase your chances of getting a good spot.
A favorite among locals, Variety Coffee Roasters is a high quality Bushwick coffee shop that lives up to its reputation.
Dweebs
Address: 1434 DeKalb Ave
With coffee roasted by Spectrum Coffee, Dweebs serves up reliably delicious coffee and tea as well as offers some of the best lattes and matcha in Bushwick.
While the coffee here is pretty excellent, Dweebs is also known for foods like their bagel Sammie and lox bagel. In addition to that, Dweebs has a "grab and go" section on their menu serving up tasty breakfast burritos for customers who are on-the-go. Not to mention, they make their own almond milk, so there's that.
Thanks to its great minimalist space and chill atmosphere, this Bushwick coffee shop is a perfect spot whether you're looking for a group hangouts or brief coffee break.
Whether you're on the go or want to hang out for a bit, Dweebs is one of the best cafes in Bushwick to do so while also enjoying a hot coffee and a bagel.
Sey Coffee
Address: 18 Grattan St
Another coffee shop that roasts its own beans, Sey Coffee appeared on Food and Wine's "Best Coffee Shops in America: 2019" list – and for good reason. With their carefully sourced beans, Sey delivers some of the finest coffee in Bushwick (And maybe even the city).
As an added bonus, patrons can further elevate their coffee experience by enjoying one of their 'public cupping sessions' where they can try Sey's many different coffee samples at their roastery.
While the coffee and tea are definitely the standouts here, they have some good breakfast and pastry options as well including their highly recommended cinnamon and pomegranate pancakes.
Big on ambiance, the chance to view Sey's plant-filled space may be worth the trip alone as it is a sight to behold. Being the popular Bushwick coffee shop that it is – Sey tends to be pretty packed and is best visited if you're on the go. You can however find pretty decent seating if you arrive early in the morning.
A progressive cafe in Bushwick with legendary coffee, Sey Coffee is a great spot for any caffeine enthusiast to try.
Ange Noir Café
Address: 247 Varet St
Part Bushwick coffee shop, part bar, part boutique – Ange Noir Café seems to do it all. Known for its fine cuisine, full bar and great coffee, this French-style café easily stands as one of the best cafes in Bushwick. With coffee beans they've roasted themselves, Ange offers some of the freshest coffee as well as some of the best cold brew around.
Don't sleep on their iced coffee drinks here.
And, as mentioned, Ange offers great food options – their breakfast sandwiches are loved. These gourmet sandwiches are awe-inspiring, including such specialties like the Breakfast Pretzel Bun and The Williamsburg which are sure to satisfy any customer's hunger that comes across their path.
Ange also serves food all day and includes a variety of different menu options such as pastries, crepes, salads, and chicken sandwiches. In addition to serving food all day, this spot offers both indoor and outdoor seating – making it a great café for dining at any time of the day with friends.
As far as the places to get coffee in Bushwick, Ange is probably the most well-rounded with superior food to match the coffee. If you're in the neighborhood, be sure to check this one out!
Wyckoff Starr Coffee Shop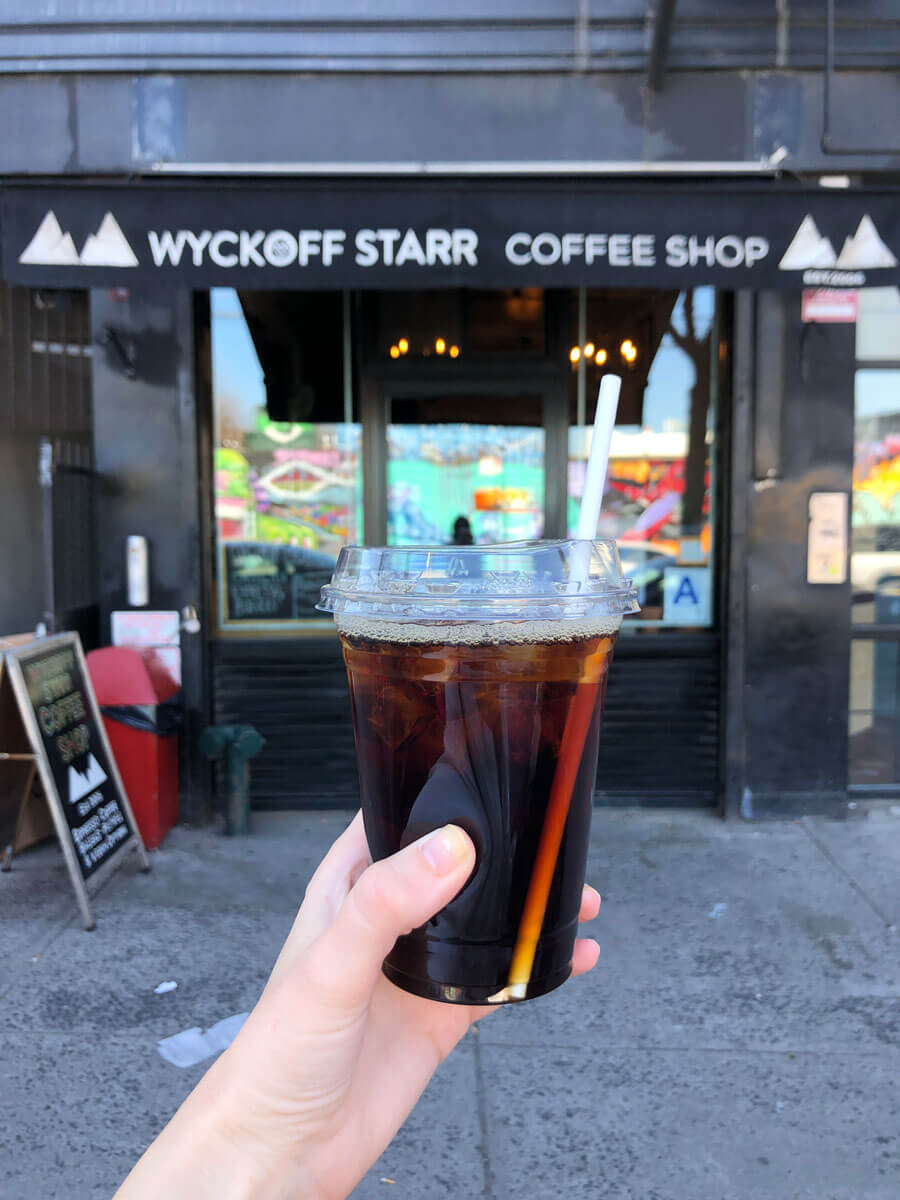 Address: 30 Wyckoff Ave
Another great coffee shop in Bushwick, great for grabbing a coffee and walking around the Bushwick Collective, is Wyckoff Starr Coffee Shop. This is great if you're a cold brew or iced coffee lover, they've also got iced tea and espresso based coffee drinks like Americanos and your lattes and cappuccinos plus drip coffee.
You can find some fresh baked good daily along with bagels. And if you're a Twin Peaks fan, so are they and they even call themselves the "Brooklyn Twin Peaks Cafe." You might even find a themed special like the 'Laura Palmer.'
Nook
Address: 45 Irving Ave, Unit 1
Another Bushwick coffee shop with a lot on its mind – Nook acts as both a café and beer parlor – giving coffee and craft beer enthusiasts just what they're looking for. Nook carries beans from reliable roasters like Caffe Vita and their menu includes a variety of drink options like coffee, matcha, chai, and loose leaf tea. Their chai lattes are particularly great, with them being some of the spiciest (which is the best if you ask me).
Nook also offers some pastries and breakfast treats with their pumpkin bread being a clear stand out and is highly recommended.
Thanks to the fact they have plenty of indoor and outdoor seating – Nook is a great place for studying and socializing alike. If you do plan on arriving with your laptop, just know you won't be the only one as Nook is a popular spot in the area to work on one's laptop starting the day with a coffee and ending with a craft brew.
Nook is also known for hosting a lot of different events such as game nights, live music, and chess tournaments. Be sure to check out their Instagram to see what's to come!
Caffeine Underground
Address: 447 Central Ave, Suite A
One of the most unique coffee shops in Bushwick, Caffeine Underground is just as great at being an artistic hub as it is at being a great cafe. Voted by the Bushwick Daily as having the "best coffee", Underground strives to not only make some of the best coffee in Bushwick, but also help provide local artists a space to showcase their talents.
Underground specializes in Kava products and beverages like their Yerba Mate Lattes, Bulletproof Coffee and Black-and-red Lattes. Caffeine Underground also offers a pretty generous food menu with plenty of pastries and sandwiches to enjoy during your time here. The menu includes vegan and gluten-free options as well.
Outside of the food and coffee, there's a lot of activity and fun to be had at Caffeine. They're known for hosting numerous events, open mics and workshops on a weekly basis. That combined with their cozy home-like environment and the fact that Caffeine Underground has some of the best and friendliest baristas around, makes this a great cafe for hanging out.
Whether you're making a brief pit stop or want a place to spend an afternoon, Caffeine Underground is where it's at!
L'imprimerie
Address: 1524 Myrtle Ave
L'imprimerie is a cute French bakery cafe in Bushwick that stands out from the rest of the pack thanks to their incredible fresh baked goods. This hidden gem specializes in French bread, pastries, and other baked goodies. Considered by many to be one of the best bakeries in the city, L'imprimerie offers some of the best baguettes and chocolate croissants around. The cinnamon rolls are also a fan favorite!
And of course, what's a cafe without its coffee? By collaborating with Sey Coffee Roasters, L'imprimerie delivers some of the best coffee and espresso drinks in the neighborhood to go along with your croissant.
There's some seating inside, but there's an outdoor patio in the back which makes it a great place to hang with friends or acquaintances.
One of the best cafes in Bushwick, L'imprimerie is a great pick for those looking for true authentic French treats while enjoying their coffee!
Cafe Moca
Address: 108 Central Avenue
Another one of the best cafes in Bushwick is Cafe Moca. Not only do they have delicious coffee, they also offer a great space to work and have some of the friendliest people that work there.
They have all your favorite coffee options as well as some incredible food. Make sure to try the fig jam sandwich and any of the smoothies!
Cafe Moca is open every day except for Tuesdays.The opening hours vary so make sure you check the hours before you head that way! They offer both indoor and outdoor dining and make sure to sit outside when the weather is nice because they definitely have one of the best patios in Brooklyn!
Little Skips East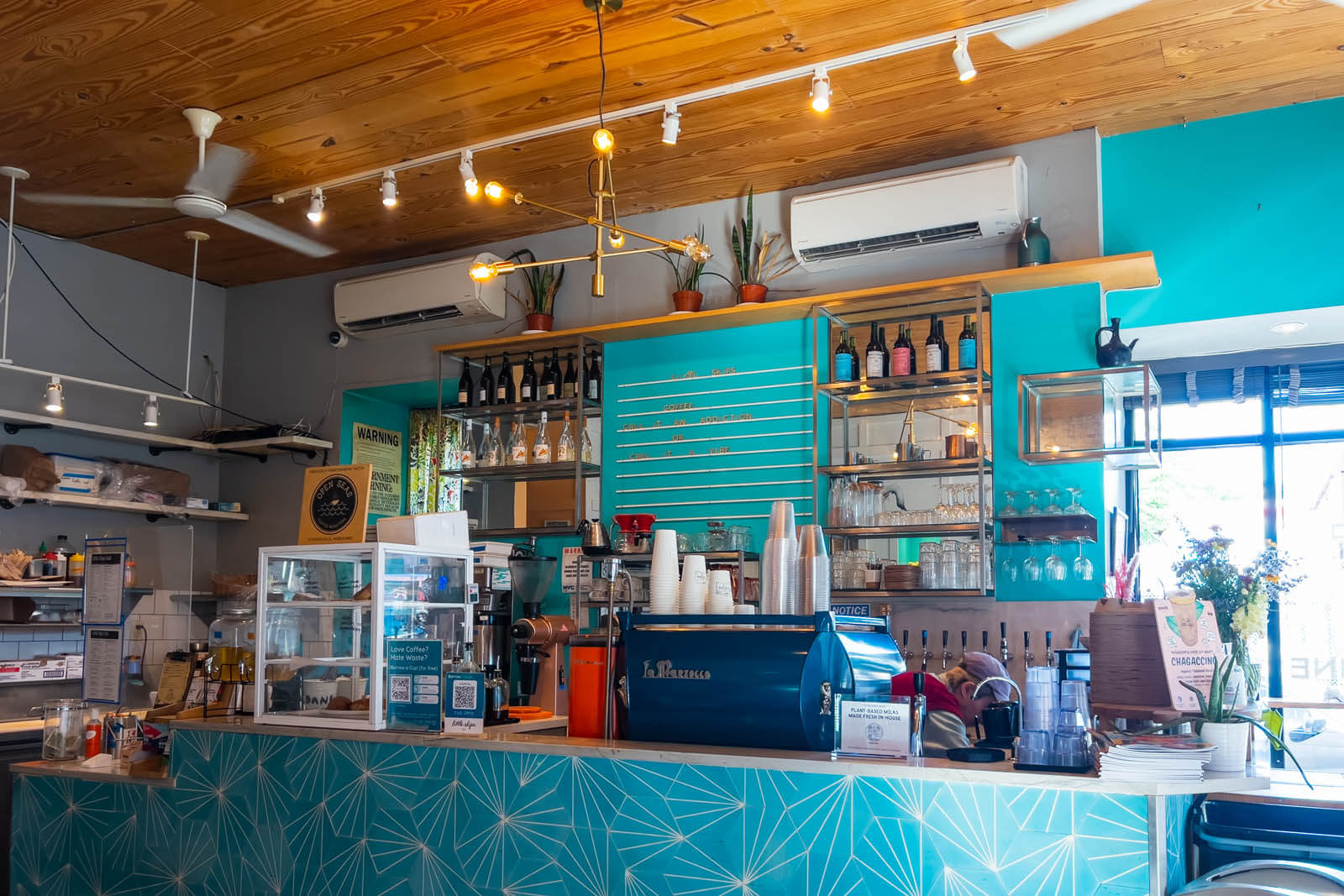 Address: 1643 Broadway
Resting on the border between Bed Stuy and Bushwick, Little Skips East is still by considered by many to be a Bushwick coffee shop. Their iced chai lattes are some of the best in the neighborhood and Skips also offers unique seasonal drinks as well such as their Iced Sparkling Rosewater Americano and their Lavender Latte.
Skips East has you covered on the food front too! Their menu not only includes healthy and satisfying sandwiches with fresh ingredients but some delicious vegan pastries as well — like they're DANK Chocolate Chip Banana Bread.
Since they don't have Wi-Fi, it will be a bit of a challenge to work here if you need internet connection. However, the seating, filling food, and fast service makes Little Skips a great cafe for both lunch and brunch alike. Don't skip – run to Little Skips East, if you haven't been already!
Lazy Suzy Cafe & Shop
Address: 703 Hart St
Lazy Suzy Cafe & Shop is best known for having three things: fast Wi-Fi, a large space — and some of the best coffee in Bushwick! With the help of Stumptown Coffee Roasters, Lazy Suzy offers a variety of different coffee, espresso and tea beverages including some stand-out signature drinks like their brown sugar latte, honey cardamom latte, rose matcha latte, lavender matcha, and oat milk latte.
If you arrive to Lazy Suzy Cafe looking for a quick bite, don't worry — they have pastries as well with cafe essentials like cookies, croissants, and muffins.
Ironically enough, Lazy is one of the best cafes in Bushwick for working or studying thanks in large part to its roomy space. With its beautiful and cozy atmosphere, Lazy can also be a great place to hang out with friends and family.
If you're in the neighborhood and looking for a nice cafe with dependable Wi-Fi to get some work done, there's no better Bushwick coffee shop than Lazy Suzy Cafe & Shop! 
Best Cafes in Bushwick (Post Summary):
Variety Coffee Roasters
Dweebs
Sey Coffee
Ange Noir Cafe
Wyckoff Starr Coffee Shop
Nook
Caffeine Underground
L'imprimerie
Cafe Moca
Little Skips East
Lazy Suzy Cafe & Shop
---
About the Author
Eric Garner is a Brooklyn-based writer who was raised down South who loves talking about film, TV, hip-hop, and fashion.
---
Did we miss your favorite Bushwick coffee shops? Let us know in the comments below!