Looking for the best cafes in Clinton Hill to check out? This guide has got you covered! From the best coffee in Clinton Hill that money can buy to breaking down each what each of these cafes and coffee shops got going on.
Whether you're on the go, looking for a place to work for a bit, or a great meeting place with a friend or business meet up – we got you. Plus many of these spots have great food too!
So when you need your next caffeine fix, check out these awesome Clinton Hill coffee shops.
Best Clinton Hill Coffee Shops
Prima Brooklyn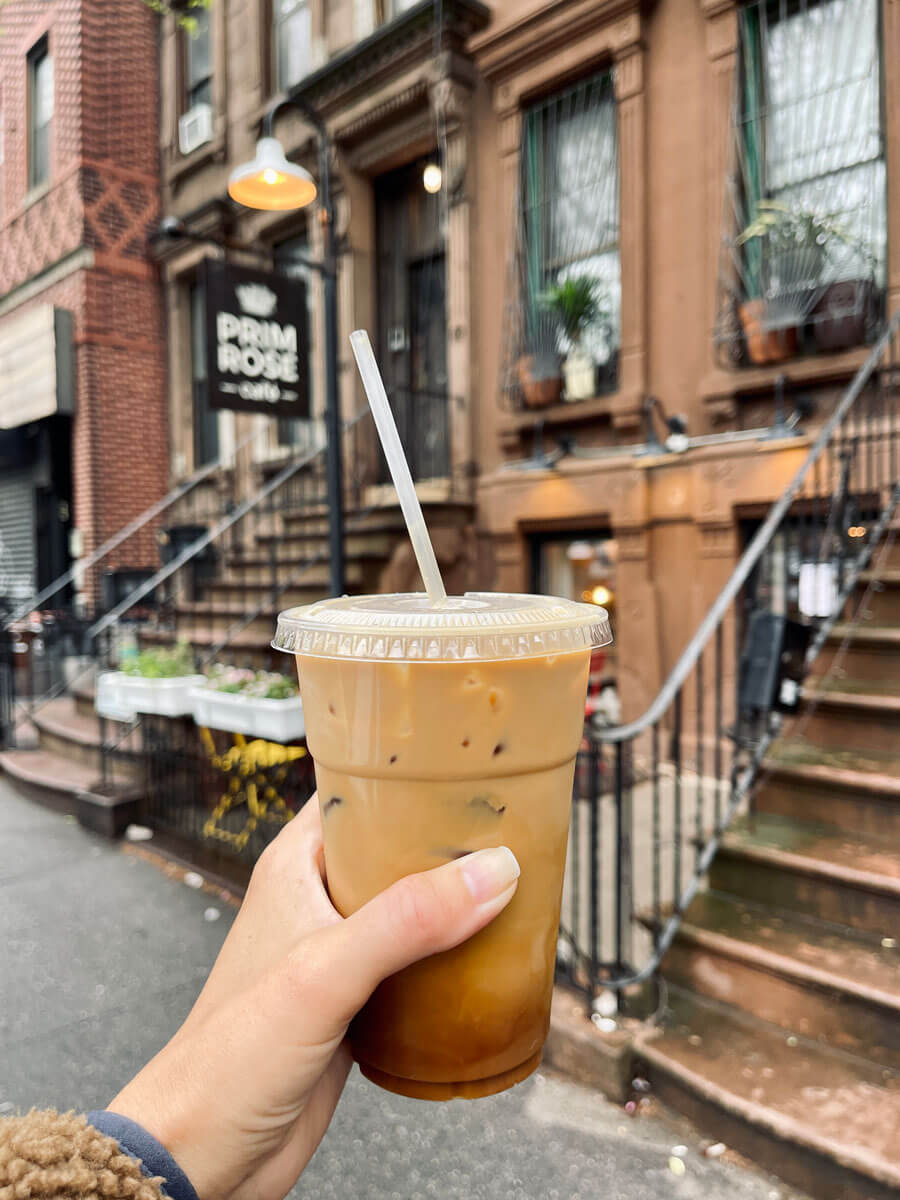 Address: 147 Greene Ave
Tucked away on a lower floor (under the stoop) of a beautiful Brooklyn brownstone, Primrose Cafe is a very modest and cozy Clinton Hill cafe. Using beans from local coffee roasters Sweetleaf, patrons are treated to some of the freshest coffee in Clinton Hill. They also offer plenty of espresso drinks including their "Rocket Fuel" which contains a stronger and sweeter dose of caffeine than your average espresso beverage.
Not only does this Clinton Hill café have some bomb coffee, cold brews and matchas – but Prima also serves up some tasty breakfast options like their egg sandwiches, avocado toast, and granola yogurt.
This cafe in Clinton Hill has limited seating inside, but they do have two spaces out front and out back with more tables. Their back patio in particular is a perfect area for events and small get-togethers.
This café may be smaller than some of the other Clinton Hill coffee shops on this list, but the intimate vibe that gives off makes it a really good spot, whether you want to a, read a book or have a coffee date!
Guevara's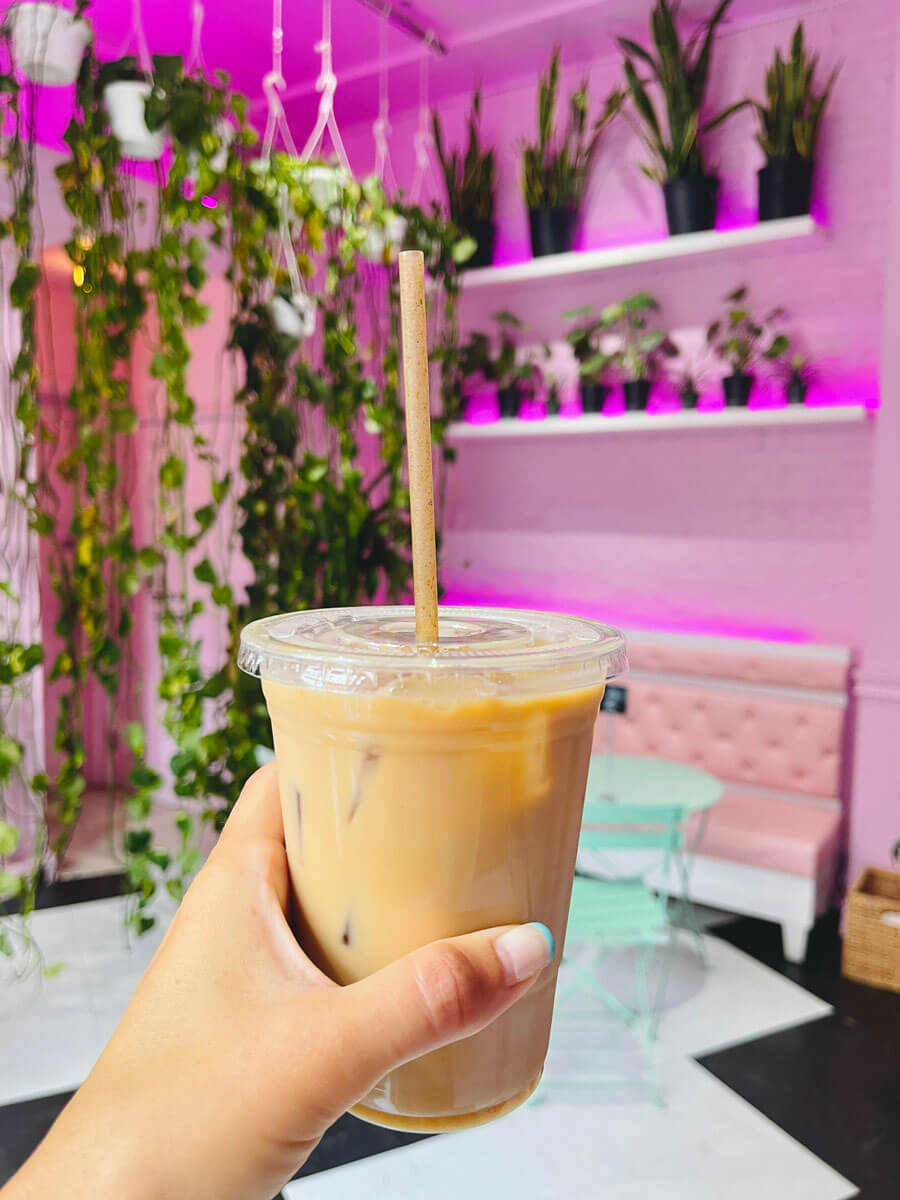 Address: 39 Clifton Pl
This pretty pink Clinton hill café known as Guevara's is a vegan café, cocktail bar, and plant shop all rolled into one. This Cuban woman-owned vegan shop stands out among many cafes in Clinton Hill thanks to its great decor, seasonal drinks, and excellent all-day breakfast offerings – especially if you're looking for great brunch in Clinton Hill!
Guevara's 100 percent vegan menu offers a variety of different vegan options including pastries, donuts, pancakes, and empanadas. The Garbanzo Guava y Queso is highly recommended.
Thanks to its beautiful pink and plant-filled decor, delicious breakfast options, and reliable seating options — Guevara is top-notch café in Clinton Hill for a weekend brunch with friends or family!
Clementine Bakery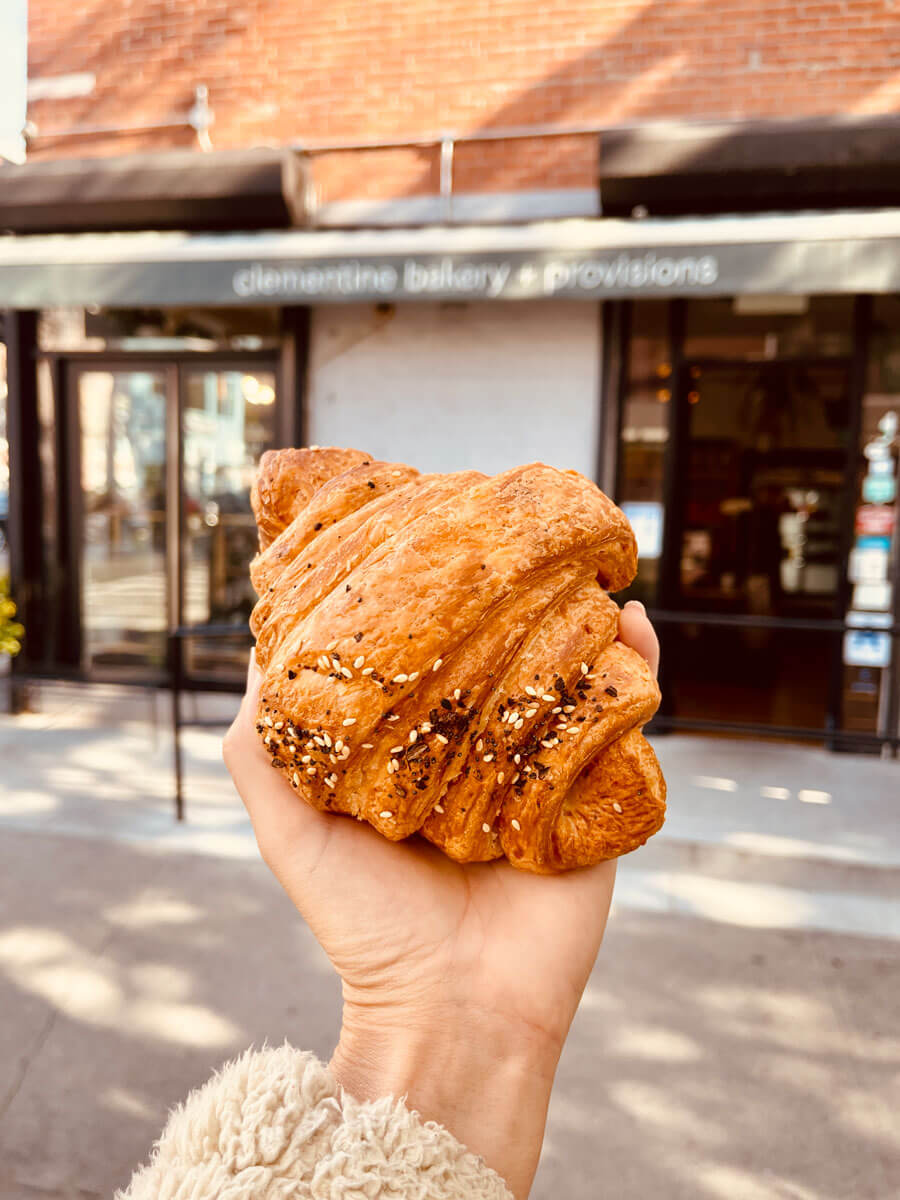 Address: 395 Classon Ave
Clementine Bakery is a plant-based bakery and café in Clinton Hill that is definitely a must-try for anyone wanting great baked goods with their cup of coffee. This bakery is known for serving some of the tastiest and sweetest cookies, pies and cakes around – including their home-made pop tarts! Also, their croissants are great!
This café in Clinton Hill has a surprisingly diverse menu, offering not just sweet desserts – but many different breakfast foods, sandwiches, and bowls as well! And thanks to their friends Partners Coffee Roasters, you'll be treated to one of the freshest blends of coffee in Clinton Hill.
Not only is this Clinton Hill café good for some cozy outdoor dining, Clementine also offers to-go meals on their menu, making it a great pit stop for patrons that are on the move.
Great for vegan and vegetarians alike, this is one Clinton Hill café you won't want to miss!
Otway Bakery
Address: 920a Fulton St
Serving as a spiritual extension to the Clinton Hill restaurant of the same name, Otway Bakery is a recent addition to the block and offers some of the best crullers in the city! Other essential baked goods that Otway specializes in include croissants, donuts, cardamom buns, scones, bagels & coffee cakes.
Otway has coffee and espresso drinks as well, but their Iced Chai Lattes are definitely a standout that are highly recommended. This bakery gets its coffee beans from Pipe and Tabor, a venturous local retailer that makes flavor a priority.
This Clinton Hill cafe has a very limited seating and only includes the two tables and one bench located in front of the shop. Because of that, Otway works best as a to-go spot.
Great for picking up some treats to bring back home — Otway Bakery is a cute Clinton Hill cafe that is sure to illuminate any customer's morning routine!
The Good Batch Bakery
Address: 936 Fulton St
This woman-owned, Brooklyn-based bakery is best known for three things: ice cream sandwiches, cakes, and cookies. Available by the dozens, cookies are definitely this Clinton Hill cafe's specialty and are considerably thicker and stuffed than ones you'd find anywhere else. And luckily the sweetness doesn't stop there, as they have great coffee too!
Proudly serving Counter Culture Coffee, Steven Smith Tea, and Dona Chai – Good Batch is also a good place to pick up some tea or coffee in Clinton Hill.
While Good Batch has a lot to offer food-wise, there aren't many seating options here, so it serves better as a grab-and-go spot than hang out spot.
Since this shop offers both high quality and high quantity, The Good Batch Bakery is a great spot for ordering desserts for birthday parties, weddings or other kinds of celebratory get-togethers!
Peck's
Address: 455A Myrtle Ave
A Clinton Hill cafe and deli that's been offering its specialty food to the neighborhood since 2013 — Peck's is a local favorite due in large part to their superior food selection. While they offer a lot in terms of sandwiches, the main draw for this Clinton Hill cafe is their mouthwatering breakfast egg sandwiches that may be among the best in the city!
Outside of their delicious sandwiches and coffee, Peck's also serves craft beer and pastries. Their selections of pastries are in constant rotation, but some of the baked treats you can expect to see are muffins, coffee cakes, scones, chocolate chip cookies and maple glazed biscuits.
With a lovely patio in the back, Peck's is perfect for outdoor dining. If you're in the Clinton Hill area and looking for a nice spot for enjoying breakfast or lunch on a bright day, Peck's is your best bet!
TB Coffee House
Address: 578 Myrtle Ave
One of the most luxurious Clinton Hill coffee shops, TB Coffee House has the kind of clean space and cozy chairs you'd expect to see at a fancy hotel.
Their menu offers a large variety of pastries, coffee, and tea. With their Mocha latte receiving the most praise, TB a must try for mocha enthusiasts!
TB Coffee House boasts a large space with plenty of seating options, making it a great Clinton Hill Coffee shop for working and studying. And if you prefer sitting in the backyard, they have an outdoor space as well.
This Clinton Hill coffee shop also has a floor dedicated to private events with tables, chairs, and a refrigerator. So, if you're looking for a spot to host your next birthday bash or corporate dinner – be sure to stop by TB Coffee House!
BKG Coffee Roasters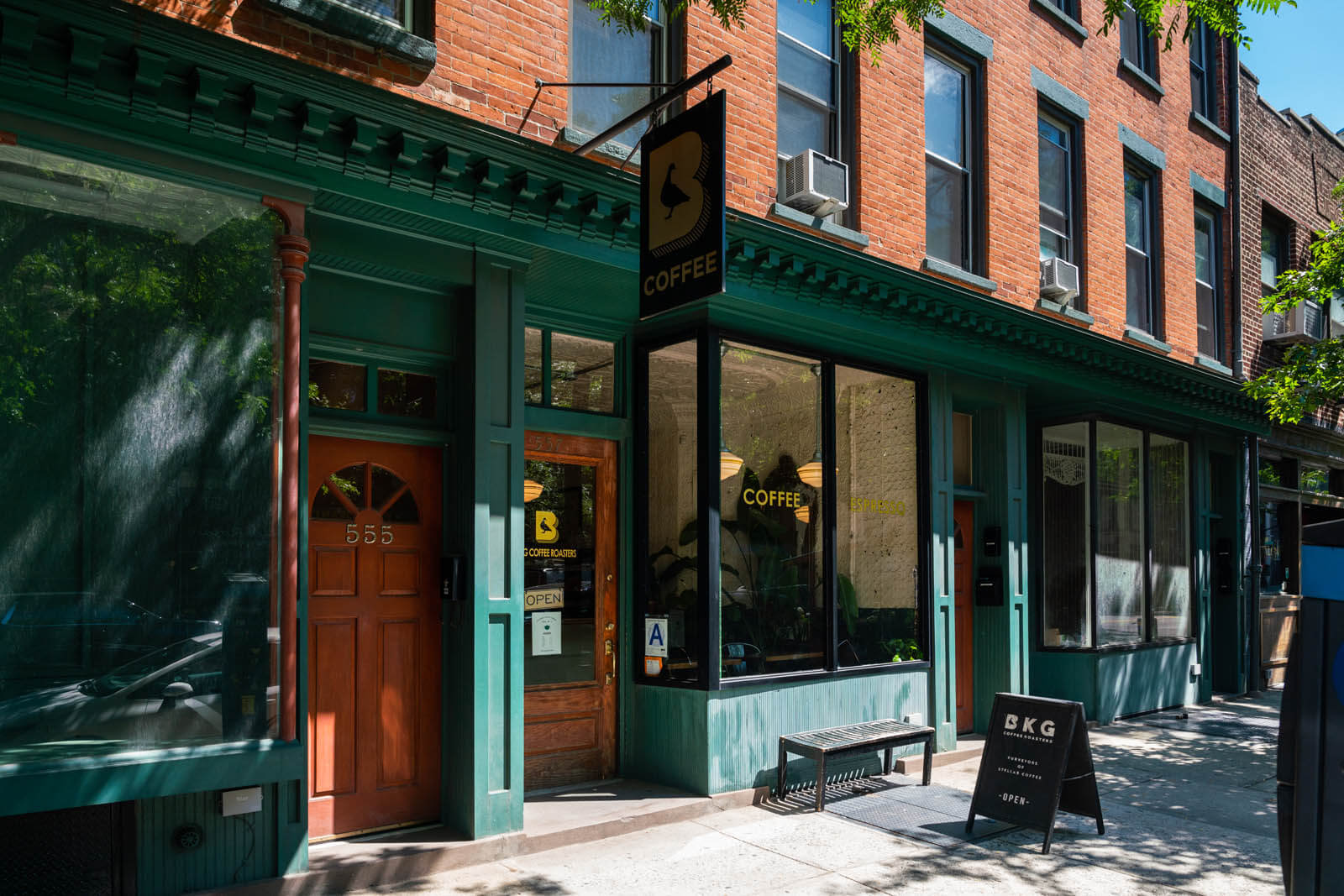 Address: 557 Myrtle Ave
Since 2010, BKG Coffee Roaster has been offering some of the freshest gourmet coffee in Clinton Hill as well as some of the best cold brew in the city! Taking years to hone their micro-roasting skills, BKG Coffee Roaster's beans are ethically sourced and roasted themselves.
Their flagship cafe in Clinton Hill manages to keep things fresh by rotating their menu of different pastry options (bagels, croissants, etc.) year round. And in case of coffee doesn't strike your fancy, BKG also offers different artisanal teas.
BKG is a nice cozy cafe in Clinton Hill with plenty of indoor and outdoor seating to work or bring your laptop to. And because this Clinton Hill coffee shop does get packed pretty early in the day, it's best to come during the earlier hours to snag a spot. BKG also closes at 2 PM, so keep that in mind as well!
Sweetbee 
Address: 1039A Fulton Street
Sweetbee is another one of the best cafes in Clinton Hill serving some of the best coffee, pastries and sandwiches in Brooklyn. They also offer natural wine!
The coffee is sourced from Variety and the pastries are sourced from Baltazar so you already know you're going to be getting something great. Not to mention, they have great homemade sandwiches and one of the most minimalist-designed spaces with an incredible backyard in Brooklyn. 
Sweetbee is open every day from early till early evening. Both indoor and outdoor seating are available and both are the perfect space to enjoy some delicious coffee!
Calyer
Address: 519 Myrtle Ave
Calyer is a beautiful eatery and Clinton Hill coffee shop that is loved by locals and for good reason. It's a local cafée with the spirit of a five-star restaurant. And thanks to the beans from Partners Coffee Roasters, this café has some of the greatest and strongest coffee in Clinton Hill!
While the coffee here is highly recommended, the greatness of Calyer lies with their salads and sandwiches. Expertly crafted sandwiches like their Chicken Tinga and Chori (breakfast) are perfectly layered and put on skillfully toasted bread. And delicious salads like their Balsamic Green and Vegan Kale Caesar are great if you're need of something light and healthy.
Thanks to its five-star quality and beautiful design, Calyer is not only the perfect spot to pick up some coffee in Clinton Hill – but also a great café in Clinton Hill to grab some healthy breakfast and lunch to either eat on sight or order to go!
Brooklyn Roasting Company
Address: 200 Flushing Ave
A lovely Brooklyn-based Clinton Hill coffee shop on the edge of Navy Yard, Brooklyn Roasting Company offers high-grade coffee with great atmosphere to match.
And when it comes to their beans – Brooklyn Roasting means business. It's all about organic and fair-trade with this Clinton Hill coffee shop, making sure that there is an equal amount of effort put into sourcing coffee as they do when serving in the store.
Outside of their awesome coffee and cold brew, Brooklyn Roasting also offers some superb pastries and baked goods as well – making it an excellent spot for picking up some quick breakfast and coffee in Clinton Hill.
Because it's resting on the quieter end of the borough, this café serves as a nice little getaway from the city madness and perfect choice for working and studying! And because this is located next to the film studios in Navy Yard, perhaps you may even spot a celebrity. You never know.
Best Coffee Shops in Clinton Hill (Post Summary):
Prima Brooklyn
Guevara's
Clementine Bakery
Otway Bakery
The Good Batch Bakery
Peck's
TB Coffee House
BKG Coffee Roasters
Sweetbee
Calyer
Brooklyn Roasting Company
---
About the Author
Eric Garner is a Brooklyn-based writer who was raised down South who loves talking about film, TV, hip-hop, and fashion.
---
Did we miss your favorite Clinton Hill coffee shops? Let us know in the comments below!