Looking for the best cafes in Crown Heights to check out? This guide has got you! From the best coffee in Crown Heights to breaking down each of these cafes and coffee shops for those looking for a great place to grab a bite to eat, a 24-hour spot to get your caffeine fix in the middle of the night, a place to bring your laptop and work a bit, or those looking for a quick grab and go spot – you'll find it here!
Spoiler alert, there are tons of great places to eat in Crown Heights and many of these cafes are no different. So next coffee date or work day – this guide will help you where to enjoy your next cup of joe at. Be sure to also check out all the best things to do in Crown Heights too.
Crown Heights Coffee Shops to Check Out
Little Zelda
Address: 728 Franklin Ave
This tiny coffee shop is known for having some of the best coffee in Crown Heights which they get from local coffee roasting company Partner's Coffee (Formally known as Toby's Estate). Their honey vanilla oat iced lattes are particularly tasty along with their other coffee drinks available, the iced chai tea latte is also great here. Zelda also serves some must-try baked treats like as their cardamom buns.
This Crown Heights coffee shop is great for artists who want to hang out and converse with other creative types — or strangers in general. Although, if you're a local and a regular you can join their community and loyalty program where you punch your card each time you visit!
There isn't a lot of seating, but the shop does offer outdoor seats in addition to the few inside. But, grabbing a coffee here is just a great excuse to walk around the neighborhood with your coffee in hand. Offering some of the best vibes and coffee in Crown Heights, Little Zelda is a charmingly tiny coffee shop with a whole lot of heart!
Coffee Spot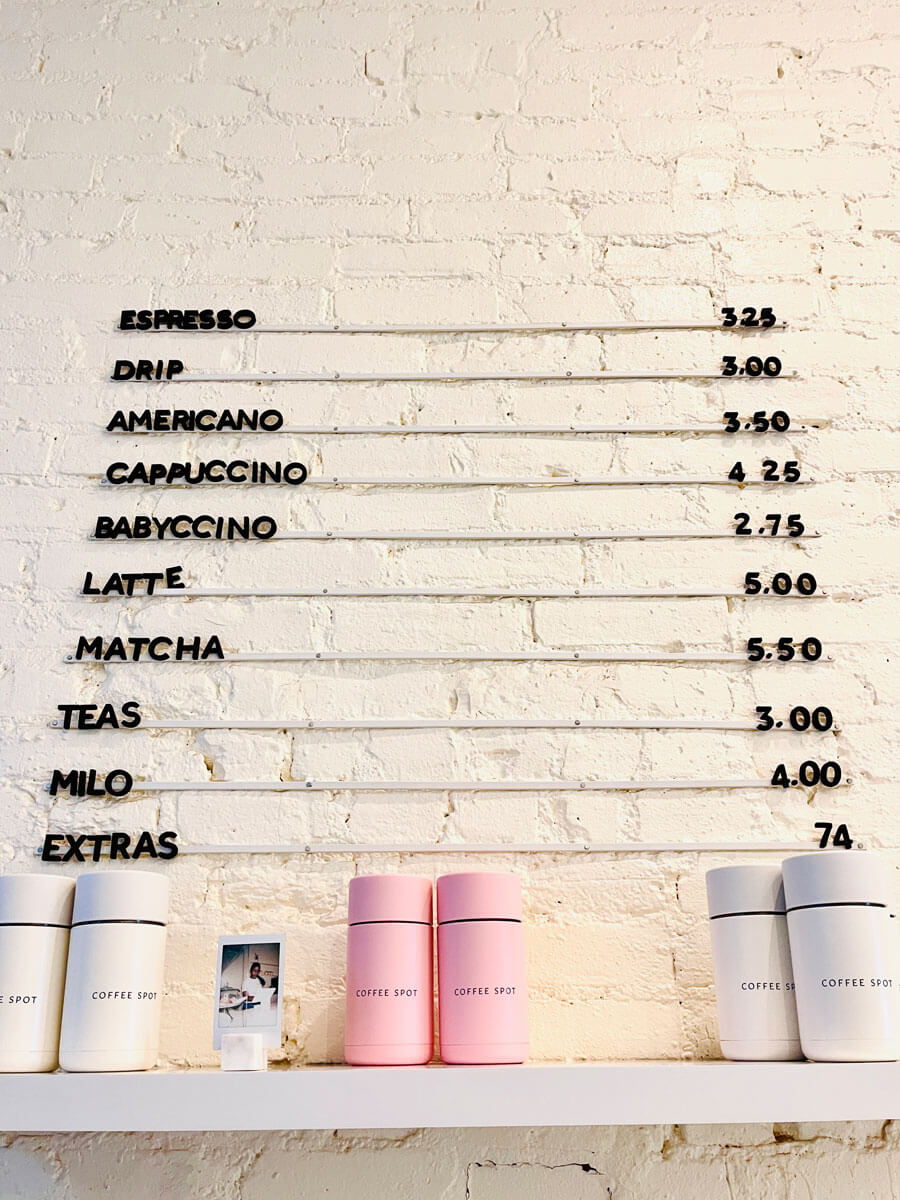 Address: 679 Classon Ave
Coffee Spot is a Black-owned (and woman-owned) Crown Heights coffee shop that is aesthetically gorgeous and serves food and coffee from local retailers including Stumptown Coffee, King David Tacos, King Street Baking Co., and Balthazar Bakery & Bellocq Teas.
The shop itself takes a minimalistic approach in its design that works really well. The pink decor manages to be both simple and visually stunning at the same time. Coffee Spot is also one of the friendliest cafes in Crown Heights, everytime I've been it's been stand-out customer service.
This is a great spot to grab coffee on the go, Coffee Spot is a Crown Heights coffee shop striving to uplift the community one cup of Joe at a time!
Colina Cuervo
Address: 759 Nostrand Ave
First thing you should know about Colina Cuervo is that — the food here is impeccable! In fact, this Latin-American Crown Heights coffee shop offers what is arguably some of the best breakfast food in Brooklyn and one of our picks for best spots for brunch in Crown Heights too!
Highlights from their menu include their cheese and guava empanadas, crispy eggplant sandwiches, pancakes and poached eggs. From the quality of food here, you can definitely tell the owner Jorge Salamea is very passionate about delivering great cuisine. Serving beans from Counter Culture Coffee, the Joe here packs a punch. For coffee drinks, check out their horchata latte!
A great spot for a Sunday brunch with friends, Colina Cuervo is an excellent choice as far cafes in Crown Heights go too, which is perfect any day of the week. There is space inside to sit and dine as well as a few sidewalk tables outside.
Cafe Con Libros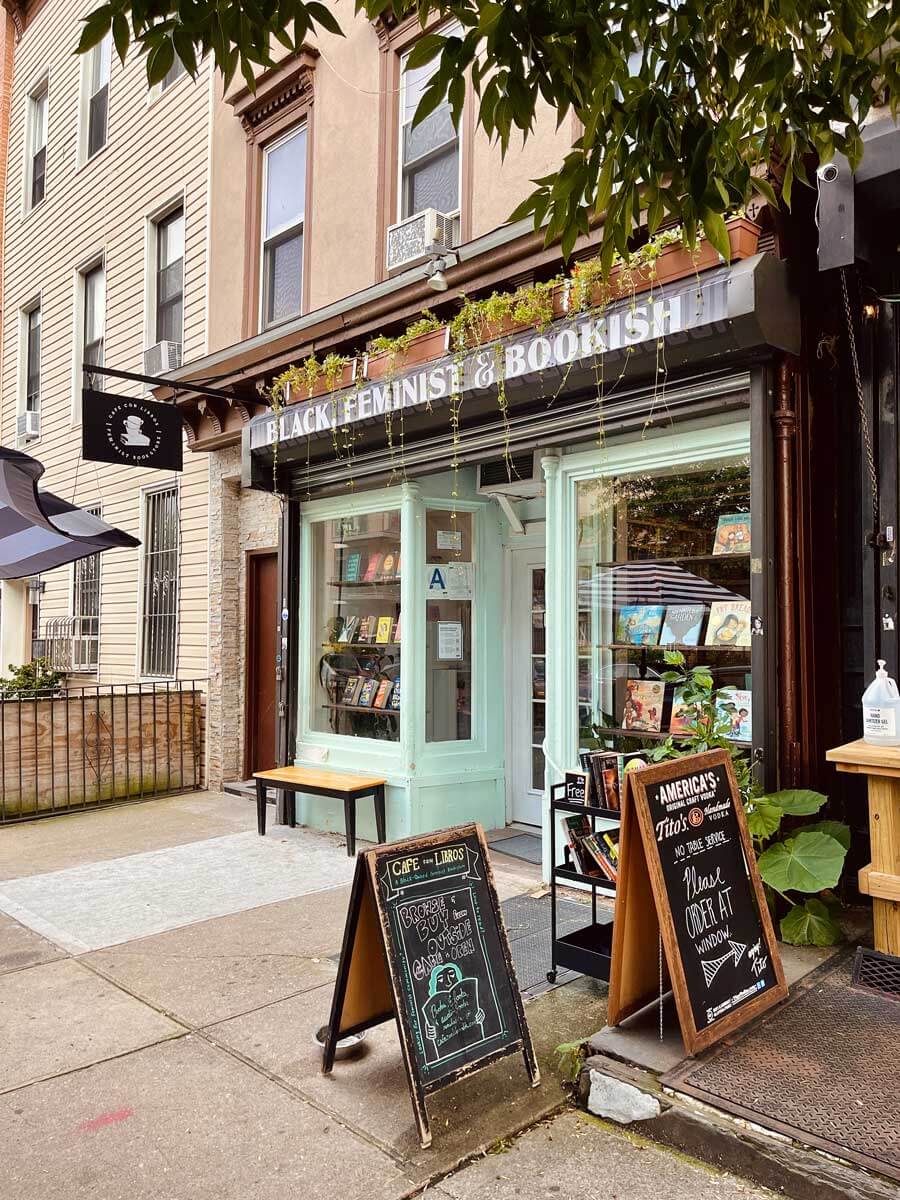 Address: 724 Prospect Pl
Acting as both a Crown Heights coffee shop and one of the best book stores in Brooklyn, Cafe Con Libros has plenty to offer. This part cafe, part book store specializes in intersectional feminist reads that are all-inclusive in their empowerment and dedicated to the stories of Womxn and girls of all identities.
They also offer a Feminist monthly book club subscription too if you're looking for your next feminist read to arrive at your door without even thinking about it!
Also serving up fairtrade coffee drinks and teas – and some of the best espresso drinks and coffee in Crown Heights, Libros has you covered in the caffeine department. They get their coffee beans from NYC coffee roaster Irving Roasting Farm. The staff here is pretty amazing as well and is sure to give you a helping hand as you navigate through their carefully curated collection of books.
One of the best cafes in Crown Heights, Café Con Libros is a great spot to visit if you're looking for good coffee — as well as a good read. If you want to help support a local space, give this place a look!
Chocolatte Espresso Bar
Address: 792 Eastern Pkwy
This cool spot for coffee in Crown Heights (and kosher food) has not one but two locations serving up locally roasted coffee using 80plus Specialty Coffee alongside their delicious delectable treats!
The Eastern Parkway location of Chocolatte Espresso Bar is located in the same building as the Jewish Children's Museum. This is the only café in Crown Heights that is open 24 hours from Sunday through Thursday, so it's particularly great for students who need to get in some late night studying.
This place tends be pretty busy, so be prepared for a possible full house — even during late hours. It's still worth it, if you're in need of some late-night coffee in Crown Heights!
Chocolatte also has its very own app, allowing customers and patrons the ability to order ahead of time!
Daughter 
Address: 1090 St. Johns Pl
Daughter is one of those places that truly has it all. Cafe by day with delicious pastries, breakfast sandwiches and more that then transitions to great dining for lunch followed by being a great spot for wine and beer in the evening. Not to mention it is very aesthetically pleasing and affordable!
Just like mentioned above about Daughter having it all, it not only makes for a great working space but it also makes for a great spot to meet a friend (or a group of friends) or take yourself on a date. The indoor is covered with cement benches (that are actually more comfortable than they sound) and the outdoor offers small tables under a large tree.
Daughter is open every day from early until late. The opening and closing hours vary so make sure to check the hours before visiting. Both indoor and outdoor seating are available.
Lincoln Station
Address: 409 Lincoln Pl
Lincoln Station is a great spot for coffee in Crown Heights close to Brooklyn Botanic Garden and Brooklyn Museum, making it the perfect stop pre or post museum/garden exploring. Not only serving up food and coffee, but also boozy drinks like beer!
While the drinks here are pretty good, the breakfast sandwiches are the real standouts here. Especially the bacon, egg and cheese! For those visiting more around mid-day you can check out their selection of soups, sandwiches, and salads. Lincoln Station also serves up La Colombe coffee for their drinks.
The service here is quick, even during its busy hours. This Crown Heights coffee shop offers both indoor and outdoor seating, giving patrons plenty of opportunities to snag a seat and creating the perfect environment to work if that's on your agenda for the day.
Offering plenty of great food and space, Lincoln Station is one of the best cafes in Crown Heights if you're looking to sit down for a bit with good vibes. Not to mention, their prices are pretty reasonable for NYC.
Cafe Cotton Bean
Address: 1077 Bergen Street
A local favorite, Cafe Cotton Bean is frequently visited by its Crown Heights residents for its reliably good food, pastries and not mention their coffee which is made using beans from a local underground coffee roaster Parlor Coffee. Although the matcha lattes are highly recommended here, their cappuccinos and iced lattes are also worth mentioning and should not be slept on.
This Crown Heights coffee shop goes for the minimalistic approach as far as style and design. Complete your coffee in Crown Heights visit with one of their food items like a sandwich or one of their baked goods.
This place is a nice local shop that deserves more attention. So, if you're in the neighborhood and haven't already — give Cafe Cotton Bean a shot!
Café Cotton Bean is another café that allows you to order ahead of time through their main site. Be sure to check out their website for more details.
Almah Cafe
Address: 87 Utica Ave
One of the smaller cafes in Crown Heights – Almah Cafe makes up for its size with its consistently fresh food and baked goods, as well as its service that goes above and beyond to making patrons feel warm and welcome! Oh did I forget to mention that this is another kosher-friendly cafe in Crown Heights?
This spot not only for coffee in Crown Heights, but the food, the owners are the same behind Mama's Kitchen, so you know it's good. Dishes like their Khachapuri, a bread with an egg and cheese-filled center is a satisfying Georgian dish or a Jerusalem bagel with a baked egg in the center – yum.
Almah Cafe also offers outdoor and indoor seating, making this a nice café to visit if you need to work on your laptop or read a book.
Lakou Cafe
Address: 195 Utica Ave
This Crown Heights cafe is not only one of the best cafes around, but it's also a community space fusing Haitian styles of food with the traditional. Lakou Cafe is Black-owned and serves vegan-friendly dishes such as their vegan meatballs and mushroom sandwiches — which are drenched in flavor!
Even though Lakou Cafe has a lot of great plant-based options, they do have meat-oriented dishes as well. It's worth noting that while there are breakfast and brunch items, they have a full menu to eat any meal throughout the day including sweet and savory crepes plus egg based breakfast items from sandwiches to plates as well as sandwiches, soups, and salads throughout the day.
Lakou Cafe also has a nice selection of smoothies too. Moving on to the drinks, you can find some great fresh made juices, espresso-based coffee drinks, drip coffee, iced coffee, and even kava-based drinks.
Lakou is also known to host open mics, workshops, trivia nights and comedy shows. Check out their Instagram for any recent updates and announcements for anything coming up. You have to love that this spot for great coffee in Crown Heights is also a great spot all throughout the day!
Best Coffee Shops in Crown Heights (Post Summary):
Little Zelda
Coffee Spot
Colina Cuervo
Cafe Con Libros
Chocolatte Espresso Bar
Daughter
Lincoln Station
Cafe Cotton Bean
Almah Cafe
Lakou Cafe
---
About the Author
Eric Garner is a Brooklyn-based writer who was raised down South who loves talking about film, TV, hip-hop, and fashion.
---
Did we miss your favorite Crown Heights coffee shops? Let us know in the comments below!