Did you know that there are enchanting castles in New York? You don't have to travel far or abroad for dreamy and enchanting castles, check out these New York castles that feel straight out of a fairytale, some of which you can actually stay at too!
We all could use a little escapism sometimes, so these castle-like properties are the perfect way to get that castle experience and whisked away in these fairy tale type properties!
Want to make a weekend getaway from NYC? Check out our guide to the best Airbnbs in Upstate New York and make a road trip out of seeing all these cool New York castles while staying in a unique stay from treehouses to geodesic domes to gorgeous secluded cabins!
New York Castles to Check Out
Boldt Castle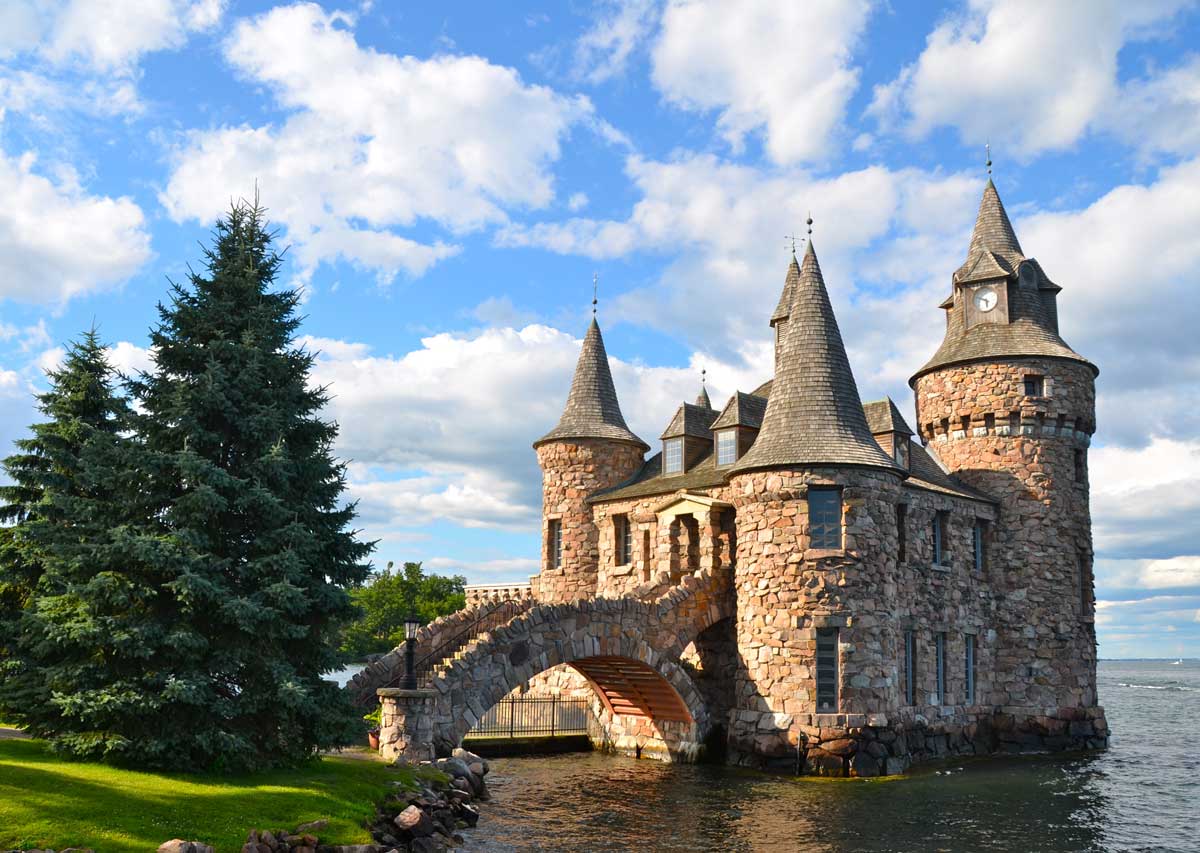 Millionaire George C. Boldt began construction of an extravagant six-story, 120-room New York castle, fashioned with passageways, gardens, an alster tower, dovecote, and drawbridge at the turn of the century.
He intended to erect the lavish castle for his beloved wife, Louise. However, in 1904 Louise unexpectedly passed away, leaving Mr. Boldt heartbroken. He called for the construction of the castle to come to an immediate halt, and he never visited the island again.
The grand castle was a monument to George C. Boldt's love but stood neglected until 1977. Since the Thousand Islands Bridge Authority's acquisition of the castle in 1977, the Boldt Castle has undergone renovations and improvements.
Located on a small island called Heart Island, near Alexandria Bay, New York, this beautiful castle is a must-see for New York travelers heading upstate.
You can visit the restored castle on Heart Island for $10 per adult and for $7 per child (ages 5-12). As the castle is located on an island, it is only accessible by boat. For information on how to access the island and explore the castle, visit Boldt Castle's website.!
Belvedere Castle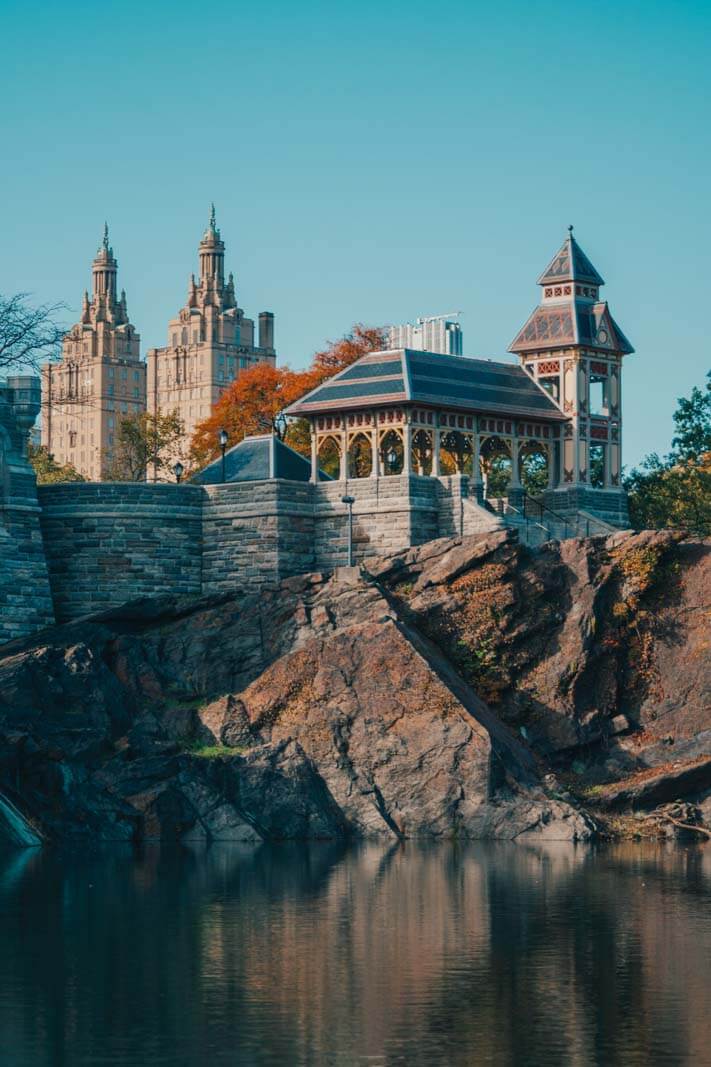 Although most of the grand castles in New York are located upstate, we would be remiss to leave out one of New York City's very own castles. Located in lush Central Park, the Belvedere Castle has been perched atop Vista Rock since its construction in 1869.
The castle provides visitors with breathtaking views of Central Park and the goings-on in bustling Manhattan. Belvedere Castle is truly a hidden gem within the packed city and is open to visitors from 9:00 am to 7:00p m during the summer, and from 10:00 am to 5:00 pm during all other seasons.
Inside, visitors can take in the castle's sweeping views, as well as visit the visitor center and gift shop. For more information on visiting the Belvedere Castle, you can visit Central Park's website.
Oheka Castle

Built atop the highest point on Long Island in 1919, Oheka Castle is the second-largest private home ever built in the country, and it's one of the most remarkable castles in New York.
The French-inspired 109,000-square-foot estate was constructed by Otto Hermann Kahn on a 443-acre plot of land in Huntington, New York. The castle was the site of extravagant and luxurious parties hosted by Kahn, until his death in 1934, and even served as an inspiration to F. Scott Fitzgerald for his novel The Great Gatsby.
Oheka Castle is located in Huntington, New York, making it the perfect day trip from NYC or anywhere on Long Island!
Today, the lavish castle operates as an event space and hotel. Tours of the historic mansion are offered daily starting at 11:00 am, for $25 per adult, $20 per senior, and $5 per child aged 12 and under. There are discounted tickets for $15 per person with a valid student ID as well as for hotel guests.
For more information on visiting and touring the Oheka Castle, visit their website.
Dundas Castle aka Craig E Clair Castle
Dundas Castle, also known as Craig-E-Clair Castle, is a charming and mysterious stone castle nestled in the lush forests of the Catskill Mountains near the town of Roscoe.
No one really knows the complete history of this New York castle, making it an enigmatic and alluring site. Ralph Wurts-Dundas gained possession of the land in 1915 and began the construction of the castle soon thereafter.
However, Dundas passed away in 1921 as the castle approached completion. Dundas's wife was committed to a sanatorium soon after his death, and the castle's possession and management changed several times with an abundance of drama and mystery. No member of the Dundas family ever resided in the namesake castle.
The Masons took over the castle at some point in its illustrious past, and they hold claim to the castle even today. However, Craig-E-Clair Castle is no longer used, and sits abandoned, decaying.
Located in Roscoe, New York, not far from the Pennsylvania border, the abandoned castle is not open to the public but can be visited if you make an appointment with the owner.
Bannerman Castle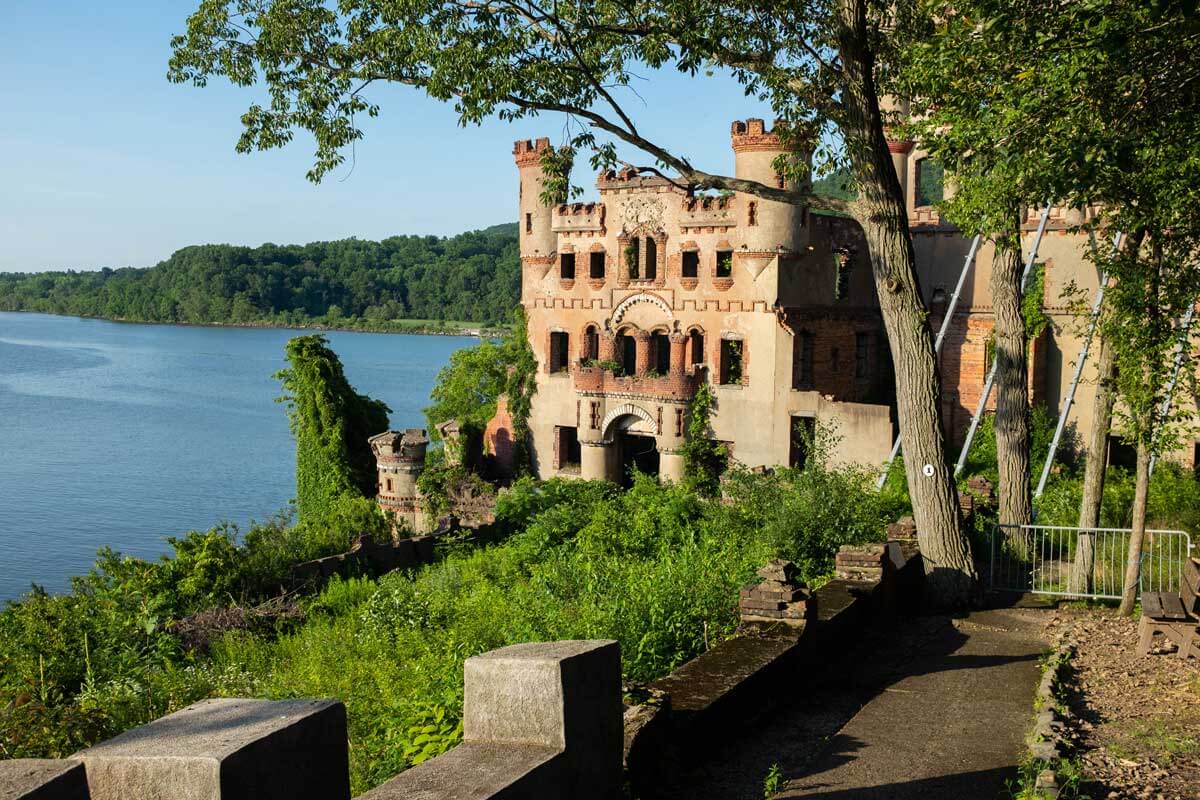 Situated on Pollepel Island in Dutchess County, New York is the historic Bannerman Castle. David Bannerman, a Scottish immigrant, noticed the small island in the Hudson and began construction of the Scottish-inspired castle in 1901.
Although the residence itself is no longer open to the public, there are many special events and tours that take place around the island.
Bannerman Castle is just off the coast of the Hudson Highlands State Park, making it the perfect trip for some nature and seclusion. For more information on the many tour options and special events happening around this New York castle on Bannerman Island, visit the official castle website.
Lyndhurst
In Tarrytown, New York, the Gothic Revival architecture of Lyndhurst overlooks the glittering waters of the Hudson River. This stunning New York castle, designed in 1838 by Alexander Jackson Davis, has been home to some of New York's most influential residents over the years.
Today, Lyndhurst hosts an array of special events, and is open for tours of the magnificent mansion and strolls around the 67-acres of land.
Only an hour drive from New York City in the Hudson Valley, and even accessible by public transit, Lyndhurst is a quick trip from the hustle and bustle of the city.
You can visit the grounds from 9:00 am to 5:00 pm, for $10 per person when visiting by car. There are tour options for every group's interests. For more information on these tours, click visit Lyndhurst's website to plan your visit.!
While you're at it, be sure to check out the best hikes near NYC as many are located around here to add on to your castle visit!
Singer Castle
Located on Dark Island in the St. Lawrence River in upstate New York is the 115-year-old Singer Castle. You can either take a shuttle or a boat ride to the island to tour the intricate castle.
For information on boat rides check out US Boat Tours website. Once you've docked on Dark Island, you can take a 45-minute guided tour through four floors of history and beautiful architecture.
The tour will take you throughout the castle, giving you a peek at its grand rooms and mystifying secret passageways. Tickets for the tour cost $14.25 per adult and $7.25 per child ages 4 and up, with discounts offered to military families.
Dark Island in the St. Lawrence River is just over the U.S.-Canadian border, making it a great stop on a weekend trip to Ottawa!
Visit New York's Singer Castle Monday through Friday from 10:00 am to 1:00 pm, or weekends from 10:00 am to 4:00 pm. For more information on how to visit Singer Castle's website.!
Castle Williams (on Governors Island)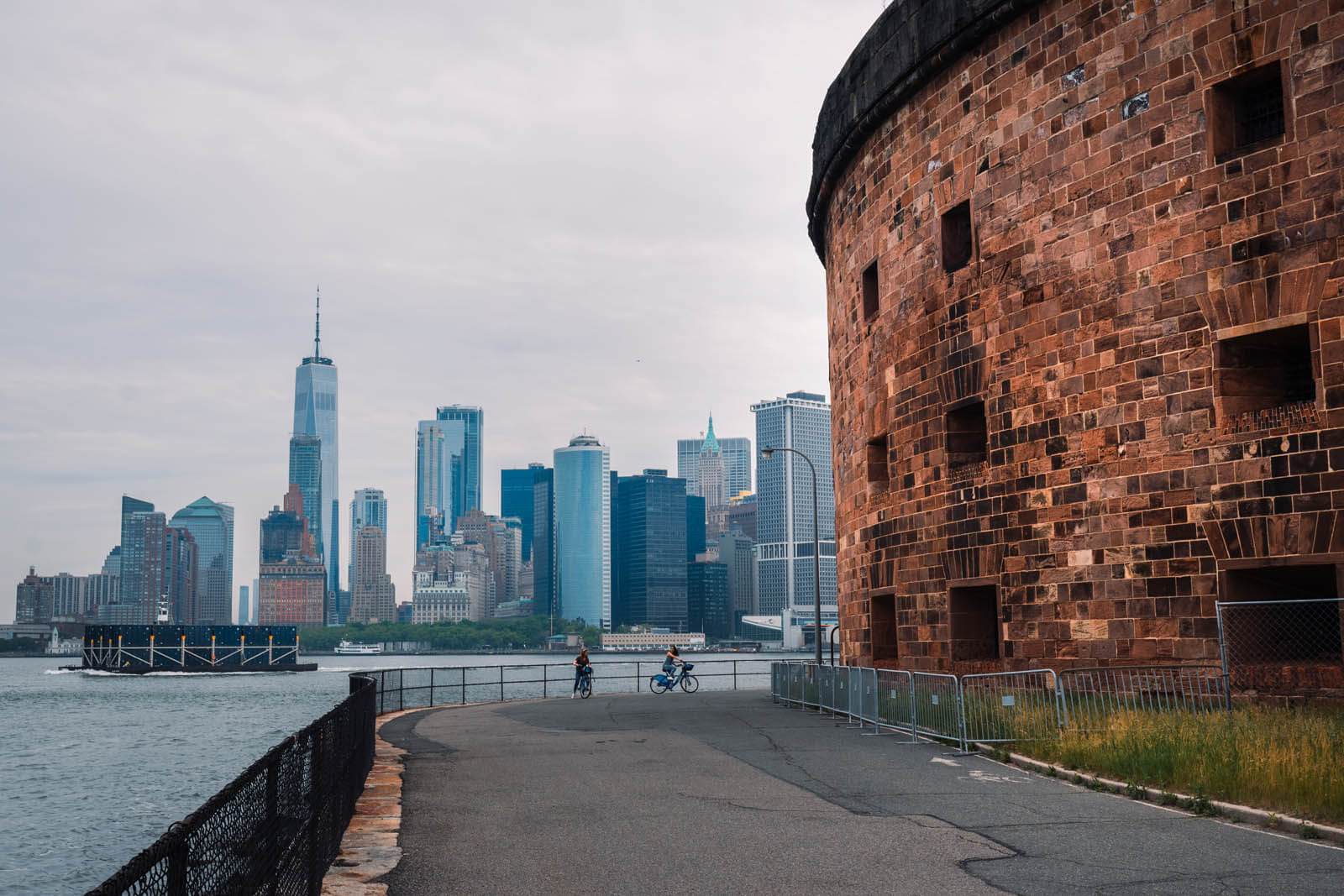 Take a ferry ride down to Governors Island off the southern tip of Manhattan and across the Buttermilk Channel from Brooklyn and visit Castle Williams.
Designed and constructed between 1807 and 1811, this castle is actually a circular fort built for defensive protection.
However, its utilization as a fort ceased around the 1830s, and evolved to be used as a military prison during the Civil War and up until 1965. Today, Castle Williams resides within the Governors Island National Monument boundaries, and is open to the public Monday through Friday from 10:00 am to 4:30 pm, and weekends from 10:00 am to 5:00 pm.
Although there is no charge to visit Governors Island and Castle Williams, you'll need to purchase ferry tickets to reach the island, which will only set you back around $2. See our full guide to the best things to do at Governors Island to plan your visit!
Castle Williams is also a part of one of the national parks in New York!
Mohonk Mountain House
Built in 1869 on a stunning glacial lake in the Hudson Valley, the Mohonk Mountain House is a New York castle created with relaxation and renewal in mind and is one of the best weekend getaways in the Catskills.
Today, the beautiful Victorian castle functions as an all-inclusive resort. With meals, indoor and outdoor recreation, and holistic activities and services included in your stay, this castle resort is a rejuvenating oasis.
If you aren't committed to a full weekend getaway, there are options for day visits, so you can visit the spa, hike the gorgeous grounds, or sneak in a few holes on the golf course.
Mohonk Mountain House is the perfect castle for a relaxing weekend upstate. To start planning your visit to the Mohonk Mountain House, you can review rates and book a reservation here.
Olana Castle
View this post on Instagram
The famed landscape artist Frederic Church and his family called the extraordinary Olana Castle home in the middle of the 19th Century. Olana boasts 250 acres of gorgeous landscape and the Victorian and Middle-Eastern-inspired castle perched atop a hill and overlooking the Hudson River.
Only a 45-minute drive from Albany, you can visit this marvelous castle in New York and then head up to the state's capital city!
You can visit the Olana Castle and grounds daily from 8:00 am until sunset, at no cost. Guided tours of the castle are also available for an additional fee. For tour and ticket information, click check out Olana Castle's official website.
Belhurst Castle
Another gorgeous castle in New York that you can stay in! Built on land that exchanged hands several times and which holds a varied and colorful history, Belhurst Castle was constructed from 1885 to 1889.
During prohibition, the Belhurst Castle functioned as a speakeasy, casino, and supper club, offering a vivacious refuge to its patrons.
Located upstate in Geneva, New York on the north end of Seneca Lake in the Finger Lakes, the gorgeous Romanesque Revival style castle still stands today and is utilized as a resort, with a spa, winery, and restaurants for guests' enjoyment.
To book your stay at this storied New York castle, you can review rates or book your stay here.
Beardslee Castle
View this post on Instagram
Beardslee Castle was constructed by Augustus Beardslee in 1860 and was designed to resemble castles in Ireland. During its 160-year tenure, this New York castle has survived two fires.
Today, the castle operates as a restaurant and event venue in Little Falls, New York. There are reports of paranormal activity within the walls of the Irish-inspired castle, making it the perfect destination for history enthusiasts, architecture admirers, ghost hunters, and foodies alike.
To visit the hauntingly beautiful Beardslee Castle, you can reserve your table for dinner Friday through Sunday from 5:00 pm to 9:00 pm, or book your next event there!
For more information on reservations, visit Beardslee Castle's website. After dinner at the castle, you can drive an hour to the charming town of Saratoga Springs, a true gem of the Adirondack mountain range.
Wing's Castle
View this post on Instagram
Only 75 miles north of Brooklyn and NYC is one of the more contemporary castles in New York. Artists Peter and Toni Ann Wing began constructing Wing's Castle in 1970, and continue to build and adapt the stunning stone castle to this day.
This New York castle is still home to the Wing family which has been featured on television shows like HGTV's Extreme Homes, and additionally operates as a bed and breakfast for guests. Guided tours of the castle are available even to non B&B guests for a fee.
For more information on visiting the charming Wing's Castle, you can check out their website.!
Castle Rock in Garrison
View this post on Instagram
Perched upon a hill, gazing over the Hudson in Garrison, New York, is Castle Rock. Built in 1881, the castle sits on 129 acres of land in the Hudson Highlands. It was once the estate of former Illinois Central Railroad president, William H. Osborn.
The drive winding up to the residence, as well as the castle itself, are no longer open for public visitation. However, the surrounding grounds are open year-round for hiking, primitive camping, and taking in the glorious flora and fauna.
Castle Rock is only about an hour and a half drive from NYC and is accessible by the Hudson Line from Grand Central Station. For more information on visiting Castle Rock for some outdoor adventure, visit this website.
Castle Gould
The first of four mansions built on the Sands Point Preserve on the original Guggenheim estate is Castle Gould. Designed in 1902, this castle was inspired by the Kilkenny Castle in Ireland. You may recognize the name Guggenheim too as the world-famous Guggenheim Museum in Manhattan is one of the most famous museums in NYC.
The castle occupies 100,000 square feet, and is now a gorgeous location for special events, and tours.
Located on Long Island, Castle Gould is perfect for a quick trip out of the city. For more information on current programs and events, as well as information on planning your trip to Castle Gould and the Sands Point Preserve, you can visit their website for more information.
---
Found this guide to enchanting castles in New York helpful or inspiring? Be sure to bookmark for later or share the love below on Pinterest!