Looking for the best cheap eats in NYC? This guide has got you covered. A far too common response when you tell someone that you live in New York? "Oh, I could never live there — it's just so expensive." And you know what…they're often right!!!
It's all fun and games until a dollar slice is no longer a dollar, my friends. Luckily, New York isn't all Sweetgreens and Serendipity (for the uninitiated, it's the home of a very expensive ice cream sundae). There are plenty of intensely delicious cheap food in NYC – if you know where to look.
Follow along for just a few of the best places to grab satisfying, well-made meals that show off New York's culinary prowess — all for $15 of less. And while there are always new hidden gems to be found, that's the beauty of exploring the city's cheap eats scene — it's impossible to try them all. But the journey sure will be delicious!
And if you're living or visiting NYC on a budget, don't worry we have more penny-pinching guides for you including the best affordable hotels in NYC and the best cheap date nights in NYC!
Best Affordable Restaurants in NYC
The Halal Guys
View this post on Instagram
6th Avenue and West 53rd Street
Now a veritable landmark for cheap eats in NYC, The Halal Guys have built an empire from their Midtown food cart, originally opened in 1990. While they began as a hot dog stand, they changed gears to authentic halal food to cater to their Muslim clientele, many of whom were taxi drivers fueling up between shifts.
While they've grown so much in popularity to expand to locations all over the city, it's worth visiting the original cart for the true Halal Guys experience. We recommend the Chicken Gyro Sandwich and some baklava on your journey to find cheap food in NYC.
Los Tacos No. 1
View this post on Instagram
Multiple locations: Times Square: 229 West 43rd Street, Grand Central: 125 Park Ave, Chelsea Market: 75 9th Avenue, NoHo: 340 Lafayette Street, TriBeCa: 136 Church Street
Yes, we know, the East Coast isn't as well-regarded as Southern California for the best in Mexican cuisine. But you shouldn't ignore Los Tacos No. 1, started by three friends from Tijuana and some of the best cheap eats in NYC and the best Mexican food on the East Coast.
With frequently-packed locations all over the city, drop in for delightful (and affordable!) Carne Asada Tacos and Adoba Quesadillas. Oh and their QuesaTaco Adobada is something you're going to want to try.
Don't forget to pick up some Agua Fresca or specialty Mexican sodas to complete your meal! And don't worry about the line, it moves swiftly.
The Original Chinatown Ice Cream Factory
View this post on Instagram
65 Bayard Street
When you're looking for dessert, it can be surprisingly tricky to find cheap restaurants in NYC (just ask any New Yorker trained not to blink at an $8 cookie!). Head over to the Original Chinatown Ice Cream Factory for incredibly tasty frozen flavors, including Thai Iced Tea, Mango, and Black Sesame. Open for nearly four decades, the team at the Original Chinatown Ice Cream Factory has one simple secret to their success – as they put it, "ice cream making is in our genes."
Bunna Cafe
View this post on Instagram
1084 Flushing Avenue, Brooklyn
One of the best affordable restaurants in NYC, Bunna Cafe serves up incredible, plant-based Ethiopian fare in a beautiful bar and dining room. We recommend trying the lunch special, where you can choose 4 items from selections like Shiro (ground chickpeas), Fasolia (string beans and carrots), Keysir Selata (chilled sauteed beets) and Misr Wot (red lentils).
Gray's Papaya
View this post on Instagram
2090 Broadway
Our list of the best cheap eats in NYC wouldn't be complete without at least one hot dog joint, and Gray's is the place to go for classic franks and tropical juice. Founded in 1973, the award-winning hot dog spot features cheap food in NYC combos like the Recession Special (two franks and a medium tropical drink for $6.95 including tax!) or the Addicted to Gray's (three franks plus a large tropical drink for $9.95!). Sure beats the prices at Yankee Stadium…
Tasty Hand Pulled Noodles
View this post on Instagram
1 Doyers Street
Another excellent choice for affordable restaurants in NYC and Chinatown gem, Tasty Hand Pulled Noodles delivers on its name and then some! We recommend trying the Pork Bone Noodle Soup, Shrimp Sumai Noodle Soup, the Pan Fried Beef Noodle, or the spicy Shrimp in Szechuan Sauce. Tasty Hand Pulled Noodles also has great outdoor seating area for warm weather dining!
Scarr's Pizza
View this post on Instagram
22 Orchard Street
One of our favorites for cheap eats in NYC, Scarr's provides a perfectly 70s throwback slice experience, complete with wood-paneling, old-school red trays, and mugs of beer. We recommend their classic Pepperoni slice or the Grandma slice and a Stella Artois on tap! And for a full list of our favorite slice joints, don't forget to check out the best pizza slice in NYC guide!
Harlem Shake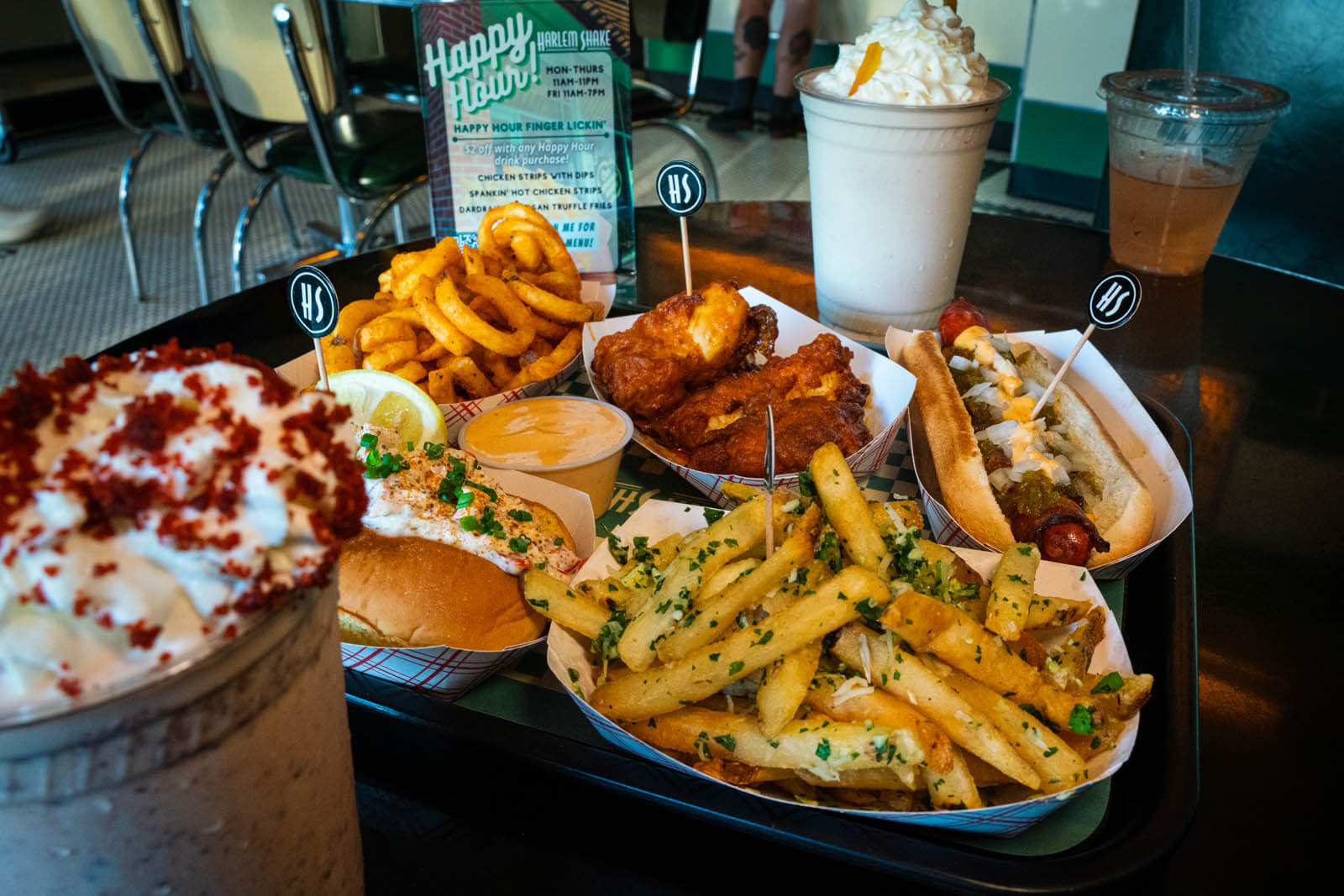 Original: 100 West 124th Street, Park Slope: 119 5th Avenue, Brooklyn
Known for their top-notch, Pat La Frieda burgers and perfectly spun Blue Marble ice cream shakes, Harlem Shake is one of the best cheap eats in NYC. Their interiors pay homage to the legacy of Harlem's culture and community on New York at large, with a "Wall of Fame" featuring over 200 autographed headshots of notable creatives like Janelle Monae and Maya Angelou and vintage JET magazine covers.
We recommend trying the Hot Mess (classic burger with pickled cherry pepper and bacon relish, American cheese, and smoky chipotle mayo) and the other-worldly Salted Caramel Shake or the 'Harlem Shake' which is red velvet flavor with real cake in it – it's divine. Also, they do all kinds of seasonal specials, whatever you try here is going to be some of the best quality cheap food in NYC.
Xi'an Famous Foods
View this post on Instagram
Many locations throughout the city
While we'd usually steer you away from chains, on our quest for delicious yet cheap restaurants in NYC we'd be remiss not to include the well-established Xi'an Famous Foods, known for their incredible Chinese cuisine and legendary chili oil/crisp combination.
We recommend trying the Spicy and Sour Pork Dumplings, Spicy Asian Cucumber Salad, and Spicy, Sour Spinach Dumplings, and Spicy Hot-Oil Seared Hand Ripped Noodles. A meal at Xi'an is the kind you won't soon forget on your journey for delicious cheap food in NYC.
Calle 191 Pescaderia
1609 St Nicholas Ave
A hidden gem in Washington Heights, Calle 191 Pescaderia is a seafood market and outdoor sit-down cafe known for their Caribbean-style dishes like Crab Meat Creole, Shrimp Mofongo, and fish soup, all for well under $15 – making it one of the best affordable restaurants in NYC.
Mamoun's Falafel
View this post on Instagram
119 MacDougal Street, 30 St Marks Place, 508 Columbus Ave
Now a veritable empire, Mamoun's has been delighting New Yorkers with authentic Middle Eastern cuisine for over 50 years. A must on your search for the tastiest cheap eats in NYC, Mamoun's is known for their Shawarma sandwiches, Chicken Kebab, and of course, their Falafel. Complete your meal with their Tabbouleh or signature Hummus and Pita chips!
Pomme Frites
View this post on Instagram
128 MacDougal Street
A favorite among NYU students seeking cheap food in NYC, Pomme Frites is known for their Belgian-style fries with savory sauces like Black Truffle Mayo, Samurai Spicy Mayo, and Sweet Mayo Chutney. And before you tell me that fries aren't a meal, try one of their many poutines…I guarantee that you won't be able to eat anything else afterwards!!
Fried Dumpling
View this post on Instagram
106 Mosco Street
One of the best affordable restaurants in all of the Big Apple, Fried Dumpling offers up a small but well-curated and high-quality menu. Try the hot and sour soup, fried pork buns, and fried dumplings for less than the cost of what it would take to cook them yourself. And if you're craving their top-notch fare at home, snag some frozen dumplings to take with you!
Empanada Mama
View this post on Instagram
765 9th Avenue, 95 Allen Street
Empanadas are truly a perfect food. Portable, tasty, and full of endless possibilities, Empanada Mama does justice to its name and serves up homestyle cooking with prices that won't make you need to call home for money. We recommend the Cuban Empanada, Shredded Chicken Empanada, and Pernil Empanada on your cheap restaurants in NYC journey.
La Bonbonniere
View this post on Instagram
28 8th Ave
A cash-only, cheap eats in NYC standard, La Bonbonniere is a classic West Village luncheonette with incredible burgers, sandwiches, and breakfast dishes, including the signature French Toast and piled-high bacon.
And while we're here… luncheonettes and diners are one of the great secrets to finding cheap restaurants in NYC. Be sure to check out our guide to the best diners in NYC here! Oh, almost forgot to mention, this is a Marvelous Mrs. Maisel filming location for Midge fans!
Taqueria St Marks
View this post on Instagram
79 St Marks Place
A lively, cheerily-lit setting, Taqueria St Marks is one of the best affordable restaurants in NYC when you want to dine out with friends without sweating over the bill (or who owes what!). We recommend their Margarita de la Casa (at $8, a veritable steal!!), the Chorizo Taco, Carnitas Taco, and the Papa Flauta. Make sure to split a side of Guacamole and chips for only $7.95!
Arepa Lady
View this post on Instagram
Jackson Heights 77-17 37th Ave, Queens & Downtown Brooklyn 445 Gold Street, Brooklyn
Maria Piedad Cano is the Arepa Lady – but she should be known as the Arepa Queen. The New Yorker, originally from Medellin, Colombia rose to fame by selling her incredible arepas from a street cart in Queens. As word spread, Cano and her sons were able to expand to two permanent locations in Jackson Heights and Downtown Brooklyn, where visitors seeking some of the best cheap eats in NYC can expect to try the signature stuffed arepas as well as Colombian favorites like Carne Asada Patacon.
Peppa's Jerk Chicken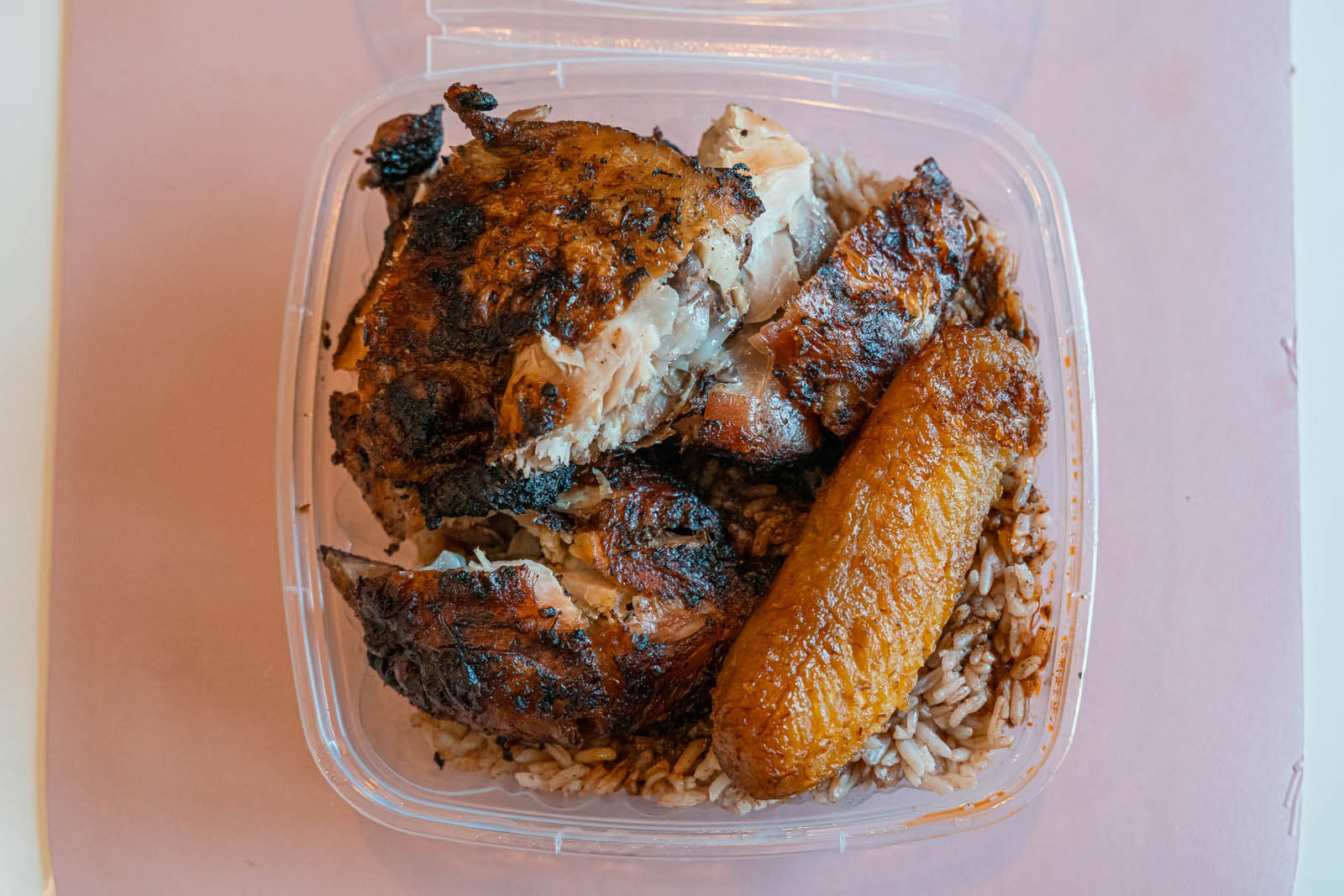 791 Prospect Place, 1853 Nostrand Ave (Both Brooklyn)
Known for their 100% handcrafted Jamaican cuisine, Peppa's has been delighting hungry New Yorkers since 1995. Make sure to try their lunch special where you can choose from jerk, curry, or stewed chicken, and don't forget to try their sweet plantains and creamy mac and cheese sides! And their lunch specials are even a better deal.
Visiting Peppa's is the perfect place to grab cheap eats in NYC before or after checking out the Brooklyn Museum, Brooklyn Botanic Garden, or hanging out in Prospect Park – as Peppa's is take-out only, outside is the right place to enjoy your meal!
East Wind Snack Shop
View this post on Instagram
253 Smith Street & 471 16th Street (Both Brooklyn)
One of the most affordable restaurants in NYC, East Wind Snack Shop is known for dumplings so good that they frequently sell out — upon which they declare "well, there's always tomorrow" to customers who missed the day's batch. Get there early and order the Pork Belly Gwa Bao, the Hong Kong Hot Cakes, and of course, the Pan Fried juicy Pork Dumplings.
Ramen Danbo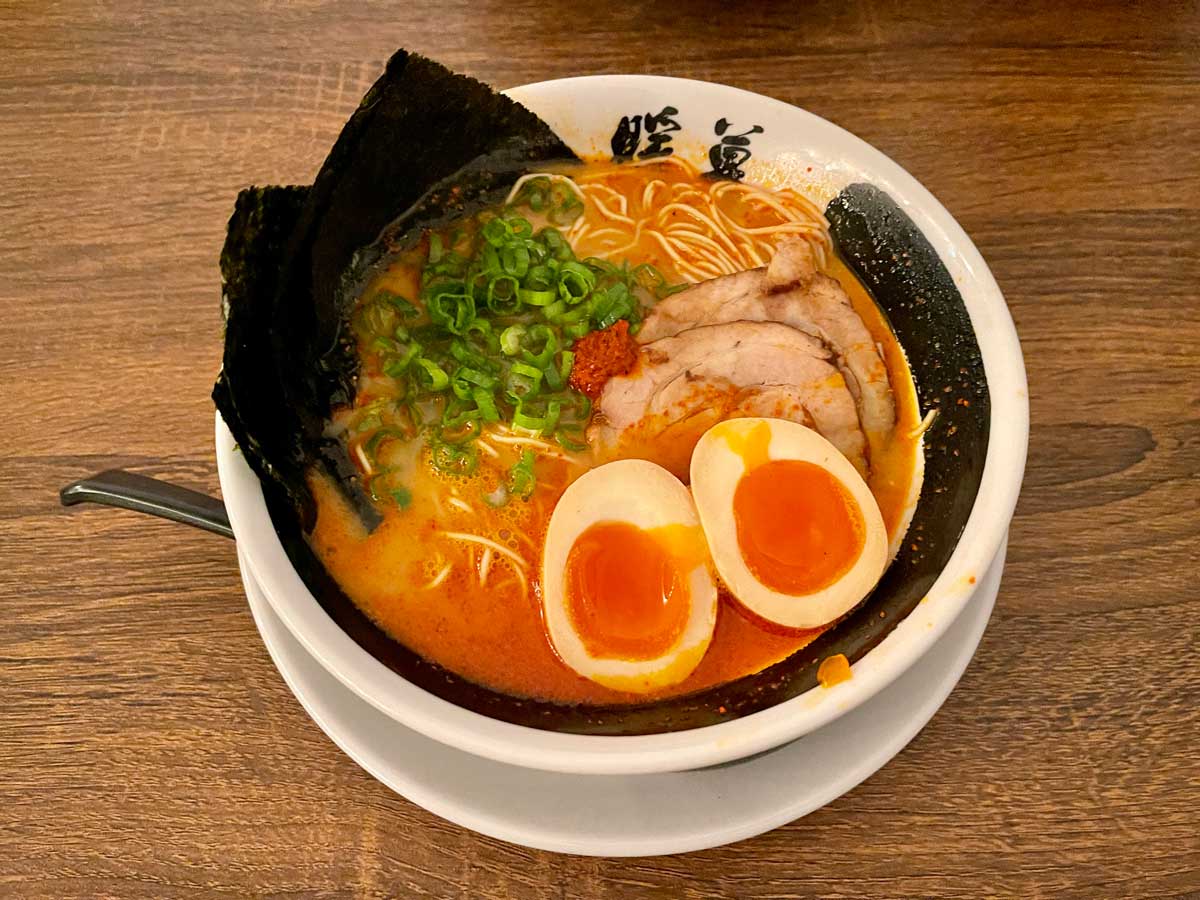 52 7the Avenue Brooklyn
Well-regarded for their tasty, Fukoka-style Japanese ramen that clocks in at under $15 a bowl, this Brooklyn location, and noodle joint is a must on your journey to find the best cheap eats in NYC and one of the best restaurants in Park Slope. Try their Hakata ramen, which has a decadent tonkatsu pork-fat base and hand-crafted noodles that live up to their city of origin.
WINNER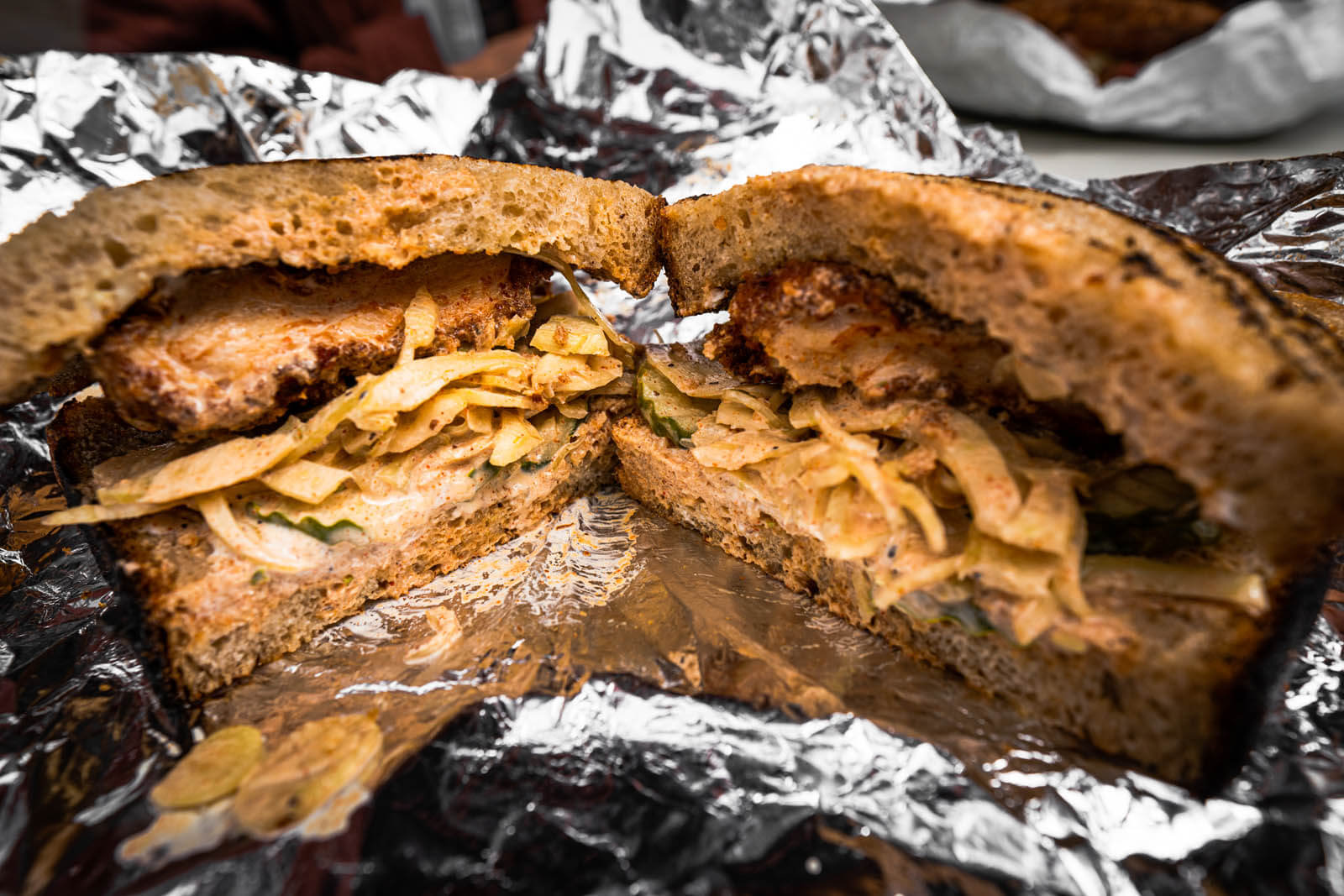 367 7th Ave, Brooklyn
Looking to picnic in Prospect Park? Grab a fresh baked sandwich from WINNER, the Park Slope neighborhood bakery that serves up large-scale sandwiches for around $15 (and could easily be shared with a friend if you're eating on the lighter side). We here at Your Brooklyn Guide believe that the Cubano is what dreams are made of, but you really can't go wrong with any of the sandwiches at WINNER including the fried chicken sandwich too, a top choice in our books for cheap food in NYC and one of the best sandwiches in Brooklyn.
Alligator Lounge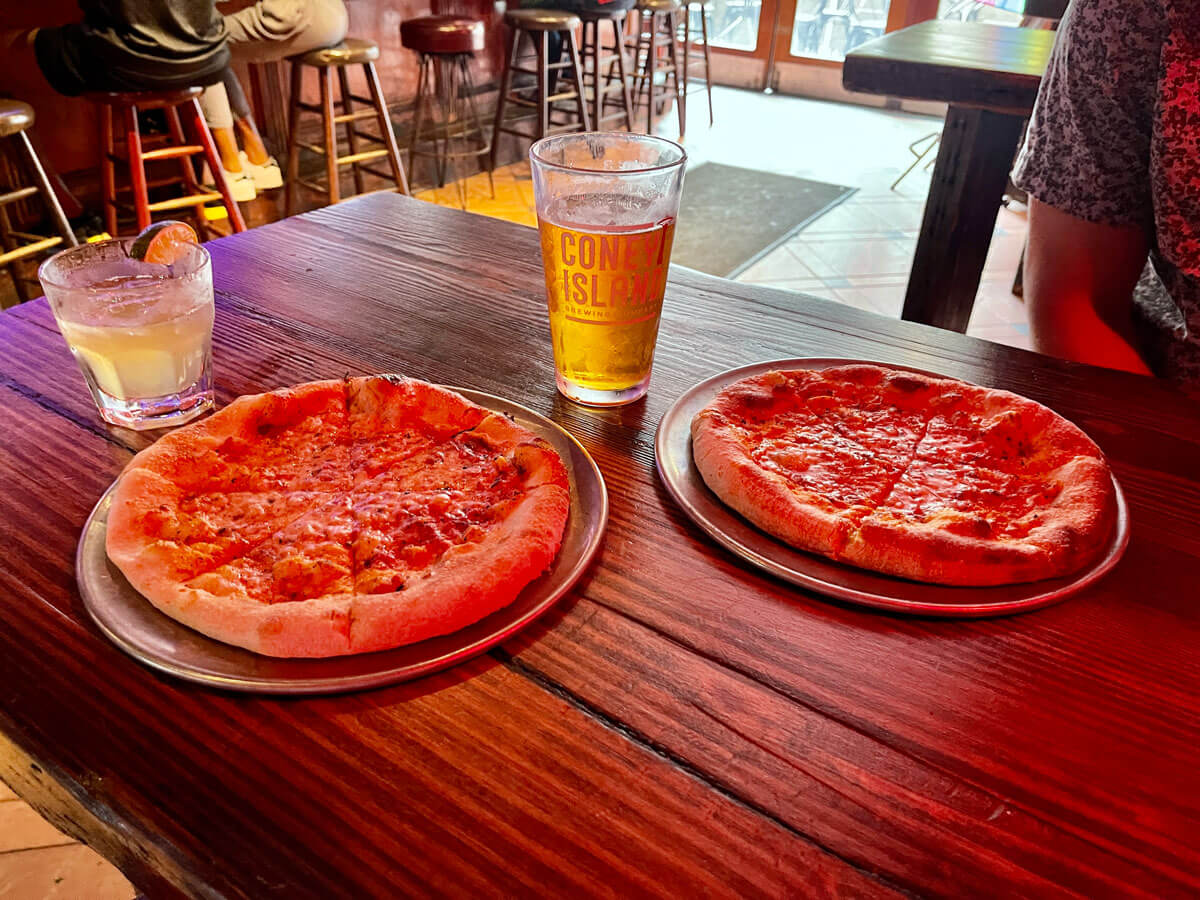 600 Metropolitan Avenue, Brooklyn
Who ever said there's no such thing as a free lunch? Or more specifically, a free pizza? At Alligator Lounge in Williamsburg, you receive a free wood-fired personal pizza with every drink you buy – which at around $8 or $9, is still cheaper than buying an additional pizza elsewhere. If you want toppings, budget in an extra buck per topping!
Another fun fact about this den of cheap eats in NYC? A life-size replica of the bar was featured on the HBO smash-hit reality show The Rehearsal.
Court Street Bagels
View this post on Instagram
181 Court Street, Brooklyn
Bagel places are some of the best cheap restaurants in NYC – not only does New York do bagels better than anyone else (and may we suggest checking out our definitive guide to the best New York City bagels), but many of the Big Apple's bagel spots have options that make more than just a breakfast meal for far less than $15.
For this purpose, we love Court Street Bagels in Brooklyn, where the elaborate sandwiches like the Gigi (smoked turkey, melted muenster cheese, lettuce, jalapenos and onions) or the Sheepshead Bay (roast beef, mozzarella and hot brown gravy) can be yours for less than $9.
Ferdinando's Focacceria
View this post on Instagram
151 Union Street, Brooklyn
The oldest Sicilian restaurant in town, Ferdinando's opened in 1904 and has spent the last century and change perfecting their Italian cuisine. For the best cheap eats in NYC option, we recommend ordering the signature deluxe Arancini ball, which features rice, ground beef, and peas fried to an ideal crisp and blanketed in tomato sauce and melted cheese. All that for only $10?! Run, don't walk!
Shake Shack
View this post on Instagram
Multiple locations throughout the city
Yes, Shake Shack is everywhere. But it was born right here in the Big Apple – in Madison Square Park, to be exact, where Danny Meyer built his burger empire. Wondering if this cheap eats in NYC standard is really that good? Check out the lines that form on a warm summer day, full of visitors eager to try their smash burgers and silken shakes and custards. If you find yourself near a Shake Shack (in Times Square, DUMBO, the Upper West Side to name a few locations), it's always worth stopping in.
Joe and Sal's
View this post on Instagram
353 Myrtle Avenue & 842 Franklin Ave (Both Brooklyn)
This Brooklyn-based pizza joint is wildly popular for its Nonna and Pesto Burrata slices as well as its garlic knots (only $2). And should you want to dial it up a notch and make a full meal out of those garlic knots, may we recommend the Buffalo Knots which are drizzled in the hot sauce, ranch dressing, and sprinkled with parsley, diced pickles and parmesan cheese. See you there!!
---
About Guest Author
Sarah Beling is a playwright, New Yorker, and passionate food enthusiast who is always looking for her next meal. You can find her in an NYC park, enjoying a chopped cheese sandwich and reading about NYC's best new places to eat.
---
Did we miss your favorite cheap eats in NYC? Let us know in the comments below!