Looking for the best coffee shops in Carroll Gardens to check out? This guide has got you! Whether you're on the go, looking for a place to work for a bit, somewhere that's got great food options too, or a great meeting place with a friend or business meet up – we got you.
So next coffee date or work day – this guide will help you where to enjoy your next cup of caffeine at. And while you're here be sure to check out the best things to do in Carroll Gardens.
Carroll Gardens Cafes to Check Out
Nili
Address: 360 Smith St
Brought to you by the same owners as one of the best restaurants in Fort Greene at Miss Ada—Nili lives up to the same quality as its sister shop by serving as one of the best Carroll Gardens coffee shops.
Outside of offering some of the best mochas in the neighborhood, Nili's menu includes many other essential coffee and espresso drinks. Using beans from Partner's Coffee Roasters, this café offers drips, espressos, Americanos, flat whites and much more.
And what helps this café stand out from other coffee shops in Carroll Gardens are their wellness drinks. Such drinks include their Gold Turmeric and their Maho Matcha, which are sure to give you a healthy boost for the day. These drinks are served up pretty quickly, making it a good spot to pick up a quick coffee before work.
While there are plenty of cafes in Carroll Gardens for picking up coffee, the highlight of this cafe would have to be their extensive list of pastries and breads. This list of tasty treats includes their Nutella Banana Bread, Vegan Pumpkin Bread, Chocolate Babka, Matcha Squares and many more. Their hot foods selection is nothing to snuff at either as they offer up delicious classics like their B.L.T. and bacon, egg, and cheese, making this one of the best spots for brunch in Carroll Gardens too!
This shop has more seating than most Carroll Gardens cafes, which is perfect for enjoying their weekly live Jazz show on Sunday evenings. For more information on this weekly show, check out Nili's Instagram.
Poetica Coffee
Address: 251 Smith St
Known for carefully crafting their coffee with locally roasted beans, Poetica Coffee goes above and beyond to make sure it serves as one of the best Carroll Gardens coffee shops to get a fresh cup of joe. While this coffee shop has multiple locations throughout Brooklyn, their shop in Carroll Gardens is particularly known for its impeccable iced coffee—with their iced red eye being the most highly recommended! Also, their iced chai tea lattes are pretty stellar.
In fact, the Poetica locations are some of our favorite cafes in Brooklyn!
Poetica's menu also includes snacks and desserts like their buttered croissants and quiches—as well as some other pastries from fellow local shop Le French Tart.
This café also has a sweet backyard with plenty of good seating, as well as plants for your viewing pleasure. Poetica also offers Wi-Fi to its customers, making it one of the best Carroll Gardens cafes for sitting and working for a bit. Even if you can't stay for too long, the quality of their iced coffees are worth the morning visit alone.
East One Coffee Roasters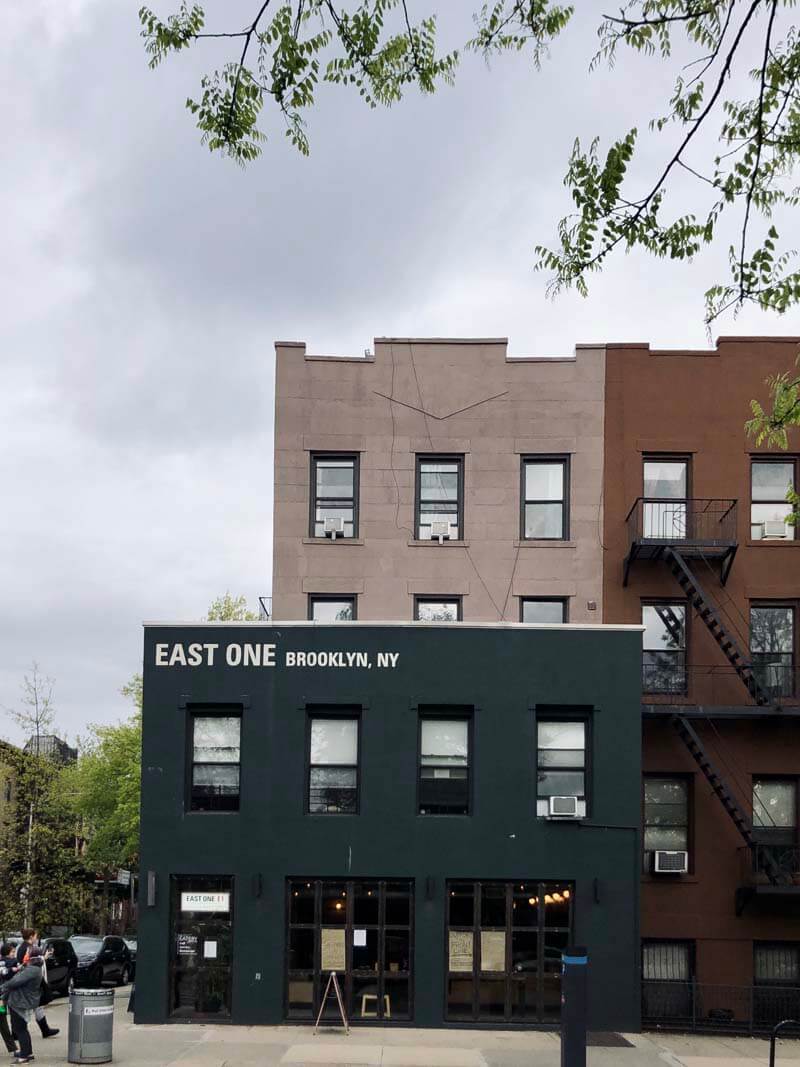 Address: 384 Court St
East One Coffee Roasters has two locations, one in Manhattan (170 W 23rd) and one in Carroll Gardens—which is their home base and serves as a cafe, eatery, and roastery all in one!
With beans roasted themselves (in this very shop), East One offers a wide range of coffee and espresso drinks (cold brew, Americano, macchiato, cappuccino, lattes etc.) with their espresso and chai drinks also being available as iced beverages. That being said, coffee isn't only thing you can drink as East One's menu offers tea, soft drinks, and boozy drinks to quench your thirst as well.
As far as food goes, East One has plenty to offer. Their menu includes a variety of all-day breakfast options (Braised Pork Hash, Seasonal Frittata, and Malted Pancakes), salad bowls, sandwiches, and even a kid's menu for younger patrons.
While this café serves as one of the most spacious coffee shops in Carroll Gardens, offering great tables for working on your laptop—it's good to get to East One earlier rather than later to claim a good spot!
Hungry Ghost
Address: 343 Smith St
With over a dozen locations throughout the city, Hungry Ghost is a growing franchise that shows no hints of slowing down anytime soon! Serving coffee from Stumptown Coffee Roasters, the Hungry Ghost in Carroll Gardens offers both coffee and espresso beverages as well as tea (matcha, chai, and iced). Their drink menu also includes their nitro cold brew, which packs the same caffeinated punch as the regular—while also being more smooth and flavorful!
Besides their coffee, this beautiful café also offers baked treats and snacks including banana bread and croissants. Another factor that helps this café stand out from other coffee shops in Carroll Gardens is that Hungry Ghost proudly serves King David Tacos, who's got a taco cart at the Grand Army Plaza entrance of Prospect Park as well as a brick and mortar location in Prospect Heights, making it a nice place to grab a quick bite to eat great for on the go.
It's also worth noting that this Hungry Ghost location is one of the most peaceful and quiet cafes in Carroll Gardens. With its comfortable seating and atmospheric music—this coffee shop serves as the perfect spot to relax and unwind. Whether you're alone or on an early afternoon date, Hungry Ghost is one of the best Carroll Gardens cafes to do so!
Black Gold Records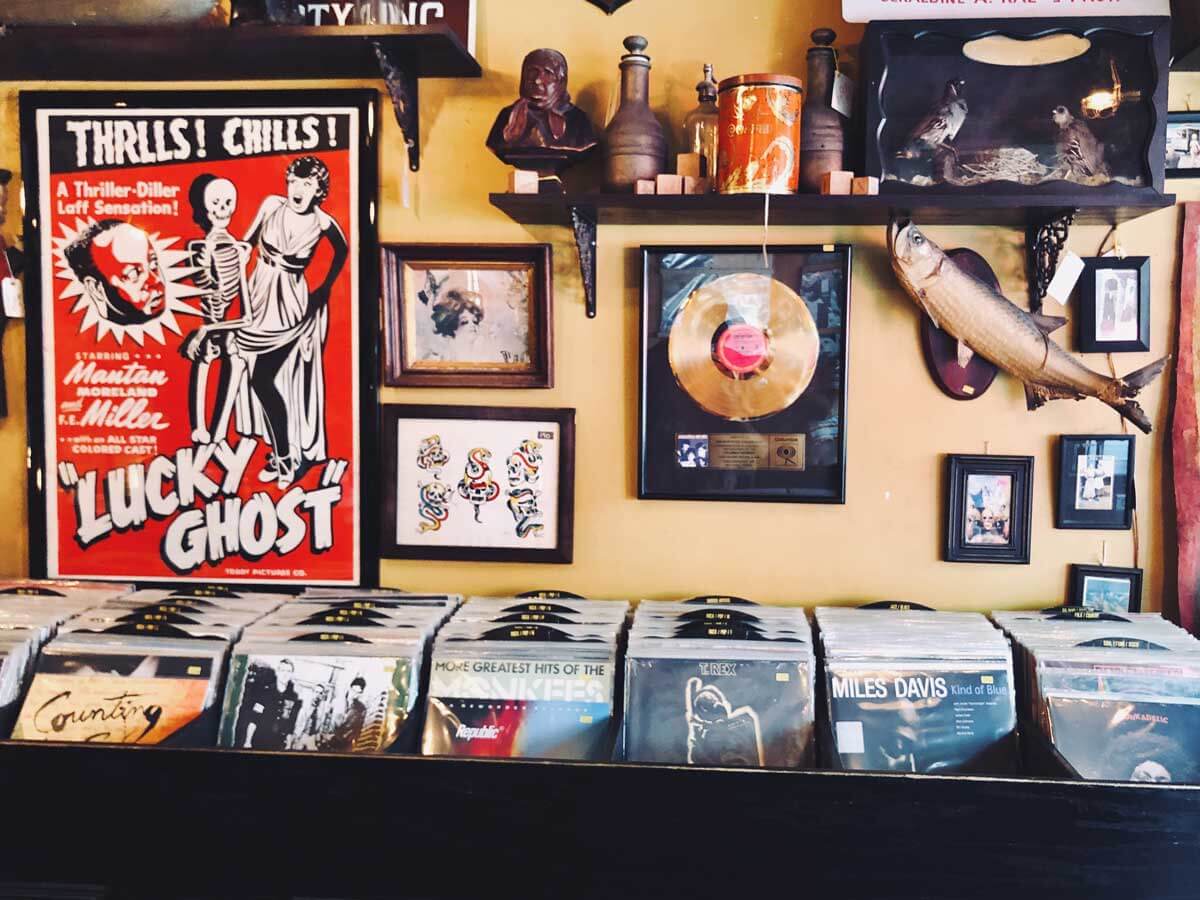 Address: 461 Court St
Recognized as one of the best record stores in Brooklyn, Black Gold Records is known for keeping their shop packed with vinyl and CDs from some of the hottest music artists in the industry—both young and old! This shop sells merchandise and antiques as well, giving customers plenty of goodies to search through during their visit.
Aside from having some of best music and antiques around, Black Gold also serves as one of the best Carroll Gardens coffee shops to buy a cup of coffee to drink while browsing through their well-curated music and vinyl selection. With a fresh blend roasted themselves, Black Gold offers solid and dependable coffee as well as a substantial cold brew! Along with their coffee, Black Gold also offers a small selection of baked goods (cookies, muffins, and croissants).
This shop has a few seats out front, but none else inside the store making this spot better for strolling than it is sitting. One of the only coffee shops in Carroll Gardens for coffee and CDs alike, Black Gold is a superb neighborhood pick for local crate diggers!
Brooklyn Habit
Address: 405 Smith St
Proudly serving La Colombe Coffee, Brooklyn Habit is another spot for good hot and iced coffee drinks as well as some well-curated beer and wine. And even if you aren't really a coffee person, they have hot and iced tea (black and hibiscus) as well—courtesy of In Pursuit of Tea.
As far as cafes in Carroll Gardens go, Habit has plenty to offer in terms of baked goods. They offer your staple pastries like croissants and muffins, but also have a delicious looking spinach turnover that's definitely worth trying out. Along with some tasty French pastries, Habit's menu also includes plenty sandwiches, salads, and tapas—making it good for breakfast or lunch!
There are a few benches out in the front of this establishment, but plenty more space and seating inside. And with its quiet and peaceful atmosphere, Brooklyn Habit is one of the best Carroll Gardens cafes to bring your laptop in and work!
Henry's Local
Address: 570 Henry St
Henry's Local is a European-style espresso bar that comes equipped with a great selection of iced and hot coffee drinks. Using beans from Stone Street Coffee Company, Henry's offers this Brooklyn neighborhood some of the finest coffee and espresso drinks in the area. Henry's also offers excellent tea options including their must try blueberry tea. And if you're not much of a coffee or tea drinker, this coffee shop also has sparkling and seltzer water for sale.
Their menu also includes a selection of fresh homemade sandwiches, pastries, and desserts—perfect for a weekend breakfast.
Henry's Local has some seating inside and limited seating outside, but none inside. But as far as coffee shops in Carroll Gardens go, you can't do much better than Henry's!
D'Amico
Address: 309 Court St
One of the most "Brooklyn" of all Brooklyn coffee shops, as well as being one of the most celebrated cafes in Carroll Gardens—D'Amico is a triple threat, acting as a grocery store, deli, and coffee shop in one.
As a local roaster conjuring up its own blend since 1948, D'Amico is one of the most consistent Carroll Gardens coffee shops that do its darnedest to deliver some of the finest coffee the area has ever had. Their coffee menu includes strong iterations of the iced and hot coffee as well as their very tasty cold brew.
With sandwiches, coffee, and Italian groceries, this is one of the best Carroll Gardens cafes for not only grabbing breakfast and lunch, but it's also a nice spot to pick ingredients for you to make cuisine at home. And if you prefer whipping up your own cup of coffee from home, this café also has many different blends available for purchase. Their Hara Mocha is the most raved about!
This coffee shop has some pretty decent seating, but serves as more of a spot to grab a quick bite than it is a place to work. Doesn't matter if you're a Carroll Gardens resident or traveling from far away—D'Amico is guaranteed to have you coming back for more!
Nerd Be Cool
Address: 518 Court St
Nerd Be Cool is a fun espresso lab with a few locations around the borough with their Einsten-esque theme! With beans from Devoción, Nerd offers your essential iced and hot coffee drinks. However, what really sets this coffee shop apart from many other coffee shops in Carroll Gardens is its novelty lattes. Nerd offers what's known as their "wellness lattes". These lattes contain healthy spices and flavors that are just as nutritional as they are delicious!
Nerd also has an array of green, black and herbal tea from Art of Tea with flavors like Earl Gray, summer peach, as well as their "classic black English breakfast"—guaranteed to give you that fresh morning boost.
This cafe's menu includes essential breakfast options you'd find at most cafes in Carroll Gardens like avocado toast, croissants and coffee cakes. However, unlike many Carroll Gardens cafes—here you can also order some delicious desserts (cakes and ice creams) brought to you by Rawsome Treats that pair perfectly with Nerd's coffee. Other things you can expect to find in this shop include water, soft drinks, wine, snack bars, gummy bears, and popcorn.
This espresso bar keeps things very casual compared other Carroll Gardens coffee shops, with mostly outdoor seating with a few tables inside. All in all, fun neighborhood spot to try if you're looking for a quick bite or coffee!
Planted Cafe
Address: 333 Smith St
Planted Cafe is one of the few cafes in Carroll Gardens that specializes in vegan, gluten-free and organic foods and products. Prioritizing health and environment over convenience, Planted Cafe goes the extra mile to ensure all products are carefully sourced from the most high-quality distributors in the area.
Planted Café's drink menu has some pretty interesting options, featuring many signature coffee and tea drinks like their mushroom latte, Beetroot mocha, and their iced lavender matcha. And if you're not in the mood for coffee and tea, Planted is one of the few coffee shops in Carroll Gardens to offer smoothies and blended juices.
Are you looking for cafes in Carroll Gardens that accommodate any meal of the day? Don't worry. Planted Café's menu has it all. Their menu includes all-day breakfast options, healthy bowls, and desserts. Planted also has good choices for lunch like their veggie burger and jackfruit taco.
What makes this stand out among Carroll Gardens cafes is that Planted is also a plant shop! Surrounded by green, lush plants this is the perfect place to perk you anytime of the day. And with both indoor and outdoor seating, this café is perfect for pretty much everything—work, coffee date, or even just a solo breakfast!
Best Cafes in Carroll Gardens (Post Summary):
Nili
Poetica Coffee
East One Coffee Roasters
Hungry Ghost
Black Gold Records
Brooklyn Habit
Henry's Local
D'Amico
Nerd Be Cool
Planted Cafe
---
About the Author
Eric Garner is a Brooklyn-based writer who was raised down South who loves talking about film, TV, hip-hop, and fashion.
---
Did we miss your favorite Carroll Gardens coffee shops? Let us know in the comments below!