A mini neighborhood in Brooklyn with oh, so much to offer. Columbia Street Waterfront District is a pocket-sized neighborhood (22 blocks to be exact) tucked away between the Brooklyn Queens Expressway (BQE) and the New York Harbor packed with great places to eat, cool shops, and even several community and neighborhood gardens – not to mention plenty of artsy spots to stop at.
Bordered by some of the best Brooklyn neighborhoods to check out; Red Hook, Carroll Gardens, Cobble Hill, and Brooklyn Heights, Columbia Street Waterfront District is a great addition to exploring Brooklyn.
Recent efforts to improve the neighborhood through a rehabilitation project really transformed the neighborhood which is now filled with delightful stops from places to eat, drink, and shop! The main thoroughfare where you'll find the highest concentration of things to do is going to be on Union Street and Columbia Street.
So without further ado, check out all the best things to do in Columbia Street Waterfront District.
Getting to Columbia Street Waterfront District
Getting to Columbia Street Waterfront District is pretty easy, especially if you're already in one of the bordering neighborhoods of Red Hook, Carroll Gardens, Cobble Hill, or Brooklyn Heights.
Visitors have the option to take the NYC ferry or the subway stops.
From the Pier 6 Ferry in Brooklyn Bridge Park, you're just walking down Columbia Street to enter the neighborhood. This is the South Brooklyn ferry route which also makes stops in Red Hook and DUMBO too.
The nearest subway stops to Columbia Street Waterfront District include:
Bergen Street Station (F & G lines)
Carroll Street Station (F & G lines)
What to Do, See, & Eat in Columbia Waterfront
The Sculpture House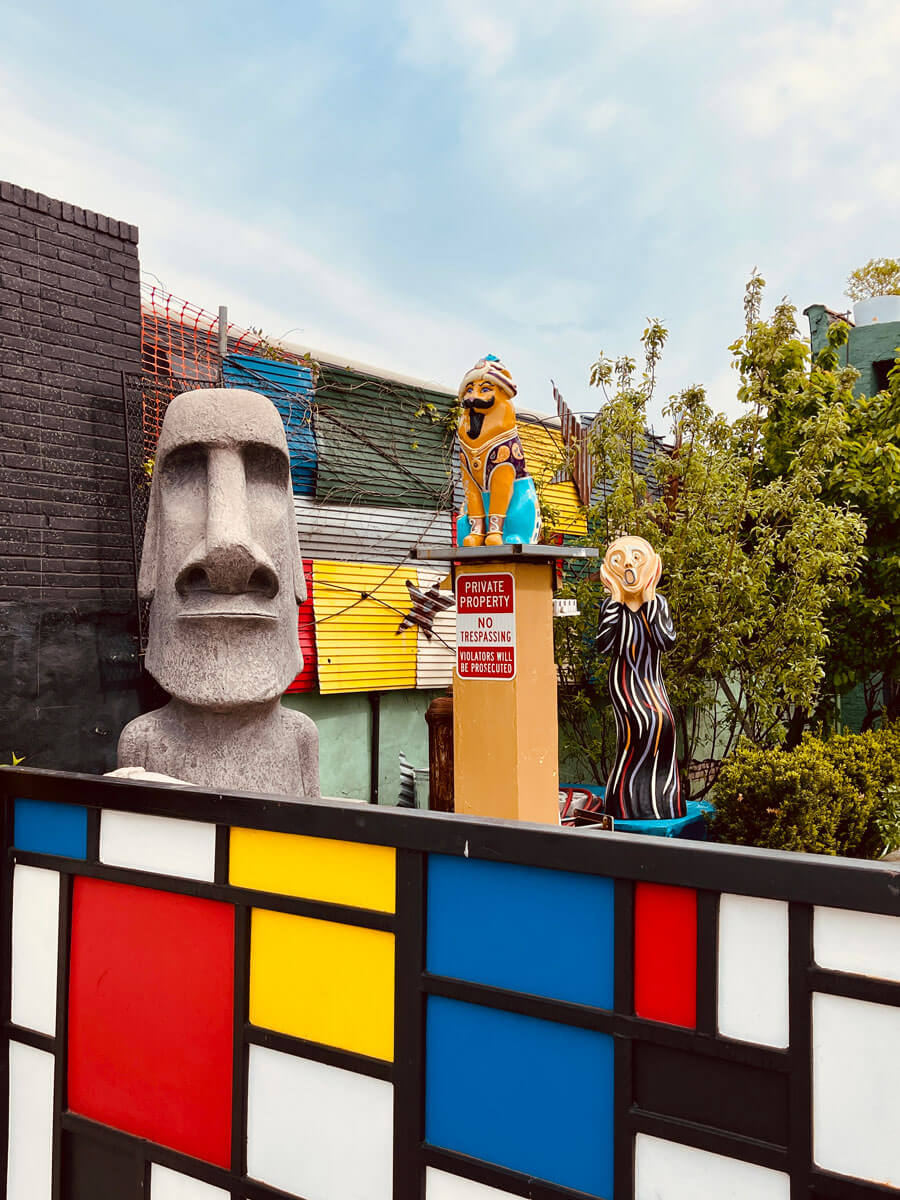 82 DeGraw St
One of my favorite things to do in Columbia Waterfront is honestly just walk up and down the streets, there aren't many of them so it doesn't take long but there are some hidden treasures to be found along the way like this sculpture house on DeGraw St.
The collection of statues and color blocking that resembles a Mondrian will stop you in your tracks as you pass this house, and it's worth taking a pause to make sure you check out all the different things on display here. It's a free treat!
The house belongs to a retired Dutch-American broadcast journalist and record importer, Ben van Meerendonk who purchased an old warehouse needing some TLC and transformed it into this sculpture garden full of eclectic finds for the sole purpose of bringing a little joy to people's lives as they pass – and it works!
You can find everything from Easter Island statues to replicas of Jeff Koons and other famous artists like a sculpture of The Scream by Edvard Munch. The display isn't available to go up to and touch, please don't trespass, but it's encouraged to stop and admire this unique collection.
Jalopy Theatre
View this post on Instagram
315 Columbia Street
One of the best things to do in Columbia Street Waterfront District is catch a performance at the Jalopy Theater. In addition to musical performances, this community art space and local gem also has music classes specializing in genres including folk, roots, bluegrass, country, blues, and traditional world music.
The Jalopy Theater also hosts music festivals throughout the year including the Brooklyn Folk Festival as well as having their own recording label, Jalopy Records.
Be sure to check out their current calendar of performances before planning your visit to catch one of their concerts, or be sure to check out any upcoming festivals they may be hosting.
Jalopy Tavern
View this post on Instagram
317 Columbia Street
Next to, and associated with, the Jalopy Theater is the Jalopy Tavern. This Columbia Street Waterfront District restaurant also has live folk musical performances featuring artists and folk music from all over the world.
Open every day except for Mondays for dinner and cocktails, this is the perfect place for dinner and a show. Their menu has a range of great shareables like pile high nachos and wings to main courses from their burgers, po'boy, tacos, mac and cheese, and other goodies.
Oh, and don't skip out on the cocktails! They also have a nice outdoor dining setup in the warmer months. This is a really great date night and hidden gem here in the city.
Alma & B61 Bar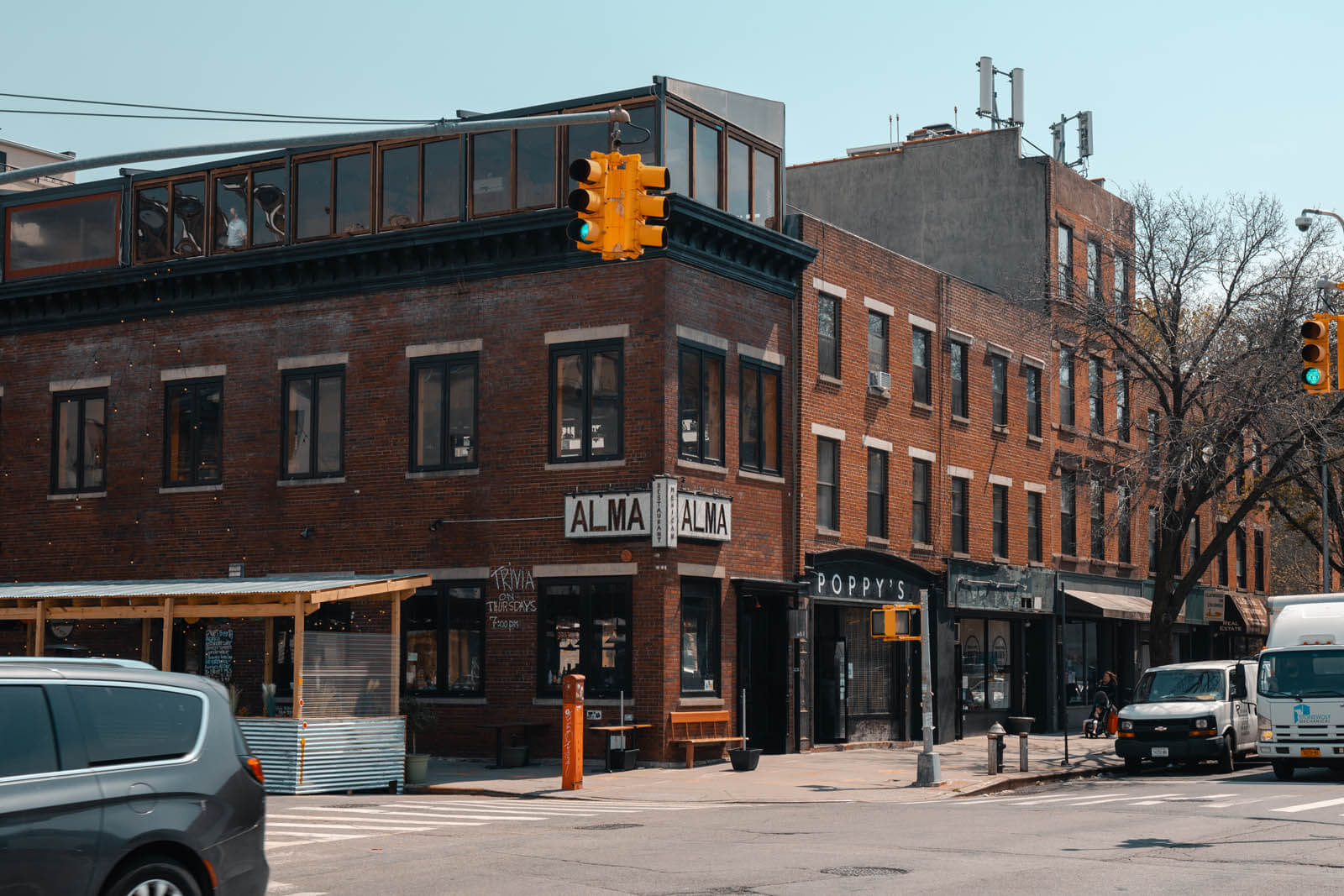 187 Columbia Street
Three floors of fun at this Columbia Street Waterfront District restaurant, bar, sidewalk cantina, and rooftop! Serving up pan-regional Mexican fare and offerings alongside their specialty cocktails.
The sidewalk cantina and B61 Bar is best for grabbing drinks and hanging out, including the option to play a round of pool or ping pong. This spot is much more casual and great for watching a sports game with a drink, but they do offer a menu of some small bites.
If you're looking for more of a meal, then you'll want to head to the rest of the floors of Alma, but the best spot is the roof deck where you get a sweeping view of the Lower Manhattan skyline.
Alma has weekend brunch, but starting at noon, otherwise it's only open for dinner the rest of the week, which is great because of this is a prime sunset spot if you're able to snag a roof deck table!
Art Lot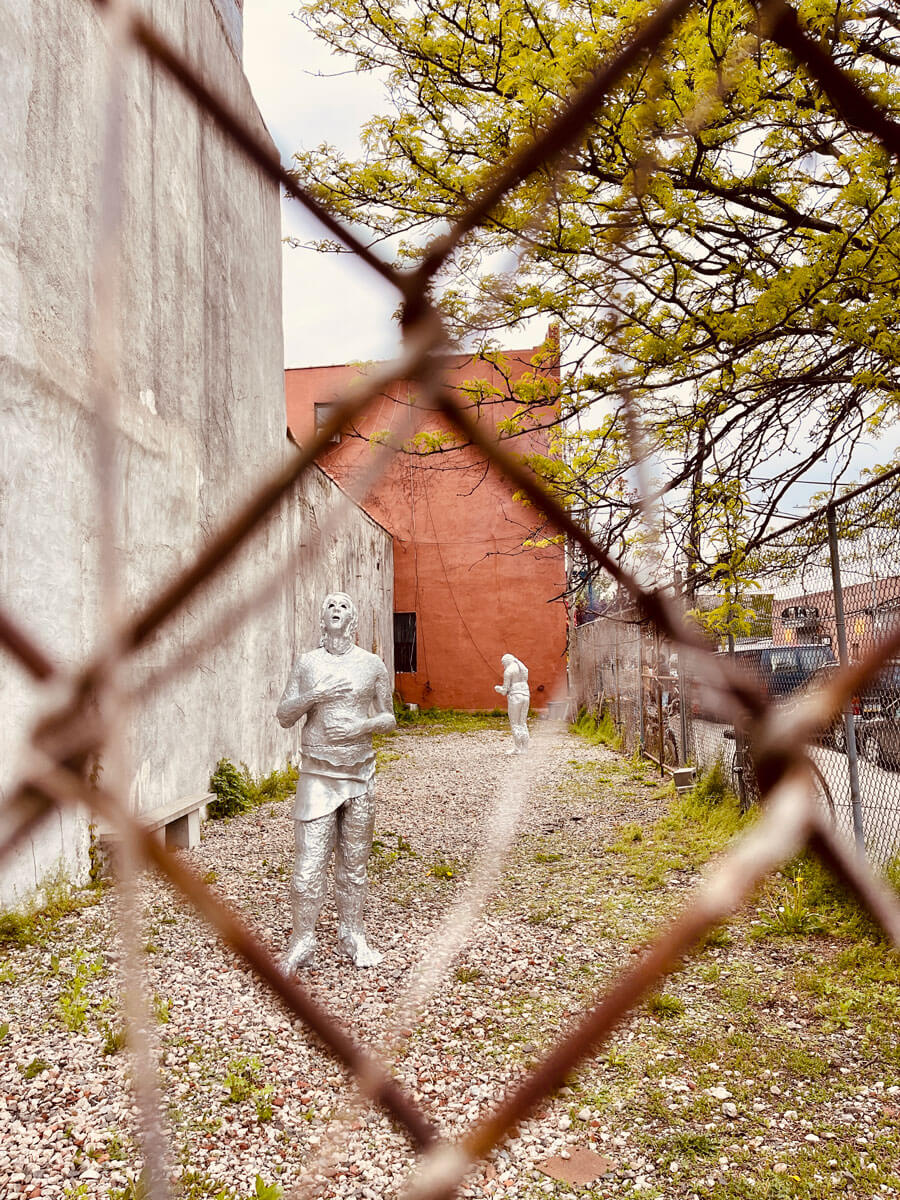 206 Columbia St
Located on the corner of Sackett Street and Columbia Street (next to Mazzat) is another curiosity and cool spot in Columbia Street Waterfront District is an outdoor, contemporary art space that's run by artists for the public!
The owners of the lot dedicated the space for displaying artwork back in the 1990s. What's cool about this is that chances are there are different art and sculptures on display each time you visit.
Be sure to follow their website or Instagram for their current and upcoming exhibitions. They often have events that include picnics and public screenings. It's a cool space, so at the very least be sure to take a peek when walking through the neighborhood or double check to see if they have any events during your visit.
The Longshoreman
View this post on Instagram
215 Columbia St
Another one of the best things to do in Columbia Street Waterfront District is dine at one of the favorite, local establishments – The Longshoreman. This Italian restaurant serves up wood brick oven pizzas and fresh made pastas alongside other options like their burger.
The space they are located in has a historic past too, with the same name The Longshoreman. A local, named Punchie, served the longshoremen after working hours at the nearby Brooklyn dockyards for drinks. To honor the local watering hole and history's past the owner kept the name to pay homage.
Come for a nice dinner or check out their weekend brunch offerings.
Brooklyn Collective
212 Columbia St
One of my favorite stops in Columbia Street Waterfront District is the Brooklyn Collective. This independent boutique also serves as an art gallery and sells the coolest gifts, trinkets, and artwork.
Everything inside the store is made by local New York artists and every purchase made here supports small, local creatives. You can find anything and everything in here from home goods, jewelry, clothing, and other fun accessories which makes it a great stop if you need to find a thoughtful gift for someone that's truly one of a kind or unique.
Not to mention this is a cool way to learn about other cool local artists that might not be on your radar. The space was introduced to the neighborhood by dressmaker Tessa Goodman (who items you can shop for in the store) and her husband, the creator of LHN Jewelry. So this store is by creatives supporting other creatives. Got to love that!
Mazzat
View this post on Instagram
208 Columbia St
What's awesome about the small neighborhood of Columbia Street Waterfront District is that despite its size, it's not lacking in a range of great places to eat, and Mazzat is a great example of that.
Chefs Robbie Aboughater and Jimmy Bakhoum bring the flavors from Lebanon and Egypt here to Brooklyn. This Mediterranean-focused restaurant offering a 'melange of tapas and appetizers' featuring classic Mediterranean and Middle Eastern mezzes like hummus, babaganouj, falafel, tabouli, and more including mains their mouthwatering marinated half chicken, kebabs from the grill, fresh seafood, and more.
Plus there are great options for not only meat-lovers but vegans and vegetarians as well.
Brooklyn General Store
View this post on Instagram
128 Union St
Are you a crafter? If so, you won't want to miss this awesome store in Columbia Street Waterfront District in Brooklyn! The Brooklyn General Store has a selection of yarns, fabrics, threads, books, and tools you need to make it all at home celebrating the world of 'all things handmade.'
The selection is vast and the colors are just fun to even look at! They have fun fabrics ranging from corduroys to velvets to wools and linens plus more. If there's any type of textile you want to make, this is your shop.
Not as crafty as you wish? Don't worry they offer classes for everything from crochet, knitting, sewing, and more with adult and children's classes too. Which is a great gift idea if you know anyone itching to learn a new skill and likes experience-focused gifts!
Henry Boy
120 Union St
If you're a huge fan of antiques or finding old treasures from the past, you'll love Henry Boy on Union Street, which is one of my favorite things to do in Columbia Street Waterfront District – even if I only have a minute to quickly browse.
They have a fun selection of antiques and collectibles. I feel like their selection is one of the more carefully curated antique stores I've been to in Brooklyn, no hate on the others because some are fun to browse and rummage through a sea of antiques, but their selection you can tell is carefully hand picked. So for those who get overwhelmed looking at antiques, this might be a good stop for you as it's not as overwhelming and they have a really great range of home goods and other cool objects from the past.
Ruby's House of Crystals
View this post on Instagram
119 Columbia St
Another gem located on Columbia Street is Ruby's House of Crystals, a literal house of crystals! They have all your crystal needs from rare crystals, gemstones, and other wonders from the earth.
They also sell beautifully crafted jewelry and small gifts too if you're looking for something special for someone special that loves gemstones and crystals. They can also do custom orders if you have something specific in mind.
Expect to be greeted with a strong aroma of sage before being bewildered by their range and selection. You can spend awhile in here examining everything in their impressive collection.
Petite Crevette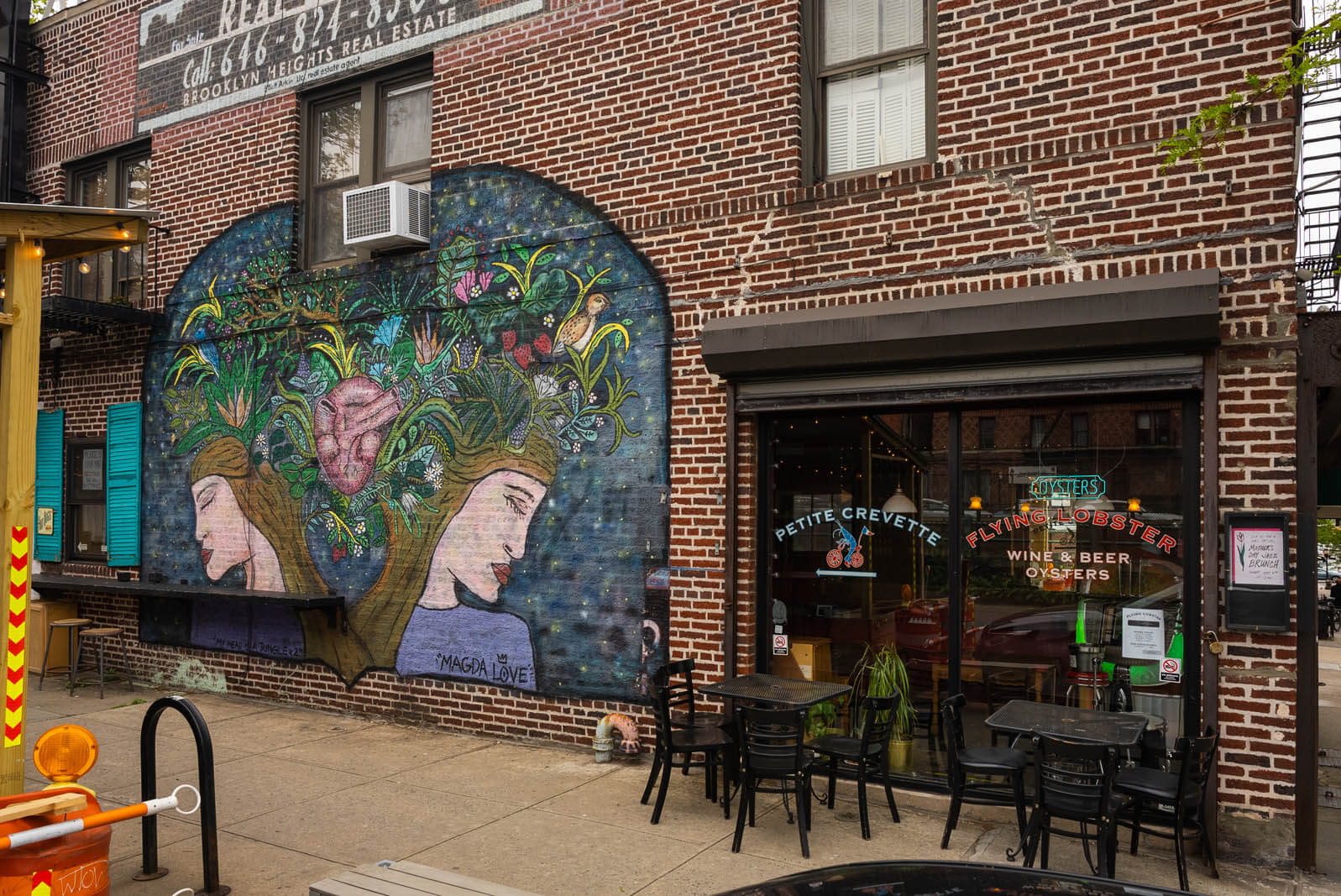 144 Union St
Looking for an intimate date night spot? Or how about one of those hidden neighborhood restaurants that's quaint and cozy and can only seat up to maybe two dozen people tops? Petite Crevette is a charming neighborhood haunt and seafood bistro that's small in size but full of character.
You can't go wrong with any of the items on the menu, if you're just not sure where to start check out the Seafood Cioppino or Thai Curry. And keep in mind, this is a cash-only establishment and they have a reasonable $5 corking fee so you can BYOB!
Bass & Bourbon
View this post on Instagram
113 Hamilton Ave
Looking for a kosher option in Columbia Street Waterfront District? Yes, the neighborhood is small, but they do have a Kosher focused restaurant and sister-site to Bison & Bourbon. Tucked away on Hamilton Avenue, Bass & Bourbon is the more dairy focused-version of the two restaurants featuring everything from mozzarella bites on the appetizer selection to pizzas and pastas.
They also have a great selection of seafood, salads, paninis, and a brunch menu for the weekends featuring shakshuka and other popular brunch dishes like pancakes.
They also have a large rooftop space that has skyline views!
Margaret Palca Bakes
View this post on Instagram
191 Columbia St
For over 40 years, Margaret Palca has shared her joy of baking with the world. With a very successful cookbook and a Columbia Street Waterfront District bake shop location she has been sharing her passion for baked goods for the joy of everyone for the greater part of her life.
This beloved bakeshop and local gem is a necessary stop in the neighborhood if you or anyone you know has a sweet tooth. Personally, I am obsessed with her colorful and adorable cookies. But, next birthday – I need to get a cake!
Brooklyn French Bakers
View this post on Instagram
273 Columbia St
A tiny neighborhood with not one, but two awesome bakeries? That's right! Columbia Street Waterfront District in Brooklyn has all the lovely treats from Margaret Palca Bakes plus Brooklyn French Bakers, both on Columbia Street!
Go to Margaret Palca for the cookies and cake but come to Brooklyn French Bakers for all their French pastries, croissants, breads, and other fresh baked goodies brought to you by a couple who happen to be French-New Yorkers.
If you don't want to miss out on bringing home some of their great bread, be sure to order online the day before you visit to secure your items! (pastries need 3 days notice) Or just head in and see what's available during your visit for a little more of a spontaneous experience.
Also, if you need a cake for a special occasion, they've also got some great options and seasonal specials! Or you can order a cake with macarons on it!!
Freebird Books & Goods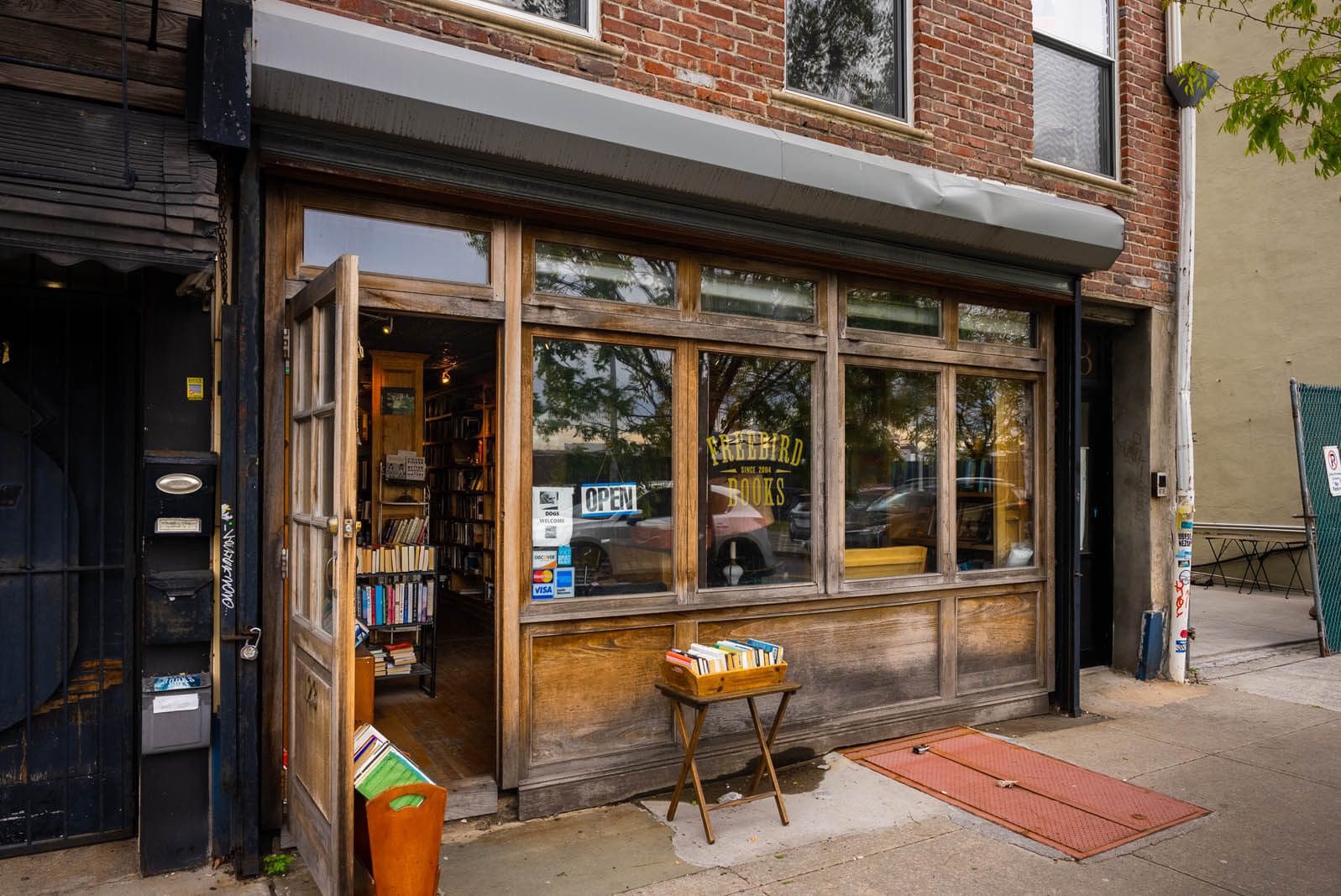 123 Columbia St
Calling all book lovers you're going to want to head to Columbia Street Waterfront District for this adorable little bookshop! Freebird Books & Goods is a tiny little nook of a book shop filled with a selection of used books specializing in titles and subjects around the history and culture of New York City.
Even if it's just to come in for scent of old books – why is it such a comforting smell? This is worthy of taking a moment to walk the small shop and spend time browsing titles. Be sure to visit their site and see if they have any upcoming community-oriented events or readings too!
Do you have any books you want to get rid of? Reach out and see if they can accept your books to add to their collection or perhaps you can donate it to their initiative Books Through Bars which provides prisoners nationwide books.
Be sure to read their site though as they can't accept any books – they have specific topics they're looking for and they encourage you to reach out and check as they are welcoming of donations but only can accept so much.
Cafe Spaghetti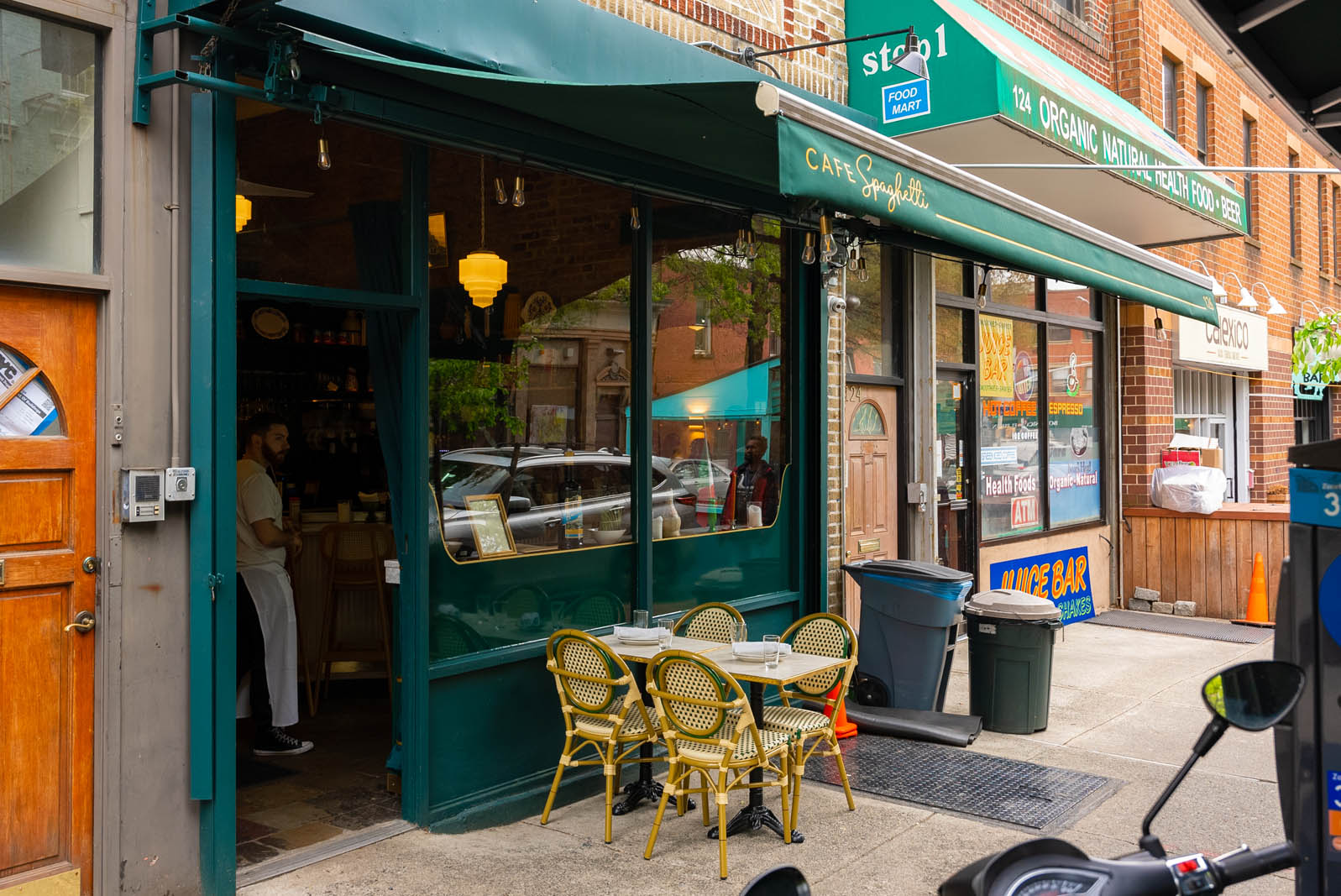 126 Union St
Head to the Italian restaurant that Eater-critic claims to be one of the best pastas they've ate all year! That's a pretty big deal coming from Eater and considering that nearby are both Carroll Gardens and Cobble Hill which dominate in old-school Italian joints.
Cafe Spaghetti is brought to us by Bensonhurst-native and chef Salvatore Lamboglia (formerly of Locanda Verde & Bar Primi) bringing Bensonhurst-Italian here to Columbia Street Waterfront with his first own restaurant.
Start with their cacio e pepe rice balls and be sure to order one of their Naples inspired pasta dishes (if that wasn't already obvious with the name of the place). You've got options like linguini aglio e olio, spaghetti alle vongole, and fusilli grosso topped with hist grandmother's genovese. Don't sleep on the dessert either.
While the dishes are critically-acclaimed by several foodie publications and critics throughout the city, this neighborhood joint still has a very unpretentious vibe and old-world charm to it – the perfect romantic date night! Reservations are recommended though.
Fernando's Focacceria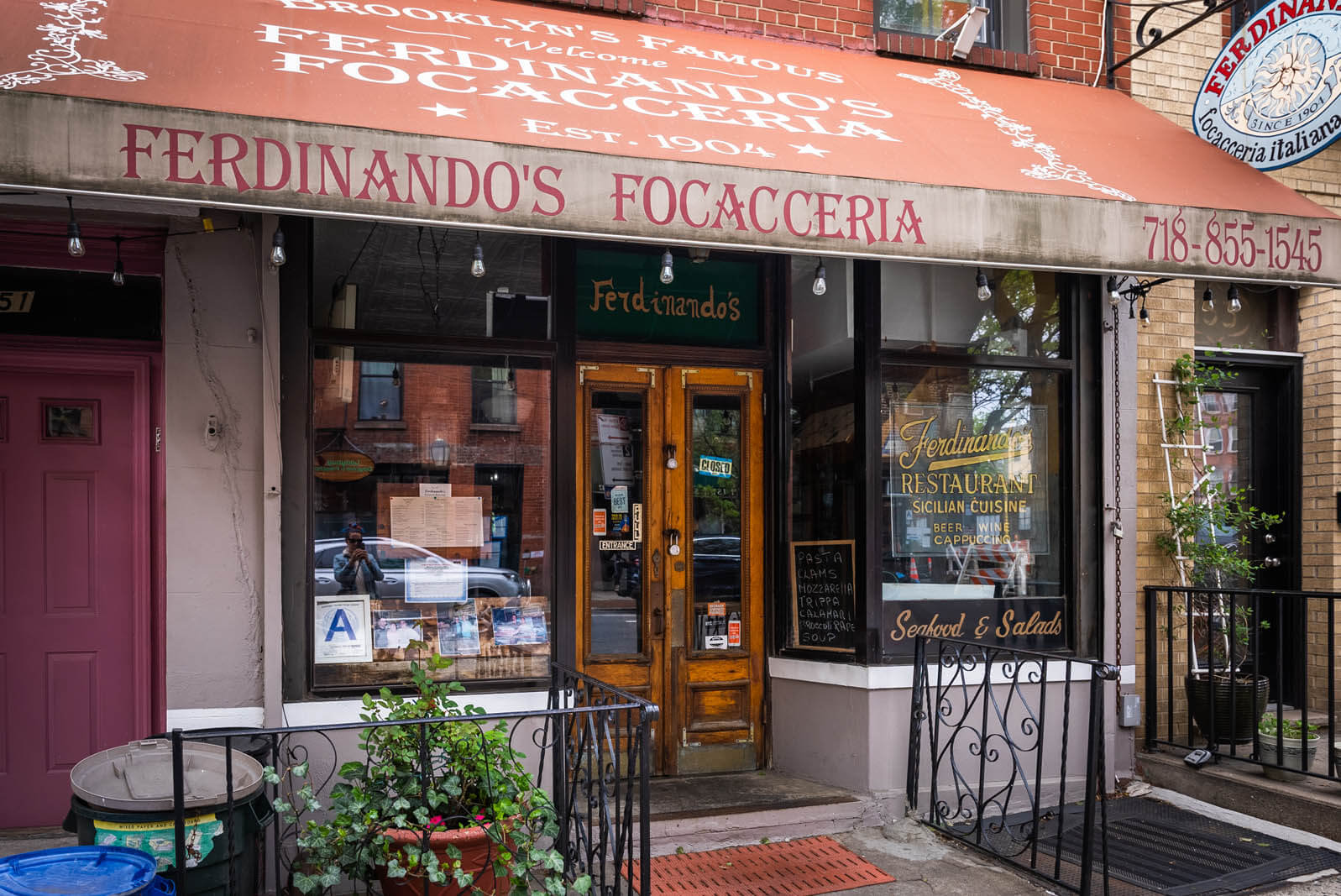 151 Union St
You save the best for last. In this case, one not to be missed thing to do in Columbia Street Waterfront District in Brooklyn is pay a visit to Fernando's Focacceria.
This not only a neighborhood institution but an old-school Brooklyn institution dating back to 1904! See our guide to the best red-sauce Italian in Brooklyn for more of these old-school Italian joints or head to Defonte's nearby in Red Hook for more old-school spots that have been around for a century or longer!
Their origins were serving the longshoremen who worked in the Brooklyn waterfront dockyards as a lunch counter serving up sandwiches that you could find in Palermo, Sicily. They also happen to be the oldest Sicilian eatery in the city!
Enjoy their two original sandwiches, which were filled with cow spleen, ricotta, and shredded caciocavallo cheese or the chickpea-stuffed fried ravioli with potatoes. Or check out any of the other incredible food like the rice ball stuffed with ground beef topped with their house red-sauce and melted cheese. They've got pastas, sandwiches, and even sweets like cannoli.
This is a classic Italian spot and something not to be missed if you're visiting Columbia Street Waterfront District!
---
Did we miss one of your favorite things to do in Columbia Waterfront? Let us know in the comments below! And check out our guides for more fun things to do in Brooklyn!