The Wonder Wheel and Luna Park may not be open offseason, but we hope to convince you with this Coney Island winter guide that there are still alot of amazing reasons to visit Coney Island in winter!
During peak season, the summer, Coney Island is packed with tourists and beach goers enjoying the amusement park rides and games, boardwalk restaurants and shops, and all the other amazing things to do at Coney Island that make this one of the country's most famous summer amusement parks and hang out spots for over a century!
Winter in the city is fun, and after the Christmas rush, there are often fewer tourists and visitors meaning you can grab some great hotel rates, be sure to check out our guide for where to stay in Brooklyn, and have many tourist attractions and famous photography locations all to yourself in the winter!
Visiting Brooklyn in winter is really fun, so without further ado, let's dive into all the best activities in Coney Island in winter!
Also, check out our guide to the best things to do in NYC in winter for more ideas!
Important note: while we will try to make it clear as possible, we want to prepare visitors expectations, most of the restaurants and shops in Coney Island, especially on the boardwalk are closed after Halloween and do not reopen until around Easter. The amusement parks are closed too, all of these mentioned in this Coney Island winter guide are open in the regular winter season!
If you want to see Coney Island in the summer but are coming in the winter, check out all these movies filmed in Coney Island or set here!
Coney Island in Winter
Nathan's Famous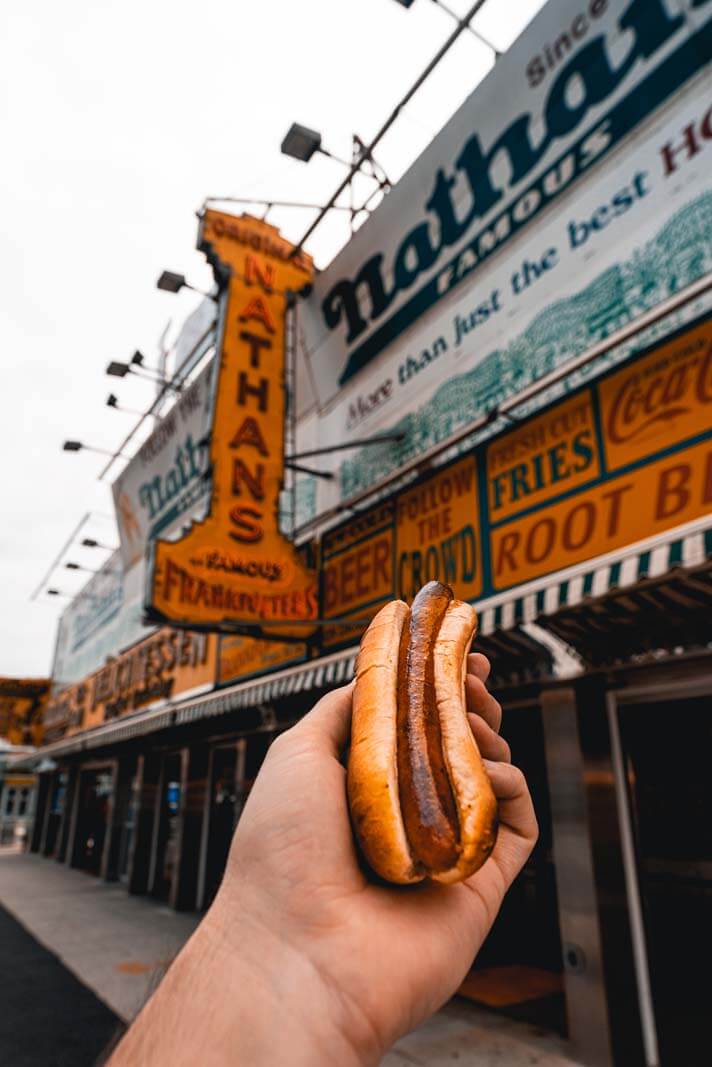 Easily one of the most famous attractions is Nathan's Famous hot dogs, and what's great is that the original location is one of the places that are open in Coney Island in winter! The original location can be found directly across from the Coney Island-Stillwell Avenue Station subway stop on the corner of Surf Avenue and Stillwell Avenue.
This is America's favorite hot dog and it's a quintessential experience to have at Coney Island any season!
For those unfamiliar, Nathan's Famous has a really fascinating history! The owner and founder was a German immigrant by the name of Nathan Handwerker. He started his own hot dog business at Coney Island after quitting his job working for the original hot dog purveyor on the boardwalk, Feltman's.
Nathan undercut his former employer and sole competitor by selling his weiners at half the price at 5 cents! At first, Coney Island visitors were confused and wary for eating a hot dog at such a low price until Nathan explored some wild marketing ideas to attract customers including stunts like hiring actors dressed as doctors and health professionals outside his stand eating his hot dogs which spread the message that these hot dogs must be good for you if doctors eat them!
After more marketing gimmicks, Nathan's Famous succeeded, and besides being one of the most famous hot dogs in the world, it's also one of the most iconic places to eat in Brooklyn.
The Riegelmann Boardwalk location during Coney Island winters, but the original location just steps away is open all year round!
While you're here, be sure to head to the side of the building and see the countdown clock until the next hot dog eating competition that takes place every 4th of July!
Totonno's Pizza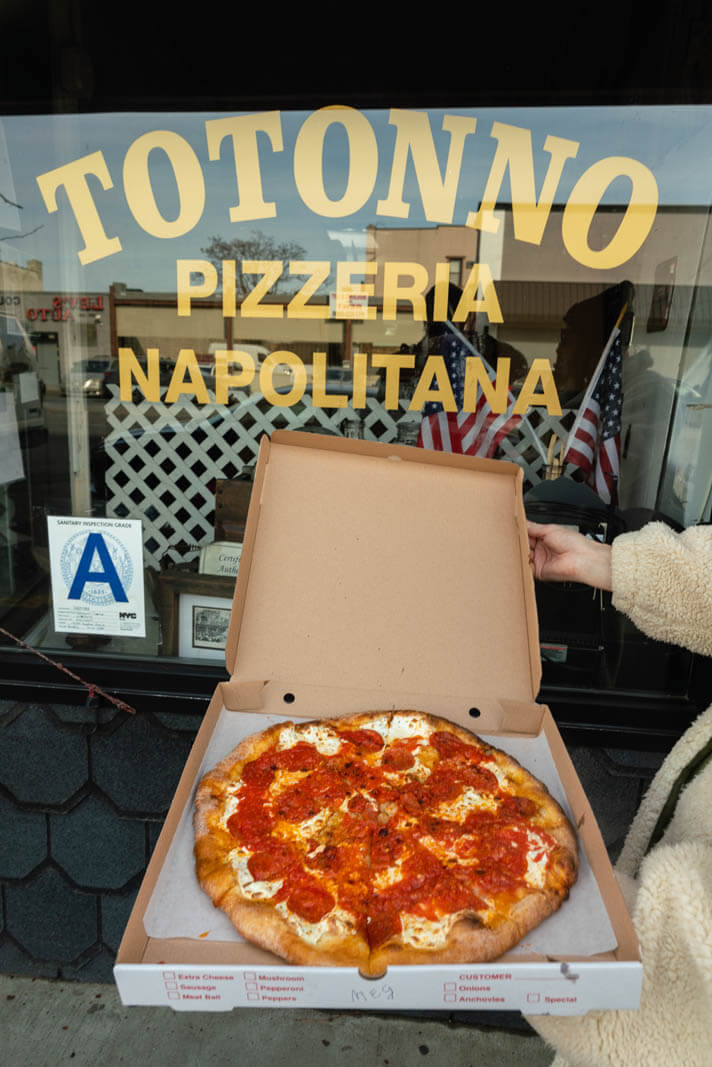 What's better than comfort food on a cold winter day? The city's most famous comfort food, PIZZA and one of the best pizza spots in Brooklyn is Totonno's making it another pick for what to do on our Coney Island winter visit!
If it takes any convincing to eat delicious pizza in the city, Totonno's has been featured on multiple tv shows including Ugly Delicious and Somebody Feed Phil!
Dating back to 1924, the founder of this legendary pizza restaurant was previously an employee at Lombardi's, the most famous and oldest pizzeria in the USA, so you know this spot knows their way around the coal oven with a pizza!
This is also one of the top picks for best pizza in NYC too!
New Year's Eve Fireworks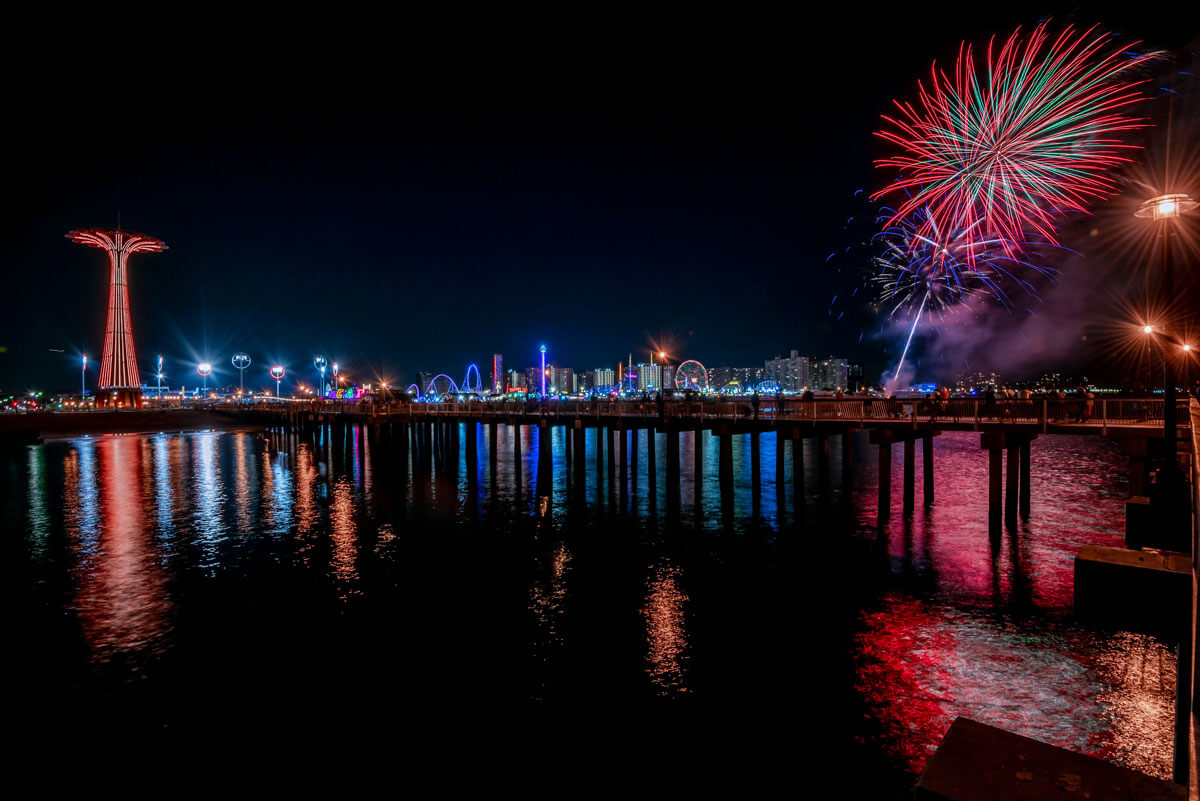 One of the best Coney Island winter activities is ringing in the New Year here! Each year on the famous Rigelmann Boardwalk you can party to music, watch sideshow performances, ride Deno's Wonder Wheel for free, and celebrate with all of Coney Island until the firework show at midnight!
Festivities start at 6 PM, so come early! Many restaurants stay open late as well as a few of attractions stay open later like the New York Aquarium.
Check out more fun places to enjoy New Year's Eve in NYC.
Polar Bear Plunge
Probably the most famous Coney Island winter activity that is an annual event taking place each year on New Year's Day is the Polar Bear Plunge in the Atlantic Ocean at Coney Island Beach!
Thousands of people in the Polar Bear Club take an icy plunge in unison in the Atlantic Ocean! The Coney Island Polar Bear Club is the oldest winter bathing organization in the nation, and each year they host the Coney Island Polar Bear Plunge.
In order to participate though, you're supposed to be a member of the Polar Bear Club, if this wild idea is something you want to join in on at Coney Island in winter, then you will want to see how you can join the Polar Bear Club here!
We are more interested in the spectating of this Brooklyn winter activity regardless, if you're participating or spectating don't forget your camera!
Williams Candy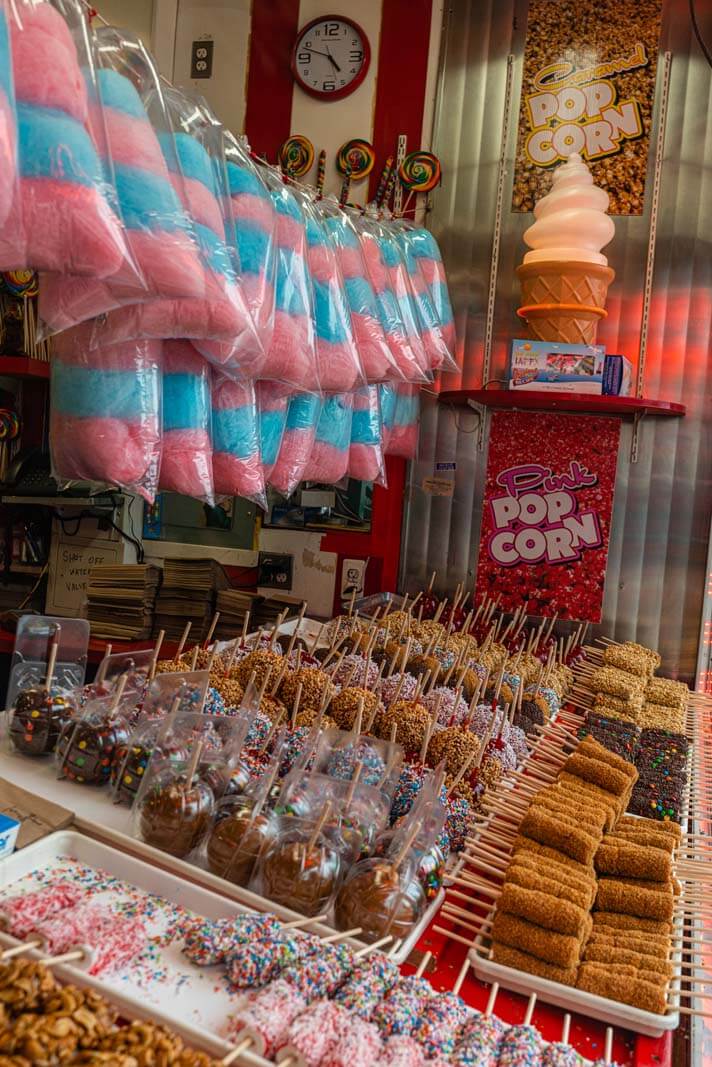 Next up on our Coney Island winter guide, we are going to suggest something that is sweet all year long, CANDY and SUGAR! Satisfy your sweet tooth at Williams Candy!
This old-school candy shop on Surf Avenue, right next to the original Nathan's Famous, is a mom and pop candy store that has been around for over 80 years! You can find sweet sugary delights like cotton candy, soft-serve ice cream, popcorn, marshmallow treats, and their famous candy apples.
We think their candy apples make the best props for Coney Island Instagram photos too!
Walk the Boardwalk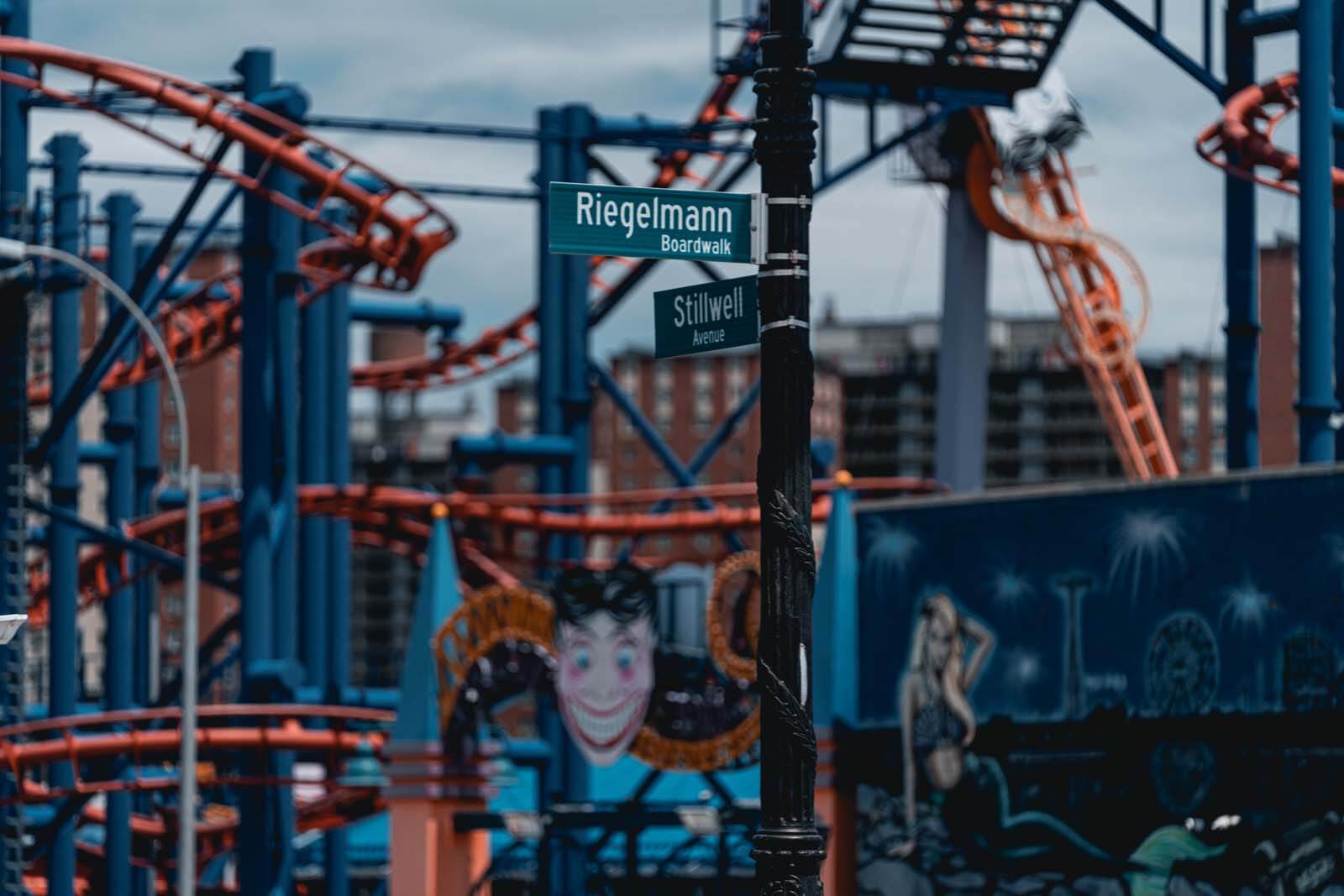 Want to experience one of the most famous attractions at Coney Island without the crowds? Visiting the iconic Riegelmann Boardwalk during a Coney Island winter is one of the best ways to not only get photos without people but also experience this historic landmark almost completely to yourself!
Often referred to as the Coney Island Boardwalk, Riegelmann Boardwalk spans 2.7 miles and is made of wood. This is a New York City designated landmark and also connects to the historic Steeplechase Pier that dates back to 1904, another spot you're going to want to add to your to-do list when visiting Coney Island in winter for not only a close up look at the wintery Atlantic waves but this is one of the best spots to get a panoramic view of Coney Island.
Even though the rides and amusement parks are not open, you still can see many of the classic and most famous rides from the boardwalk including the Wonder Wheel and Cyclone Rollercoaster! The Wonder Wheel's cars get taken off during Coney Island winters, but the rest of the structure is still up and you can see the classic "Wonder Wheel," letters on the giant wheel!
New York Aquarium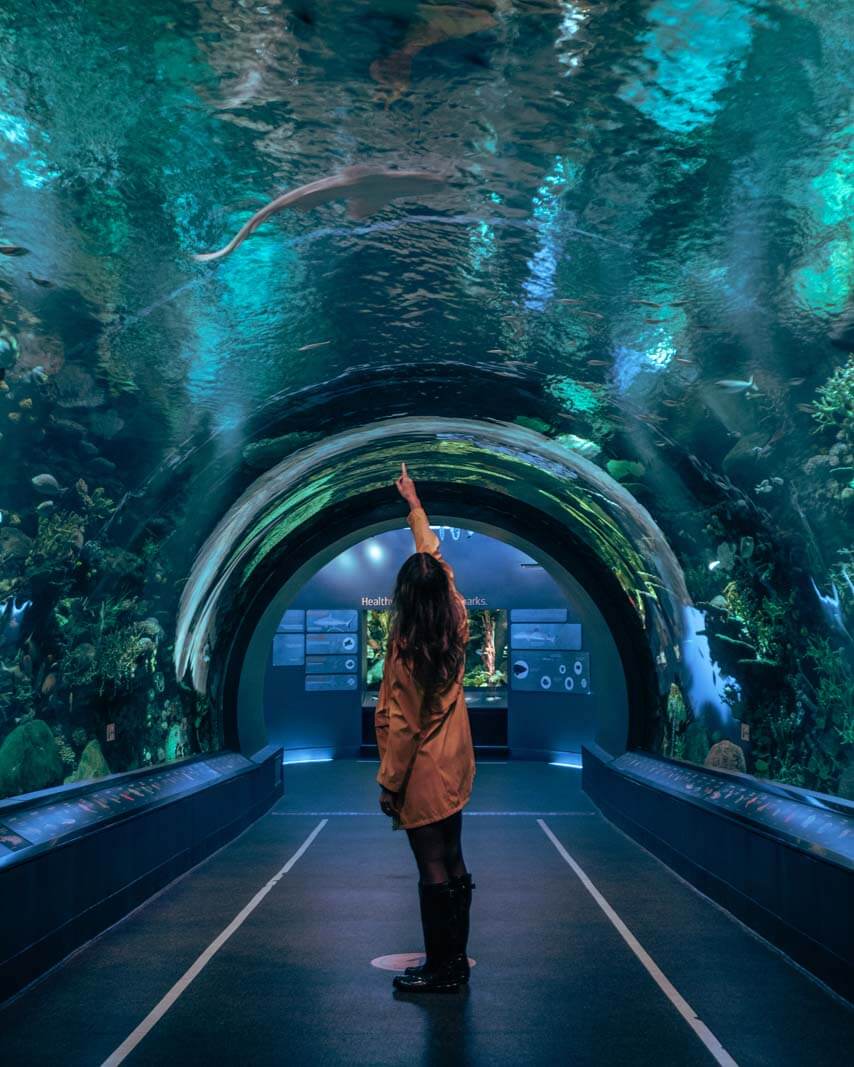 Perfect any season but also available at Coney Island in winter is the New York Aquarium, the oldest consecutively operating aquarium in the United States! Coney Island is home to many historic landmarks, and this is one of them!
Originally the aquarium opened at Battery Park in Manhattan in 1896 but was moved to Coney Island in 1957 where it has been since on the former location of Dreamland, one of the earlier amusement parks that donned the boardwalk in yesteryear.
The most popular exhibit here is the Ocean Wonders: Sharks! tank that gets visitors inches away from just under 20 different species of sharks. There are MANY more things to see here, we actually have a whole guide to help you plan your visit to the New York Aquarium so be sure to check out before your visit!
There are both outdoor and mostly indoor exhibits here making it a great option on a Coney Island winter day! Learn about all the different marine life and the conservation programs in place by the WCS, Wildlife Conservation Society during your visit!
Also, thanks to actor Michael B Jordan who rented this space out for Valentine's Day in 2020 for a private dinner for him and his date Lori Harvey, this has been highlighted as one of the best winter date ideas in NYC – even if you can't afford to rent the entire aquarium out!
Coney Island Museum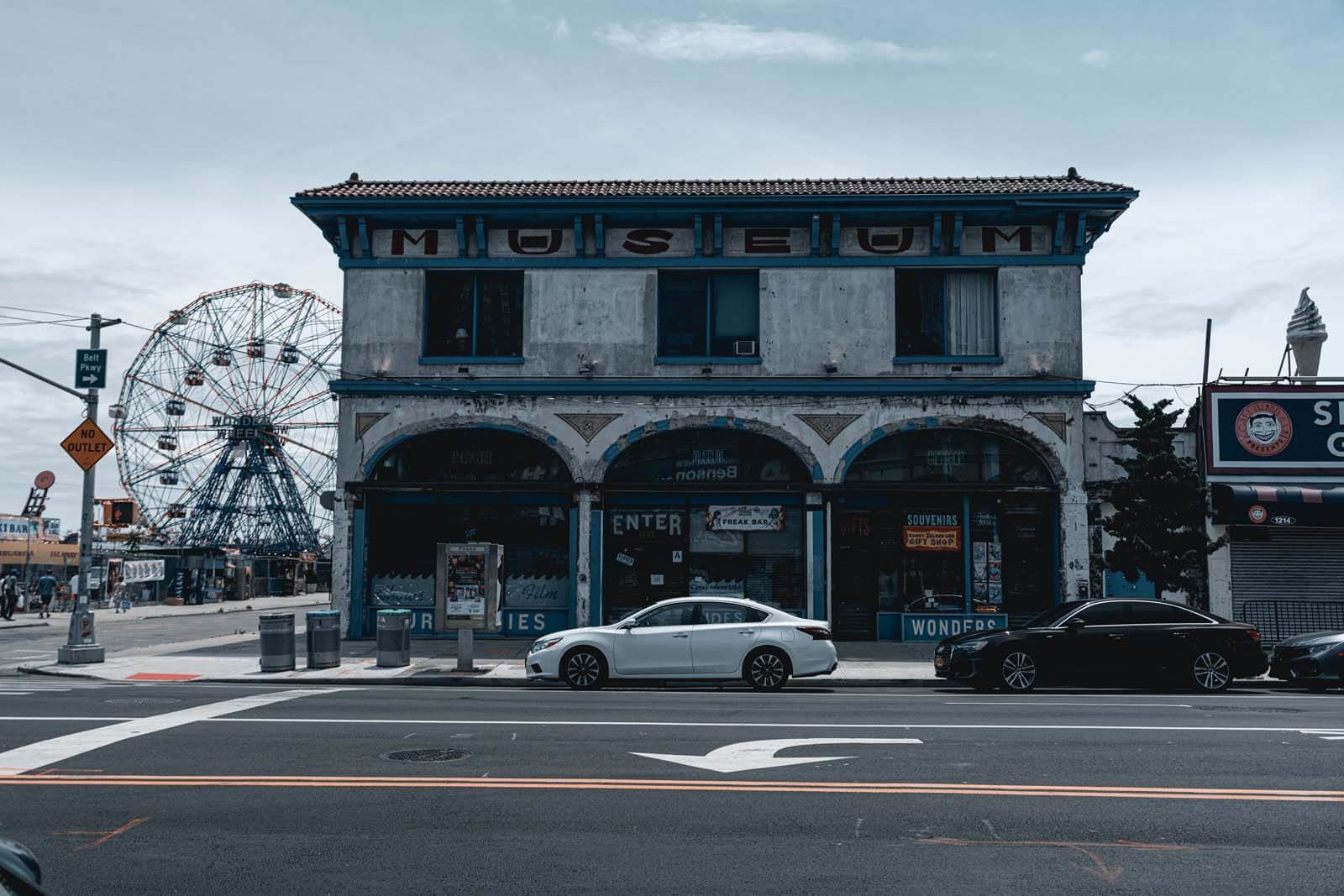 Another great and educational Coney Island winter activity is the Coney Island Museum! Dive into the fascinating past and history of Coney Island in the only accredited institution in the world singularly dedicated to preserving and interpreting the history of the Coney Island amusement district starting with the early days of one of America's earliest amusement parks!
There is a permanent collection of over 5,000 items from photographs, paintings, amusement-related items, architectural elements, and vintage signs from over the years.
They even have archives that are used as a critical resource for scholars studying the history of American recreation and popular culture from the 19th century forward. Don't miss one of the coolest museums in Brooklyn during your Coney Island winter visit and this happens to be one of our favorite Coney Island hidden gems!
Admission is $5 for adults and $3 for children, open Saturdays (12 – 5) & Sundays ( 2- 5) Labor Day – Mid June, open Mid June – Labor Day on Wednesdays – Saturday from 12 – 6 and on Sundays from 2 -6.
Coney Island Brewery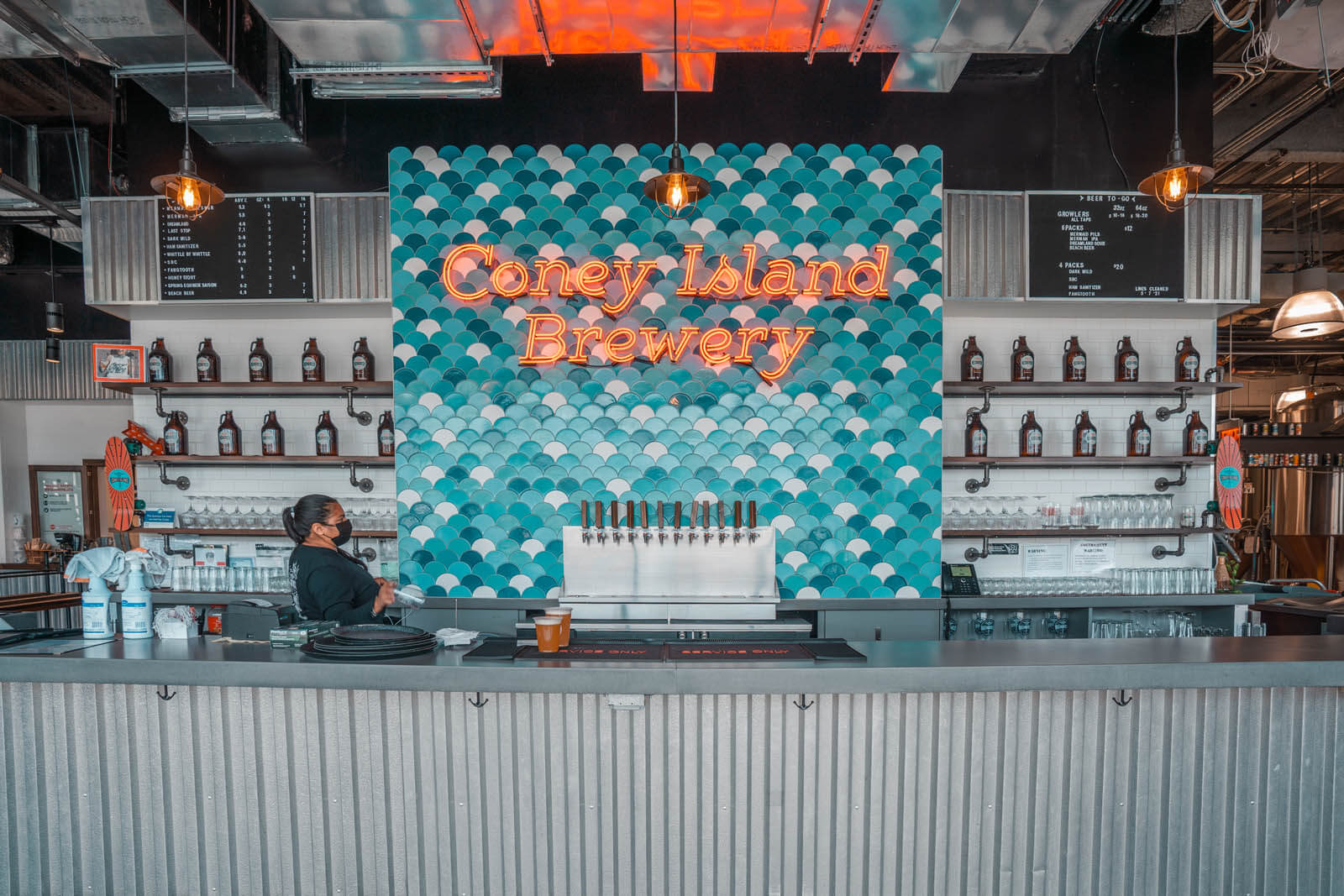 What better way to warm up on a Coney Island winter day than with a freshly brewed craft beer on draft? Coney Island Brewery is one of the best breweries in Brooklyn and a great spot to visit during Coney Island in winter because they have a nice, large spacious taproom serving up brews you can't find anywhere else with their limited release beers as well as their most popular brews like the Mermaid IPA and Mermaid Pilsner.
Coney Island Brewery also is one of the few breweries in the city where you can also tour the facility, for free too! Not a bad way to spend your time on a winter day!
Ice Skating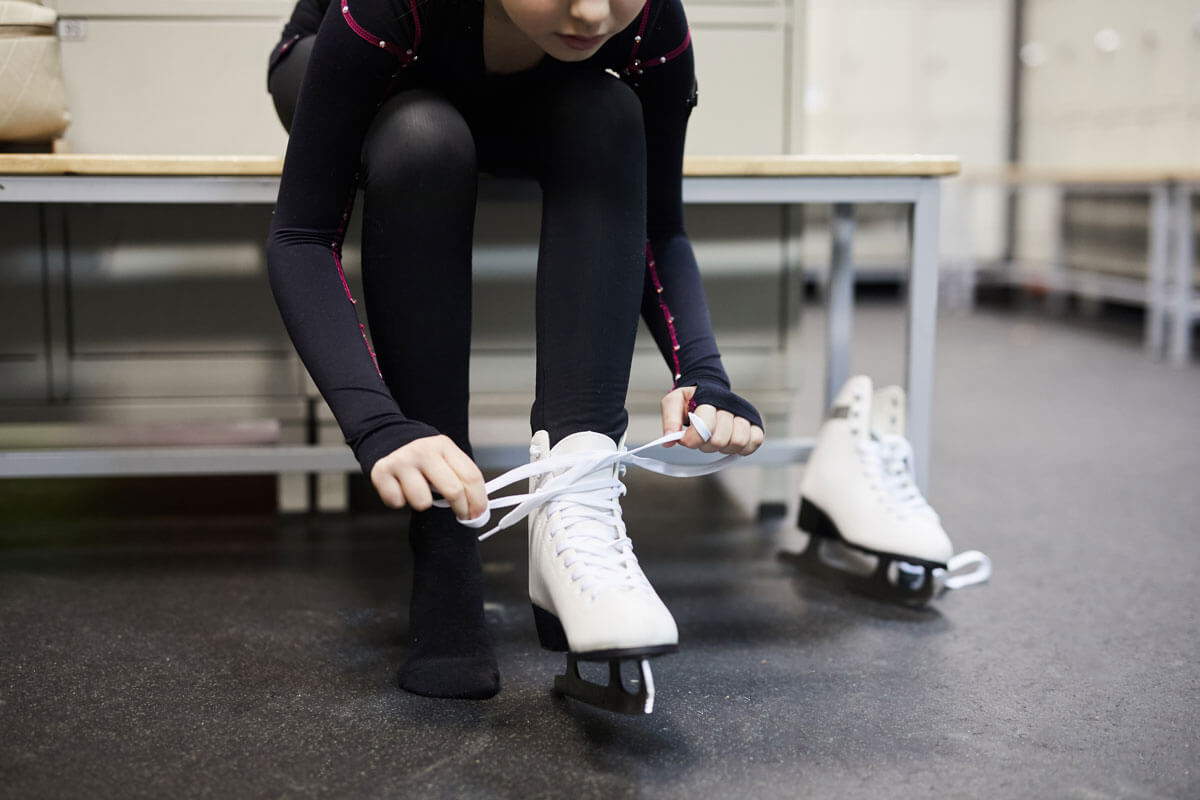 One of the best Coney Island winter activities and most popular things to do in the city during the winter is ice skating! Located on Riegelmann Boardwalk, you can visit Abe Stark Arena which is named after a three-term Brooklyn borough president who served throughout the 1950s and 1960s who was so loved by his community he was nicknamed, "Mr. Brooklyn."
This is one of the best ice skating rinks in Brooklyn is located on the boardwalk and operates from the months of October through March.
If you're new to ice skating don't worry, they offer public ice skating classes in a group or private lessons and even hockey!
Head Over to Brighton Beach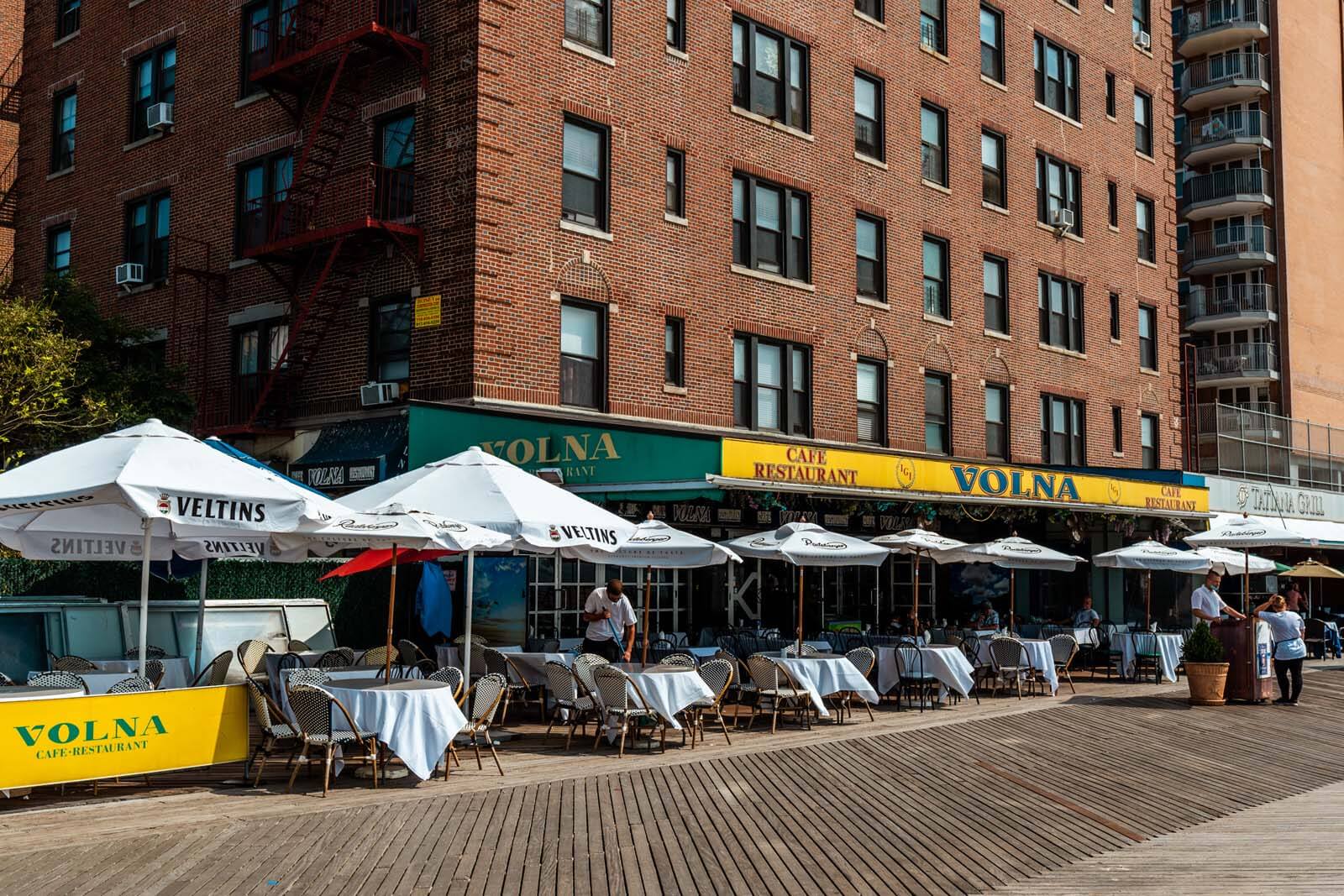 As you're exploring the boardwalk on your Coney Island winter day, walk about 10-15 minutes towards Brighton Beach, the Russian enclave and beach community that has a completely different vibe and is a totally different experience than Coney Island.
You have the beach here, which happens to be a great spot in warmer months with typically fewer people than Coney Island Beach and the community known as "Little Odessa," home to Russian and Eastern European communities.
This is where you can find great Russian and Eastern European shops, restaurants, and even Russian spas. You'll know you made it when you see the signs in Cyrillic or hear the Russian language.
Check out the food at Brighton Bazaar, enjoying some vodka at Volna, and strolling through the different shops during your first trip to Little Odessa.
How To Get to Coney Island
We have an entire guide for how to get to Coney Island using all transportation options, however, we have condensed the information below as a quick reference, if you need more in-depth instructions or directions be sure to check out our guide with easy to follow directions to Coney Island!
The nearest subway stops that service the area are:
West 8th Street Station (F, Q lines)
Coney Island-Stillwell Avenue Station (N, D lines) *handicap accessible
Neptune Avenue Station (F line)
If you're driving to Coney Island in winter you will have a little easier time finding parking than if you were visiting during peak summer season!
You can find free parking on the street or metered parking that's around $2 for 2 hours max. There are also paid parking lots at MCU Park and The New York Aquarium that are short walking distance to all the Coney Island winter activities we mentioned!
There is usually parking around all the subway stations too if you're not sure where to start.
---
Liked this post and guide to Coney Island in winter? Bookmark for later or share the love below on Pinterest!