Check out some of our favorite diners in Brooklyn that are not only the perfect late-night spot, classic breakfast joint, or a place that you can go to get all the feels of nostalgia but these Brooklyn diners are some of the best in the city when it comes to food and setting!
Most of the time classic diners carry American fare and comfort food like hamburgers, french fries, club sandwiches, pie, and of course, COFFEE! However, what you'll notice in New York City and Brooklyn diners is that you get a more expansive menu than say a roadside diner out of the city. Menus in the city often offer a range of cuisine reflecting the diversity you can find in the city, which we are huge fans of.
Check out our favorite old-school diners in Brooklyn and if you want more suggestions around the city, check out our picks for best diners in New York City!
15 Brooklyn Diners to Check Out
Kellogg's Diner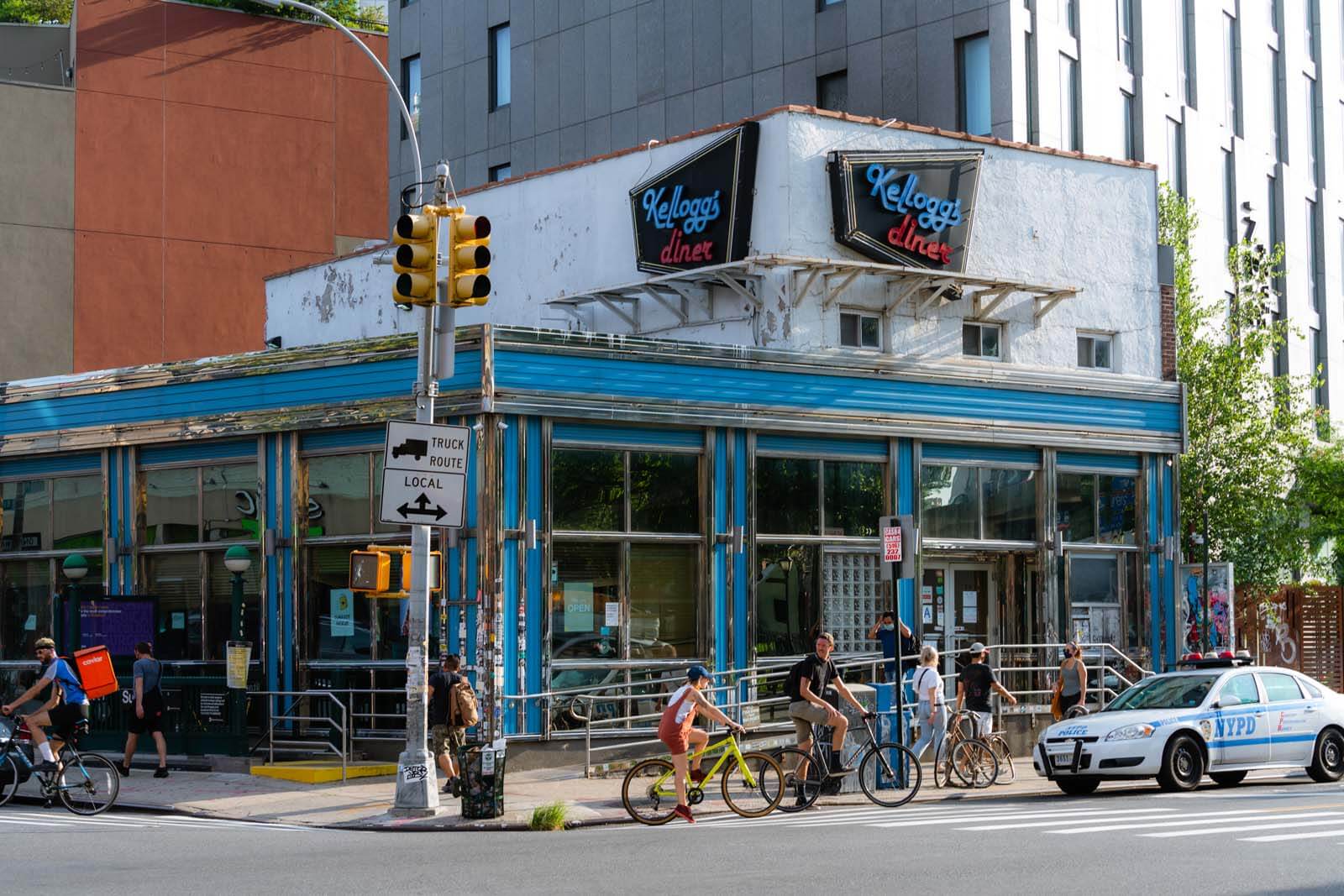 Williamsburg (518 Metropolitan Ave)
One of the most classic diners in Brooklyn can be found in Williamsburg when you exit off the Lorimer L and G subway stop. If you're coming out of the subway, you can't miss Kellogg's Diner on the corner with it's classic American diner stainless steel exterior details!
This classic diner has been around since 1928 and is a popular late-night pit stop after drinks at the plethora of bars in the area.
Kellogg's has the classic 1950's diner aesthetic on the exterior and spacious booths on the inside, and its bright neon lights at night make for some great photos.
This no-frills Brooklyn diner is open 24/7 with the full menu available at any time, so it's common to see hungry folks leaving bars to flock here for breakfast at all hours of the night.
Their menu is quite large and diverse, serving American diner classics, as well as Mexican, Italian, seafood, roasted meats, and even different steaks! This is the perfect Brooklyn diner to finish off your night, (or start off your day!) and hop right on the train after.
Diner
View this post on Instagram
Williamsburg (85 Broadway)
Diner is one of my favorite diners in Brooklyn and favorite hidden gems in Williamsburg because it's a modern restaurant that has a century-old Pullman dining rail car inside perfectly curating what makes NYC so special, the juxtaposition of old and new. You have the modern menu and dining experience with an old-school diner setting.
The Brooklyn diner known conveniently as Diner in Williamsburg is a unique gem that offers a fun, classy aesthetic along with a memorable dining experience.
Diner prides itself on its seasonal menus, with rotating specials based on fresh ingredients they get, so be sure to come back for new options every few weeks! This elevated dining experience has impeccable attention to detail, yet is still grounded and fits perfectly in the Williamsburg neighborhood.
Their wine and beer list are extensive, with artisanally crafted cocktails to go with it. Their weekday lunches offer casual yet modern dishes, while their dinners are more sophisticated.
For a cozy Sunday afternoon, explore the neighborhood checking out the best things to do in Williamsburg, and head over to Diner for Brunch to wrap up your weekend.
Tom's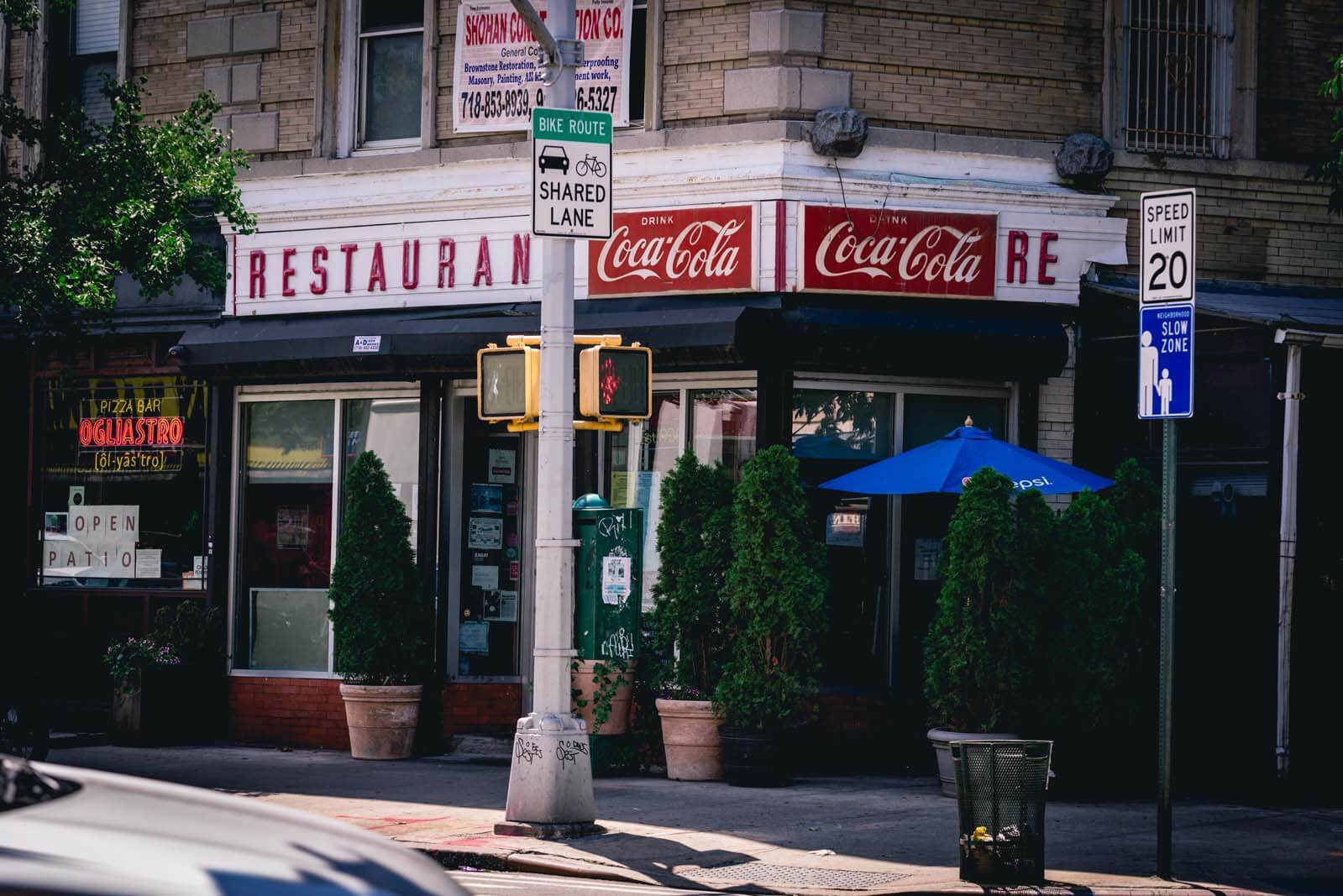 Prospect Heights (782 Washington Ave)
Although commonly confused for the other "Tom's Diner" in the Upper West Side mentioned in the 1980's hit of the same name, make no mistake, Tom's is one of the longest standing and beloved diners in Brooklyn to date.
This unassuming eatery on a corner in Prospect Heights has been so popular over the years that they now have another branch at Coney Island, mentioned later on this list.
This old fashioned Brooklyn diner has the iconic old school New York look, with classic checkered flooring and a storefront patio, a neighborhood gem that has been around since 1936. Opened by a Greek-American family, the original owner Tom Vlahavas passed on Tom's to his son Gus, who continued running the eatery for 60 years until his death in 2014.
His presence in the neighborhood was so impactful, locals know this corner of Prospect Heights as "Gus Vlahavas Place". For a classic diner experience that doesn't get more authentic than Tom's, head here for one of their egg creams, or their famous cherry-lime rickeys.
Their most popular options on the menu include their many meatloaf dishes, but their pancake varieties are also unbeatable. There can be a line on weekends to grab a seat because of its popularity, but the owners sometimes keep up the neighborly tradition of passing out free coffees while you wait!
When you're done eating and need a walk, check out all the best things to do in Prospect Heights.
Mike's Diner of Brooklyn
View this post on Instagram
Bensonhurst (1454 86th St)
Found in the South of Brooklyn, bordering the Bensonhurst, Bath Beach, and Dyker Heights neighborhoods, Mike's Diner is a no frills Greek-American eatery serving up generous portions and humble comfort foods.
They've got all the classic diner staples like eggs, burgers, and pancakes, but don't shy away from their Greek specialities too!
Their shish kabobs and gyro platters are sure to fill you up and have you leaving full and satisfied, with falafel and greek spinach pies as a vegetarian option. Mike's Diner is close to many parks, as well as the south Brooklyn waterfront, with views of Staten Island and the Verrazzano Bridge.
Its location makes a pitstop to a local Brooklyn diner perfect to fit into an itinerary exploring the neighborhood!
New Dyker Restaurant
Bensonhurst (8505 18th Ave)
Deeper into the Bensonhurst area, New Dyker gives you the classic diner experience, along with delicious food while sitting in one of their booths or old-school diner stools at the bar.
This spot is easy to pass by from the outside, situated underneath the subway overhead, and lacking the flashy neon lights like others mentioned on this list, but the intimate interior and open counter floor plan is inviting nonetheless.
Their breakfast menu is extensive, and their sandwiches all have tons of different options, so you'll never be short of choices to make here. Best of all, their mugs of coffee are cheap and bottomless!
Although New Dyker may not have the same trappings that many of the larger diners in Brooklyn may have, it's definitely worth stopping by if you ever find yourself in the Bensonhurst neighborhood!
Manhattan Three Decker
View this post on Instagram
Greenpoint (695 Manhattan Ave)
Located on a corner in the heart of Greenpoint, this iconic restaurant is one of the more well-known diners in Brooklyn and has been around since 1928.
The restaurant gets its name from what they pride themselves on, the classic diner triple-decker sandwich, which has an entire page dedicated to them on their menu with various options.
While one can expect all the diner classics, the most noteworthy selections are their "All-Stars" sandwiches, named lovingly after Brooklyn and New York sports teams. This Brooklyn diner is in a prime location with many things to do and explore nearby, so a visit to Manhattan Three Decker is perfect along with a visit to McCarren Park or learning about Greenpoint's quaint, yet culturally fascinating features.
Junior's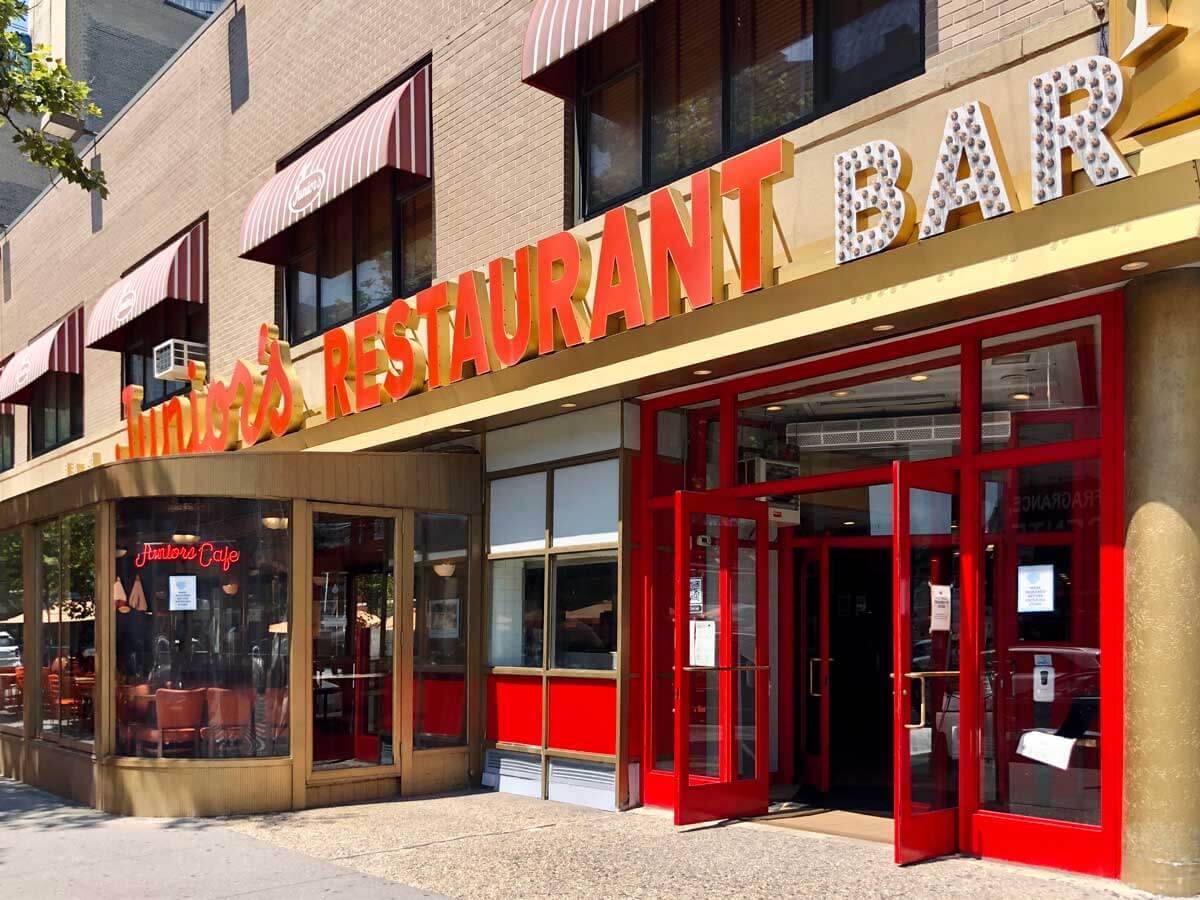 Downtown Brooklyn (386 Flatbush Ave)
The original Junior's is one of the most famous diners in Brooklyn, having been around since 1950 with a long standing reputation and history as a local landmark. Since its opening, it's gotten so popular they've expanded to several other locations in the Theater District, Times Square, and one in Connecticut at the Foxwoods Casino.
Visitors flock for their world famous Cheesecake, hailing crowds from the likes of Barack Obama and even the Kuwaiti prince, who took several back with him after a trip to New York!
The original location on Flatbush Ave in the Downtown Brooklyn neighborhood is also right by Dekalb Market Hall, a utopia for foodies and one of the best things to do in Downtown Brooklyn.
The diner boasts a fun and retro atmosphere, with colorful decor and Brooklyn memorabilia all around. While many come for their cheesecakes, they also have everything you would want and expect from a diner with breakfast, lunch, and dinner and of course, dessert.
Some other hot on their menu include their 10 oz. steakburgers and barbecue dishes. They even have a full bar including a generous wine menu and local beers on tap!
And if you want to take some of that world-famous cheesecake home with you or you miss it from afar, you can order it and have it delivered to your home on Goldbelly!
Daisy's Diner
Park Slope (452 5th Ave)
Daisy's Diner is a cozy little Brooklyn diner right in Park Slope, with a cozy and classic Americana atmosphere. Their comfort foods are the embodiment of a classic American breakfast–one of their unique options includes their "Lumberjack breakfast", complete with eggs, bacon, sausage, and home fries!
Their corned beef hash is also a popular menu item, and you'll be walking away satisfied each time. Their menu also offers a wide variety of lunch and dinner options, and delicious sweets like cakes, pies, and milkshakes.
Best of all, Daisy's Diner welcomes guests 24/7, and is the perfect spot for a pick-me-up after a long night!
Neptune Diner II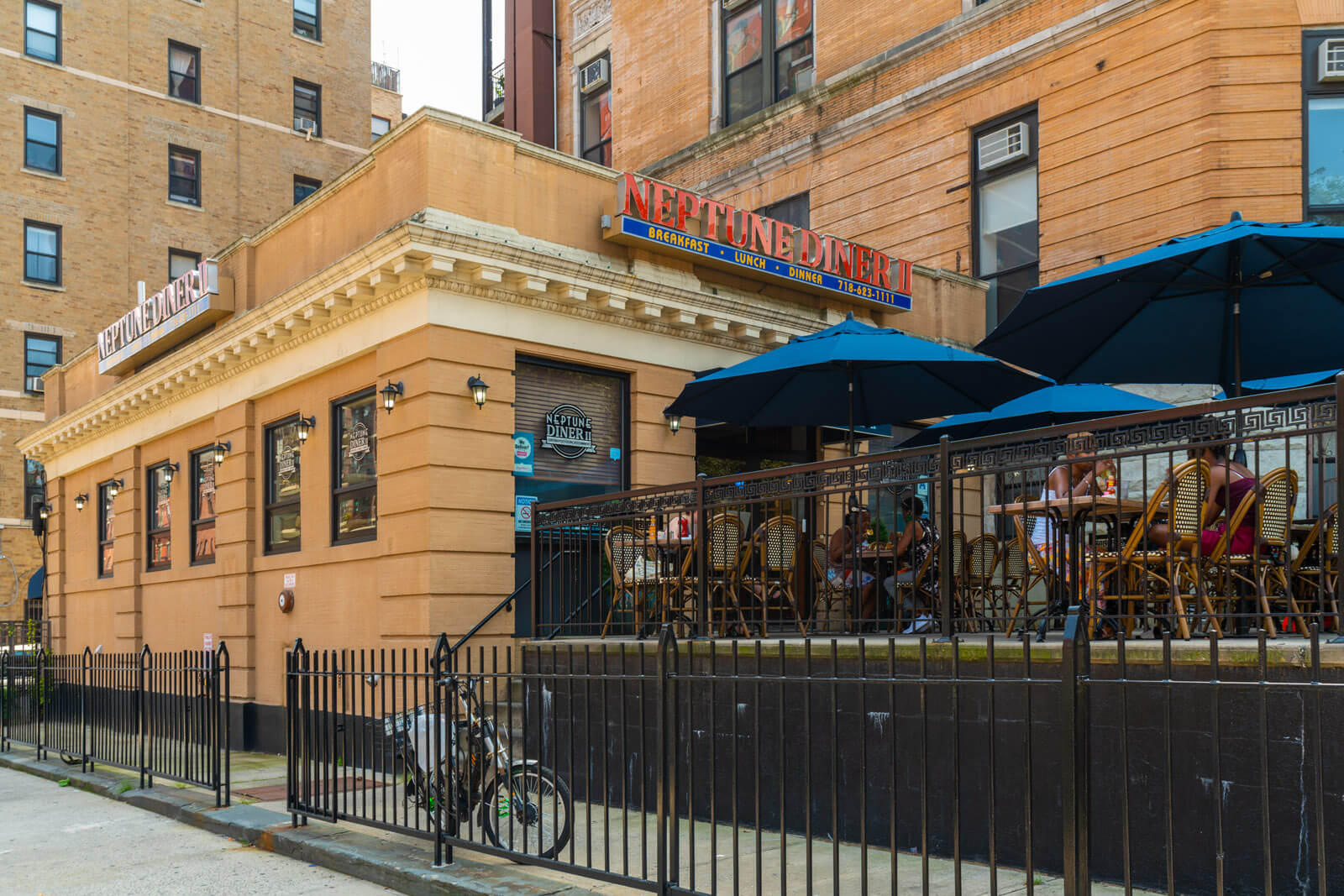 Prospect Heights (699 Classon Ave)
Neptune Diner II located in Prospect Heights is the expansion of the first Neptune, located in Astoria, Queens. Casual eatery, with plenty of open seating inside, as well as a large patio and several tables for dining outdoors, making it a great option for diners in Brooklyn to visit on a summer day!
Neptune serves American cuisine with a few Greek items on their menu as well. Their menu serves up some really creative options that are great for vegetarians such as buffalo cauliflower (instead of wings), fried zucchini sticks, and their "Greek fries" that comes with tzatziki sauce, lemon, oregano, and feta cheese.
Other crowd-pleasers on their menu include their disco fries (an American version of poutine fries), their burgers, and their "Mediterranian specials".
Their location in Prospect Heights is close to the Brooklyn Botanic Garden, the Brooklyn Museum, and Prospect Park, making it a perfect place to grab a bite of food on your way!
Mike's Coffee Shop
View this post on Instagram
Clinton Hill (328 Dekalb Ave)
Mike's Coffee Shop is a cozy corner cafe and classic Brooklyn diner in Clinton Hill, serving breakfast lunch and dinner. Mike's Coffee Shop has lines out the door with people waiting to have a great Sunday brunch, frequented by locals and even numerous celebrity visitors.
The proximity to the Pratt Institute art school makes it a popular dining option for hungry students all throughout the week.
The restaurant looks almost as if it has remained in time since it opened in the 1950's, with its bright neon sign outside and its intimate booths and counter seating on the inside.
While many come for its delicious and filling breakfasts, they also serve other delicious classics like burgers, soups, and chicken and waffles! Stop in for a warm meal and their bottomless coffee to appreciate the history and enjoy your time at one of the Clinton Hill's most beloved eateries.
Tom's (Coney Island)
Coney Island (1229 Riegelmann Boardwalk)
Tom's located along the famous Coney Island Rieglemann Boardwalk is home to the second location of the famous and original Tom's in Prospect Heights mentioned on this list.
This location has all the staples you can get at the Prospect Heights location, plus a few options unique and fitting to its home on the boardwalk, such as corn dogs, hot dogs, and delicious seafood dishes. Their seafood specialties like their fried shrimp with fries, or their fish and chips make it an exceptional option for a beach day by the water.
The restaurant has both indoor and outdoor seating on their cute and charming rooftop, with a great view of the boardwalk that's perfect for people-watching.
For an extra special treat, be sure to grab a seat on their roof by 9:00pm in the summertime for a fantastic view of the Coney Island Fireworks. Their hours are seasonal (and weather dependent sometimes), so it's best to check their facebook page to see if they are open for guests!
While you're here be sure to explore all the best Coney Island hidden gems too! There are several!
Parkview Diner
View this post on Instagram
Coney Island (2939 Crospey Ave)
Another local favorite in the Coney Island area is Parkview Diner, one of the great diners in Brooklyn with an old school aesthetic and great food along with it!
Parkview Diner has a charming and nostalgic outside, complete with neon lights overhead and retro steel siding along the walls. The inside has plenty of seating, with booths by the window, regular tabletops, and some sit-in counter spaces as well. The restaurant is 24/7, and is a great way to watch the sunset (or sunrise) from one of their window booths!
The ambiance is casual, yet cozy, and the mural of old-school Coney Island is sure to make you feel like you're in another decade.
Their menu has unique classics that aren't always found at your average diner, such as fajitas and baby back ribs, but you can always go with any one of their numerous diner staples as well! Before you leave, be sure to pass by their dessert window and choose one of their delicious cakes and sweets.
Cobble Hill Coffee Shop
Cobble Hill (314 Court St)
Cobble Hill Coffee Shop is a great local coffee house with traditional American diner foods in the quaint neighborhood of Cobble Hill. The nostalgic eatery serves up generous portions of all your favorite diner classics in a quiet and classic atmosphere, with tons of seating at the counter for an authentic Brooklyn diner experience.
Head here for a perfect start to your day with some breakfast straight from the griddle, paired with a coffee or espresso. Specialties listed on their website include their Banana Nutella Pancakes, their egg dishes, and their dinner platters (ie. Souvlaki sandwiches, meatloaf, lasagna).
A few of their many comfort meals that stand out include their fish n' chips, franks n' beans, and their chicken and waffle platters. Their list of sandwich options are extensive with lots of variety for meat lovers and vegetarians alike.
The neighborhood of Cobble Hill is a beautiful and quiet district in Brooklyn with endless brownstones and cute streets everywhere you turn. Stop in at Cobble Hill Coffee Shop to complete your lovely stroll around the neighborhood hitting up all our favorite things to do with a classic American meal, and of course, a coffee!
Sunset Park Diner & Donuts
View this post on Instagram
Sunset Park (889 5th Ave)
Nestled on a corner between Green-Wood Cemetery and Sunset Park, Sunset Park Diner & Donuts offers an authentic diner vibe in both its ambiance and food.
This Brookly diner is open 24/7, and is a great brunch spot to visit, with the option to continue onwards to the many neighborhood attractions in the area.
The seating inside has spacious booths with high dividers in between for more privacy, creating an intimate and cozy dining experience.
Some popular diner classics on their menu are their breakfast items, disco fries, and burgers. Its name entails a great selection of donuts, which they definitely deliver!
The Baker's Dozen option on their menu includes your choice of 13 donuts, from flavors such as marble twist, french cruller, chocolate glazed, jelly filled and more.
For an extra special treat, their donut sundae is a can't miss, with a massive heaping of ice cream and whipped cream that's both instagram worthy and delicious! For the ultimate retro throwback experience, complete your visit by heading to Melody Lanes down the street!
It's no wonder why this spot is one of our favorite places for donuts in Brooklyn!
George's Diner
View this post on Instagram
Ditmas Park (753 Coney Island Ave)
George's Diner between the historic Ditmas Park and Victorian Flatbush area is a family run restaurant, originally built in 1956. This eatery has been serving up home cooked American-Greek staples for decades, and is hailed as a neighborhood landmark today!
The walls are decorated with photos and accolades of the diner collected throughout the years, cementing the presence and significance of this humble eatery in Brooklyn. George's is known for friendly service, from the same family who opened the restaurant originally, serving up meals at quick speeds.
The top dishes to try if you come are their egg salad sandwich, their gyros, paninis, and burgers. The restaurant is usually quite busy on weekends, filled with loyal locals, but the wait is worth it for that well-deserved, relaxing weekend lunch!
---
Did we miss any of your favorite old-school or nostalgic Brooklyn diners? Let us know in the comments below! If you liked this guide or found it helpful bookmark it for later or share the love below on Pinterest!
Don't miss more great ideas in our guide to the 100 best things to do in Brooklyn!