Looking for the best things to do in New York in fall? Lucky for you this is one of the most magical times of the year to visit! From the beautiful fall foliage in NYC to fun activities and events happening in NYC during autumn, this guide has you covered!
Not to mention, visiting NYC in the fall offers all kinds of perks. Milder weather, fewer crowds, vibrant foliage, and seasonal festivities like the Thanksgiving Day Parade and NYC Halloween celebrations. It's an ideal time to explore iconic attractions, enjoy cultural events, and experience the city's charming autumnal ambiance.
What's the weather like during fall in New York City?
It's important to check the weather before your visit as you want to come prepared. September and early October are often very comfortable and even still hot temperatures! Once you get to mid-October through November the weather starts cooling down and you will want to make sure you pack a jacket.
In September the average temperatures are a low of 61°F with average highs at 76°F. In October temperatures start lowering a bit with an average of lows at 50°F and an average of high being 64°. In November temps cool even further with an average of lows of 42°F and an average high of 55°F meaning you'll want to bring extra layers and jackets accordingly.
Be sure to check our whole guide for what to wear in NYC in the fall curated by locals who live in the weather year after year!
Things to do in NYC in the Fall
Visit Governors Island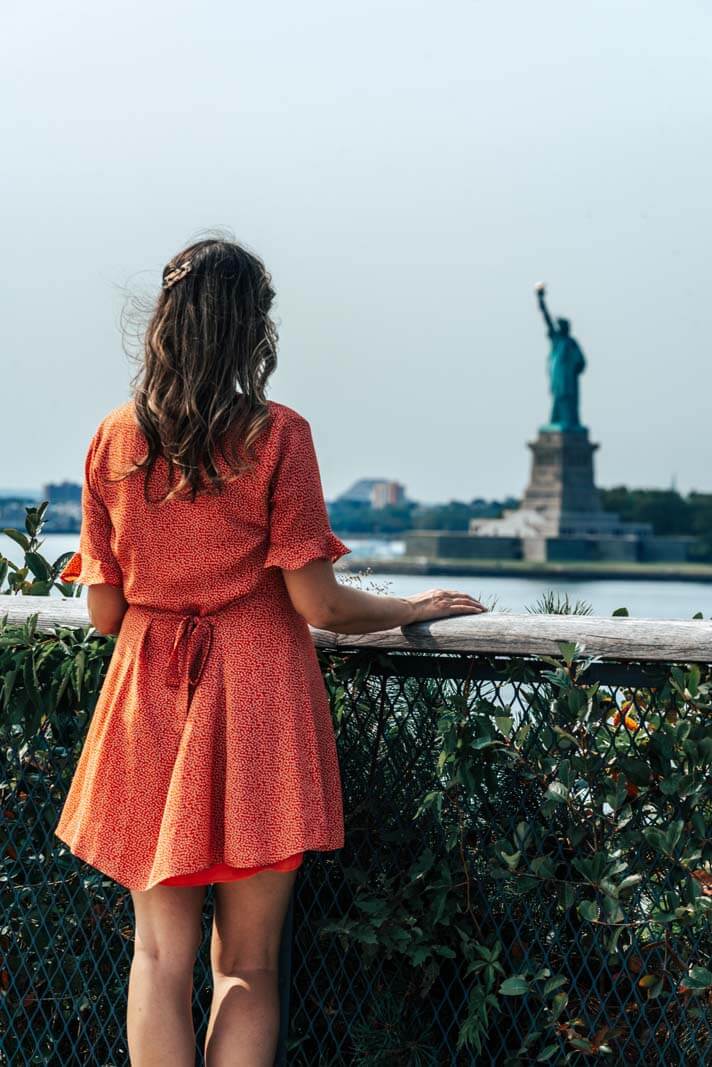 Governors Island is an island in New York Harbor and a popular city attraction and one of our favorite places to explore. Visiting Governors Island is one of the best fall activities in NYC because there is so much to do here!
This historic landmark will expose you to unobstructed views of the Statue of Liberty and Lower Manhattan with a great view of the World Trade Center as well as some of the most famous landmarks in the city from all around the island.
If you want to see historic scenery and vibrant greenery in the park, fall in NYC is one of the best times to visit Governors Island without the summer crowds It's easy to visit with a short, inexpensive ferry ride.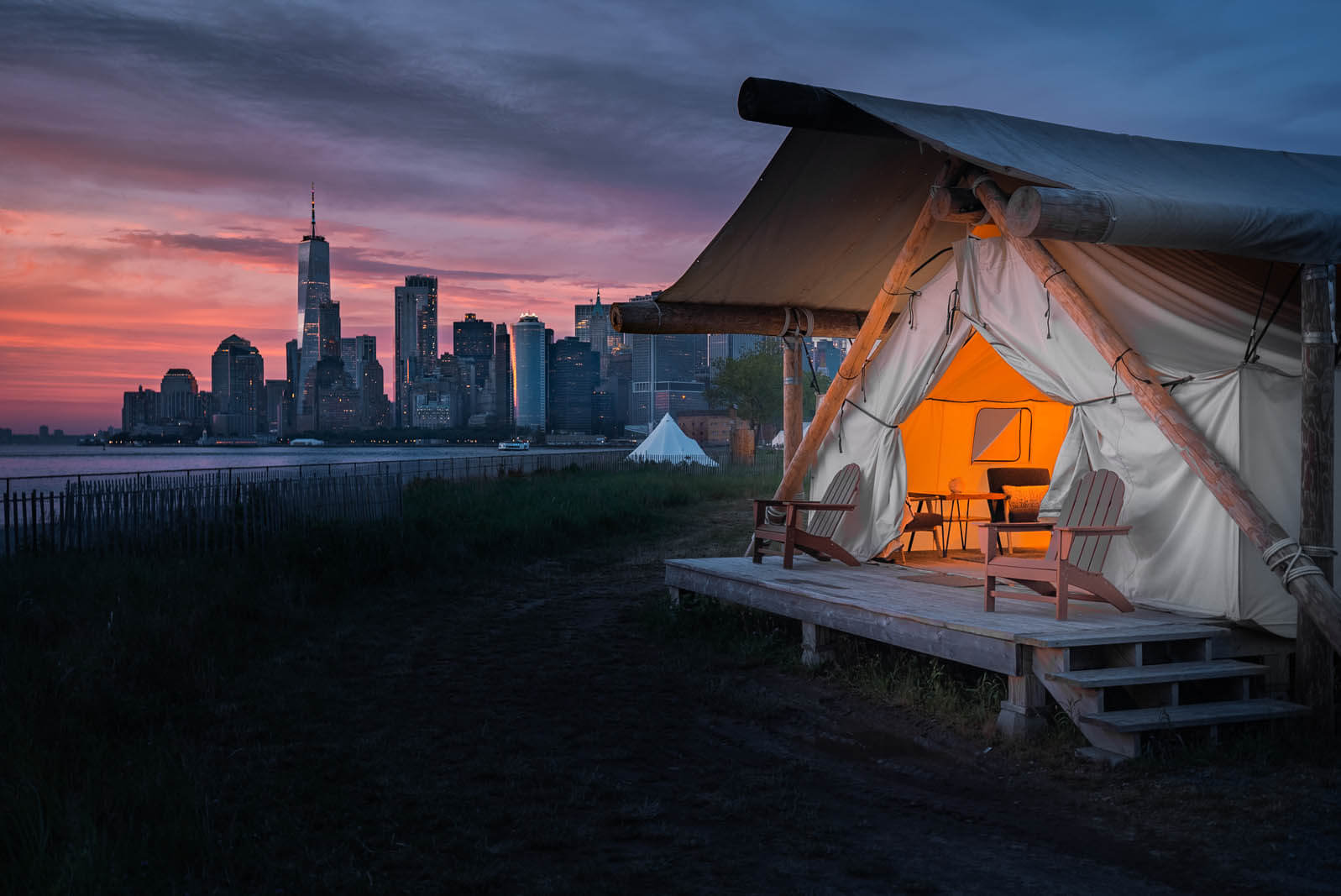 Oh, did we forget to mention there's also luxury glamping on Governor's Island? This is also open until the end of October and a great way to spend one unforgettable night in the city with a tent facing the Statue of Liberty or the World Trade Center! If you don't want to stay, you can also just grab a meal or drink at their restaurant here.
Leaf Peeping & Fall Foliage
Although many of the best parks in NYC are one of the best places to see the fall foliage in NYC, there are many other places to check out as well!
One of the best fall activities in NYC is visiting the New York Botanical Garden. The New York Botanical Garden is located in the Bronx and is over 250 acres. With over one million living plants, this garden is a great place to visit if you want to experience NYC in autumn, especially since there is so much ground to cover here, trails, and even hidden NYC waterfalls!
Another great way to immerse yourself in the fall foliage of the city is to visit Central Park. Central Park offers some of the best fall activities in NYC, including events like the Global Citizen Festival, and many great photo spots not to mention some of the best picnic spots in NYC with a view.
In Central Park don't miss walking the Mall all the way to Bethesda Terrace, Bow Bridge, and Belvedere Castle to name a few of the most incredible spots!
Fall in New York City won't be complete unless you visit Prospect Park, Central Park's Brooklyn sister. Designed by the same architects, Frederick Law Olmsted and Calvert Vaux, there are so many beautiful places to enjoy the fall foliage here from walking through the Ravine trail that was designed to mimic the landscape of the Adirondacks to the beautiful Boathouse and historic arches.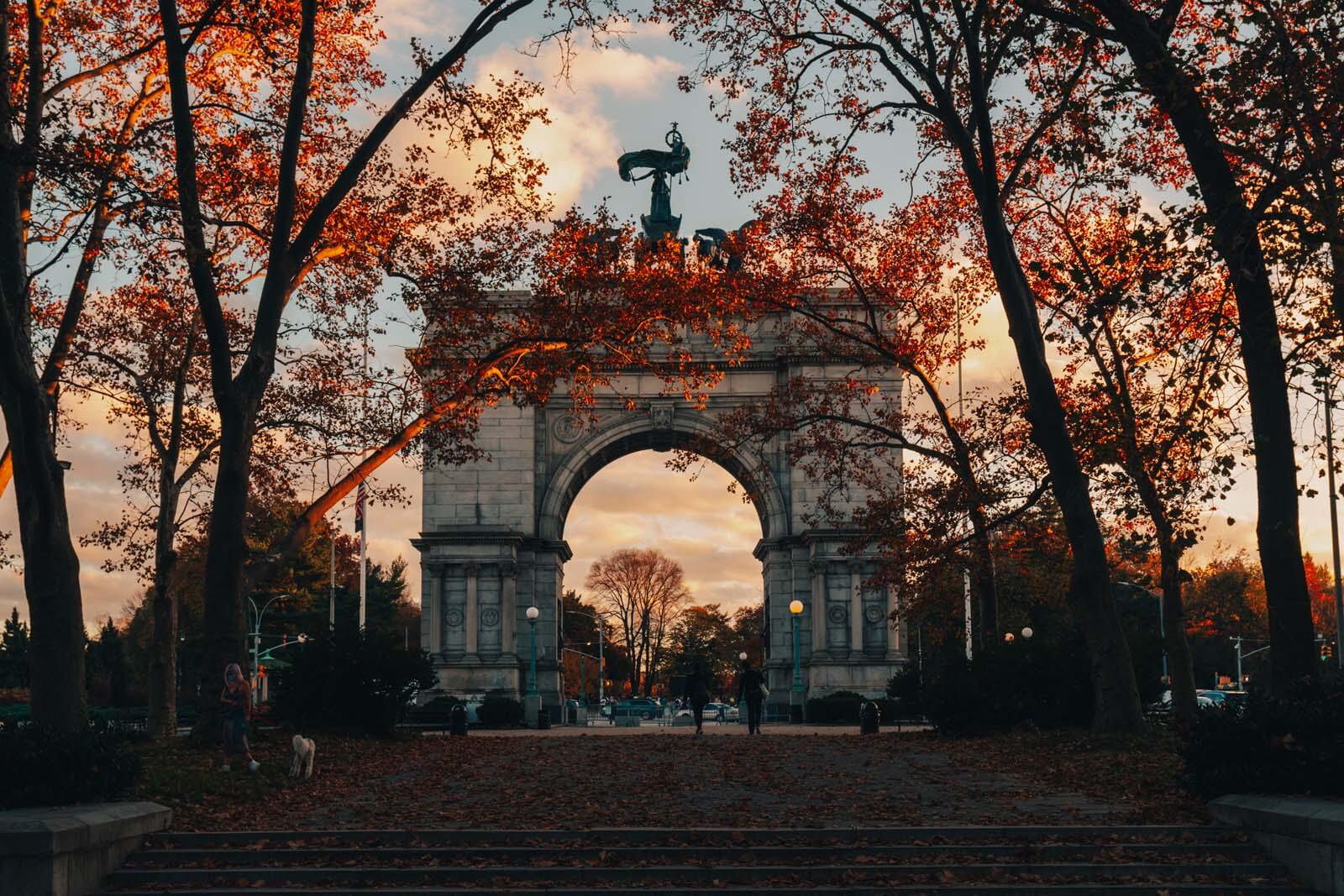 Nearby are also the Brooklyn Museum, Grand Army Plaza, and the Brooklyn Botanic Garden, another amazing spot to witness fall in New York City.
Another great spot in Brooklyn to experience fall in NYC is at the historic and beautiful Green-Wood Cemetery. With almost 500 acres of land, this famous cemetery is located in Sunset Park and the permanent home to famous and historic residents interred here like Horace Greeley, Boss Tweed, and Louis Comfort Tiffany.
However, this cemetery is also known for its spectacular fall foliage! Known for its Japanese maples, this cemetery also offers historic tours during NYC in autumn not to mention Halloween programming, what better place to visit around the end of October than a cemetery?! But more on that later as we dive more into why this is one of our favorite things to do in NYC in the fall.
Visit Art Galleries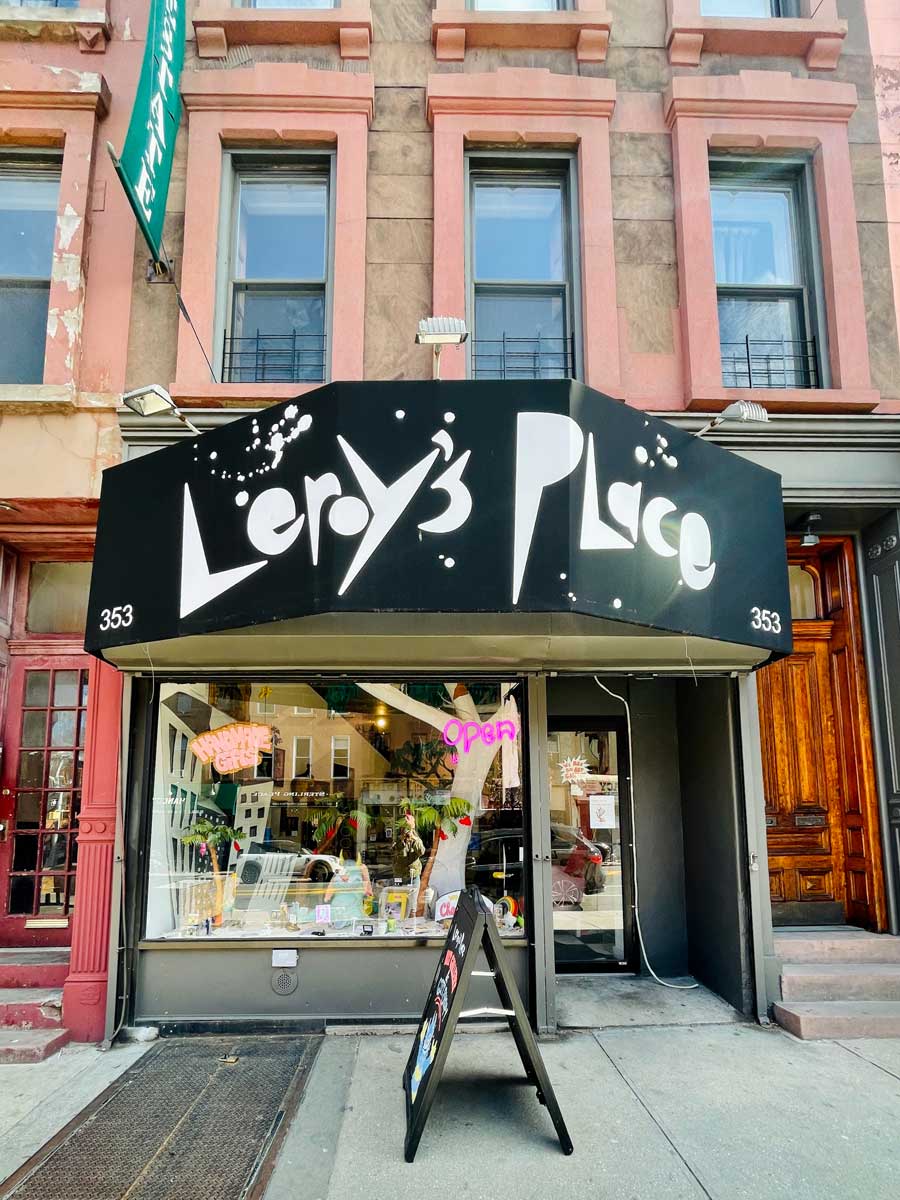 One of the best fall activities in NYC is visiting the outstanding art galleries the city has to offer. There are definitely independent galleries all over the city but there are neighborhoods known for having a large concentration of art galleries like Chelsea and some of the best art galleries in Brooklyn can be found in Boerum Hill, Red Hook, and Bushwick to name a few.
Located in Chelsea, 303 Gallery is a 5-star art gallery that celebrates contemporary artists that work in all kinds of media. Another gallery nearby is Gagosian. Located just a few blocks up from 303 Gallery, Gagosian celebrates modern and contemporary art.
Although their most popular location is in Chelsea, they have a collection of galleries worldwide, including 16 others throughout NYC. Not to mention there are hundreds of art galleries in Chelsea to explore!
If you find yourself in Red Hook, Brooklyn, be sure to check out Pioneer Works. This non-profit cultural center celebrates the arts and sciences throughout a large array of disciplines. If your ideal NYC in autumn adventure includes learning about global art, this is the perfect place for you.
Another popular art gallery in Brooklyn is The Greenpoint Gallery. This 6,000 square-foot art gallery has many music shows and art openings! If you're searching for an underground, spacious gallery, this is the perfect pick for you.
A quirky and funky art gallery in Park Slope to check out is Leroy's Place. Leroy's Place is an immersive art gallery and gift shop known for its large installations, original art, and handmade gifts.
Spend a Day at Coney Island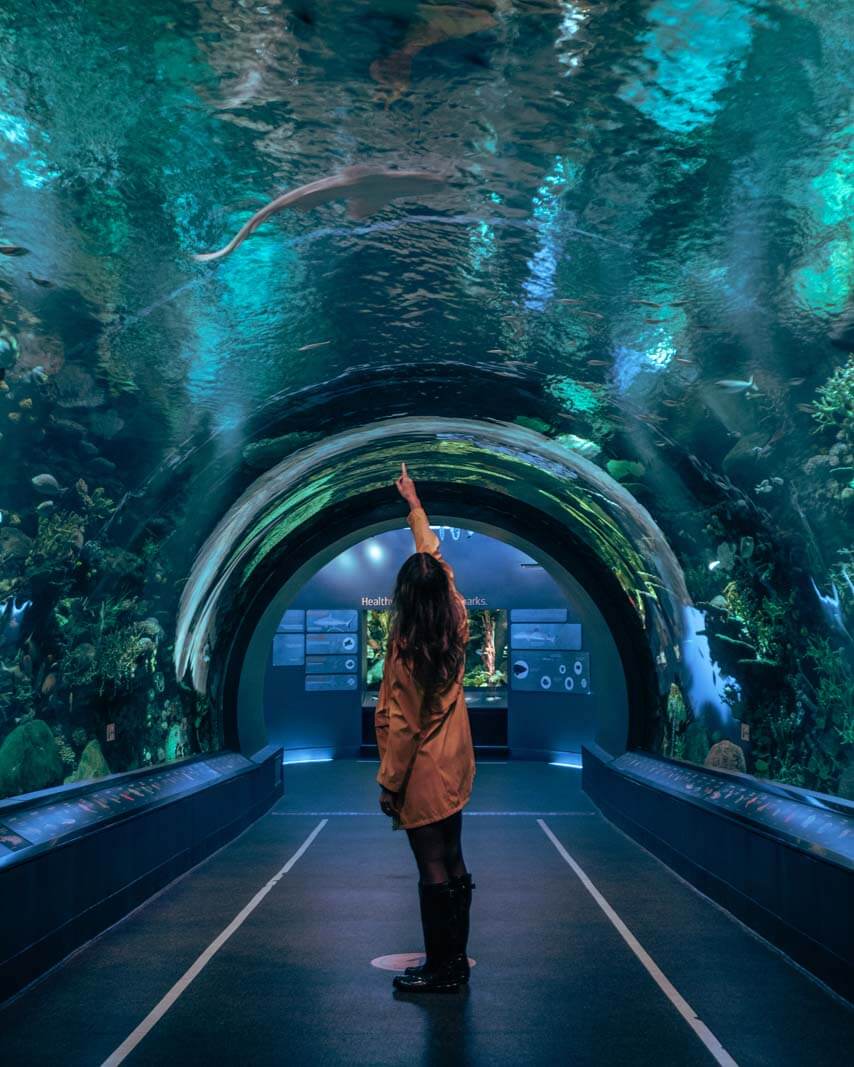 Before the end of the season, one of the best things to do in New York in fall is to visit Coney Island! Fall is one of the best times to visit Coney Island since it is much less crowded than the summer rush and you have basically until the end of October to enjoy all the famous boardwalk activities and amusement parks.
Can't make it until November? Don't worry you can still enjoy walking along the boardwalk, there are still a few spots open to eat as this is also a residential neighborhood and you can get candy at Williams Candy all year round! Not to mention you can still see the beauty of the historic amusement park even when it's closed for the season.
Another great attraction to enjoy during the fall here is the New York Aquarium. This aquarium is the oldest operating aquarium in all of America! Located on the boardwalk in Coney Island, this aquarium is known for its marine life exhibits and daily sea lion shows.
Museum Hop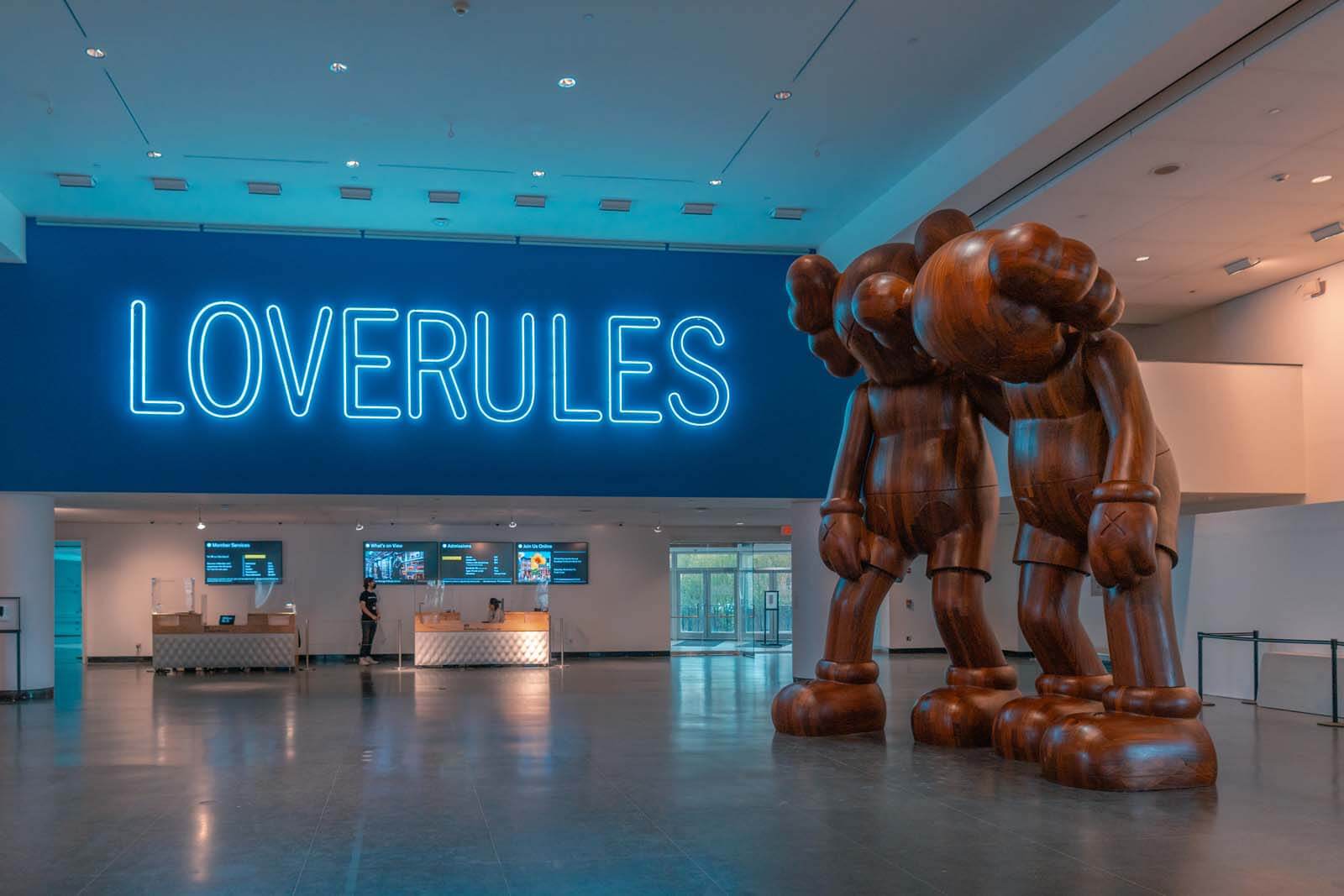 New York in the fall is never complete without touring a few of the most famous museums throughout the city. While every museum in the city is all special in its own way, we are going to name a few great ones worth adding on your radar.
One museum that's worth of checking out is the Whitney Museum. The Whitney Museum of American Art is an art museum in the Meatpacking District that presents the full range of 20th-century art with an emphasis on living artists.
Another great activity during fall in NYC is to visit The Frick Collection. This Upper East Side museum is known for its permanent collection that features Old Master paintings and fine European art! It is also a historical landmark named after Henry Frick, who donated his house and entire art collection to New York City when he died.
Another great way to enjoy fall in New York City is to visit the Museum of Natural History! This popular museum is located on the Upper West Side and is known for its animal exhibitions and educational shows.
And we might be biased, but there are tons of great museums in Brooklyn to check out including the Brooklyn Museum which is the third-largest museum in the city and always has great rotating exhibits as well as their permanent collection of art and artifacts.
NYC Farmers' Markets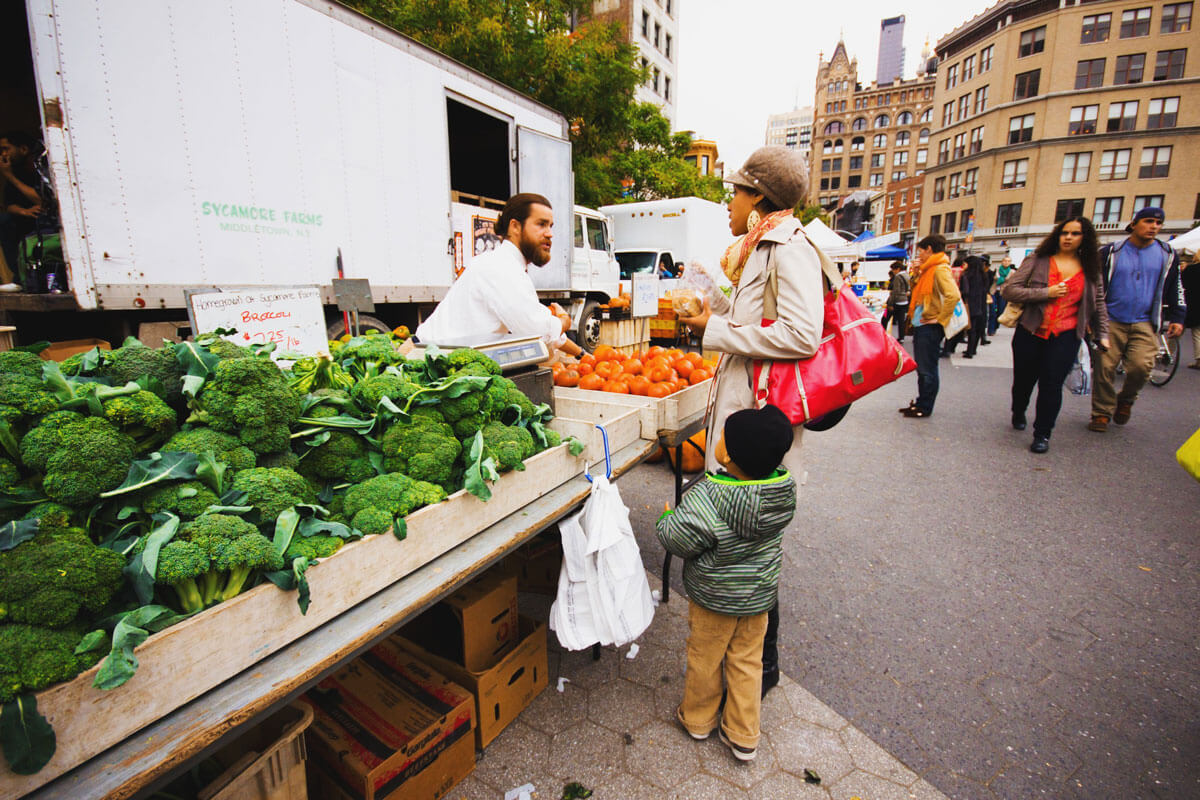 One of the best parts about fall in New York City is all of the farmers' markets! If you're searching for fall activities in New York City, check out a farmers' market near you, one of our favorite things to do in NYC in the fall – especially picking up fall produce and apple cider!
Union Square Farmers' Market
The Union Square Farmers' Market is a lively outdoor farmers' market open Monday, Wednesday, Friday, and Saturday. Here, you can find fresh produce, cheese, Italian bread, and lots of flowers. During the fall, you can expect to see lots of pumpkins and live singers!
Hellgate Farm
Visiting Hellgate Farm is also one of the best fall activities in New York City! Hellgate Farm is open from the start of fall and typically ends toward the end of October. This farmers' market is in Long Island City and is located inside Socrates Sculpture Park!
Queens Botanical Garden and Down to Earth Farmers' Market
Visiting the Queens Botanical Garden is one of the best things to do in NYC in the fall. Here, you'll be able to see the outstanding greenery and the Down to Earth Farmers' Market! This neighborhood farmers' market is located in Queens and runs from mid-June until mid-November!
Fall Festivities at Queens County Farm Museum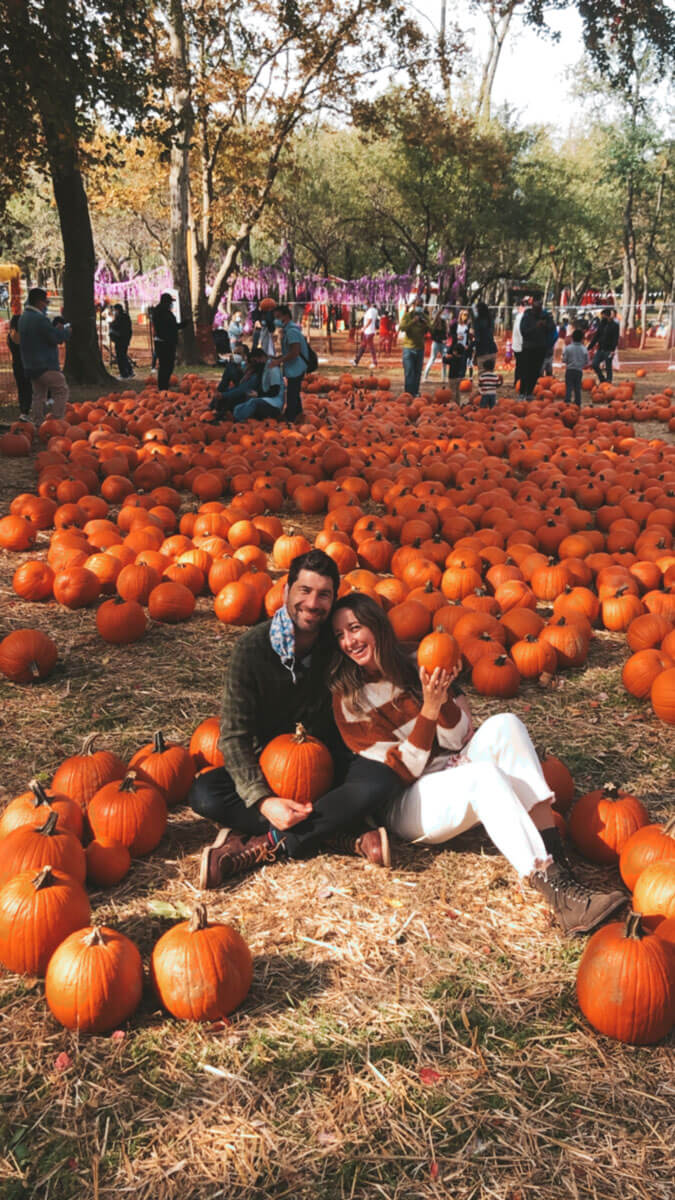 Queens County Farm Museum is easily one of the most popular fall activities in NYC and the best pumpkin picking in NYC!
This active, historic farm and museum hybrid is an operational farm with almost 50 acres of land and a designated historic landmark as its one of the oldest continuously operating farms since Dutch colonization in the state dating back to the late 17th century.
This is also New York City's largest chunk of undisturbed farmland. During the fall, you can expect to find pumpkins, animals, local products like honey and farm fresh eggs from their farmstand, hayrides, and a giant corn maze.
Keep in mind, while the farm is free to visit you will have to pay extra for the activities like the maize maze.
Madame Morbid's Trolley Tours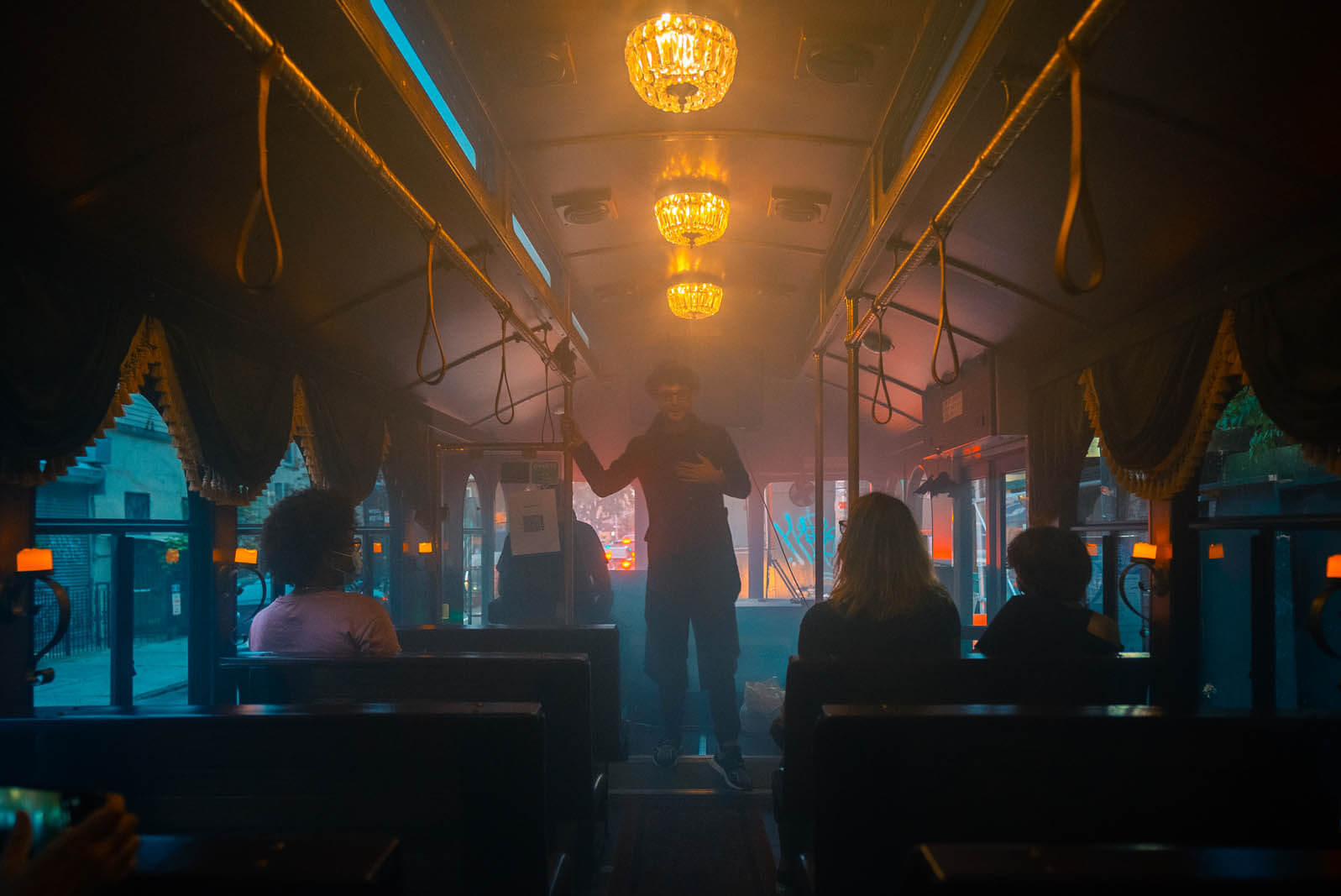 Time to get spooky! Madame Morbid's Trolley Tours is a company that offers year-round trolley tours in Brooklyn and is one of the. most exciting things to do in NYC in the fall! This specialized company is known for its ghost stories and dark history on their 90-minute adventures on a historic turn of the century trolley that you ride on with an entertaining guide through Brooklyn.
Although they offer tours year-round, this activity is especially popular during Halloween! Book your tour here.
Also, if you're into hauntings, check out the most haunted places in NYC.
Visit Green-Wood Cemetery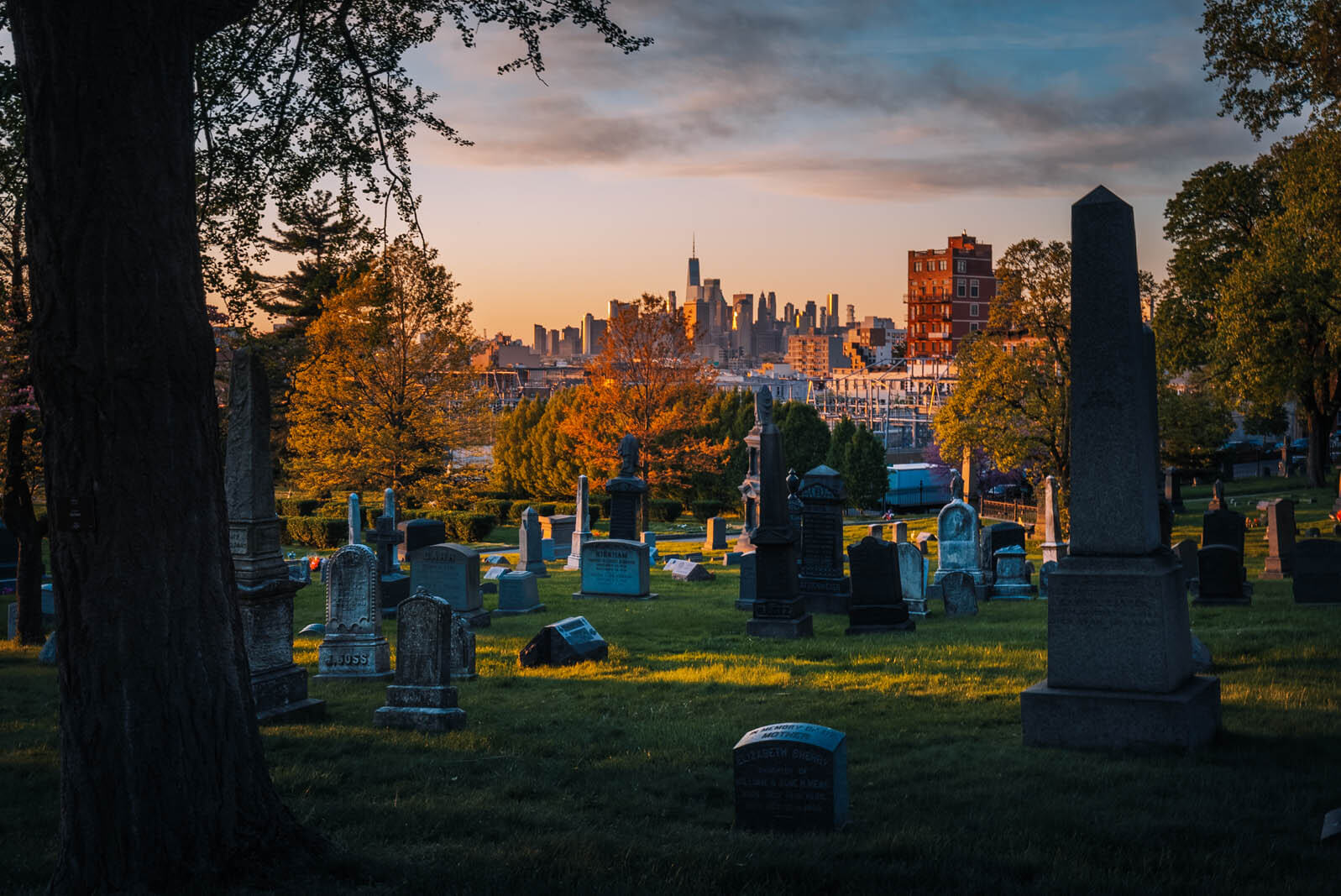 As mentioned earlier as one of the best places in the city to do some fall foliage leaf peeping, one of the best fall activities in New York City, especially around Halloween time is visit the macabre and stunningly beautiful Green-Wood Cemetery in Sunset Park, Brooklyn. Green-Wood Cemetery is also a Level III Arbotoreum due to its collection of century-old trees and 500 types of plants.
This history 19th-century cemetery attracts half a million visitors a year to witness the beautiful Gothic Revival Architecture, historic tours, visit the gravesites of the famous that are interred here from Jean Michel Basquiat to historic figures like Horace Greely and Boss Tweed to unbelievable views of the skyline from Battle Hill as well as the Statue of Liberty.
Follow our complete guide to visiting Green-Wood Cemetery to see which areas you need to check out plus get the backstory of many of the most fascinating points of interest too!
Take a Scenic Bike Ride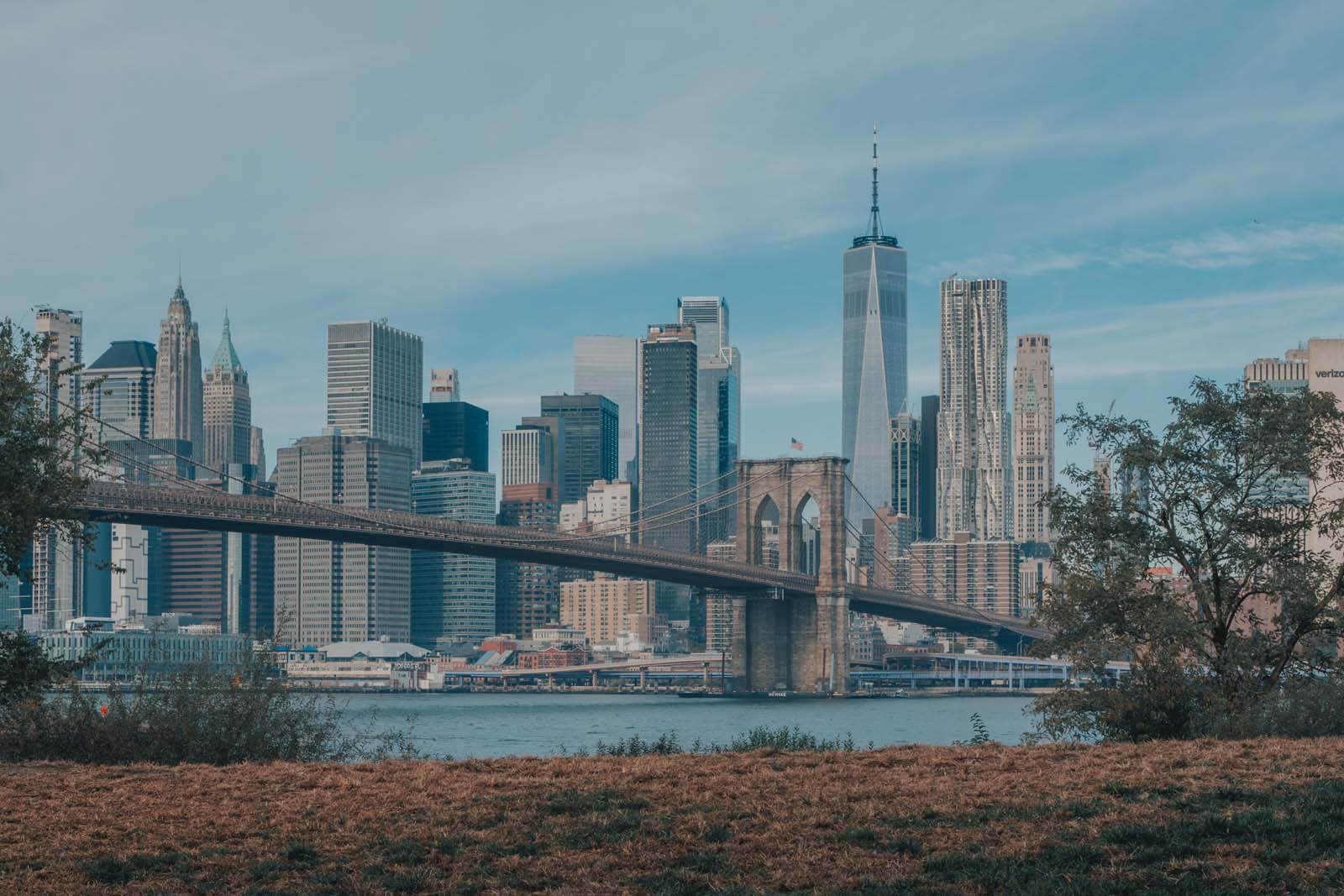 One of the best things to do in NYC in the fall is to enjoy the cooler, more comfortable weather! You'll agree if you've ever spent a swampy summer in the city!
One of the best ways to soak up the outdoors (and even enjoy leaf-peeping) is to take a scenic bike ride. There are hundreds of CitiBike docking stations around the city making it one of the most convenient ways to get around let alone do some sightseeing while covering alot of ground in a short period of time.
Download the CitiBike app and getting a bike is easy peasy. Just keep in mind you need to re-dock the bike every 30 minutes or so or you'll be charged extra. Don't worry about finding docking stations, they are really everywhere so it's not that difficult.
For leaf peeping and fall foliage chasing via bike head to Central Park and Prospect Park, be warned there are hills surprisingly! If you're not in peak physical shape this can surprise you, if see an electric CitiBike that will make the hills no problem. Keep in mind that electric bikes are more expensive though!
Other great places to bike are from Brooklyn to Manhattan via crossing the Brooklyn Bridge on the new bike path and around Brooklyn Bridge Park's waterfront and piers.
Catch a Movie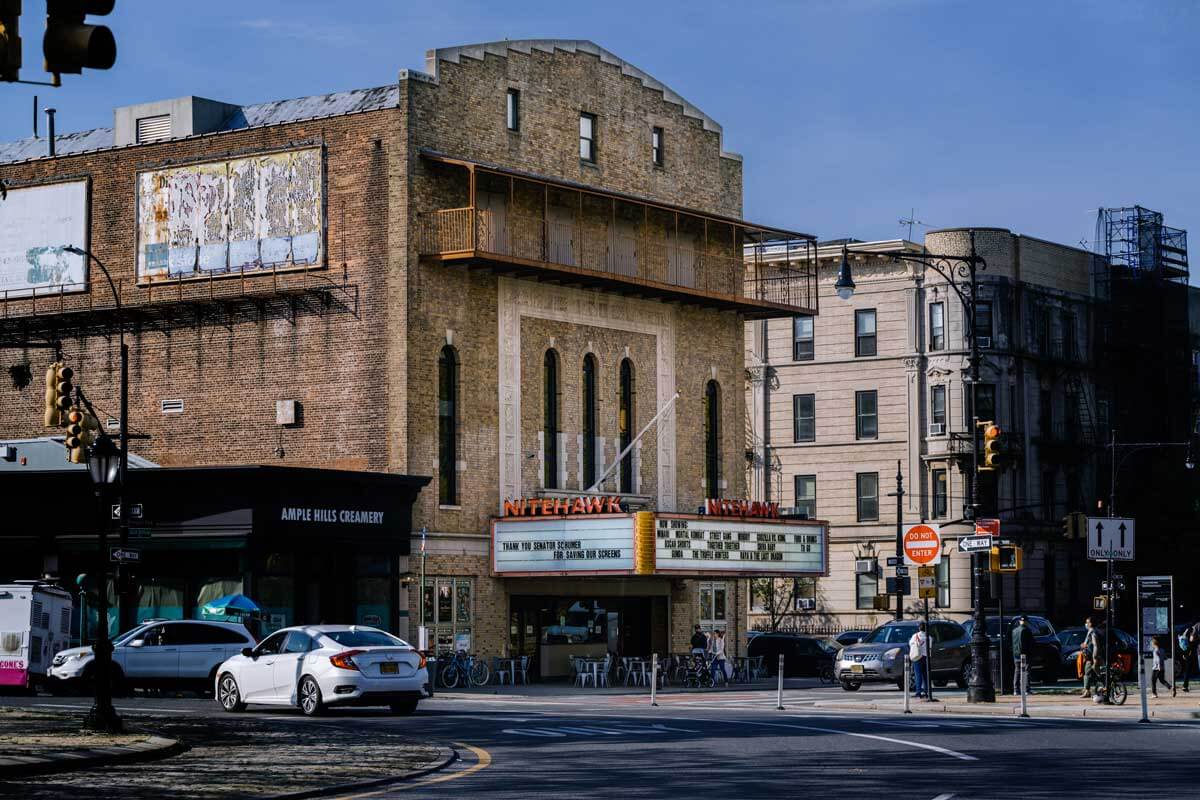 Another great fall activity or rainy day activity is to catch a movie in the city. Now, if you're visiting you might wonder why you'd spend your time in NYC seeing a movie. Let me tell ya, we have some cool movie theaters in Brooklyn and NYC that you have to check out.
From IFC Center, an arthouse cinema in Greenwich Village where you can catch the best indie films to both Nitehawk Cinema locations in Brooklyn (Williamsburg & Prospect Park West) that actually changed outdated New York prohibition-era laws to serve alcohol to you in their theaters along with a full-service meal menu.
If you do have a car (you can roll up without one too) check out Skyline Drive-In in Greenpoint, Brooklyn located on the waterfront where you have the backdrop of the Empire State Building and skyline behind the silver screen!
See more of our favorite rainy day activities in New York in our full guide.
Take a Day Trip to Sleepy Hollow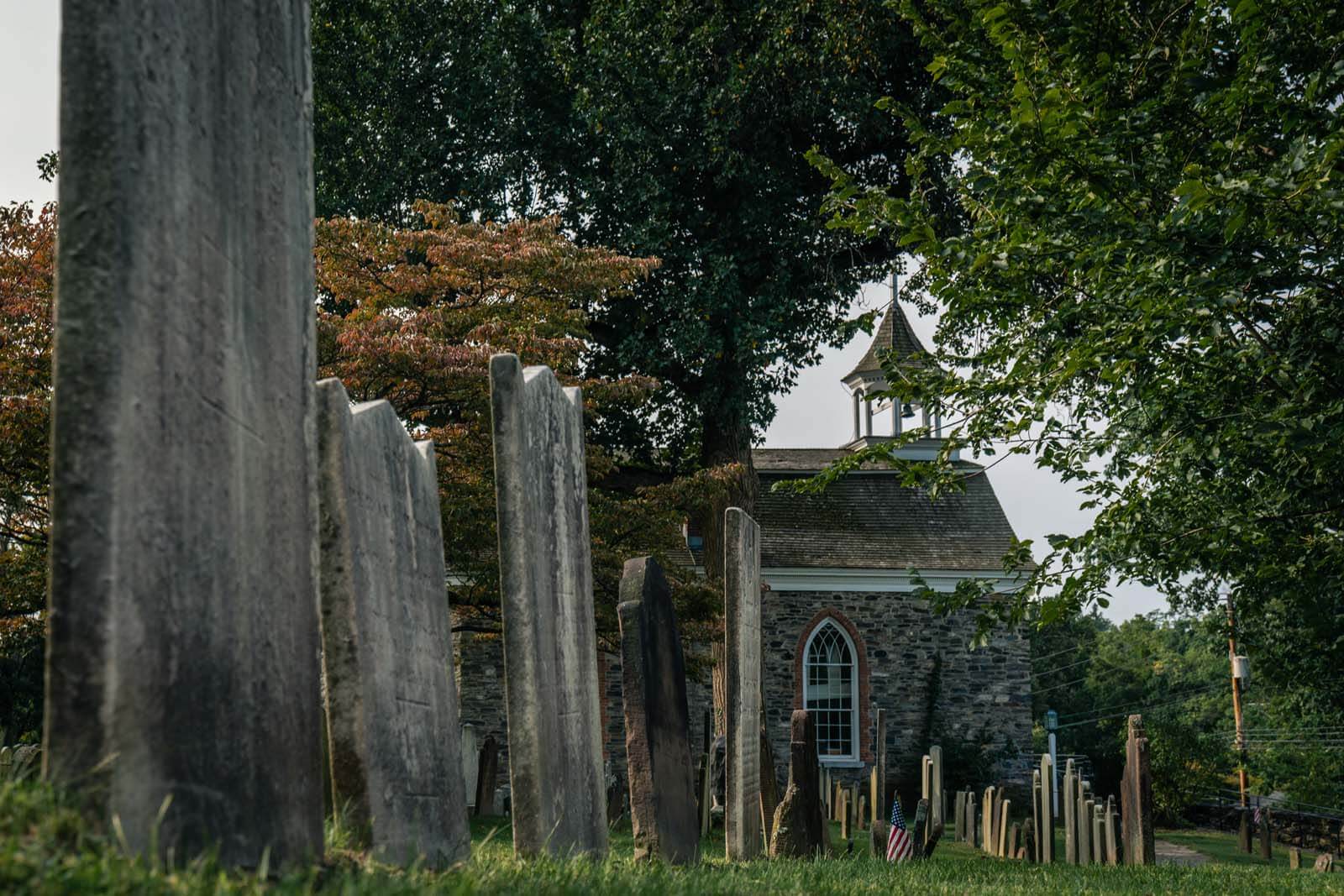 Just 30 miles from NYC up the Hudson Valley is Sleepy Hollow, a tiny, historic village that inspired the original published ghost story, Washington Irving's The Legend of Sleepy Hollow!
This is a really fun day trip and easy to get to via train. You can visit the sites that inspired the legendary spooky tale from the Dutch Reformed Church and graveyard including crossing the famous bridge to visiting Washington Iriving's countryside estate up here.
Speaking of estates, there are multiple incredible ones you can visit up here from Rockefeller estates to the gorgeous, pink Armor-Stinner Octogan house just outside of town.
Some of the sites may require you to use the local shuttle or hail an uber on your phone. You won't want to miss the charming downtown of Tarrytown either.
But of all the things to do in Sleepy Hollow, you'll also check out The Great Jack O'Lantern Blaze, one of the best fall activities near New York City. The Jack O'Lantern Blaze is an illuminated walkway with over 7,000 jack o'lanterns put up each fall.
Take a Day Trip to a Hike near NYC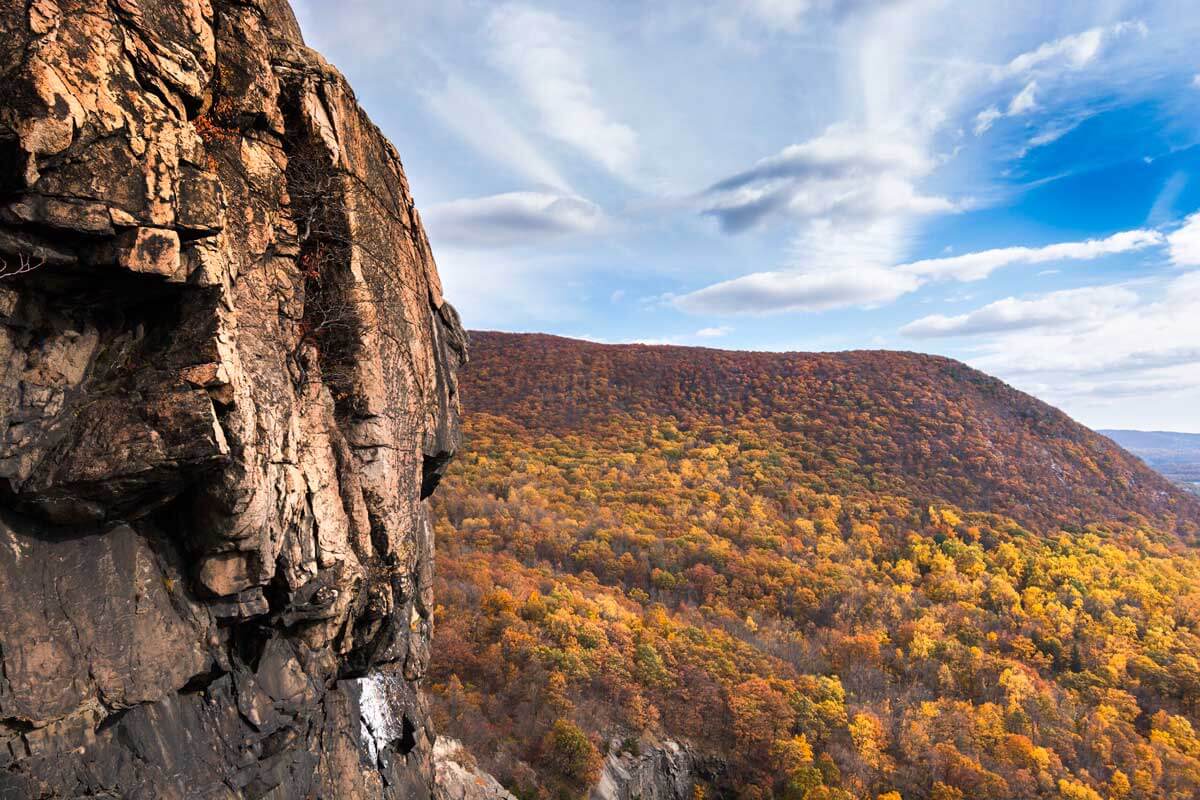 There are many state parks and scenic hikes near New York City that make for great fall activities and enjoy more of that beautiful New York fall foliage.
Bear Mountain is a popular peak in Hudson Highlands and an easy 90 min train commute away from the city. This mountain has hiking trails, bike trails, and outstanding views, and takes you on a portion of the famous Appalachian Trail and the Major Welch Trail not to mention this trail was a historic vantage point for British Soldiers during the American Revolution to control the area surrounding the river.
Another great place to hike is Anthony's Nose! Anthony's Nose is another peak in Hudson Highlands that has an elevation of over 900 feet! Although the hiking trail is a little under 2 miles, it typically takes visitors about one hour to get to the top. Once you're at the top, you'll want to make sure you have your camera.
You can also continue exploring the Hudson Highlands and Hudson Valley and check out cool towns like Cold Spring and Beacon which has the popular Breakneck Ridge which is only an 90-minute commute via train from the city.
Another fantastic hiking spot easy to get to from the city is the Staten Island Greenbelt. The Staten Island Greenbelt is part of the Greenbelt Nature Center & Preserve with over 3,000 acres of land dedicated to recreational activities, this is a great place to hike at your own pace!
Annual NYC Fall Events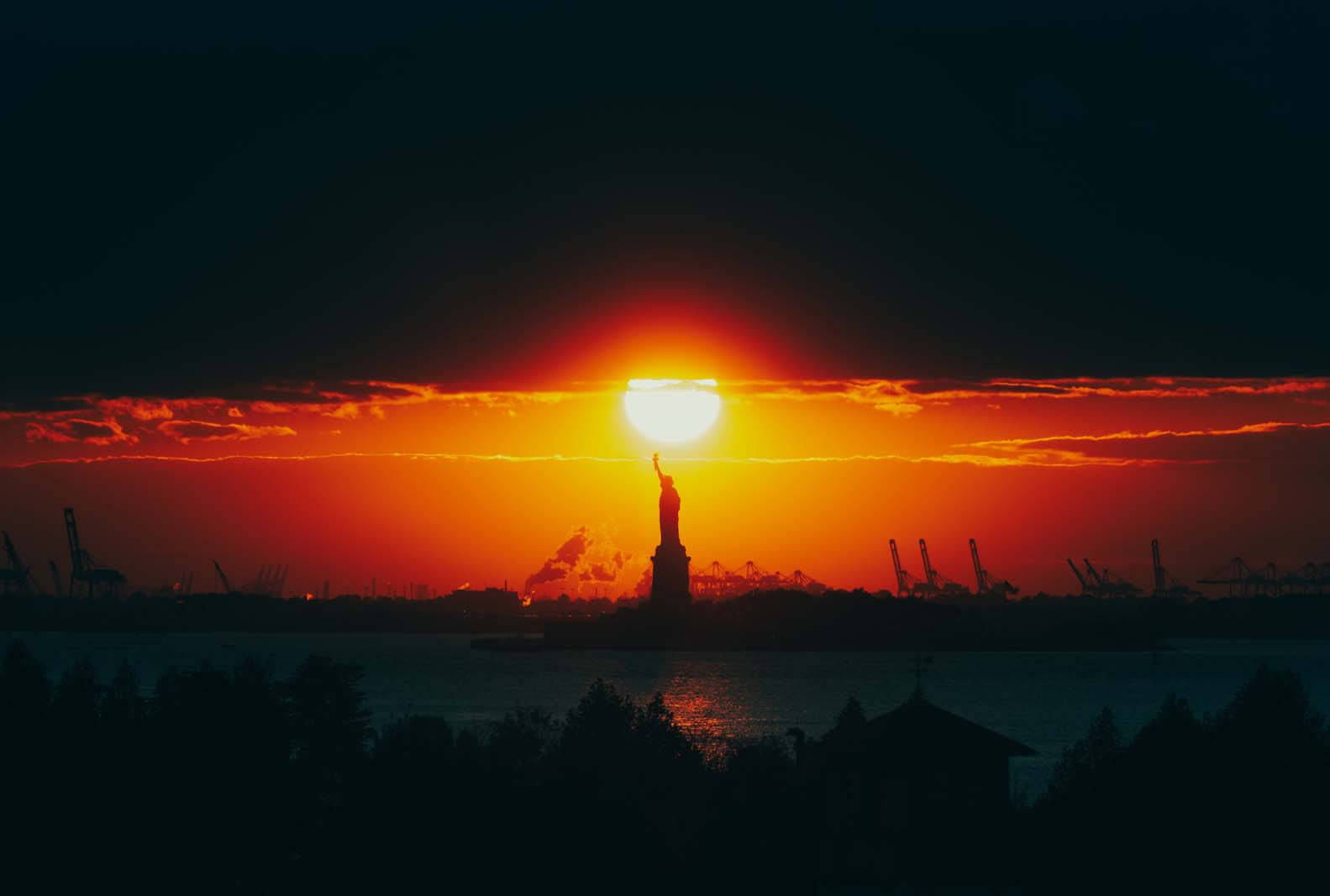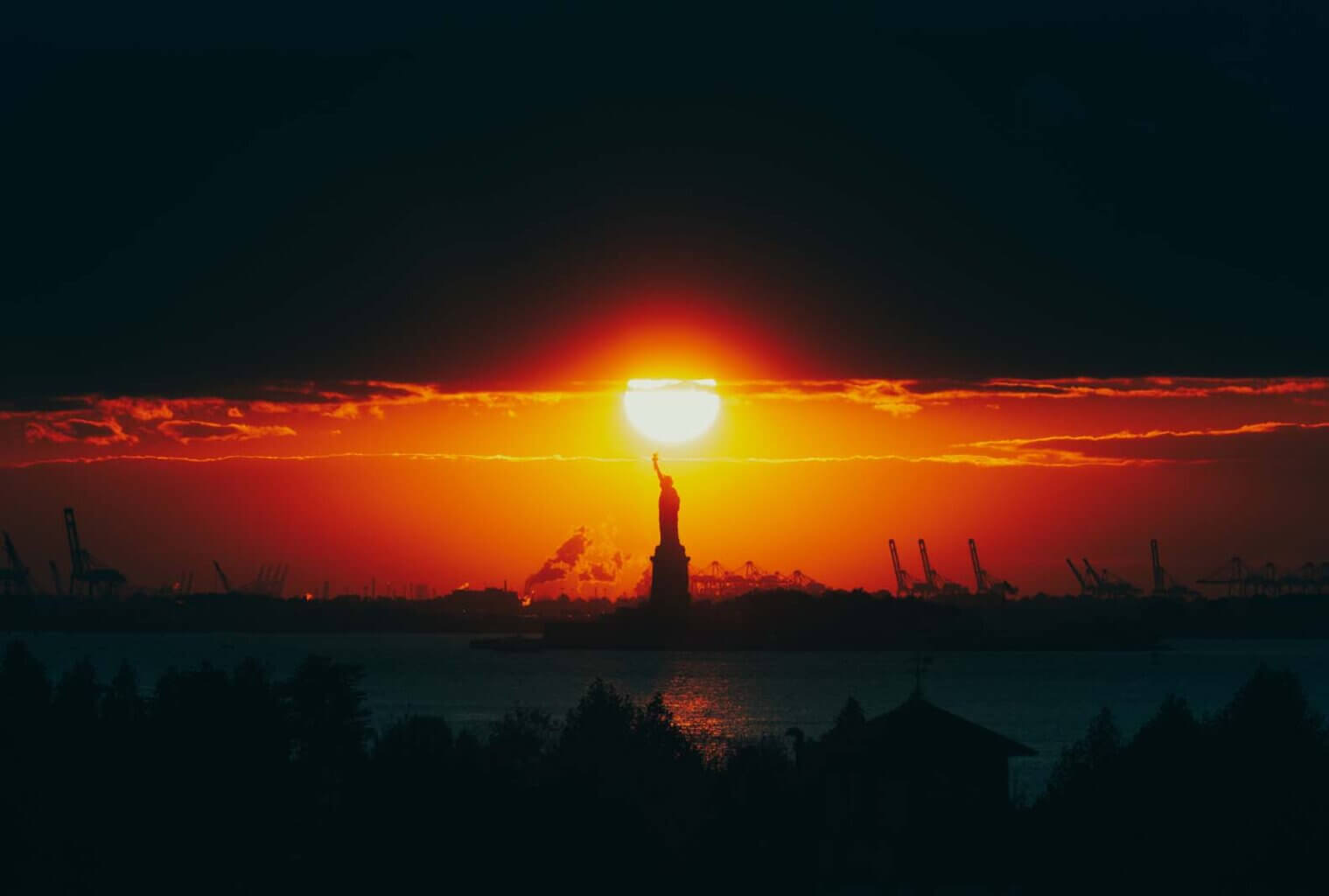 Fall in New York City means there are plenty of great seasonal events that take place annually, here are just a few that you will want to plan ahead for if you want to attend, especially for events like the Macy's Thanksgiving Day Parade or any of the fun things to do in NYC at Thanksgiving!
The Feast of San Gennaro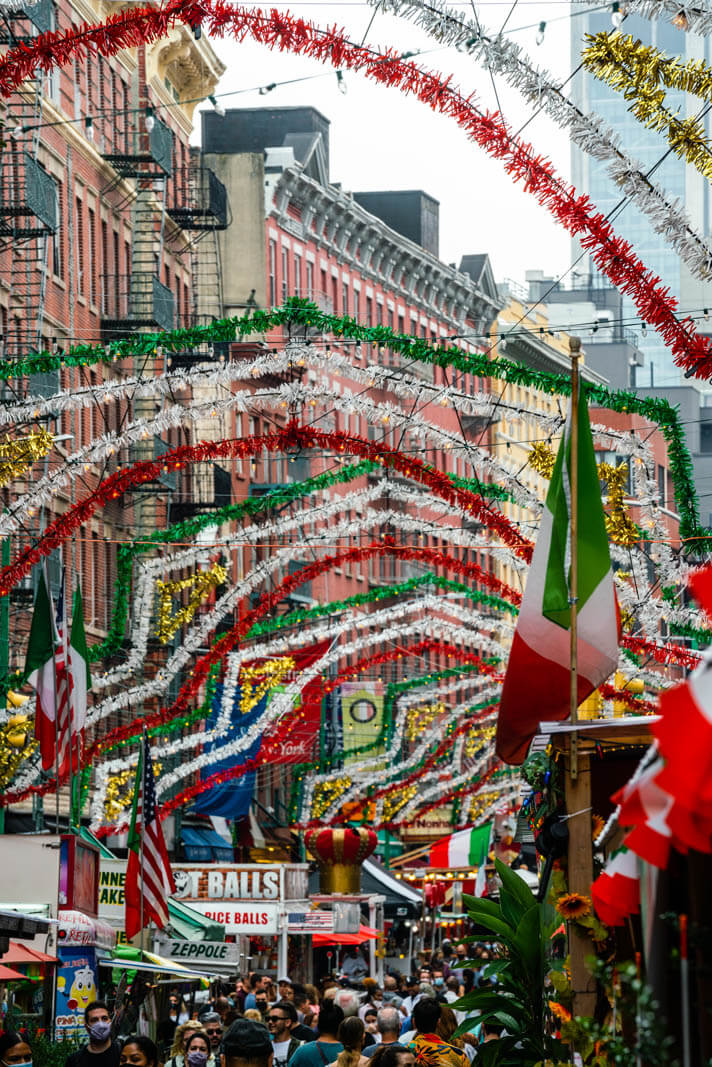 The Feast of San Gennaro is an Italian-American festival that happens every year in Little Italy and is one of the most fun things to do in NYC in the fall. It typically happens toward the end of September. This annual feast has many eating contests from cannoli to zeppole, pizza, and meatballs, floats, and live performances.
You'll want to come hungry, trust us!
The festival honors the patron Saint of Naples and is the most famous and celebrated Italian-American festival in the city held annually since its first year in 1926.
New York Comedy Festival
We LOVE comedy and New York City is one of the best cities to catch a comedy show. Another one of the best fall events in NYC is the New York Comedy Festival. This comedy festival lasts for seven days, takes place in all five boroughs, and has over 200 comedians and 100 shows during November.
This is a great opportunity to see some of the biggest names in the comedy business too!
New York City Marathon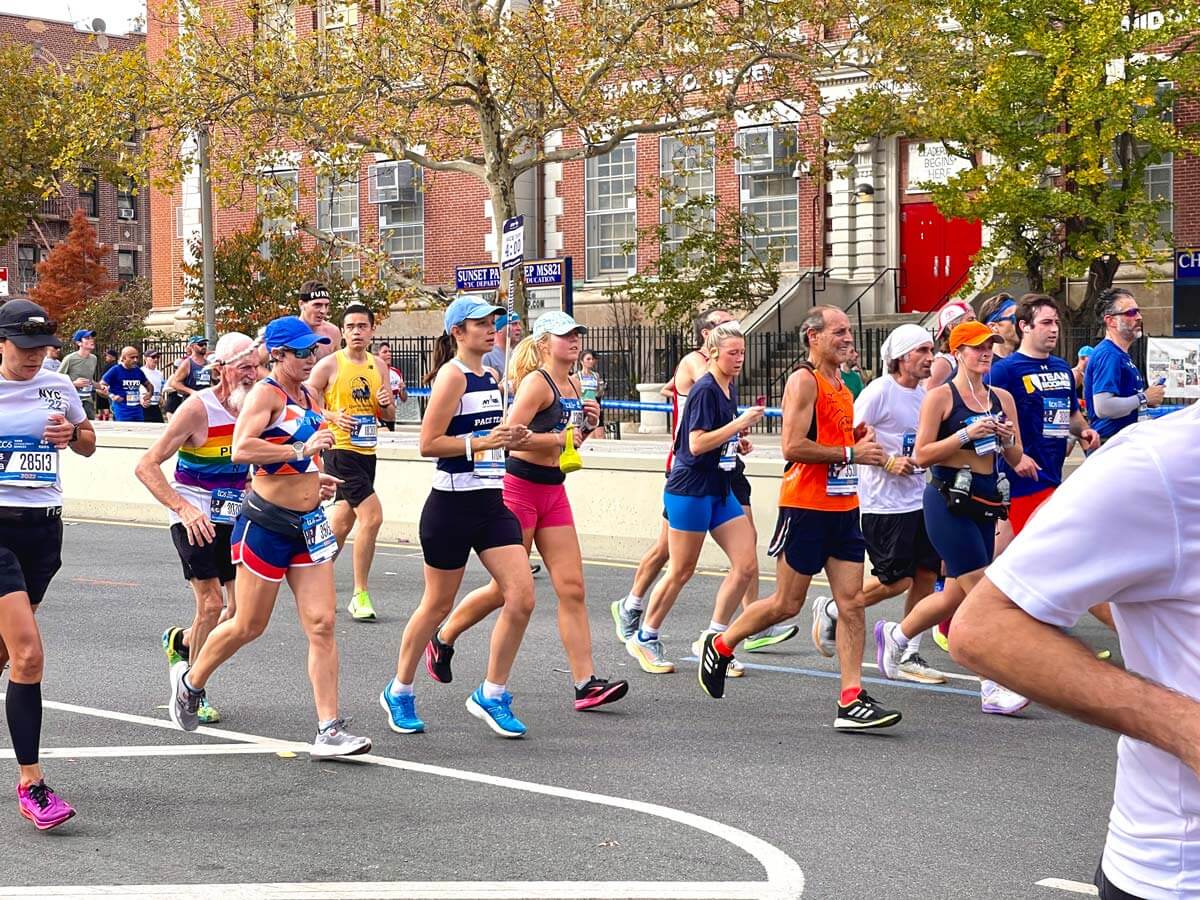 Fall in New York is always made complete by watching the NYC marathon! Unless of course you're wanting to participate in it!
Over 140 countries participate in this marathon and, so far, this event has raised over $45M for charity! Although this event typically happens in November, it's best to check the official website to see when you can watch the runners finish near Central Park!
Smithsonian Museum Day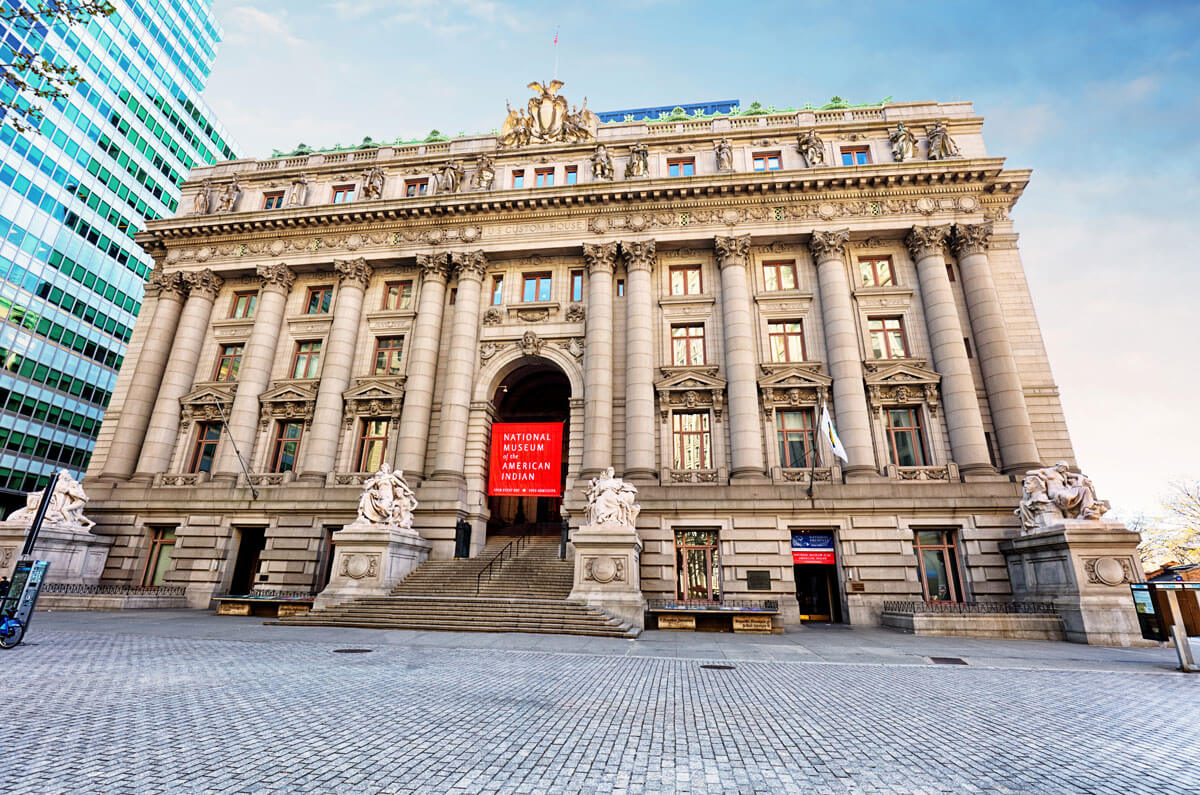 Everyone knows that fall in New York City involves museum visits. Check out the annual Smithsonian Museum Day typically in mid-September where you get free entry to their museums. While we are no Washington DC with the number of Smithsonian Museums in NYC, we still have a few you can check out for free!
The two Smithsonian museums in NYC include Cooper Hewitt and the National Museum of the American Indian George Gustav Heye Center.
For this event, you can download one ticket for each email address. This ticket will then provide general admission access for two people.
PS if you are looking check out our guide to other free museums in NYC!
NYC Comic-Con
There are many awesome events happening during fall in New York and one of the most lively and exciting events is the annual NYC Comic-Con. This annual convention is one of the best events in NYC in October and is dedicated to all things comics, cosplays, and more! This event also has many panels, screenings, and events with special guests.
The best part of Comic Con has to be all the cosplay and people watching! From popular Marvel characters,comic book, and anime characters to obscure costumes only die-hard fans would pick up on!
New York Film Festival
Every fall in NYC one of the most famous film festivals takes place with screenings all over the city and star-studded events. The New York Film Festival typically takes place late September until the middle of October.
This film festival is presented by the Film Society of Lincoln Center with events and screenings all over the city.
Macy's Thanksgiving Day Parade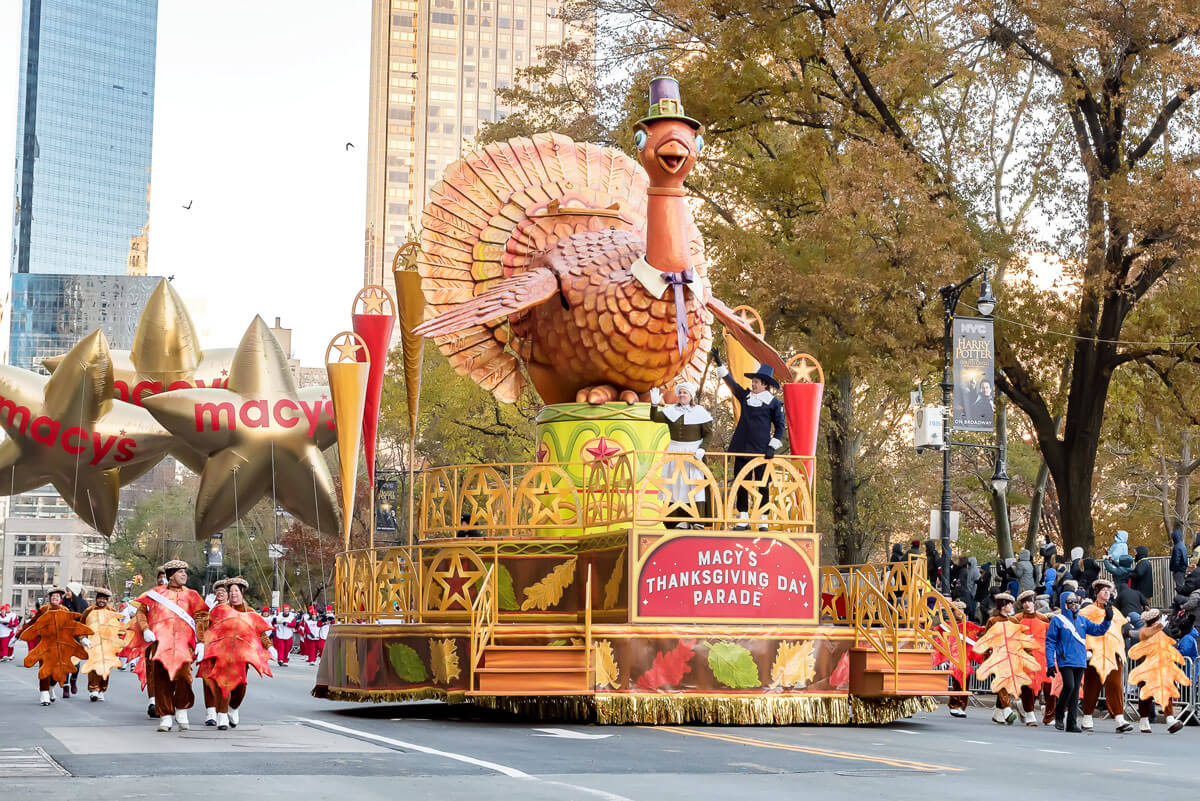 One of the most famous events and things to do in NYC in the fall is the Macy's Thanksgiving Day Parade! This annual Thanksgiving parade is the world's largest parade presented by the iconic Macy's Department Store at Herald Square.
This three-hour parade is held each year on Thanksgiving Day and ends right outside of Macy's Herald Square and is full of larger than life floats, performances, and special celebrity appearances and performances.
While attending this fall event in NYC will require a little extra planning and patience as there are always crowds, this is a once-in-a-lifetime experience to witness in person. Alternatively, if crowds are not for you, tune in on the live broadcast from the comfort of your home or if you're in the city spring for an NYC hotel with a view!
Attending this parade is one of the most iconic things to do in New York in fall and kick off the official holiday season which is another post because that is also a magical time to visit the city!
---
Best Things to do in New York City in Fall (Post Summary):
Visit Governors Island
Leaf Peeping & Fall Foliage
Visit Art Galleries
Spend a Day at Coney Island
Museum Hop
NYC's Farmers Markets
Fall Festivities at Queens County Farm Museum
Madame Morbid's Trolley Tours
Visit Green-Wood Cemetery
Take a Scenic Bike Ride
Catch a Movie
Take a Day Trip to Sleepy Hollow
Take a Day Trip to a Hike Near NYC
The Feast of San Gennaro
New York Comedy Festival
New York City Marathon
Smithsonian Museum Day
NYC Comic-Con
New York Film Festival
Macy's Thanksgiving Day Parade
---
Did we miss any of your favorite things to do in New York in the fall or fall events in NYC? Let us know in the comments below!