Calling all movie and TV fans! We have put together a guide to all the famous filming locations in Brooklyn from your favorite movies and TV series!
From old classics to recent movies and tv shows, we have compiled some of the most famous and well-known locations so you can come and find them during your trip to Brooklyn.
From Prospect Park, to notable landmark locations, and one of the most popular filming locations in Brooklyn, Coney Island, we have you covered!
Did we miss one of your favorite movies filmed in Brooklyn or filming locations in Brooklyn? Let us know in the comments at the end of the post and be sure to also check out all the iconic filming locations in NYC for more!
Happy location hunting! Also, you might like the best movies set in Brooklyn and the best movies set in New York too.
Classic Movies Filmed in Brooklyn
Goodfellas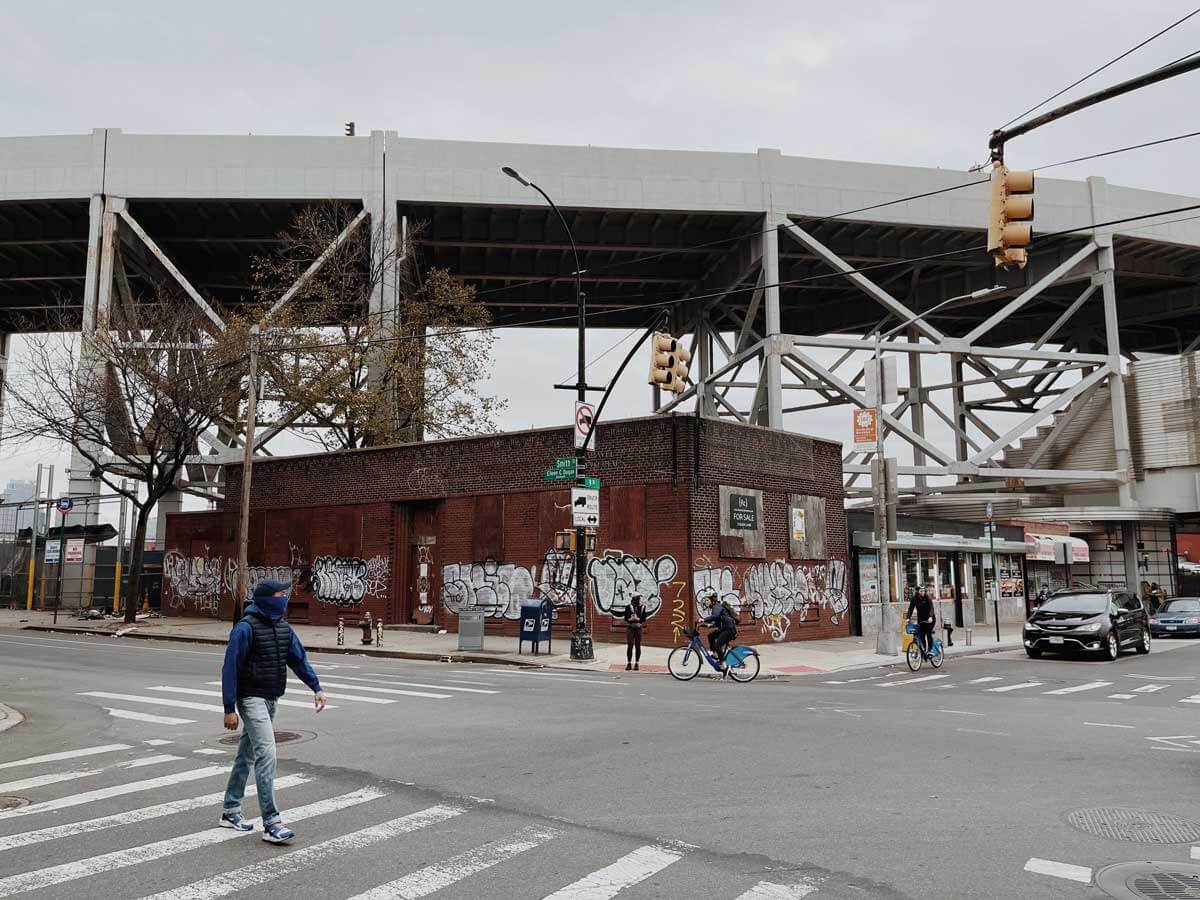 Goodfellas, the 1990 classic, is an American crime film that follows the rise and fall of a few main characters that are involved with the Mafia in New York City.
The movie is based on the life on Henry Hill, who was absorbed by the organized crime taking over his Italian-American neighborhood right here in Brooklyn. Hill participated in the outrageous crime sprees from about 1955 to 1980.
Eventually, Hill decided to enroll in the witness protection program when he felt that his family was in danger, which led to dozens of convictions of other crime bosses.
Goodfellas was filmed all over New York City and there are a couple filming locations in Brooklyn.
When Henry Hill gets married to his wife Karen, despite her parents' disapproval, they have their reception at 1818 86th Street in Bensonhurst, Brooklyn, which is actually now a furniture store.
Another filming location was at 80th Street and Shore Road in Bay Ridge, Brooklyn when a prominent character is murdered. The location in which this scene was filmed doesn't look too far off from what it looked like 30 years ago when the film was released.
In addition to these spots, the exterior of the Bamboo Lounge from the film was shot at 2758 Coney Island Ave in Sheepshead Bay, Brooklyn, which used to be an Italian restaurant. This area is now taken by a car dealership.
Another scene and Brooklyn filming location for Goodfellas is in one of the final scenes where Karen goes to Jimmy to ask for money. You can see the signs for Smith and 9th Street, a stop on the subway line as well that runs the F & G trains. Karen's car is parked under the elevated tracks and she walks on Smith Street towards 9th St to meet Jimmy.
Although there were a handful of filming locations in Brooklyn for Goodfellas, things may look a lot different now considering the movie has been out for over 30 years now.
Regardless, Goodfellas is one of the most iconic movies filmed in Brooklyn.
The Godfather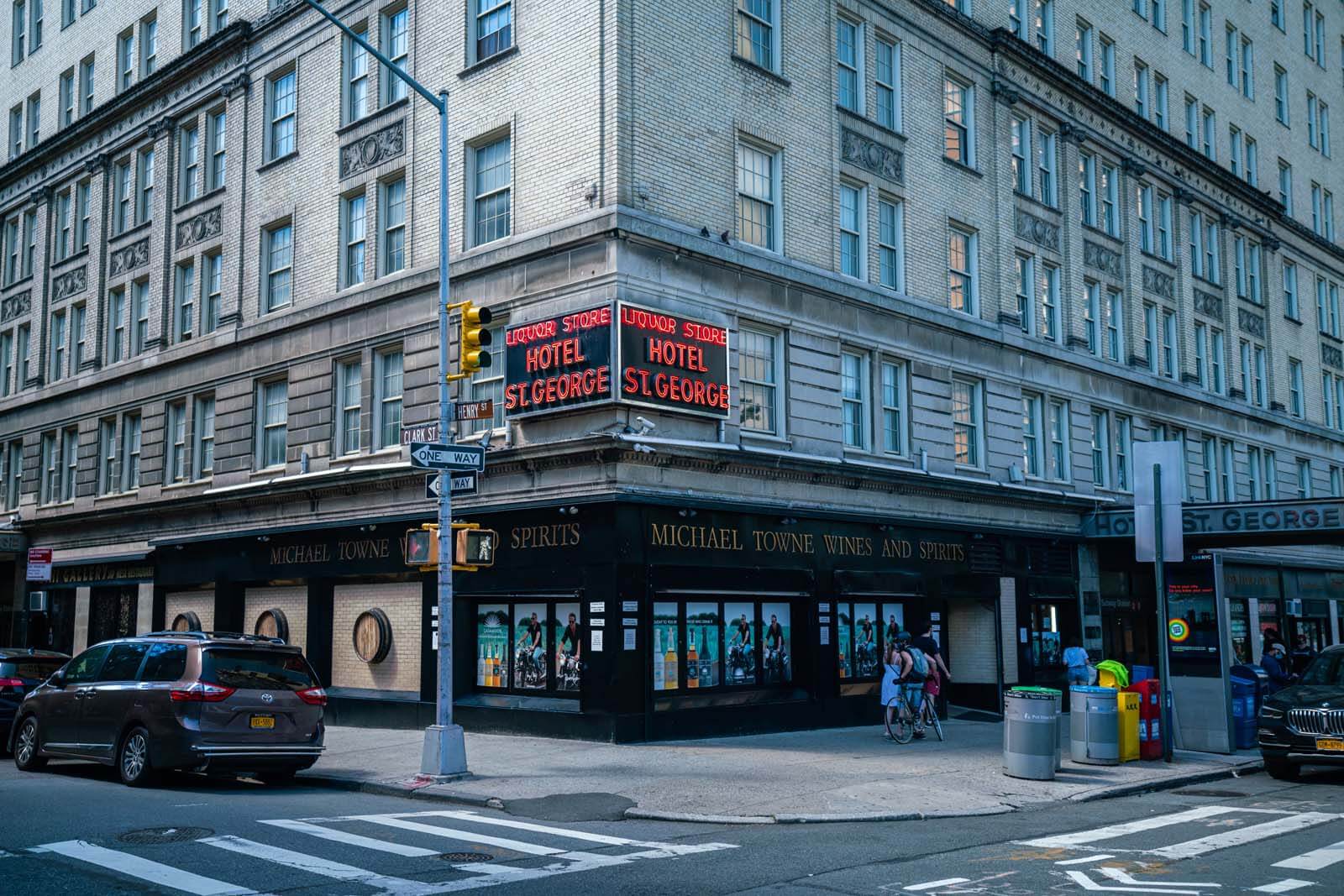 Another American crime classic, The Godfather was released in 1972, almost 20 years before Goodfellas came out.
The Godfather was the first of a trilogy and followed the complexity of organized crime and the Five Families. This film was mostly shot on location all around New York City with some filming locations in Brooklyn!
Although there has been some uncertainty about where some shots were, it is said that Brasi, one of the characters was murdered by Sollozzo in the lobby of the Hotel St. George in Brooklyn Heights, Brooklyn according to a specific New York Times article. This hotel was at one point the largest hotel in NYC, but it is now used for college student housing. I could imagine it would pretty cool to be able to say part of The Godfather was filmed in your dorm.
Next is Peter Clemenza's home in Brooklyn. Clemenza was the right hand man for main character, Vito Corleone. His home was at 1999 E 5th St in Gravesend, Brooklyn. The house looks just about the same as it did all those decades ago.
Arguably one of the greatest films in American history was one of the movies filmed in Brooklyn, and we're pretty dang proud of that!
Coming to America
Starring Eddie Murphy, the 1988 film, Coming to America, is one of the classic movies filmed in Brooklyn that tells the story of a crown prince from an African nation coming to the states to find true love.
Eddie Murphy, who plays the prince named Akeem, comes to New York City and actually gets an apartment in "Queens" but where it was filmed was actually in Brooklyn. The apartment was located at 392 South 5th Street in Williamsburg, Brooklyn. They also filmed in the barbershop that was at street level of Akeem's apartment building.
Another one of the filming locations in Brooklyn for Coming to America was along the waterfront in the Empire Fulton Ferry section of what we now know as Brooklyn Bridge Park in DUMBO, which actually wasn't built until 2010.
Additionally, there's a scene when Lisa, Akeem's love interest, finds out who Akeem really is in his home land. Lisa exits the train and as Akeem followed her to try to explain. While this scene technically "took place" in Queens, it was actually shot at the Hoyt-Schermerhorn subway station in Downtown Brooklyn.
If you haven't seen this absolute classic, add it to your watch list ASAP! Plus who doesn't love an Eddie Murphy movie?
Do The Right Thing
View this post on Instagram
Next on our list of classics and movies filmed in Brooklyn is Do The Right Thing. This American comedy-drama film was released in 1989 and it's one of Spike Lee's classics.
Lee grew up right here in Fort Greene, Brooklyn and has been known to include filming locations in Brooklyn into a handful of his work including the location of this production studio 40 Acres and A Mule Filmworks.
The movie follows the life of a young 20-something year old pizza deliveryman named Mookie. Do The Right Thing explores racial tension and the severity in which situations can intensify when people don't feel heard or understood.
Mookie lives with his sister Jade in Bedford-Stuyvesant, Brooklyn and he delivers pizzas at a local pizzeria. The plot develops as more neighborhood regulars and friends of Mookie's are introduced to the audience.
This film actually totally takes place in Brooklyn and it was filmed completely on Stuyvesant Avenue between Lexington Ave and Quincy Street.
Although everything was filmed in Brooklyn, the pizza place in which a lot of the movie was filmed never existed. "Sal's," the pizzeria was built in an empty lot, which unfortunately means that fans cannot go see the pizzeria, just the lot where it was built.
It's quite a feat to be able to produce an entire movie on just one street! If you're a fan of this film, make sure to check out Stuyvesant Ave.
Crooklyn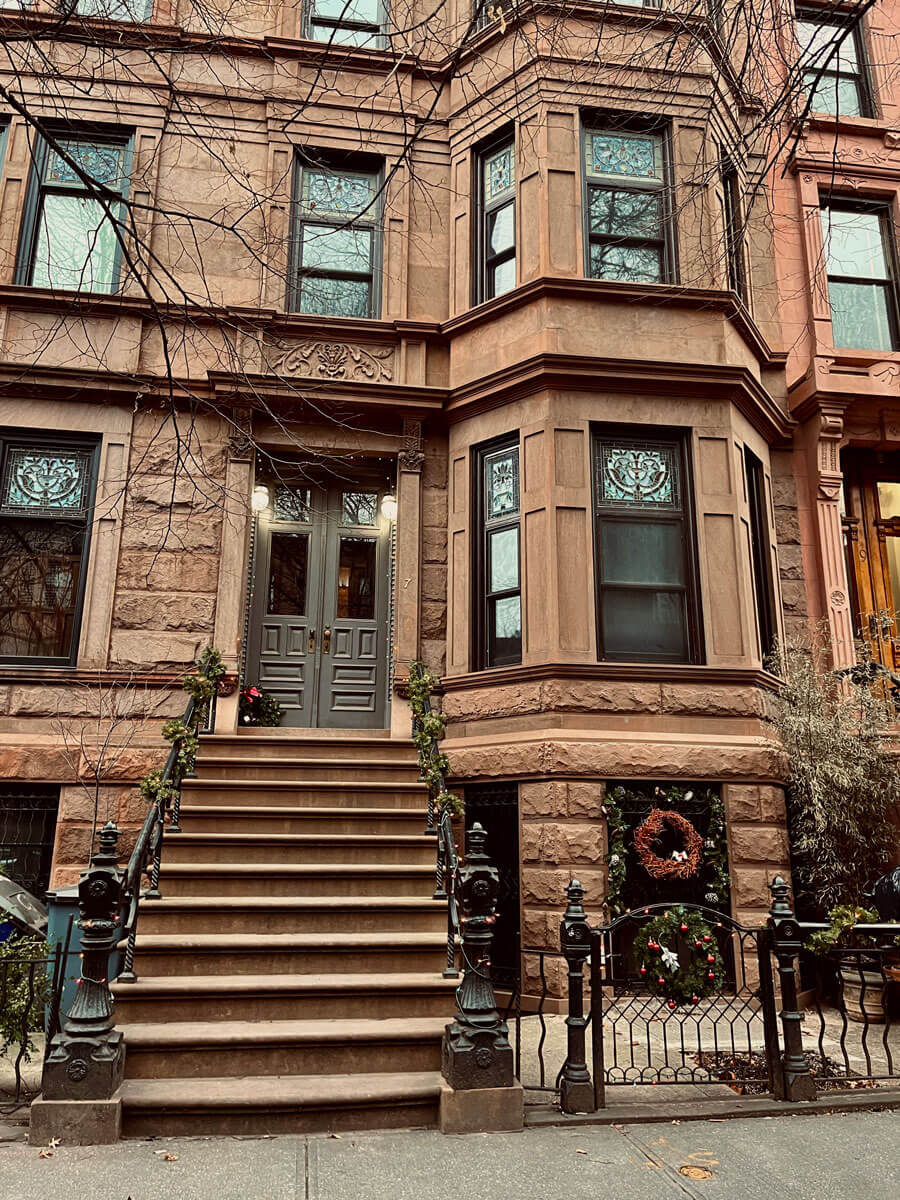 Speaking of Spike Lee, another classic Brooklyn movie telling the story of the Carmichael family who live in a brownstone in Bed-Stuy in 1973. In the movie, the Carmichael's have a girl and four boys and everyone knows everyone in the neighborhood along with their own problems.
The movie is said to be semi-autobiographical and was not only produced and directed by Lee but also co-written with his siblings.
One of the most iconic Brooklyn filming locations is the Carmichael residence and brownstone located at 7 Arlington Pl in Bed Stuy.
Sophie's Choice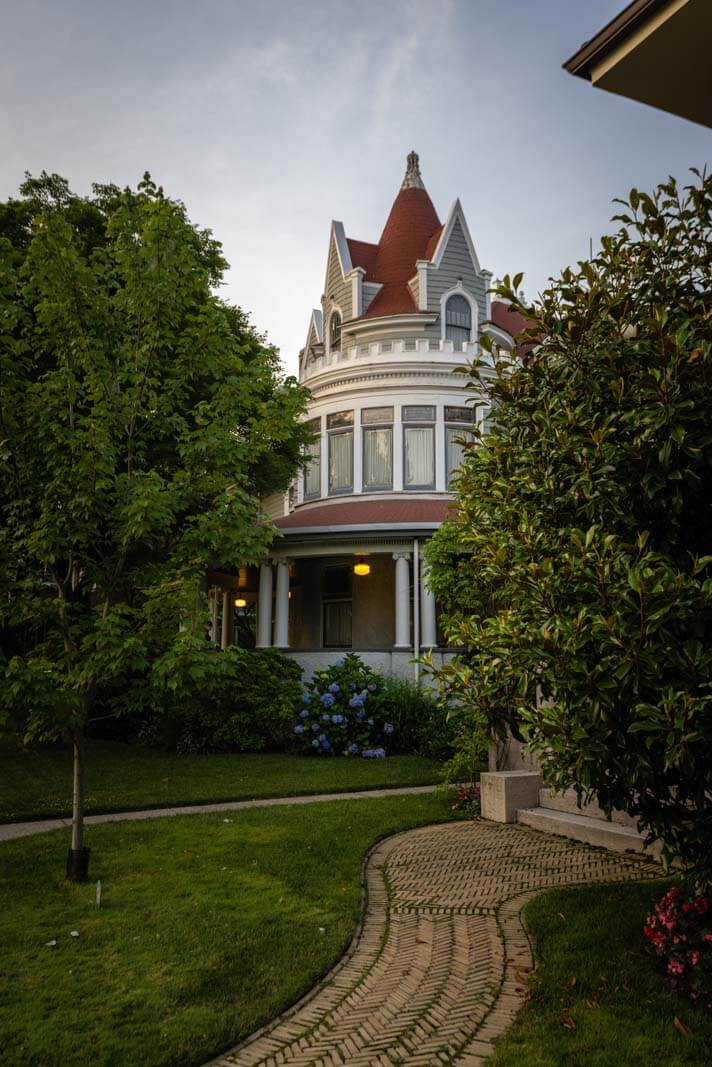 Starring Meryl Streep, Sophie's Choice is a classic drama film set in Brooklyn during the 1940s.
The movie follows the life of Meryl Streep's character, Sophie, a Polish immigrant who came to Brooklyn after being arrested and taken to Auschwitz with her two children.
Throughout the film, the audience learns of the many burdens and dark secrets that Sophie carries. On top of her difficult past, she also experiences domestic abuse from her mentally ill lover.
Although I don't want to give away too much, this is another one of the great movies filmed in Brooklyn.
The boarding house in which Sophie and her lover Nathan lived was located at 101 Rugby Road near Prospect Park in the Flatbush neighborhood of Brooklyn.
Speaking of Prospect Park, there are also some picnic scenes that are filmed there with Sophie, Nathan, and her one-time lover Stingo.
Not only is this movie a staple in the film industry because it was another fantastic movie produced partially in Brooklyn, but Meryl Streep's performance as Sophie is arguably considered to be one of the best acting performances in history.
Saturday Night Fever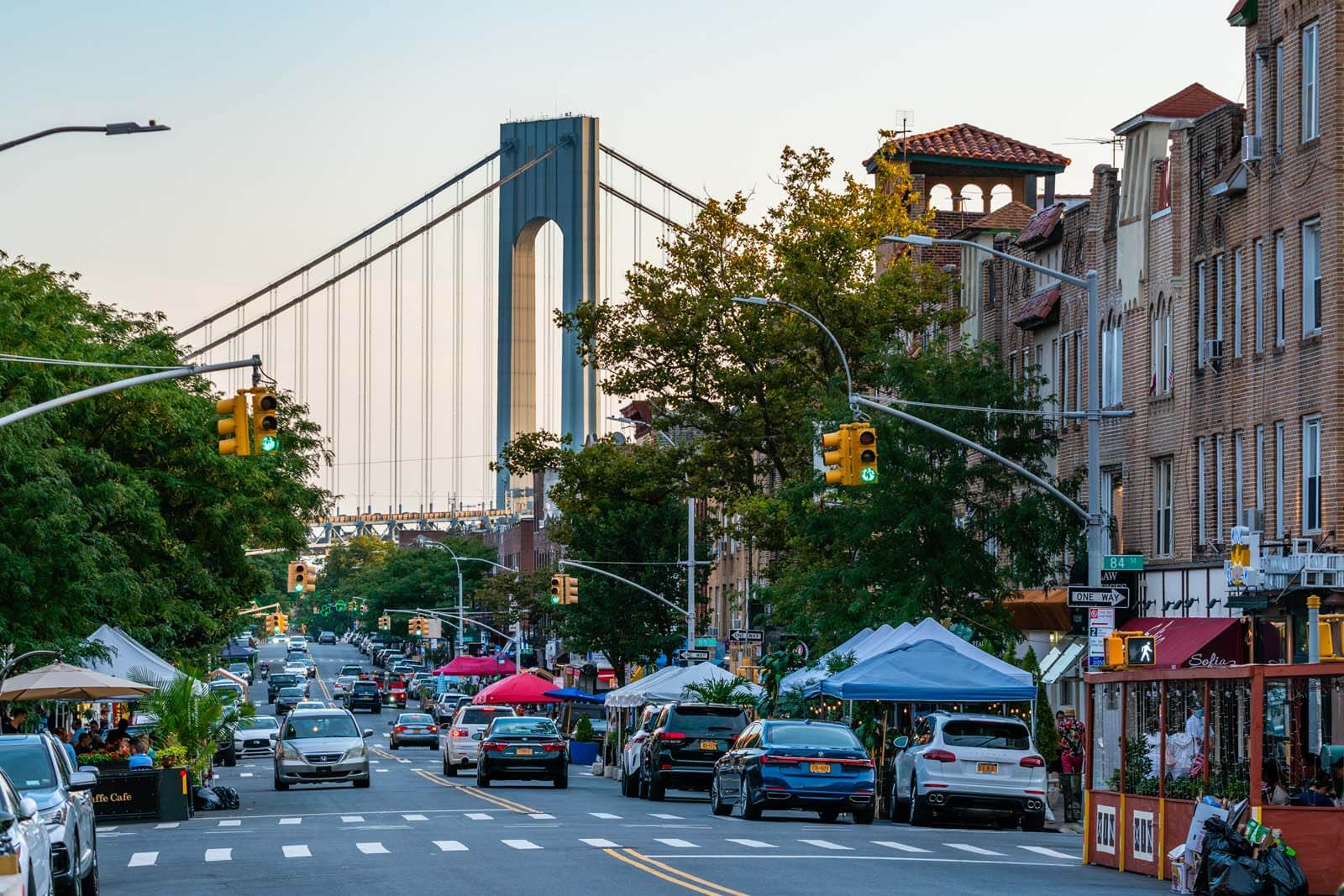 Are you really a Millennial/Gen Z if this wasn't your parents' favorite movie?
Saturday Night Fever was the ultimate American dance-drama film from 1977, it's also one of the most iconic movies filmed in Brooklyn. It stars heartthrob John Travolta as Tony Manero, a young Italian-American who loves to get a little groove on. He also happens to be from Bay Ridge, Brooklyn.
Clearly, this film was a huge success and helped disco music rise to popularity in the 1970s and it is still talked about as one of the most iconic films.
Much more than a dance film, Saturday Night Fever takes on a lot of issues. Beginning with Tony's insecurities and low self-esteem, which leads him to make many poor choices throughout the film. The film also introduces gang violence and the subpar decision making made by Tony's friend group.
The opening scene of Tony Manero is him strolling down the street to "Stayin' Alive." This scene was filmed on 86th Street and Bay 20th Street in Bensonhurst, Brooklyn. In the same scene, Manero stops to get some pizza from Lenny's on 86th and you can actually get your own slice there still!
Manero also has a job at a hardware store in his neighborhood of Bay Ridge, Brooklyn called Bay Ridge Home Center. It has since been revamped, but it is still a hardware store. You can find this filming location at 7305 Fifth Avenue.
Manero also visits a dance studio with his partner in Bensonhurst, this spot is located at 1301 West Seventh Street and it's still in business!
One of the iconic filming locations in Brooklyn for Saturday Night Fever is at the Verrazano Bridge in Bay Ridge, Brooklyn. This is the same spot where Manero goes to dream about the life he wants for himself.
Eat Pray Love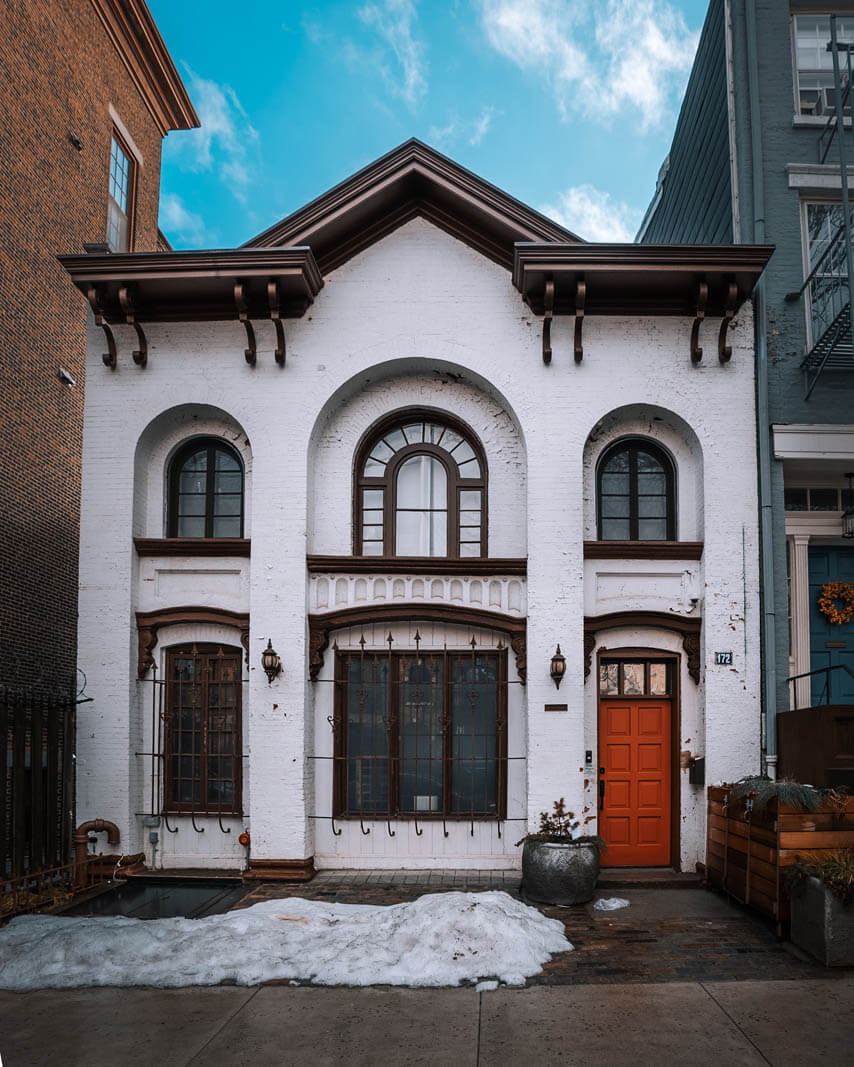 One of the most popular movies of 2010 featuring Julia Roberts used this Cobble Hill carriage house as one of its filming locations and the home of her character in the movie.
Located at 172 Pacific Street, this home's ties to celebrities doesn't end with Eat Pray Love. In 2015, singer and actress Norah Jones bought this property for $6.25 million.
Exploring Cobble Hill and the Carroll Gardens area also happens to be one of our favorite walks in Brooklyn for spotting architecture, so be sure to stick around and check out some of the other gorgeous homes in the neighborhood when hunting down this filming location in Brooklyn.
Requiem for a Dream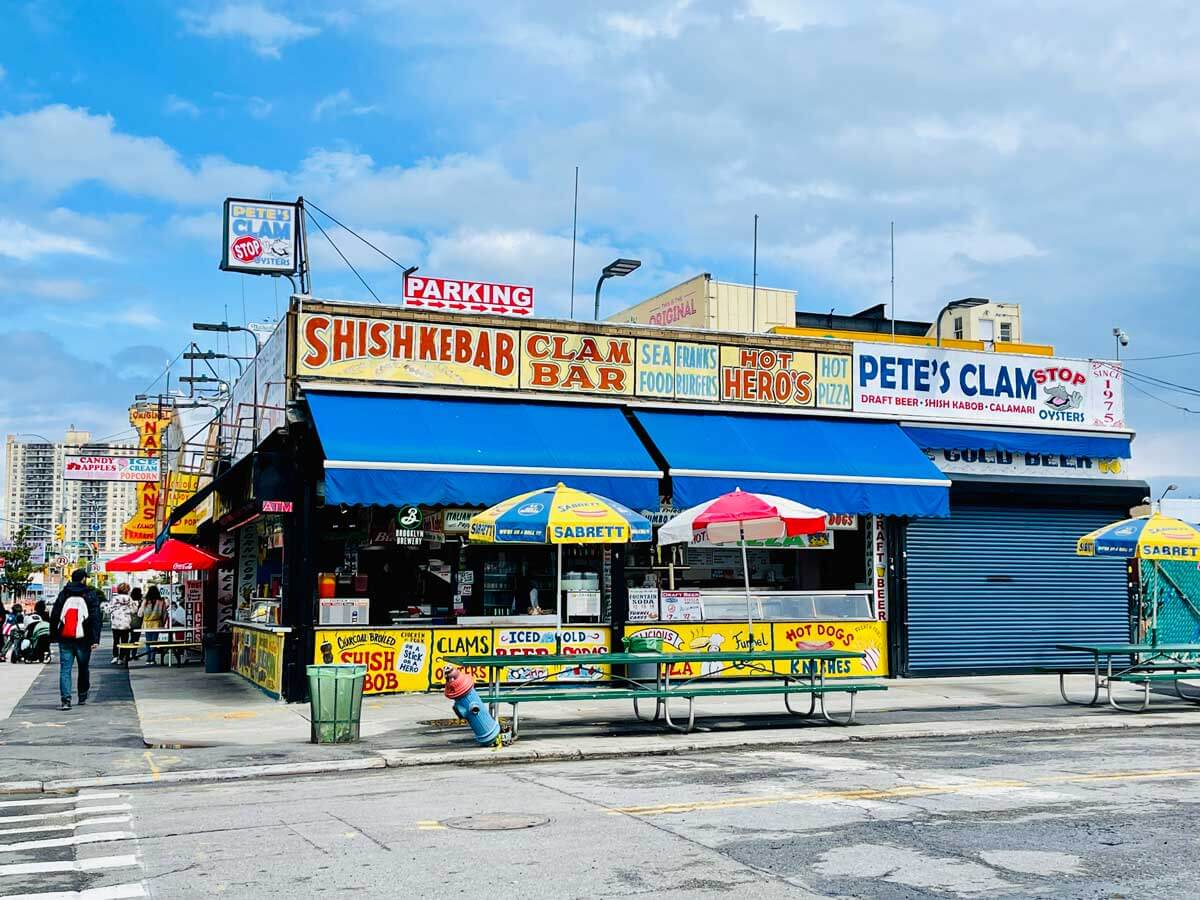 Ever picture Marlon Wayans, famous for playing in the Scary Movie franchise, in an intense psychological drama? Me neither. This 2000 film follows four Coney Island residents and their downward spiral due to drug abuse.
Requiem for a Dream was filmed in Coney Island as well as Brighton Beach. One dream sequence in particular takes place near the end of Steeplechase Pier, between West 16th and West 19th Streets.
More Brooklyn filming locations included Mr. Rabinowitz's store at roughly 805 Surf Ave, the Clam Bar was at 1320 Surf Ave, and Sara's apartment was at 3152 Brighton 6th St.
The Departed
This 2006 Academy Award-winning crime thriller film by director and New Yorker, Margin Scorsese starring A list names like Leonardo DiCaprio, Jack Nicholson, Mark Wahlberg, and Matt Damon to name a few is based on the real-life Boston Winter Hill Gang. Most of the film is set in Boston following the storyline of Irish mobsters and the FBI.
But there are some Brooklyn filming scenes at Green-Wood Cemetery. It's where the movie gets the title from the wreath: "Heaven holds the Faithful Departed," and is where the funeral of Billy Costigan's mother is held as well as the full police funeral at the end of the film.
Another location takes place at the Irish Haven Pub in Sunset Park at 5721 4th Avenue where Billy orders cranberry juice and smashes a glass over a man's head.
Spider-Man: No Way Home
This popular Marvel chapter starring Tom Holland as Spider-Man, aka Peter Parker, and Zendaya as MJ takes place in New York. One of the stand out filming locations in Brooklyn is the popular Peter Pan Donut and Pastry Shop in Greenpoint, where Zendaya's character MJ works.
More scenes were also filmed on the Franklin Lane Educational Campus on Jamaica Avenue.
TV Series Filmed in Brooklyn
Sex and the City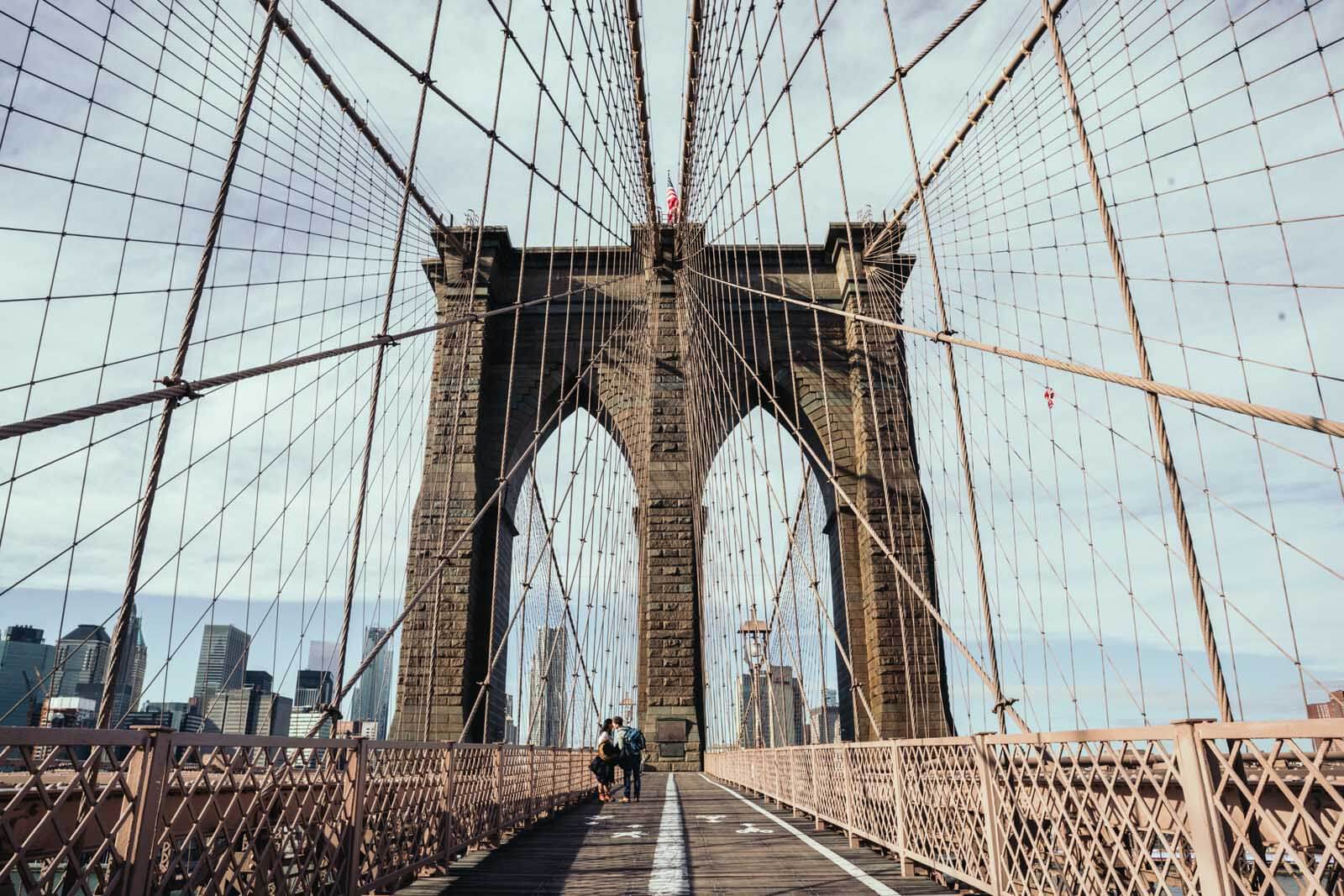 Sex and the City is one of the iconic series that is still talked about even though production stopped about 16 years ago.
This rom-com followed the lives of four women who rely on each other heavily throughout the series. These women tackle many social issues, romantic relationships, and friendships, which clearly resonate with the audience. The main character is Carrie Bradshaw, who is a writer in NYC and also the narrator of the show.
This series was actually turned into a film in 2008 and a sequel aired in 2010.
As you can imagine, Sex and the City has a handful of iconic filming locations in Manhattan, but one of the most famous filming locations in Brooklyn for the show was filmed on the Brooklyn Bridge when Miranda and Steve met halfway across the bridge.
And later on Miranda even moves into a townhouse in Brooklyn. The series reboot also hosts several Brooklyn filming locations! Check out our full guide to And Just Like That filming locations in NYC!
Gossip Girl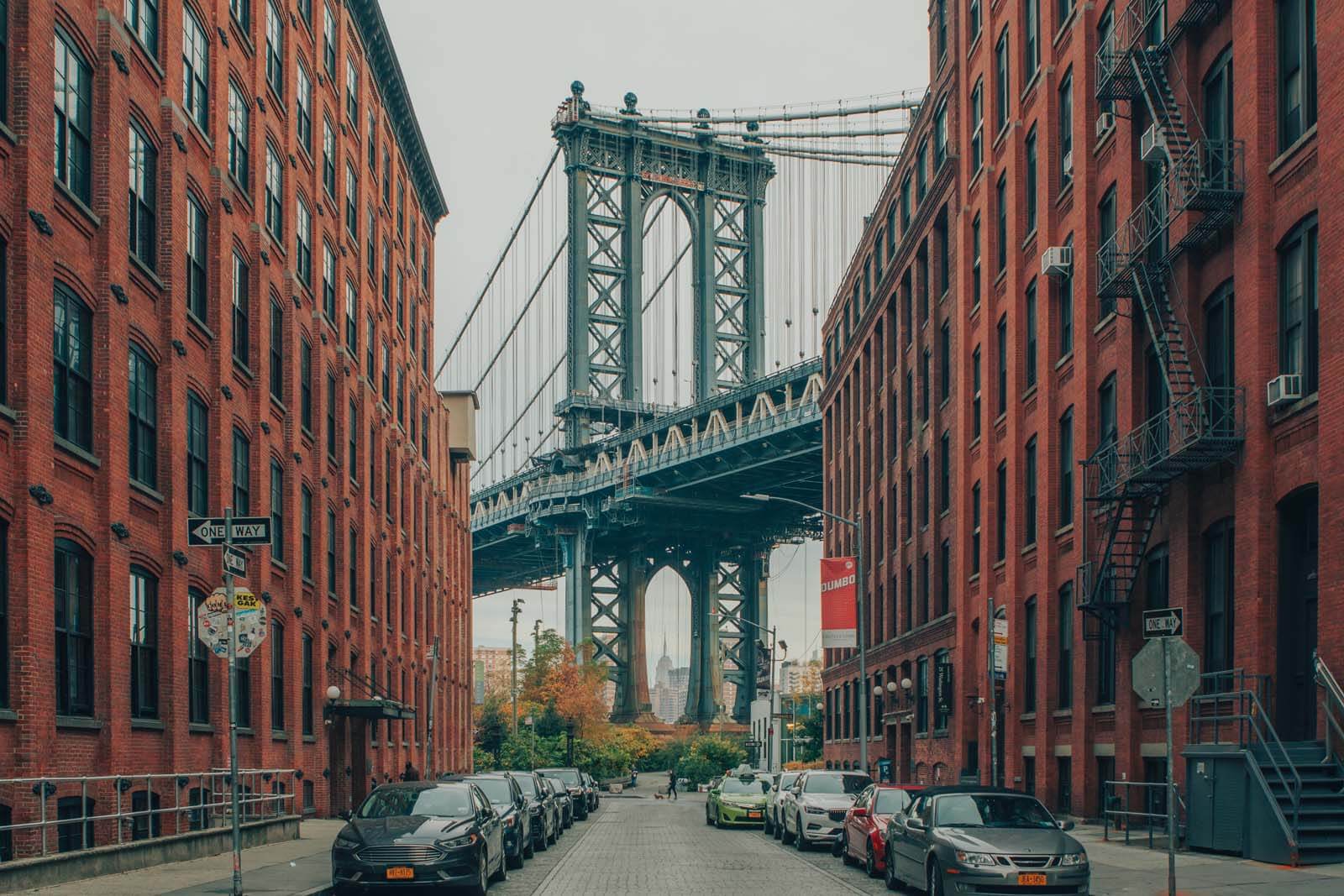 You're lying if Gossip Girl didn't totally inspire you to pack up your bags and head for the luxurious life that is New York City (minus all the drama obviously).
Gossip Girl is an American teen drama that ran from 2007-2012. The show includes intricate storylines of each main character, which are young high schoolers from the Upper East Side, except for Dan Humphrey, the Brooklyn outcast.
Since this series actually took place in New York, most of the filming was done in Manhattan, Brooklyn, and even parts of Long Island East.
There are so many iconic filming spots from the production. As you may or may not know, are the MET steps where the students used to have lunch and juicy conversations every day, Central Park, Grand Central Terminal, and many more in Manhattan.
Another favorite of ours in the Humphrey Loft, which was actually one of their filming locations in Brooklyn! Take a trip down to Water St in DUMBO to catch a glimpse of the famous apartment building.
If you haven't seen this series or you are now in the mood to watch it all over again, it is streaming on Netflix! And keep an eye out for the reboot slated for release in 2021.
Brooklyn Nine Nine
View this post on Instagram
Another iconic series to stream is Brooklyn Nine Nine, this show is a single-camera comedy that follows the life of NYPD detective Jake Peralta and his colleagues.
I like to think that this show has very similar humor to The Office. It was released back in 2013 on Fox and aired for 5 seasons, then NBC picked it up for its last two seasons and the eighth season is set to air in 2021.
Since the shows Precinct is in Brooklyn, you may think that this series must be full of New York action shots. Unfortunately, since a majority of the filming is done inside the precinct office, everything is shot in a studio in Los Angeles.
The only real filming locations in Brooklyn are actually establishing shots. For example, the show often shows a clip of Precinct 99 (which doesn't actually exist) in Brooklyn. This shot is actually of the 78th NYPD Precinct in Brooklyn, which you can totally go and check out if you're a fan of the show.
Regardless, you should absolutely check out this binge-worthy workplace comedy on Hulu.
Flight Attendant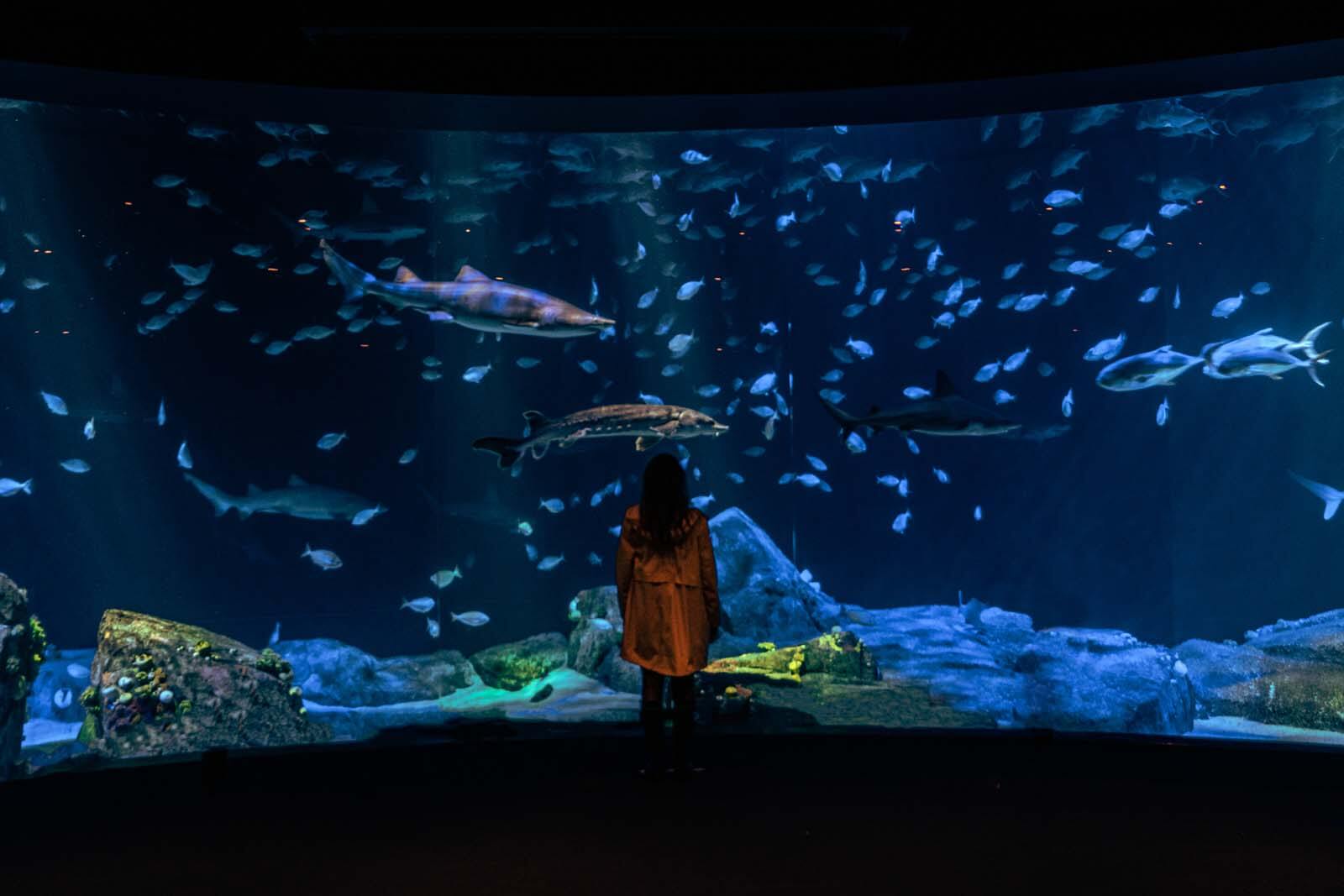 This HBO Max thriller-comedy series follows the life of a troubled flight attendant played by Kaley Cuoco who wakes up in a hotel on a layover next to a dead man and her life is changed forever. You follow along her dark journey to discover what happened and while there are several places this series is set in, the base for Cuoco's character is New York City with filming locations in Brooklyn.
Cassie (played by Cuoco) goes to her best friend Annie for support and help who is an influential lawyer who lives in Brooklyn. There are scenes filmed on the L train at Broadway Junction in Brooklyn which is on the edge of Bed-Stuy and East New York.
There are also scenes filmed in Brooklyn and the border of Queens at Newtown Creek and Annie's posh loft is supposed to be set in DUMBO but they use a fake address 410 Plymouth St which doesn't exist.
There are also some establishing B-Roll shots that look to be aerial shots of Carroll Gardens that look like views from the elevated train platform from Smith 9th St station towards Manhattan.
Another scene takes place at the New York Aquarium at Coney Island where Cassie takes her brother Davey and his two kids to a fun day looking at marine life.
Marvelous Mrs. Maisel
Ahh, one of the best shows based in New York following Miriam "Midge" Maisel played by Rachel Brosnahan set in the 1950s. The character seems to have everything an affluent New York housewife has in the 1950s, the handsome and charming husband, kids, and a luxurious apartment on the Upper West Side.
However, her life takes a tailspin when her husband has an affair and after one downward spiral of a night she discovers her hidden talent as a comedian and launches her life in another direction hanging out in Greenwich Village nightclubs and cafes performing sets.
While almost the entire series is filmed and set in Manhattan with a few guest appearances in the Catskills and touring around the country, there are a few Brooklyn filming locations including filming at Coney Island for season 4.
You see Miriam walking down the Riegelmann Boardwalk and in front of iconic spots like the Wonder Wheel in Deno's Wonder Wheel Park.
Other Brooklyn filming locations takes place at Floyd Bennett Field in Marine Park, Brooklyn when it was used to create the Las Vegas scenes!
Some of Mrs. Maisel's crew is filmed hanging out at Ludlow Blunt Barbershop that is actually located in Williamsburg, Brooklyn.
Next on the list of filming locations in Brooklyn, is when Joel takes his parents to the bank, which just happened to be filmed at Dime Savings Bank in Downtown Brooklyn, which has actually been under construction for quite some time now.
It is also said that when Midge boards the vintage subway cars, it is most likely the same vintage car that is on display at the New York Transit Museum, which is located in Downtown Brooklyn!
Girls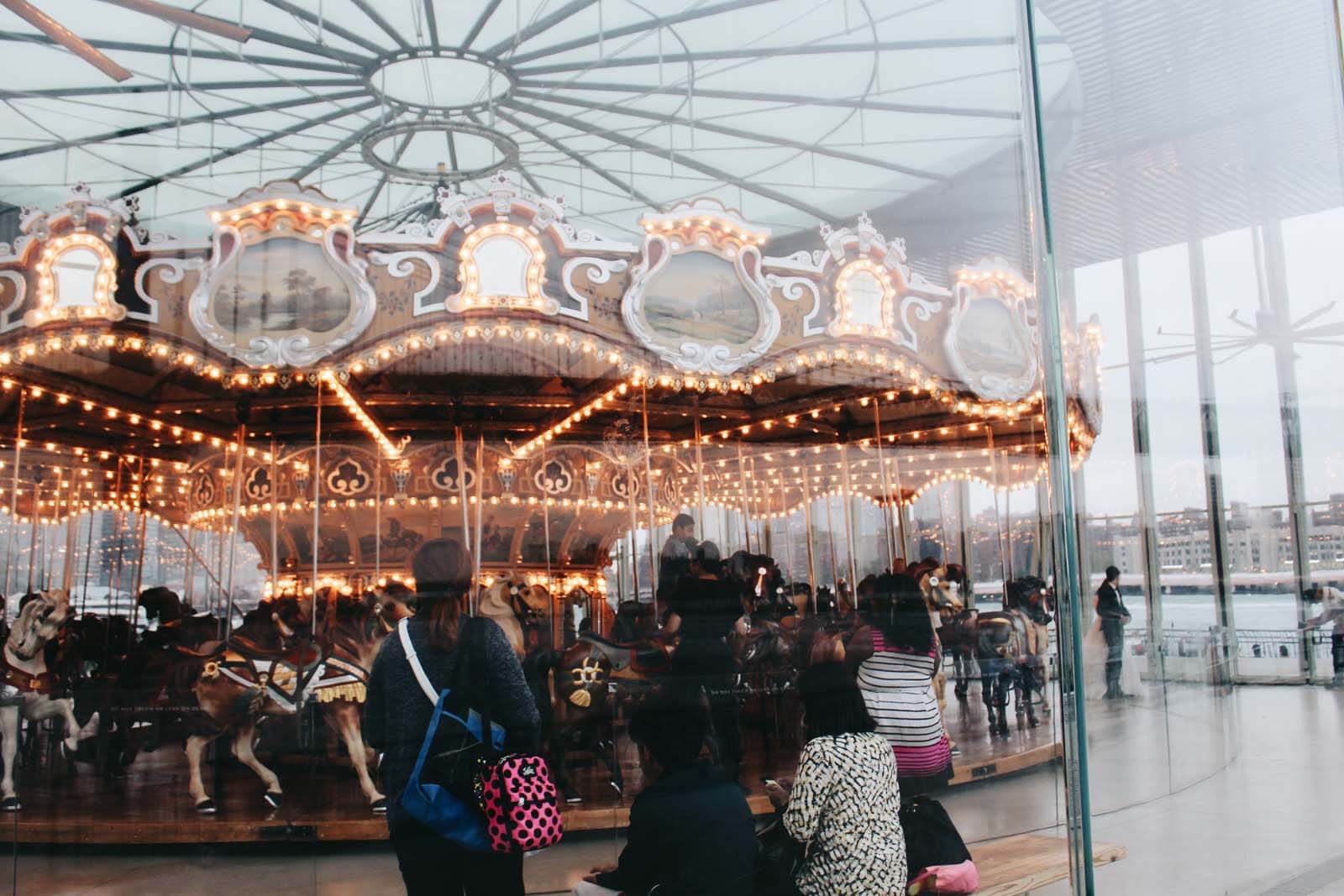 Another drama series based in New York, are you surprised? And the framework of Girls is actually kind of similar to Sex and the City because it's based on a group of young women just trying to figure life out while living in the Big Apple.
The show aired for six seasons from 2012-2017 on HBO. As I mentioned, Girls is based on four young women in NYC, one of which is the main character, Hannah, who is an aspiring writer and just recently got thrown into the real world cut off from her parents financial support.
The cool part about it is that she lives in Greenpoint, Brooklyn, their apartment was on India Street! Another key character, Adam, lives on St. Johns Place in Prospect Heights, Brooklyn.
Girls chose some of our favorite spots as their filming locations in Brooklyn. Our favorite examples are the montage of Adam and Jessa's date in Coney Island, and another was shot on Jane's Carousel in Brooklyn Bridge Park.
Also, the cafe Ray works at and was used as a filming location is Cafe Grumpy at 193 Meserole, one of our favorite cafes in Brooklyn!
Spoonbill & Sugartown, one of our favorite independent bookstores in Brooklyn, also makes an appearance in season 2 when Hannah and Sandy are together discussing journals.
Billions
This popular drama follows the battle between U.S. Attorney Chuck Rhoades played by Paul Giamatti and billionaire hedge fund manager Bobby Axelrod played by Damian Lewis in your typical cat and mouse storyline. This whole entire series takes place in and around New York City.
Filming locations in Brooklyn include Rhoades' Brooklyn Heights brownstone which actually uses a facade of a Park Slope brownstone at 49 8th Ave even though they want you to believe it's at 49 Pierrepont Street. You see plenty of establishing shots that are set in Brooklyn Heights that make you believe this Park Slope brownstone is actually in Brooklyn Heights.
Another Brooklyn filming location that is easily recognizable is the Brooklyn Heights Promenade and another one of the many scenes filmed in the borough includes the Montauk Club which are where the scenes of the S&M Club Chuck Rhoades likes to frequent are shot at.
When Axelrod's employee Taylor decides to betray him and start their own hedge fund, Taylor Mason Capital, they make their office and headquarters in DUMBO at the Empire Stores Building (the same building as Time Out Market New York and the West Elm corporate offices).
A few other scenes were filmed at Brooklyn Borough Hall, Cadman Plaza, a restaurant scene at Ghenet on 4th Avenue, Fort Greene Park, interior shots at Weylin in Williamsburg in the former Williamsburgh Savings Bank Building, and Mile End Delicatessen in Boerum Hill to name a few.
Broad City
Next on our list of TV shows with filming locations in Brooklyn is Broad City, which is a sitcom that follows the life of two young Jewish-American women attempting to make it in New York City.
It actually started as a web series from 2009-2011 and then the show ran for five seasons from 2014-2019 on Comedy Central.
One of the main characters, Ilana, actually lives in one of our favorite neighborhoods, Gowanus, Brooklyn.
The other main character Abbi, works at a gym that's located in Williamsburg Brooklyn called Chalk Gym although in the show the gym is called Soulstice.
A few more filming locations in Brooklyn for Broad City were rollerskating in Prospect Park, Beacon's Closet in Greenpoint, Carroll Street Bridge, Green Hill Co-op in Clinton Hill, and Whole Foods in Gowanus, and more!
High Maintenance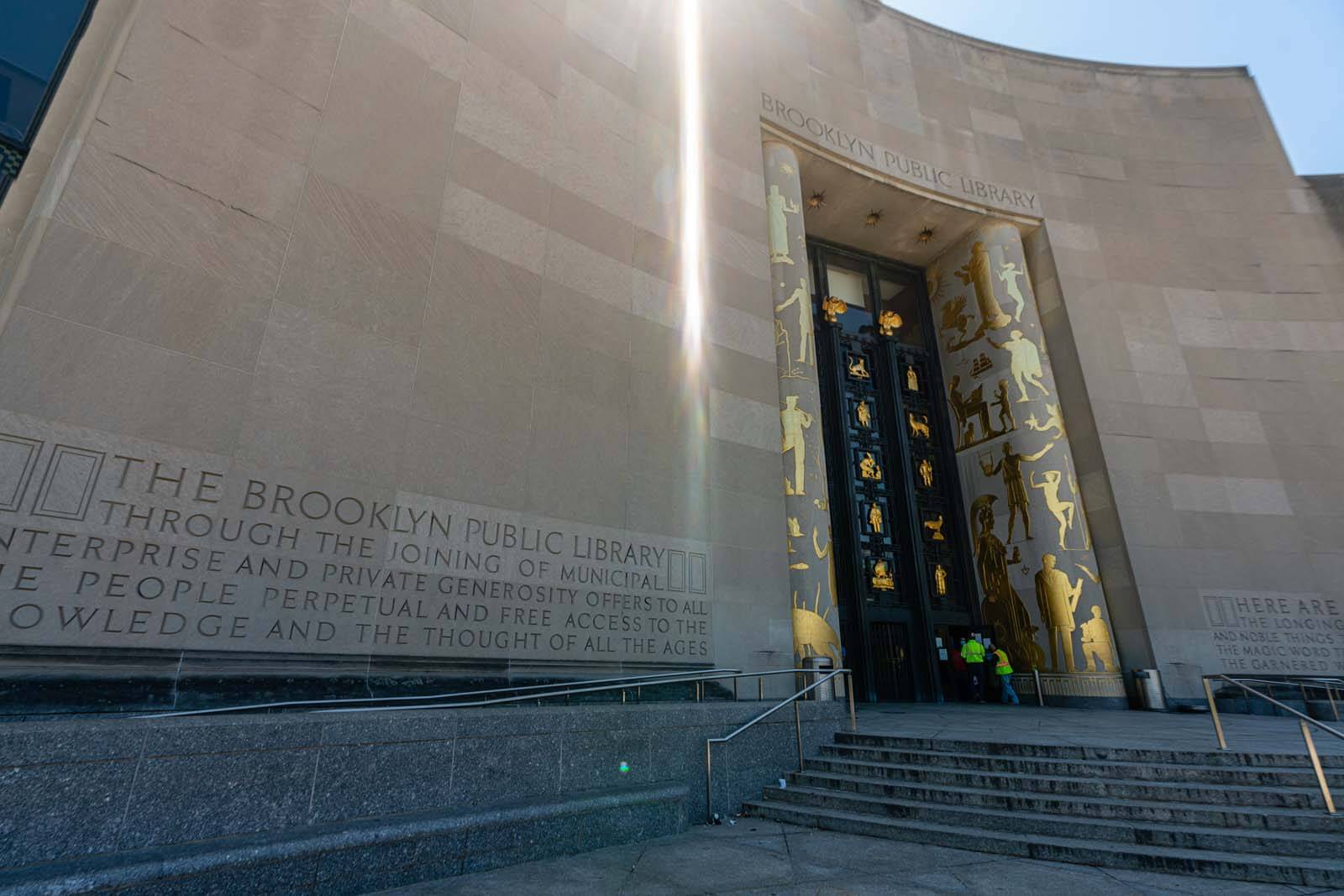 Another one of those web series turned television drama is High Maintenance. The series started out on Vimeo back in 2012 and has since moved to the big screen TV. It started airing in 2016 and they released a fourth season in February of 2020.
The main premise of this series is being introduced to new characters/clients as they are introduced to The Guy, a character in the film who is a marijuana dealer.
Ultimately the show likes to introduce the audience to the clients and show how their lives have crossed paths with The Guy.
Even if the premise doesn't interest you, the filming locations will! Although they occasionally shot in Manhattan, we love the fact that a majority of the show was shot and takes place primarily in Brooklyn.
The production offices are in Crown Heights, which is where they tend to film a lot of the series. Here's a brief rundown of some of their filming locations in Brooklyn:
In the first episode of the new season, The Guy has an interesting encounter with a for-hire entertainer in Cadman Plaza, which is located in Downtown Brooklyn.
Some additional filming locations are at 12 Chairs Cafe in Greenpoint, an Airbnb in Bushwick which if you look closely you'll see the colorful murals of the Bushwick Collective in the backdrop, House of Yes in Bushwick, Nowhere Studios in Crown Heights, Brooklyn Central Library, Prospect Park, Grand Army Plaza, and many more!
Mr. Robot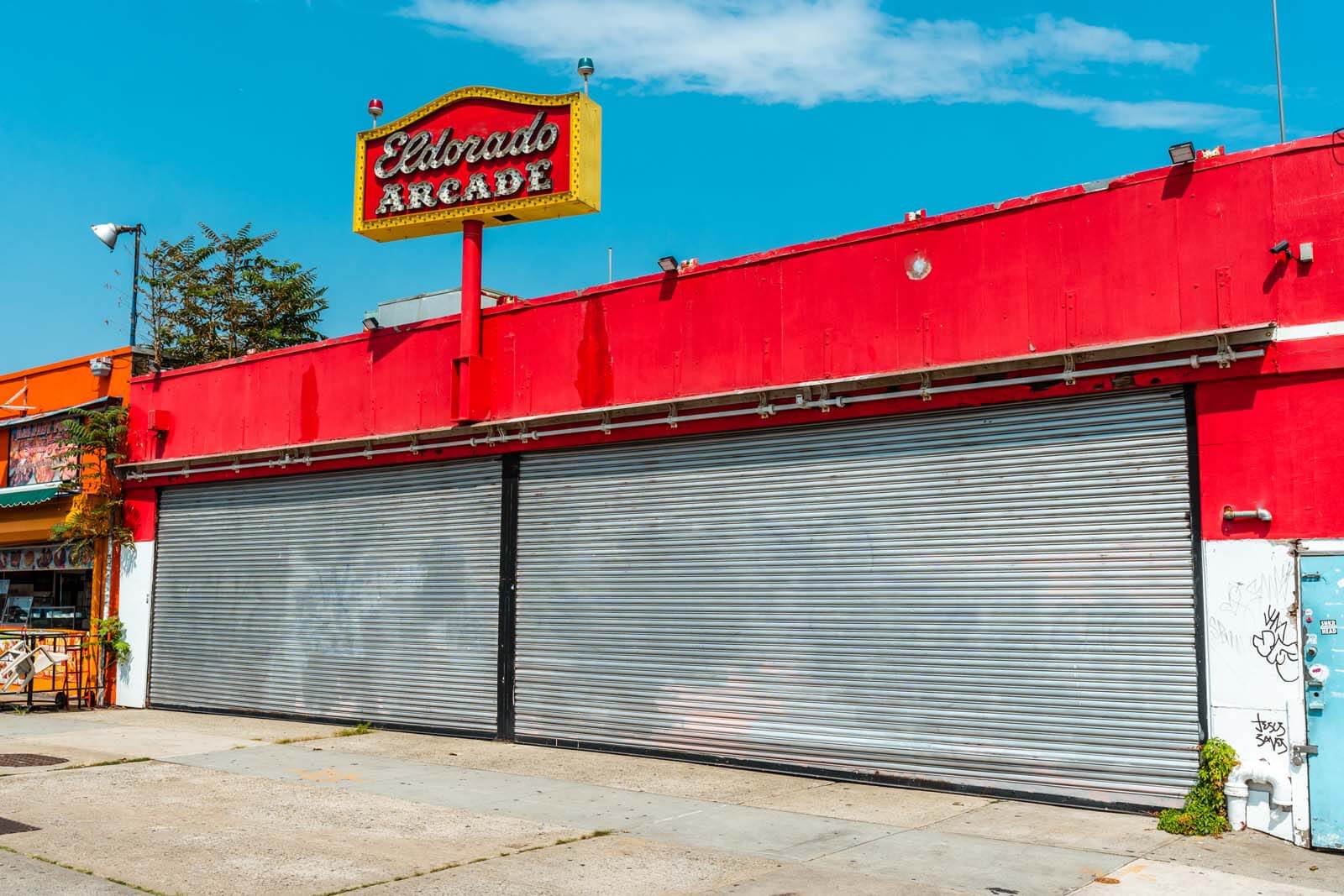 This American thriller series follows the life of a young man who has a career as a cybersecurity engineer in New York City.
Ironically, the main character, Elliot, falls into a team of cyber hackers after being recruited by this "Mr. Robot."
First on our list of filming locations in Brooklyn for Mr. Robot is when Elliot and Mr. Robot have one of their first official conversations on a subway platform at the Church Ave station in Brooklyn.
Next takes place in Coney Island, specifically at Deno's Wonder Wheel, where they start to talk about Mr. Robot's plan, "fsociety." Additionally, there is a secret headquarters for their operation set up at an "abandoned" arcade, which is actually Eldorado Bumper Cars & Arcade.
Another film spot was at Brooklyn College when one of the hackers goes to convince another former hacker to come back to the "fsociety" group.
This series has been raved about for its style, how the camera angles and mood really help the audience feel what Elliot is feeling. Check this one out on Amazon Prime Video.
See what makes Eldorado one of our favorite hidden gems in Coney Island too!
Boardwalk Empire
Released in 2010 on HBO, Boardwalk Empire is a five-season series that takes place during the Prohibition Era in Atlantic City, New Jersey.
The series covers the personal and professional life of county politician, Enoch "Nucky" Thompson, who happens to be in charge of Atlantic City.
Although the show series is set in New Jersey, it is filmed right here in Brooklyn. The actual boardwalk in the show was built in an empty lot in Greenpoint, Brooklyn and it was the first outdoor set built in NYC since the 1910s. Unfortunately, the set was not open to the public but looking at the images of the set is still astonishing.
In addition to the set in Greenpoint, Boardwalk Empire had some other filming locations in Brooklyn, such as Park Slope's Montauk Club, which is Lolly Steinman's casino in the show.
For the shots inside of Nucky's house, production was at the Commandant's House in the neighborhood of Vinegar Hill, Brooklyn, which is incredibly interesting because there were many restorations made to the interior of the property to get it show-ready.
Additionally, there were a number of scenes filmed in Ditmas Park, Brooklyn for the Victorian-style homes that suited the series perfectly.
If you're looking to check out a series that shows a whole lot of filming locations in Brooklyn, this could be your next binge!
The Honeymooners
We're throwing it back all the way to the 1950s for this one!
The Honeymooners is an American sitcom that premiered on CBS in 1955. It stars Jackie Gleason, in fact, the show was inspired by Gleason's comedy sketch with the same name from his variety show.
The single season show follows the life of bus driver, Ralph Kramden, who was played by Gleason, and his wife Alice, who is played by Audrey Meadows.
Although most of the most was filmed at Adelphi Theatre in Manhattan, the most prominent filming location in Brooklyn for The Honeymooners was the couple's apartment was located at 328 Chauncey Street apparently in Bensonhurst, Brooklyn in the show but the actual address in located in Stuyvesant Heights.
Another filming location is from when Alice ends up taking a babysitting job on Himrod Street, which is in Ridgewood, Brooklyn.
The most interesting filming location was after one of the characters was rushed to the Bushwick Hospital, which back in 1955 was an actual hospital but the building is now a detention center.
The Honeymooners was only one season and lasted from 1955-1956 but was appreciated for its twist on the typical American sitcom for its time.
Unbreakable Kimmy Schmidt
View this post on Instagram
This Netflix series stars Ellie Kemper, who plays Kimmy Schmidt, a young woman who was held captive along with a few other women for 15 years by a Reverend in Indiana.
In order to get a fresh start, Kimmy decided to live in the Big Apple after making an appearance on the Today Show to tell her story. The sitcom shows Kimmy befriending people, finding a roommate, and even getting her first job.
A great thing about this series is that is was actually produced where it takes place, which isn't always the case. So there's definitely a number of filming locations in Brooklyn for Unbreakable Kimmy Schmidt.
All of the scenes that are set in Kimmy's apartment were filmed at 74 Freeman Street in Brooklyn, which is just north of the heart of Williamsburg.
The show filmed in a few neighborhoods in Brooklyn. My personal favorite was when a street in Greenpoint was turned into the fictional street named Pizza Rat Boulevard.
There were also many New Yorkers who tweeted about postage for production of the show in their neighborhoods like Williamsburg and near Grand Army Plaza.
Unorthodox
Debuted in 2020, the German-American drama and miniseries, Unorthodox, aired on Netflix in March. The series is based on an autobiography by Deborah Feldman.
The show introduces the audience to a young adult woman who is apart of the Orthodox community in Williamsburg, Brooklyn. She is in an arranged marriage in which she very much doesn't want to be apart of anymore. She flees Brooklyn and heads for Berlin in order to escape it.
While a lot of the production was filmed in Berlin, Germany, even some of the scenes that "took place" in Brooklyn, there were actually some filming locations in Brooklyn as well.
One scene in particular, you can see the main character, Esty, running down Walworth Street and then her husband, Yanky, is seen passing Peter Luger, one of the staple restaurants in all of Brooklyn.
Unorthodox was filmed in just 50 days and the exterior shots in Brooklyn were filmed at the very end of production.
Modern Love
View this post on Instagram
Although there's only been one season and just eight episodes so far, Modern Love is a great series based on the various forms of love taking place in NYC. This series is actually produced by Amazon Studios and the New York Times inspired by the NY Times column also called Modern Love.
It also has a pretty noteworthy cast with Anne Hathaway, Tina Fey, Andy Garcia, Dev Patel, Julia Garner and others each appearing in at least an episode or two.
While a lot of the filming is done in Manhattan, there are some filming locations in Brooklyn for this series.
In the first episode we see one of the characters, Maggie, being accompanied by her doorman outside an apartment building in Prospect Heights, Brooklyn, which is really close to the Brooklyn Public Library!
We later see Maggie meeting up with a man at Gladys, which was a Caribbean restaurant on Franklin Ave in Crown Heights, Brooklyn.
Another Modern Love filming location in Brooklyn was when Anne Hathaway's character is dancing in the parking lot after shopping at Fairway Market in Red Hook.
Grand Army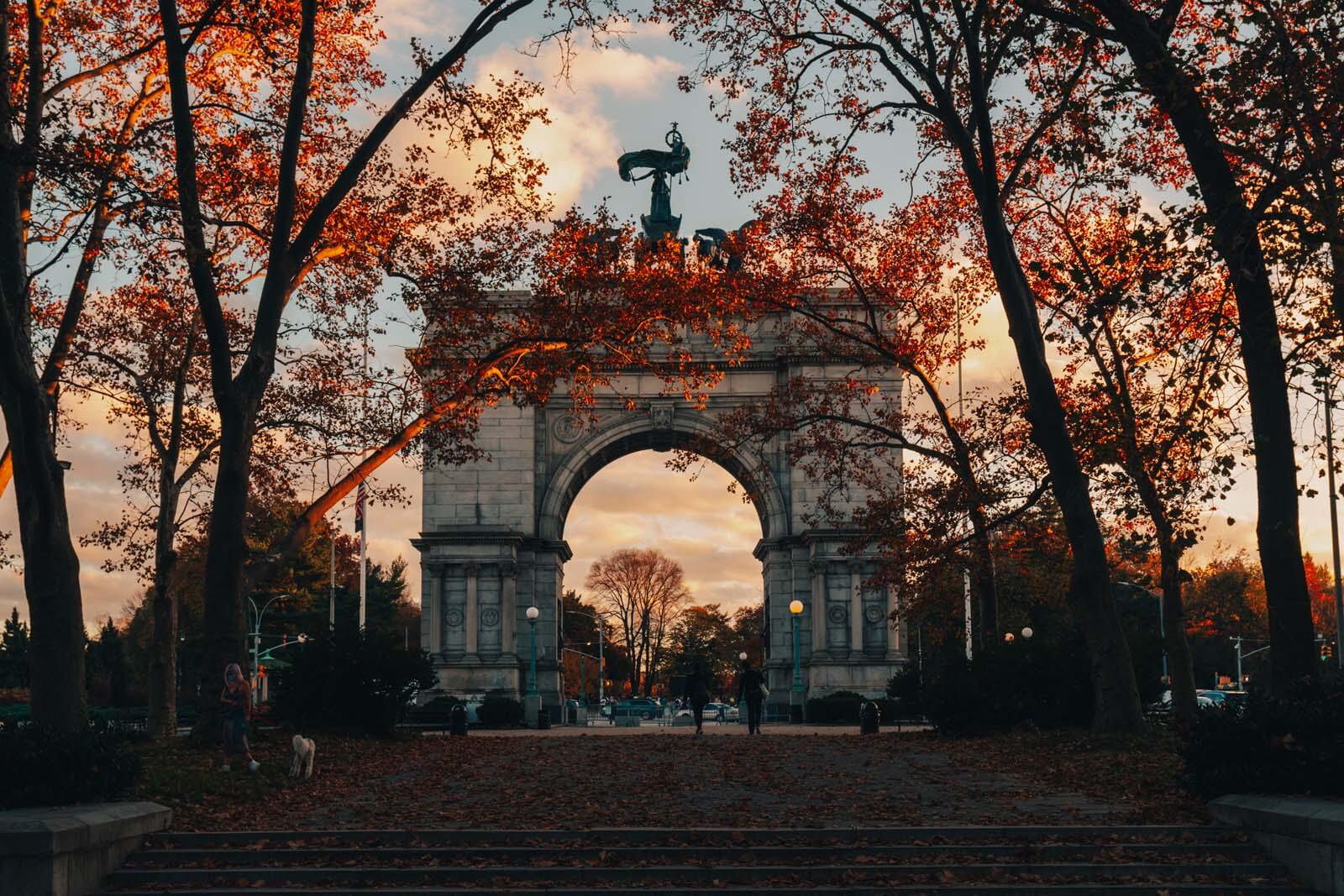 Grand Army is one of the newest editions for filming locations in Brooklyn as it takes place in Brooklyn at a fictional high school around Grand Army Plaza in Prospect Heights.
While alot of this Netflix show is filmed in Toronto, to save money perhaps, this show is based off the play Slut by Kate Capiello which tells the story of teenagers in New York City, specifically the girls and complex issues young women face.
Grand Army High School may not exist in real life, but there are some notable filming locations like Grand Army Plaza where one of the largest plot points takes place when there is a terrorist bombing takes place here.
You can also spot Prospect Park and Brooklyn Public Library in these scenes.
Another scene and filming location in Brooklyn for this series takes place at the Church Avenue subway station where two of the characters, Owen and Jayson busk. This is supposed to be the Grand Army Plaza Station but it's actually on the upper level of Church Ave Station.
Another iconic scene takes place on the waterfront of the East River at Fulton Ferry Landing with the skyline and Brooklyn Bridge in the backdrop.
Movies Filmed in Brooklyn
Brooklyn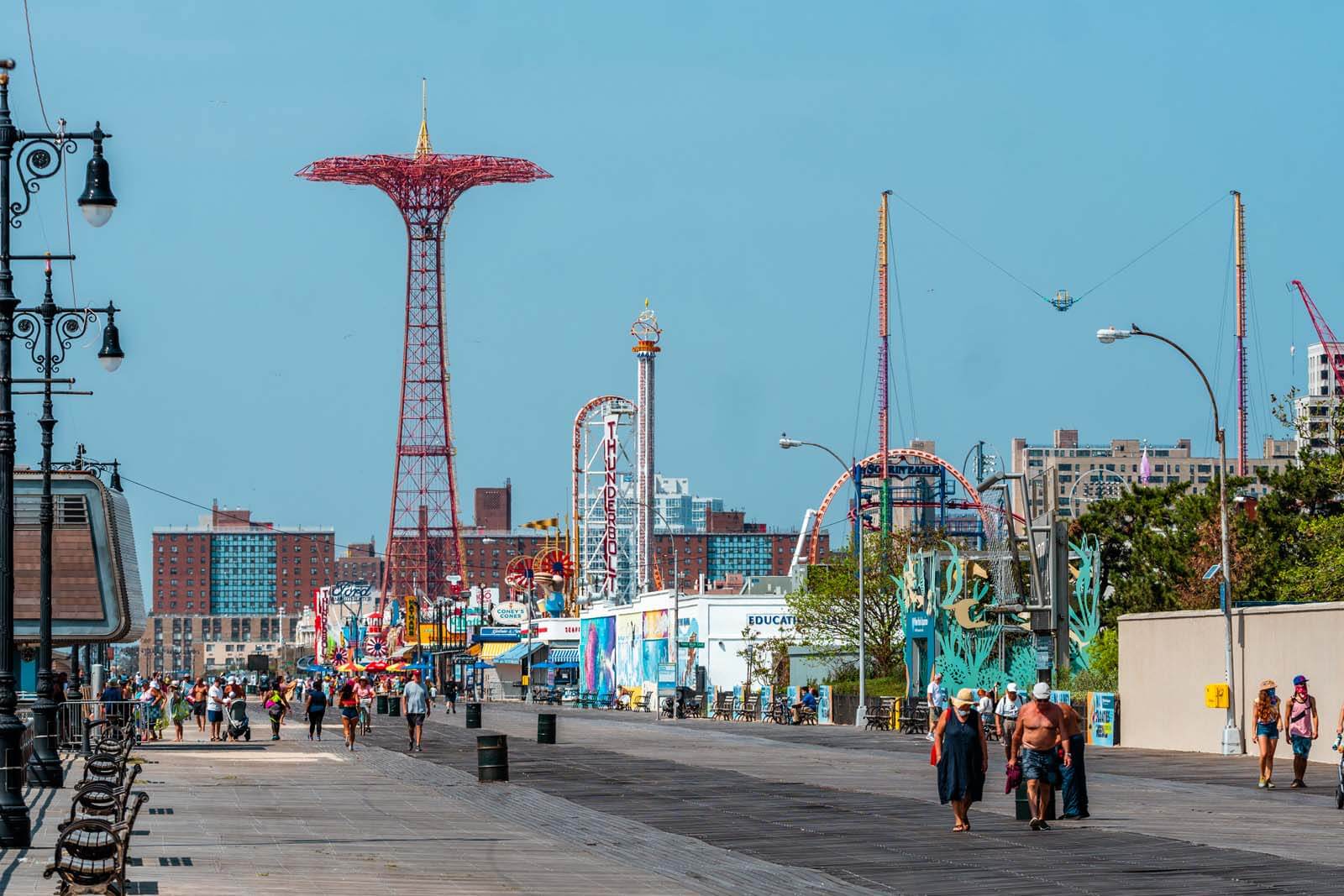 A romantic film released in 2015 based on the novel Brooklyn by Colm Tóibín features a young Irish woman, Eilis, who emigrated to Brooklyn, New York.
Brooklyn is one of the most outstanding movies filmed in Brooklyn considering it ranked 48th on British Broadcasting Corporation's 100 Greatest Films of the 21st Century.
Oddly enough for a film named after Brooklyn, there were only two filming locations in Brooklyn and the filming in New York only took about two days!
The boarding house Eilis and other Irish women immigrants stayed in was filmed on Clinton Street, for its gorgeous brownstones. This film set is apart of the Carroll Gardens neighborhood.
The only other filming location in Brooklyn was in Coney Island. Eilis and her beau in the movie, Tony visit Coney Island to celebrate her passing her exams at Brooklyn College.
Wonder Wheel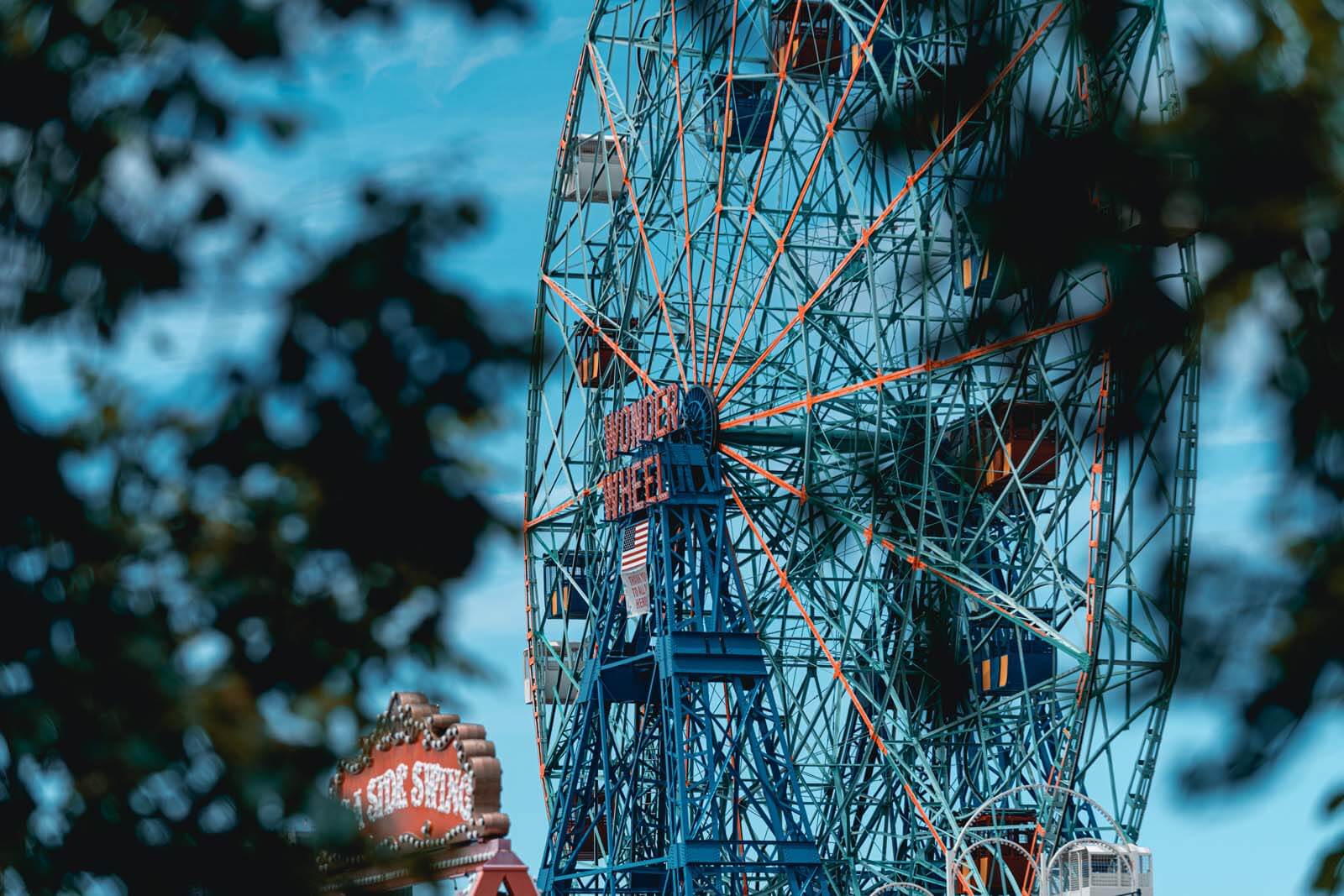 This 2017 Woody Allen film is set in the 1950s and takes place at what is now Luna Park in Coney Island. The film's title was inspired by Deno's Wonder Wheel in the amusement park.
This film follows the reality of complex relationships and life on the boardwalk in Coney Island, Brooklyn.
The movie was primarily filmed in Brooklyn with some scenes in Staten Island. All of the filming locations in Brooklyn are on the beach and boardwalk, specifically Ruby's Bar & Grill, which was Ruby's Clam House where one of the main characters, Ginny works. In addition to these spots, the movie features scenes at Deno's Wonder Wheel and the Coney Island Museum.
The Royal Tenenbaums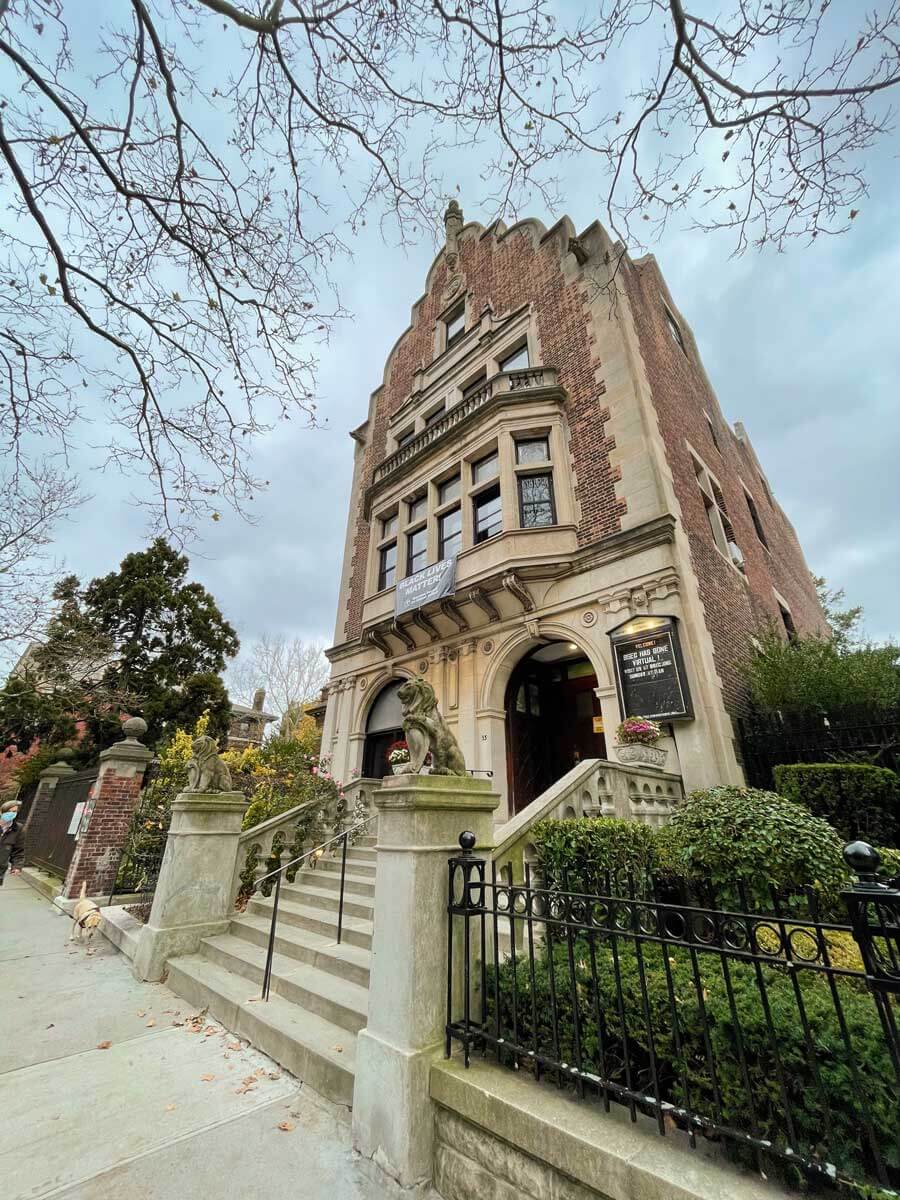 A Wes Anderson film, The Royal Tenenbaums is an American comedy and drama that features an outstanding cast and an intricate plot. The talent in the film consists of Gene Hackman, Anjelica Huston, Danny Glover, Luke Wilson, Owen Wilson, Ben Stiller, Bill Murray, and Gwyneth Paltrow, who all come together for one of the great movies filmed in Brooklyn.
The story follows the horribly messy life of the Tenenbaums. Each member of this family eventually struggles with some sort of identity crisis. It involves divorce, the slumps after adolescent successes, adultery, forbidden love, death, and the list goes on.
With all that being said, The Royal Tenenbaums included some filming locations in Brooklyn and is the only Wes Anderson film to use NYC as its set!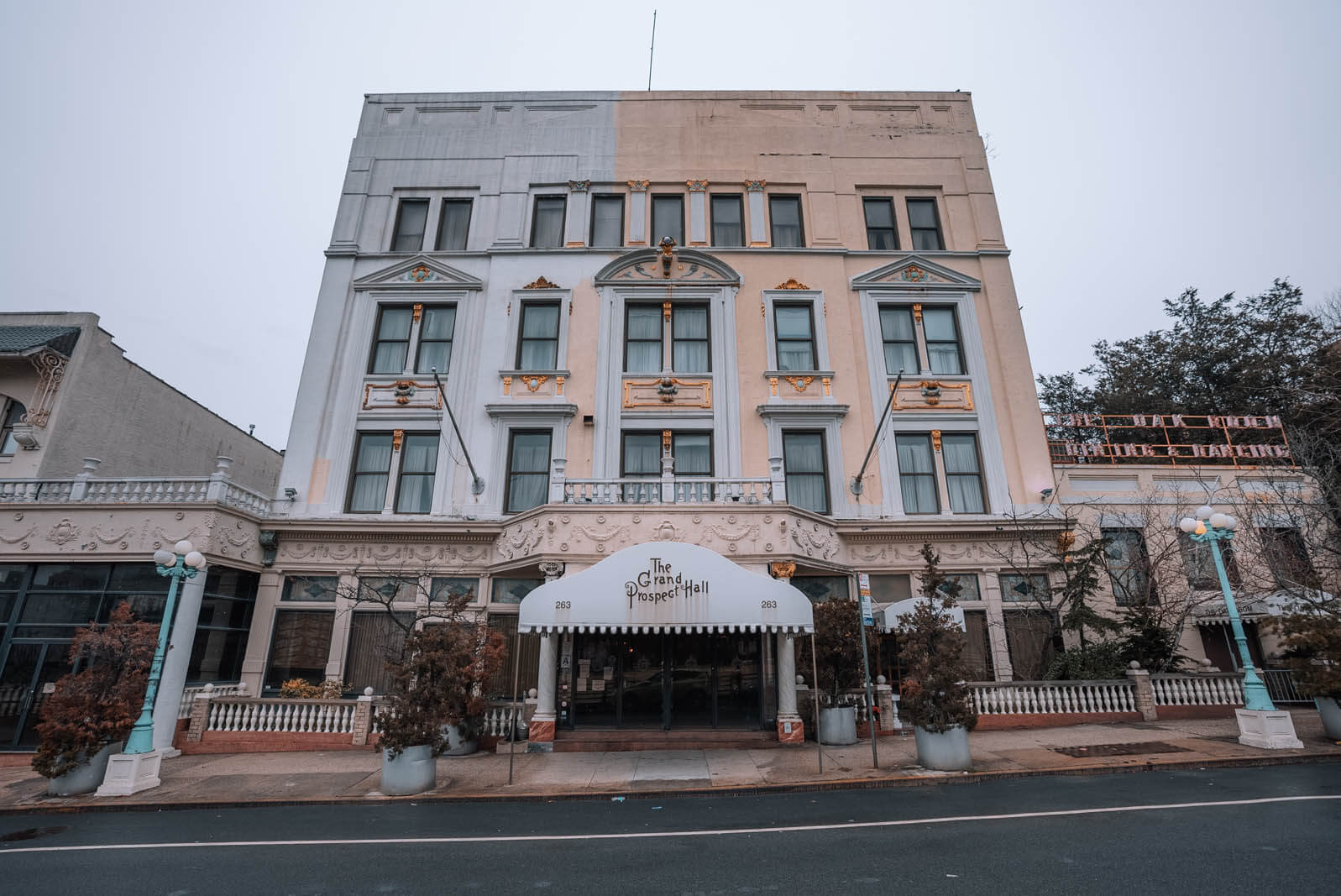 One of the greatest filming locations in Brooklyn for this film is the Grand Prospect Hall in Park Slope, Brooklyn. The scene that was filmed here was the Royal, the father figure in the film was trying to repair his relationship with his adopted daughter Margot.
Speaking of Margot, once she marries, she briefly moves to South Slope, Brooklyn. This film spot is located at 196 16th Street.
Another residence in Brooklyn used as a filming location belongs to Royal's wife's soon-to-be new husband, Henry. Royal shows up to the residence in Park Slope, Brooklyn when he is delivering the divorce papers. This spot can be found at 53 Prospect Park West which houses the Brooklyn Society of Ethical Culture.
Black Swan
Black Swan is a 2010 film that focuses on Nina Sayers, played by Natalie Portman, and her experience performing for the New York Ballet Company on Swan Lake.
Although the entire film is produced in New York, only one of the scenes was apart of the filming locations in Brooklyn. Even though the audience believed Nina to live on the Upper West Side of Manhattan, her apartment was actually located at Turner Towers in Prospect Heights, Brooklyn.
Heart Beats Loud
View this post on Instagram
Heart Beats Loud is a 2018 film that is based on a man named Frank and the relationship he develops with his daughter Sam after the passing of his wife. Frank owns a vinyl shop in Red Hook, Brooklyn called Red Hook Records.
Sam told her father about a song she had written called "Heart Beats Loud," and then they record the song together. Frank later releases it on Spotify without telling Sam and it became an overnight hit.
The movie takes the audience along on their music journey and life pulling them in different directions.
In terms of filming locations in Brooklyn, the record shop where they filmed the movie is located at 85 Oak Street and Franklin Street which is located in Greenpoint, Brooklyn.
While actually shooting in Red Hook, they filmed at a cafe called Baked and a bar called Sunny's Bar.
Additional filming locations in Brooklyn were at Columbia Street Esplanade, Court Street, Insa Restaurant, which is near the neighborhood of Gowanus, and Stinky Bkyln on Smith St, which is unfortunately permanently closed.
Also, if you love vinyl, check out all the best record shops in Brooklyn!
Moonstruck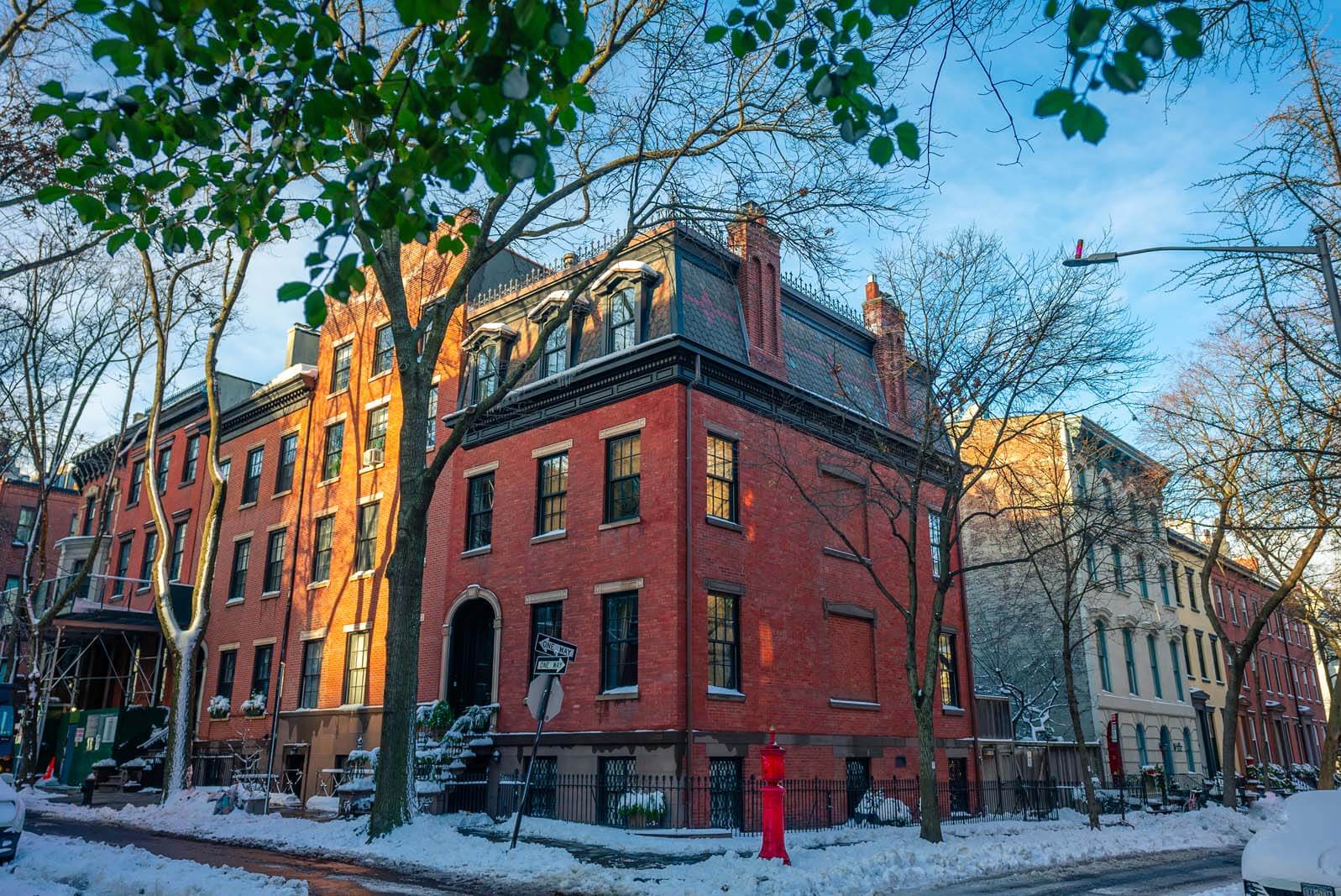 Moonstruck is a 1987 film starring Cher, Nicolas Cage, and many others. The film follows the life of Loretta Castorini, played by Cher. Her character is a 37-year-old woman who is a widow living in Brooklyn Heights with her parents and grandpa.
Loretta finds herself in some difficult situations when she reaches out to her fiancé's estranged brother and ends up having an affair with him. Ultimately Loretta ends up marrying that brother named Ronny.
Although there are many film locations for Moonstruck in Manhattan, Cher's character actually lives in Brooklyn Heights and the house she lives in with her family is one of our filming locations in Brooklyn. Her house is located at 19 Cranberry St, just steps away from the beautiful Brooklyn Heights Promenade on one of the famous Fruit Streets. There are many clips of Loretta walking along Cranberry St on her way back to her apartment.
There's also a clip filmed at Sackett Street and Henry Street in Carroll Gardens, Brooklyn. This is when Loretta goes to meet up with her fiancé's brother at Cammareri Bakery.
There are also some skyline shots from the gorgeous Brooklyn Heights Promenade, which is one of our favorite vantage points in all of New York City.
Eat, Pray, Love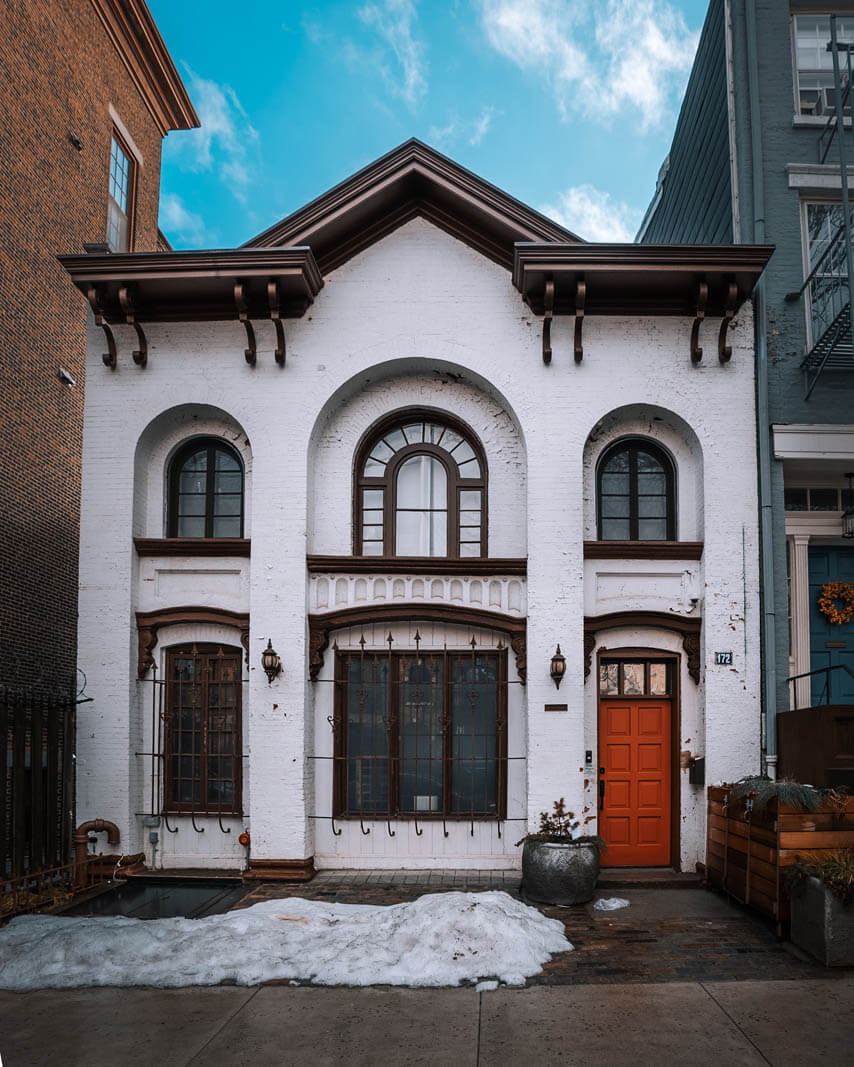 One of the magical carriage houses and hidden gems in Brooklyn that's also a filming location of the popular Julia Roberts movie, Eat, Pray, Love.
The Eat, Pray, Love Brooklyn house is actually one of the city's rare carriage houses that have been turned into luxury real estate. This house is actually occupied by a celebrity as well, musical artist Norah Jones bought this Brooklyn filming location for over $6.25 million.
You can find this house a 172 Pacific Street in Cobble Hill.
Marriage Story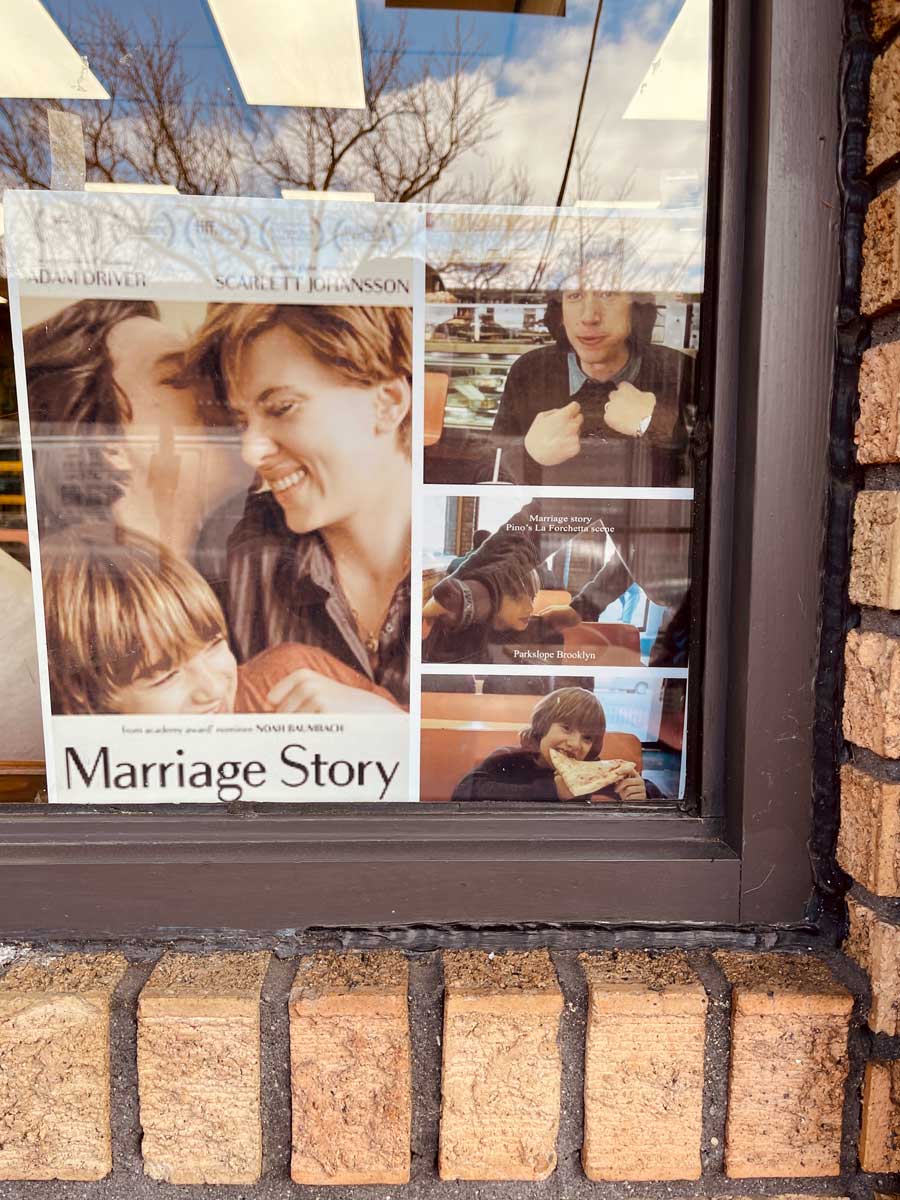 This movie starring Scarlett Johansson and Adam Driver telling the story of their divorce takes place between filming in NYC and LA, a few of the NYC scenes are filmed right here in Brooklyn in Park Slope, mostly establishing scenes.
Driver and Johansson's characters lived in Park Slope in the film off of 7th Avenue Subway Station on Flatbush Avenue. Besides the subway shot, there's another scene where Driver's character Charlie is eating pizza at Pino's La Forchetta on 7th Avenue with his son in the movie. If you walk past this spot today, they proudly have a sign that shows a screenshot from the scene filmed here.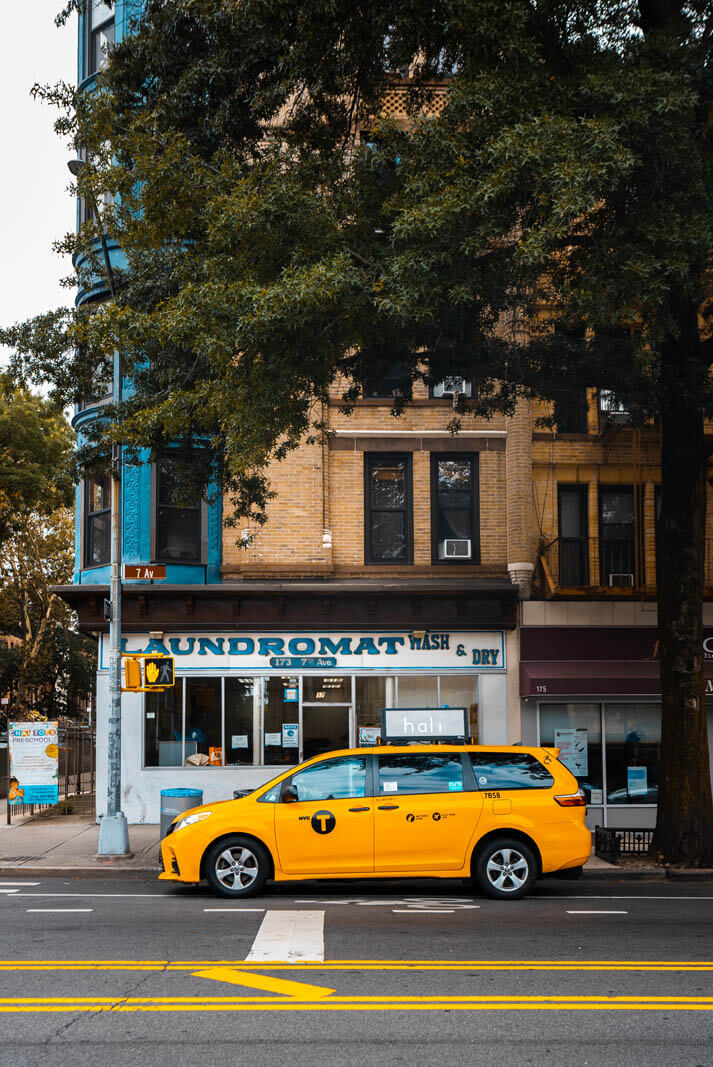 Another spot is the Laundromat Wash & Dry at 173 7th Avenue where Charlie is enjoying a smoke outside leaning on the building.