Looking to visit some of the most famous filming locations in NYC on your visit? Whether you're a movie buff, a diehard fan, or someone who just enjoys visiting movie locations – this guide is for you!
New York City is a hub for creativity and entertainment, with some of the world's most iconic films and television series being shot on its bustling streets and at some of the city's most recognizable landmarks. From Central Park to the Brooklyn Bridge, New York's landmarks have become synonymous with countless classic movies and tv shows.
Whether you're a cinephile or just looking for an adventure in the city, exploring these famous filming locations in New York City can be a thrilling experience. In this guide, we'll take you on a tour of some of New York City's most recognizable movie sets and reveal behind-the-scenes stories that will leave you spellbound. So grab your camera and let's hit the streets for some of the most iconic New York City filming locations!
And who knows, you might even encounter a New York City filming location in action! There are always productions filming all over the city from the most popular shows on TV now based in NYC, to sequels, to the next big movie or tv show!
Iconic NYC Filming Locations
FDNY Ladder 8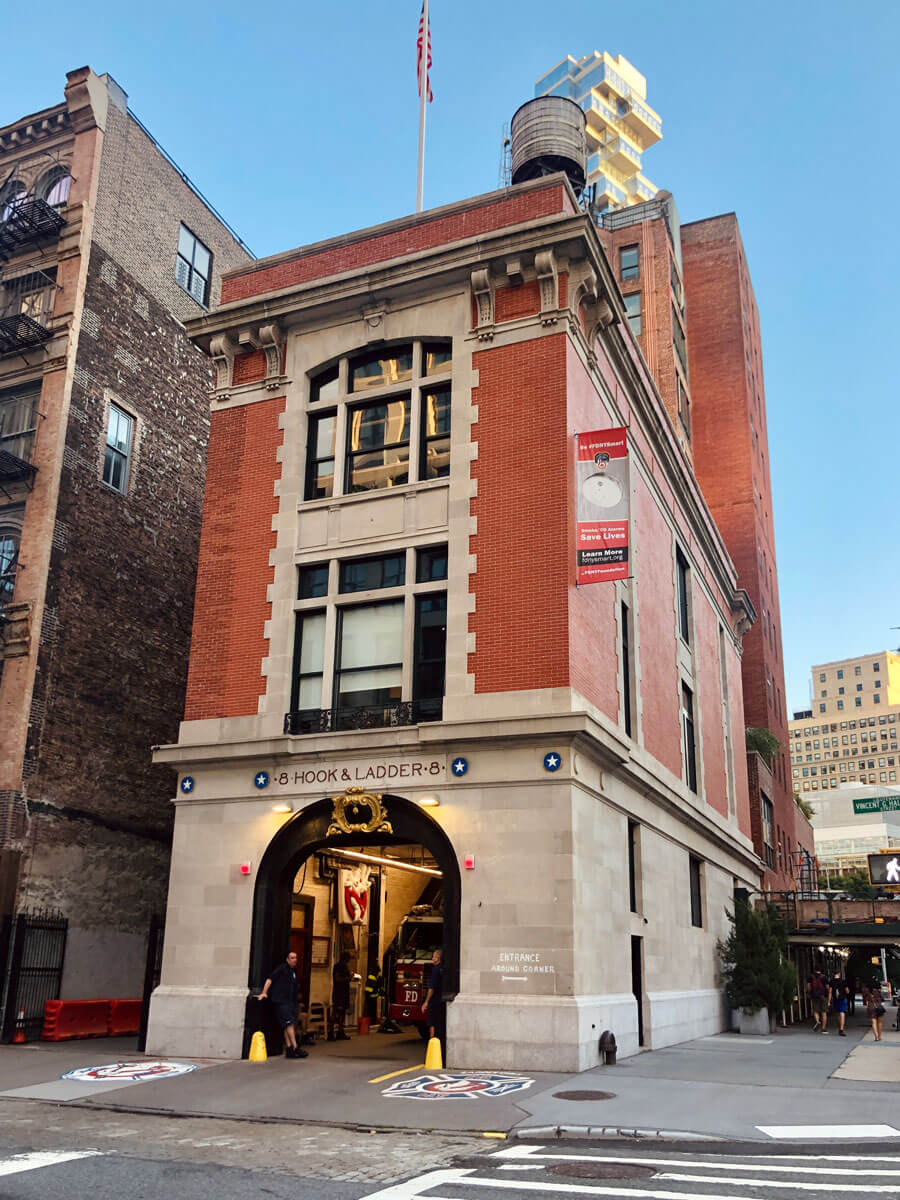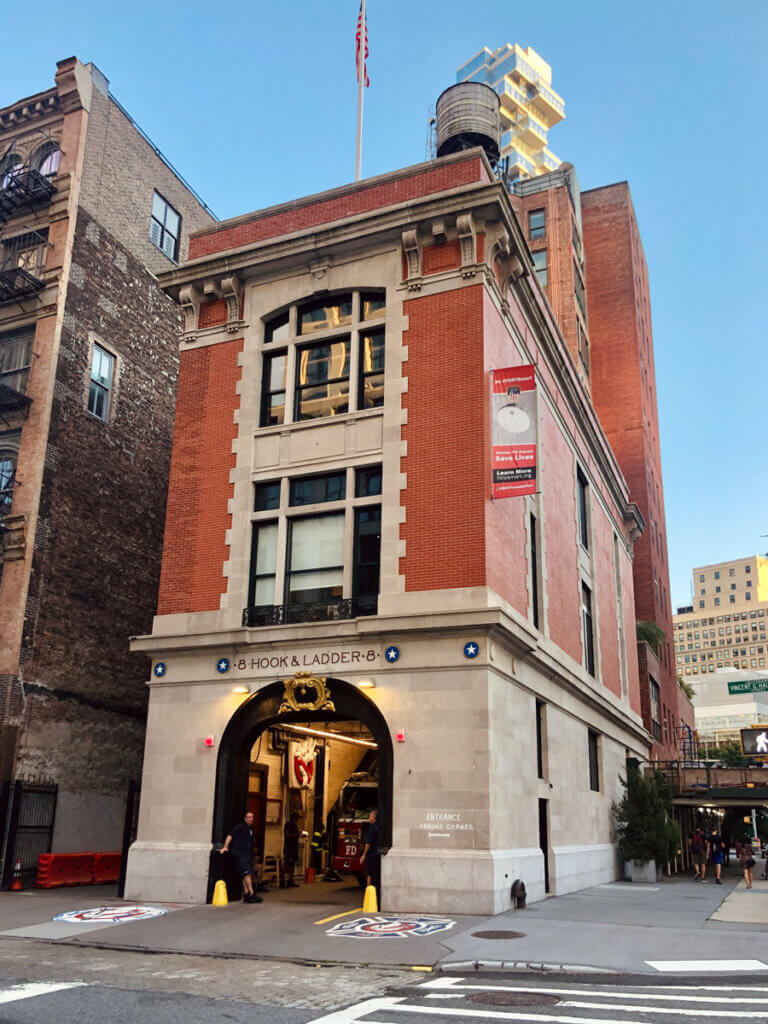 Address: 14 N Moore St, New York, NY
FDNY Ladder 8 is an iconic firehouse that is well known for its friendly firefighters as well as its apparel shop. However, Hook & Ladder Company 8 is best known for being one of the primary New York City movie locations for Ghostbusters, as the firehouse served as the titular group's main headquarters.
Located in TriBeCa, it's a great spot in NYC to visit if you're a diehard fan of the 1984 classic and want to take some memorable pictures, especially since this active firehouse pays homage to Ghostbusters with signs and painted sidewalks.
This FDNY Ladder is active and were some of the first responders on 9/11. Please just keep that in mind and stay out of their way when visiting this iconic filming location in NYC. They are friendly and used to visitors, but use your best judgment to not get in the way if there are any emergencies.
Friends' Apartment Building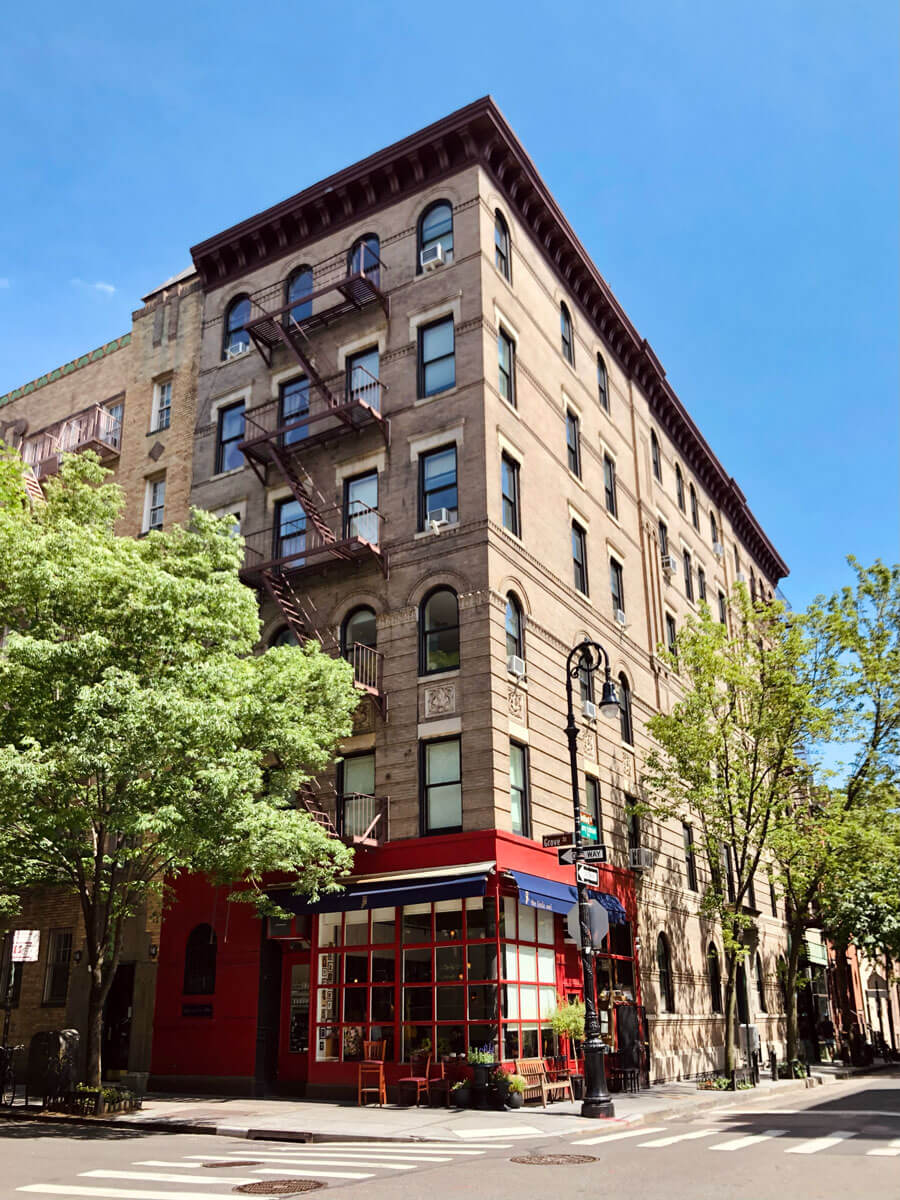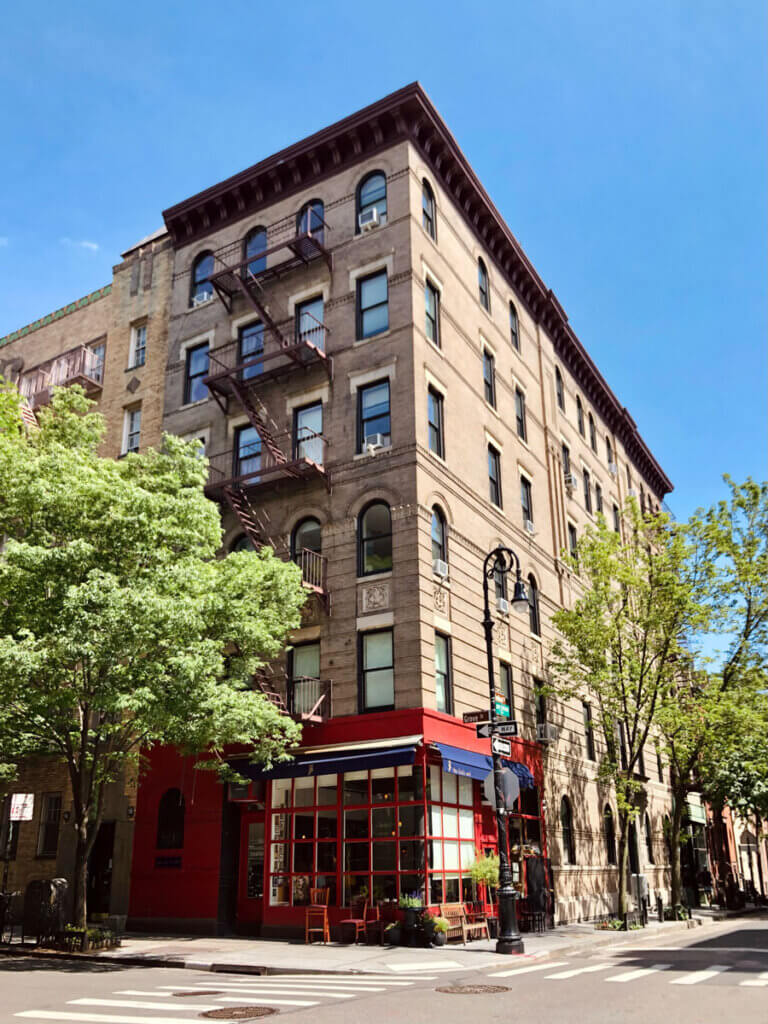 Address: 90 Bedford St, New York, NY
Located in Greenwich Village, the Friends Apartment is one of the most popular New York City filming locations thanks to the highly iconic 90s show for which it was used for (Friends)!
For fans of the series (and there are plenty out there), this spot is a dream come true as you will get to see the exact building used for the exterior shots that opened each episode.
There's also a popular café right below the apartment called Little Owl, which is a perfect restaurant for grabbing dinner, once you're done taking pictures!
Carrie Bradshaw's Brownstone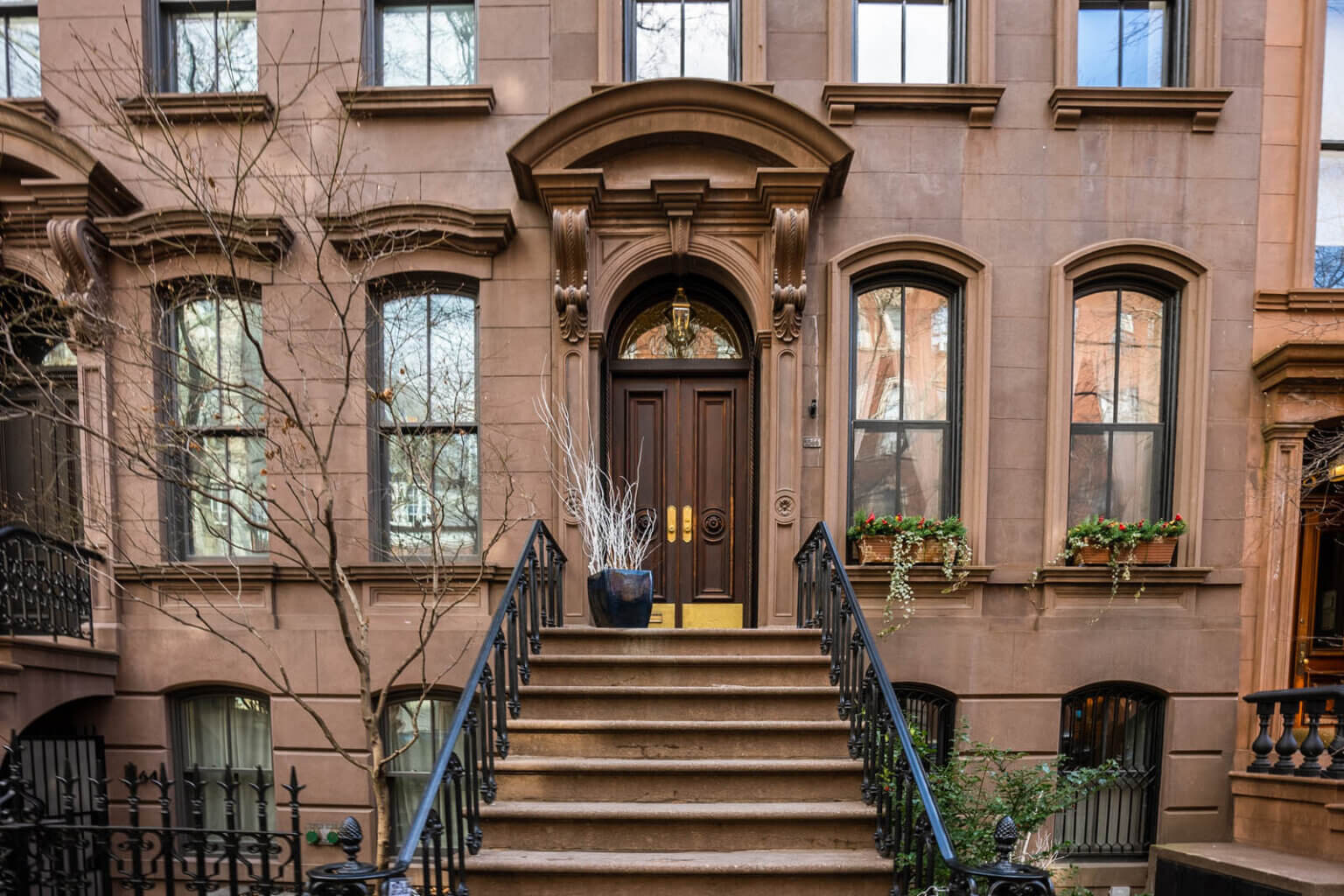 Address: 66 Perry St, New York, NY
As far as popular New York TV series go, there's no television show more quintessential than Sex and the City. And if you just so happen to be in the city, the apartment for the show's main heroine, Carrie Bradshaw, is also located in Greenwich Village (not too far from Friends Apartment) on a residential block and is pretty easy to get to.
Given its huge popularity as a tourist attraction, the owners have since chained the main stoop off from visitors–but it's still one of the most worthwhile filming locations in New York City to visit, if you're a big fan of the HBO drama series or looking to check out out some of the reboot And Just Like That filming locations.
Grand Central Terminal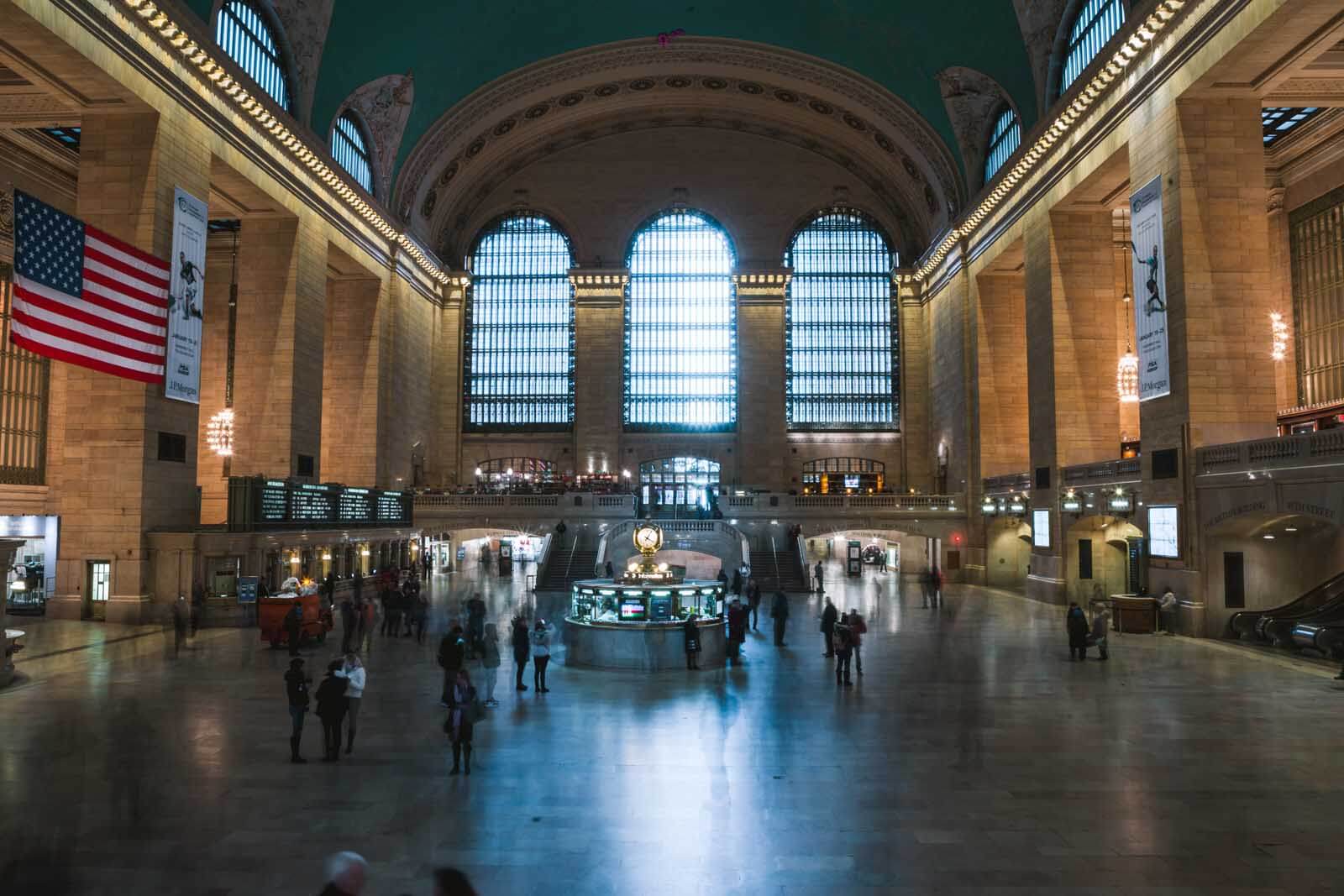 Address: 89 E 42nd St, New York, NY 10017
A historical landmark with astonishing architecture—Grand Central Terminal is one of the most famous filming locations in NYC and has served as a momentary backdrop for a large array of popular films.
Such films embedded in the station's history include Men in Black 2, Midnight Run, Superman: The Movie, North by Northwest, The Fisher King, Carlito's Way, Hackers, and many more not to mention popular television series like the original Gossip Girl.
Come visit this beautiful New York attraction and pass through the same walls that so many fictional heroes, cops, and gangsters have been racing across for decades!
The Plaza Hotel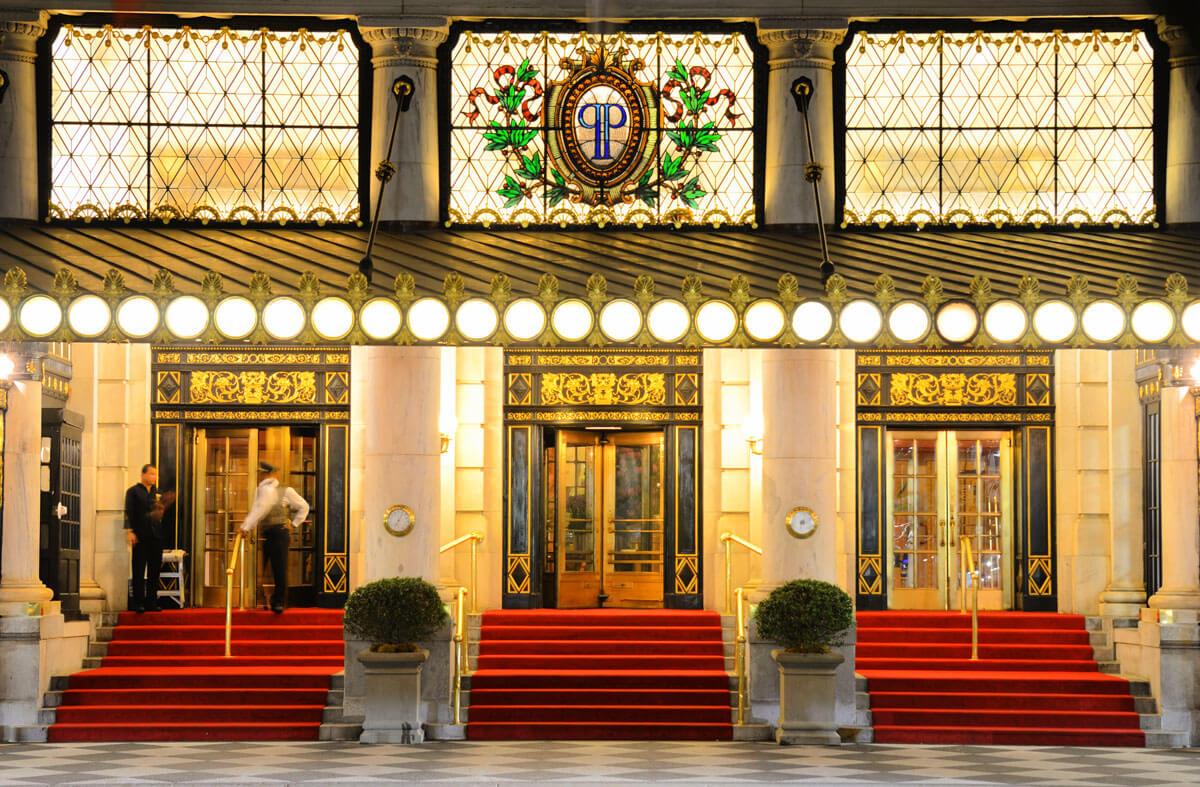 Address: 768 5th Ave, New York, NY 10019
This 5 -star hotel, known as The Plaza, has not only hosted a lot of world leaders and high profile celebrities but many movies as well.
The most notable one is a filming location for Home Alone 2: Lost in New York where Macaulay Culkin's character Kevin resides in throughout most of the film. Donald Trump, the owner of the hotel at the time, approved of the film being shot here under one condition—that he'd be included in the film. So, if you ever wondered how the famed personality and disgraced former President earned his cameo—that's how.
Other notable films shot at The Plaza include North by Northwest, Sleepless in Seattle, and The Great Gatsby.
New York Public Library Main Branch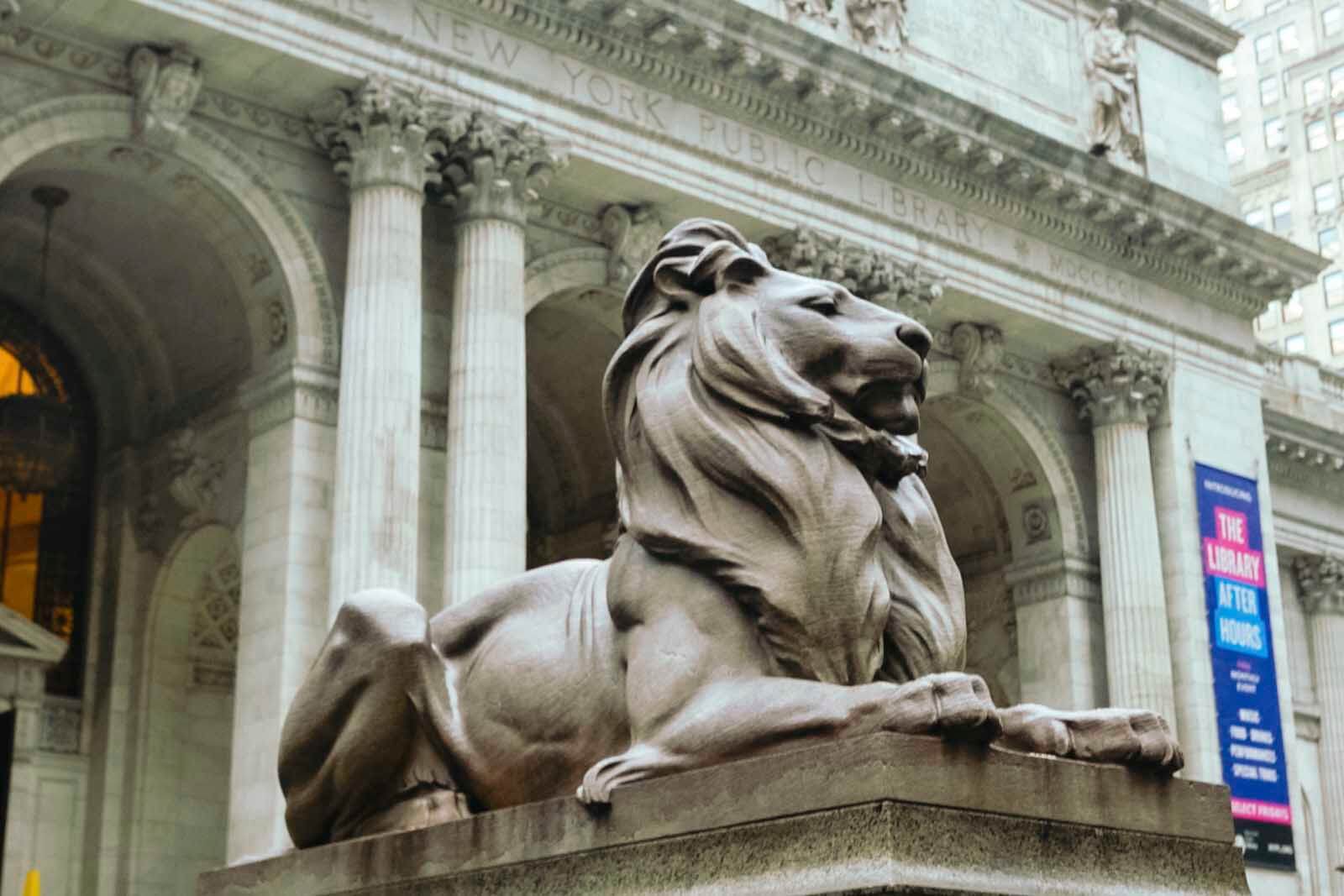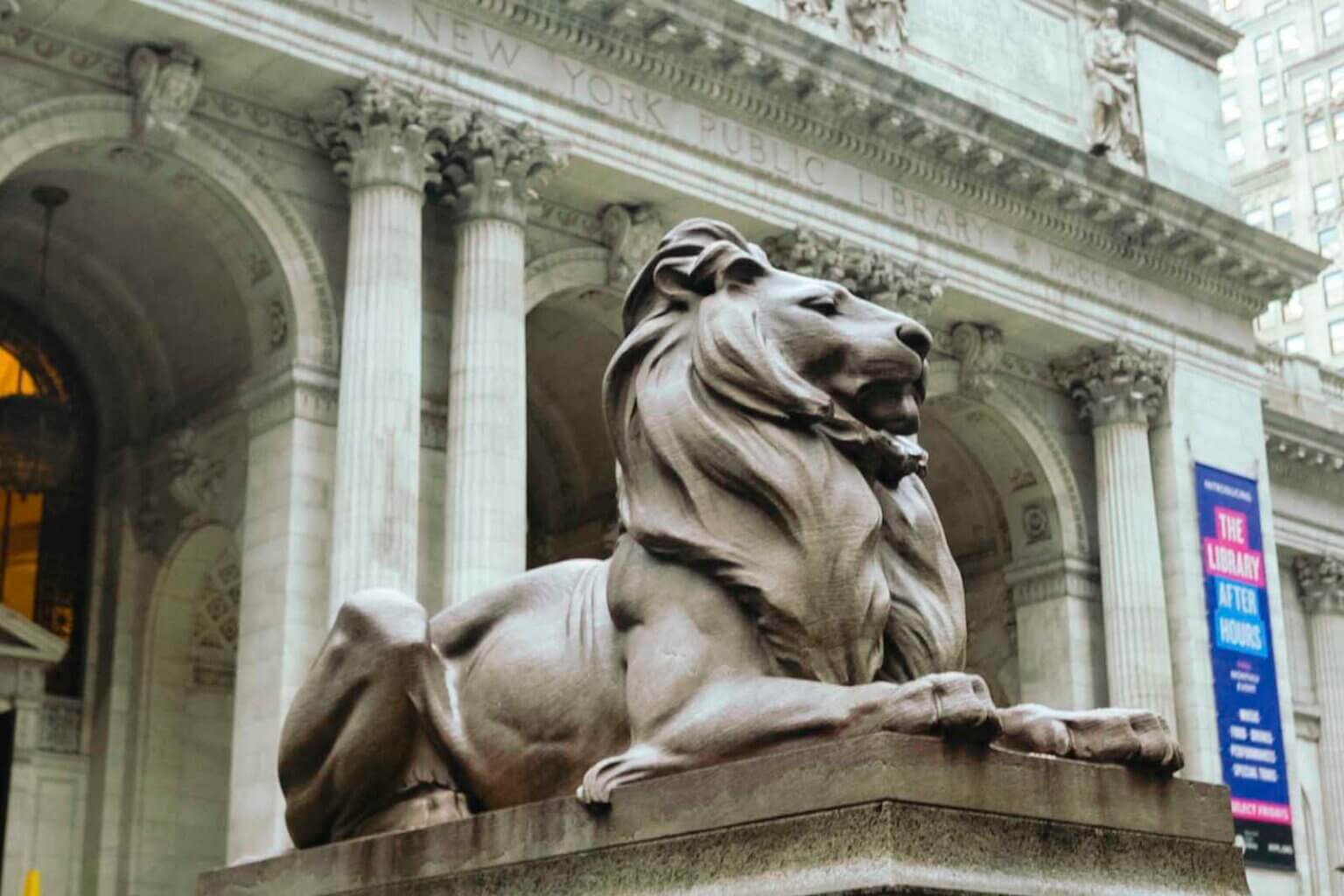 Address: 476 5th Ave, New York, NY 10018
Located at Bryant Park— the New York Public Library Main Branch is one of the most noteworthy movie locations in NYC, not just for its film history, but for its breathtaking exterior (and interior) design as well.
This library has hosted a long list of films in its day including Spider-Man (2002), Breakfast at Tiffany's, 13 Going on 30, The Day After Tomorrow as well as the aforementioned Ghostbusters (1984) as the titular group encounter their first ghost at this library.
The New York Public Library is a great spot to visit in general, but for film buffs especially since many of the most famous New York movies are filmed here!
Katz Deli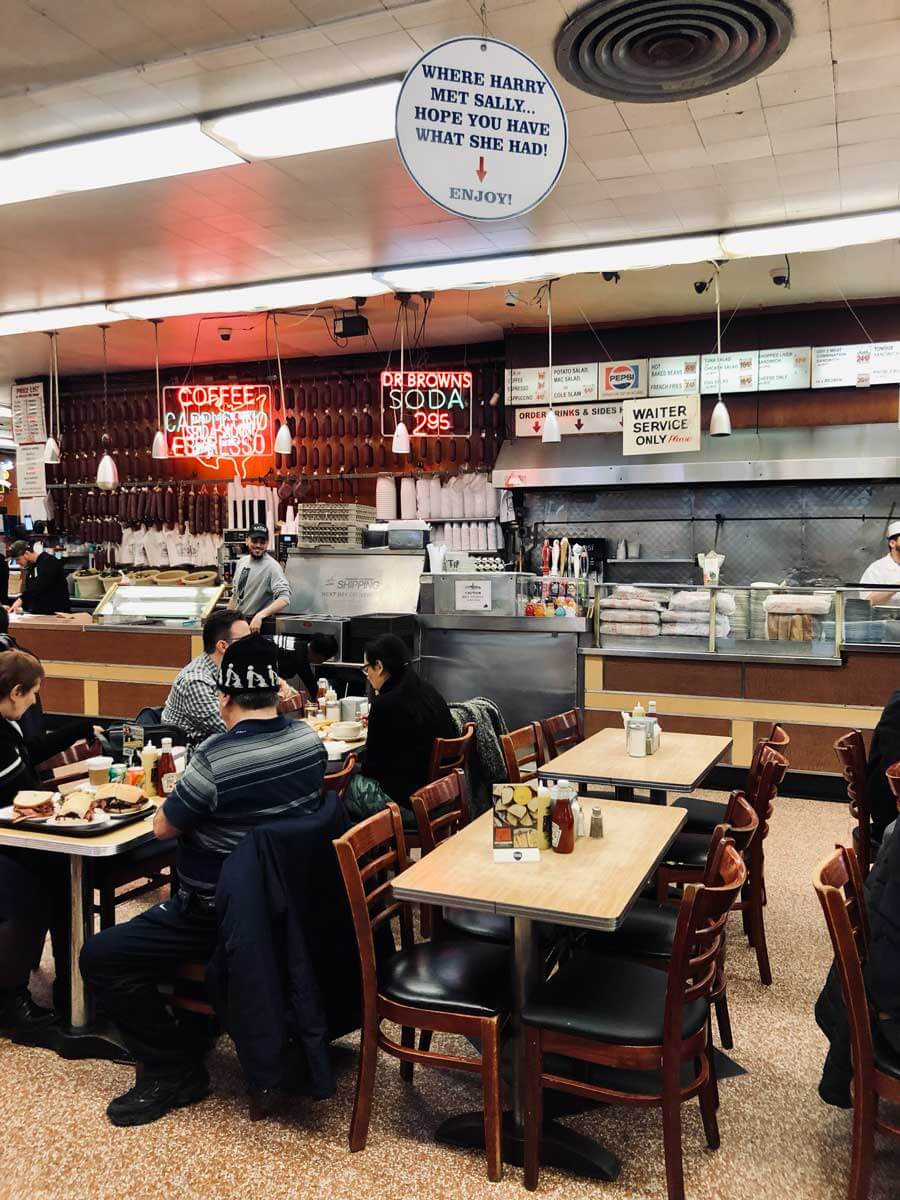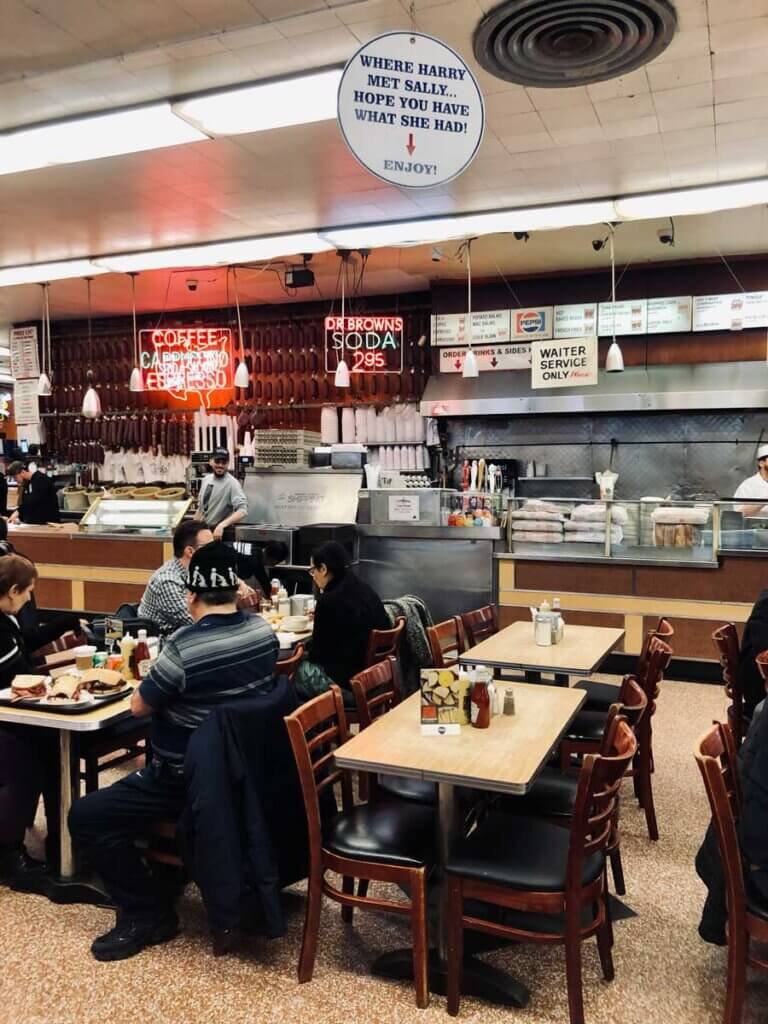 Address: 205 E Houston St, New York, NY 10002
This legendary diner has been serving classic deli sandwiches for decades and is well known for its generous portion sizes of pastrami.
But apart from their food, Katz Deli is also one of most well-known New York City filming locations out there due to so many classic films being shot here like Donnie Brasco, Enchanted, and We Own the Night.
And the most memorable of movie scenes to ever be shot here and one of the most famous New York City filming locations has got to be the scene from When Harry Met Sally, where the titular heroine acts out a fake orgasm. A scene that will surely go down as one of the most famous scenes in film history! In fact, this New York City filming location is so legendary that they have a sign hanging above the table to let you know which table that scene happened at.
Coney Island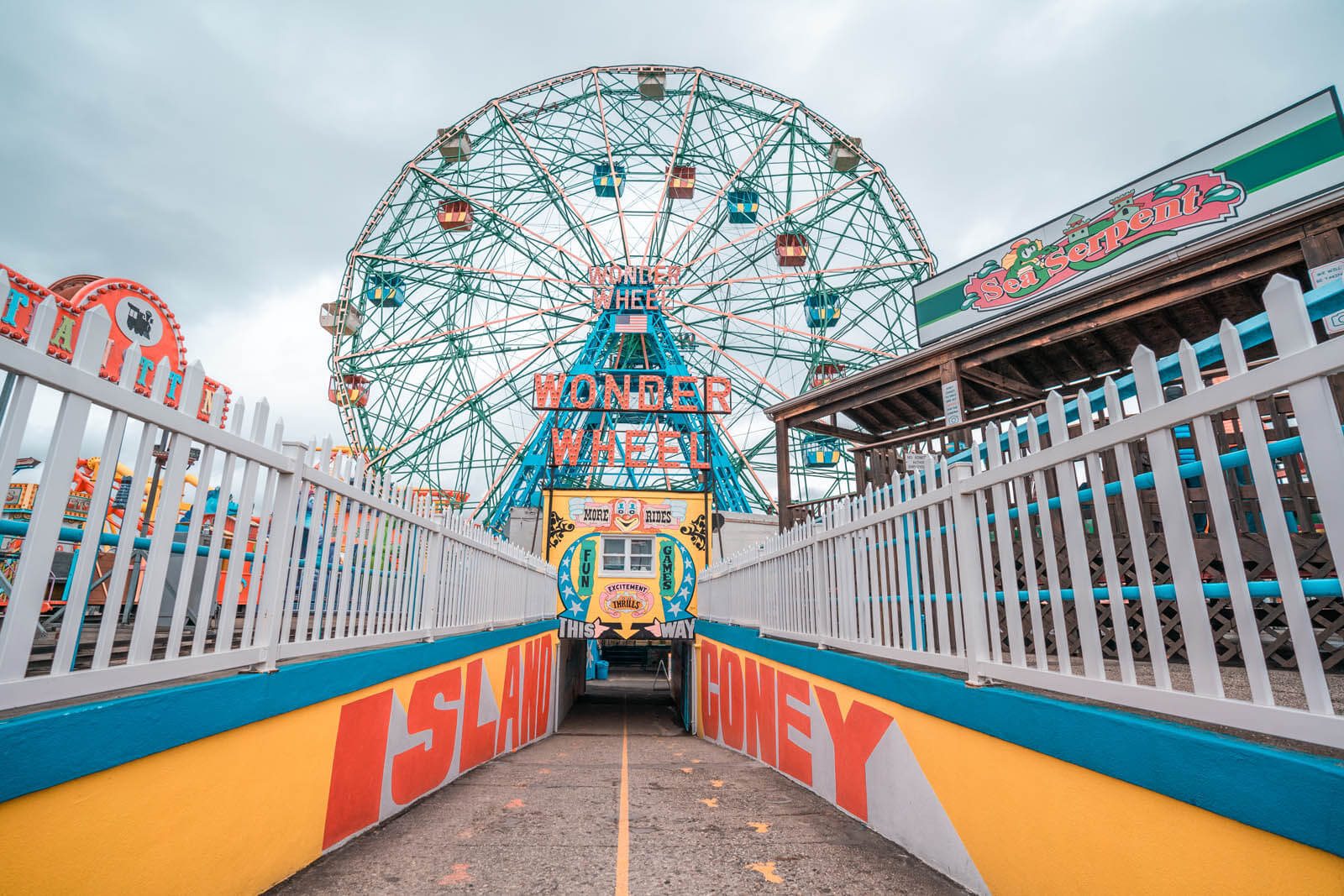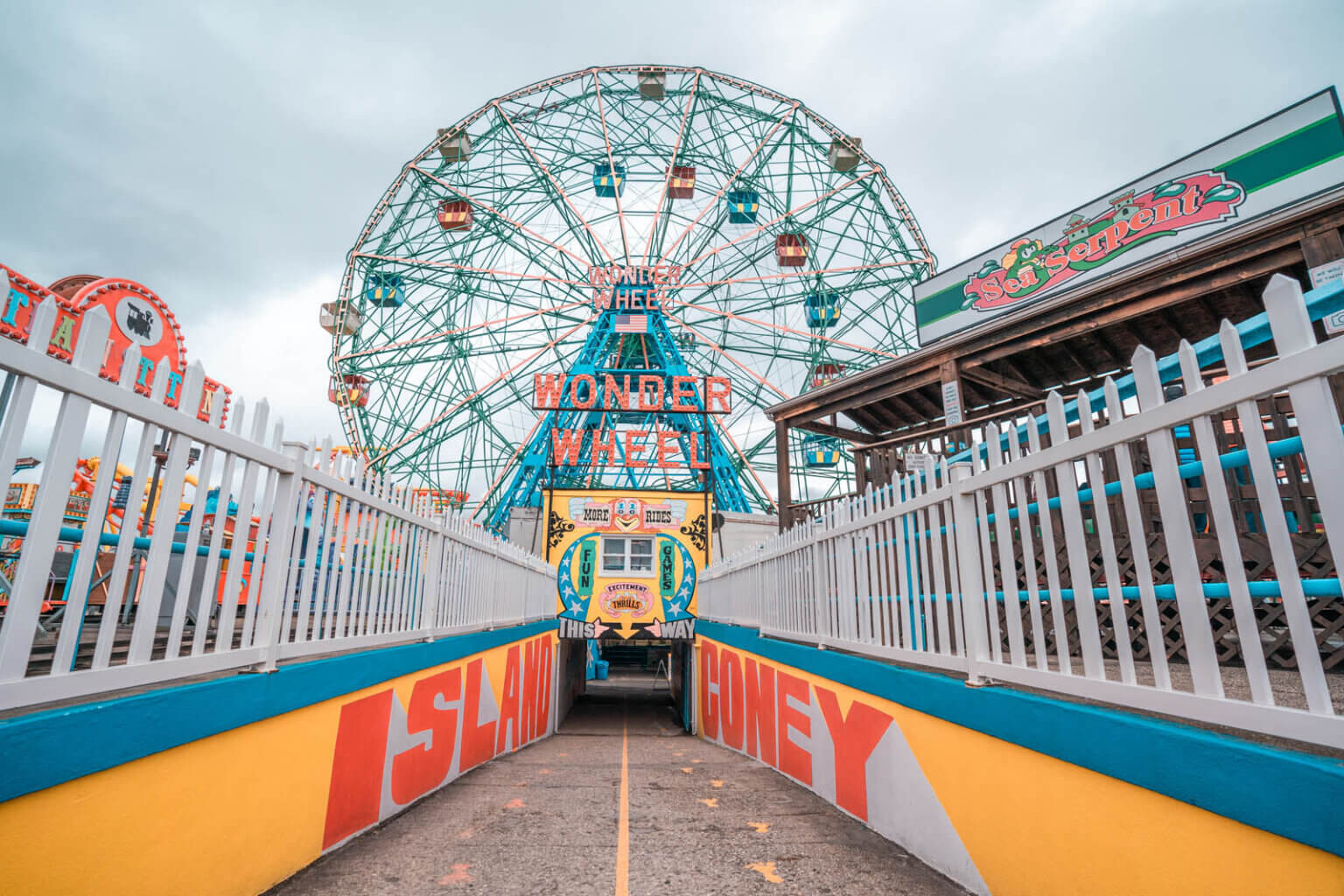 Address: 1208 Surf Ave, Brooklyn, NY 11224
Coney Island has not only served as a key attraction for tourists but also one of the most essential New York City movie locations. Thanks to its memorable seaside view, amusement park, and boardwalk—Coney Island serves as the perfect backdrop for any genre.
Psychological drama, comedy, action, crime-thrillers, you name it. Some of the most famous movies filmed in Coney Island include Requiem for a Dream, The Warriors, Brooklyn, Men in Black 3, The Wiz, and Brighton Beach Memories. All of which are great Brooklyn movies worth checking out before your next visit to Coney Island.
And for fans of the TV series Mr. Robot, it's worth noting that the secret society that protagonist Elliot joins uses Coney Island's Eldorado Arcade as their main hideout!
5th Avenue – Tiffany & Co.
Address: 727 5th Avenue, New York, NY 10022
You may have heard of the classic 1961 rom-com known as Breakfast at Tiffany's starring the iconic Audrey Hepburn. But what you may not know is that the titular location for which the film was shot at, Tiffany & Co. Store, is still up and running on Fifth Avenue with its lustrous exterior design, it's no wonder Tiffany's flagship store was used for this movie.
Other famous films that were shot at this high-end jewelry shop include Sweet Home Alabama and Sleepless in Seattle!
Empire State Building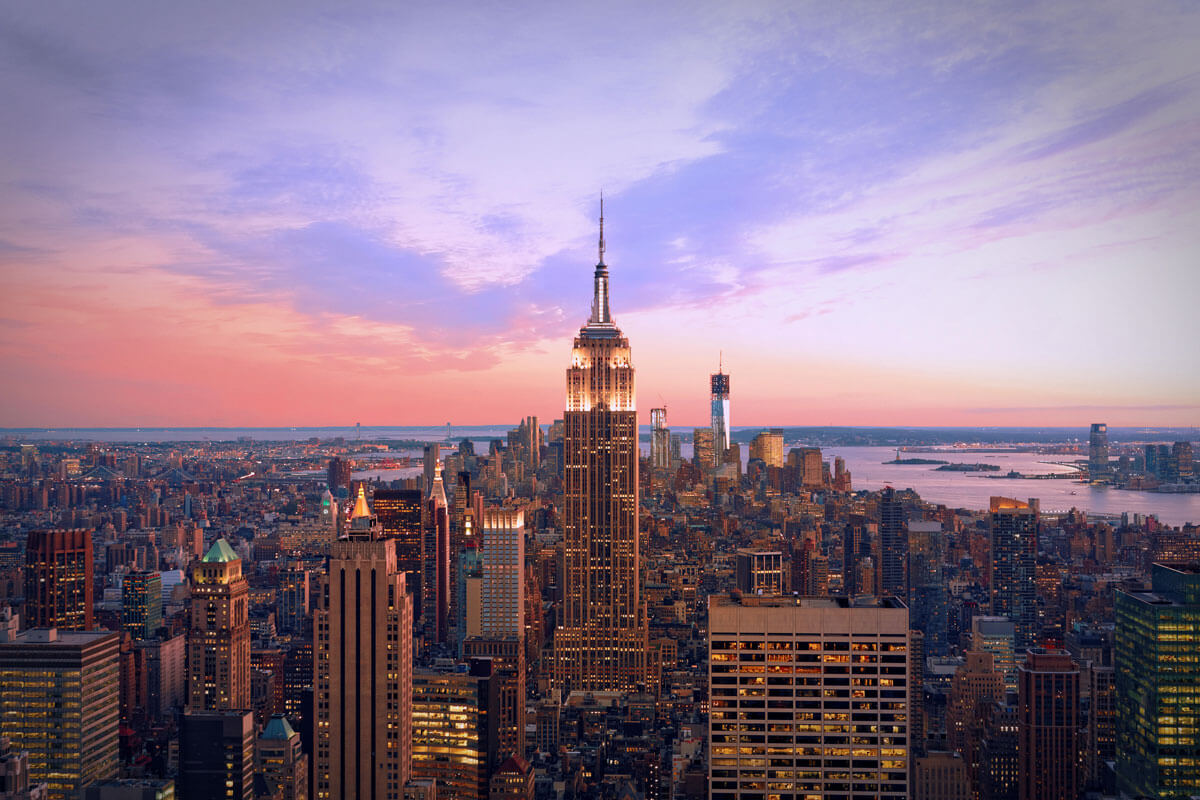 Address: 20 W 34th St, New York, NY 10001
Out of all the movie locations in NYC, none are more synonymous with the city itself than the Empire State Building! And it should go without saying many climactic scenes throughout movie history have taken place at the famous landmark.
It's been featured in films like Superman II as well as the previously mentioned Sleepless in Seattle. Not to mention, it was one of the many filming locations for Elf in New York City too, one of the best Christmas movies set in NYC!
But of course, the most famous scene shot at the Empire State Building would go to 1933's King Kong, where the iconic primate climbs to the top of the building during his climactic rampage through the city. This movie would do so well, it would spawn a dozen other films based on the same story and there's even a tribute to King Kong when you visit the Empire State Building!
Times Square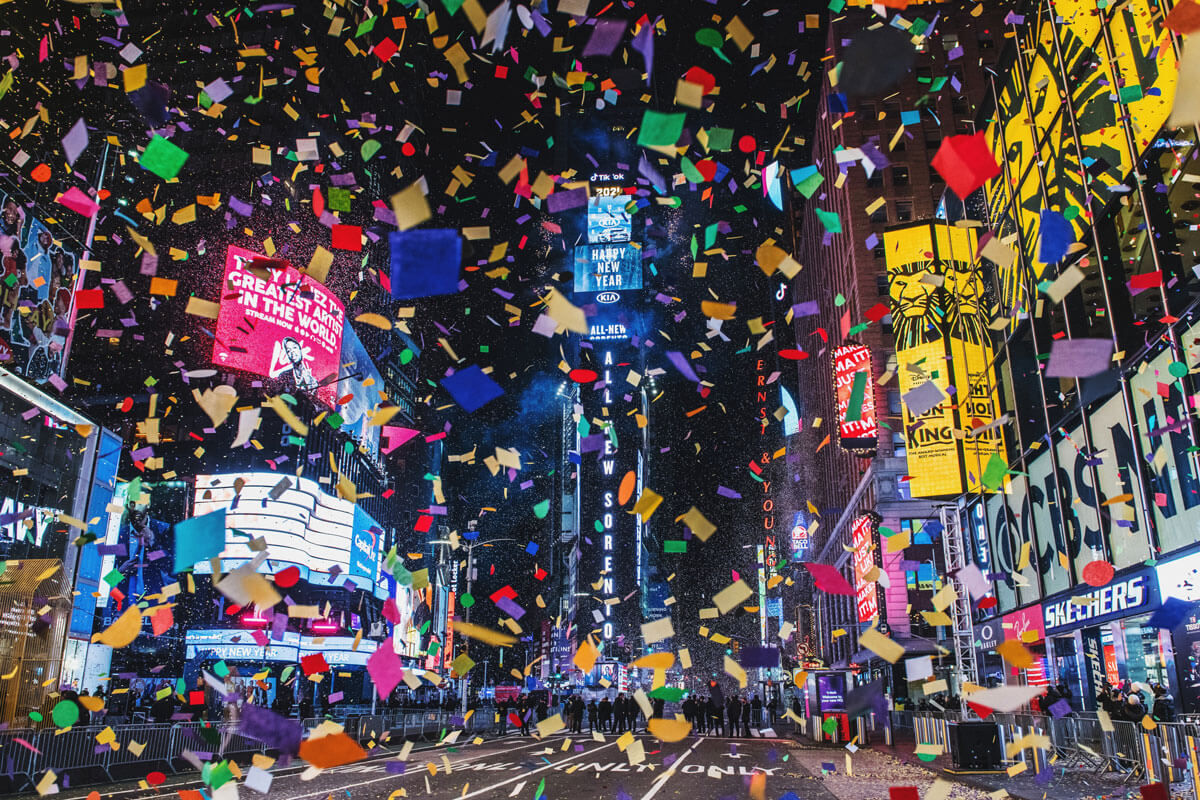 The intersection of Seventh Avenue, 42nd Street, and Broadway, New York, NY 10036
Like the Empire State Building—Times Square is one of the most famous filming locations in NYC and serves as a great setting thanks to its mesmerizing lighting and intoxicating billboards.
Many of the greatest New York films contain scenes that were shot here such as Taxi Driver, Big, Birdman, The Devil Wears Prada, as well as Jerry McGuire. There's even a trippy scene from 2002's Vanilla Sky which shows Tom Cruise running through an eerily empty Times Square. This was a once in lifetime opportunity for the film crew who had special permission to shut down the area, so you'll likely never see Times Square this empty outside of this film unless you were here in March 2020.
Radio City Music Hall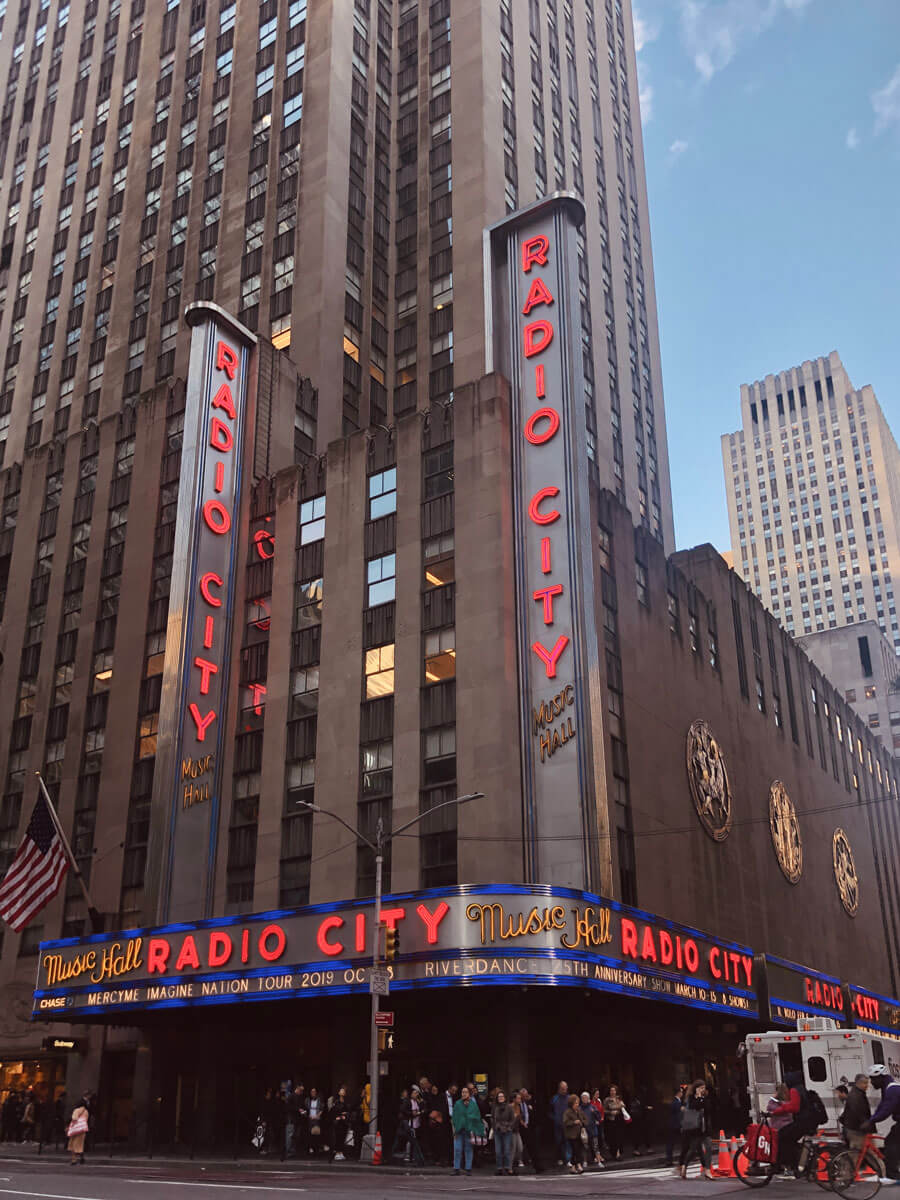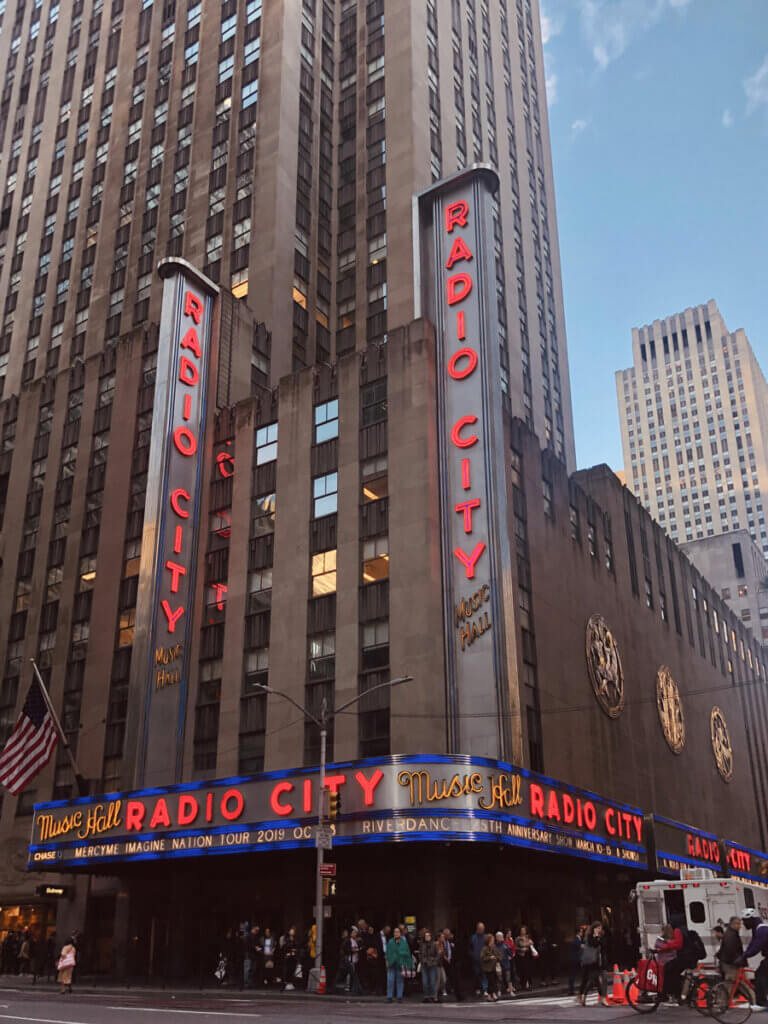 Address: 1260 6th Ave, New York, NY 10020
Radio City Music Hall has been featured in many well-known films (Rosemary's Baby, Rocky III, Annie), but none greater than the 1972 Crime-drama The Godfather! It's outside this location, we see the Michael Corleone and Kay exiting out of—having just watched The Bells at St Mary's.
Unlike many filming locations in New York City, this legendary theater has been around since 1932 and still stands as one of the largest indoor theaters to date. It's especially worth visiting after you've seen the film, as you'll notice the building looks nearly the same now (over five decades later) as it did then!
Rockefeller Center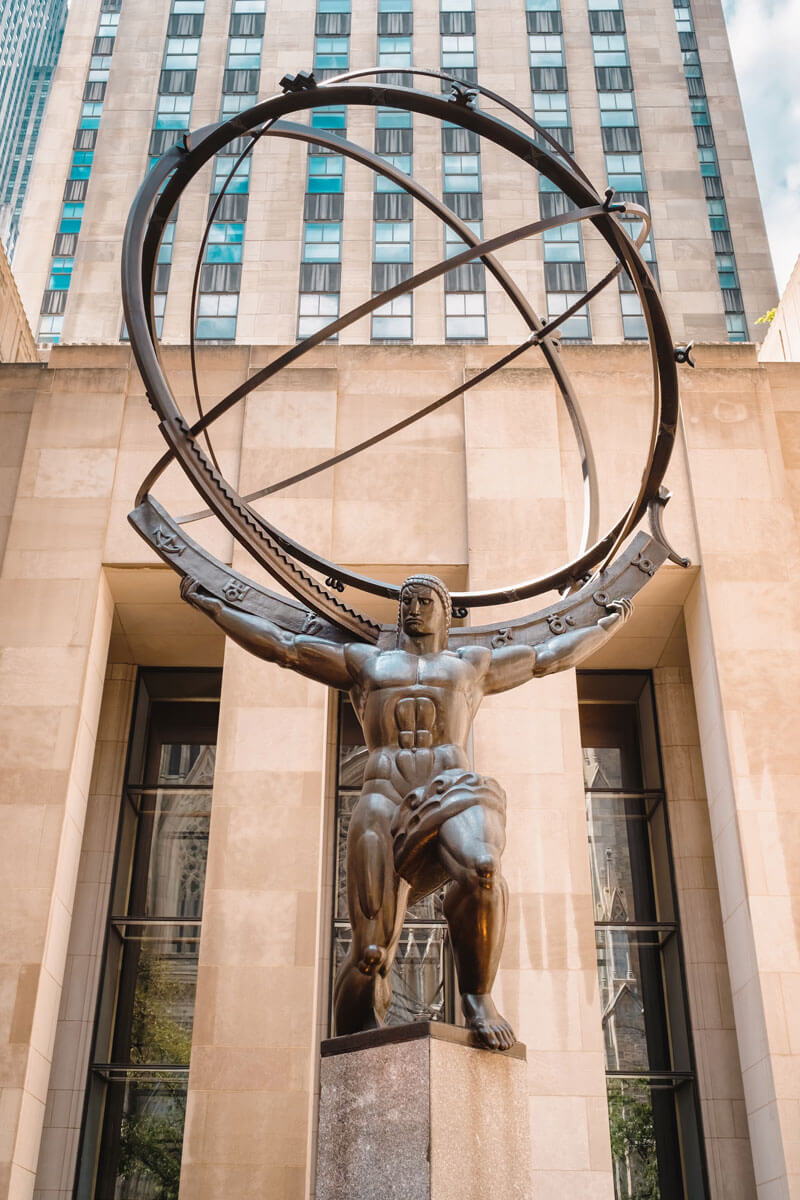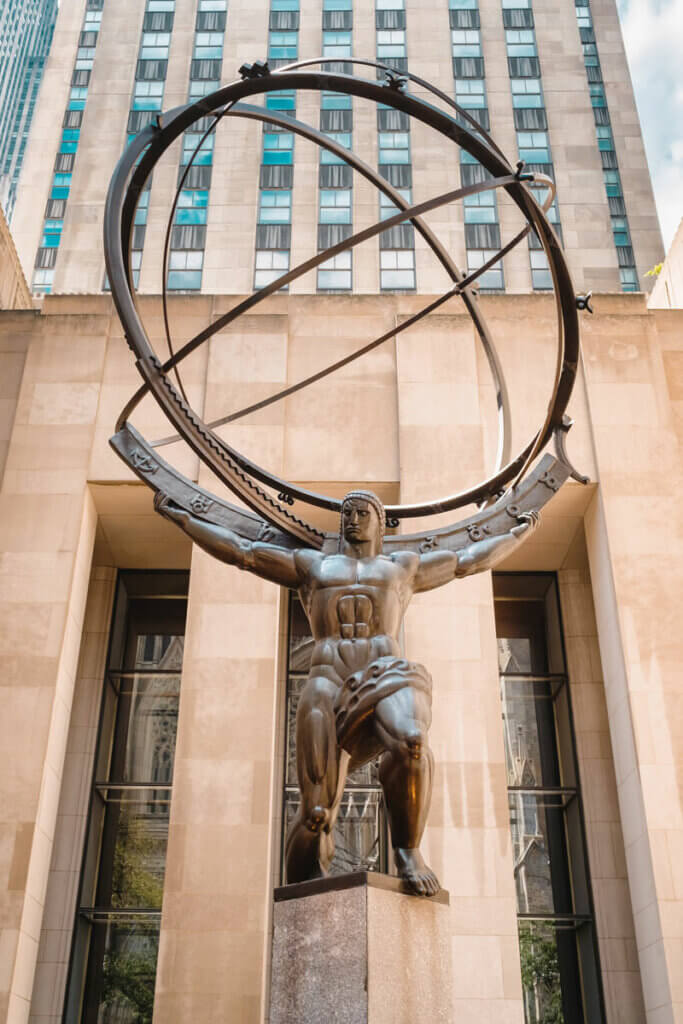 Address: 45 Rockefeller Plaza, New York, NY 10111
One of the most famous and recognizable New York City filming locations, Rockefeller Center is not only a great spot for photos—but movies as well.
Some film buffs out there may have been able to spot Rockefeller Center in films like Elf, John Wick 2, and Midnight Cowboy. And even TV shows like Empire and Marvel's Hawkeye have scenes shot at this landmark. Not to mention the comedy tv series 30 Rock, which was even set here.
The center also serves as the background for the very heartfelt mother-son reunion at the end of Home Alone 2.
Central Park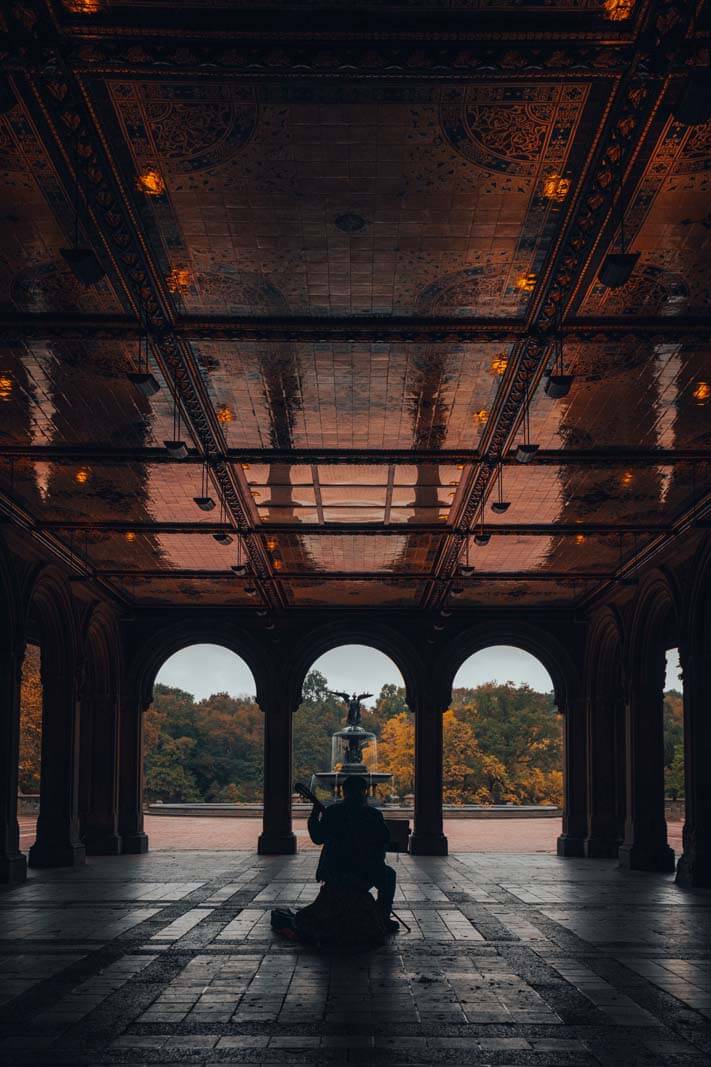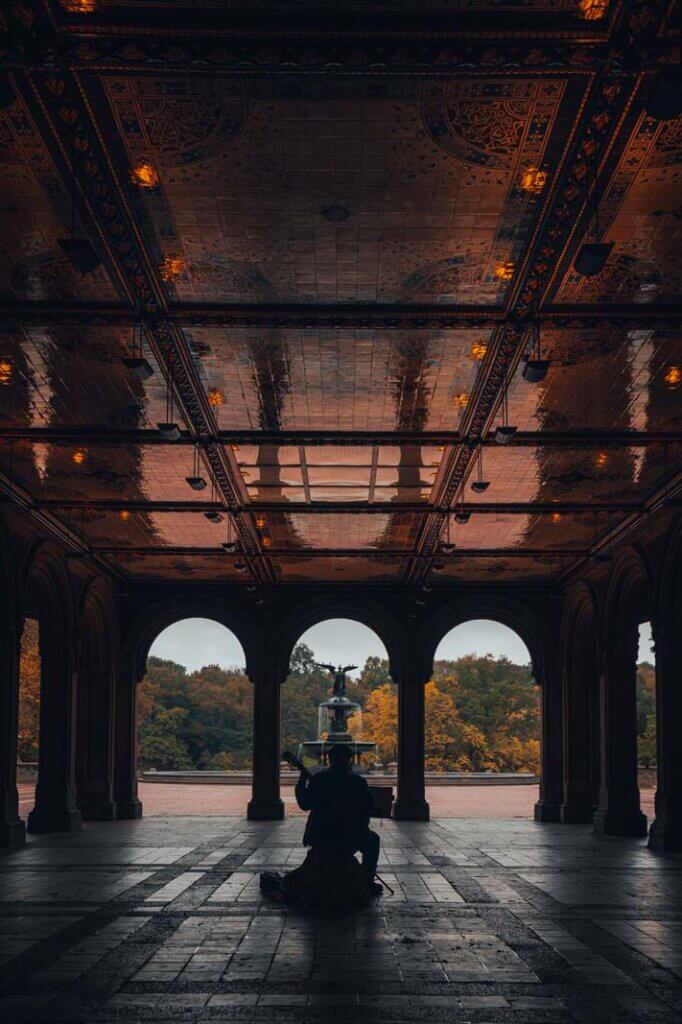 Address: 59th Street to 110th Street (Between 8th and 5th Ave), New York, NY
Out of all the New York City movie locations, Central Park has got to be one of the most popular spots for filmmakers to shoot scenes at, and naming every film shot at this location would be a daunting task to say the least.
But some of the most famous and noteworthy movies were shot here include Spider-Man 3, When Harry Met Sally, Wall Street, Léon: The Professional, The Avengers, Kramer v. Kramer, Big Daddy, Maid in Manhattan, Elf, Night at the Museum and Serendipity.
That's right, Central Park can be spotted in every single one of these films (and many more) not even including the countless television series!
American Museum of Natural History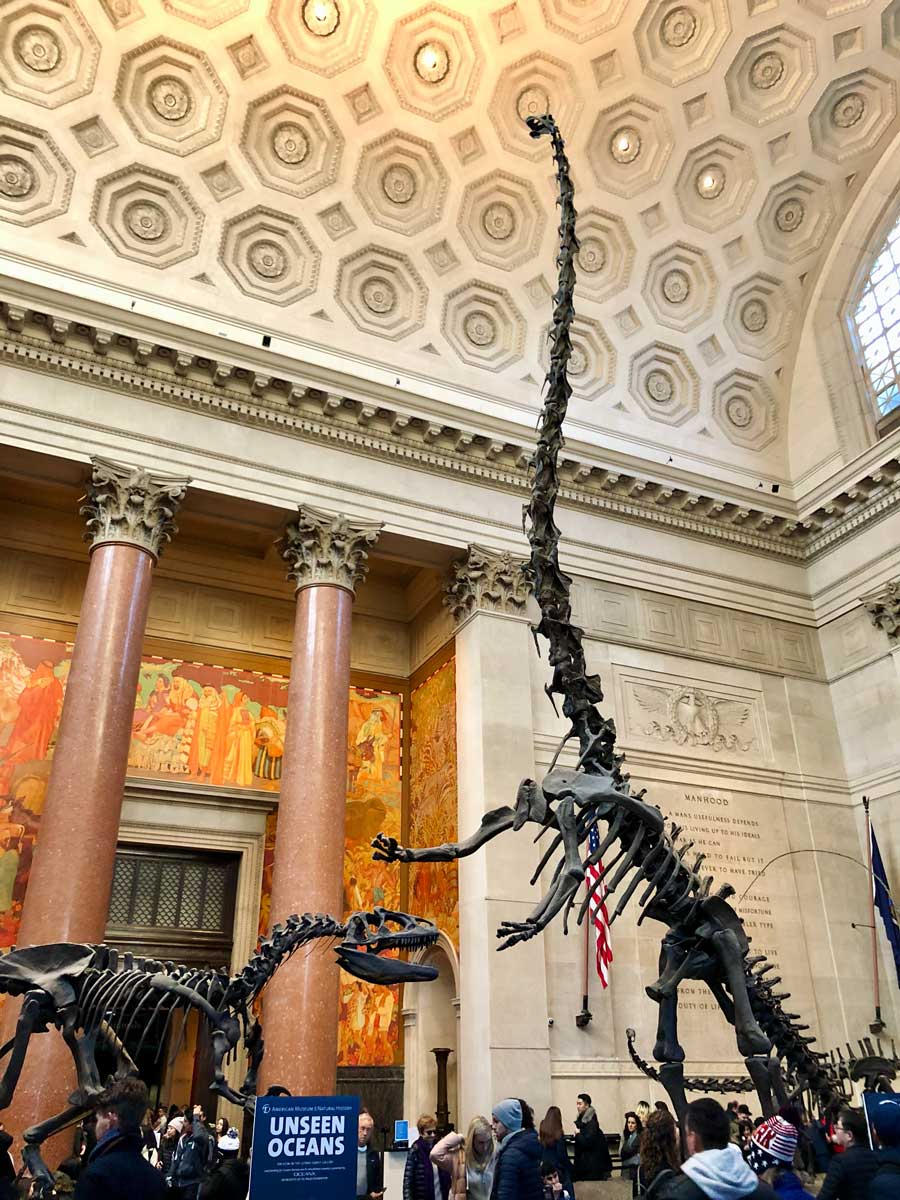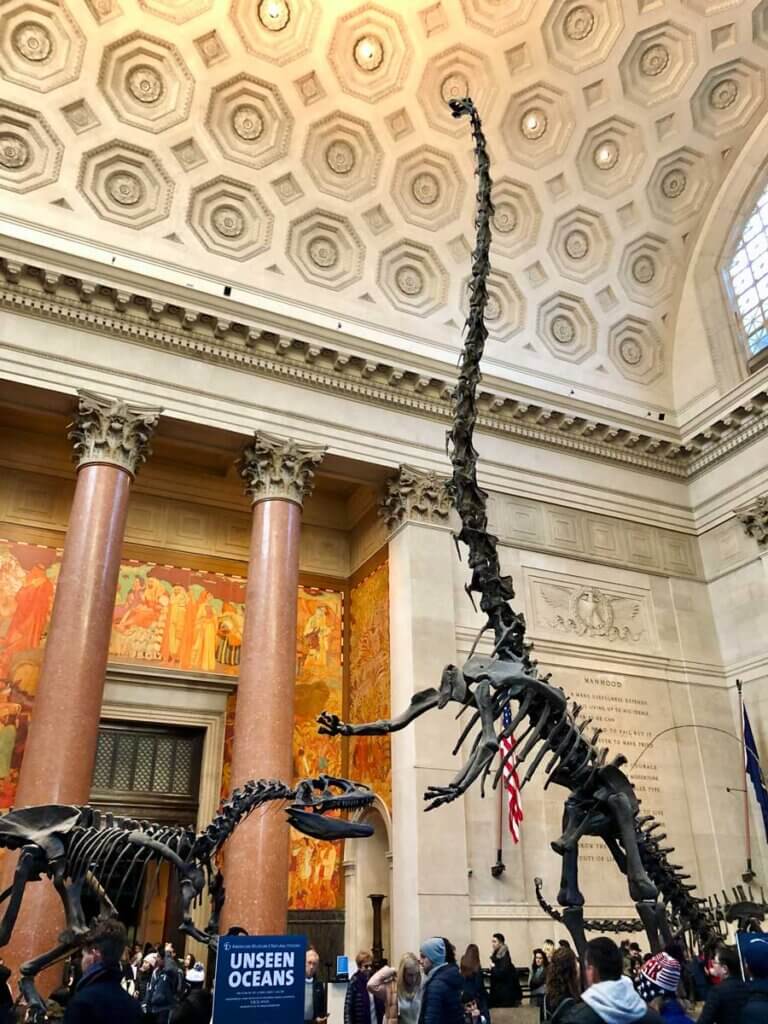 Address: 200 Central Park West, New York, NY 10024
With its rich exhibits, and its fascinating collection of fossils and bones—the American Museum of Natural History serves as one of the best movie locations in NYC to make film magic.
The historic museum has been making cameos all throughout movie history, spanning numerous decades.
The museum can be seen in films like Malcolm X, Splash, Manhattan, and Bringing Up Baby. There's a particularly funny scene in the screwball comedy, Bringing Up Baby, where one of the dinosaur skeletons fall during an interaction between the two leads (Cary Grant and Katharine Hepburn.)!
Also, the movie Night at the Museum is entirely set in the American Museum of Natural History and many of the exterior scenes were filmed here while the rest was filmed in a set.
Brooklyn Bridge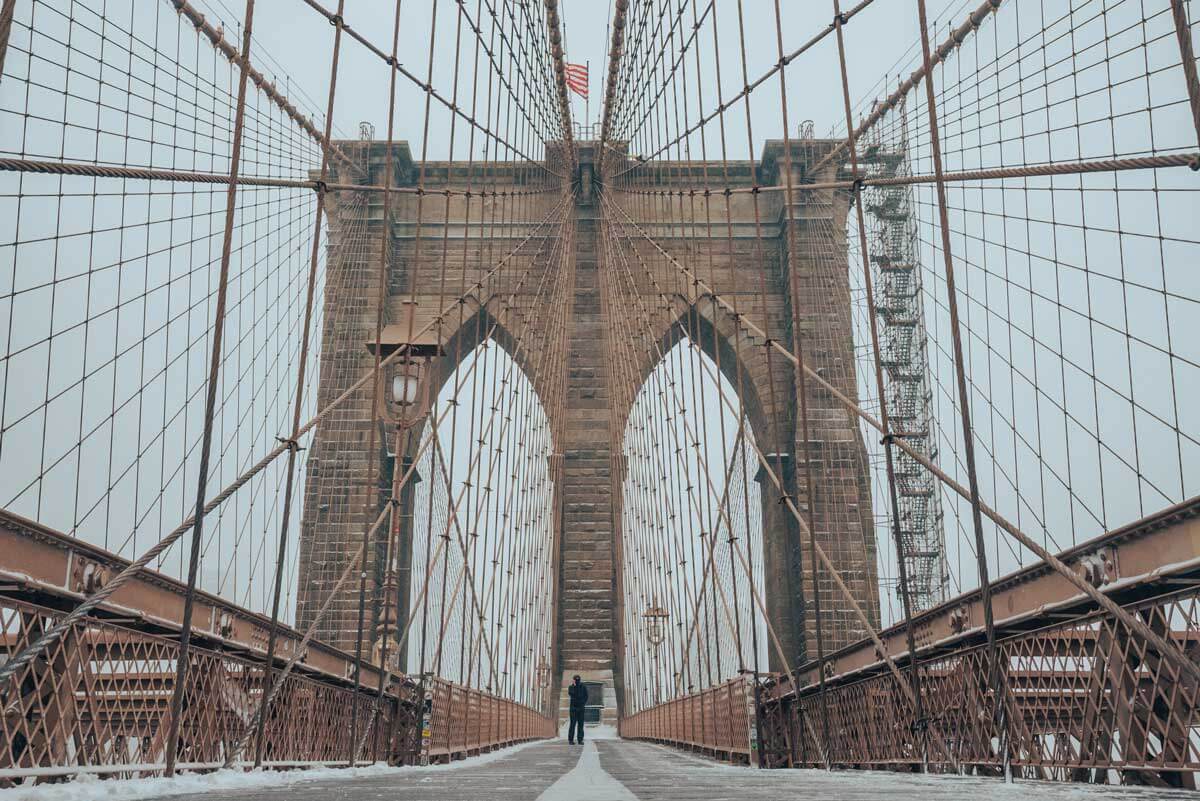 Used to connect Manhattan and Brooklyn together—the Brooklyn Bridge is not only a great place to take memorable photos, but is also one of the most ideal filming locations in New York City given its incredible view.
The Brooklyn Bridge has made brief (and extended) appearances in Donnie Brasco, The French Connection, Sophie's Choice, and Marathon Man. The bridge also appears briefly in the film I Am Legend before its very sudden collapse—marking a very dark chapter in Will Smith's character's life!
Not to mention, this is one of the most famous Brooklyn filming locations for TV series too, like the iconic scene in Sex and the City where Miranda and Steve meet halfway on the bridge to determine their future together.
Statue of Liberty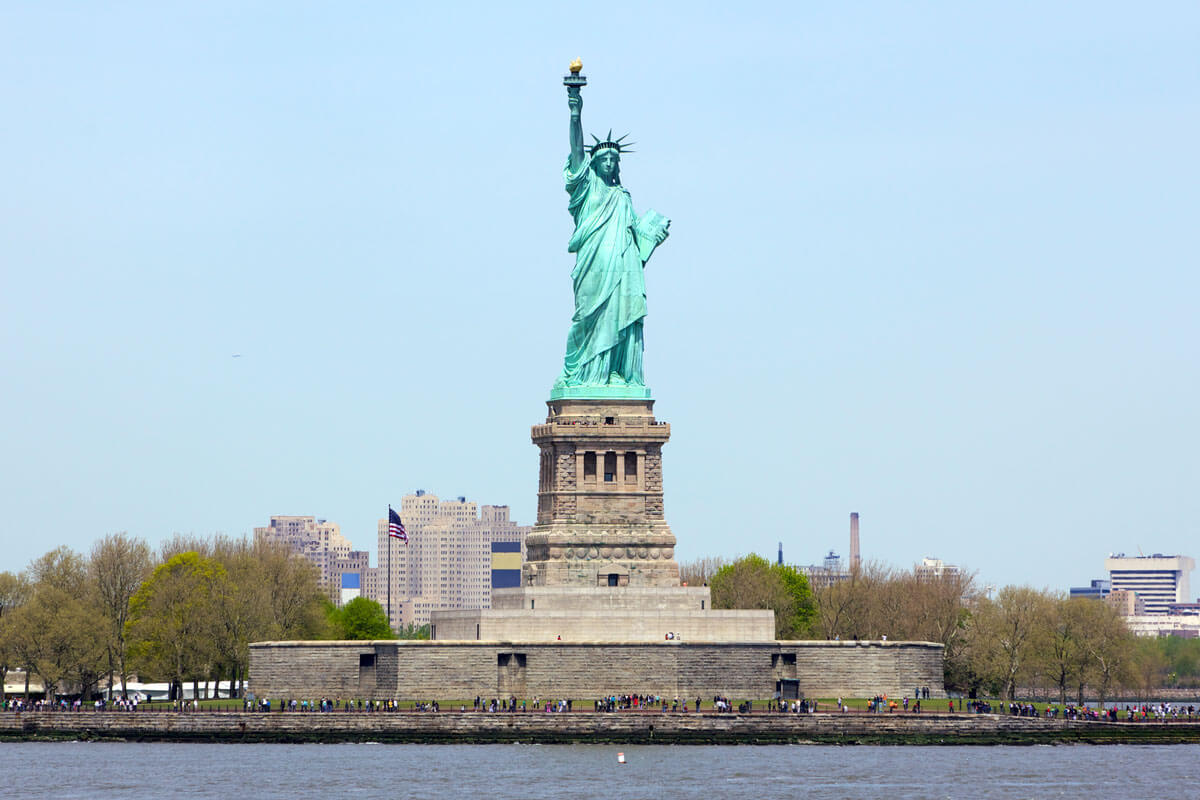 Chances are—if you haven't seen or visited the Statue of Liberty in person, you've most likely seen it numerous times in both movies and television. In fact, showing a decapitated lady liberty is a popular way for filmmakers to signal to the audience that the city has collapsed—with Cloverfield and Escape from New York being clear examples.
Or as a romantic date idea in the movie Hitch, where Will Smith's character takes Eva Mendes to Ellis Island on jet skis, but totally backfires.
But one of the most memorable cameos that the statue has made in a film would have to be in 1968's Planet of the Apes—which has become one of the most quoted and iconic scenes in movie history!
Tom's Restaurant
Address: 2880 Broadway, New York, NY 10025
Every 90s sitcom has that one iconic hangout spot for which the main friend group frequents. For Friends, it was Central Perk. And for Seinfeld, it was Monk's Cafe! While the café's name may have been fictional, Tom's Restaurant is very real and is one of the most famous filming locations in NYC as its exterior was used while shooting the show.
Being one of the primary locations for an acclaimed series, it's only right that fans make time to visit this spot and admire its glory!
The Unisphere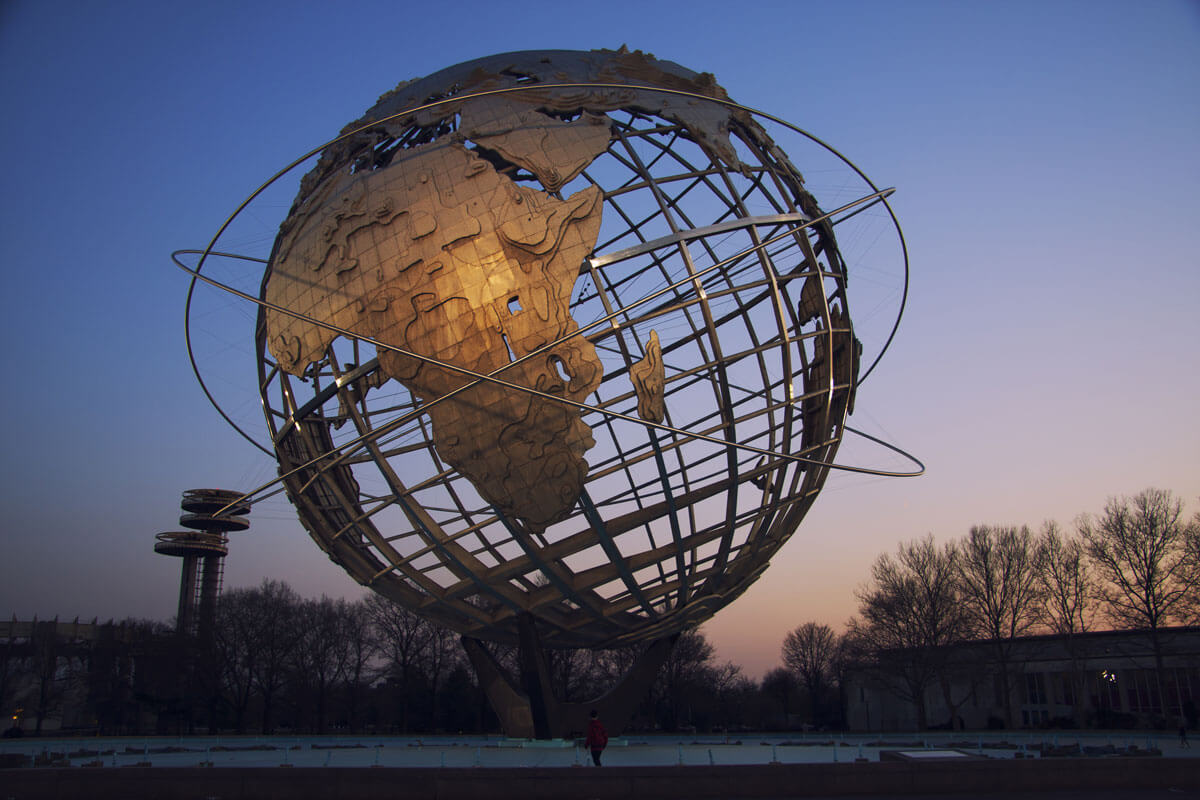 Between Grand Central Pkwy and, Van Wyck Expy, 11354
Among all of the New York City filming locations—The Unisphere is a very popular when it comes to Marvel. It's been used in the background of movies like Iron Man 2, Captain America: The First Avenger, and Spider-Man: Homecoming.
It has also shown up in TV shows like King of Queens as well as CSI: NY.
However, the globe's most notable appearance is in the original Men in Black, as the Unisphere can be spotted during the film's epic climax where Agents J and K try to take down a big bug monster!
Hip-hop fans will also recognize the globe in legendary Brooklyn hip-hop artist, The Notorious B.I.G.'s "Mo Money Mo Problems" music video.
7B Horseshoe Bar AKA Vazacs
Address: 108 Avenue B, New York, NY 10009
A unique dive bar located in East Village—7B Horseshoe Bar is one of the most well-known New York City movie locations (particularly among locals) thanks to its jukebox and punk rock aesthetic. And for the movie and TV buffs out there, you may know 7B from its notable film cameos throughout the years!
That's right, the bar has popped up in legendary classics like The Godfather II, as well as 80s hits like Crocodile Dundee, and The Verdict.
And for Jessica Jones fans, the bar serves as a stand in for Luke Cage's bar which shows up in the pilot!
Washington Square Park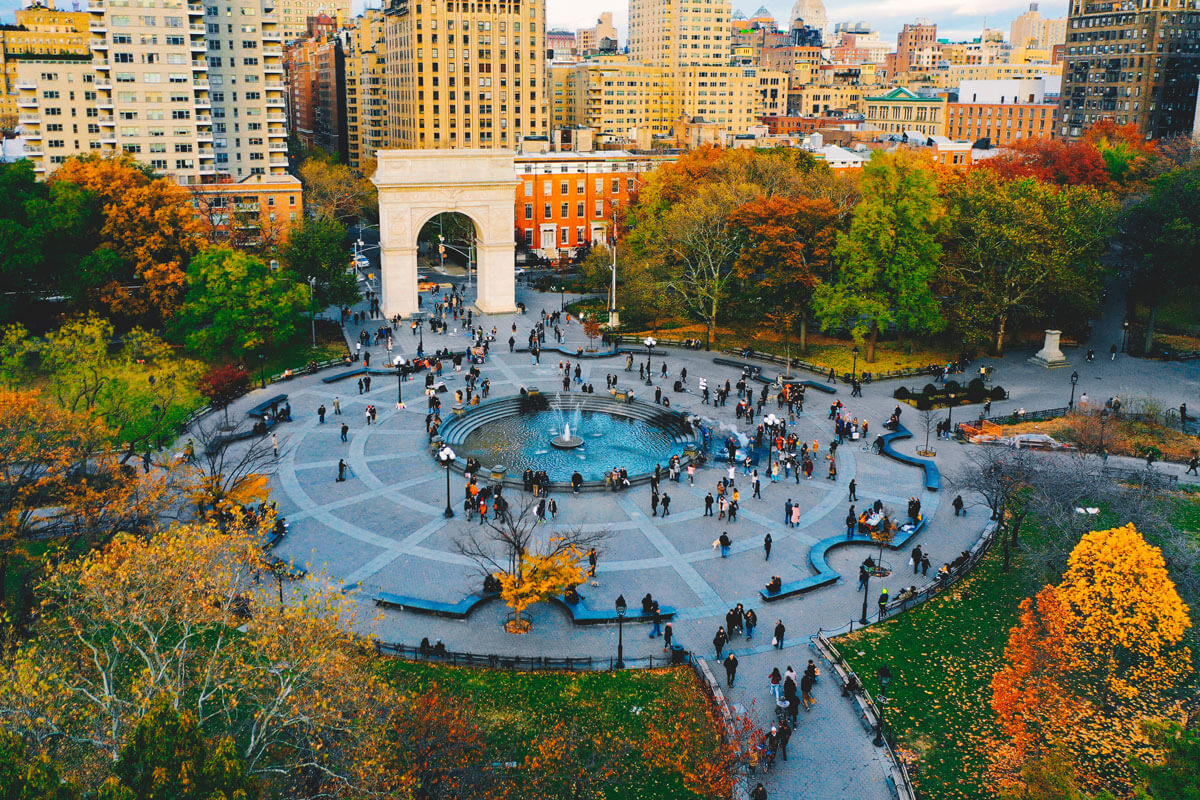 Washington Square, New York, NY 10012
It's hard to talk about great movie locations in NYC without mentioning the highly popular Washington Square Park—a lively park that's perfect for people watching as well as movie scenes.
Everything from action films like Avengers: Infinity War, to black comedies like Inside Llewyn Davis have been shot here. And of course, we got mention Barefoot in the Park which delivers the promise of its title in the film's climax at Washington Square Park.
The Marvelous Mrs. Maisel, one of the most iconic New York shows in recent memory, used the park for a scene in its first season where the heroine is called up to speak during a Jane Jacob's rally!
The Metropolitan Museum of Art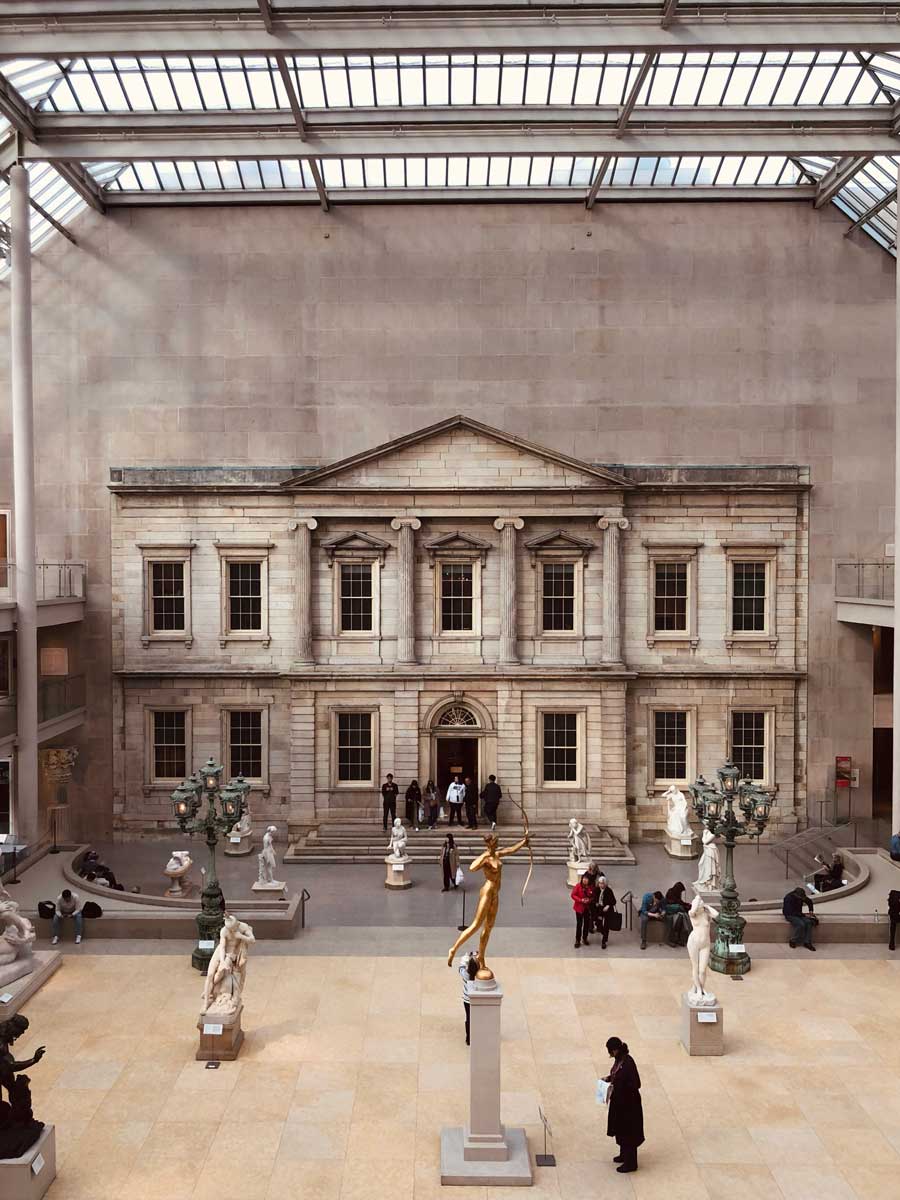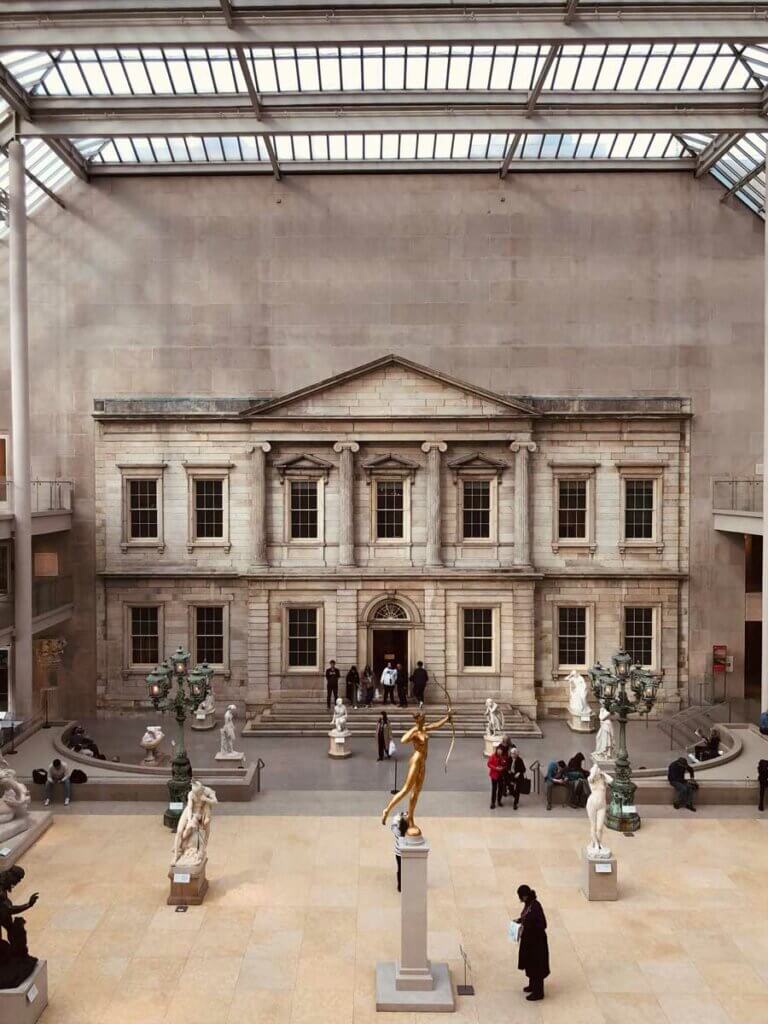 Address: 1000 5th Ave, New York, NY 10028
Being that The Met is one of the most famous filming locations in NYC, we got to mention this rich museum of art. This massive museum has made many guest appearances in films like The Nanny Diaries, Hitch, When Harry Met Sally, and A Perfect Murder.
And the central heist from Ocean's 18 is also shot at the Met.
It's also worth mentioning, the popular teen drama series Gossip Girl made frequent use of the museum's steps as the sitting spot for the cool students!
Brooklyn Heights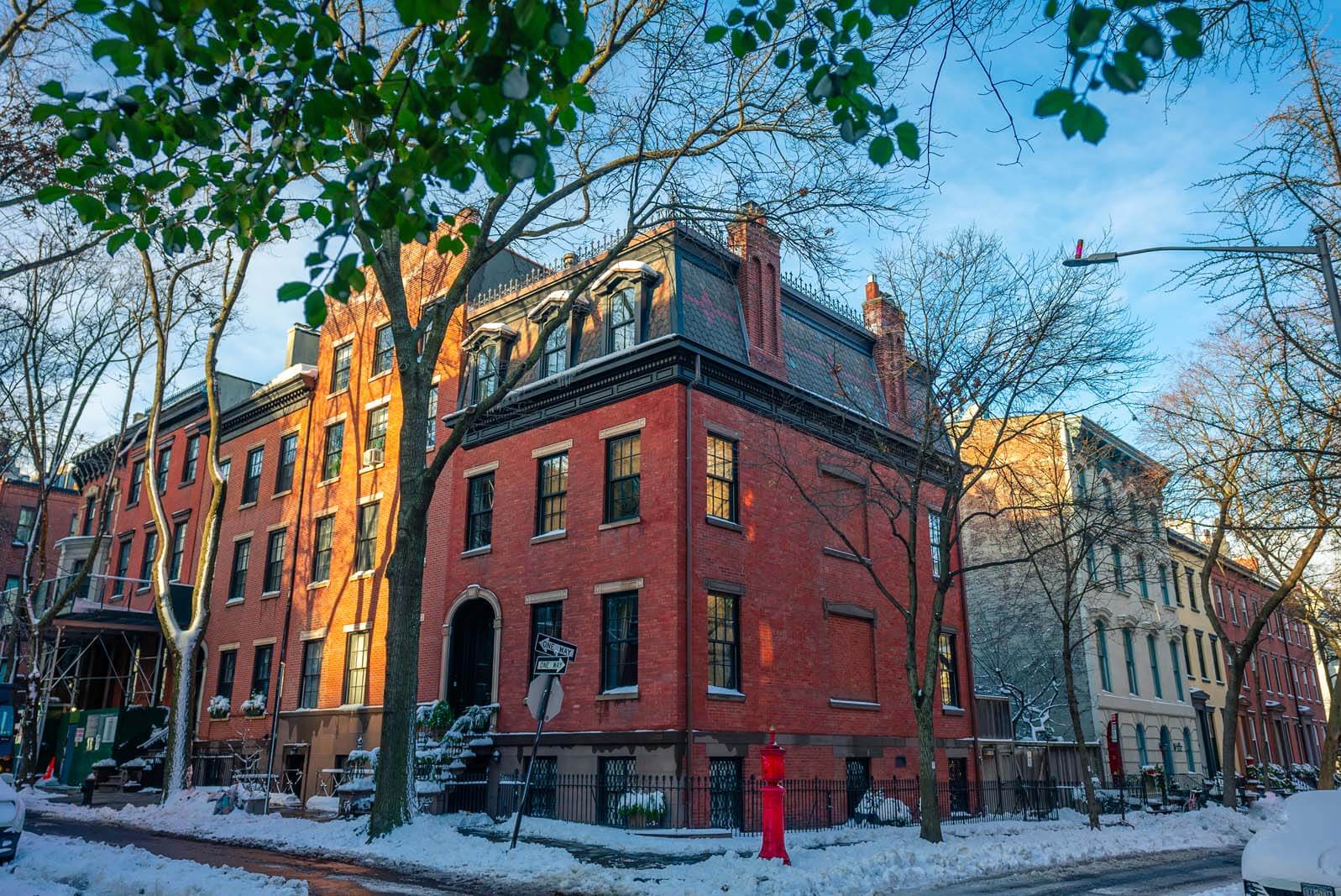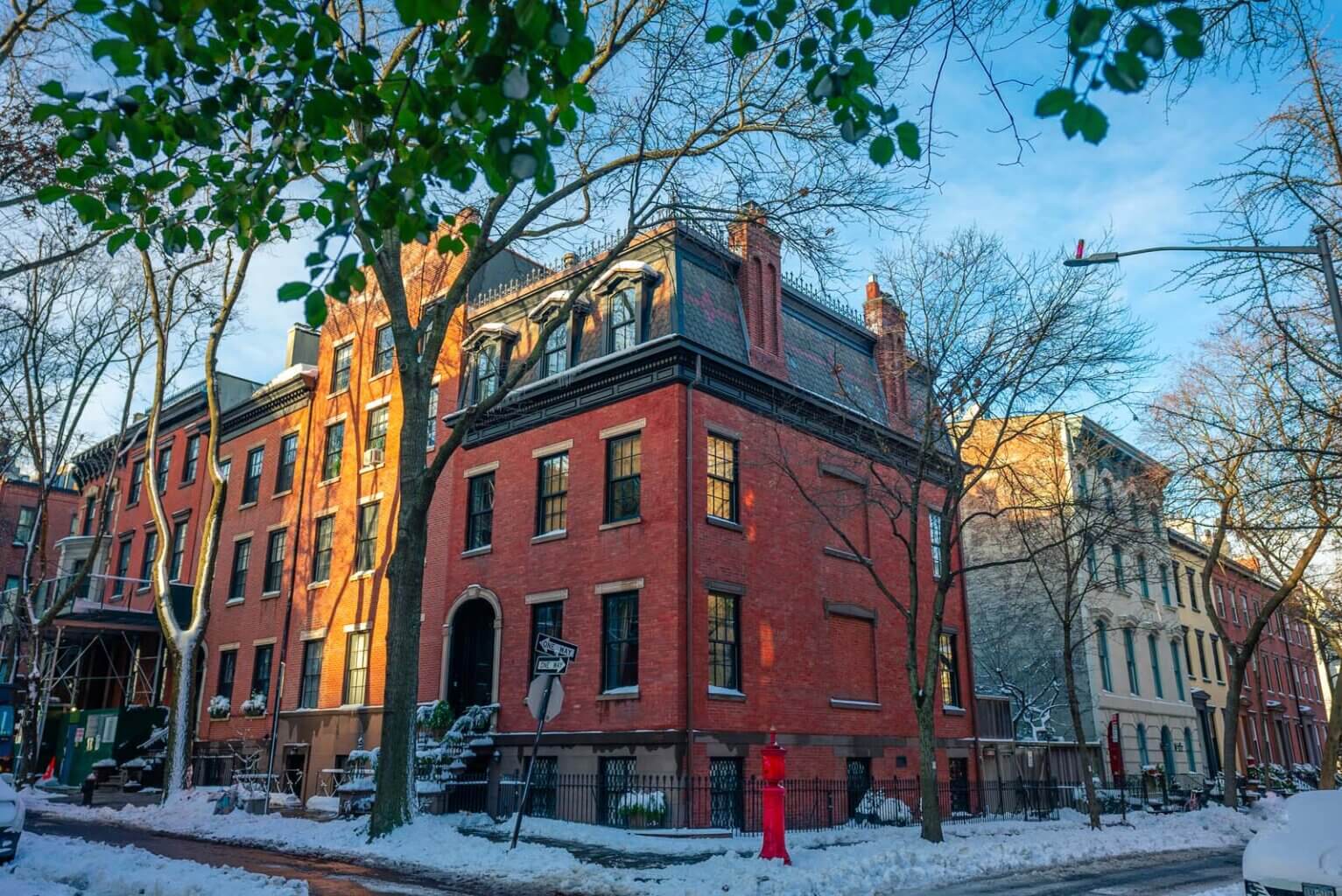 Brooklyn Heights is one of the best NYC neighborhoods to stroll through on a nice day and is also ripe for good filmmaking.
The neighborhood has shown up in gangster flicks like The Departed as well as dance dramas a like Saturday Night Fever. And the home used for the Castorini family's townhouse in the romantic-comedy Moonstruck is located in Brooklyn Heights (19 Cranberry Street).
And on the TV side—iconic series like Boardwalk Empire and Billions have also made frequent use of this neighborhood!
Verrazano-Narrows Bridge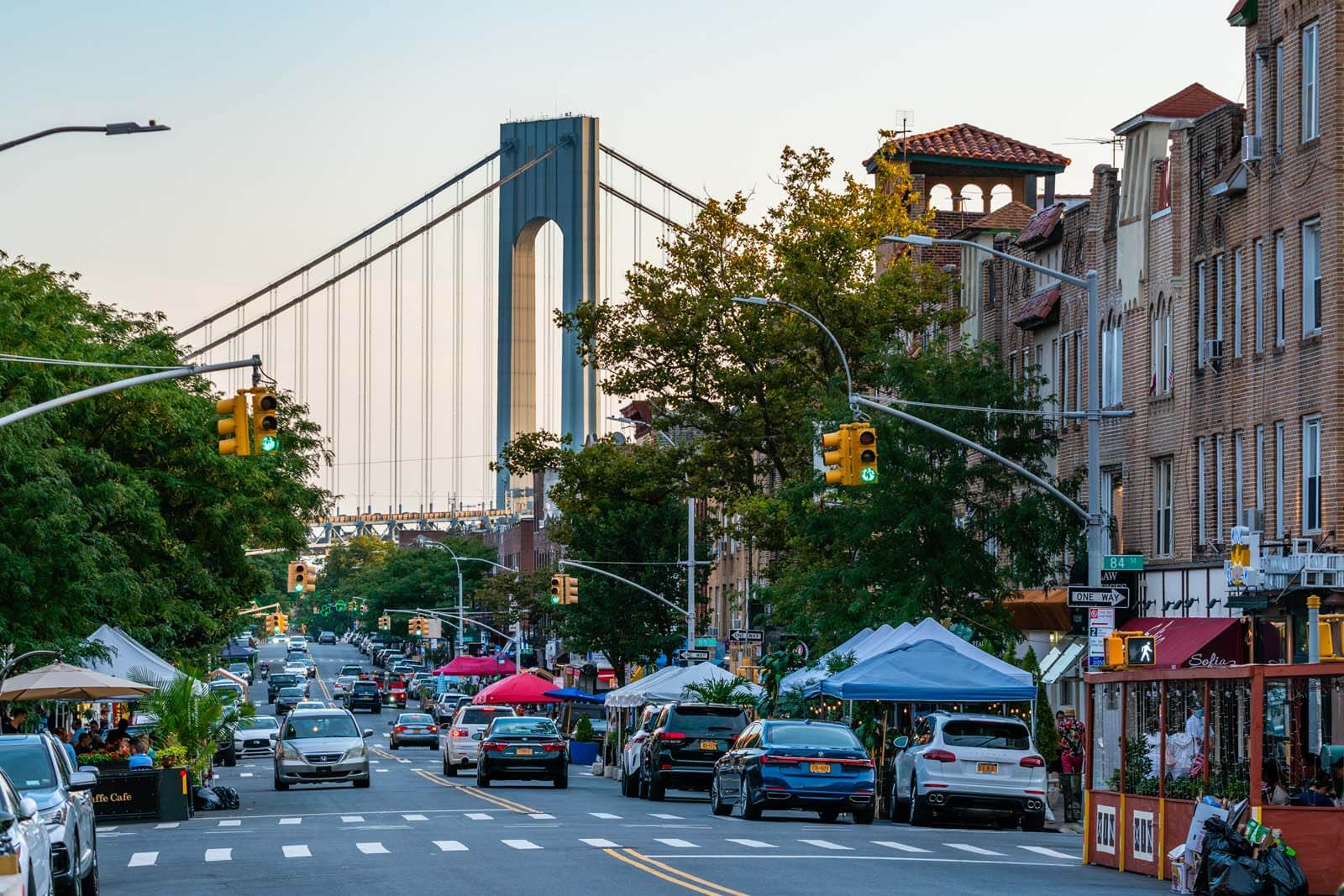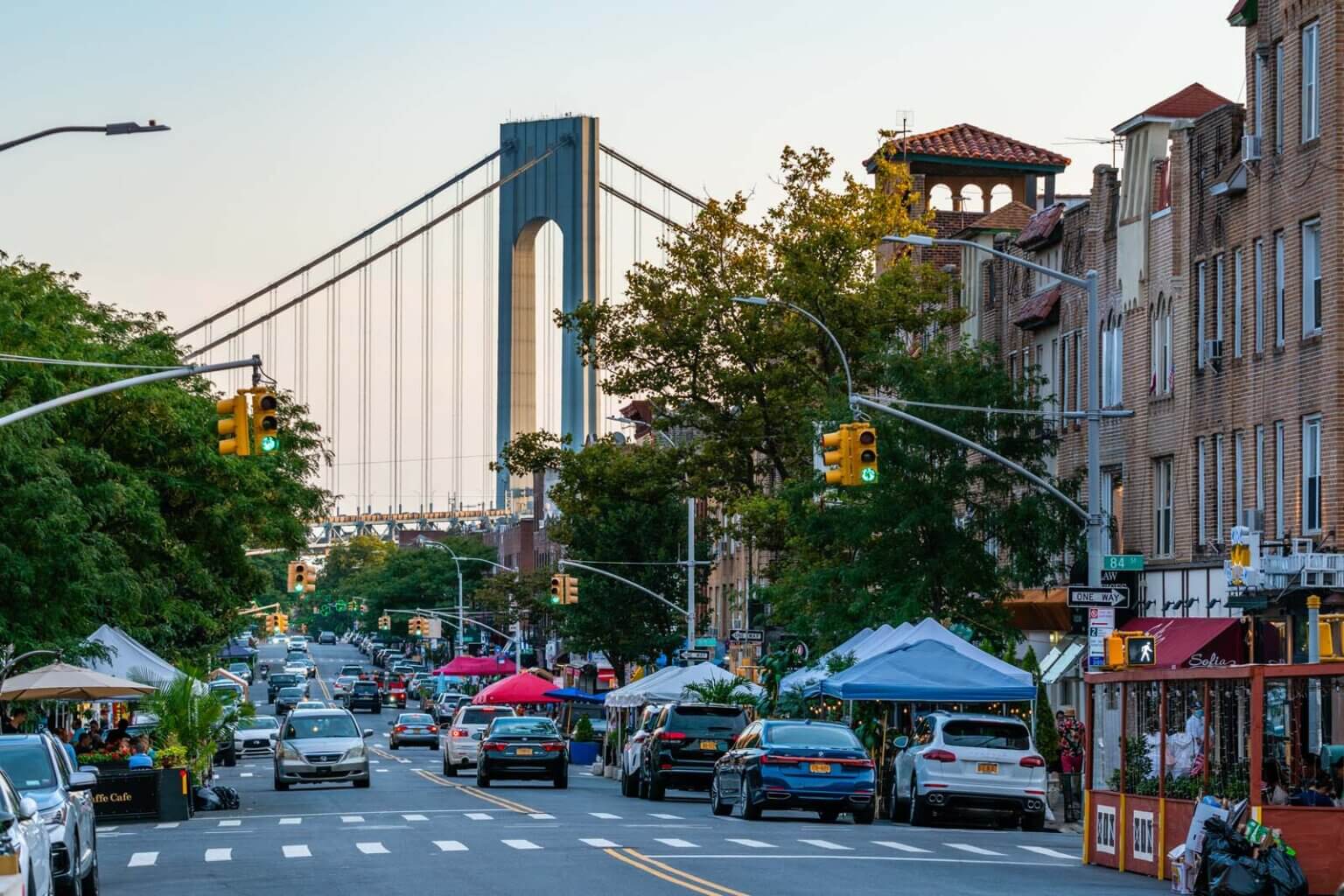 Verrazano-Narrows Bridge, Staten Island, NY
The suspension bridge known as Verrazano-Narrows Bridge (connecting Brooklyn to Staten Island) offers some of the best views in the city and it's very shocking that the bridge hasn't been used in more films.
But the famed bridge can be cited in films such as The Usual Suspects as well as previously mentioned Saturday Night Fever which has a very memorable scene by the bridge where the Tony character (played by John Travolta) asserts to Stephanie (Karen Lynn Gorney) that a man was buried in the cement there!
Flatiron Building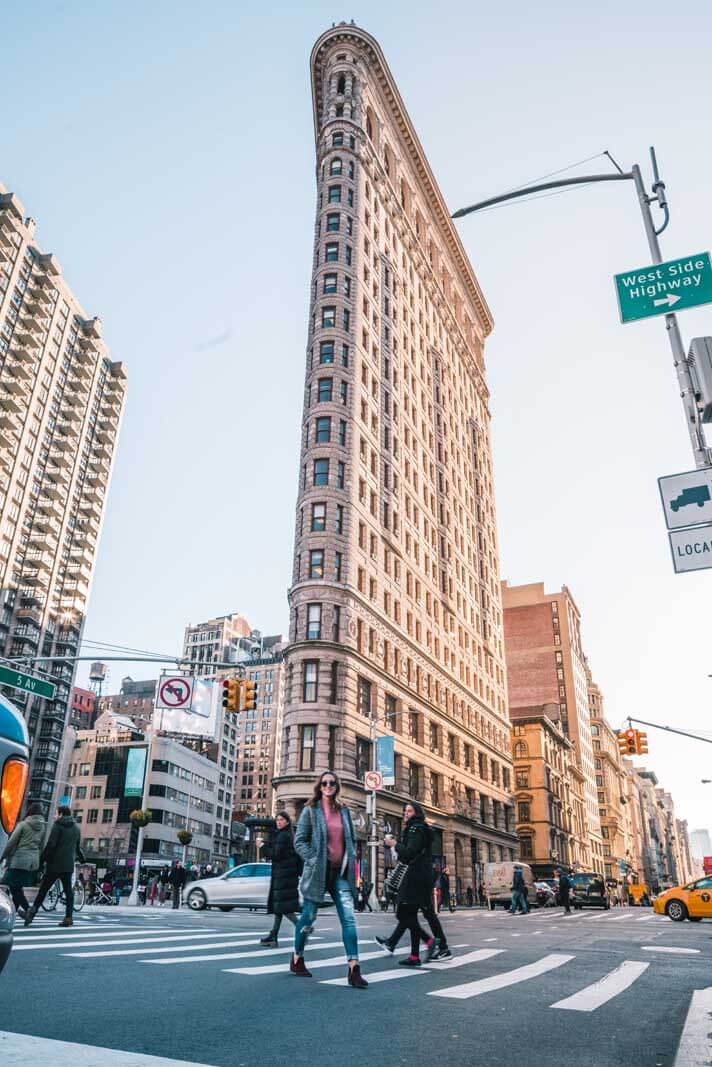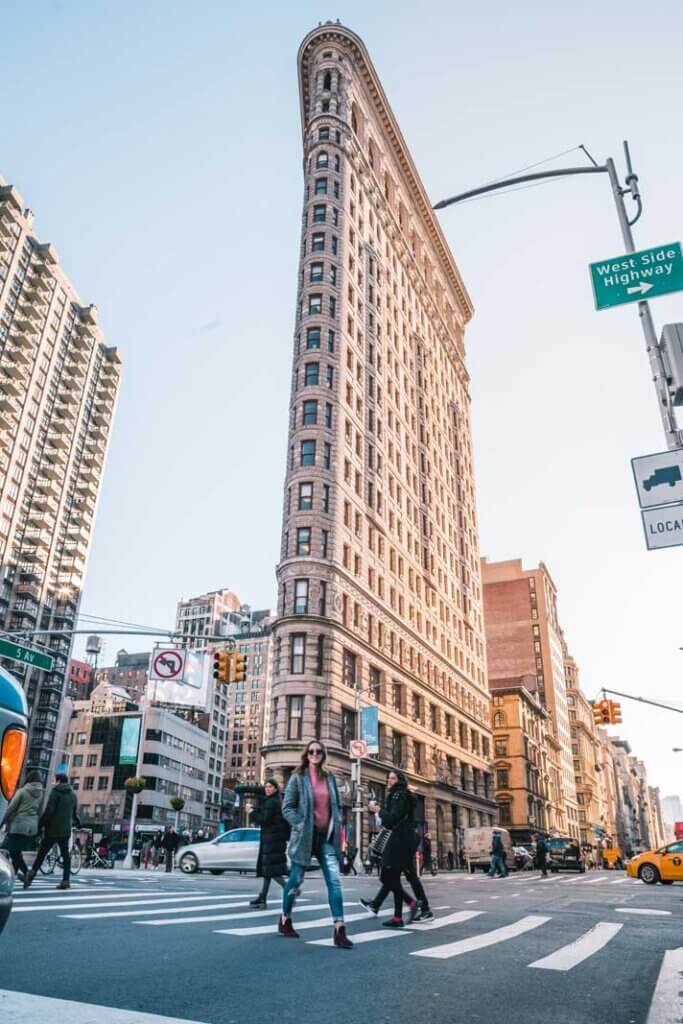 Address: 175 5th Ave, New York, NY 10010
Formerly known as the Fuller Building—Flatiron Building is quite an achievement of New York architecture and it feels almost criminal to not include in a Manhattan centered movie. The New York skyscraper has made its way into movies like Armageddon, As Good As It Gets, and even Godzilla.
The Flatiron Building also made appearances throughout Sam Raimi's Spider-Man trilogy in which it was used as the Daily Bugle!
Solomon R. Guggenheim Museum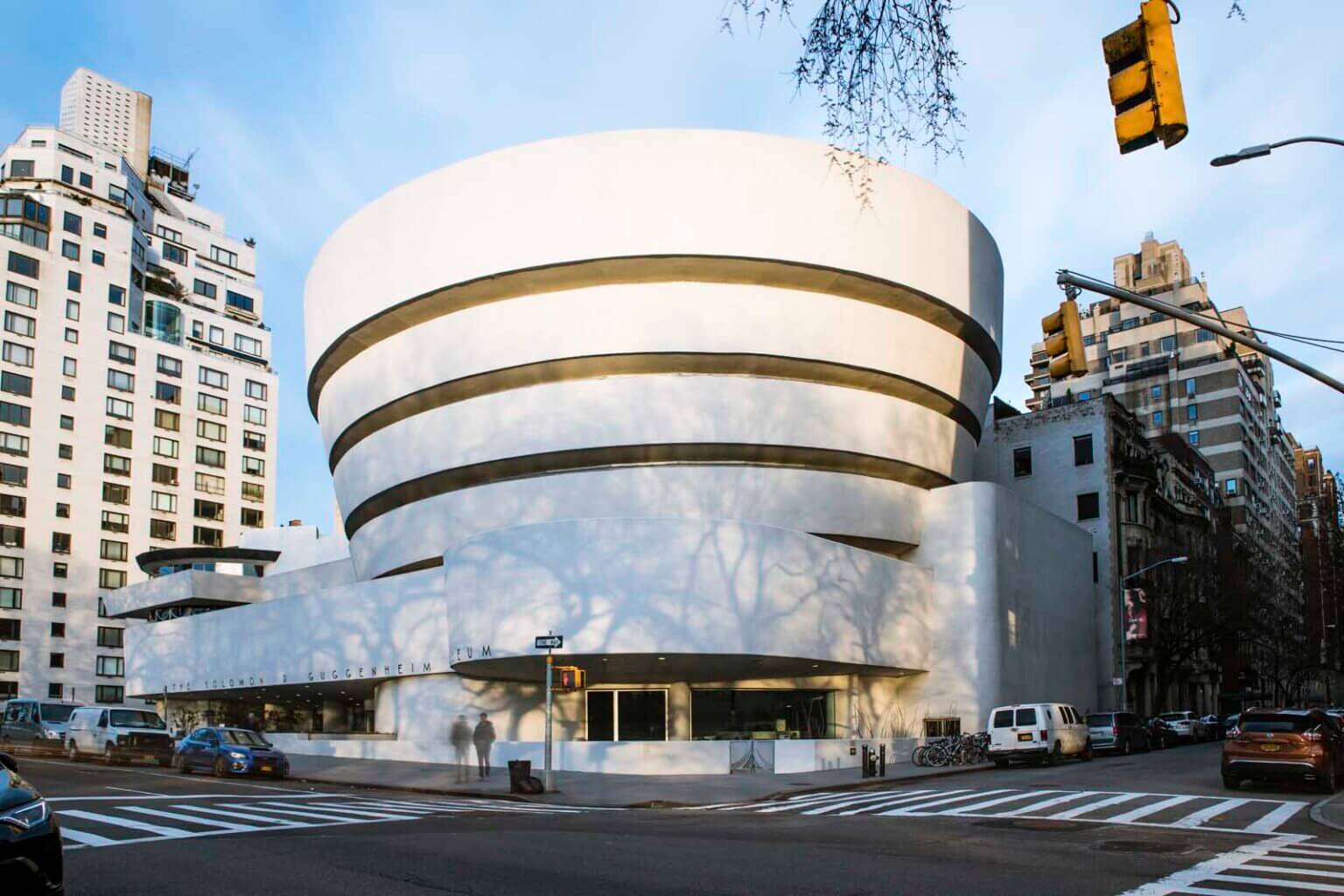 Address: 1071 5th Ave, New York, NY 10128
Another one of the great filming locations in New York City would have to be the Solomon R. Guggenheim Museum, which thanks to its gorgeous interior and exterior design—lends itself greatly to moviemaking.
Some movies where you can spot the museum are Three Days of the Condor, the 2000's rendition of Hamlet as well as the previously mentioned films Manhattan and Men in Black. The museum also appears in the second season of the much-underrated TV series Person of Interest!
Queensboro Bridge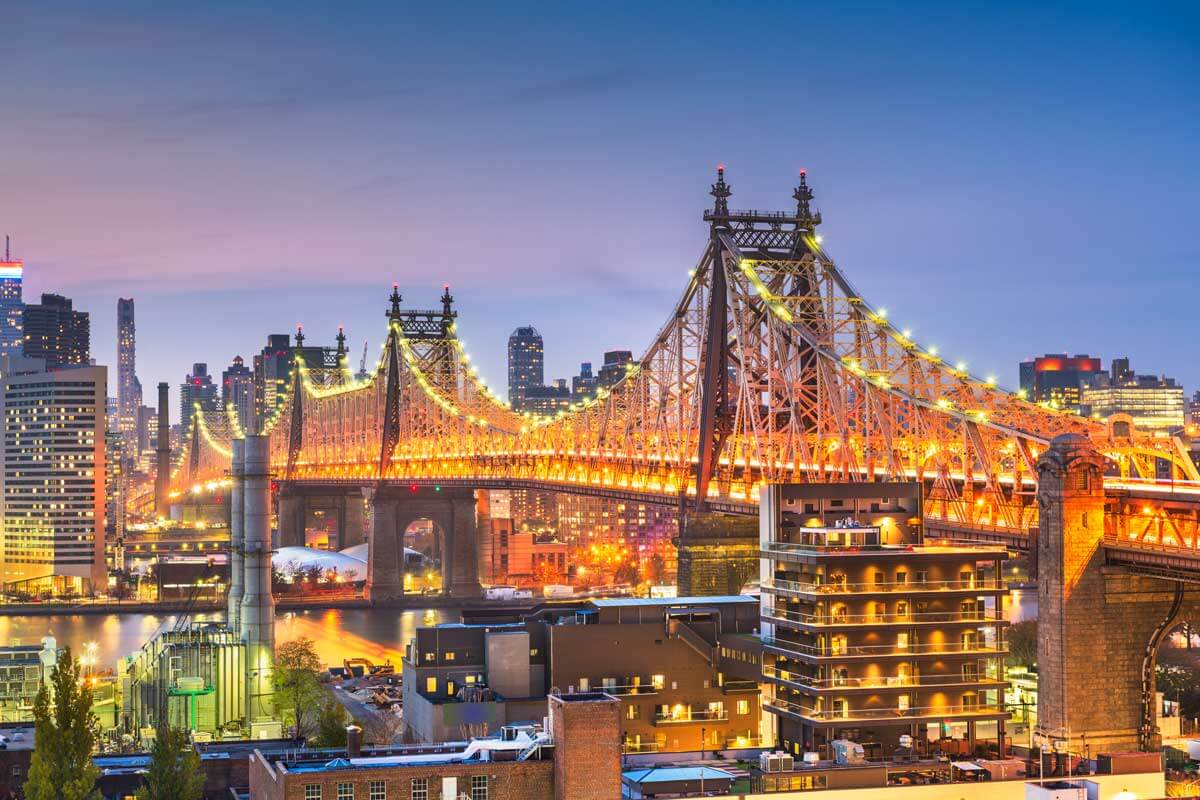 Ed Koch Queensboro Bridge, New York, NY 10044
With its beautiful (almost somber) view, Queensboro Bridge serves as one of the best movie locations in NYC for more introspective and meditative scenes. The bridge has shown up in the movies The Dark Knight Rises, The Godfather, Anger Management, as well as the recent smash hit Spider-Man: No Way Home.
The Queensboro Bridge was also used for one of 1979's Manhattan most iconic scenes where the two leads (Diane Keaton, Woody Allen) are seen in the park just below the bridge!
Not to mention, this is the bridge Kevin crosses on his way from the airport to the city in Home Alone 2: Lost in New York.
Macy's Herald Square
Address: 151 W 34th St., New York, NY 10001
Known as the largest department store in America—the Macy's flagship store in Herald Square is a very famous NYC landmark and has shown up in a ton of movies throughout the years.
Movies like Radio Days, Miracle on 34th Street, King Kong, and Ocean's 11 have all been filmed at this department store.
This Macy's even shows up in Kanye West's music video for his 2005 song "Make Em Say" where the artist plays a homeless man enjoying the empty mall afterhours!
The Dakota Building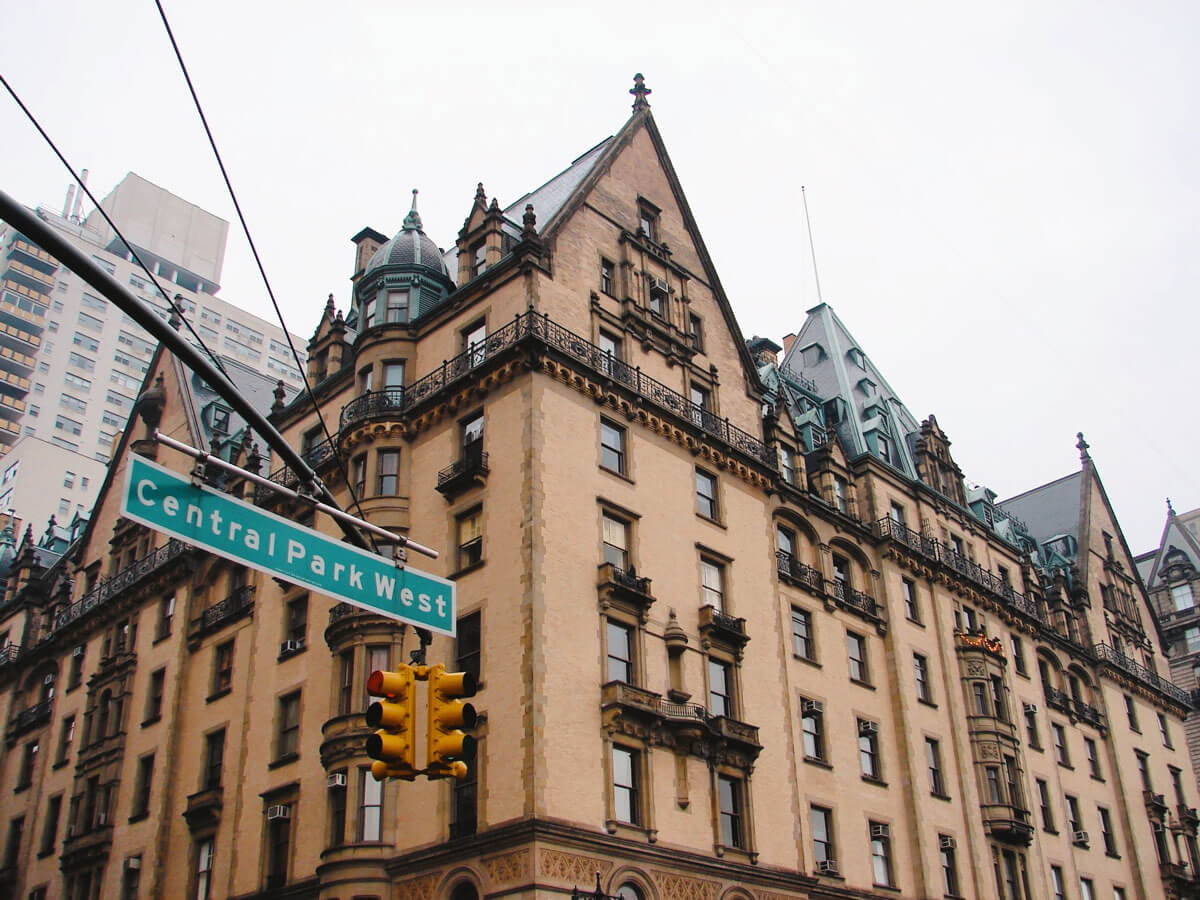 Address: 1 W 72nd St, New York, NY 10023
The Dakota Building (AKA the Dakota) is one of the most famous filming locations in NYC (as well as infamous). While the building may forever be linked to the tragic passing of John Lennon, the landmark is also remembered for the many movies that were filmed here.
Some notable ones include the previously mentioned paranormal films Ghostbusters and Rosemary's Baby—as well as Woody Allen's 1986 classic Hannah and Her Sisters.
Lincoln Center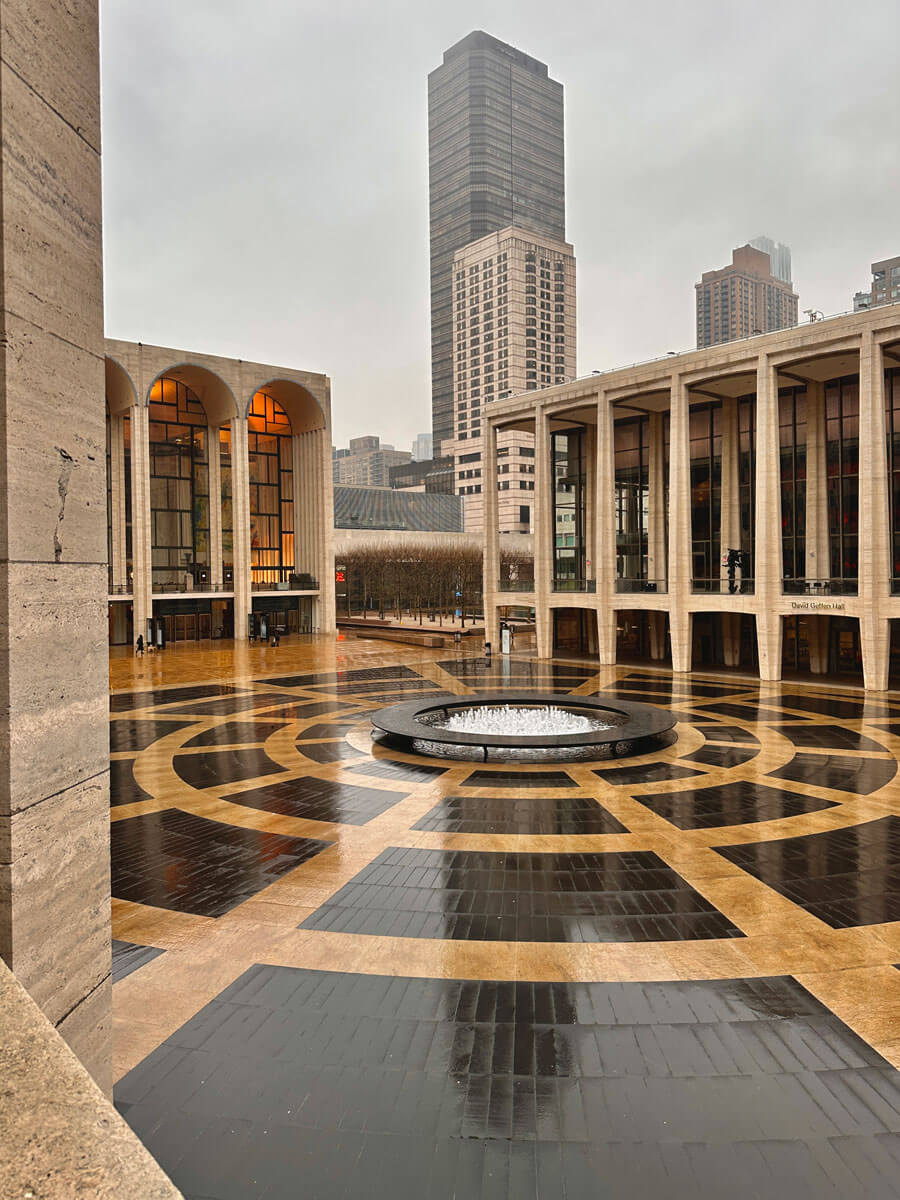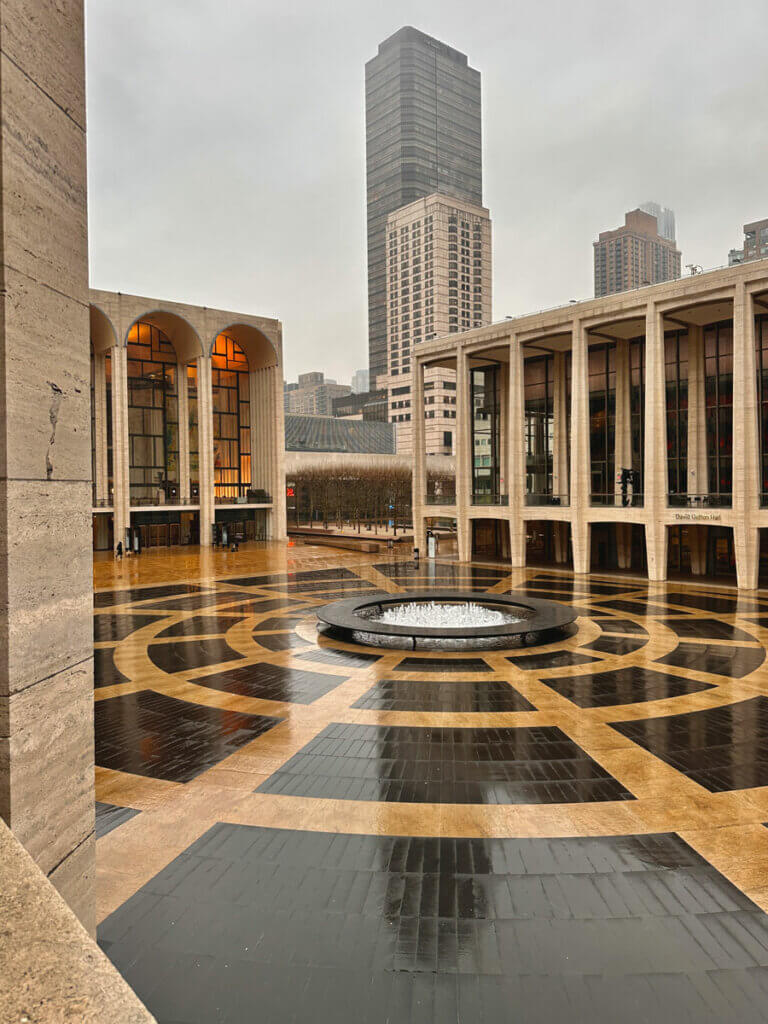 Lincoln Center Plaza, New York, NY 10023
Lincoln Center for the Performing Arts is one of the most impressive venues in the US and has hosted performances for many art forms including music, dancing, and of course—cinema! The illustrious list of films shot here include (but not limited to) Ghostbusters, While We're Young, Black Swan, Sweet Home Alabama, as well as one of the great Hollywood satires—The Producers!
---
Legendary Filming Locations in NYC (Summary):
FDNY Ladder 8
Friends' Apartment Building
Carrie Bradshaw's Brownstone
Grand Central Terminal
The Plaza Hotel
New York Public Library Main Branch
Katz Deli
Coney Island
5th Avenue – Tiffany & Co.
Empire State Building
Times Square
Radio City Music Hall
Rockefeller Center
Central Park
American Museum of Natural History
Brooklyn Bridge
Statue of Liberty
Tom's Restaurant
The Unisphere
7B Horseshoe Bar AKA Vazacs
Washington Square Park
The Metropolitan Museum of Art
Brooklyn Heights
Verrazano Narrows Bridge
Flatiron Building
Solomon R. Guggenheim Museum
Queensboro Bridge
Macy's Herald Square
The Dakota Building
Lincoln Center
---
About the Author
Eric Garner is a Brooklyn-based writer who was raised down South who loves talking about film, TV, hip-hop, and fashion.