Looking for free things to do in NYC? Lucky for you, there are tons of things and activities to do in the city that won't cost you a dime or more than maybe subway fare. Even though this city can be as expensive as anything could possibly be, it's actually possible to enjoy NYC on a budget pretty easily.
From hanging out at parks to walking across the Brooklyn Bridge to gallery hopping, there are plenty of free things to do in New York City. Plus we cover all the free days in NYC too for those who may want to take advantage of attractions that normally cost money but have free days!
Not sure where to begin on all of the things to do in NYC for free? This guide is a great place to start.
Best Free Things to do in New York
1. Staten Island Ferry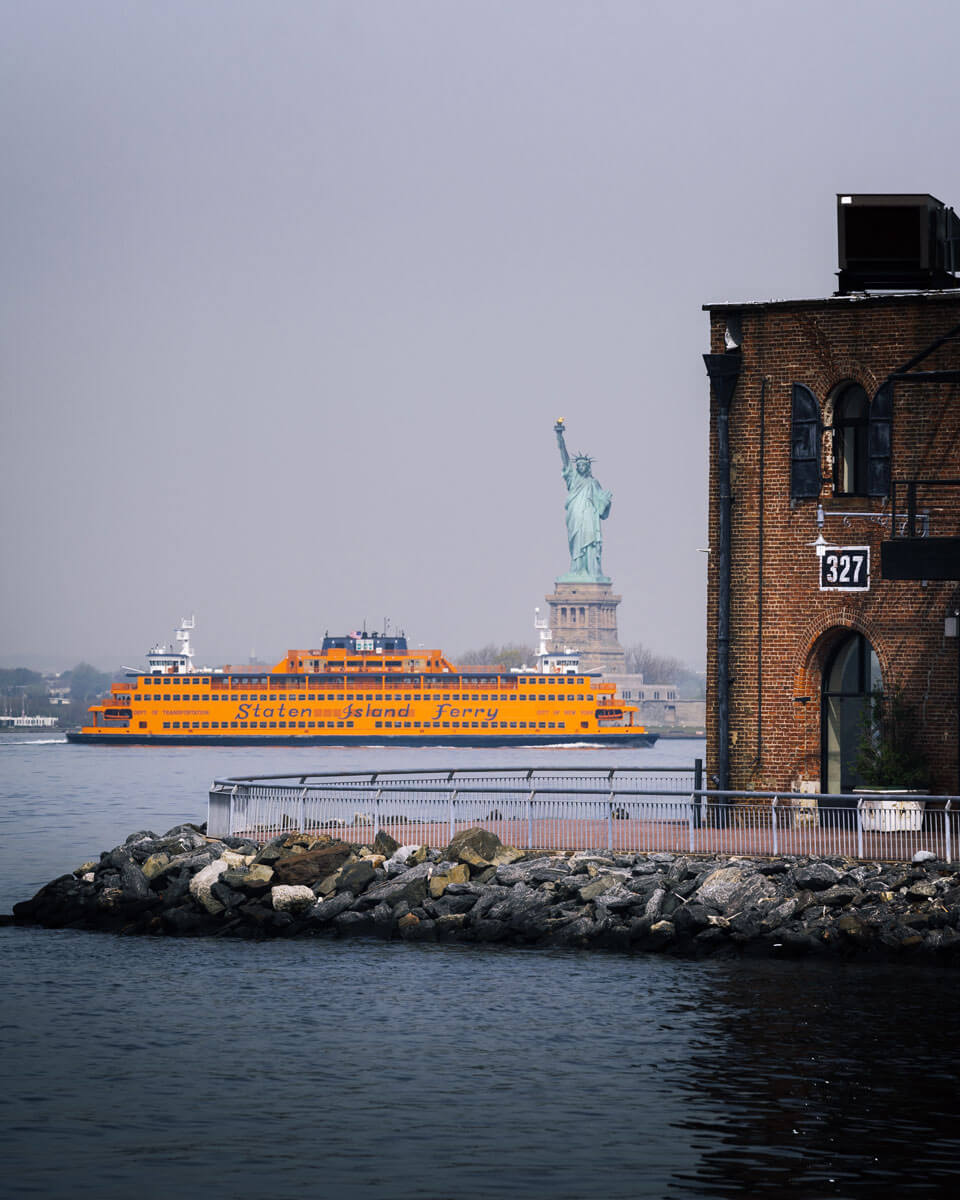 Starting this guide with one of the best free things to do in NYC with the ferry ride over to Staten Island which includes some of the best and free up-close views of the Statue of Liberty. While there are multiple free places to go in NYC to see the Statue of Liberty, the Staten Island Ferry which runs from Lower Manhattan at Whitehall Terminal to Staten Island at St. George's Terminal, is definitely one of the top options that also welcomes passengers to BYOB!
That's right, you can grab a beer at the nearest convenience store and pop it open on your free ride, and give a toast to Lady Liberty.
The Staten Island Ferry runs 24 hours with regularly operating ferries every 15-20 minutes. It takes about 25 minutes from point to point which means, you are able to hop on, ride over, and head back to Manhattan in under an hour, making this one of the best free places to go in NYC.
Keep in mind, if you want to do this in under an hour, you'll need to start heading to the unloading area of the ferry as you're docking at Staten Island and quickly get off and walk around to the next departing ferry. Otherwise, you'll likely have to wait 15-20 minutes for the next ferry.
No big deal if you miss it though as there are shops at the St. George Terminal as well as restaurants. Or if you want to check out a few points of interest, consider walking around 13 minutes to Postcards, a September 11th Memorial dedicated to the 274 Staten Island residents who lost their lives in the 2001 attacks as well as the 1993 World Trade Center bombing.
2. Walk the Brooklyn Bridge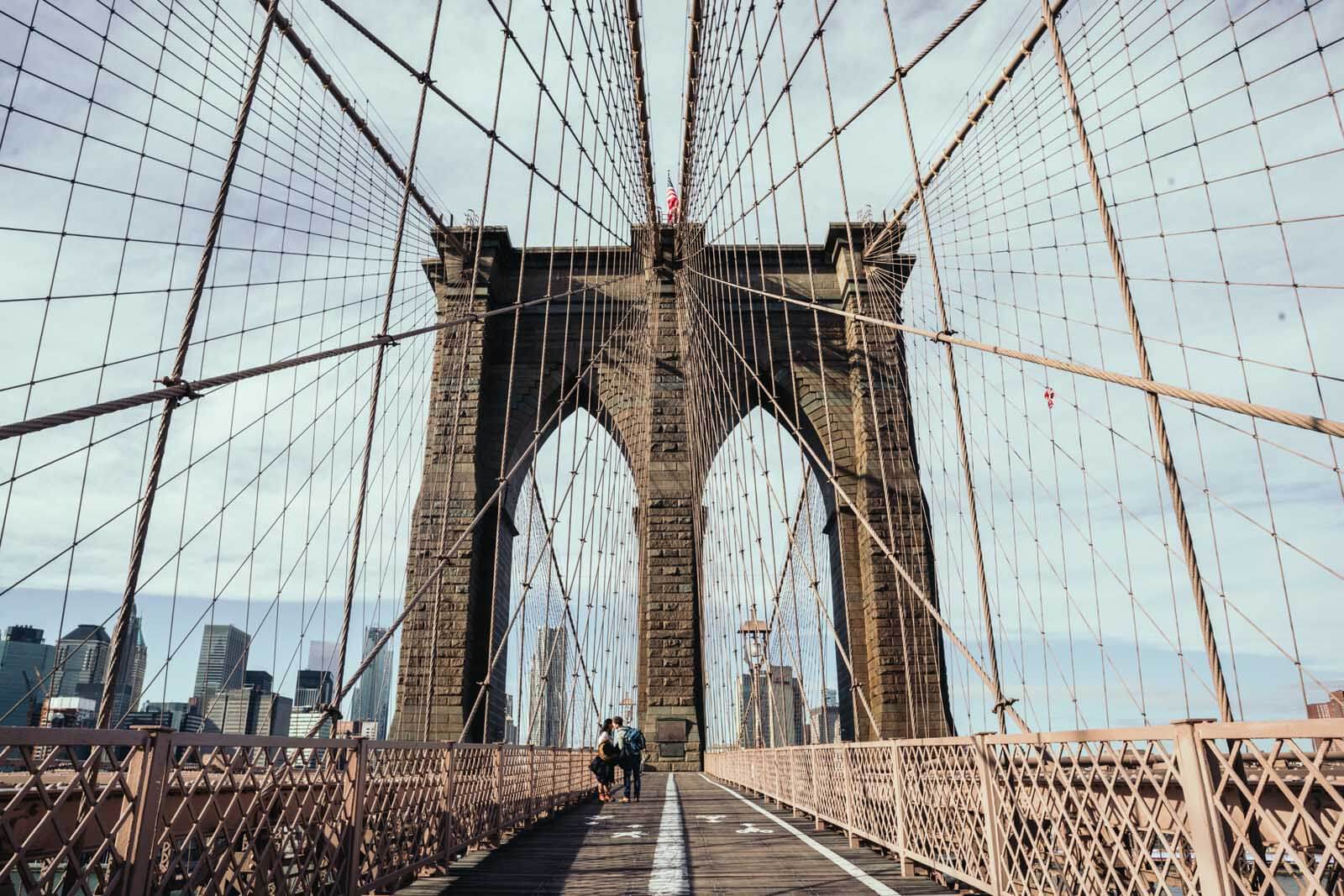 Walking across the Brooklyn Bridge is hands down one of the best things to do in NYC and better yet, it's also one of the best free things to do in NYC too. Not only do you get to walk across a historic landmark but you have incredible skyline views, especially if you're starting in DUMBO in Brooklyn and walking towards the Manhattan direction.
As with everything in New York, especially the free things to do in New York, the Brooklyn Bridge can get very busy so if you are hoping for a less people whether it be for photos or to have a more peaceful walk, I recommend getting here early or walking across after the sun goes down. And if rain doesn't bother you or winter, the bridge tends to be quieter on those days in general!
3. Central Park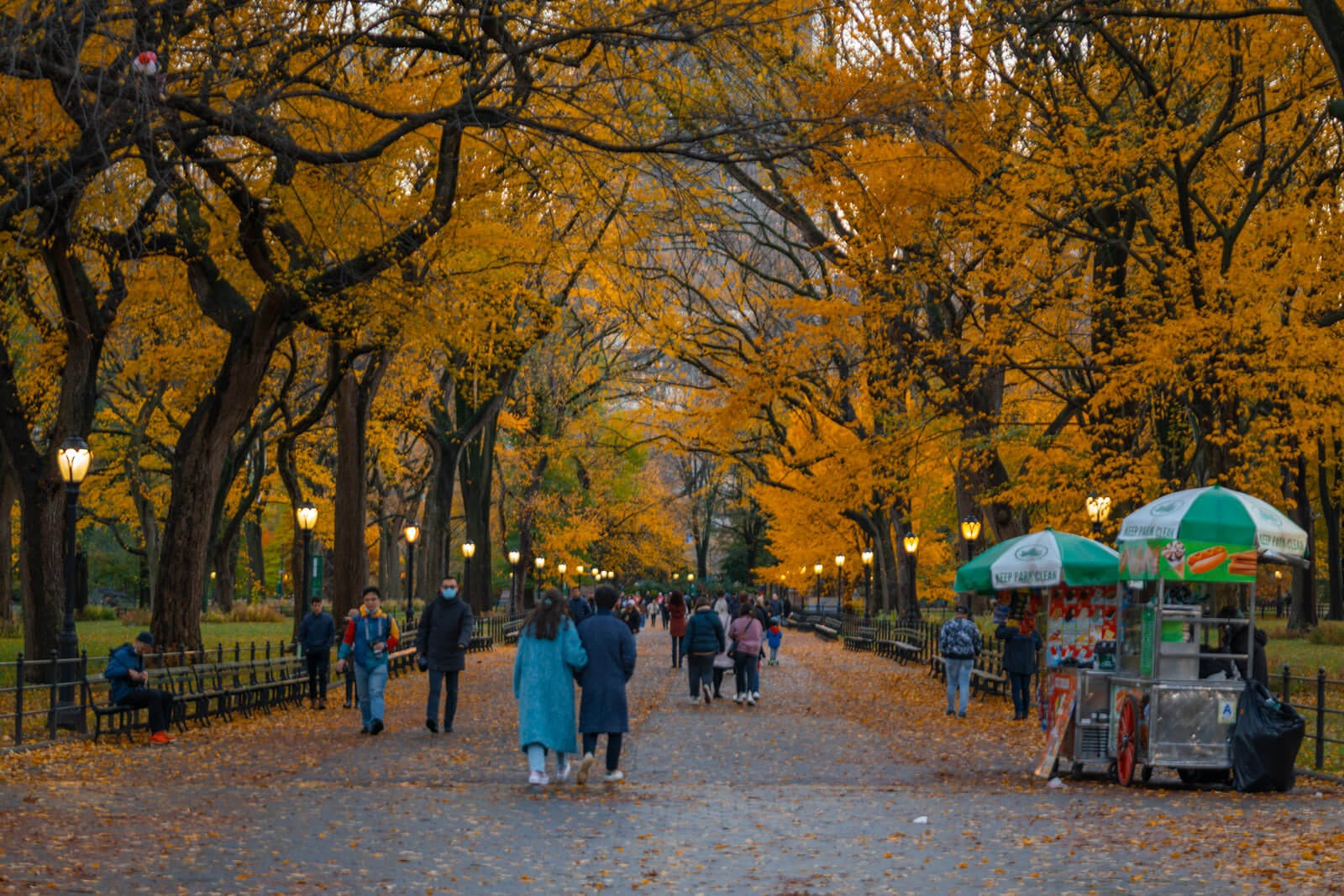 Without a doubt, one of the most iconic free things to do in New York is spend some time inside Central Park. You've probably seen it in TV or movies based in NYC or at least heard of it – if you haven't I have a lot of questions for you.
This is without a doubt, one of the most beautiful places to visit in New York City all year long. Each season here is incredible from picnicking in the summer months with all the lush green lawns, enjoying the flowers and cherry blossoms in the spring, fall foliage, and it's especially enchanting with a dusting of snow in the winter.
If you're looking for a cool place to picnic, check out Sheep's Meadow or the lawn or next to Turtle Pond (near the Delacorte Theater) for a beautiful spot next to Belvedere Castle, yes Central Park has one of the best castles in New York right here! If you're not sure where to grab food, some of my favorite places include Pastrami Queen, Breads Bakery, and the East Pole.
Don't miss the many hidden gems of Central Park or other beautiful places to visit like Bethesda Terrace & Fountain, Strawberry Fields, Bow Bridge over The Lake, and the Gestapo Bridge to name a few scenic spots.
4. Prospect Park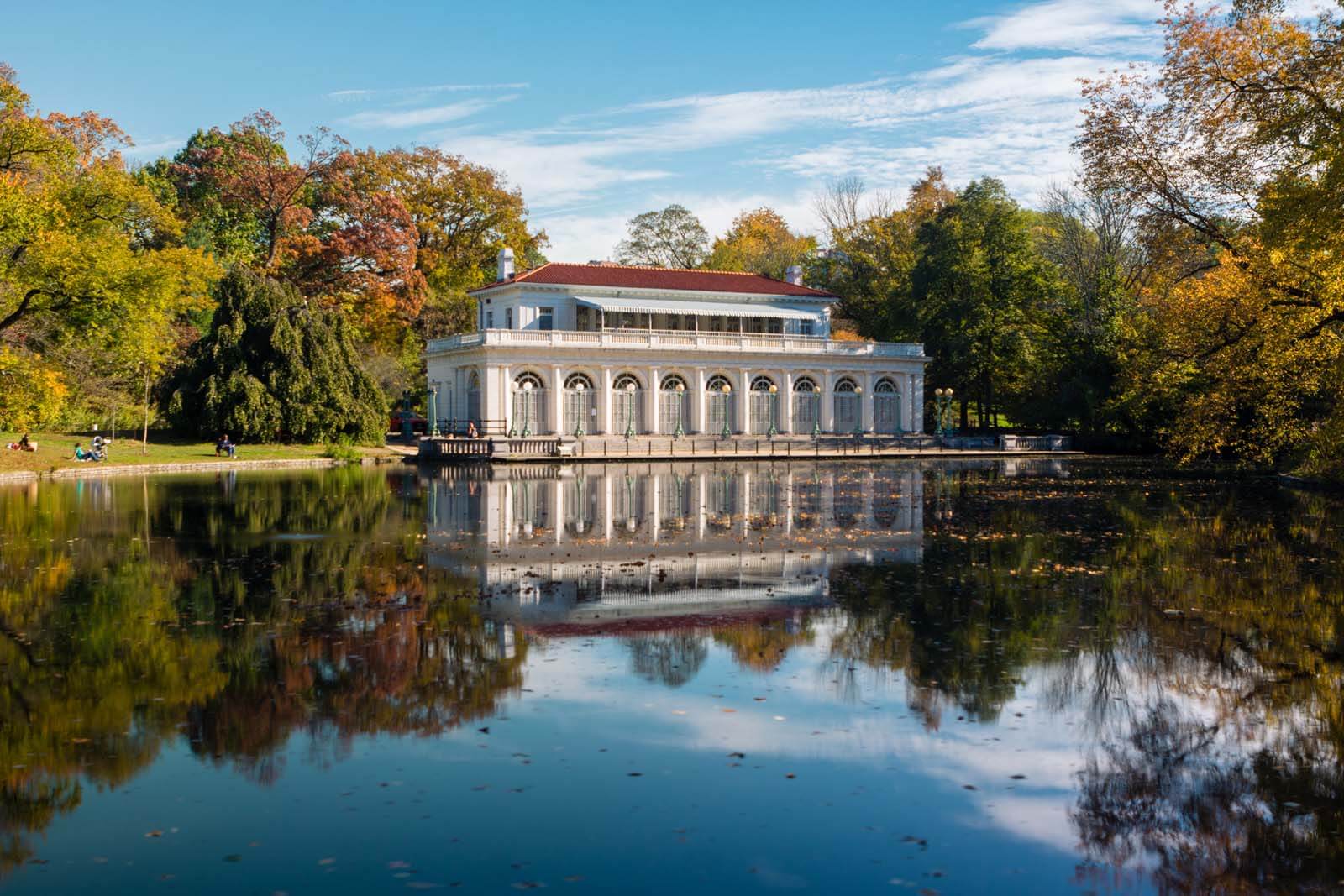 I might be biased because of how much I love Brooklyn but I think Prospect Park might be my favorite park in the city. It also happens to be one of the best free things to do in NYC, much like Central Park (it's Brooklyn's sister to Manhattan's Central Park).
Some of the best things to do in Prospect Park are also free like having a picnic, visiting the cool arches, taking a hike through the Ravine (Brooklyn's only forest), visiting the Prospect Park Boathouse, and even a short .5 mile waterfall trail that passes 6 different waterfalls. Oh, and don't miss visiting the beautiful Grand Army Plaza either.
They also have amazing concerts in the summer and show movies during the week, another one of the perfect things to do in NYC for free.
Just like Central Park, Prospect Park is huge and it's definitely helpful to plan out what you want to do, be mindful of where to walk and/or cycle, and where you want to grab lunch before your amazing Prospect Park picnic!
Make sure you check out the best places to eat in Windsor Terrace for where to grab some of the best-curated picnic boxes from both Daytime and Krupa Grocery!
5. Washington Square Park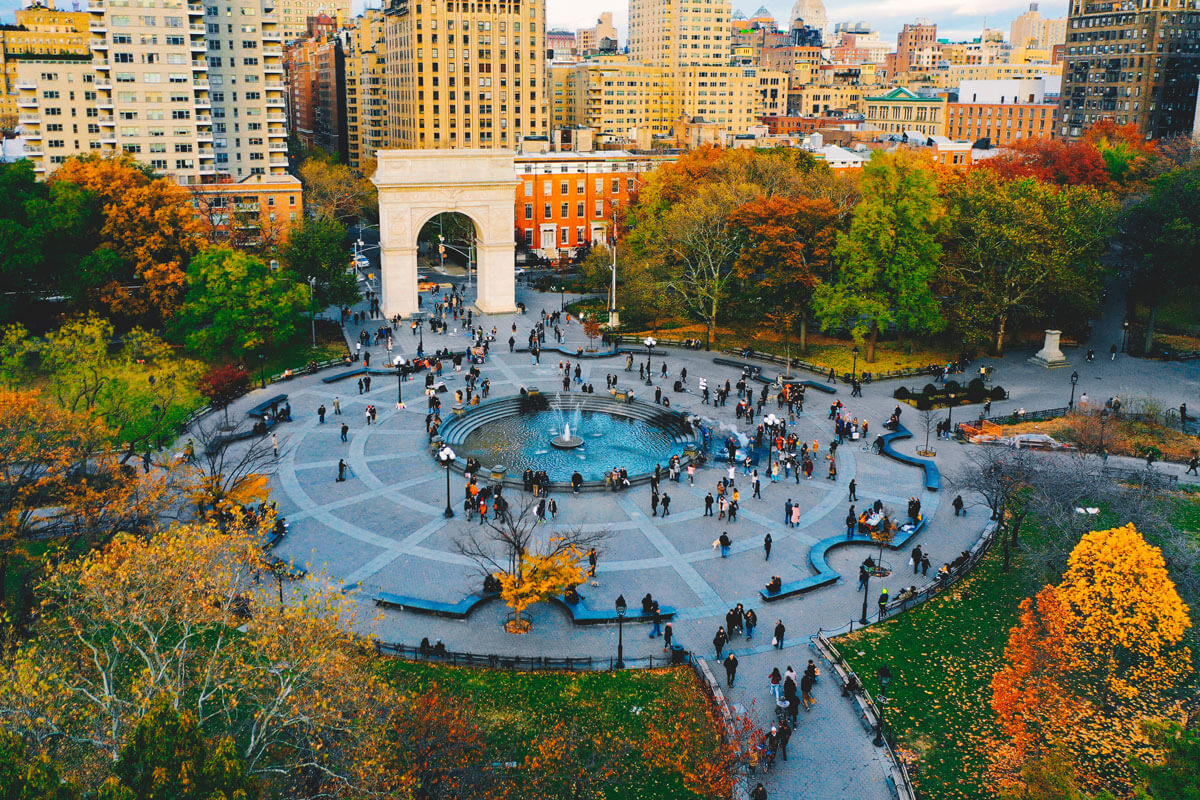 If you're looking for free places to go in NYC and you're wanting a prime people-watching location, look no further than Washington Square Park in Greenwich Village, one of the coolest neighborhoods in the city.
Washington Square Park is located by the NYU campus and when I attended school there, I was always fortunate enough to call it a part of "campus," so definitely expect to see lots of students here in between classes.
The famous archway that is here not only is one of the most haunted locations in NYC, but it's beautiful to look at too. It was modeled after the famous Arc de Triomphe in Paris, which is worth it alone to spend some time at and depending on the angle you're looking you'll get a cool frame of a familiar and iconic NYC skyscraper in the center!
There is always something interesting going on from the man who is surrounded by pigeons, to people having a silent disco, to people swimming in the fountains in the summertime, you will never be bored when you are at Washington Square Park! Plus no two visits are the same, you never know which NYC personality will show up and grace you with their presence and talents!
6. Brooklyn Bridge Park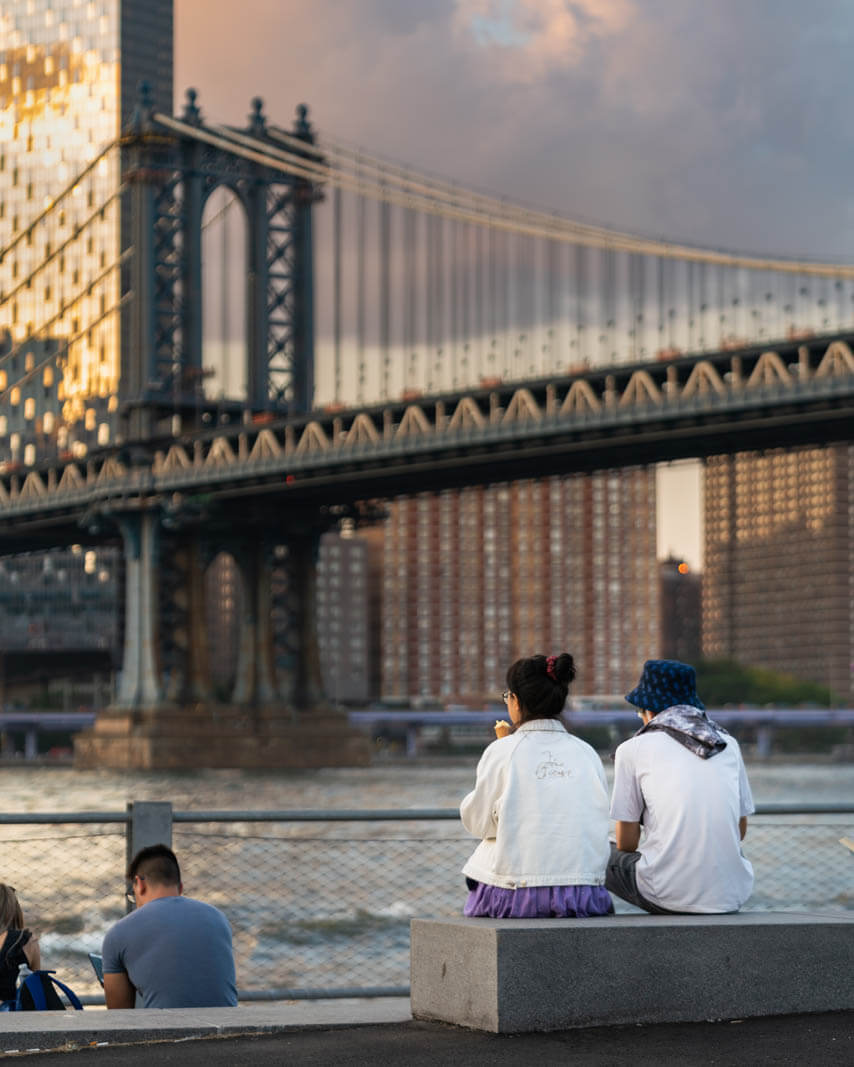 One of the best neighborhoods in Brooklyn to check out is DUMBO, the waterfront neighborhood across the East River from Lower Manhattan with iconic landmarks like the Brooklyn Bridge, Manhattan Bridge, and one of the best parks in the city, Brooklyn Bridge Park.
There are tons of cool things to do in Brooklyn Bridge Park from some of the best NYC views from Brooklyn, prime picnic locations with skyline views, and all the piers that have something special or unique about each one from sport courts, outdoor sculptures, gardens, and more.
Brooklyn Bridge Park also is shared with the Brooklyn Heights neighborhood, which is a must for free places to see in NYC. Be sure to take the Squibb Park Bridge for a cool skyline view and photo spot and make your way up to the Brooklyn Heights Promenade for even more gorgeous views with tons of benches to take a nice break at.
And while you're here, be sure to grab a few scoops of some of the best ice cream in Brooklyn at Ample Hills, while buying ice cream isn't free – it's worth it!
Fun Fact: Ample Hills is named after a line in Walt Whitman's poem 'Crossing the Brooklyn Ferry.' There are several sites around here that are tied to Walt Whitman his work and life here in Brooklyn if you're a literary fan!
7. Gallery Hop in Chelsea
Another area that is filled with some of the best free things to do in NYC is on the West Side of Manhattan in the neighborhood of Chelsea. Chelsea is known for its art scene and is home to hundreds of art galleries, many of which are free to visit.
You'll want to take some time wandering around Chelsea too, but gallery hopping is one of the best free things to do in New York. Many galleries focus on contemporary and modern art, some of which have rotating exhibits too.
There are so many galleries to choose from but most are within a 10-block radius between 10th and 11th Avenues in between 18th and 28th Streets. If you're not sure where to start, consider checking out David Zwimmer, Petzel Gallery, Lisson Gallery, and High Line Nine.
Make sure you also go check out the historic Hotel Chelsea, a place that is a gallery within itself. They also just recently renovated it and have a curated collection of the best cocktails from all the best bars around the world including the ice-cold martini from Duke's in London. While this isn't a free thing to do in NYC, it is definitely worth spending some extra cash to check it out since you're saving elsewhere!
8. The High Line
Speaking of Chelsea, another pick for fun things to do in NYC for free is visit the High Line, one of the best parks in NYC located on former train tracks that have been converted into an amazing outdoor park full of great views, gardens, and outdoor artwork. The High Line came about several years ago and has instantly become a great place for locals and tourists alike and one of the best outdoor activities in NYC.
The High Line runs for several blocks and has local art, green spaces, places to lay and read a book or just a great place to take a walk.
It also leads to some of the best places in Chelsea including Chelsea Market, a market filled with shops, great restaurants, and home to the historic Nabisco Factory where the Oreo Cookie was invented. It also has some of my favorite cheap eats in NYC, Los Tacos No.1.
You can take the High Line from the Meatpacking District, through Chelsea, and end in Hudson Yards where you can see the Vessel, a honeycomb-like structure that visitors used to be able to climb, but is still a site worth seeing!
9. Peek at The Vessel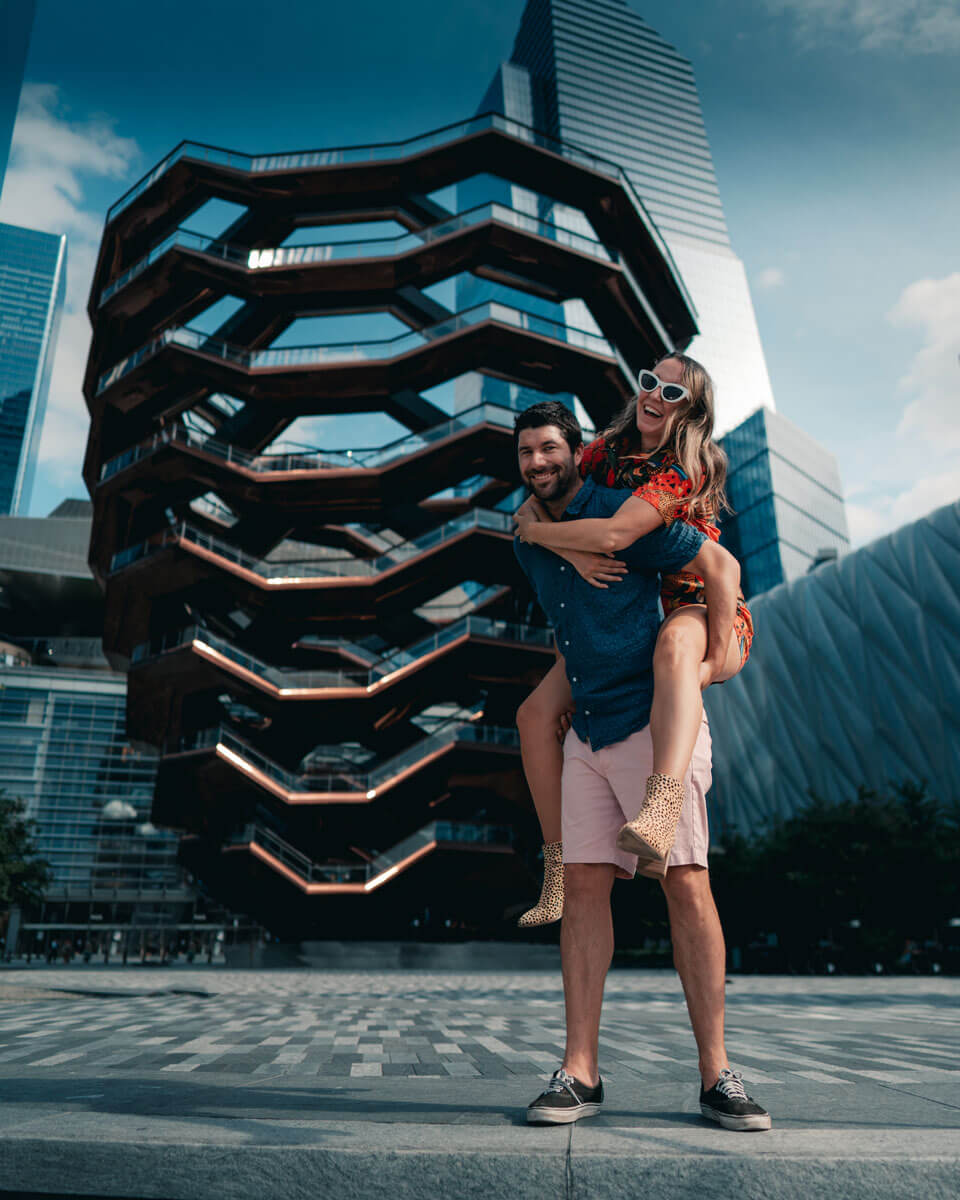 Another top thing to do in NYC for free is visiting the Vessel. While you are currently not able to walk up inside the Vessel like you used to, it is still one of the best photo spots in NYC and it is completely free to check out and even get a peek at the bottom of it looking up inside the Vessel, which is monitored closely by Hudson Yards staff.
There is a mall here too which is home to luxury and high end shops, restaurants, and Mercado Little Spain, a Spanish-focused food court.
If you have saved up enough money to enjoy one of the top attractions in the city, you can easily combine adding in a visit to the Edge Observation Deck as it's just stepping away from here. While not free, you can save money on attractions like this by paying for a popular attraction pass like New York Pass or City Pass to save serious moolah on your trip while not missing out!
10. Little Island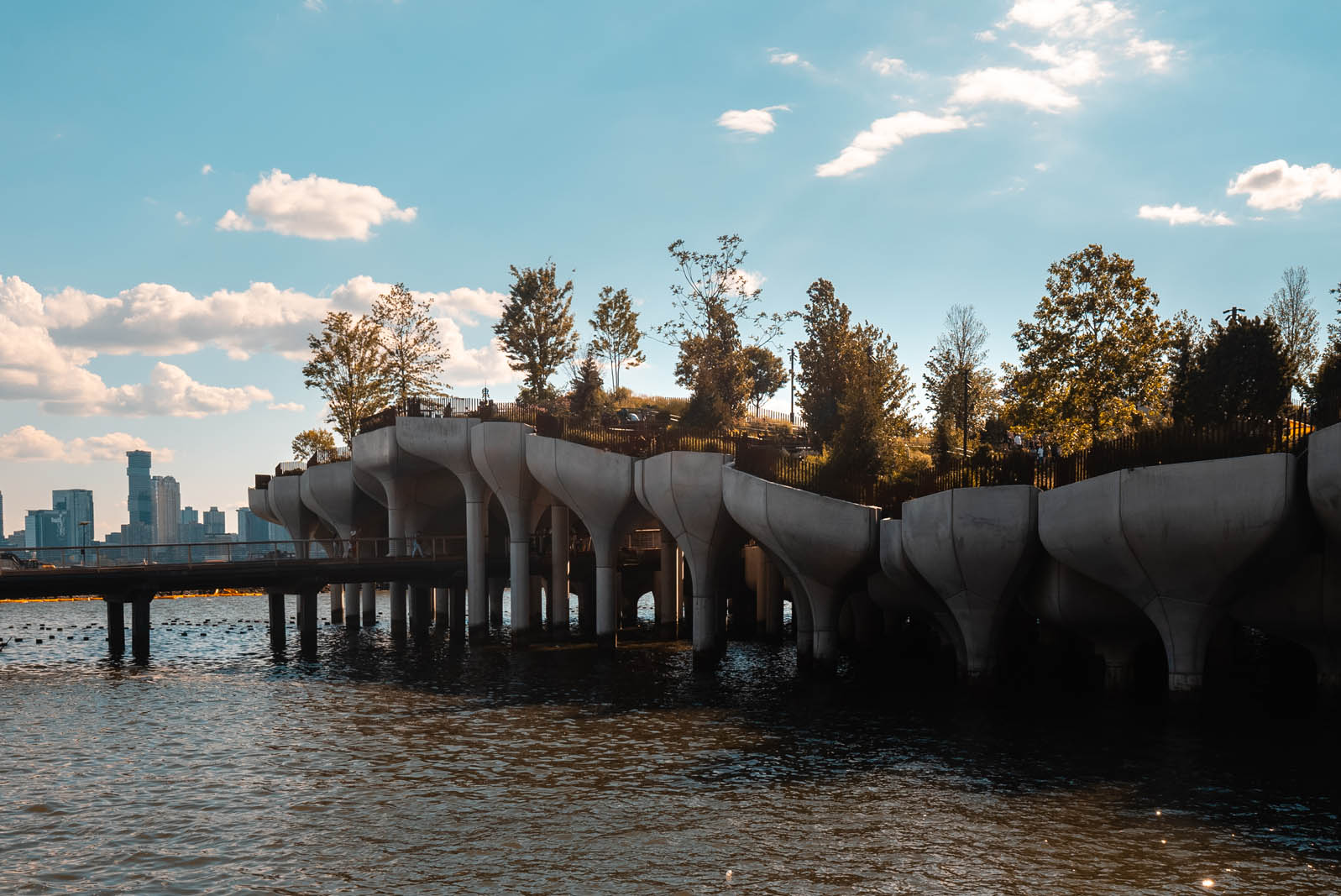 One thing that New York City does not lack are great parks and creative urban greenspaces. One of the newest parks and best free things to do in New York is visit Little Island.
Little Island is newer to NYC but it has quickly become one of the most recommended things to do in NYC for free from both locals and tourists. This park is located on the West side on the Hudson River, near the Chelsea and Meatpacking District neighborhoods, and is the perfect thing to do when you're looking for free things to do in NYC.
Not only is the park beautiful to look at (and incredibly photogenic from all sides), it is also a great place to spend the afternoon sunbathing, reading, or listening to one of their several free concerts offered throughout the week!
They do have food and drink available if you get hungry but make sure you spend some time walking around all the pathways and exploring all the different views of Manhattan.
11. Free Tour of Brooklyn Brewery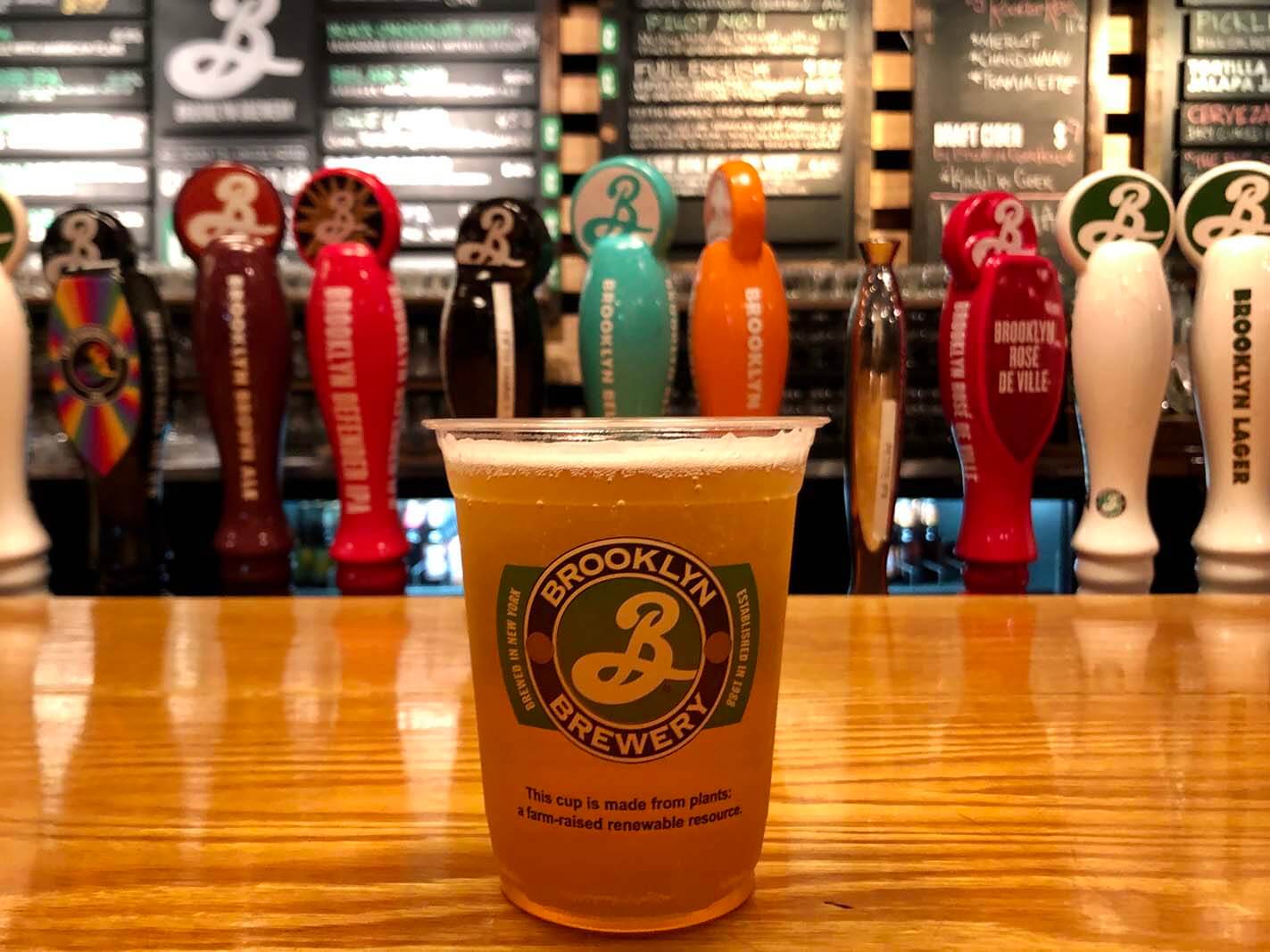 This guide wouldn't be complete without mentioning some of the best things to do in NYC for free that involve beer! The Brooklyn Brewery in Williamsburg invites visitors on one of their free brewery tours!
The free tours are offered on Saturdays from 1 – 5 PM, every hour on the hour.
After you get your tour, make sure you hang out and grab a pint or a flight at one of their long wooden tables where you can play games with friends or just sit and chat.
12. Bushwick Collective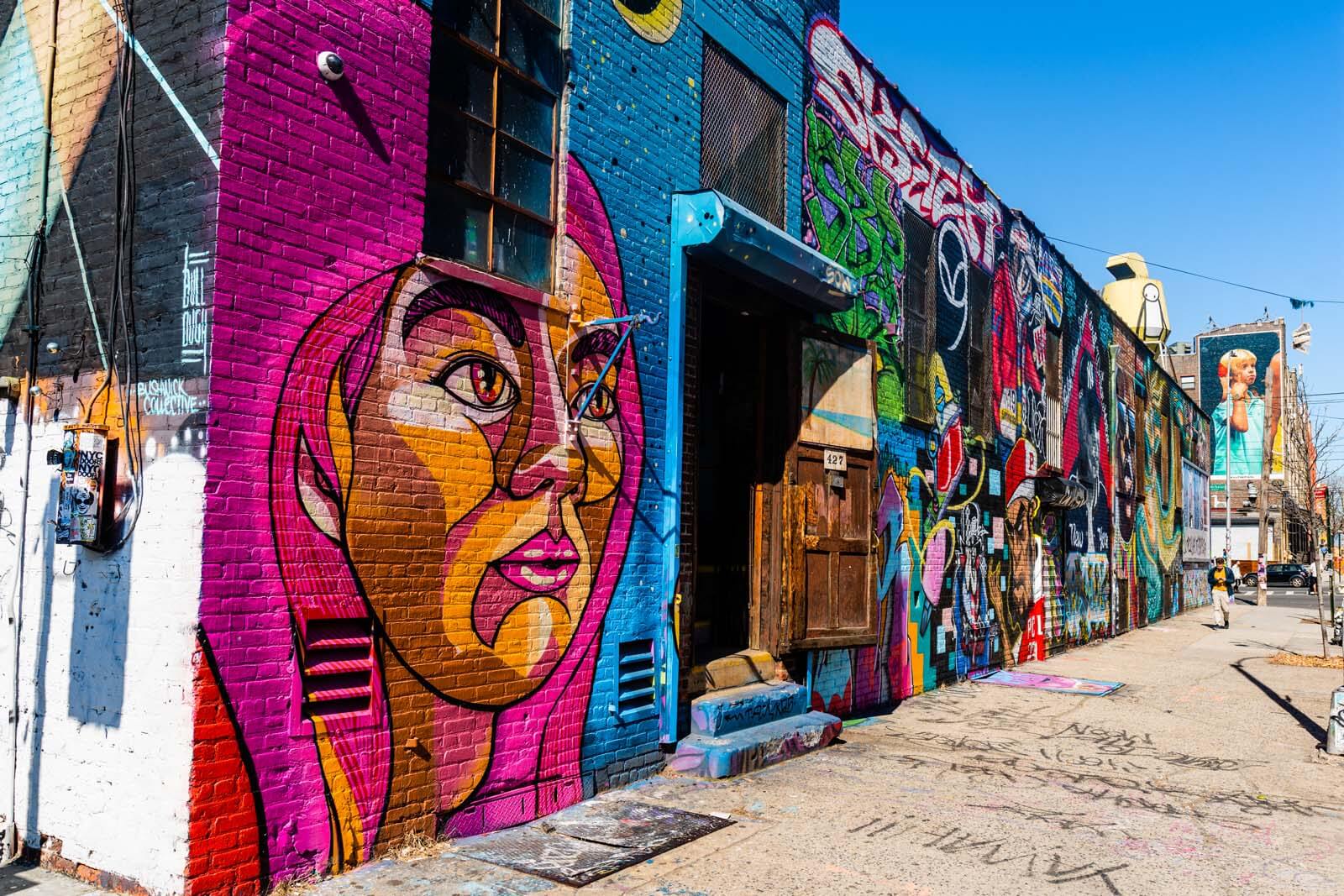 If you're looking for some less traditional art (outside of the Chelsea galleries mentioned above), make sure you head to the Brooklyn neighborhood of Bushwick to check out the Bushwick Collective and all of the other amazing street art that Bushwick has to offer!
This entire neighborhood has covered just about every wall, nook and cranny with murals and street art making it one of the coolest open-air art galleries.
The Bushwick Collective is on display year-round since it was originally started in 2011 but each summer, they do a Bushwick Collective Block Party, where new artists are invited to come in and replace some of the existing murals with new ones. If you happen to visit during the Block Party (typically in June) they also have live music, drinks, and a massive merchant market in the streets, selling everything from jewelry to clothing to unique pieces of art.
If you don't happen to be in town when the Block Party takes place, don't let this deter you from visiting the Bushwick Collective and wandering the streets of Bushwick to check out some of the best art murals in New York! Not to mention, it is one of the best free places to go in NYC.
13. New York Public Library
If you've seen any New York-based movies, you've definitely seen or heard of the New York Public Library Main Branch, or the NYPL, in Midtown at Bryant Park.
If you've seen Sex and the City, you've most definitely seen this beautifully designed building and while the ending for Carrie and Big during that moment might not as be as we hoped and wanted, this shouldn't take away from the magic that is the main branch of the New York Public Library.
Or the cult-classic Ghostbusters has several scenes shot here including the two iconic lion statues, Patience and Fortitude.
Like all libraries, it is completely free to visit. Unlike other libraries, it is one of the most beautiful things to do in NYC for free. Yes, make sure you get your photo of the two lions outside but please continue inside for all the true treasures the library has to offer.
Start with the Main Hall, formally known as Astor Hall, and the grand staircase when you enter. This is definitely what all the Sex and the City fans will recognize.
From there, head to the Rose Reading Room, the largest room in the library with dark wood, hand-painted ceilings, and endless rows of books. This is the most stunning room in my opinion and you can view it by joining a free guided tour with the NYPL staff.
From there, check out the Treasures exhibit section, which has the original stuffed animals that inspired the timeless characters from Winnie-the-Pooh. The stuffed Pooh bear is accompanied by Eeyore, Piglet, Kanga, and Tigger, which all belonged to the real-life child Christopher Robin along with other interesting historic artifacts.
Other main points of interest inside the NYPL include the Rare Book Division, the Public Catalog Room, and the McGraw Rotunda, each one uniquely beautiful and definitely worth checking out! You do have to have a library card to check anything out from the library but all the viewing is completely free and definitely one of the best free things to do in NYC.
And if you're a SATC fan looking for more fun things to do in NYC for free, hit up all the And Just Like That filming locations too!
14. Bryant Park
I'm sure you've noticed a theme here and that theme is how great parks are in NYC. Bryant Park is no exception to this rule and is great in every season from their summer movies and concerts in the park to the European-inspired holiday market and ice-skating rink in the winter. Bryant Park truly is one of the best free places to go in NYC, plus it's next to the New York Public Library so you can knock out two free things to do in NYC at once!
If you're looking for something to eat (sorry no food is free in NYC) then check out the Bryant Park Grill, one of the coolest restaurants in the city. If it's nice outside, ask for an outdoor table.
The park is surrounded by beautiful skyscrapers, an ample selection of places to sit including tables and chairs tucked away along the wooded paths, a grassy lawn to sunbathe or picnic, and they even have an area where you can borrow a free book or magazine if you want to have something to read while you relax here.
It's especially magic around Christmas time in New York too! Plus the ice skating rink here is free in the winter if you have your own skates!
15. 9/11 Memorial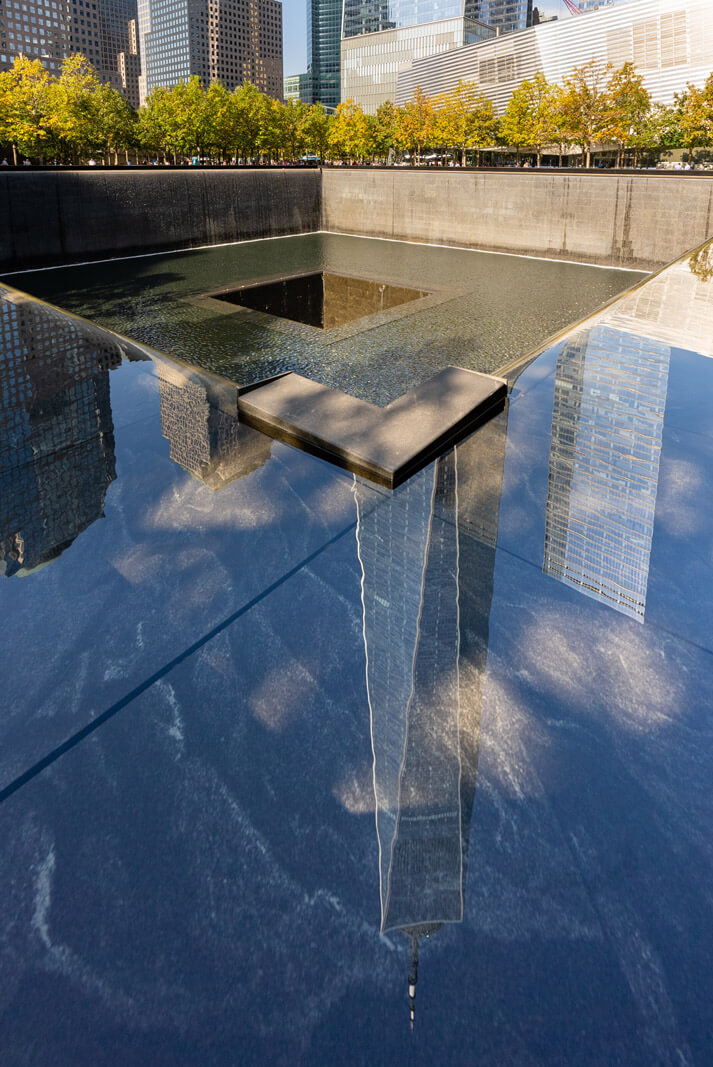 One of the most necessary cultural experiences in the city has to be a visit to the 9/11 Memorial. Two memorial fountains are placed in Lower Manhattan to honor the victims of 9/11. It is a very somber experience and a great place to pay respects to the lives lost. While there is a museum you can also visit, the 9/11 Memorial is a completely a completely free experience.
No tickets are needed and it is an open space available to anyone. It is open 24 hours.
16. Grand Central Terminal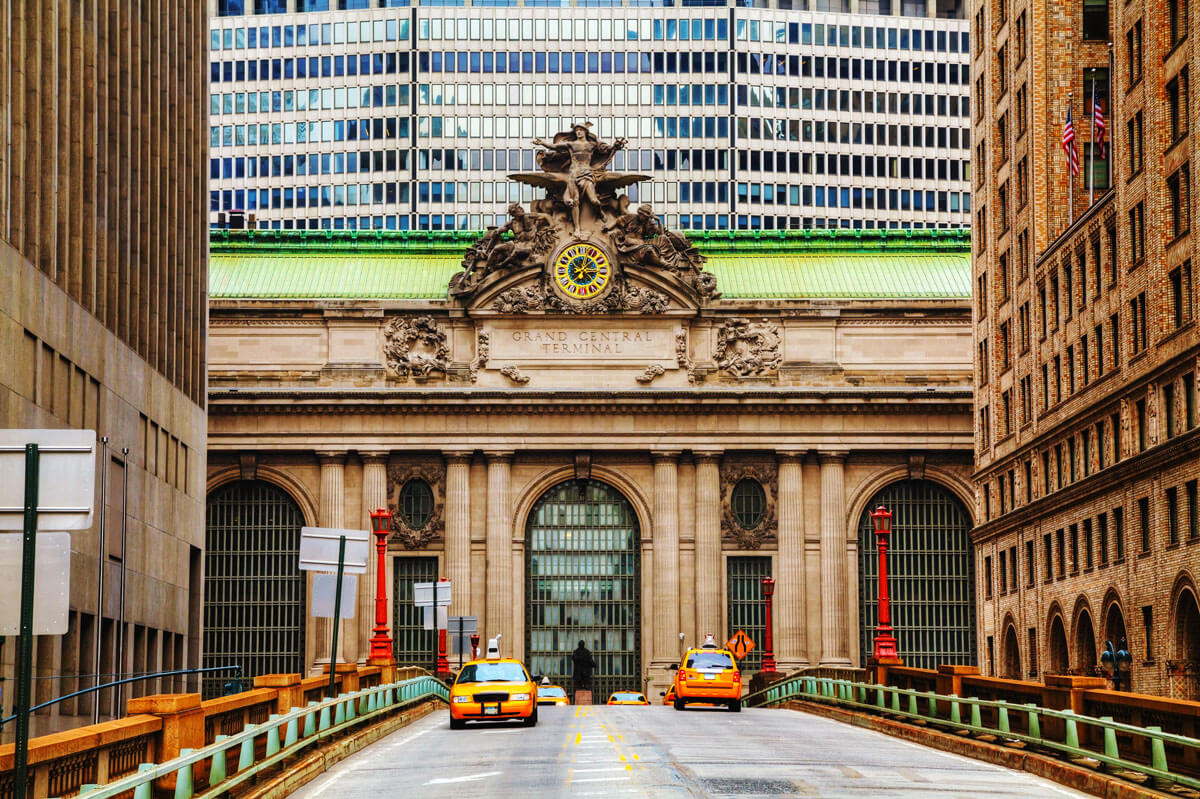 Another one of the best free things to do in NYC is a visit to Grand Central Terminal, one of the most famous Midtown attractions. Used primarily as a destination for commuters to and from the city, Grand Central Terminal is also one of the best free places to go in NYC that also happens to be one of the most beautiful architectural works of art in the city.
The building itself is absolutely gorgeous with one of the most beautiful murals surrounding the walls and ceiling in the main hall.
For even more amazing things to check out in Grand Central Terminal, check out the Whispering Gallery, located near the Oyster Bar restaurant on the lower level. The Whispering Gallery is four arched entryways that stand in a square formation. If you whisper something into the arch and someone else stands with their ear to the arch diagonal from yours about 30 feet away, they'll be able to clearly hear what you said.
Make sure you spend time wandering around Grand Central Terminal, checking out the Whispering Gallery and the amazing food hall downstairs where you can find some great places to eat.
17. Riegelmann Boardwalk at Coney Island
Just like so many other places on this list, Coney Island is another one of the most iconic places to visit and offering more free things to do in NYC. There are many awesome things to do at Coney Island, including the amusement parks – but those are not free!
But a few of the cool things do to in NYC for free include walking the historic Riegelmann Boardwalk that dates back to 1904. Stretching 2.7 miles in length, you get great views of the beach and the Coney Island skyline including the iconic Wonder Wheel!
In the summer, you may also want to enjoy the fun in the sun enjoying a day at one of the best beaches in Brooklyn.
There are shops you can check out, you can grab a hot dog from Nathan's Famous, check out the view from Steeplechase Pier, and of course this is a great place to people watch – especially if you are visiting during the annual Coney Island Mermaid Parade or on the 4th of July when the annual hot dog eating contest is!
On one Friday a month in the summer, you can also catch free fireworks from the boardwalk in Coney Island too! And if you love finding famous filming locations, TONS of things have been filmed here from tv shows like Mr. Robot to cult classic films like The Warriors, be sure to check out all the famous Coney Island filming locations too!
18. Green-Wood Cemetery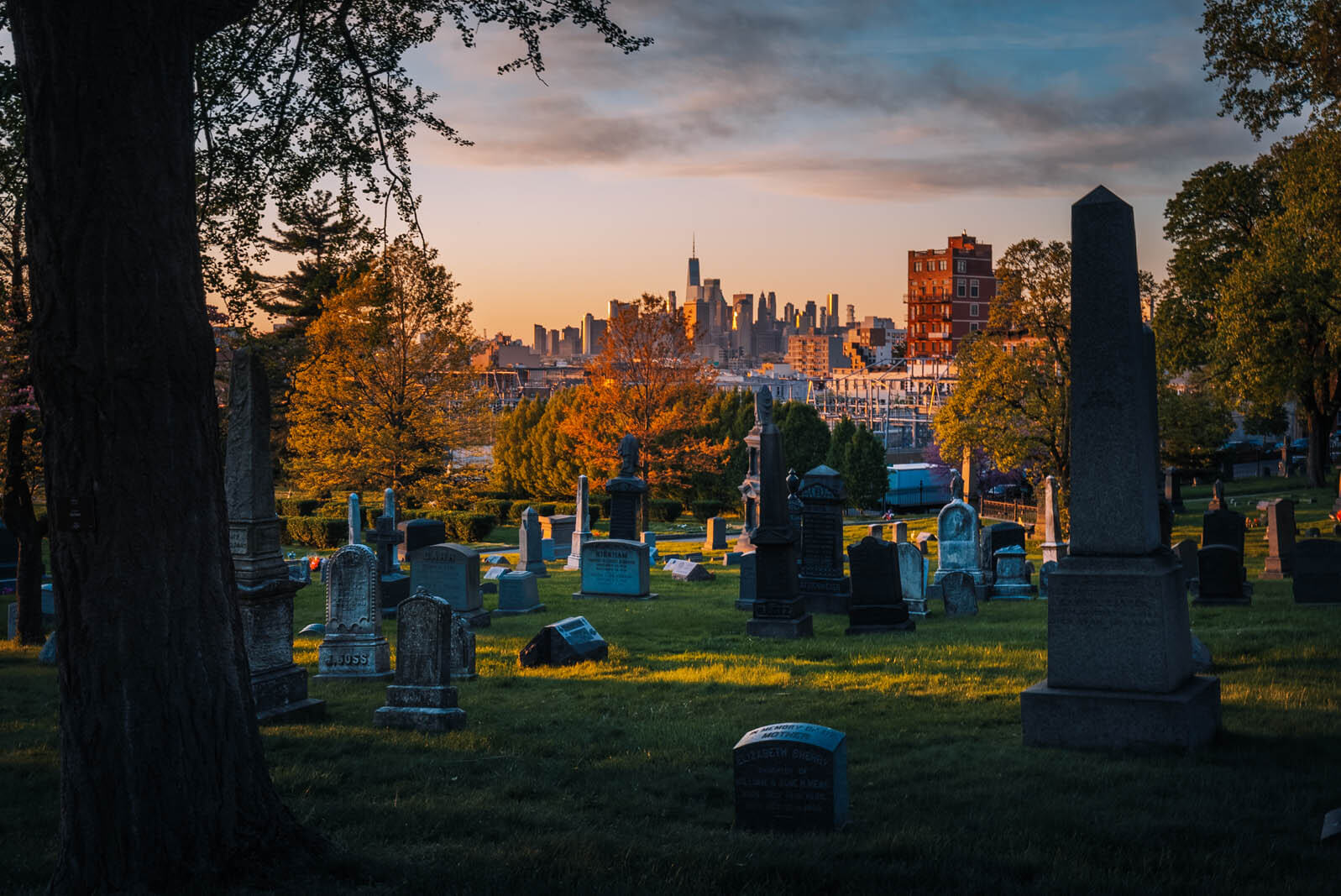 Never did I think I would be writing a recommendation to walk through a cemetery but that was before visiting Green-Wood Cemetery. Located in Sunset Park, Brooklyn this is one of the most hauntingly beautiful places in the city. It is also considered a National Historic Landmark and has over 478 spectacular acres of hills, valleys, glacial ponds, and paths, throughout which exists one of the largest outdoor collections of nineteenth- and twentieth-century statuary and mausoleums.
The best part about this beautiful place is that it is a completely free thing to do in NYC. There are so many unique features located in the Green-Wood Cemetery including the Brownstone Gate, the Minerva Statue (who waves at the Statue of Liberty), the Chapel, the Catacombs and so much more including the famous who are interred here including Jean-Michel Basquiat, Bill the Butcher (you know, from Gangs of New York), and many notable people from New York City's history.
Not to mention, there are some great views here and Sunset Park is home to a few great spots to hit up before or after for food including Industry City.
19. St. Patrick's Cathedral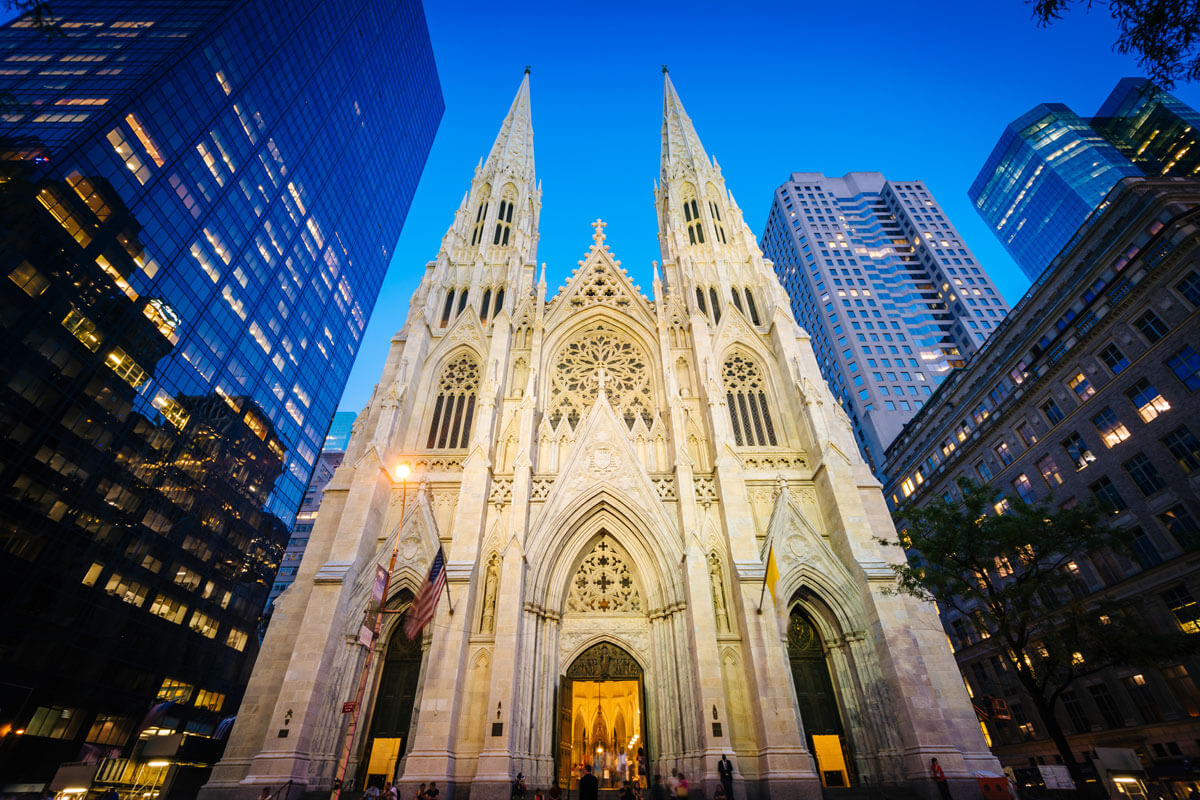 Located in the middle of it all (aka 5th Avenue in Midtown) is one of the most beautiful free places to go in NYC, St. Patrick's Cathedral. St. Patrick's Cathedral is the largest decorated gothic-style Catholic cathedral in the United States. It spans an entire city block; it first opened in 1879.
Even today, it continues to be one of NYC's finest buildings and an amazing free thing to do in NYC.
They have weekly services that you can attend or you can do a self-guided tour at your own pace. You can also explore the main altar, the stained glass windows and the Pieta sculpture which is 3 times the size of Michelangelo's. The Cathedral has 21 altars and 19 bells, each named after a different saint. Babe Ruth, Andy Warhol and Robert F. Kennedy all had memorial masses here.
If you choose not to attend a service, you are welcome to visit the cathedral anytime between 6:30 am and 8:45 pm. Service times happen daily and are posted on their official website.
20. African Burial Ground National Monument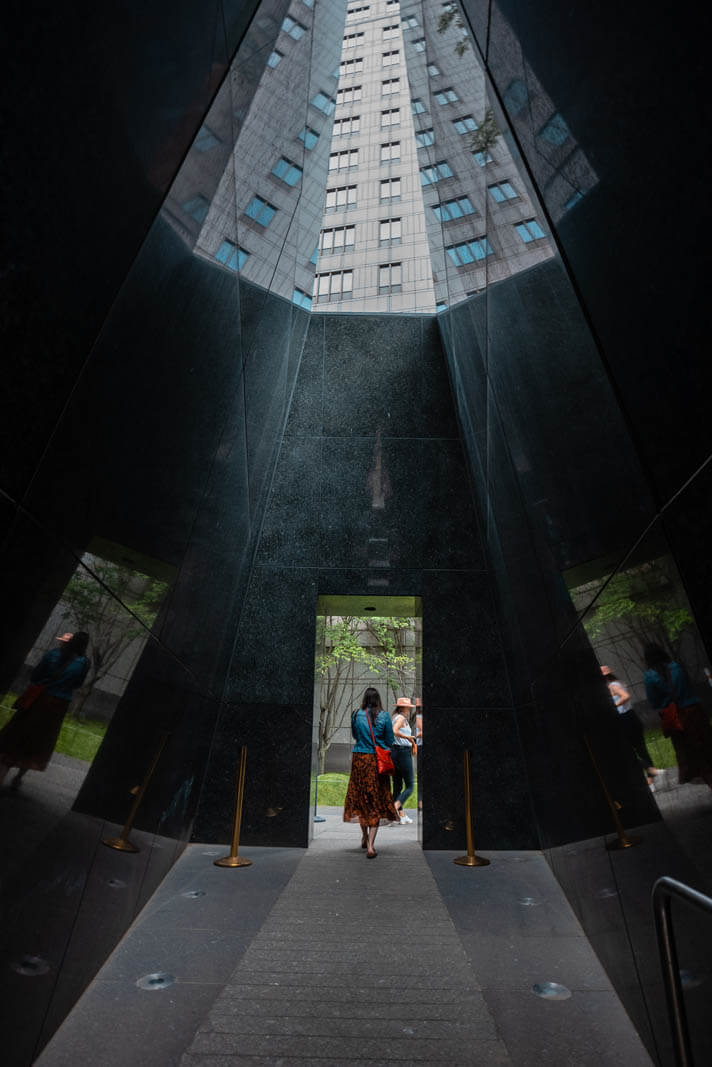 There are several national monuments throughout NYC but one of the most important ones is the African Burial Ground National Monument, a monument that is the oldest and largest known excavated burial ground in North America for both free and enslaved Africans.
Consisting of both an indoor and outdoor monument, this thing to do in NYC for free is definitely something that should not be missed on your visit to New York. If you want a guided tour, you will have to reserve in advance but otherwise, you can check out the outdoor monument for no cost.
The indoor Visitor Center is open Tuesday-Saturday from 10:00 am to 4:00 pm, and the outdoor memorial is open from April to November, Tuesday-Saturday from 10:00 am to 4:00 pm.
21. Take a Scenic Neighborhood Walk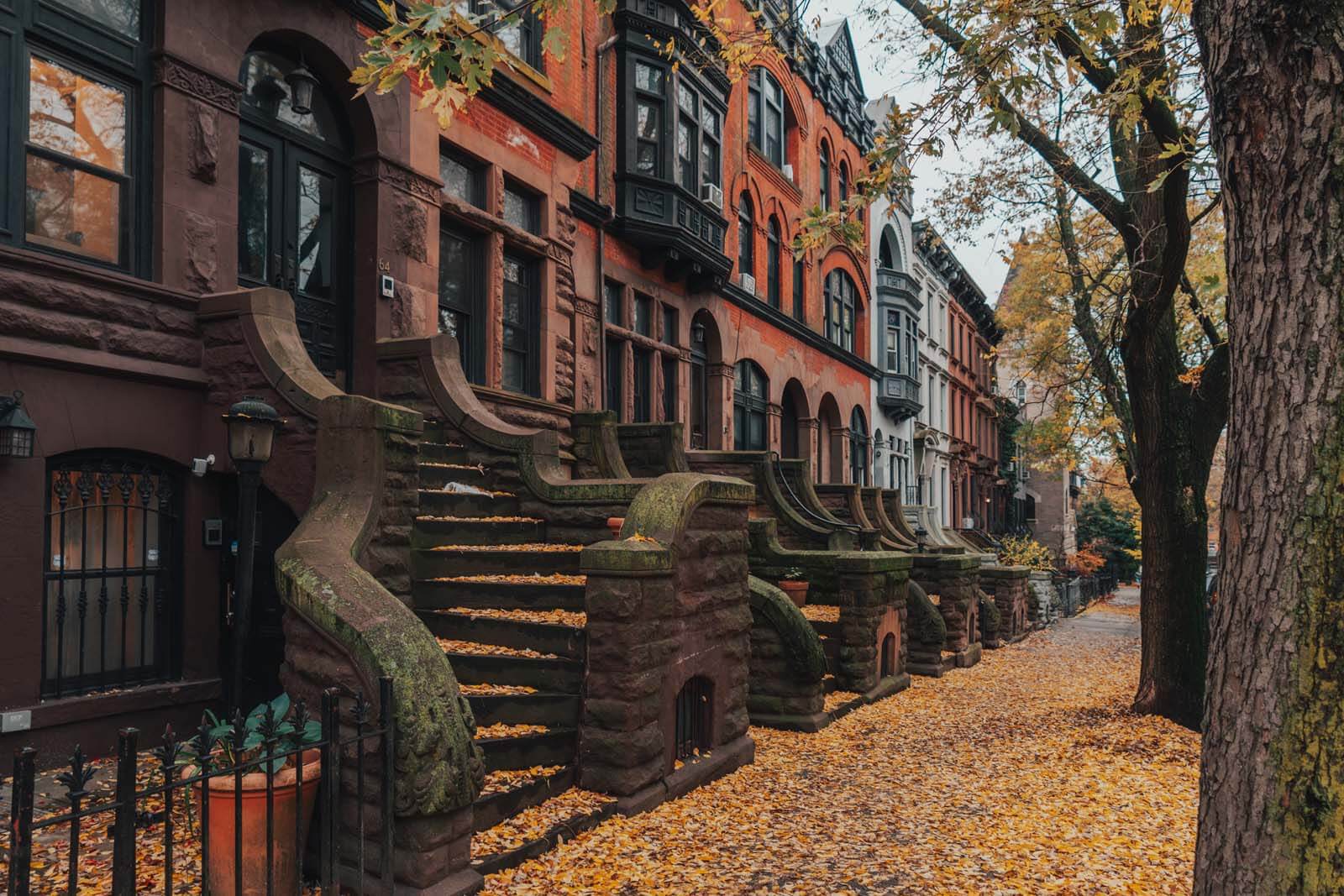 One of my absolute favorite things to do whether I'm a local or visiting a city is to walk through all the different neighborhoods and New York is definitely not lacking in beautiful neighborhoods to be explored. It is also a completely free thing to do in New York, making it even better.
For a walk through Manhattan, two of my favorite neighborhoods are the West Village and NoLita, both close enough together that you could walk through both and through several other neighborhoods all in less than an hour!
The West Village is your classic NYC, complete with all of the best restaurants, beautiful brownstones, the FRIENDS apartment, Grove Court, Stonewall Inn, and Washington Square Park, just to name a few. My advice? Get lost in this neighborhood and wind through the streets with no set plan.
Continue a little further to the east side and you will hit up NoLita, another neighborhood with great facades, delicious places to eat and drink and home to Elizabeth Street Garden, one of my favorite spots in Manhattan. Just like the West Village, this self-guided tour is one of the best free things to do in New York City.
Heading down to my favorite borough, Brooklyn, you will truly find some of the best walking neighborhoods.
To start, I can't fail to mention the brownstone-filled neighborhood of Park Slope. Park Slope is pretty large, so wear comfortable walking shoes for sure. Just like the neighborhoods listed above in Manhattan, Park Slope is filled with amazing architecture from the iconic tree-lined streets full of brownstones, beautiful cathedrals, and a great selection of shops, restaurants, and cafes.
Park Slope also neighbors Prospect Park, so it's easy to visit both of these free things to do in New York at once!
If you want to get out and explore deeper into Brooklyn, one of the best neighborhoods to do that is Victorian Flatbush which is full of incredible mansions. It also feels like a rural, suburban neighborhood (in the best way) which is hard to imagine you're in NYC.
Start your tour on Buckingham Road to admire the Japanese House. From there, wander throughout the neighborhood to admire all the Victorian-style homes. If you're around in October, make sure you check out the infamous Halloween house, a home that truly goes all out for Halloween.
And as mentioned earlier, Brooklyn Heights is also a great neighborhood to check out where you can easily connect to Brooklyn Bridge Park and DUMBO, which is a very popular area to visit with some of the best views in the city. You can check out the gorgeous architecture and homes on the fruit streets (Cranberry, Pineapple, and Orange) and don't miss checking out the views from Brooklyn Heights Promenade.
22. Take a Free Tour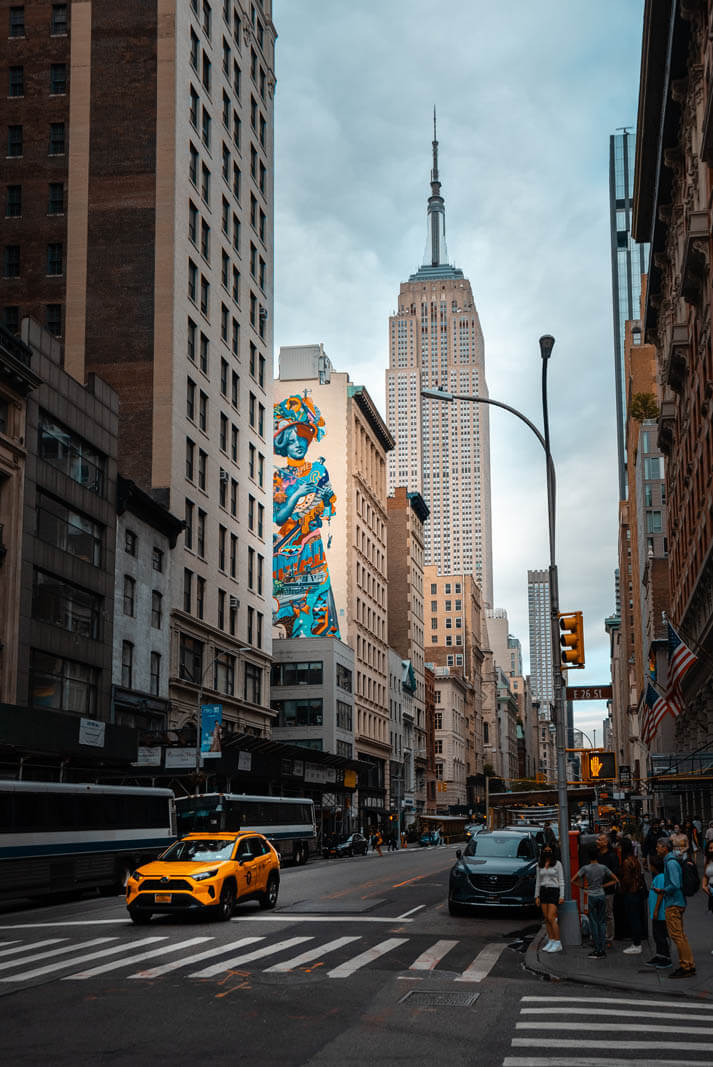 While there are tons of great tour options in Brooklyn and NYC (that cost money – which are well worth it), there are actually some free walking tours you can check out (although bring some cash to tip your guide).
Check out Free Tours by Foot, they have several tour options in Manhattan and even a tour in Brooklyn.
One of the best ones they offer is through historic Harlem, one of New York's best kept secrets. This free thing to do in NYC is offered regularly but you must sign up in advance to attend. Free Tours by Foot also offers amazing free tours through Lower East Side and Brooklyn Heights as well!
Another company that offers free tours in NYC is SANDEMANs New Europe, who offers tours worldwide too! For your first time in NY, I recommend taking the free tour of NY that goes through lower Manhattan's financial district or (FiDi). It highlights all the best free places to go in NYC. They also offer some paid tours that are more in depth and explore specific neighborhoods.
23. Tour the Federal Reserve Bank of New York
One of the lesser-known free activities in NYC to enjoy is touring the Federal Reserve Bank of New York and the Gold Vault! This is definitely a very cool and unique experience.
You'll also learn about all the roles and responsibilities of the Federal Reserve.
Tickets are offered every weekday, excluding bank holidays, and timed tickets can be reserved online. Although something to note is that tickets must be reserved one month in advance, and sometimes the tours are not an option. So be sure to visit their site to make a reservation, cross your fingers and try to plan your visit!
Also, another thing to note, if you do score tickets you will have to go through security and no photos are allowed on this tour!
24. Visit Roosevelt Island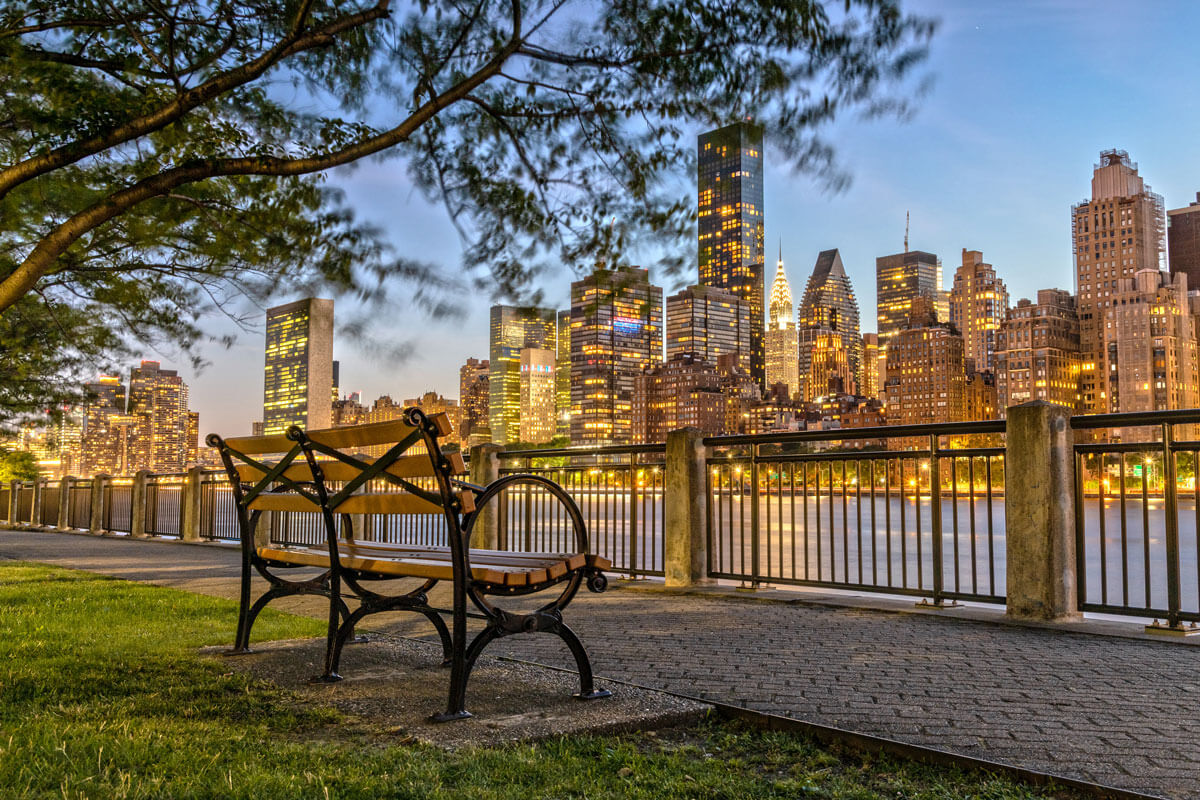 Roosevelt Island is recently becoming a great place to visit but riding over on the tram has always been one of the coolest things to do in NYC. While the tram ride is technically the cost of the subway at $2.90 each way, if you have an unlimited metro card, you will be able to ride for free!
The views from the tram are amazing, including views over midtown and the river from above. The ride is short so make sure you try to get on early and get a spot by the window and have your camera ready!
Roosevelt Island is a great place to walk around and if you're visiting NYC in April or live here, make sure you head over to check out the cherry blossoms along the river. They also have nice parks and is a great place to bring a blanket and have a picnic.
25. Midnight Moment at Times Square
One of the best things to do in NYC at night (if you're a night owl) and the best ways to see Times Square is to come close to midnight when you can witness a real treat, the Midnight Moment.
Midnight Moment is a series of digital art displays synchronized to take over all the Times Square screens every night from 11:57 to midnight. It's three mesmerizing minutes of digital art! Better yet, it changes frequently so you have the opportunity to see different artists' work each time.
And better yet, it's a 100% free thing to do in New York City!!
26. Head to the Beach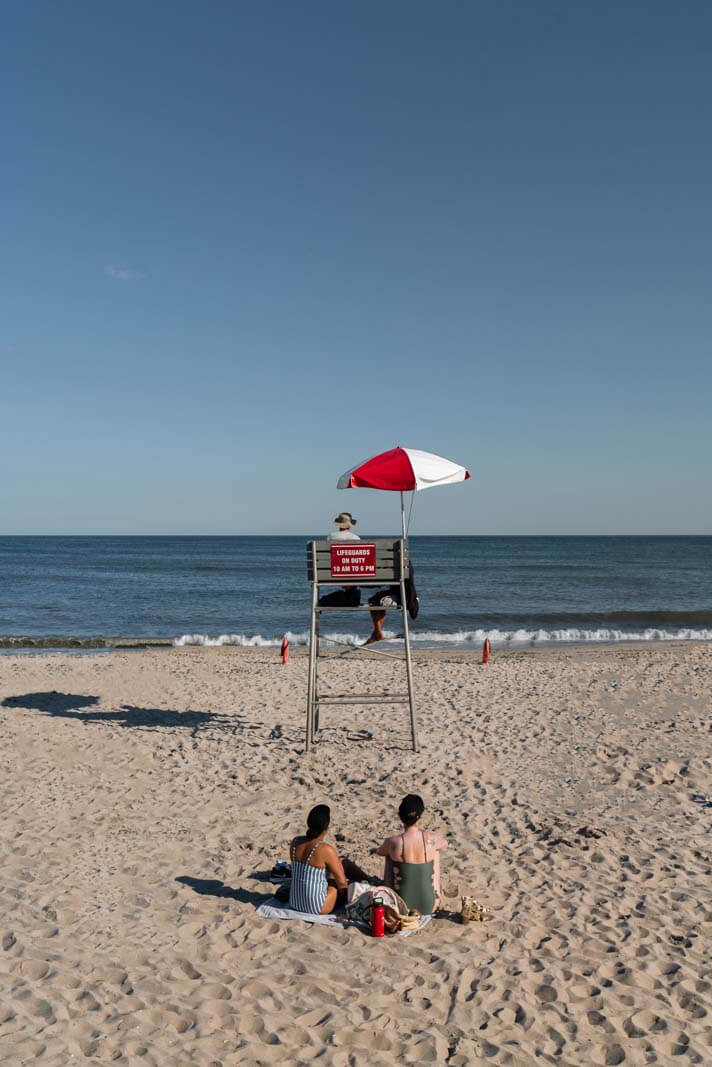 If you're visiting NYC during the summer, definitely make sure to spend some time at the beach! Surprisingly, there are some cool beaches in NYC including Coney Island and Rockaway Beach, aka the Rockaways, which both can be accessed by the subway and the Rockaways can easily be accessed by a scenic ferry ride on the NYC ferry!
What's awesome about Rockaway Beach is that there are a lot of great food options (Rockaway Tacos is the best) and the beaches are slightly prettier.
Coney Island is a classic since you have all the boardwalk activities you can enjoy too and it's a prime people-watching spot!
27. Check out the Creative Window Displays on Fifth Avenue
Another one of my favorite free things to do in NYC is to wander along Fifth Avenue and check out the incredible window displays. Fifth Avenue is beautiful any time of year but it shines during the holidays with the light show at Saks Fifth Avenue to the infamous Rockefeller Christmas Tree to the lights draped along Fifth Avenue but don't let that deter you from checking out during the other seasons as well!
Make sure you check out Bergdorf Goodman, one of the most iconic department stores who goes all out for their merchandising and window displays.
Fifth Avenue also has all the classic designers including Cartier, Harry Winston, Tiffany's, and Louis Vuitton as well and the best part about window browsing is you can look at all these beautiful things without having to buy them.
Also, while the most impressive window displays are around the holidays, there are elaborate designs and window displays all throughout many of the flagship stores in the city with a high concentration of them here on Fifth Avenue! So it can be a fun free activity to do in NYC no matter when you're visiting.
28. Wander Around Eataly
Want to take a quick day trip to Italy while staying in NYC? Head over to Eataly (and check out the Flatiron Building and Madison Square Park while you're there).
Eataly is an Italian mecca with all the best Italian ingredients for pasta and pizza night. You can also do a lap to see if anyone is offering free samples during your visit too.
Eataly has two locations; one by the Flatiron and one by the World Trade Center. I personally recommend the Flatiron District location though since the Flatiron Building and Madison Square Park are both here too!
29. Museum at FIT
The Fashion Institute of Technology, aka FIT, is one of the best fashion schools and institutions in the country. Famous designers like Calvin Klein and Michael Kors are alumni here!
What's even better, if you're a fan of fashion you can visit the Museum at FIT and it's a completely free thing to do in NYC! The museum showcases some selections from the school's permanent collection but also has rotating temporary exhibits that focus on individual designers.
It's a small exhibit so you can get through pretty quickly. This FIT museum is also great to pair on with your trip to Chelsea Market or wandering around the High Line.
They are closed Mondays and Tuesdays though!
30. Catch a Live Taping
One of the best free things to do in NYC is to try to join a live taping of one of your favorite shows filmed here! Ever wondered how to be a part of the audience at one of your favorite late night talk shows? There are so many great ones that are filmed at night in NYC at NBC Studios at the famous Rockefeller Plaza from SNL, Jimmy Fallon, Seth Meyers, and more. You can also check out the filming of the Late Show with Stephen Colbert, located just a few blocks away on Broadway!
Show up and prepare to laugh! The best part is that you don't know which celebrity guest is going to make an appearance, which is all a part of the fun!
Getting tickets to these tapings are different for each show and information can be found on the NBC website that is linked above. For some of the more popular shows like Late Night with Jimmy Fallon, it is recommended that you are on the site the minute tickets are released. They also have standby tickets if you want to attempt to get in that way!
Because Stephen Colbert is filmed through a different channel, the process to get tickets to this filming are different. Tickets are released a month out and, again, it is recommended that you attempt to get tickets as soon as they are released. There are different levels of tickets but as long as you show up early and join the queue, you're chance
FREE DAYS in NYC
There are some things to do in NYC for free on specific days only! That's where this section comes in handy! Here are a few of our favorite free things to do in NYC to plan around the FREE days!
Governors Island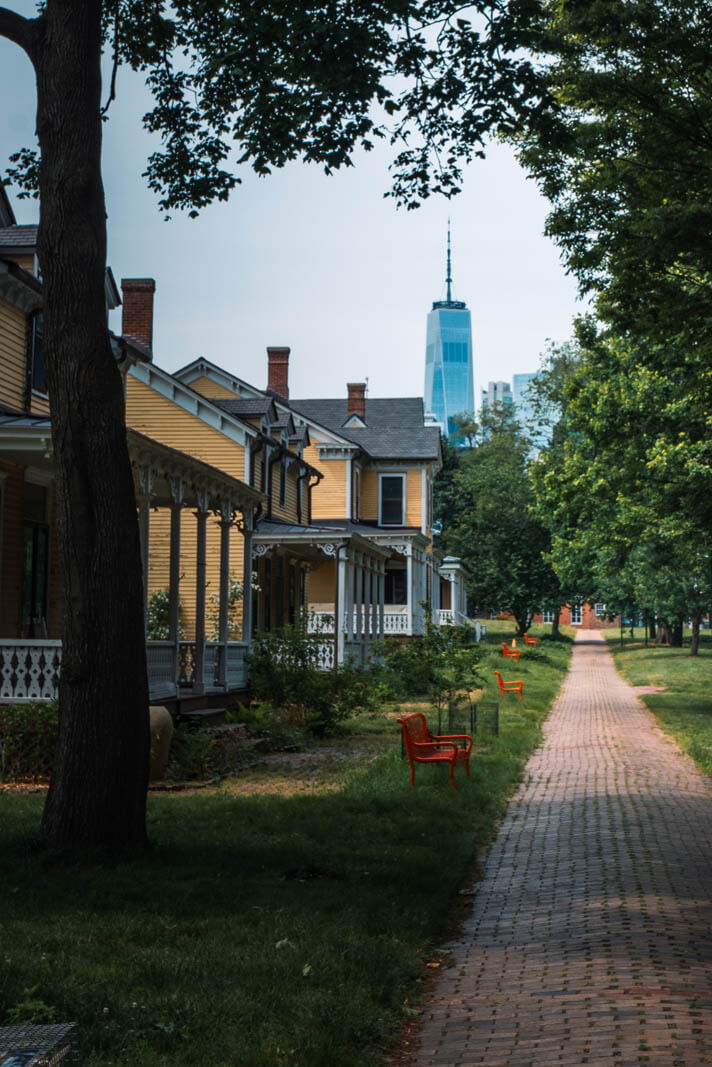 Without a doubt, one of the best free places to visit in NYC is Governors Island. Located in the New York Harbor at a former military base, this island has been transformed into one of the coolest places to spend a morning, afternoon, or entire day!
Normally, it costs you a single ferry ride – then once you get there, there are tons of cool things to do on Governors Island from exploring the former military base buildings (which I must admit are way cooler than they sound), check out art exhibits, have fun down the slides at Slide Hill, picnic, check out the grazing sheep, and of course check out all the stunning skyline and Statue of Liberty views from here.
But if you truly want to do everything FREE, there are free days to visit Governors Island! Before noon on the weekends, the ferry ride to Governors Island is free!
You can take the ferry from the Battery Maritime Building (in Lower Manhattan), Brooklyn Bridge Park (at Pier 6), or the Red Hook/Atlantic Basin (in Red Hook, Brooklyn). If you're going on a weekday when it's not free – keep in mind you have to go from the Lower Manhattan ferry terminal! The Brooklyn ferry terminals to Governors Island only operate on the weekends.
Free Days at NYC Museums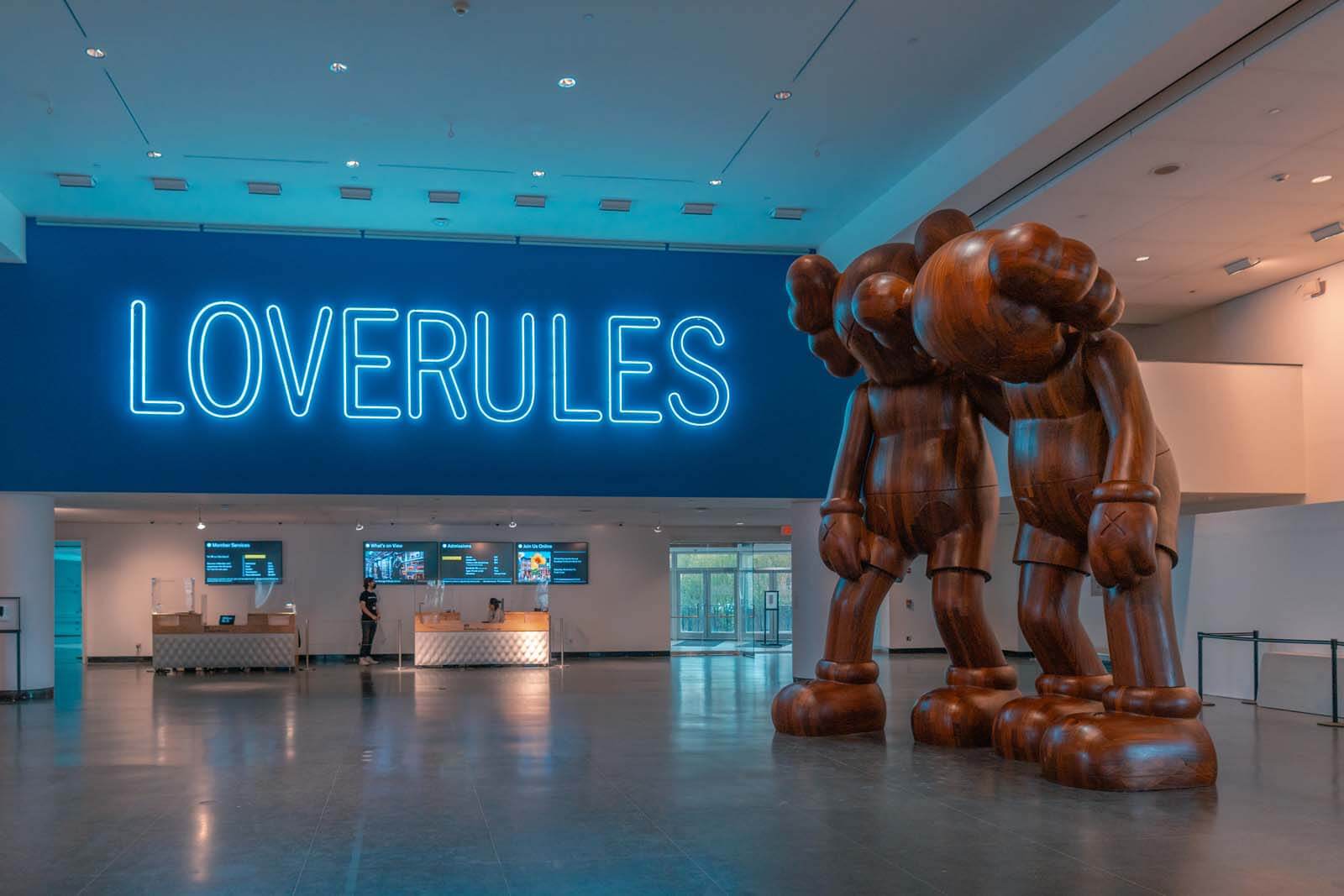 One thing you can't miss in NYC are the museums. Some of the world's greatest museums (and the country's) are located here in New York. While some NYC museums are free for local residents and not to visitors – there are free museum nights for everyone, you just need to know about it and how to get those tickets so you can enjoy one of the best things to do in NYC for FREE like a local!
And for museums that have admission, you can always look up the NYC attraction passes to get steep discounts by bundling attractions during your visit including CityPass and New York Pass.
The MET offers free admission to most NYC college students with a student ID and offers complimentary tickets daily for children under 12. They also offer free tickets from mid-May to Labor Day for the military and while there is no "free" day for everyone, they do offer a pay-as-you-wish option on tickets obtained in person (this is only for New York residents though).
The MoMA offers free admission the first Friday evening of every month from 4 PM to 8 PM for NYC residents, but you have to make a reservation. MoMA also offers complimentary admission to most NYC college students with a valid student ID.
The Brooklyn Museum is another amazing museum to visit and can definitely be one of the best free things to do in NYC if you're visiting during First Saturdays! With a reservation, on the first Saturday of February, March, April, May, June, August, October, and November, the museum offers free admission from 5 PM to 11 PM along with special events!
Another lesser-known but equally beautiful museum that offers free admission every Friday from 5 PM to 7 PM is the JP Morgan Library Museum. This incredible museum and library include collections of rare books and manuscripts as well as one of the original (of only 23 existing) copies of the Declaration of Independence to name a few!
Reservations are required, like many of the free museum days, and can be made a week in advance before your visit on their website.
Bronx Zoo
The Bronx Zoo is definitely the biggest and best zoo in the city. With over 700 species of animals from all over the world featuring everything from small critters to big cats and gorillas. Visiting the Bronx Zoo is a whole day affair, which is great because one of the best free things to do in NYC is enjoy the 'free Wednesdays' at the Bronx Zoo!
The zoo offers a limited amount of free tickets every Wednesday. You'll have to secure your tickets in advance through their Wednesday Ticket Store, which releases that week's tickets on Mondays at 5 PM. You will not be able to get in free without securing this reservation, so be sure to plan ahead and reserve your tickets accordingly which they allow up to 4 tickets to be reserved per party.
Brooklyn Botanic Garden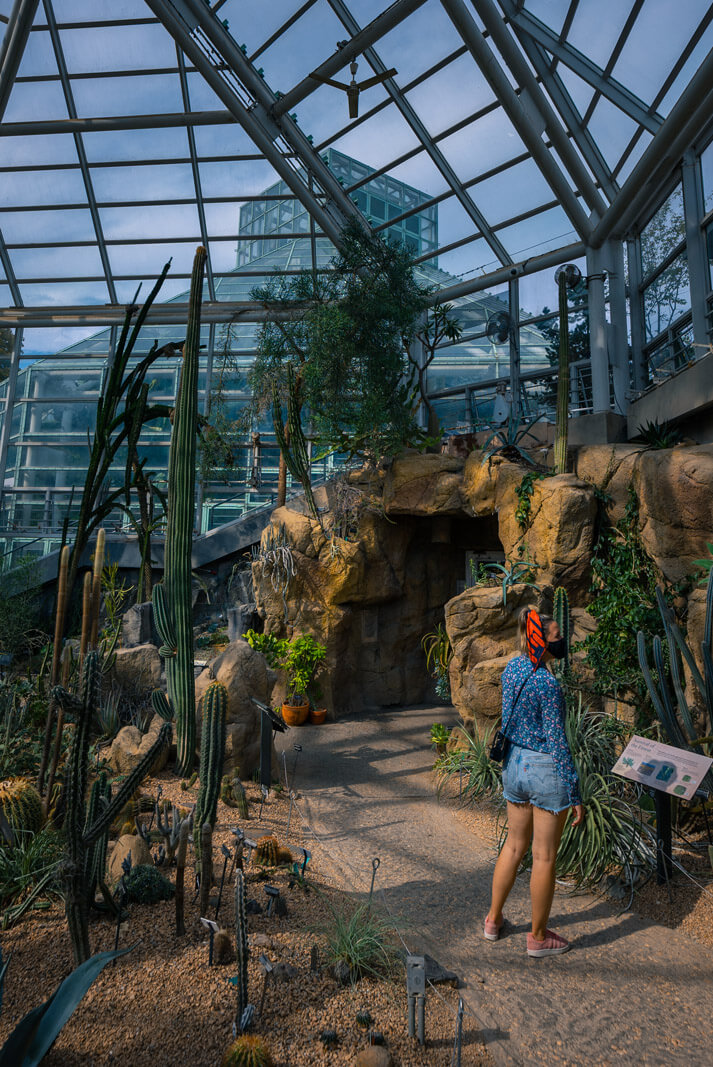 Without a doubt, one of the most beautiful places in the city to visit is the Brooklyn Botanic Garden located on Eastern Parkway tucked between the Brooklyn Museum and Prospect Park. Each season is truly unique here and they offer several seasonal events, but if you're looking for another great free activity in NYC be sure to check out their Winter Weekdays program which allows visitors to 'pay as you wish' admission during the months of December through February!
And just because it's winter doesn't mean you won't have a great visit! They do have special winter blooms and visiting inside the Conservatory is like using a portal to enter a tropical climate or desert climate! Also, with a fresh dusting of snow you'll be in a winter wonderland!
Seasonal FREE Events in NYC
I will let you in on a little secret, there are always free events in NYC happening. ALWAYS. Even as a local, you don't always know where to look but I assure you they are happening. There are a few reliable seasonal free events in NYC that are worth mentioning in this guide though, just know that this is just the tip of the iceberg though!
Also, keep an eye out for free 'pop-up' events. Often there will be themed one day events that often have 'freebies' for those who attend (or will wait in a lengthy line to attend). With tons of Flagship stores, brands who want to reach NYC folks, to the release of movies, TV shows, etc., there is always something happening.
To find out about these you can sign up for newsletters like The Skint visit sites like Eventbrite.
The Holidays in NYC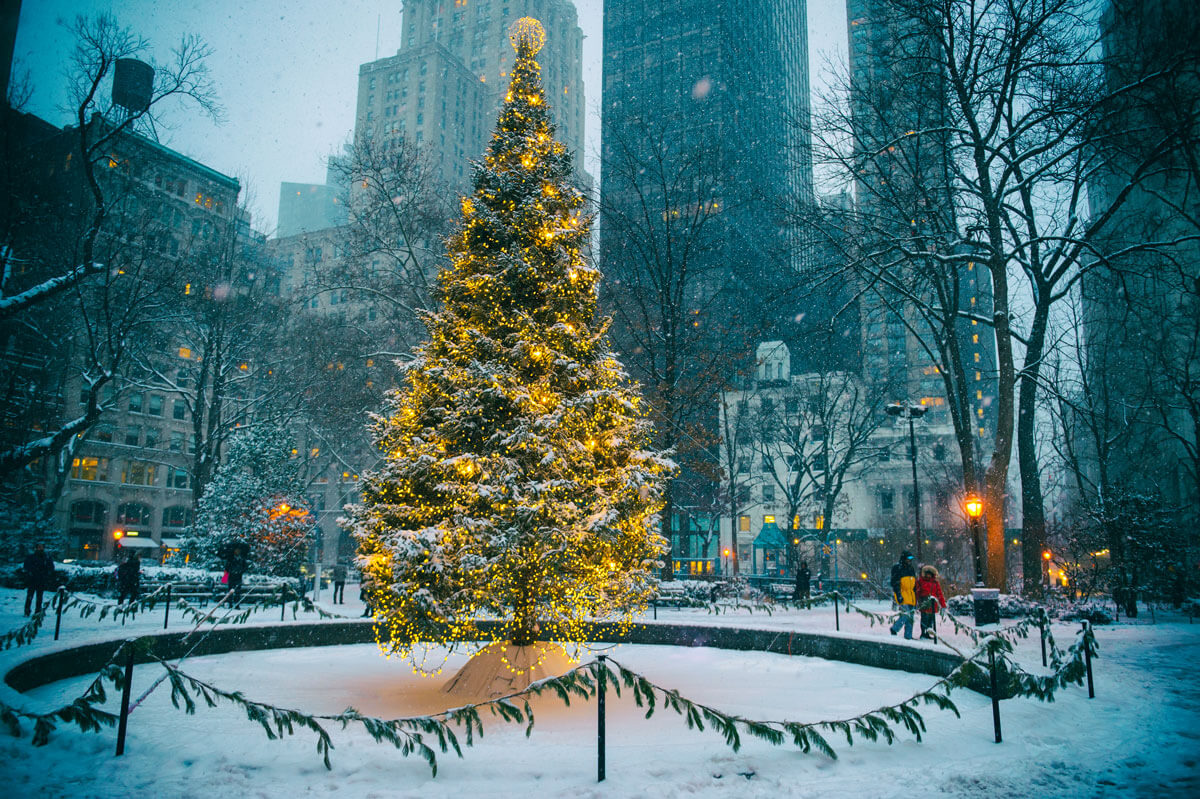 Visiting NYC during the holidays is one of the best times to come here, it's seriously magical and there are all kinds of famous free events and things to do from being a spectator at the Macy's Thanksgiving Day Parade, attend the various Christmas tree lighting ceremonies, and of course, celebrating New Year's in NYC by watching the ball drop at Times Square.
There's also the holiday markets at Bryant Park, Columbus Circle, and Union Square! Not to mention all the department store window displays at Christmas!
Be sure to check out our guide to Christmas in NYC for more ideas for things to do in NYC for free during the holidays!
Dyker Heights Christmas Lights
Another one of the best free events in NYC during the holidays are going to the neighborhood of Dyker Heights for their Christmas Lights. This is hands down one of the best places to go for free in NYC, the entire neighborhood, which are huge mansions, gets decked out for the holidays with Christmas lights that look like they could rival Clark Griswold in National Lampoon's Christmas Vacation!
You can just walk the blocks of the neighborhood ooohing and ahhing at the holiday displays!
Summer Streets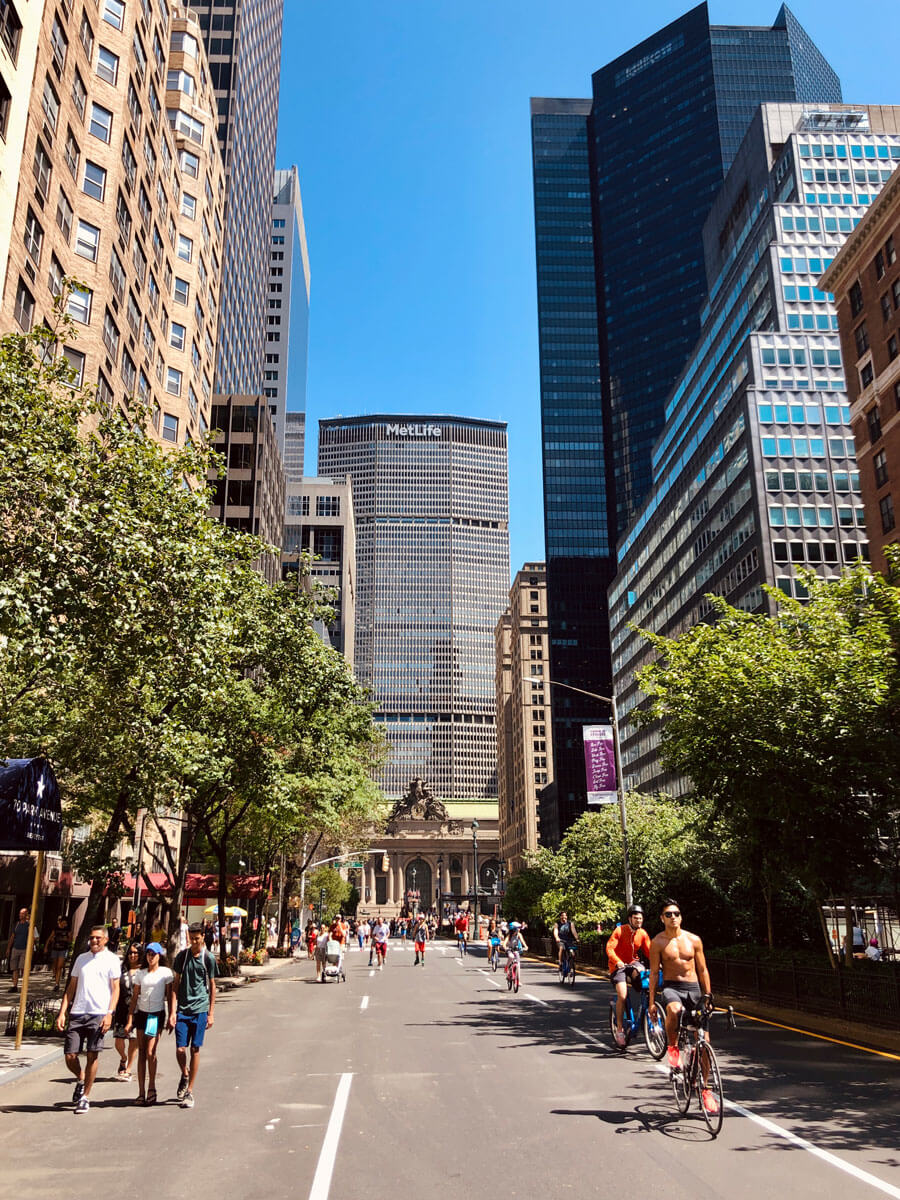 Calling all pedestrians, cyclists, and strollers! These are the days! One of the best free events in NYC during the month of August is Summer Streets! Taking place on Saturdays in August from 7 AM to 1 PM in Manhattan between Brooklyn Bridge and Central Park, the streets are closed off to cars for the PEOPLE!
While most of the route is just being able to walk in the streets (it's especially awesome by Grand Central Terminal), you can find pop-up events, local artists selling goods, performances, and public art installations all along the route.
Summerstage & Lincoln Center's Summer in the City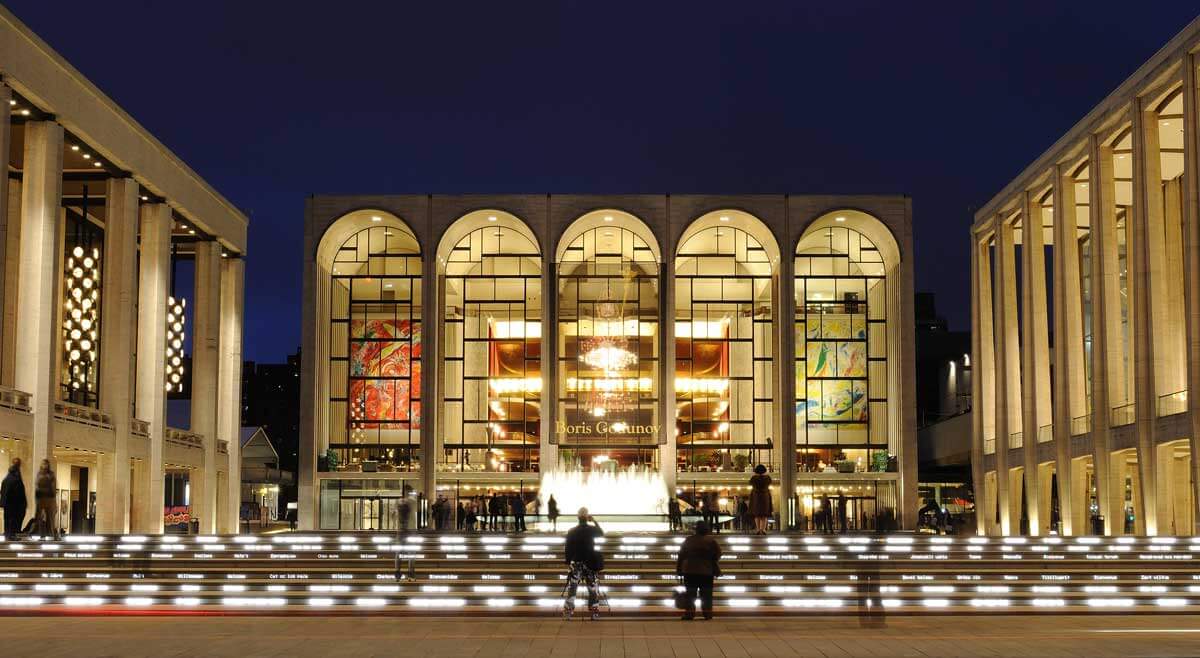 More of the best free events in NYC during the summer include Summerstage and Lincoln Center's Summer in the City. Both events offer multiple free performances for anyone who wants to join in on the fun!
Summerstage is a free concert and entertainment series across all 5 boroughs of the city! So no matter where you're staying, there's probably a free event near you. It's located in over a dozen parks around the city so there is guaranteed to be one near you, for a complete lineup and which park is having which performer read the full schedule here.
Summer for the City at the Lincoln Center programming is another awesome way to see free events in NYC that runs from mid-May to mid-August with a full lineup of artists from around the world. Featuring musicians, dance performances, spoken word events, participation events, films, workshops, and more with hundreds of events featuring over a thousand artists! You can get a full lineup and calendar of events here.
Feast of San Gennaro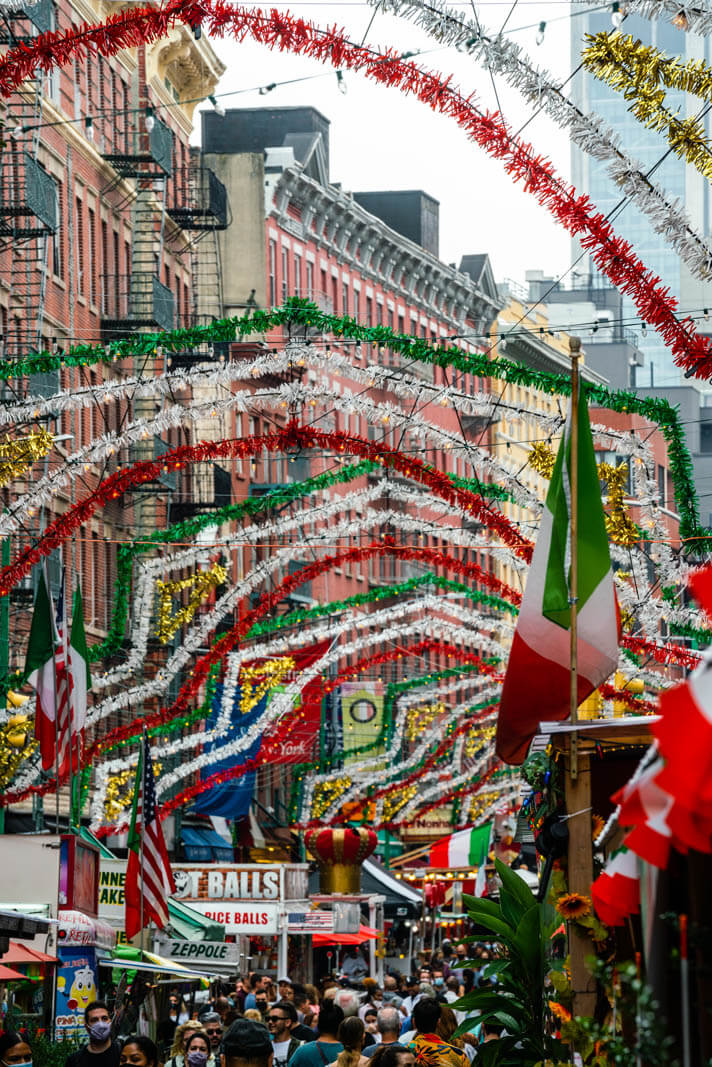 If you're visiting NYC in September, check out everyone's favorite free event in NYC with the Feast of San Gennaro, a huge annual Italian-American festival that takes place in Little Italy.
This annual feast has many eating contests from cannoli to zeppole, pizza, and meatballs, floats, and live performances. You'll want to come hungry!
The festival honors the patron Saint of Naples and is the most famous and celebrated Italian-American festival in the city held annually since its first year in 1926.
Shakespeare in the Park
One of the best free things to do in New York in the summer and free events in NYC is Shakespeare in the Park which takes place in none other than Central Park at the open-air Delacorte Theater. This theatrical program offers free productions of Shakespearean plays produced by the Public Theater.
And yes, it is completely free and tickets are available the day of the performance running from June through September. Although, getting tickets will require some planning – this guide by TimeOut tells you all the different ways you can get tickets!
---
BEST Free Things to do in NYC (Post Summary)
Staten Island Ferry
Walk the Brooklyn Bridge
Central Park
Prospect Park
Washington Square Park
Brooklyn Bridge Park
Gallery Hop in Chelsea
The High Line
Peek at the Vessel
Little Island
Tour Brooklyn Brewery
Bushwick Collective
New York Public Library
Bryant Park
9/11 Memorial
Grand Central Terminal
Riegelmann Boardwalk at Coney Island
Green-Wood Cemetery
St. Patrick's Cathedral
African Burial Ground National Monument
Take a Scenic Neighborhood Walk
Take a Free Tour
Tour the Federal Reserve Bank of New York
Visit Roosevelt Island
Midnight Moment at Times Square
Head to the Beach
Check out Creative Window Displays on Fifth Avenue
Wander Around Eataly
Museum at FIT
See A Live Show Taping
Free Days in NYC Summary:
Governors Island
Free Museum Days
Bronx Zoo
Brooklyn Botanic Garden
SEASONAL Free Events in NYC Summary:
Holidays in NYC
Dyker Heights Christmas Lights
Summer Streets
Summerstage & Lincoln Center's Summer in the City
Feast of San Gennaro
Shakespeare in the Park
---
About Our Guest Author
Molly Royce – Originally from Oklahoma, I moved to NYC for grad school and have had a hard time wanting to leave ever since. There really is no better borough than Brooklyn where I live with my boyfriend and our black lab, Frankie. There's no greater city in the world and I can't wait to share my love of the city, eating, and drinking with all of you.
---
Enjoyed this guide to free things to do in New York City? Bookmark for later or let us know if we missed any of your favorite free places to go in NYC in the comments below.