Looking for some funny pizza quotes that are guaranteed to make you laugh or maybe just some inspiration for your next pizza caption for Instagram?
Whether you call it plain ol' pizza, a slice, a pie, a triangle of joy, cheesy goodness, or just heaven – I've got ya covered. Whether you're looking for a one liner about pizza, a pizza caption for Instagram or social media, or perfect pizza puns to impress anyone with, I've scoured the internet, searched the dark web (just kidding), and found this sweet collection of extensive pizza quotes.
It's no surprise why there are so many. There is a reason why pizza has so many iterations and found just about every corner of New York City and well, just about everyone in the world loves pizza. Pizza is life and we are here to celebrate it.
So settle into your seat (or wherever your reading this) and get ready to smile, because we have compiled all the funny pizza quotes and pizza captions for Instagram we could find for this collection of sayings about pizza.
You'll find pizza quotes from celebrities who live and die by the pie, to anonymous triangle feasting friends. These funny pizza quotes will make you laugh on your way to your next slice of pizza, or make you want pizza.
But hey, if you do end up wanting a slice after this read, at least you'll have the perfect pizza caption for Instagram.
Funny Pizza Quotes By Celebrities
Let's begin this pie with some funny pizza quotes by celebrities and famous folks from over the years. Celebrities are like us after all, they love some pizza just like we do.
And if you're looking for some popular pizza spots in the city where there's been some celebrity sightings check out Roberta's in Bushwick where celebrities like Jay-Z & Beyonce have been spotted along with being a part of the 'pizza gate hoax,' by conspiracy theorists.
Also, head to Joe's Pizza which has locations all over the city but one in particular in Williamsburg where you can eat a tasty slice while looking at their wall of fame featuring photos of celebrities who ate a slice of za there.
And if you love pizza as much as we do and are visiting the city, check out the best pizza in NYC to help you plan your pizzacation as well as the best slice of pizza in NYC (yes, they are different because some only let you buy by the pie!) to help you decide what to eat!
1.

If this isn't already a shirt, someone needs to get on that.
2. "SEX IS LIKE PIZZA: IF YOU'RE GOING TO USE BBQ SAUCE, YOU BETTER KNOW WHAT THE FUCK YOU'RE DOING." – Oliver Markus Malloy

3. "TIME IS MONEY, MONEY IS POWER, POWER IS PIZZA, AND PIZZA IS KNOWLEDGE, LET'S GO!" – Aubrey Plaza

4.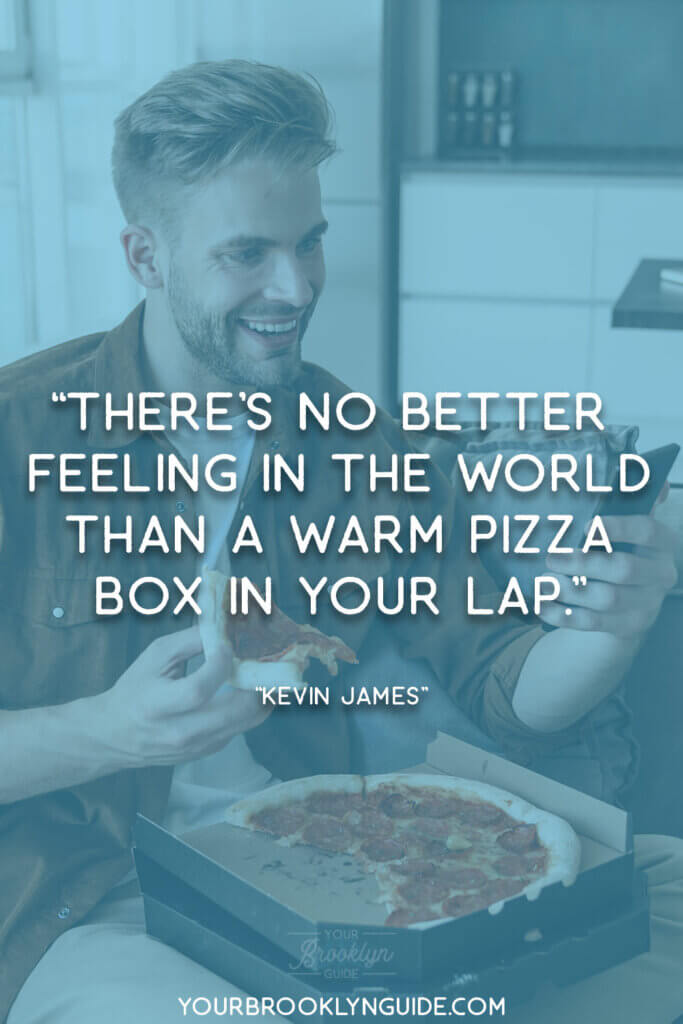 5. "I LOVE PIZZA. I WANT TO MARRY IT BUT IT WOULD JUST BE TO EAT HER FAMILY AT THE WEDDING." – Mike Birbiglia

6. "ANYONE WHO SAYS THAT MONEY CANNOT BUY HAPPINESS HAS CLEARLY NEVER SPENT THEIR MONEY ON PIZZA." – Andrew W.K
A man after our very own heart. Happiness comes for the price of a slice. Probably one of my favorite pizza quotes!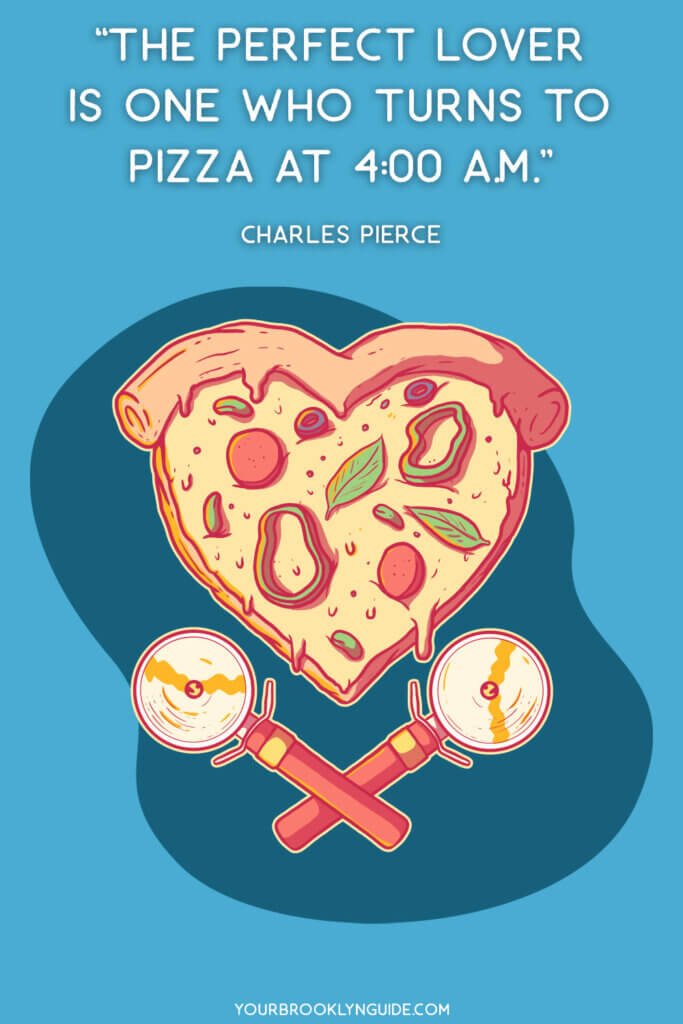 7. "I THINK OF DIETING, THEN I EAT PIZZA." – Lara Stone
Amen, Lara. This pizza quote knows the secret to the only successful diet out there. The next two pizza quotes have great takes on how to turn any pizza into a personal pizza.
8. "ANY PIZZA CAN BE PERSONAL IF YOU CRY WHILE EATING IT. – Aparna Nancherla

9. "EVERY PIZZA IS A PERSONAL PIZZA IF YOU TRY HARD AND BELIEVE IN YOURSELF." – Bill Murray

10.
That pizza quote is genius. I wonder if pizza also cures what we are dealing with now? Well, it definitely can't hurt.
11. "WHEN LIFE GIVE YOU PIZZA, EAT IT QUICKLY BEFORE ANYONE REALIZES THAT YOU HAVE IT." – Anay
Absolutely solid advice there.
12. PIZZA MAKES ANYTHING POSSIBLE. – Henry Rollins

13.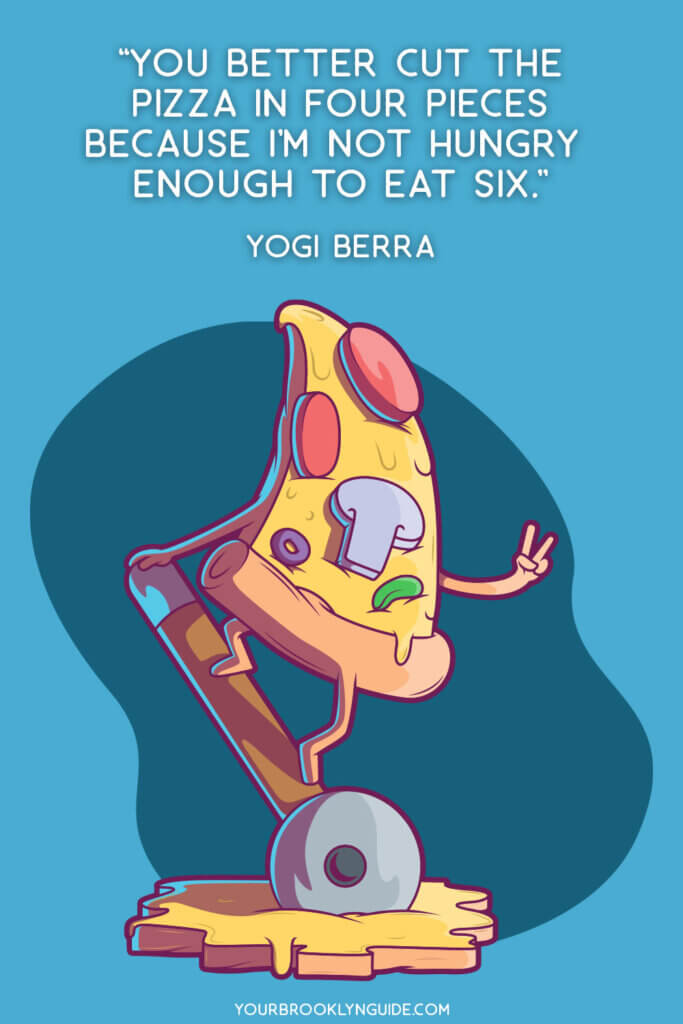 The logic checks out. Trust us.
14. "THE CLOSEST THING I USE TO BEAUTY PRODUCTS IS THE GREASE ON THE PIZZA FROM JOHN'S PIZZERIA." – Mark Feuerstein
15. "I'D RATHER HAVE LEFTOVER PIZZA THAN LEFTOVER FEELINGS." – Sarah Burgess

16.
17. "I THINK EVERYBODY'S PIZZA BOX OR PLATE ENDS UP LOOKING PRETTY SIMILAR, ALL THE SAUCE AND CHEESE EATEN OUT OF HTE CENTER, AND WHO GETS LEFT BEHIND. THE CRUST, LIKE JEREMY PIVEN AT A STRIP CLUB." – Anthony Bourdain
18.
19. "THERE IS NO MOMENT IN LIFE THAT CAN'T BE IMPROVED WITH PIZZA." – Daria

20. "HEAVEN WOULD BE A COMFORTABLE CHAIR, A LIBRARY, DIET COKE, AND AN OCCASIONAL CHEESE PIZZA. SEX ONCE IN A WHILE. NO TALKING." – Jayden Hunter
21. "I LOVE PIZZA, MEANING: EVEN WHEN I'M IN THE MIDDLE OF EATING PIZZA, I WISH I WERE EATING PIZZA." – Jandy Nelson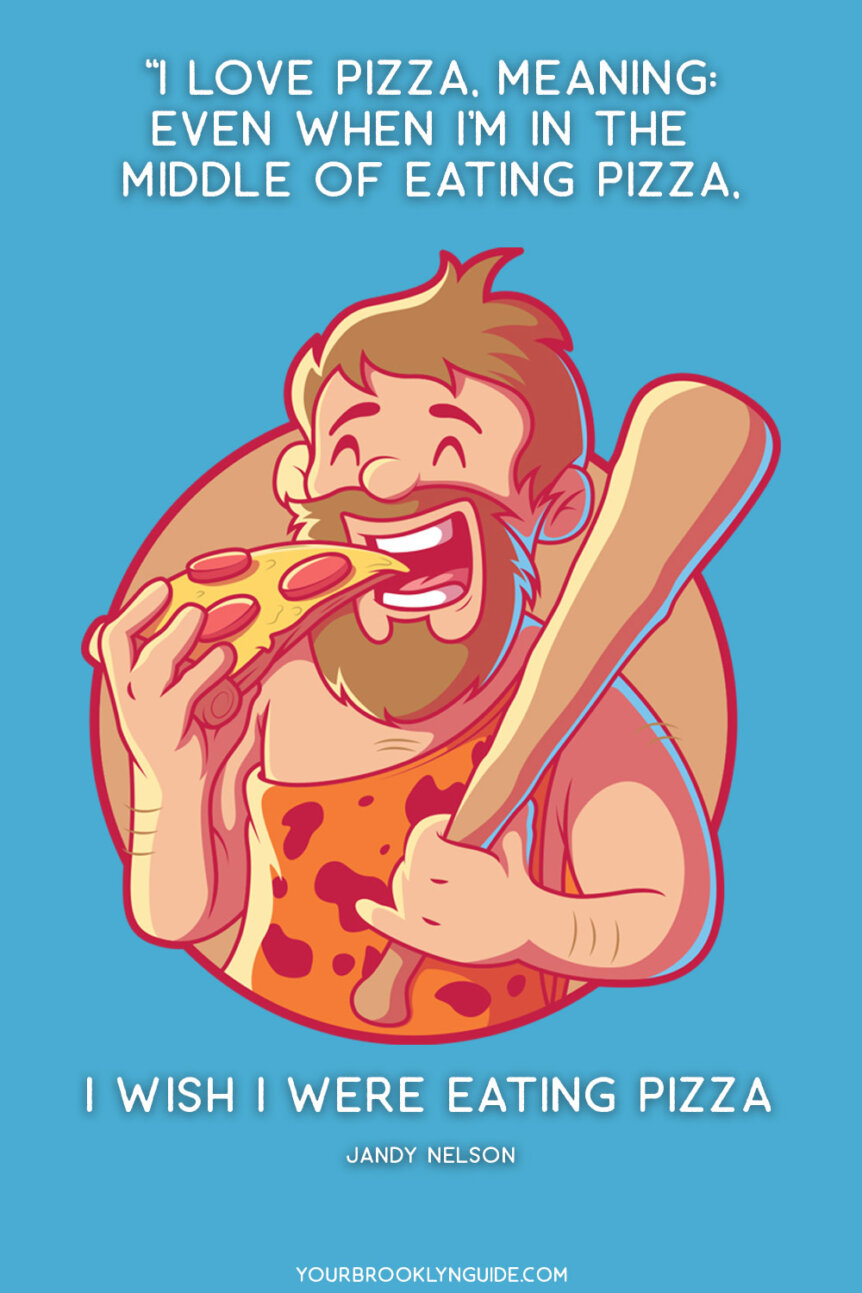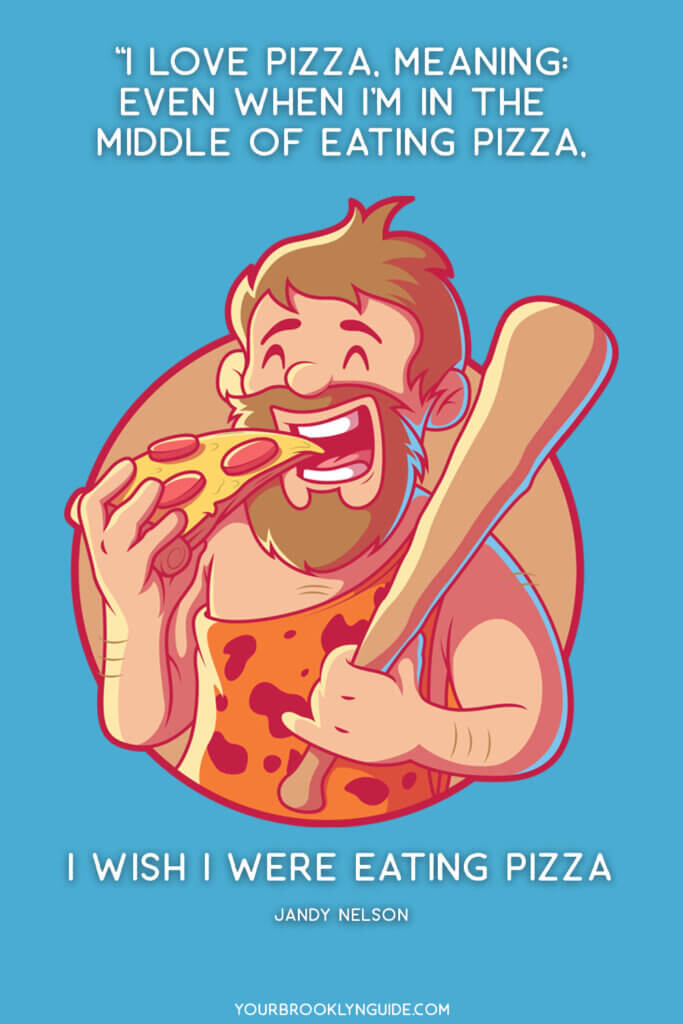 22. "I JUST WANT TO BE IN MY SWEATS, WALK MY DOG, WATCH TV AND EAT PIZZA." – America Ferrera

23. "THERE'S VERY LITTLE IN MY WORLD THAT A FOOT MASSAGE AND A THIN-CRUST, EVERYTHING-ON-IT PIZZA WON'T SET RIGHT." – G.A. McKevett

24.
25. "I WANT PIZZA WITH MY FACE ON IT." – Jennifer Lawrence

26. "IDEAS ARE LIKE PIZZA DOUGH, MADE TO BE TOSSED AROUND." – Anna Quindlen

27. " WITHOUT QUESTION, ONE OF THE GREATEST INVENTIONS IN THE HISTORY OF HUMANITY IS BEER. OH, I GRANT YOU THAT THE WHEEL WAS ALSO A FINE INVENTION, BUT THE WHEEL DOES NOT GO NEARLY AS WELL WITH PIZZA." – Dave Berry

28.

29. "LIFE IS MOSTLY PAIN AND STRUGGLE; THE REST IS LOVE AND DEEP DISH PIZZA." – Benedict Smith

30. "MY LOVE IS PIZZA SHAPED. WON'T YOU HAVE A SLICE? IT'S CIRCULAR, SO THERE'S ENOUGH TO GO AROUND." – Dora J. Arod

31. "PIZZA IS GOOD MEDICINE FOR DISAPPOINTMENT." – Katherine Howe
Hungry for more pizza quotes? Here are some more funny pizza quotes to really elevate your pizza caption game.
Funny Pizza Captions For Instagram
32.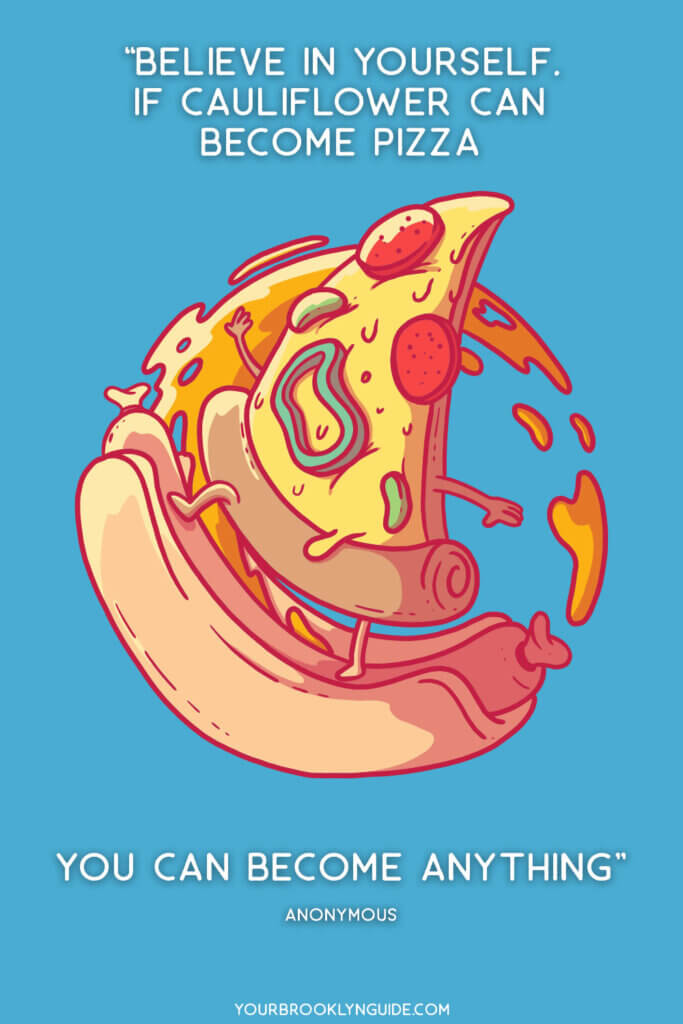 32. "PIZZA IS NOT THE ANSWER; IT'S THE QUESTION, AND YES IS THE ANSWER."

33. "ALWAYS BE YOURSELF UNLESS YOU CAN BE PIZZA."

34. "YOU CAN'T MAKE EVERYONE HAPPY. YOU'RE NOT PIZZA

35. "PIZZA IS NOT A 'TREND' IT'S A WAY OF LIFE."

36.

37. "LET THIS PIZZA BE A REMINDER THAT BEAUTY COMES IN ALL SHAPES AND SIZES."

38. "I CAN'T TURN WATER INTO WINE, BUT I CAN TURN PIZZA INTO BREAKFAST."

39. "LIFE IS NOT ABOUT FINDING YOURSELF. IT'S ABOUT FINDING PIZZA."

40.

41. "THIS MUST BE LOVE AT FIRST SLICE."

42. "DO GOOD. BE NICE. ORDER PIZZA. REPEAT."

43. "KEEP YOUR FRIENDS CLOSE AND YOUR PIZZA CLOSER."

44. "SEVEN DAYS WITHOUT A PIZZA MAKES ONE WEAK."

45.

46. "BEAUTY COMES IN ALL SHAPES AND SIZES. SMALL, LARGE, CIRCLE, SQUARE, THIN CRUST, THICK CRUST, STUFFED CRUST, EXTRA TOPPINGS."

47. "NO MATTER WHAT HAPPENS, PIZZA WILL ALWAYS BE THERE FOR YOU, THICK AND THIN, IN THE CRUST WE TRUST."

48. "KEEP CALM AND ORDER PIZZA."

49.

50. "DON'T LISTEN TO PEOPLE WHO TELL YOU YOU CAN'T EAT A WHOLE PIZZA. YOU DON'T NEED THAT KIND OF NEGATIVITY IN YOUR LIFE."

51. "IF AT FIRST YOU DON'T SUCCEED ORDER PIZZA."

52. "I WANT SOMEONE TO LOOK AT ME THE SAME WAY I LOOK AT PIZZA."

53.

54. "PROBLEMS COME AND GO, BUT PIZZA IS FOREVER."

55. "SAVE THE PLANET, THERE'S PIZZA THERE."

56. "SAY NO TO DRUGS, SAY YES TO PIZZA."

57.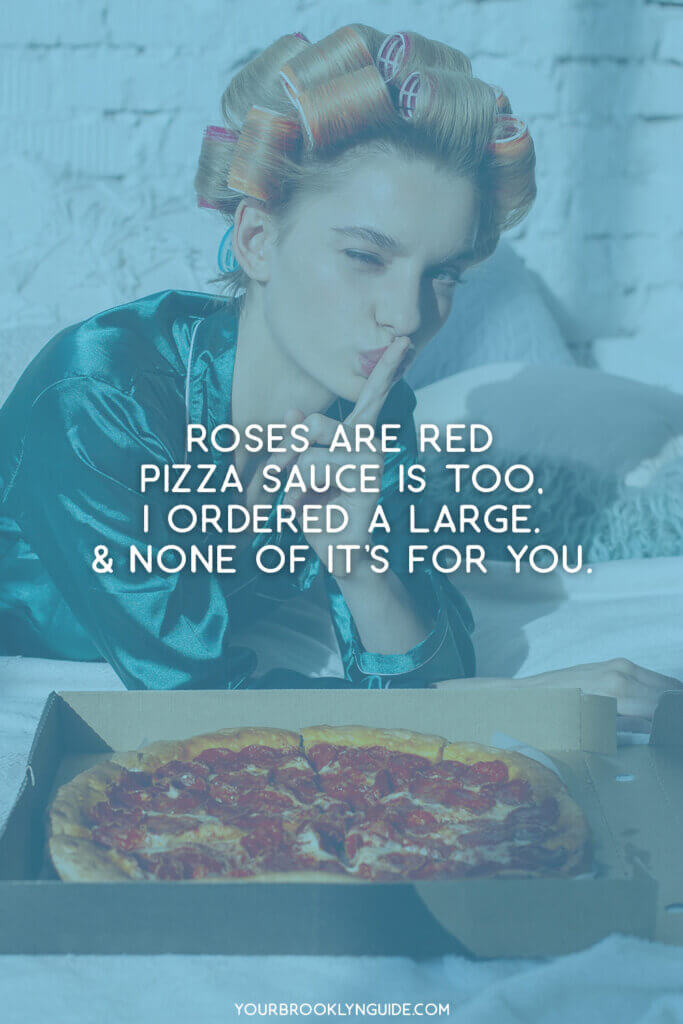 Funny Pizza Puns
Who doesn't love a pun? They're like dad jokes but even better because it's about pizza. We've put together a list of some of our favorite pizza puns. If you have one, please leave it in the comments.
58.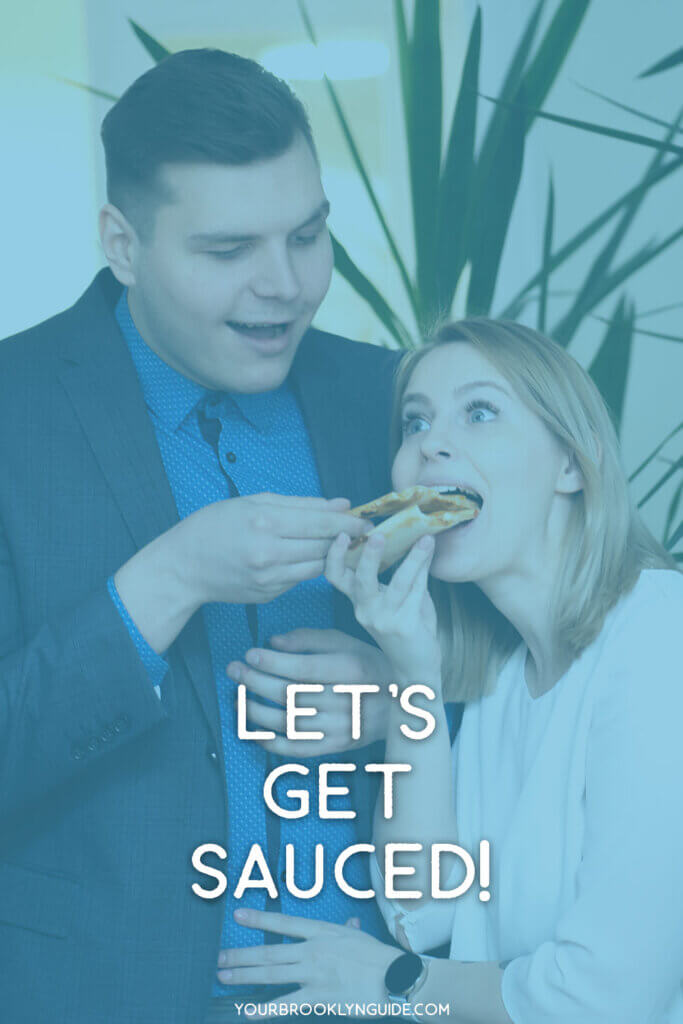 59. I DON'T WANT A PIZZA YOU! I WANT THE WHOLE SLICE

60. HOLY CHEESE-US.

61. CRUST ME BRO

62. ANOTHER ONE BITES THE CRUST

63. I LOVE YOU WITH OLIVE MY HEART

64. OREGANO? OREGA-YES.

65. I'M ON THE PROTEIN PIZZA DIET.

66. ALWAYS CRUST YOUR INSTINCTS

67. SLICE SLICE BABY.

68. SLICE TO MEET YOU.

69. IN CRUST WE TRUST.
Cheesy Cute Pizza Quotes
Who doesn't love a cheese pizza quote? So if you are currently in line at a pizza joint, and looking to make friends. You're probably going to win a lot of friends with some of these babies. Otherwise make sure to bookmark this page for when you are.
You're welcome.
70.

71. YOU'VE STOLEN A PIZZ-A MY HEART.

72. I PEPPER-ONLY HAVE EYES FOR YOU.

73. CRUST ME.

74. CUTIE PIE.

75. I LOVE YOU TO PIZZAS

76. EASY BREEZY CHEESY.

77. YOU ARE A PIZZA PERFECTION.

78. THE SLICE IS RIGHT.

79. BE NICE, SHARE A SLICE.

80.

81. I LOVE PIZZA, NO MATTER HOW YOU SLICE IT.

82. FITNESS? YEA I'M GOING TO FITNESS WHOLE PIZZA IN MY MOUTH.

83. I THINK OF DIETING, AND THEN I EAT PIZZA. – LARA STONE

84. MY PHYSICAL THERAPIST PRESCRIBES ME PIZZA.

85. ALL I NEED ARE WIFI AND PIZZA.

86. IT'S PIZZA O'CLOCK

87. PIZZA MAKES THE WORLD GO 'ROUND

88.


89. YOU HAD ME AT PIZZA.

90. MAKE PIZZA, NOT WAR.

91.YOU HAD ME AT PIZZA.

92. THAT'S AMORE.

93. I'LL STOP THE WORLD AND MELT WITH YOU.

94. I'M IN LOVE WITH THE SHAPE OF YOU.

95. PIZZA IS THE ONLY LOVE TRIANGLE I EVER WANT.

96. LIFE HAPPENS, PIZZA HELPS.

97. PIZZA SWIRLING ON MY MIND.

98. HANGING WITH MY HOME SLICE.

99. YOU CAN'T STOP AT JUST ONE SLICE.

100. PRAISE BE TO PIZZA.

101. SHIT HAPPENS, EAT PIZZA.
---
We hope this list of cheesy cute pizza quotes has given you all the ammo you need for that perfect pizza caption on Instagram. If you have any pizza quotes or pizza captions you want to add to the list please leave them in the comments and we will update the list.
I don't know about you but this list made me pretty hungry so we're going to grab a slice, be sure to check out the best pizza in Brooklyn as well as the most iconic places to eat in Brooklyn!