Take your gift-giving to the next level by checking out all these amazing locally owned Brooklyn boutiques and gift stores in Brooklyn! Whether you're shopping for the holidays, birthdays, special occasion, or just because these independent shops in Brooklyn are a great way to shop local and shop small businesses to support your community, plus they have some REALLY great and thoughtful items that take gift-giving to the next level!
Let us know if we missed your favorite Brooklyn business that's great for gift-giving in the comments section, we love expanding our Rolodex of great gift stores in Brooklyn and boutique shopping in Brooklyn!
Best Gift Stores in Brooklyn
Awesome Brooklyn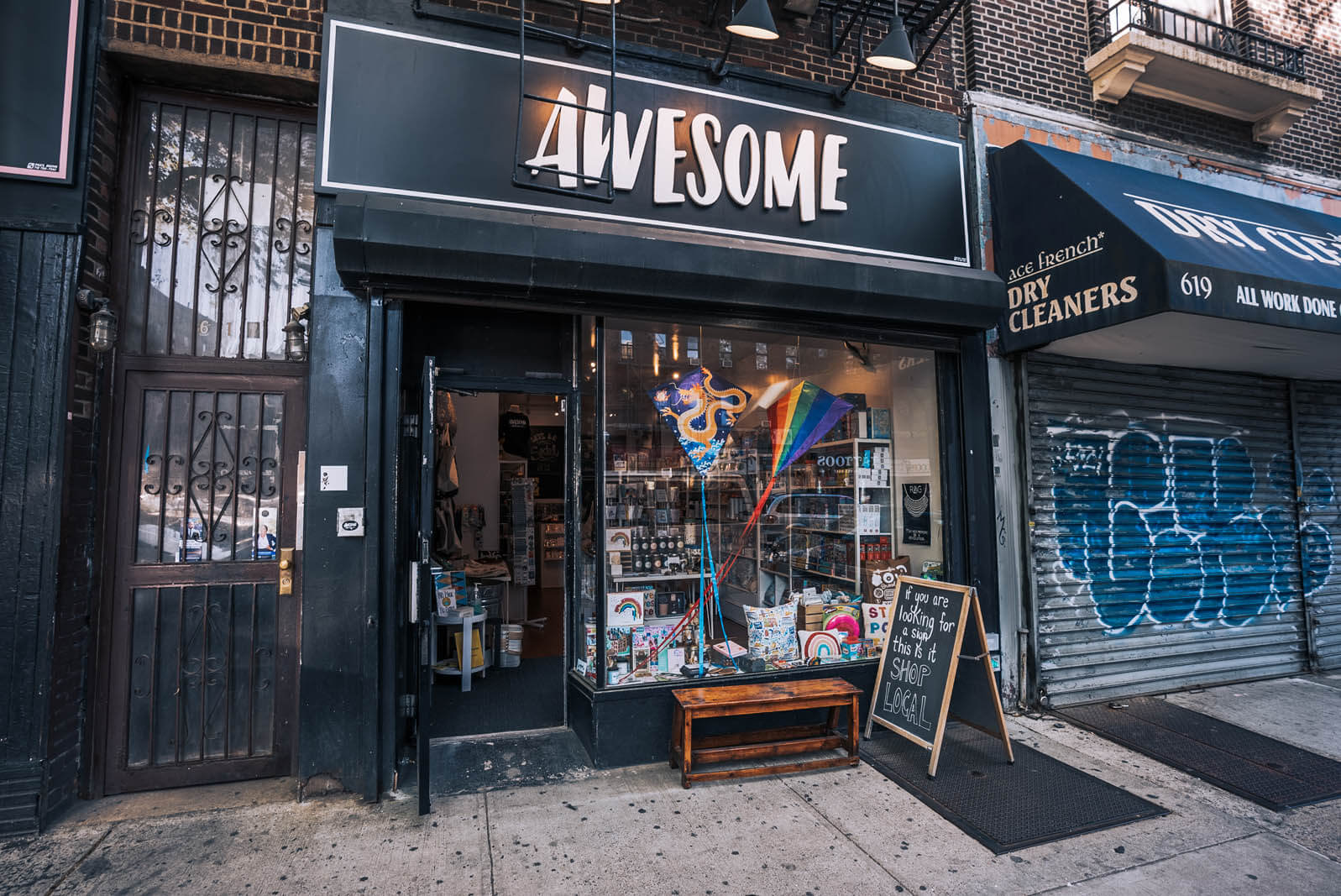 Prospect Lefferts Gardens
Awesome Brooklyn is no misnomer – this gift store in the Prospect Lefferts Gardens neighborhood of the Flatbush area has something for everyone. From on-trend accessories, adorable cards for every special occasion, home goods, New York themed goodies, and female and Black made gifts, Awesome Brooklyn is your one-stop shop for everyone on your list!
Annie's Blue Ribbon General Store
View this post on Instagram
Park Slope
Annie's Blue Ribbon General Store puts a modern twist on the traditional general store. This Brooklyn gift store has gifts for all ages – precious yet trendy baby gifts, games and crafts for the whole family, niche books, and an expertly curated collection of home goods and Brooklyn themed gifts. Annie's Blue Ribbon General Store has a little bit of everything.
This is just one of many great shopping options on 5th Avenue in Park Slope.
Woods Grove
View this post on Instagram
Cobble Hill
Woods Grove is a Brooklyn gift store you must visit when looking for truly artisanal and one of a kind gifts. They offer a marvelous array of home goods, accessories, wellness products, games, and stationary from artisans all over the world. They also offer a highly curated selection of vintage items. Woods Grove is the perfect place to find unique and artfully made gifts in Brooklyn.
Also, you can't miss their amazing tumblers and plates with icons like RBG, Notorious B.I.G., Freddy Mercury, and the Golden Girls to name a few!
Wanderlustre
View this post on Instagram
Cobble Hill
Wanderlustre in Cobble Hill is a gift store for the modern and fashionable friends on your list! Each item in this shop is selected with style in mind. From home goods and decor to high quality jewelry and sustainably sourced smudge sticks, Wanderlustre is a beautiful Brooklyn gift store to stop by when looking for truly remarkable gifts for your loved ones.
Brooklyn Strategist
Carroll Gardens
Board Game enthusiasts look no further – the Brooklyn Strategist is the gift store you must visit! This community based store and cafe not only offers an amazing selection of games to purchase, it also operates as a space where customers can walk in and play board games from their impressive collection!
What's better than shopping for gifts and getting to play some games with friends at the same time? Check out the best things to do in Carroll Gardens for more ideas.
Exit 9 Gift Emporium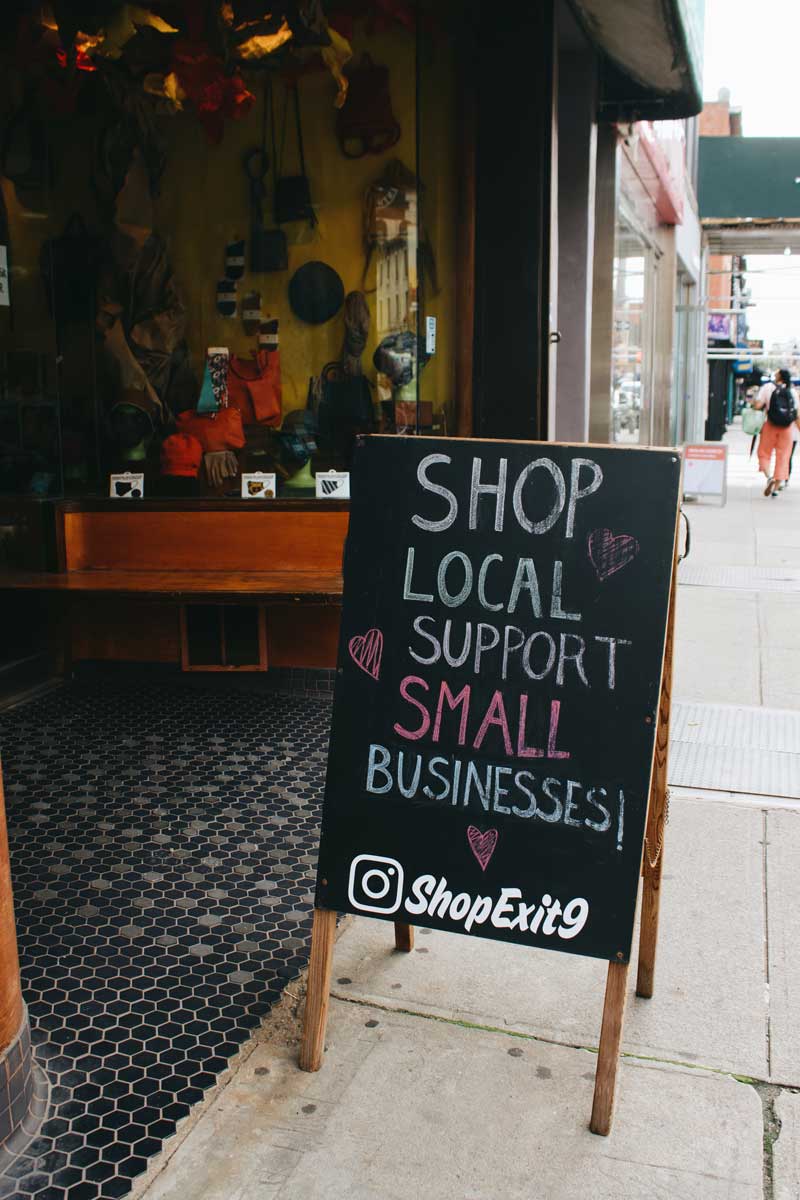 Boreum Hill
Exit 9 Gift Emporium is the Brooklyn gift store to visit when looking for something seriously fun! This local shop has gifts, books, toys, a great selection of cards, and NYC specific gifts, and their collection is curated with a fun and eclectic flair! They also have a location in the East Village, if ever you find yourself gift shopping in Manhattan.
Pink Olive
View this post on Instagram
Park Slope
One of the cutest gift stores in Brooklyn, Pink Olive is the perfect place to find on-trend and whimsical gifts! They boast a collection of gorgeous stationary and paper goods, accessories, home goods, and even their own line of candles, hand poured in NYC! Pink Olive's Park Slope location is the perfect Brooklyn shopping spot to pop in and grab some lovely gifts!
Leif
View this post on Instagram
Williamsburg
Located in hip Williamsburg, Leif takes a fresh and modern approach to gifts. They have a highly-edited collection of home goods, decor, art, accessories, apothecary, and paper goods. This Brooklyn gift store is a great place to find fresh gifts by makers and artisans for the effortlessly cool friends and family on your list!
Collyer's Mansion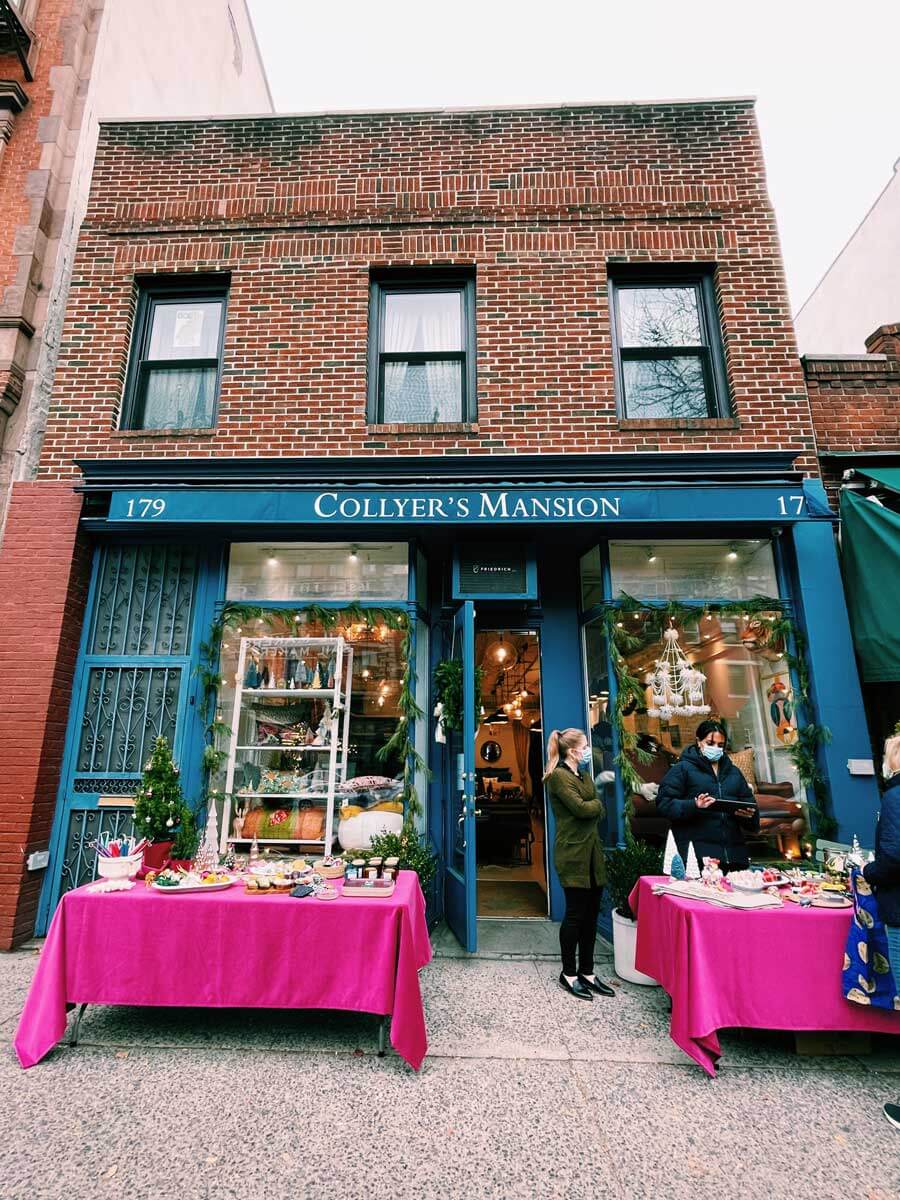 Brooklyn Heights
For the bright and eclectic ones in your life, check out Collyer's Mansion! Their selection of home goods and decor are a perfectly nuanced blend of color, fun, and sophistication. This gift store is perfect for finding one of a kind pieces for those with an eye for style and a home to match.
See more of the best things to do in Brooklyn Heights in our guide.
Cafe Con Libros
View this post on Instagram
Crown Heights
Cafe Con Libros is the Black-owned, feminist bookstore that dreams are made of. Located in Crown Heights, Cafe Con Libros is a vibrant community space that offers coffee, programming, book clubs, and an expert selection of feminist literature. Pick up gifts for all of the strong femme folks in your life at Cafe Con Libros!
Also if you're into bookstores, you're in luck because there are tons of amazing independent bookstores in Brooklyn to check out that have gifts and great book selections!
Make Manifest
View this post on Instagram
Bed-Stuy
Located in the heart of Bed-Stuy, Make Manifest is a Black-owned community space and gift store. They offer a gorgeous collection of ethically and thoughtfully sourced gifts by Black makers and artisans from all over the globe including an impressive range of textiles. They have stunning jewelry, accessories, and candles, making them an excellent choice for sustainable gift shopping!
Alter
View this post on Instagram
Greenpoint
Alter is an LGBTQ-owned Brooklyn gift store that has a huge selection of clothing, accessories, and housewares. Their hand-selected collection, including some specially curated vintage pieces, has beautiful pieces for everyone on your list! From gorgeous scarves, to designer rugs and decadent candles, Alter has a sophisticated collection of gifts and goodies.
Wilcoxson Brooklyn Ceramics
View this post on Instagram
Greenpoint
This Brooklyn-based ceramic design studio creates high-quality, handmade, modern ceramic goods. They have stunning collections of kitchenware, vases, planters, and lamps that are made to last. These works of art are perfect gifts for the aspiring ceramic artist, artisanal-made connoisseur, new homeowner, and anyone else in your life who appreciate beautiful and practical gifts!
Seasons
Bed-Stuy
Seasons in Bed-Stuy is a Black-owned neighborhood nursery and garden center. Not your typical gift store in Brooklyn, this nursery is the perfect place to pick up gifts for your green-thumbed friends and family members! You'll get to take in the gorgeous greenery and fresh air, all while snagging the perfect gift.
Halsey & Lewis
View this post on Instagram
Bed-Stuy
For the musically-inclined vinyl collectors in your life, pay a visit to Halsey & Lewis! This Black-owned record store offers a crazy cool collection of vinyl, books, and vintage finds. In addition to finding the perfect gifts, you'll get lost in this amazing treasure trove of goodness!
If you have a vinyl lover in your life, you're in luck because there are tons of amazing record stores in Brooklyn to check out!
Yesterday's News
View this post on Instagram

Carroll Gardens
What better gift than a mid-century treasure that you had to hunt down in Yesterday's News' Carroll Gardens digs? This antique store offers a huge selection of antique and vintage clothing, furniture, art, accessories, and home goods. You'll find the perfect one of a kind gift for your one of a kind friend, while enjoying rummaging through all the antique gems this local shop has to offer!
This is one of those shops where its hard for me not to walk out with something for myself too!
Idlewild Books
Carroll Gardens
For your well-read friends and family members, check out Idlewild Books in Carroll Gardens. This local bookstore offers a great selection of good reads, as well as language classes! You can pick up a book on France and a gift card for a French class all in one, for the perfect gift for your world-travelling loved ones!
SW Basics
View this post on Instagram
Although this Brooklyn-based apothecary doesn't have a brick and mortar location, you can find their small-batch, organic beauty products in various Brooklyn boutiques and online. They offer a beautiful collection of face, body, and baby products, all made with care and ingredients you can feel good about.
With the majority of their beauty products being vegan, you can find the perfect gifts for your skincare-obsessed and health-conscious friends alike! You can shop SW Basics online here!
Bad & Boozy
View this post on Instagram
This Black-owned company makes and delivers custom-blended cocktails and cocktail sets. From juicy fizzes, creamy concoctions, boozy frozen pops, and gourmet jello shots, Bad & Boozy is the perfect place to pick up gifts for your favorite party friend or supply the fun for your next get together. Although they don't have a storefront, you can place orders for delivery or pick-up here!
Kings County Distillery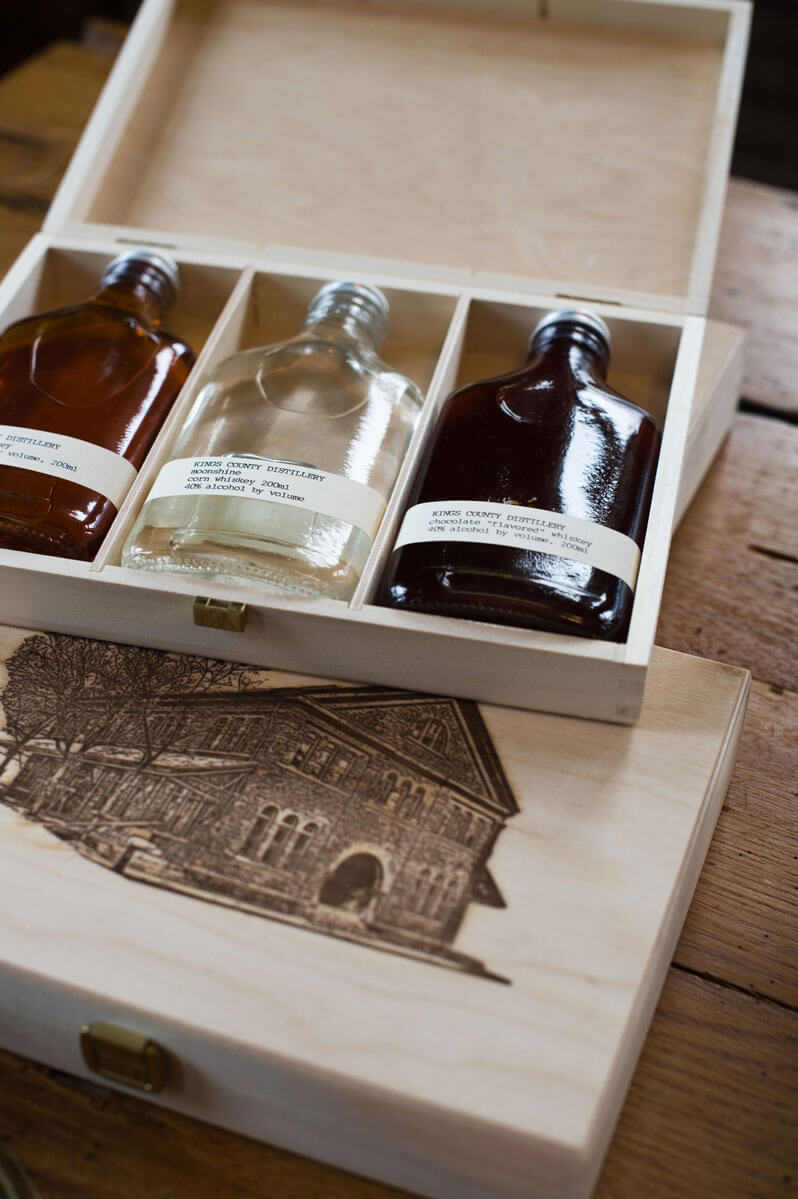 Navy Yard
Give the gift of craft whiskey from Kings County Distillery! This Brooklyn-based distillery comes from humble beginnings and retains its integrity to this day. They offer a wide selection of expertly crafted whiskeys for every sophisticate in your life. Kings County Distillery combines New York history and pride with artisan distilling and their packaging is beautiful!
Marche Rue Dix
View this post on Instagram
Crown Heights
Marche Rue Dix is a Black-owned boutique, gift store, vintage shop, and nail salon all rolled into one amazing local shop! They offer some amazing vintage clothing, accessories, home goods, coffees, teas, spices, skincare, and assorted gifts! This Crown Heights gift store is perfectly one of a kind!
Peace and Riot
View this post on Instagram
Bed-Stuy
This Black-owned Brooklyn gift store has a gorgeous selection of gifts, furniture, decor, and home goods. Find unique books, gorgeous throw pillows, intriguing scented candles, inclusive and representative baby dolls, and handmade soaps all under one roof at this Bed-Stuy boutique.
Catbird
View this post on Instagram
Williamsburg
Catbird is a fine jewelry boutique located in Williamsburg. They create beautiful and expertly crafted pieces ranging from affordable studs and pendants to luxurious engagement rings. Quality, ethically-sourced, and conflict-free gems, jewels, and metals make for beautiful gifts!
Plus you can get zapped where they fuse the metal of your jewelry so you don't have to take it off!
Min-k
Park Slope
Min-k in Park Slope is a gorgeous women's clothing store. Boutique shopping in Brooklyn is like nowhere else, and Min-k is no exception! With simultaneously on-trend and classic dresses, jumpsuits, tops, bottoms, and outerwear. They also offer eclectic collections of patterned skirts and dresses and is one of my personal favorite shops.
Min-k is a great place to pick up gifts for your most fashionable friends!
St. Hrouda
Park Slope
Named after the owner's grandmother, St. Hrouda is a Brooklyn boutique offering timeless clothing, accessories, art, home goods, and decor. They offer a wide selection of tasteful and fashionable finds that are perfect for your worldly, cosmopolitan loved ones. With high-quality and affordable pieces, St. Hrouda is a gorgeous stop on your gift shopping adventure!
Something Else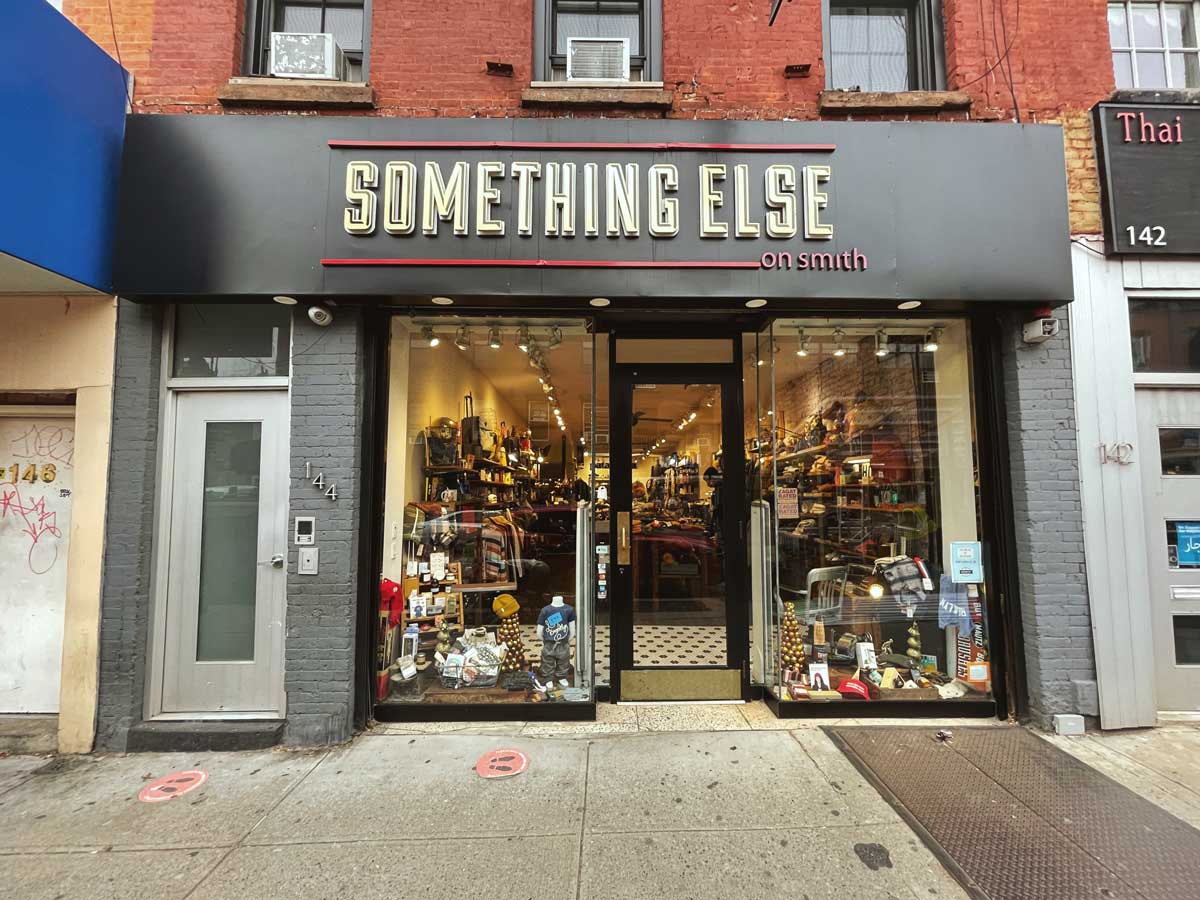 Cobble Hill & Park Slope
Something Else in Cobble Hill and Park Slope really is something else! This trendy Brooklyn boutique boasts designs from hard-to-find independent designers and exclusive brands. Something Else has a curated selection of clothing and accessories for both men and women, as well as home goods and goodies for the kiddos. This Brooklyn institution is a trendy paradise for gift shopping!
Bird
View this post on Instagram
Multiple Locations – PERMANENTLY CLOSED
Bird is a Brooklyn mainstay for fun and unique boutique clothing! Although Bird has multiple locations around the borough today, its flagship location is in Williamsburg. Since its beginning, Bird has offered locally and sustainably sourced pieces. Their clothing focuses on eclectic prints, colors, and designs. They offer a gorgeous selection of clothing, accessories, and beauty products. Bird is the perfect place to shop for fresh gifts for your carefree, fashion-forward friends and family!
Miles Culture
View this post on Instagram
Crown Heights
Miles Culture is a hip Black-owned boutique offering an amazing collection of graphic tees, leather goods, accessories, and jewelry. Every single piece in this small Brooklyn boutique is way too cool, and is the perfect place to pick up gifts, and maybe even snag an awesome tee shirt for yourself!
Martine's Dream
Crown Heights
A fresh boutique located in Crown Heights, Martine's Dream is a Black-owned clothing store bursting with gorgeous color, intricate patterns, and flowy goodness! They offer absolutely stunning pieces from makers all over the world.
Balsomme
View this post on Instagram
A great online, locally owned Brooklyn gift shop is Balsomme, a female-owned e-commerce shop based in Park Slope. They sell a curated collection of vintage pieces and beautifully crafted hand made home decor products and some clothing options! You can find their shop on Etsy here.
Micòl Ceramics
View this post on Instagram
Sunset Park
Another great ceramic studio and boutique in Brooklyn located at Industry City is Micòl Cermaics. This ceramic studio is owned by a Spanish ceramic artist whose modern work and pieces are inspired by the Mediterranean. We especially love their beautifully hand crafted brownstone ornaments which makes the perfect Brooklyn gift or souvenir! You can also find their beautiful work in a few other Brooklyn gift stores as well!
Gowanus Souvenir Shop
Gowanus
Another great gift store in Brooklyn based in Gowanus now only available online is Gowanus Souvenir Shop which sells great gifts and items that tie into the history and story of the Gowanus canal along with in house souvenirs and trinkets as well as items and gifts from different local artists from furniture to beauty products to jewelery and more!
JD Prints
View this post on Instagram

You need the perfect card to go along with your gifting! That's where this local Brooklyn artist who sells beautifully made cards and prints is perfect for! Whether you're looking for unique holiday cards or a card for just about any occasion, this artist really stands out with her amazing artwork and designs on gorgeous handcrafted cards!
Hink Shoppe
Last but not least, one of our favorite YBG contributors and writers Katie has her very own handmade gift store online! You can find specialized handmade gifts from rainbow earrings to holiday ornaments! She sells products on her Instagram page or you can request a personalized item!
---
Did we miss one of your favorite Brooklyn gift shops or boutiques in Brooklyn? Please let us know we are always looking to add new places to our radar! Happy gifting & shopping!